Extended Princess and the Frog Clip
Walt Disney Animation Studios
' soon-to-be-released 2D animated feature
The Princess and the Frog
carries a large burden into the cinemas. Many in the animation community were dubious of claims that 2D was dead, as many claimed
6 years ago
, but now as the studio that brought the medium to prominence returns to its roots, we all hold our breath. But it's not about the medium in the end – it all comes down to story, and in this clip below, we get a good glimpse of the set-up. The feature, which was directed by Ron Clements and John Musker, is in theaters
December 11, 2009
.
And here, in various stages, whether final painted animation, rough animation and unpainted clean-up, are the first 5 minutes of
The Princess and the Frog
:
Early review for The Princess and the Frog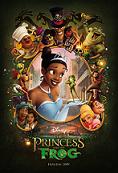 An
early review
for Disney's
The Princess and the Frog
from the Associated Press can now be found at the
San Francisco Chronicle
's website, with the response being mostly positive.
"Updating the Brothers Grimm tale The Frog Prince into a toe-tapping musical set on the Louisiana bayou in the 1920s, directors Ron Clements and John Musker deliver a satisfying gumbo of snappy dialogue, lovable characters and bright-hued images, spiced up with just the right touch of voodoo peril."
The Princess and the Frog
opens in limited release tomorrow.
Fox Goes Wide, Frog Gets Early Peek For Thanksgiving
Animation is on the menu this Thanksgiving as Wes Anderson's
Fantastic Mr. Fox
goes into wide release
Nov. 25
.
The Fox movie, which has been playing for a couple of weeks on a quartet of screens in Los Angeles and New York, will play at more than 2,000 cinemas.
Meanwhile, Disney's
The Princess and the Frog
opens in a very limited advance release, playing on a mere two screens – one at the Disney studio in Burbank; the other screen being the Ziegfeld Theatre in New York City. Both engagements also offer The Ultimate Disney Experience, a post-screening event that includes events for the entire family.
Tickets for these shows can be purchased online at
www.princessandfrogtickets.com
or by phone at 1-800-DISNEY6.
The Princess and the Frog
opens wide
Dec. 11
.
Also opening Wednesday is the action film
Ninja Assassin
, which bows in 2,500 cinemas, and the comedy
Old Dogs
, set to screen in some 3,300 theaters.
(Thanks
Animation Magazine
)
Trailer Teases Family Guy's Spoof of Empire Strikes Back
The
Star Wars
saga continues … Quahog style!
A new extended trailer has been released to promote the
Dec. 22
home video release of
Family Guy: Something, Something, Something Dark Side
, the animated series' second spoof the famous film series.
Fox bills the trailer as
"a nearly exact remake"
of the original trailer to 1980's
The Empire Strikes Back
, which is the subject of this installment of the spoof.
The series retells the classic film with the
Family Guy
characters standing in for their more serious counterparts.
The trailer can be downloaded for free at the iTunes Store
www.itunes.com/FamilyGuySSSDarkSide
and on
Apple.com/trailers
. Or, you can watch it here:
(Thanks
Animation Magazine
)
Lightcap to Lead Disney Channels Worldwide
Disney Channels Worldwide has a new president: Carolina Lightcap.
A veteran of the industry with more than 20 years' experience, Lightcap previously held the dual role of senior VP programming and creative affairs for Disney Channels Latin America and chief marketing officer for The Walt Disney Co., Latin America.
Lightcap takes on the new job immediately and will relocate from Buenos Aires, Argentina, to Burbank. She will be responsible for shepherding Disney Channels Worldwide through its next period of growth and will oversee the Disney Channel global executive team representing programming and production, business affairs, business planning and development, marketing, brand management, advertising sales and Radio Disney.
Meanwhile, Gary Marsh will add the role of chief creative officer to his current title of president of entertainment for Disney Channels Worldwide. He will be in charge of all program development, creative and production, and will report to Lightcap.
"During the 10 years I've worked at The Walt Disney Company, I've had the pleasure of leading a team that took Disney Channel Latin America to No.1,"
says Lightcap.
"Now I'm looking forward to working with the unparalleled talent at Disney Channels Worldwide as we create the future of kid-focused, family inclusive entertainment."
Lightcap joined The Walt Disney Co. as VP of marketing, media networks, Latin America, in 2000. Prior to joining Disney, she was VP of programming, sales and marketing for Sky Latin America Partners, based in Miami; as executive director, Latin America at 20th Century Fox.
(Thanks
Animation Magazine
)
Santa Intervention Wins Fox-Aniboom Contest
Jay Malone's animated short
Santa Intervention
won this year's
Fox-Aniboom Holiday Animation Challenge
, earning the Los Angeles animator a $15,000 prize and a development deal.
Malone's short was chosen as the grand-prize winner by a panel of Fox executives.
"Santa Intervention captured the unique and edgy spirit of Fox's animated shows,"
said Kevin Reilly, president of entertainment for Fox Broadcasting Co.
"By tapping into Aniboom's pool of undiscovered animation talent, Fox has found a promising creator in Jay who we might not have otherwise met,"
The
Fox-Aniboom Holiday Animation Challenge
called on Aniboom's community of nearly 8,000 animators from across the globe to enter their original holiday-inspired animated shorts.
The winning short can be seen online at
http://www.aniboom.com/animation-video/392451/Santa-Intervention/?ref=/competition/Fox/stage4/feed/
(Thanks
Animation Magazine
)
Katzenberg living happily ever after
Fast Company
has an extensive and frank piece with DreamWorks' Jeffrey Katzenberg who, among many other interesting quotes, says,
"Michael Eisner firing me is the best thing that ever happened in my career"
.
Comet and El Jueves to Play Funball Show
Toronto-based Comet Entertainment and Spain's El Jueves have soccer fever. The two companies are getting ready to celebrate next summer's World Cup, which is held in South Africa, with a quirky new animated series called
Funball
. The 52 x 2 comedy series celebrates the oddities and funny anecdotes about the popular sports event over the years.
It's been a busy year for Comet Entertainment, which is working on several animated projects including
Dodopam Alien Babies, Limo Guy
and
Fantastic Tales
. This new partnership brings Comet Entertainment and El Jueves together to provide an amusing look at the rich cultural and athletic history of the World Cup. According to Raquel Benitez, Comet's CEO, the production, is already in advance presales stage and will be delivered in HD format.
For more information please contact, sales@cometentertainment.com
Funball
(Thanks
Animation Magazine
)
Superman TAS Collected in New DVD Box Set
If you would prefer to stuff yourself full of cartoons than turkey this week, then you'd better be in the mood for adventure.
Superman: The Complete Animated Series
(Warner Bros., $53.82) comes to DVD in a seven-disc box set that collects all 54 episodes of the 1996-2000 series. The set includes extensive bonus features, most notably an extra disc that includes the all-new documentary
The Despot Darkseid: A Villain Worthy of Superman
.
Also out this week for the first time in a high-definition format is
Ghost in the Shell 2.0
(Anchor Bay Entertainment, $29.97 Blu-ray).
Anime is big this week, rounding out the rest of the animated home video releases with
Pokemon Elements, Vol. 5: Ice
(VIZ, $9.98),
Pokemon Elements, Vol. 6: Dark
(VIZ, $9.98),
Naruto Uncut: Season 1, Vol. 2
(VIZ, $39.97),
Naruto Shippuden: Vol. 3
(VIZ, $24.92),
Nana Box Set 2
(VIZ, $59.90),
Nabari No Ou: The Complete Series Part 2
(FUNimation, $59.98) and
Blood: The Last Vampire
(Anchor Bay Entertainment, $29.97 Blu-ray).
(Thanks
Animation Magazine
)
Endemol Acquires Tiger Aspect
Endemol has acquired from IMG the independent production outfit Tiger Aspect Productions.
The details of the deal were not revealed.
Tiger Aspect is based in the U.K. with offices in New York, and produces programming in a wide range of genres and formats, including animation. The animated series
Charlie & Lola
is one of its recent hits.
The deal also included documentary producer Darlow Smithson Productions and wildlife outlet Tigress.
All three will now report into Endemol UK management. The portfolios of all three companies will be represented by Endemol Worldwide Distribution and Endemol Group's format sales operation.
"Endemol is the real deal – a fully functioning global creative business,"
says Andrew Zein, managing director of Tiger Aspect.
"They understand and appreciate what we do and how we do it. For us this is the dream deal we thought would never happen. We've found the ideal home."
(Thanks
Animation Magazine
)
Moujaes Heads Up Original Entertainment for FUNimation
Animation veteran Chris Moujaes has joined FUNimation Entertainment as director of original entertainment.
Moujaes comes to FUNimation from the post of president and chief creative officer at Boomstar, an animation studio based in Austin, Texas. He will be responsible for acquisition and development of original anime titles based on major intellectual properties.
His previous experience includes working as an independent producer for AOL Kids and as president of branding agency Spoonbend.
FUNimation also has announced the acquisition of broadcast, digital, and home video rights to the anime series
Full Metal Panic, Full Metal Panic Fumoffu, Sekirei
and
Testuwan Birdy Decode
.
(Thanks
Animation Magazine
)
Not So Mighty
A Brew reader reports that Erik Wiese, the co-creator of
Mighty B
, hinted on his Facebook today that Nick has cancelled the show. Wiese wrote:
"Goodbye Bessie. Goodbye Happy. It was good knowing you."
In case you're curious, here are
Nick's top-rated programs
from a few weeks ago. It's a more revealing comment about the stagnant creative state of Nick than anything I could write:
#1 –
SpongeBob's Truth or Square
#2 – S
SpongeBob's Truth or Square
#3 –
Fanboy & Chum Chum
#4 –
SpongeBob
#5 –
Fanboy & Chum Chum
#6 –
SpongeBob
#7 –
SpongeBob's Truth or Square
#8 –
SpongeBob
#9 –
SpongeBob
#10 –
Penguins of Madagascar
#11 –
SpongeBob
#12 –
SpongeBob's Truth or Square
#13 -
iCarly Movie
(Thanks
cartoon brew
)
Quote of the Week: Tom Rothman
From the
November 2
issue of
The New Yorker
:
"The trick is, from the business side, to try to be fiscally responsible so you can be creatively reckless."
— Tom Rothman, president of Fox Filmed Entertainment, on why the $40 million budget of
Fantastic Mr. Fox
allowed them to be more creative.
Rothman's comment couldn't be more common sense, yet I've never heard an exec say this about an animated feature. The mega-budget Pixar/DreamWorks features are not a sustainable business model for other studios. When smaller studios without an established creative infrastructure attempt to emulate the model, like
Planet 51
($60 million budget) and
Astro Boy
($65 million), they typically end up with a half-assed product that falls flat on its face at the box office. Audiences are increasingly demanding variety in their animated features, and the studios that figure out how to offer original and unconventional animated films that are modestly budgeted will find themselves amply rewarded. One of the major keys to keeping costs down and maintaining originality will be to implement a top-down creative strategy by hiring directors with a strong personal vision, like Anderson, instead of the usual approach that consists of building bloated creative teams. Mark my words, the $15-40 million animated feature will be the big thing of the next decade.
(Thanks
cartoon brew
)
SUPER HERO SQUAD SHOW: Falcon Profile
The Falcon is one of the the many Marvel super stars squished down to cute size, but still flying high on Cartoon Network's
'Super Hero Squad Show'
.
Here's a video that presents Cap's one-time sidekick as he exists in the
SHS
universe:
ASIFA-East presents – An Evening with John Dilworth
December 8th, Tuesday 7pm
ASIFA-East presents – An Evening with John Dilworth
Join us for an unforgettable evening of films, conversation, and surprises, including the ASIFA-East premiere of Oscar-nominated filmmaker John R. Dilworth's new short,
"Rinky Dink."
* ASIFA-East calendars will be on sale at the event ($10 each), as well as Dilworth merchandise.
SVA
School Of Visual Arts
209 East 23rd Street
(Bet. 2nd & 3rd Ave)
3rd Fl, Amphitheatre
NYC
www.schoolofvisualarts.edu
(Thanks
asifa east
)
Snow White and the Seven Dwarfs Diamond Edition
Back in October, the Blu-ray version of the newly restored
Snow White and the Seven Dwarfs DVD
released, and today the DVD hits the shelves. As with many Disney animated releases, they're only releasing
this
"diamond edition"
of the classic 1937 film in stores for a limited time.
Shiny Suds Rinse Scrubbing Bubbles
The gang at
method
, the company that produced cleaning products without toxic ingredients, are throwing mud in the eyes of their competitors. While this cheeky CG-animated spot takes on
Dow's Scrubbing Bubbles
in particular, they're taking a stance against the majority of the products in this market segment. The spot, titled
Shiny Suds
, was initiated by
Droga5
, and animation was handled by
Buck
.
The Kinematograph Eyes Oscar Nomination
Here's a sneak-peek at one of the
ten animated films
up for Oscar nominations. It's
The Kinematograph
by Tomek Baginski, via
Platige Image
.
A Page From TV Animation's Past
(click to enlarge image)
Understanding the extent to which artists have lost control of the animation process in the past is vital to ensuring a robust and healthy future for the art form. With that in mind, here's a page of Broadcast Standards notes from a 1978 episode of the Filmation series
Fabulous Funnies
. The notes are comical and absurd, but it's utterly horrifying to think that any artist could endure working under such conditions. Would TV artists today be willing to put up with such maddening bull crap or is the community more enlightened?
(The names in the cc are telling: Margaret Loesch and Jean MacCurdy, who would soon thereafter gain great power as kidvid execs, and NBC up-and-comer Brandon Tartikoff.)
(Thanks
cartoon brew
)
Cornelis by Ayaka Nakata
Beautiful animated short by Ayaka Nakata that stems from a foundation of dance choreography. I like how the filmmaker creates an atmosphere of mystery and intrigue from abstract movements and sounds.
(Thanks, Tim Rauch)
(Thanks
cartoon brew
)
How to Make $55,000 by Giving Away A Film
Filmmaker
Nina Paley
explains in the Wall Street Journal how
she's earned $55,000 from her animated feature Sita Sings the Blues
by giving it away for free. The idea of offering content for free is still counterintuitive to a lot of artists, but I'm a firm believer that this concept will eventually become an important part in the arsenal of indie filmmakers. Nina is among the first within the animation community to prove that it works. A good starting point for understanding the concept is Chris Anderson's recent book
Free: The Future of a Radical Price
.
(Thanks
cartoon brew
)
Tuesday Union Stats
We haven't done this for awhile, so here's a thumb-nail breakdown of your friendly Animation Guild membership:
Total Active TAG Membership:
2,945Storyboard/Production board Artists:
475 (16.1%)
Writers:
199 (6.8%)
Tech Directors:
587 (19.9%)
Animators/ Assistant Animators:
484 (16.4%)
TAG is at or near its historical membership highs. In the late 1980s, we had about 700 active members. Disney was a small employer then. TV Animation was the other big job source.
During the reign of TAG President Tom Sito in the mid-1990s, we had roughly the same total membership as now. Hand-drawn feature animation was in robust production at Turner Feature Animation, Warner Feature Animation, DreamWorks Animation, not to mention Disney (although I just did, din't I?).
Now it's mostly Computer Generated Imaging, along with TeeVee.
The numbers above reflect dues-paying members, both newbies and members who have re-activated as they have re-entered the union workforce.
Other stats: We have 2,193 participants in the TAG 401(k) Plan, and $109 million in assets, spread over 20+ mutual funds.
Given the interesting times in which we live, these numbers change constantly.
(Thanks
Animation Guild Blog
)
Lean, Mean Pic Of Iron Man
I guess since he wrecked his armor in the last one it's only fitting that he make a new suit. Empire has a new pic of a leaner, meaner Iron Man on the cover of their newest issue.
But now that I've looked at the image for a while, I'm trying to figure out what's really different about the suit. Is it the helmet? Does the new armor look leaner? I know Favreau had mentioned that Stark does have a new suit. It probably is leaner to balance out the bulk of War Machine's suit. Shoot, I almost forgot he was in this.
Screw looking at another picture of Iron Man, I want some of War Machine!
(Thanks
Latino Review
)
Holy Cow! Robert Downey Jr. Quits Acting! No IRON MAN 3! No AVENGERS! (Not)
The career of Robert Downey Jr. certainly resembles a roller-coaster ride, with
'Iron Man'
marking the start of his latest and greatest ascension, which will continue via next month's
'Sherlock Holmes'
and next summer's
'Iron Man 2'
.
Yet, in a chat with
Entertainment Weekly
the actor was feeling philosophical and mentioned that he's looking forward to retirement. He's enjoying his current level of success, but yearns for more time with the family to pursue the finer things in life.
"I'm f—ing really good at what I do — and have been for a long time, so I don't waver on that," he told EW.
"But here's the thing: I can only be a guy on a call sheet probably, I don't know, maybe a couple more times. It's something I'm so grateful to have in my palm, and yet I already see its inevitable decay."
Wow! So if he bails out now, what happens to
'Iron Man 3', 'The Avengers', 'Cowboy & Aliens'
and the like?
Well, in spite of propped up headlines to the contrary, there's little doubt he's still doing those movies. He also told EW,
"If 'Sherlock Holmes' performs well, I could be busy for the next 5 or 7 or 10 years."
The real, incredibly mundane reason Darth Vader wears a mask
Darth Vader is one of the coolest—and coolest-looking—characters in science fiction, yet much of his appearance was the result of nothing more than practicality. At least that's how Ralph McQuarrie, the legendary conceptual designer of George Lucas' original
Star Wars
films, remembers the evolution of the Sith's darkest Dark Lord.
"Darth Vader evolved out of numerous design concepts and discussions with George,"
McQuarrie said in an exclusive e-mail interview.
"He was described in the script as leaping aboard the starship through a hole in the hull, wearing flowing black robes. The first thing I thought was, 'Shouldn't he have some sort of breathing apparatus if he's entering the vacuum of space?' I asked George and he said, 'Fine, give him a breath mask.'""It was then decided to give him a samurai helmet, and as I continued to work on the concept it evolved into a close approximation of what you see on screen,"
McQuarrie continued.
"Later on, the storyline was developed to explain the mask and such, but at the time it was a purely practical reason that it was introduced."
Now 80 years old, McQuarrie, who also worked on E.T. and won an Oscar for his contributions to Cocoon, retired long before computer-rendered art came into play. The images in
Star Wars: The Clone Wars
—season one was released earlier this month on DVD by Warner Home Video, and season two is currently airing on Cartoon Network—are all realized digitally, with many designed to echo McQuarrie's original concepts. McQuarrie said that he does not dislike the new technology, so long as it does not supplant creativity.
"As a tool, I think they can help the artist do amazing things,"
he wrote.
"However, it's just another tool. It does not replace the skill or technique required to design, compose and execute an illustration. When I used to go to conventions and meet young artists, all too often I would see beautiful renderings of Star Wars imagery, or other existing characters and concepts. The advice I always tried to give was to show imagination in their work, come up with their own ideas and designs."
He added,
"While there will always be work for artists capable of rendering other people's properties, for those interested in doing conceptual design, being able to see the evolutionary creative process is oftentimes more important than seeing a fully rendered illustration."
J. Michael Straczynski Says 'Silver Surfer' Script Stalled, Reveals Story Details
"Babylon 5"
creator and noted comic scribe J. Michael Straczynski said his
"Silver Surfer"
script is in limbo at Fox thanks to the lukewarm response received by
"Fantastic Four: Rise of the Silver Surfer."
"What happened was when 'FF2' didn't do as well as they hoped it would do, it caused them to call into question a 'Silver Surfer' movie,"
noted Straczynski in an interview with
Collider
during last weekend's
"Ninja Assassin"
press junket.
"The script that I wrote picked up right where 'FF2' left off. So if they do a 'Silver Surfer' film down the road, it'll have to be its own separate things."
Straczynski added,
"It was definitely adult fare. I wanted to tell the origin of the Surfer and get into that whole thing."
Last month, actor Doug Jones (
"Hellboy"
)
expressed his desire to reprise his role as the Silver Surfer
even though the future of the potential franchise film remains unclear.
"There are still a couple of years left on their option for two more pictures with me, as a three-picture deal is quite standard when starting a franchise-potential character. But with all the 're-boot' talk of the 'Fantastic Four', I have no idea where that leaves the Silver Surfer end of things. I would love to re-visit this character. I do love Norrin Radd,"
said Jones.
During the same interview with Straczynski, fellow
"Ninja Assassin"
screenwriter Matthew Sand also spoke about his adaptation of Christian Gossett's
"The Red Star."
"I'm working on a giant Timur Bekmambetov sci-fi project called 'Red Star' over at Universal,"
related Sand.
"Again, I'd like to think that could become a movie soon but whether it actually is, beyond my control."
Bekmambetov's most recent project was the animated film
"9."
His best known American film is the adaptation of Mark Millar's
"Wanted."
Bekmambetov is also signed to direct
"Wanted 2."'The Crow' Relaunch Takes Flight
Director Stephen Norrington's script for the proposed reboot of
"The Crow"
is finished even though the film has yet to get the official greenlight.
"The script is great,"
said
"Crow"
producer Ryan Kavanaugh
during an interview with i09
.
"We're very excited about it. 'The Crow' is definitely going to happen, we're just getting all the pieces together right now. It's not officially greenlit, but it's going to happen... I think in a couple months we could have the package together for sure."
Created in 1989 by James O'Barr,
"The Crow"
has been adapted into a TV series and four feature films — most notably with the first "Crow" film starring the late Brandon Lee in 1994. According to Kavanaugh, the new film will be a literal relaunch of the franchise, which includes a complete reinterpretation of The Crow's classic look.
"I think it's something cool, we're approaching it differently,"
stated Kavanaugh.
"He'll have makeup, but it will be different. The best way to compare it is the first 'Batman' and 'Batman Begins.' In terms of their look and feel and character."
Kavanaugh also offered some hints regarding the casting of the new Crow.
"It will be an actor you've heard of,"
related Kavanaugh.
"We're not ruling anything out. We're looking at both, with the very well known and the 'very talented but they may not be quite there yet.'"
Norrington's
"Crow"
relaunch
was first announced near the end of last year. Back in July, it was rumored that
the new
"Crow"
would not be a remake of the original film
and the Eric Draven character would not be used.
The original adaptation of
"The Crow"
was the focus of our recent
"15 Years Of Devil's Night"
series, which featured interviews with the cast, filmmakers and musicians involved with the film.

Kevin Spacey Says He'd Make 'Superman Returns' Sequel If He Ran Warner Bros.
"Superman Returns"
raised a lot of questions about what kind of sequel might follow the 2006 film and who would come back, as well as whether Warner Brothers would simply start from scratch with the next film about the Man of Steel.
"Ninja Assassin"
director James McTeigue was once rumored to replace Brian Singer, but
DC Entertainment President Diane Nelson
recently said the company doesn't
"have any current plans for Superman."
Well, Kevin Spacey doesn't have any Superman plans either, but that doesn't mean he wouldn't return to the role of Lex Luthor.
"If I ran Warner Brothers I could tell you definitively we'd be making that movie,"
Spacey told MTV News.
"But I don't, and they haven't called me to tell me."
The
"Men Who Stare at Goats"
star sounds like he's in the same boat Superman fans are, waiting to read a headline with some good news.
"Literally all I know is what I've heard from press reports,"
Spacey said.
"I can't even confirm whether those are true or not because I haven't spoken to Bryan [Singer]."
If Singer were to be a part of the package, though, he would be open to revisiting the part.
"I don't know what the situation is,"
he explained.
"If they do it again and Bryan directs, I'd be delighted to come along for the ride. But who knows?"