The Weak Television Sector
Following on the heels of employment charts below, the question arises:
So why is employment for teevee animation so sucky?
I think there are several answers, and I'll start with the recent and specific:
1) The Time-Warner animation companies (Cartoon Network and Warner Bros. Animation) have cratered in terms of employment, and they now have way fewer projects going than in earlier years. (There are bright spots. Fred Seibert informs us that
"We're just about to start
Adventure Time
at Cartoon Network, started
Fanboy & Chum Chum
at Nick"
...)

2) Universal Cartoon Studio has only one series, and that series employs a limited number of people.

3) Nickelodeon, while somewhat busy, is down from previous employment highs.

4) Animation aimed at 'tweens and teens is close to non-existent. At the moment, most animation series target the pre-school and early elementary set. The older demographics are enfolded by live-action, due to Disney's success with Miley Cyrus and the "high school musical" franchise.

5) Business models have morphed as licensing fees shrink. Every studio is tight with a dollar.
We've traveled a version of this road before. Shortly before I started this job, television employment was also sucky.
Warners Animation was tiny; the Spielberg animation franchise --
Tiny Toons, Animaniacs, Pinky and the Brain
-- was yet to happen. Filmation had just imploded, taking 160 jobs with it. Disney Television Animation was in its infancy, and still a small boutique studio. Mighty Hanna-Barbera was past its peak and employing way fewer people.
There was a grand total of 530 people working in the unionized wing of television animation in L.A. County, which then as now was most of it.
Sound familiar at all?
The point to be made here is that television animation has expanded and contracted for half a century, reacting to market forces, technological and distriburtion changes, and shifting audience tastes. A few examples:
In 1960-61, the rapid expansion of L.A. television animation lifted southern California's cartoon community out of an employment trough created by Disney huge layoffs, commercial animation work drying up, and M-G-M's animation division closing its doors. By 1962 employment had dropped as various series failed.
Through the 1960s, 1970s, and early 1980s, television animation production revolved around the three major network's broadcast seasons. If you worked in the teevee patch, you worked seven months on and five months off, year after year.
In the 1980s, Filmation -- for years almost a "house studio" for CBS -- pioneered the concept of syndicated animated series designed as platforms to sell toys (
He-Man, She-Ra
). Large episodic orders and year-round employment became the norm.
The business model of syndicated animation marketing dolls and action figures was soon taken to the next level by Disney Television Animation.
In the 1990s, syndicated blocks of animation proved highly lucrative with the likes of "The Disney Afternoon" and Warners' lineup. Television animation employment climbed to new heights. A few years later, cable channels dedicated to animation came into existence (Nick, Disney, Cartoon Network) and employment in television animation enjoyed another growth spurt.
Today, unfortunately, technology and demographics drive work levels in a different direction. Young eyeballs now have video games and the internet to occupy them, and the competition from live-action product has also been problematical. Disney's
Phineas and Ferb

has gotten traction with older kids, but it's mostly the younger-skewing 'toons

Dora the Explorer, Mickey's Clubhouse

, and

Mi-Hao Kai-Lan
that are being made. As always, producers look for ways to make the product faster and cheaper, since few companies want to deficit finance and amortize half-hour shows over several years.
We are in, as best I can judge, a spiral of shrinking budgets and demos that will only change when the Next Big Hit arrives in animation, and studios crank up production on imitations and spin-offs in the pursuit of heavy coin. Sooner or later, it always happens.
Lastly, it's important to note there is a bright spot in television. Prime time is going great guns. Not only are
The Simpsons
still marching along, but
Family Guy, American Dad

, and

King of the Hill

are being joined by

The Cleveland Show, Sit Down, Shut Up

, and

The Goode Family
. There is, quite frankly, more prime time animation going on right now than at any time in television history.
So, as tight as things are, this is at least one bright sliver edging the gray cloud now hanging over television 'toonland.
(Thanks
Animation Guild Blog
)
Jetix Europe Toons Come to iTunes
Jetix Europe today announced that selections from its catalog of classic kids programming are now available for download and purchase in the U.K. iTunes Store (
www.apple.com/uk/itunes
). Initial offerings include
Sonic X, Iron Man
and
The Incredible Hulk
. Additional shows, including
Spider-Man
and
The Fantastic Four
, will be added over the coming months.
"We are thrilled to bring our programming to the iTunes Store in the U.K. and pleased to be able to offer kids some of their favourite shows, as well as classic animation, on such a popular platform,"
comments Chiara Cipriani, director of Jetix Europe's Digital Media Group.
Also currently available on iTunes are animated offerings from leading producers, distributors and broadcast networks including Disney, Aardman Animations, Cartoon Network, Nickelodoen, FUNimation and Starz.
DECODE's

Bo

Still on the Go
DECODE Ent., the distribution subsidiary of DHX Media Ltd., has announced further international sales of Halifax Film's preschool series
Bo on the GO!
In addition, CBC in Canada has commissioned a third season of the show, which is one of the broadcaster's highest rated preschool offerings.
The first season of
Bo
has been sold to Rai Sat, and season two has gone to the Disney Channel in Spain. MNET/KTV in South Africa and TG4 have snagged TV rights for both seasons, and Prava I Prevodi has acquired home video and broadcast rights for both seasons for Bosnia, Croatia, Serbia and Montenegro. These deals follow on the heels of a recent sale of both seasons to France 5, Cartoon Network (India, Taiwan and the Philippines), DIGITURK JOJO (Channel 66), Al Jazeera Children's Channel (Arab speaking version), Finland's YLE and KidsTalkTalk in Korea.
Bo on the GO!
is produced in CG using motion capture technology. The show follows the adventures of Bo, a positive, energetic and inquisitive young heroine, and her young friend Dezadore dragon. 'Dezzy' encourages children at home to go on amazing adventures by actively joining in a variety of movements that assist the pair on their weekly quest.
DECODE Ent. represents all television and home video rights to
Bo on the GO!
, as well as other Halifax Film preschool properties including POKO. Halifax Film is a production subsidiary of DHX Media.
More

Dinosaur King

Stomping to MIP
4Kids Ent. will offer 26 new half-hour episodes of the hit animated action show
Dinosaur King
at MIPCOM 2008. A video game, a trading card game and an extensive toy line based on the series are also expected to roll out in the Spring 2009.
Based on the internationally successful arcade and collectable card game from Sega,
Dinosaur King
employs a mix of 2D and 3D animation to chronicle the adventures of Max, Rex and Zoe (a.k.a. the "D Team") as they race around the world to uncover secrets that bring dinosaurs back to life. They are able to transport themselves anywhere in the world in their quest to find all the dinosaur cards that have been lost by the time-traveling Dr. Z and his bumbling team of bad guys.
The series airs Saturday mornings in the 4KidsTV block on FOX. Other broadcast partners include Mediaset in Italy, RTL2 in Germany, France 3 and Canal J in France, TV2 in Denmark, TV4 in Sweden, MTV 3 in Finland, TVI in Portugal, LNK in Lithuania, Neljas in Estonia, Jetix in the U.K., Scandinavia, Spain and Latin America, MNET in South Africa and YTV in Canada. New markets expected to close at MIPCOM include Ireland, Australia and a number of central European countries.
Shout! Factory and 4Kids Ent. recently signed an agreement to bring
Dinosaur King
to home entertainment. The multi-year deal makes Shout! the exclusive home entertainment distributor for the title in the U.S. Multiple DVD releases of the show's initial 49 half-hour episodes will begin rolling out to retailers later this year.
WALL•E

Desktop Available from Hyperdesk
Hyperdesk has debuted its
Wall•E Hypersuite
, a package that allows kids and fans of all ages to customize their computers with a Windows theme, custom icons, dynamic widgets and other features based on the latest hit animated feature from Disney and Pixar.
The
WALL•E Hypersuite
features two stylized hyperthemes featuring WALL•E and EVE (and two variant editions), two sets of desktop icons, wallpapers featuring scenes from the movie and new artwork, a Windows Media Player 11 video skin for each style, and a hybrid audio remote widget that controls both iTunes and Windows Media Player 11. In addition, the WALL•E Windows XP desktop theme from The Skins Factory brings more of the movie's fun to Windows XP desktops.
The package is now available for $14.95 at
www.Hyperdesk.com
. Users will need to download the free Yahoo! Widgets application to use the audio remote.
Pixar once again opens its doors for the Cartoon Art Museum's annual benefit
Ever dream of going over the WALL-E in Emeryville? The crew at the Cartoon Art Museum can make your dream come true
It's that time of year again, folks. That rarified moment when Willy Wonka allows a lucky few to enter the Wonka Works ... er ... I mean when John Lasseter opens the gates in Emeryville, allowing a limited number of people to come visit Pixar Animation Studios.
Mind you, you won't need a Golden Ticket to gain entrance to the Pixar campus. But you will need to pony up some dough.
You see, the folks at Pixar only allow the public into their studio once a year because they're huge fans of the Cartoon Art Museum. Which is the only museum in the western United States dedicated to the celebration of all forms of cartoons and comics. Which is why -- for five years running now -- Pixar has held a benefit at their Emeryville campus for this San Francisco-based operation.
Copyright Disney / Pixar. All Rights Reserved
And this year's event -- which will be held on Saturday, October 11th -- promises to be a particularly fun evening. The festivities will start with a reception inside of Pixar's cavernous lobby area, from which the guests will then be able to explore the studio's 2nd floor gallery space. Which will be filled with pre-production artwork from
"WALL-E"
as well as other fine artworks created by Pixar employees.
From there, event attendees will then be escorted into the Emeryville campus' state-of-the-art 235-seat theater. Where they will then hear stories from Pixar insiders, gain insight into this award-winning animation studio's unique movie-making process as well as get a glimpse behind-the-scenes at the making of
"Finding Nemo," "The Incredibles," "Ratatouille"
and
"WALL-E."
After this presentation, the guests will then get the chance to chat with some of the presenters. Which will include Jeremy Lasky, the director of photography on the highly anticipated
"Toy Story 3."
The festivities officially kick off at 5:30 p.m. with the serving of wine & hors d'oeuvres in the lobby and art exhibition area. The presentation in the main theater will begin promptly at 6:30 p.m. and will include a peek at Pixar's next short. Afterwards, guests will be invited back into the lobby to enjoy dessert & coffee as well as quiz various studio insiders who will be taking part in this event.
Copyright Disney / Pixar. All Rights Reserved
Sounds like a great way to spend an evening, don't you think. Now comes the hard part: Tickets for Pixar's 5th annual benefit for the Cartoon Art Museum are $200 per person (Though
CMA members
can purchase their tickets for the somewhat reduced rate of $150 per person). The Museum has also set aside a certain number of tickets for larger groups. Though those reserved-rows-of-ten are going for $2,000 apiece.
Which I know sounds like an awfully large amount of dough. But trust me, folks. This money is all going to a very good cause. The Cartoon Art Museum regularly presents all sort of stunning Disney-related shows (Take -- for example -- last year's great
"The Art and Flair of Mary Blair"
exhibit). More to the point, when you buy a ticket to this event, you actually get to wander around inside Pixar. Which is a pretty thrilling place for any animation fan to visit.
Having had the chance to explore the Emeryville campus once myself, I can truthfully tell you that this is one opportunity that you really don't want to miss out on. And given that tickets to this annual Cartoon Art Museum benefit typically sell out very quickly ... You don't to dither around here.
So if you're interested in attending this year's open house at Pixar Animation Studios, call 415-227-8666, ext. 300 today. You can thank
me
later.
Official Artwork And Details For New

"Superman Doomsday"

DVD And Blu-Ray
Warner Home Video has provided
The World's Finest
with the artwork and first official details on the upcoming
Superman Doomsday: Special Edition
release on both DVD and Blu-ray.
Warner Home Video has released official details on the new DVD and Blu-ray
Superman Doomsday: Two-Disc Special Edition
release, set to hit shelves
November 25th, 2008
. The new release will feature the following exclusive bonus materials, as seen below.
-All-New Featurette

"When Heroes Die: The Making of Superman: Doomsday"


-Audio Commentary from the
Superman Doomsday
creative team
-All-New Featurette

"The Clash of the Juggernauts"


-4 Bonus Episodes of

Superman: The Animated Series

(hand picked favorites by animation legend Bruce Timm)
-

"Requiem and Rebirth: Superman Lives!"


-

Superman: Doomsday

'Behind The Voices' Featurette
-

Justice League: New Frontier

Featurette
-

Wonder Woman

Sneak Peak Featurette
Warner Home Video has also released the cover art and a promotional flyer for the new
Superman Doomsday
release, both of which can be seen below.
Superman Doomsday: Two-Disc Special Edition
will hit shelves November 25th, 2008. Stay tuned for further updates.
Bill Morrison on

"Simpsons' Treehouse of Horror"

Comics
Comicon.com's PULSE News
has interviewed Bongo Comics' Bill Morrison about this year's
Simpsons' Treehouse of Horror
comic book outing, which will include contributions from creators such as Gilbert Hernandez, Steve Niles, and Glenn Fabry. Morrison discusses some past
Treehouse of Horror
issues, and also goes into some details about this year's contributions, which include a Simpsonized version of
30 Days of Night
by Niles and Fabry and a parody of the popular anime and manga series
Death Note
.
Amazon.com is Selling

"Family Guy: The Total World Domination Collection"
Tvshowsondvd.com
reports that the same
Family Guy - Freakin' Sweet Party Pack
collection will be in a special collection called
Family Guy: The Total World Domination Collection.
The special collection will contain all 22 discs featuring every
Family Guy

DVD released (so far), including

Family Guy Presents: Stewie Griffin - The Untold Story
, and the
Star Wars
Spoof
"Blue Harvest"

. Also in the set is volume 1 of

American Dad
. The speical collection is packaged in the shape of Stewie's head. Now here's the catch, folks. This special set will not contain the ping pong and poker set, and secondly; this box set will be sold exclusively on Amazon.com.
The box set will be out on
October 21st
, the same day as
Family Guy: Volume 6
and the
Family Guy - Freakin' Sweet Party Pack
.
You can
pre-order the limited Stewie head set here
.
Newsarama Interviews Gary Hartle on Directing

"Next Avengers"
Newsarama's Animated Shorts has
interviewed Gary Hartle, director of the upcoming

Next Avengers: Heroes of Tomorrow

direct-to-video movie
. The new movie centers on the children of Marvel's iconic Avengers and the old threat that they must face down. Hartle discusses how he got the job to direct the DTV, how he approached several of the characters and the storyline, and the prospects of a second
Next Avengers
movie. The article contains spoilers for the movie.
'Avengers'

assembling at new Toronto studio?
Hollywood North Report
posted some photos from the ribbon-cutting ceremony marking the opening of Toronto's new, state-of-the-art, $60 million full-service production studio, Filmport,.
The site also reports that rumor are circulating that Marvel will shoot
'The Avengers'
at the new facility. No source or additional information is given.
Should Superman Go Dark? We Ask Kevin Smith, Jeph Loeb And Other Comic Creators
Last week,
Warner Bros. announced that they would be making some major changes
with their film franchises based on the rampant success of "The Dark Knight." However, despite mentions of
"Batman 3"
and the possibility of at least two new franchises starting up, the one topic that seems to be on everyone's minds is
"Superman,"
and how Warner Bros. not only plans to reboot the franchise after the disappointing box office from
"Superman Returns,"
but to give the film a much darker tone and feel.
Immediately, fan reaction ran the gamut of those who were thrilled to hear about a
"Dark Knight"
-influenced Superman to those who equate a meaner, nastier Superman as sacrilege. And these reactions certainly weren't limited to the fan-fueled message boards — comic book writers and artists were also quick to voice their opinions on the new directive.
""How stupid is that?"
exclaimed
"Hellboy"
and
"Buffy"
writer Christopher Golden.
"That announcement made my head spin.
'Iron Man'
isn't dark.
'Iron Man'
worked because Favreau brought in all the best Iron Man creators and had them read the script and asked them, 'Tell me what we did wrong?' — and it worked because it had all the best things about Iron Man boiled down into the best movie they could make.
'The Dark Knight'
was really good because it had all the best things about
'Batman'
boiled down into the best movie they could make. Making a dark and gritty Superman movie because
Dark Knight
made a ton of money is incredibly stupid."
While he wasn't as direct as Golden, fan-favorite writer/director Kevin Smith also had reservations on a newer, darker Man of Steel.
"You always have to always keep Superman very distinct from Batman,"
he related.
"Batman can be brooding and bleak and dark but Superman — if you want to take a realistic approach to him that's fine, but I don't think you can turn him into an angry character. Superman is about the hope in people, the good in people, whereas Batman is about the more driven, hungry for justice angry side of us. [So] I don't know if doing a dark Superman is the approach, but I'm all for a reboot."
"Superman, the character, inspires hope, as opposed to Batman, who inspires fear,"
elaborated Jeph Loeb, who added that his
"Superman for All Seasons"
(which he created with frequent collaborator Tim Sale) could be a proper approach for a possible revamp of the franchise.
"
'Superman For All Seasons'
is about Clark Kent trying to deal with the fact that he has this incredible power and responsibility, and that was an interesting concept to me. And one of the other things that I find interesting is that he's set out to perform a job that will never finish, a never-ending battle. Is that dark? I don't know."
Meanwhile, Steven T. Seagle — who's groundbreaking graphic novel
"It's a Bird…"
took a unique look at Superman through the eyes of a comic book writer — feels that Superman has been a
"dark"
character all along.
"Heroic struggles are basically all dark in tone. The idea of 'villains' implies something bad happening to good people most of the time, and that's dark. Heroes look brighter emerging from dire consequence successfully,"
said Seagle.
Longtime DC Comics scribe Mark Waid tended to agree with that assessment.
"I [focused] on the part where they'll make the films as dark as the characters allow us to go," he said. "Hopefully they realize that Superman is not a dark character, but that doesn't mean the story can't be darker or more threatening. What makes Superman hard to write in the 21st century is that he's a creature of hope and he lives in a brighter, more optimistic world than, say, Batman."
However, Seagle seemed to sum up the announcement best with a point both sides of the argument could agree on.
"'Dark?' 'Light?' Whatever. 'Good' is the main thing we're looking for when we plunk down our ten bucks."
News via Latino Review...

Exclusive: We Know Who Is Directing

Voltron

!!
So last week we got the official word that
VOLTRON
was put into turnaround, that Relativity picked it up to make it on the cheap, ala
300
, and that a director was going to be announced within a week.
Well, guess what?
Here he is…
MAX MAKOWSKI
"Huh? Who the f*@! is that?!"
you just said? So did I.
Folks know that I'm very fond of
Voltron
. It's a script I like very much regardless of
THE ROAD
post apocalyptic inspired creative license that some folks have issues with. My 25 year old diesel Voltron/Lionbot toy that I got in Chinatown back in the day, is on my desk looking right at me. I got all 5 tins of the re-mastered cartoon on dvd. It's also worth mentioning that the two-volume
GOLION
dvd (the original 1981
Voltron
Japanese anime) was released recently and worth a look. I'm also checking out the origin story comic that Josh Blaylock got going on over at
Devil's Due
.
Voltron
fanboyness aside, sources tell me he's actually a great choice. I honestly hope so and I at least give everyone the benefit of the doubt. I'm told he's on every studio's hot list these days because of some Sundance movie he made a few years ago about warring assassins called
ONE LAST DANCE
. Anybody seen it or can get me a copy? Email me.
mayimbe@latinoreview.com
I was also told it's like having Zach Snyder do
300
. Max is supposed to have a great visual style that's very specific and all his own.
We shall see.
Here is a little bio…
Max Makowski was born in Rio de Janeiro, Brazil but has lived all over the world in countries such as England, the Philippines, Peru, Bahrain, the U.S.A, Germany, Cuba, and Hong Kong where he became a director, producer, writer, editor, and cameraman for Salon Films as well as CNBC and NBC Asia - where he also produced the TODAY SHOW for the Asian market. Max's credits include the movies
The Pigeon Egg Strategy

(premiered at The Sundance Film Festival in 1998),

One Last Dance

(premiered at The Sundance Film Festival in 2006 and went on to Cannes), and television series

Queer Eye for the Straight Guy

(2003) and

The Agency

(2005). He is also working on writing and directing a Universal film based on the Japanese movie

Shinobi

, a Studio Canal film based on

Le Professionnel

, and he has rewritten the screenplay for the bigscreen version of

Hawaii Five-O

. Max also will direct the bigscreen adaptation of the 1970s TV series

Kung Fu
which revolved around a Shaolin monk forced to flee to the Wild West, where he used his martial arts skills to fend off various evildoers.
All I know is that he better not 'f' it up because the jury is still out. Directing five diva style mavens on
QUEER EYE FOR THE STRAIGHT
is way different than directing five robot lion pilots. Different set of egos.
I'm just the messenger folks.
So there you have it, the secret of
VOLTRON
is now in the hands of Makowski.
Mr. Beaks Rolls Out An Interview With Optimus Prime Himself, Peter Cullen!
Though Michael Bay didn't exactly go out of his way to placate the TransFans during the production of the first

TRANSFORMERS

, he did make one very wise concession: he brought back the inimitable Peter Cullen as the voice of Optimus Prime. Regardless of what Bay and his team did to the design of the character (I had no qualms with any of their alterations), it would've been wrong to hear anything but Cullen's baritone rumbling forth from the leader of the Autobots.

I didn't get to chat with Cullen prior to the theatrical release of

TRANSFORMERS

last year, so it's nice to catch up with the veteran voice actor as he makes the press rounds in support of the Blu-ray (which hits shelves on September 2nd). Cullen's got a reputation as one of the nicer guys you'll ever interview, and he certainly lived up to it as he spoke warmly and enthusiastically of the fans' tireless support, the enduring appeal of the animated show, and what we might be able to expect from the second film. Though Cullen's enjoyed a long, successful career as a voice actor (stretching back to his days as an the announcer on

THE SMOTHERS BROTHERS COMEDY HOUR

), he's especially proud of his work as Optimus Prime. The fans are lucky to have a class act like Cullen.
Here's
the MVP of the
TRANSFORMERS
universe...
Beaks: The fans played a huge part in getting you in the film. Are you still sensing an appreciation from them now that the film has been made?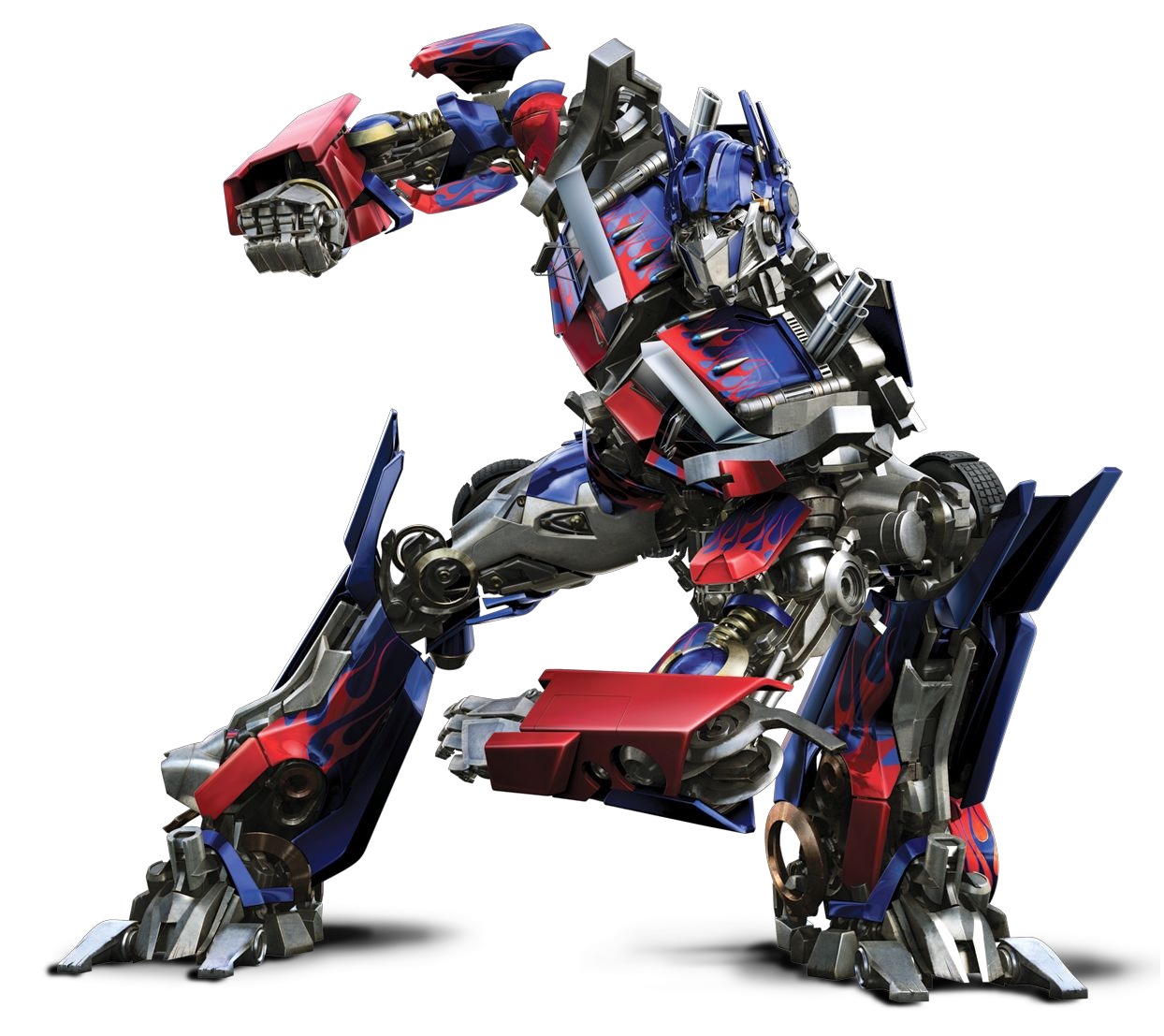 Peter Cullen:
Oh, absolutely! To tell you the truth, Jeremy, I was knocked out by it. It gave me a whole new perspective on the work that we all did. I tried to let that fan base know that I was extremely grateful for their lobbying efforts, and that I didn't want to disappoint them or have them be disappointed in any way.
Beaks: It's very rare that a voice actor gets to feel that kind of connection with their audience. You do your work in relative isolation, and it goes out into the world, and you know it connects with people in one way or another. But this is kind of unprecedented.

Cullen:
It took me by surprise, I must admit. Of the conventions that I have been to, the amount of people is another surprise; to think that anyone can muster that from the voiceover world... it's strange and wonderful.
Beaks: Have you ever had a moment where you're... I don't know, ordering a coffee or something, and someone recognizes your voice?

Cullen:
No, not really. (Laughs) But I have had serious reactions from some people who've been told in my company, "Oh, he does Optimus Prime." They'll do a double-take, and, and because I know what's taking place, I'll immediately respond (in Optimus's voice), "Cool it!"
Beaks: (Laughing) That's great.

Cullen:
I'll give them a look, and say (as Optimus again), "Calm down! Not here! Not now!" And they'll go, "Oh, my god! That's so great!" That is a real gift. If you can receive anything in your life that's bigger than that, I couldn't conceive it. That kind of feeling that you get from people appreciating something you've done is a wonderful, wonderful thing.
Beaks: As a working voice actor, I can't imagine that you know, one show to the next, whether your work is going to make a deep imprint in the popular culture. Was there any inkling when you took on the role of Optimus Prime that this character was going to leave a deeper groove than the others?


Cullen:
I think so. When I saw the character breakdown, I said, "This is indeed a real hero. This is not like any hero we've ever seen before." He penetrated different zones. There was a sense of him. He wasn't just muscle and strength. He went beyond that. There was dignity and courage, and a soft spoken honor and integrity about him. Very well written. So to apply those traits... they weren't necessarily implicated in the script; I just did an impression of my brother Larry, who served in the Marine Corps, and lowered the voice. I think we nailed it. The scripts were wonderfully written, and there was so much to absorb in a half-hour. Don't forget, Jeremy, that was how many years ago? 1984? '85? Gee whiz, I was just a child! (Laughs)
Beaks: I was in grade school at the time.

Transformers

hit right at the right time for me. The toys and the cartoon came out when I was in fourth grade, and the animated movie was released in the summer of '86. That was right before I entered junior high, so it was the perfect sendoff. You couldn't have toys or be watching cartoons like that in 7th grade.

Cullen:
In this day and age, with the electronic stuff you can get off of DVDs and the internet. And now the Blu-ray. Have you heard about that?
Beaks: Oh, yeah.

Cullen:
Oh, yeah! I went down and saw it, and it's incredible. You don't have to buy toys anymore. Just buy the Blu-ray, and there's about a hundred toys right there on your screen.
Beaks: I think about all of the options that kids have available to them now. If I would've had some bells-and-whistles Blu-ray when I was twelve, I probably would've never left the house.

Cullen:
It's huge.
Beaks: And the Blu-ray is only going to stoke more anticipation for

TRANSFORMERS 2

, which is shooting right now. Have you had the opportunity to visit the set, see any footage or chat with Michael Bay?

Cullen:
I've had one work day with Michael. We did the opening. But I didn't have the opportunity to see any real footage - until I was leaving. I hate to use the word over and over "knocked out", but I was stopped in my tracks. "Whoa! Can I see that again!?!?" It's going to be huge.
Beaks: Just when you thought they couldn't top the spectacle of the first movie?

Cullen:
No question. He's excited, too. Bay is really excited. He's animated. He's such a creative guy and a perfectionist. He's got a high energy level that's really cool.
Beaks: He gets a bit like a little kid when he's working.

Cullen:
You can see his brain working. What goes on in that head of his is indescribable. (Laughs) He's amazing.
Beaks: How much of a connection have you been able to form with the human actors? Now that the first film was a hit and you know you'll be making more, have you had the opportunity to interact with Shia or Megan?

Cullen:
Nope. None of the above. I have not met anyone. I know Charlie Adler [the voice of Starscream], but aside from the voiceover people... I didn't even meet Hugo Weaving. I admired his work, but... I haven't had an opportunity to be with the real actors. During this year, I'm sure there will be a time where I'll be able to go to the studio and see some of that. I'm looking forward to that.
Beaks: It's amusing how you can go from the epitome of a strong leader in Optimus Prime to doing the voice of Eeyore. That's a compliment to your range as an actor, I would say.

Cullen:
(Laughs) Well, thank god they're in the same vocal area. I just apply the baritone. Eeyore requires a lot more air; he's actually deeper in another way. It's a chest resonance more than anything else. He never yells, and he doesn't laugh. Neither one of them laughs. Optimus doesn't laugh. They chuckle, but they don't laugh.
Beaks: But I watching

TRANSFORMERS

over the weekend on HBO, and I was noticing how you subtly changed your vocal performance from the cartoon. You gave Optimus a little more lightness. We get to see a funnier side.

Cullen:
Right. I think you'll see more of that. His relationship with humans demands that he be more human. When he's one-on-one with Sam or the other characters, there's an opportunity for more humor and sensitivity, not just stone-cold metal. Coming into that human element... it's different; it's a little challenging because you have to be more conversational without stepping out of his character or losing any of his ingredients. We'll see more of that, I think. I don't want to speculate, but it seems to be going that way.
Beaks: Well, I don't need Michael Bay's ninjas breaking my windows again, so let's not talk about things that we're not supposed to talk about.
And there ya have it! You'll be able to show off your home theater setup with the Blu-ray of
TRANSFORMERS
starting
September 2nd
.
Next Avengers

: Concept Art Gallery
Marvel.com have posted a gallery of concept art from the upcoming
'Next Avengers: Heroes of Tomorrow'
.
Check out this sampling of early designs, some of which are radically different from what ended up on the DVD, or view the
entire gallery
.