Jorge Gutierrez and Sandra Equihua
Husband-and-wife animation team Jorge Gutierrez and Sandra Equihua (the creators of
El Tigre
) were interviewed by Lynda.com about their animation careers. Three of the videos are available for free
on Jorge's blog
, while the rest are behind a
subscription wall
. This video about their art education sheds light into the stigma that artists face in many countries for choosing a career in the visual arts:
(Thanks
cartoon brew
)
Squeakquel Comes Home, Beauty and Beast Upgrade Announced
The Squeakquel is in the house.
The CG animation/live-action hybrid hit
Alvin & The Chipmunks: The Squeakquel
(Fox $29.98 DVD, $39.99 Blu-ray/DVD Combo Pack) arrives on home video this week, bringing with it a slew of bonus features. The film is being released as a single-disc DVD, as two-pack with bonus disc Squeak Along, and as a Blu-ray/DVD combo pack.
The single-disc edition includes the Munk Music Machine and Music Mania featurettes; while the Squeak Along bonus disc piles it on with a historical featurette on the Chipmunks, an introduction to the Chipettes, music videos and sing-along features. The Blu-ray edition features all that, plus the
A-l-v-i-n-n-n-n!!! Album Maker, Live Lookup
and
Music In A Nutshell: Song Trivia
.
If that's not enough Chipmunks or Chippettes for you, there's also the animated release
Alvin and the Chipettes: Cinderella, Cinderella
(Paramount, $16.99)
Also out this week is Guy Ritchie's hip, VFX-enhanced version of
Sherlock Holmes
(Warner Bros., $29.98 DVD, $35.99 Blu-ray/DVD Combo Pack).
New DVD releases for the kid vid set include
Backyardigans: Escape From The Tower
(Paramount, $16.99),
Ben 10 Alien Force: Season 1, Vol. 6
(Warner Bros., $14.98),
Nick Jr. Favorites: Go Green!
(Paramount, $16.99) and
WordGirl: Earth Day Girl
(Paramount, $16.99)
In other home entertainment news, Disney has announced the release
Oct. 5
of
Beauty and the Beast: Diamond Edition
as a Blu-ray/DVD combo pack. A two-disc DVD edition of the restored and upgraded release will follow
Nov. 23
.
The film, which has been unavailable since 2003, will include restored picture, an upgraded 7.1 sound and hours of features including behind the scenes featurettes, deleted scenes, enhanced music tracks and more.
(Thanks
Animation Magazine
)
PGS Spills I.N.K. Into Major Markets
France-based distributor PGS Entertainment has sold the Samka animated series
I.N.K.: Invisible Network of Kids
into major markets in Europe, Africa and the Middle East.
The series' most-recent sales include a pickup from Nickelodeon in Netherlands and Scandinavia, MNET in South Africa, SIC in Portugal and NOGA in Israel. It already is set to air on France 3, SuperRTL, RTBF, ABC Australia and MTV3 Finland.
The series, featuring a group of kids who go undercover to take on an evil teacher who wants to turn their school into a disciplinary nightmare, is a co-production of Samka Productions and France 3.
"The main objective for I.N.K.: Invisible Network of Kids was to produce a series based on every kid's ultimate dream of being part of a secret network and working undercover,"
says Samuel Kaminka, producer at Samka Productions.
"PGS have done a great job in placing the series with some terrific broadcasters, which will give the series the best possible visibility around the world."
(Thanks
Animation Magazine
)
Cake, TeamTO Reunite for Ooohhhasis
Cake Entertainment and TeamTO have announced their third co-production, a 78 x 7 min. 3D animated series called
Ooohhhasis
.
Ooohhhasis
is a comedy series in the classic cartoon mold about a lizard named Oscar and his no-good neighbors Harchi, Popy and Burk living in a desert full of sun, sand and chickens.
TeamTO will be working with Korean company Tuba to produce a fast-paced series, while Cake will be distributing the show to every nation except France starting at the MIP-TV show.
"Our relationship with TeamTO allows us to use all the best tools available to us to ensure we create high quality properties that can be successful across the globe,"
says Tom van Waveren, creative director of Cake.
"We're delighted with the relationship we have fostered with TeamTO and the successes we have had with Hareport and Angelo Rules. We're excited about the next phase, and look forward to future collaborations.""It has been really fascinating to develop this very fun cartoon show, and to set up an enthusiastic 'dream team' to work on this non-verbal and storyboard-driven series,"
says Corinne Kouper, partner and executive producer at TeamTO.
"A new experience and a new challenge, for TeamTO and Cake, together again."
(Thanks
Animation Magazine
)
BOXX Key to Making of Tower-Extending Discordia
Fans of Stephen King's
The Dark Tower
series have been thrilled with the chance to delve further into this world through the online Discordia game on the author's web site.
The game, which expands the world presented in the novel series, presents a highly detailed digital vision of
The Dark Tower
world was made possible by BOXX Technologies.
BOXX came onto the project after being contacted by Brian Stark of Metro DMA, who was responsible for the overall creative direction of the project. Stark had been using a computer system that was not up to the task and died in the middle of the creation of the Dixie Pig, a key setting in
The Dark Tower
story.
"After such a bad experience in the middle of a high profile gig,"
Stark said in a case study on the making of Discordia.
"We knew that we needed to step up to the type of rigs the big boys use."
BOXX sales consultant Rich Petit helped Stark decide on the best machine for the project — a top-of-the-line 3DBOXX 8500 workstation line featuring quad-core Intel Xeon processors.
"Everyone at BOXX dealt with us on a level that I would describe as 'boutique,'"
says Stark.
"This is a good thing when you're talking about fine computers."
The performance of the 3DBOXX shortened rendering times, so Stark could work and faster with greater freedom.
"The ability to create insanely detailed artwork and render out 700% faster is a true luxury for someone like me. I could not be happier with its performance, noise level, and style."
Discordia has been well-received by fans since its debut last year, and is structured to allow new content to continue to expand the experience.
To read the full case study on the project, visit
http://www.boxxtech.com/Downloads/customers/discordia_CaseStudy.pdf
.
(Thanks
Animation Magazine
)
Sofia Vergara Joins the cast of The Smurfs and Happy Feet 2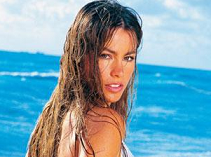 HeatVision
reports that Sofia Vergara has joined the cast of
The Smurfs
, the big screen adaptation of the cartoon series. Sofia will play Odile, a powerful executive at a high-end French cosmetics company who is married to the live-action character played by Neil Patrick Harris. Produced by Columbia Pictures and directed by Raja Gosnell,
The Smurfs
will hit cinemas summer 2011.
Additionally, the site also reports that Vergara will also be lending her voice to George Miller's
Happy Feet 2
in 3D, due out in theatres November 2011.
Legendary jazz guitarist Herb Ellis dead at 88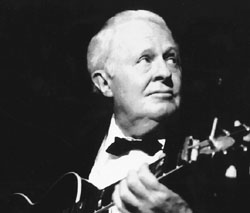 Jazz guitarist Herb Ellis, the only white member of the Oscar Peterson Trio, died Sunday at his Los Angeles home of Alzheimer's disease, his son Michael confirmed. He was 88.
In the 1950s, Ellis was part of the trio (along with pianist Peterson and bassist Ray Brown) at a time when racism was still very much widespread. The house recording band for Verve Records, the Oscar Peterson Trio worked with such jazz greats as Louis Armstrong, Roy Eldridge, Harry "Sweets" Edison and Ben Webster.
The three provided a stirring rendition of "Tenderly" as a jazz improvisational backdrop to John Hubley's 1958 cartoon
The Tender Game
, Storyboard Film's version of the age-old story of boy falling head over heels for girl.
With fellow jazz guitarists Barney Kessel, Charlie Byrd and Joe Pass, he created another ensemble, the Great Guitars. Ellis and Kessel's performance of the theme from Hanna-Barbera's
The Flintstones
can be seen at
www.youtube.com/watch?v=EMrv9aXOCnA
.
Born Mitchell Herbert Ellis on August 4, 1921 in Farmersville, Texas, he attended North Texas State University from 1941 to 1943, where his classmates included Jimmy Giuffre, Gene Roland and Harry Babasin. He worked with such groups as the Casa Loma Orchestra, Jimmy Dorsey and the Soft Winds Trio while establishing himself as one of the most technically accomplished of jazz guitarists.
Ellis recorded, toured or appeared on TV with some of the biggest names in jazz, including Ella Fitzgerald, Dizzy Gillespie, Coleman Hawkins, Roy Eldridge, Della Reese, Steve Allen, Red Skelton and Danny Kaye. He had over 30 solo recordings on the Justice, Concord, Pablo, Verve and Columbia labels, as well as various group recordings with Peterson and others.
In the late 1980s, he moved to Arkansas to enjoy semi-retirement from the frantic pace of a musician's life in Los Angeles. Until returning to L.A., he lived in Fairfield Bay, Arkansas, where he ran his own music publishing/education/production business, Herb Ellis Music.
Since coming to Arkansas, he was anything but retired. He gave many promising young jazz musicians around Arkansas a chance to perform and learn from a master jazz artist. He gave strength to jazz in Arkansas by performing at the University of Arkansas at Little Rock, the Monday Jazz Series, the Eureka Springs Jazz Festival, the Wildwood Jazz Festival and Wildwood Music Festival, the Hot Springs Jazz and Blues Festival, the Arkansas Jazz and Heritage Foundation Concert Series, and in many other jazz venues around the state.
In 1993, he was presented with the Arkansas Travel certificate, making him an ambassador for Arkansas in his travels around the United States and the world.
"If you're not swinging, he's gonna make you swing,"
guitarist Les Paul once said.
"Of the whole bunch of guys who play hollow-body guitar... I think Herb Ellis has got the most drive."
Fleischer's Secret Story-Telling Chart
Well, I don't know if it was a secret, but here's a rare publicity photo of Dave Fleischer with a
"story mood chart"
indicating story beats for
Mr. Bug Goes To Town
(1941). Click the photo above to see a
close up of the chart
. I don't know if they really used anything like this in production, but however they did it, they created a masterpiece - and that's all that matters.
(Thanks
cartoon brew
)
Glitch in the Grid by Eric Leiser
Tantalizing teaser for
Glitch in the Grid
, a forthcoming feature by Eric Leiser, whose earlier film
Imagination
was
mentioned on the Brew
a couple years back. I'm really digging Leiser's eclectic mix of styles, especially how he applies stop-motion for site-specific landscape animation. Check out
this article
for more details about the film or visit Eric's website
AlbinoFawn.com
to learn more about him and his work.
(Thanks
cartoon brew
)
Are Dragons Detrimental to Box Office? Or Is It Something Else?
USA Today, before
How to Train Your Dragon
was released,
cautioned about the profitability of dragon movies
:
Even the most dedicated fantasy-film fan would have to admit that movies with dragons all too often turn out to be a drag.

Cinematic serpents may date to the silent era, when filmmaker Fritz Lang had his hero slay a 60-foot-long mechanical puppet in 1924's
Die Nibelungen: Siegfried
. [
And Doug Fairbanks gutted a dragon in
The Thief of Baghdad
-- also 1924.
] But most recent big-screen outings, such as
Eragon, Reign of Fire
and
Beowulf
, that center on the slithery beasts have not exactly inflamed the box office or the audience's imagination ....
Another possibility is that
Viking movies
are the problem. Outside of Kirk Douglas's (and Richard Fleischer's)
1958 epic
, how many blockbuster Norse movies have you seen?
I thought so.
Then again, a feature's box office performance might have to do with the setting, (though Cressida Cowell, author of the
Dragon
books, thinks the movie's depiction of
her novel's far-north island
is fabulous.) As Kevin Koch writes:
Pete Emslie made an interesting point in the comments section on a recent post:


"I particularly believe that films set in exotic locales like South America have a great deal of appeal . . ."


This is consistent with what most of us believe — Variety is the spice of life. We consciously crave variety — at least we think we do. Most of us long to visit exotic places when we're daydreaming, but when vacation time comes, we're usually happier to just chill out in our back yards, or travel an hour away to the beach or a favorite resort community. The relatively new field of Happiness Research bears this out. Research shows that more variety doesn't make us happy, and that we're actually happiest with what is familiar ...

Put another way, we want variety, but in a much narrower range than most people realize. Someone who loves hamburgers is always on the lookout for a great new hamburger joint; they might talk about investigating that dim sum place in Chinatown, but when their belly is growling, they'll find themselves steering the car to Bob's Big Boy.

I think the same thing happens with our taste in movies, especially animated movies. As much as good animated films appeal to the entire audience, if we lose the childrens' market, we're facing an uphill battle for success. And any parent knows that children are far less variety-seeking than adults. Ask a child if they want to sit home and watch
Ice Age 3
for the 17th time, or go see a new animated movie that just arrived from Netflix, and you're likely to be watching Ice Age 3 for the 18th time ...
Lastly, there is the biggest elephant in the room:
story
. If the story doesn't engage and enthrall, then box office bets are off. But I'll go out on a limb here. A weak story is the least of
Dragon
's problems. As a veteran Disney story artist said to me today:
"My kid and I loved this film. It cooks. He's telling his friends to go see it, and I'm telling people around here to take it in. I think, with the word-of-mouth and Spring vacation, it should do well straight through next week ..."
I have no idea how
Dragon
does next week, or next month. Frankly, I'm befuddled why it didn't perform more strongly in its debut weekend. (Setting? Characters? Story? Lack of zany, pratfall humor? Resistance of audiences to three dee ticket prices? What?)
You can choose you own questions. But the ones that play in my head on an endless loop are these:
Why did
Alvin and the Chipmunks: the Squeakquel
open with $48.9 million?

Why did
How to Train Your Dragon
earn $43.7 million?
(Thanks
Animation Guild Blog
)
Animation Quality
The L.A. Times has
the answer
to my tortured questions below.
... You can create really good animated films but, as a rule, you'll have more success if your films aren't that great. ...
But of course! Why the hell didn't I think of that?!
It explains why
Space Chimps
and
Everyone's Hero
are the two highest grossing animated features of all time ...
(Thanks
Animation Guild Blog
)
'Avengers' Contender Louis Leterrier Explains What He Learned From 'Incredible Hulk'"Clash of the Titans"
hits theaters this week, offering an adventure on a far different scale than that of director Louis Leterrier's previous film, 2008's
"Incredible Hulk."
With the filmmaker claiming to be on the
shortlist for Marvel's team-up extravaganza "The Avengers,"
we had to ask him what he's learned since bringing Marvel's green goliath to the big screen, and the lessons he took from his
"Incredible"
experience.
"You come in as a director and you have ideas, and it's tough,"
Leterrier told MTV News.
"What Edward and I understand, but have a problem accepting because I'm passionate about it and so is Edward, is when a producer says no to an idea we have that is expensive or time-consuming and might not end up in the movie because it's really a member-driven business."
According to Leterrier, one of the biggest problems with
"Incredible Hulk"
had been the pace they were required to keep to meet the movie's release schedule. Given more time, Leterrier envisions making a slightly different movie in his rearview mirror.
"If we'd had more time with Edward and hadn't been pushed, 'Hulk' could have been a little... fatter — but it was just fast, fast, fast, fast,"
he explained.
"Next time, I'll take my time, I'll workshop, get all the actors in the room, get in the studio, do my thing, so at least the movie that is on the screen is what we actually want."
Still, the director said he's very proud of
"Incredible Hulk"
— and so is his star.
"[Norton] really likes 'Hulk,' and I love 'Hulk,'"
he said.
"I think it's a great movie."
'Thor' Star Calls New Captain America 'A Bloke,' Discusses 'Avengers' Director Rumors
What does Thor think of Captain America? That's the question we posed Chris Hemsworth, the star of Marvel Studios' upcoming live-action
"Thor"
movie, when we caught him on the red carpet for his brother Liam's new film,
"The Last Song."
With
Chris Evans recently attached to the role
of Marvel's soldier-turned-superhero Steve Rogers, it looks like Hemsworth and Evans will be spending a lot of time together when it comes time to shoot
"The Avengers."
Oh, and what about those
"Avengers" director rumors
we keep hearing about?
"Fantastic,"
Hemsworth told MTV News when asked how he feels about Evans being named the
"Captain America"
lead.
"I just found out the other day.""He's great,"
he continued.
"He's got a ton of charisma, and he's a bloke, and I think he has all the points to pull that off."
As for the rumor that
"Clash of the Titans"
and
"Incredible Hulk"
director Louis Leterrier
could be a contender for the
"Avengers"
director chair, Hemsworth said he's okay with the idea — but admitted that he's been okay with most of the names thrown around thus far.
"I've heard a lot of names bounced around, and then we all gather together next January/February to shoot the thing,"
he said.
"So, look — any of the people I've heard I'd be impressed by. I have no idea who it's going to be."
And just in case you missed it last week, be sure to check out
what Hemsworth had to say about his "Thor" costume
!