Hank Azaria joins Smurfs cast as Gargamel

Entertainment Weekly
is reporting that funnyman Hank Azaria is set to voice the evil wizard Gargamel in the live action/animated
Smurfs
movie. The key word to note there is
"voice,"
which strongly indicates that Gargamel will in fact be an animated human in a live action world. Azaria, of course, is no stranger to animation, having voiced several characters on
The Simpsons
and providing the voice of Bartok the bat in Anastasia. On the TV series, the late Paul Winchell was the voice behind Gargamel, a character who wanted nothing more than to capture his lovable little blue enemies. The Smurfs is currently set for release on
August 3rd, 2011
.
Don Hahn discusses Beauty and the Beast 3-D
Longtime Disney producer Don Hahn recently spoke with
ComingSoon.net
about the process of converting the animated classic
Beauty and the Beast
into a 3-D movie. Revealing that production ended on it a few weeks ago, he described the final result as
"spectacular."
In addition, Hahn also talked about how Tim Burton's upcoming
Frankenweenie
might be done in 3-D, and the possibility of releasing other classic Disney films in that format as well.
The story behind Tron Legacy
Empire Online
looks into the story about why and how a sequel to Disney's
Tron
is now finally getting made nearly 30 years after its original release. Declared a flop when it first came to theaters, the revolutionary
Tron
gradually gained a large fanbase over time, causing the Mouse House to eventually take notice. A trailer for the sequel, currently playing on the big screen with prints of
Alice in Wonderland
, can be found
here
. The movie is due in theaters this Christmas.
Tim Burton to do animated Addams Family movie
Tim Burton is
set to direct an animated movie
based on artist Charles Addams' cartoon drawings of the spooky
Addams Family
. Reportedly unrelated to the 60s TV series and 90s feature films based on the same work, the stop motion animated film will presumably start production once Burton is finished with
Frankenweenie
. It is currently without a release date.
Princess and the Frog Pencil Tests
As mentioned in a post over on Lineboil's sister site,
Cold Hard Flash
,
The Princess and the Frog DVD
was released yesterday, and while we highlighted the role
Toonboom's paperless animation software
played in bringing this traditionally animated feature into the running for an Oscar, I happened to stumble upon
a number of pencil tests
from the movie from the amazingly talented
Hand Drawn Nomad
,
Matt Williames
. I have been a huge fan of his blog for a while, as he often posts videos of pencils tests, as well as some fantastic artwork, animation tutorials, and other little bits of animation wisdom. And with his recent post, he promises a detailed account of his experience working on the film, so be sure to keep an eye out for it!
Tropfest Overrun By Baboons
GooRoo Animation
founders Cameron Edser and Michael Richards recently grabbed 2nd place and $3,500 at
Tropfest 2010
, the largest short film festival in the world. Oscar-nominee Toni Collette handed them their trophy for
My Neighbourhood Has Been Overrun By Baboons
, a 4-minute, stop-motion music video.
The Origins of Aardman Animations Revealed
I've read a few books on the origins of Walt Disney Studios, but I know little about how
Aardman Animations
evolved. The first two installments from a series of videos titled
A History of Aardman
have been released, helping uncover how this Bristol-based animation giant emerged. In parts 1 and 2 below, Mark Cosgrove interviews Aardman co-founder Dave Sproxton, and we learn how Dave met Peter Lord, the eventual co-director of
Chicken Run
and co-founder of the studio. Sproxton also screens the first and second stop-motion films he and Lord created in 1965, and the first short they produced under the Aardman banner.
Part 1
Part 2 – some footage of the
Gleebees
, and a recounting of how
Morph
came to be
Wilson, Harrelson to Voice Bedrock's First Feature, Turkeys
Former ILM exec and Reel FX runner Ed Jones and ex-CEO of Walden Media Cary Granat have started a new operation called Bedrock Studios that will make family films with budgets of less than $35 million, according to Variety.
The studio debuts with an announcement of its first project, an animated featured called
Turkeys
that will feature the voices of Owen Wilson and Woody Harrelson playing turkeys who travel back in time to take their species off the Thanksgiving table.
Turkeys
is in pre-production for a 2011 release.
Other key personnel include writers and producers John J. Strauss and David I. Stern, director Ash Brennon, exec producer Peter Farrelly and additional cast member Luke Wilson.
Bedrock also announced it is developing
Rats of NIMH, A Wrinkle in Time
and
Dinosaur Bob
.
Bedrock's planning to produce and develop projects from their studios based in Santa Monica and Dallas, where Reel FX has been based since 1993, using production management and multi-platform technology developed by Reel FX, Variety reports.
(Thanks
Animation Magazine
)
Italy's RAI 2 Picks Up Pocoyo
RAI 2 has secured the Italian broadcast rights to Zinkia Entertainment's animated preschool series
Pocoyo
.
The 104 x 7 mins. series, co-produced by Zinkia and ITV Studios Global Entertainment, will debut this month on the channel's popular children's programming block.
Pocoyo
has developed into a global entertainment brand, selling more than 2.7 million toys, 1.3 million books and more than 1.4 million DVDs.
Pocoyo
has been licensed in over 100 territories, including broadcast agreements with some of the world's leading TV channels, including Televisa (Mexico); Univisión and WGBH (United States); Treehouse (Canada); Five's Milkshake and CITV (UK); ABC (Australia); RTP (Portugal); TVE (Spain); Disney Pan Asia ; Ki.Ka (Germany); Nick Junior (France); Discovery Kids (Latin America); and WowWow (Japan).
(Thanks
Animation Magazine
)
VanArts Adds Animation, VFX Faculty
The Vancouver Institute of Media Arts has added to its teaching staff several entertainment industry veterans to helm its full-time diploma programs.
Celebrating its 15th anniversary, VanArts' programs are designed to prepare its graduates for entry-level jobs in feature films, television, video games and new media.
The revamped faculty lineup includes:
•
Wayne Gilbert
, an animation veteran of more than 30 years, will head up the character animation program. Gilbert's credits include
Rock & Rule
at Nelvana,
Star Wars: Episode II
at Industrial Light & Magic, and
Skate
&
Skate II
at Electronic Arts. He also has been involved with training for Walt Disney Studios and is author of
Simplified Drawing for Planning Animation
.
• Joining the character animation program as a senior instructor is 20-year veteran
Mark Pudleiner
, whose credits include Don Bluth Studios, Walt Disney Feature Animation and DreamWorks.
•
Alan Harrison
, heading up the Entertainment Art for Film, TV & Games program, which prepares students for careers in creating assets for film, television and game productions. Harrison has 20 years of industry experience and has worked on more than 18 AAA titles at Electronic Arts, and several television and film productions at Mainframe and CIS Rainmaker.
•
William Dwelly
will head up the Visual Effects Program and is the most recent addition to VanArts' faculty. Dwelly worked as lead layout technical director on
Avatar
, and was also an animation technical director on
I, Robot
and
King Kong
at Weta Digital.
For more information about VanArts and its programs, visit
www.vanarts.com
.
(Thanks
Animation Magazine
)
Kubert School Open House Set for April 24
The Joe Kubert School of Cartoon and Graphic Art will host an open house for prospective students and their families on the afternoon of
April 24
.
The school, which has produced a number of successful professional comic book artists, is located in Dover, N.J., and will be open from 1-4 p.m.
The open house will include guided tours of the newly renovated school facilities, refreshments, giveaways and a raffle for prizes.
School founder Joe Kubert, best known for decades of work on such DC Comics features as Sgt. Rock, and his sons, professional comics artists and school instructors Andy and Adam Kubert, will be on hand to greet visitors and answer questions.
In addition to the open house, the work of instructors and alumni will be on display. There will also be a wide variety of comics, prints, and original art available for purchase.
To RSVP, please call (973) 361-1327 or email openhouse@kubertsworld.com. For more information on the event, visit
www.kubertsworld.com/april24openhouse.htm
.
(Thanks
Animation Magazine
)
At the Afternoon of Remembrance
Photos by Bronwen Barry and Steve Hulett.
Over a hundred people attended the Afternoon of Remembrance at the Hollywood Heritage Museum last Saturday, to honor the memories of fifty fellow members of the animation community. Above, President Emeritus
TOM SITO
hosting the event.
Tee Bosustow, son of UPA co-founder Steve Bosustow, spoke about Oscar-nominated writer
MILLARD KAUFMAN
, who wrote the
first Mr. Magoo short
.
Animator/director
JOHN FREEMAN
, who died on New Years Day at the age of ninety-two, was remembered by his daughter Melissa Freeman.
Bill Kroyer shared his memories of
KATHY WHITE
, one of the first employees of
Rhythm and Hues
.
Martin Forte and Larry Huber spoke of their mutual friend, the late
JAIME DIAZ
.
Bob Kurtz and Dave Brain, two animation veterans remembering old friends.
(Thanks
Animation Guild Blog
)
American Animation Trends
Talking with a scribe last week, it occurred to me that there's been distinct trends in animation -- teevee and theatrical -- over the last two decades. And when you think about it, they kind of leap out at you. (Please note that what follows is painted with a broad brush.)
Television Cartoons -- 1990 to Now
In TeeVee (circa 1990-95), there was a surge in higher quality toonage, away from the Hanna-Barbera/Filmation styles of the eighties. Spielberg teamed with Warners for Tiny Toons and the various series that came after (
Pinky and the Brain, Animaniacs
, etc.); Disney ginned up the Disney Afternoon and blocks of animation derived from the roundish Disney house-style going back to the 1930s.(But was also influenced by what Warners Animation was doing.)
Budgets were relatively high in the quest for quality ...
Then came the Nick and Cartoon Network era.
The round "classical" look of television cartoons were, series by series, supplanted by flatter, simpler, more angular styles epitomized by
Rug Rats, Ren and Stimpy, Cow and Chicken, Sponge Bob
and the other Nick-style shows (produced by every company -- from Cartoon Network to Disney) that came after.
The changes, I think, arrived in the second half of the nineties for several reasons:
1) Ratings for the flatter-style shows compared well with the classical Warners and Disney television cartoons.
2) The Nick-style shows were perceived as "edgier."
3) The Nick-style shows cost less to produce.
4) The boom in syndicated broadcast animation came to an end and licensing fees declined.
5) The need for low-budget cable-programming exploded and lower-cost cable-based toonage took off.
One overarching development that happened as we shifted from one millenium to another was that television animation studios and divisions got cost-conscious,
real
cost conscious. The business model of large, stable, in-house staffs turning out animated shows with 65-episode orders morphed to the thirteen-episode, project-to-project, freelance-heavy style of employment we know and often loathe today.
There are, of course, exceptions to this trend. Prime-time animated shows on the broadcast networks (otherwise known as
"the FOX Sunday block"
) employ large in-house staffs, but even this has changed over time as Fox and some of its sub-contractors have attempted to rein in production costs.
Now, in the second decade of the new century, television animation is changing again.
Nickelodeon, once a pioneer in the flat and edgy, is pivoting toward cartoons of the computer graphics persuasion, what with
Kung Fu Panda, Penguins of Madagascar, Fan Boy and Chum Chum
and other CG product. Up until recently, CG cartoons for the home screen were but a small subset of total output, since some ambitious CGI series from the turn-of-the-century didn't perform well enough (
Starship Troopers
) to justify costs.
That now has changed.
And what changes the oncoming era of three dimensional television will bring is anyone's guess. But as I write, it's pretty obvious what three dee cinema means at your local AMC ...
Theatrical Animation -- 1990 to Now
The big milestones in theatrical, feature-length animation have been simpler and more pronounced than in t.v. land. Below, the big events (again with the broad brush, since I'm not writing an Encyclopedia Britannica entry ...)
* Prologue: From 1937 to 1980 it was pretty much Disney and a few pretenders to the throne. Everything was hand-drawn, most product was based on the Disney model (
Yellow Submarine
being one notable exception) and the most prominent, on-going theatrical animation staff was housed at 500 S. Buena Vista Street in Burbank, California.
In 1980, that changed a bit when Don Bluth and part of the Disney staff bolted from Burbank and commenced creating their own feature cartoons that were also built on a Disney foundation. Although Don was not wildly successful, he did have two animated hits in partnership with Mr. Spielberg, and he turned out over a dozen features over the course of fifteen years.
* As the 1990s floated into view, Disney was proceeding in its usual way, turning out a new animated feature every two to three years. But new management took over and the tempo picked up. And starting in 1989 with
The Little Mermaid
, the department's feature cartoons became lots more profitable. When the profits reached gargantuan proportions in the earlyand middle nineties (
Lion King, Aladdin, Beauty and the Beast
)
, most of the Mouse's rival conglomerates jumped into Cartoonland with decidely non-gargantuan results (
Quest For Camelot, Titan A.E.
, etc.).
* In the late 1990s, the tide receded. But as Disney's hand-drawn animation crested and the rivals flamed out, a small studio partnered with Walt's place turned out a c.g. feature entitled
Toy Story
; it was a major hit, and the course of feature animated was reset.
(Side note: I don't think hand-drawn animation would have declined as rapidly as it did from late 1990s to early 2000s if the Mouse's story prowess had remained as potent as is it was under Mr. Katzenberg. But power centers changed, and the happy chemistry that had clicked for five or six magical years at Disney Feature Animation faded away, and CG feature animation became the platform for bonafide hits.)
* By the start of the new century/millenium, other studios clambered aboard the CG bandwagon to partake of some of that computer-generated goodness (a.k.a.
profits
). This second time, the congloms
didn't
crash and burn, but had hits of their own. And this (by my estimate) sealed the fate of CG animation's pencil-and-paper cousin. The day of
Snow White
style animation was O-VER.
* Today
: CG animation hasn't simply displaced the older style. It's displaced live-action, too. Directors and animators can argue who controls the performance of big blue aliens or 19th century Londoners, but the bottom-line is, lots of animators are sitting at lots of computers doing something that impacts the images projected on those big, silver screens.
There's lots of new animation and CG technical work in this brave new world, but the question is, where is the work going to get done? A sizable chunk will be outsourced to various parts of the globe. However, a lot of the work will be performed stateside because cost differentials aren't the crucial fulcrum in high-budget features. The most important elements are quality control and timeliness. (It does no good to save a million and a half dollars on your sword-and-sorcery epic if the shots don't get done in front of the release date.)
This doesn't mean, of course, that CG personnel are going to have an easy time in a sellers market, far from it. I've been sitting in this grandstand seats for awhile, and I've observed that supply always catches up to demand, and in-demand skill sets never stay in-demand over long stretches of time. (I know CG artists who could write their own tickets in 1995 who now work as independent contractors because their leverage is now less.)
What I also know is that animation is an expanding part of the movie universe, and the jobs supporting it are high-skill and high-value. Lower end product will be outsourced because lower-end product seeks the cheapest labor market in order to get made.
But the high-end product? The name of the game there is quality not cost. The last thing that James Cameron, Michael Bay or Steven Spielberg want is a hackish CG job-shop in Bangladesh wrecking their vision. It has been ever thus, and I don't see that changing anytime soon.
(Thanks
Animation Guild Blog
)
Musta Been Like This When Sound Came In ...
And it was
bound to happen in the multi-dimension era:
Paramount Pictures is using high-pressure tactics against theaters to book DreamWorks Animation's upcoming big-budget 3-D film,
"How to Train Your Dragon"
onto scarce 3-D screens around the country, according to industry executives. ...

Paramount Pictures is telling theaters that if they don't show the upcoming DreamWorks-produced
"Dragon,"
on a 3-D screen, then it will withhold from the theater a 2-D version of the movie to play instead, according to four theater industry executives, who asked not to be identified for fear of reprisal ...


"This is the most unusual and intense situation that I've ever seen,"
said Robert Bagby, a 30 year-industry veteran who is president of Missouri-based B&B Theatres, which has 200 screens, only about 40 of which are 3-D.
"Of course, it's a wonderful problem for us that 3-D is doing so well in the market that we're having these kinds of issues."
...
No doubt the day will arrive when theater owners will be screaming for enough dimensional movies to fill their kajillion Three Dee screens. But not yet.
"All singing! All talking! All flying off the screen over your head!"
(Thanks
Animation Guild Blog
)
The Orange named best animated short at SXSW fest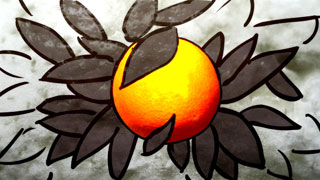 Canadian Nick Fox-Gieg's
"The Orange"
was named winner of the South by Southwest Film Conference and Festival's animated shorts competition at the fest's closing jury awards ceremony Sunday in Austin, Texas.
In
The Orange
, a humble citrus fruit is suddenly granted absolute power over the universe. It's based on a story by Benjamin Rosenbaum.
The two-minute, 15-second short had its United States premiere at SXSW. As the winner of the festival's grand jury award in this category,
The Orange
is eligible for an 2011 Academy Award nomination for best animated short.
Fox-Gieg is a Toronto-based animator and video artist. His short films have been shown at the Rotterdam and Ottawa film festivals, at the Centre Pompidou in Paris, and on CBC Television.
Runner-up in the category is
One Square Mile of Earth
, directed by Jeff Drew. The cartoon is a series of bar room conversations featuring Bill the Bunny, Gary the Frog, Lucy the Goat, Thad the Bear, Leon the Hippopotamus and Pedro the Squirrel. Fun times await!
An animator and illustrator, Drew has made several short films. The latest,
One Square Mile of Earth
, is his first collaboration with Mark Chavez and Shenoah Allen, two funny guys who call themselves The Pajama Men.
Jurors in the animated shorts category were Emily Hubley (daughter of John and Faith Hubley), Mark Elijah Rosenberg and Nathan Zellner.
UK pupils let Buzz Lightyear moon Neil Armstrong
That's one small step for man, one giant step for Buzz Lightyear.
Via
The Telegraph
, one in 10 of 1,000 British elementary and secondary school students surveyed thought that the CGI-animated star of Pixar-Disney's
Toy Story
franchise -- not Neil Armstrong -- was the first man on the moon.
Dr. Pam Waddell, of Birmingham Science City examined answers given by children in a test in advance of National Science and Engineering Week, which continues until Sunday.
Other children taking the science test suggested that lunar pioneers were Sir Richard Branson, American cyclist Lance Armstrong or even
Star Wars
legend Luke Skywalker.
"While some findings raise a smile, it suggests that schoolchildren aren't tuned into our scientific heroes in the same way that they might be to sporting or music legends,"
Waddell suggested.
Asked who invented the telephone, three-quarters of pupils knew that Alexander Graham Bell was responsible. However, others gave Charles Darwin, Noel Edmonds and even the Queen credit.
And what did Isaac Newton discover? A third of boys thought it was fire. Others gave answers ranging from DNA to the United States or the Internet. (It was the theory of gravity.)
"Our work is about demonstrating the value that scientific innovation brings to the economy and the things we take for granted every day, such as using the telephone or TV,"
said Waddell.
Volgens de vogels by Linde Faas
I woke up this morning (this afternoon, to be honest) hating animation. Blame it on last night's interminable ASIFA-East screening of uninspiring and insipid indie shorts. Only something truly beautiful could uplift my spirit and make me appreciate this art form again. Thankfully, I stumbled across
Volgens de vogels (According to Birds)
, a 2008 graduation film by
Linde Faas
(b. 1985). Touches of Norstein throughout, and that's not a bad thing.
(Thanks
cartoon brew
)
La Fete by Malcolm Sutherland
A sketchbook-style piece (with many funny moments) from Malcolm Sutherland whose consistently original works are positioning him as one of Canada's top indie animators. Description from his Vimeo page:
[The film] takes a look at people at a "La Fete Nationale" celebration in Montreal. The film was an independent production, directed and animated by Malcolm Sutherland with music by Kevin Kardasz, and was produced with financial assistance from The Conseil des arts et des lettres du Québec.
(Thanks
cartoon brew
)
RIP Jun Seba
Jun Seba (aka Nujabes), a hip-hop producer and composer for the anime series
Samurai Champloo
, died in an automobile accident in the late evening of February 26th, at 36 years old. Nujabes made his debut in 2003 with his first solo album,
"Metaphorical Music"
. At the time of his death, Nujabes had some unreleased music tracks in his studio, which his record label plans to release in the future.
Gundam Week: Top 5 Best Character Arcs - Top 5 Worst Character Arcs
In any series viewers tend to look forward to watching a character grow and show development through the course of the show. Gundam is no exception, and this is of course an incredibly important part to the franchise. With so many different characters fighting for different things, it is important that we look at who grew the most. Along those same lines, it is important to look at who grew the least, or perhaps not at all, along with who really was just a let down. Time to take a look at the best and worst characters throughout the entire Gundam universe. Take aim!
Top 5 Best Character Arcs
5. Setsuna F. Seiei
As
Mobile Suit Gundam 00
starts we are introduced a scared young boy running frantically through a war-zone trying to avoid death. This frantic way of life proceeds to make him into a rather cold individual, driven by the sole existence of his savior, Gundam. This drive eventually consumes his life to the point where all of his actions are controlled by his need to please and almost meet "Gundam's" expectations. Through the introduction of the Trinity triplets he begins to think for himself and take matters into his own hands, finally realizing there is more to his life than just being a soldier and to live his own life. In the second season this development continues, as Setsuna utilizes the Gundam as a tool rather than a god, deciding Ribbons must be stopped at all costs. It isn't such an easy decision when faced with the hard task of choosing the lives of friends over the lives of every individual on Earth. Setsuna realizes that sometimes the right thing isn't the easiest to do, and in general becomes a character with meaning, giving him substantial growth throughout the series.
4. Relena Peacecraft
The positive growth that Relena goes through in
Gundam Wing
is unquestionably dramatic. Once a somewhat simple rich girl who began the series with no concerns bigger than how her birthday party would turn out, she eventually learns the truth about a heritage that would irrevocably alter her destiny and set her on the path to becoming a world leader and diplomat of remarkable integrity and influence. Facing a world plagued by power struggles and bids for dominance in both Earth and outer space, Relena resolutely clings to her pacifist ideals and preaches the necessity of a better tomorrow. In time, to her credit, Relena allows her views to be informed by pragmatism. This is shown best in the ending OVA
Endless Waltz
, where Relena is forced to acknowledge and act on the fact that there are times when principles must be defended by action where mere words, however eloquent, will simply not suffice.
3. Kamille Bidan
Kamille is, quite simply, a brat at the start of
Mobile Suit Zeta Gundam
. He acts irrationally, as made evident by his need to attack an officer over his name being made fun of. Instead of thinking his decisions through, Kamille acts when it is necessary to please himself. Even as Kamille begins to pilot the Gundam Mark 2, he is still rather unlikeable. Emma Sheen attempts to smack, sometimes literally, sense into him but it is an incredibly slow process. Ultimately Kamille really doesn't become likable until Four Murasame is killed, feeling a sense of loss that he, ultimately, couldn't prevent. This is also perhaps because the viewer can finally see a bit emotion out of Kamille aside from arrogance and anger. After acquiring the Zeta Gundam Kamille begins to take on responsibilityl and learns that there are problems larger than his own. His continual growth eventually makes him rather likable and a great character.
2. Domon Kasshu
A trained martial arts expert, Domon is introduced to the audience on a mysterious mission to find a man in an old photo. Where as previously we are given a clear introduction to the destined Gundam pilot of the story, Domon is wrapped in several layers of mystery which are unwrapped as the story progresses.
Domon initially appears to be little more than a hot headed thug who thinks with his fists. Though, flashes of character hint at a deeper, more caring personality within. We come to learn that man Domon is searching for is his elder brother Kyoji who seemingly stole his father's greatest creation, the Ultimate Gundam. In the ensuing chaos their mother died and their father has been placed in cryogenic prison for this smear on the country's pride. If Domon hopes to free his father, he must defeat Kyoji's ambitions and terminate both his brother and the now newly re-christened Devil Gundam. The road to achieving this goal directly forces Domon to step out of the 'lone wolf' shell he has formed and become a leader. Further, he must ultimately be capable of communicating with his one true love and be her partner in both love and life. Whilst still living in a world full of problems that need to addressed, Domon's journey marks him as a champion of the positive attributes of humanity and that a bright future can be grasped.
1. Amuro Ray
At the start of
Mobile Suit Gundam
, the viewer is introduced to a boy distracted by the gadgets around him. He doesn't appear to have a clear direction and yet at the same time he has a strong desire to protect the ones he loves. This, along with his curiosity, ultimately leads Amuro to jump in the cockpit of Gundam. Despite this, Amuro is a rather immature individual, not quite sure what to do with abilities and a bit torn on his decision later down the road. As Amuro comes to the realization he is a newtype, and thus superior to most individuals the confusion continues. Still, through the course of the story Amuro slowly, but surely, comes to realize who he is and what he must do, which is protect White Base and its crew, along with retaining a sense of integrity. He becomes an individual others can (finally) rely on and a stone for them to lean on in their time of need. In
Mobile Suit Zeta Gundam
, Amuro undergoes yet another growth in maturity when he decides to pilot Mobile Suits again. This may seem like a rather easy choice, but after being confined after the war, and ultimately a bit scarred from it, this takes a lot of courage that Amuro didn't have at the start of the series. Due to his constant growth in not only ability, but in responsibility, Amuro clearly went through the most fulfilling character arc.
Top 5 Worst Character Arcs
5. Reccoa Londe
Zeta Gundam's Reccoa Londe turned out to be practically the opposite of Emma Sheen. At first Emma works for the Federation's "Titans" task force, only to switch sides after witnessing their atrocities firsthand. Reccoa, however, leaves the AEUG for the Titans thanks in part because of her unreciprocated affection for Char and in part to being seduced by the charisma of Paptimus Scirocco. This is literally the extent of her motivation for defecting to the side that she knows is responsible for wiping out an entire colony with a chemical weapon. While personal motivations can be just as valid for a character's actions as strong principles, Reccoa's willingness to knowingly side with a thuggish organization in return for attention and cheap gratification is beyond pathetic and very much despicable.
4. Marina Ismail
After going through a great deal to get her country back in order during season 1, Marina is reduced to a babysitter in season 2. She completely fails to utilize her position in order to gain influence within the world. Better yet, she doesn't even bother to try and take control.
Shirin Bakhtiar more or less tells her that she isn't meant to be lead Azadistan. Her idea of helping out is singing to the children, which magically happens to reach Setsuna while he is fighting. Despite all of this, the viewer still finds themselves hoping that in the end she will do something. Marina, unfortunately, never becomes useful to the plot, instead we get some strange love connection between her and Setsuna and she never does anything substantial for the story. Marina's lack of usefulness makes her boring and pathetic in the otherwise thrilling and powerful environment
Mobile Suit Gundam 00
creates.
3. Sleggar Law
Sleggar's biggest character downfall is that he comes off as useless. He was there to throw Mirai off for a couple of episodes only to end up dying easily in battle. Sleggar's shtick is that he is an impressive gunner and should be looked up to during his stay on White Base. Instead he comes off as lazy and rather annoying, which again isn't helped because Mirai suddenly has an attraction for him. Perhaps had Sleggar not left as quickly as he came then he would have been a bit of a substantial character. Instead he is there to throw a wrench in the Mirai and Bright budding relationship, which, at the time of his introduction, seemed random and silly. This, combined with his quick exit puts Sleggar Law at number three on toonzone's list.
2. Regene Regetta
Regene was such a let down to
Mobile Suit Gundam 00
. Up until his interventions we were under the complete impression that Ribbons was running the show. With Regene, we caught a glimpse of conflict within an organization that otherwise seemed be in perfect order. He had a lot of promise at the start of Season 2, instilling doubt within Tieria about who, or what, he is. This continued as he started to pursue his own goals. Ultimately Regene accomplishes nothing, and really only seemed to act out of jealousy towards Ribbons. Due to the inability to execute on a tremendous build up, Regene suffers a great deal in
Mobile Suit Gundam 00
.
1. Meer Campbell
When first mentioned, Meer's character didn't seem like such a terrible idea. In
Mobile Suit Gundam Seed
, Lacus was an incredibly influential character to the Zaft forces; it makes sense to want to use that power in order to gain followers. Unfortunately, the idea doesn't quite work as well as viewers hoped. Meer becomes a way to sexualize Lacus without having to directly do it to such a "strong" character. Fanservice in any series is unavoidable; it, however, can be forgiven when said character actually has depth. In the end though we learn that Meer is a girl caught up in the act and can't get over her Lacus-persona. It certainly doesn't help her character when two entire episodes are wasted on her at the end, one being a clip-show. This wouldn't have been acceptable in the middle of the series, let alone the end, when things are supposed to be kicking into full speed. Meer may have been a hit with the soldiers, but she was a complete miss to any viewer who enjoys a strong character.
(Thanks
Toon Zone
)
Producer James Tucker Discusses The Future Of "Batman: The Brave And The Bold"
The
World's Finest
caught up again with James Tucker, Producer and Lead Character Designer for
Batman: The Brave and The Bold
, to look into the future of this critically-acclaimed and fan favorite animated series. With new episodes, a videogame and so much more in store in the works, Tucker gives us the inside scoop of what fans can expect for this Bat-tastic animated series!
To start things off, can you run us through the process of choosing a guest star for each episode. Is it just a natural evolution from the script, or is it more based around character selection? Has that changed from the first season to the current?
I sit in a room with Michael Jelenic, the co-producer-story editor and Todd Casey, our pinch hitter story editor, and we bat around ideas. Todd and I are the major comic book fans and so which characters we use tend to come from one of us. Michael tends to be more about hitting on the concept of the stories. How do we use this character in a way that's different and fresh?
Things seem to be slightly shifting in the second season, mainly in format. Whether it's the "Starro" teaser or the Aquaman-focused episodes, was it a conscious decision to mix things up a little for the second season? If so, why?
Michael Jelenic, my co-producer, and I never wanted the show to follow a strict formula, so we're always trying to come up with ways to shake up the structure of the show. When we came up with the
'Siege of Starro'
idea. I wanted to make sure we gave it enough build up so that it didn't feel rushed. So that meant reserving a certain amount of teasers to build up to the Starro two part finale. I thought it would be fun not to be so linear about it and have an early teaser introduce Starro but then skip a couple of teasers and make the audience wait for the next piece of the puzzle. Hey, that's why they call them 'teasers'. As for
'Aquaman's Outrageous Adventure'
, well we just love A-man. That was reason enough to devote a bulk of that episode to him and his family. For pacing, I think that's strong episode that never gets boring and Ben Jones, the director, did a great job putting in lots of fan service that enriched the story's appeal. It's one of my favorites of the first part of second season.
What can you tell us about the two-part "Starro" event reportedly coming down the pipeline on Batman: The Brave and The Bold. What kind of heroes can we expect to see, and how can we expect Batman to take on a threat that has already usurped many of his common crime-fighting allies?
All I can say at the moment is that just about every hero who's appeared in the show will be a guest star and that the story takes an unexpected twist. And its scale is BIG...HUGE in fact.
Once we get past the two-part event, what can we expect for the remaining episodes of the second season? Any hints or teases as to the characters and plots we'll see down the line?
The second half of season 2 will tend to focus on the theme of legacy within the superhero world of
The Brave and the Bold
and asks the question, 'What does it take to be a hero?'. Expect a kick ass Flash-centric show in the near future that will have four, count 'em four, Flashes! After that, we'll see the debut of the Doom Patrol on
B:B&B
. Captain Marvel returns and is bringing the Marvel Family with him.
Cartoon Network is slated to air a host of new episodes beginning in March 2010, and running into at least April. Can you share any thoughts on these upcoming episodes (slated to include "Chill of the Night," "The Super-Batman of Planet X," "The Power of Shazam," "The Reign of Emperor Joker," and more)?"Chill of the Night"
is probably the darkest episode of the entire series. For a long time I wanted to do an adaptation combining two classic golden age Batman tales,
'The First Batman'
and
' The Origin of Batman'
but I wasn't sure how it would fit tonally in with
Batman: The Brave and the Bold
until I realized that by adding Phantom Stranger and the Spectre to the mix it would totally work for our show. Paul Dini did some great work on the script and Michael Chang really put his all into the direction of the episode. There was a ton of work that went into that episode from altering the whole color palette of the show so that it would look and feel darker to the way the musicians scored it. It was such a departure from our regular episodes that it felt weird actually. It's very downbeat. Even the darkest of B:TAS episodes had some humor but this one is pitch black throughout.
"The Super-Batman of Planet X"
is also an adaptation of a famous golden age story,
"Batman-The Super of Planet X"
and it's probably my favorite episode this season from a purely animation standpoint. The overseas studio, Lotto, put so much love into this and followed all our color keys and bg paints to the letter. But the whole episode from Michael Goguen's direction to the storyboards to the voice acting, music, sound fx fell perfectly into place. It's just a big, fun episode that I'm very proud of.
"The Power of Shazam"
is a fun episode featuring Captain Marvel and a few of his more famous rogues. I thought we established who Cap is and nailed the feel of his early adventures pretty well with a limited amount of time. Captain Marvel isn't just another version of Superman, his stories are tonally different and his adventures were a lot more humorous and fantasy oriented. My favorite aspect of the show was being able to inflict such strange and obscure characters like Thaddeus Sivana Jr. and Georgia Sivana on an unsuspecting public.
"The Reign of Emperor Joker"
actually is still in animation overseas and won't be ready for a while. It's official title is just
'Emperor Joker'
but it's not a strict retelling of the Emperor Joker storyline that ran in the comics a few years ago.
Can we expect a
Batman: The Brave and The Bold – Season One
DVD (maybe Blu-ray) release down the line? While the volume releases are selling well, many fans are holding off for a more extensive season release.
Of course there will be a season set, but I don't know exactly when it will be released. I have seen some DVD cover art, so I assume it's in the works.
Are you, or anyone from the Batman: The Brave and The Bold production team, involved in the upcoming Batman: The Brave and The Bold videogame for the Wii and Nintendo DS? If so, in what capacity?
I've been focusing mainly on producing our show but Ben Jones, one of the directors on
B:B&B
, has been involved with approving footage of the animated scenes for the game and Andrea Romano is voice directing it. I've heard great things. The people involved on the video game side of things are huge fans of the show and I trust that they're going to do a kick ass job.
Will we be seeing your name in other upcoming projects soon? Do you plan to work on an upcoming DC Universe Animated Original Movie or on one of the forthcoming DC cartoons currently in the works?"
At the moment
B:B&B
is taking up almost all of my time and I love working on this show with the amazing crew that I have and would be happy to continue until they kick us off the air. I'm currently consulting a bit on a project I can't talk about but in the future I hope to be able to work on some of the DC DVDs, particularly the DC Showcase series. I love short form storytelling, which is the main reason I came up with the idea of doing stand alone teasers for the beginning of each episode of
B:B&B
in the first place.
The World's Finest would like to thank James Tucker for participating in this Q & A.
Bryan Singer Talks 'X-Men: First Class,' Considering 'Wolverine 2' And 'X-Men 4,' Too?
Back in December, Bryan Singer announced that he would
return to the "X-Men" film franchise
and direct
"X-Men: First Class"
— which takes its title from an
"X-Men"
comic series by Jeff Parker and Roger Cruz that follows the early days of the original X-Men. And while the film will also chronicle the early days of Xavier's school for mutants, Singer's focus
is clearly on the relationship between Professor Xavier and Magneto
.
"Just doing younger mutants is not enough,"
said Singer during an interview with
The Los Angeles Times
.
The story needs to be more than that. I love the relationship between Magneto and Xavier, these two men who have diametrically opposite points of view but still manage to be friends — to a point. They are the ultimate frenemies."
The report also confirms that younger versions of Cyclops, Jean Grey and Beast will appear within the film, but Singer specifically avoided answering whether Hugh Jackman would make a cameo appearance as Wolverine. However, Singer did indicate that Jackman would like him to direct one of his upcoming films (which the report speculates is
"Wolverine 2"
).
Back in August, MTV News
first reported on the possibility of Singer's reunion with Jackman
and his
"Usual Suspects"
screenwriter Christopher McQuarrie
on the
"Wolverine"
sequel.
Additionally, Singer revealed that
"X-Men"
producer Lauren Shuler Donner is also pursuing him for
"X-Men 4."
"I wish I could be four people,"
related Singer.
"I could make everybody happy."
Singer is currently contracted to direct
"Jack the Giant Killer"
, which may prevent him from taking on an additional
"X-Men"
film. During the interview, Singer spoke directly to
"X-Men"
producer Shuler Donner regarding
"X-Men 4."
"Hold that one off for just a little,"
requested Singer.
"I'm fixated on the other one right now.""I will, I will,"
replied Shuler Donner.
"I'm holding it open with high hopes. It's totally different [from 'First Class'] and it will be so interesting for you."
Singer also spoke out on the tenth anniversary of the first
"X-Men"
film and its impact on the comic book movies that have followed it.
"I don't know if people followed in our footsteps or maybe we were just the first of a group going down the same path together,"
said Singer.
"I can tell you this: I remember when Marvel Comics was in bankruptcy and I bought stock for a friend as a joke. That was before 'X-Men' and it was one of the reasons we had so much freedom. And now Disney paid $4 billion for the company. That sort of caught my attention. I just think we made some good movies. And now we're going to make more."
Michel Gondry Describes 'The Green Hornet' Fight Scenes
Earlier this week,
"The Green Hornet"
director Michel Gondry described the long-awaited first trailer for the film that he expects to be released in the next few months. And while that's all well and good, there are a few more elements of the film fans are eagerly anticipating news about — namely, those
mysterious action sequences
he hinted at a year ago.
"I tried to be very precise,"
he told MTV News during the South By Southwest Film Festival.
"I tried to redefine fights in my own style."
Gondry went so far as to describe what fans will see when Seth Rogen and Jay Chou battle bad guy as The Green Hornet and Kato, respectively.
"There are many things happening at the same time,"
he said.
"There is an anticipation, a planning of the fight by the hero. He sees a different element he has to deal with ... he calculates the best trajectory to fight them.""Then there is some weird change of speed that occurs at different parts of the frame in one single frame, which makes the dynamic of the image really weird,"
he explained.
"I don't know — I tried to do something original. I don't know if it's successful, but I'm trying."
Adrien Brody Almost Played Joker In 'The Dark Knight'
Heath Ledger's portrayal of the The Joker in
"The Dark Knight"
won no small amount of praise from fans and critics alike, but what many people don't know is that he wasn't the only actor to be considered for the role.
When MTV News spoke with Oscar-winning actor Adrien Brody during the South By Southwest Film Festival, he confirmed a rumor that he'd been up for the role of Batman's nemesis at one point, and explained the appeal comic book movies have for him.
"I did,"
said Brody when asked if he'd pursued the role of Gotham's criminal clown.
"I met Chris on that.""Heath was tremendous in that, but yeah, I would've loved to have done that,"
he added.
"It was an amazing role. Amazing."
Asked whether any similar roles had caught his eye over the years, hero or villain, he described his own view on the rapidly growing genre.
"It's not one specific thing that attracts me, it's.. bringing truth to something that had this impact on you in your youth, and basically growing up and have that inside of you — stored away with all the memories you have of it,"
he said.
Lucas planning Star Wars series—for preschoolers!?
If you happen to be a member of the
Sesame Street
set AND a fan of
Star Wars
, then today's your lucky day—because George Lucas is creating a new
Star Wars
saga just for you.
The latest from Skywalker Ranch, according to
iesb
, is that a director has been brought on board to direct a new animated series based on the popular
Star Wars: Galactic Heroes
line of toys.
The key demographic for the series will be preschool- to kindergarten-aged children, as you can tell from the working title for the project, which is believed to be—
Squishies.
There's no word as yet as to whether the Cartoon Network or its WB sister companies will be airing the series.
So what do you think about a
Star Wars
that's pure kid stuff? Would you leave it for the toddlers? Or watch it anyway?
Revealed: The real-life drama behind Back to the Future
Crispin Glover as George McFly in Back to the Future
"Hey you, get your damn hands off her."
Those classic words were memorably spoken by George McFly before he laid out Biff Tannen in the classic ending to one of the most beloved films of the '80s,
Back to the Future
.
Crispin Glover will forever be synonymous with George McFly, despite the fact that he played the character only once and did not return for the sequels. In fact, the circumstances as to what exactly happened and why Glover did not return have been cause for some debate in the ensuing years.
What we do know is that Glover was ultimately replaced by lookalike Jeffrey Weissman, who donned prosthetics and sunglasses to fool audiences into thinking Glover was again playing the role. Unamused by the stunt, Glover sued the producers and won a settlement, leading to a new set of rules for the Screen Actors Guild in regard to illicit use of actors.
Although the situation was apparently laid to rest some 20-plus years ago, recent comments by
BTTF
co-writer and producer Bob Gale have irked Glover, prompting the actor to break his longtime silence in regard to the situation.
"On the DVD to the Back to the Future trilogy, Bob Gale has said something that's totally fabricated,"
Glover told a group of reporters at this weekend's press junket for
Hot Tub Time Machine
.
"He said I asked for twice the amount of money that Michael J. Fox asked for in the first film. In the negotiation for the second film, they offered me less than half of what any of the actors that were being asked to come back in the film—Michael J. Fox, Christopher Lloyd, Lea Thompson and Tom Wilson. They had all done studio films, and they'd made a lot more money. I was being penalized."
The actor adds that his notorious visit to the David Letterman show, in which he appeared in character as Rubin from the forthcoming film
Rubin and Ed
, may have added to the situation.
"It was very apparent to me when we were doing the negotiations that I was not wanted,"
said Glover.
"If I was going to do it, it was essentially a punishment. I was going to have to take less than half of what anybody else was going to take to come back to the film. It was not a normal negotiation. It seemed to me that there was an aggressive quality toward the negotiations."
In the years since, Glover has made amends with
BTTF
director Robert Zemeckis, returning to play Grendel in the director's 2007 film
Beowulf
. But Bob Gale is another story. In addition to the DVD comments, Glover says that the writer/producer made similar comments in recent radio interviews.
"I've talked about it very little, but I'm starting to talk about it,"
Glover added.
"I just feel like I can be totally quiet about it and people [can] think that I've done this kind of wrong thing or I can tell the truth of what has happened. [Gale] did not address that what they did was totally immoral and illegal and just wrong. [They] put another actor into false nose, chin and cheekbones in order to fool people into believing that I was in the film."
While Glover says he is proud of the work he did on
BTTF
, for him it remains tainted in many ways. Besides the legal issues that arose from the sequels, the actor had to deal with the replacement of the film's leading man after a majority of the film had already been shot. (Fox famously replaced Eric Stoltz as Marty McFly; Stoltz can now be seen as Daniel Graystone on Syfy's
Caprica
.)
"People often ask me, 'Oh, was that a fun film to make?'"
Glover said with a laugh.
"I'd shot most of my scenes with Eric Stoltz. It was not known [that Stoltz wasn't working out], and it was surprising. I'd worked with Eric Stoltz before. We'd done a Bayer aspirin commercial. We played brothers. I'd known him a bit, and I liked him. I thought he was a good actor. You know, if you shoot a number of months, and then in the middle of the shooting there's a large replacement like that, it's unnerving."
Glover added:
"Working on Back to the Future was, you know, I don't like to get into too much detail, because I probably should write about it at some point and time. But I'm very glad I'm in the film. Ultimately, I had a good working experience with Robert Zemeckis working on that movie. Good things happened in it, and I'm glad I'm in the film."
Mickey Rourke Reveals The Fate of Whiplash!
The Iron Man 2 star talks about visiting Russia, working out for the role and lets slip his characters fate in the movie...
In the May 2010 issue of
Total Film
, Rourke sat down with the magazine and talked about how he prepared for the role with both research and intense physical training as well as possibly revealing the future of Whiplash! To read the full interview where the actor more about working with Jon Favreau and Robert Downey Jr as well as his career comeback, the magazine is on sale now! (and comes with a free 3D
Iron Man 2
mouse mat!)
Why did you decide to take the role of Whiplash when you hate franchise movies?
I normally don't really care for that type of film but I saw the first one and they very much took a chance by having someone like Robert Downey Jr - who's not your conventional action hero - play the role. I though that was pretty bold and it paid off because Robert brought a quirky, unpredictable sense of humour to it. He didn't make it stereotypical like Spider-Man, like Batman and all that shit.
You took yourself off to Russia and a hardcore prison as research…
I was playing a Russian scientist who's been incarcerated for many years so I wanted to go over and see the facilities in Russia and the Russian criminal society. The inmates were fine and one guy came to my hotel after getting out after 12 years. He showed me these tattoos…They tattoo cats on their fingers or necks and the smaller the kitty-cast the more powerful the prisoner. Favreau didn't know I was there but after he went to bat for me I wanted to bring as much back-story as I could to the table.
Tell us about Whiplash's costume…
The first time I had it on I had it on for four minutes and I was like, "Take it off!" The whole vest weighed about 40lbs and I could walk 25 steps and be exhausted. So what I did with my trainer was put on a 40lb weight vest and put the treadmill on uphill and we just worked out for two months. Whiplash uses electrodes as whips so I used wrist weights and my stunt co-ordinator Garrett Warren would come over and we would do a boxing workout with whips.
WARNING: POSSIBLE SPOILER AHEAD!
Will Whiplash be popping up in any of the other Marvel films?
Well, the only thing I can tell you is that they had decided to kill me and we did film it with Gwyneth Paltrow. And then they came to New Mexico and re-shot tit and now it's left up in the air…
Iron Man 2
will be released in the UK on
April 30th
and in the US on
May 7th
.
(Thanks
comicbookmovie
)