No. 1 Alice is now Depp and Burton's best
Alice in Wonderland
became the top-grossing collaboration of star Johnny Depp and director Tim Burton, remaining atop the box office for the second weekend in a row and raising its domestic take to $208.6 million.
In the three-day March 12 weekend,
Alice
took in $62 million, the Associated Press reported, becoming the first $200 million hit released this year.
Its take has surpassed the $206.5 million domestic haul of
Charlie and the Chocolate Factory
, Depp and Burton's previous best. The two have made seven films together, including
Edward Scissorhands, Sweeney Todd
and
Corpse Bride
.
Factoring in international box office,
Alice
has a worldwide gross so far of about $430 million.
Avatar
, meanwhile, raised its domestic total to $730.3 million and its total worldwide gross to $2.6 billion.
First look at new Pixar short Day & Night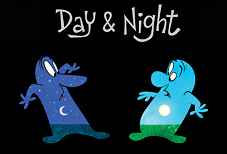 ComingSoon
has an exclusive first look at Pixar's upcoming short
Day & Night
. Directed by Teddy Newton,
Day & Night
will play in front of
Toy Story 3
starting
June 18
.
Tom and Jerry Deluxe Anniversary Collection DVD in June
Warner Home Video has announced
Tom and Jerry Deluxe Anniversary Collection DVD
for
29th June
.
DVDActive
shares the full rundown on included cartoons along with the official package artwork for this upcoming 2-disc set.
New trailer for Shrek Forever After
DreamWorks Animation has just revealed a
brand new trailer
for their upcoming movie
Shrek Forever After
. The fourth film–and reportedly the final one–in the popular series opens in theaters on
May 21st
.
450 to lose jobs as Disney closes Zemeckis' studio
Via the
Los Angeles Times
, some 450 employees of producer-director Robert Zemeckis' ImageMovers Digital studio in Marin County, California will lose their jobs, thanks to Walt Disney Studios closing the studio in a cost-saving move.
ImageMovers Digital was responsible for the motion-capture animation used in Zemeckis' 2009 holiday movie
A Christmas Carol
. Disney has been supporting the San Rafael studio financially.
Its employees will be phased out gradually until the facility closes by next January. The layoffs amount to over 5% of Disney's movie studio division.
"Given today's economic realities, we need to find alternative ways to bring creative content to audiences and IMD no longer fits into our business model,"
Disney Studios president Alan Bergman said in a statement Friday.
Disney spent hundreds of millions of dollars to make and promote
A Christmas Carol
. The gamble paid off, as a $175 million investment in production resulted in $324 million in global ticket sales. Disney's extensive marketing campaign included a luxurious whistle-stop train tour.
ImageMovers is completing production on
Mars Needs Moms
, slated for a
March 2011
release by Disney. Zemeckis is developing a 3-D adaptation of the 1968 Beatles animated feature
Yellow Submarine
as well.
Disney said that the studio is
"hoping to create a long-term production deal"
with Zemeckis and his partners at ImageMovers Digital, Jack Rapke and Steve Starkey. Although no arrangement has been completed, this would include continuing development of the
Yellow Submarine
project.
Disney has partnered with Zemeckis and IMD for the last four years. However, the Mouse House and the producer-director have worked together since 1988, when its Buena Vista arm distributed his comedy
Who Framed Roger Rabbit
, which combined live action and animation.
Zemeckis' use of motion-capture technology has extended to other studios. He made
The Polar Express
(2004) for Warner Bros. and
Beowulf
(2007) for both WB and Paramount.
30 Japanese women hurt watching animation shoot
Thirty Japanese women were injured -- one seriously -- while watching an animated drama being filmed Friday in South Korea, Japanese Embassy and South Korean police and firefighters said.
Most had only light injuries, but one sustained a serious injury to her face, the Japanese Embassy said. The women ranged in age from their 40s to 70s. Three South Korean men were hurt as well.
The incident took place during filming of the animated version of
Winter Sonata
, a popular South Korean TV drama series. South Korean heartthrob Bae Yong Joon, the show's star, does the voiceover of his character in the animated version.
South Korea's Yonhap News Agency reported that high winds at an outdoor set in a resort area of the country's northeastern Gangwon Province caused part of the set to fall down. Spectators were hit by broken pieces and sustained injuries to the head, arms and legs, the agency said. Victimes were treated at nearby hospitals.
Yon-sama, as Bae is endearingly called in Japan, is especially popular among Japanese women for his starring role in
Winter Sonata
.
At the time of the accident, about 1,700 Japanese women fans of Bae reportedly were watching the filming as part of a tour organized by Digital Adventure.
Voltage: An Amazing Animated Short From Brazil.
Just moments ago I received an email from the lady-friend with two stills (
here
and
here
)from
Filippe Lyra and William Paiva
's
Voltage
asking if I thought the film look Twitchy. Answer immediately: HELL YES. Answer on further reflection: I've actually
seen this movie
and it's amazing but my brain is such mush that I can't recall where I saw it. And so off I go to see if there are clips or anything available from it online and found something better: The whole damn movie.
This really is spectacular work and I sincerely hope that Lyra and Paiva make a feature some time very soon or, even better, a long running television series. This is just tasty, tasty stuff. Amazing character designs, fantastic concept, great music, unique animation style, just a winner on all counts ...
(Thanks
Twitch
)
Second Trailer For Negadon Director Jun Awazu's Alien Invasion Flick Planzet!
Japanese animator Jun Awazu burst on to the international scene a few years back with his independently produced
Negadon: The Monster From Mars
. Painstakingly produced almost entirely as a solo effort,
Negadon
marked Awazu as something unusual right from the outset, the director taking far more of an influence from the classic Toho kaiju films than from anything in the contemporary Japanese animation world. And he's at it again.
Awazu's sophomore effort,
Planzet
, is set for a May 22nd theatrical release in Japan and this time out Awazu appears to be nodding to the American alien invasion films of the 1950s, flying saucers spinning and ray guns a-blazing!
We ran the first trailer for this one a while back and now we've got a second look for you as well. Check it below!
(Thanks
Twitch
)
Watch Oscar Winning Animated Short Logorama!
We've run clips from Francois Alaux and Herve de Crece's
Logorama
before but with the short having just scored the Best Animated Short Oscar the entire film has now appeared online. Want to know why such a big deal is being made over the story of a police pursuit through an LA made up entirely of corporate ad placements? Now's your chance to find out!
(Thanks
Twitch
)
Shrek Obsessions in Iran
This
piece by Brian T. Edwards about Iranian cinema
in the Believer's film issue isn't really about animation, but it does have some intriguing details about the Iranian obsession with
Shrek
. For example:
A single American film like
Shrek
inspires multiple dubbed versions—some illegal, some not—causing Iranians to discuss and debate which of the many Farsi Shreks is superior. In some versions (since withdrawn from official circulation), various regional and ethnic accents are paired with the diverse characters of
Shrek
, the stereotypes associated with each accent adding an additional layer of humor for Iranians. In the more risqué bootlegs, obscene or off-topic conversations are transposed over
Shrek
's fairy-tale shenanigans.
(Thanks
cartoon brew
)
HEAVY METAL 3D by David Fincher, Zack Snyder, James Cameron et al.
Filmmaker David Fincher (
Fight Club, Se7en, Benjamin Button
, etc.), who began his career working for Lucasfilm in special effects (
Return of the Jedi
) and on the animated film
Twice Upon A Time
, is setting up a new eight-or-nine part
Heavy Metal
animated feature. Besides himself, he's enlisted James Cameron (
Avatar
), Gore Verbinski (
Pirates of the Carribean
) and Zack Snyder (
300
) each to direct a segment - with other big-name directors to be announced.
Deadline Hollywood
says
TMNT
creator (and
Heavy Metal
publisher) Kevin Eastman and Blur Studios' Tim Miller may also be attached. Should be interesting to see how this comes together…
(Thanks
cartoon brew
)
Impressive "Justice League: Crisis On Two Earths" Home Video Sales In First Week
The direct-to-video animated feature
Justice League: Crisis on Two Earths
hits high on the sales chart for its first week, even outperforming other new releases from Warner Home Video.
While estimated sales figures are not yet available,
Justice League: Crisis on Two Earths
landed respectable debuts on both the DVD sales charts and Blu-ray sales charts. The latest in the DC Universe Animated Original movie line from Warner Home Video, the direct-to-video animated feature managed to debut higher than two other high-profile new releases from the same home entertainment studio, The Informant! and The Box. According to various home media retailing outlets and independent research, the title landed at the #2 spot on the Top 20 DVD sales chart for the week of February 28th, 2010, and hitting #3 on the Blu-ray sales chart for the same week. Keep in mind the data above does not take into account rental numbers, OnDemand numbers, or legal download numbers. Estimated sales numbers are expected shortly.
Continue to the
Justice League: Crisis on Two Earths subsite
here at The World's Finest for further coverage and details on the
Justice League: Crisis on Two Earths
direct-to-video animated feature. Additionally, The World's Finest has published a review of the
Justice League: Crisis on Two Earths
animated feature, available
here
to view. A review of the
Justice League: Crisis on Two Earths
Blu-ray release is also available
here
to view.
A co-production of Warner Premiere, DC Comics and Warner Bros. Animation, the direct-to-video
Justice League: Crisis on Two Earths
animated feature is now available on DVD and Blu-ray disc.
Vardi Finishes School With Graduation Film
Idan Vardi
, a graduate of the
Minshar School of Art
in Tel-Aviv, has served up a teaser for his graduation film. The 10-minute project is aptly named
Graduation Film
, and it incorporates a similar look and feel to Vardi's earlier work Woods, which you can
see online
thanks to AWNtv.
Watch the Second Shrek Forever After Trailer
The second
Shrek Forever After
trailer has arrived, giving us a much clearer look at the final installment of this mega-franchise. The
DreamWorks Animation
film hits theaters on
May 21, 2010
.
Flash Animation Gets a Ticket to the Oscars
While the majority of Oscar-nominated feature
The Secret of Kells
was traditionally animated, there were a number of Flash-animated sequences in the film, as we reported here
back in 2009
. If you watched last weekend's Oscar telecast, you may have spotted the segment featuring animated characters from all of the nominated productions, and I just discovered that the :18 second clip of Aisling, the woodland fairy from
The Secret of Kells
, was animated in Flash, frame-by-frame with the brush tool.
Alessandra Sorrentino
and
Alfredo Cassano
, two talented freelance crew members at
Cartoon Saloon
(who are also a couple), brought it to life. Huge congrats to the whole team at Cartoon Saloon!
Budovsky Invites You To Middle Class Hell
Russian-born animator
Alex Budovsky
delighted us with the
Bathtime in Clerkenwell
music video back in 2002 for the band
Tuesday Weld
, and he's got another one cued for us. It's Budovsky's second collaboration with the German pop artist
Jim Avignon
. Back in 2007, they partnered on
Jukebox
, which utilized drawings by Avignon. Here's
Middle Class Hell
, off Avignon's
Say Hi To Your Neighbor
.
Laff riot! Robot Chicken to lampoon Avatar, Twilight
Robot Chicken
, Seth Green's stop-motion-animated Cartoon Network series, has set its sights on two of the most popular genre films of the last year—
Avatar
and
Twilight
—for spoofs along the lines of its hit Star Wars parody.
Co-creator Green told us that the new takeoffs will feature action figures in the likenesses of the films' characters. (The Adult Swim show is a series of comedy bits performed by stop-motion-animated figures.)
"We take some really basic stuff and laugh about it,"
Green said in an interview last week.
"I don't know, I like to think our view of stuff is different than what people typically think of, but we really just point to the most simple elements and say, 'Isn't this funny?'"
The show makes use of actual consumer toys in a lot of its animation. Green added that his animators can use the actual
Avatar
toys to animate their sketches, but will have to construct new ones for
Twilight
.
"Mattel made a ton of really sweet Avatar stuff,"
Green said.
"The Twilight stuff we're going to have to make because of the scale. All the Avatar stuff is all similar scale, so we can populate an entire sketch with all of their toys. With Twilight they have to interact with other characters, so the Twilight toys won't work for us."
When can we see this?
"It'll only be about 10 months,"
Green said.
"We're about seven weeks into writing the fifth season. We've got five episodes down, working on the next five."
LA Times on Why Disney Changed "Rapunzel" to "Tangled"
The Los Angeles Times' Hero Complex weblog has
delved into Disney's decision to re-title its upcoming animated feature film Rapunzel to Tangled
in an attempt to attract more boys to see the movie. According to the report, the move was made in response to the disappointing box office of
The Princess and the Frog
, which grossed approximately $222 million in ticket sales worldwide vs.
Up
's more than $700 million. The article quotes Ed Catmull, president of Pixar and Disney Animation Studios, who justified the change by saying,
"Some people might assume it's a fairy tale for girls when it's not. We make movies to be appreciated and loved by everybody."
The article also includes some critical comments on the decision from retired Disney and Pixar animator Floyd Norman and seems to confirm reports that Disney's
The Snow Queen
has been shelved, since it would have been the company's fourth animated film with a female protagonist. It also notes that while the movie may have been a disappointment to Disney at the box office, merchandise of Tiana,
The Princess and the Frog
's heroine,
"flew off shelves last holiday season."
American: The Bill Hicks Story
The trailer for a
feature-length documentary
about the late, great American comedian Bill Hicks. The film, which makes generous use of animation techniques, had its North American premiere a couple days ago at SXSW.
(Thanks
cartoon brew
)
At the Studios
I've been trekking to cartoon studios again after two days off.
At Starz Media-Film Roman,
The Simpsons
crew tells me there is still streamlining going on, that artists are still being laid off. (I walked into a room and was surprised to find an empty desk. The artist still there told me
"Oh yeah, X? He was laid off Friday, and he wasn't given any recall date."
(This is a guy who's been with the series a long time. Gracie-Fox-Starz are cutting and slashing these days. Costs are all in the 21st season ...)
Meanwhile at Walt Disney Animation Studio, a lead animator told me that he's seen semi-finished footage from
Winnie the Pooh
:
"The character animation looks really good, very 1967. And the art direction is different than in the other featurettes, more like the actual Hundred Acre wood ..."
So why a hand-drawn feature with the well-worn A. A. Milne characters? The Wall Street Journal
provides answers
:
... The Disney studio, which is to unveil its production slate this spring, is backing away from one-off comedies like
"When in Rome"
and
"Confessions of a Shopaholic,"
according to people familiar with the studio's new gameplan.

In their place, Disney plans to focus on
films that are essentially brands
—like a planned Muppets movie—that can be exploited across its network of theme parks, videogames and commercial products. The recent success with
"Alice in Wonderland"
has given a new team of executives who run the studio confidence in their approach ...
See, it's well and good to want fresh, new and original, but conglomerates don't think in those terms. They think in terms of:
"What's going to make us the most Moo Lah?"
If some nice person with a lot of leverage (such as ... oh ... James Cameron*?) wants to do a fresher project, the company will of course humor him because that person has juice.
* Regarding James C., a Disney artist told me a story about the "roast" of Mr. Cameron at the recent Visual Effects Society Awards banquet. One of the speakers there said of the director: "James isn't necessarily the most lovable guy. So-and-so said he wouldn't be able to warm up to him if they were cremated together and buried in the same coffin ..."
Hmm.
(Thanks
Animation Guild Blog
)
Truncated Schedules
There are numerous examples of animated features getting the
"fast-fast, zoom-zoom"
treatment during the production process. Here is
yet another
.
... It was October 2008, and although
"How to Train Your Dragon"
previously had been moved from November 2009 to March 2010 (largely to steer clear of
"Avatar"
), ... Sanders had just a year to remake it.

... Required to make decisions and never second-guess them (
"Everyone knew that time was running out,"
Sanders says), the filmmakers put together a large poster laying out storytelling themes that could not be violated as they rewrote and reshot the film ...
I'm a big fan of not noodling creative endeavors to death. I've seen projects that had an abundance of time, yet ended up being drek. I've seen features that were jammed through in a hurry and ended up being good. (To be fair, I've also witnessed the reverse.)
The truth of it is, the production part of an animated epic often takes twelve or fifteen months. Most of
Snow White
was animated and painted in the year before its release,
Dumbo
was even shorter, and -- as I type -- the production of
Tangled/ Rapunzel
is tumbling through a nine-month production pipeline (much as
Bolt
slid down a nine-month chute.)
Story development is something else again, but one interesting wrinkle about story? Longer time doesn't necessarily equate to better story telling. Often it means the tale told is
worse
because ranks of executives and other second-guessers have the luxury of beating the property to an unrecognizable pulp over and over again.
The reality: Sometimes extra weeks and months help, and sometimes they hurt. There's really no way of knowing with certainty which it is until you're sitting in the back of a theater staring at the screen and thinking:
"Oh shit."
Or possibly,
"Yahoo!"
(Thanks
Animation Guild Blog
)
THOR: Exclusive Marvel Secrets From Insiders Part II
In Part II of our exclusive secrets with a Marvel Insider, we find out other things like what really went down with Stuart Townsend, some other cool S.H.I.E.LD and Stark Industries tidbits.

Check us out below when our insider talks about Captain America and The Avengers.

And so, without further ado..
.
Was Samuel L. Jackson telling the truth when he said that he doesn't appear in Thor?
Yes. In the official script version, he is not. That could change in time though. He wasn't in the original script of Iron Man either but they changed it late in the game. The same can be said for Robert Downey Jr. In fact the only cameo of great significance is from Stan Lee.
Besides Thor what other Asgardians from the comics are a part of the story.
Idris Elba, who did some great work on HBO's
The Wire
plays Heimdall the keeper of the Rainbow Bridge that connects Asagard to Earth. He basically controls who crosses that bridge and comes in and out of Asgard. Basically, there are nine realms. Earth is one of the realms and Asgard is another. Heimdall watches over the nine realms from his observatory. What's great is, the Asgardians are supposed to be Norse gods, but a black actor was chosen to be one of them. Someone like Idris Elba is a leading man type of guy and is nice to have. Some people may think "Oh, he shouldn't be black," but Elba has a strong presence and it's really good casting.
The same could be said for Hogun, who's also a Norse god, but in the comics actually looks Mongolian. In the film he's played by a Japanese actor. That's what's so great about Branagh, this is a multi-cultural cast and he doesn't care because wants the best people. There's even a Hispanic actor playing a S.H.I.E.L.D. agent. Branagh doesn't care what an actor's nationality he, he just wants the best performers and treats everyone, big and small like they're important. The film has a pretty relaxed set too, because everyone here are professionals and know what jobs they have to do. And then there's Stuart Townsend.
What's the real story about Townsend's abrupt exit from the production?
It appears he wasn't happy with the limited screen-time of his character Fandral. There was friction with him from the very beginning as far back as his screen test which he basically blew off. He wasn't the first choice of either Marvel or the film's producers to begin with, but when they brought him in they liked him. They thought he did a good job. It looks like the fact that his character doesn't have a pivotal role in the movie made him sort of slack off and say, "Well, f**k this movie. I'm not the lead, so who f*cking cares?" They say he had a similar attitude when he made
The Lord of the Rings
ten years ago and look how that turned out. They replaced him with Viggo Mortensen and the rest is history. He failed to realize the movie is not called Fandral, it's called Thor. The movie's not about him. Its surprising, because he was one of the longest working actors on the project yet he still acts like a diva. There was an incident where he had a costume test and blew that off. The studio had people working under deadlines fly in to meet him and he showed up six hours late. When they complained, his response was something like "Oh, well could we just do it now?" Talk about arrogance. Townsend's been replaced by another actor named Joshua Dallas and he's just come from doing
Red Tails
near San Francisco where the rumors of George Lucas directing re-shoots on the film are not rumors, they're true.
George Lucas is actually directing Red Tails?
Lucas is directing the re-shoots for the film's director Anthony Hemingway. This is his first feature since has only really directed TV including episodes of
The Wire
. They've already completed a great deal of shooting in Prague. Most of the CGI work was all done at Industrial Light and Magic, but Lucas doesn't appear too happy with some of the footage. He's directing the re-shoots so I don't think that bodes well for the director of the movie. But it's George Lucas, he's not really that happy unless he's doing it himself. He's just that guy who feels, "You know what? I could do better", and always likes to jump in. Not always to great results, but he likes to have the weight on his shoulders and be like, "All right. I'm gonna show you guys how to do it."
Have they completed any visual f/x work on Thor like Red Tails?
Some. All the work they are doing now is the difficult stuff like the Asgard sequences. The sound stages for that have already been completed and they are beautiful. They're shooting it out at Raleigh Studios in Manhattan Beach and the sets they've built are six stories high. You're inside a gigantic building and you're like, "This is unbelievable. I can't believe that people physically built this." It looks like something that's ancient and from another world. They really did a great job. Natalie Portman should be heading there soon, she just finished
Black Swan
and has just started shooting her scenes in New Mexico.
What about Tom Hiddleston as Loki the film's main villain?
He's great and what's funny is that Tom had actually come in to audition for
Thor
but he's very tall and very thin. Kind of lanky. Marvel said, "No", but then it came up that maybe he should audition for Loki and he apparently put himself on tape and was amazing. He had also worked with Kenneth Branagh already in London. This movie is as much an origin story for Loki as it is for Thor and he's not only the hero's nemesis but his brother. How do you deal with a situation like that where the very person who is trying to destroy you is your adopted brother? In the script, Thor is basically banished to Earth because he's arrogant and proud and must learn what it is to live among mortals. And while the cat's away, the mouse will play. While he's gone, Loki starts discovering things about himself, including his desire to be all powerful. He wants to be as well loved as Thor and that jealousy starts creating these complications. "Why can't I be the ruler? Why am I always in his shadow?" So he starts developing those feelings while Thor's gone. It's a very good script with pretty much half of the movie in Asgard and the other half on Earth. I think people will be pleased with the way it unfolds.
When might we finally see a teaser trailer?
Probably at Comic Con. The scheduled release is date is
May 6, 2011
. I think that's the actual release date, handed down from Marvel. They could put it in front of the new
Iron Man 2
movie, but that's this May and a little too soon. Marvel wants to release the film exactly a year after
Iron Man 2
. The release is almost 365 days later. And then
Captain America
in July 2011 and
The Avengers
will be the following year, 2012. That's what they're trying to do, line them up like that. May of every year, there will be a new Marvel movie out.
Are there any Easter eggs or hidden clues in Thor?
No, in terms of the script, it's pretty straight forward. It's more through the dialogue, here and there that they'll say something. Everything's obviously connected, like every piece of S.H.I.E.L.D. tech has the Stark Industries logo on it. Even on a pen or computer screens in the movie. You'll notice it on the computer screen's upper left-hand corner, everything says Stark Industries. You already know that we have a deal with Tony Stark, which you kind of got from the first Iron Man's conclusion. Now you know S.H.I.E.L.D. is officially in league with him. And you'll probably see stuff like that in
Captain America
or
The Avengers
on a S.H.I.E.L.D. heli-carrier.
(Thanks
Latino Review
)
Hugo Weaving To Play Red Skull In 'Captain America'?
While Marvel Studios and director Joe Johnston
continue to review candidates
for the leading role of
"Captain America,"
the film's villain could be cast within a few days.
According to
The Hollywood Reporter
, Hugo Weaving is in negotiations to portray the Red Skull in
"The First Avenger: Captain America."
If the deal is finalized, it would reunite Weaving with Johnston — who directed Weaving in
"The Wolfman"
earlier this year.
The Red Skull was created as one of Hitler's top agents back in 1941 and has been Captain America's primary villain for most of the intervening years.
Agent Smith in
"The Matrix"
trilogy, in addition to his turn as the voice of Megatron in both
"Transformers"
films. Weaving is also well known for his role as Elrond in the
"Lord of the Rings"
trilogy.
Earlier this week, it was revealed that
Chris Evans, Garrett Hedlund and Wilson Bethel had joined Mike Vogel
on Marvel's shortlist to play Steve Rogers. Chace Crawford, John Krasinski, Michael Cassidy and Scott Porter — the previous rumored contenders for the role — are reportedly no longer in the running. A final casting decision is expected soon.
"The First Avenger: Captain America"
is slated to begin shooting in June and will be released in July, 2011.
Walk-On Role To Be Auctioned For Undisclosed X-Men Movie
An online auction site dedicated to non-profit fundraising has announced a new prize that may excite fans of Marvel's merry mutant franchise: a walk-on role in an upcoming, but unnamed, "
X-Men"
film.
But which film could the walk-on role be intended for?
Benefiting
Worldwide Orphans
, the auction is managed by
Charitybuzz
and doesn't specify which film the winner of the auction will be appearing in. The two most likely options are Bryan Singer's
"X-Men: First Class"
and
"X-Men Origins: Wolverine 2,"
both of which have experienced varying levels of movement in Hollywood of late.
There's not a lot of info to go on based on Charitybuzz's official press release, but the organization does drop the hint that,
"Although cast info has not yet been announced, the next 'X-Men' film will likely find the series' previous stars returning for more action packed thrills."
While the auction manager is careful not to disclose the project's formal title, the auction listing's image of Hugh Jackman in his
"Origins"
attire could be a clue as to which film is being offered. It's just as likely, however, that the image was chosen for its value as an icon of the franchise.
Still, with only these two hints to go off of, plus more substantial news surrounding
"Origins"
casting info and
reported 2011 filming schedule
, these clues seem to suggest that Hugh Jackman will reprise his Wolverine role before Singer's young mutants head to their
"First Class."
No matter which film the auction winner lands, proceeds will benefit children in need, rendering the winning bid on April 1 well worth the price of mutant admission.
Going bananas: A Planet of the Apes prequel develops
Guess you can't keep a good monkey down: Despite the critical failure and box-office disappointment of Tim Burton's

Planet of the Apes

remake, 20th Century Fox persists in developing more installments in the franchise.

Now comes news, via

Deadline Hollywood

, that the studio is eyeing English director Rupert Wyatt to direct a prequel:

Rupert Wyatt has moved into pole position on 20th Century Fox's

Planet of the Apes

prequel. No start date, but Wyatt's come aboard to develop to direct. Script's by Rick Jaffa and Amanda Silver. Wyatt last directed The Escapist.

No, we don't know anything about Wyatt, either, or about the script. And we're not sure if this is a prequel to the acclaimed original 1968 film or Burton's 2001 apefest. (And, besides, weren't

Escape From, Conquest of

and

Battle for the Planet of the Apes

all prequels?)

Update: C.H.U.D.

has details about how this proposed new film will be a direct prequel to the original Apes and is the same Caesar film rumored earlier:

Now we have some details about the story of Caesar, which is currently called Caesar: Rise of the Apes, and about the tons of little nods to the original movie that Jaffa and Silver have put into their script. And about how it surprisingly ties directly into the original 1968 Planet of the Apes.



Be warned: there are spoilers that follow

, although fans of the original five Apes movies will not be too surprised by much of what happens in this film.

Like Scott Frank's version, Caesar: Rise of the Apes is centered on genetic research. Will is a doctor trying to cure Alzheimers, a disease that afflicts his father. He's working with monkeys to create a benign virus that can get into brain tissue and restore functionality. After his research is shut down he's left with just one chimp, the child of his most promising subject, and Will raises him at home. Young Caesar is incredibly intelligent for an ape, and over time he continues to mutate and evolve, looking less like a chimp and moving on from sign language to actual speech. Eventually Caesar ends up leading an army of apes in an uprising just as a catastrophe strikes mankind.If Fox cancels 24, it could move to NBC
The
clock may be running out
for
24
at Fox, but there's a new rumor that beleaguered NBC is considering picking it up for a ninth day, uh, season.
That's what Entertainment Weekly's
Michael Ausiello
reports:
Multiple sources confirm to me exclusively that 20th Century Fox has approached NBC about picking up the series should Fox opt to cancel it—and the Peacock is considering it.
"There's definitely some interest,"
says an insider close to the talks. ...
A move to NBC—while still considered somewhat of a long shot given the hefty price tag—would likely delay 20th's plans to launch a Jack Bauer film franchise.
Earlier this week, Variety speculated that other networks would be unlikely to pick up the show because of its dwindling ratings and rising production costs.
But
24
on NBC? Would you still tune in?
(And, yes, we think
24
really is
sci-fi
.)
Trade News! Retreadatar! Avatar Being Re-Released With New Footage! Plus Spielberg's Robopocalypse?
Two ground breaking, heart breaking, break dancing stories for you to close out your Thursday. And of course, after you read the stories, you must watch the BONUS MUSIC VIDEO!
First up is James Cameron's
Avatar
being re-released in theaters with additional footage. That would bring the run time close to 17 hours.
THR
has the dope news, yo:
Get ready for
"Avatar"
-plus.

James Cameron and Fox are in discussion about re-releasing
"Avatar,"
primarily in 3D theaters, in late summer — and, tantalizingly, with additional scenes that had been left on the cutting-room floor in the rush to ready the epic for its Dec. 18 release.

The impetus for a re-release is the feeling that, even though
"Avatar"
is the highest-grossing movie of all time, the producers could have raked in even more money had they been able to hold on to the digital and Imax 3D screens that were lost when Disney opened
"Alice In Wonderland"
in 3D on March 5.

As for how much additional footage Cameron might add to
"Avatar,"
the guessing began early Thursday when Imax CEO Richard Gelfond said at a Gabelli & Co. investor conference in New York that Cameron had about 40 minutes of additional material that didn't make the theatrical cut. He also predicted a re-release, which he said probably would occur in the fall.

Cameron had said that he had 10-12 minutes worth of extra scenes that he cut and could quickly put through postproduction and have ready to add to a director's cut for a theatrical reissue or as an extra on the home video release. One scene has to do with Jake Sully's avatar proving himself to the Na'vi people. The other scene involves a native festival during which tribe member Tsu'tey gets drunk.

The maximum length a movie can be released in analog Imax theaters is 170 minutes — a number Cameron was aware of when he made his original edit — so he could add about 10 more minutes to the 160-minute current run time and still be in all Imax locations. That seems more likely than trying to add as much as 40 minutes.

The week before
"Alice"
arrived, Fox's movie still was minting millions in 4,215 North American theaters, including 179 Imax sites. This week, it dropped to a theater count of 667, including eight Imax 3-D locations, resulting in a 41% week-over-week drop in grosses.

Through March 4,
"Avatar"
had grossed $127.1 million of its $712.5 million domestic haul in Imax theaters; this week's giant-screen take was $175,884.


"Avatar"
has done more than 80% of its domestic business in 3D theaters, which represented fewer than half of its runs.

The film also has grossed $1.9 billion outside North America for a total of about $2.6 billion to date. It has helped expand 3D globally and broken records all over the planet.

When
"Avatar"
was forced off the Imax screens — after the longest and most lucrative run in Imax history — to accommodate
"Alice,"
Fox saw increased grosses on nearby digital 3D screens, an indication that there is still demand.

How much did the film leave behind? Cameron was in New York this week for a demonstration of 3D TV and told USA Today, "The word we're getting back from exhibitors is we probably left a couple hundred million dollars on the table as a result."

The summer re-release would follow the home video premiere of
"Avatar"
in a 2-D form, which will happen as soon as next month and no later than May.

Cameron told USA Today there may be a Blu-ray Disc release of the 3D version for home use as early as fall, but Fox studio sources indicate that is unlikely. They believe there won't be enough of an installed base of 3D TV sets to make that worthwhile and say it is more likely to come sometime next year.

Cameron and Fox also are in discussions about one or two sequels to
"Avatar"
that would use many of the digital "assets" that were created for the original. There is no script or deal in place, but the filmmaker and studio have indicated that it is something they would like to do.
I get to see a deleted scene where a Na'vi tribe member gets drunk at a festival? SIGN ME UP JAMES CAMERON! SIGN ME UP!
Next piece of news is what the heck is going on with Spielberg?
Deadline
has the skinny:
Showtime's announcement of an exclusive output deal with Disney that includes up to 35 DreamWorks films through 2015 begs the question: will Steven Spielberg get behind the camera and deliver one before that deal is up? A flirtation with Paramount to do
Matt Helm
with Jon Hamm cratered, as did an attempt to do
Harvey
with Robert Downey Jr. at Fox 2000. Since then, guessing Spielberg's next move has become a parlor game at the agencies

The latest title gaining steam among speculators is
Robopocalypse
, now that
Cloverfield
screenwriter Drew Goddard has been hired to adapt the Daniel H Wilson epic about the human race's attempt to survive an apocalyptic robot uprising. Wilson hasn't finished the book yet, but word is Goddard has gotten underway and that it's a serious candidate. Let's face it, a big ticket Spielberg-directed tent pole would be a smashing way to start DreamWorks' new partnership with Reliance. There continues to be a lot of chatter about
War Horse
, which started when Spielberg traveled to London recently to see the stage adaptation of the Michael Morpugo novel . DreamWorks acquired the book last year and hired Lee Hall to write the script. Fading on the speculation meter is Gershwin, which had way more buzz a month ago when Deadline revealed Zachary Quinto--the
Star Trek
and
Heroes
star--would play the composer. Studio insiders say Spielberg hasn't chosen, and candidates like
The 39 Clues
, and the
Lincoln Civil War
project should not be dismissed. "We're all waiting, we'd all love to know," said the source.

The Spielberg-directed
The Adventures of Tin Tin: The Secret of the Unicorn
won't be part of the Showtime deal, because the film was financed by Paramount and Sony. Because Paramount has domestic distribution, Tin Tin will be an Epix title. The first DreamWorks film in the new Showtime contract will be
Real Steel
, with Hugh Jackman starring and Shawn Levy directing.
An apocalyptic robot uprising? Dude, just do the stupid Lincoln movie already. I've had my fill of robot movies already thanks to Mr. Bay.
(Thanks
Latino Review
)
Edward Norton Has No Current 'Hulk' Plans, Won't Film Cameos In 'Thor' And 'Captain America'
While it didn't enjoy quite the same level of commercial success as
"Iron Man,"
Marvel Studios'
"The Incredible Hulk"
is not without its strong supporters. Many fans are hopeful that Edward Norton will have a future in Marvel's upcoming film slate, whether that's in potential
"Hulk"
sequels, a role in
"The Avengers"
or simply a cameo in one of the studio's other projects.
Despite his affinity for the character, the erstwhile Bruce Banner isn't planning on going green again in the near future. At this weekend's South by Southwest festival, Norton told MTV News that any further
"Hulk"
installments are way down the line.
"No,"
he said when asked if there was any movement on the Marvel front.
"I think they've got a whole lot of stuff to spool out before they get on into [a 'Hulk' sequel]."
Norton's comments extend beyond just the
"Hulk"
franchise, as he said he currently has no plans to film cameo appearances in
"Iron Man 2," "Thor"
or
"The First Avenger: Captain America."
But that's not to say that the actor isn't open to bringing the Jade Giant back to the big screen.

"We'll see what they want to do,"
he said.
"I figure it's a ways down the road."
Last year, Norton revealed that his upcoming Marvel involvement was
"purely a function of time."
But when MTV spoke with
"Incredible Hulk"
director Louis Leterrier, the filmmaker said it would take a little bit more than time to convince Norton to return.
"It's not a Marvel/Edward thing, it would be really be about, well... We told the story of the fugitive, what's the next step in the story,"
said Leterrier.
"It can't just be 'Don't make me angry, you wouldn't like me when I'm angry' ... that would be a problem if you do the same thing over and over again. Edward's never done the same movie twice, so I don't think he would do that."
Gnarly video: The first look at the aliens of Predators!
Fox has posted a new
Web site
and teaser trailer for
Predators
, which you can view below.
The footage was premiered at the South by Southwest film festival on Friday night, along with concept art, such as the Predator hound, a nasty beast on the Predator homeworld, below.
We'll have more on
Predators
, a prequel to the original
Predator
movie, from producer Robert Rodriguez and director Nimrod Antal, soon.
Predators
opens
July 7
.
(Click to enlarge)
Boba Fett reduced to begging for change in N.Y. subway: Video
Guess it's hard out here for a bounty hunter:
Star Wars
' Boba Fett was caught on video, below, playing the accordion for spare change in the New York subway.
We knew he'd fallen on hard times after the unpleasantness on Tatooine. There are even reports he'd been eaten by a sarlacc in the Great Pit of Carkoon, where he supposedly found a new definition of pain and suffering as he was slowly digested over a thousand years, but clearly those reports were exaggerated.
But an accordion? Really?
Anyway, better times, Boba.
CAPTAIN AMERICA & THE AVENGERS: Exclusive Marvel Secrets From Insiders Part III
TGIF! As the first two parts of our interview with the Marvel Insider dealt with THOR, in today's final piece we saved the best for last. Today it's about CAPTAIN AMERICA and THE AVENGERS.

We hope you enjoyed our segments. Hopefully our Marvel Insider can continue to score us cool info as the movies proceed into production.

So as Stan Lee would say...Excelsior!
There were hints of Captain America in the first Iron Man and The Incredible Hulk. Is there anything like that in Thor?
No, but it's still early in the game and that could change.
Everyone has their own personal choices about who should play Captain America. What's yours?
My choice for Captain America would be Matt Damon.
But that's not going to happen.
No. Personally, I know little of the work from the guy's on the short list, except for John Krasinski, but I don't think he' right for the role. He's too tall and he's oriented more to TV sitcoms or comedic films. I just don't think he's the right fit for Captain America. I'm hearing the tests for him are not really going well. But don't feel bad for John, his fiance is Emily Blunt who would have made a great Black Widow.
The other potential actors I don't know too well. I know what they look like, and I've seen some of their material, but Captain America needs to be played by a strong actor. He's got to have incredibly strong character because not only does become an Adonis from the Super-Soldier serum, but he develops into an amazing fighter. He also has to be a guy who can establish order in complete chaos. With the Avengers, you've got Tony Stark being funny and doing his thing. You've got Thor who is a God and a bit of a loose cannon and you've got the Incredible Hulk. You need a guy who's a disciplined leader. Most importantly, as leader of The Avengers Cap needs an actor whose presence can even overshadow that of Robert Downey Jr. After all, Tony Stark sort of ends up following him, right?
Can you elaborate a bit on Captain America?
Not entirely sure, but it definitely must open before
The Avengers
. There's a completed script ready to go. It's already in its third draft. It's a period piece. The first half of the movie starts off in World War II, then, I believe, the film concludes with him getting frozen in the ice and being discovered by S.H.I.E.L.D. and The Avengers. That actually makes sense. Why wait until
The Avengers
to have Cap meet Stark, Fury and the team and then sign up? Time is limited and you waste it if you spend the first act establishing relationships between Cap and the others. This way, when The Avengers story begins, he'll be somewhat familiar with his new comrades and the main plot can kick into gear immediately.
Everyone wants to know about 'The Avengers' now that it's been announced. Jon Favreau is producing but who is the director?
They're still unclear at this time, but narrowing it down to candidates. As a fan of the comics, what's exciting to me is finally seeing S.H.I.E.L.D. in action. How they take control of situations, shut things down and maybe even make people disappear. It'll be the first time we see what they really do and their advanced technology like the heli-carrier.
There's also talk of the Hulk being the villain in The Avengers. Perhaps through a misunderstanding by the team or under Loki's influence...
I think in the first
Avengers
film, the Hulk should be the villain, in a way. There should also be another arc in the story or perhaps a bigger storyline. The Hulk personally is my favorite character in all comics. He's the guy who represents the inner rage and the animal inside of everyone and I think something's gotta drive him where he thinks he's under attack by these guys who are basically just trying to subdue him. It sets up an interesting dynamic. I don't think the Hulk should be the main villain, but I think he should be a distraction. I think everyone else is in order and he's the only one who, at a moments notice, can go off. He represents rage in all man.
At the end of The Incredible Hulk Tony Stark has a cameo where he says to Gen. Ross, "You have a problem."
Exactly. You need to have the Hulk brought under control. And that's what they want. "This guy could be the most powerful being on earth and he should be dealing with us. We don't want him to fall into enemy hands." I think if you have something like that where they are trying to wrangle him in and then realize they really do need him. That was basically the story line with the
Incredible Hulk
. The Hulk was always trying to be subdued, always trying to be controlled. But when the sh*t hit the fan, who would come in to save the day? The Incredible Hulk, one of the most powerful beings on the planet. The problem with that is that he's unpredictable. You never know what he's going to do. Though they suggested at the end of that film that Bruce Banner had finally mastered control over his transformations and perhaps the monster so that element might work too.
Do you think there's gonna be another Hulk movie?
I don't know. I think there should be another
Hulk
movie because let's face it, Ang Lee's version wasn't the best interpretation. Edward Norton's
Hulk
was a little more faithful to the material. I wish it had been a little more successful because then it would lock him in. If somewhere down the line they do
Planet Hulk
which is when the Avengers try to trick him to do this mission, then sedate him and shoot him into space, that might be nice too. He lands on an alien planet, becomes a gladiator and eventually leads a race of warriors back to Earth. That would be nice to see in live action. Seeing him seek revenge on those that betrayed him, Mr. Fantastic, Doctor Strange, Iron Man, and even ripping the roof off Madison Square Garden. Something like that could be huge and I think Hulk deserves a movie like that. But the next time we see him will probably be in
The Avengers
movie.
What other characters are going to be in The Avengers?
Not entirely sure, but I read like everyone else Joe Quesada from Marvel posting on Twitter that he was printing out the first draft. I think it would have to be Wasp. You have to have Wasp and you have to have Ant Man who are also romantically linked. But Ant Man's own movie doesn't appear to be happening right now. You also need Natasha Romanova who is the Black Widow. Scarlett Johansson plays her in
Iron Man 2
, so I imagine the plan is the bring her over for that and she'd be perfect. You need Captain America, Thor, Hulk and Iron Man. Then there's Nick Fury sort of guiding them all.
It's a very exciting time for Marvel fans.
(Thanks
Latino Review
)