Animag Exclusive: The Scoop on Ugly Americans
Comedy Central finds a terrific companion for
South Park
, Devin Clark and David Stern's horror-comedy about life with zombies, demons and werewolves called
Ugly Americans
.
Let's get something out of the way: If you dig comic books, have an interest in mature, funny and well-drawn toons, chances are you are going to get hooked on Comedy Central's new series
Ugly Americans
. If you also go weak in the knees for zombies, demons, werewolves and hand-eye monsters straight out of
Pan's Labyrinth
, then get ready for the ride of your life as David M. Stern and Devin Clark's clever creation begins its initial seven-week run in March.
Ugly Americans
Loosely inspired by Clark's original web series
5ON
, the half-hour show follows the adventures of a young New York City social worker who has to help vampires, werewolves, land-whales and other oddities adjust to life as a Big Apple citizen. It doesn't help that his roommate is a zombie and his moody ex is a demon lady co-worker.
Ugly Americans
Clark, a New York-based illustrator and comic artist, first came up with the basic premise of the show as he was waiting for his train at a subway station.
"I'm a compulsive artist, and I'm always sketching,"
he says.
"I had this big sheet of paper and I divided it up into eight different panels, and I figured out it would be fun to have eight weird creatures being interviewed on a certain subject,"
he recalls.
"Then when I pitched it as a web show for Atom Films, they said it would be a good idea to have these characters talk about topical things, like presidential candidates or the environment."
With the aid of comic actors Nick Kroll, John Mulaney and Pete Holmes, Clark came up with a web series (done in Illustrator and After Effects) that showcased his monsters and became a fast hit on atom.com. Before long, Atom Films' cable partner Comedy Central asked Devin to expand the show and create a bigger concept that would work as a TV series. That's when writer/exec producer David Stern (
The Wonder Years, Monk, The Simpsons
) came on board as head writer and show runner.
Ugly Americans
"We approached a few writers, but David was the one who really got it,"
notes Clark.
"We kind of meshed our brains together and came up with the idea for the show."
Stern remembers how he instantly clicked with Clark as they chatted about how to expand the three-minute-long web toon to a half-hour TV show with a four-act structure. With the aid of New York's acclaimed indie studio Augenblick Studios (
Superjail
), the producers created an 11-minute pilot that blew away the execs at Comedy Central.
"Only a few people at the studio knew about it,"
says Stern.
"Which worked to our advantage because there's that element of surprise—people haven't heard all the pilot's jokes 15 times."
Ugly Americans
Stern also credits Clark and exec producer and Comedy Central's seasoned vp of original programming Daniel Powell with putting together the perfect team for the show.
"I'm a sitcom writer and can't even draw a circle,"
says Stern.
"Many times in this business, they start with a script and then find an animator, and if there's no chemistry between them, there's a division that can't be fixed. We had Dan overseeing the whole project, and Devin was the creative visionary—he plays the role of Matt Groening over at The Simpsons—and Aaron Augenblick does some fantastic animation work. Altogether, it has been one of the best experiences of my career."
For Clark, it was crucial to keep the show's animation in the heart of his fave city.
"A big priority was to tap into the animation community of New York City,"
he says.
"I've been a fan of Augenblick's animation, and we thought it would be fantastic to have Aaron and his team work on the show. We are using Flash to create the animation, but it looks like a traditionally animated show, because of the way Augenblick uses Flash—it involves a lot of drawing; Flash isn't used as a puppeting tool to move the art around."
Top-notch Canadian animation house Cuppa Coffee joined the production when it was picked up for episodes, partnering with Augenblick's operation to handles the animation. The Toronto-based studio, primarily known for its excellent stop-motion animation work, staffed up a massive unit of 2D animators to handle the show's intricate work.
Ugly Americans
Since Clark is a huge comic-book fan as well as a true aficionado of horror movies, the chance to work on this monsteriffic show has been a real dream come true.
"The series has given me the opportunity to come up with 175 character designs just for seven episodes so far,"
he enthuses.
"We can create numerous weird background characters, creatures with eyeballs in their hands, etc. and pull from this huge bank of movies and comic books that I love."
Clark, who counts comic-book artists Jack Kirby, Will Eisner, Johnny Craig and Jack Davis and animation greats Hayao Miyazaki and René Laloux as some of his idols, says he was drawn to indie, moody fare from an early age.
"Both my parents were artists, and I guess I've been drawing since I was old enough to hold a pencil … I got a taste for independent artist-driven comics when I was very young. I was looking at Art Crumb's work when I was 10—which isn't really appropriate for a kid that age! But I've always loved those comic books more than the shiny, superhero ones, because they were gritty and were more based in reality."
Doing the Monster Mash
"We get inspirations from the wild characters the animators like to draw,"
says Stern.
"We've been rocking along at a breakneck speed, but it'a lot of fun to explore this world which is full of weird creatures. The key is to find interesting new hooks on characters we might have seen before. What's different about our show that we treat these creatures like they're normal—that they've all been around before and an accepted part of our reality. Our main character's job—Mark Lilly, who is a social worker at the Department of Immigration—is to domesticate all the freaks and make them responsible members of society. He's also our guide in this crazy world."
Ugly Americans
The fact that the artists and the writers get to play with a variety of new freaks and monsters in each outing has been a huge asset for Stern, who used to write on slower-paced shows such as
The Wonder Years
and
Monk
.
"My favorite thing about the show is that we get to take extraordinary situations and find the ordinary in them,"
he admits.
"We get to re-invent Manhattan from top to bottom, and we also have this alternative history of the city. We get to reference events like the Zombie Civil Wars of the 1960s. That's why you don't find yourself repeating yourself and writing yourself into a corner, like some of the other shows I've worked on. You can cram so much more into each act—the pacing is really magnificent!"
Ugly Americans
Since Comedy Central will be pairing
Ugly Americans
with its perennially popular hit
South Park
on Wednesday nights, there's a good chance that the series will find a stronger fan base than the cabler's other toon experiments
Drawn Together
and
Lil' Bush
. Regardless of viewers' response, Clark believes that he has already seen the rewards of his creativity and hard work.
"I guess it's hard to define, but there's nothing quite as satisfying as seeing a finished episode after working on it for such a long time,"
he admits.
"It's the fruition of all those months of blood, sweat and tears. I just saw the promotional teaser for the show after they aired the season finale of
South Park
, and it was the first time that I could say, 'Hey, that's my show, on Comedy Central!' It tingled my spine!"
Ugly Americans
will premiere on Comedy Central on
March 17.
(Thanks
Animation Magazine
)
Green Zone Sets Sights on Wonderland
Tim Burton's
Alice in Wonderland
comes off a record debut to face a new challenger this weekend with the entry of Matt Damon action thriller
The Green

Zone
into the market.
Released by Universal and directed by Paul Greengrass, the R-rated
Green Zone
opens in slightly more than 3,000 cinemas — about 700 fewer than
Wonderland
was in last weekend. Most prognosticators expect
Alice
to hold off
Green Zone
and repeat as the weekend's top movie.
Other new films coming out this week include the Fox Searchlight comedy
Our Family Wedding
, in 1,600 theaters; the Robert Pattinson romance
Remember M
e, in 2,200 theaters; and the Paramount romantic comedy
She's Out of My League
, in 2,900 theaters.
The next major animated release is DreamWorks Animation's 3-D epic,
How to Train Your Dragon
, set for
March 26
. That same day will see the release of
Waking Sleeping Beauty
, Don Hahn's documentary on the revival of Disney animation in the late 1980s and 1990s.
(Thanks
Animation Magazine
)
Smith Micro Unveils Poser Pro 2010
Indirect lighting, a new content management system and an enhanced user interface are highlights of Poser Pro 2010, announced this week by Smith Micro Software.
The updated software for creating and adding 3D characters to projects includes more than 2.5GB of ready-to-use content such as pre-rigged, fully textured 3D characters. It also has advanced featured intended to simply the design of 3D characters, including a talk designer, walk designer, morph brush, face room, dynamic hair and cloth tools.
"Used as a standalone character animation system or as a key component in a larger production pipeline, Poser Pro 2010 makes it easy for content creation professionals to add 3D characters to their projects,"
said Steve Cooper, senior product manager of graphics solutions for Smith Micro Software Inc.
"The ability to easily create characters for use in multiple applications offers greater flexibility and enables Poser Pro users to reduce time and resources in the development cycle."
The program is available for the price of $499.99, with upgrades from previous versions priced at $199.99. Users that have a license for Poser 8 and for Poser Pro can upgrade to Poser Pro 2010 for $50 before March 31, or for $70 April 1 or later. Poser 8, 7 or 6 users can buy Poser Pro 2010 at a special price of $249.99.
For more information, visit:
www.smithmicro.com/poserpro
.
(Thanks
Animation Magazine
)
Image Metrics Announces Funding, Merger
Facial-animation software and services company Image Metrics has completed a deal for $8 million in financing to expand its sales and marketing efforts.
The company also has completed a deal in which it has exchanged all of its outstanding shares with International Cellular Accessories, becoming a wholly owned subsidiary. The publicly traded ICA will change its name to Image Metrics Inc. and will soon adopt a new stock symbol.
Image Metrics' animation technologies have been used in award-winning and top-selling videogame and feature film projects. Its clients include Activision-Blizzard, Bethesda, Electronic Arts, Sega, Sony Computer Entertainment, Take Two Interactive, Ubisoft and Warner Brothers.
The new funding will support sales and marketing for its core software and services business, to support the launch of facial animation software and to explore new markets such as virtual worlds, gaming and social networks.
"Our proven animation technology allows video game studios to significantly improve the time to market for their games while simultaneously reducing development costs,"
said Michael Starkenburg, Image Metrics CEO.
"We are now staffing up sales and marketing to take advantage of a growing base of client testimonials, awards, press and word of mouth to grow both the size of the facial animation market and our market share."
(Thanks
Animation Magazine
)
Program Set for 2010 Cartoon Digital
The program and speakers for the upcoming Cartoon Digital event, set for
April 20-22
in Spain, have been announced.
The topics for the event, which will be held in Santiago de Compostela, include:
• Developing and selling content for mobile applications
• Multi-platform interactive animated series
• Digital distribution in the on-demand world
• Kids' properties and cross media planning
• Broadcasters' digital strategies
• Animation studios and social networks
• Partnering with Google/YouTube
• The digital home
Speakers scheduled to attend this year include:
• Patrick Crowe, Director of Xenophile Media
• Jesse Cleverly, Creative Director at Connective Media
• Marc Buhaj, SVP of Original Programming at Walt Disney EMEA
• Carlos Biern, Executive VP-Co-productions & Distribution at BRB Internacional
• Genevieve Dexter, Commercial director at Cake Entertainment
• Chelo Loureiro and Carlos Fernández, Continental Producciones
• Maria C. Ferreras, Strategic Partners at Google/YouTube
• Florence Le Borgne-Bachschmidt, Head of TV & Digital Content Business Unit at IDATE
• Bertram Gugel, Blogger and Head of Gugelproductions
• David Curry, Director at Le Singe Media
• Nicolás Amado, Regional Sales Director for Brightcove
The full brochure with registration form can be downloaded from
http://www.cartoon-media.eu/MASTERS/dig_programme.php
The deadline for registration is
April 5
.
(Thanks
Animation Magazine
)
Maybe by Sam ChouMaybe
is a sweet little, 2-minute,
"Eco-piece"
by Sam Chou of Toronto's
Style5
animation boutique. Chou says the work was inspired by a frustrating conversation he'd had with a friend. The film asks fundamental questions about human nature and our relationship to the environment, and uses a combination of techniques: from the traditional, hand-drawn animation, rotoscoping, to full on digital painting and compositing.
(Thanks
cartoon brew
)
When In The Country
When In The Country
is a stylish British public safety film from 1963. Please share if you know the studio or director responsible for this. I found out about the short thanks to
Lost Continent
which is a commendable blog dedicated to exploring the artwork and history of British animation.
(Thanks
cartoon brew
)
The Disappearing Cartoon
Director and animator
Will Finn
made a
thought-provoking observation on his blog
a few days ago. He began the discussion by surmising that if Disney ever decided to remake
Lady and the Tramp
, it would likely be some Frankenstein hybrid of keyframed CGI, live-action and performance capture. I don't doubt that for a second. Where it gets interesting though is that Will feels this is happening because cartoons, in their traditional sense, are increasingly viewed as ineffective. He writes:
[T]he tolerance for a well-crafted cartoon image, even one as sedate and safe (albeit expert) as any in the original
LADY
, even if it were faithfully re-created, rendered and impeccably lit in CGI, is pretty much shrinking in the hearts of the public and the minds of the power brokers. As the world of CGI expands the roles of animators and animation, it also somehow seems to ever marginalize the space cartoon art occupies in animation, especially features. This isn't the old CG vs. 2D thing I am lamenting here, it is the encroaching realism even on CG cartoons, just as realism encroached on 2D. It is about realism vs caricature, specifically cartoony caricature and how the tide seems to be turning ever more toward the former and away from the latter.
Will's comments are particularly relevant in light of how Jeff Smith's
Bone
is in the process of being transformed from its cartoony original form into mo-cap animation, and how forthcoming
Yogi Bear
and
Tom & Jerry
features are being turned realistic a la the
Chipmunks
. As Will is careful to point out, this is not CG vs. 2D; it's a deeper and more profound change in attitudes towards cartooning.
His thoughts remind me of an experience I had not so long ago with an ad agency in which the agency rep informed me that our website was considered unhip for corporate advertisers because it had the word
"cartoon"
in it. Cartoons are considered by many to be fuddy-duddy because of the term's long-standing association with junky animation (i.e. Saturday morning cartoons). Films like
Avatar
present an alternative that further diminishes the cartoon form, even to the point of redoing successful cartoons in more realistic styles. As Will says,
"I fear that in the aftermath of AVATAR and films like it the public and the industry may find cartooniness to be too quaint, too passe, too childish, all the specious negatives that threw up roadblocks in my early career days."
(Thanks
cartoon brew
)
Kaj Pindal Blog
Animation legend Kaj Pindal has his own blog at
KajPindal.blogspot.com
.
The blog is edited by Sheridan student
Amir Avni
and
Chris Walsh
, who teaches the animation history class with Pindal at Sheridan. The blog has stories from Pindal, rare examples of his animation, and artwork and video of his illustrious friends like Ward Kimball and Zach Schwartz. There's only five posts so far but every one of them is a winner. I especially enjoyed
King Size
, a funny and brilliantly animated anti-smoking cartoon that I'd never seen before and now can't stop watching:
(Thanks
cartoon brew
)
An interview with John Musker and Ron Clements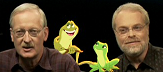 Anticipating the release of
The Princess and the Frog
on DVD and Blu-ray next week,
UltimateDisney
brings an exclusive interview with its directors John Musker and Ron Clements wherein the duo speak about their return to traditional animation for Disney's
The Princess and the Frog
.
Drawn Together Feature Debuts at Anaheim Comic-Con
The Drawn Together Movie: The Movie!
will have a special premiere screening at the Anaheim Comic-Con on April 17.
The 7 p.m. screening of the animated feature, based on the Comedy Central animated series about various cartoon characters living together in a reality show situation, will be followed by a Q & A panel with creators, writers and executive producers Matt Silverstein and Dave Jeser.
Run by Wizard Magazine founder Gareb Shamus, the first Anaheim Comic-Con runs from
April 16-18
at the Anaheim Convention Center.
The Drawn Together Movie: The Movie!
is set for release April 20 on DVD, and will feature bonus features such as
"Anatomy of An Animated Sex Scene"; "Re-Animating Drawn Together: From the Small Screen to The Slightly Bigger Screen"; "Drawn Together: The Legacy,"
a faux-serious reflection on the show's impact;
"Drawn Together: True Confessionals,"
the actors and co-creators discuss their favorite memories from the show; deleted scenes and more.
The movie will be released simultaneous with the DVD on download-to-own platforms in HD and SD including iTunes, Xbox LIVE Marketplace, Zune, Sony PlayStation Store, and Amazon Video on Demand.
For updates on Anaheim Comic-Con, visit
http://www.wizardworld.com/home-anaheim.html
.
(Thanks
Animation Magazine
)
Third Chipmunks Set for 2011 in 3D
Fox has greenlit a threequel for
Alvin and the Chipmunks
, according to Variety.
The third feature film outing for the famous, high-voiced trio will be in 3D and will hit theaters on
Dec. 16, 2011
.
So far, the series has been a smash hit. The first
Alvin and the Chipmunks
, released in 2007, grossed $361 million worldwide. The second film,
Alvin and the Chipmunks: The Squeakquel
, opened in December 2009 and is still in release. It has grossed more than $436 million worldwide.
The movies, based on the animated singing group created in 1958 by Ross Bagdasarian Sr., are a mix of CG animation and live action. The three singing chipmunks first appeared on the novelty song
The Chipmunk Song (Christmas Don't Be Late)
in 1958. The success of the song lead to an animated series,
The Alvin Show
, in 1961-62
The characters were revived in the late 1970s and starred in a 1981 animated Christmas special, followed by Saturday morning series produced at first by Ruby-Spears and later by DIC Entertainment and ran from 1983 to 1990.
(Thanks
Animation Magazine
)
Theaters Offer Taste of New Strawberry Shortcake Feature
Strawberry Shortcake: The Berryfest Princess Movie
, the new CG-animated feature starring the popular American Greetings character, will screen in nearly 150 theaters nationwide.
The feature will show at Kidtoons theaters on weekends throughout March.
Participating theaters include Carmike, Abingdon Cinemall, Atlas, Emagine, Marquee, Neighborhood, Cinedigm's Pavilion Theatre, Rave Motion Pictures, Republic Theatre Group, Showplace and UltraStar. National Amusements Theaters is participating on a more limited basis, and will show the movie only on March 13 and 14 at noon.
Check participating theaters for times at
www.kidtoonfilms.com
Participating theaters also will offer
Strawberry Shortcake
doll giveaways and contests.
In
The
Berryfest Princess Movie
, Berry Bitty City is preparing for the annual Spring Festival and Strawberry Shortcake has just been appointed Berryfest Princess. Strawberry Shortcake and her friends must work together to ensure the festival and parade are the sweetest events Berry Bitty City has ever seen.
(Thanks
Animation Magazine
)
Destination D to Explore History of Disneyland
D23, the official community for Disney fans, has announced a two-day event for its members, celebrating the 55th anniversary of Disneyland.
The event, called Destination D, is set for Sept. 24-25 and will offer D23 members an exclusive look at the design, creation, debut and history of the original Disney theme park.
Held in the Grand Ballroom of the Disneyland Hotel, Destination D: Disneyland '55 will feature two full days of special presentations, panels, screenings and guest speakers. Future Destination D events will explore other aspects of Disney history.
Early plans for panels include:
•
"Disneyland: The Way We Were"
– Disney's Chief Archivist Dave Smith will look back at highlights from Disneyland history;
•
"Disney Undiscovered"
– An exploration of never-built projects and attractions developed for Disneyland;
•
"23 on 55"
– The Walt Disney Archives celebrates Disneyland's 55th anniversary;
•
"Weird Disney"
– A showcase for some of the quirky, little-known facts, places, people and ideas that even the most avid fan might not know.
Destination D will be a biannual event that will alternate with the D23 Expo, which debuted in September.
Disney also has announced the dates for the second D23 Expo, which will be held Aug. 19-21, 2011, at the Anaheim Convention Center. Tickets will go on sale
Aug. 19, 2010
.
"The first D23 EXPO, surpassed all of our expectations, and our 2011 Expo is already shaping up to be a jaw-dropping, not-to-be missed showcase of the best and brightest Disney has to offer,"
said Steven Clark, head of D23.
"We're very excited to also be creating an entirely new event with DESTINATION D, which will bring Disney's fascinating history to D23 Members in ways no other Disney fan can experience."
(Thanks
Animation Magazine
)
Nick Preps Dora Special, Diego Premiere Week
Nickelodeon's 10th anniversary celebration for
Dora the Explorer
kicks into high gear with the
March 21
airing of the new primetime special
Swiper the Explorer
.
The special, which airs at 8 p.m. ET/PT and repeats
March 22
at 9 a.m. ET/PT, sees Swiper adopt a lost baby fox and attempt to get him home, learing a few lessons along the way.
Nick's new
Dora
website,
www.DoratheExplorer.com
, will feature a Swiper the Explorer theme month to teach preschoolers about helping, sharing and caring for babies.
In other Dora-related news,
Go, Diego, Go!
will present four new episodes featuring animal rescues starting
March 15
.
The episodes, which will air daily at 10 a.m. ET/PT through
March 18
, are described as follows by the network:
•
"All Aboard the Giant Panda Express"
– Diego and Baby Jaguar help a Giant Panda rescuer bring all the hungry pandas to Bamboo Mountain where they just planted lots of bamboo.
•
"Bengal Tiger Makes a Wish"
– Diego helps a lost Bengal Tiger find the Wishing Tree to reunite him with his mother.
•
"Leaping Lemurs"
– Diego and Baby Jaguar help a Sifaka Lemur find her long lost home in Madagascar.
•
"Diego Saves the Beavers"
– Diego and his friend, Billy the Beaver, race to make it to the beaver dam in time to rescue Billy's family from an approaching giant wave.
The episode
"All Aboard the Giant Panda Express"
will air as an encore on
March 19
.
(Thanks
Animation Magazine
)
Tarik Saleh's Metropia has NY premiere at Tribeca
"Metropia,"
a Scandinavian animated feature film directed by Tarik Saleh, will have its New York premiere at the Tribeca Film Festival, organizers of the fest announced Wednesday.
A Swedish-Danish-Norwegian co-production,
Metropia
is written by Saleh, Fredrik Edin and Stig Larsson. The Tribeca Film release features the voices of Vincent Gallo, Juliette Lewis, Udo Kier, Stellan Skarsgård and Alexander Skarsgård.
In the year 2024, all of Europe is united by a vast web of underground railways, populated by an army of downtrodden worker bees. When one such cog starts hearing voices and encounters a femme fatale shampoo model who seems to hold some answers, he finds himself unearthing a vast Orwellian conspiracy in this visually arresting animated noir.
Metropia
is one of seven out-of-competition feature films announced Wednesday to be presented in the Showcase section of this year's fest.
The 2010 TFF will take place from
April 21 to May 2
in lower Manhattan. The 2010 film selection encompasses feature films from 38 different countries, including 45 world premieres, seven international premieres, 14 North American premieres, 6 United States premieres and 12 New York premieres.
This year's film slate was chosen from a total of 5,055 submissions, a record number for the festival.
Three animated films among 2009's 10 top grossers
Animated films made up three of the top 10 money-makers last year at the United States and Canadian box office, the Motion Picture Association of America reported Wednesday.
In releasing its annual Theatrical Market Statistics Report for 2009, the industry group placed Pixar-Disney's
Up
in third place with $293 million.
Citing the RentrakCorporation and CARA as sources, the MPAA said that
Up
's results were exceeded only by the live-action
Transformers: Revenge of the Fallen
(Paramount; $402.1 million) and
Harry Potter and the Half Blood Prince
(Warner Bros.; $302 million).
Eighth place was taken by DreamWorks'
Monsters vs. Aliens
(distributed by Paramount), with $198.4 million. A very close ninth spot went to Fox's
Ice Age: Dawn Of The Dinosaurs
with $196.6 million.
Rounding out the top 10 were the live-action
The Twilight Saga: New Moon
(Summit; $284.5 million),
Avatar
(Fox; $283.6 million),
The Hangover
(Warner Bros.; $277.3 million),
Star Trek
(Paramount; 257.7 million) and
The Blind Side
(Warner Bros.; $196.6 million).
Robert Zemeckis' motion-capture
A Christmas Carol
, from Walt Disney Pictures, was #20 at $136.9 million. At #23, Sony Pictures Imageworks'
Cloudy With A Chance Of Meatballs
grossed $123.8 million, while #24 spot went to Fox's
Alvin And The Chipmunks: The Squeakquel
($120.7 million). The MPAA was quick to point out that these three films were still in theaters this year, and that the total reflected only the box office earned throughout 2009.
The Theatrical Market Statistics Report shows that global box office receipts reached an all-time high of $29.9 billion, an increase of 7.6% over 2008 and almost 30% from 2005. The United States/Canada market reached $10.6 billion (an increase of more than 10%), and international receipts increased 6.3% to $19.3 billion in 2009.
The 3D market gave the U.S./Canada box office a boost, accounting for 11% of the total, compared to just 2% in 2008. With 20 films released in 3D compared to just eight in 2008, higher-value entertainment contributed significantly to box-office revenues.
"While the motion picture industry continues to face tremendous challenges elsewhere in our business, we're reminded again this year that the cinema is the heart and soul of our industry and it is thriving,"
said Bob Pisano, the MPAA's president and interim CEO.
Nick Announces its 2010-11 Season
At its 2010 annual upfront presentation which featured top talent across the worlds of television, music and film, Nickelodeon today announced a slate of new programming that will be added to the network's 2010-11 schedule, including: six new series and new seasons of 16 returning hits such as top-ranked
iCarly, SpongeBob SquarePants
and
Team Umizoomi
. Additionally, five brand-new series will bow across Nick's digital nets, which include TeenNick, Nick Jr. and Nicktoons, during the 2010-11 season. Nickelodeon, the top-ranked basic cable network in total day for almost 16 years, is poised to close 1Q10 as its most-watched quarter ever in its 30-year history and just celebrated January as its most-watched month ever.
Held this morning at the Hammerstein Ballroom in New York City, Nickelodeon's upfront presentation featured special guest appearances and contributions from: M. Night Shyamalan, director of Paramount Pictures' and Nickelodeon Movies' upcoming feature film
The Last Airbender
; Miranda Cosgrove, star of
iCarly
, basic cable's top kid and tween series; Victoria Justice, from the upcoming Nickelodeon live-action series Victorious; and Jamie Kennedy, star of the animated hit
Fanboy and Chum Chum
. The event was capped by musical performances from Nick's Big Time Rush, and pop singing sensation Justin Bieber, who sang his hit songs, "One Time" and "Baby."
Six new series will be added to Nickelodeon's programming line-up this season, including:House of Anubis
(working title) will debut in fall 2010. From Nickelodeon, in partnership with Belgium-based Studio 100,
House of Anubis
is a long-form mystery series and the first-ever Nickelodeon live-action show produced in Europe. Originally made for Nickelodeon in Holland, this new global version follows eight students trying to solve a hidden mystery at an English boarding school while dealing with the highs and lows of their teenage years.
House of Anubis
is produced in the UK by Lime Pictures.
Victorious
, starring Victoria Justice (
Zoey 101
), co-produced by Sony Music and created and executive produced by television hit-maker Dan Schneider, follows Tori Vega (
Justice
) as she unexpectedly finds herself navigating life at an elite performing arts high school. Featuring an ensemble cast of teens who act, sing, dance and perform to original music,
Victorious
will premiere on Nickelodeon on
Saturday, March 27
, right after the 23rd annual Nickelodeon's Kids Choice Awards.
Kung Fu Panda: The Series
, Nickelodeon's second collaboration with DreamWorks Animation, chronicles the further adventures of Po, the energetic, enthusiastic, always hungry martial arts panda as he protects the Valley of Peace from threats of all kind. Based on DreamWorks Animation's hit feature film
Kung Fu Panda
, the Nick animated series is executive produced by Cheryl Holliday (
King of the Hill, Still Standing, Father of the Pride
) and produced at Nickelodeon's Burbank, Calif. Animation Studios.
Planet Sheen
, executive produced by Steve Oedekerk, Keith Alcorn (
The Adventures of Jimmy Neutron, Boy Genius
) and Jim Hope (
George Lopez
), is the intergalactic tale of Sheen Guevera Estevez--the hyperactive, attention span-challenged kid from Nickelodeon's hit Jimmy Neutron--who crash lands on Zeenu and deals with bizarre customs and strange-looking creatures as he tries to return home.
Planet Sheen
is produced by O Entertainment for Nickelodeon.
T.U.F.F. Puppy
, created and executive produced by Nickelodeon hit-maker Butch Hartman, follows the gung-ho, dim-witted dog named Dudley Puppy who is thrust into the role of "hero" when recruited by the super secret crime fighting organization, T.U.F.F. (Turbo Undercover Fighting Force) to protect his hometown against the evil animal organization, D.O.O.M. (Diabolical Order of Mayhem). T.U.F.F. Puppy is produced at the Nickelodeon Animation Studios in Burbank, Calif.
Bubble Guppies
is a new interactive, animated variety show for preschoolers set in a vibrant 3D, CGI-animated underwater classroom.
Bubble Guppies
-- created by Robert Scull and Jonny Belt (
The Backyardigans
) -- has an emergent curriculum: ideas that emerge from preschoolers' own discoveries. Each episode will delve into a preschool topic from a variety of angles as the cast and viewers explore the swaying kelp forests, coral reefs and undersea gardens of their aquarium-inspired surroundings.
Brand-new seasons of 16 hit blockbuster series will be featured in Nick's 2010-11 schedule:
Live action:iCarly
, basic cable's top kid and tween series;
True Jackson, VP; BrainSurge
; and the award-winning
Nick News with Linda Ellerbee
.
Big Time Rush
, Nick's newest live-action, record-setting series; and
The Troop
, which have been picked up for second seasons.
Animation:SpongeBob SquarePants
and
The Penguins of Madagascar
, the top two programs with kids 2-11 on television; and
The Fairly OddParents
. Additionally, Nick at Nite will premiere the second season of the family favorite
Glenn Martin, DDS
, on Father's Day,
June 20, 2010
.
Fanboy and Chum Chum
, which has been picked up for a second season.
Preschool:

Team Umizoomi
, the number-one preschool show on all of television since debuting Jan. 25, 2010;
Go, Diego, Go!; The Wonder Pets
; and
The Backyardigans
.
Dora the Explorer
, which is celebrating its 10th anniversary this year with four prime-time specials; an original documentary produced by Academy Award-nominated Brett Morgen (
The Kid Stays in the Picture
); new online Dora content; and the
"Beyond the Backpack"
pro-social campaign championing overall school readiness for preschoolers.
Nick's digital nets—TeenNick, Nicktoons and Nick Jr.--will also add a total of five new shows:Gigantic
, coming this season to TeenNick, is the network's second collaboration with award-winning production company Reveille. The half-hour series takes a fictional look at the glitzy, chaotic and often outrageous life of being a Hollywood "it" kid. Shot at various locations around Los Angeles, Gigantic features an ensemble cast that includes Grace Gummer and Gia Mantegna as two of the lead characters.
Voltron Panthera Force
will premiere on Nicktoons this season. The series follows the exploits of a group of five young cadets brought together under trying circumstances to form a newly appointed Voltron Lion Squad dubbed the "Panthera Force."
Voltron Panthera Force
is a World Events Production in conjunction with Kick Start Production.
Dragon Ball Z Kai
, premiering on Nicktoons in May 2010, follows the last descendants of an evil race of warriors, known as the Saiyans, on their collision course with Earth. Goku--the strongest fighter on the planet--is all that stands between humanity and extinction and must face the villainous Saiyan warlord.
Dragon Ball Z Kai
is developed by Funimation Entertainment.
Teenage Mutant Ninja Turtles
, debuting this season on Nicktoons, is based on four mutant turtles--trained in the art of Ninjitsu--who battle evil from the New York sewers. The animated series was recently acquired by Nickelodeon and is jointly produced by 4Kids Entertainment and Mirage Studios. Teenage Mutant Ninja Turtles is considered one of the most popular kids' television programs and was created in 1984 by Kevin Eastman and Peter Laird as a successful comic book series.
Dino Dan
will premiere fall 2010 on Nick Jr. The new original series combines live-action with CGI-animation to create an adventure-filled modern day world where dinosaurs roam freely. Developed and produced by Sinking Ship Entertainment and directed by J.J. Johnson,
Dino Dan
will deal with relatable kids' issues and teach preschoolers scientific information from new species to dinosaur vocabulary.
Dino Dan
was co-developed by real life palaeontologist-in-training, 11-year-old Daniel Cook.
Nickelodeon is approaching its 16th straight year as basic cable's top network in total day with kids 2-11, 6-11 and total viewers. Its 1Q 2010 to date performance will mark Nick's 60th consecutive quarter as basic cable's top total day network for kids 2-11, 6-11 and total viewers--the longest run of its kind. Nickelodeon also leads its direct competition with boys 2-11, 6-11 and 9-14 by double-digit percentages. For the quarter to date, Nickelodeon boasts six of the top 10 programs for kids 2-11, five of the top 10 programs for kids 6-11 and tweens, and the top five preschool programs on broadcast and basic cable television (source: NMR, Live+7 Blended with Live+SD 12/28/09-2/21/10, Live + Same Day data 2/22/10-3/7/10).
Alice in Wonderland artists at Nucleus
The artists behind Tim Burton's new
Alice In Wonderland
film will make a one-time appearance for a panel, Q&A and book signing this Saturday afternoon at Alhambra's
Gallery Nucleus
.
The event will begin at 2pm and run all afternoon,
Saturday March 13th
. Nucleus will also be the first and only location for you to purchase a copy of the 'Art of' book,
Alice in Wonderland: A Visual Companion
, before its release date (
March 30th
). Speakers in attendance will include character designer Michael Kutsche and concept artists Dylan Cole, Scott Lukowski, Steven Messing, Daphne Yap, Christian Gossett and Jim McPherson. For more information, visit the
Nucleus Gallery website
.
(Thanks
cartoon brew
)
New Cast Details For Upcoming "Batman: Under The Red Hood" Animated Feature
Two actors will be voicing one character in the upcoming
Batman: Under the Red Hood
direct-to-video animated feature.
Batman: Under the Red Hood
is set for a Summer 2010 home video release on DVD and Blu-ray.
The
World's Finest
has confirmed that actors Alex Martella and Vincent Martella are part of voice cast for the upcoming direct-to-video
Batman: Under the Red Hood
animated feature, the next title in the DC Universe Animated Original Movie line. The actors will be playing young and younger versions of "Robin" in flashback sequences during the feature. Vincent Martella is well-known for his role as Phineas in the popular
Phineas and Ferb
animated series from Disney Animation, while this new animated feature is one of first major roles for Alex Martella.
The
Batman: Under the Red Hood
direct-to-video animated feature is directed by
Superman Doomsday
co-director Brandon Vietti, and features the voice talents of Bruce Greenwood (
Star Trek
) as Batman, Jensen Ackles (
Supernatural
) as Red Hood, Neil Patrick Harris (
Justice League: The New Frontier
) as Nightwing, John DiMaggio (
Batman: The Brave and The Bold
) as the Joker and Jason Isaacs (
Harry Potter
film franchise) as Ra's Al Ghul. Bruce Timm is the executive producer.
An official announcement, along with package art, for the
Batman: Under the Red Hood
direct-to-video animated feature is expected to be released in the coming weeks.
Batman: Under the Red Hood
is set for a Summer 2010 home video release on DVD and Blu-ray.
The Chief Still Dislikes Song of the South
Another Disney Stockholder meeting, but the same old
question
:
"Thank you for not disappointing me,"
Iger said Wednesday after an attendee of the meeting in San Antonio asked about the 1946 film [
Song of the South
] ...

Calling the movie
"antiquated"
and
"fairly offensive,"
Iger said there are no plans for releasing
"Song of the South"
on DVD. ...
So that settles that, yes? You want to see
SOTS
on your flat screen Tee Vee, purchase a Japanese disk.
Or if you want a lyrical homage to the Land of Cotton and Magnolias that's way less P.C. than South, buy yourself a BluRay of
Gone With the Wind
. Time-Warner will be delighted to sell you one ...
And apparently Disney Resort hotel workers are bent out of shape about their less-than-fab health coverage, and asked Mr. Iger about it.
... One said Iger's salary is 1,395 times that of a hotel housekeeper and asked why top execs get fat bonuses while other cast members get
"takeaways."
Mr. Iger declined to jump in with an answer, although something along the lines of
"If God had meant you to have good health care, he would have made you President of CAP Cities-ABC and a friend of Michael Eisner"
would have been appropriate.
I only wish I could have been there.
(Thanks
Animation Guild Blog
)
Die, Sweet Roadrunner, Die Reborn On YouTube
One of the funnier pieces to come out of
Seth MacFarlane's Cavalcade Of Cartoon Comedy
was
Die, Sweet Roadrunner, Die
– an almost existential look at an animation classic. The short was re-released on YouTube recently, and a new, :30 second, animated
Priceline
bumper was bolted to the front. It's worth another look.
William Kentridge Brings His Animation to The Met
I don't seek out opera tickets all that often, but here's a production I'm dying to see.
The Nose
, an opera composed by Dmitri Shostakovich, opened last Friday at the
Metropolitan Opera
(six performances only) in New York City, and it features giant animated projections throughout the show. William Kentridge, the South African artist, is the director and set designer on the production, and he's also a very accomplished animator.
The Nose
is based on Russian Nikolai Gogol's short story, thus the heavy influence of Soviet avant-garde constructivist artwork. Here's some clips from the production, and below that an interview with Kentridge.
Cyanide & Happiness Fuels Speed Racist
The
Cyanide & Happiness
team teach us a valuable lesson in their new short
Speed Racist: Don't Drive Fast
.
THOR: Exclusive Marvel Secrets From Insiders Part I
Though Latino Review has grown into a reliable and formidable entertainment news entity in less than ten years, we're often still considered small fry by the studio system. That doesn't bother us too much, because we're solely devoted to you the readers, but it does help when the studios aid us in doing our job and that's providing information. We often get forwarded your typical news like the release of a movie trailer, casting, or your basic promotional material, but when it comes to getting invited to play in the same sandbox as the big news entities, on more than one occasion we're left out like a neglected stepchild. Case in point, the recent set visit in Manhattan Beach for Marvel Studios and Paramount Pictures
"Thor,"
which is now lensing.

Like I said, being left out doesn't bother us too much and actually we should consider it as a favor. Are our readers really interested in typical set visit Q&A sessions with cast and crew members where you learn little about the movie? Every outlet in attendance will basically run the same boring story anyway. How about something really news worthy, like the fact that several inside sources can give me real answers about where Marvel really wants to take Thor. What is the film's time-line within the growing Marvel movie universe? How will it tie into the other stories? How is Shakespearean director Kenneth Branagh handling the material and is Chris Hemsworth the right fit for
Thor
? Read on and find out.
We all know that the events in Iron Man (and possibly Iron Man 2) take place before
The Incredible Hulk
. How does Thor fit into this time-line?
In terms of time-line,
Tho
r is set after
The Incredible Hulk
. In the script we make mention of gamma radiation and one of the scientist characters, I think Stellan Skarsgard's Professor Ford recalls, "There was brilliant scientist (Bruce Banner). He was a genius with gamma radiation and somehow S.H.I.E.L.D. made him disappear." So
Thor
's story would take place after
The Incredible Hulk
.
How does Thor figure into The Avengers? Does he become a full-fledged member of the team?
Basically, at the end of the movie, Thor makes mention to Clark Gregg's character Agent Coulson that his kingdom of Asgard and S.H.I.E.L.D. are on the same side and whenever they need his help, he will be there to assist them in battle. It does leave it open, with Thor basically saying "When you need me and you want to assemble a team, I'm down." So, this is obviously pre-
Avengers
, post-
Incredible Hulk
.
So at this point are the Avengers already "assembled" like when Tony Stark told General Ross (William Hurt) at the Incredible Hulk's conclusion: "We're putting a team together."?
At this point, Nick Fury and Tony Stark would have already started amassing people.
How is an actor and director as deeply rooted in the world of Shakespeare like Kenneth Branagh handling comic book material like Thor?
Branagh is fantastic. The guy is a passionate director. He makes everything and everyone important, no matter how small their role in the production is. He's keeping the material very close to the comic. The tone is – even the way the stuff looks – is darker. So it's cool.
Iron Man
was cool because it was light, but not too light like the Batman movies that Tim Burton made and it was not as heavy as say, Chris Nolan's
The Dark Knight. Iron Man
was the perfect comic book movie because it was the light and the dark sides sort of mixed together. Thor balances the same things as well. It plays the light side with the stuff on Earth and then the heavier side with what happens up in Asgard and the battle that occurs. Marvel has done a really good job of trying to blend what they need to have a successful movie and what they need to keep all the fan boys happy. They're doing an excellent job.
Chris Hemsworth in the lead role of Thor.
He's not only f*ing great, but a cool guy and about as normal a guy that you'll ever meet. I know everyone is saying that. Chris had auditioned for another movie, but failed to win the part, yet he was very open and self-deprecating about it. He even said "Yeah, yeah. I auditioned for that. But apparently I was pretty terrible." He'll have that sort of attitude about it and kind of make fun of himself. "Yeah, I pretty much stunk the joint up when I went in and auditioned for that." He's got that kind of self deprecating humor. Very, very cool dude. He is a perfect Thor. The guy's a physical specimen. He's 6'4''/6'5'' and he's built like a brick house. He looks like he came down off that Rainbow Bridge and was ready to rock.
What about the look of Thor's costume and the iconic hammer?
Surprisingly, the costume looks amazing. We could tell early on from the production sketches of costumes and sets that this was going to be something good. It's just beautiful and the designers really took it to heart. If you look at some of the more recent Thor comics that are out now, the tone and the costuming is that. It's basically, the way you read the comics now, they're updated the way they are now and that's how the costumes are. I think everyone is going to be very, very happy. Nothing looks cheesy or cheap. Everything looks like it's real. Everything looks like it came from that period. And everything looks right on all the actors. Nothing looks stupid. I guess that's the best word. It's just jaw-dropping even to the Marvel executives.
What's funny is that when you see these Marvel executives you immediately think, "You guys are young. You guys read the comics?" They're involved in everything and they're the first ones to make a joke. So they would be like, "Yo, that hammer is f*king, wrong", because they know that they have this fan base and they have to respect them. They know that those comics are their bread and butter. They took a big gamble with Marvel Studios and it's paying off because they pay attention to detail. And not only that, it's their movie watching experience. They want to watch it, too and not be distracted by how bad the costumes are. So they really paid attention to it and they made it look flawless. It just looks flawless when you watch it.
(Thanks
Latino Review
)
Live-Action 'Spawn' Movie Headed To Smaller Studio With Lower Budget, Says Todd McFarlane
Last time I spoke to
"Spawn"
creator Todd McFarlane, he outlined his plans for a
"completely R-rated" live-action movie
based on his popular Hellspawn hero. With the character operating more in the background of a
darker, grittier tale than 1997's live-action
"Spawn,"
McFarlane offered a compelling case for how the franchise could return to the big screen in a form closer to what he'd envisioned when
"Spawn"
#1 hit shelves in 1992.
MTV News caught up with McFarlane during last month's Toy Fair International convention to get an update on the project.
"Since last time we talked, I've done my due diligence,"
he said.
"I've gone to the big studios, I've heard their pitch, [and] I've heard what they can offer. I've talked to the smaller guys and I've given what I want, and I just don't think I can be satisfied with something at the big boys.""[The large studios] can offer a big budget, big stars, and probably make a lot more money, but I just think that story-wise I'm going to be a little dissatisfied,"
he explained.
Previously, McFarlane had been weighing the pros and cons of big-budget versus smaller-budget production of the film, and told MTV News he wasn't sure he could accept the loss of control that comes with a film budgeted to be a blockbuster. Now, he seems to be certain of it.
"I keep telling them I can make it for $10 million,"
he said.
"I believe i can make this movie for $10 million.""You just have to be smart visually and have a solid story behind it,"
added McFarlane.
"So I'm going, 'Let's just do it the way I've been envisioning it for 10 years, and I'll take my lumps if it doesn't work.'"
EXCLUSIVE: 'Mask Up' With The Red Mist In New 'Kick-Ass' Poster!
Yesterday we gave you the first look at
one of three limited-edition "Kick-Ass" posters
that will be available at this year's South By Southwest Film Festival. Today, we have another one — and I dare say they get cooler with each image.
As we already mentioned, MTV News will be on the ground tomorrow when
"Kick-Ass"
kicks off the festival, and MTV Movies Editor Joshua Horowitz will host the
official "Kick-Ass" panel
Saturday morning featuring the cast and filmmakers. The new
"Kick-Ass"
posters we're revealing this week will only be available at SXSW during signings, but just in case you can't make it out to Austin for the festivities, we have your first look at each of 'em here on Splash Page.
Oh, and once you're done checking out the new poster, be sure to visit our
full
"Kick-Ass"
image gallery
featuring all of the posters, screenshots and other imagery that's been released from the film thus far.
EXCLUSIVE: Hit Girl Goes Retro For New 'Kick-Ass' SXSW Poster
We already gave you the first look at two of the
limited-edition "Kick-Ass" posters
that will debut during this year's South By Southwest Film Festival, and now we have the third (and final) poster attendees will be able to pick up at the show.
This time around, actress Chloe Moretz channels World War II-era "Rosie the Riveter" imagery in a Hit Girl poster that proclaims "We Can Kick Ass!"
The Hit Girl poster — as well as the previous Kick-Ass and Red Mist posters — will only be available during
"Kick-Ass"
signings at SXSW, including Saturday morning's
official "Kick-Ass" panel
moderated by MTV Movies Editor Joshua Horowitz. The film will kick off the festival at a special screening tonight, but just in case you couldn't make the trip to Austin, our
"Kick-Ass" image gallery
has all three SXSW posters along with more posters and images from the film.
Remember: Be sure to check out the "Kick-Ass" panel at SXSW this
Saturday, March 13
, at 11:00 AM!