C.O.R.E. Digital Shut Down Yesterday Afternoon
C.O.R.E. Digital Pictures
, the Toronto-based CG/sfx house that produced Disney's
The Wild
, shut down this afternoon. The studio has also provided animation for the features
Valiant
and
Ant Bully
, Chris Landreth's short
The Spine
, and dozens of TV shows and features. Canadian Animation Resources has been
following the story
and reported that at 3pm yesterday afternoon employees were called into a boardroom and told that the studio was closing. They were asked to pack their personal belongings and hit the road. As many as one hundred and fifty people may have lost their jobs, and many of them have not received their paychecks for their last few weeks of work. There is concern amongst employees about whether they will be paid. The studio was founded by Bob Munroe, John Mariella, Kyle Menzies and William Shatner (yes,
that
William Shatner).
(Thanks
cartoon brew
Dragon faced a tough deadline
Dean DeBlois and Chris Sanders talk with the
L.A. Times
about the 12 month deadline they faced when brought in to rework DreamWorks'
How to Train Your Dragon
. The tight schedule meant the film became more of a director's movie rather than a film by committee. DeBlois said,
"It's a model that allows for too much indecision. You can get into a situation where the only thing that 30 people in a room can agree on is a cliché."
We might see more of this model according to Bill Damaschke, co-president of production for DreamWorks animation:
"Chris and Dean are part of an overall shift in what we're trying to do."
PGS to Takes Studio Hari's Gees Series Global
French distributor PGS Entertainment has agreed to represent Studio Hari's animated series
The Gees
worldwide in the broadcasting, video, licensing and merchandising categories.
The series, comprised of 52 three-minute episodes, stars extraterrestrial visitors whose enthusiasm for and curiosity about the Earth are matched only by their clumsiness and bad timing.
PGS will launch
The Gees
to the international marketplace at MIP-TV 2010.
The Gees
already is backed by France's Gulli, who are co-producers, and is generating worldwide interest prior to delivery in fall 2010.
"The Gees follows the same comedic genius as Studio Hari's is now known for, and we are looking forward to showing the first episodes to our worldwide broadcast clients at MIP-TV,"
said Philippe Soutter, managing director of PGS.
"We are delighted to have our new series joining PGS Entertainment's catalogue,"
said Josselin Charier and Antoine Rodelet, co-presidents of Studio Hari, in a statement.
"The company has a proven track record in managing some of the leading independent kids and family brands worldwide. This is the first step in our collaboration with Philippe and his team, and a relationship we look forward to expanding on with future projects."
(Thanks
Animation Magazine
)
Mission completed: Actor Peter Graves dead at 83
"This tape will self-destruct in five seconds."

So ended the recording that began each episode of TV's

Mission: Impossible

, featuring agent Jim Phelps.

Tall actor Peter Graves, best known for portraying Phelps, leader of the task force of special agents, was found dead Sunday afternoon at his Pacific Palisades, California home, just outside Los Angeles. He was 83 and would have turned 84 this Thursday.

Graves, the star of

Airplane!

and brother of

Gunsmoke

star James Arness, apparently died of a heart attack, publicist Sandy Brokaw said.

The actor had just returned from brunch with his wife and children, collapsing before he would enter the house, Brokaw added. Although one of his daughters administered CPR, she could not revive him. Reportedly, the family doctor visited the house and said he thought Graves had suffered a heart attack.

There is no indication of foul play, and the coroner is not investigating his death, Los Angeles Police Department officer Karen Rayner said.

Appearing in over 70 films, TV series and TV-movies, Graves had several guest appearances on cartoon shows.

He was "General Warning" and the narrator in

The Day The World Got Really Screwed Up!,

a 1998 episode of

The Angry Beavers

. The 2001

House of Mouse

episode

Clarabelle's Big Secret

had him as the voice of the instructor.

Graves voiced Sheldon Miller in the 2006

Minoriteam

episode

"Tax Day"

and Mr. Callahan in the 2007

WordGirl

episode

"Tobey's Masterpiece/Chuck The Nice Pencil Selling Guy."

And in

A.T. Abused Terestrial

, a 2007

American Dad!

episode, he was Mr. Pibb.

He had an uncredited role as the host of a civil defense film in the partly animated 2003 movie

Looney Tunes: Back In Action

.

Mission: Impossible

made him a star. The show aired from 1967 to 1973 on CBS, with a 1988-90 revival on ABC. Graves returned as the only original cast member.

Winning a 1971 Golden Globe Award for his role on the series, he was also nominated for Golden Globes and Emmys in other seasons of the program.

He was born Peter Aurness in Minneapolis. He took on his maternal grandfather's surname to avoid confusion with his older brother, James Arness, who changed his own last name slightly and portrayed Marshall Matt Dillon on

Gunsmoke

.

A champion high-school hurdler, Graves also played clarinet in dance bands and was a radio announcer. Following a two-year United States Air Force stint, he was a University of Minnesota drama major before deciding to follow his brother's lead and head to Hollywood.

His first film roles were as courageous fighters of monsters in such sci-fi "B" flicks as

It Conquered the World

(his foe was a carrot-shaped monster from Venus), and

Beginning of the End

(a giant grasshopper this time).

An odd departure from his screen heroics came when he played a treacherous Nazi spy in Billy Wilder's 1953 prisoner-of-war drama

Stalag 17

.

Much later in life, Graves became the well-known and trusted TV host of PBS'

Discover: The World of Science

and A&E's

Biography

series.

Last year, Graves told the Los Angeles Times that he first rejected the role of Captain Clarence Oveur for

Airplane!

because he considered it in poor taste. Then actors Leslie Nielsen, Robert Stack and Lloyd Bridges signed up, so he changed his mind.

"They say you are supposed to stretch as an actor, so let's go stretch it,"

he said at the time.

When Peter Graves became a Hollywood success, he sent for college sweetheart Joan Endress to join him. Married in 1950, they had three daughters -- Kelly Jean, Claudia King and Amanda Lee -- and six grandchildren.

Undone by Haley MorrisHayley Morris

is a director and animator at

Curious Pictures

in NYC. Her short stop-motion animation

Undone

won best animated short at Slamdance 2009. Hayley joined Curious in June 2008 after graduating from the Rhode Island School of Design.

Undone

, her senior film project, is a tribute to her grandfather who suffered from Alzheimer's Disease.

(Thanks

cartoon brew

)

Mars Trailer

This roto-heavy animated feature really slipped in under the radar. The first I heard of

Mars

was last week when it premiered at SXSW. The film, described as an interplanetary romantic comedy, is directed by Geoff Marslett, who is a teacher at University of Texas at Austin. Marslett described the production process in an

indieWIRE interview

:

Visually falling somewhere half way between "Sin City" and "Waking Life"…or half way between a graphic novel and a hand colored photograph. Basically we shot the actors in a green screen studio here in Austin. They were there, and had costumes…but no props or backgrounds—that stuff was all green boxes and walls. The footage of the actors themselves was rotoscoped using a hybrid of line drawing and image processing. We did the bulk of the color work on them by processing the actual colors from the live footage using a program that Tray Duncan and I developed based on my previous program. Then we added the major line details by hand before finishing the final shading work using another automated process. These characters were composited with environments and props that were a combination of hand drawn, 3D animation, and roto-ed over 3D work (all of those made from scratch).

(Thanks

cartoon brew

)

Introduction to Gundam Week: Top 5 Mobile Suits - Top 5 Kookiest Mobile Suits

With the 30th anniversary of

Gundam

just recently passing, it is only appropriate that we at toonzone decided to take a moment to celebrate the astonishing mark

Gundam

has made within the animation universe. I'm not entirely sure anyone expected a show about giant robots to continually find new ideas to explore with said machines. These ideas continue to seemingly please the fans as more products, movies and, of course, shows are produced almost annually. It is very likely

Gundam

will be around for quite some time, and rightfully so as it is impossible to replace the greatness that the franchise brings to the table. With all of that being said, toonzone presents Gundam Week, and to kick things off we are presenting the

Top 5 Mobile Suits

, along with the

Top 5 Kookiest Mobile Suits

. Suit up!

Top 5 Mobile Suits



5. Gundam Exia
When it comes to close combat, Exia is about as brutal as they come. Exia specifically utilizes quite an assortment of swords (the Seven Sword System), with its primary being the GN sword. Typical sword fighting with Gundam's usually happens with beam sabers, but in this case it becomes just a bit more interesting by utilizing the GN sword, among others while combating other machines. While the 00-raiser is also a quite competent machine, the Exia goes a long way in showing how in some cases simplicity is pure sweetness. Oh, and it would be a crime to not mention how incredibly badass it is when Setsuna first utilizes the Trans-am system and overtakes Ali Al-saachez. Exia's stealthy and quick movement along with a great offensive style makes it a great mobile suit and number five on the list.
4. God Gundam
God Gundam is easily one of the best designed Mobile Suits to ever come from a
Gundam
series. That says a lot considering the large amount of suits that exists. This is most notably seen during God Gundam's super mode, when the internal generator becomes exposed and the six that generate a ring of fire, making it quite simply an awesome piece of machine for anyone to look at. Accompanied by various unique moves, such as the God Finger and God Slash the God Gundam is a formidable opponent to any of its kind. Domon of course makes full use of the Gundam with his spontaneous fighting style. This amazing design and fighting style puts God Gundam at a solid fourth place.
3. Epyon Gundam
Gundam Wing
's Epyon Gundam has inspired both worship and scornful disdain from the show's dedicated fanbase. Its most fervent supporters love its devilish motif, its speed, and the undeniably innovative "heat rod" whip that cuts through mobile suits like butter. Detractors are fond of claiming that it's a poor match for Wing Zero, which is armed with its almighty Twin Buster Rifle whereas Epyon is entirely designed for close range combat. In practice, however, the Epyon is as lethal as it is unusual, proving a match for Wing Zero and its legions of foes time and again. Its power was firmly established when it managed to sink Space Fortress Barge with its fully powered beam sword, a feat that precious few machines in Gundam history are capable of matching, placing it at number three on
toonzone's Top 5 Mobile Suits
list.
2. Altron Gundam
In terms of pure awesome, you can't get much better than combining a Gundam and a dragon. This combination has all the means to be great, and through the Altron Gundam we can see that this assumption is completely true. Altron takes all of the positives Shenlong had and decides to improve them. This includes a double-ended twin beam trident, wing binders for increased mobility and a pair of beam cannons on a stinger tail. Of course, power and ability alone aren't enough to make the Altron Gundam so impressive; it also has a sleek design, complimented by a nice color scheme. While some Gundams can be boring to look at, and others can be painful, Altron gets everything just right, making it number two on our list.
1. Zeta Gundam
Up until the Zeta Gundam made its debut the Titans and AEUG seemed to be evenly matched, but this mobile suit takes everyone by surprise by its miraculous performance. Of course this is only made possible through the excellent piloting skills of Kamille Bidan, who is the only one capable of using the Gundam to its highest potential. The most unique feature of the Zeta is its Bio-Sensor, which allows Kamille to fully utilize his newtype abilities, perhaps something that would have saved Amuro a lot of trouble during his battles in
Mobile Suit Gundam
. This combined with its ability to transform makes Zeta a highly desirable Gundam, as well as the clear winner for
Top Mobile Suit
.
Top 5 Kookiest Mobile Suits
5. Nobel Gundam
In terms of kooky, G Gundam certainly has many, many designs that could have made this list. For the sake of diversity, we decided it would be best to narrow this down to none other than the Sailor Moon Gundam, which is commonly referred to as Nobel Gundam. The innocent school-girl appearance of the Gundam is something to certainly catch the eye of any viewer. This "innocence" however stops right there, when we quickly learn how agile the mobile suit it, making it quite a dangerous enemy. This is, of course, complimented by the pilot, Allenby Beardsley, who while in berserker mode is almost in a league of her own. This spunky and fun design combined with its impressive combat skills makes Nobel Gundam the last suit to finish the
Top 5 Kookiest Mobile Suits
list.
4. Seravee Gundam
Gundam 00
's Seravee Gundam is a very, very strange design. For starters, the general idea of it and its predecessor Gundam Virtue is seemingly implausible. Ever since the original RX-78 Gundam distinguished itself with unprecedented performance and speed in addition to its impressive power, Gundams have traditionally tended to be lean mean killing machines more often than not. In contrast, Seravee is a heavily-armored hulk that's armed to the teeth with heavy beam cannons. As if that weren't enough, Seravee distinguishes itself from its earlier model with plenty of hidden secrets. Hidden hands, plenty of extra beam sabers, and other concealed surprises enable Seravee to hold its own against mobile suits of arguably greater power and certainly greater mobility. Time and again, foes underestimate Seravee and Gundam Meister Tieria Erde at their peril. As if all that weren't enough, Seravee has a Gundam face on its back. Now that is kooky, placing it fourth on the list.
3. Devil Gundam
The Devil Gundam is incredibly kooky, if only for the fact that it is a seemingly relentless machine with a large amount of transformations to top each previous form. Let's not forget the sheer size of the machine either when the viewer is first introduced to it; compared to it any other Gundam seems to be the size on an ant. Of course, perhaps the most astonishing factor of the Devil Gundam, aside from its immense power and relentless amount of energy is the fact that at its core is none other than Rain Mikamaru. While mobile suits are typically piloted by a human, in this case it just takes a completely different spin on that idea, fueling off of a human rather than needing one pilot it, making Devil Gundam number three.
2. Zakrello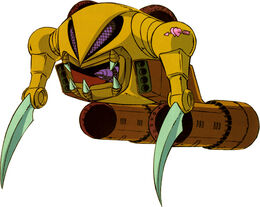 Often times when mobile suits are thought of, most everyone typically thinks of a Gundam first. In this case though, Zakrello is by far one of the silliest, kookiest, looking suits out there. The incredibly large claws combined with the distorted vampire-like face certainly would make any viewer raise an eyebrow and question why such a thing is out on the front lines. In terms of power, the Zakrello hardly has any, its speed really being the only thing that does it any good. The inability to dodge makes the suit rather useless against a Gundam, but this doesn't change the fact that it is hilariously kooky. In that essence, the Zakrello suit takes number two on the
Top 5 Kookiest Mobile Suits
list.
1. Wing Zero Custom
Wing Zero by itself is an incredibly intense suit. The mobile suit's ability to destroy an entire colony with the twin buster rifle makes it a tough match for any other suit. This, combined with the "neo-bird" mode allows it to make quick, surprising attacks on the enemy before they even realize they are dealing with a Gundam. Of course, none of this really makes it kooky; this part comes into play during
Endless Waltz
, when the Wing Zero Custom is introduced and the "neo-bird" mode is dropped for four angelic wings. This in turn makes Wing Zero look like a bird while flying, and of course gives it a rather odd appearance. This odd appearance doesn't change the fact that the Wing Zero Custom is still an incredibly powerful suit. This kooky, yet awesome design and power makes Wing Zero Custom number one on the
Top 5 Kookiest Mobile Suits
list.
(Thanks
Toon Zone
)
Polish Animator Makes Lucky Day Forever
Warsaw-based
Alek Wasilewski
is set to release a new 15-minute animated shorts, titled
Lucky Day Forever
. Alek had this to say about the new film:
While I've been fairly successful with doing Flash animations (I love you Internet!) and could have painlessly followed that path as many web authors did, launch a webseries and start selling coffee mugs and such… something constantly kept pushing me to do a "pro" film, make a real animated film instead of another Flash cartoon, not a sole effort but collaborative one, with real scope and budget… After some pretty tough but pretty exciting times of trying (rather fruitlessly) to live that dream, one day something happened and there was
Lucky Day Forever
.
Here's a trailer [
NSFW - animated nudity
]:
Latest FilmCow is a Depressed Whale
Jason Steele has produced a new
FilmCow
short, titled
Depressed Whale
. Let's just say that it's not what it seems. Enjoy
Depressed Whale
.
Dubois' Voyage To Madagascar Inspires Animated Film
Bastien Dubois, a graduate of Supinfocom Valenciennes, has been enjoying a fruitful festival circuit run with his new film
Madagascar – Carnet de Voyage
. The project, which was inspired by Dubois' 10-month trip to Madagascar, uses the metaphor of a travel journal to create a hand-crafted production design. Here's a trailer:
From Synchrolux
Kevin
writes
:
So last week we watched that new CG feature,
Kung Fu Wormy
, and were disappointed. Why didn't we love it as much as
Kung Fu Panda
? They had virtually identical stories, and that fat, funny lead worm, Pi, was expertly voiced by the very best Jack Black imitator in all of Iceland. How could it miss? It missed because it didn't have the same storytelling. Storytelling, not story, makes all the difference. ...
And if you proceed to Kevin's place, you'll get the rest of his second piece regarding story (and quite good, if I may say so ...)
(Thanks
Animation Guild Blog
)
"Superman/Batman: Public Enemies," "Green Lantern: First Flight" Titles Repriced
Two recent home video entries in the DC Universe Animated Original Movie line will receive new suggested retail prices this week.
Warner Home Video has announced that the home video releases for the recent direct-to-video animated efforts
Superman/Batman: Public Enemies
and
Green Lantern: First Flight
will be repriced to a lower suggested retail amount beginning this week. Both
Superman/Batman: Public Enemies
and
Green Lantern: First Flight
, two animated features under the popular DC Universe Animated Original Movie line from Warner Home Video, will find the suggested retail price for the single-disc DVD editions drop to
$14.98.
The reprice is a decrease from their respective
$19.98
original price tag. These new prices go in effect
March 16th, 2010
.
Marvel Calling Tatum For Captain America
EXCLUSIVE:
While Marvel Studios and director Joe Johnston continue to test candidates for
The First Avenger: Captain America
, I'm told that Marvel has also made an approach to Channing Tatum. Coming off
G.I. Joe: Rise of the Cobra
and
Dear John
, I would be surprised if he went in to test for the role., now that he's become a bankable commodity. It'll come down to Marvel making an offer, and Tatum either accepting it or rejecting it. But he is definitely in the mix, along with other confirmed candidates that include
Fantastic Four
's Chris Evans,
Cloverfield
's Mike Vogel and
Tron Legacy
's Garrett Hedlund, and
Generation Kill
's Wilson Bethel.
Interesting story I heard recently about Tatum. Asked by director Dito Montiel to star in
Son of No One
, Tatum agreed. But when Millennium and Nu Image took over the film and tried to squeeze Tatum on a deal that was already a discount, the actor's UTA reps told Montiel that it looked like Tatum wouldn't make the movie. This would have been a big problem, since Nu Image sold foreign on the film, right after Tatum scored a solid hit with
Dear John
. The movie might have imploded without him playing a young cop who questions a murder cover-up. Rather than accepting the equivalent of a Dear John letter, Montiel tracked down Tatum on the faraway set of the Steven Soderbergh-directed
Knockout
. After a heart-to-heart, Tatum was suddenly back in the picture, which sounds like a very Captain America thing to do. Sources close to Tatum said that the call prompted Millennium to live up to its original deal and that's why the film will go forward.
(Thanks
Deadline Hollywood
)
'Green Lantern' Cast Adds 'Star Wars' Actor As Abin Sur
With principle photography scheduled to begin this month on director Martin Campbell's highly anticipated
"Green Lantern"
movie, two additional actors have joined the cast:
"Star Wars"
actor Temuera Morrison and Taika Waititi.
According to
The Hollywood Reporter
, Morrison will portray Abin Sur — the Green Lantern who gives Hal Jordan his power ring before dying — and Waititi will play Hal Jordan's best friend. They join a cast that includes Ryan Reynolds as Hal Jordan, Tim Robbins, Blake Lively, Peter Sarsgaard and Martin Strong.
Earlier this month, it was announced that
test footage for "Green Lantern" was being filmed in New Orleans
that revolved around a stunt car. In the
"Green Lantern: Emerald Dawn"
miniseries, Hal Jordan is behind the wheel of a car accident that seriously injures his best friend. If that incident is being used in the film, then Waititi's character may be the one who is hurt in the crash.
Waititi is a well-known filmmaker and actor in his native New Zealand. He received an Oscar nomination for his short film
"Two Cars, One Night"
and has also directed an episode of
"Flight of the Conchords."
Morrison is perhaps best known for his role as Jango Fett in
"Star Wars Episode 2: Attack of The Clones."
Warner Bros. recently revealed that
"Green Lantern" will be released in 3D
when it hits theaters in June 2011.
Geoff Johns Says Justice Society Will Return To 'Smallville' This Season
Earlier this month, the CW officially
picked up
"Smallville"
for its tenth season
following a remarkably strong performance on Friday nights and a creative resurgence.
"Absolute Justice"
— the two part Justice Society episode by comic scribe Geoff Johns — was one of the most popular episodes of
"Smallville"
this year. Therefore, it should come as no surprise that the JSA will return before the end of the ninth season.
According to a report from last weekend's Emerald City Comic-Con at Comics Alliance, Johns said that
"[The JSA] do appear again at the end of season on 'Smallville.'"
Johns also added
"The hope is for every DC character to appear outside the comic books. Correctly."
Back in November, Michael Shanks — the actor who portrayed Hawkman —
hinted that he might return in future episodes as a mentor to Clark Kent
.
"Clark and his friends are figuring out what their destinies will be, so there is a ripe opportunity for the Justice Society who had been there done that to offer some tough love teaching,"
said Shanks.
"The way things land at the end of it all, there's an open door for Carter Hall to be revisited and possibly be part of further mentoring Clark down the road."
Johns has also recently
hinted that Darkseid and the dark gods of Apokolips
may appear next season on
"Smallville."EXCLUSIVE: Ryan Phillippe Confirms 'Captain America' Audition
Add another name to the rapidly changing list of contenders for the lead role in
"The First Avenger: Captain America."
Joining alleged contenders
Chris Evans, Garrett Hedlund And Wilson Bethel
(and former rumor subjects
John Krasinski, Scott Porter and various other actors
) is
"The Way of the Gun"
actor Ryan Phillippe.
Phillippe confirmed a rumor that he's auditioning for the role during an exclusive interview with MTV News during the South by Southwest Film Festival.
"[I] actually am going in to meet on 'Captain America,' which is kind of cool,"
said Phillippe.
"After Superman, he was kind of my favorite."
Phillippe's involvement with the role first surfaced on
HitFix
earlier today in an anonymous report indicating the actor was the latest in a long line of potential
"Captain America"
leads.
The actor's next on-screen role will be as a soldier in
"MacGruber,"
a feature-length film based on the Saturday Night Live short. He previously showed some action chops in the aforementioned
"The Way of the Gun"
with Benicio Del Toro, but he has yet to take on a comic book movie role.
'Hellboy' Star Ron Perlman To Play Conan's Father, Replaces Mickey Rourke
Last month,
"Iron Man 2"
actor Mickey Rourke was reportedly in talks to appear
in director Marcus Nispel's upcoming "Conan" film
as Corin — Conan's father. And while Rourke has instead opted to appear in the film
"War of the Gods"
, his replacement is also well known among comic fans.
According to
New York Magazine
,
"Hellboy"
star Ron Perlman has been signed to replace Rourke as Corin. In addition to roles in
"Blade II", "Sons of Anarchy"
and
"Beauty And The Beast"
, Perlman has provided the voice of Conan in the
"Conan"
video game and the upcoming direct-to-DVD animated film,
"Conan: Red Nails."
Perlman joins a cast that includes Rachel Nichols, Bob Sapp and Jason Momoa in the title role as Conan. Perlman will most likely appear opposite Leo Howard as the younger Conan at the beginning of the film. "Avatar" actor
Stephen Lang recently confirmed that he will appear as the film's villain, Khalar Singh
.
In the 1982
"Conan the Barbarian"
film, Conan's father briefly appears before he is murdered in front of his son. Momoa recently spoke out about
the influence of that film and the original novels by Robert E. Howard
.
"At the time, [
'Conan the Barbarian'
] was amazing… It's got a little '80s vibe to it," said Momoa.
"I did more research with the books (than the movies), to tell you the truth."
"Conan"
is expected to begin filming later this month for a 2011 release.
EXCLUSIVE: Christian Bale Met For Superman Role In Wolfgang Petersen's 'Batman Vs. Superman'
It's the eighth day of production as Christian Bale pulls on the spandex. His character is a beacon of liberty and justice, striking out at evildoers and keeping the streets safe from super villains. But his nickname isn't the Dark Knight…it's the Man of Steel.
In 2003, before Bryan Singer's
"Superman Returns"
and Christopher Nolan's
"Batman Begins,"
director Wolfgang Petersen was set to direct
"Batman vs. Superman,"
a big-budget outing that set two of DC Comics' biggest superheroes against each other. Now for the first time, MTV News can reveal that one of those on the shortlist for Krypton's favorite son was none other than Christian Bale.
In an exclusive interview, Petersen – director of such blockbuster fare as
"Air Force One," "Outbreak," "The Perfect Storm"
and
"The Neverending Story"
– told us that Bale was among the two actors he met with for the role of Superman, with Josh Harnett being the second candidate. And according to the helmer, the film nearly happened.
"It was pretty close," said Petersen. "And then the studio got a single Superman script I think from J.J. Abrams at that time, and [Warner Bros. chief] Alan Horn was so torn – because it's such a fascinating concept to do a Batman versus Superman film. And I still think it would be to do that. But the studio decided to try separate version of Superman and Batman, and then maybe think about down the road if you want to bring them together in one film."
The Abrams project wound up being attached to director Brett Ratner, and the project moved far enough along to audition actors.
Brendan Fraser told MTV News
that he was among those who suited up in the iconic costume for a screen test. But like Petersen's iteration, the Ratner/Abrams effort collapsed, and Warner Bros. joined with Bryan Singer for his Brandon Routh-led movie.
For Petersen, the loss of the Superman project was tempered by the studio giving him the green light on another film in development: his big-budget Greek mythology epic starring Brad Pitt and Orlando Bloom.
"On the other hand they had 'Troy,'"
he explained.
"And right away [the studio said] it's not ['Batman vs. Superman'], but how about 'Troy'? So it was not so terrible for me because I loved the 'Troy' project
. (Ed. Note: If you haven't seen the director's cut of
"Troy,"
do yourself a favor and check it out.)
As for Batman, we all know what happened with Gotham's Caped Crusader. And for Petersen, there's only good will towards Christopher Nolan. In fact, he's as big a fan as anyone.
"I loved 'Dark Knight,'"
he exclaimed.
"I was completely sucked into it, blown away by it. I thought right away it deserved an Academy Award for Best Picture, and I was really disappointed that it didn't get it. I thought Heath Ledger was just phenomenal. I am a big fan of that movie."
'Green Hornet' Trailer Is Coming Soon, Says Michel Gondry
It's been a quiet few months on the
"Green Hornet"
front lately, but that shouldn't be taken as a sign that things are slowing down on the Seth Rogen-starring film. In fact, director Michel Gondry says fans will see the first trailer at some point in the near future.
"There's a trailer that's been made,"
the filmmaker told MTV News during this weekend's South by Southwest Festival.
"[It should be out] in the spring or summer, actually."
Based on Gondry's description of the trailer, fans will learn a good amount about Rogen and Jay Chou's characters of Britt Reid and Kato, the two heroes at the center of the action. But it's not all about character development, as Gondry promised plenty of violence in the upcoming trailer.
"You see Kato and Seth deciding why they want to be crime fighters,"
he said.
"Then you see images of their completion. It's pretty violent, but with a good spirit."
Despite the lack of recent information, Gondry said that all was well on
"The Green Hornet."
According to the filmmaker, the relationship between himself, Rogen, the studio and various producers couldn't be healthier.
"It's a great collaboration,"
he said.
"I really enjoy working with the producers. All of those guys happen to think very fast and make very random decisions, but they turned out to be successful."
New Predators Poster
A brand new
Predators
posters has debuted over at IMP. It's a simple black and white one but it's kind of cool.
The poster shows the Predator from the side, getting ready to cut a fool. But what's up with his jaw? Are these new Predators or am I trippin' and he's just a regular Petey Predator?
"Predators,"
a bold new chapter in the Predator universe, shot under the creative auspices of Robert Rodriguez, stars Adrien Brody as Royce, a mercenary who reluctantly leads a group of elite warriors who to come to realize they've been brought together on an alien planet...as prey. With the notable exception of a disgraced physician, they are all cold-blooded killers-mercenaries, Yakuza convicts, death squad members - human "predators" that are now being systemically hunted and eliminated by a new breed of alien Predators.
Check out the poster below.
(Thanks
Latino Review
)
M. Night Talks About The Last Airbender
M. Night Saymynamesaymyname spoke with UGO about his new movie
The Last Goofybender
, the story of some Asian kid who is accidentally given powers through his Chemotherapy sessions. Wait, maybe that's not the synopsis...hold on...
Air, Water, Earth, Fire. Four nations tied by destiny when the Fire Nation launches a brutal war against the others. A century has passed with no hope in sight to change the path of this destruction. Caught between combat and courage, Aang (Noah Ringer) discovers he is the lone Avatar with the power to manipulate all four elements. Aang teams with Katara (Nicola Peltz), a Waterbender, and her brother, Sokka (Jackson Rathbone), to restore balance to their war-torn world.
Based on the hugely successful Nickelodeon animated TV series, the live-action feature film
"The Last Airbender"
is the opening chapter in Aang's struggle to survive.
That's the plot? And I thought what I wrote was nonsense.
Here's some highlights courtesy of UGO:
The Last Airbender is very much the first in a planned trilogy. Night compares it to Lord of the Rings in that it is all one story not, "more adventures" with your favorite characters. The three films will mirror the three seasons of the series, with some tweaks.

Night plans to direct all three, but before the second one he wants to bang out a smaller-budgeted thriller.

The thriller is *not* Unbreakable 2, though he still hopes one day to get to that. And he knows Bruce Willis

Momo is absolutely in the movie. Night still hopes to find a moment where Momo does something really important and somehow saves the day, but for the first one he's in there "just for fun." feels the same way.

During one enthusiastic moment discussing the CG effects, the phrase "Master Pakku using water like nun-chucks" was used. Everyone in the room responded, "Coooooool."
Click
HERE
to read the rest.
No sequel planned for
The Happening
, Mr. Shoesontheotherfoot?
(Thanks
Latino Review
)
Spielberg helps Americanize that Swedish vampire movie
Let the Right One In
Director Matt Reeves (
Cloverfield
) at first didn't want to direct the Americanized version of the acclaimed Swedish vampire movie
Let the Right One In
, then decided he'd remain faithful, and now defends
"Americanizing"
the story of a young boy who befriends a girl who happens to be a 200-year-old bloodsucker. And he got help from none other than Steven Spielberg.
At the South by Southwest film festival panel
"Directing the Dead,"
featuring four notable horror directors, Reeves assured fans that he defended the integrity of the Swedish film as soon as he got the gig.
"It's funny, the people who gave me the film to look at in the first place, they said, 'Take a look at this film. We think you might respond to it,'"
Reeves said.
"'We want to try and get the rights from the Swedish producers. Maybe you'll want to make the kids older. Who knows what you want to do?'"
Reeves recalled for the audience on Saturday in Austin, Texas.
"I watched it and said, 'Well, here's my response. Number one, if you make the kids older, you literally ruin the film. So please don't do that. Number two, I'm not sure you should remake this film' was my response."
Reeves ultimately did decide there was a good reason to
"Americanize"
the film. Coming out of the Cold War '80s, he felt, the time is right to challenge the country's political views, as represented by vampires.
"Reagan was talking about the evil empire at that time, and the idea that the evil is outside of us,"
Reeves said.
"I became very drawn to the idea that evil is within us and that whole thing. It's details like that. People think an Americanization means you're going to come in and add lots of gratuitous stuff. In my case it was much more about context and how to honor the original story and find a way that it applies to the way that we live or that I live in my childhood and things like that."
When it came to working with child actors Kodi Smit-McPhee (
The Road
) and Chloe Moretz (
Kick-Ass
), Reeves felt he needed a childhood fantasy expert. Luckily, he had an "in" with E.T. director Steven Spielberg.
"I'd never really had extensive experience directing children,"
Reeves said.
"I met Steven Spielberg to talk about directing kids, and I was like, oh my God, it's Steven Spielberg, what's he saying? I have no idea, it's Steven Spielberg. He was very generous. I was really lucky, because Steven Spielberg is friends with [Cloverfield producer] J.J. [Abrams]. He'd seen Cloverfield and was like, 'Oh, that's a cool film.' I was like, 'Well, can I talk to you about directing kids?'"
That's the case for Americanizing the Swedish vampire film. Otherwise, there are themes that are just universal.
"I related to the bullying and the idea of being a child of divorce and growing up in the '80s,"
he said.
"I think it comes down to, in terms of doing a remake, what your intentions are. Whether you are interested in running roughshod over something or whether or not you are trying to bring something of yourself to it and being committed to and respecting where it comes from. I have such tremendous respect for that story. At the same time, it so resonates with me personally, and I thought, 'There's an interesting opportunity.'"
Let Me In
opens
Oct. 1
.
To fight Predators, its star bulked up and gave up sex
It took Arnold Schwarzenegger to defeat the creature in the original
Predator
, but in the upcoming sequel,
Predators
, the central character is played by Oscar winner Adrien Brody, who isn't quite the same physical presence but who still bulked up and gave up everything for the role.
"I put on 25 pounds for this role,"
Brody said in a press conference Saturday in Austin, Texas, at the South by Southwest film festival.
"That wasn't the point. They didn't hire me to be a bodybuilder. I'm not a bodybuilder, but I felt in order to be playful with it as well I shouldn't be strapped. It's not the physical strength that outsmarts an alien with energy-based weapons and high tracking skills and a culture of hunting and trophy hunting. You have to outsmart them."
Predators
stars Brody, who plays against type as Royce, a black-ops soldier brought to a hunting planet so that the alien Predators can study the most skilled human warriors. Brody went all "method" to prepare.
"My nightly ritual was like pouring over survival manuals and military and paramilitary training books,"
Brody said.
"I was reading Sun Tzu, I was studying meditation, I was on a very strict diet, I wasn't drinking, I wasn't eating sugar, I wasn't having sex. I was very focused. I had to kind of go there, for me, because this is a tremendous opportunity for me."
Adrien Brody (left) with Robert Rodriguez at South by Southwest
Producer Robert Rodriguez and director Nimrod Antal said they wanted to hire "real actors" to play the humans so that you could believe they were going through this alien hunt. Brody concurred.
"I approached this with a level of focus I would approach any of the roles that I've been given an opportunity to play,"
he said.
"I think my intention, and I think the intention of hiring me to play Royce, was to delve into a kind of flawed, tragic hero and not this kind of typical overtly physically imposing character."
Admittedly, Brody would get too method sometimes. Antal kept him from going all Col. Kurtz.
"Nim's my boy,"
Brody said.
"Nim's really looked out for me in this process, and I appreciate that. He's constantly tried to keep the focus very, very much on what needs to be there, what the moment needs, and not lose track of that in keeping the Predator a serious threat where there were techniques I would come up with in my reading. 'How about this? How about if I set this kind of trap? Would this work if we did this?' It might work, but we had discussions of it might kind of weaken my own character if Predator fell for a certain trap. So there were things it was great to have Nim's insight in the overall picture, where I'd get carried away with 'I know how to blow the guy up this way, this way.' So it's great, it was really wonderful. I'm very excited."
Predators
opens
July 7
.