RIP: Comedian/Actor Bernie Mac, Dead at 50
Just days after being hospitalized for pneumonia, actor and comedian Bernie Mac passed away at the age of 50 at Northwestern Hospital early Saturday morning.
Mac was hospitalized with pneumonia on August 1st and the following day, a source close to the family said that Mac was in
"very, very critical"
condition. The news comes just one day after reports that Mac was recovering and would be released from the hospital in a few weeks.
"Actor/comedian Bernie Mac passed away this morning from complications due to pneumonia in a Chicago area hospital,"
his publicist, Danica Smith, said in a statement from Los Angeles.
She said no other details were available and asked that his family's privacy be respected.
He was one of
"The Original Kings of Comedy"
in the 2000 documentary of that title that brought a new generation of black standup comedy stars to a wider audience.
NSFW - Not Safe for Work

: Language
Career highlights for the Chicago native include his FOX sitcom
"The Bernie Mac Show"
and his co-starring role in the popular
"Ocean's"
series opposite George Clooney and Brad Pitt. He had recently completed the movie
Old Dogs
and has two movies opening in November, DreamWorks' animated sequel
Madagascar: Escape 2 Africa
and Malcolm Lee's
Soul Men
.
Also animation-wise, at one time, Mac was scheduled to be in the voice cast of the Disney feature film
Bolt
, to be released November 26.
He voiced Fruit Juice in Revolution Pictures'
Lil' Pimp
(2004), a feature made entirely from Flash animation. Originally slated as a theatrical release, it was sent directly to video in a bid to the studio's losses.
Mac provided the voice of the Gadget Mobile in Mainframe Entertainment's
Inspector Gadget's Biggest Caper Ever
, released directly to video in 2005.
In the 2003
King Of The Hill
episode Racist Dawg, he voiced Mack, a handyman who sees racism in a bite from Ladybird, suspected of picking up subconscious cues from her master Hank.
"The world just got a little less funny,"
said
"Oceans"
co-star George Clooney.
"He will be dearly missed."
"Bernie Mac was one of the best and funniest comedians to ever live, but that was the second-best thing he did,"
said close pal Chris Rock.
"Bernie was one of the greatest friends a person could have. Losing him is like losing 12 people because he absolutely filled up any room he was in. "
Don Cheadle, another member of the
"Oceans"
gang, concurred:
"This is a very sad day for many of us who knew and loved Bernie. He brought so much joy to so many. He will be missed, but heaven just got funnier."
Brad Pitt:
"I lament the loss of a ferociously funny and hardcore family man. My thoughts are with [his wife] Rhonda and their family. Bernie Mac, you are already missed."
Cedric the Entertainer:
"It's hard to put into words just how I feel and what a painful loss this is. Bernie was a brother, a friend and one of the comic masters of our time. Sharing the marquee with him during the phenomenon of the

Kings of Comedy

tour bonded us like family, and created a unique moment in comic history marking some of the most meaningful, memorable and fun times of our lives. His comedic approach was his own brand and will definitely stand the test of time. The level of his talent always inspired me and other comedians to 'bring their A-game.' I promise you that you never wanted to be the guy who had to follow Bernie's set! As a husband and father, he was THE MAN and my thoughts and prayers are with his family. He will truly be missed, but so well remembered."
Kelly Preston and John Travolta:
"We are heartbroken. He will be deeply missed. He was a wonderful, kind and gentle man."
Samuel L. Jackson, Mac's costar in the November 2008 flick
Soul Men
:
"It goes without saying that Bernie was one of the preeminent comedians of our generation. He was also an attentive husband, a great father and loving grandfather. I feel blessed to have shared years of friendship with Bernie Mac and I'm honored to have finally costarred with him in what I consider to be his finest cinematic acting achievement. My sincere prayer is that his family will be comforted by the warmth of love from all of us who knew and respected this man."
Fox Broadcasting Company and 20th Century Fox Television:
"Bernie Mac was a gifted talent whose comedy came from an authentic and highly personal place. He was a tremendous live performer and a wonderful actor. Fox was proud to be the home of

The Bernie Mac Show

, and all of us at Fox and 20th Century Fox Television extend our deepest sympathies to his wife, Rhonda, and daughter, JeNiece."
Bob and Harvey Weinstein, whose studio, The Weinstein Company, is releasing
Soul Men
:
"Bernie Mac was a brilliant performer whose legacy will bring laughter to all of us for many years to come. The thoughts of everyone at The Weinstein Company and Dimension Films are with Bernie's family."
"The majority of his core fan base will remember that when they paid their money to see Bernie Mac ... he gave them their money's worth,"
Steve Harvey, one of his co-stars in
"Original Kings,"
told CNN on Saturday.
Carl Reiner, who also appeared in the
"Ocean's"
films, said Saturday he was
"in utter shock"
because he thought Mac's health was improving.
"He was just so alive,"
Reiner said.
"I can't believe he's gone."
Mac's death Saturday coincided with the annual Bud Billiken Parade in Chicago, a major event in the predominantly black South Side that the comedian had previously attended.
"It's truly the passing of one of our favorite sons,"
said Paula Robinson, president of the Black Metropolis National Heritage Area.
"He was extremely innovative in putting his life experiences in comedic form and doing it without vulgarity.
"He was an ambassador of Chicago's black community, and the national black community at large."
Mac leaves behind Rhonda, his wife of 30 years, their daughter Je'Niece and a granddaughter Jasmine.
Singer, songwriter Isaac Hayes dies at age 65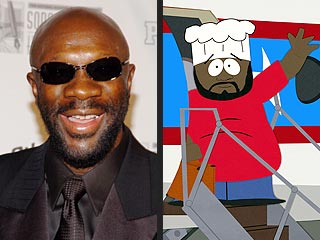 Isaac Hayes, the pioneering singer, songwriter and musician whose relentless
"Theme From Shaft"
won Academy and Grammy awards, has been found dead at home. He was 65.
The Shelby County Sheriff's Office says a family member found Hayes unresponsive near a treadmill on Sunday. He was pronounced dead about an hour later at Baptist East Hospital in Memphis. The cause of death was not immediately known.
In the early 1970s, Hayes laid the groundwork for disco, for what became known as urban-contemporary music and for romantic crooners like Barry White. And he was rapping before there was rap.
In 1996, he wrote
"Two Cool Guys"
, the opening theme for the 1996 film
"Beavis and Butt-Head Do America"
.
His career hit another high in 1997 when he became the voice of Chef, the sensible school cook and devoted ladies man on the animated TV show
"South Park."
In the 1999 interview, Hayes described the South Park cook as
"a person that speaks his mind; he's sensitive enough to care for children; he's wise enough to not be put into the 'wack' category like everybody else in town — and he l-o-o-o-o-ves the ladies."
But Hayes angrily quit the show in 2006 after an episode mocked his Scientology religion.
"There is a place in this world for satire,"
he said.
"but there is a time when satire ends and intolerance and bigotry toward religious beliefs of others begins."
Co-creator creators Matt Stone responded that Hayes
"has no problem — and he's cashed plenty of checks — with our show making fun of Christians."
A subsequent episode of the show seemingly killed off the Chef character.
Nicknamed
"The Black Moses"
or
"Ike,"
Hayes was the second-born child of Isaac Sr. and Eula Hayes. He was born Isaac Lee Hayes on August 20, 1942 in a tin shack in Covington, Tennessee, some 40 miles north of Memphis.
The child of a poor family, he was raised by maternal his grandparents, Mr. and Mrs. Willie Wade Sr., after his mother died and his father abandoned him when he was a year and a half. He grew up picking cotton.
When he was six years old, the family moved to Memphis.
Though he wanted to be a doctor, his career ambitious changed when he won a talent contest in ninth grade by singing Nat King Cole's "Looking Back."
He played gigs in rural Southern juke joints. Sometimes he had to hit the floor because someone began shooting. He had several other low-paying jobs, including shining shoes on Memphis' famed Beale Street.
"I knew nothing about the business, or trends and things like that," said Hayes, a self-taught musician. "I think it was a matter of timing. I didn't know what was unfolding."
He started working as a songwriter, partnering with David Porter. In the 1960s, they wrote "Hold On, I'm Coming," "Soul Man" and other hits for Sam and Dave.
That led Stax Records of Memphis to put him on contract in 1964 as a backup pianist. He was a session musician for Otis Redding and others. He also played saxophone.
In 1969, Hayes gained stardom with the album Hot Buttered Soul. The songs began with
"raps"
-- long before there were rappers. Unlike the usual soul singers, he sang in a
"cool"
style. And the numbers ran over three minutes.
"Jocks would play it at night,"
Hayes told AP in 1999.
"They could go to the bathroom, they could get a sandwich, or whatever."
And there was the Hayes image: his shaven head, gold chains and sunglasses.
"Theme From Shaft,"
from the 1971 film Shaft starring Richard Roundtree, charted at No. 1.
"That was like the shot heard round the world,"
Hayes said in the 1999 interview.
Loaded down with gold, Hayes performed the song at the 1971 Oscars and earned a standing ovation. Later, TV Guide described it as No. 18 in its list of television's 25 most memorable moments.
Winning an Academy Award for the song, he was nominated for another one for the score. The song and score won him two Grammys.
He won a third Grammy in 1972 for his album
Black Moses
, which gave him his nickname. He also composed film scores for
Tough Guys
and
Truck Turner
.
Hayes appeared in blaxploitation parody
I'm Gonna Git You, Sucka
, as well as several other live-action movies:
It Could Happen to You
with Nicolas Cage;
Ninth Street
with Martin Sheen; and
Reindeer Games
, starring Ben Affleck.
The voice of Nickelodeon's Nick at Nite, Hayes had radio shows in New York City (from 1996 to 2002), then in Memphis.
In 2002, he was elected to the Rock and Roll Hall of Fame.
"The rappers have gone in and created a lot of hit music based upon my influence,"
Hayes once said.
"And they'll tell you if you ask."
A first marriage resulted in three children. He had another two children with Mignon Harley, his wife from 1973 until their 1986 divorced.
Isaac Hayes is survived by Adjowa, his wife since 2005. They had a child together. He leaves 12 children, 14 grandchildren and three great-grandchildren.
The Dark Knight

Tops 4th Straight Weekend!
ComingSoon.net
has posted the box office estimates, which show that The Dark Knight once again won the weekend!
Despite two more wide releases having entered theaters on Wednesday,

The Dark Knight

topped the box office for a fourth straight weekend, adding an estimated $26 million for a massive domestic total of $441.5 million. If the estimate holds, then the Christopher Nolan-directed film has surpassed Shrek 2 ($441.226 million) to climb to the third spot on the all-time domestic blockbuster list, trailing just

Star Wars Episode IV: A New Hope

($460.998 million) and

Titanic

($600.788 million). Warner Bros. Pictures said it expects

"Dark Knight"

to end up with about $520 million domestically. The movie cost $185 million to make.
Click
here
for the full box office estimates.
Little Nemo

Pilot 1987
Back on
06/30/08
, I posted one of the pilots created for
Little Nemo
-
There were 3 pilots of
Little Nemo
produced in Japan.
One by Sadao Tsukioka,
one by Yoshifumi Kondo
, and one by Osamu Dezaki.
This is the last one, produced by Osamu Dezaki -
Animated Features for Grown-Ups
FilmInFocus.com has a series of articles entitled
"Adult Animation: A Look at How Cartoons Grew Up."
I wrote a piece for them about the
upsurge of adult animated features
in the US and abroad. The article covers a lot of ground but one of my goals was to show how animated features are on the verge of entering a renaissance period. From the indie features being made in the US by the likes of Nina Paley, Paul Fierlinger and Bill Plympton, to the mature and intelligent features being produced in all corners of the globe, the animated feature scene today is more vibrant than it's ever been.
There's also a piece by Sundance Film Festival programmer Mike Plante about
how to create animation on a tight budget
and Nick Dawson's essay on the
history of X-rated cartoons
. It's worth pointing out that FilmInFocus is run by
Focus Features
, the specialty film arm of Universal, that will be releasing two animated features of its own shortly:
Coraline
by Henry Selick and
9
by Shane Acker.
(thanks
cartoonbrew
)
Tribute to

Narnia

book illustrator Pauline Baynes
The Guardian online has run an obituary
tribute to Pauline Baynes
, the
"witty and inventive children's book illustrator"
who drew for JRR Tolkien and in all seven of CS Lewis'
Chronicles Of Narnia
books, who died on August 1 aged 85.
Dr. Toon: The Smell of Failure
In this month's column from
Animation World Magazine
, Martin
"Dr. Toon"
Goodman sniffs the air for signs of creativity, but finds only a smelly contrivance.
Disney not in festive mood, sues party planners
The sky is falling
.
Disney Enterprises, Inc. and several other plaintiffs sued a Miami party planning company Tuesday for infringing copyrights on such trademarked cartoon characters as Chicken Little.
The case could result in millions of dollars in damages.
The Mouse House joined DC Comics, Hanna-Barbera Productions, Inc. and Sanrio, Inc. in suing Ramon C. and Elizabeth M. Morales, owners of Tio Fiesta Party Decorations & Events, LLC. The suit alleges that Tio Fiesta profited by using characters Chicken Little, Ariel (from
The Little Mermaid
), Winnie the Pooh and Buzz Lightyear for costumes at children's parties without authorization.
Filed in Miami's Florida Southern District Court, the suit seeks at least $100,000 for every trademark violation -- and up to $1 million more for each if Tio Fiesta's actions are found to be willful. The suit also claims copyright infringement for lesser damages.
An exhibit shows 29 alleged infringements. The lawsuit also alleges that Tio Fiesta illegally used trademarks on ecorations.
Tio Fiesta's owners were not immediately available for comment, the South Florida Business Journal reported.
However, the paper said that the company's Web site
"still carried recognizable Disney character images and themes"
on Thursday.
"Tio Fiesta also offers a great variety in look-a-like characters of your choice, from princesses and superheroes to cartoon characters,"
its Web site said.
Maitland, Florida attorney Michael Holihan filed the suit on behalf of Disney Enterprises. He referred questions to Disney's media relations office, which could not be reached immediately for comment.
Disney has filed several lawsuits recently to protect its copyrighted images, trademarks and music.
Eric Goldberg Speaks, Part One
"So much can be expressed through a walk, you know. I think that's one of the things that a lot of animators don't do these days, is actually crack the walk so that it actually says something about the character."
Eric Goldberg, is interviewed on the latest edition of the
Animation Podcast
. The chat is an hour long, and it's only part one of the discussion.
Eric Goldberg is one of the most admired animators working today. After years of developing his craft in the commercial business in London, he exploded on the feature animation scene with the Genie in
Aladdin
. After that, he co-directed
Pocahontas
and later directed two classic sequences from
Fantasia 2000
-
Rhapsody in Blue
and
Carnival of the Animals
. Eric was also responsible for animating Phil in
Hercules
and he is currently animating on the upcoming film
The Princess and the Frog
.
Get the MP3 here:
Show 29: Eric Goldberg, Part One
(40.2MB, 1:27:39 minutes)
Or get the enhanced version playable only with Quicktime, iTunes, or iPods.
(Includes chapter breaks, pictures and links in addition to the audio.)
Get the enhanced podcast here:
Show 29: Eric Goldberg, Part One
(42.2MB, 1:27:39 minutes)
"Flinstones" and "Yogi" Movies Coming to DVD
Tvshowsondvd.com
reports that Warner will release the animated movies
The Man Called Flintstone
and
Hey There, It's Yogi Bear!
on DVD on
December 2nd
.
The Man Called Flintstone
features Fred posing as a secret agent saving the world from the Green Goose. The movie features the voices of Alan Reed as Fred, Mel Blanc as Barney, and Harvey Korman (
The Carol Burnett Show
) as the Green Goose.
Hey There, It's Yogi Bear!
follows Yogi & Boo Boo escaping Jellystone park to rescue Cindy from the circus. The film features the voices of Daws Butler as Yogi, Don Messick as Boo Boo and Ranger Smith, and Julie Bennett as Cindy.
Both films will hit shelves on
December 2nd
.
Gatchaman Screenshots 02
From
Felix Ip
, Creative Director at Imagi, here are few more CG images from the teaser, this batch you will see little more about the characters... We are still modifying the character design, this is what we did before the character modification. Enjoy!!
the team in ISO lobby, Joe was arrested by ISO solider.
For sure you know who is playing yoyo. The city look is inspired by HK
Phoenix in Utoland, mission start! This Phoenix is a still work in progress version...
There will be more images at
Imagi website
soon.
Can

'Magneto

' compete with

'The Invisible Man'

?
David Goyer told
MTV Movies Blog
that
'X-Men Origins: Magneto'
may be the film he next directs, or it may be a redo of a classic horror character.
"I'm writing a new version of

'The Invisible Man'

for Universal,"
Goyer told MTV.
"I'm in the process of doing [

'Invisible Man'

] right now, and I'm working with some conceptual artists in tandem with writing the script. I'm actually working with one of the artists from

'Batman Begins'

and '

The Dark Knight.'

So it could be

'Magneto,'

or it could be

'The Invisible Man'

next."
Animatrix, GITS 2.0

and other HD Anime
Animation Magazine
reports that Warner Home Video and Village Roadshow Pictures's
The Ultimate Matrix
Blu-ray release will feature the
Animatrix
anthology as part of the seven disc collection.
The Animatrix
disc will feature making-of documentaries for each of the short, creator profiles, and the featurette
Scrolls to Screen: The History and Culture of Anime
.
In addition of the
Matrix
films, the collection is package with three additional bonus discs featuring more than 35 hours of additional features and a digital copy of the original
Matrix
for use with Windows Media and iPod portable devices.
The collection will be released on October 14th for $129.95.
According to
Anime on DVD
and AV Watch in Japan, after its 07/25/2008 Japanese release, Bandai Entertainment will eventually be releasing Mamoru Hosoda's beautifully animated school girl time travel drama
The Girl Who Leapt Through Time
on Blu-ray in North Amercia.
The
Ghost in the Shell 2.0
partially reanimated remix of the original movie will be released on DVd Blu-ray in Japan on 12/19/2008. A mini Blu-ray box set which will contain the original feature without the new updates in addition to the 2.0 version. The 2.0 release will feature a Dolby TrueHD 6.1 audio mix in addition to the original stereo PCM mix that was found on the previous Blu-ray release.
Square Co., Ltd. Enix Ltd will be releasing a
"Complete Version"
Blu-ray of
Final Fantasy: Advent Children
in March 2009. The disc will features 30 minutes of new footage, as well as a preview of the next
Final Fantasy
game.
Anime Game News
IGN
reports
Namco Bandai will release
Mobile Suit Gundam OO Gundam Meisters
for the Playstation 2 in Japan on October 16
The infamous
Onechanbara
XBox 360 will be released in North America as
Onechanbara - Bikini Samurai Squad
. Wii game
Oneechanbara Revolution
will be released as
"Onechanbara: Bikini Zombie Slayers"
Virtual Idol Hatsune Miku's
Virtua Fighter cameo
SRW Hotnews has
scans
of the Famitsu Japanese game magazine with screenshots from
Mobile Suit Gundam 00: Gundam Meisters, Macross Ace Frontier
and the original characters of
Super Robot Wars Z
Via
Kotaku
Soul Calibur IV's customizing as spawned lots of bad "cosplay," and a few good ones.
Subatomic Brainfreeze may have the only English language review of
Oekaki Puzzle Battle: King of Braves Gaogaigar
Event News
Via
Medium At Large
, Kinokuniya Bookstore will host studio Pierrot (
Bleach, Naruto
, and
Yu Yu Hakusho
) president and founder Yuji Nunokawa at 4 PM on Saturday, August 9.
*
Anime News Network
notes that the new short from anime auter Makoto Shinkai (
Voices of a Distant Star, 5cm per Second
) will make its North American premier at the
Ottawa International Animation Festival
.
The September 6-16 festival will also be screening Mirai Mizue's independent
"Lost Utopia,"
Oscar-nominated Koji Yamamura's
"A Child's Metaphysics,"
Kunio Kato's
"The House of Small Cubes,"
Taki Kimura's
"Kudan,"
and Yuichi Ito's advertisement spots
"Bru Bru Dance"
and
"Mimi in Wonderland"
*
The
Toronto International Film Festival
will feature the North American premieres of Mamoru Oshii's (
Ghost in the Shell
) new anime movie
The Sky Crawlers
anime film and Toshio Lee's manga-based live-action pop-metal
Detroit Metal City
film
*
Canned Dogs
picks up reports
on how Japan's semi-annual figure/models/collectables event Wonderfest was marred by an escalator collapse that injured 10 people.
*
Via
Alt Japan
, it's
on YouTube
.
Mecha Mecha Media
reports that Moshi Moshi Gallery will be presenting
"The art of Japanese animation"
from August 7th - September 3rd - with the opening reception from 6pm-9pm on Thursday August 7th.
See
moshi-moshi.com
for more details.
This Exhibition will feature original animation cels and backgrounds used in the production of Japanese cartoons from the 1970's through the current decade featuring:
Nausicaa, Last Mystery of the 20th Century, Astroboy, Microman, Porco Rosso, GeGeGe No Kitaro, Guyver. Urusei Yatsura, Star Blazers, Robot Carnival
Worth Checking Out
FUNimation is now offering shows on their
YouTube channel
for $1.99 an episode.
Persona, Kinuko and
Paul Robertson's
(Pirate Baby's
Cabana Battle Street Fight
2006) free game
Hikkikomori Quest
Also, on the art from,
Persona 3 - The Fighting
Comipress on the history of massive doujinshi event
Comiket
Part II of Anime on DVD's interview with FUNimation's
Gen Fukunaga
Daily Yomiuri's Tom Baker on
Precision work behind Ghibli anime magic
A
Manga cafe in Ho Chi Minh city
Anime Designers Can Enjoy
Filipino writer Carmelo S.J. Juinio talks his anime inspirations in "The Laminated Woman"
Via Same Hat! Same Hat! Cat Eyed Boy Fan Art and Dance! Kremlin Palace! By Shintaro Kago (Chapter 5)
Pink Tentacle's
Tokyo Fantasy: Images of the apocalypse
Takeshi Yoro, executive director of the Kyoto International Manga Museum argues that
manga makes you smart
Patrick Macias continues An Eternal Thought in the Mind of Godzilla's 1978 is 2008 with
Symphonic Suite Arrivederci Yamato
also,
Shinto Purification Ceremony - King Kong Vs. Godzilla, 1962
Lone Wolf and Cub will Change Your Life
Hiroshima Day - Two Manga Help Us Reflect
Manga Before Flowers — Tokyopop & Us
New York-Tokyo has a preview of
ANIME TOONZ 4
`Star Trek Online'

is ready to beam up
"Star Trek Online"

is finally going warp speed ahead.
After years in development limbo, the
"Trek"
-themed massively multiplayer online game will engage, according to game developer Cryptic Studios Inc.
Jack Emmert, Cryptic Chief Creative Officer, said players will begin
"Star Trek Online"
as the captain of a small Starfleet or Klingon Empire ship. They can customize their characters from pre-existing
"Trek"
species — from Klingons to Gorn — and can create entirely new alien races. As they progress through the game, players can increase in rank and gain larger vessels and more crew.
"You'll venture through space exploring new civilizations and life-forms,"
said Emmert.
"You'll also beam down to planets and have adventures inside your ship. It's a galactic-wide game. There's going to be tons of space to investigate. We have a great system for exploration, which will allow for almost infinite possibilities."
Cryptic recently announced it had secured the rights to develop and publish
"Star Trek Online"
from CBS Consumer Products after now-defunct Perpetual Entertainment set the besieged project to kill.
"We had a friendly relationship with them,"
Emmert said.
"As it became apparent they weren't going to continue to function, they decided to sell off the license. We swooped in and grabbed it. We took no assets. There was nothing to be had, to be honest. We're building everything from the ground up."
Players will also be able to battle against other vessels in laser-blasting, missile-firing deep space scuffles reminiscent of
"The Wrath of Khan"
and the Dominion War in
"Deep Space Nine."
Because the game will be set a few generations following the last
"Trek"
film, players shouldn't expect to run into James T. Kirk or Jean-Luc Picard.
"There might be a ship called Enterprise flying around, but it's probably not the same ship anymore,"
said Emmert.
"Most of the characters will have either retired or passed on, but you'll definitely be going to all the places you know and love from
'Star Trek.'
Expect to see oldies like Vulcan and Bajor but also fan favorites like Andoria and Qo'noS."
Emmert plans to unveil footage and more details about
"Star Trek Online"
— which has no release date set — with Leonard Nimoy at a
"Star Trek"
convention Sunday in Las Vegas at the Gene Roddenberry Theater inside the Las Vegas Hilton. The
"Star Trek Online"
panel will also be broadcast live at
StarTrekOnline.com
.
"You're going to see the actual game working and functioning,"
said Emmert.
"This isn't renders. This isn't concept art. Everything that people will see on Sunday is going to be taken right from

'Star Trek Online'

as it stands today, so hardened people should know that a release date might be closer than they think."
Cryptic, the developer originally responsible for
"City of Heroes"
and
"City of Villains,"
is also working on the superhero-themed online game
"Champions Online,"
scheduled for release for Windows PC and Xbox 360 next year. Emmert said
"Star Trek Online"
would definitely be available for Windows PC and perhaps Xbox 360 or PlayStation 3.
Other online games based on popular entertainment franchises include
"The Lord of the Rings Online," "The Matrix Online," "Pirates of the Caribbean Online"
and
"Star Wars Galaxies."
Sony Online Entertainment is currently developing
"DC Universe Online"
while MGM Interactive is working on
"Stargate Worlds."
Rhetorical Question...
Knowing that
Hulk
and
The Incredible Hulk
made nearly the same amount of money at the worldwide box office, would you consider the new
Hulk
film a success, failure, or equal to its predecessor?
Iron Man

DVD & Blu-ray Details
Iron Man
is hitting DVD and Blu-ray on September 30th, and now Paramount Home Entertainment has provided us with the full details and cover:
Delivering non-stop action and excitement from a Super Hero who boasts not only unique powers, but also irresistible charm, penetrating intelligence and a wry wit, Marvel Studios and Paramount Pictures' worldwide box office sensation

IRON MAN

soars onto DVD and Blu-ray on September 30, 2008. Kicking off the fourth quarter, Paramount Home Entertainment presents spectacular Ultimate Edition two-disc sets on both DVD and Blu-ray, as well as in a single-disc DVD.

IRON MAN

thrilled both critics and audiences around the world with its captivating story and stunning visual effects. Called "spectacular" (Rolling Stone) and "a thrill-a-minute blockbuster" ("Reel Talk"), the film features an all-star cast including Academy Award® nominees Robert Downey Jr. (

Zodiac, Chaplin

), Jeff Bridges (

The Contender

) and Terrence Howard (

Hustle & Flow

) and Oscar® winner Gwyneth Paltrow (

Shakespeare In Love

) and was directed by Jon Favreau (

Elf

).

Earning over

$315 million

in the domestic box office to date,

IRON MAN

lifts off with high-speed, high-flying action when jet-setting industrialist Tony Stark survives an unexpected attack in enemy territory and escapes by building a high-tech robotic suit of armor. When he uncovers a nefarious plot with global implications, he dons his powerful armor and vows to protect the world as Iron Man. Straight from the pages of the legendary comic book,

IRON MAN

is a hero who is built -- not born -- to be unlike any other!

The

IRON MAN

Ultimate Edition two-disc sets are super-charged with hours of explosive bonus features that take viewers inside the suit of self-made Super Hero Tony Stark and his invincible alter ego. The sets offer the ultimate

IRON MAN

experience with extensive explorations of the origins of the character in a six-part featurette, as well as a seven-part in-depth look at the making of the film, a revealing documentary on the stellar visual effects, Robert Downey Jr.'s original screen test, deleted and extended scenes, a photo gallery of concept art and behind-the-scenes images on the set and more.



DVD:



The

IRON MAN

Ultimate Edition two-DVD set is presented in widescreen enhanced for 16:9 televisions with Dolby Digital English 5.1 Surround, French 5.1 Surround and Spanish 5.1 Surround with English, French and Spanish subtitles. Total runtime is 125 minutes. Bonus features include:



Disc 1:


-- Feature film
-- Deleted/Extended Scenes



Disc 2:


-- I Am Iron Man
-- The Journey Begins
-- The Suit that makes the Iron Man
-- The Walk of Destruction
-- Grounded In Reality
-- Beneath the Armor
-- It's All in the Details
-- A Good Story, Well Told
-- The Invincible Iron Man
-- Origins
-- Friends & Foes
-- The Definitive Iron Man
-- Demon in a Bottle
-- Extremis and Beyond
-- Ultimate Iron Man
-- Wired: The Visual Effects of Iron Man
-- Robert Downey Jr. Screen Test
-- The Actor's Process (scene rehearsal with cast)
-- The Onion "Wildly Popular Iron Man Trailer to be Adapted into Full Length Film"
-- Image Galleries



Soaring Hi-Def Features on Blu-ray:



One of the most anticipated releases of the year, the

IRON MAN

Blu-ray presentation offers even more exclusive content for an incredible entertainment experience including a "Hall of Armor" that allows fans to enter the Stark database to zoom in on any of the three Iron Man suits -- or Iron Monger. They can then activate the digital 3-D schematics to check out every weapon and the full high-definition renders let users fly around each suit to explore each of the armors in comprehensive detail.

The "Iron Man IQ" is a user-friendly web application that lets users create and share new multiple choice quizzes based on clips from the film. Fans can also download other users' challenges via BD-Live.

The

IRON MAN

Ultimate Edition two-disc Blu-ray is presented in 1080p High Definition with English 5.1 Dolby True HD, French 5.1 Dolby Digital and Spanish 5.1 Dolby Digital and English, English SDH, French, Spanish and Brazilian Portuguese subtitles. Bonus features include:



Disc 1:


-- Hall of Armor
-- The Invincible Iron Man (HD)
-- Origins
-- Friends & Foes
-- The Definitive Iron Man
-- Demon in a Bottle
-- Extremis and Beyond
-- Ultimate Iron Man
-- Deleted/Extended Scenes (HD)
-- BD Live:
-- Iron Man IQ



Disc 2:


-- I Am Iron Man (HD)
-- The Journey Begins
-- The Suit that makes the Iron Man
-- The Walk of Destruction
-- Grounded In Reality
-- Beneath the Armor
-- It's All in the Details
-- A Good Story, Well Told
-- Wired: The Visual Effects of Iron Man (HD)
-- Robert Downey Jr. Screen Test (HD)
-- The Actor's Process (scene rehearsal with cast) (HD)
-- The Onion "Wildly Popular Iron Man Trailer to be Adapted into Full Length Film" (HD)
-- Theatrical Trailers (HD)
-- Image Galleries



Single-disc DVD



The

IRON MAN

single-disc DVD is presented in widescreen enhanced for 16:9 televisions with Dolby Digital English 5.1 Surround, French 5.1 Surround and Spanish 5.1 Surround with English, French and Spanish subtitles. Bonus features include the deleted and extended scenes.



Marketing Support:



Paramount Home Entertainment will support the debut of

IRON MAN

with a comprehensive campaign designed to reach a wide range of consumers. The multi-million dollar blitz will include television, print, radio and online advertising, as well as an array of viral promotions to generate consumer excitement and anticipation leading up to the release. Innovative and engaging displays will be deployed across retail outlets to create an event atmosphere at street and extend the excitement into the holiday season. Additionally, promotional partners including Southwest Airlines, Kragen Auto Parts and Perdue will further extend the

IRON MAN

message to millions of consumers across diverse retail locations
.
Archie Comics chair Michael Silberkleit dead at 76
Archie Comic Publications chairman Michael I. Silberkleit died Tuesday in New York City after a short battle with cancer. He was 76.
Silberkleit was producer and executive consultant of 1999's
Sabrina, The Animated Series
, which was produced by DiC Entertainment and aired on UPN. He was also executive producer of the 2003 DiC Entertainment series
Sabrina's Secret Life
, which was released in syndication. He was an executive producer of the 2006 TV special
Sabrina The Teenage Witch In Friends Forever
as well.
He was executive consultant to the long-running live-action TV series
Sabrina, the Teenage Witch
, starring Melissa Joan Hart.
For a long time, he was associated with Archie Comics president and co-publisher Richard Goldwater, who died last October at 71 -- also after battling cancer.
For much of the 60 years that he worked at Archie Comics, Silberkleit shared the leadership of the company with Richard Goldwater, whose father, John Goldwater, and his partner, Louis Silberkleit, Michael's father, founded the company. The sons, who began working at the company as boys, later steered Archie Comics into the modern era of publishing as electronic production techniques and brand licensing became important. They encouraged the development of new characters, such as Sabrina, the Teenage Witch, and Josie and the Pussycats, and successfully licensed these and other characters through Archie Comics Entertainment.
The company also published comic books as a licensee, including
Teenage Mutant Ninja Turtles
and
Sonic the Hedgehog
.
At various times, Silberkleit was chairman of the Comics Association of America.
The centerpiece identity of the company, which is based in Mamaroneck, New York, remains the brightly innocent presence of Archie and his girlfriends, Betty and Veronica, who made their comic debut in 1941. Over the decades, Michael Silberkleit and Richard Goldwater steadfastly refused to introduce the worldlier and darker elements of teenage life, like sex and drugs and violence, into the Archie storylines. In doing so, they preserved an image of adolescence for the target audience of seven- to 14-year-olds.
Silberkleit was determined to keep Archie an American institution, pure as childhood, yet up-to-date with the latest technology used by children today. For generations of readers, Archie and the Gang have represented the wonder and magic of childhood, and Silberkleit fought successfully to keep this vision alive. Unlike some competitors who use longer formats, Archie Comics continues its tradition of telling accessible, short stories.
In one of the many interviews that Silberkleit gave, he said,
"The fact that our stories are funny, are non-violent, believable, clean and appropriate for youngsters makes us so appealing to the younger reader. This philosophy hasn't changed for more than 60 years. Many parents grew up reading Archie Comics and feel that our comics are appropriate for their kids."
After an initial public offering in the early 1970s, when Silberkleit served as treasurer, Archie Comics shares were traded publicly. But after 10 years, Silberkleit and his partner Goldwater bought the company back from shareholders and held it as a private, family-owned business thereafter. Currently, the company publishes over 10 million comics per year in a dozen languages worldwide.
Born in New York City in 1932, Silberkleit attended the Fieldston School before going to Albright College as an undergraduate. He studied law after his graduation.
Silberkleit was also active in the community, volunteering as an auxiliary policeman for the Scarsdale police force.
A resident of Rye and East Hampton, New York, Silberkleit indulged his mechanical aptitude with vintage sports cars, spending several years restoring a 1966 Austin Healey 3000 MKIII.
He is survived by his wife, Nancy Lind Silberkleit; their daughter Alexandria; three adult children from a prior marriage to Karen Silberkleit: Susan Berkley, David Silberkleit and Amy Silberkleit; and grandchildren Isis and Elijah Shiffer.
A private funeral and memorial service is planned for Sunday, August 10. The family asks that, in lieu of flowers or other memorials, donations made to Memorial Sloan-Kettering Cancer Center Research.
Homer Simpson's head replaces Spanish king on euro
Long live King Homer I.
The leader of the
"Simpsons"
dynasty has surfaced in Spain on a one-euro coin, his features replacing those of the country's king.
Candy store owner Jose Martinez told Reuters on Friday that he was counting the day's cash in his register in the northern Spanish city of Aviles last week. Instead of King Juan Carlos' serious profile, the anomalous coin bore Homer Simpson's big eyes and nose and balding pate.
"The coin must have been done by a professional, the work is impressive,"
said Aviles, who has seen many euros from various other countries.
But the anonymous artist didn't alter the other side of the coin, which shows the map of Europe.
No other coins showing the doughnut-loving dolt have been found.
Martinez plans to keep the Homer coin, as least temporarily,
"as an amulet."
However, he's been tempted to sell the toon piece to a
Simpsons
fan.
"I've been offered 20 euros for it,"
said Martinez.
The new face of European currency?
SOFTIMAGE|XSI 7 Ships
Softimage Co., part of Avid Technology Inc., today announced it has begun shipping SOFTIMAGE|XSI 7, the latest version of its professional 3D animation software for games, film and television. Among the packages' new features is ICE, a transformative open platform that allows artists to explore, learn and modify the robust library of particle-based visual effects and deformation tools available in SOFTIMAGE|XSI 7, or simply build new ones from scratch.
The software will ship with a free training DVD with material provided exclusively for the newest version by Digital-Tutors. Softimage will also offer many ICE tutorials and demonstration videos that will be posted on the SOFTIMAGE|NET community training page at www.softimage.com.
Powering the ICE platform in SOFTIMAGE|XSI 7 software will be the GigaCore II, a parallel processing engine that will deliver optimum performance on any modern workstation. Designed from the ground up to take advantage of multi-core workstations, ICE will directly scale with the number and speed of processing cores available. Softimage will also offer numerous pre-built, production-ready ICE "compounds" for particle-based effects and deformations. Customers who create their own ICE compounds can share them in their facility or with the global community on SOFTIMAGE|NET, in either an open XML format or a locked binary file to protect their intellectual property.
Other new features of SOFTIMAGE|XSI 7 inclde support for mental ray v.3.6 with new rendering stand-ins that will allow users to offload objects along with rigged and animated characters to the disk until render time, resulting in light-weight scene assembly for much larger rendered scenes, and optimized controls for final gathering and global illumination. Delta II is a major update to the lightweight referencing system in SOFTIMAGE|XSI, with enhanced support for clusters and cluster properties, including materials, textures and UVs. A new Real-Time Shading architecture will allow fragment and vertex shaders to exist in one node, and will be programmable and controllable from any ICE attribute.
SOFTIMAGE|XSI 7 is now available for purchase from a local Softimage reseller or sales representative, or on the Softimage Web store at
http://www.softimage.com/buy/
. SOFTIMAGE|XSI 7 Essentials carries a suggested retail price of $2,995 and SOFTIMAGE|XSI 7 Advanced lists for $4,995. All Softimage customers and 3D enthusiasts can join the SOFTIMAGE|NET community site, where a dedicated forum is in place to post and share member-created ICE compounds.
Sony Turns Up the Heat on

Flash Gordon
Alex Raymond's comic creation,
Flash Gordon
, is closer to making its return to the big screen after nearly three decades. The Hollywood Reporter brings word that Sony Pictures tapped scribes Matt Sazama and Burk Sharpless to write a screenplay that brings the space adventures of Flash, Dale Arden and Hans Zarkov to a new generation of moviegoers. Sony acquired the property from Hearst's King Features Syndicate earlier this year.
The Flash Gordon comics debuted in 1934 to provide some competition for the popular Buck Rogers series. Flash soon made his way to movie theaters in a string of serials and later got his own live-action television series in the 1960s.
The New Animated Adventures of Flash Gordon
hit the airwaves in 1979, followed shortly by the corny, but enjoyable, 1980 feature film starring Sam Jones as Flash and Max von Sydow as Emperor Ming the Merciless.
Nearly a year ago today, SCI FI Channel debuted a new incarnation of
Flash Gordon
produced by RHI Ent. The short-lived series starred
Smallville
's Eric Johnson as a track athlete who discovers a portal to another world while investigating his father's disappearance.
The latest live-action Flash movie was originally set up at Universal with Breck Eisner (
Sahara
), son of former Disney boss Michael Eisner, attached to direct and Neal Moritz to produce. The two will remain on the pic for Sony. Sazama and Sharpless have also been signed to write
Dracula Year Zero
for Universal and
Cobalt 60
for
300
director Zack Snyder.
Godfather II

Getting Made by EA
Electronic Arts and Paramount Digital Entertainment are set to give gamers an offer they can't refuse. The companies announced that they are developing a video game based on the classic Francis Ford Coppola film
The Godfather II
. A follow-up to last year's multi-platinum hit, the game returns to author Mario Puzo's Corleone family drama and goes beyond the film's story by setting players in the world of organized crime in 1960s Florida, Cuba and New York.
After being promoted by Michael Corleone to Don of New York, players will expand to new cities as they build up their families through extorting businesses, monopolizing illegal crime rings and defeating new families in an effort to become the most powerful mob clan in America. To help players manage their empire,
The Godfather II
introduces "The Don's View"—an innovative strategy meta-game that allows would-be Mafiosos to oversee the entire world as they grow the family business. Using the Don's View, players will be able to build and defend their crime rings, while keeping an eye on the movements and plans of rival families. Players will also learn to master the business of organized crime by building a family of Made Men, hiring crew, handing out orders and promoting their best men up the ranks.
The sequel also doubles down on the series' signature Black Hand control scheme, introducing a new combo system, pressure tactics and executions. Gamers will fight alongside their hand-picked crew, each member possessing unique skills and expertise such as demolitions, arson, engineering and first-aid.
Developed at the EA Redwood Stores studio,
The Godfather II
will be coming to Xbox, PlayStation3 and PC in February of 2009. The title will be unveiled exclusively on Spike TV's GameTrailers TV with Geoff Keighley on Friday, Aug. 15. The entire episode will be dedicated to the game, going behind-the-scenes with the development team and presenting sneak peeks at gameplay. The trailer will also be available on August 18 at
http://godfather2.ea.com
.
Up

coming of old age
MTV.com
has posted an interview with Pete Docter, director of Pixar's
Up
coming film wherein he describes his new film as a 'coming of old age' story. Pixar's
Up
, which will be presented in 3-D, is scheduled for a May 2009 release.
Star Wars: The Clone Wars

new trailer, Featurettes
Apple
has made available a new trailer for Lucasfilms' upcoming animated flick
Star Wars: The Clone Wars
. Directed by Dave Filoni,
Star Wars: The Clone Wars
opens in theatres on August 15.
In addition,
DVDTimes
shares two online featurettes on the film.
New WDAS website
With a surprisingly minimalistic front page that ties into the company's past and future, Walt Disney Animation Studios launches its
brand new website
. The About Us section delves into the studio's history and discusses what it's like to work at the studio now. The Projects section showcases the title treatments for their next several feature films as well as for the three shorts put into production since John Lasseter became head of the studio, while the Careers section features some concept art from
Bolt
.
August Festival of Links
One more dollop of linky goodness, beginning with:
CG actors.
Of course we've seen them in the
Star Wars
flicks, but Yoda, Jaba the Hut and Jar Jar Binks don't look particularly ... uh ... human. Howsoever, Viz Effx topkick Michael Fink thinks c.g. humans are close:
"We are now at a point where we can create photoreal characters, but it is hugely labor-intensive and it is really expensive," said Oscar-winning VFX supervisor Michael Fink (
"The Golden Compass"
), who recently was named president of VFX worldwide at Frantic Films VFX and Prime Focus Group.

"Can we do an absolutely, totally realistic Elvis Presley? Probably not. But that is because he is so well known," he said. "But if we had to create a character that nobody had ever seen before? That might be possible at this point. And in a few years it will be possible to do Elvis. A lot of people think it is possible now. I don't." ...
The Washington Post
trashes
George Lucas:
"The Clone Wars"
was never supposed to be a feature film. It was planned as a TV show that Lucas insisted be released theatrically after he saw it. (This outing was directed by Dave Filoni and written by others; Lucas executive produced.) But one need only consider
"The Clone Wars"
alongside its cousin
"WALL E"
to grasp how far Lucas has fallen behind some of the artists and technicians he once employed. A hectic, often incoherent pastiche of plotty dialogue and frantic battle action,
"The Clone Wars"
is populated by stiffly animated versions of such prequel characters as Obi-Wan Kenobi, Padmé Amidala and Anakin Skywalker. But for warmth and pure heart, they're not nearly as human as the little trash compactor whose life and loves drive
"WALL*E."
In the latter, the stakes are high -- for the protagonist and the planet he loves. In
"Clone Wars,"
the only thing at stake is whether Lucas will be able to take yet another bite of a thoroughly consumed apple. And viewers are left hungry.
The Post is gleeful in pointing out that Lucas started Pixar ... then sold it. (Ouch). But the London Free Press is kinder
here
:
The animated
Clone Wars
adventures clock in at about $2 million per hour, less than a twentieth the cost of the last round of
Star Wars
features (
The Phantom Menace, Attack Of The Clones
and
Revenge Of The Sith
), but 20 times a typical TV animation budget.

"Given enough time and money, anybody can create anything. But given a very, very restricted budget and very restricted resources, it's a challenge. We had to build studios, train people from scratch, hire artists, develop new techniques. We did not make this in the normal way you make an animated feature."
On a related note (Pixar), the New York Times has a short, interesting
piece
on Ed Catmull:
Edwin Catmull ... just got back from his first meditation retreat, at the Shambhala Mountain Center in northern Colorado.

"I almost flunked meditation," he said. "When things are intense and there's a lot at stake, I have no trouble focusing. But when they're not intense, my brain starts popping off in all sorts of places ..."
The Jerusalem Post
profiles
the upcoming annual Animation, Comics and Caricatures Festival , which starts August 13th and will be graced by Eric Goldberg:
According to Goldberg, perfection isn't always what it's made out to be. "CG renders realism, but that's not art for me. There is no artist interpretation there. It's just a technical facility." Even so, Goldberg feels the best approach is to marry both worlds.

"There is more crossover - CG-hand drawn - work today. Computer technology has made jobs like inking, scanning and painting much easier."
I'm a trifle late to the party with
this
, but Toon Disney is going to be more live-action for boys Disney ...
Disney hopes its princes will come.

The entertainment giant ... plans to relaunch Toon Disney as Disney XD, a cable channel that will target boys. The move, under wraps for more than a year, is an attempt by the company to capture a market that has long eluded it.

Starting in February, Disney XD will seek to become to young dudes what Disney Channel, with its lineup of tweeny bopper programs such as
"High School Musical," "Hannah Montana"
and
"Camp Rock"
is to girls.

... Animation, traditionally a draw for boys, has been a struggle for Disney Channel, although its newest series,
"Phineas and Ferb,"
appears to be building a strong male following.

But so far, the network has failed to produce a blockbuster to compete with Nickelodeon's
"SpongeBob SquarePants;"
or match the guy-centric focus of Cartoon Network, which one ad buyer described as the ESPN of animation.
Disney will lean more toward live-action, most likely with a young, blow-dried stud muffin fighting evil doers. These things go in cycles.
The Arizona Republic
takes a look
at the 3-D 3-D animation boom, discovering it comes down to ... box office dollars (there's a huge surprise).
DreamWorks Animation and Pixar Animation Studios have announced that all their future animation projects will be produced in 3-D as well as 2-D ... It's a safe bet more will follow ...

"You're going to find a generation of kids going forward that expect to wear glasses when they go into a movie theater," said Jeff McNall, the cinema-products manager for Dolby Laboratories, "because everything they're going to see is 3-D.

"They're going to find it really awkward to go to a movie and not see it in 3-D. It'll be like when people started going to movies and they started seeing color movies. It was hard to see a movie that wasn't in color ..."
Which might tilt the playing field a bit more toward 3-D instead of hand-drawn animation, yes? (Although 3-D hand-drawn films could be interesting ...)
It's always
good to remember
that the U.S. of A. isn't the fount of all animation:
NEW DELHI: Director and producer Anil Goyal's

Ice 'n' Spicy

, the country's first mainstream 'non-mythological' feature-length 3-D animation film using high–tech computer hardware, has been released across 15 screens in Mumbai and Delhi on 9 August ...

The film has cost around Rs 20 million, and though initially made in Hindi, it will also be released in English for the international market.

Anil Goyal told indiantelevision.com,"This is the first animation film made in the country which has a modern storyline and is not based on mythology or folk tales. However, it has a character, Gantoo, who is inspired by Lord Ganesha. The film is a totally Indian endeavor right from conception, characterisation, animation on the computers, audio and music ..."
(thanks
Animation Guild Blog
)