Zemeckis' Carol Kicks Off Holiday Movie Season
The holiday movie season kicks off with a motion-captured bang this weekend, with the wide opening of Disney's
A Christmas Carol.
The stereoscopic 3-D film, directed by Robert Zemeckis and starring Jim Carrey in numerous roles, opens in nearly 3,700 cinemas. The update of the Charles Dickens classic story is the widest new release this week, though far from the only one.
Also jumping into the race this weekend are Richard Kelly's thriller
The Box
, opening in 2,635 theaters; the sci-fi horror film
The Fourth Kind
, starring Milla Jovovich and running in some 2,500 theaters; and the comedy
The Men Who Stare at Goats
, which will appear in more than 2,400 cinemas and stars George Clooney, Ewan McGregor and Jeff Bridges.
The four newcomers will take on the second weekend of release for Michael Jackson's
This is It
, the low-budget hit
Paranormal Activity
, and holdovers
Law Abiding Citizen, Couples Retreat
and
Where the Wild Things Are
.
(Thanks
Animation Magazine
)
Hand Drawn
Walt Disney Animation is
going to be doing
more hand-drawn features regardless of how
The Princess and the Frog
turns out.
...[I]t was two of the biggest names in computer animation—Pixar cofounders John Lasseter and Ed Catmull ... who were behind the decision to return to the hand-drawn technique, and to rehire filmmakers who use it.


"We in no way wanted to be thought of as advocates"
of computer graphics only, Mr. Catmull said.
"We wanted to make great films; great films are independent of technology." ...
This isn't about "hand drawn" versus "computer graphics."
It's about making movies that an audience wants to see. (Duh.) The reason that studio managers have glommed on to c.g.i. as the magic bullet is that they look around and see pictures like
Up
or
Ice Age 3
or even
Cloudy With a Chance of Meatballs
picking up a goodly amount of coin and think:
"Ah, that computer generated stuff! That's the ticket!"
Forgetting, of course, that
The Simpsons Movie
made a great deal of money while
Surf's Up
and
Astro Boy
didn't.
Lasseter might be stating the obvious when he says movie-goers want to see good films and not bad films, but movie companies are looking for
winners
. And in the congloms' minds, c.g. animated features are proven crowd pleasers, while hand-drawn features are not.
(Thanks
Animation Guild Blog
)
The Warners Experience
I whiled away my afternoon at the Warner ranch, ambling through the building and cluster of trailers that comprise Warner Bros. Animation. One board artists remarked:
"I was really lucky to land this job at Warners. The studio where I was working laid off a lot of their staff when they lost shows ...
The third floor of WB Animation is filled to capacity with artists working on the
Batman
and
Looney Tunes
series, while the fabled
Scooby Doo
gets made across the parking lot in the trailer pod.
Scoob
staffer said:
The look of the new
Scooby
series is definitely retro. We go back to the early seventies styling and backgrounds, and forget that all the dvd features were even made...

Casey Kasem came in last week to record Shaggy's Dad. [Kasem used to play Shaggy. Time moves on. -- SH] Casey looks good, but he moves a little slower than he used to. But he's out there doing it, you know? Still working.
Casey Kasem is 78 years old. The fact that he's recording cartoon characters I find to be ... dare I say it? ... inspiring.
(Thanks
Animation Guild Blog
)
Town Hall!
Today as I stumbled into the Walt Disney Animation hat building, employees were streaming out.
"They're holding a
town hal
l at the equestrian center in Griffith Park! ..."
Which I understood to mean,
"John [Lasseter], Ed [Catmull], and Andrew [Millstein] are holding a big employees' meeting down Riverside Drive at the big horse building ..."
I went into the studio anyway. A layout artist asked:
"Aren't you going?"
I said,
"Only if Bob Iger comes along and invites me ..."
Upstairs, a staffer told me that
King of the Elves
is going through some changes, and that one of the directors has departed. (Nothing new there; Woolfgang Reithermann was displace by Art Stevens on
Fox and the Hound
; Chris Sanders exited
American Dog
. Stuff happens.)
Finally, since there's been discussion here about what
The Princess and the Frog
really
cost (the
Wall Street Journal
quotes a $150 million figure), I went to a Wise Old Disneyite who is in a position to know. She said:
"Management's told us that they want to 'do
Winnie the Pooh
for $35 million, which they said was one third of the
P and F
budget. Do the math. Thirty-five times three is $105 million."
One hundred and five million dollars. That pretty much sounds right to me. Disney's new, hand-drawn feature had a smaller crew, inbetweens and cleanups outsourced to
Yowza
in Toronto, and a focused schedule.
Sadly, I don't think the large staffs that populated Walt Disney Animation Studio in the halcyon days of
Aladdin
and
Lion King
are returning in the near term. But the Mouse House as a steady stream of product rolling down the pike, and if the big, round ball of fickle fate bounces right, they'll be profit centers.
(Thanks
Animation Guild Blog
)
Why Animated Features Multiply -- Reason #423
Don't expect long form animation to go the way of the movie Western
anytime soon
.
... [Fox] Filmed entertainment posted operating income of $391 million compared with $251 million a year ago, thanks to the box-office performance of
"Ice Age: Dawn of the Dinosaurs,"
which News Corp. said was the highest-grossing film of all time internationally with more than $880 million in ticket sales ...
Then there was
Ice Age 2, The Simpsons Movie, Alvin and the Chipmunks
.... and of course all the MacFarlane franchises ...
Rupert and his minions know good thing$ when they see them. Which is why they make so much animation.
(Thanks
Animation Guild Blog
)
Hungary's "Egon and Donci" screens in Pittsburgh "Egon and Donci,"
the first fully computer-generated animated film to come from Hungary, will be screened at 2 p.m.
Saturday, November 7
and 7 p.m.
Tuesday, November 10
as part of Pittsburgh's 28th annual Three Rivers Film Festival.
Both showings will take place at the Melwood Screening Room, 477 Melwood Avenue in North Oakland.
Released last year, 2008's
Egon and Donci
uses sounds and universal gestures, rather than dialogue, to communicate its characters' thoughts and ideas. The all-ages feature was directed by Adam Magyar.
We meet Egon, a would-be scientist and explorer, and his cat Dönci, who are the sole inhabitants of a distant planet. When an unidentified flying object with a message from Earth crashes into their planet, Egon wants to make contact with the strange blue planet. So he starts building a spaceship for intergalactic exploration, though continually thwarted by the inquisitive Dönci.
Eventually, the duo reaches Earth, where they get a lesson in life. The 75-minute motie is a visually striking tale, yet with well-developed characters.
Presented in collaboration with the Arts+Technology initiative of the Pittsburgh Technology Council,
Egon and Donci
is preceded by
The Dream
by Eli Kurlfink.
Single tickets to the Three Rivers Film Festival are $8 for any one film and can be purchased in advance online at ProArts, (412) 394-3353 or
proartstickets.org
. As always, single tickets are also sold at the theaters one half-hour before showtime.
For more information, call (412) 681-5449 or visit
www.3rff.com
.
A Preview of Prep & Landing
A three-minute preview of
Prep & Landing
was released online today. It's a TV special from Disney Feature Animation directed by Kevin Deters and Stevie Wermers-Skelton. It premieres on ABC next month.
(Thanks
cartoon brew
)
Seventy Years On…
Here's something the great
Art Babbitt
uttered in 1941.
"I look forward to the day when real artists who are more than craftsmen, who have developed their art, will come into this business, will pay it the attention it deserves as a potentially serious art medium…Disney and other studio heads have actually held the industry back by years by their 'out-of-the-world' fantasies, by their refusal to deal with real life and by their enchantment with 'calendar art.' I want to see those days go by the board. I want to see real artists assume leadership in this game."
One could say the exact same thing about today's mainstream animation, and sadly, it would all still apply.
(quote from Michael Barrier's website)
(Thanks
cartoon brew
)
(ED. Note: And continuing that thinking, here's something I found a while ago from former MPSC Union President, Tom Sito - and you can file this under the heading, Things to remember...)
So as a public service here's some of the wisdom I learned over the years from the High and Holy Ancient Ones and uh... some not so ancient:

Shamus Culhane taught me the biggest animation studio is only two flops from disaster. One flop and the suits say "We'll learn from this and move on." Another flop and you may hear "I think we need to re-evaluate our options." That means get your portfolio out.

Today there are a lot of people running around making animation but there are fewer Animators. Chuck Jones said Animator should be a gift word. That you are not really an animator until an older master animator says you are. That's not meant to exclude you or make you feel bad. It makes it all the more meaningful when it happens.

Dick Williams taught me that in the end the best way to do something is the hard way.

Don't act like you are going to stay at one studio forever. Fleischer, UPA, Depatie Freleng, Filmation and Jay Ward were once the biggest studios in town and are now only memories for film trivia fans. To be an animator is to be a gypsy.

Checker Nancy Massie taught me you work with the same people, only the producers change.

Never stop keeping your portfolio up to date and never let your contacts go cold.

No matter how much responsibility or creative control you get on a team, if you are an employee never forget that fact. You are not management, you can get laid off like any PA. Be loyal to your employer but don't champion his interests above those of your fellow artists.

Phil Mendez taught me "Be loyal but don't be grateful to an employer for getting the chance to make him rich. Your wiggling pencil is what is giving him the ability to buy his boat."

Never leave a production before the deadline. Even if you hate the project, finish it first. Once you get a reputation as unreliable, you may draw like Michelangelo but you may never get hired again. Studios want to know who they can count on and who they can't. They'd rather hire a lesser talent who'll be there when it counts than some flighty "arteest". At the end of Roger Rabbit, Simon Wells and Andreas Deja were doing inbetweens to get the job done while others had left for the pub. That's one reason they are where they are.

Reputations once gained are hard to change. Get used to the fact that people are talking about you behind your back. When a studio hires you, they're wagering several thousand dollars and several weeks you know what you're doing, because it takes some time to see you don't. So a rep as a troublemaker or lazybones is as damaging to your career as bad artwork. But screaming about the injustice doesn't help, better to let your work change peoples minds.

Cosmo Anzilotti taught me: "Whatever you work on, no matter how crummy or trivial you think the project is, do the best possible job you can, because you never know who's watching."

It's true the squeaky wheel gets the grease, but some artists come with so many complaints they become a hassle in themselves. One freelance animator complained at the height of a deadline crush that his scenes were wrapped with too many rubberbands around them! To less tolerant studios, the way to get rid of a problem is to get rid of the person.

Chuck Jones said: "Artists should not compete with one another."

If you are moving to a city other than L. A. to work on a project, don't sell your house. You'll be back here in a few years. I've lived in London, Toronto and New York and believe me, I thought each move was for keeps.

As soon as you leave to work outside L. A. you can expect your salary to drop by at least 1/3. That includes New York and Marin. L. A. has the highest salaries and best conditions in the Animation World and that's worth fighting for.

In animation the friends you make you make forever, likewise the enemies you make will follow you from studio to studio. So no film, no one project is worth losing the respect of your peers. What people say about you does matter, because one of them may be your boss one day.

The intern you treat like dirt today may be your boss tomorrow.

If you get to be in charge of people don't think you'll never fall back into the ranks. Animation is not a guaranteed one way route up the ladder of success. My last story crew had former directors and studio heads among them. I'd like to hope I'll stay a director, but the odds are I may one day be drawing right alongside the people I once bossed around. So don't be a beast while you're in charge. Animation folk have loooonng memories.

John F. Kennedy said: "Forgive your enemies, but remember their names."

If you need to resort to your rank to get things done then you haven't explained yourself sufficiently.

Don't focus your hatred on production people. They are paid to crack the whip so the big boss can be all smiles. And if the film flops they will be as unemployed as you or me.

Robert Zemeckis said: "Film is 40% Technique and 60% Compromise." Alfred Hitchcock said: "If we get even 50% of what we asked for we'll be ahead." Be passionate about your ideas but don't fall on your sword if you don't get everything your way. Film is a collaborative medium.

You gotta learn to kill your children. Meaning your ideas and individual scenes or paintings are expendable They are a means to achieving the final work of art -- the can of film.

A lot of little studios start as three or four friends with a dream. After the company hits it big the one friend becomes a millionaire and fires the other three. Friends are Friends but Business is Business. I've worked at many places that said we were a "Family", but in the end I still got laid off.

When asked to recommend a friend, be honest but don't be cruel, it will get back to them. However, if you recommend a poor artist because they're a buddy and it doesn't work out it reflects badly on you.

This Animation Business loves rumors and gossip. "What have you heard?" "What's new?" You can't be certain who is whose friend. I once mouthed off about an artist living on the East Coast. Within the week it got back to him and he was on the phone to my boss trying to get me fired. Be discreet about who you give your opinions to because they can backfire on you. Friz Freleng waited until he was eighty-nine and a millionaire before he started telling people what he really felt about them. Sounds insincere? Hey pal, this is Hollywood, not Tibet.

Never think you're too good to learn something new or pick up a newsprint pad and do some more life drawing. Beethoven at the end of his life wished he wrote better music, Leonardo wished he could be a better painter. The best artists never stop growing.

Artists have a lot in common with sports stars. You have a limited time in which your draughtsmanship is sharp and your ideas are fresh. I hope I can be Al Hirshfeld and still draw at age ninety-six like I did at twenty-five, but nature and the odds say I won't. The provisions you set aside when you are at your peak will be what you'll have to fall back on when you get old.

And thinking one company will support you your whole career just because you are loyal is the quickest way to food stamps in old age.

That's another reason I support this union. Studios will come and go over the decades but the union plans to be here forever.

So those are some of the rules I've learned coming up through the Biz. I don't profess to know it all, although some say I act like I do. If you can think of any others maxims I'd love to hear from you.

As JOHN POMEROY likes to quote: "We can see far when we stand on the shoulders of giants."

-- Tom Sito
A Town Called Panic
Sixteen animated films are needed to enter and qualify in order for
five
animated features to be nominated for a Best Animated Feature Academy Award. This might be the film that tips the scale in favor of five nominees.
Zeitgeist Films
is opening this French-Belgian co-production in New York next month and in Los Angeles in January. However, the distributor had not scheduled the required L.A. qualifying run, so filmmakers Stephane Aubier and Vincent Patar took matters into their own hands, filled out the Oscar submission forms and booked the film into L.A.'s
Claremont 5
to play there between December 11th and December 17th.
The
Film Forum
in New York will play the film
December 16th-29th
. The
Nuart
in West L.A. will open the film on
January 22nd
. Check out the original TV episodes on
Hulu.com
.
Pssst!
Be the first in LA to see
A Town Called Panic
this
Saturday Nov 7
at 11am, at the
AFI FEST
, at Laemmle's
Santa Monica 4
.
(Thanks
cartoon brew
)
"The Life and Times of Tim" DVD Re-scheduled
The first season of the HBO animated comedy
The Life and Times of Tim
, which was originally scheduled to be released in March 2009, has been re-scheduled for a 2/9/10, with a retail price of $29.98. The content of the DVD set is expected to be the same as when originally announced.
Toon Thursday: When Dad's a Disney Legend, that's a tough act to follow
Floyd Norman via JHM, looks back on the careers of Peter Kahl, John Kimball and Dale King. Each of them a talented artist in their own right. Who then had to struggle in order to escape the shadows of their far more famous fathers
The sign on their office door at the Walt Disney Studio read "KKK."
Now before you get your knickers in a knot, let me first explain the meaning behind this silly sign. You see, back in the 1960s, there were very few young people joining Disney's animation department. Unlike today, animation was still considered an odd little business and attracted very few young artists. The truth is, few even knew about the cartoon business or how to get into it. However, should your parents work in the business, this was pretty much an automatic way in.
Now let's get back to that silly sign on an A-Wing office door at the Disney Studios. For some reason, the Disney management decided to put Dale King, John Kimball and Pete Kahl all in the same office.
King
, Kimball and Kahl. Get it? That explains the wacky sign on the office door, and the talented young men inside. Actually, some of these guys were still in school, and this summer job was simply a way for them to get a taste of the cartoon business. A business that their talented fathers had achieved no small measure of success in.
I have to admit that it was fun having some "young blood" in Disney's aging Animation department. By the 1960s, most of Disney's veteran staffers were approaching retirement age, and the crusty old-timers were doing everything except shouting "You darn kids get off my lawn!" All of us younger guys were delighted to have these three kids on hand to shake things up a bit. Plus they had an immunity of sorts. After all, their Dads were three of Disney's top animators, and nobody wanted to rankle these famous fathers because of their "misbehaving kids."
I never got to know Dale King all that well, but he seemed like a nice enough guy. Apparently Dale didn't share his dad's passion for animation, and this summer job helped him make up his mind about his future. The young man would be an artist, but he would follow a different path. One the summer gig ended, Dale King chose not to return to Disney's animation department. I'm sorry I can't tell you a good deal about his career outside Disney, but a number of colleagues have informed me that he eventually became a very successful illustrator.
Peter Kahl decided on another career as well. And I can't say that I blame him.
Who would want to compete with Milt Kahl?
Pete Kahl was tall, blonde and muscular. A good-looking kid, he was more athlete than animator. Pete had a habit of walking on his toes, and I would often draw cartoons of him walking down the Disney hallway. "What's wrong with the way I walk?" Pete would often ask. He was nice kid, and didn't have his Dad's irascible temperament. I can only assume he was more like his mom. Milt's first wife was Laura Kahl.
This summer job was also the last for Pete Kahl. Rather than live in the shadow of his famous father, Pete decided to pursue other interests. After all,
Milt Kahl
was considered a Disney Master whose draftsmanship had profoundly influenced Disney animation for decades. Pete Kahl knew no matter how much he grew as an artist, he would always be compared to his dad. I think Pete saw this as a no-win situation, and his Disney career ended that summer.
The third member of Disney's "KKK" was Ward Kimball's son, John. Unlike his two pals, Dale and Pete, John Kimball decided to stay in the business. Of course, this was no easy decision when you consider that even Walt Disney referred to Kimball as a genius. And as far as we know, Ward was the only Disney artist to ever be accorded such a compliment.
Perhaps John Kimball was gifted with the quirky sensibilities of an animation artist. Unlike his colleague's preppy demeanor, Kimball sported a bushy red beard, which contrasted, oddly with his full head of blonde hair. John was more representative of the cultural shifts in the 1960s, and he certainly unnerved many of the stodgy, conservative old-timers at the studio. Of course, his Dad, Ward could hardly be considered a conservative, and often bragged that he voted for
Upton Sinclair
for governor of California. However, unlike the others, John seemed less intimidated by his Dad.
I even spoke with John about having to fill such huge shoes. After all,
Ward Kimball
was an accomplished animator, writer, producer, and director. He also fronted his own band,
"The Firehouse Five Plus Two,"
plus contributed his considerable talents to theme park design. Of course, there were Kimball's hobbies such his amazing train collection and that full-sized locomotive in his back yard. Kimball had also appeared in movies and television shows. Calling Kimball a renaissance man was putting it mildly.
John Kimball decided to follow in his father's footsteps.
He then became a successful animator & director
Undaunted, John Kimball decided to make his own way in the animation business. Rather than imitate his famous father, Kimball found his own style, and made it work for him. The two of us became fast friends while at the Studios, and we both experimented with making our own films. One of our projects was building our own animation camera stand. Which we did with the generous aid of the Walt Disney Studios machine shop.
In time, John Kimball moved on to other studios where he found success as an animator on television commercials. He worked as a director on a number of television show before returning to Disney's television department where he eventually ended his career as
an animation director
.
I've often wondered about the other guys who occupied that special office in A-Wing. Apparently, Dale King appears to be doing well, However, Andreas Deja informed me that Pete Kahl had recently passed away. It's difficult to think about the boys as being old guys, because for some strange reason I continue to think of them as young men.
Back in the 1960s, Dale King, Pete Kahl, and John Kimball moved into a small office in Disney's Animation Building and began to shake things up. In one sense they were vanguards of a new era. Other "young mavericks" would soon upset the old guard, and move animation in a bold new direction. Guys like
Tim Burton
,
Brad Bird
and
John Lasseter
would have an uphill climb at first, but in time, they would eventually emerge as the new leaders of animation.
However, these new leaders were free from one kind of pressure. Their Dads were not working at the same studio, and they didn't have to contend with living up to their Father's reputations. Each went his own way, and gained his own measure of success.
After all, being the son of a Disney Legend can never be called easy. And I think Milt, Hal and Ward would probably agree.
Dale King ultimately decided to put that animation pencil down and choose his own path.
Which is how he eventually became a successful illustrator.UPDATED: Animated Film Disqualified from Oscar Consideration
According to the Anime News Network
, Funimation Productions has confirmed that
Evangelion 1.0: You Are (Not) Alone
, a reboot of animator Hideaki Anno's giant robot anime, has been disqualified from competition for the 2010 Academy Award for Best Animated Feature.
The reason given by Funimation for the disqualification is that
Evangelion 1.0: You Are (Not) Alone
was released in Japan on September 1, 2007, prior to the January 1, 2008 start of the foreign films nominations cycle for 2009-2010, as stated in
the third section
of the Academy of Motion Picture Arts and Sciences' rules and regulations.
With the the disqualification of
Evangelion 1.0: You Are (Not) Alone
, only fifteen animated films are eligible for Best Animated Feature in 2009-2010 as reported by the
Los Angeles Times' "Golden Derby" blog
. This means that there will only be three nominations for Best Animated Film in 2010.
Hayao Miyazaki's Ponyo is still eligible for 2009-2010, having been released in Japan on July 19, 2008-well within the 2009-2010 time frame as defined in the AMPAS rules linked to above.
UPDATE:
Following the original publication of this article,
ToonZone.net reported
that
The Missing Lynx: Paws on the Run
(which opened in Spain on December 25, 2008) is in the midst of a qualifying run in Los Angeles, per
the Los Angeles Times' "Golden Derby" blog
.
According to the LA Times, a screening committee score of 7.5 or above will qualify
The Missing Lynx
for Oscar consideration and expanding the Best Animated Feature category from three nominations to 5.
Hoaxland Sweetens Slimpie Spot
Great timing and clever concept in this Dutch spot for the sugar-free candy called
Slimpie
. CG animation was handled by
Hoaxland
.
Liberty Mutual Gets Good Vibrations From Clapin
For Liberty Mutual's Responsibility Project, Jérémy Clapin directed this short film, titled
Good Vibrations
. The project comes by way of
Acme Filmworks
and the agency
Hill Holliday
.
Chinese Student YuMing Behind Animated Creation
Yin YuMing, a student at the Beijing-based
Academy of Arts & Design Tsinghua University
recently created this traditionally-animated short simply titled
Creation
. It's a whimsical story of a young artist struggling to find inspiration, but what I'm most impressed with is the character animation. Such subtlety, wonderful construction and plenty of energy.
Tandem Films Focuses on Feliway Felines
More cat animation from the
Tandem Films
team, the same team behind
Simon's Cat
and a recent series of
CalciYum spots
. This time its for
Feliway
, a line of articial cat pheromones that help calm your kitty. Dan Greaves directed, and the rest of the crew included
Jeroen Jaspaert
on animation and
Hélène Friren
on design. The agency overseeing the production, titled
That Purple Cat
, was
The Works
.
A Dug's Life: Ronnie del Carmen Chats About His New Pixar Short
Just in time for the
November 10
release of Disney/Pixar's much-loved feature
Up
on DVD and Blu-ray, we had the chance to chat with acclaimed story supervisor and storyboard artist Ronnie del Carmen (
Spirit: Stallion of the Cimarron, Finding Nemo, Ratatouille
). Del Carmen joined Pixar in the summer of 2000 during the production of
Finding Nemo
as a story supervisor on the film. He did production design on the Oscar-nominated short film,
One Man Band
and story work on Oscar-winning
Ratatouille
. Del Carmen worked as Head of Story on
Up
. He also directed
Dug's Special Mission
, a new short, which gives us more insight into the life of lovable canine, which is included in the DVD and Blu-ray release of
Up
.
Q: In what way did your work as an artist help you with the work on the movie?

Ronnie del Carmen:
I do production design, write and direct; all skills good to have for the job of being a story person. When we started we had no job demarcations, we just started trying to solve creative problems. That means I'd draw, design, do camera plans, write and illustrate. It helped all of us touch on all parts of the movie at once. Ricky Nierva and I would sit next door to each other and we'd discuss production design problems as well as complete story sequences in the movies. Throughout production I would draw up solutions and do designs on the fly, from editorial to layout, as well as provide help writing. It was a blast! I miss it.
Q: What's your favorite scene from Up?

Ronnie del Carmen:
My favorite scenes were the silent ones, "Married Life," where we tell the whole life story of Carl and Ellie, and the scene at the end of the second act where Carl sits in his empty house at Paradise Falls to leaf through Ellie's adventure book. I tend to get all the dramatic scenes on most movies I'm part of. This was particularly special because I had to convey story and emotion without any dialogue. I remember drawing up Carl looking at the adventure book and getting emotional as I made it. I had to take breaks because I was too much in the moment, tearing up. When we watch our story reels I see people wipe tears from their eyes. You know you've got something when a bunch of lines on paper are making people cry.
Q: Dug harkens back to classic comedians like Harold Lloyd, Buster Keaton, and Stan Laurel. How much of that was intentionally scripted and how much of it did Bob Peterson bring to the performance?

Ronnie del Carmen:
We love Buster Keaton, Harold Lloyd and Stan Laurel movies. As animators we gravitate to communicating visually and through behavior, so this is where we love to play. Bob Peterson, as the writer of the movie, created and wrote all of Dug throughout. We threw in other ideas from the crew here and there, but it was written by Bob Peterson mostly. And then during recording he would improv all manner of experiments and a lot of them we used because, well, that man is funny! For
Dug's Special Mission
I wrote the story and dialogue and Bob Peterson came to the rescue, bringing his Dug performance and advice. I'm a lucky man.
Q: Why did you decide to provide Dug with his own special adventure in the short instead of the other main characters?

Ronnie del Carmen:
Dug shows up in the movie talking about being on a special mission and we never talked about it again in the movie. I immediately wanted to find out what happened.
"Dug's Special Mission"
is really about how Dug remembers these moments. Dug has such a fragmented attention span that his continuity is likely not very spot on. Dug is easily the most lovable character in the movie and you can't help but want to see more of him. I would love to feature Alpha someday as well as Gamma, voiced by Jerome Ranft. Those two crack me up. Maybe someday I'll get a shot at that.
Q: Did you work on Dug's Special Mission with Pete Docter and Bob Peterson?

Ronnie del Carmen:
I did work with Pete Docter and Bob Peterson on this. Their involvement was crucial since we three were always part of telling the large story of the movie. It made sense that I go to them for advice. Pete Docter can see other potentials to the idea and Bob Peterson can instantly give me the character of Dug—funny nuances I then use. It was a dream. I'm also so hooked on working together with these two guys. Hope to get together again on another project soon.
Q: When did you start working on the new short, and how long did it take to finish?

Ronnie del Carmen:
I think that I had the idea for the short as soon as the movie was in production, right around the layout phase. I storyboarded a rough version quickly and pitched it to Jonas Rivera and Pete Docter around late spring 2008. I figured that I would be finished with story duties and could jump on a short. But the third act lingered on our plate for a while and I had to do double duty (I also took on illustrating the book,
My Name is Dug
. I am a glutton for punishment). We got approval from Disney by January 2009 and got into production right away. We finished in June this year.
Q: What was your favorite part of directing Dug's Special Mission? What was the toughest part of the gig?

Ronnie del Carmen:
Well, I get to tell a story that was intriguing me while making the movie. Dug is such a great character to the workshop that people involved in the short film loved working on it. Hey, I get to work with Pete Docter and Bob Peterson on the story--while we were still finishing the movie. John Lasseter weighed in and gave me awesome advice. I got to work with a great cadre of people who were there to find creative solutions to the story I was trying to tell. And as for the tough part, well, it's always the story that's tough but also working with the time constraint of making a short that's only 4.5 minutes.
Q: With "Dug's Special Mission" included with the upcoming video release, would you like to see a sequel or some sort of storyline with Dug or perhaps even Russell and Dug, or Russell and the other dogs in the future?

Ronnie del Carmen:
I definitely would love to do the continuing stories of Dug. I had a scene in the original storyboard to
Dug's Special Mission
that had him flying an airplane. We cut it because of the length and it seemed out of place with other gags. But I still want to see him in a plane some day. There are stories in my head that tell of how he got into Muntz' pack. Dug in that pack looks like a mistake—an oversight. I would love to tell that earlier story of how he got there. Certainly Muntz and Dug, and Russell and Dug. Carl and Dug too! But all that is up to the fates if any of it happens. Maybe you can put together a petition.
Q: What interested you the most about Dug's character ?

Ronnie del Carmen:
Dug is such a sweet dog and his heart is out there. Because of that he also gets taken advantage of. In a pack of soldier dogs he is definitely out of place as the cuddly lovable one. You empathize with him right away. That and the voice characterization of Bob Peterson gives us that Dug persona that instantly makes you love the character.
(Thanks
Animation Magazine
)
France Toasts Tax Rebate, VFX Firms, Annecy
David Martinon, consul general of France, and Olivier-Rene Veillon, director of the Ile de France Film Commission, hosted Tuesday a gala reception in Los Angeles to announce a tax rebate for international productions, showcase France's world-class visual effects companies and honor the Annecy Animation Festival.
The presenters, many of whom are long established as key production partners on top-grossing Hollywood and French feature films, were enthusiastic about the new incentive to
"save money"
with a French production partner.
The rebate, worth 20% of all eligible costs, is capped at 4 million euros or about US$6 million, they also control the US$18 million a year Ile de France Film Fund, which is open to foreign productions.
Since 2007, the Ile de France Film Commission has promoted and nurtured the booming French post-production and VFX industry. They organize the event Parisfx, where last year Jeffrey Katzenberg was the guest of honor, showing the first excerpts of
Monsters vs. Aliens
in 3-D.
The combined years of experience of the seven participating companies, such as ECLAIR Group (100 years), Annecy Animation Festival (50 years), Mac Guff (23 years) and Mikros Image (20 years), along with Buf Compagnie, Duran Duboi and L.E.S.T., totals more than a quarter of a millennium —longevity that is impressive for such technically progressive firms.
You can find information about the film commission and individual companies at
www.iledefrance-film.com
.
(Thanks
Animation Magazine
)
Galifianakis Eyes Role in Puss in Boots
Hangover star Zach Galifianakis is in talks to voice Humpty Dumpty in DreamWorks Animation's planned
Shrek
spinoff
Puss in Boots
, according to The Hollywood Reporter.
Tom Wheeler is writing the film, with
Shrek the Third
co-writer and co-director Chris Miller set to direct the movie, which is scheduled for a Nov. 4, 2011 debut.
Antonio Banderas is set to return as Puss in Boots, with Salma Hayek also on board the cast. The film will tell a prequel story leading up to Puss in Boot's first appearance in the second
Shrek
film.
(Thanks
Animation Magazine
)
Kids BAFTA Noms Have CelAction 2D in Common
The preschool animation nominees for the 2009 Children's BAFTAs are as different as can be content wise, but all were made using the CelAction2D animation software.
The nominees for the award are
Peppa Pig
and
Ben & Holly's Little Kingdom
, both from Astley Baker Davies;
Little Princess
, from The Illuminated Film Company; and
Humf
, from King Rollo Films.
"We've had clients nominated many times in the past, and often they have won, but this is the first time that all four nominees have used CelAction2D,"
said CelAction CEO Andy Blazdell.
"What's even more amazing is that all four shows were completely animated in the United Kingdom. These nominations prove that CelAction2D is at the forefront of software for 2D animation, and this is only the beginning – wait till you see what we've got lined up for 2010."
(Thanks
Animation Magazine
)
Kadokawa Talk to Kick Off Animation Asia Conference
The CEO of Kadokawa Group Holdings will kick off the Animation Asia Conference with a keynote address titled
"Bringing Japan's Content to the World — Think Globally, Act Locally."
Tsuguhiko Kadokawa's talk will cover the emerging opportunities and challenges facing brands and content developers as consumers become more digitally savvy and spend more time on the internet.
The conference, set for
Nov. 20
at the Suntec Singapore International Convention and Exhibition Center in Singapore, has a central topic of
"Globalization of Asia's Soft Power"
and three themes under that: create, manage and engage.
"Animation Asia Conference offers attendees the unique opportunity to meet some of the greatest minds in the animation and creative industries. Our speakers have launched content related to some of the world's biggest titles for animation and their business experience related to distributing content is something that any business professional will find useful,"
said Anna Teo, Conference Director for Animation Asia Conference.
For more information on the conference, go online to
http://www.afa09.com/aac.html
.
(Thanks
Animation Magazine
)
'Wesley Crusher' reveals his role in Abrams' Star Trek
Wil Wheaton in his recent Big Bang Theory guest spot
Talk about keeping a secret!
Wil Wheaton—that's
Star Trek: The Next Generation
's Wesley Crusher to you—revealed on
his personal blog
today that he actually played a part in J.J. Abrams'
Star Trek
movie, a big secret that no one managed to dig up until now.
Wheaton did voice-over work at the urging of Greg Grunberg (that's
Heroes
' Matt Parkman and a longtime buddy of Abrams'). Here's what he did, according to Wheaton's blog:
I ended up providing voices for all the Romulans on Nero's ship, including the guy who tells him that "it's time" at the very beginning of the movie. (Yeah, how cool is that?) ...
After recording his voice part, Wheaton hung out with Abrams while they tweaked the sound on the movie:
So you know that scene where Kirk climbs out of the pod, runs away from the monster, and eventually meets Spock Prime in the cave? I got to watch that scene over and over, as they made the wind sound colder, then warmer, then colder and more fierce. I got to hear the roar of the monsters deepened, softened, made more terrifying, made louder, made softer. I got to hear the fire in Spock Prime's cave crackle more, then less, then more again, because the wind outside was now colder and more fierce, so it should probably be a warmer fire.
It was one of the coolest things in the world to watch, not just on screen, but in the room, too. The way JJ interacted with the other creative people in the room as they mixed the sound, the music, the foley, and everything else that we tend to just take for granted when we're in the theatre watching a movie was just fascinating. I don't know if all directors are like this, but he didn't let a single second go by like it was any less important than another.
Star Trek
drops on DVD/Blu-ray on
Nov. 17
.
In the clip below, listen carefully to the guy who says,
"Sir, if you ignite the Red Matter now ... "
(Thanks to
TrekMovie.com
for the heads-up.)
Hobbit news: Smaug will be unlike any dragon you've seen
Guillermo del Toro has been talking about
The Hobbit
to
TotalFilm
and especially about his ideas for Smaug, the dragon.
An illustration from an edition of J.R.R. Tolkien's The Hobbit
"I think one of the designs I'm the proudest of is Smaug. Obviously he took the longest.

It's actually still active: we're finishing his colour palette and a little bit of the texture. But the bulk of the design took about a year, solid. It's because of the unique features of the dragon.

Early in production I came up with a very strong idea that would separate Smaug from every other dragon ever made. The problem was implementing that idea. But I think we've nailed it."
Smaug from Rankin Bass' The Hobbit (1977)
Given del Toro's affinity for bizarre creatures (see
Hellboy II: The Golden Army
), we're intrigued by what he might do to Smaug, who as far as we recollect was your basic winged fire-breathing dragon (see illustration above).
What do you think?
(Thanks to
ComingSoon.net
for the heads-up.)
ED note:
Since del Toro said in an interview a year ago:
"One of the best, one of the strongest landmarks that almost nobody can overcome is Dragonslayer. The design of the Vermithrax Pejorative is perhaps one of the most perfect creature designs ever made. So what you have to be careful is not to try to be distinctive just to be distinctive, but Smaug has certain characteristics that make him unique already."
I'd be curious to see what he comes up with.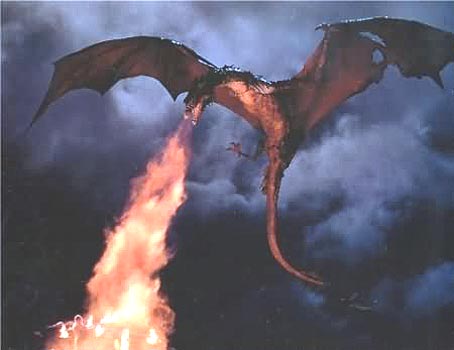 Vermithrax Pejorative from DragonslayerSECRET IDENTITY: Who Should Play Catwoman In 'Batman 3'?
In all likelihood, we're still quite a ways off from any real news regarding a third
"Batman"
movie from director Christopher Nolan—
if he's even returning to the franchise
, that is—but that's not stopping us from wondering
which Dark Knight villain we should see
in the inevitable sequel.
There's no shortage of rogues to choose from, but the one I think is an absolute necessity is Catwoman. Given the state of Bruce Wayne's life after the events of
"The Dark Knight,"
this feels like the perfect time to introduce Selina Kyle—the woman who could either help mend Bruce's fences, or bring all of the walls tumbling down.
If Nolan, David Goyer and the other folks at DC Entertainment and Warner Bros. decide to go the Catwoman route, I think that these five actresses would be great for the role.
EMILY BLUNT:
The British-born Emily Blunt was
a near-miss for the role of Black Widow in
"Iron Man 2,"
but perhaps she could get a second shot at comic book glory in Gotham City. As a redhead, she might appear a better match with Poison Ivy, but I get this strange Julie Newmar vibe when I look at her. But Blunt exudes an icy intensity that distinguishes her from the campiness of Newmar's era, which I think suits Nolan's
"Batman"
universe quite well.
KATE BECKINSALE:
Having already crossed paths with Christian Bale in
"Laurel Canyon,"
Kate Beckinsale's romantic chemistry with the on-screen Batman is already committed to film reel. Their relationship was sordid enough in that drama, so I'd certainly be interested to see how their dynamic intensifies in the backdrop of Gotham City. Of course, it doesn't hurt that Beckinsale has some action and
comic book experience
already under her belt, not to mention her physical resemblance to the feline fatale.
NATALIE PORTMAN:
Another actress with comic book credibility is Natalie Portman, thanks to roles in
"V for Vendetta"
and
the upcoming
"Thor."
But Portman, who debuted with so much promise as the little assassin that could in
"The Professional,"
has yet to really sink her teeth into a full-fledged badass character. Catwoman could be the one for Portman, who definitely has the physique and talent to pull off Batman's sultry nemesis.
REIKO AYLESWORTH:
Nolan has filled his
"Batman"
films with famous faces for the most part, but that shouldn't preclude the lesser known names. An actress such as Reiko Aylesworth has the talent, versatility and relative anonymity to disarm not only Bruce Wayne himself, but audiences as well. If you're not familiar with her body of work, check Aylesworth out in
"24," "Lost,"
and even
"Aliens Vs Predator - Requiem,"
which was poorly received but featured a great turn from the actress.
RHONA MITRA:
Once upon a time,
a rumor made the rounds
that Rhona Mitra was a contender for the role of Catwoman. While there's nothing concrete about her involvement right now, I still think it's an interesting prospect. Mitra boasts a colder presence than the others on this list, yielding what I imagine would be a no-nonsense Selina Kyle. With the way the recent
"Batman"
movies have leaned towards a darker tone, I think Mitra's sensibilities for Catwoman would fit into Nolan's Gotham purrrfectly. (Come on, I had to!)