Potter's Radcliffe to Guest on Simpsons
The boy wizard is coming to Springfield.
Daniel Radcliffe, who has played
Harry Potter
in all the feature film adaptations of the classic books, will voice a character on next year's
Treehouse of Horror
episode of
The Simpsons
, reports Entertainment Weekly.
Executive producer Al Jean told the magazine that Radcliffe will play Edmund, a young vampire Lisa develops a crush on. The segment, a spoof of
Twilight
, will see Edmund's father Dracula and Homer try to break up the relationship.
"Daniel was very excited to do The Simpsons,"
Jean told EW.
"And we kept trying to ask him for secrets from the upcoming Harry Potter movie until we realized that they were all in the books."
(Thanks
Animation Magazine
)
Hollywood Reporter animation updates
One of the movie business' industry Bibles,
The Hollywood Reporter
has updated its website with several new animation stories. It confirms Sam Neill, Geoffrey Rush, Hugo Weaving and David Wenham have joined the voice cast of Animal Logic's animated feature
Guardians Of Ga'hoole
for director Zack Snyder; the film follows
"Soren, a young owl enthralled by his father's stories of the Guardians, a mythic band of winged warriors who fought a great battle to save all of owlkind from the evil Pure Ones"
, and is set for release in Australia on December 9, 2010.
Next,
THR
reviews Sony's Planet 51
, which opens this
Friday, November 20
, calling the film
"a perky though not terribly imaginative throwback to the days when cartoons were mostly aimed at children"
.
Lastly, a very interesting Awards Watch article offers an
Anatomy of Up
, speaking to the filmmakers and looking behind the scenes at the concept and development of Disney/Pixar's latest release.
Cloudy
cover art, details, and Meatballs
An advertisement in trade magazine Video Business includes the cover art and specific details for Sony's upcoming release of their $120m box-office hit
Cloudy With A Chance Of Meatballs
, landing on single and double disc DVD and Blu-ray on
January 5, 2010
.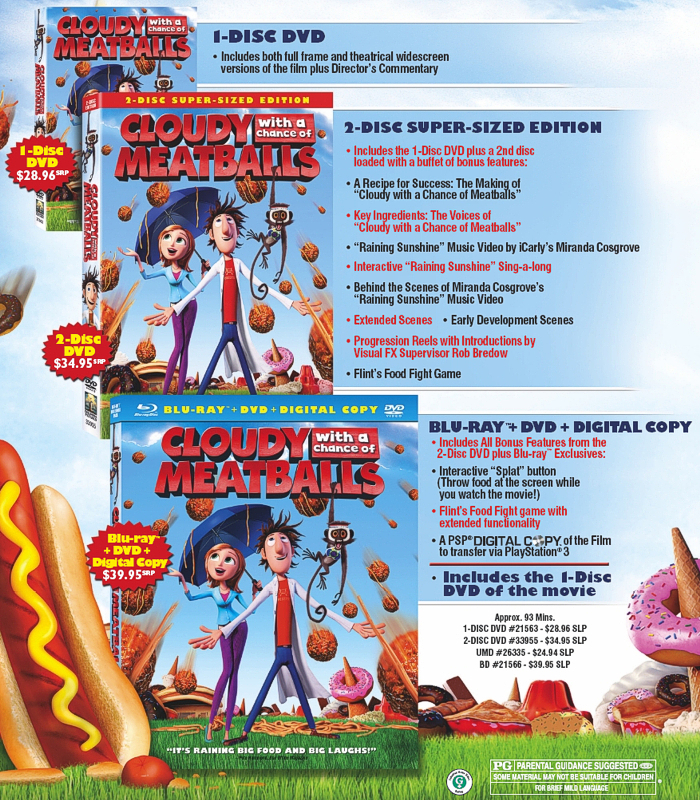 Mudbox Ported to Linux for DreamWorks, Imageworks
DreamWorks Animation and Sony Pictures Imageworks are integrating Autodesk Mudbox, a digital sculpting and texture painting application, into their Linux production pipelines.
Designed by professional artists, Mudbox is used to create ultra-realistic 3D characters, engaging environments and stylized props. It has been used on projects such as
9
,
The Dark Knight
and
America's Army 3
.
Porting the software into each facilities pipelines was done by Autodesk Consulting's custom development team, working in conjunction with teams at Imageworks and DreamWorks.
"Cross-platform support is a key part of the Mudbox product strategy,"
said Stig Gruman, Autodesk VP of the Digital Entertainment Group.
"Earlier this year Autodesk shipped the first version of the software for the Apple Macintosh platform, and this development is a major step toward offering Linux support to artists working in feature film production."
More information on Mudbox can be found online at
www.autodesk.com/mudbox
and a demonstration video can be seen online at
www.youtube.com/autodesk.
(Thanks
Animation Magazine
)
Animation Expo Invades Burbank This Weekend
The Creative Talent Network's Animation Expo is coming this weekend to the Burbank Convention Center and Animation Magazine will be there to celebrate!
The event begins Friday with a VIP party that opens up to the public and ticket holders at 8 p.m. and runs until midnight.
Saturday kicks off the exposition and the programming, which includes Animag's sponsored panel
"The Anatomy of a Hit Animated Series"
at 1 p.m. in Room 2.
Moderated by
Animation Magazine
Editor in Chief Ramin Zahed, the panel will feature Swampy Marsh and Dan Povenmire, creators of the hugely popular animated show
Phineas and Ferb
, and Jamie Mitchell and Ford Riley, creators of the hit preschool toon
Agent Osso
, sharing their experiences and offering tips on how to take a show from the first stages of development to the final steps of delivery.
Animation Magazine
also will have a booth on the floor, with all kinds of goodies on offer all day Saturday and Sunday.
For more information on the event, including ticket information and schedules, check out
www.ctnanimationexpo.com
.
Hope to see you there!
(Thanks
Animation Magazine
)
New Warner Archive Toons Includes Yogi's First Christmas
A quartet of long-lost animated classics are coming to DVD for the first time as part of the Warner Archive Collection.
The releases include
Yogi's First Christmas
, an animated special starring the famous Hanna-Barbera character and his sidekick Boo Boo; the Rankin-Bass holiday double feature
The Life and Adventures of Santa Claus
and
Nestor the Long Eared Christmas Donkey
; and the animated feature
The Flight of the Dragons
.
Here's a clip from
Yogi's First Christmas
:
All three discs are available now through the Warner Archive site for $14.95 at
www.warnerarchive.com
.
(Thanks
Animation Magazine
)
Academy Salute to UPA in New York
I just found out that as part of its monthly
Monday Nights With Oscar
film series in New York, the Academy of Motion Picture Arts and Sciences will present eight 35mm UPA shorts, including Academy Award winners
Gerald McBoing Boing
(1950) and
Mister Magoo's
Puddle Jumper
(1956), in a program selected and hosted by Oscar-winning animator and animation historian
John Canemaker
.
The screening will take place on
Monday, December 14
, at 7:00 pm (EST). Location is the Academy Theater at Lighthouse International (111 E. 59th Street, NYC). Tickets are $5 for the general public and $3 for Academy members and students w/ID. Advanced tickets must be
purchased online
or at the theater box office on the night of the event (pending availability). New Yorkers, check this out.
(Thanks
cartoon brew
)
"Lost and Found" wins at Chicago children's fest
Philip Hunt's
"Lost and Found"
(United Kingdom, 2008) has been given the First Prize in the category of Children's Jury Prize - Animated Short Film or Video at this year's Chicago International Children's Film Festival.
The Second Prize winner is Nick Park for
Wallace and Gromit: A Matter of Loaf and Death
, also released in the U.K. in 2008. The Certificate of Excellence went to Yair Landau for
Live Music
(U.S.A., 2009).
The largest festival of films for children in North America, the Chicago International Children's Film Festival features over 200 films from 40 countries. The CICFF is the only children's film festival to be an Academy Award qualifying festival.
For Adult Jury Prize - Animated Short Film or Video, the First Prize was given to Anita Killi for
Angry Man
(Norway, 2009). The Second Prize winner was Kevin Langdale for
Engine 371
(Canada, 2008), while a Certificate of Excellence went to Jamie Stone and Anders Jedenfors for
Space Travel According to John
(Scotland, 2008).
In the category Adult Jury Prize - Animated Short Film or Video, the First Prize winners were Keiko Iino and Osamu Sakai for
PoPo Louise
(Japan, 2008). The Second Prize was given to Lajos Nagy for
Hungarian Folk Tales: "The Wee King"
(Hungary, 2008).
ToonSeum
A new museum of animation, cartoon and comic art has opened in Pittsburgh, Pennsylvania. It's called
ToonSeum
and it just had its grand opening last weekend. Reportedly it's not a huge space, but is nicely done. Their first exhibit focuses on animation art:
"Enchanted Drawings: A Century of Animation."
The exhibit will feature original art from
Gertie the Dinosaur
to
Spongebob
and more. On display will be rare artifacts, including an original Disney animation director's desk from the early Hyperion studio.
It's quite an achievement to establish a cartoon museum in such a sports oriented city — I wish it luck. The
ToonSeum
is located on the first floor of the Bruno Building at 945 Liberty Avenue. The
Enchanted Drawings
exhibit runs through
Jan. 3, 2010
.
(Thanks, Rebecca Yasick)
(Thanks
cartoon brew
)
An Industry Health Care Story
Today the Congressional Budget Office gave a reasonably good score to pending
health care legislation
:
A U.S. Senate healthcare reform plan ... meets President Barack Obama's goals on costs and deficit reduction, budget analysts said ...

... Democratic leader Harry Reid will release legislation the non-partisan Congressional Budget Office said would cost $849 billion over 10 years ... A Senate aide said the CBO also estimated the Senate plan will reduce the deficit by $127 billion over 10 years and $650 billion in the second decade, while cutting the number of uninsured by 31 million ...
So maybe this thing will pass, and maybe it won't. I have my view of the matter, which I won't share here because A) You can guess what it is, and B) It's tangential to the story I'm about to unspool ...
I have a close friend, an artist, who has worked in the cartoon industry longer than I have, but has only twenty-eight years in the industry pension and health plan because, at the start of his career, he couldn't get a job at a union shop.
Happily, after a few years he landed that coveted union gig and his career took off.
Unhappily, after working for twenty-eight years at three different union studios, he hit the proverbial brick wall common to a lot of people in this business. His support network of fellow professionals died and/or retired and he was eased out to pasture by thirty-somethings at the ripe age of fifty-seven.
An old story, all too often told.
My friend is now fifty-nine. Life being what it is, after failing to land any jobs in his long-time profession he took early retirement, which means he got a lot less in his monthly pension check than he would have if he'd held on.
But he couldn't hold on. He kept looking for work, going on job interviews, not getting anything. The Motion Picture Industry Health Insurance ran out, COBRA ran out, and he steadily burned through savings.
Then three months ago his luck changed:
"A job just dropped in my lap, and I took it."
The job paid $14 per hour, working in a storage facility, no benefits. But it allowed him to earn enough money to buy the thousand dollar a month health care policy he needs to survive, since he's one of those lucky duckies with
"a pre-existing condition,"
and so can't buy lower cost coverage.
As he said to me recently:
"What I can get doesn't cover all the prescription drugs I take, but at least I've got a job now and can afford to pay for a stripped-down health plan, even if it is super expensive..."
Such a deal. A super-expensive medical plan. For a man too old for work in his long-time occupation, yet too young for a full pension or Medicare or Social Security. And his retirement accounts, accumulated over a lifetime of work, steadily melt away.
I watch the health care debate, and the hand-wringing about socialism and
"subsidized abortions,"
and then I think of the $700 billion that Hank Paulson gave Goldman Sachs, Citigroup, and Bank of America, and the large bonuses those fine companies -- saved from bankruptcy by your tax dollars and mine -- now hand out to their oh-so-deserving executives. And I say to myself:
"There are politicians worried about
socialism
? Where the fuck were these people fourteen months ago, when they couldn't create socialism fast enough when it came to Bank of America, Goldman Sachs and Citigroup. Who the fuck are these people kidding?
"
And then I think of my friend, slowly descending into poverty because he can't get a job that pays much of anything and can't get health insurance that costs less than an arm and a leg. And I get all warm and tingly knowing that although he might be eating it, at least Goldman Sachs, Bank of America and Citigroup have been saved by federal socialism so that they can rape and pillage another day.
God bless America
.
(Thanks
Animation Guild Blog
)
Tooners' Health Costs
Down below a commenter asks:
What does it cost per/individual for our
'cadillac'
healthcare plans?
The Caddy Plan of which this person speaks is the
Motion Picture Industry Health and Pension Plan
. I phoned the Plan this very day, and here are the basic stats ...
Motion Picture Health Plan

Plan Participants -- 120,000 (100,000 Actives; 20,000 Retirees)
Annual Costs: $700+ million
Active Participant cost (per participant) -- $11,000
Retiree Participant cost (per participant) -- $8,000
COBRA costs (participant + 2 -- family of 3) -- $18,000
Okay, those are the broad-brush numbers. (Blogging rule: Never get into boring detail with a post.) If you're wondering why the Retirees' costs are lower than the Actives', it's because many Retirees (those 65 years and up) have Medicare as their
primary insurer
, and the Industry Health Plan is the
secondary insurer
. A few other basic realities:
MPIPHP
's costs increase 9%-10% yearly. (Sometimes it's a bit higher, sometimes a bit lower. Health Plan actuaries assume costs will
double
every 10 years.)
Health care costs in the wider U.S.A. have increased 1 1/2% to 2% faster than the Motion Picture Industry's Health Plan, which has bargaining leverage because of its size. However, because or rising costs, Health Care benefits have been trimmed .... and trimmed again. (Anybody who's been under this Industry Health coverage for some time know that costs have gone up and benefits down.)
The long and short of it is: The present track we are on means that everybody will be doing with less over time. The United States has the most fractured and expensive health care delivery system in the world. The next most expensive country is Switzerland, which has universal coverage, 40% lower costs, and no
"public option."
The Swiss government simply mandates that every private health insurer offer an
"at cost"
Health Plan, with mandated benefits. (Swiss health insurance companies are free to sell for-profit
"add-ons"
to their hearts content.)
Give me the Swiss system and I'm fine. I'll forgo the dreaded Public Option.
(Thanks
Animation Guild Blog
)
Menu System, Artwork From Recent "Justice League: The Complete Series" DVD Release
The
World's Finest
has a look at the package art and menu system for the recent
Justice League: The Complete Series
DVD collection release.
A selection of images from the recent
Justice League: The Complete Series
DVD collection release are available below, including a look at the menu system, disc art and package art for the title. This new DVD collection encompasses every episode from both
Justice League
and
Justice League Unlimited
into one package. Click on the thumbnails for a closer look.
Warner Home Video released the
Justice League: The Complete Series
DVD collection to shelves on
November 10th, 2009
, with additional details available
here
. Further information on other
Justice League
and
Justice League Unlimited
home video releases are readily available at the
Justice League
subsite
here at The World's Finest.
Planet 51, New Moon Vie for Box Office Stardom
It's vampires versus aliens as studios make their big push to stuff moviegoers into their seats for a pre-Thanksgiving cinematic snack.
Sony Pictures Animation represents the alien faction with
Planet 51
, in which a human astronaut arrives on a world full of aliens who are almost exactly like us. Opening in more than 2,600 cinemas,
Planet 51
is directed by Jorge Blanco and stars Dwayne Johnson, Jessica Biel and Justin Long. Seven years in the making, the film is a European-American co-production and was conceived and produced by Madrid, Spain-based Illion Animation.
The reviews for the CG-animated movie have been somewhat mixed:
"Although not bowling me over, Planet 51 is a jolly and good-looking animated feature in glorious 2-D!"
says Roger Ebert of Chicago Sun-Times, while Brian Miller of The Village Voice notes,
"Planet 51 mainly succeeds at reminding you of all the better movies that inspired it."
Todd McCarthy is less kind in his Variety review. He writes,
"A high concept gets low execution in Planet 51, a lame-brained toon that even kids will recognize as an insipid goof on sci-fi conventions."
The vampire end of the weekend comes from
The Twilight Saga: New Moon
, the second film in the series based on Stephenie Meyer's bestselling books. Once again starring Kristen Stewart, Robert Pattinson and Jacob Lautner, New Moon rises amid an intense promotional campaign and crowds of swooning "Twi-hards" camping out to see the film, which Summit Entertainment opens in more than 4,000 theaters.
The studios' only other major release this week is
The Blind Side
, a very sentimental drama from Warner Bros. starring Sandra Bullock as a woman who takes an interest in an impoverished young football player.
(Thanks
Animation Magazine
)
Uncharted 2, Batman Top Spike Video Game Awards
Uncharted 2: Among Thieves
and
Batman: Arkham Asylum
each received seven nominations, followed closely by six each for
Call of Duty: Modern Warfare 2
and
Left 4 Dead 2
in Spike TV's Video Game Awards.
The seventh annual event announced its categories and nominees today, with winners to be announced in a ceremony the cable channel will broadcast live
Dec. 12
. Fans can vote for their favorites online at
vga.spike.com
.
The event will include exclusive content and announcements from top gaming companies including 2K, Activision, Disney Interactive Studios, Electronic Arts, LucasArts Entertainment, Microsoft Game Studios, THQ, Ubisoft and Warner Bros. Interactive Entertainment.
Among the sneak peeks is a first look at video from the opening of the upcoming
Halo: Reach
prequel game, coming next fall for Xbox 360 from developer Bungie and Microsoft Game Studios.
The list of nominees include:
Game of the Year
• Assassin's Creed 2
• Batman: Arkham Asylum
• Call of Duty: Modern Warfare 2
• Left 4 Dead 2
• Uncharted 2: Among Thieves
Studio of the Year
• Infinity Ward
• Naughty Dog
• Rocksteady Studios
• Valve
Best Independent Game Fueled by Dew
• 'Splosion Man
• Flower
• Osmos
• Trials HD
Best Xbox 360 Game
• Batman: Arkham Asylum
• Halo 3: ODST
• Forza Motorsport 3
• Left 4 Dead 2
Best PS3 Game
• Infamous
• Killzone 2
• Ratchet & Clank Future: A Crack in Time
• Uncharted 2: Among Thieves
Best Wii Game
• Madworld
• New Super Mario Bros. Wii
• Punch-Out!!
• Wii Sports Resort
Best Action Adventure Game
• Assassin's Creed 2
• Batman: Arkham Asylum
• Brutal Legend
• Uncharted 2: Among Thieves
Best Graphics
• Batman: Arkham Asylum
• Call of Duty: Modern Warfare 2
• Killzone 2
• Uncharted 2: Among Thieves
Best Game Based on a Movie/TV Show
• Ghostbusters: The Video Game
• South Park Let's Go Tower Defense Play!
• The Chronicles of Riddick: Assault on Dark Athena
• X-Men Origins: Wolverine Uncaged Edition
For the complete list of nominees, visit:
www.spike.com/event/vga2009
(Thanks
Animation Magazine
)
Littleloud Animates Doctor Who
That icon of British sci-fi TV Doctor Who is getting animated in a new 3D animated series created by Littleloud.
The six-part series of six-minute segments stars David Tennant and will premiere online on BBC Red Button starting
Nov. 21
and on the Doctor Who website. The full series, then will air on CBBC and BBC HD on
Dec. 5
, and on BBC later this year.
The series is written by Phil Ford, and sends the Doctor to Roswell, N.M., where he finds a mysterious alien artifact that starts a rescue mission.
Also lending voices to the series are Georgia Moffet and David Warner.
(Thanks
Animation Magazine
)
Cookie Jar Reaches into South Korea
Cookie Jar Group is opening an office in South Korea and naming C.J. Lee as VP of distribution.
Lee will focus on development and production opportunities for the company in South Korea and Asia. He also will be in charge of TV sales and develop licensing programs.
Lee comes to Cookie Jar from GIMC, where he oversaw international co-productions and served as a creative producer. Previously, he was managing director and co-owner of Starburst Animation.
(Thanks
Animation Magazine
)
Cowles Shines On New TMBG Music Video
David Cowles
and
Liesje Kraai
directed this animated music video for the Grammy-award winning They Might Be Giants'
Here Comes Science
. It's titled
Why Does the Sun Really Shine? (The Sun is a Miasma of Incandescent Plasma)
, and it finally puts the rumor to bed – the Sun is not made of cheese. Errr…. something like that.
Hu Lets the Homework Hydra Out
In May of this year,
Ben Hu
proved that he can overcome procrastination. The result was
Homework Hydra
, a clever, 2-minute, Flash-animated short created as his 4th-year thesis at the
Sheridan Animation Program
. He drew it somewhat
"traditionally"
in Flash with a tablet, and then did clean-ups with a Cintiq monitor. Congrats on graduation, Ben!
Comedy Central Airs Clips From Ugly Americans
You'll have to wait until
March 2010
to see the premiere of
Ugly Americans
, but last night Comedy Central aired a clip during the
South Park
finale. The show, which is set in an NYC filled with demons, robots, zombies, and assorted creatures, was created by David M. Stern and Devin Clark. The animation is being directed by
Augenblick Studios
(
Superjail
) and with animation produced at
Cuppa Coffee
. Here's two clips:
The Demon ChickSneak PeekKudan by Taku Kimura
Here's a short I saw at a recent animation
Flip Festival
in the Midlands UK. It won Best of the Festival and I wanted to share it with you too. It's called
Kudan
by Taku Kimura. And it must be good because I'm quite an ambassador for 2D and this is 3D.
Fluorescent Hill Provides Thoughts For N.A.S.A
.
The gang over at the massively-influential website
Boing Boing
have uploaded a new animated music video for the hip hop indie music duo
N.A.S.A
. The track, titled
Spacious Thoughts
, features vocals by Tom Waits and Kool Keith, and the video was directed by
Fluorescent Hill
.
South Park Finishes Season 13 at the Waterpark
It's over. With last night's premiere of
Pee
,
South Park
Season 13 is but a memory, but what better way to celebrate this bittersweet juncture, than a horribly racist ballad by Cartman? His concerned ode to the abundance of minorities enjoying his favorite waterpark.
'Justice League: Crisis on Two Earths' Writer and Cast Interviewed
The recent print edition of
"Life Story: Film Fantasy"
magazine has buried in it a feature article on the upcoming
"Justice League: Crisis on Two Earths"
animated film from Warner Premiere, DC Comics and Warner Bros. Animation.
The "collectors edition" of this magazine focuses heavily on the
"Twilight: New Moon"
feature film and the Justice League movie is not mentioned on the cover.
Included in this hidden feature article are preview images, storyboard art and interviews with film writer Dwayne McDuffie and celebrity voice cast Billy Baldwin (Batman), Mark Harmon (Superman), James Woods (Owlman), Gina Torres (Super Woman) and Chris Noth (Lex Luthor).
McDuffie says of the film,
"There are so many different continuities for all of the characters in the comics over the many years, that we're sort of used to seeing Batman and Superman in different contexts, which is fun. But a lot of it, in this particular case, is seeing what the world would be like if they weren't good people. They're completely different people who have chosen to use their power for personal gain."
He adds,
"For me, probably the interesting part about this is the rift between Batman and the rest of the group about the responsibilities of the Justice League on our Earth. Our Justice League immediately charges over to the parallel Earth to help out, and Batman stays here, becuase he feels his primary mission is to protect the world he lives in. That was interesting. I like setting up conflicts in the group where both sides actually have a point."
Interview excerpts from the voice cast in this same magazine are available at
Voice Actors in the News
.
Note:
The publisher of
"Life Story: Film Fantasy"
magazine does not have an official site where you can preview the magazine and order online. It is available only on newsstands through
February 8, 2010
with a cover price of $9.99.
Iron Man 2 Trailer with Sherlock Holmes?
In
retweeting
a question about when we'll see the first trailer for
Iron Man 2
, director Jon Favreau appears to be giving us a big hint:
RT @Ann_Howard: @Jon_Favreau PLEASE tell us the trailer is coming soon - w/ Sherlock Holmes, perhaps??
It makes sense since
Sherlock Holmes
also stars Robert Downey Jr., of course. The Guy Ritchie-directed film opens Christmas Day.
Our guess was that we'd be seeing the trailer with
Avatar
on
December 18
, but it looks like we'll have to wait just a week longer.
'Spider-Man 4' Rumor Update: Anne Hathaway Joins The Black Cat Race?
The superhero rumor mill is getting awfully catty these days when it comes to
"Spider-Man 4."
Even with the
Rachel McAdams as Black Cat rumor effectively squashed
, there are still other reports pegging
high-profile actresses
for the potential
"Spider-Man"
nemesis — like Anne Hathaway, for example.
The
"Rachel Getting Married"
star is the latest actress to be named in connection with
"Spider-Man 4."
According to
Deadline Hollywood Daily
, Hathaway has been approached by the film's producers for a starring role. While Finke isn't as certain that Hathaway would be playing Felicia Hardy as the rest of the fan community, she does know that the actress won't take over the role of Mary Jane.
"All I know is that she's wanted for a starring role, and she won't replace Kirsten Dunst who's also cast in the Spidey fourquel,"
Finke reports.
To be fair, Finke has had some luck with Marvel casting scoops in the past, including her early call that
Natalie Portman would wind up in
"Thor."
She also broke the news that
Tobey Maguire and Sam Raimi would return for
"Spider-Man 4,"
so her connections with the production could be pretty solid.
Does that mean Hathaway is a lock for the film? Not necessarily. Does it mean that she's playing Felicia Hardy? Absolutely not. But the incessant rumors of a female lead in
"Spider-Man 4"
— Black Cat or not — indicate that there's either some truth to the idea of a new female character in the franchise. Of course, it could be as simple as scoopers looking to capitalize on the same rumor buzz. It's hard to tell at this point.
Whether the role goes to Hathaway or someone else — heck, whether there even is a role — remains to be seen, but don't expect these rumors to go away anytime soon. I'm crossing my fingers that Finke has hit the nail on the head with this one, but I'm not holding my breath — in fact, I think we'll be hearing stories like this for quite some time.
'Thor' Set Reports From Joe Quesada And Brian Bendis
Marvel Editor-In-Chief Joe Quesada and
"New Avengers"
writer Brian Michael Bendis have offered first hand accounts of their recent visit to the set of director Kenneth Branagh's adaptation of
"Thor.""I could listen to Branagh talk about 'Thor' all day long,"
related Quesada on
Twitter
.
"Cast is in place, sets are being built and screenplay is brilliant. Marveldom rules!"
Meanwhile, Bendis added on his own
Twitter
that
"Thor movie meeting with Ken Branagh was over the top amazing. Visited the sets! I was in Odin's chamber!"
Bendis in particular has been extremely vocal in his praise of
"Thor."
In an interview last month, Bendis said
"
'Thor'
is an extravaganza."
He also described Branagh's take on the material as
"Shakespearean."
Bendis also spoke with MTV News about how
Thor and Iron Man might interact
in the upcoming
"Avengers"
feature film.
Part of the excitement behind
"Thor"
may stem from its all-star cast including
Chris Hemsworth as Thor
,
Anthony Hopkins as Odin
,
Tom Hiddleston as Loki
and
Natalie Portman as Jane Foster
. Earlier this week, it was announced that
Ray Stevenson, Stuart Townsend, and Tadanobu Asano will portray Thor's loyal allies
, the Warriors Three.
Jamie Alexander has also been
cast as the Lady Sif
, while
Colm Feore
and
Stellan Skarsgard
have also been signed to currently unconfirmed roles.
"Thor"
is currently set to
start shooting in January
with a release date scheduled for
May 2011
.
'Spider-Man 4' Black Cat Casting: What About Eliza Dushku?
Sure, Anne Hathaway is the latest in a long line of rumored contenders for the role of Black Cat in
"Spider-Man 4"
(even though there's no confirmation the character is even in the film), but does anyone remember another rumor from a few years back that cast an entirely different actress in the role?
Well, even if you didn't remember the pre-
"Spider-Man 3"
rumor that had
"Dollhouse"
actress Eliza Dushku playing cat burglar Felicia Hardy
, we did — and we asked her about it when she dropped by Splash Page HQ a while back.
"Don't you love the Internet and the fans out there?"
Dushku laughed when MTV Movies Editor Josh Horowitz asked if she'd seen the fan-made
"Spider-Man 4"
posters with her as Black Cat.
"They do it up!"
While Dushku didn't seem to have heard from anyone in the
"Spider-Man 4"
camp at that point (the interview was conducted last month), she seemed more than willing to suit up in the character's skin-tight costume, given the chance.
"Would you like to see me not just superimposed, but as Black Cat?"
asked Dushku.
Well, when Eliza Dushku asks you a question like that, the answer is obvious: an emphatic
"Yes.""Okay, well, tell your friends - write a letter,"
she laughed.
So, there you go, folks. Do we have another name to add to the list of Black Cat hopefuls? Heck, there's at least as much support for this rumor as there is for the rest of the
"Spider-Man 4"
rumors, so...
Frank Frazetta Conan painting sells for $1,000,000!
By Crom! (Or should that be "buy" Crom?) Frank Frazetta's original cover painting for the Lancer paperback edition of Robert E. Howard's
Conan the Conqueror
sold this week to a private collector for a reported $1 million, according to
Spectrum Fantastic Art
. That's four times the previous record price for a Frazetta painting, which was $251,000, paid for the cover to Edgar Rice Burroughs'
Escape on Venus
in 2008.
Up until the sale, the painting had been on display at the
Frazetta Museum
in East Stroudsburg, as Frazetta had retained all of his covers for the Conan books except for one that had been stolen from the publisher's office when it went bankrupt.
Frazetta was asked recently whether he had ever read the books before painting his cover, and replied,
"I didn¹t read any of it. It was too opposite of what I do. I told them that. So, I drew him my way. It was really rugged. And it caught on. I didn't care about what people thought. People who bought the books never complained about it."
Dude, where's my jetpack? 3 models that are flying now
Wouldn't it be great if we could all get jetpacks and go flying this weekend? Well, we can. Often thought of as a far-off technology that's yet to be realized, jetpack technology has actually been around for a while now. Sure, some models are just
dangerous toys
made by kooks, but the truth is jetpacks are for real, and flying today.
If you have $125,000 burning a hole in your pocket, you could buy a jetpack right now from a company called Tecaeromex. There's a dual-fanned contraption that's already gotten off the ground and might soon be available. A water-powered belt is currently zipping around at 45mph. And there's even a turbojet belt in development that might soon let you fly for 9 minutes and travel 11 miles. Continue reading for a tour of all four jetpack types soaring today.
1. Hydrogen peroxide jetpack
This is the
James Bond
jetpack (or
Lost in Space
, depending on where you saw it first), powered by hydrogen peroxide and just barely light enough to wear on your back. Based on the Bell Aerosystems jetpack built for the U.S. military and first flown untethered in 1961, its propulsion is more like a water balloon than a jet engine. When the fuel comes in contact with a catalyst such as silver or platinum, the liquid quickly decomposes into water vapor and oxygen, expanding through two nozzles, and providing enough thrust to lift a 180-pound person.
State of the art:
There are two major players.
Tecaeromex
offers the only jetpack for sale right now, and once you've laid down the $125,000 for the unit itself, you'll have to go through 50 test flights just learn how to control it. Then there's
Jetpack international (Jet P.I.)
, the company that handles most of the exhibition flying these days. It flies the Go-Fast Jetpack H2O2-Z you see in the video above. It holds eight gallons of fuel that can propel it for 43 seconds at a maximum speed of 77 mph.
Limitations:
Even though both jetpacks use the latest aerospace materials such as carbon fiber, Kevlar, titanium and aluminum, the 78-pound H2O2-Z, the longest-flying model yet, is still limited to a maximum airborne time of 41 seconds. The jetpacks' peroxide propellant is expensive and hard to come by, they're so dangerous that only skydivers need apply, and they're difficult to learn how to fly since there's no simulator.
Applications:
According to Tecaeromex's Juan Lozano, don't expect to depend on it to fly you to work every morning. For flying short exhibition flights, that huge chunk of change might be a good investment, says Lozano:
"The flight time is very limited, but it is a great business for shows, special events and sport events because you charge about $25,000 for each flight. So the business is great."
Our take:
To see a guy flying around with a jetpack is a spectacular sight, and that's the only use for the devices these days. It takes a lot of skill to fly one, too. If control of a jetpack could be computer-assisted, it would be a lot safer. This might be possible someday, according to Tecaeromex's Juan Lozano:
"Now we see micro toys that are stabilized in flight. Maybe someday you will be able to fly your own jetpack with software similar to that used in the two-wheel standup vehicles like the Segway, that is computer stabilized."
However, it's going to be difficult to extend the flying time of this design, because the weight of the fuel will become too cumbersome for most people to carry on their backs. This technology it looks like it'll be stuck in the realm of the carnival trick.
(Click over to our
sister site DVICE
to read more.)
Lost season premiere details! It's back in February
Huzzah!
ABC finally announced that the sixth and final season of
Lost
will debut on
Feb. 2, 2010
, starting with a one-hour recap special at 8 p.m. ET/PT, followed by the two-hour season premiere at 9.
Lost
will then air in its regular time period, Tuesdays at 9, beginning the following week, on
Feb. 9
.
The complete announcement follows.
November 19, 2009
ABC ANNOUNCES THE PREMIERE OF THE SIXTH AND FINAL SEASON OF "LOST," WITH A SPECIAL ALL-NIGHT EVENT ON TUESDAY, FEBRUARY 2
ABC announces the premiere of the sixth and final season of
"Lost,"
with a special all-night event on
Tuesday, February 2.
A recap special will kick off the night from 8:00-9:00 p.m., ET, followed by the much anticipated two-hour premiere from 9:00-11:00 p.m.
The series will then air in its regular time period -
Tuesday nights from 9:00-10:00 p.m
., ET - beginning the following week, on
February 9
.
"Lost"
stars Naveen Andrews as Sayid, Nestor Carbonell as Richard Alpert, Emilie de Ravin as Claire, Michael Emerson as Ben, Jeff Fahey as Frank Lapidus, Matthew Fox as Jack, Jorge Garcia as Hurley, Josh Holloway as Sawyer, Daniel Dae Kim as Jin, Yunjin Kim as Sun, Ken Leung as Miles, Evangeline Lilly as Kate, Terry O'Quinn as Locke and Zuleikha Robinson as Ilana.
"Lost"
was created by Jeffrey Lieber and J.J. Abrams & Damon Lindelof. Abrams, Lindelof, Bryan Burk, Jack Bender, Edward Kitsis, Adam Horowitz, Jean Higgins and Carlton Cuse serve as executive producers.
"Lost,"
which is filmed entirely on location in Hawaii and premiered on September 22, 2004, is from ABC Studios.