Muppets Get Animated with Softimage
Today marks the launch of
Sesame Street
's 40th anniversary season, and this next stage in the long running program's edutainment domination will include a brand new segment series,
Abby's Flying Fairy School
, starring fairy in training Abby Cadabby in all new CG animated adventures, courtesy of SpeakeasyFX.
"Until now, Sesame Street used exclusively hand-driven Muppets. We went the CG route with 'Abby's Flying Fairy School' so that we could bring to life all the wonderful physical action our writers envisaged; such as underwater scenes,"
explained Carol-Lynn Parente, executive producer at Sesame Workshop. According to Parente the CG format will also allow Workshop to easily expand the show experience through online games on
SesameStreet.org
.
Fairy School
follows Abby and a new gang of friends around fairy school, where they learn to solve problems using rhyme, reason and cooperation. The goal is to help preschool aged viewers learn along with Abby and develope their critical thinking and problem solving skills.
New Jersey based SpeakeasyFX used Autodesk's Softimage to model, animate, render and composite the over 500 characters and elements in the 13 nine-minute segments they produced. Softimage's ICE (Interactive Creative Environment) was also instrumental in generating the magical effects that bring Abby's new CG world to life. The team's greatest challenge was emulating to look of the live-action Muppets, which required complex fur and cloth simulations as well as innovative rigging.
"To preserve the creative vision, we decided to build our digital Muppet models as if a hand was manipulating them from inside,"
said SpeakeasyFX's executive director Scott Stewart,
"This was a breakthrough modification to our workflow and was critically important in helping us find the right balance between CG and traditional Muppet performances."
Stewart is pleased with the results his team was able to achieve with Softimage's flexibility and the innovative thinking of SpeakeasyFX's creative talent. He says that the clear vision of the Sesame Workshop team helped the project stay true to its Muppet roots and move forward smoothly.
"We feel fortunate to have collaborated with SpeakeasyFX on Abby's Flying Fairy School,"
Parente enthused.
"They developed the digital characters with fantastic furry detail. Doing the series in CG, using Softimage software, provided the freedom to showcase different types of storytelling, while preserving what viewers of all ages love about Sesame Street."
Visit
www.youtube.com/watch?v=5rKQUtrQsHo
to view a clip of
Abby's Flying Fairy School
, which debuts with
Sesame Street
's 40th anniversary season.
(Thanks
Animation Magazine
)
Up Arises on DVD, Blu-ray
Up
rises to the top of this week's animation releases arriving this week on DVD and Blu-ray.
The acclaimed Pixar-Disney film (Disney-Pixar, $29.99 DVD, $39.99 Deluxe Edition DVD, $45.99 Blu-ray Combo Pack) arrives with a plethora of features, including a commentary from director Pete Docter and co-director Bob Peterson, the new short film
Dug's Special Mission
and the short film that played with
U
p
in theaters, Partly Cloudy. The Blu-ray edition contains additional special features, including a Cine-Explore visual montage of concept art, clips and documentary coverage that illustrates the directors' commentary; an extensive series of featurettes on developing the characters and making of the film, and a Global Guardian Badge Game.
Disney-Pixar also is bringing its 2001 classic
Monsters, Inc.
to Blu-ray for the first time Disney-Pixar, $39.99 Blu-ray), with new features including a filmmakers round table, a look at the making of the Monstropolis attraction at Tokyo Disneyland, and a Roz's 100 Doors Challenge interactive game.
Superhero fans also will be digging deep into their wallets for
Watchmen: The Ultimate Cut
(Warner Bros., $43.87 DVD, $59.99 Blu-ray), a new version of the Zack Snyder film that incorporates the animated
Tales of the Black Freighter
material directly into the film.
Meanwhile,
Justice League: The Complete Series
(Warner Bros., $99.98) collects all 91 episodes of
Justice League
and
Justice League Unlimited
, while
Batman: The Brave & The Bold, Vol. 2
(Warner Bros., $14.98) offers four more episodes of the series.
Similar to the recent
Transformers
set, comes
G.I. Joe: A Real American Hero — The Complete Series Limited-Edition Collector's Se
t (Shout! Factory, $179.99). Also out are
Dragon Ball: Season 2
(FUNimation, $49.98),
Huntik Secrets & Seekers Vol. 2
(Media Blasters, $16.99),
Naruto Shippuden: The Movie
(VIZ, $24.92) and
Xavier, Renegade Angel: Seasons 1 & 2
(Warner Bros., $19.97).
Younger animation fans have for their viewing pleasure
Jay Jay The Jet Plane: Jay's Christmas Surprise
(E1 Entertainment, $12.98),
Sesame Street: 40 Years of Sunny Days
(Genius Products, $29.93) and
SpongeBob SquarePants: Truth or Square
(Paramount, $16.99).
(Thanks
Animation Magazine
)
Wallace & Gromit Comics on iPhone
Wallace & Gromit
are coming to the iPhone as the stars of new comic strip adventures from Titan Publishing.
The duo star in four comic stories —
"The W-Files," "Parts & Labour," "Big in Japan"
and
"Where There's Muck There's Brass"
— available now through Apple's App Store for £0.59 ($0.99) each.
The first strips feature the work of well-known comic writers Dan Abnett and Simon Furman. More comic stories are due to be released in coming weeks.
"It's really exciting to see Wallace and Gromit at the forefront of such a cracking new technology
," says digital comic editor Ned Hartley.
"Although I secretly suspect that Wallace would be more comfortable with the type of apple that comes with cheese."
For more information, go online to
www.wallaceandgromitcomics.com
.
(Thanks
Animation Magazine
)
DreamWorks Counsel Kendrick Departing
Katherine Kendrick will leave her job as general counsel for DreamWorks Animation when her contract with the studio expires at the end of the year.
Kendrick has been with DreamWorks Animation from the start, and is leaving to work on philanthropic efforts for such causes as the U.S. Olympic Foundation, Waterkeeper's Alliance, L.A.'s BEST (Better Educated Students for Tomorrow), the Los Angeles Sports and Entertainment Commission, Kids Play International and Columbia University School of Law's Kernochan Center for Law, Media and the Arts.
Prior to working at DreamWorks, Kendrick worked for Disney as director of legal affairs in the United States and later as VP of European legal affairs.
"Kathy has been a key member of our executive team helping to steer the company from the founding of DreamWorks through our IPO and beyond,"
said Jeffrey Katzenberg, CEO of the studio.
"It has been my great pleasure to work with Kathy for over 20 years, first at Disney and then at DreamWorks, and I appreciate her desire to contribute her considerable talents to the various organizations she feels so strongly about."
(Thanks
Animation Magazine
)
Banderas Lines Up Behind Goleor
Spanish animated feature film
Goleor, the Scale and the Sword
has entered pre-production with actor Antonio Banderas on board to cast and direct the voice actors, as well as provide a voice himself.
The 3D film will be in English and has an estimated budget of $33 million, according to Variety. The story is a light-hearted adventure tale of a young aspiring knight who finds his kingdom increasingly dominated by bureaucrats and attorneys.
Manuel Sicilia is writing the script and will direct the movie, which will be produced by Enrique Posner and Kandor Moon, the studio behind the recent Spanish animated hit
The Missing Lynx
.
Goleor
is set to begin production in January, to be delivered in
December 2011
.
(Thanks
Animation Magazine
)
Gene Deitch: Quo Vadis Animation?
Veteran animation director
Gene Deitch
and his wife Zdenka were invited to the Xiamen International Animation Festival (
Oct. 30th-Nov. 3rd
) in China — Gene as the main foreign guest and keynote speaker, and Zdenka as a jury member. However, Communist government authorities took one look at their passports, and made the irrational assumption that because they were both in their eighties, they were unfit to travel, and decided not to issue them visas.
The festival organizers wrote that they were bereft and begged Gene to at least film his keynote speech for projection at the opening ceremonies. So a crew came to Deitch's private studio, and he "performed" a five-minute version of his talk. And Gene has graciously allowed Cartoon Brew to share it with the world. Says Deitch:
"The core of my speech is a pitch for the survival and eventual return to primary favor of "drawn animation." (Don't provoke me by mentioning the term "2D" in my presence!)
Below is the 7-minute video Gene prepared for the festival, AND below that is the full text of the actual speech he would have given.
Gene Deitch: Quo Vadis Animation?
Animation has come a long way since I was a boy. I was raised in Hollywood and fell in love with movie cartoons at a very early age. In those days - the early 1930s - going to the movies was a giant experience. For one admission ticket -25 to 35 cents for an adult - just ten cents for me - we could see two complete feature films, which in those days were not more than an hour-and-a-half long, a newsreel, a travelogue, an adventure serial, perhaps a comedy "Short Subject," and a cartoon - sometimes two cartoons.
For me, the cartoon was the best part, but for the movie theater owners it was just another time filler that limited the number of shows he could schedule per day. To earn their place on the program the cartoons had to be wildly funny, and they quickly became formula productions. In Europe they were called "grotesques," and there was no attempt to imitate reality.
The arrival of television changed all that. With nightly news for the growing mass TV audience, there was no further need for newsreels. Then came all sorts of soap operas, dramas, documentaries, comedy shows, travel features, sports, and of course cartoons galore. Why go to the movies when you had all that at home?
And why should theater owners pay for short subjects when all the people wanted to see was the feature? So soon enough, all we got for the higher price we paid for a movie ticket was one feature film, some advertising and lots of previews of more movies.
It was the visionary Walt Disney, who all the way back to the 1930s saw that cartoon shorts were doomed. He had the impossible dream of making the cartoon become the main feature attraction. To do that he believed that he had to somehow make drawn animation look more realistic. As a 13-year-old kid, I attended the premiere run of
Snow White & The Seven Dwarfs
at the Hollywood Pantages Theater, I witnessed the first example of a historic change-of-course for film animation. Disney felt that cartoon simplicity could not sustain a feature-length movie. So Snow White contained the dramatic lighting effects, the shadowing, the rounded shading of characters, and the amazing MultiPlane camera depth effects - the first steps toward making animated movies become more and more realistic.
Once began, this became the dominating goal of animation: to become as close to a live action movie as possible. By today, with the development of computers and amazing digital procedures, computer generated animation, motion capture, and stereoscopic 3D. We're almost there; the perfect imitation of reality with animation. Is this a success? Or is it the end of a blind alley? What next?
As it happened, I began my career in animation at a studio that pioneered the opposite course. "Why should animation, potentially the greatest of all existing art forms, incorporating and blending all of them, limit itself by trying to imitate what a camera does? It was UPA, United Productions of America.
A glorious name for a tiny studio founded on a simple but revolutionary idea: that the whole world of graphic art was open to animation - animation bringing magic and storytelling in every visual style, with no attempt to imitate what the camera will always do better.
I am here to raise a cheer for what I prefer to call Drawn Animation. We who have been raised on the tradition of animated drawings, attempting create what Frank Thomas and Ollie Johnston called,
"The Illusion of Life,"
have been more and more pushed aside and given the demeaning title of "2D" animators. I am quick to remind you that anything projected onto a flat movie screen is essentially 2D. It's a meaningless term. I repeat that the entire world of graphic art, every drawn or painted style can be animated in any fanciful way, which in turn would lead to the widest range of storytelling and endless visual variety.
Whereas so-called 3D animation, with its amazing refinement, technical dazzle, and natural-looking realism, is becoming more and more alike. Drawing and painting goes back to the beginnings of humanity, and is still a limitless means of expression. It certainly should not be pushed aside in the world of cinema animation!
Of course, I know that there is another branch of animation; Special Effects for essentially live-action movies. That kind of animation - recreation of dinosaurs or entire cities being blown up, and stunt performers saved from injury with the substitution of animated dummies….is hyper reality that I greatly admire and respect. It MUST be extremely realistic and visually convincing! Amazing special effects animation is now so seamlessly blended into live action movies, that we accept it as real. Such movies do not claim or pretend to be animation features.
As a 48 year member of the Hollywood Academy of Motion Picture Arts & Sciences, I am one of the people who vote each year for the awards known as Oscars. In my own category of Animation, it becomes harder and harder to distinguish whether a film is in fact basically an animation or live-action movie. Today, every film contains at least some elements of both. Historically and technically, cinema animation involves the creating and manipulating still images that when projected onto the screen in very rapid sequence - faster than the human retention of vision - gives the illusion of motion. So human acting in front of a camera is by that definition not animation. Yet the technology of digital motion capture can be used to convert human acting - pantomime - into designed creatures, which does look very much like animation. So to many people - most people in a cinema audience, if it looks like animation it must be animation!
I've given up trying to argue the point, but still have difficulty in voting for a movie in the Animation category which I know to be actually a digitalized manipulation of human acting. and not the illusion of motion created in series of still images. So what? It must soon come down to eliminating a separate Animation category, and allow us to vote for any movie on the basis of the story it tells and how skillfully and artfully it tells it, regardless of the mix of technologies used in its production.
It is in fact getting harder and harder to find a clear definition of what is an animated film, and what is a live action. film! What was
The Lord of The Rings
, which so deftly combined animation into an essentially live action film? What are the
Harry Potter
films, including so many animation effects? And now we have the technology called "Motion Capture." Which does claim to be form of animation. How do we classify Motion Capture -"Mo-Cap?" Many movies today combine all of these elements. How do we classify them? Today, nearly every film is a combination of live-action, special effects and some form of animation. When we see drawings, we're pretty sure we are seeing animation!
There must be room for the art of drawing and painting to hold onto it's role in storytelling and the stimulation of imagination. Graphic art and design has a great influence on all of our lives, and we really cannot live a full life without it!
In my on-line book,
How To Succeed in Animation
I make the claim that animation is potentially the greatest of all art forms, as it combines nearly all of the others. Drawing, painting, music, story telling, literature, acting, theater, singing, dancing.. you name it; all can be incorporated into this miraculous art form do cinema animation! The word animation itself means,
"The breath of life."
Why should this potentially powerful medium be limited to literal realism, when the endless possibilities of magic realism are open to it?
I feel this is an important topic for discussion, and I would like to hear your thoughts about it. I welcome your questions and ideas.
(Thanks
cartoon brew
)
Burton, Timm, Katzenberg to receive Winsor McCay Award
ASIFA-Hollywood
has announced the 2009 recipients of the
Winsor McCay Award
,
"one of the highest honors given to an individual in the animation industry in recognition for career contributions to the art of animation."
Those being honored with the prize at the 37th Annual Annie Awards are: Tim Burton, Bruce Timm, and Jeffrey Katzenberg. ASIFA-Hollywood President Antran Manoogian said,
"The career achievements and outstanding contributions of these talented artisans are most worthy of animation's highest honor."
The bios of the recipients follows:
Tim Burton
, though mainly known for his innovative live action features, has had a strong influence on the world of animation. Burton began his career as an animator (
Tron, Fox And the Hound
) at the Walt Disney Studios where made his first independent shorts,
Vincent
(in stop motion animation) and
Frankenweenie
(live action). He went on to co-produce
Family Dog
(1987), an animated pilot for Steven Spielberg, which became a prime time series for CBS in 1993. His stop- motion Halloween feature,
Nightmare Before Christmas
(1993, directed by Henry Selick) has become a worldwide cult classic. His interest in animation led him to co-produced the stop-mo feature
James and The Giant Peach
(1996) and this year's CG production,
9
. Most recently Burton co-directed the stop-motion
Corpse Bride
(2005) and his internet animation series,
The World of Stainboy
(2000). Burton is currently remaking
Frankenweenie
as a full length animated feature.
Bruce Timm
forever changed the world of TV adventure cartoons with his visual take on DC Comics super heroes, beginning with his co-producing
Batman: the Animated Series
in 1992. Timm began his career in animation at Filmation, doing layouts on
He-Man
and
Flash Gordon
. He did storyboards for Ralph Bakshi (on
Mighty Mouse: the New Adventures
) and John Kricfalusi (
Beany & Cecil
). While working on
Tiny Toon Adventures
, he teamed with Eric Rodamski to pitch a new take on Batman. The success of that series has led Timm to redesign the entire DC Comics universe in various Warner Bros. Animation series as
Superman, Batman Beyond
and
Justice League Unlimited
. He has drawn several graphic novels and comics stories for DC Comics and is currently producing a series of direct-to video animated features for Warner Home Video.
Jeffrey Katzenberg
is the CEO of Dreamworks Animation. Katzenberg was responsible for reviving the fortunes of Walt Disney Feature Animation with his supervision of
The Little Mermaid, Who Framed Roger Rabbit, Beauty and The Beast
and
The Lion King
. Katzenberg left Disney in 1994 to team with Steven Spielberg and David Geffen to create Dreamworks SKG, where, as head of the animation studio, he oversaw the production of hand drawn animated features
The Prince of Egypt, The Road to el Diablo
and
Spirit
. Switching to CG production, the studio produced a string of hits including
Shrek
(and its sequels),
Madagascar
(and its spin-offs),
Kung Fu Panda, Antz, Bee Movie
and
Shark Tale
.
Shakeup at Walt Disney Studios continues
Walt Disney Motion Pictures Group president Mark Zoradi is leaving the company after 29 years, according to the
LA Times
. Following what many considered a surprise ousting of Dick Cook earlier this year (and the less reported leaving of Miramax Films President Daniel Battsek last month) it appears a major shakeup is going down at Walt Disney Studios. LA Times sources say,
"Disney's marketing and distribution operations are expected to undergo restructuring as Iger moves to position the studio for a future that includes digital distribution of movies and shortening the period between a film's release in theaters and the home."
Docter and Peterson go deep into Up
Newsarama
has a two-part interview with Pete Docter and Bill Peterson, who (not so coincidentally!) are the men behind today's DVD and BD release of
Up
. The piece goes into a lot of details about the inspiration, motivation, and construction of the film.
"The first pitch to John Lasseter made him cry…with no visuals! Did we think we had the emotional underpinnings of the story!"
New poster from Alice, more to come?
FirstShowing.net
has the latest on Disney's social/viral marketing campaign for Tim Burton's
Alice in Wonderland
. The Mad Hatter has posted a new poster on his
Facebook page
. He's offered to post more when he reaches 7,500 people giving the image a "Like". He's up almost 6,000 now so check back later to see what else gets posted.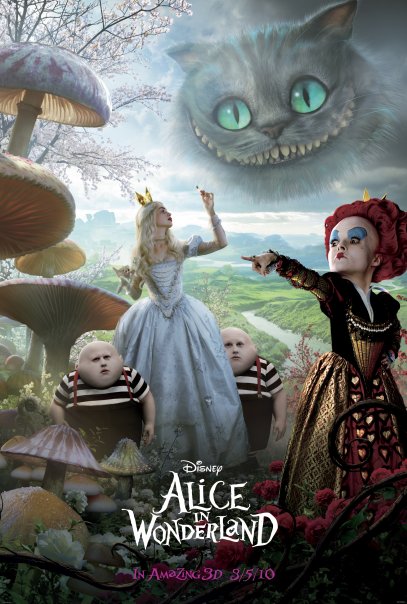 Animation impact on 2010 Oscars
Awards season is creeping up on us, and
ABC News
has the story on how animated films might factor into the Oscars.
Up
obviously could get Best Picture and Best Animated Film nominations, but could that hurt the film's chances at getting either? Also discussed are the chances of the Best Animated Film category getting five nominations, the many studios in the game this year, and whether any of this might be seen as a referendum on styles and formats (CG vs hand drawn vs motion capture vs 3D).
Extended Planet 51 clip now online

Yahoo! Movies now has a
2-minute clip
from Sony's upcoming animated sci-fi comedy
Planet 51
. The movie stars Dwayne Johnson as the voice of Chuck Baker, an American astronaut who finds himself on a planet populated entirely by green people who believe that he's an alien invader. Also featuring Justin Long, Jessica Biel and Gary Oldman,
Planet 51
lands into theaters on
November 20th
.
New Images And Video Clips From Upcoming "Batman: The Brave And The Bold" Episode
The
World's Finest
has received new clips, images and details from the upcoming
Batman: The Brave and The Bold
episode
"The Fate of Equinox!"
Cartoon Network has passed along the episode synopsis, video clips, and nearly forty images for the upcoming
Batman: The Brave and The Bold
episode
"The Fate of Equinox!"
The episode is scheduled to air
Friday, November 13th, 2009
at 7:30pm (ET) on Cartoon Network. To get a closer look at the images, click on the thumbnails below.
Click Here For More Images, Videos & Details!
The all-new
Batman: The Brave and The Bold "The Fate of Equinox!"
episode, scheduled to air on
Friday, November 13th 2009
at 7:30pm (ET) on Cartoon Network, is described as seen below.
Batman: The Brave and The Bold "The Fate of Equinox!"

Batman has his final battle with the balance-obsessed villain Equinox as the maniac tries to remake the universe in his own image.
Three clips from the episode, provided by Cartoon Network, are available to view
here
at our
Batman: The Brave and The Bold
subsite
. Other details for
Batman: The Brave and The Bold "The Fate of Equinox!"
, including cast and crew credits, are also available at our
Batman: The Brave and The Bold subsite
.
'Turtles: Forever' Trailer Mixes TMNT Old And New... With A Hefty Dose Of Awesome
I've made no secret of the fact that I'm a fan of the
Teenage Mutant Ninja Turtles
. We were the first to bring you word from
Turtles co-creator Peter Laird
back when the upcoming live-action movie was announced, and we've kept you posted on all things TMNT (including a new animated series) ever since that time.
That's why the new
trailer
for
"Turtles: Forever"
has me so stoked. A direct-to-DVD animated movie produced by 4Kids Entertainment,
"Turtles: Forever"
features the early black-and-white versions of Leonardo, Donatello, Raphael and Michelangelo (and Shredder) mingling with a massive cast of characters from their long-running '80s animated series, as well as the various live-action films. Heck, even Laird and co-creator Kevin Eastman make an appearance.
"Turtles: Forever"
is scheduled to air on the CW4Kids network
November 21
in celebration of the Turtles' 25th anniversary.
New Clash of the Titans trailer is balls-out action! (video)
Heard that they're remaking
Clash of the Titans
? Well, forget the stately pace, white robes and fluffy hair of the 1981 Harry Hamlin movie: This new version will be a kick-ass, balls-out actioner, and
Yahoo! Movies
gives us a taste of that in a new teaser trailer posted today.
The new movie, starring
Terminator Salvation
and
Avatar
's Sam Worthington, is chock-full of monsters, mythical creatures, giant scorpions, dizzying sword fights and snake-headed Gorgons, brought to you by director Louis Leterrier (
The Incredible Hulk
). And, yes, don't blink or you'll miss Liam Neeson in full armor as Zeus.
We're pumped! (Where's Bubo?)
Clash of the Titans
opens
March 26, 2010.Yoda, Leia, Vader do gangsta rap in this Star Wars video!
Check out Atom.com's latest Star Wars gangsta rap video, the dopest jam from a galaxy far, far away.
Their words, not ours. Whaddaya think?
4 reasons why V's motherships don't make sense
So ABC's
V
is here (episode two aired last night), reminding us for the zillionth time that gigantic, mile(s)-wide flying saucers are THE conveyance of choice for any kind of alien visitors. (See:
District 9, Independence Day
, the original
V, Alien Nation, Close Encounters
...)
The trouble is, aside from providing an excuse for awesome
"reveal"
shots where the giant ship blots out the sun, it's actually a completely nonsensical way for extraterrestrials to make an entrance. Here are four reasons why huge-ass space discs would be a dumb idea in the real world:
Click on any image to see it enlarged.
1. We'd totally see them coming
In
V
, 29 massive ships suddenly appear in our airspace with nothing but a few minutes of ominous rumbling noises to tip everybody off. What, was everyone at NASA asleep for the last six months? Their
Near Earth Object Program
has a whole mess of telescopes dedicated to tracking space objects that might be headed for Earth, like the asteroid Apophis pictured above.
According to NEO chief Lindley Johnson, any bright object more than 1 kilometer across (and from the looks of things, the new
V
motherships appear to be between 1 and 3 km wide) will show up on their 'scopes before it even gets past Mars. (Granted, they're only looking for objects that follow natural orbits around the sun, but anything that big heading straight for us would surely stand out.) Assuming that real-world visitors wouldn't have any laws-of-physics-defying tricks up their sleeve (like faster-than-light travel or cloaking devices), we'd have at least a few months to prepare before they got close. Not so great for a sneak attack, or even a surprise visit.
(Click through to our sister site
DVICE
to read more.)
First Hobbit cameo role revealed!
Looks like
Hobbit
director Guillermo del Toro will follow the example of fellow filmmakers M. Night Shyamalan and Alfred Hitchcock by putting himself into his own movies. (Director Peter Jackson also had small parts in
The Lord of the Rings
.)
Del Toro posted on the message boards of
TheOneRing.net
that he will make a cameo appearance as a small monster:
"I had a hand on the design of the creature and I will personally sculpt the appliances that will be applied on my face and hands. I used to sculpt the creatures for NECROPIA (my FX company) and I miss it a bit. I will have a line or two and die quickly."
Del Toro didn't say much more about his brief role in the two movies based on J.R.R. Tolkien's book, the predecessor to
The Lord of the Rings. The Hobbit
is in preproduction in New Zealand.
'X2' Screenwriter Describes The 'X-Men 3' He And Bryan Singer Would Have Made
Several fans have wondered what
"X-Men: The Last Stand"
would've looked like with Bryan Singer at the helm as opposed to eventual director Brett Ratner, particularly after the latter filmmaker's
recent comments towards his detractors
. Well, wonder no more.
In an interview with
Slash Film
(as transcribed by
The Geek Files
),
"X2: X-Men United"
screenwriter Michael Dougherty described his and Singer's unused plans for
"X-Men 3."
According to the writer, the film would have focused on Jean Grey's transformation into the Phoenix, albeit much differently than the version ultimately seen in
"The Last Stand."
"You found out was that Phoenix was going round the world taking things into her own hands and that she had basically returned as a god,"
described the screenwriter.
"She had viewed herself as above the conflict, that she was here to end things on her terms, she was sick of the fighting and she was going to take things into her own hands and she did not give a sh-- what the X-Men or the Brotherhood had to say about it."
The film would have ended with the Phoenix's departure, though not at the claws of Wolverine as was the case in
"X-Men: The Last Stand."
"Ultimately she kind of becomes that cosmic force that Phoenix is known to be, she leaves Earth and becomes a god or at least a higher level of intelligence and she goes into the cosmos possibly to kick-start life somewhere else,"
said Dougherty.
"The final scene for me would have been her telling Cyclops or her telling the X-Men 'I'll be watching.'"
Additionally, Dougherty and Singer's story focused heavily on Cyclops, who was killed off early on in Ratner's
"X-Men"
film.
"The one idea that I loved, that I really wanted to do, was that Cyclops would build the Danger Room,"
he said.
"He felt guilty that because the X-Men were too weak, they weren't strong enough or fast enough, that was the reason Jean died. If they were a little bit better at fighting, then she might still be alive. It was all about this guilt he had about her death and he built the Danger Room to train them to be better. In the end it really was about him not being able to let go of her and that causes the chaos and disruption in the movie and in the end it's about him letting her go."
Never-before-seen Star Trek concept art (pics)
We've obtained exclusive new behind-the-scenes concept art for J.J. Abrams'
Star Trek
from the upcoming book
Star Trek: The Art of the Film
, including original designs for the Romulan ship
Narada
. Click through for more.
The image above is described in the book like this:
Inside the amorphous labyrinth is the powerful red matter device from the future, a device whose power Captain Nero uses for his own fanatical ends.
"To give some special energy to the third act and scenes of the jellyfish flying inside the Narada, we underlit the interior in classic horror movie style,"
notes ILM's Roger Guyett.
"That idea came from a test that went wrong, but I actually liked the look. It was fun interjecting new ideas."'
The image below shows the design for the Centaurian slug (looks like that thing from Ceti Alpha 5 in
Wrath of Khan
, doesn't it?). Here's how the book describes it. (Click for a larger version.)
The "Centaurian slugs," originally planned as a CG effect, marked a creative victory for prop master Bobbitt, who created a physical, remote controlled bug
The images are all from
Star Trek: The Art of the Film
, © 2009 Paramount Pictures Corporation. ® and © 2009 CBS Studios Inc.
Star Trek
and related marks and logos are trademarks of CBS Studios Inc. All Rights Reserved. Titan authorized user. All Rights Reserved.
Images from
Star Trek: The Art of the Film
. Out November 17th from Titan Books
(Click to enlarge)