UPDATED: Leiji Matsumoto Creates Music Video for Queen
The Nikkan Sports newspaper reported today (Japanese-language article
here
) that legendary
manga
and anime creator Leiji Matsumoto is creating a music video for the legendary U.K. rock band Queen, per
this article
from the Anime News Network.
Matsumoto, the creator of such manga and/or anime series as
Galaxy Express 999
,
Space Pirate Captain Harlock
and
Space Battleship Yamato
(the latter released in North America under the title
Star Blazers
), is using concepts from his current manga project
Out of Galaxy Koshika
and the classic Queen song
Bohemian Rhapsody
for the new video.
The article from ANN above notes that while Queen has used English animation in their works before, they specifically requested Japanese creators on the new project, as they are self-confessed
"Japanophiles."
This is not the only new project based on a work by Leiji Matsumoto in the pipeline-
a new live-action movie
based on
Space Battleship Yamato
is set for release in Japan in December of 2010.
UPDATE:
A further update of the ANN article above notes that a portion of the video, officially titled
"Bohemian Rhapsody ~feat. Leiji Matsumoto,"
will be released on
November 24th
–the 18th anniversary of former Queen lead singer
Freddie Mercury
's death–at special events in Tokyo and Osaka. The full video is to be released by the end of the year.
Upcoming events in the NY area!
November 18th – April 26th
The Museum of Modern Art presents - Tim Burton Retrospective
This major career retrospective on Tim Burton, consisting of a gallery exhibition and a film series, considers Burton's career as a director, producer, writer, and concept artist for live-action and animated films, along with his work as a fiction writer, photographer and illustrator.

Film exhibition: 11/18 – 4/26

Gallery exhibition: 11/22 – 4/26

MoMA

The Museum of Modern Art

11 West 53 Street

(bet. Fifth and Sixth Aves.)

NYC

www.moma.org

November 27th – 29th



Museum of the Moving Image presents - Thanksgiving Family Fun
The Museum will be open from 10 a.m. to 5 p.m. during Thanksgiving weekend with hourly screenings of short animated films from Pixar, the most acclaimed animation studio of our time, and two different hands-on workshops for children
Screening: Short Films from Pixar
In Tut's Fever Movie Palace
November 27-29
Daily at 11 a.m., 12, 1, 2, 3, and 4 p.m.
Pixar, the most acclaimed animation studio of our time, is best known for feature films including
Toy Story, The Incredibles, Ratatouille
, and
UP
. These delightful short films from the studio's catalog chart two decades of technological advances—and reveal the humor and personality that characterize Pixar's work. Suitable for all ages.
Moving Pictures Workshop
November 27-29
Daily at 12 p.m.
45 mins. Children discover what makes moving images move and make their own Thaumatrope—a nineteenth-century optical toy—to take home. Ages 6-12. Materials fee: $5 per child / Free for Museum members. Space is limited; register when you arrive at the Museum.
Stop-Motion Animation Workshops
November 27-29
Daily at 1 and 3 p.m.
60 mins. Children make their own stop-motion animations and share them online. Click here to view a sample animation created by a workshop participant. $10 materials fee / $5 for Members. Space is limited. Register when you arrive at the Museum.
Museum of the Moving Image
35th Avenue at 36th Street, Astoria
(take the N or W subway)
www.movingimage.us
December 1st, Tuesday 6:00pm
The Paley Center for Media presents – Revisiting Mister Magoo's Christmas Carol
Join us for a screening of the first animated Christmas special, which premiered on NBC in 1962. With music by Jule Styne, lyrics by Bob Merrill, and the voices of Jim Backus, Jack Cassidy, Jane Kean and Morey Amsterdam, this 52-minute adaptation of Dickens—cleverly presented as a play within a play (with the nearsighted Magoo playing Scrooge on Broadway)—paved the way for a slew of animated holiday specials. Following the screening, a panel including animator Darrell Van Citters, author of a new book on
Mr. Magoo's Christmas Carol
; and Judy Levitow, daughter of Magoo's director Abe Levitow, will examine the making of the program and its place in television history. Jack Doulin, casting director of the New York Theatre Workshop, will moderate the conversation. In addition, surprise guests will be on-hand to ring in the holidays. Children ages 6 and up are welcome.
IN PERSON
Darrell Van Citters, Animator and Author,
Mister Magoo's Christmas Carol: The Making of the First Animated Christmas Special
Judy Levitow, Daughter of Magoo Director Abe Levitow
Marie Matthews, Voice of "Young Scrooge"
Moderator: Jack Doulin, New York Theatre Workshop
Paley Center Members: $15
General Public: $20
The Paley Center for Media
25 West 52 Street
(bet. 5th & 6th)
NYC
www.paleycenter.org
Mad Monster Party
Part of the Film exhibition:
Tim Burton and the Lurid Beauty of Monsters
With the voices of Boris Karloff, Phyllis Diller. This Rankin/Bass stop-motion-animated musical features a campy cavalcade of classic horror characters, including Dracula, the Mummy, and Dr. Jekyll and Mr. Hyde, as they plot to gain control of Baron von Frankenstein's secret weapon during a monster convention. The film's pun-filled humor was an obvious influence on Tim Burton's cartoon drawings of the early 1980s.
Saturday, December 5, 2009, 5:45 p.m.
Theater 1 (The Roy and Niuta Titus Theater 1), T1
Sunday, December 6, 2009, 5:30 p.m.
Theater 1 (The Roy and Niuta Titus Theater 1), T1
MoMA
The Museum of Modern Art
11 West 53 Street
(bet. Fifth and Sixth Aves.)
NYC
www.moma.org
December 7th, Monday 5:00 & 7:40pm
Jacob Burns Film Center presents – Evangelion: 1.0 You Are (Not) Alone
Part of the Jacob Burns Film Center's monthly series,
The Wide World of Animation
– exploring the limitless possibilities of art animation.
All that remains of Japan is a city under attack by giant creatures seeking to eradicate humankind—and it's up to a lonely teenage boy to defend it. Anime audiences around the world rave about Hideaki Anno's dazzling reworking of his
Neon Genesis Evangelion: The End of Evangelion
(1997), with all the latest CGI bells and whistles. This action-packed, award-winning blockbuster is the first in his projected series of four.
The Jacob Burns Film Center
364 Manville Road
Pleasantville, NY
www.burnsfilmcenter.org
December 12th & 13th
Brooklyn Academy of Music presents - Sesame Street: A Celebration!
Celebrate the 40th anniversary of
Sesame Street
with this weekend of films and clips from the beloved TV series. Co-programmed by Muppet historian and vice president of the Jim Henson legacy, Craig Shemin. This program is open to children of all ages.
BAM Rose Cinemas
Brooklyn Academy of Music
30 Lafayette Avenue
Brooklyn, NY
www.bam.org
December 12th & 13th
The Independent Film Center presents - Pom Poko
NYICFF is very excited to present this rarely screened gem from Japan's famed Studio Ghibli (
Ponyo, Spirited Away
) by Ghibli co-head and master animator Isao Takahata. The forests are filled with groups of magical tanuki, mischievous raccoon-like animals from Japanese folklore that are capable of shape-shifting from their standard raccoon form to practically any object. They spend their idle days playing in the hillsides and squabbling over food, until the construction of a huge new Tokyo suburb clears the nearby forest and threatens to destroy their way of life. In an effort to defend their home, the tanuki learn to transform into humans and start playing tricks to make the workers think the construction site is haunted – ending in a spectacular night-time spirit parade, with thousands of ghosts, dragons and spirit creatures descending on the city.
Audiences will revel in Ghibli's trademark brilliant animation, with its humorous and wondrously inventive characters and sumptuous hand-painted backgrounds given loving attention to detail. But what makes
Pom Poko
special is the depth of emotional expression – a joyous, playful comedy containing a heartfelt plea to stop human destruction lest the Earth's animals, spirits, and magic become things of the past.
Sat, Dec 12
at: 11:00 AM
Sun, Dec 13
at: 11:00 AM
The IFC Center
323 Sixth Avenue
NYC
www.ifccenter.com
December 16th – 29th
The Film Forum presents - A Town Called Panic
Horse, Cowboy and Indian have a strange and wonderful ménage à trois. Animating generic plastic toys, these Belgian directors fashion an absurdist world that has plenty of room for friendship and love, birthday presents, online shopping, music lessons, and home improvements. Their francophone universe — recognizable to anyone who has ever been intimidated by a Parisian waiter — is filled with equal parts hilarity and anxiety. Horse is the most "mature" of the three and Cowboy and Indian are intent on winning his favor. Meanwhile, Horse — barely aware of their efforts — concentrates on wooing Madame Longray, the village's sexy equine music teacher. This is animation for both adults and kids, in fact for anyone who has ever enjoyed the company of a plastic figurine on a rainy day.
A TOWN CALLED PANIC
is the only stop-motion animated feature to have been shown in the official selection of the Cannes Film Festival.
Note:
Occasional bad language in the subtitles, but otherwise entirely appropriate for children.
The Film Forum
209 W. Houston Street
Bet. 6th Ave and Varick(7th Ave)
NYC
www.filmforum.org
www.atowncalledpanic.com
December 19th & 20th
The Independent Film Center presents - Winter Wondershorts
The weather outside is frightful, but these shorts are so delightful! Experience all of the splendor and magnificence of winter without the chattering teeth and frostbitten fingers. Grab your friends, your family, and your hot cocoa and come curl up in front of the big screen as the New York Int'l Children's Film Festival presents three beautiful animated short films celebrating snow, ice and all of winter's exciting wonders!
The program includes:
LEON IN WINTERTIME
– Animation, Canada, Pierre-Luc Granjon and Pascal Le Notre, 2007, 27 min
SPOT & SPLODGE IN SNOWSTORM
– Animation, Sweden, Uzi Geffenblad and Lotta Geffenblad, 2008, 7.5 min
CHOO-CHA
– Animation, Russia, Garry Bardin, 1997, 25 min
Sat, Dec 19
at: 11:00 AM
Sun, Dec 20
at: 11:00 AM
The IFC Center
323 Sixth Avenue
NYC
www.ifccenter.com
(Thanks
asifaeast
)
Ice Age: Dawn of The Dinosaurs: An Evening with Director Carlos Saldanha
According to Wikipedia,
Ice Age: Dawn of the Dinosaurs
is
"the second highest grossing animated film of all time with $874.5 million worldwide."
Which also means,
Ice Age 3
has bested every Pixar production at the box office.
Quite an achievement for director Carlos Saldanha, a 1993 School of Visual Arts graduate from Brazil, who began a career in computer programming before listening to the inner voice that would lead him to direct four high profile feature films (
Robots
, and all the
Ice Age
movies) for Blue Sky Studios.
In person Carlos is inspiring and talkative. He spoke openly about his process, offering valuable insights to the many students in attendance, emphasizing focus and work ethic, two qualities he credits for his own successes.
I asked Carlos
"What was the most important moment of your career?"
He immediately identified his first and only independent short, a thesis project for The School of Visual Arts, where he didn't have to negotiate the many collabrative forces that typically accompany a big budget feature. The short is his vision, pure and unadulterated.
Perhaps Carlos, at heart, is an independent filmmaker.
How can you not love this guy?
Unfortunately, I thought
Ice Age 3
a terrible movie.
The action scenes were good, particularly the pterodactyl sequence, I enjoyed some of the character designs, Rudy's in particular, and I thought the choices in color palette and camera shots excellent overall.
Yet the dialogue was only slightly more interesting than cats scratching on chalkboard, while the characters had about as much charisma as a dead mackerel. I never laughed once.
For instance, Buck, a weasel/ferret deranged army vet character, jumps into frame and says:
"I'm about to go Buck Wild!"
No Buck, no. Don't say that. Don't. Say. That.
Yet the characters go on to perform many more mercilessly generic lines, gags, and expressions. No talking beast was spared. Even the movie itself never really had anything important to say.
Yet this film still made a tyrannosaurus sized footprint in the industry, such is the power of children's entertainment, where quality is irrelevant to box office gross.
After all,
Shrek 2
is the highest grossing animated film of all time.
Wish I didn't know that.
But I do wish to see Saldanha attempt another personal project some day. Focus and hard work may not guarantee a good film, but success cannot be had without them.
-John Lee
http://darthfurby.com
(Thanks
asifaeast
)
Up:rising with Story Artist Enrico Casarosa!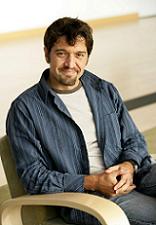 Everything about Up is like no other film. Its characters, its location, its look, its flavor and – certainly first of all – its story, as Pixar's tenth animated hit is a most unique blending of inspired whimsy with powerful emotion, the hugely successful feature film an artistic and entertaining tour de force for the entire family.

For which we must praise its incredible story team, driven by director Pete Docter and head of story Ronnie del Carmen, and the person we meet today, one of the most creative and touching storymen Pixar has ever counted in their ranks, Enrico Casarosa.

We have already met Enrico to chat about Ratatouille and his own Venice Chronicles, but today, we have the pleasure of speaking with him about Up, about how Pixar came to create something so unique and, most importantly, so touching, through the improbable means of a grumpy old man and a turbulent little kid!

Up-solutely winning!
Animated Views: How did the writing process of Up start for you?

Enrico Casarosa:
When I started on the project they had already started boarding a version of the first act and some of the second. There's a bit of my work in the second and a more in the third. There was a lot of re-writing and re-boarding as it always happens. A fun part of this production for us was that we worked together a lot as a team. For example pretty early on we brainstormed the third act of the movie with its action and finale. That was a lot of fun and its structure stayed pretty much the same in the finished movie. It's also the most inclusive kind of working style I've experienced. We were all working on a lot of different sequences and swapping tasks. Ultimately it makes it a bit hard to find a sequence that is all yours, but that's really not an important thing and ultimately your ideas and drawings still spread out throughout the movie. I did have the pleasure of boarding the credits sequence with my co-worker Bill Presing, that was fun.
AV: It seems like a particularly enjoyable process.

EC:
I think it had to do mostly with just working closely with people like Pete Docter, Bob Peterson and Ronnie del Carmen, their sensibility being very close to mine. We were on the same page pretty quickly and easily. And the movie and its characters are so wonderfully unusual. You don't get to work on such stories very often necessarily in this business. So, I felt very lucky in that.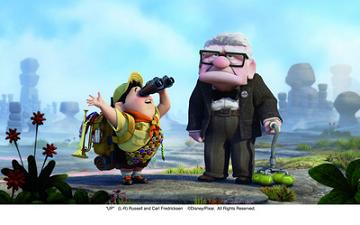 AV: The first strong impression we have watching the movie comes from the silent sequence on Carl and Ellie's married life and Ellie's passing away.

EC:
A lot of the credit there goes to Ronnie del Carmen who boarded most of that sequence. It was sculpted carefully throughout the production, but already from our the first rough screening, we saw people getting quite emotional watching it, it really hit a deep spot in many viewers. We realized pretty quickly we had managed to capture something meaningful there.
AV: The core of the film lies in the relationship between Carl and Russell. How did you handle that?

EC:
That's something we knew we had to really nail. It was very important to have these two characters forced together and this little boy just kind of challenging Carl's nature. This inquisitive little guy is the worst possible thing that could happen to a grumpy old men! We also knew that we had to really find a connection between the two. A certain emptiness they both had in their life that the other could fill. We worked hard on the ark between these guys.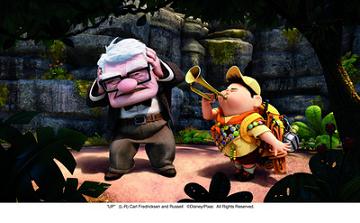 AV: Up is about an old man and a young kid while you, at Pixar, are rather in your 30s and 40s, so, just inbetween. What kind of connection did you have with the two of them?

EC:
To begin with, Pete Docter and Bob Peterson tried to connect to their own personal life. I think that Pete really thought a lot about his own grandfather, for example. And they also did their homework going to visit old folks' homes. They went to play music there; Pete Docter plays the stand-up bass for instance. They're all quite accomplished musicians, so they fancied themselves as entertainers and all the residents loved it!
In the meanwhile they were also studying quite carefully their audience, looking at postures, motions and attitudes. They were observing what that life is like, how they move, how they act. They did that before I joined the project unfortunately but that sounded like a really great experience. Ultimately, I think what's sweet about Up's story is that it made us all think about our overall life and the life of our families.
I personally thought about my grandfather. My grandma died many years before he did and there was certainly anger in my grandpa after her death. He was angry at whatever God there is who let him live much longer than his beloved soulmate. I am certain he wanted to die soon after her and join her. The movie certainly made me ponder about my wife and and the time when we'll have to part. They are sad thoughts but ultimately they have to power to make us enjoy and value the life in front of us this moment.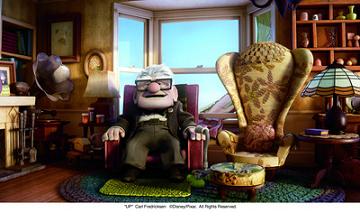 As for the little kid, it was a harder one to really feel in a personal way. He's a little bit cartoonier a character but he also has his own problems. He has a broken-up family, so he's actually missing something as well. It made a lot of sense for these two guys to come together since they both have missing pieces in their lives. We tried to make it so that they really come to do need each other.
That's what's great and unusual about a story like this. It makes you think about such deep things … like death, but also about the fact that when we are still on earth we have to do something with our life, make connections, live it to the fullest. These are some amazing themes that we ended up tackling.
Another thing that I've always loved of this tale is that you can argue Carl is just going there to die; he's kind of on his last trip. I always saw it that way. And I always thought that in some way this little kid gives him the will to keep on living. Carl is trying to make the last wish of his wife come true, but he's also going to join her through this crazy trip. That element of the story stayed subtle but I've always liked to imagine it that way. And Russell is what makes Carl realize that she wouldn't want him to join her and that there's still things to live for. It's such a subtle, wonderful story with an important, emotional aspect to it. It's really pretty amazing if you stop and think about it, are we talking about an animated movie, here?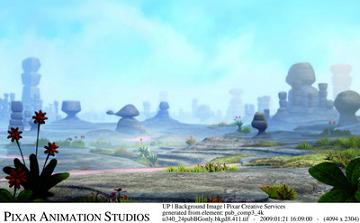 AV: How did you integrate these characters in that very special environment that is the Tepui in South America?

EC:
From the beginning, we thought that the Tepuis, the mountains and the surroundings needed to be a character too. How do you convey that? It was challenging in a way because it was such an unknown kind of a place, you know. Then Pete, Bob, Ronnie and some of the art team went to visit the Tepuis in Venezuela and it's really a surreal and foreign surrounding. It was a challenge to try and it make feel realistic. Some of these things just did not feel regular at all: the shapes of the rocks on these flat mountains for example are just bizarre. So, one of the art department's tasks was to make this place feel as something that really exists.
AV: If the environment is unlikely, one of its inhabitants is very much, too. Can you tell me about Kevin?

EC:
It changed a lot along the way. In some of the earlier stages, we even thought this bird could be close to a dinosaur, since it was supposed to be very, very special, and to be the missing link. So, we toyed with that idea and others too. There was a lot of searching to find what this guy was about in the story and by reflection art went through quite a few designs as well. And because of our bad guy Muntz, we knew the bird needed to be special enough for us to believe that someone would be there chasing it around for years.
We even had an interesting early on that the bird had some eggs and that they were a fountain of youth sort of elixir. We were just playing with these kind of interesting ideas and took them as far as we could. We explored that and then realized as much as it was entertaining it felt a little bit grotesque and didn't fit the rest of the movie's themes. So, I think that the final version we found of the bird ultimately works very well. It still makes a lot of sense that Kevin would be the missing link, a connection between birds and dinosaurs. So, we thought of big dinosaurs crossed with birds. That's where the design came for its big legs.
We also had some ostriches visiting us here at Pixar! We had two of them in the grass in front of the company. We studied them and sketched them for a few hours. It was also interesting to find a balance in terms of her personality. We didn't want her to be too smart. We just wanted to have her feel like a real bird so we policed ourselves to curb any behavior that felt too human for her.
AV: Now, I understand you've been working on Cars 2? How is that coming along?

EC:
Well as always there's more I can't tell you than what I can and I've actually moved to a new project in development, of which unfortunately of course I can tell you even less! But yes,
Cars 2
is gonna be a lot of fun! There's a lot of great new characters. And there's something really interesting about showing the rest of world through the
Cars
prism.
Everything I saw in art looks amazing! You have these different cities around the globe seen through that very special philosophy of design. It's an international action movie we are talking about here, so there will be many countries who'll get to see a "car-ified" version of their nation! That should be really neat.
Where Where The Wild Things Are Came From
With the UK preparing for the release of Spike Jonze's feature film version of Maurice Sendak's
Where The Wild Things Are
on
December 11
, the
Guardian online
has the director and co-writer Dave Eggers lightheartedly recalling the cold day they visited the author at his Connecticut home to talk about filming his book.
Was Walt a racist?
With the upcoming
The Princess and the Frog
giving Disney its first black princess, some say that Walt Disney would be spinning in his grave since he was really a racist — a charge detractors have leveled over the years. The
L.A Times
takes an in-depth look at the history of the man and finds that the truth is
"much more complicated and nuanced than either his enemies or supporters would have you believe".
Clements and Musker interviewed
The directors of
The Princess and the Frog
, Ron Clements and John Musker, are on the promotional circuit for their new film. You can check out interviews with the two at
AWN
and the
L.A.Times
.
Shaun the Sheep DVD Sales Soar as New Series Debuts
Its may not be an American production, but the makers of
Shaun the Sheep
have plenty to be thankful for this week, having sold more than 2 million home entertainment units worldwide and premiering a new series in the U.K.
The popular Aardman series reported home entertainment sales of more than 1 million in Germany, 500,000 in the U.K., 120,000 in Australia and 90,000 in the United States.
The new series of 40 seven-minute episodes begins airing Nov. 23 on CBBC on BBC One.
"Shaun the Sheep is proving to be a sustainable brand both in the UK and internationally," says Sean Clarke, head of rights at Aardman. "
Reaching 2 million DVD sales worldwide is testament to Shaun's ongoing appeal and we are excited to be bringing new episodes to his fans in the U.K., followed by and international rollout in 2010."
The first series of
Shaun the Sheep
has racked up television sales and licensing deals in more than 150 territories and has won several accolades including the Cristal Award for Best TV Production at the Annecy Animated Film Festival 2007, the Audience Choice Award at the World Comedy Film Festival 2007 and winner of the Age 5-10 Audience and Parent's Choice Awards at the New York International Film Festival 2007.
(Thanks
Animation Magazine
)
Group Animation Short Debuts in Theaters, iTunes
Live Music
, a short CG-animated film created by Facebook users, debuted simultaneously this weekend in theaters and in Apple's iTunes Store.
The short film is playing in theaters in front of the Sony animated feature
Planet 51
on some 500 digital screens nationwide.
Created by a Facebook group of more than 50,000 artists and fans,
Live Music
is the result of a partnership between distributor Shorts International and Mass Animation. The final film credits 51 finalist animators from 17 countries.
"To be available on iTunes and in theaters on the same day with Live Music is a big deal for everyone involved in the project,"
said Yair Landau, founder of Mass Animation, director of
Live Music
and former Sony Pictures' vice chairman.
"It's fitting that our digital project is available on iTunes, the world's most popular online music and movie store, in addition to being in movie theaters across the country."
Accompanying the release of
Live Music
, Shorts International has produced the documentary
Live Music: Behind the Screens
. The 30-minute film charts the making of
Live Music
from its inception, interviewing key participants including some of the winning animators whose efforts can be admired in the final film.
Live Music: Behind the Screens
will be available on iTunes on
Nov. 26
, as well as broadcast on Shorts HD at 9 p.m. on the same day.
(Thanks
Animation Magazine
)
Autodesk Connects Artists via 11th Annual 3December Events
Autodesk will celebrate the creation of 3D computer graphics with its 11th annual 3December event, which runs from
Dec. 1-10
. The event will include both live and virtual events and is co-sponsored by Dell Precision, Wacom and Intel,
The virtual event begins Dec. 1 at area.autodesk.com/3december and will include:
• A free Autodesk MasterClass about how Liquid Development's creative team developed assets for
The Beatles: Rock Band
video game.
• An interview with award-winning filmmaker Chris Landreth about his production workflow
• A live presentation by Lightstorm Entertainment from Autodesk University about how moviemaking technology can be used for visualization on
December 3
at 1 p.m. EST
• Tutorials and more
Visitors will also be able to vote for the 2009 Autodesk Masters. This annual program recognizes exceptional Autodesk 3ds Max, Autodesk Maya and Autodesk Softimage software artists and technical specialists whose work and dedication have significantly contributed to the advancement of computer graphics.
On the live side of things, the event includes a presentation by Harmonix, developer of the
Rock Band
and
The Beatles: Rock Band
video games,
Dec. 3
in Montreal. For more information and to register for the Montreal event, visit
area.autodesk.com/3dec
.
In addition to the Autodesk-hosted event, Autodesk user groups and channel partners will hold live 3December celebrations around the world, including North America, United Kingdom and Spain. Contact the leader of your Autodesk Animation User Group Association to see if a 3December meeting is planned in your city. Some user group and partner event information will also be posted at
area.autodesk.com/3dec
.
(Thanks
Animation Magazine
)
Chapman Assembles Toon All Stars for BBC Charity Video
More than 100 animation all-stars — from
Bob the Builder
and
Ben 10
to
Scooby-Doo
and
Pudsey Bear
— are currently appearing in the annual BBC Children in Need video single produced by Chapman Entertainment and its partners.
The video, titled
Animated All-Star Band
, is a charity project designed to raise money for children's organizations in the U.K. It was more than two-years in the making and premiered Nov. 20. Chapman's partners in the project included The Voice and Music Company, Hullabaloo Studios, Studio Liddell and Mackinnon & Saunders.
A medley of popular songs were combined by Chapman's Peter Kay for the charity single including
Can You Feel It, Don't Stop, Jai Ho, Tubthumping, Never Forget, Hey Jude
, and
One Day Like
. Stars collaborating on the single included Ringo Starr, Neil Morrissey, Jane Horrocks and Bernard Cribbins.
The Chapman Entertainment team was lead by director of production and producer of the single, Emily Whinnett; along with Tim Harper, the director; Phil Chalk, producer; Claire Pugh-Williams, assistant producer; and Charlotte Day, director's assistant. Peter Kay was the executive producer of
Animated All-Star Band.

"It's taken two years of planning to create the video and I just know people are going to be both astonished and delighted,"
says Kay.
"It's been a real labor of love and the result is joyous!"
The single was produced at Chapman Entertainment's studio in Altrincham, Cheshire, and features over 100 animated characters including Chapman's own Big Chris from
Roary the Racing Car, Fifi and the Flowertots, Bob The Builder, In The Night Garden, The Wombles, The Thunderbirds, Teletubbies, Postman Pat, Bagpuss, Ben 10, Bill and Ben, Andy Pandy, Peppa Pig, Fireman Sam, Pingu, Paddington Bear, Scooby Doo, Angelina Ballerina, Sooty and Sweep, Rainbow, The Woodentops, Muffin the Mule
and
Pudsey Bear
.
(Thanks
Animation Magazine
)
Upcoming in Japan

Promos and PreviewsTrigun: Badlands Rumble
- teaser for the anime movie due out in 2010
Katanagatari
- based on NisiOisin light novel
Darker Than Black: Black Contractor OVA. The Black Contractor
Durarara Perfect Guide
- an intro to the new anime from the makers of
Baccano
, based on light novels by Baccano's author
Mai Mai Miracle
Higanjima
Korean/Japanese co-produced adaptation of horror manga
Anime
Singapore's Storm Lion Pte Ltd and Japan's Production I.G, Inc.
announced at the Animation Asia Conference a collaboration between the two companies
in the creation 3D CG animated feature film
Titan Rain
. The movie is to be directed by Atsushi Takeuchi (mecha design and key animation
Ghost in the Shell
and
Ghost in the Shell 2: Innocence
), based on a story by Tow Ubukata (
le Chevalier d'Eon
) and Edmund Shern,
TITAN RAIN
will also feature characters and concepts will be designed by Takashi Okazaki, the world-famous creator of
"Afro Samurai.
"
Bear McCreary (
Battlestar Galactica
) will be providing the soundtrack.
*
Sci-fi anime director Tatsuo Sato (
Nadesico, Stellvia
) is on board to direct
Satelight
(
Aquarion, Noien, Macross F)
produced
Mini-skirt Space Pirates
, based on the light novel by Sasamoto Yuuichi.
Speaking of Sato's work,
Nadesico
will be will released on Blu-ray in Japan on
February 24
, with the TV series along with the
Prince of Darkness
movie and
The Gekigangar 3
OVA.
Stellvia
will be released on Blu-ray on
March 24
th.
*
PEACH-PIT of Rozen Maiden and Ryukishi 07 of Higurashi
will be collaborating on the anime adaptation of horror/mystery PSP game Okami Kakushi
The anime is slated to be aired from January 2010 on TBS, BS-TBS and Sun TV
The opening song
"Tokino Muko, Maboroshino Sora (Over the time, Beyond the sky)"
is done by FictionJunction (Yuki Kajiura and Kajiura), which will be their second single as a group.
The ending song
"Tsuki Shirube(Sign of the Moon)"
is written and composed by Takumi Ozawa and sung by Yuuka Nanri, known for
Mobile Suit Gundam SEED
and
.hack//Roots
. Nanri was once a vocalist of FictionJunction and became solo singer in 2009.
*
Shonen Jump demon-boy manga
Nurarihyon no Mago by Hiroshi Shiibashi
will be adapted into anime.
Upcoming in North America
Adult Swim is now offering a
custom DVD service
, where users can select up to 110 minutes of content with a cover image and menus for $20
Worth Checking Out...

Insight
Robot 6 presents an
Osamu Tezuka 101
Joe McCulloch's must read look at
Astro Boy, including the powerful Angel of Vietnam story
Tim Maughan on Momoru Hosoda's (
The Girl Who Leapt Through Time
) new feature
Summer Wars
Episode 106 of the
Anime Today
podcast features elen McCarthy – the author of the recent books
The Art of Osamu Tezuka: God of Manga
and
Manga Cross-Stitch
In this new interview, McCarthy discusses what anime and manga fans can gain by learning about the background of
Astro Boy
and
Black Jack
creator Dr. Osamu Tezuka, the relevance of his work to today's audiences, how her biography's pop culture perspective differs from a more academic examination of his career, and which Tezuka works are her very own personal favorites. (The rest of this interview, focusing on her other new book,
Manga Cross-Stitch
, will air in episode 107 of Anime Today on
December 4, 2009
.)
Destroy All Podcasts DX Episode 117 - Musashi: The Dream of the Last Samurai
Media
Tezuka Museum photos
Mechani-Kong and Dr. Who's secret pyramid
The Themes of...
Master Keaton
"anime style" Shining
Mish-Mish in National Defense
We've posted about Mish Mish cartoons
before
- but here's a new one you gotta see. The character was the star of a popular Egyptian cartoon series of the 1930s by the
Frenkel Bros
. - who apparently were so taken with American cartoons they literally traced animation, character designs and ideas directly from them. This one,
National Defense
, is a World War II epic presented in two parts. In the musical first half, the animators borrow from Bosko and Buddy, mix belly dancers and dancing hooka's, and possibly the worst caricatures of Laurel and Hardy, Eddie Cantor and Charlie Chaplin you'll ever see. The second half takes place on the battlefield and it's probably the funkiest animated propaganda ever made. The crude animation only adds to the charm. No matter what you think of Mish Mish, they don't make 'em like this anymore!
(Thanks, Milton Knight)
(Thanks
cartoon brew
)
"Spirited Away" on list of best films of decade
Japanese director Hayao Miyazaki's
"Spirited Away"
is the sole animated movie on a Toronto-based list of over 50 of the decade's most respected films.
Apichatpong Weerasethakul's Thai art-house movie
Syndromes and a Century
heads the tally of films chosen as the best of the 2000s by TIFF Cinematheque, the year-round screening program of the Toronto International Film Festival. The list was announced Monday.
Spirited Away
is one of eight films that are tied for 25th place.
Beginning January 21, TIFF Cinematheque presents
The Best of the Decade: An Alternative View
, a curated series based on the poll conducted by TIFF Cinematheque senior programmer James Quandt. A panel of over 60 film curators, historians, archivists and programmers from festivals, cinematheques and similar organizations around the world participated and were asked to pick the films they thought were the most important of the past decade. The poll's participants are connected by their leadership in the field of historical film curation, with most having published books, essays and polemics on cinema, bringing perspectives that distinguish this poll from other end-of-the-decade polls.
"Their perspective,"
says Quandt,
"should give us a longer view of the films made in this decade, the films that should stand the test of time and be acknowledged as historically influential works in the decades to come."
The poll includes works by venerable masters such as Abbas Kiarostami, Agnès Varda, Ingmar Bergman, Jean-Luc Godard and Pedro Almodóvar; directors who broke onto the international scene in the past 10 years, including Weerasethakul, Carlos Reygadas, Cristi Puiu, Jean-Pierre and Luc Dardenne, Jia Zhang-ke and David Cronenberg; and indie renegades like Gus Van Sant, Pedro Costa and Lucrecia Martel.
It also features many pleasant surprises, from the inclusion of a largely unknown film, Valeska Grisebach's
Longing
(2006), which was highlighted during TIFF Cinematheque's Berlin School series last Winter, to the strong showings for films that were not necessarily well received on their initial outings, such as Van Sant's
Gerry
(2003) and Claire Denis's
L'Intrus
(2004).
Films were scored according to a point system designed to measure not only how many individual votes a film received, but also the intensity of support (i.e., an indication of frequency and strength of advocacy). The poll participants, half of them new to the task since the 1990s poll, include representatives from some of the most important film institutions from around the world, including the Museum of Modern Art (New York), the British Film Institute (London), the UCLA Film and Television Archive (Los Angeles), Wexner Center for the Arts (Columbus), Filmoteca de la UNAM (Mexico City), George Eastman House (Rochester), Austrian Film Museum (Vienna), World Cinema Foundation (New York), Vancouver International Film Festival, Centre National de la Cinématographie (Paris), Canadian Film Institute (Ottawa), Las Palmas de Gran Canaria International Film Festival, Berkeley Art Museum and Pacific Film Archive, Swedish Film Institute (Stockholm), Berlin International Film Festival, Haghefilm Foundation (Amsterdam), Tokyo FILMeX and TIFF Cinematheque.
The countries most prominently represented in the poll include France (21), U.S.A. (nine), Germany (seven), Taiwan (six), and Japan, China and Italy (four each).
The series will run until
February 23
, featuring a curated selection of 38 films from the final poll, which contains 54 titles in total.
Justice League: Crisis on Two Earths Feature Set for February
The most powerful heroes in the DC Comics universe are going to do battle with their alternate selves in
Justice League: Crisis on Two Earths
, an original DC Universe animated feature due out
Feb. 23
on DVD and Blu-ray.
The animated feature, the seventh in the DC Universe line, features a story by comics and animation writer Dwayne McDuffie that brings the DC tradition of multiple Earths to animation. Lauren Montgomery and Sam Liu are directing the film, while Bruce Timm is executive producer.
The voice cast for the movie features Mark Harmon as Superman, James Woods as Owlman, Chris Noth as Lex Luthor, William Baldwin as Batman, Gina Torres as Superwoman and Bruce Davison as the President.
Here's a look at a clip from the project:
The feature will be released on single-disc DVD fro $19.98, a two-disc Special Edition DVD for $24.98, and a two-disc Blu-ray for $29.99.
The Special Edition and Blu-ray editions will include an animated short titled
DC Showcase: The Spectre
, written by Steve Niles and featuring the voices of Gary Cole and Alyssa Milano. Other features include a documentary on the new breed of comics like
Identity Crisis
and
Final Crisis
being published by DC, and an exclusive look at the next DC Universe animated feature.
The Blu-ray will feature additional exclusive content, including bonus episodes of
Justice League Unlimited
and live-action TV pilots for
Wonder Woman
and
Aquaman
series.
(Thanks
Animation Magazine
)
Image Metrics Animates Faces for Assassin's Creed II
Image Metrics provided facial animation for many of the cut scenes in the current hit video game
Assassin's Creed II
, developed by Ubisoft Montreal. The game was the first collaboration between Image Metrics and Ubisoft.
"One of the most anticipated games of the year, Assassin's Creed is renowned for its stunning art design and rich graphics,"
said Brian Waddle, executive vice president of Image Metrics.
"Image Metrics is honored to have used our facial animation technology to help Ubisoft enhance the sequel even further through compelling cinematics that feature emotionally engaging characters."
The game creates a new hero in Ezio Auditore da Firenze, a young Italian noble out to protect his dynasty from the power hungry Knights Templar.
Image Metrics optimized performance capture and character rigs provided by Ubisoft to deliver 28 minutes of facial animation for 23 different characters in the game. The project was completed in eight weeks, using Image Metrics' proprietary facial animation and rigging technology.
"With their track record, solid technology and very good service, Image Metrics quickly became our first choice for a facial animation partner for Assassin's Creed II,"
said Jean-Francois Boivin, production manager, missions and cinematics.
"Timing was also crucial to the project. We had to deliver over two hours of cinematics, including 30 minutes of facial close-ups, within tight deadlines. Image Metrics was able to produce the quality and quantity of facial animation Assassin's Creed II demanded in the short timeframe we had for the project."
(Thanks
Animation Magazine
)
Squeakquel soundtrack to feature 15 songs
Amazon
now has a soundtrack listing up for the upcoming
Alvin and the Chipmunks: The Squeakuel
. This time, the Chipmunks will be joined by their furry female companions, the Chipettes, to perform 15 well-known pop songs. The album is set to hit store shelves on
December 15th
, with the movie's release to theaters happening the following week.
Casting Mr. Fox
Wes Anderson recently spoke with
ComingSoon.net
about how he went about selecting the cast for his critically acclaimed new animated film,
Fantastic Mr. Fox
. The article also has interviews with a few members of the cast, including Bill Murray, who provides the voice of Badger.
Fantastic Mr. Fox
goes nationwide on Wednesday.
Disney/Pixar Up-Load George and AJ
Today we've been treated to a new animated short from
Disney/Pixar
. Hearing that, you'd assume it's a CG-animated film, but instead it's a short 2D film from the world of
Up
, and in fact, it's not really animated much at all. George and AJ was first released as an extra alongside the iTunes release of the film and it looks as though it was based on artwork produced for a Golden Book. It was written and directed by Pixar story artist
Josh Cooley
(storyboarded on
Up
), an animated in After Effects by
Catherine Kelly
. Even without Pixar's typical animated wizardry, Ed Asner's voice or even lip-sync – it's still quite entertaining, no?
VFS Grad Serves Up See Food
Josiah Vanderham
, a recent graduate of
Vancouver Film School
's Classical Animation Program, illustrates a strong sense of character in this film below. The 2:30 minute short is titled
See Food
.
Secan Show Says Hello & Goodbye
I really enjoyed this opening animation for the 2009
Sejong University Cartoon & Animation Graduate Show
(Secan Award 2009), which runs until tomorrow in Seoul, South Korea. The piece is titled
Hello & Goodbye
and it was by
Kyunsoo
.
SuperNews! Attacks Twilight Vampire OverloadTwilight: New Moon
came in third this weekend at the box office (clarification: third biggest opening of all time), but, unlike the rest of the media, we still think it's worth talking about. And so does the crew at
SuperNews!
, who bit into this Hollywood-centric parody about a city obsessed with vampires. It's titled
Vampires: Hollywood Bloodsuckers
, and
SuperNews!
airs on Current 11pm / 10pm central.
Burton Art
Not Richard's, but
Tim'
s
...
... [F]rom now until April, the Museum of Modern Art in New York is doing just that, with a major career retrospective of Burton's art and movies.

On display are more than 700 pieces — paintings, sketches and sculptures, including rare concept art — from Burton's films and abandoned projects ....

Disney hired Burton in 1979, at a time when the animation department was trying to create a dark movie to win back the kinds of teenage audiences who had flocked to
"Star Wars."
Burton's gothic sensibility seemed a natural fit for Disney's first PG-rated animated feature
"The Black Cauldron."
"Clearly,
'Black Cauldron'
was a project that was a real Tim Burton project. It was about this cauldron that produces armies of evil,"
Magliozzi said.
"It really inspired Tim. I think he produced 350 pieces of concept [art], not a single one of which was used in the film. ...
Just about every cartoon newbie at the House of Mouse was frustrated by Cauldron, not just Burton.
Musker, Clements, and most other young up-and-comers in the Disney animation department got bounced off the film. Tim, after hearing raves for his designs in different meetings ... and then seeing them go exactly nowhere, ended up getting a toe-hold in live-action by doing lower budget live-action featurettes for the Disney Channel.
He moved on from there, going from
Frankenweenie
to
Pee Wee's Big Wdventure
and beyond.
His development art for different animated projects was edgy and brilliant. And it freaked out a lot of the old guard. They had no idea what to do with it ...
Joe Ranft and Tim Burton ... in simpler times before vampires were truly appreciated
.
(Thanks
Animation Guild Blog
)
Disneyana
Today was my hat building day, and up on the third floor, a story artist remarked how
Princess and the Frog
knick knacks are selling really, really well.
"I was told that Target released its
P and F
stuff early, and that it sold out! And Target has now reordered!
"And the picture isn't even out yet..."
I wasn't sure how accurate this anecdotal evidence was, so when I returned to the office I consulted The Google, who
told me
...
The Princess and the Frog
Products in High Demand
Pre-film awareness boosts products in the U.S. ...


Since its launch just a few weeks ago, retailers have reported that the range has already begun out-selling other Disney Princess items by double digit percentages.

More than 45,000 dolls have sold in less than a month with 17,000 selling last week alone. At one major retailer,
The Princess and the Frog
bedding has sold nearly triple the amount of regular Disney Princess bedding ...
So whattayaknow? Apparently the dolls and comforters and wind-up action figures are flying off the shelves.
I said to a couple of other Disney story guys I felt this bodes well for the picture. I told them I thought that the Froggie and Princess would have a solid opening and go on to make money for Diz Co.
(Go ahead, call me a starry-eyed Pollyanna. I'll hate you for it, but you'll be posting anonymously, so what do you care?)
Elsewhere in the animation division, more people informed me that
Joe Jump
is back on the front burner development-wise, and
King of the Elves
is being
"retooled."
Have a joyous Thanksgiving ... and if you're already on vacation, please know that I'm jealous. (And in case you haven't seen it, the LA Times big piece on Disney Pictures restructuring is
here
.)
(Thanks
Animation Guild Blog
)
Tobey Maguire Likes The Lizard For Lead Villain In 'Spider-Man 4'
Tobey Maguire may not know the histories of all the villain picks in Splash Page's recent
"Spider-Man 4"
poll
, but he does know what director Sam Raimi likes. The Lizard came in first during our fan voting, with Carnage taking second and Mysterio landing in third place. Maguire reacted to all three choices, but clearly has an opinion on which picks are most likely.
"I'm more familiar with Lizard and Mysterio, and I don't know -- I like them as villains,"
Maguire told MTV News.
"I think they're great, and Lizard obviously has a very personal relationship with Peter Parker, so we often will go towards that kind of stuff."
Carnage, meanwhile, falls a little off of his radar, but that doesn't mean he hasn't thought about Peter Parker facing off against the symbiotic spawn.
"I'm not that familiar with Carnage,"
the actor explained.
"I'm aware of Carnage, but I know Sam was sort of a fan of the early Spider-Man comics, and Carnage comes much later."
That answer jives with
Raimi's character choice
s thus far for the franchise, but until the new sequel's cast goes public, anyone from Spider-Man's rogues gallery could be fair game. Venom, for instance, came long well after the Stan Lee and Steve Ditko years on
"The Amazing Spider-Man"
had passed. Nevertheless, if Raimi prefers characters from Spidey's early history, the Lizard could be a safe bet.
'Lobo' Test Has Been Filmed, Says Producer Joel Silver
Fans at next year's San Diego Comic-Con International may get the first opportunity to see what Guy Ritchie's big screen adaptation of
"Lobo"
will look like. Producer Joel Silver has revealed that a
"Lobo"
test was recently filmed with the annual pop culture event in mind.
"We're working on 'Lobo' now,"
said Silver during an interview with
Collider
.
"I was looking at a test we made and I was seeing it through the eyes of [the San Diego] Comic-Con — through the eyes of that audience. It's important to know that that audience is the biggest in the world. That's the audience that you want to get."
Back in September, Jeffery Dean Morgan — perhaps best known to comic fans as The Comedian in Zack Snyder's adaptation of
"Watchmen"
— stated that
he wants to portray Lobo
while on the set of his most recent film,
"The Losers."
However,
Morgan later told MTV News
"I don't know if I'm the guy or not, but I think it's going to be one hell of a movie. I'll certainly be going to see it."
When asked about Morgan's comments, Silver replied
"I like Jeffery Dean, but you know we're working our way through it. We'll see what happens."
Last month, actor James Preston Rogers (
"Outlander"
) was
named by Splash Page readers as their preferred choice for Lobo
while current
"Lobo"
scribe — and Anthrax guitarist —
Scott Ian suggested Matt Willig
(
"Dexter"
).
'Reservoir Dogs' Meets 'Teenage Mutant Ninja Turtles' In Mash-Up Trailer
If you ever thought 1990's live-action
"Teenage Mutant Ninja Turtles"
movie really could've used more gritty, pulp-era crime flavor and snappy dialogue, you're in luck.
YouTube User
withonea
has posted a mash-up trailer for
"Reservoir Turtles,"
a fan-made preview that combines scenes from Leonardo, Donatello and pals' big-screen debut with audio from Quentin Tarantino's slick 1992 film
"Reservoir Dogs."
And while the combination might seem incompatible at first, the two films actually blend quite nicely, with the entire crew of mask-wearing characters believably voicing the argument over who gets named "Mr. Pink."
Oh, and Leonardo telling Donatello to cut off an uncooperative victim's finger? Priceless.
Babylon 5 creator reboots a sci-fi classic ... and a sequel?
J. Michael Straczynski, the creator of TV's
Babylon 5
, is now drafting a screenplay for a new movie version of the classic 1956 sci-fi movie
Forbidden Planet
, and he told us that the reboot will remain faithful to the original while adding more backstory and leaving room for (gasp!) a sequel.
The 1956 original, which was loosely based on Shakespeare's
The Tempest
, is famous for its Oscar-nominated and groundbreaking visual effects, as well as for the introduction of Robby the Robot, and told the story of a shuttle crew (led by a then-serious Leslie Nielsen) that lands on the planet Altair IV to investigate a missing colony that landed there decades earlier.
"We've actually decided to show more of the first ship when it first arrived 20 years earlier to sort of counterpoint what's happening in the present story,"
Straczynski said in a group interview Saturday in Hollywood.
"If you're a fan of the original, as I am, and have always been, I think it's very faithful to that."
Warner Brothers owns the rights.
The biggest worry about the
Forbidden Planet
remake could be that the studio would turn it into a straight-up action movie. The original was carried by dialogue as Dr. Edward Morbius (Walter Pidgeon), one of the planet's two survivors, explained scientific theory to the visiting astronauts. Tension between the astronauts and Dr. Morbius' daughter, Altaira (Anne Francis), filled in the rest.
Straczynski says not to worry.
"There's a little more action, but it's still a strong character piece, because it's based on The Tempest and the idea of a father whose daughter is being courted by, in the original play, sailors that are washed up on shore,"
Straczynski said.
"You need to have that dynamic still in place to respect the original and the source material. So there's a fair amount of talking, but there's some really cool action pieces in it as well."
It is possible Warner has eyes for more
Forbidden Planet
adventures beyond one remake, said Straczynski.
"Warners is very excited about it, thinks it's a big franchise for them and a huge budget, so they're very much oriented toward getting it done."
What about Robby? Stay tuned ...
James Cameron explains why Avatar aliens have tails
James Cameron appeared on
60 Minutes
last night, where he gave Morley Safer—and us—a behind-the-scenes look at how he went from being the director of
"the very best flying piranha movie ever made"
to the creator of the $400 million 3-D fantasy
Avatar
.
"This is the film I think I always wanted to make when I set down the path of being a filmmaker,"
said Cameron.
He also revealed the reason he gave his blue aliens tails—because:
"Tails are cool!"
Well, there's actually more to it than that. To learn the rest of the story, check out the video below.
Should Joss be compared to Lucas and Cameron already?
The Producers Guild of America announced today that Joss Whedon will be honored with its prestigious 2010 Vanguard Award, joining a list of previous recipients that includes George Lucas, James Cameron and John Lasseter,
Deadline Hollywood
reported.
Whedon's humorous response won't be surprising to anyone who's seen his superhero spoof
Dr. Horrible's Sing-Along-Blog
or watched the way he accepted
previous awards
.
"This is an honor I didn't expect and probably don't deserve," he said.
"The truth is, I've never actually guarded a van. But I am a super-total visionary, so that fits. I'm ready to take my place next to the guys who made THX 1138 and Tin Toy (Did they ever do anything else, btw? They showed such promise.). This is a time of radical change in media delivery and content, and I'm honestly proud the PGA has singled me out as someone who sort of knows what's going on."
The award will be presented at the 21st Annual PGA Awards ceremony on
Sunday, January 24, 2010
at the Hollywood Palladium.
So what do you think? Is Joss Whedon up there in the sci-fi stratosphere with the likes of George Lucas and James Cameron?