Planet 51 doesn't quite lift off
According to
weekend estimates
,
Planet 51
earned a respectable but not outstanding $12.6 million over the weekend, good enough for fourth place. As was anticipated, the animated comedy was no match for the record-breaking numbers of
The Twilight Saga: New Moon
, and was barely able to open above
Disney's A Christmas Carol
, which continued its fairly solid run with a weekend of $12.2 million. The Jim Carrey holiday movie now has a total of $79 million, and is expected to perform well over next week's Thanksgiving weekend.
Holy crap! New Moon earns $140.7M for best opening of year
The Twilight Saga: New Moon
took in a whopping $140.7 million at the box office in its Nov. 20 weekend debut, the biggest-grossing movie opening of the year so far and the third-best opening weekend ever, just behind
The Dark Knight
and
Spider-Man 3
,
BoxOfficeMojo.com
reported.
That's a lot of Twi-hards.
The Thursday midnight shows actually
outdrew Dark Knight
, indicating that
New Moon
was on its way to becoming a big hit.
New Moon
shattered the records for opening day ($72.7 million) and midnight showings ($26.3 million).
So who are these people?
Distributor Summit Entertainment's exit polling indicated that 80 percent of the audience was female and 50 percent was under 21 years old, which means the sequel skewed more female and younger than the first
Twilight
.
This means that 20 percent were males, and that half of them were over 21. Who are you guys?
Oh, there were other movies in theaters this weekend as well. 2012 dropped 59 percent to an estimated $26.5 million, lifting its total to $108.2 million in 10 days. Roland Emmerich's previous movie,
The Day After Tomorrow
, had grossed $128.5 million by the same point.
Disney's A Christmas Carol
, meanwhile, also took a sizable hit in its third weekend, with an estimated $12.2 million for a total of $79.8 million in 17 days.
Did you see
New Moon
? Did you like it? And are you a guy older than 21?
Leiji Matsumoto Creates Music Video for Queen
The Nikkan Sports newspaper reported today (Japanese-language article
here
) that legendary
manga
and anime creator Leiji Matsumoto is creating a music video for the legendary U.K. rock band Queen, per
this article
from the Anime News Network.
Matsumoto, the creator of such manga and/or anime series as
Galaxy Express 999
,
Space Pirate Captain Harlock
and
Space Battleship Yamato
(the latter released in North America under the title
Star Blazers
), is using concepts from his current manga project
Out of Galaxy Koshika
and the classic Queen song
Bohemian Rhapsody
for the new video.
The article from ANN above notes that while Queen has used English animation in their works before, they specifically requested Japanese creators on the new project, as they are self-confessed
"Japanophiles."
This is not the only new project based on a work by Leiji Matsumoto in the pipeline-
a new live-action movie
based on
Space Battleship Yamato
is set for release in Japan in December of 2010.
Ten Animated Shorts Advance to Oscar's Next Voting Round
The Academy of Motion Picture Arts and Sciences today announced that 10 animated short films will advance in the voting process for the 82nd Academy Awards. Thirty-seven pictures had originally qualified in the category.
The 10 films are listed below in alphabetical order by title, with their production company:
The Cat Piano
Directed by Eddie White and Ari Gibson
(The People's Republic of Animation)
French Roast
Directed by Fabrice O. Joubert
(Pumpkin Factory/Bibo Films)
Granny O'Grimm's Sleeping Beauty
Directed by Nicky Phelan, produced by Darragh O'Connell
(Brown Bag Films)
The Kinematograph
Directed and produced by Tomek Baginski
(Platige Image)
The Lady and the Reaper (La Dama y la Muerte)
Directed by Javier Recio Gracia
(Kandor Graphics and Green Moon)
Logorama
Produced by Nicolas Schmerkin,
(Autour de Minuit)
A Matter of Loaf and Death
Directed by Nick Park,
(Aardman Animations Ltd.)
Partly Cloudy
Directed by Peter Sohn
(Pixar Animation Studios)
Runaway
Directed by Cordell Baker
(National Film Board of Canada)
Variete
Directed by Roelof van den Bergh
(il Luster Productions)
The Short Films and Feature Animation Branch Reviewing Committee viewed all the eligible entries for the preliminary round of voting in screenings held in New York and Los Angeles. Short Films and Feature Animation Branch members will now select the five nominees from among the 10 titles on the shortlist. Branch screenings will be held in Los Angeles, New York and San Francisco in
January 2010
.
The 82nd Academy Awards nominations will be announced on
Tuesday, February 2, 2010
, at 5:30 a.m. PT in the Academy's Samuel Goldwyn Theater.
(Thanks
Animation Magazine
)
Another "Best Animated Movies Ever" list
With awards season getting ready to kick off, it might be fun to discuss some of the best animation of all time.
Entertainment Weekly
recently put out their take, and if you've ever complained that these kinds of lists are too American or Disney-centric you might want to check this one out. On the other hand if seeing
The Iron Giant
in the bottom half behind
Chicken Run
or
Toy Story 2, The Incredibles
, and
Beauty and the Beast
not able to crack the top five might upset you, check it out anyway!
Oscar races heat up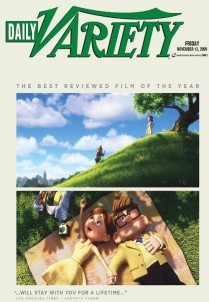 The Animation Blog
reports that Disney bought the cover of Daily Variety last week to promote
Up
not only for Best Animated Feature, but for Best Picture as well. The
L.A. Times
says
Fantastic Mr. Fox
's impressive showing during it's qualifying run and it's critical success may make it a strong contender for an animated nod.
Screen International
has a look at three of the directors who may be looking at the animated Oscar this year. And the
Irish Times
wonders if studios aren't
"flinging second-rate material into cinemas as a way of boosting their prestige releases' chances of getting an Oscar nod"
by increasing the nominees to five.
Re: the Disney Anti-Black Thing ...
Again.
The main evidence for Walt's racial insensitivity ... is
"Song of the South,"
his 1946 combination of live action and animation based on the Southern folk tales of Joel Chandler Harris, known as Uncle Remus, which, though set in the Reconstruction era, makes the black former slaves seem dependent upon and excessively grateful to their former owners. From any modern racial perspective, the film is cringe-inducing
The constant harping on
South
and its racism gives me a stomach ache. Is it
"cringe inducing"
by today's standards? Probably. But compare it to the perennial favorite
Gone With the Wind
(now in
Blu-ray
!), and it come across as ninety minutes of enlightened sensitivity.
Part of the problem, of course, is that Walt Disney is a national and corporate icon, while David O. Selznick is a long-dead Hollywood producer. Then there is the other minor detail:
M-O-N-E-Y.
In its time,
Song of the South
was a tidy little money spinner. But
Wind
? Factoring for inflation, it's the
highest grossing film
of all time, and in Freedom's Land, big bucks trump everything else.
So if you think that Time Warner is going to ban
GWTW
from the public marketplace because some of the supporting players are a tad ... uh ... stereotypical, you don't know how conglomerates work. Nothing stands in the way of a smooth, crisp (and ever shrinking) dollar bill.
So let us heap praise on
Gone With the Wind
's swell Technicolor, and Vivien Leigh's riveting performance, and remember that cash flow is the reason that the 1939 epic is available in the latest digital technology, while
Song of the South
has vanished.
(Thanks
Animation Guild Blog
)
Clips From "Justice League," "Superman: The Animated Series" DVD Collection Releases
Warner Home Video has released video clips from the recent
Justice League: The Complete Series
and upcoming
Superman: The Complete Animated Series
DVD collections.
Click on the links below to view clips from the recent
Justice League: The Complete Series
and upcoming
Superman: The Complete Animated Series
DVD collections. Please note both clips require Quicktime to play.
Superman: The Complete Animated Series Clip
/
Justice League: The Complete Series Clip
Warner Home Video released the
Justice League: The Complete Series
DVD collection to shelves earlier this month, on
Tuesday, November 10th, 2009
, with additional details on said title available
here
. The upcoming
Superman: The Complete Animated Series
collection from Warner Home Video streets on
Tuesday, November 24th, 2009
. Additional details on that release are available
here
.
Stay tuned for further updates, including exclusive content and coverage on upcoming home video releases.
PoP! Interviews Kevin Conroy
Kevin Conroy, the voice of Batman from the modern classic animated series, came on the
Panels on Pages PoP!-Cast
for nearly an hour to talk about the character of Batman and the craft of voice acting in a VERY informative and fun interview. So if it's been awhile since a laugh has haunted your dreams, give the interview a listen. You'll be glad you did.
Listen to the Interview Here
Rob Zombie on monsters, Beavis & Butthead and his new film (video)
And now for something completely different: Musician-filmmaker-shock-auteur Rob Zombie talks about
The Magical World of El Superbeasto
, his new animated horror musical movie, and about movies and, frankly, we're not quite sure what the heck he's talking about.
We do know it was at the Chiller Eyegore Awards in Hollywood a while back, and we also know it's not boring.
Pixar Short Films to debut on ABC Family
As part of ABC Family's annual 25 Days Of Christmas programming, the network is set to host
Walt Disney Pictures Presents Pixar Short Films
, a collection of 20 of the company's computer animated cartoons airing together as a two-hour event for the first time on television. A press release and information on all films in the presentation, which will include
Presto, Boundin', BURN∙E, Geri's Game, Lifted, Jack-Jack Attack, For The Birds, Luxo Jr, Your Friend The Rat
and the recent
Cars' Mater
shorts, can be found here:
PIXAR SHORT FILMS TO DEBUT ON ABC FAMILY AS PART OF 25 DAYS OF CHRISTMAS PROGRAMMING
For the first time on television, ABC Family will air a two-hour presentation of
Walt Disney Pictures Presents Pixar Short Films
, featuring twenty animated Pixar shorts, as part of the network's annual 25 Days of Christmas programming event (December 1-25). The critically-acclaimed short films include the Academy Award-winning (Best Animated Short Film)
Geri's Game, For the Birds, Tin Toy
and the Academy Award-nominated (Best Animated Short Film)
Luxo Jr., Mike's New Car, One Man Band, Lifted
and
Presto
.
Pixar Short Films
premieres on ABC Family on
Wednesday, December 2
from 7:00-9:00pm ET/PT (and again from 9:00pm-11:00pm ET/PT). Two encore presentations will air on the network on
Friday, December 18
at 10:00pm ET/PT and
Saturday, December 19
at 6:00pm ET/PT.
THE ADVENTURES OF ANDRE AND WALLY B.
There's nothing like a restful nap in a pleasant wooded valley. But when Andre awakens and is greeted by a pesky yellow-and-black striped insect with a nasty stinger, he ends up taking a quick (and painful) hike. Andre thinks he's a clever guy, able to outsmart and outrun a bee. But like all stinging insects, Wally B. knows better, and can chase down any target in a matter of seconds.
BOUNDIN'
(2003 Academy Award nominee for Best Animated Short Film)
Boundin' features a freshly shorn lamb and a jackalope — the mythical horn-adorned rabbit of American western folklore. For the high-stepping lamb, life is an upbeat western waltz until his prairie friends tease him about his freshly sheared look. He gets down in the dumps after losing his lustrous coat. The only one who can see things right is the giant jackalope, who brings sunshine and optimism with him wherever he bounds. Irrepressibly optimistic, the jackalope comes on to the scene to cheer him up and put a dance back into his step.
FOR THE BIRDS
(2001 Academy Award winner for Best Animated Short Film)
One by one, a flock of small birds perches on a telephone wire. Sitting close together creates problems enough, and then comes along a large dopey bird who tries to join them. The birds of a feather can't help but make fun of him, and their clique mentality proves embarrassing in the end.
GERI'S GAME
(1997 Academy Award winner for Best Animated Short Film)
An aging codger named Geri plays a daylong game of chess against himself in the park. Somehow he begins losing to his livelier opponent. But just when the game's nearly over, Geri manages to turn the tables. There's Geri. And then there's the other Geri. You'd swear they were twins who didn't get along since birth. In reality, it's only one very old man who is young at heart and having a little fun with himself by faking a heart attack and finding new uses for his dentures.
JACK-JACK ATTACK
From Disney∙Pixar's 2004 Academy Award-winning
The Incredibles
(Best Animated Feature Film) – this short finds Kari believing she's in for a night of routine babysitting. Kari is prepared to provide neurological stimulation with some soothing musical accompaniment for little Jack-Jack, the smallest member of the Parr family. Little does she know that Jack-Jack will teach her a thing or two about babies with
"special needs"
. True to her word, Kari proves that she can handle anything that Jack-Jack can dish out – but barely. And Jack-Jack proves that listening to Mozart truly does make babies smarter…or in this case, discover their super powers.
KNICK KNACK
Life on a shelf as a snowman trapped in a snowglobe blizzard can become wearing, especially when you're surrounded by knickknacks from sunnier locales. When the jaded snowman finally breaks free of his glass house, his vacation plans are cut short. The touristy souvenirs on this shelf are true to life in their kitsch-ness: a disproportionate blonde from Miami beckons from a pool, a Death Valley skeleton invites people to surf the desert, and an Egyptian pyramid dons large sunglasses.
LIFTED
(2006 Academy Award nominee for Best Animated Short Film)
A young alien student bungles his first lesson in elementary abduction as an increasingly weary instructor looks on.
LUXO JR.
(1986 Academy Award nominee for Best Animated Short Film)
A baby lamp finds a ball to play with, and it's all fun and games until the ball bursts. Just when the elder Luxo thinks his kid will settle down for a bit, Luxo Jr. finds another ball — ten times larger! Luxo Jr. has a great dad in the larger lamp. Even though he is a bit unpredictable, the elder Luxo gives him room to grow and explore. And the tiny light has no problem with that.
MATER AND THE GHOSTLIGHT
A companion piece to Disney∙Pixar's 2006 Academy Award-nominated
Cars
(Best Animated Feature Film), this short finds Mater
"haunted"
by a mysterious blue light that teaches him not to play pranks on the other cars in radiator springs.
MIKE'S NEW CAR
(2002 Academy Award nominee for Best Animated Short Film)
From Disney∙Pixar's 2001 Academy Award-nominated
Monsters, Inc.
(Best Animated Feature Film) – this short film finds Mike discovering that being the top-ranking laugh collector at Monsters, Inc. has its advantages — in particular earning enough money to buy a six-wheel-drive car that's loaded with gadgets. That new car smell doesn't last long enough, however, as Sulley jump-starts an ill-fated road test that teaches Mike the true meaning of buyer's remorse. Since ending the energy crisis in Monstropolis, this pair can still get into quite a predicament. Mike's pride in his new wheels is only surpassed by Sulley's lack of skills at the control panel. The two eventually agree on one thing — walking to work might be best, at least today.
ONE MAN BAND
(2005 Academy Award nominee for Best Animated Short Film)
With one coin to make a wish at the piazza fountain, Tippy, a peasant girl, encounters two competing street performers who'd prefer the coin find its way into their tip jars. Tippy is caught in the middle as a musical duel ensues between the one-man-bands.
RED'S DREAM
Life as the sole sale item in the clearance corner of Eben's Bikes can get lonely. So Red, a unicycle, dreams up a clown corner and his own juggling act that steals the show. But all too soon, the applause turns into the sound of rainfall as reality rushes back. Red must resign himself to sitting in the corner and await his fate. Don't let Red's sale tag fool you. He's really a priceless unicycle with a big heart that could help out juggling performers like lumpy the clown – if only someone would give him a chance.
TIN TOY
(1988 Academy Award for Best Animated Short Film)
Babies are hardly monster-like, unless you're a toy. After escaping a drooling baby, Tinny realizes that he wants to be played with after all, but in the amount of time it takes him to discover this, the baby's attention moves on to other things only an infant could find interesting. The secret's out: curious crawling babies are what cause toys to become "lost" beneath furniture and behind dressers. But the tin musical toy, Tinny, isn't like the other scared toys under the sofa. He knows his job is to make children laugh, not cry.
YOUR FRIEND THE RAT
From Disney∙Pixar's 2007 Academy Award-winning
Ratatouille
(Best Animated Feature Film) – this short film finds Remy and his less than enthusiastic brother Emile presenting their case as to why humans and rats should just get along. Remy guides us through the shared history of man and the rat. Emile then provides many fun rat facts to help explain why the rat should be better appreciated. The two pull out all the stops and end with a song describing a rat and human Utopia.
BURN•E
A companion piece from Disney∙Pixar's 2008 Academy Award-winning
WALL•E
(Best Animated Feature Film), this short features a welding bot on the Axiom Starliner named BURN•E who, while repairing a light bulb, is locked out of the Starliner by WALL•E and Eve. He attempts to open the locked door, but finally realizes he cannot.
PRESTO
(2008 Academy Award nominee for Best Animated Short Film)
Dignity. Poise. Mystery. We expect nothing less from the great turn-of-the century magician, Presto. But when Presto neglects to feed his rabbit one too many times, the magician finds he isn't the only one with a few tricks up his sleeves! Alec is a simple bunny. He doesn't want fame or fortune. He just wants a humble dinner. Presto, the magician, however, lives for fame and fortune and is spiteful to anyone – or any rabbit – that stands in his way. Is there anything that could make Presto appreciate his poor, suffering bunny and give him the carrot he deserves?
RESCUE SQUAD MATER
A companion piece to Disney∙Pixar's 2006 Academy Award-nominated
Cars
(Best Animated Feature Film), this short finds Mater part of a rescue squad that has to put out a blaze at the local Gasoline & Match factory. Unfortunately, Lightning McQueen is injured at this inferno and then has to be rushed to the hospital. But not to worry, Mater's not just a fire truck, he's also an MD.
MATER THE GREATER
A companion piece to Disney∙Pixar's 2006 Academy Award-nominated
Cars
(Best Animated Feature Film), this short finds Mater as a famous daredevil car who does all kinds of stunts. And Lightning McQueen, a famous race car, becomes an unwilling participant in Mater's greatest stunt ever.
EL-MATERDOR
A companion piece to Disney∙Pixar's 2006 Academy Award-nominated
Cars
(Best Animated Feature Film), this short finds Mater as a famous bulldozer fighter in Spain. He's so good, he's able to fend off multiple bulldozers at once. Lightning McQueen joins mater in this tall tale just as things are at their worst.
UNIDENTIFIED FLYING MATER
A companion piece to Disney∙Pixar's 2006 Academy Award-nominated
Cars
(Best Animated Feature Film), this short finds Mater meeting a cute little bucktoothed UFO named "Mator". Mater takes him out for a night of fun and they quickly become best friends. But when Mator is captured by the military, Mater and Lightning McQueen come to the rescue.
ABOUT ABC FAMILY:
Part of the Disney-ABC Television Group, ABC Family is distributed in over 98 million homes. ABC Family features programming reflecting today's families, entertaining and connecting with adults through relevant stories about today's relationships, all told with diversity, dysfunction, passion, humor and heart. ABC Family's programming is a mix of network defining original series and original movies, quality acquired series and blockbuster theatricals. ABC Family is also the destination for annual Holiday events with
13 Nights of Halloween
and
25 Days of Christmas!Elastic and a52 Aboard Honda Accord Spot
Santa Monica-based
Elastic
brought this jazzy spot for Honda to life, helping promote their new
Accord Crosstour
. Neighboring studio
a52
was aboard the project, titled Instruments, adding VFX and
Max Ulichney
served as the CG lead. The agency
RPA
led the charge.
El Empleo Now Open For Business
Until now, only pirated versions of
Santiago "Bou" Grasso
's short
El Empleo
(The Employment)
were viewable online. Now, this 6-minute
Annecy
award winner (FIPRESCI Award 2009) is available over at
arte.tv
. Here's a clip from the Argentinian short that finds people employed in the most unusual positions.
Michelin Man a Hero Along the Saddest Road
The second spot in the new
Michelin Energy Saver tires
campaign has been released, and it's while not as powerful and cinematic, it's a solid production. Here Michelin Man rescues animals from sure death along a freeway. Like the first spot, it was produced by
Psyop
and initiated by
TBWA\Chiat\Day
. The spot is titled
Michelin's Saddest Road
.
Fragments of Positiveness
Lets face it. TV animation has been a weak link in the cartoon business for a while now. Disney TVA has, of late, been a shadow of its mid-nineties self. Universal Animation Studio has dwindled away to nothing. Nick is doing fewer hand-drawn shows and shifting to three-dimensional computer graphics. Even non-signator Mike Young has cut lots of people loose.
In the midst of all this, it's nice to receive at least a little good news ...
For instance, yesterday at Disney TVA, a veteran director told me:
"This place is going to fill up in the next six months. We're going to have a lot bigger staff working and more shows being made ..."
I didn't ask him how he knew this. I also didn't ask him for specifics, but I know that
Jake and the Nverland Pirates
is ramping up, as is
Inspector Oso
, and of course
Phineas and Ferb
soldiers on.
And then there is
this snippet
about Cartoon Network:
Cartoon Network's weekly prime time performance earned solid ratings and delivery gains among all kids demos compared to the same time period last year. Across the third week of November, average kids 2-11 delivery (845,000) climbed by 9% and ratings (2.1) by 11%; average kids 6-11 delivery (566,000) climbed by 4% and ratings (2.3) by 5

%; and average kids 9-14 delivery (453,000) climbed by 1% and ratings (1.9) by 6% ...

Animated originals
BEN 10: ALIEN FORCE
(Friday, 8:30 p.m.) and
BATMAN: THE BRAVE & THE BOLD
(Friday, 7:30 p.m.) both charted double-digit growth among their key audiences. Compared to the same time period last year,
BEN 10: ALIEN FORCE
advanced kids 2-11 delivery (1,013,000) by 26% and ratings (2.5) by 25%, while boys 2-11 delivery (769,000) and ratings (3.7) both rose by 16%.
BATMAN: THE BRAVE & THE BOLD
advanced kids 9-14 delivery (501,000) by 33% and ratings (2.1) by 40%, while boys 9-14 delivery (379,000) jumped by 17% and ratings (3.0) by 15%.
My take on TV animated product is, it's a highly cyclical creature. For as long as I can remember, the television cartoon has been a rollercoaster, with huge surges of production (and employment) followed by big declines. This pattern goes all the way back to the Bronze Age of TV animation, when a big leap in production (1959-1961) was followed by a depression (1962).
Small screen cartoons have followed this pattern ever since. But despite declining license fees and corporate determination to do things as cheaply as possible, animated TV shows are sturdy performers in the market segment, playing to sizable audiences decade after decade.
That's something you can't say about live action specimens such as
Have Gun, Will Travel
or
Bat Masterson.
Those pieces of entertainment ... and many others like them will never make anybody any kind of cash flow. They are as dead as the proverbial dodo.
But cartoons like
The Flintstones, Scooby Doo
and
Yogi Bear
? Those shows are anything but extinct. Which is why animation keeps getting produced.
(Thanks
Animation Guild Blog
)
A Mo Cap Tussle?
Of course, motion capture has been around since the days of
Out of the Ink Well, Snow White
and
Gulliver's Travels
. Then it was called
"rotoscope."
Now it's digitized and goes by the handle
"Mo Cap."
Whatever the name, SAG
looks to be discussing
the procedure with movie producers in 2011.
... [T]he Screen Actors Guild is investigating how thesps perform the work -- a signal the issue may emerge as a factor in next year's contract negotiations. In an announcement this week, SAG invited members and non-members who do the work to a Dec. 3 session at the guild's Hollywood headquarters to discuss the impact of performance capture. The contract department staff and members of the TV/Theatrical Standing Committee will attend. It's the first such meeting SAG has held on the issue ...

...[SAG] members have expressed the desire for language spelling out motion capture work during the
"wages and working conditions"
process to formulate contract proposals. But the companies have responded during negotiations by asserting that mocap -- the emerging lingo for the work -- is a "non-mandatory" subject of bargaining and not open to negotiation.
Looks to me like their might be some teensy collision coming up here.
I really have no idea what terms and conditions SAG has for Mo Cap, but if they're sniffing around, I imagine they want to make the terms better, because ...
... thesps have expressed concerns in recent years over the dearth of specific language in the master contract over how motion capture performances are covered ...
TAG and the IA cover computer work on some Mo Cap features, but the actors in the wired suits are SAG's department. Guess we'll see how this shakes out.
(Thanks
Animation Guild Blog
)
Carey Assembles Cat Translations
What if
Simon's Cat
talked? Well, he might sound something like this. It's called
Cat Translations
, a new Flash-animated short by
Curtis Carey
, the prolific Canadian behind the
Never Ending Rough Animation Project
. And you can already
buy merch
emblazoned with little Milo.
Baman and Piderman Tell Da Joke
The latest episode of
Alex Butera and Lindsay Small
's animated series
Baman Piderman
reveals The Boss. Well, we actually got a glimpse of this giant creature in
Hab Da Sleepover
, but we now know he's Baman's boss, and he has an usual perspective on jokes. With the release of
Tell Da Joke
, we have one mystery solved, another one begins – what's up with the pizza face in the basement? Creeptastic.
Toons of the 2000s: The End of Broadcast Kids TV - Part 1
If I turn on my local CW station at 7am, I'll see their local news. If I turn on the local MyNetwork station at 3pm, I'll see Maury telling some poor soul he's the father. If I turn on the local Fox-owned station at 10am on a Saturday, I get to see an infomercial. In 2000, all three of these stations were airing cartoons at the times I just mentioned; today, none of them do. Ten years ago, three networks were offering new programming on Saturday mornings; today, there is only a single provider. What was unthinkable a generation ago has come to pass - if ad-supported broadcast kids' TV is not completely dead, then it is certainly on its deathbed.
To be fair, the end of broadcast kids' TV is not a new phenomenon. Its roots can be traced back to 1992, the year NBC decided to drop cartoons in favor of news and teen-oriented shows. By 1999, the marketplace was in clear decline. Syndication was all but dead, and CBS had decided to drop out as well. Most of the big networks were now airing educational-oriented programming for the majority of their Saturday morning schedules, as a result of the FCC's new E/I regulations.
Still, the differences are quite stark. Here's a list of networks offering kids' programming in 2000:
Fox Kids (new series)
Kids' WB (new series)
ABC/Disney (new series, E/I focus)
NBC (TNBC, E/I)
CBS/Nick Jr. (E/I)
And here's what you can see today:
The CW4Kids (new series)
ABC/Disney (E/I, Disney repeats)
NBC/Qubo (E/I)
CBS/Cookie Jar (E/I)
You'll note that, save for ABC, none of the networks or programming blocks that existed in 2000 exist in 2009. Only CW (the merged WB and UPN) is providing a traditional, non-E/I Saturday Morning lineup, and that's leased to 4Kids. ABC is almost entirely Disney Channel repeats badged as E/I, with the exception of Power Rangers - which many affiliates simply don't show and is concluding at the end of the year anyway. CBS and NBC are all E/I shows aimed predominantly at preschoolers, and those are sandwiched around news. You'll also note the absence of Fox, which used to air Fox Kids and then 4Kids before ending that contract earlier this year. It's out of the business, and its replacement by infomercial advertising speaks volumes.
This is just counting the wreckage of Saturday mornings. Weekdays are even worse - no network airs kids' programming Monday through Friday. The kids' programming that does air is usually E/I and sandwiched at weird hours of the day. So how has a once thriving landscape turned into a desert?
The slow death of Fox Kids
By 2000, there were really only three competitive broadcast kids' blocks: Fox Kids, Kids' WB, and Disney's 1 Saturday Morning franchise. CBS had signed into a deal with Nelvana to produce the CBS Kidshow, and NBC was still plugging their long-running TNBC block.
Fox and WB were still running kids' blocks on weekday afternoons, but their programming emphasis had long shifted to Saturday mornings by the turn of the decade; weekday afternoons were mainly repeats of shows with long runs. That isn't to say there weren't a few attempts to make weekdays worthwhile. Fox Kids tried a block of anime imports on Friday afternoons at one point. Kids WB made several attempts to give the weekdays their own brand, including an ill-conceived idea to use the
"Toonami"
branding on its otherwise unrelated afternoon block.
But at Fox, the kids' network was looking increasingly like a nuisance rather than a legitimate part of the weekday schedule. Part of this was due to the overall evolution at the Fox network itself. When Fox Kids was launched in 1990, Fox was a small band of independent stations, which thrived on kids' programming and sitcoms. It was a logical move to add that type of programming to the new network.
But by 2000, Fox was no longer an upstart. It had hits like
The X-Files
. It was airing the Super Bowl and the World Series and had a robust sports department. Fox even had a news department in the form of Fox News Channel on cable; FNC would break in on the main network in cases of breaking news. In other words, Fox was now operating like a traditional network.
By 2001, Fox had become an established network, and its affiliates were increasingly looking like traditional network affiliates as well. Some of them, in fact, were former ABC, CBS, and NBC affiliates that had made the jump to Fox after the network scored its legendary NFL coup in 1994. These stations made their money from soap operas and talk shows in the afternoon and profitable local news in the evenings. Most of them wanted nothing to do with kids' programming, and many of the new stations shunted Fox Kids to lesser-watched independent stations. Even the Fox-owned stations turned away from kids' programming, towards syndicated programming and ever-expanding news lineups. Nearly all of them were doing expanded morning news shows at the turn of the decade; many of them have since started evening newscasts.
The network's growing affiliate base wanted this very non-traditional programming block gone from their lineups. Cullie Tarleton, then head of the Fox affiliate board, echoed the sentiment of the majority in saying,
"It's not working for us and it's not working for them... fundamentally, we want out of the kids business."
An initial concession was made towards the affiliates - Fox Kids weekdays was moved from its longtime 3-5 spot to an earlier 2-4 time period, freeing up the crucial 4pm hour.
Fox was stuck with its kids' block partially as an obligation to its fledgling cable network, Fox Family. Technically, the Fox network was not running Fox Kids. Fox Family, a separate joint venture between Fox and Haim Saban, was in charge of the programming block.
The short and turbulent life of Fox Family is a fascinating story in and of itself. The joint venture was essentially one misfire after another. Under its watch, Fox Kids tanked in the ratings, relying only on the aging
Power Rangers
and
Digimon
franchises. Fox Family never gained any traction after the new ownership canceled every show on the former Family Channel. An effort to make separate Boy and Girl n

etworks achieved publicity and criticism, but almost no distribution. Fox Family was struggling and Fox and Saban decided to bail. Fox Family was sold to Disney for nearly $3 billion dollars in what is widely regarded as one of Michael Eisner's biggest mistakes.
Fox kept the US Fox Kids block, but Disney now owned virtually all of the programming still airing on it. This was enough to make Fox finally relent to affiliate pressure. The last weekday Fox Kids block aired December 28, 2001. Fox then put the remaining Saturday block up for sale; 4Kids Entertainment, producers of Pokemon, won the bidding. Fox Kids breathed its last on September 7, 2001; 4Kids' FoxBox premiered the next week. After 11 years, Fox was done programming for kids.
And now, this message about your local station...
Ever wonder why court shows, talk shows, and local news shows litter the schedules of your local Fox and CW affiliate? They're cheaper to produce. Court shows and talk shows can be set up for comparatively little money. Revenue from these shows is split between the syndicator and the local station, although the local station keeps most of the money. Local news is even cheaper; the station cuts out the middleman entirely and gets to keep all of the money it takes in during the broadcast.
Most viewers are familiar with the networks rather than the local stations, but the stations have a lot more clout than most of you think. NBC's recent decision to move to Jay Leno to 10pm for five nights a week has been accompanied by a lot of nervousness from their affiliates. As you saw above, as Fox grew in stature, the makeup of its affiliate body changed dramatically. Most of the network's stations took on the character of the bigger former network affiliates that joined the fold.
And if the stations weren't former network affiliates, increasingly they were owned and controlled by the more established stations. The Telecommunications Act of 1996 eased limits on television station ownership and made possible the concept of a duopoly - that is, one company owning two television stations. Most duopoly relationships operate like the one in Philadelphia, where CBS owns both KYW-3 and WPSG-57. Generally KYW, the CBS affiliate, runs WPSG, the CW station, and the stations share programming. The effect is one station running on two different channels.
You might think that duopolies would be more conducive to cartoons. You would be dead wrong. A 2006 study by Children Now examined a number of affiliates, studying both duopolies and independently owned stations. The duopoly stations showed significantly less children's programming overall than the non-duopoly stations.
Toons of the 2000s: The End of Broadcast Kids TV - Part 2Kids' WB: That's All Folks?
Things looked rosier over at Kids' WB, thanks mostly to the ongoing success of
Pokemon
, the resources of Warner Bros. Animation, and the general oversight of WB Network boss Jamie Kellner. But as Fox Kids was in its extended death throes, The WB was undergoing turmoil of its own. The infamous AOL Time Warner merger had just completed.
The new regime attempted to rearrange AOL Time Warner's vast empire in a more synergistic way. The WB moved from Warner Bros. Entertainment to Turner Broadcasting in Atlanta; Jamie Kellner moved with the network and became the new president of the enlarged division. The new boss wasted little time in cleaning house, from refocusing TBS and TNT to axing its unprofitable wrestling company.
Then there was the matter of the kids' side. Turner already had Cartoon Network. WB brought in Kids' WB. The two networks began to work closer together than in the past; a single ad sales team represented both the cable network and the broadcast side. Programs developed for Kids' WB began running simultaneously on Cartoon Network, and vice-versa.
However, the two networks were not combined into one entity and operated quite separately. This was clearly demonstrated not long after the merger, when Toonami
"expanded"
from Cartoon Network to Kids' WB. Everyone is familiar with the Cartoon Network original, which packaged action animation with slick drum-n-bass, nice CGI, and an overall cool attitude. Kids' WB's version, a spectacular misfire, simply took the name and CGI and pasted it on top of the existing weekday lineup. It lasted a year.
Kids' WB stayed with the same programming strategy that made it successful. For most of the decade it remained the #1 broadcast kids' lineup, although declines in viewership began to accelerate towards the middle of the decade.
Yet the affiliates began to grumble. The same changes that happened at Fox were happening over at WB as well. There were no affiliation switches, but more and more stations were duopoly partners, programmed by stations with little affection for kids' programming. At the same time, the advertising market for kids began to soften. Spending was moving to cable, and the FCC was adding tougher restrictions to advertising on children's programming.
As Fox did, WB caved to the pressures - but unlike Fox, it kept the time slot for itself. January 6, 2006 was the last weekday for Kids' WB. On January 9, off-network repeats filled the 3-5pm block as Daytime WB. Fifteen days after that, Les Moonves and Barry Meyer walked onto a stage together and shook the broadcasting world to its core.
The announcement of the CW came on the same day that Disney announced it would buy Pixar and was no less significant. The WB and rival network UPN would be shut down, and one new network would air the best programming from both its parents. That programming included Kids' WB, transferring over with the same name and branding - no change was made to reference CW.
Yet the end was near. Advertisers continued to avoid the broadcast kids' business in favor of cable. The CW wasn't doing very well. Close government scrutiny toward children's advertising in general began to scare some longtime advertisers away. Amid these three factors, the new network threw in the towel and sold the timeslot to 4Kids, the same company that was running the programming on Fox. For the first time ever, no network was programming its own Saturday morning cartoon block.
Of course, Kids' WB didn't completely die, it just moved. Not long after the block died in television form, Warner Bros. resurrected Kids' WB on the internet. While new shows aren't being made for the revived brand yet, various Warner Bros. programming, both past and present, is available to view. Kids' WB has even returned to television; Comcast and other cable systems are making the programming available as an on-demand stream. It's not the end of Kids' WB so much as it is a new beginning.
After These Messages...
Advertising and kids' television have long had a symbiotic relationship. To a lot of people, the commercials that aired on kids' programming are just as important as the actual cartoons themselves. In some cases, they are one and the same - witness
Transformers, GI Joe
, and countless other toyetic cartoons. Yet few other sectors of advertising are scrutinized and criticized as closely as kids' advertising is. Countless studies have been done on just what is marketed to children and if it is really good for them.
When it tightened its federal regulations, the FCC set strict limits on the amount of commercials that were allowed to air during kids' programming. Stations can air no more than 12 minutes per hour of commercials on weekdays, and on weekends this limit shrinks even further to just 10.5 minutes. To put in perspective how limiting this is for stations, the general average these days is 16 minutes of advertising time per hour. A loss of 4 minutes might be nothing to viewers, but it's tens of thousands of dollars in lost revenue to stations.
Furthermore, limits are set on just what can be advertised. Say a station is airing
Transformers
. During one commercial break, it airs a commercial for a
Transformers
toy. In the FCC's view, that episode of
Transformers
has just turned into an infomercial, and the station has just earned itself a hefty fine. The agency is particularly strict about this and will fine stations even if the network - not the station - is the one that violated the rules.
With these strict limits, it's not surprising that most of the ad money is going away from broadcast kids' TV and over to cable. The FCC controls all aspects of over-the-air television, but it does not have any oversight on cable. There are no limits to what can be advertised or how much can be advertised during programming. Nickelodeon might have a slightly smaller reach than CW, but it can air more advertising - and that makes it a more effective vehicle for sponsors.
Overall cultural pressures have also contributed: primarily the growing concern about obesity in the nation's youth. The cereal companies are the most prolific advertisers to children. The cereal companies are also some of the more scrutinized advertisers to kids. When the chief products being advertised are Frosted Flakes and Cocoa Puffs, it's easy to see why.
Remember that key advertiser that stopped buying ads, influencing the CW to sell the time to 4Kids? That key advertiser was Kellogg's, which decided to drastically cut its ad spending towards children. Kellogg's is virtually synonymous with children's advertising. A large part of its image was built up through Toucan Sam, Tony The Tiger, and other assorted cereal mascots. If the cereal company was not the largest advertiser on kids' networks, it certainly was near the top, and the loss of ad money from Battle Creek was not an insignificant number.
ABC and the Mouse
When Disney bought ABC in 1995, one of the possibilities dreamed up by analysts was the impact of Disney on the Saturday morning lineup. In family entertainment there is no bigger name, and a Disney-branded Saturday morning lineup would make ABC a player in kidvid with relatively little cost.
That did happen, but not in the form that many people would think. ABC's kids' lineup eventually became
1 Saturday Morning
, an ambitious, all-Disney animated block that featured hosts and a virtual set. Instead of the adventure shows that characterized the Disney Afternoon, ABC's lineup consisted largely of cartoons with a more realistic focus, largely complying with the FCC E/I regulations.
1 Saturday Morning
was a success, and ABC finally became competitive. For awhile.
While 1 Saturday Morning was taking up residence on ABC, the Disney Channel was being reinvented. New, mostly live-action programming targeted towards an older, more feminine audience began to characterize the channel. On the back of such shows as
Kim Possible, Even Stevens
, and eventually
Hannah Montana
, Disney outgrew Cartoon Network to become a serious challenger to Nick.
By 2000, 1 Saturday Morning was decaying as Disney Channel rose in prominence. The hosts and virtual set were gone by this time, and the amount of new series and episodes decreased each year. Suddenly, a large portion of 1 Saturday Morning was now
"powered by Zoog"
, and featured the name and shows of Disney Channel's largest programming block - all badged as E/I.
In 2002, 1 Saturday Morning was retired in favor of the more descriptive ABC Kids. The new block's first - and last - significant additions were
Fillmore
(the last cartoon produced specifically for ABC) and the newly acquired
Power Rangers
. The latter show obviously cannot be considered as E/I; consequently, affiliates frequently pre-empt, reschedule, or even refuse to carry the franchise.
ABC's level of commitment to its block has decreased to the point of non-existence. A weekend Good Morning America replaced an hour of ABC Kids in 2004. The lineup is now entirely Disney Channel programming, and no significant changes have been made to the lineup in several years. Even
Power Rangers
, displaced from Disney XD, is ending; repeats of the original 1993 series will fill the hour taken up by new episodes.
ABC and Disney are sending a clear message: broadcast is an afterthought. The good stuff is on cable.
A 500 Channel Universe?
You have probably noticed one recurring theme: cable is more lucrative than broadcast. Stations claim,
"There's no reason for us to program kids' stuff if it's more readily available on cable."
Networks claim,
"There's no reason for us to program kids' stuff because we own the cable networks."
Amongst executives, there's near-universal agreement that cable has done a better job of catering to the kids audience. That's to be expected - the cable networks can run kids' programming during times that broadcast outlets can't or won't run it. Nick can run Spongebob at 5pm each weeknight; Cartoon Network can run Flapjack in primetime. Part of CN's initial marketing pitch was
"people will watch cartoons at night; it's just that nobody else has done it."
There are more networks airing kids' programming these days; during the 1990s most homes had access to Nick, CN, and Disney. Now, a typical kid has access to not only the aforementioned trio, but Nick Jr., Nicktoons, TeenNick, Boomerang, Disney XD, PBS Kids Sprout, Discovery Kids, and a host of others. Most of the big premium services offer their own family-oriented channel. On average, a cable subscriber has access to 10-15 services.
However, there is a catch. While there are more channels, a bunch of them are controlled by Nick, CN, and Disney. Nick has four distinct channels, and CN and Disney have two each. Now, most of these channels do have their own focus. Disney's two channels serve girls and boys while Nick's channels serve different age groups or niches, but it's still essentially the same guy signing the checks. Even if a subscriber is on the high end of that 10-15 range I mentioned, you're still looking at roughly half of the available channels belonging to these three entities.
This is where things get a little troubling. All of these various channels produce and market new programming each year, as that's where the money comes from. Inevitably, the networks look to their own individual production arms for exclusive programming and not just for cost convenience. They want to own these properties. The advertising revenue that
SpongeBob
takes in is insignificant compared to the billions Nickelodeon has made from merchandising and licensing the character.
Networks tend to gravitate towards these types of properties. As a net result, fewer cartoons come from fewer studios. A studio that has these outlets - a Warner, a Disney, a Nick - then thrives at the expense of the smaller, independent studios that don't get the best timeslots and don't get the best stations. Contrast this with the Fox Kids lineup of 1994 which included entries from Warner, Saban, Nelvana, DiC, Hanna-Barbera, and Sunbow - nearly all of them in prime spots.
Is this more choice? Or simply the illusion of choice?
Toons of the 2000s: The End of Broadcast Kids TV - Part 3The Other Guys
NBC and CBS were footnotes on Saturday mornings in 2000; they remain footnotes in 2009. Only the names have changed.
NBC was a non-factor for nearly a decade, having chosen to bow out of cartoons in 1992 to focus on a teen audience with its live-action TNBC block. That worked for awhile, until the
Saved By The Bell
gravy train finally ran its course. September 2002 saw NBC lease the block to Discovery, which aired its live-action Discovery Kids programming on the block. Cartoons finally returned to NBC in 2006 when Qubo launched on Saturday mornings. Qubo is a joint venture between NBC, ION Media Networks, Classic Media/Big Idea, Scholastic, and Corus/Nelvana. In addition to NBC, it broadcasts its own digital channel, on-demand service, and even Spanish programming on Telemundo.
CBS got a new owner in 2000 - Viacom, which owned Nickelodeon. The existing CBS Saturday block was swiftly canceled in favor of preschool Nick Jr. programming. In 2002, CBS and Nick tried to put general Nick shows alongside the preschooler stuff, but two years later it was entirely Nick Jr. again. This lasted until 2006, when Viacom split into two companies, one with CBS, the other with Nickelodeon. CBS needed a new partner, and it found one in DiC. DiC and CBS then found another title sponsor.
September 16, 2006 saw the grand debut of the KOL Secret Slumber Party on CBS. The block was aimed towards girls and consisted mostly of repeats of old DiC programming. KOL pulled out of the block at the end of the first season. CBS and DiC found another new partner in American Greetings and renamed the block KEWLopolis. Then DiC got bought out by Cookie Jar. The new owners have scheduled reruns of old DiC and Cookie Jar series and renamed the block to the more sensible Cookie Jar TV.
Funny names aside, all of these blocks have one thing in common: the programming was entirely E/I.
This show is brought to you by the letters 'E' and 'I' (and also the letters 'F', 'C', and 'C').
The designation "E/I" comes up a lot with children's programming (it's appeared a lot in this article). The letters stand for
"educational"
and
"informative"
and are used to signify programming that counts towards federally mandated quotas on such programming. All television stations in the United States are required to air three hours per week of E/I between the hours of 7am and 10pm. The FCC is very strict in its enforcement of this mandate.
The FCC's stronger enforcement role began in 1990, with the passage of the Children's Television Act. That legislation introduced the 3 hour quotient. Originally, the stations were responsible for designating E/I programming. Predictably, their idea of
"educational and informative"
was
GI Joe
and
The Flintstones
, mentioned by name in a Children Now study of the E/I regulation. Needless to say,
GI Joe
does not portray an accurate depiction of the military, nor does The Flintstones accurately portray prehistoric life.
If the local stations weren't going to abide by the rules properly, the FCC was going to make them. In 1996, the agency toughened its enforcement of the rules considerably. Not only did shows have to meet a certain standard, they had to be identified as such. E/I programming had to be clearly delineated with a special animation or on-screen graphic. These limits have only increased this past decade; now all E/I programming has to carry a bug for the entire duration of the show. The limits also apply to all multiplex channels, so the weather radar loop on channel 6.3 is required by law to carry E/I programming.
Stations don't really want to air such programming, especially with the advertising restrictions touched on earlier. Nor do they want to give up the lucrative revenue stream of their existing programming. This left one possible outlet: Saturday mornings. To help the affiliates out, the networks have largely switched to mostly or entirely E/I compliant lineups.
It's questionable whether the FCC has proven effective in its mission. On the one hand, there are more truly educational shows available on broadcast television than ever before. However, there are shows where the E/I designation is dubious at best. The FCC has also failed in one area. It had hoped that the 3 hour requirement would be a building block upon which local stations would air more programming. This is decidedly not the case; many television stations carry the bare minimum three hours and nothing more.
Can the downfall be blamed entirely on E/I? No.
Is E/I certainly a factor? Yes.
4Kids: The Sole Survivor
One company has benefited from the shakeout. For better or for worse, 4Kids Entertainment is the only provider of a classic, entertainment-oriented Saturday morning lineup in the United States.
Headed by Al Kahn, the former licensing company found its pot of gold when it adapted the phenomenally popular Pokemon series for US consumption. That property, along with
Yu-Gi-Oh
, brought the unknown company millions in revenue, making it one of the top children's entertainment companies. With this cash, it swooped in to take over Fox's Saturday Morning lineup.
Initially, 4Kids' programming was marketed under the name Fox Box. Most of its properties consisted of Japanese imports, such as
Ultimate M.U.S.C.L.E.
and
Kirby
. Domestic programming slowly increased over time, notably with the addition of a new
Teenage Mutant Ninja Turtles
animated series. Still, the bulk of programming remained dubbed anime based on either existing licenses or video games. An overall rebranding exercise resulted in the Fox Box being renamed as 4KidsTV in 2005, but it was a name change more than anything. Things carried on normally until 2007, when the CW announced that Kids' WB was on its way out.
The only thing more surprising than the announcement of Kids' WB's end was the news that 4Kids was replacing it. This created the interesting situation of a single company programming two Saturday morning schedules on competing networks. This predicament lasted for just about 6 months. The transition from Kids' WB to the new block, named CW4Kids, was seamless. 4Kids did not cancel the entire lineup as it did on Fox; elements changed over gradually. For a few months, programming from both Kids' WB and 4Kids co-existed until the new network took over completely.
Behind the scenes, the company's relationship with Fox was crumbling. The same clearance problems that plagued Fox Kids plagued 4Kids TV. The block was shuffled around, aired on non-Fox affiliates, and in some markets was not shown at all. 4Kids argued that Fox was not making good on its promise to give 4Kids TV to 90% of its affiliates. Fox, in turn, argued that 4Kids was not paying them. Lawsuits were filed and settled out of court; as a result of the settlement the relationship between the two companies was terminated. 4KidsTV ended as 2008 came to a close, with its shows moving over to CW or online to 4Kids.tv.
Fox, for its part, was done with kids' programming. The affiliates would have to make up the E/I requirements themselves, on their own time. Two hours of programming were returned to the affiliates, while the network kept two hours for something called Weekend Marketplace. For the first time in history, paid programming was placed onto a national network schedule. That infomercials are more lucrative than cartoons is quite telling.
4Kids survives on the CW, but it's unknown for how long. The company's fortunes are in decline; in 2008, 4Kids recorded a $36.8 million net loss. It ceded the US rights for the anime
One Piece
to Funimation, and recently sold its stake in the lucrative
Teenage Mutant Ninja Turtles
to Nickelodeon. Still, Al Kahn has shown tremendous tenacity in the past. It's tough to count his company out, especially in the colorful world of children's broadcasting.
Are We Better Off?
There are two ways to look at it.
We are better off in a strict quality sense.
We've come down in quality a bit from the 1990s, but there are still more quality shows to view on television than in decades previous. The new companies still put value in creative, individual visions. For every mass-produced video game adaptation, there's an
Avatar
, a
Spongebob
, or a
Kim Possible
.
We're not better off in the strict sense of choice.
The most insidious trend of the 2000s has been the move towards gigantic media companies that own everything they can, from cable networks to television stations. The predictable result is fewer voices in the media. Either they get their programming from Nick, Disney, Warner Bros, or 4Kids, or they get no programming at all. And they only get those four choices with cable; otherwise, it's 4Kids or essentially nothing.
The Perfect Storm
Everything can ultimately be distilled down to this one paragraph. The FCC not only imposes a quota on educational programming, but also restricts the amount of advertising allowed for all children's programming - E/I or not. Advertisers, hamstrung by both these regulations and strong cultural pressures on what gets marketed to kids, cut their ad spending. Stations aren't making much profit from cartoons, so they turn to programming that makes them money. If the stations aren't airing cartoons and E/I programming, then the networks have to, and since they're not making much money anyway, they sell that responsibility to the highest bidder.
That's the root of all of this. Money. The television business lives and dies by the advertising dollar. As that advertising dollar shifted away from broadcast kids' TV, the stations began dropping it. There was alternate programming readily available elsewhere which generated more money than cartoons.
Essentially, the broadcast kids' TV business became unprofitable. And that's depressing.
(Thanks
Toon Zone
)
Two by Two (1966)
I got into a discussion with a friend last week about the horrible theatrical cartoons of the 1960s. I call them
"drive-in cartoons"
because I see no use for them except to be filler at drive-in theaters, allowing time for kids to get concessions or for teenagers to make-out before the main feature. Almost all 1960s Walter Lantz cartoons, Terrytoons and later Warner Bros. cartoons (the Larriva Road Runner and Daffy-Speedy crap) fall into this definition. Most would include the Paramount cartoons into this club. I don't, but here's one that's pretty bad - and a perfect example of what I'm talking about.
Two By Two
has the distinction of being the cartoon that got Howard Post fired from his position as head of the Paramount Cartoon Studio. It wasn't the abysmal quality of the film, the awful character designs or the lame jokes. It was the fact that he was spoofing a story from the bible; it offended someone (A Paramount exec? An exhibitor?) and got him canned. Personally, I'm offended that the highly creative Post - whom I am a huge fan of - conceived such a poor rip-off of Daffy Duck (aka "Quacky Whack"). At one point, Quacky impersonates God… perhaps
this
is what ticked off the Paramount brass? Shamus Culhane (Post's successor) says in his book that Paramount was pressuring him to create a "Bugs Bunny" type cartoon. Perhaps Post was simply trying to give his bosses what they wanted… unfortunately, he failed quite miserably. Here… you be the judge:
(Thanks
cartoon brew
)
Children In Need music video
Every year, the BBC airs a
Children In Need
charity fundraiser. This year they produced a stop motion music video which, for cartoon buffs in the UK, is a pretty big deal. It collects around 120 characters (approximately) from children's shows from the last 30 (or more) years. It features classics like Paddington Bear, the Wombles, Roobarb and Custard, Peppa Pig, Bagpuss and Muffin the Mule along with newer characters like Fifi and the Flowertots, Pingu, Bob the Builder, Postman Pat and many more (including a few cameo appearances from Scooby-Doo and Spongebob Squarepants).
It took many different companies (many of them rivals) coming together to make it. Chapman Entertainment produced and Tim Harper directed.
(Thanks
cartoon brew
)
Friday Linkage
Your Friday linkfest ...
Years in the making and
still not done
?
Less than a month before the scheduled release of James Cameron's new movie,
"Avatar,"
some scenes from the costly special-effects extravaganza remain unfinished.

Pressure to complete the project by the
Dec. 18
release date has risen to the point where crews are working "24-8"—that is, eight days a week—said producer Jon Landau during a break from supervising the work in Los Angeles on Wednesday.

Mr. Landau said that around 30 minutes of the movie remain incomplete, with issues ranging from sound mixing to more serious aspects like visual effects ...

... The eleventh-hour fixes are driving up costs on a project already on track to be one of the most expensive movies ever made. Several factors make the final price tag difficult to estimate, though people with knowledge of the movie's financing say the tally could exceed $300 million.
Wait a minute. Isn't that the standard package with James C.? Big, expensive movies? Gut crushing schedules? ...
They got your Oscar hopefuls
right here
.
The Academy of Motion Picture Arts and Sciences today announced the ten animated short films that have advanced in the voting process for the 82nd Academy Awards ...
Happy Birthday
to the Mouse ... and sorry about the non-flat ears never catching on.
The cartoon character's
"look"
has grown with technology, and the celebrity mouse has morphed from a hand-drawn, black-and-white figurine, to a sleeker, colorful, computerized cartoon ...
Character designer and Lucas alumnus Roel Banzon Robles
talks about
his early inspirations and working at I.M. Digital:
...Ray Harryhausen was a huge inspiration for me when I was growing up. He created all the effects for movies like
"Jason and the Argonauts," "Sinbad and the Eye of the Tiger"
and
"Clash of the Titans."
He inspired me to want to work in the film industry. Ralph McQuarrie, Joe Johnston and Nilo Rodis-Jamero, the artists from
"Star Wars,"
were also a great inspiration, especially Nilo, since he's Filipino. It helped me realize that I could also thrive in the same profession.

When I was in my teens, I discovered the fantasy art of Frank Frazetta, as well. There have been many more, but those five were the key inspirations. I'm lucky to say that I'm friends with Ray Harryhausen and Ralph McQuarrie. I was so excited when I received a Christmas card from Harryhausen. I totally geeked out!

... I was involved in helping design the characters of
"A Christmas Carol."
Doug Chiang, the production designer, would give us his thoughts on the characters, and we would go off and do our take on a particular character. I worked on every character, except for Marley and the Ghost of Christmas Yet to Come.
Jeffrey K., his mission having been accomplished with stereo movies,
is moving on
...
... Katzenberg ... told Intel Capital's CEO Summit in Huntington Beach, California that he is even more excited about the creative potential of this
"scalable multi-core processing"
.


"Ten years from now I think this will be a tipping point for how we view entertainment and how entertainment views the world,"
he said of the chips ... He ... screened eye-popping sports footage on 3-D-enabled television that he predicted would be in 30 percent of US households by 2013, with early adoption spurred by sports and video games ....
I''ve been hearing about threatened American animation for years. Now I come to understand that cartoons in the U.S. of A.
aren't the only
threatened species.
England's animation industry could be
"extinct"
within five years unless it is afforded tax breaks that the wider film industry already enjoys, leaders in the field have warned


Animation in the country
"is at a tipping point: it either survives or dies"
, industry leaders wrote in a joint letter to The Daily Telegraph.

Shows such as
Wallace & Gromit, Bob the Builder and Noddy
have made England
"a recognised centre for animation"
, they said.

But they forecast:
"Within a matter of years, we will not be producing any such fantastic properties as a result of tax breaks and government incentives in other countries."
And we end on a sad note. Some fans of Tintin are
apparently miffed
.
French Tintin fans are threatening to boycott a forthcoming Steven Spielberg film after the British husband of Hergé's widow sued a fan for printing pamphlets on the comic hero.
It's the weekend, so go someplace tranquil and refresh your spirits.
(Thanks
Animation Guild Blog
)
Toon Zone Presents: Ronnie Del Carmen's Special Mission - An "Up" Virtual Roundtable
As a boy growing up in the Philippines, Ronnie Del Carmen was an early devotee of animation, especially of Disney characters like Donald Duck and Dumbo. After earning a Bachelor of Fine Arts in Advertising at the University of Santo Tomas, Del Carmen moved to the United States in 1989, with stints working at Warner Brothers Animation on Batman: the Animated Series and at DreamWorks Animation before joining Pixar Animation Studios in the summer of 2000. Since then, his credits include story supervisor on Finding Nemo, production design on the short film "One Man Band," and story on Ratatouille.

His latest two credits are as Head of Story on the recently released Up and as the director of the new short film on the DVD and Blu-ray release, "Dug's Special Mission." Toon Zone News was able to sit in on a virtual roundtable session with Del Carmen to talk about his work on these two latest works.
Q: When did you start working on "Dug's Special Mission," and how long did it take to finish?

RONNIE DEL CARMEN:
I had the idea for the short as soon as the movie was in production, right around the layout phase. I storyboarded a rough version quickly and pitched it to Jonas Rivera and Pete Docter around late spring 2008. I figured that I would be finished with story duties and could jump on a short. But the third act of Up lingered on our plate for a while, and I had to do double duty. (I also took on illustrating the book,
My Name Is Dug
. I am a glutton for punishment.) We got approval for
"Dug's Special Mission"
from Disney by January 2009 and got into production right away. We finished in June of this year.
Q: Did you work on "Dug's Special Mission" with Pete Docter and Bob Peterson?

RONNIE DEL CARMEN:
I did work with Pete Docter and Bob Peterson on
"Dug's Special Mission."
Their involvement was crucial since the three of us were always part of telling the larger story of the movie. It made sense to go to them for advice. Pete Docter could see other potentials in the idea, and Bob Peterson could instantly give me the character of Dug – and his funny nuances. It was a dream. I'm so hooked on working together with these guys, and I hope to get together with them again on another project soon.
Q: What interested you the most about Dug's character?

RONNIE DEL CARMEN:
Dug is such a sweet dog; his heart is out there. Because of that, he also gets taken advantage of. In a pack of soldier dogs, he is definitely out of place as the cuddly, lovable one. You empathize with him right away. Also, the voice characterization of Bob Peterson gives us that Dug persona that instantly makes you love the character.
Q: Is there a particular canine friend of yours that helped inspire the character Dug? Are you a big dog-lover?

RONNIE DEL CARMEN:
Dug is very much a Bob Peterson creation. He is Dug. I had to use my own experiences with dogs to inform my handling of Dug's scenes. I grew up with a German Shepherd in our family. He was a big dog, trained and alert. He was more like Alpha, actually. But when we played, he was just a lovable dog. So I used that for my reference.
Q: Is Dug the smarter Pixar equivalent of Disney's long tradition of funny animal sidekicks, or do you see him more as a character in his own right?

RONNIE DEL CARMEN:
Dug was created very early in the development of the movie idea, even earlier than Russell. There was a talking dog and we didn't know why or how he spoke, he just did. He was always there as a supporting cast member. It was always going to be Carl's story. Although after developing Dug into such a lovable character he does seem to merit his own set of stories, doesn't he? That's the reason I wanted to tell his story in
"Dug's Special Mission."Q: Why did you decide to provide Dug with his own special adventure in the short, instead of the other main characters?

RONNIE DEL CARMEN:
Dug arrives in
Up
talking about being on a special mission, and we never talked about it again in the movie. I immediately wanted to find out what happened.
"Dug's Special Mission"
is really about how Dug remembers these moments. Dug has such a fragmented attention span that his continuity is likely not very spot-on. Dug is easily the most lovable character in the movie, and you can't help but want to see more of him. I would love to feature Alpha someday, also voiced by Bob Peterson, as well as Gamma, voiced by Jerome Ranft. Those two crack me up. Maybe someday I'll get a shot at that.
Q: With "Dug's Special Mission" included with the upcoming Blu-ray/DVD release, would you like to see a sequel or some sort of storyline with Dug or perhaps even Russell and Dug, or Russell and the other dogs, in the future?

RONNIE DEL CARMEN:
I definitely would love to do the continuing stories of Dug. I had a scene in the original storyboard of
"Dug's Special Mission"
that had him flying an airplane. We cut it because of the length, and it seemed out of place with the other gags. But I still want to see him in a plane someday. There are stories in my head that tell how he got into Muntz's pack. Dug in that pack looks like a mistake - an oversight. I would love to tell that earlier story of how he got there. Certainly Muntz and Dug, Russell and Dug... Carl and Dug too!
Q: What was your favorite part of directing "Dug's Special Mission"? And what was the toughest part of the gig?

RONNIE DEL CARMEN:
Well, I got to tell a story that was intriguing to me while making the movie. Dug is such a great character, people involved in the short film loved working on it. I got to work with Pete Docter and Bob Peterson on the story while we were still finishing Up. John Lasseter weighed in and gave me awesome advice. I got to work with great people who were there to find creative solutions to the story I was trying to tell. And as for the tough part, well, it's always the story that's tough, but also working with the time constraint of making a film that's only 4.5 minutes.
Q: How tough was it to tell "Dug's Special Mission" in under five minutes?

RONNIE DEL CARMEN:
I had many tortures and challenges for Alpha, Beta and Gamma. My favorite, and one that I held on to for a long time, was the moment where Dug falls into an airplane and flies it down to the other dogs, dive bomber style. It had to go. There were many lines and quips that Bob Peterson did during recording that I could have used but had to leave out. Every frame of animation was crucial. Another layer was the ending, in which Carl and Russell's dialogue and acting was lifted from
Up
. We could not change any of it, as it would have been expensive and troublesome. We also could only use the genius work that Michael Giacchino made for the movie. No new music. All these constraints actually helped make the short even better. I loved working on it and would love to do it again.
Q: Dug harkens back to classic comedians like Harold Lloyd, Buster Keaton and Stan Laurel. How much of that was intentionally scripted, and how much of it did Bob Peterson bring to the performance?

RONNIE DEL CARMEN:
We love Buster Keaton, Harold Lloyd and Stan Laurel movies. As animators we gravitate to communicating visually and through behavior, so this is where we love to play. Bob Peterson, as one of the writers of the movie, created and wrote most of Dug. We threw in other ideas from the crew here and there, but it was primarily Bob Peterson. During recording he would improvise and experiment, and a lot of that we used because, well, that man is funny! For
"Dug's Special Mission"
I wrote the story and dialogue, and Bob Peterson came to the rescue, bringing his Dug performance and advice. I'm a lucky man.
Q: In what way did your work as an artist help you with the work on the movie?

RONNIE DEL CARMEN:
I do production design, write and direct; all skills that are good to have for the job of being a story person. When we started we had no job demarcations, we just started trying to solve creative problems. That means I'd draw, design, do camera plans, write and illustrate. It helped all of us touch on all parts of the movie at once. Ricky Nierva (production designer of Up) and I would sit next door to each other and we'd discuss production design problems as well as complete story sequences. Throughout production I would draw up solutions and do designs on the fly, from editorial to layout, as well as help writing. It was a blast! I miss it.
Q: How much development goes into a Pixar project in terms of the story, and what kind of resources (people, time, money) are necessary to make sure Pixar continues to deliver such critically acclaimed stories?

RONNIE DEL CARMEN:
All our stories take a long time. By the time a director even pitches the story he will have been living with that story all by himself for a while. After that pitch, John Lasseter guides the story with the director/storyteller. Andrew Stanton also weighs in and gives it another layer of insight. We draw reels, write scripts and make story reels, over and over again. Then we screen it for the company so we get the entire studio's notes. After that, we have the Brain Trust (comprised of directors, heads of story, the executive team and more) give their feedback to help the reels. Then we also have a test audience watch it and we ask them what they thought of the movie. It's a long, long journey.
Q: Among the books published in conjunction with the movie, you illustrated the book My Name is Dug. Tell us a little about the publication.

RONNIE DEL CARMEN:
I loved working on
My Name is Dug
. Kiki Thorpe had written this fantastic take on a
Dug
story as he searches for the bird. It is a great companion to
"Dug's Special Mission"
because both happen before Carl and Russell show up. I was consulting on all the
Up
-related books being developed in conjunction with the movie so I knew about
My Name is Dug
. I also nominated others to tackle the illustration of it, but all those pairings fell through. I threw my hat in the ring thinking that since my stint as story supervisor was coming to an end I would have time for it. I was wrong, of course. So I drew it at night and weekends for a few months. Kiki had been so generous in sharing her story with me, so I did page mock-ups of the book to see how the story performed, much like the way I would tackle a story sequence or a comic book. That collaboration proved to be a big success. But boy, did I work like a, well...dog, trying to finish those pages. If you're familiar with the images you'll see there are lots of leaves. I had to create a library of leaves so I could populate the trees and shrubs without having to draw it all from scratch. I also created special digital brushes to make the lines look like dry media, like chalk.
Q: Were there any elements of Up that you particularly championed and/or fought to keep in?

RONNIE DEL CARMEN:
Between Pete Docter, Bob Peterson and myself we all tended to tackle aspects of the story that we felt close to. Our collaboration is all over the movie. I gravitated towards the drama and emotional weight of scenes and moments. The third act also had many challenges that I helped to chisel away at over the course of making the movie. Muntz's story was particularly troubling because he shows up so late in the movie. We also tried many ways to end the movie. I had made sequences that explored viable endings that I really believed in. They worked, but in the end we had to pick just a few elements from these explorations and put them into the ending you see in the movie. You will have a chance to see some more of those explorations in the Blu-ray and DVD.
Q: Since Carl and Russell are at different stages in their lives how did you tackle the dialogue between the characters so there was chemistry?

RONNIE DEL CARMEN:
It's Carl's story and we knew we had a boxed-in curmudgeon who was set in his ways and wanted no help from anyone. As storytellers, we are familiar with the act of putting your characters in trees and then throwing rocks at them, so to speak. Russell was a big rock that we threw at Carl. He was the direct opposite of Carl: free, unfettered and wanting to help anyone. Plus, he needed his "Assisting the Elderly" badge. We knew this would surely aggravate someone like Carl. That kind of conflict is fun to watch and write.
Q: How much of an impact did your trip to Venezuela make on the movie, and do you think the film could have been as good without that experience?

RONNIE DEL CARMEN:
That trip was a tremendous help for us. It would have been easy to just go by pictures and videos of the tepuis but we're sure to default to places we know from experience. Otherwise it would be a let down and we'd never be able to correct it later. We wouldn't know the truth of being there. We needed to know how Carl would behave on top of the tepuis and we could only represent that without reservation if we experienced it ourselves. And what a unique place those tepuis are. They are like no place on Earth, beautiful and dangerous. It was compelling and foreboding at the same time. We climbed one of them, Roraima, and we walked all over on top. We went to Angel Falls, the actual falls on which we based
Up
's Paradise Falls. The sights, sounds and emotions we felt on that expedition helped us create Carl's experience during his journey.
Q: What's your favorite scene from Up?

RONNIE DEL CARMEN:
My favorite scenes were the silent ones: "Married Life," where we tell the whole life story of Carl and Ellie, and the scene at the end of the second act where Carl sits in his empty house at Paradise Falls to leaf through Ellie's adventure book. I tend to get the dramatic scenes on most movies I'm part of. This was particularly special because I had to convey story and emotion without any dialogue. I remember drawing Carl looking at the adventure book and getting emotional as I made it. I had to take breaks because I was too much in the moment, tearing up. When we watched our story reels, I would see people wipe tears from their eyes. You know you've got something when a bunch of lines on paper are making people cry.
Q: Up is Pixar's 10th feature film, and has received great reviews, some of the best Pixar has had on a film. What elements of the story do you think have led to the success of Up?

RONNIE DEL CARMEN:
Pete Docter had wanted a story about an old man holding a bunch of colorful balloons. None of us could have even dreamed of how well the movie would be received. Back then we had our concerns about telling a story about an old man flying his house to fulfill a promise. Being part of the creative team that created the movie, I'm rather too close to be objective but here it goes: I think it's because of the emotional truth of Carl's journey. The fantastic elements, the funny moments and dialogue, all deliver an enjoyable and thrilling experience but we all walk away feeling we've felt something true about the journey.
Toon Zone News would like to thank Ronnie Del Carmen for taking the time to speak with us, and to the folks at Disney PR and Click Communications for arranging it. You can visit
Ronnie Del Carmen's website
for more information about his work at Pixar and his independent art and comic projects.
Up
is available now on
DVD
and
Blu-ray disc
.
Caroling in Foreign LandsChristmas Carol
took more of a hit at the start of its third domestic weekend, but overseas it
hangs in there
:
Robert Zemeckis' 3D holiday title
"Disney's A Christmas Carol"
came in No. 2 in its second frame, grossing $16.2 million from 3,339 playdates in 21 territories, a solid showing. Cume is $33 million. Despite a lackluster opening -- both internationally and domestically -- the film is showing signs of having legs.

International grosses for
"Christmas Carol"
are running 47% ahead of Zemeckis' worldwide hit
"The Polar Express,"
which scored a foreign cume of $124 million.
In Japan,
November 14-19
,
Christmas Carol
came in at #1, collecting $3.1 million.
I ran across two veteran Disney artists the other night, who asked what I thought of the feature. As I've said here, I told them I liked it, got swept up in the Three Deeness of the thing, but thought one hindrance was the familiarity of the story. Good as Dickens's tale is (and it is), you walk into your neighborhood multiplex knowing all the twists and turns ... and how it comes out.
That takes a little of the edge off, no?
(Thanks
Animation Guild Blog
)
Lion-O Voice Actor Discusses 'ThunderCats' Fan Trailer, Status Of CGI 'ThunderCats' Movie
When it comes to last year's live-action
"ThunderCats"
trailer created by a fan of the 1980s cartoon series, we're not sure what we got more of a kick out of -- the frame-by-frame editing that turned Brad Pitt and Vin Diesel into Lion-O and Panthro, respectively, and made
former
"World's Sexiest Man"
Hugh Jackman
into a very believable Tygra; or the simple fact that the trailer made a live-action
"ThunderCats"
movie seem like a very good idea.
While the possibility of a feature-length
"Thundercats"
film coming to theaters has been in play since 2007, when Warner Bros. announced it was producing a CGI movie based on the series, we thought it would be interesting to run the idea by the original Lion-O himself, voice actor
Larry Kenney
, and find out what he thinks about the fan-made
"Thundercats"
trailer -- and, of course, what he knows about the
real
"ThunderCats"
movie in production.
"I like it,"
Kenney told MTV News after watching the fan-made
"ThunderCats"
trailer.
"I hope Warner Bros. does as well with the real thing."
As for Brad Pitt playing Lion-O, Kenney said the casting
"works for me,"
but was thankful that WB's plans for a feature-length
"ThunderCats"
film will likely call for computer-generated characters.
"Thank goodness the movie will be CGI,"
laughed Kenney.
"[It] gives me a chance to reprise my role as Lion-O."
Whether the popularity of the fan-made trailer reignites interest in the
"ThunderCats"
movie remains to be seen, however. As far as being called upon to reprise his role as the leader of the ThunderCats, Kenney told MTV there is
"still no word on that."
Just in case you missed it, here's that fan-made
"ThunderCats"
trailer everyone's talking about:
News briefs: Brad Pitt's Dark Void; Underworld 4
Dark Void
Brad Pitt is developing a feature film based on the
Dark Void
computer game as a potential franchise and starring vehicle for the actor,
Variety
reported;
Dark Void
follows a pilot who crash-lands in the Bermuda Triangle following a routine mission and finds himself in an alternate world resembling a primitive Earth where aliens with superior technology are planning to take over civilization.
...
Writer John Hlavin (TV's
The Shield
) has been hired to draft the fourth installment in the
Underworld
film franchise,
The Hollywood Reporter
's
Heat Vision blog
reported; Len Wiseman, who directed the first two films, is producing. Kate Beckinsale has not cut a deal to return, nor has the third movie's star, Rhona Mitra.
...
Brian Austin Green, late of Fox's
Terminator: The Sarah Connor Chronicles
, will make a return guest appearance on The CW's
Smallville
, reprising the role of John Corben/Metallo, Entertainment Weekly's
Michael Ausiello
reported; Green will appear in the season's 18th episode, slated for the spring.
'Wire' Star Idris Elba Joins 'Thor' Cast As Heimdall
As production on director Kenneth Branagh's adaptation of
"Thor"
continues to heat up, Idris Elba is the latest addition to the cast.
According to
The Hollywood Reporter
, Elba will portray Heimdall, the guardian of the Bifrost bridge to Asgard. In Marvel's
"Thor"
mythology, Heimdall is also the brother of Sif.
Elba — who is perhaps best known for his role as Stringer Bell on "The Wire" —
recently finished filming his part in "The Losers"
, an adaptation of the Vertigo comic by Andy Diggle and Jock.
Earlier this month,
Elba expressed interest in appearing in "100 Bullets"
— the Vertigo series by Brian Azzarello and Eduardo Risso that wrapped up last summer. Back in July, Azzarello hinted that
"100 Bullets"
might end up as a TV series.
"Thor"
is currently set
to begin filming in January
with
Chris Hemsworth in the title role
along with
Anthony Hopkins as Odin
,
Tom Hiddleston as Loki
,
Natalie Portman as Jane Foster
,
Jamie Alexander as Sif
, and
Ray Stevenson, Stuart Townsend, and Tadanobu Asano as the Warriors Three
.
Colm Feore and Stellan Skarsgard have also been confirmed to appear in the film in currently unspecified roles.
Julia Stiles Debunks Comic Book Casting Rumor... But Not The One You Think!
By now you've all heard the latest
"Spider-Man 4"
casting rumors — depending on which source you read, both
Julia Stiles and Anne Hathaway
are up for the role of Felicia Hardy, the burglar known as Black Cat. We offered up our own suggestions for the role a while back in our
weekly Secret Identity column
, and also pondered
Eliza Dushku's willingness to play the role
.
However, Stiles' arrival on the rumor scene got us thinking about a recent interview with the actress in which she discussed her interest in comic book movies and debunked a casting rumor that had been floating around the 'Net. While the interview was conducted prior to the recent
"Spider-Man 4"
buzz, it seemed a good time to throw the clip out there and see what possibilities fans can draw from it.
"No, not that I'm aware of,"
Stiles said when asked about a rumor that she was up for the role of
Sue Storm in the "Fantastic Four" movie
.
"I was never told that I was being considered for that role. I was surprised by that."
While Stiles said she has an interest in comics — having just read Michael Chabon's prize-winning novel
"The Amazing Adventures of Kavalier & Clay"
— she said there weren't any existing projects that have caught her eye.
However, she told MTV News she wouldn't balk at being offered a role in a comic book movie, either.
"I try to keep an open mind to opportunities various,"
she said.
Sick of Twilight? Daybreakers brings back the blood
We've got the new trailer and a few stills (in the gallery below) for
Daybreakers
, the upcoming sci-fi-ish vampire movie from
Undead
creators Peter and Michael Spierig.
Now, don't be that way: It's not a
Twilight/Vampire Diaries
thing, but rather more of a dark
Blade III/Blade Runner
sort of take on the genre.
Starring Willem Dafoe and Ethan Hawke, the movie is set in the
Blade Runner
year of 2019, when vampires have taken over and hunt humans for food. As vampires ready an industrialized form of blood farming (a la David Goyer's
Blade III
), a new group of vampires discovers something that could save the human race.
The movie opens
Jan. 8, 2010
. What do you think? Or are you so sick of vampires now you just want to drive a stake through its heart?
Natalie Portman on Why She did Thor
Ever since Natalie Portman signed on to play Dr. Don Blake's love interest Jane Foster in Kenneth Branagh's upcoming
Thor
, the actress hasn't done a ton of interviews, so we haven't had much of a chance to learn about her take on the character.
At the press conference for Jim Sheridan's
Brothers
, a terrific drama in which Portman is quite astounding as a young mother whose husband is a soldier who has gone missing and presumed dead in Afghanistan, we tried our best to broach the subject, trying to find out why she decided to do it, having already starred in one comic book movie (
V For Vendetta
) as well as starring in one of the biggest sci-fi franchises of all time (Do we even have to name it?). We also were hoping to find out what sort of research or comics she might have read for the role, and whether it might be a big part, considering that much of the movie will probably take place in Asgard.
Unfortunately, the press conference environment is not the best place to get into this sort of thing--and we felt quite guilty even asking about it--but she did tell us at least why she did want to be in the movie:
"I just thought it sounded like a weird idea because Kenneth Branagh's directing it, so I was just like, 'Kenneth Branagh doing 'Thor' is super-weird. I've gotta do it',"
she told us, before a journalist interrupted her answering our question because he didn't even know who Jane Foster was (The heathen!). Sadly, she never got to the rest of our question, but hopefully, we'll get another chance to talk to her before the movie comes out.
You can learn more about
Brothers
when we run some of the best bits of the press conference as well as our exclusive interview with Jim Sheridan over on
ComingSoon.net
.
Bay Not Killing Off Fox in Transformers 3
USA Today
talked to director Michael Bay who said there are no hard feelings between him and Megan Fox regarding her recent comments and talked a bit about her part in
Transformers 3
:
He also said, "She's got a great part in
Transformers 3
," and he said he's currently working on the script. So Bay's not planning on getting revenge by, say, killing her off? "No, no. no," he said, dismissing it. "She gets enough of that already."
The third installment is scheduled for a
July 1, 2011
release.
Smallville Promo Shows Justice Society Members
'Dillan' sent in this new promo for the upcoming
"Smallville"
episode titled
"Disciple,"
airing on The CW on
January 22nd
. You'll get a peek at more members of the Justice Society!