These 20 toon movies are competing for the Oscar nomination
Monsters vs. Aliens
The people behind the Oscars released their short list of animated movies vying for the Academy Award for best animated movie, and the list of 20 contenders pretty much encompasses all of the major toons that were released this year (or are still awaiting release).
Ponyo
They are:
Alvin and the Chipmunks: The Squeakquel
Astro Boy
Battle for Terra
Cloudy With a Chance of Meatballs
Coraline
Disney's A Christmas Carol
The Dolphin - Story of a Dreamer
Fantastic Mr. Fox
Ice Age: Dawn of the Dinosaurs
Mary and Max
The Missing Lynx
Monsters vs. Aliens
9
Planet 51
Ponyo
The Princess and the Frog
The Secret of Kells
Tinker Bell and the Lost Treasure
A Town Called Panic
Up
The list will be winnowed down to five official nominations for the Oscar, which will be announced on Feb. 2, 2010.
Our choices?
Up, Ponyo, Fantastic Mr. Fox, Monsters vs. Aliens
and
The Princess and the Frog
. But that's just us. What do you think?
The 82nd Academy Awards ceremony will air
March 7, 2010
, on ABC.
More Cheatin' From Bill PymptonBack in October
, we posted a 4-minute pencil test from
Bill Plympton
's upcoming short
Cheatin'
. Today Plympton posted the second part:
againstallodds Gets Details Right For GIO
Swedish animation squad
againstallodds
, who are rep'd by
XYZ
, recently created this new, stylish CG spot for
GIO Insurance
. The ad, titled
We Cover Details
, is the first of two they created for the campaign, which was overseen by
Leo Burnett, Sydney
.
Slinky Pictures Delivers Viral Cut For Ax Men
Slinky Pictures
director/co-founder Chris Shepherd chopped through this recent viral short for the History Channel. It promotes
Ax Men
, the reality show that follows various logging crews, and Shepherd was joined by animators
Jason Kotey
and
Rob Ward
on the project. Rob Neilson and Jack Stephens at
Karmarama
initiated the concept.
Secret of Kells gets US distribution, Oscar run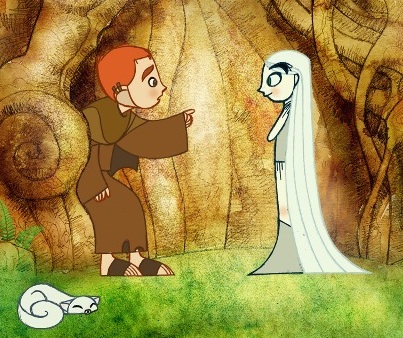 US distributor GKIDS has announced they will be bringing Irish director Tomm Moore's animated film
The Secret of Kells
to U.S. audiences. Opening
March 12, 2010
, the film will first get an Oscar qualifying run in LA starting
December 4
.
"Magic, fantasy, and Celtic mythology come together" in the story of young boy who meets a mysterious young wolf-girl while on a dangerous quest to help defend his people from barbarian raids"
. More info about the movie follows.
FROM THE PRESS RELEASE:
GKIDS, a distributor of independent films for family and art-house audiences, and the European sales agent Celluloid Dreams announced today that GKIDS has acquired US distribution rights to
The Secret of Kells
, the highly anticipated new animated film from Irish director Tomm Moore. The film was an official selection at Berlin, made its US premiere at NY Int'l Children's Film Festival, won the Audience Award at Annecy, and was the first animated feature to win the Audience Award at Edinburgh.
The Secret of Kells
is a France/Belgium/Ireland co-production of Les Armateurs, Viva Film, Cartoon Saloon and France 2 Cinema and features the voices of Brendan Gleeson (Harry Potter, In Bruges), Evan McGuire and Christen Mooney. The deal for
The Secret of Kells
was negotiated by Eric Beckman for GKIDS and Hengameh Panahi for Celluloid Dreams.
An Academy qualifying run is set for
Dec 4-10
at the AMC Burbank 8 in Los Angeles. Showtimes are 7 PM on weekdays and 2 PM on weekends. The film will be released theatrically in the US in March 2010.
Eric Beckman, President of GKIDS Inc. said,
" The Secret of Kells is a visually unique and exciting fantasy adventure that reinvigorates 2D animation as both a peerless art form and viable commercial medium. It is an absolutely stunning film with universal appeal for adults, families, animation fans, and anyone who loves beautiful, meaningful storytelling."
GKIDS president Eric Beckman is also founder and director of New York Int'l Children's Film Festival.
Hengameh Panahi, President of Celluloid Dreams said,
"Like Celluloid Dreams, GKIDS brings passion, energy, and innovative thinking to promote a new vision of cinema for young people. We are happy to work with them to introduce high-quality independent and foreign film to American family audiences!"
SYNOPSIS:
Magic, fantasy, and Celtic mythology come together in a riot of color and detail that dazzle the eyes, in this sweeping story about the power of imagination and faith to carry humanity through dark times. Young Brendan lives in the Abbey of Kells, a remote medieval outpost, where he works to fortify the abbey walls against barbarian raids. One day a celebrated master illuminator arrives from foreign lands carrying an ancient but unfinished book, brimming with secret wisdom and powers. To help complete the magical book, Brendan has to overcome his deepest fears on a dangerous quest that takes him beyond the abbey's walls and into the enchanted forest, where mythical creatures hide. It is here that he meets the fairy Aisling, a mysterious young wolf-girl, who helps him along the way. But with the barbarians closing in, will Brendan's determination and artistic vision illuminate the darkness and show that enlightenment is the best fortification against evil?
Cartoon Network Boutiques Open in Toys R Us Stores
Animated series
Ben 10: Alien Force, Bakugan
and
The Secret Saturdays
will be featured prominently in a dedicated Cartoon Network boutique this month in every Toys R Us store.
Open now, the boutiques will offer merchandise — including exclusive items — from multiple product categories during a key time in the holiday shopping season.
"Toys R Us continues to be a terrific, long-standing retail partner for us and our brands, and we are proud to showcase this chainwide Cartoon Network retail destination as we kick off the holiday shopping season,"
said Christina Miller, senior VP of Cartoon Network Enterprises.
"The unique, multi-category shopping experience we have created is guaranteed to generate strong excitement around our brands and the must-have products from our licensing partners."
(Thanks
Animation Magazine
)
Raksis Named New LAIKA CFO
Gary Raksis, former head of strategic planning and corporate finance for DreamWorks Animation, has joined LAIKA as chief financial officer.
Raksis will be in charge of business operations and exploiting growth opportunities for the Portland, Ore.-based studio, which released earlier this year its first feature film, Coraline.
"Gary brings an exceptional range of financial management experience to LAIKA that will be invaluable to our evolution and success,"
says LAIKA president and CEO Travis Knight.
"His extraordinary business acumen, rare creative sensitivity, and steady governance will provide a foundation for boldly innovative and visionary leadership in our business operations. We are thrilled that Gary has joined the LAIKA family."
Raksis held several financial roles at DreamWorks prior to being named head of strategic planning and corporate finance in 2004. Prior to DreamWorks, he worked as a research analyst at William O'Neil and Co. and is a graduate of Georgetown University's McDonough School of Business.
Raksis succeeds Alan Keith, who left his job as LAIKA CFO last year to take on the same role at ImageMovers Digital.
(Thanks
Animation Magazine
)
"Ice Age" sequel among People's Choice nominees
Fox's
"Ice Age: Dawn of the Dinosaurs"
and Pixar-Disney's
"Up"
are among the contenders in the family movie category of the People's Choice Awards.
Nominees in 35 categories were announced Tuesday.
Also vying for favorite family movie are the live-action
Hannah Montana: The Movie, Night at the Museum: Battle of the Smithsonian
and
Where the Wild Things Are
.
Fans cast over 18 million votes online to choose this year's nominees. They will also select the winners.
Among the nominees for new TV comedy is Fox's
The Cleveland Show
. It's running against
Accidentally on Purpose, Brothers, Community, Cougar Town, Glee, Hank, The Middle
and
Modern Family
.
Queen Latifah is scheduled to host the PCAs at the Nokia Theatre. The ceremony will be broadcast live
January 6
on CBS.
Fans can make their choices for the winners online at
www.peopleschoice.com
.
"Super Hero Squad Show" Moves to Primetime on Saturdays on Cartoon Network
Marvel Entertainment has issued a press release announcing that
The Super Hero Squad Show
was added to Cartoon Network's prime-time lineup starting last Saturday,
November 7, 2009
, at 7:30 PM (Eastern presumed). The new show has become the #1 show on the network for boys 6-8 and has grown its audience in that demographic by nearly 30% since its debut on September 19.
The full press release follows:
The Super Hero Squad Show Moves To Primetime on Cartoon Network!
(click to enlarge)
MANHATTAN BEACH, CALIFORNIA (November 9, 2009) – On Saturday morning, September 19th,
The Super Hero Squad Show
burst onto television screens across the nation on Cartoon Network to rave reviews and a huge audience. It instantly became the Network's #1 show for Boys 6-8 and has continued its heroic growth in that demographic, increasing that audience by nearly 30%.
Thanks to the tremendous success the show has seen on Saturday mornings, the greatest Super Heroes in the Marvel Universe are ready to make the leap to primetime! Starting this past Saturday, November 7th,
The Super Hero Squad Show
made its heroic debut on Saturday nights at 7:30PM as part of Cartoon Network's incredible prime time line-up.
Check out your favorite Marvel Heroes -- including Iron Man, Wolverine, Hulk, Thor, Silver Surfer and Falcon -- as they fight to save Super Hero City from Dr. Doom's team of villains… and have a few laughs along the way! Can't get enough of this action-packed comedy series? Fear not,
The Super Hero Squad Show
will continue to air weekdays Monday through Friday at 8:30AM.
The Super Hero Squad Show
When the greatest (and coolest) heroes on the planet unite to face the world's greatest villains, you get the biggest, most family-friendly Super Hero team-up in TV history. It's no small job protecting Super Hero City from the wild, weird (& even wacky) villainy of VillainVille's infamous baddies… but the Super Hero Squad is always up for the job. These brave heroes totally deliver the action – but with plenty of humor on the side.
The Super Hero Squad Show Cartoon Network US Program Schedule:
Date: Saturdays at 7:30PM starting
November 7th
Monday through Friday at 8:30AM
Disneyana
The hat building is lovely in November, with the fall foliage on Riverside Drive in full force.
Storywork and production on Pooh are moving along. As a staffer told me:
"We had our third screening of Winnie the Pooh with John Lasseter, and the picture's in good shape. John loves the characters. In fact, some sequences go to workbook next week and animation will be starting up. There's already been some test animation in color
.


"This picture has just zipped along. We took dialogue out of the Milne books, the storyboard artists added some of their own, then the directors Don Hall and Steve Anderson polished it. We didn't have an outside writer on it, just the board artists and the directors. I think the whole picture will be done by next summer ..."
The stereo conversion of
Beauty and the Beast
is coming to a close. A couple of people down on the first floor said that there's one more week to go and then they're done.
Originally
B and B
was supposed to come out on Valentine's Day, but now it's set up for a twentieth anniversary release.


"The 3-D conversion came out well, I think. We got the characters rounded and shaded. They don't look like cardboard cutouts in a ViewMaster ..."
I suppose we'll get to see for ourselves in 2001. Meanwhile, Disney and IM Digital would like to have the surviving Beatles participate in its
Yellow Submarine
remake:
... In an interview with MTV News, [Robert] Zemeckis indicated that Paul McCartney and Ringo Starr have been approached to participate in the film, although he did not say in what capacity ...
The Mouse charges ahead on many fronts.
(Thanks
Animation Guild Blog
)
Sony Ticks Off Theatre Owners
Gee. For
some reason
Sony has irritated AMC and others.
Exhibitors are hot over Sony's decision to release animated feature
"Cloudy With a Chance of Meatballs"
digitally on
Dec. 8
, or less than three months after its theatrical opening.

Sony stirred the
"Meatballs"
controversy by announcing this week that the $121 million domestic grosser would be made available for early home entertainment viewing by owners of Internet-enabled TV sets and certain Blu-ray Disc players ...
I can understand theatre chains not liking early DVD releases of hit films still in circulation. It smothers grosses as soon as the news gets out. And theatre owners, of course, have ways of fighting back.
...
"Meatballs"
... played last weekend in a total 1,126 venues and was expected to shed at least a few hundred engagements starting Friday. As a result of the exhib protest,
"Meatballs"
could play in as few as 300 theaters beginning this weekend.


"Meatballs"
rung up $1.3 million last weekend. So the accelerated wind-down to the pic's theatrical campaign likely will cause a modest but quantifiable revenue loss for Sony.
I hope Sony makes up in DVDs sales what it loses in theatrical revenues. (Christmas comes but once a year.) This kind of wheeling and dealing is probably going to increase as we move deeper into the 21st century.
(Thanks
Animation Guild Blog
)
Live-Action Family Guy Chicken Fight
The UK's
FX network
recently released this live-action version of the infamous chicken fight from
Family Guy
.
Viner Fuels Up SUV-asaurus For Suzuki
Liquid Animation
director Mike Viner helmed this recent CG spot that promotes
Suzuki cars
. It introduces the SUV-asaurus, something I could see kids going absolutely dino-crazy for. The ad agency on the gig was
Siltanen & Partners Advertising
.
Boucher Opens TropicalCircus Early
Even without sound, this recent school project from
Laurent Boucher
still hits the right note. The character design, lighting and background layouts are all simply breathtaking. Boucher is a student
Bellecour Ecoles d'Art
in Lyon, France. The short is titled
TropicalCircus
.
More Flash-Animated Moby Music
Back in September, we posted a Flash-animated music video for
Moby
's track
Mistake
. It was directed by
Robert Powers
, as was this video below, titled
One Time We Lived
.
Ian Jones-Quartey
(
nockFORCE
) also helped out, animating the dancing cycles and lip-sync.
Chainsaw Cuts Into Cat Slap
Oh, you think a chainsaw can stop this cat from slapping, do you? Well you'll just have to watch and find out, and then we'll see who's the genius here. This is the latest episode of
Alan Foreman
's Flash-animated series
Cat Slap
, titled
Chainsaw
, which is part of the
Mondo Mini Shows network
.
The Look of Mr. Fox
Comingsoon.net has a
behind-the-scenes article
about how director Wes Anderson and his team achieved the unique look of the stop-motion animated comedy
Fantastic Mr. Fox
. Starring George Clooney and based on the book by Roald Dahl,
Mr. Fox
opens in limited release on Friday before going nationwide on
November 25th
.
"Crashbox," "Catdog" writer Sultan Pepper dies, 47
Emmy-winning comedy writer Sultan Pepper, who scripted such TV series as the animated
Crashbox
and CatDog, died suddenly October 20 in Murrieta, California. She was 47.
Pepper shared an Emmy in 1993 for Outstanding Individual Achievement in Writing in a Variety or Music Program in connection with an episode of
The Ben Stiller Show
. She was the only woman on the writing team, which included Stiller, Judd Apatow and David Cross.
Featuring Stiller as the host,
Crashbox
aired on HBO Family from 1999 to 2004. Cuppa Coffee Animation's first long-form series, it used over 20 different animation styles, including stop-motion, cel animation, mixed media, claymation and cutout animation, as well as puppetry and live action.
Co-produced by Peter Hannan Productions and Nicktoons,
CatDog
ran on Nick from 1998 to 2000.
Pepper was a story consultant on
Whatever Happened To Robot Jones?
, a 2000 short airing on Cartoon Network's
What A Cartoon!
Show. It became a successful pilot for a 2002 series.
She also wrote In
Search Of Big Byoo-Tox
, a 1999 episode of Nicktoons'
The Angry Beavers
.
For two seasons, Pepper was a writer on Fox's
Mad TV
. During this time, the writing team was nominated in 2004 and 2005 for WGA Awards.
A UCLA graduate, Pepper spent a semester at Oxford University, where she interned with the British Broadcasting Corporation.
Pepper wrote for such 1990s series as
The Stephanie Miller Show
, one of the few late-night TV talk shows hosted by a woman. She was a writer-producer on
Don't Forget Your Toothbrush
, as well as such reality series as
Blind Date

and
Street Smarts
.
In 2002, she began a one-year development deal at Sony/Columbia TriStar. There, she was a writer and producer on several TV projects, including
The Rerun Show, Pyramid
and
Shipmates
.
Sultan Pepper is survived by her parents, Teresa and Jack Pepper. A private memorial is planned.
Latest "Justice League," "Batman: The Brave And The Bold" DVD Releases Now Available
Two new DVD home video releases collecting episodes from
Justice League
and
Batman: The Brave and The Bold
are now available courtesy of Warner Home Video.
The latest volume release for the popular series,
Batman: The Brave and The Bold - Volume Two
is now available to own on DVD, collecting four more episodes from the Cartoon Network animated series. This new home video release from Warner Home Entertainment includes the episodes
"Day of the Dark Knight!," "Enter the Outsiders!," "Dawn of the Dead Man!,"
and
"Fall of the Blue Beetle!"
Also now available is the
Justice League: The Complete Series
DVD collection, collecting the previous
Justice League
and
Justice League Unlimited
DVD season releases into one box set with new bonus features. The new bonus features include a new retrospective featurette and trailers. Both titles were officially released yesterday. Package art for both new release are available below.
Details on the previous
Justice League
and
Batman: The Brave and The Bold
DVD releases are available here at The World's Finest and on The DC Animation Forum. Click on the links below for both further details on and to discuss the new
Batman: The Brave and The Bold - Volume Two
and
Justice League: The Complete Series
DVD home video releases.
Warner Home Video has already announced plans to release the upcoming DVD title
Batman: The Brave and The Bold - Volume Three
on
January 19th, 2010
. Five more episodes are included in the upcoming release. Further details on that release are forthcoming.
Star Trek's Roddenberry finally honored by TV Hall of Fame
Gene Roddenberry, right, with his former wife, Majel
It seems that in television, honor—like revenge—is a dish best served cold. Thus it is that the TV Academy Hall of Fame has decided to induct
Star Trek
creator Gene Roddenberry into its pantheon, 18 years after his death and long after he had much to do with the franchise he created.
Roddenberry is only one of several TV legends to receive the belated honor, including the comedy duo Tom and Dick Smothers,
Murphy Brown
star Candice Bergen,
Saturday Night Live
and game show announcer Don Pardo,
The Price Is Right
creator Bob Stewart and Emmy-award winning art director Charles Lisanby. Better late than never, right?
Here's how Reuters reported it:
"This year's inductees have challenged and shaped popular culture and entertained us royally while doing so,"

said Television Academy chairman John Shaffner.
No explanation for the delay. I guess, as Khan said in
Star Trek II
, it's very cold in space.
Kick-Ass trailer kicks, well, you know (video)
Nicolas Cage (left) and Chloe Moretz
A new trailer has gone live on
MySpace.com
for
Kick-Ass
, the upcoming satiric superhero movie based on Mark Millar's comic series.
The movie stars Christopher Mintz-Plasse, Aaron Johnson, Nicolas Cage and Chloe Moretz and was directed by Matthew Vaughn.
The film tells the story of average teenager Dave Lizewski (Johnson), a comic-book fanboy who decides to take his obsession as inspiration to become a real-life superhero. As any good superhero would, he chooses a new name—Kick-Ass—assembles a suit and mask to wear, and gets to work fighting crime. There's only one problem standing in his way: Kick-Ass has absolutely no superpowers. His life is forever changed as he inspires a subculture of copycats, is hunted by assorted violent and unpleasant characters and meets up with a pair of crazed vigilantes, including an 11-year-old sword-wielding dynamo, Hit Girl (Moretz) and her father, Big Daddy (Cage).
Kick-Ass
opens
April 16, 2010
.
'Shazam' Writer Wanted Ryan Reynolds For Captain Marvel, Denies 'Darker' Tone
Bill Birch, the co-writer of the upcoming
"Shazam"
feature film has revealed that Ryan Reynolds was his first choice to portray Captain Marvel on the big screen.
"I always thought Ryan Reynolds would have been interesting but now that he's Green Lantern that's not an option,"
Birch told
Cinefools
. Birch also elaborated on whether he believes Dwayne "The Rock" Johnson is still onboard to play Captain Marvel's nemesis, Black Adam.
"My rule of thumb is that no actor is committed to do a movie until the first day of shooting is over with,"
Birch explained.
"I know that ['Shazam' Director] Pete Segal and Dwayne have a relationship that was solidified when Pete directed 'Get Smart.' As far as him being committed? I'm sure it'll all depend on the script."
The
"Shazam"
film received a much needed jolt back in August when it was announced that comic scribe
Geoff Johns had signed on to co-write the script with Birch
. Birch also stated that he and Johns are writing a completely new draft,
confirming what Johnson told MTV News
back in March.
"Geoff and I are in the thick of it, creating a kickass update that still honors the lore that's been created in over 50 years of Marvel storylines."
Birch said.
In the wake of
"The Dark Knight"
, there were rumors that Warner Brothers wanted all subsequent DC Superhero movies to feature a similar dark tone. These rumors gained credence when former
"Shazam"
screenwriter John August said that the studio wanted the film to be
"edgier."
However, Birch was quick to shoot down that speculation.
"The way the story is shaking out, Geoff and I see this not as 'dark' as 'Dark Knight' but definitely as cool. It'll probably end up with a PG-13 rating,"
Birch related.
"Tonally I think it's important to successfully find the balance of comedy and danger in the story. That's a major aspect I'm focusing on. Frankly hitting the right tone is what's going to either get this made or keep it in development hell."
Viggo Mortensen Discusses Potential Aragorn Role In 'The Hobbit'
A few months ago, Viggo Mortensen told MTV that he could see his
"Lord of the Rings"
character, Aragorn,
popping up in a film
meant to bridge the stories between
"The Hobbit"
and the
"Rings"
trilogy. The only problem there is that the bridge chapter is looking
increasingly unlikely
.
Then again, maybe not.
"Hobbit"
director Guillermo del Toro may have ruled out the possibility of directing the bridge movie, but that doesn't mean someone else -- even Peter Jackson himself -- can't step in to do it. That's what I find most interesting about Mortensen's words in
a recent interview with ComingSoon
. It sounds like he's clearer on the franchise plans since we last spoke from him, and still that talk of a bridge film persists...
"My character is around at times--in the middle, but it would only be if they made a second movie or connecting movie that connected 'The Hobbit' to 'The Lord of the Rings' that I might appear, which would be great,"
Mortensen said.
In fairness, Jackson
told Latino Review a few months ago
that any talk of a bridge movie at this point is
"speculative."
But there's no denying the series' profitability; if the two
"Hobbit"
movies are done in a reasonable amount of time, schedules line up and a worthy story is conceived, it's a safe bet that at least some effort will be putting into setting up that bridge.
For now though, everyone is focused on just getting the opening chapter of
"The Hobbit"
out of the way.
"I think they're just worried about shooting the first part of that movie which doesn't involve my character,"
Mortensen said.
Joss Whedon's 'Dollhouse' Canceled By Fox
"Dollhouse"
fans, the news you've been dreading has officially arrived—Joss Whedon's latest television endeavor is dead.
The Hollywood Reporter
has the breaking news that Fox has canceled
"Dollhouse,"
the Eliza Dushku-starring series created by Whedon. The article notes that despite a DVR-induced ratings bump,
"Dollhouse"
just couldn't cut it by the network's standards. As a result, the series will be put out to pasture after the 13th episode of the second season. Episode 11 is currently filming.
If the ratings and the mixed reaction from fans and reviewers weren't proof enough that
"Dollhouse"
was in trouble, the very fact that
Fox pulled the series from November sweeps
was a clear indicator of the show's impending cancellation.
Now, it appears that Fox won't even wait on the performance of the previously announced
"Dollhouse"
doubleheaders set to air throughout December. In fact, according to THR, it's unclear whether the remaining episodes — which include the debut of
"Terminator: The Sarah Connor Chronicles"
star Summer Glau — will even air at all.
To be honest, I'm torn about the news.
"Dollhouse"
has been a mixed bag since its initial episodes, but when it's on, it's really on. The first year's final string of episodes paved the way for a stronger, more mythologically-focused second season, but that potential hasn't been realized yet. Echo's story continues to be a slow burn, even if it is admittedly faster than last year. The assignment-of-the-week formula remains in place, even though this season was well-positioned to pursue overarching story elements. Two of the show's most prized actors — Alan Tudyk and Amy Acker — are rarely if ever seen these days, admittedly due to forces beyond Whedon's control.
Fans might blame the death of
"Dollhouse"
on Fox given the network's premature cancellation of Whedon's
"Firefly,"
but that seems misplaced to me. Could Fox have had more patience and faith in Whedon's vision for the series? Absolutely. But Whedon and his writers had to work with what they could — and the results, this year at least, are speaking for themselves right now.
Hopefully the final run of episodes lives up to the hype promised in
"Epitaph One."
With two episodes yet to be filmed, I still have hope that
"Dollhouse"
can go out with a creative bang, if not a commercial one.
2012: 15 doomsday prophecies and how they turned out
2012
Not many people working today, aside from Blofeld or maybe Lex Luthor, have hatched as many plots to destroy the world as director Roland Emmerich (certainly not on such a grand scale). In
Independence Day
, he used a worldwide alien assault to blast human civilization to rubble. In
The Day After Tomorrow
, he flooded the world and then flash-froze it like some kind of Clarence Birdseye with delusions of godhood.
Emmerich is prepping his new disaster movie
2012
for release on Friday. This time he's basing his world-smashing destruction on a bunch of theories floating around the blogosphere and the nutosphere that state that the world will end sometime during late 2012, around the time of the winter solstice in the Northern Hemisphere.
So, in light of Emmerich's new plot to destroy the world, and with tinfoil hats firmly in place, we thought it'd be worthwhile to look over 15 end-of-the-world prophecies from the past 1800 years or so and see how they turned out. (Emmerich's
2012
opens
Nov. 13
, ensuring at minimum three years of box office returns.)
Date World Ends:
500 A.D.
Type of Prophecy:
Biblical apocalypse.
Prophet:
Roman theologian Sextus Julius Africanus
Details:
Africanus, writing in the early 220s, uses the Bible as a template to puree Chaldean, Judaic and Egyptian history with Greek mythology and Christianity in his five-volume Chronographiai. After hammering out the entirety of history from the moment of creation to the year 221 (let's give the guy points for ambition), he works out that the second coming would happen at the very latest by 500 A.D.
How It Turned Out:
World still here.
Otto III

Date World Ends:
1000 A.D.
Type of Prophecy:
Biblical apocalypse/millennial
Prophet:
Trend started by Thiota of Mainz and picked up by Holy Roman Emperor Otto III and others
Details:
Apocalypses love nice, round numbers, and what could be rounder than Y1K? With a good priming of the cultural pump from the so-called "pseudo-prophetess" Thiota in 847, Medieval Europe was psyched for the second coming and the start of the Millennium, the 1,000-year reign of Jesus and the righteous mentioned in the Book of Revelation. That Thiota later admitted she was in the apocalypse biz strictly for the cash should have clued people in on how seriously they should take end-of-the-world rants. The looming advent of the year 1000 led to all kinds of fun things, like Holy Roman Emperor Otto III believing himself destined to counter the coming Antichrist; visionary cults; self-flagellation cults; the disinterring of the body of Charlemagne so that he can get up and fight the Antichrist like some kind of Romero super-zombie and other things people would reasonably assume that John Cleese, Graham Chapman and company only made up for
Monty Python and the Holy Grail
.
How It Turned Out:
World still here.
Date World Ends:
1340s-1350s
Type of Prophecy:
The Black Death
Prophet:
Simon de Covino, Matteo Villani, others
Details:
Well, with most of the world dying while covered in enormous, frostbite-colored sacs of pus from India to Iceland, thinking the world was about to end might not have seemed that unreasonable a supposition. Great fun abounds in the new iconography of the era, with skeletons (scary ones, not the Tim Burton-y, singing kind) carrying off the living. French doctor de Covino of Liège says that it seems as if one infected person
"can infect the whole world."
Florentine chronicler Villani thinks the plague was "divine action" the purpose of which might be to wipe out humanity, like the biblical flood.
How It Turned Out:
Europe devastated, but world still here.
William Miller

Date World Ends:
1843-44
Type of Prophecy:
Biblical apocalypse
Prophet:
William Miller
Details:
The Great Disappointment. Miller, founder of the (you guessed it) Millerite movement, works his way through the Book of Daniel and figures out with AIG mortgage-calculator certainty that the world will end in 1843. When that doesn't happen, some of his followers firmly set the date as Oct. 22, 1844. This really was a Disappointment, as many of Miller's followers sold everything they owned in anticipation of the second coming. Today, of course, having misled lots of people and causing them to lose their homes and driving them into bankruptcy, Miller would get a $50 million bonus.
How It Turned Out:
World still here.
Date World Ends:
1919
Type of Prophecy:
Scientific catastrophe
Prophet:
Albert Porta
Details:
Porta, a meteorologist at the University of Michigan, predicts that during the third week of December 1919, an unprecedentedly humongous sunspot would occur, due to the
"electro-magnetic pull"
on the sun exerted by the alignment of Mercury, Venus, Mars, Jupiter, Saturn and Neptune. He loses his job ... which may be the reason terrestrial meteorologists don't work in astronomy much these days.
How It Turned Out:
World still here.
Date World Ends:
1921
Type of Prophecy:
Scientific catastrophe
Prophet:
Henry Adams
Details:
Adams, one of the great thinkers of American history, author of books like
Democracy
and the Pulitzer Prize-winning
The Education of Henry Adams
, works out when the end of the world will come in his 1910 treatise,
Letter to American Teachers of History
. Cranking out analysis of cultural trends that would do Hari Seldon proud, he uses a model based on the dissipation of energy to figure out the four stages of human civilization—the religious, the mechanical, the electrical and the ethereal—and nails with certainty that the end will come in 1921. No calculations are made on the dissipation of energy expended by the disseminating of crackpot theories, which may have thrown off Adams' results.
How It Turned Out:
World still here.
Date World Ends:
March 10, 1982
Type of Prophecy:
Scientific catastrophe
"The Jupiter Effect"Prophet:
John Gribbin and Stephen Plagemann
Details:
In their best-selling 1974 book
The Jupiter Effect
, respected astronomer Gribbin and his co-author Plagemann predict that the March 10, 1982, alignment of seven planets would lead to global upheavals that would be the envy of Irwin Allen, with the San Andreas fault flattening California, massive storms, a change in the speed of Earth's rotation, etc. Gribbin eventually recants, maybe after thinking about what happened to Porta. The high tide on the predicted doomsday does turn out to be a less-than-tsunami-like .04 millimeters higher than normal. San Diego astronomer Dennis Rawlins tells The New York Times that day that any undue gravitational pull individuals feel can be alleviated by
"sitting down."
How It Turned Out:
World still here, but .04 millimeters wetter.
Date World Ends:
1988/2007
Type of Prophecy:
Biblical apocalypse
Prophet:
Hal Lindsey
Details:
Lindsey's 1968 book,
The Late, Great Planet Earth
, predicts the end of the world in 1988, one biblical generation (40 years) after the foundation of the state of Israel. When 1948 doesn't suit him any more as a date by which to gauge the start of a 40-year generation, Lindsey decides that 1967 is more accurate. So, that would place 2007 as the end of the world. What's today's date?
How It Turned Out:
World still here.
Date World Ends:
1988/1989/1990/1993
Type of Prophecy:
Biblical apocalypse/Rapture
Prophet:
Edgar Whisenant
Details:
In
88 Reasons Why the Rapture Will Be in 1988
, Whisenant, a NASA engineer, does some serious crunching of numerical clues in the Bible and locks down the date of the Rapture, solidly, as coming between Sept. 11 and 13, 1988. His book sells millions of copies. Overeager Edgar even says,
"Only if the Bible is in error am I wrong, and I say that to every preacher in town."
Undaunted, and determined to make apocalyptic lemonade out of his gaffe, Whisenant uses failure of the Rapture coming as an opportunity to sell more books as he pushes the date back to 1989. Then to 1990. And then 1993 ...
How It Turned Out:
World still here.
Shoko Asahara

Date World Ends:
1995
Type of Prophecy:
Nostradamus/various
Prophet:
Shoko Asahara
Details:
In 1987, Chizuo Matsumoto renames himself Shoko Asahara and mashes together various aspects of Buddhism, chunks of Nostradamus' predictions, apocalyptic Christianity, science fiction, Hinduism, anime and yoga into Aum Shinrikyo ("Supreme Truth"), an Armageddon-focused cult based in Japan, with tens of thousands of members worldwide. After proclaiming himself a new Christ, traveling to the year 2006 and talking to the survivors of World War III (so he claims), Asahara preps his followers for a Final War against the enemies of Japan. After a few botched attempts at initiating germ warfare, Aum Shinrikyo spreads deadly nerve gas through the Tokyo subway system, killing 12 and injuring thousands in March 1995. After an eight-year trial, Asahara is convicted and sentenced to death.
How It Turned Out:
World—and Asahara—still here, awaiting execution.
Nostradamus

Date World Ends:
1999
Type of Prophecy:
Nostradamus
Prophet:
Nostradamus
Details: Nostradamus, writing in 1555, predicts the end of the world for the year 1999. Maybe. Or he predicts a meteor strike that will kill millions and throw the world into political chaos. Maybe. Or it could be an asteroid. Maybe. Or it could be a UFO with attendant alien invasion. Maybe. Or it could be, as some believe, that he predicts the plane crash that kills John F. Kennedy Jr. Maybe. It all depends on how you choose to read his murky and cryptic predictions. Personally, I choose to believe that he refers to the success of Michael Bay's
Armageddon
, which was released on July 1, 1998, and was just one year off in his forecast. What else could "seven months into the year" and "From the sky will come the great King of Terror" possibly refer to?
How It Turned Out:
World still here. Bay still making movies.
Date World Ends:
Jan. 1, 2000
Type of Prophecy:
Millennial (Y2K variant)
Prophet:
Robert Bremer and others
Details:
Computer scientist Bremer and others see potential catastrophe coming on Jan. 1, 2000, due to computers the world over using two-digit representations of years in dates rather than four digits. With the coming of the new century, the computers would go all HAL-from-
2001
on our asses, unable to function without a clear time reference once the date prefix "19" no longer applied. This would lead to failures of banking systems, municipal computing systems, air traffic control ... things that humans ordinarily do a fine job of mucking up on our own. Up to $200 billion may have been spent worldwide (maybe $100 billion in the U.S. alone) to make computers compliant with the new post-2000 date change. Relatively minor glitches occur worldwide on Jan. 1, but there's no way of telling what may have failed if precautions hadn't been taken.
How It Turned Out:
World still here.
Date World Ends:
Dec. 21, 2012
Type of Prophecy:
2012/Maya variant
Prophet:
Mayan Long Count Calendar
Details:
Of the several calendars used by the Mayans, one called the Long Count predicts that the current cycle of history will end on Dec. 21, 2012. Whether that "cycle" is partly defined in cultural terms by Emmerich's ability to get funding for disaster movies remains to be seen after the grosses of 2012 come in.
How It Turned Out:
?
Date World Ends:
2012
Type of Prophecy:
2012/Hopi Fourth World variant
Prophet:
Hopi Indians
Details:
The Native American Hopi of Arizona believe in a cyclic course of history, with worlds falling into entropy over time, to be replaced by fresh new ones. Some people believe that the current world, the Fourth World of Hopi cosmology, might be coming to an end, ... with 2012 doomsday fans saying it will definitely end on Dec. 21, 2012. The Hopi also have a story about how one can lose time while watching lizards, ... which might be a reference to all the time people lost watching Emmerich's crappy
Godzilla
remake.
How It Turned Out:
?? (Though
Godzilla
still sucks really bad.)
Date World Ends:
November/December 2012
Type of Prophecy:
2012/I Ching variant
Prophet:
Terence McKenna
Details:
Metaphysician and ethnobotanist McKenna cooks up a mathematical model of "novelty" as a central quality of the flow of time. Applying this model to the
I Ching
(why not
Lord of the Rings
or
The Da Vinci Code
?), he predicts the end of the world coming on Dec. 21, 2012. Well, at first it's November 2012. Then he moves doomsday up to Dec. 21, once he sees that other doomsayers are talking about Dec. 21. This pushing back of the date of an apocalyptic event clearly has a synchronic, Jungian relation to the pushing back of the release of 2012 from this past July to this November. It's all connected.
How It Turned Out:
Won't know until Dec. 22, 2012. Our guess: World still here.