Princess Tiana in museum, parks, and stores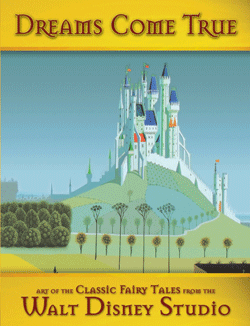 Disney is pulling out all the stops to make sure
The Princess and the Frog
is a success. The
News and Observer
looks at the big reasons why and focuses in on some of Tiana's theme park appearances.
Yahoo Finance
looks at the major merchandising push and what's available. And (as we reported previously) Disney has opened an exhibit at the New Orleans Museum of Art, called
"Dreams Come True: Art of the Classic Fairy Tales from the Walt Disney"
, featuring artwork from many of their films -- including the New Orleans set
Princess and the Frog
. Can't make it? You can order the exhibit catalogue from
NOMA
.
The Frog Prince
The inevitable Disney knock-off DVD has arrived early this year! On sale
December 1st
from our friends at Goodtimes Home Video is the
The Frog Prince
. Yeah, we know there are dozens of live and animated adaptations of the Brothers Grimm fairy tale out there - but this new one also happens to have a black princess as its central character. A coincidence? I think not. We have no idea who produced this, so if anyone wants to spend $13.49 and send us a few frame grabs, it would be most appreciated. We just want to give credit where credit is due.
(Thanks, Kurtis Findlay)
(Thanks
cartoon brew
)
Fantastic Mr. Fox Display at Bergdorf Goodman
The Bergdorf Goodman Men's Store in Manhattan has fantastic window displays this season…
Fantastic Mr. Fox
displays that is. The twelve windows feature character puppets, props and background elements that were used in the production of the film. The store is located at Fifth Avenue and 58th Street. My pal
C. Edwards
who snapped the iPhone pics above pointed out that Wes Anderson's twee aesthetic was also applied to the Louis Vuitton display windows with
The Darjeeling Limited
. Better photos of the displays can be found on
this website
.
(Thanks
cartoon brew
)
Linkage in Mid-November
Linked bits of Animationland, just for you.
Mr. Newman
admits
it's just not the same.
[
Princess and the Frog
] composer Randy Newman ... said writing for traditional animation was a little different from writing for Pixar's GC toons.
"The music has a diifferent movement. You can't really play too long because the mood will change ..."
("GC toons". It is the french "Graphique de Computer," in case you're wondering.)
The Globes
catch up
to the Oscars:
The Golden Globes' animated feature category has been expanded from three to five after a vote last week by the Hollywood Foreign Press Assn.
Fantastic Mr. Fox
, an
actor's paradise
?
... The voice performances rank among the most richly nuanced ever captured for an animated feature, with Clooney (speaking slightly below his usual register, as if everything were a self-conscious aside) and Streep (resplendent as a former wildcat turned nurturing Earth mother) doing some of the best work of their illustrious careers. Among the movie's many virtues, they render an unusually convincing portrait of a marriage, a reminder that the most unexpected thing about Anderson's film is — underneath all the carefully affixed, wind-sensitive whiskers and fur — how deeply human it is.
And here's a story that makes me tingle. Mass Animation, the wonderful folks you brought you
this
... are now inviting animators to join them for
this
:
Now Mass Animation is involved in another Facebook project with Sony Online Entertainment and DC Comics. This week the DC Universe Online Animation Contest was announced. This is being called version 2.0 of the Mass Animation FB app and will give DC fans, gamers, and animators a chance to animate characters from the DC Universe online game that Sony is developing. This is another example of Mass Animation allowing fans to collaborate on a big product. The contest will launch on
December 7
.
Exciting, no? It's the brave new world of indentured servitude.
And Sean Connery's
come-back to film-making
has been ricocheting around the intertubes, to wit:
Connery is making a semi-return as he's voicing the lead character in the animated film,
Sir Billi
. Connery is a producer on the project and has been heavily involved with its production.
Lastly, Mr. Ross
continues his winter house-cleaning
at the Disney Co.
... Walt Disney Studios chief Rich Ross has pulled the plug on a planned $150-million production of
"Captain Nemo: 20,000 Leagues Under the Sea"
-- the last project approved by his predecessor Dick Cook.

The family adventure movie -- a high priority for Disney that the studio had envisioned as a potential franchise along the lines of
"Pirates of the Caribbean
" -- was scheduled to begin shooting in February in Mexico. Disney had already spent about $10 million hiring crews, who were prepping the movie and planning to build elaborate sets in Rosarito Beach. Artwork and construction of models were underway. ...
It appears that mny of the projects beloved by Dick Cook now have the stink of death about them. Ah well. That's Hollywood.
(Thanks
Animation Guild Blog
)
Ralph Bakshi on Pixar
We've already linked to this, but
this interview with Ralph Bakshi
has some really shrewd insights peppered throughout. One of his comments that stood out most is his opinion of Pixar:
I don't see too many new films today as it is - just sitting in the theater and watching all of that money on the screen, wishing that I had even a tenth of it to do some of the things that I wanted. It's just a hard pill for me to swallow. On the other hand, thinking about a place like Pixar having to spend $150 million on a film is another hard pill for me to swallow. I don't think animation is worth that kind of money. I think it's part of the problem. With everything that's happened to this country, where do we come off spending that kind of money?…The kind of money they spend, the expertise, and the various departments they have is startling. Those films better be good, because basically the guys have no choice. It better be good, or they're wasting a lot of money.
Bakshi has a point. Has all that money really made animation any better? How much better would CG animated features be if budgets were voluntarily cut by the studios and directors were forced again to make creative decisions instead of spending all their time gilding lilies. Too many computer animated films today have the gaudy feel of things created by dictators who spend tons and tons of money and still end up with
aesthetic and conceptual eyesores
. Hollywood is never going to return to Bakshi's days of shoestring animated features made quickly and with passion, but reining in the ever-ballooning budgets of computer animation might result in less inflated, self-important films that actually leave a lasting impact.
(Thanks
cartoon brew
)
New Images And Video Clips From Upcoming "Batman: The Brave And The Bold" Episode
The
World's Finest
has received new clips, images and details for the upcoming all-new
Batman: The Brave and The Bold
episode
"Death Race to Oblivion!"
Cartoon Network has passed along the episode synopsis, video clips, and over twenty images for the upcoming all-new
Batman: The Brave and The Bold
episode
"Death Race to Oblivion!"
The episode is scheduled to air
Friday, November 20th, 2009
at 7:30pm (ET) on Cartoon Network. To get a closer look at the images, click on the thumbnails below.
Click Here For More Images, Videos & Details!
The all-new
Batman: The Brave and The Bold "Death Race to Oblivion!"
episode, scheduled to air on Friday,
November 20th 2009
at 7:30pm (ET) on Cartoon Network, is described as seen below.
Batman: The Brave and The Bold "Death Race to Oblivion!"

Mongul holds Earth ransom, forcing it's greatest heroes--and villains!--to race for the planet's survival. It's a crooked bargain wherein even if Batman wins, he dooms his fellow heroes--if the villains don't doom them first!
Two clips from the episode, provided by Cartoon Network, are available to view
here
at our
Batman: The Brave and The Bold
subsite. Other details for
Batman: The Brave and The Bold "Death Race to Oblivion!"
, including cast and crew credits, are also available at our
Batman: The Brave and The Bold
subsite.
Mindreal Fuels Neeka's Carsong
Dennis Van Den Bergh and Stef Paulussen from Belgian studio
Mindreal
created this sharp-looking CG music video or the singer
Neeka
. This is titled
Carsong
.
Sutherland Forces Out Star Wars Animations
Did you spot Mike Geiger's take on a scene from
Star Wars
over at ColdHardFlash earlier this month
? It was for
Star Wars Uncut
, Casey Pugh's crowdsourcing project, and I just spotted a few clips submitted by
Malcolm Sutherland
. Here's scenes 113 and 246, complete with newly recorded audio.
Figliozzi Had Snack Attack Before Meatballs
Jason Figliozzi
created
Snack Attack
, which you can see below, while studying at
Ringling College of Art and Design
in 2008. He's since moved to Los Angeles, where he was part of the animation crew on
Cloudy With a Chance of Meatballs
.
Périn's 8-bit Animation is a Trucker's Delight
Yowza. Tuck the kids in, and give Grandma a crossword – 'cuz this one's got all sortsa crazy shit in it. It's the latest music video from Parisian electronic group
Flairs
, and the brilliant, 8-bit, sexy madness was directed by Jérémie Périn, by way of
Premiere Heure
. And I gotta say, this simulated video game makes
Grand Theft Auto
look like Tetris. The track is titled
Trucker's Delight
. [
NSFW
- pooping, nudity, animated sex, barfing and some weird anal-Dig-Dug-stuff]
Toons of the 2000s: The Fall and Rise (?) of 2D Animation
The 00's were a rough decade for theatrically released, traditionally animated films. 2D started as the dominant storytelling art form and found itself supplanted by CG midway into the decade. How did that happen? Is 2D doomed? To find our answer, we'll have to travel back to the 90's and explore the key factors that made 2D ripe for a fall from grace in the 00's.
The 90's saw a boom with studios such as Warner Bros. (1993) and Fox (1994) creating their own feature animation divisions in response to Disney's success with
The Little Mermaid
and
Beauty and the Beast
. In 1994, Jeffrey Katzenberg resigned from his post at Disney and went on to form Dreamworks SKG with Steven Spielberg and David Geffen later that same year. The results of WBFA's, Fox's, and Dreamworks' 2D efforts were mixed. Fox and WBFA saw some modest successes financially and critically, but the films released by these studios were largely plagued by poor storytelling and marketing issues. This put 2D in a poor position to maintain its status as the first choice for visual storytelling should anything new - like CG - come along. Pixar's
Toy Story
, released in 1995, was the first feature animation film created exclusively using 3D CG. It was critically acclaimed and financially successful.
Toy Story
had a production and advertising budget of 65M and made 191.1M domestically. Though it took time to see the full effect, it completely changed the animation industry landscape.
20th Century Fox
In 2000, Fox's Phoenix, Arizona studio, headed by Don Bluth and Gary Goldman, released
Titan A.E.
The film is said to have cost approximately 85M to produce. It took in 9.3M opening weekend and went on to make only 22.7M domestically. The disparity between what it made and what it needed to make was assisted by Disney's wide-release of
Fantasia 2000
on the same exact day. Disney had previously engaged in this tactic by re-issuing
The Little Mermaid
on the same day as Fox's
Anastasia
in 1997 and in 1994 with the re-release of
The Lion King
coinciding with the debut of New Line's
The Swan Princess
. Disney's needlessly ruthless approach aside,
Titan A.E.
ultimately did itself in by starting with an unoriginal idea and compounding it with storytelling issues, flat voice acting from its lead characters, and, while each might have been visually compelling on its own, poorly meshed 2D and CG animation.
Fox had let two-thirds of the studio's staff go earlier that year and officially closed the Phoenix studio approximately two weeks after the movie's release. The studio had cost 100M to start up, only to find modest success in its release of
Anastasia
, which was derivative of the Disney releases of the time. It had not met its commitment to output a film every 18 months, and its departure from the animated musical formula,
Titan A.E.
, tanked.
Fox shifted their focus from 2D to 3D CG in transforming the New York based Blue Sky from a special effects and commercial production house to a feature animation film studio. The Blue Sky movies tend to have an assembly line feel, with their stories having been told many times before and their visuals not meeting or exceeding the level of other studios. Their first release,
Ice Age
(2002), was reviewed as
"unoriginal"
but
"witty"
and received a 78% fresh rating on Rotten Tomatoes. Continuing the trend of lacking originality,
Robots
(2005) was reviewed less favorably, but managed a domestic gross that surpassed its production budget. It featured Robin Williams in the same exact role he's played since his performance as the genie in Disney's
Aladdin
. Their following film,
Everyone's Hero
(2006), was conceived and directed by Christopher Reeve.
Everyone's Hero
was considered a heartwarming but poorly executed effort that made only 14.5M domestically.
Horton Hears a Who
(2008) was reviewed favorably and was credited as one of the few Dr. Seuss adaptations to stay true to the spirit of the original material. Fox's most recent film,
Ice Age: Dawn of the Dinosaurs
(2009), has begun to expose cracks in the franchise's facade by once again treading back over the same material. To Blue Sky's credit, they've stepped up their game with regards to animation. The film did well with a production budget of 90M and domestic gross of 196.4M, but it was still poorly received by critics.
Warner Bros. Feature Animation
WBFA has a troubled history. Animators at the TAG Blog seem to have pleasant enough memories of their time at WBFA; however, within those memories exist recollections of a great deal of sitting around and doing nothing. While WBFA had about eight or nine films in development within its first year, Bob Daley, chairman and co-CEO, failed to pull the trigger quickly on greenlighting projects.
Space Jam
(1996) was the only film to come out of WBFA that had a domestic gross (90M) exceed its production budget (80M).
Quest for Camelot
(1998) was a pleasant, if unmistakable misfire. One review called it a "nearly perfect reflection of troubling trends in animated features".
The King and I
(1999) was horrid from start to finish. It contained some of the worst meshing of 2D and CG ever seen on film. Another review referred to it as
"a cheesy piece of infantile animated pap"
. WBFA had a true gem with
The Iron Giant
(1999), arguably one of the best animated films of all time which, unfortunately, fell victim to a miscalculated release date and a misleading marketing campaign. It had a production budget of 70M and a domestic gross of 23M. Director Brad Bird has referred to the film as a
"highly regarded financial failure"
.
Osmosis Jones
(2001) was very nearly an adequate animated movie, which would be fine if it wasn't half live-action and if the film's latter sequences weren't terrible. After these financial failures, Warner Bros. scaled back its feature animation division by 250 employees in 2002.
Looney Tunes: Back in Action
(2003) was described as
"nonsensical"
and
"uninspired compared to the classic Looney Tunes"
on Rotten Tomatoes. It had a production budget of 80M and a domestic gross of 20M. Needless to say, none of this made for a successful animation division and WBFA produced no further films after 2003.
Dreamworks
Dreamworks released a total of four 2D animated films between 1998 and 2003: Prince of Egypt (1998),
The Road to El Dorado
(2000),
Spirit: Stallion of Cimarron
(2002), and
Sinbad: Legend of the Seven Seas
(2003).
Prince of Egypt
was the only 2D film with a domestic gross exceeding its production budget. The others, while entertaining and quite pretty, suffered from predictable plots and other storytelling issues. They did not meet the level of excellence necessary to thrive in the environment they were born to, and they subsequently flopped at the box office.
Dreamworks' 3D CG offerings have had much more success.
Antz
(1998), their first CG effort, was unremarkable.
Shrek
(2001), however, had some very tight dialogue and gave audiences something they had greatly longed for by turning the fairy tale formula on its head, poking it with a sharp stick. Adults enjoyed this film as much, if not more, than their children.
Shrek
's production budget was 60M and its domestic gross was 267.7M.
Shrek 2
(2004) was not as fresh, but it exceeded the original's success with a production budget of 150M and domestic gross of 441.2M.
Shrek the Third
, while far from loved by critics, continued the financial success with a production budget of 160M and domestic gross of 322.7M. With the exception of
Antz
and
Bee Movie
(2007), all of the CG movies produced by Dreamworks [
Shark Tale
(2004),
Madagascar
(2005),
Over the Hedge
(2006),
Kung Fu Panda
(2008),
Madagascar: Escape 2 Africa
(2008), and
Monsters Vs. Aliens
(2009)] have had their domestic gross surpass their production budget. While Dreamworks' films have largely been financially successful at the theater, they are often treated as the red headed step children to Pixar's offerings. It wasn't until
Kung Fu Panda
that their movie making achieved a level of artistry that transcended its commercial purpose. While Dreamworks shows no signs of returning to 2D as a storytelling medium any time soon, 2D animation has shown up in very slight amounts, such as in
Kung Fu Panda
's stylized opening sequence.
Stop-Motion
Let's take a quick respite from the studio breakdown to talk about stop-motion animation. This retrospective blog post is about 3D CG and 2D animation, so why bring stop-motion into this? During this decade, the majority of films released using this visual style were both favorably reviewed and successful at the box office. While there were a limited number of stop-motion films on the market, their success makes a strong argument for audiences' willingness to hit the theaters for non-CG offerings, providing reason to maintain hope for the future of traditionally animated features.
Let's do a quick breakdown of stop-motion films that saw wide release, received favorable reviews, and had production budgets surpassed by their domestic gross. Chicken Run (2000) was produced by Aardman and distributed by Dreamworks. It was well-received with a 98% fresh rating. It had a production budget of 45M and domestic gross of 106.8M. Tim Burton's
Corpse Bride
(2005) was distributed by Warner Bros. It received an 83% fresh rating. It had a production budget of 30M and domestic gross of 53.3M.
Wallace and Gromit: Curse of the Were-Rabbit
(2005) had a 95% fresh rating. It went in with a production budget of 30M and came out with a domestic gross of 56.1M. This film was also produced by Aardman and distributed by Dreamworks.
Coraline
(2009), released by Focus Features, had an 88% fresh rating, a production budget of 60M and domestic gross of 75.3M.
Fantastic Mr. Fox
(Fox) has received some very favorable reviews and will go into limited release in New York and Los Angeles on 11/13/09 and wide release on 11/25/09. I'm very much looking forward to seeing how it performs at the box office.
Disney
Generations have grown up with the presence of Disney in their lives. If there has been one constant, it is Disney's traditionally animated features. Our appreciation of the art form stems from those films. Their near disappearance makes the mouse's story during the 00's particularly heart-wrenching, and who can't be moved by the plight of all the artists and other employees who found themselves put out of work during the transition to 3D CG?
In 1989, the company created Walt Disney Feature Animation Florida, which had initially worked only on shorts and later assisting with features coming out of the Burbank studio. It wasn't until
Mulan
(1998) that the Florida studio had a film to call their own. The movie, an adaptation of a Chinese folktale, was well-received with an 87% fresh rating on Rotten Tomatoes. It had a production budget of 90M and a domestic gross of 120.6M. Their next film,
Lilo & Stitch
(2002) was the story of a delightfully odd girl and a destructive alien she adopts as a pet. The movie relies heavily on themes of family and Hans Christian Andersen's tale,
The Ugly Duckling
.
Lilo & Stitch
had a production budget of 80M and domestic gross of 145.8M.
The Florida studio's last film,
Brother Bear
(2003), follows an Eskimo named Kenai who transforms into a bear after dispatching, in an act of thoughtless revenge, the one that took his brother's life. It was not nearly as engaging as the studio's first two releases and, to go along with its 39% rotten rating, was described as
"pleasant, if unremarkable"
by Rotten Tomatoes. There was one important scene regarding Kenai's direct connection to the death of the mother bear; it could have been particularly poignant but is instead glossed over in montage.
Brother Bear
had a production budget of 80M and domestic gross of 85.3M. On November 14, 2003, then President of Walt Disney Feature Animation, David A. Stainton, paid the Florida studio a surprise visit. He pulled the plug on their latest film in production and strongly suggested people begin looking for work elsewhere. The studio was officially shut down on January 12, 2004. A small, unconfirmed number of animators were offered jobs at the Burbank studio. The rest sought employment with other studios or left the industry entirely.
According to the Orlando Business Journal, Roy Disney, company founder Walt's nephew, called the move,
"another example of Michael Eisner's de-emphasis of creativity and total indifference to the impact his decisions have on the people who helped to make the company great"
. Roy Disney resigned as Chairman of the Feature Animation Division and as Vice Chairman of the Board of Directors on November 30, 2003 in a blunt letter addressed to then CEO, Michael Eisner. In that letter he acknowledged that Eisner had at one point been a good fit for the company, then proceeded to criticize Eisner for micro-management, company-wide loss of morale, failure with ABC Prime Time, building theme parks
"on the cheap"
, enforcing the idea that the company was
"rapacious, soul-less, and always looking for the 'quick buck' rather than long-term value"
, driving talent away, failure to establish and build upon relationships with creative partners such as Pixar, and failure to establish a clear succession plan. Stanley Gold, who had been on the board of directors, issued his own letter of resignation shortly thereafter. According to marketwatch.com, criticism of Eisner's management can be traced to the time of COO Frank Wells' death in 1994. Studio Chairman Jeffrey Katzenberg also resigned soon after being rebuffed in his attempts to replace Wells.
While all the insanity of WDFAF was going on, the Burbank team was still pumping out films.
Dinosaur
(2000) was a product of WDFA's CG Unit. It composited CG characters over live-action backgrounds shot in Venezuela. The film was described as having great visuals and atmosphere, but no plot to speak of. It had a production budget of 127.5M and a domestic gross of 137.7M.
The Emperor's New Groove
(2000) was the film salvaged from the troubled production of
Kingdom of the Sun
, originally to be far more epic in scale. The movie went from being a story in the spirit of the
Prince and the Pauper
to a simpler buddy film. The final product received an 85% fresh rating, but it had a production budget of 100M and a domestic gross of only 89.3M.
Atlantis: The Lost Empire
(2001), was notable for production designs by comic artist Mike Mignola (
Hellboy, Screw On Head
), but not much else. The film received a 46% rotten rating. It had a production budget of 120M and domestic gross of 120M.
Treasure Planet
(2002) seems to be something of a fondly remembered flop. This film, once again, was made during a time when 2D's grip was tenuous at best, and Disney had to pull through with stellar characterization and story to support the polished visuals. It really needed to succeed and didn't. The film had a 70% fresh rating, but it failed financially with a production budget of 140M and domestic gross of merely 38.2M. The final 2D film to come out of Burbank for quite some time would be Home on the Range (2004), which received a 54% rotten rating. The production budget was 110M, and the domestic gross was 50M. Of the films that were received poorly, it is tremendously uncommon to find complaints about Disney's lustrous visuals. The common theme to the criticism was weak story and characterization.
In several interviews and articles there were mentions of the company receiving credit for animated successes that were not their own. The general public thought of "Feature Animation" and the Disney name as synonymous; it is not a great logical leap to say this perception was probably a double-edged sword. In addition to damage done from within, the Disney brand, which had once stood for the pinnacle of quality, was further dinged by the financial and critical failures coming from other studios. Trust in your brand brings consumer loyalty. Without that, you have nothing. A movie about a somewhat realistic looking animated rat might only have drawn an insignificant audience if it had been released by anyone other than Pixar, with their strong brand name.
Disney and Gold launched SaveDisney.com in December of 2003, with the purpose of ousting Eisner and the belief that they could effect change within the company by applying outside pressure. In their assessment of the online and media campaigns, IR Web Report said that this would go down in history as a symbol of how the web can be a powerful communications tool and a democratizing force in the capital markets, serving as an effective blueprint for how other shareholders and activists could use the internet to challenge companies on governance and other issues. In the media, Disney said all the right things by establishing a rapport with the public, letting them know he stood for the ideals on which his uncle founded the company, creating the perception that he was the last line of defense. He took an already unloved man and made him a pariah. On March 4, 2004, Eisner received a 43% no-confidence vote at a shareholders' meeting; the CEO was stripped of his role as Chairman. George Mitchell took over the position. That September, Eisner set a date for his exit as CEO, and on March 13, 2005, Bob Iger was officially named as his successor. On July 18, 2005, the Walt Disney Company announced a truce between Roy Disney and Bob Iger, and savedisney.com was taken down.
Now, let's head back to the films. The frequent complaints of weak story and characterization are prominent in two out of the three Disney 3D CG offerings.
Chicken Little
(2005) was cute, but not strong enough to capture audiences' attention. It received a 37% rotten rating, had a production budget of 150M, and pulled in 135M domestically.
The Wild
(2006) might have prompted potential film goers to think,
"Hey, why does that look a lot like Madagascar?"
Disney made an interesting character design choice for the animal stars by going with the one point between realism and stylization that makes people uncomfortable. The film had an 18% rotten rate, with a production budget of 80M and a domestic gross of 37.4M.
Meet the Robinsons
(2006) was a step in the right direction, almost as if Disney was beginning to find its bearings in the newer medium. The film received a 66% fresh rating and made 97.8M domestically.
Bolt
(2008) was originally called
American Dog
and then not. Chris Sanders of
Lilo & Stitch
fame was originally working on the project and then not. The final product was well received critically. It had a production budget of 150M and domestic gross of 114M. One could argue that Disney had done so much damage to their brand by now that even a good movie was a hard sell.
The Walt Disney Company announced its purchase of Pixar on January 25, 2006 after weeks of circulating rumors. With the announcement, Steve Jobs became a member of the board, and Pixar's John Lasseter became Chief Creative Officer. This was quite a turnaround from 2004; discussions on their distribution agreement had broken off that year due to a strained relationship between Jobs and Eisner. Lasseter has been a very vocal supporter of the traditionally animated 2D medium, with some online outlets calling him the savior of 2D. A bit premature, I think. But the support is encouraging, and if there is one man poised to give the medium the push it needs, it's him.
The Princess and the Frog
marks Disney's first return to 2D since 2004's
Home on the Range
. Ron Clements and John Musker of
The Little Mermaid
and
Aladdin
fame wrote and directed the film. Princess and the Frog will see wide-release in theaters on December 11, 2009.
Pixar
For better or worse, Pixar changed the animation landscape with its initial foray into feature film production.
Toy Story
(1995) proved conclusively that a character driven story could be told effectively using 3D CG. Prior to this, CG had been relegated to special effects, background elements, props, and other non-living constructs within traditionally animated films. Pixar had made a conscious decision to avoid using humans as any of their lead characters largely because the CG technology was incapable of capturing or emulating what the mind would accept as human motion at the time.
Pixar has been at the fore with solving the medium's challenges. With
Monsters Inc.
(2001), they created the most convincing fur-covered creature yet seen in James P. "Sully" Sullivan. In
Finding Nemo
(2003), Pixar created a believable and gorgeous ocean environment.
The Incredibles
(2004) was the first Pixar film that saw stylized humans as lead characters. Bird called the film, "everything that computer-generated animation had trouble doing". At that year's San Diego Comic-con panel for the movie, Bird touched on the technical hurdles of the medium in mentioning how easy it was to create an explosion and how complicated it was to animate the folds in a person's shirt as he's being lifted by it. In
Cars
(2006), their first production after having been purchased by Disney, we were exposed to jaw-dropping vistas as the cars drove across the country. In their latest films, they've begun finessing their work with delicate touches such as the shadows of balloons or the stubble on Carl Fredrickson's chin in
Up
(2009). This is all eye candy, of course. Whenever prodded for their focus, they inevitably mention good stories and characterization being what anchors a film.
The studio has had an amazing track record. Every single one of the 10 films they've released [
Toy Story, A Bugs's Life
(1998),
Toy Story 2
(1999),
Monsters Inc., Finding Nemo, The Incredibles, Cars, Ratatouille
(2007),
Wall-E
(2008),
Up
] has seen domestic grosses larger than their production budget. Even their weakest film in terms of characterization and story scored a 75% fresh rating over at Rotten Tomatoes. All of their other releases range between 91% to 100% fresh. Prior to their purchase by Disney, Pixar had supplanted them as the world's dominant animation studio. Like it or not, every other studio's success is measured against theirs. It's an almost unnatural level of success, and it has fans and critics of Pixar alike waiting and watching for their first true misstep.
Walt Disney has been quoted many times as having said,
"I don't make movies to make money -- I make money to make movies."
Pixar seems to have carried on in that tradition. In fact, we'll close out this section with some quotes from current Chief Creative Officer of Disney, John Lasseter, because they're heartening and give hope for the future of 2D animation.
"Quality is the best business plan."
"From the beginning, I kept saying it's not the technology that's going to entertain audiences, it's the story. When you go and see a really great live-action film, you don't walk out and say 'that new Panavision camera was staggering, it made the film so good'. The computer is a tool, and it's in the service of the story."

"Andrew Stanton always said that 2-D animation became the scapegoat for bad storytelling, but you can make just as bad of a movie in 3-D."

"The whole notion that the audience didn't want to watch hand-drawn animation any more was ridiculous. It would be like saying the audience didn't want to watch something made with a particular camera. Give me a break!"
"It's storytelling. No one goes to a movie to see a particular technology. They go to see story and characters. They go to be entertained. What it was is that 2D became the scapegoat for bad storytelling."
Wrap-up
Now that we've taken a look at the past decade, what does the future hold for 2D Feature Animation? Craig Grasso, a former employee of Disney's Florida studio, said in one interview,
"People didn't stop painting when they invented the camera."
It's not uncommon for an advancement in technology to capture the attention of audiences. It happened in live-action film with the addition of sound and then color. The novelty of the technological advancement does attract more attention and put more people in the seats. For awhile. Eventually people grow accustomed to the additional stimulation and, once again, begin to notice flaws in other areas of the film. The exact same storytelling flaws exist in CG that did in 2D. It will probably take a hit in popularity sometime down the road and likely for the same reasons. Though, if you're holding out for CG to disappear entirely, you're in for a long wait. Like sound and color, it's here to stay. It has cemented itself as a viable storytelling medium and produced some exceptional films.
Even if it could, do we want 2D to return to its place of prominence? 2D was certainly poorly serviced as an art form in the 90's and 00's because of it. Why not allow it to exist in a more niche role? Why not allow the more commercial vehicles to be what they will be and allow 2D to exist as a choice of artists? The best reviewed CG films are as such because their artistic style complimented an already solid story. It's also important to remember that the number of animated films released annually has, on average, doubled from the prior decade. More animation is always good, even if it's not all 2D.
The 2D medium is not dead. It never fully left us. We have only touched on the big studios and the films they had a direct hand in producing. Disney still had traditionally animated 2D output into 2005 with films that were originally intended as DTV releases. While we saw no traditionally animated releases from the major studios in 2008, we did have
Waltz with Bashir
, a 2D CG movie created in Adobe Flash. Throughout the decade we've had limited and wide releases of anime. Later this month, we'll see
The Princess and the Frog
from Disney. Whether we'll see Lasseter continue to deliver on his 2D commitment remains to be seen, but things are not nearly so bleak as they may have seemed mid-decade.
2D will likely maintain a minimized role in the next decade, but it will be around. It is more likely in the decades to come that the other major studios will, once again, take chances on visual styles beyond CG. So we go into the new decade with a cautious hope that 2D, while unlikely to ever return to its former prominence, will become more oft used. And, hopefully, we'll end up with a choice of stories that better suit it and that it better suits.
(Thanks
Toon Zone
)
Outer Space Astronauts premieres online today! (video)
We know some of you had, um, opinions about the upcoming newest Syfy series
Outer Space Astronauts
, and we're happy to give you a sneak peek at the show, which debuts next month (but we'll give you a look at the first episode early; see below).
Outer Space Astronauts
is a futuristic comedy series about eight vaguely courageous, highly distractible military personnel who journey to the far reaches of the galaxy seeking knowledge, adventure ... and whatever else they can come up with. The crew of the O.S.S. Oklahoma are led by a lackluster captain who would rather be planning the next
"margarita Monday"
than leading a mission against evil, much to the exasperation of his by-the-book second-in-command.
Outer Space Astronauts
premieres
Tuesday, Dec. 8
, at 9:30 p.m. (ET/PT) following the season finale of Syfy's hit reality series
Scare Tactics
at 9 p.m.
But you can view the first episode exclusively on
Syfy.com's
Rewind section today! Watch, then let us know what you think.
If Not Rachel, Then Does Julia Stiles = Black Cat, Then?
Hot on the heels of the (now debunked) Rachel McAdams rumor, UGO has learned that Julia Stiles has met with a casting company in New York to discuss
"Spider-Man 4."
Although no specifics have been learned as to what role Stiles is circling, everyone of course assumes it will be Black Cat.
Well, if that is the villain Raimi is indeed pursuing for this chapter, I must say I am against it. She's too similar to Catwoman for one thing. I mean, a cat burglar who has a forbidden sexual attraction with a costumed superhero? It's gonna seem like a rip off, no matter which feline villainess was around first, because Catwoman is definitely the more well known character (ignoring the Halle Berry fiasco, of course). Also, what we don't need in
"Spidey 4"
is yet another love triangle, which wasn't very well received in
"Spidey 3."
(Thanks
Latino Review
)
We've got big spoilers for Star Trek 2! (12?)
Director J.J. Abrams confirmed to us that the follow-up to his hit
Star Trek
won't hit theaters until 2012, speaking last night at a party at the Griffith Observatory in Los Angeles to celebrate today's DVD/Blu-ray release. But that could change. And the creators gave us tantalizing hints about the sequel's timeframe and other story points.
J.J. Abrams at Monday's Star Trek DVD/Blu-ray party
Producer/writer Damon Lindelof told us that he thinks it's impossible to be done sooner.
"Yeah, I think that we would be hard pressed to get it on screens by 2011,"
Lindelof said.
"If that's the case, we'd better get to writing right now."
But Abrams believes more time will benefit the creative process.
"It's like closet space,"
Abrams said.
"You use what you've got. The more time you have, the more time you have to use to hopefully make it a better movie."
For his part, co-writer Roberto Orci wouldn't talk about release dates.
"Who knows? It could still be whenever,"
Orci said.
"I haven't heard any firm dates. It could be sooner or later."
What about the story?
Time shifts.
Lindelof suggested that the sequel may play with time in relation to the first film, much as
The Bourne Ultimatum
takes place largely in between events from
The Bourne Supremacy
.
"One of the things we like to do as storytellers is drop you in the middle of something,"
Lindelof said.
"And the question that you're asking yourself is: Where am I in relation to the last time I left these guys? Could this be something that predated even, perhaps, some of the adventures that they had in the first movie? Does it happen five years later? Is it happening two seconds later? Who knows? So we're not going to tell you."
Whatever you're expecting, you're wrong.
One way to combat sequilitis is to avoid the cliche of bigger, louder and more explosions.
"Do we have to do that?"
Lindelof pondered.
"Is there something else that we can do that's a little bit off the beaten path? When you buy your ticket and your popcorn and you go and sit and watch the second movie that we're all working on together, we want to give the audience an experience that feels like it's not a sequel in all the best ways."
Spock (Zachary Quinto) and Uhura (Zoe Saldana) will reach the next level.
"Now that we've done that, you can't play that same joke again,"
Abrams said.
"It's got to be about 'What is their relationship?' and 'Who are these people?' That's why the next one, hopefully while still maintaining the sense of fun and adventure, can go a little bit deeper in terms of the script."
Khaaaan!
Abrams, Orci and his writing partner Alex Kurtzman keep hinting that they may introduce the character of Khan Noonien Singh, but haven't committed to anything. We asked Abrams to weigh the pros and cons of revamping a classic Trek villain.
"We're not even at that stage yet, but the fun of where we are on the sequel is we could use some of what was done before in a new way,"
Abrams said.
"But we haven't even figured out what we would use yet, so it's very early on."
Orci added that the creative team would vote on whether Khan works for their new story.
"That'll be kind of a groupthink decision,"
Orci said.
It's getting close.
They are narrowing the ideas down, really. If it sounds like they're just not committing because they don't have anything, don't worry. They're down to the big-picture decisions, like what the philosophical theme of the sequel could be.
"There's a couple themes up in the air that we're debating about,"
Orci said.
"But we want them to be invisible, so it won't be until the movie comes out that you'd ever hear what they were. We're zeroing in some compass directions. It's still the story phase."
Damon Lindelof
Abrams still wants to direct it.
The last time Abrams gave a press conference, he cause a lot of speculation with the phrase
"If I, in fact, direct the Star Trek sequel."
Abrams clarified that he has every intention of doing it, but there's nothing to commit to.
"In theory, I would be available, and it would be fun to do,"
Abrams said.
"Since there's no script, it's hard to talk about directing a movie that the story doesn't even exist."
Could Star Trek 2 be 2012's The Dark Knight?
Star Trek
is already the highest-grossing
Trek
movie ever. It's been so well received universally that Abrams expects to have an even bigger audience for the sequel, by the time more fans discover the film on DVD. Another example of that was
Batman Begins
.
"Certainly no one is looking to expect any kind of Dark Knight numbers on a Star Trek sequel,"
Abrams conceded.
"Hopefully the quality of the cast of the first film, the fun of the movie, will eventually, over time, touch people who would not normally have gone to see the film in theaters. When a sequel comes out, they're converts, because they'd actually seen the film that was made originally. That would be the goal."
Start the A-list casting rumors now.
Star Trek
featured major stars like Winona Ryder and Tyler Perry in supporting roles. Abrams is open to bringing a movie star in to attract even more viewers.
"I think that it's not a bad idea to begin thinking practically in that way,"
Abrams said.
"What can be done to help open it up? In terms of casting, sure. Casting an international star would be a really good idea."
V deathwatch: ratings drop another 18%
Wow, looks like ABC's
V
is definitely in trouble.
Last night's third episode saw ratings and audience drop significantly again, down 18 percent to 9.3 million (3.1 rating among adults 18-49), according to
The Hollywood Reporter
's
Live Feed blog
.
That after a precipitous
29 percent drop
in week two from the blockbuster premiere.
We're going to go out on a limb and say that the lizard aliens won't be on Earth for very long. Remember, ABC is airing only four episodes now (the last one airs next week) and was planning on returning to the air next spring with the final episodes of season one.
We don't know, but we've always thought this was ABC's way of not committing to the production of the show before they had a good sense of which way the audience would go; as the production was slated to start up again next month or so, we're thinking they'll just go ahead and pull the plug once the four eps have aired.
It's kinda too bad. The show was starting to grow on us, and we love the actors and the franchise. And we were eager to see how a
change behind the scenes
was going to affect the direction of the show.
But this is just us spitballing. What do you think? Do you think
V
has a chance? Would you keep watching?
'Condorman' In MTV's Sick Day Stash: Great Superhero Movie Or GREATEST Superhero Movie?
Over on
MTV Movies Blog
, they have a nifty little weekly feature called
"Sick Day Stash,"
in which they highlight a lesser-known, older film that our writers hold near and dear to their hearts. While they're always a fun read, this week's author is regular Splash Page writer Josh Wigler, who managed to earn himself even more geek cred (in my mind) by choosing one of my all-time favorite films: Disney's 1981 film about a comic book creator who becomes a real-life superhero,
"Condorman."
Calling the film
"cinematic gold"
(a description I can't really argue with), Wigler explains exactly why it's his
"favorite superhero of all time"
(again, no argument here). Here's a short excerpt:
Crawford's overeager and frantic performance as Woody might be cringe-worthy by today's standards, but that was part of the charm for me as a kid: this unspecial man turning himself into a slightly more special gadget-driven hero spoke to me in a way that Batman never could. Sure, Batman builds himself from the ground up and has no superpowers to speak of, but he's fantastically cool in every facet of his life.
For the full report on
"Condorman"
and why it's great for your Sick Day Stash
, head over to
MoviesBlog.MTV.com
.
Dollhouse curse: 16 sci-fi TV shows killed in season 2
Dark Angel, Pushing Daisies and Jericho were among the series that never survived their second seasons.
So Joss Whedon's low-rated
Dollhouse
bites the dust, after clinging to life for a second season. Its partisans will mourn. But the series didn't die alone. The history of sci-fi TV is littered with season-two casualties, many of which are now considered classics.
Check out which other series escaped cancellation in their first seasons only to fall to the Nielsen gods in their second.
The Outer Limits (1963)
The classic anthology series managed multiple classic episodes in its brief time on-air, among them
"Soldier"
and
"Demon With A Glass Hand"
(above), the two Harlan Ellison outings that James Cameron drew from (and had to belatedly pay for) when he created
The Terminator
. Naughty, naughty, Mr. C. (A sequel series, which began in 1995, lasted much longer.)
The Munsters (1964):
The Universal Pictures monsters completed the transformation Abbott and Costello began for them, from creatures of horror to creatures of comedy, in this lovable sitcom about the ghastly family at 1313 Mockingbird Lane. The presence of a competing monster family at another network (see next entry) may have hastened the ultimate ratings demise of both
The Addams Family
(1964): The
"mysterious and ooky"
clan from the New Yorker cartoons by Charles Addams brought their insanity to television for a short sitcom stay, prompting endless debate among the children of the time over just which monster family was "better." If longevity is any clue, the Addamses won, but not on television, where the battle amounted to a draw. That would have to wait until they returned for a series of bigger-budget (and considerably darker) movies.
The Invaders (1967):
They can travel interstellar distances. They can assume human form. They can infiltrate our society at every level. The one thing they can't quite do is make their pinky fingers work. Everybody who extends one pinky finger while drinking tea might be one of them. Architect David Vincent discovers their evil plans to take over Earth and fights a valiant, if short-lived, one-man war against the alien dainties.
Land of the Giants (1968):
A trans-Atlantic shuttle encounters an odd lightning storm in space and is transported to a strange alternate earth whose inhabitants are all the size of skyscrapers. Produced by Irwin Allen, the show was essentially a re-casting of his longer-lasting
Lost In Space
, right down to the irritating comic-relief character with the disconcertingly close friendship with the show's little boy.
Space: 1999 (1975):
A nuclear explosion knocks Earth's satellite out of its orbit and leaves the hapless inhabitants of Moonbase Alpha holding on for dear life as it somehow achieves faster-than-light speed and escapes the solar system, considerately slowing down on a weekly basis whenever it nears another planet where an adventure can take place. The presence of Martin Landau and Barbara Bain, both of whom starred in the much more successful series
Mission: Impossible
, led some people to call this, "Premise Impossible."
Buck Rogers in the 25th Century (1979):
Props from the original
Battlestar Galactica
and a mid-series retooling to make the show even more like
Battlestar Galactica
surround the time-displaced Buck and a cast of characters that includes a robot voiced by Mel Blanc who begins almost every sentence with
"biddie-biddie-biddie."
The show went biddie-biddie-biddie bye-bye in its second season.
Steven Spielberg's Amazing Stories (1985):
The director's showcase anthology series featured worthwhile contributions by Spielberg, Clint Eastwood, and Martin Scorcese, and writing that included contributions by the great Richard Matheson; unfortunately, anthology shows are a hard sell even at the best of times, and it didn't help much that many of the episodes were so weak they left viewers scratching their heads.
Max Headroom (1987):
An investigative reporter in the near future acquires a stuttering, jerkily-moving, computer animation of himself. The computer-generated character's annoyance value helped the show last long enough for viewers to decide whether he qualified as interesting-annoying or was just annoying-annoying. Many viewers decided he was the first. More viewers decided he was the second.
James Cameron's Dark Angel (2000):
An escaped genetically-enhanced superwoman (Jessica Alba) attempts to make a living as a bicycle messenger in the Pacific Northwest, but somehow her past keeps coming up. The ratings, alas, do not.
Dead Like Me (2003):
Bonked in the head by a toilet seat from the MIR Space Station as it plummets back to Earth—yes, really—Georgia Lass dies only to find herself returned to a life of sorts, that includes being assigned to duty as a Grim Reaper. Her new lease on existence ends when the show reverses its initial premise and goes down the toilet itself two seasons later.
Carnivale (2003):
An ancient battle between good and evil rages—all too slowly—in the persons of a carnival roustabout and evangelical preacher, during the years of the Great Depression. A deeply atmospheric series that may have been one of the greatest fantasy shows in the history of television, it was planned by its creators to last five years … but the suits at HBO tired of enduring the long wait for the two principals to finally meet up and fight, and presumptively declared the story over after what was only supposed to be their first skirmish.
Jericho (2006):
Prodigal son Jake Green returns to Kansas just in time to be stuck there when a massive nuclear war fragments America and leaves his home town forced to defend its fragile resources. A massive mail-in campaign by loyal viewers kept the network from canceling the show at the end of its first season, but failed to keep the struggling burg alive past the second.
Terminator: The Sarah Connor Chronicles (2008):
An additional bout of time-travel both transported the Sarah Connor of the James Cameron movies to the present day, and relegated her reported death by cancer to something else she had to worry about in between fighting homicidal alien cyborgs. The series of colossal bummers life had in store for Sarah extended to shifting time slots and a death by Nielsen in her show's second season.
Pushing Daisies (2007):
Piemaker Ned can revive dead people, but the gift comes with some serious limitations. Sparkling whimsy, genuine heart, a brilliant cast, hilarious production design and occasional musical numbers didn't save this initially high-rated show from the writer's strike that cut its first season in half. By the time the second season rolled around, momentum was lost. The two seasons, put together, totaled only as many episodes as a single, full-length season might have. But what's there was choice.
Eli Stone (2008):
The lawyer of the title comes down with a brain aneurysm that causes him to hallucinate elaborate production numbers that amount to personal instructions from God. (He may be dying, but he's also a "prophet.") The people who loved the show really, really, really loved it. Alas, there just weren't enough of them.
'Condorman' In MTV's Sick Day Stash: Great Superhero Movie Or GREATEST Superhero Movie?
Over on
MTV Movies Blog
, they have a nifty little weekly feature called
"Sick Day Stash,"
in which they highlight a lesser-known, older film that our writers hold near and dear to their hearts. While they're always a fun read, this week's author is regular Splash Page writer Josh Wigler, who managed to earn himself even more geek cred (in my mind) by choosing one of my all-time favorite films: Disney's 1981 film about a comic book creator who becomes a real-life superhero,
"Condorman."
Calling the film
"cinematic gold"
(a description I can't really argue with), Wigler explains exactly why it's his
"favorite superhero of all time"
(again, no argument here). Here's a short excerpt:
Crawford's overeager and frantic performance as Woody might be cringe-worthy by today's standards, but that was part of the charm for me as a kid: this unspecial man turning himself into a slightly more special gadget-driven hero spoke to me in a way that Batman never could. Sure, Batman builds himself from the ground up and has no superpowers to speak of, but he's fantastically cool in every facet of his life.
For the full report on
"Condorman"
and why it's great for your Sick Day Stash
, head over to
MoviesBlog.MTV.com
.
Guess which muscular action star supports the space program (video)
Dwayne Johnson (don't call him "The Rock"!) isn't an astronaut, but he plays one in the upcoming 3-D animated spoof
Planet 51
and also praises our intrepid spacemen in this new public-service announcement for NASA.
We got an early look at the new spot, which is meant to boost the public's awareness of NASA's more terrestrial benefits and is timed to the release today of
Planet 51
. Don't you love a movie star who supports the space program?
Man taught his son Klingon before he taught him English
There are Trekkies, there are Trekkers, then there's this guy: A man who decided to teach his son Klingon before he learned English.
Here's how the
Minnesota Daily
reported it:
With the birth of his son 15 years ago, dedicated linguist d'Armond Speers embarked on the ultimate experiment: He spoke to him only in Klingon—the language of the alien race of
Star Trek
fame—for the first three years of his life.


"I was interested in the question of whether my son, going through his first language acquisition process, would acquire it like any human language,"
Speers said.
"He was definitely starting to learn it."
Ohhh kaaayy.
Now we're all for avid fandom—heck, we've got a Stargate jacket in the closet—but really? Does this guy seriously want his son to remain a virgin until he's 38?
Speers is now creating applications for a Klingon dictionary for Ultralingua, a dictionary, translation and grammar software company
The software includes a conversational phrases component, featuring audio clips of Lt. Cmdr. Worf (Michael Dorn) from
Star Trek: The Next Generation
speaking phrases such as
"All of you are boring"
and
"I'll have the black ale."
So ... what do you think? Coolest dad ever? Or creepy fan dad who will turn his kid into a goth faster than you can say "Heghlu'meH QaQ jajvam"?