Exclusive Look at Nick's Fanboy and Chum Chum
Being a superhero isn't easy, but it sure is funny.
It's also a chance for animators to bring together the polish of CG and the classic squash and stretch style of classic animation in the new Nickelodeon comedy series
Fanboy and Chum Chum
, which premieres Nov. 6 at 9 p.m. right after the debut of
SpongeBob SquarePants' Truth or Square
.
Created by Eric Robles, the series stars David Hornsby as the voice of Fanboy, an 11-year-old boy obsessed with comic books who finds himself in strange and funny adventures with his trusty sidekick Chum Chum.
Following its premiere, the show will air in its regular slot of Saturdays at 10:30 a.m. starting Nov. 7.
Here's an exclusive clip offering a first look at the new series.
(Thanks
Animation Magazine
)
Walden Plans Berenstain Bears Movie
Classic children's book characters
The Berenstain Bears
are coming to the big screen in a live-action/CG hybrid movie.
Walden Media has acquired the rights to the characters, with
Night at the Museum
director Shawn Levy's shingle 21 Laps and Canadian animation house Nelvana on board to produce the comedy.
Created by Stan and Jan Berenstain in 1962, the series has spawned more than 250 titles and sold more than 260 million books as well as inspired a handful of animated TV efforts.
"The Berenstain Bears is such a beloved book and television series, with a great blend of charm, wit and warmth,"
says Levy, who directed such features as
Cheaper by the Dozen, The Pink Panther
and both
Night at the Museum
features.
"21 Laps is thrilled to be collaborating with Walden and Nelvana in adapting and expanding it to the screen.""My mother, Jan, and I are more than delighted that three outstanding names in the field of family entertainment, Shawn Levy, Walden Media and Nelvana, have come together to create a Berenstain Bears feature film,"
says Mike Berenstain.
"We are thrilled that their plans for an innovative and ambitious production will bring our family's work to a new medium and to new audiences. I know that my father, Stan, who passed away in 2005, would have been tickled pink that his very own bears were going to be 'in the movies!'"
(Thanks
Animation Magazine
)
Owen Wilson to Voice Marmaduke
Actor Owen Wilson has signed on to voice the canine star in
Marmaduke
, a live-action and CG animation hybrid adaptation of the long-running comic panel.
According to
The Hollywood Reporter
, the film will follow the Winslow family, who move to California with a slobbery, chaotic great dane who lands in the middle of a turf war between mutts and pampered pedigree pooches.
Tom Dey is directing the movie, which is written by Tim Rasmussen and Vince Di Meglio and stars Judy Greer, Lee Pace and William H. Macy. Lending voices to the film's animated characters are Fergie, Emma Stone, George Lopez, Christopher Mintz-Plasse, Steve Coogan, Damon Wayans, and Marlon Wayans.
Marmaduke
, based on the comic panel created in 1954 by Brad Anderson and Phil Lemming, has a planned release date of
June 2010
.
(Thanks
Animation Magazine
)
Toon Boom Releases Flip Boom All-Star for Teens
Toon Boom Animation is helping animation revisit its youths, with the release of Flip Boom All-Star — an easy-to-use software application for teens.
The software makes it easy to create moving images, allowing digital images to be imported and integrated with animation, zoom and rotate features, a drag-and-drop library and text features.
The program lets users import MP3 files for sound and allows easy sharing on Facebook, YouTube or on an iPod.
The software is available now for $69.99, and currently includes free manga templates. Current Flip Boom Classic customers can upgrade to the All-Star version for $29.99. Flip Boom All-Star runs on Windows 7, Vista and Mac OS X 10.5 and 10.6.
More information can be found online at
toonboom.com
.
(Thanks
Animation Magazine
)
A Merry Madagascar Walmart exclusive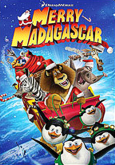 Premiering on NBC
November 17
, DreamWorks' animated special
Merry Madagascar
will debut on DVD the very next day – as a Walmart exclusive title. The half-hour special, in which Santa gets amnesia after his sleigh crashes on the island and Alex, Marty, Melman, Gloria and the penguins must save Christmas by delivering presents, will be on sale for only $5, with a
"deluxe edition"
, featuring bonus content, just a little more at $8. This is the first time DWA has partnered on a store exclusive title, the two companies promoting the release with
its own webpage
featuring clips, games and more.
Epic game designer Spector talks Mickey Mouse
Mickey Mouse is re-branded as an action hero in the Nintendo Wii console's hotly anticipated
Epic Mickey
game set for release next year.
The Guardian online
speaks to designer Warren Spector about the game's Cartoon Wasteland storyline, which will see the return of
Oswald The Lucky Rabbit
in his first major new role since Disney's re-acquisition, and how Mickey is
"a modern mouse for modern times"
.
China approves new Disney park
The
LA Times
reports that after more than a decade of discussions, Disney has finally been granted permission to build a theme park in Shanghai. Disney CEO Robert Iger said,
"China is one of the most dynamic, exciting and important countries in the world, and this approval marks a very significant milestone for the Walt Disney Co. in mainland China"
. 300 million people (about the population of the entire United States) live within a day of travel to Shanghai.
"Perhaps more important, however, it would secure a beachhead for Disney to sell its products and wield its brand in a market that has tightly controlled the inflow of American entertainment through restrictions on the number of movies allowed in mainland theaters and programs beamed through television channels."
Pixar profiled
In the first of three featured articles, the UK-based film blog Flickering Myth
profiles Pixar
Animation Studios. The second part will follow on
November 11
, and part three on
November 18, 2009
.
Cartoon Network Going Commando
Yeah, this is another post ragging on Cartoon Network as is spirals down the drainpipe of doom. I was at Meltdown Comics in Hollywood last night where found this flyer (at left, click to enlarge thumbnail), recruiting
"male teens"
for a new reality show. It reads:
"Are you between 13 and 16 years old? Would you like to have a team of Former military SPECIAL FORCES train you and your friends to plan and execute real life missions? Learn how to use night vision? Hydro Reconaissance? Rappelling? Who wouldn't!"

"We are looking for kids who have real problems that need to be solved by our team. Do you need to get something that belongs to you back from a friend? The Special Forces team will train you to get it back using all the high tech equipment available. Need to be at a family event, but want to take a girl out on the same night? Worry no more, for with this team, you will learn spy-like maneuvers that allow you to be in two places at once! Tired of being picked on? Those days are gone! The team will take you through Commando boot camp where you will transform from scrawny to superhero."

"This is the biggest wish fullfillment reality show… maybe ever!"
______________________________
Dear Producers of
Going Commando
,
I would like your Special Forces Team to overtake the building at 300 North Third Street in Burbank, California. A group of highly paid television executives have taken over a cable cartoon network I used to love, took away all my favorite cartoons and replaced them with a whole bunch of brainless live action reality shows. I wanna kick their ass and take over the channel. Who wouldn't? I want Looney Tunes and Popeye (and about a zillion other things) back on the air so I can share them with a new generation of kids.
This is would be
my
biggest wish fullfillment… maybe
ever!
(Thanks
cartoon brew
)
Superman: Ruby-Spears on their Man Of Steel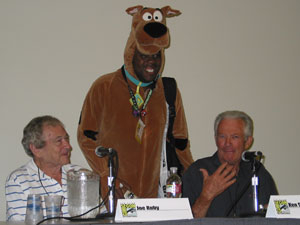 Debuting in 1988, the Ruby-Spears Superman series brought back some familiar foes and new unfriendly faces for battles against the Man of Steel. In addition to the thrills of Superman's weekly adventures, each episode included a mini-segment called Superman Family Album that told the "real" story of what it was like to grow up as the most powerful boy in Smallville.

Produced at Ruby-Spears Productions right next door to Hanna-Barbera Studios, and animated in Japan and Korea at Toei Animation and Dai Won Animation, the series benefited by a stellar production team of writers and artists (including supervising producer John Dorman, story editor Marv Wolfman, and production designer Gil Kane), solid voice acting, and an immediate link with Christopher Reeve's popular films via an opening theme score that was remarkably similar to John Williams' acclaimed Superman music.

Ruby-Spears Productions was founded in 1977 by veteran writers Joe Ruby and Ken Spears. The team started as sound editors at Hanna-Barbera Studios, branched out into writing, and eventually went on to create Scooby-Doo, Where Are You! (as seen top left from their appearance at the San Diego Comic-Con in 2008). In total, Ruby-Spears produced 36 different TV series and continue to be a creative force in the industry today.

More than two decades after its television premiere, the popular Ruby-Spears Superman animated series returns to screens via Warner Home Video's two-disc DVD collection, available
November 3, 2009
.

Joe Ruby and Ken Spears took a few minutes to reminisce about the creation, development and production of their landmark 1988 series in a recent conversation, distributed as a promotional article by Warner Home Video and reprinted below.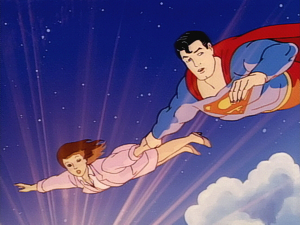 Question: How was the title character developed for your Superman series?

Joe Ruby:
We went through a lot of different directions in development as to what kind of Superman we wanted. We had several different models – the crying/feeling Superman, the lecturing/do-gooder/save-the-day Superman, then there was the hip Superman and even the long-haired Superman. And, of course, there was the old straight-as-an-arrow Superman. Ultimately, we settled on the Christopher Reeve model – he had personality and a sense of humor, and yet he was still Superman. We figured that it worked for the films, so it would work well for us.
Q: Why were there only 13 episodes to the entire series?

JR:
I think the problem for us was our timeslot. It turned out 8:30 in the morning was a killer for
Superman
. Only the little kids were up, and they don't understand Superman as well as the older kids. It wasn't for 4-to 5-year-olds.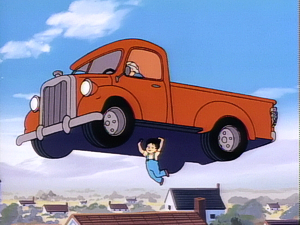 Q: Was there a guiding theme to the series?

Ken Spears:
I think we were true to Superman to begin with – we produced a show that the audience expected Superman to be. He was the tried and true Superman. That's who they wanted to see – that's the feedback that we continue to get today.
JR:
We basically had Superman tackling anything and everything, with the marching orders to have bigger-than-life fights.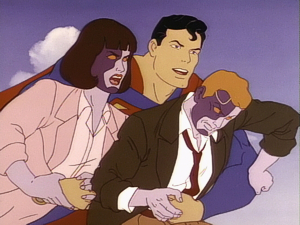 Q: What did you see as the strength of your Superman series?

KS:
We had the best talent in the business at the time – that was our strength. They were excellent. When you first create a show, you hope your talent will be able to plus it – and they really plussed it.
There are so many shots in the show that weren't written into the script – those kind of great additions come straight from the artists and the storyboarders.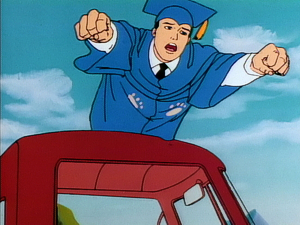 JR:
We had a pretty amazing crew – and an especially great crew of artists – including some of the best comic book guys in the business, and that made for good filmmaking. Guys like John Dorman and Gil Kane – we had an army of great talent on that show. Give credit to John Dorman – he's a filmmaker and that's the difference. He made sure the show had all the creative shots, the movement, some of that great left-to-right or down-angle camera moves. The show was well paced, well boarded, and I think John really put these things together well.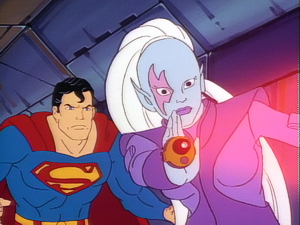 Q: Did splitting the production between two overseas studios in Japan and Korea cause any problems?

JR:
It was an experience for us, from a production standpoint, traveling overseas and working with two different interpreters having to translate in three different languages. They'd be answering before I'd get done with my question. It was the worst torture I ever had in my life!
Q: Looking back now, can you see how Ruby-Spears Superman fits in the canon of productions surrounding the Man of Steel?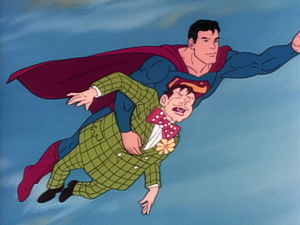 JR:
As a kid, we all grew up with Superman. He's the favorite, always. Your heroes stick with you. So we wanted to make the best
Superman
show we could, to really set it apart. I think everyone that worked on it felt that way. He's Superman.
KS:
It was like an honor to do something that classy and classic as Superman. He's the No. 1 guy. We wanted to do it justice.
Ruby-Spears'
Superman: DC Comics Classic Collection
is available to
order now from Amazon.com.
"Mister Magoo's Christmas Carol" book is sure to be a hit with baby boomers
Jim Hill reviews Darrell Van Citters' making-of book. Which takes you behind-the-scenes on the production of TV's first animated holiday special
The
Philadelphia Inquirer
said that it
" … succeeded in generating more warmth and sentiment than have flesh-and-blood actors in several previous … 'Christmas Carols' "
The
Chicago Daily News
that
" … it really was a remarkable job."
More importantly that this production
" … undoubtedly will become one of those rare … efforts worth repeating each year at Christmas time."
The
Chicago Tribune
called it
" … a new Yule classic."
What's that you say? Are these early reviews for
Disney's
A Christmas Carol
?
If only. No, this is what was said about the world's very first animated holiday TV special,
"Mister Magoo's Christmas Carol."
Copyright 2009 Oxberry Press, LLC. All Rights Reserved
Yep. Two years before Rankin/Bass'
"Rudolph the Red-Nosed Reindeer"
debuted on NBC and three years before
"A Charlie Brown Christmas"
first bowed on CBS, Quincy Magoo appeared as Ebenezer Scrooge in a hour-long animated holiday special sponsored by Timex.
And given the huge ratings that
"Mister Magoo's Christmas Carol"
got in December of 1962 (It got an national audience share of 39) and 1963 (Viewership actually went up for the second airing of this holiday special. With 14 million homes tuning in to watch
"Mister Magoo's Christmas Carol,"
which gave this rerun a national audience share of 46) … Well, one wonders if
the Grinch would have ever had the chance to steal Christmas
if Mr. Magoo hadn't first proven that there was a market out there for animated holiday specials on TV.
Sadly, over the past 47 years,
"Mister Magoo's Christmas Carol"
has been eclipsed by many of the animated holiday specials that followed it. Which is why it's terrific that
Darrell Van Citters
has put together a book that seeks to restore this seasonal show to its rightful place in TV history,
"Mister Magoo's Christmas Carol, the Making of the First Animated Christmas Special
(
Oxberry Press
, October 2009."
Copyright 2009 Oxberry Press, LLC. All Rights Reserved
Citters is the perfect guy to tackle a project like this. Given that Darrell started his animation training at
CalArts
. Where – as it turns out – Citters studied under
Cornelius "Corny" Cole
, who was the production designer on
"Mister Magoo's Christmas Carol."
More to the point, given that Darrell has worked in animation for three-plus decades at this point (working on projects as varied as Disney's very first attempt at turning Gary Wolf's
"Who Censored Roger Rabbit"
into a feature film to serving as director on the highly popular animated TV series
"Hi Hi Puffy AmiYumi"
) … Well, Citters knows all too well how tough it is to turn out a quality product under television's crushing deadlines.
And given that Citters has an obvious affection for
"Mister Magoo's Christmas Carol"
… Well, he brings the perfect blend of a fan's excitement and an industry insider's insight to this book.
Copyright 2009 Oxberry Press, LLC. All Rights Reserved
In the years that he spent researching
"Mister Magoo's Christmas Carol: The Making of the First Animated Christmas Special,"
Darrell unearthed stories that I've never ever heard about this holiday favorite. Like how
"Magoo"
producer Lee Orgel tried to recruit musical theater legend Richard Rodgers to come write the score for this TV show.
As strange as this may seem, the talent behind
"Oklahoma!"
and
"Carousel"
was sorely tempted by
"Mr. Magoo's Christmas Carol."
As Citters explains:
Orgel sent Rodgers a first edition of
"A Christmas Carol"
with a note telling (Richard) that he would like to talk with him about this project. As Orgel explained his idea, Rodgers became intrigued by both the concept and the prospect of working in animation. (Richard) asked for some time to mull things over while he pondered his choice of lyricist. Some time passed, and after a frank appraisal of his professional obligations, Rodgers declined. In a note dated October 17, 1961, (Rodgers) told Orgel that, "I may be rejecting the best opportunity I've had in many years, but I'm afraid that I haven't enough hours left in which to do a score for Mr. Magoo and the 'Christmas Carol.' "(Rodgers) did, however, offer to (help Orgel) find someone else to the project as he felt that others would "jump at it."
Copyright 2009 Oxberry Press, LLC. All Rights Reserved
Darrell found other gems as he was pulling together this 128 page hardcover. Story sketches that
Marty Murphy
did for this holiday special. Rare old photographs from the recording session for the soundtrack for
"Mister Magoo's Christmas Carol."
Disneyana fans may want to take a closer look at the photo below. You see that thin gentleman at the very center of this picture? That's
Royal Dano
, the character actor that Walt Disney personally chose to be the voice of our 16th President in
"Great Moments with Mr. Lincoln."
And directly to Royal's right is a genuine
Disney Legend
. He's the master voice actor behind
Ludwig Von Drake
, the Ghost Host at
The Haunted Mansion
,
the auctioneer
in
Pirates of the Caribbean
(Not to mention Boris Badenov on
"The Rocky & Bullwinkle Show"
). The one, the only
Paul Frees
.
Copyright 2009 Oxberry Press, LLC. All Rights Reserved
The end result is a book that any baby boomer is just going to love. Citters covers it all. How Orgel got around
Jim Backus
' rather limited vocal range by proposing that
"Mister Magoo's Christmas Carol"
be presented as a play within a play. That the audience out in TV Land know – right from the get-go – that Mr. Magoo was not actually Ebenezer Scrooge. But – rather – just an actor playing a role in a show.
Copyright 2009 Oxberry Press, LLC. All Rights Reserved
Ah, but what an actor. As directed by UPA vet
Abe Levitow
,
"Mister Magoo's Christmas Carol"
(to my way of thinking, anyway) packs more of an emotional punch than most of the other adaptations of Charles Dickens' holiday tale that have been produced over the past 50 years. In fact, I defy you not to tear up in this TV special's
Ghost of Christmas Past sequence
. When old Ebenezer finds young Ebenezer left to spend Christmas all by himself at boarding school and then sings Jules Styne & Bob Merrill's heartfelt
"Alone in the World."
Copyright 2009 Oxberry Press, LLC. All Rights Reserved
"So how does 'Mister Magoo's Christmas Carol' stack up against Disney's new performance capture version of this holiday tale?,"
you ask. Well, Nancy and I actually got to see that
Robert Zemeckis
movie this past Monday. And while you'll have to wait 'til Friday for my full-blown review, I will say that
"Disney's A Christmas Carol"
was surprisingly strong. This
ImageMovers Digital
production gets this seasonal story's scare-to-sentiment ratio just about right.
But even so … Like so many other baby boomers out there, if you were to ask me what my absolute favorite version of
"A Christmas Carol"
is, I'd still have to single out this 1962 holiday special. Which is why I so enjoyed reading Darrell Van Citters'
"Mister Magoo's Christmas Carol: The Making of the First Animated Christmas Special."
So that I could then learn even more about this TV show that I so enjoyed back when I was a kid. Which was back during the Paleozoic era.
Copyright 2009 Oxberry Press, LLC. All Rights Reserved
Founder of San Diego Comic-Con dies at 76
Sheldon Dorf, who founded the world famous Comic-Con International comic book convention, has died. He was 76.
A longtime friend, Greg Koudoulian, says the Ocean Beach resident died at a San Diego hospital on Tuesday from kidney failure. He had diabetes and had been hospitalized for about a year.
Dorf, a freelance artist and comic strip letterer, founded Comic-Con in San Diego in 1970 after moving from Detroit.
Today, the convention draws 125,000 fans a year and is a major gathering for comic book fans, artists, writers and movie stars. Koudoulian says Dorf was friends with comic greats such as Marvel artist Jack Kirby and
"Peanuts"
creator Charles Schulz. He says Dorf was also instrumental in helping budding artists find audiences
He is survived by his brother.
Many fans and pros alike are offering up their condolences and memories on Twitter and their own blogs already, and we invite you to do the same.
Menu System, Artwork For "Batman: The Brave And The Bold - Volume Two" DVD Release
The
World's Finest
has a look at the package art and menu system for the upcoming
Batman: The Brave and The Bold - Volume Two
DVD release.
A selection of images from the upcoming
Batman: The Brave and The Bold - Volume Two
DVD release are available below, including a look at the menu system and package art for the title. The
Batman: The Brave and The Bold - Volume Two
DVD release, featuring four episodes from the popular
Batman: The Brave and The Bold
animated series, hits shelves on
November 10th, 2009
. Click on the thumbnails for a closer look.
Warner Home Video will release
Batman: The Brave and The Bold - Volume Two
to DVD on
November 10th, 2009
. Official press details for this release are available
here
. A third DVD volume,
Batman: The Brave and The Bold - Volume Three
is scheduled for release on
November 10th, 2009
. Initial details and artwork for that upcoming release can be found
here
.
The Cleveland Show: Origins of Stoolbend
The Cleveland Show
is a
ratings hit
for FOX, but I simply haven't found a passion for it yet. I suspect its because of the show's shitty origins. Click below to see what the hell I'm babbling about…
Happy Birthday Wallace & Gromit!
The 20th anniversary of
Wallace & Gromit
has
Google's UK website
all dressed up for the occasion (inset). It's one of only 3 "doodles" to be made outside Google headquarters. Not to be outdone, the team at Aardman has prepared by asking
Wallace & Gromit
creator Nick Park 20 questions, on a wide variety of topics. Enjoy!
Bogaty Swarms to Nanovor Series
Anton Bogaty
recently took over animation and design duties on a new web series called Nanovor. It's the spawn of the
free Nanovor Online Battle Game,
which was created by Jordan Weisman from
Smith and Tinker
.
Dustin Haynes
and Chris Rogers contributed to the production as well. There's CG animation splashed around the series, which is handled by
Coleman Smith
.
Otis and Rae Star in Puny Production
Puny Entertainment
is a Minnesota-based shop which has animated a new short based on the book
Otis and Rae and the Grumbling Splunk
by
Leo and Laura Espinosa
. Here's a sequence from the short:
Tofield Talks Felines and Flash
A recent article from Rob Sharp in the UK paper The Independent, a prominent Flash animator has detailed his thoughts on the medium. Simon Tofield, the creator
Simon's Cat
, is quoted in an article titled
Internet animation: Draw it yourself
. Here's what he says:
"I do my films on Flash … and it would take me much longer if I were drawing them all by hand,"
Tofield explains.
"If I were doing what I do traditionally I would need to draw every frame by hand, then I would need to take them to a professional – a line tester – to photograph all of the images. Then I would need to take notes on them, make corrections over a light box and then shoot them again – it can be a very tedious process."
It is a tribute to the accessibility of the software that Tofield is a self-confessed
"technophobe"
– he says he knew nothing about computers before he started using Flash. Eighteen months later,
Simon's Cat
has been turned into a book and Tofield's cartoons have been seen online by an estimated 30 million people: far in excess of the audiences he would traditionally have reached. Many of his fans make their own "tribute animations" to his work.
"I get a lot of these fan films,"
he continues.
"Some of them are really sweet. They are made by people who are very young and are very basic but it's a nice compliment to have. I always try to reply when I can."
TMBG and Animator Campion Urge Kids to Go!
Following up on
his 2008 project
for the alternative rock duo know as
They Might Be Giants
,
Pascal Campion
has created a new music video. Much like his
One Dozen Monkeys
piece, this music video also features a number of primates. It's for the song
Kids Go!
, which promotes
the newly-released TMBG book
of the same name (which was also illustrated by Campion).
New Despicable Me trailer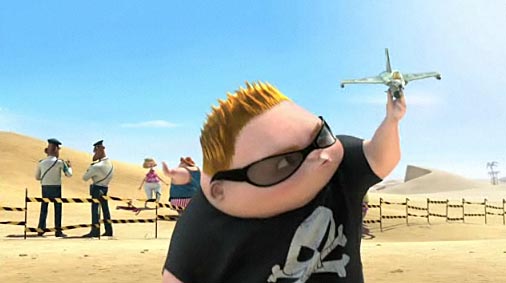 The plot revolves around a supervillain named Gru (Steve Carell) plotting to steal the moon while he hides underground in a suburban neighborhood.
Here's the new trailer
.
What If The Batmobile Was Designed By 'Alien' Artist H.R. Giger?
Sure, Batman and various other comic book characters have battled the creatures from the
"Alien"
movie franchise on more than one occasion (my favorite being Warren Ellis'
"WildC.A.T.S/Aliens"
story), but here's a crossover I never expected to see—and never will see, most likely.
According to
BatmobileHistory.com
, one of the designers contacted to create a new version of the Batmobile for 1995's
"Batman Forever"
(starring Val Kilmer as Bruce Wayne) was none other than Swiss artist H.R. Giger, best known for creating the original, techno-organic design of the
"Alien"
creatures.
SuperPunch
has also managed to locate a few pieces of Giger's early design art for the vehicle, which I've posted after the jump.
"H.R. Giger was contacted in 1994 to design a Batmobile for Batman Forever,"
reports BatmobileHistory.
"His unique 'X' shaped design was to include articulated front legs/mandibles, retractable fins, and gatling gun emplacements on each of the four pods on the sides of the vehicle. The design also combined side and forward intake ports with organic spines and a central pod connecting the four legs."
V debuts with MASSIVE ratings
V
became the highest rated sci-fi premiere of the new fall TV season after 13.9 million people watched the pilot episode last night, according
to preliminary ratings
. That number is still subject to some change, but it looks likely that this will be the biggest show to debut at 8 p.m. since another ABC sci-fi series,
Lost
.
To put that in perspective,
FlashForward
was (until now) considered the hit of the season after 12.4 million people watched its first episode. The ratings for
V
are likely to grow substantially once DVR viewership is added in, since sci-fi shows tend to benefit (or suffer?) most from DVR viewing.
For instance, the
FlashForward
premiere added nearly 2 million viewers after DVR viewing was accounted for. ABC had planned to give
V
an indeterminate break after running just the first four episodes, but this will likely make them determine a return date ASAP, which is good news for those who liked the show.
Holy fuel mileage: See the hybrid Batmobile!
Times are tough all over, even in Gotham City, where Batman has downsized his transportation to a new "Tumbler/Batmobile," as depicted above and after the jump.
This is really a Smart Car as modified by none other than George Barris, the "King of Kustomizers" and the creator of perhaps the most famous Batmobile of them all, the dual-cockpit flame-powered modified Lincoln Futura used in the 1960s Batman TV show.
Click through to the
Autoblog
for more images.
(Thanks to
C.H.U.D.
for the heads up.)
How the best (and worst) sci-fi film titles were born
Star Wars and Star Trek were killer titles. Transformers: Revenge of the Fallen ... not so much.
At a recent retreat for the staff of
SCI FI Wire
—memory is vague, but it was at some luxurious, exclusive resort where time is usually spent figuring out how to spend that Goldman Sachs bonus—we columnists received our marching orders, in this case to concentrate on the titles of sci-fi, fantasy and horror projects. Hence the recent
"65 of sci-fi's most amusing 'one letter off' titles"
and this month's contribution from sci-fi writer Cassutt.
Okay, I'm kidding. The similarity of subject is entirely coincidental.
Successful titles have come from made-up words, well-known words in new contexts and mash-ups.
But still important. The title is the audience's first contact with your book, movie, television series, game, even your blog. Successful titles range from made-up words (
Neuromancer, Cryptonomicon
) to well-known words in new contexts (
Dune, Matrix, Terminator, Avatar
) to mash-ups (
Pride and Prejudice and Zombies, FlashForward
) to whole phrases from other words or usage (
Stranger in a Strange Land, Close Encounters of the Third Kind
). Your title can be a number (
2012
).
There is an art to this, and also a business.
Star Trek
and
Star Wars
come to mind, both short, evocative, unforgettable, and also pre-emptive ... although titles can't be copyrighted, they can be legally protected in other ways. Which means that you are unlikely to be able to use, say, "star" and "trek", in that order, without drawing considerable legal attention.
In fact, given the proliferation of space-related works in film, television and comic books in the past 30 years, it's become more difficult to create any new sci-fi title that uses "star" or "space."
So the difficulty is acknowledged. Lately, however, sci-fi titles have been taking some odd forms. I've always grudgingly accepted the use of numerals in sequel titles—
Terminator 2
,
Star Trek III
. (I await some illumination on the rationale for choosing Roman over Arabic, or vice versa.)
But now titles are going completely crazy. Take this summer's
Transformers: Revenge of the Fallen
.
My first response on hearing this was, Why not call it
Transformers II
? ( Or
2
?) Better yet, why not
Transformers II: Revenge of the Fallen
?
Now, while I have a soft spot in my fingertips for the dash, I'm not judgmental about punctuation. Nevertheless, I am put off by these increasingly unwieldy titles. I fear they might collapse under their own typographical weight.
Use of the colon in sci-fi/fantasy titles goes back 40-plus years, to
2001: A Space Odyssey
, where it made sense, and then to
Colossus: The Forbin Project
, where it didn't. (
Colossus
was a fine title, though it may have suggested a mythological fantasy rather than a giant mainframe computer run amok. Trust me, no one on this earth knew or cared what Forbin's project was.)
Since then we have had many, many additions to existing franchises, such as
Star Trek IV: The Voyage Home
(which manages to combine Roman numerals and the colon) and
Star Wars V: The Empire Strikes Back
.
You had
Terminator 2: Judgment Day
. (As if
Terminator 2
alone would somehow fail to lure you to the theater.)
Resident Evil: Apocalypse. Blade: Trinity
. A veritable flood of wonky, colon-warped titles, culminating in oddities like
Alien v. Predator: Requiem
and my favorite,
Terminator: The Sarah Connor Chronicles
.
Have we reached a turning point? Are sci-fi titles going to be increasingly long, twisted, over-punctuated?
And if so, is that necessarily bad?
Years ago I read a pretty good—not great—SF novel by F.M. Busby titled Rissa Kerguelen. Say what? The title was the lead character's name, just like
Donnie Darko
or maybe even
Anna Karenina
. Rissa was the story of a young woman raised in a repressive future society who, through intelligence and luck, escapes Earth and builds a space empire based on piracy and other fun stuff, all the while engaged in a torturous romance with handsome Bran Tregare, never forgetting the evil done to her by the Hulzein clan ...
It struck me then—and time has not diminished the feeling—that Rissa would be one terrific SF series. It's got elements of
Trek
... its theme is revenge ... and the lead is a woman!
Why didn't it? Well, Rissa never became a best-seller, to begin with. Frankly, it's not that well written, though I think we all know that has rarely been a factor in keeping a good story from being mined for film or television.
No, what kept this promising book under the radar for 30 years—and still keeps it there—is the dang title. Even the publishing history confuses things. In its original 1976 appearance, Rissa Kerguelen was actually split into two books, part two being
The Long View
(bland, generic). For paperback reprint,
Rissa
became a single large volume titled
Saga of Rissa
—words better suited to a series of novels, like
Anne of Green Gables
.
There was a third iteration, with Saga of Rissa split into three smaller volumes,
Young Rissa
and
Rissa and Tregare
, along with
The Long View
.
Busby published several other novels in the same storyline, with titles like
Star Rebel
(not bad, this one) and
Rebel's Quest
.
When, with Busby's permission, I began talking up
Rissa
, I simply called it
The Hulzein Saga
, knowing that it was only a small improvement. (
"What's a Hulzein?"
) The shorthand phrase I began to use was this:
"Think of it as Lace in Space"
. (
Lace
was a notorious miniseries of years past, starring Phoebe Cates as a young woman bent on destroying those who wronged her as a child ...)
But, in all honesty, the project needed to be known as
The Hulzein Saga: Young Rissa
.
The title needed a colon.
Why is this important? There's artistic satisfaction, of course. But the real driver is ease of marketing. The amount of money spent to market a new sci-fi title—to produce those print ads, commercials, trailers and viral web dealies—is usually equal to the production costs. In television, those costs might be greater than what it costs to actually make the series.
Long, colon-encrusted titles are more difficult to sell. They don't fit on the sides of buses. They are smaller on billboards.
And they don't allow for easy abbreviation, for tagging or listing on Hulu or elsewhere.
Alien vs. Predator: Requiem
became
AvP: R
.
Terminator: The Sarah Connor Chronicles
became known as
TSCC
—fun for everyone who knows what they stand for, but what about the millions of potential viewers who don't?
I don't expect my protests hamper this trend ... all I can do is try to figure out a way to trademark the colon.
Michael Cassutt has published 11 books, both fiction and nonfiction, many with titles that are not unique (e.g.
Missing Man
). He has also published 30 short stories and a couple of hundred pieces of journalism and commentary, and is credited on 60 television episodes for series such as
Twilight Zone
and
Farscape
.
What's with all the colons? Are sci-fi titles going to be increasingly long, twisted, over-punctuated?