Disney taps Tiki Bar creator for VP post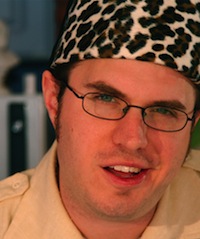 Fans of the pioneering web series
Tiki Bar TV
may recognize the new VP of development for Disney Television Animation.
Variety
reports that Kevin Gamble, perhaps better known online as the fez-wearing, prescription-filling bartender Johnny Johnny, will be in charge of development and production of new animation shorts and series on Disney Channel and Disney XD. Gamble was most recently VP of Production & Creative for Classic Media.
Clone Wars, G.I. Joe, Superheroes Storm DVD Shelves
It's an animation invasion on home video this week, with clones, joes, superheroes and more arriving on DVD and Blu-ray.
Up first is
Star Wars: The Clone Wars—The Complete Season One
(Warner Bros., $44.98 DVD, $59.99 Blu-ray), which includes all 22 episodes of the hit animated series.
Not to be outdone in the soldiering department,
G.I. Joe: The Rise of Cobra
(Paramount, $30.99 DVD, $37.99 two-disc DVD, $39.99 Blu-ray) leads a charge that also includes the animated classic
G.I. Joe: A Real American Hero: Season 1.2
(Vivendi, $29.99) and the more recent
G.I. Joe: Resolute
(Paramount, $19.99).
Mixing techniques are two releases, the live-action and animation hybrid feature film
Aliens in the Attic
(Fox, $29.98 DVD, $39.99 Blu-ray) and
Terminator Salvation: The Machinima Series
(Warner Bros., $12.97).
Superheroes are out in force with
Wolverine & The X-Men, Vol. 3: Beginning of the End
(Lionsgate, $14.98), the most-recent release of the new series, which you can catch up on in the box set
Wolverine & The X-Men: Vols. 1-3
(Lionsgate, $29.98). Fans of more classic heroes will be pleased to see the release of the 1988 Ruby-Spears'
Superman
series (Warner Bros., $26.99),
Teenage Mutant Ninja Turtles: Season 7
(Lionsgate, $29.99) and
Zorro Generation Z: Vol. 5
(Image, $14.98).
With the holidays around the corner, animated yuletide cheer can be found on
Mickey's Magical Christmas: Snowed In At The House Of Mouse
(Disney, $26.99), the two-pack
Dora the Explorer: Christmas Carol / Christmas
(Paramount, $24.99),
D
ora the Explorer: Christmas Carol Adventure
(Paramount, $19.99) and
Thomas & Friends: Holiday Express
(HIT, $16.98).
Jim Henson's popular muppets The Fraggles return with
Fraggle Rock: A Merry Fraggle Holiday
(Lionsgate, $14.98) and
Fraggle Rock: The Complete Final Season
(Lionsgate, $29.98)
Anime fans will have the choice of
Afro Samurai: Complete Murder Sessions
(Funimation, $37.98 DVD, $54.98 Director's Cut DVD) and Bleach Box Set 4, Part 1 (VIZ, $49.95)
And fans of the world's favorite doll have their pick of three Barbie double packs:
Barbie as The Island Princess / Thumbelina, Barbie In The 12 Dancing Princesses / Fairytopia and Barbie Mariposa / Barbie & The Diamond Castle
(Universal, $24.98 each).
(Thanks
Animation Magazine
)
Imageworks, Foundry to Share Technology
Sony Pictures Imageworks and software makers The Foundry have teamed up to share their visual effects and digital production technology.
The deal gives The Foundry access to Katana, Sony's 2-D/3-D lighting technology, while Sony will incorporate Foundry's compositing package Nuke to its pipeline.
The companies also plan to work together on updates and new discoveries.
"Sharing software with a progressive company like The Foundry is an important step for both of our companies,"
said Rob Bredow, chief technology officer of Sony Pictures Imageworks.
"First, it enables Imageworks to provide the best compositing tools to our artists today by adopting Nuke widely into our VFX and animation workflows. And second, The Foundry has a proven track record of taking production proven software and turning it into industry-leading solutions. We're looking forward to collaborating with The Foundry to help create the next generation of tools leveraging the best of our mutual technologies.""It's highly unusual for software or post production companies to share technologies and that's what makes our new relationship with Sony Pictures Imageworks so special,"
says Bill Collis, CEO of The Foundry.
"There are some exciting ideas we can explore over the coming years, building on Imageworks' Katana technology and The Foundry's customer-driven product focus for Nuke to deliver the next generation of compositing software."
(Thanks
Animation Magazine
)
Cloudy with a Chance of Meatballs Titles
Todd Hemker and Soyeon Kim of
Yellowshed
recently directed the end title sequence for
Cloudy with a Chance of Meatballs
. Hemker discusses the process and shares an animatic in
this interview with Art of the Title
.
(Thanks
cartoon brew
)
Fantastic Mr. Fox
What a year.
Coraline, Up, Ponyo, 9, Cloudy With A Chance of Meatballs
- topped off with
The Princess and The Frog
and
Fantastic Mr. Fox
.
In
Fantastic Mr. Fox
director Wes Anderson injects an adult sensibility, along with his usual indie filmmaking quirkiness, turning a childhood classic into a uniquely satisfying filmgoing experience. As far as I'm concerned, it's one of the best films of the year. The animation style is refreshingly, intentionally retro: Rankin-Bass meets Willis O'Brien, by way of Ladislas Starevich. In this exclusive promo (below) we get a quick peak behind the scenes at the London studio that put it together:
(Thanks
cartoon brew
)
New Images And Video Clips From Upcoming "Batman: The Brave And The Bold" Episode
The World's Finest has received new clips, images and details from the upcoming
Batman: The Brave and The Bold
episode
"Inside the Outsiders!"
Cartoon Network has passed along the episode synopsis, video clips, and nearly forty images for the upcoming
Batman: The Brave and The Bold
episode
"Inside the Outsiders!"
The episode is scheduled to air
Friday, November 6th, 2009
at 7:30pm (ET) on Cartoon Network. To get a closer look at the images, click on the thumbnails below.
Click Here For More Images, Videos & Details!
The all-new
Batman: The Brave and The Bold "Inside the Outsiders!"
episode, scheduled to air on
Friday, October 23rd 2009
at 7:30pm (ET) on Cartoon Network, is described as seen below.
Batman: The Brave and The Bold "Inside the Outsiders!"
Batman and the Outsiders are under a metaphysical attack by Psycho Pirate. Batman enters the Mindscape and helps Black Lightning, Katana and Metamorpho battle their own personal demons.
Four clips from the episode, provided by Cartoon Network, are available to view
here
at our
Batman: The Brave and The Bold
subsite. Other details for
Batman: The Brave and The Bold "Inside the Outsiders!"
, including cast and crew credits, are also available at our
Batman: The Brave and The Bold
subsite.
Zemeckis Confirms That Performance Capture Factors Into The New ROGER RABBIT Film!! But, How??
Yesterday we learned that the writers of the original
ROG

ER RABBIT
film are returning to script a proposed sequel (details
HERE
).
That news came from a video snippet over at MTV, in which Robert Zemeckis briefly touched on the project. A longer sampling of the same interview has now been posted, in which Bob reveals that performance capture (a la
BEOWULF, A CHRISTMAS CAROL
, and the forthcoming
YELOW SUBMARINE
) would play some part in the new
ROGER RABBIT
film. The question is: considering the "universe" in which
ROGER
is set, how will the technology fit in, exactly?
I wouldn't use it for the cartoon characters, because I think they should stay two dimensional...I wouldn't dimensionalize Roger.
[EDIT]
All the other characters they would have fun with would be magnificent in performance capture technology. It would be really fun.
...says Zemeckis in
THIS VIDEO INTERVIEW
over at MTV:
So, what the hell does this mean? Will humans who get thrown into Toon Town now be realized via performance capture? Will the sequel be entirely performance capture - featuring Toon pests who MoCap characters discriminate against because they're not rendered as well, or rendered differently? Will any live action/"real world" components feature into this project at all? Or, as MTV speculates, might performance capture actually be part of the storyline? I.e. might we have performance capture characters interacting with live action characters...alongside Roger and his Toon squad...as the new/upstart Toons in town?
Really intrigued...
(Thanks
Aint It Cool
)
South Park Ready to Drop the F Word
Cartman confronts a bunch of motorcylists headed to the Harley Festival in the latest
South Park
episode, titled
The F Word
(10pm Wednesday on Comedy Central). After suffering through dozens of car alarms on my street going off every time some modified motorcycle rages by our house, I can't wait to see how this episode goes down. Knowing how clever Trey Parker can be, I'm guessing the
"F Word"
doesn't rhyme with
"duck,"
but I have a suspicion it may rhyme with
"bag."
Any thoughts, South Park fans?
Magician, comic actor Carl Ballantine dies at 92
Comic magician and actor Carl Ballantine, best known for his role as PT boat sailor Lester Gruber on the 1962-66 TV series
McHale's Navy
, died in his sleep Tuesday morning, cartoon and comic strip historian Mark Evanier wrote on his
"News From Me"
site.
"Sources on the Internet will tell you he was born in 1922, but that's a lie. He was 92 years old,"
Evanier remarked.
Ballantine had a recurring role in the cartoon series
Garfield and Friends
as a con artist named Al J. Swindler.
"I wanted to have a Bilko-type villain who'd pop up from time to time, and I cast another veteran comic actor to do the voice in what would have been the first episode to feature the guy,"
recalled Evanier, a writer on the cartoon series.
"As it turned out, the actor was -- to put it as nicely as I can -- too old."Right after he left the studio, I decided to create another con-man character and find the right performer to supply his voice. I was wondering who to get when I walked out into the waiting room at the recording studio... and there, waiting to record a McDonald's radio spot for someone else, was Carl 'The Amazing' Ballantine."
Evanier hired him immediately, then ran home and wrote the episode introducing his character:
"It was a joy because I knew Carl could and would make any silly thing I wrote sound good. Even better, I got to hang out with him, have lunch, join his table up at the Magic Castle and just enjoy the ongoing show that was Carl."
In
Spider-Man
, he guested as Lenny Lankowski in the 1996 episode
"Sins of the Fathers Chapter 13: Goblin Wars."
He was also Huska in the 1995
Freakazoid!
episode
"Lawn Gnomes, Chapter IV: Fun in the Sun."
Among his hundreds of commercials was a
California Raisins
spot in which he voiced a Claymation character resembling himself, Evanier said.
Ballantine's surviving daughter, Sara, is an actress who voiced Mary Jane Watson in the 1995-98
Spider-Man
series and provided additional voices in the 2001 show
Totally Spies!
Billing himself as "Ballantine the Great" or "The Amazing Ballantine," he had a magic act similar to that of the late British prestidigator Tommy Cooper -- in which something always went wrong. He appeared in character as the wisecracking "The Great Ballantine" on such 1950s and 1960s series as
The Ed Sullivan Show
and
The Steve Allen Show
.
Born Meyer Kessler in Chicago, Kessler started his career by doing straight magic. Realizing that other performers could do better, he decided to put comedy in his act.
Spotting a bottle of Ballantine whisky in an advertisement, he changed his last name accordingly. He became the first magician to headline in Las Vegas.
He also portrayed Max Kellerman in the short-lived 1980 ABC sitcom
One in a Million
.
Beyond his TV work, he portrayed Gruber in the 1964 movie spin-off
McHale's Navy
.
Ballantine played slave merchant/procurer Marcus Lycus opposite the star, Phil Silvers, in the 1972 Los Angeles, Chicago and Broadway revival of the musical
A Funny Thing Happened on the Way to the Forum
.
His last film appearance was in 2006's Aimee Semple McPherson, a biography about the controversial 1920s female evangelist.
Carl Ballantine was predeceased in 2000 by his wife, comedic actress Ceil Cabot.
Avery to Manage DreamWorks Franchises
DreamWorks Animation is bringing back veteran home video executive Kelley Avery to fill the new post of worldwide head of franchise strategy and development.
Avery will be responsible for developing global plans for the studio's franchises that include everything from new products to all forms of distribution, including home entertainment.
Avery worked as head of DreamWorks' home video department for eight years before leaving in for Paramount in 2006. She previously had the same job at Disney for 12 years.
The studio has been steadily looking to expand its franchises, developing sequels, TV specials, musicals and other spin-offs for its
Shrek, Madagascar
and
Kung Fu Panda
properties.
"With our increased slate of films and our new franchise initiatives, the time is right to bring in an executive of Kelley's considerable talent and experience to help us develop these properties and drive new revenue opportunities across numerous platforms,"
said DreamWorks Animation CEO Jeffrey Katzenberg.
(Thanks
American Magazine
)
Exclusive! Progressions from Pixar's Up
Disney-Pixar's
Up
was one of this year's best reviewed and biggest hits — animated or otherwise.
And with the film due out on DVD and Blu-ray next week after a stellar run in theaters, we have a chance to share with our readers an exclusive first look at a series of progressions that detail the process used to make the film.
The eight images take a scene from storyboard through to final lighting. Rather than keep writing about it, take a look at the images themselves for a small peek into the making of this acclaimed film.
(Thanks
Animation Magazine
)
The 6 best extras on the new Star Trek DVD/Blu-ray
That's Victor Garber under the ridged helmet
The upcoming
Star Trek
DVD/Blu-ray has some particularly juicy extras on it, which is good news if you were a fan of the J.J. Abrams reboot. The disc doesn't drop until
Nov. 17
, but Abrams and screenwriters Roberto Orci and Alex Kurtzman gave us a preview last month, and we picked out what we think are the six best features for you:
The Klingons make their debut.
The knobby-headed nemeses appeared in
an early cut
but were excised from the final film.
"They were in the movie, and it's one of those things that I hated to cut, for a number of reasons,"
Abrams said.
"One of them was that I loved the design, the world and the story, and that moment was really cool. So I'm very excited for people to see these scenes."
The sequence also has more action: You'll see Nero take down his prison guards, and he fights Romulan-style.
Alias's Spy Daddy, Victor Garber, appears.
Abrams' former
Alias
star had a cameo as one of the Klingons, interrogating Nero (Eric Bana).
"Victor Garber, who is one of my favorite actors, played a Klingon, was in the movie, had a ton of makeup and a very heavy, hot costume,"
Abrams said.
"I had to call him and tell him his scene wasn't in the film. A huge consolation for me was that it will live forever on the DVD and Blu-ray, so I'm psyched for people to see that."
See Spock born.
In the movie, we see James Tiberius Kirk born while his father dies in a space battle. Orci and Kurtzman wrote Spock's birth, too, but you'll only see it on the DVD.
"The first scene of the movie was the birth of Spock,"
Kurtzman said.
"I think that we knew that the way these characters were born was going to define everything about who they would become. Knowing that Kirk was going to be a renegade, knowing that he was going to have father issues, knowing he was going to be lost, knowing he was going to have to come into his own as captain prescribed a series of things that allowed us to think about 'What would create a man like that?' Which was a very emotional place to begin."
Spock Prime explains one of the movie's biggest coincidences.
Perhaps the biggest complaint fans had about the reboot movie was that it was awfully coincidental for young Kirk (Chris Pine) to land on an ice planet only a few steps away from where Spock Prime (Leonard Nimoy) was waiting for him. The original cut of the movie dealt with it, but the explanation wound up on the cutting-room floor. "In the scene where they're in the cave, there was a sequence that is on the DVD that was cut from the movie where Spock speaks to that," Abrams said.
"He talks about how this is sort of the timeline's way of trying to repair itself, and it's as much about fate as anything. The trick in doing any movie, but especially something like this that involves some weird alternate-reality/time-travel thing, is that you don't want to not explain it, but you don't want to explain everything."
The last word on why William Shatner's not in it.
Abrams has explained before that he really wanted the original Capt. Kirk in the movie but couldn't figure out a way to explain his on-screen death in
Star Trek: Generations
. Let the DVD be the final word on that, with its featurette
"The Shatner Conundrum." "Essentially, it's about how do you put him in the movie when you want him in it so badly, and yet the story actually seems in counter purposes with the story you want to tell?"
Abrams said.
A gag reel.
Among other things, this shows how Zachary Quinto (Spock) flubs his lines.
"When you see Zachary screw up and sort of go from Spock to Zachary, Spock to Zachary, the back and forth, is so funny to me,"
Abrams said.
"He could not be less like Spock, and yet he was so convincing. To have him bounce back and forth so quickly as he screws up just makes me laugh every time."
We finally discover who dies on Heroes
For weeks there have been leaks that one of the major characters who's been with
Heroes
since season one is getting killed off. But will it be the Sylar-on-the-brain Matt Parkman or the already dead Nathan Petrelli or the brain-tumored Hiro or the who-the-heck-am-I Sylar?
Well, stop reading and go off and live in a cave for a while if you really don't want to know which actor and character will soon be history on the NBC series.
(Spoiler ahead!)
Executive producer Adam Armus danced around the subject during a recent interview. After he spilled the beans, he swore me to secrecy, and I promised not to reveal who was going to die until the cat was let out of the bag. Well, the cat clawed her way out of that bag, and it's now been reported in several outlets that Adrian Pasdar is the unlucky guy and that his character, Nathan Petrelli, will bite the dust before the year's end. E! Online's Kristin Dos Santos also reported that Pasdar learned about his character's exit not from a phone call, but from a script.
"We all know that Nathan Petrelli last year was killed, and his mind was put into Sylar's body and shape-shifted into Nathan,"
said Armus.
"We made some commitments last year, and we've committed that there is going to be an epic battle between two characters and who's going to win and who's going to lose. That's something we've been planning all this year. So we know that someone has to lose.""This whole Sylar-in-one-body-and-his-mind-in-another with Matt Parkman, all that's going to come to a head, because ultimately Sylar is going to win. He's ultimately going to get out of Matt Parkman's head and get back into his body,"
said Armus. Which would mean it's not looking good for Nathan. Somehow, even on a show called Heroes, Nathan's flying ability probably won't be a lot of help to him if he doesn't have a body.
"Once Nathan and Sylar come back together, there is a battle for the life of that body. Who is going to be in control? And whoever loses is the one that dies,"
said Armus.
"It's the knock-down-drag-out 'Who's going to win this body?', and it's going to be between Peter and Nathan/Sylar. And Peter's going to be fighting for his brother."
And obviously not winning.
Heroes
airs on Mondays at 8 p.m. ET/PT.