Carrey's 'Christmas Carol' wraps up $31M weekend
Carrey's Scrooge collected holiday donations from movie fans with his new take on
"A Christmas Carol,"
which took in $31 million to open as the weekend's top movie.
The Disney animated version of the Charles Dickens classic knocked the King of Pop out of the No. 1 spot as
"Michael Jackson's This Is It"
slipped to second place with $14 million, according to studio estimates Sunday.
Sony's
"This Is It,"
presenting rehearsal performances Jackson shot before his death last June, raised its domestic total to $57.9 million. Worldwide,
"This Is It"
has taken in $186.5 million.
Featuring Carrey as Ebenezer Scrooge and also as the three holiday ghosts that show Scrooge the error of his miserly ways,
"A Christmas Carol"
came in on the low end of Disney's expectations for opening weekend.
On the other end of the spectrum, Lionsgate's acclaimed drama
"Precious: Based on the Novel 'Push' by Sapphire"
had a spectacular start, pulling in $1.8 million in just 18 theaters, averaging $100,000 a cinema. That compares with an $8,418 average for
"A Christmas Carol"
in 3,683 theaters.
"Precious"
had a record average for films opening in 10 or more theaters. Others that have averaged $100,000 or more typically debut in only a few cinemas.
The weekend brought a rush of other new movies, led by George Clooney's comedy
"The Men Who Stare at Goats,"
which finished at No. 3 with $13.3 million. The Overture Films release is a satiric look at U.S. military efforts to create "warrior monks" who can predict the future or walk through walls.
Debuting in fourth place with $12.5 million was Universal's
"The Fourth Kind,"
starring Milla Jovovich as a psychologist studying alien abductions in Alaska.
Cameron Diaz and James Marsden's sci-fi tale
"The Box"
opened at No. 6 with $7.9 million. The Warner Bros. thriller centers on a couple given a mysterious box that can provide them $1 million, but at the cost of a stranger's life.
With nearly two months of playing time through the holidays, Disney is counting on steady business for
"A Christmas Carol,"
particularly over Thanksgiving weekend and in the buildup to Christmas itself.
"You have to play these things for the long term,"
said Chuck Viane, Disney's head of distribution.
"You've got to have the patience and you've got to pick the right weekend. For us, the days when the malls turned to Christmas stores is when we wanted to go."
Director Robert Zemeckis shot the movie using the same performance-capture technology used on his 2004 holiday offering
"The Polar Express."
Carrey and his co-stars acted on a bare soundstage as digital cameras caught their performances, with computer animators later adding costumes, sets, props and other effects.
"A Christmas Carol"
came in ahead of
"Polar Express,"
which had an opening weekend of $23.5 million. But it fell well short of the $55.1 million opening for Carrey's previous holiday tale,
"Dr. Seuss' How the Grinch Stole Christmas"
in 2000.
Gong, but not forgotten
Loose Moose Productions' Caroline Attia has directed an animated homage to the Gong Man, the iconic trademark of the UK's Rank Films used as the intro to all their films, to promote Odeon Cinemas' new initiative of specially scheduled Mother and Baby screenings in England.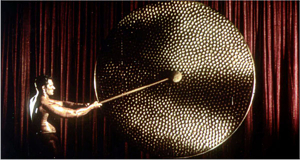 A press release for the spot reads:
A common problem faced by parents with young babies is, how can you still to go the pictures without ruining fellow cinema goers experience with your crying tot?
Bepanthen nappy cream has recently teamed up with Odeon Cinemas to help solve this problem by sponsoring specially scheduled Mother and Baby screenings nationwide, and asked Loose Moose's Caroline Attia to direct an animated homage to the Gong Man, (also known as The-man-with-the-gong) – the iconic trademark of Rank Films used as the intro to all their films.
Loose Moose was contacted by JWT, London to ask if Caroline Attia could explore ways of utilising the Bepanthen baby logo after her painterly illustration and animation style caught their eye.
The brief was simple – keep to one shot with a slow push in, as in the original, and to incorporate the style, line and colour palette in the Bepanthen baby logo and packaging.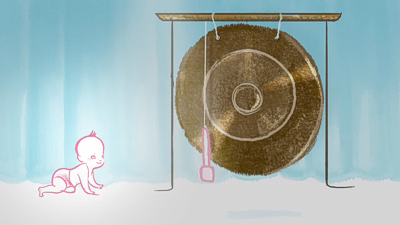 The baby crawls on from camera left with determination that babies have when they want to do something – and want to do it before a grown up stops them! A large gong appears centre screen, suspended from a frame and has the familiar 'hammered' surface as per the Rank gong. The baby utters a little cry of excitement with the appearance of the gong and breathes heavily as it concentrates.
The baby stands slightly unsteadily and picks up the striker that is hanging down from the frame. Bepanthen Baby then bangs the gong twice, making a huge noise. The baby stands there smiling proudly as the caption appears.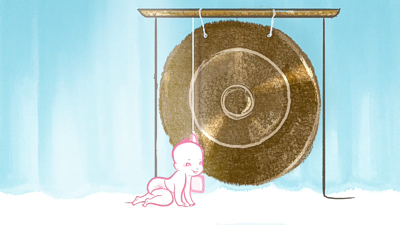 Caroline explains:
"The two main challenges for me on this ident where design and animation. In term of design I had to find a way to both be faithful in someway to the already existing logo but at the same time to make it my own. I changed the design of the baby slightly in term of proportions but kept the colours and a line work similar. As for animation, I had never animated a baby before, and found it quite challenging. Babies have a special way of moving. I didn't wanted to be ultra realistic in the animation, but wanted to convey the feeling of erratic movement and lack of balance that babies have. I watched a lot of references to help me with that."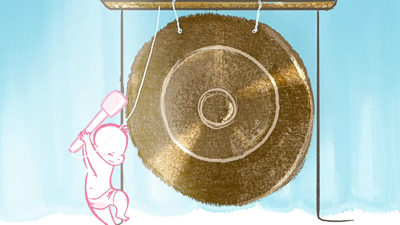 Caroline produced a draft animation using Flash and then imported the frames into Photoshop. Caroline then used layers to gain freedom in the line work, finally compositing everything in After Effects.
Gong Baby
joins a long line of Gong Man parodies from
Carry On…Up The Khyber
, where Kenneth Williams' character refers to an over-enthusiastic gong man's attitude as "rank stupidity", to the final seconds of the video to Queen's
B

ohemian Rhapsody
showing percussionist Roger Taylor mimicking it by hitting a Tam Tam while stripped down to the waist, to
The Mickey Mouse Club
's title sequence featuring Donald Duck, with varying humourous results.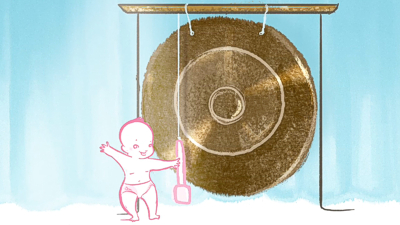 Agency Credits
Agency: JWT, London.
Creative Director: Chips Hardy
Producers: Jack Bayley / Panos Loucas
Production Credits
Production Company: Loose Moose Productions Ltd
Director: Caroline Attia
Producer: Glenn Holberton
Post Production: Bruce Hancock, Seizmic, London
Yogi Bear casting

Variety
reports that on several actors that are in negotiations to join the cast of the live-action/CG animated
Yogi Bear
. Dan Aykroyd is reportedly up for the voice of Yogi with Justin Timberlake voicing Boo-Boo. Anna Faris would play a documentary filmmaker.
"Superjail!" Coming to DVD
The 11-minute animated comedy series
Superjail!
, which aired on Adult Swim, comes to DVD with its first season DVD set on
2/23/10
. The price is
$19.97
. It will include the ten episodes from season one, as well as special features:
*
"Bunny Love"
pilot
*
"Comin' Home"
music video by Cheeseburger
* Animatics of
"Bunny Love", "Superbar", "Time Police Parts 1 and 2"Man arrested for murder of Texas animation student
Dallas police have arrested 26-year-old Daniel Willyam for murder in the fatal stabbing of an animation student.
Samantha "Shelley" Nance, 20, was found September 11 slain in her bedroom in her Lake Highlands apartment in northeast Dallas. She was an eighth-quarter Media Arts and Animation student at Art Institute of Dallas.
Police indicated Wednesday that more arrests may follow.
Willyam is also an AI Dallas student, according to his Linkedin profile. He was a roommate of Nance's boyfriend.
He is accused of killing Nance by stabbing her 40 times.
Dallas police said in a Wednesday press conference that Willyam was infatuated with his roommate. They theorize that he killed Nance in order to get closer to his roommate.
However, Willyam apparently was not part of the initial murder investigation.
"There was a tryst of sorts, between the suspect ultimately involved in this case and his roommate, who was the boyfriend of Miss Nance. It is because of this relationship and jealousy that we feel this offense was committed,"
said police spokesman Craig Miller.
Willyam said earlier Wednesday that he know nothing about her murder:
"She's my roommate's girlfriend. That's all I know."
Nance's family said that they had never met her boyfriend nor his roommate.
"She was working hard. Now that's taken away from her. I hope he gets what he deserves,"
Samantha's mother Cynthia said.
Antonio Banderas Backs The Lady and The Reaper
The Lady and The Reaper
is a new CG short from Kandor Moon, the Spain-based studio created by Antonio Banderas' company Green Moon and
Kandor Graphics
. It's the same studio that's behind the CG-feature
The Missing Linx
, and in 2011 they're planning to release another feature titled
Goleor, the Spade and the Sword. The Lady and the Reaper (La Dama y La Muerte)
was directed by Javier Recio Garcia, and below you can see a 1:30 minute teaser.
Geiger Joins Star Wars Uncut Federation
Mike Geiger
(
County Ghost
and
Cuddle Sticks
) has offered his rendition of a key plot point from
Star Wars: A New Hope
. Below is a 15-second clip from the 1977 film in which Luke accidentally discovers Princess Leah's call for help. It's all part of
Star Wars Uncut
, a new crowdsourcing project by Casey Pugh.
Shepherd Second at 11 Second Club
Flash animator
Matt Shepherd
continues to outperform the majority of the field in the
11 Second Club competition
. In October, this submission below placed second out of a record 207 submissions (BTW – the
November competition
is underway).
At Starz Media
This is Thursday, so it's Starz day on TAG's unending studio tour.
The Simpsons
crew is pared down now, with lots of empty cubes in the layout department now that the show's budget has been ... ah ... constrained.
Do it faster, better, cheaper
. Those are the watch words.
"We've all adjusted to the higher demands. The artists just stay at their desks and get the work done. There's no time for complaining ..."
The question I got over and over:
So what's going on in the rest of the animation biz? Who's working?"
I've given the answer so many times I have it down pat.
"Less traditional, hand-drawn employment happening, but more c.g. work. Warners has come back from hibernation, but Disney TVA's Sonora studio is mostly empty, with two shows coming into production ..."
Etcetera.
One
Simpsons
staffer mentioned:
The writers are doing a retreat to get rolling on another thirteen episodes. And I've heard Al Jean say he'd be happy to do
The Simpsons
for another twenty years ... [pause] I'd be okay with working on the show another twenty years."
Al Jean (one of the show's topkicks, if you don't know) had
this
to say about the Yellow Family.
Working with brainy guests like Stephen Hawking and Thomas Pynchon is truly priceless
But the nub of the matter:
The Simpsons
is the
sixth highest earner
on television.
"We're still vital."
Which is, after all the poker chips get counted and hauled off to the cashier's cage, why
The Simpsons
' diminished artistic staff could be working on the show for some years to come.
Simpsons = Number Six
.
"Only
thirteen
new episodes being written? For next season? I wonder how many hold-over half hours we've got? I bet that's how they plan on rounding out the order. With episodes they didn't use
this
year."
Did I mention that Fox is ... ah ... cost conscious?
(Thanks
Animation Guild Blog
)
Layoffs and Hirings
Warners employees called today to explain:
"The series
Laff Riot
is laying off most of its artists. They told us today that the show is retooling, going in a different direction, and won't be carrying staff while it takes eight or ten weeks to revamp. They expect to ramp back up mid to late January. How many of us will be coming back, they didn't say."
I know this is a big disappointment to designers and board artists who were anticipating a year or more of steady work on the twenty-six half-hours of
Laff Riot
.
"Wanted you to know what's going on over here,"
a production board artist said to me on the phone.
"This caught us all by surprise. It's only been four months. Nothing to do now but go look for another job."
I was at Warners earlier this week and had no inkling of this ...
Down the freeway at Disney TVA Sonora, crews on two show are slowly returning to work.
And at the Walt Disney Animation Studio, they have laid off all but two of the cleanup artists who came aboard for
The Princess and the Frog
. At the same time, animators are being hired for
Rapunzel
and sequences are being put in work. (They kind of have to jump into action. The picture has a release date that's only a year away.)
The rest of the cartoon business? It's like the pistons in a 12-cylinder engine: one is going up while another's moving down, which is nerve-wracking for a whole lot of people.
(Thanks
Animation Guild Blog
)
Flipos
Sometimes I think the most creative place in TV animation is in pre-school programming. Here's a preview of
Flipos
from the Chile-based PunkRobot studio. Director Antonia Herrera says the project is
"a labor of love, made with little money and a small, talented team"
. A
production blog
features concept art and storyboards, and the trailer is candy-cane sweet:
(Thanks
cartoon brew
)
New release dates for Rapunzel and Alvin
Boxofficemojo.com has updated their release schedule with new release dates for two upcoming movies. Disney's
Rapunzel
, the studio's first computer-animated fairy tale, is set to come out on
November 24, 2010
, just in time for the Thanksgiving holiday weekend. Meanwhile,
Alvin and the Chipmunks: The Squeakuel
has been bumped up slightly with a
December 23, 2009
release date. The sequel to the 2007 surprise hit was previously set to come out on Christmas day.
Swimming Lesson nominated for European Film Award"Swimming Lesson,"
directed and written by Germany's Danny de Vent, is the sole animated contender among the 13 nominees in the Short Film category of the European Film Awards.
Originally titled
Zwemles
, the 10-minute film depicts a four-year-old boy who is having his first swimming lesson. He undertakes an adventurous trip to the other side of the very deep swimming pool and overcomes his fear.
Europe's equivalent of the Oscars, the European Film Awards are supported by the European Film Academy.
Topping the nominations for this year's awards is French prison thriller
A Prophet
, which has received six nods, including one for best picture. Directed by Jacques Audiard, it won the Cannes film festival's Grand Prix in May and is France's entry in the Academy Awards.
Slumdog Millionaire
received five nominations, including best picture, directing, actor (Dev Patel), screenwriter (Simon Beaufoy) and cinematography (Anthony Dod Mantle).
The 22th European Film Awards ceremony will be held
December 12
in Bochum, Germany.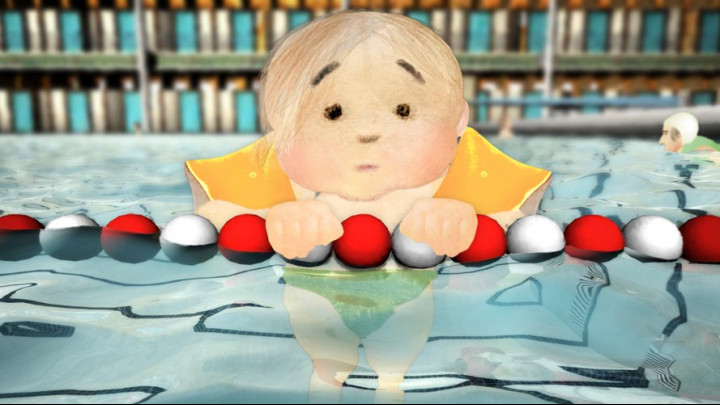 Upcoming Anime in North AmericaPonyo
is scheduled to be released on video
March 2nd
in a Standard Edition ($29.99), a 2-disc Special Edition that comes with a plush
Ponyo
figure ($34.99), and a Blu-ray ($39.99)
*
Release details have been announced for the
Halo Legends
anime anthology.
Produced by 343 Industries, a part of Microsoft Game Studios, the exciting tales-beyond-the-games will be distributed
February 9, 2010
by Warner Home Video as a Special Edition 2-disc version on DVD and Blu-Ray™ for $29.98 (SRP) and $34.99 (SRP), respectively, as well as single disc DVD for $19.98 (SRP)
The chapters will also be available On Demand and Digital Download. Shorts runs between 10 and 17 minutes
The Shorts include work from studios range from Production I.G. (
Ghost in the Shell, Batman Gotham Knight
), Bones (
Cowboy Bebop, Fell Metal Alchemist
) and Toei Animation (
Dragonball Z, Digimon
) to Studio 4oC (
The Animatrix, Batman Gotham Knight
) and Casio Entertainment.
Creator supervisors includecreative supervisors Shinji Aramaki (
Appleseed
) and Mamoru Oshii (
Ghost in the Shell
) with directors directors Shinji Aramaki (
Appleseed
), Hideki Futamura (
The Animatrix
), Daisuke Nishio (
Dragonball Z
), Hiroshi Yamazaki (
Karas
), Toshiyuki Kanno (
Black Lagoon
), Koichi Mashimo (
Blade of the Immortal
) and Koji Sawai (
Patlabor
); directors/action designers Tomoki Kyoda (
Eureka Seven, Evangelion 1.0
) and Yasushi Muraki (
Macross Plus, Vampire Hunter D
); and writer Dai Sato (
Cowboy Bebop
).
Halo Legends
- 2 Disc Special Edition version will have several hours of incredible bonus features, including:
*
The Making of Halo Legends
– An introduction to
Halo Legends
followed by a making-of segment for each episode.
*
Halo: Gaming Evolved
– Explaining the Halo phenomenon from its inception as an Xbox video game to a present day entertainment franchise.
* Audio Commentary with directors Frank O'Connor and Joseph Chou
* Widescreen (1.78:1)
Halo Legends
Blu-Ray will also include
Halo: The Story so Far
, an overview of the Halo universe up until the end of Halo 3
BASICS
HALO LEGENDS
- Single Disc
Street Date:
February 9, 2010
Languages: English and Spanish
Audio: Dolby Surround Stereo
Rating: PG-13
Runtime: Estimated 119 min.
Price: $19.98 SRP / No MAP
HALO LEGENDS
– 2 Disc Special Edition
Street Date:
February 9, 2010
Languages: English and Spanish
Audio: Dolby Surround Stereo
Rating: PG-13
Runtimes: Disc 1 – Estimated 119 min.
Disc 2 – Estimated 89 minutes
Price: $29.98 SRP / No MAP
HALO LEGENDS
– Blu-Ray™ Hi-Def
Street Date:
February 9, 2010
Languages: English and Spanish
Audio: Dolby Surround Stereo
Rating: PG-13
Runtimes: Estimated 223 min.
Price: $34.99 SRP / No MAP
SXaniMedia notes that
Seraphim Digital Studios (formerly known as ADV Studios and Amusement Park Media)
has been tapped by Microsoft's 343 Industries and Warner Brothers to handle English co-production, adaptation and voice direction.
John Ledford, founder of ADV Films is involved as co-Executive Producer, with Joey Goubeaud and Eiichi Takahashi - the former an ADV production manager and Producer, the latter Executive co-Producer of Sentai Filmworks (
Clannad / Clannad After Story
) - and finally, long-time ADV Films Director, Steven Foster (
Appleseed Ex Machina, Le Chevalier D'Eon, Gilgamesh, Kiba
) is involved in the adaptation, casting and voice direction.
*
FUNimation
FUNimation has posted a number of trailers including
Rin: Daughters of Mnemosyne
(an especially good one, well worth watching)
Warner Home VideoSuperjail!
Season one will be released on DVD
February 23rd
for $19.97
Watson-Guptill
Drawing Manga Animals, Chibis, and Other Adorable Creatures
by J.C. Amberlyn will be released
Nov 17, 2009
It starts with the basics of creating manga-style characters—everything from drawing heads and faces to eyes and expressions, to creating incredibly cute chibis. Part two features a valuable reference section on the mythological and real animals that have shaped Japanese artwork and stories. The final section has step-by-step demonstrations on using computer programs such as Photoshop and Corel Painter to create manga art and comics.
The Manga Artist's Workbook
by Christopher Hart has recently been released
Upcoming in Japan

Promos and Previews
Madhouse's
Mai Mia Miracle
Loups-Garou
- Production I.G's adaptation of Natsuhiko Kyogoku's "virtual reality werewolf" novel, featuring Jpop act Scandal - the novel is scheduled to be released in North America by Viz
Production I.G's
English language profile
Kiddy Girl
- follow-up to girls with guns sci-fi Kiddy Grade
stills of
Oshii's Assault Girls
The documentary looking at the work of horror manga luminarie Kazuo Umezu
Eden of the East movie trailer
Precure Allstars DX2
Not really anime/manga related, but of note, Kazuaki Kiriya and Gary Shore's
Cup of Tears
The Cup of Tears film trailer. Dir. Gary Shore
from
Gary Shore
on
Vimeo
.
For Kaiju fans
Anime

Nausicaa.net
reports that the next Ghibli Museum short will be
"Cyu (Mouse Squeak) Zumou"
, scheduled to start
January 3
.
Runtime: 13 minutes
Source: Japanese folktale
Project origin, scenario: Hayao Miyazaki
Director, storyboards: Akihiko Yamashita
Music: Manto Watanebe (Ghiblies episode 2)
20th Anniversary Sailor Moon re-issues
will hit on
December 11, 2009
. A special event titled "GO! GO! 20th ANNIVERSARY" is to be held, attended by the voice actresses of the five Sailor Senshi(Sailor Scouts).
*
The
Blu-ray
release of new Universal Century (time line of the original Gundam)
Mobile Suit Gundam Unicorn
anime series will have a simultaneous overseas release on
March 12
with Japanese and English dubbing, as well as Japanese, English, French, Spanish, and Chinese subtitles. The first of six DVD volumes will ship on the same day with Japanese dubbing as well as Japanese and English subtitles.
*
Kazuya Minekura's bishonen adaptation of Saiyuki, the Journey to the West/Monkey King epic
will get another anime adaptation
, this time based on her Saiyuki Gaiden
*
Clive Barker and Ryuhei Kitamura (
Midnight Meat Train
) have plans to adapt Barker's
"In the Hills, the Cities"
into anime
*
Exercise anime seems to be the new thing. As such, the DVD release of
Spice and Wolf
II will be packaged with short
"Wacchi to Sutorecchi"(lit. Stretch with Wacchi; Holo's characteristic pronoun "Wacchi" sort of rhymes with "stretch" in Japanese)
*
The Time of Eve (Eve no Jikan)
will be edited, with new footage, into a compilation movie, scheduled to hit Japanese theatres next spring.
The Business
Hollywood Report is describing Imagi's
Astro Boy
as a
bomb in Japan
, but a success in China
After opening on more than 200 screens on the weekend of Oct. 10-12,
"Astro Boy"
pulled in a disappointing $328,457 in its first week, an average of just over $1,500 per screen, to put it at the bottom of the week's rankings. For comparison, the same week's top film, NTV's
"Kaiji,"
took over $4 million from just over 300 screens at an average of over $13,200.
If distributor Kadokawa was hoping for a slow burner, it was to be disappointed as
"Atom,"
as it was titled locally, dropped out of the top 10 and out of sight the following week. The latest overseas adaptation of a much-loved manga and TV series, it looks to have gone the way of other recent attempts such as the live-action versions of
"Speed Racer"
and
"Dragonball Evolution,"
which both failed to ignite the boxoffice in the land of their origin.
However, in China,
"Astro Boy"
set an opening weekend boxoffice record in China for a CG-animated movie, taking 40 million yuan ($5.9 million) on about 1,100 screens, Imagi said in a statement. It broke the mark set previously by
"Ice Age: Dawn of the Dinosaurs,"
which opened with 30 million yuan.
The adaptation of manga
Gambling Apocalypse Kaiji
took the top spot in Japan's box office during
Astro Boy
's run
In the US release,
Astro Boy
dropped 54%
in its box office take, falling to 8th on the chart at $3 million in ticket sales.
The Animation Guild blog on
Astro Boy
's lack of success in the US and Japan
Cartoon Brew's post mortem
In the wake of the
Astro Boy
release, Imagi announced Ting Chuk Kwan has resigned as an Executive Director and the Acting CEO with effect from 1 November 2009; and Mr. Phoon Chiong Kit, an Executive Director, has assumed the role of CEO with effect from 1 November 2009.
*
A consortium of Japanese media companies including Toho, Ghilbi and Sunrise have formed
Content Overseas Distribution Association (CODA) to fight domestic and overseas Internet piracy
. The initiative will start with the monitoring of 10 to 15 works, such as
Ponyo
and
Mobile Suit Gundam 00
, on major video-sharing websites in China in the middle of November. Thereafter, the system will expand the number of sites it monitors to those outside China.
*
Toei has signed Latin American broadcast deals for Digimon Data Squad, Saint Seiya and Dragon Ball.
Buena Vista in Argentina picked up 48 half-hour episodes of
Digimon Data Squad
to begin airing in December or January. Medcom in Panama went for 114 half-hour episodes of Japanese manga series
Saint Seiya
and 153 half-hours of
Dragon Ball
.
In addition to broadcast deals, Toei secured a DVD agreement with Brazil's Playarte, for
Dragon Ball
and
Saint Seiya: The Hades Sanctuary
. Playarte will release a DVD box set featuring 28 Dragon Ball episodes this December. The company has already debuted Saint Seiya: The Hades Sanctuary on DVD, featuring 13 episodes from the series.
*
Borders announced the
closing of approximately 200 Waldenbooks stores
- leaving 130 mall locations open. The closings will result in the termination of some 1,500 jobs, the majority of which are part-time positions.
*
Movie Gallery, which owns the Hollywood Video and Movie Gallery video store chains
, is in the process of closing 400 to 450 stores
Going HollywoodAstro Boy
- director David Bowers
on his work "reinventing Astro Boy"
Eugene Levy's professional, not so enthuiastic thoughts on Astro Boy voice work
Expert/translator Frederik L. Schodt
responds to the New York Time review
- also
Schodt's Astro Boy piece for LA's Japan Foundation
A look at
developing Astro Boy for 3D CG
Popular Mechanics on
Astro Boy
*
An adaptation of 80's rock girl cartoon
Jem and the Holograms might be in the works
. Either way, it looks like Peter Barsocchini, who wrote the
High School Musical
films, will be on board, either as writer or producer.
*
The Wall Street Journal
suggests that the trend in toy to movie adaptations
might see a J.J. Abrams directed
Micronauts
*
Anime News Network
and Nikkei news source report that a work by the late manga and anime creator Shotaro Ishinomori will be adapted into a live-action and computer-graphics film in Hollywood in 2012. Ishinomori conceived of several popular classics, including
Kamen Rider, Cyborg 009, Harmagedon
, and
The Skull Man
.
*
UK's Guardian on Hollywood's approach to
Ghost in the Shell
The guys behind the ANIPAC podcast has a
fun feature on who should be cast as Motoko Kusanagi
in a live action
Ghost in the ShellBryan Singer's Battlestar movie allegedly under way
Has director Bryan Singer begun preproduction on his proposed new

Battlestar Galactica

movie?

That's the hint in a post on

Examiner.com

, which otherwise rehashes

what we already know

about the movie, which will have nothing to do with Syfy's re-imagined series from Ronald Moore and David Eick.

Singer is reportedly working with Glen Larson, the producer behind the original 1970s

Battlestar

series:

Now that pre-production has started, any rumors that Singer's next project was going to be "X" related (as in

X-Men

) has been put to rest, along with any shot he had of helming another

Superman

flick. There's been no word if Moore will be involved in the re-reboot, yet given the rumored "rocky" relationship between Larson and Moore, it seems unlikely.

Stay tuned for more ...

AICN Exclusive:

Wolfman

poster!!! It's very Film Noir...

Hey folks, Harry here with the debut of the killer film noir-esque 1 sheet of the

Wolfman

!!! Now earlier today the good folks at

Cinematical

were given the Emily Blunt poster - and now we have the Benicio as the

Wolfman

poster. If you read my interview with Joe Johnston - you'll see that part of what Joe was going for with this

Wolfman

is a film noir aspect. Now the film is of course color, but it does play with dark shadows and stark lighting in spots. So - what do you think of the two posters thus far? Oh and if you click below - you'll get the big version for your desktop!
(Thanks
Aint It Cool
)
New 'Kick-Ass' Posters Hit The 'Net
A quartet of new posters from
"Kick-Ass,"
Matthew Vaughn's big-screen adaptation of Mark Millar and John Romita Jr.'s ultra-violent comic book series, have arrived online.
The four posters feature images of the film's costumed vigilantes: The Red Mist (played by Christopher Mintz-Plasse), Kick-Ass (Aaron Johnson), Hit Girl (Chloe Moretz) and Big Daddy (Nicolas Cage). Each character is poised on a rooftop, facing away from the camera, and the four posters form a skyline view when aligned.
Click on the image below to see a gallery of the four new "Kick-ass" movie posters.
Previously, we heard from
Mintz-Plasse and co-star Clark Duke about the research
(or lack thereof) they had to do for their roles in the much-anticipated film. Now that the project has received
distribution from Lionsgate
and has a
release date
set (
April 16, 2010
), fans who have been eagerly awaiting the film can finally look forward to seeing it—and its wild cast of characters—in theaters.
For those who haven't been following along at home,
"Kick-Ass"
tells the story of high-school geek Dave Lizewski, who decides to take his superhero worship to the next level and become a real-life costumed vigilante. After a shaky start (he's almost beaten to death by a gang of thugs), Lizewski finds Internet fame and a superhero name ("Kick-Ass")—but a whole new level of troubles in the form of copycat vigilantes like the The Red Mist and a father-daughter team of brutal vigilantes who take a different approach to cleaning up the streets.
EXCLUSIVE: Green Arrow 'Super Max' Movie Isn't Threatened By 'Supermax' Horror, Says David Goyer
Earlier in the year,
David Goyer provided a much-needed update on
"Super Max"
—the Green Arrow-centric movie that would feature DC's Emerald Archer wrongfully imprisoned in a maximum security jail for supervillains—by saying that a new writer would be coming aboard the project.
Shortly thereafter, however, a potential game-changer came in the form of
"Supermax,"
an almost identically titled horror project with a very similar premise to Goyer's planned film. Given that news, we recently explained why
"Super Max"
should be a priority for the newly formed DC Entertainment
..
But according to Goyer, the arrival of
"Supermax"
isn't necessarily the end for Oliver Queen's prison sentence.
"Not necessarily,"
Goyer told MTV News when asked if
"Supermax"
was a threat to his own similarly titled project.
"I don't think they're mutually exclusive."
While Goyer hasn't given up hope on
"Super Max,"
the filmmaker did say that movement on the project has slowed down, largely due to the
recent formation of DC Entertainment
.
"Right now, there's not much to report,"
said Goyer.
"Warner Brothers is moving very slowly in terms of what they're intending to do with their DC Projects. They just recently brought on [DC Entertainment President Diane Nelson] and once they've figured that out, they're going to get back to us on that one."