South Park backlash inspires Everybody Draw Mohammed Day
As most of you know by now, last week's episode of
South Park
was censored by Comedy Central over fears the show might stoke violent retribution by radical Muslims.
Now it has inspired an artists' movement — a national
Everybody Draw Mohammed Day
. Molly Norris, the cartoonist who started it,
says she wants no part
of the
May 20
event, which is gaining momentum online.
"I made a cartoon that went viral but [this campaign] isn't really my thing,"
cartoonist Molly Norris told Comic Riffs, characterizing her cartoon as merely a personal response to Comedy Central's censorship of a
"South Park"
episode last week.
"Other folks have taken it over"
— an appropriation she says she is distancing herself from.
Eight thousand people have already joined the
Facebook page
. Other media, including
The Daily Show
and
The Simpsons
(image above from Sunday night's episode), have publicly supported
South Park
's right to parody. It'll be interesting to see where this all leads.
(Thanks
Cartoon Brew
)
Giacchino to host AMPAS animation music event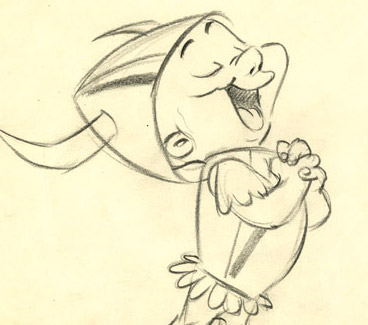 Oscar-winning composer Michael Giacchino will be hosting
"What's Opera, Doc? Animation and Classical Music"
on
May 14
in Beverly Hills. The Academy of Motion Picture Arts a

nd Sciences event will present "some of the most inspired and memorable uses of classical music in animation". Also appearing are Academy Music Branch governor Bruce Broughton and director Pete Docter. Full details follow:
ACADEMY HITS A HIGH NOTE WITH
"WHAT'S OPERA, DOC?"
Oscar®-winning composer Michael Giacchino (
Ratatouille, Up
) will guide audience members through some of the most inspired and memorable uses of classical music in animation in the Academy of Motion Picture Arts and Sciences
"Wh
at's Opera, Doc? Animation and Classical Music"
on
Friday, May 14
, at 7:30 p.m. at the Samuel Goldwyn Theater in Beverly Hills. He will be joined by Academy Music Branch governor Bruce Broughton (
Silverado, The Rescuers Down Under
) and Oscar-winning animated feature director Pete Docter (
Monsters, Inc., Up
).
Whether serving as the soundtrack for a Mickey Mouse comedy like
The Band Concert
(1935), a Bugs Bunny operatic parody like
What's Opera, Doc?
(1957), or the symphonic and visual masterpiece
Fantasia
(1940), classical music has had a strong influence on animated films since they were first synchronized with sound.
This installment of the Academy's Marc Davis Celebration of Animation is presented in conjunction with the citywide
"Ring Festival LA"
as well as the Academy's new Chuck Jones exhibition. The evening will include big-screen presentations of the animated shorts
Music Land
(1935),
A Corny Concerto
(1943),
The Rabbit of Seville
(1950) and more. For a complete list of shorts, please visit
http://www.oscars.org/events-exhibitions/events/2010/operadoc.html
.
Following the program, the Academy will hold extended viewing hours for
"Chuck Jones: An Animator's Life from A to Z-Z-Z-Z"
and
"The Fantastical Worlds of Ray Harryhausen."
Tickets for
"What's Opera, Doc? Animation and Classical Music"
will go on sale
Wednesday, April 28
. Tickets are $5 for the general public and $3 for Academy members and students with a valid ID. They may be purchased online at
www.oscars.org
, by mail, in person at the Academy during regular business hours or, depending on availability, on the night of the program when the doors open at 6:30 p.m. The Samuel Goldwyn Theater is located at 8949 Wilshire Boulevard in Beverly Hills. For more information, call (310) 247-3600 or visit
www.oscars.org
.
(Thanks
Animated Views
)
Hanna-Barbera writer Myles Wilder dead at 77
TV comedy writer-producer Myles Wilder, who wrote and served as an executive story consultant for several Hanna-Barbera series, died Tuesday in Temecula, California of complications from diverticulitis. He was 77.
Director Billy Wilder's nephew and the son of B-movie director-producer W. Lee Wilder, he was in charge of daytime TV for Hanna-Barbera Studios. He wrote for
The Roman Holidays
and
Wait Till Your Father Gets Home
(both 1972), along with
The Addams Family, Butch Cassidy and the Sundance Kids
and
Inch High, Private Eye
(all 1973).
Wilder was an executive story consultant for the 1974 H-B shows
Devlin, Partridge Family 2200 AD, These Are the Days, Valley of the Dinosaurs
and
Hong Kong Phooey
. He oversaw the writing and production of both
Inch High Private Eye
and
Hong Kong Phooey
.
For over 40 years, he worked on live-action comedy series. Twice nominated for an Emmy for
McHale's Navy
, he was also involved in
Wagon Train, Bachelor Father, The Lucy Show, The Doris Day Show, Gomer Pyle, My Three Sons, The Brady Bunch, Get Smart, The Tim Conway Comedy Hour, Diff'rent Strokes
and
The Dukes of Hazzard
.
However, he also worked on some of his father's most notorious films, including providing the story for 1954's
Killers From Space
.
Born to New York City to William and Edna Wilder on January 28, 1933, he was an only child and lived in Great Neck, Long Island until age eight, when his parents moved to Beverly Hills so his Austrian-born father could pursue his dream of becoming a motion picture director/producer. His uncle, Billy (Max) Wilder, was already established in Hollywood, and both brothers spent their lives in the movie industry.
Graduating from Beverly Hills High School in 1951, he entered Occidental College, where he met his future wife, Barbara (Bobbe) Pryor. They both transferred in their junior year to UCLA.
In 1955, he graduated with a BA from the university's renowned theater arts program. During those university years, Wilder began his writing career selling several scripts to the popular radio series
The Whistler
. After Pryor's graduation in 1956, they were married.
Shortly thereafter, Wilder was drafted into the United States Army. The couple moved to Petersburg, Virginia, where the presiding general was a theater devotee. He had been searching for a "Hollywood type" to refurbish and run the base's little theater, and he placed his new draftee in charge of the theater productions for the next two years.
The couple also spent a year living in London, where Wilder developed, wrote and produced the series T
he Adventures of Marco Polo
. London remained one of Wilder's favorite cities for the rest of his life.
Wilder began working on sitcoms after returning to the U.S. The Wilders moved back to Los Angeles, settled in Brentwood, and welcomed their daughter, Kimberly Annette.
Wilder developed movies at Walt Disney Studios and sold a novel,
Freeze
, to Warner Brothers.
He retired from the industry in 1989. In 1994, after their daughter Kim's marriage to businessman Brynley Lee, the Wilders retired to Temecula, where they spent many years as farmers of an avocado grove located on their property in the hills above the city. Wilder kept busy with the management of the grove, his passion for preparing gourmet foods for family and friends, collecting and enjoying fine wines, and doting on his wife, daughter Kim, and his grandchildren Olivia Catherine Lee and Morgan Myles Lee.
Myles Wilder is also survived by his godson, Matthew McGinnis, and his family.
A memorial service will be held at 10 a.m.
Wednesday, April 28
at England Family Mortuary in Temecula.
Donations may be made to Friends for Pets Foundation, 11117 Fleetwood Street, Sun Valley, CA 91352 (
friendsforpets.org
).
UK cartoon pig not fit to be seen with politicians
As a British music-hall song of the 1930s declared,
"the pig got up and slowly walked away."
Peppa Pig
, the cartoon protagonist of a children's cartoon series of the same name, canceled her appearance at a campaign event by Britain's ruling Labour Party. Two cabinet ministers at the launch of Labour's families manifesto had to show up without her.
E1 Entertainment, the television company which owns the license of
Peppa Pig
, said that it removed the porcine heroine from the event to avoid any
"controversy or misunderstanding."
An election is too political for Peppa, whose series airs on Channel Five, the company said.
Peppa Pig participated in a
"non-political"
campaign earlier this year to support Sure Start centers. Featuring a pig's adventures with her family and friends,
Peppa Pig
is broadcast in 180 countries around the world.
British business secretary Lord Mandelson said that he was
"intensely pig sick"
that Peppa had withdrawn from the Labour event, meant to drum up support for foundering Prime Minister Gordon Brown. He even charged that the British Broadcasting Corporation was swinishly
"stirring up trouble"
with its actions. Mandelson accused the BBC of deliberately wrecking the chance of a rival commercial network getting publicity for itself, stating he had heard a
"bad rumor"
that it was the
"intervention of the BBC with Channel Five that prevented her appearance."
Peppa Pig has been a
"source of unending fascination"
by senior BBC managers, he said Tuesday.
"Although Peppa Pig and her production company were absolutely delighted to come out today, BBC managers got on to Channel Five and started stirring up trouble over it and tried to put Peppa Pig back in her box."I think this is very unfortunate. I don't know what goes on between the BBC and Channel Five over these matters. It's all far too political for me to understand. Obviously, I feel intensely pig sick about it."
Dubbing Mandelson's accusations
"hogwash,"
a BBC spokesman said the network's only involvement with Peppa was that a journalist for the network called Channel Five about the fiasco.
"It is certainly not the case that the BBC contacted Channel Five corporately over this,"
he said.
Meanwhile, Channel Five dubbed Lord Mandelson's claim as
"porkies."
British schools schools secretary Ed Balls expressed disappointment by Peppa's failure to appear.
"Unfortunately, Peppa Pig is a global media star, acclaimed around the world, and very busy,"
he said.
"Peppa did tell me that not only is she a supporter of universal Sure Start but would be quite worried if George Pig lost his child trust fund."
Quipped Conservative leader David Cameron:
"He managed to find an Elvis impersonator, but they were blanked by Peppa Pig. It's not a great start, is it?
"
British grunt
Peppa Pig
isn't supporting Labour. That's all, folks.
Vintage Lots-o'-Huggin' Bear Ad from Japan
Everybody's already
seen this one
, but did you know the Japanese also made Lots-o'-Huggin' Bear toys. Take note: this is how you do viral marketing!
(Thanks
Cartoon Brew
)
Time Magazine's Top Ten Controversial Cartoons
In the wake of the latest
South Park
uproar, Time Magazine has posted
a Top Ten list of cartoon controversies
.
Number #2 on their list is Warner Bros.
Censored 11
- and Time embeds (via You Tube) the P.D. Tex Avery Bugs Bunny short
All This And Rabbit Stew
. Eight of the eleven were shown publicly this past weekend at the TCM Classic Film Festival without incident (the restored prints, particularly of
Coal Black and De Sebben Dwarfs
were stunning).
Disney's
Song of the South
ranks #4 and
Aladdin
is #8.
Speedy Gonzales
makes the list at number #10. The rest of the list consists of TV cartoons, mainly
The Simpsons, South Park
and
Family Guy
. Here's
the complete list
:
1. South Park and Muhammad
2. The Censored Eleven
3. The Simpsons and Brazil
4. Song of the South
5. The Boondocks
6. Family Guy and Sarah Palin
7. Pokemon Panic
8. Aladdin
9. South Park and Scientology
10. Speedy Gonzales
(Thanks
Cartoon Brew
)
"G.I. Joe: A Real American Hero - The Movie" on DVD and Blu-ray July 27, 2010
Shout! Factory has announced that
G.I. Joe: A Real American Hero - The Movie
will be released on DVD and a Blu-ray/DVD combo pack on July 27, 2010. The 1987 animated movie (separate from the 2009 live-action movie) follows the animated highly-trained special missions force against the ruthless forces of Cobra and their new allies: a race of ancient snake-men who ruled the Earth in pre-historic times. Bonus features will include an audio commentary track by story consultant Buzz Dixon, the last 8
"Knowing is Half the Battle"
PSAs, the original screenplay, and more. Suggested retail price is $16.97 for the single-disc DVD and $26.97 for the DVD/Blu-ray combo pack.
UPDATED
April 27, 2010: Click the images below for high-resolution versions of the disc artwork.
The full press release follows:
Original Animated Movie Debuts for the First Time Ever in
High Definition on Blu-rayTM and DVD this Summer
(click to enlarge)
G.I. JOE: A REAL AMERICAN HERO- THE MOVIE
SPECIAL COLLECTORS EDITION

2-DISC BLU-RAY™ + DVD COMBO PACK
and SINGLE DISC SPECIAL COLLECTORS EDITION DVD
Featuring New Transfers from Hi-def Masters, Extensive Bonus Content, the Special Collectors Edition Fills the Final Placeholder inside the
G.I. Joe: A Real American Hero – The Complete Series
Deluxe Footlocker Case

IN STORES NATIONWIDE JULY 27, 2010
FROM SHOUT! FACTORY
After countless defeats at the hands of the G.I. JOE team, the ruthless COBRA organization has taken a drastic leap towards global domination by joining the ranks of the ancient race of COBRA-LA. When DUKE falls in the line of duty, it's up to SGT. SLAUGHTER, LT. FALCON, SNAKE EYES and the rest of the G.I. JOE team to prevent SERPENTOR, DESTRO and COBRA-LA's GOLOBULUS from releasing a deadly spore into the Earth's atmosphere and devolving the human race.
On
July 27, 2010
, the original animated
G.I. JOE: A Real American Hero – THE MOVIE
that has been long out of print will finally debut for the first time in a 2-Disc Blu-ray + DVD combo pack as a Special Collectors Edition from Shout! Factory, in collaboration with Hasbro , Inc. Featuring the voice talent of Don Johnson, Burgess Meredith, SGT. SLAUGHTER and fan favorites Bill Ratner, Michael Bell and Chris Latta,
G.I. JOE: A Real American Hero – THE MOVIE Special Collectors Edition
2-Disc Blu-ray + DVD combo pack contains exciting bonus content including fan-favorite PSAs, printable screenplay with the original movie ending, and audio commentary. The Blu-ray + DVD combo pack edition also offers viewers an exclusive option of viewing the animated movie presentation in widescreen.
G.I. JOE: A Real American Hero – THE MOVIE Special Collectors Edition
is the final installment to complete last year's
G.I. JOE: A Real American Hero – The Complete Series
DVD box set. The Special Collectors Edition Blu-ray + DVD combo pack is priced to own at $26.97 and the single disc Special Collectors Edition DVD is available at $16.97 SRP.
G.I. JOE: A Real American Hero – THE MOVIE Special Collector's Edition
Synopsis
A 40,000-year-old race of snake people resurface, and with help of SERPENTOR, DESTRO, BARONESS and DR. MINDBENDER, they plan to eliminate all of mankind and rebuild COBRA-LA. Once rulers of Earth, the Snake people were driven underground by ice-age temperatures. While in exile, they developed a plant whose spores turn ordinary men into mindless, weak animals. The key to their plan is the G.I. JOE team's secret project – the Broadcast Energy Transmitter. Only this device generates enough heat so that the spores can mature. Humankind's very existence depends on the G.I. JOE team, but are they strong and smart enough to fight a warrior race with 40,000 years of experience?
BONUS FEATURES AVAILABLE SPECIAL COLLECTORS EDITION:
Audio commentary with story consultant Buzz Dixon
The final 8
"Knowing Is Half The Battle"
PSAs that were not on the
G.I. JOE: A Real American Hero – The Complete Series
DVD box set.
Original Printable Screenplay
–this script was written prior to DUKE's miraculous recovery and, thus, DUKE is dead. The script was not altered from this version on paper, but the audio session had an added line where Duke was going to survive the attack.
Art gallery
Blu-ray + DVD Combo Pack Exclusive: Optional 16x9 Widescreen and 4x3 Full Frame Presentations
Memorial service for Carl Macek
Those wishing to pay their respects to Robotech/Steamline's
Carl Macek, who passed away on April 17th
, may attend a memorial service on Saturday, May 1, 2010 at 2pm at
Congregational Church of the Chimes
14115 Magnolia Blvd.
Sherman Oaks, CA 91423
The service will be open to the public, but well wishers are asked to be mindful of Carl's friends and family. In lieu of flowers, donations to assist with memorial expenses should be made out to Svea Macek and sent to the following address:
Carl Macek Memorial
c/o Harmony Gold USA
7655 Sunset Blvd.
Los Angeles, CA 90046
The Monday Studios
Today I hopped over to Bento Box (mere blocks from the office) and chatted up the small but growing staff for
Bob's Burgers
. Directors are on board, and other staffers are beginning to come aboard. A production person mentioned:
"We've got to get focused on ramping up. It's not like we've got loads of time ..."
The TAG contract took effect April 1st, covering new series and
Neighbors From Hell
's second season. (We assume here it will get picked up for a second season, even though the first hasn't been launched yet. We're optimistic young things ...)
In the afternoon I covered three of four floors at the Disney hat building.
Tangled
now moves in higher gear, and the most interesting visuals I saw was the video Disney marketing has unspooling in the first floor lobby hall. They go farther than this:.
There's some nifty footage of the fairy tale's settings, with light streaming down through towering trees, verdant landscapes, a huge castle. What's on display has the flavor of some of the older hand-drawn features, viewed through a CG prism. The brief scenes with Rapunzel and Flynn are beguiling.
Whether the splashy art direction and establishing shots add up to a feature that earns a big opening weekend and five or six weeks of staying power, I donno. That will probably depend on whether the story fires on all cylinders.
We'll find that out in November.
Meanwhile upstairs, animators and cleanup artists continue work on
Winnie the Pooh
, none of them knowing if there will be a hand-drawn feature beyond it.
(Thanks
Animation Guild Blog
)
Smoldering Right Along
The L.A. Times
describes
a
"slow burn"
feature at the movie box office, and this season's prime candidate for the title.
There are many holy grails in Hollywood, but few as pursued as the slow-burn success -- that film that doesn't blow away audiences when it first comes out but hangs on long enough to become a breakout. Like the Holy Grail, the slow-burn is frequently sought ...

This year's candidate for the slow-burn,
"How to Train Your Dragon,"
isn't likely to hang around for 12 months, or even until August. But there's something
"Greek Wedding"
-like about it just the same. When it opened last month, the movie debuted at No 1, but with a soft-ish $43 million. Then it fell from the top spot, vacillating between second and third place for the following three weeks. And this week it reclaimed it. ...
Frankly, I couldn't understand why
Dragon
didn't open bigger the weekend it premiered, but an old DWA hand explained it to me:
"Look, it was about dragons and Vikings. How commercial is that? It took word of mouth to keep it going, but it's now at four times its first weekend gross and still going. Chris and Dean [the directors] came up with separate sequel ideas that sort of tracked each other, and I think they'll have a chance to make one of them ..."
We debated how much
Dragon
will end up grossing domestically. He wasn't sure it would go over $200 million, I thought it would. (It doesn't have
that much further to go
.)
(Thanks
Animation Guild Blog
)
Paranoid Pours On World Cup Spot For Coca-Cola
Edouard Salier directed this new spot for Coca-Cola, which currently airs in the Argentinian market. It's hyping the upcoming World Cup, as if that needs any more hype. The production company behind the spot, titled
Quest
, was
Paranoid
.
Drexel Students Film Uncovered – Bazi
I must admit, I wasn't aware of an animation course at
Drexel University
, so this new short, titled
Bazi
, that emerged this month caught me by surprise. Kevin Hoffman, David Lally,
Evan Boucher
and Nick Avallo combined efforts on this CG short that took them about 10 weeks to produce. The story is cute, but I thought they really excelled in the animation category – with smooth, believable performances.
'Green Lantern' And 'Wonder Woman' Animated Sequels Aren't Happening, Says Bruce Timm
Last month, rumors emerged that
a new animated "Green Lantern" movie was in the works
that would be a potential prequel to
"Green Lantern: First Flight."
However, according to Warner Brothers Animation writer/producer Bruce Timm, plans for a second
"Green Lantern"
animated film were canceled.
"We had originally planned to do sequels for 'Wonder Woman' and 'Green Lantern,'"
revealed Timm during an interview with
Think McFly Think
.
"With 'Green Lantern,' it didn't perform nearly as well as what they had hoped it would."

"In the long run, it eventually made its money back, but the sales weren't there right away during its release."
he added.
"Hopefully with the release of the live-action film next year, that will open up the doors for more
'Green Lantern'
related material."
Timm also stated that slow sales of the
"Wonder Woman"
movie led to a potential
"Batgirl: Year One"
film also being put back on the shelf.
"'Wonder Woman's' sales started out extremely slow and then over time were eventually able to catch up to probably 'Justice League: New Frontier.'"
said Timm.
"The Exec's decided because it wasn't able to sell quickly right away, whereas 'Justice League' was, that there wouldn't be any more female super hero films right now. We were developing and hoping to get started on a 'Batgirl' film based on 'Year One,' but because of 'Wonder Woman's' slow sales start, that won't be happening now."
When asked about long-rumored adaptations of
"Batman: Hush"
and
"Batman: The Long Halloween,"
Timm replied
"'Hush' isn't something that we're all that interested in our end, but it has come up. The real problem with 'Hush' is that it works better as comic then it would as a movie. It could work as a show, maybe. The same can really be said for 'The Long Halloween' as well. It works a lot better as a comic, and not so much as a movie."
Timm also confirmed that there are no current plans for an
"Aquaman"
animated film or an adaptation of
"New Teen Titans: The Judas Contract."
However, Timm did indicate that
"Batman Beyond"
may be revisited down the line.
"We've definitely discussed having a 'Batman Beyond' re-union of sorts,"
said Timm.
"But it won't be happening anytime soon if it does get made."
Watch The New 'The Last Airbender' Trailer In High-Def!
A new trailer for M. Night Shyamalan's
"The Last Airbender"
hit the 'Net over the weekend, but now that it's finally gone wide, we can give it to you here in all its high-definition glory.
Based on the hit animated series
"Avatar: The Last Airbender,"
the film follows Aang, the last living member of an air-manipulating nomadic tribe, on his quest to unite the other elemental tribes against the tyranny of the Fire Nation.
Not only do we get a lot more action in the new trailer, but we also get our first good look at
Appa the Sky Bison
in action!
Scarlett Johansson On Her 'Iron Man 2' Catsuit, Black Widow's Legacy, And A Joss Whedon 'Avengers'
While the debut of War Machine in
"Iron Man 2"
has received a lot of attention in the run-up to the film's premiere, Scarlett Johansson's bow as Russian superspy Black Widow is turning heads, too — and not just because of her
skin-tight uniform
.
Along with her deep history in the Marvel Universe, Black Widow's had more than a passing affiliation with The Avengers, and teamed up with everyone from Iron Man to Daredevil at one point or another. When MTV News caught up with Johansson at the
"Iron Man 2"
press junket, she offered up some thoughts on suiting up as the superspy and whether we'll see her do it again when
"The Avengers"
arrives in theaters.
"These movies are really fan-driven, and going into this film I was hoping that the fans and the audience would like my interpretation of the character enough to carry the story along,"
said Johansson.
"[Black Widow] has a 40-plus year legacy and quite an origin story, so there's a lot to tell,"
she added.
"I'd be happy to don that catsuit again if i was called to duty."
As for the likelihood of
seeing her suit up in "Avengers"
or — dare we say it — a solo film, Johansson was willing, though somewhat uncertain of her character's future.
"I don't know anything about future projects,"
she said.
"I know Marvel is really dedicated to this character, so I'm hoping there will be some sort of call for it.""Historically, Black Widow is a part of the Avengers, and I know Marvel is totally behind the Black Widow, but I'm hoping..."
Given the affinity of potential
"Avengers"
director Joss Whedon for strong female characters, Johansson noted that she'd be surprised if her character didn't have a role to play in the superhero team-up film.
"I would think so,"
she said.
"But just the opportunity to pair up again with Sam Jackson — who doesn't want to see that?"
"Iron Man 2"
hits theaters
May 7
.
Jon Favreau Says 'Iron Man 2' Has 'About Half An Hour' Of Deleted Scenes
It's no secret that both
"Iron Man"
and
"Iron Man 2"
relied heavily on
improv from their cast of talented actors
, but did you know that
going the ad-lib route
can mean some very cool, fan-friendly bonuses?
Take, for example, the sheer amount of extra footage created by
"Iron Man 2"
improvisation. According to director Jon Favreau, it amounts to around 30 minutes of alternate scenes and extra footage — all of which will likely be included on the
"Iron Man 2"
DVD.
"I think it's about a half an hour of that stuff,"
Favreau told MTV News.
"You change things... There's a lot of latitude in post-production on this kind of movie."
"Iron Man 2"
hits theaters
May 7
.
'Iron Man 2' Premiere: 'Tony Stark Is The Movie Star Of Superheroes'
FROM MTV MOVIES
: One of them flies around the world, is greeted by roaring applause everywhere he goes and works a red carpet like nobody's business. Ladies love him, men want to be like him and many call him a hero. The other one is Tony Stark.
On Monday night, Robert Downey Jr. continued to blur the line between real life and fiction, arriving at the premiere of
"Iron Man 2"
in one of his character's many cars. Like Stark in the film, Downey was greeted by scantily clad dancing girls, rapturous applause and reporters with questions. So, where does Downey end and Stark begin?
"Tony Stark is the movie star of superheroes, for sure,"
co-star Gwyneth Paltrow (Pepper Potts) insisted.
"He's slightly debauched, handsome, funny."
Continue reading 'Iron Man 2' Premiere Finds Robert Downey Jr. Playing Red-Carpet Hero at Movies.MTV.com.How the Monster Squad will be edgier. Bigger nards?
The proposed reboot of the classic 1980s family monster movie
The Monster Squad
is moving forward, producers Brad Fuller and Andrew Form told us.
"We're out to writers right now,"
Form said.
"We're going to start hearing takes this week. Hopefully we'll be off to the races writing that."
Rob Cohen, producer of the 1987 original, is in line to direct.
The movie comes from Fuller and Form's Platinum Dunes, the company behind remakes of
A Nightmare on Elm Street
and
Friday the 13th
, and it marks a bit of a departure for them into family horror.
The original movie centered on a gang of movie-buff kids who actually had to battle Dracula, the Wolf Man, the Gill Man and the Mummy, with Frankenstein as an ally; it's mostly remembered now for the line
"Wolf Man's got nards!"
But Form and Fuller promise the reboot will be edgier.
"It seems like it stays within our wheelhouse, and yet it expands what we're doing just a little bit,"
Form said.
"It's a movie we're really excited about, because we loved movies like Goonies, Monster Squad,"
Form added.
"To take a family adventure-type movie, make it scary, is something a little different for us."
Fuller added:
"You're going to have those monsters in there, and Platinum Dunes is not going to make a movie with monsters where they're not scary."It's not a soft version,"
Form said.
Andy Serkis Talks The Hobbit
Serkis, who won huge acclaim for his motion capture portrayal of Gollum in
The Lord Of The Rings
trilogy talks about reprising the role to UK-Eonline...
The Hobbit
has had more on again/off agains than I can count. One minute its all systems go, the next its trouble with the studio's finances or shoot dates or some s**t. Anyway, one man that seems to think everything is still on track is Andy "Gollum" Serkis. E-News caught up with the English actor at the Tribeca Film Festival for the North American premiere of
Sex & Drugs & Rock & Roll
, in which he stars as '70s English punk icon Ian Dury..
"It's going to happen,"
said Serkis of
The Hobbit
"I think it's due to start shooting in May. It's going be exciting, especially working with [new director] Guillermo del Toro, who's fantastic." "It's nice to wear pants again,"
the 46-year-old actor joked when asked how he feels to be appearing in the flesh this time.
"But the thing is I never draw distinctions between acting in a live-action situation to live in a performance capture situation...I'll invest equally as much in a character where I'm completely hidden as I would with someone like Ian."
Anyone that has seen his phenomenal work playing Gollum in
LOTR
can attest to that. So it looks like its really happening anyway. Of course if it does start shooting in May..which begins in about 4 days, I think Del Toro and Jackson would want to be getting their skates on and casting someone for Bilbo.
(Thanks
Comic Book Movie
)
Revenge Gets Ugly With This New Jonah Hex Poster
A brand spankin new poster for
Jonah Hex
was just revealed over at Yahoo, home to all things brand new when it comes to
Jonah Hex
. I don't know if that's actually true or not, but I needed to fill in the sentence.
The poster's tagline is
"Revenge Gets Ugly"
and shows Josh Brolin sporting a nice little gatling gun and crossbow. Megan Fox meanwhile, is sporting a 2 barrel Remington derringer and what appears to be airbrushed "assets" putting her in the 'C' cup range. I don't know what that dude in the background is holding but I'm betting Goku would be interested.
Hex, known for having the right side of his face disfigured and wearing a Confederate army uniform, was a rough-and-tumble gunslinger and part-time bounty hunter whose adventures always ended in blood.
Jonah Hex (Josh Brolin) is a scarred drifter and bounty hunter of last resort, a tough and stoic gunslinger who can track down anyone... and anything. Having survived death, Jonah's violent history is steeped in myth and legend, and has left him with one foot in the natural world and one on the "other side." His only human connection is with Leila (Megan Fox), whose life in a brothel has left her with scars of her own. But Jonah's past is about to catch up with him when the U.S. military makes him an offer he can't refuse: in exchange for his freedom from the warrants on his head, he must track down and stop the dangerous terrorist Quentin Turnbull (John Malkovich). But Turnbull, who is gathering an army and preparing to unleash Hell, is also Jonah's oldest enemy and will stop at nothing until Jonah is dead. Based on the legendary graphic novel, "Jonah Hex" is an epic adventure thriller about one man's personal quest for redemption against the vast canvas of the battle between good and evil.
Check out the poster below.
(Thanks
Latino Review
)