Sony Classics Acquires Chomet's Acclaimed "Illusionist"
A scene from Sylvain Chomet's "The Illusionist." Image courtesy of SPC.
Sony Pictures Classics has announced that they have acquired all North American rights to Sylvain Chomet's
"The Illusionist"
from Pathe. Based on an unproduced screenplay by Jacques Tati, the film won raves when it premiered earlier this year at the Berlin Film Festival as a Berlinale Special Selection. Sony Pictures Classics previously worked with Chomet on his Academy Award-nominated film
"The Triplets of Bellevile.""The story, set mainly in Edinburgh, Scotland, takes place at the dawn of television and rock & roll, featuring a circus of live performers who are on their way out as audiences embrace new types of entertainment,"
indieWIRE described upon the film's Berlin premiere.
"With the film, Chomet has created more of an homage to Tati, rather than trying to replicate the French filmmaker's work and create a movie that seems like Tati directed it. It's a story infused with a mix of sadness, charm and humor as it looks back at a time of considerable change, offering a window into the '50s. With very little dialogue—the French magician and the Scottish girl can't communicate—the story unfolds in traditional pencil sketch animation.""Collaborating with Sylvain on 'The Triplets of Belleville' was such a fantastic experience; we are so thrilled to be back partnering with him again on 'The Illusionist,' as well as our friends at Pathe, and producers Bob Last, Jake Eberts and Philippe Carcassonne. With a moving storyline and a work of art in each frame, audiences both young and old will connect with this film,"
stated Sony Pictures Classics.
"There could not be a better home for 'The Illusionist,' Sony Pictures Classics understands the strengths of Sylvain's work and have the passion required to take the film to the widest possible audience. I am delighted to be working with SPC again,"
said he film's producer Bob Last in a statement.
The film is being planned for North American release toward the end of 2010.
(Thanks
Indiewire
)
Lots-o'-Huggin' Bear commercial goes viral

Upcoming Pixar
linked to a cool
video
this weekend — a taped-to-VCR commercial purportedly from 1983 featuring the season's hot new toy, Lots-o'-Huggin' Bear. Obviously a Pixar job, the video is just the latest of several
viral videos
for
Toy Story 3
from the studio.
Disney's Iger exceeding expectations
Disney CEO Bob Iger is featured in a
New York Times
piece.
"Widely dismissed"
when he took over the top job from Michael Eisner, the new take on Iger is "blockbuster CEO". The article discusses the many changes he's made at the company (and the reactions to them), and follows him on
"a day in the life"
.
Batman stage show in the works
Batman may soon be coming to a stage near you, according to
ABC News
. Tentatively titled
Batman Live
, the show would be
"an elaborate arena production aimed at kids and families"
. While no firm dates have been set, a 2011/2012 launch timeframe is being discussed.
Betty Boop, Olive Oyl Return To Small Screen
Horror film actor Cuyle Carvin shares screen time with two famous ladies of animation, Olive Oyl and Betty Boop. The trio - along with Bluto - appear together in a water safety tip. It will air on the award winning cable access children's series
Drawing with Fred
.
The segment promotes the use of wearing life jackets and is titled
"He Knows Safety."
It can be found on You Tube
here
.
Drawing with Fred
debuted on cable access television in 1992. The program airs classic animated films featuring Popeye, Betty Boop and Felix the Cat.
No-princess Disneyland dress code reigns supreme
Unhappily ever after: Dressing up as a princess got Natasha Narula tossed out of Disneyland Paris.
Fairy tales can't come true, it can't happen to you... if you want to dress like a princess at Disneyland Paris.
British mom of two Natasha Narula, 35, was made to change clothes after she and her eight-year-old daughter Drew arrived at the resort park in fancy togs.
The regal garb had been a gift to her daughter. The divorced mom had taken Drew to Disneyland Parks on a £1,000 three-night break to celebrate her birthday, which took place April 1. But what ensued was no April Fool's joke.
For £20, the pharmacy worker from Coventry, England bought a
"silly, puffy-sleeved"
old wedding dress from an Oxfam thrift store. She found Drew a white and gold bridesmaid dress that had kept from a family wedding, and added a tiara.
But Narula was left
"stunned and humiliated,"
she said Monday, when staff at the park's entrance told her that her dress and Rapunzel-style hairpiece made her resemble a Disney princess too closely to be admitted. She was ordered to return to her hotel to change.
Three
"burly"
security staff approached her, she said. One told her that the dress was
"too pretty"
and she might be confused for a staff member.
"How can they possibly say I looked too much like a princess?"
she asked.
"I was wearing a hideous wedding dress I bought from Oxfam for £20.

"I thought they were playing a joke on me because it was April Fool's Day at first,"
she said.
"But I spoke to a manager and she said they were concerned children would think I worked there and wanted to have their picture with me.

"I didn't even have any makeup on and didn't look anything like the characters in the park. It wasn't like I was wearing a big Mickey Mouse outfit, it was just a dress. I was wearing a silly, puffy, sleeved wedding dress with a birthday badge and Mickey Mouse ears -- I hardly looked like Princess Belle from Beauty and the Beast."
In order to be admitted, Narula changed into an old pair of jeans and a shirt. However, Drew got a break: because she's under nine years old, she was allowed to wear fancy dress inside the theme park.
Disneyland Paris opened in 1992. Among its attractions is a daily Princess Parade with such characters as Cinderella, Snow White and Sleeping Beauty. Fantillusion, a special evening show, has four princesses as the finale. The park also sells prince and princess outfits for youngsters at its many retail outlets.
Narula said she had called Disneyland in advance and was told there was no problem with both dressing up as princesses.
"I was just a bit of fun for me and my daughter, but we were treated like criminals,"
said Narula, who also has an 18-year-old son, Jamal, a student.
"The only things I had left were what I'd worn the night before so I had to go into the park wearing dirty clothes.

"Drew was so really looking forward to us both dressing up as princesses. She's a girly girl and loves princesses.

"It was her dream come true to be a princess with her mum for the day at Disneyland, but the whole experience was ruined. She was in tears when I was told I couldn't wear my dress. I felt like Cinderella being told I would not go to the ball."
Narula now written to Disneyland demanding an apology.
But a Disneyland spokesman confirmed that its policy -- which applies around the world -- halts adults from wearing fancy dress in their theme parks.
"No one over the age of nine is allowed to enter our theme parks in fancy dress. It prevents confusion,"
the spokesman said.
With about 12 million visitors annually -- one-sixth of those from Britain -- Disneyland Paris is Europe's most popular tourist attraction.
However, earlier this month, news came out that Disneyland Paris was investigating after two chefs employed there had committed suicide within six weeks. After the first death in February, a trade union described working conditions at the theme park as
"humiliating."
The Difference Between Two Drawings
There is a huge difference between the two
Flintstones
drawings above, and not just superficial stylistic differences. Animator Will Finn (Iago in
Aladdin
, Cogsworth in
Beauty and the Beast
) explores the contrast between these drawings in a
monumental post on his blog
:
For one thing, notice that in the more recent picture, the layout "rakes" the perspective of the floor line a bit, creating a diagonal that forces the composition elements into something of a diamond. Normally, a diagonal can create a sense of dynamism, which is often desirable, but here it is arbitrary. The figures, after all are literally, self-consciously "posed" in static positions to accommodate the idea of the whole family having their picture taken…In the first series, more often than not, the floor line is a relatively straight horizontal line, somewhat irregularly drawn. The irregularity goes with the organic feel of the concept of a largely organic world, and the horizontal quality lends maximum space for the stylized figures to appear in. It also allows props (like the piano) to have a slight diagonal witout being forced into paralell perspective like the couch.
This is a continuation of an
earlier post Will wrote
about the uppermost
Flintstones
image. There are some who might say that Will is being too picky, but I commend him for his vigilant eye. Animation has long suffered from the
"it's just a cartoon"
mentality, and fundamental drawing principles are routinely ignored. As a result, amateurish and incompetent artwork that wouldn't pass muster in any other illustrative medium is considered acceptable in our art form and disseminated to an unsuspecting cartoon-loving public. Even still single-frame artwork that is meant to be viewed for extended periods of time, such as the
Flintstones
image above, is carelessly crafted. Finn's critique is a timely reminder to all of us that individual animation drawings lie at the heart of this medium, and the least any of us can do is to respect the value of each and every single drawing.
(Thanks
Cartoon Brew
)
UCLA Archive animation screening: From Inkwell to Desktop
Heads up on another screening I'm involved with next month in L.A.:
From Inkwell to Desktop: A Selection of Early Hand Drawn and Digital Animation
.
The program will begin at 7:30pm on
Friday May 7th
at the Hammer Museum's
Billy Wilder Theatre
in Westwood. I will be appearing with Bill Kroyer on a panel discussing how the techniques of creating animation have changed since the earliest days of cinema.
The first half of the show will highlight recent restorations of silent animated shorts (soon to be available online as part of a new website run by the UCLA Archive's Research and Study Center), while the second half features pioneering digital shorts, such as Peter Foldès
Hunger
(1974) and John Lasseter's earliest work at Pixar. The silent cartoons will include 35mm prints of: J. Stuart Blackton's
The Enchanted Drawing
(1900);
Indoor Sports
(1920); Joys and Glooms
"Her Minute"
(1921) Directed by John C. Terry; Animated hair
Cartoon No. 18
(1925) and others. A complete list of the films being screened is posted
here
.
This program is part of a larger film series running throughout May at the Wilder Theatre,
From Nitrate to Digital: New Technologies and the Art of Cinema
. For ticket information and other Archive screenings
click here
.
(Thanks
Cartoon Brew
)
On Overtime (Yet Again)
A
comment
from a half-week back:
I have never been shy about asking for OT. Unfortunately (for me,) these days, management has been just as eager to show me the door!

Is there really no cover from the GUILD for instances like these? I was a long term employee in one case as well as a *"short-timer" in the other[*within the 60 day "probationary period" afforded Producers under the guild contract.]
Here's the way it goes, at least in the time I've been doing this. (I can't speak to studio workplaces in, say, 1967. I was in high school then.):
Generally, few get laid off during production crunches for requesting authorization for overtime. They will get laid off at the end of the production crunch if they don't have the leverage to stay on. We'll define leverage as:
1) Skills the company really, really needs.

2) Everybody sticking together and drawing a bright line in the sand.

3) The company worrying about legal action by the employee, either through the union or through private lawsuit.

4) The employee having the protection from somebody in a higher position of power.

5) Market forces working in the employee's favor. (This ties in to Numero Uno up above.)
Here's what employees actually do when confronted with uncompensated o.t. (Beyond what I've already described here.)
They learn to cut corners and be more efficient.
A director on a prime-time show told me:
"When the work-load gets crazed, I just start slamming through things. I don't linger over sections of the show to polish them, I just do what I think will get by and hope it gets past the producer. Most times it does. In fact, in a couple of instances I've gotten compliments ..."
From a board artist on a prime-time show:
"I've gotten faster as I've gone along, but there's still too much work for forty hours. But I found that I could get through my boards in forty if I came in right at nine, sat down and started drawing. And never stopped until lunch, and then never stopped until six. By the end of the week my brain was completely fried, but I could do the job in forty hours."
They quit.
When there are other jobs out there, this is a viable option and I've known lots of animation employees who take it. Time demands vary from show to show and studio to studio. I've seen different series at the same shop with widely different work environments. The variances mostly come from A) budget and B) the honcho running the production.
They move to a different job classification.
Here's one example:
"I was a board revisionist for two years. I worked forty hours, I got overtime when I needed it, no problem. Then they offered me a boarding position and I stupidly took it. I had a higher salary but I was on-call, and with the uncompensated o.t. I was making less money than I was as a board reviser. I've gone back to being a revisionist. It's less stressful, and I have a life."
There are no permanent solutions for the problems listed above and in the previous post. An issue will get
"solved"
for awhile, then it crops up someplace else. Studios are always trying to do production
"cheaper, faster, better"
but reality always intrudes to teach the lesson:
"Not possible to have all three of those things together."
Bad systems of production will change over time. Good systems of production will change over time. This is because new executives will come into the mix and try and reinvent the wheel, even though the wheel needs no (or minimal) reinvention. It's crappy, but the way the real world works. If it were otherwise, Walt Disney Animation Studios would still be turning out mega-hits.
My job through all this as Your Humble Business Agent is to be an information gatherer and dispenser, a pot stirrer, and an enforcer of violated rules. Sometimes I'm effective, other times less so. The animation employees who end up with long and successful careers are:
1) The lucky. (They were in the right place at the right time with the right skill set.)

2) The hard-working. (They get the job done and work well with others.)

3) The politically savvy. (They know where the power centers are, know how to read the personality quirks of The Boss and The Immediate Supervisor, know how to negotiate the various shoals in the corporate river.)

4) The highly skilled. (They know Renderman backwards and forwards. They can draw like Rembrandt and Picasso combined. They can turn out fifteen feet of quality animation week in and week out. Etcetera.)
Like I always say, if you have one or two of the qualities above, you'll need less of the others.
Last thought: There are
always
forces outside your control that sabotage (or help) you. There's nothing you can do if the show you're on gets cancelled. Nothing you can do if the little job shop at which you've happily worked the last three years goes out of business. Stuff happens. All you can do is suck it up and move on.
So strive to move on with style, purpose and a light heart. It makes day-to-day living more bearable.
(Thanks
Animation Guild Blog
)
Animated Feature, Indian Style
Everybody in the biz understands that a lot of CG sub-contracting for American animation takes place on the sub-continent. But what about animated features made by and for the largest film market on the planet?
Under the strange headline,
"Animated Films Are All the Rage in India,"
the Express Tribune allows as how
no, they're really not
:
Animated films in India have
a tendency to bomb at the box office,
but filmmakers continue to try and make headway into this profitable industry. Hollywood studio Warner Bros and Indian filmmaker Jyotin Goel have joined hands to make an animated feature called
Bird Idol
.

... Whenever Indian filmmakers have tried fully animated movies, they have flopped, such as 2008's
Roadside Romeo and Jumbo
. ... [Yet] the Indian film industry is determined to be involved, and Rajesh Turakhia, the CEO of Maya Entertainment Ltd, sees potential. He said,
"Animation is a universal language. But in India it is still a nascent industry. We cannot afford to be complacent and need to constantly upgrade our knowledge to international levels."
Just a thought, but maybe Indian animated features crash and burn with Indian audiences (and everybody else) because they're ... uh ... not very good?
It's not enough to make a cartoon feature inexpensively. You must also make a feature that
people want to see
. Or am I missing something?
(Thanks
Animation Guild Blog
)
Hasbro Studios Developing 25 Productions for 'The Hub'
In an interview published April 26th on
Broadcastingcable.com
, Hasbro Studios president Stephen Davis reveals that they have
"approximately 25 productions underway"
for "The Hub," Hasbro's new joint TV network venture with Discovery launching
October 10th, 2010
.
Mentioned again are the three
previously-announced
properties in development as TV series --
Transformers, G.I. Joe
and
My Little Pony
-- confirming that these are being developed exclusively for broadcast on "The Hub" and are expected to premiere with the network's launch.
Davis says he has assembled what he calls "A-Teams" for each production, which includes a
"showrunner with a genrespecific development head at the studio, someone from the original Hasbro product being adapted and a development exec from The Hub"
:
The A-Team works to support the showrunner so
"[the showrunner] has everything necessary to re-imagine that brand into television in the best possible way,"
he says, citing aspects from the mythology of a product to support for a creative vision.
"Our responsibility is to protect the brand and everything Hasbro has spent considerable effort and money to build, and to be sure that translates first and foremost into great FifthEstater: Stephen Davis TV. If you have a terrific brand and a crummy television show—that doesn't serve anybody."

Davis also discusses the new
Transformers
series (believed to be titled
Transformers: Prime
although this has not yet been officially announced):
Alex Kurtzman and Roberto Orci (
Star Trek
feature,
Fringe, Alias
), who wrote the
Transformer
movies, are also helming the animated
Transformers
TV series for Hasbro and The Hub. Davis' A-Team approach is working
"remarkably brilliantly,"
Kurtzman tells B&C.
"There is a stigma about things being done by committee creatively, but there is so much to be done, so much of a well to draw from,"
Kurtzman says.
"Everyone feels protected to do their best work because the message from the top down is that you're supported in your vision."
Kurtzman adds that he and Orci would
"like to work with [Davis] forever."
Elsewhere,
AdAge.com
reported April 12th that
"The Hub is also looking to pry open Hasbro's vaults and those of other production companies to program at least an hour's worth of vintage content from the 1980s to attract the parents of its target viewers."
And in potentially related news,
HISSTank.com
reported
April 25th
that Hasbro has filed a trademark for "G.I. Joe Renegades" under the categories of both
"Toys and Sporting Goods Products"
and
"Education and Entertainment Services."
Classic G.I. Joe and Spidey Ready For a Spin
Cartoon and visual-effects classics lead the way for new home video releases this week.
For the fan of the '80s, there's
G.I. Joe: A Real American Hero — Season 2.0
(Vivendi, $29.93) as well as David Lynch's controversial sci-fi adaptation
Dune
(Universal, $26.98 Blu-ray), available for the first time in the high-def format.
More recent cartoon goodness includes
The Spectacular Spider-Man: Vol. 8
(Sony, $19.94), containing the final episodes of the recently canceled series.
Anime fans have
Naruto Uncut: Season 2, Vol. 2
(VIZ Media, $39.98) to delve into.
And fans of Terry Gilliam will get to take home his most recent film,
The Imaginarium of Doctor Parnassus
(Sony Pictures Classics, $28.95 DVD, $34.95 Blu-ray). The film features the final performance of actor Heath Ledger.
(Thanks
Animation Magazine
)
Next VeggieTales DVD is One for the Girls
The
VeggieTales
have been having faith-based animated adventures since 1993, but now will add a new twist with a new tale aimed squarely at girls.
VeggieTales: Sweetpea Beauty — A Girl After God's Own Heart
will be released on DVD on
July 31
in Christian retail stores and Aug. 3 everywhere else.
In addition to the main feature, the DVD includes the Silly Song
"Pants,"
a sing-along song called
"More Beautiful,"
exclusive interviews and guides. It also will include the tale of
"Snoodlerella."
"We're thrilled to introduce the first VeggieTales show created specifically for girls,"
said Greg Fritz, senior VP of sales and marketing at Big Idea Entertainment.
"Sweetpea Beauty is a fun fairy Veggie Tale that will help young girls understand the real meaning of true beauty just the way they are. A comprehensive line of consumer products will be available that will allow girls to play and learn about this important lifelong lesson."
The release will be supported with an extensive program of merchandise, partnerships and live events.
(Thanks
Animation Magazine
)
Dragon Ball Z Kai Coming to The CW 4Kids Block
Dragon Ball Z
fans will get a chance to relive the show in a slightly different way this fall when The CW 4Kids block will add
Dragon Ball Z Kai
to its schedule.
The addition is the result of a deal between 4Kids Entertainment, FUNimation Entertainment and Toei Animation Co.
Dragon Ball Z Kai
goes back to the original series and re-edits and updates it with new opening and ending sequences, as well as re-recorded voice tracks, to more closely resemble the original manga series by Akira Toriyama.
The
Kai
series is part of the celebration of the property's 20th anniversary. It launched about a year ago in Japan, where it is one of the top-five rated animated series on television.
"Dragon Ball is one of the most popular manga series of the past 20 years, with more than 150 million copies of the book series sold in Japan and North America,"
said Alfred R. Kahn, chairman and CEO of 4Kids Entertainment.
"We are looking forward to including Dragon Ball Z Kai as a mainstay in our The CW 4Kids 2010 – 2011 Saturday morning programming lineup and making this great series available on American broadcast television."
(Thanks
Animation Magazine
)
Linton Joins Guru for Justin Time
Aaron Linton is joining Guru Studios in Toronto as a CG supervisor and will work on the animated preschool series
Justin Time
.
Linton comes to Guru from C.O.R.E. Digital, where he headed up the Toons division.
"I'm very excited to be joining Guru at such a milestone in the company's evolution. It's rewarding to be part of a team with a clear focus on developing its own original content,"
says Linton, who has been hired as the show's CG Supervisor.
"Justin Time is a fun show with a story-book feel and a fresh, stylized look to it. I'm thrilled to be on board with this project."
Linton began in visual effect but has gravitated toward working on animated series. His directing credits include
Angela Anaconda, The Save-Ums, Franny's Feet
and
SuperWhy
.
"We're very proud to welcome Aaron on board as Guru continues to grow,"
says Frank Falcone, Guru Studio president and creative director.
"Aaron brings with him a solid background in top-of-the-line animated series and is the perfect fit for honing the pipeline and workflow as we move ahead with Justin Time."
Justin Time
is a preschool series that follows the adventures of Justin and his pals Squidgy and Olive as they travel to the most famous places in time and history.
(Thanks
Animation Magazine
)
Tim Burton's Alice In Wonderland: How illustrators Kei Acedera and Bobby Chiu shaped the Characters' Designs
When we think about Alice in Wonderland, it's hard not to recall Walt Disney's classic animated film. So, when making the live action sequel, the challenge for Tim Burton and his illustrators was to imagine a wonderland of their own.

Among the talented artists that collaborated with the creator of Jack Skellington stand Kei Acedera and Bobby Chiu, two Canadian illustrators working together at Imaginism Studio in Montreal.

Kei Acedera is an illustrator and art director at Imaginism. She specializes in children's books, visual development and character design for film and television. She co-produces our series of art books with Bobby Chiu. Her art oozes charm and broad-based appeal, they never fail to bring a smile to people's faces.

She started her art career at the age of 16 painting upscale murals for mansions and casinos. Acedera studied animation at Sheridan College for three years but left early to start her career as an illustrator and designer. Since then she has illustrated (New York Times) best selling books for Harper Collins as well as designed for TV and feature films for Disney, Sony and many others. Kei feels a constant need to create. When she is not working her magic on paper, she enjoys putting together arts and crafts for her friends and co-workers. She also enjoys making little t-shirts for her guinea pig, Tobi.

Bobby Chiu's art career started at the age of two with a box of crayons and his family's white living room walls. He got his first professional art job when he was seventeen years old, designing Disney, Warner Bros., and Star Wars toys at Thinkway Toys in Toronto, Canada. Bobby has since won a number of awards for his independent work. He hates traffic and line ups but loves watching the traffic jams while drinking his morning coffee from his studio apartment. He presently works as an illustrator for film and television, teaches digital painting online at Schoolism.com, publishes art books, and works on other top secret projects. Bobby currently lives and works in Toronto, Canada. There are still lots of doodles on his desk and walls.

Here's what they shared with us about their experience on Disney and Tim Burton's Alice in Wonderland.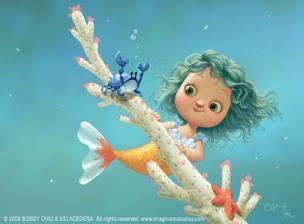 Animated Views: How and why did you become illustrator/designers?

Bobby Chiu:
I had no choice! I tried to take business school in university, but art has been in my heart since I was two years old and for me to succeed and have a meaningful life, I had to follow my heart to my dreams, so naturally I became an artist. I cannot imagine what my life would be like today if I had given up art and continued with business school.
Kei Acedra:
I was very lucky to have parents who supported me in anything I wanted to do. Growing up, my mom made sure I always had a sketch pad and pencils with me wherever I went. I was happiest when I was drawing so I grew up believing that I would become an artist. I never imagined I would do anything else with my life besides art.
AV: Sometimes, you produce drawings together. Can you tell me about that process? How you share the task?

BC:
We work very well together because Kei loves to sketch and draw and I love to paint. Usually, Kei would draw something for fun and I would look at the picture and immediately, I can "see" what it would look like painted. This gives me the urge to paint her pictures, which is where most of our collaborations come from.
KA:
We often bounce ideas off one another for projects as well. We will have an assignment, we will work independently on some of the characters, then come back and compare notes. From that, we will work together to create a design that takes the best of both our works. I really like this process because it helps get us into each other's heads and helps us work so well together!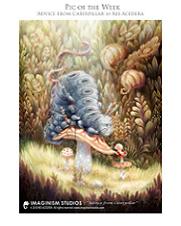 AV: Can you tell me about Imaginism Studios?

BC:
When I graduated from Sheridan College, I first worked at an animation studio. But after a while, I found that that life was not for me. I wanted to have more control over my art; I wanted to be more independent.
KA:
Bobby and I were great friends from college. He graduated first but we kept in touch, talking regularly about art and what we were doing. One day, he called me and said that he had left the animation studio and started a studio of his own! He offered me a summer internship position, which of course I took. It was an amazing experience! My other friends took internships at bigger studios, but I feel I learned much more at a smaller shop because with fewer people, I had to take on more tasks so I was exposed to more of the art business.
BC:
The big project we had in the beginning was developing our own TV show with an animation studio in Toronto. Now, we mainly do concept design for books and movies. We also started an online school where I teach a digital painting course and other industry professionals teach their specialties. Over the years, our clients have included HarperCollins, Borders Bookstores, Sony Imageworks, Walt Disney, and many others.
AV: The styles of the four of you at Imaginism are very different. How did you decide to associate?

BC:
Kei and I met Stephen Silver at San Diego Comic Con. We were great admirers of his work and loved his shows. And since we were developing our own show, we had a lot to talk about with Stephen. We were also admirers of Jason Seiler's work long before we actually met him. When we created Schoolism.com to help artists around the world learn from industry professionals, Stephen and Jason became our first two teachers. After that, our relationship continued to grow and eventually, being in a group together seemed like a very natural choice.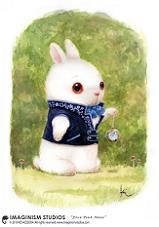 AV: How did you come from book illustration to cinema? Is your approach different according to the medium or not?

BC:
We focused on doing our own projects and making our own sketchbooks for a while. Eventually, clients started passing our names around and we got inquiries to do some film and TV work.
KA:
I think our general approach to different mediums is about the same, but that is only APPROACHING the design. Once we get the basic ideas down, we will take the medium into consideration a bit more and work on the designs based on that. For example, creating a rabbit for a book might require us to make a very visually striking character that looks good on a flat page. However, designing the same rabbit for a movie would require us to consider how it would look in three dimensions, how it would animate, etc.
AV: Can you tell me about your fondest memories working in the realm of cinema?

BC:
One memory that sticks out in my mind is when we received our first envelope from Sony Animation and Disney. Signing those contracts felt like a big milestone. After all our hard work, our dreams were coming true! I will never forget that feeling.
KA:
My fondest memory happened recently when we were at a private screening of
Alice in Wonderland
in Paris. Seeing the characters that we helped design move around the screen, running and talking was quite incredible! And of course seeing our names in the credits was very gratifying also. All our work had paid off!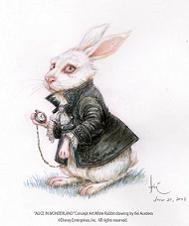 AV: How did you come to work on Alice in Wonderland?

BC:
One day, we were approached by someone at Sony Animation who was contacting artists and building a database. We filled out the forms and under "specialty", we wrote that we liked creating whimsical, fantastical creatures. We didn't think much about it at the time, we just thought it was another way to promote ourselves and maybe someday someone would notice us and ask us to work on something fun. To our surprise, the next day, someone from Sony called and asked us to do a painting test to see if we could do what they were looking for. They asked a lot of artists to "audition" so we did the test for fun and forgot about it. A week later, we were asked to join Alice in Wonderland.
AV: About the process: you both live in Toronto. How did you work with the crew?

BC:
The wonderful thing about our industry today is that we can perform and submit all of our work electronically, so our involvement was very easy. We worked mainly with producers in the art department, then Tim Burton selected the stuff he liked, the stuff he wanted to push further, and occasionally sketched out some of his own ideas which we incorporated. Tim had a tremendous way of giving us a lot of freedom to brainstorm and chisel away at the characters to start. Then he guided us wonderfully to hone and refine the vision until it became what you see in the film.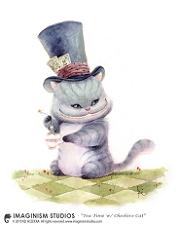 AV: What interested you in this project?

BC
: I think the thing that interested us the most was the challenge. Because
Alice in Wonderland
is such a well-known story, our biggest challenge was probably to create characters that looked new and fresh. But that was also the most fun part as well! Because it's Disney, it's Tim Burton, it's Johnny Depp, it's
Alice in Wonderland
! This movie will be remembered for quite some time so we really had to push ourselves to make something memorable and that challenge is always exciting.
AV: What kind of material did you have to draw your inspiration from?

KA:
When approaching
Alice in Wonderland
, we got inspiration and ideas from, 1) Lewis Carroll's original story, 2) the script for the movie, and 3) Tim Burton's style and flavor. We tried to make all of our characters suitable on all three levels.
AV: How does the story drive you to find a design, colors, textures, etc…?

BC:
Every story has an overall look that a good director would like to build. Tim Burton's visual themes are already well-known, so developing "Burton-esque" characters was not very difficult. The designs for Alice were mostly a collaborative effort between Kei Acedera, Michael Kutsche, and myself; we were encouraged to explore tangents, go wild, and just create whatever was in our mind's eye. Sony and Disney showed tremendous confidence in us to create the proper look for the film.
AV: Did the look of the actors that dub certain characters inspire you in any way?

BC:
No, not really because at the time, the cast hadn't been completely finalized, so we only had the script and the original book as reference for how we would design the characters.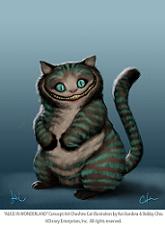 AV: What are your fondest memories working on Alice in Wonderland?

BC:
For me, it was designing the Bandersnatch. I worked very hard on this creature, so seeing it up on the big screen really reminded me of the challenge, and how great it felt to receive approval from the studio.
KA:
I enjoyed seeing our characters brought to life by the studio! Sometimes, after a big project like this one, we work on our designs for so long that we forget that the characters we create are meant for life outside our computers and our studio. So when Sony sent us pictures of statues of Bobby's Tweedles, it was the first time we'd seen our characters in 3D, and it was amazing! And then when we visited Sony in Los Angeles and were able to check out a lot of promotional stuff that they were preparing for "Alice", that was all very fun!
AV: Can you tell me about the medium you use in your art? It's digital painting, I guess. What do you like about that?

BC:
I like doing digital work because it's fast and precise; I'm able to get the exact colors and lines that I want without worrying about spilling coffee on a painting or something. It really is an extension of all the work that used to be done traditionally. However, to keep my skills sharp, I often do designs traditionally as well, using watercolor on board, pencil and paper, etc. Sometimes, changing the medium or going to a different room of the studio to work will help me "think outside the box" and come up with new directions for characters.
AV: Stylistically speaking, who are your mentors?

BC:
I think successful artists must have many influences but I think the greatest influence on my art has come from life itself. To be influenced by another artist means to learn to see life through their eyes. While this is fine to start with, I believe to be a good artist, you should ultimately learn to capture and interpret life through your own eyes.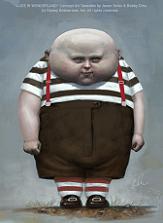 AV: How did the meeting/melting between your visual universe and Tim Burton's go?

BC:
I think it went very well! My own art often has a dark, ironic edge to it, so working with Tim Burton's vision simply brought more of that out! A great example of this, I think, is an understated part of the film: the gossiping flowers. I really enjoyed creating the flowers because they're my type of characters: there is the vibrant color and beauty of the flowers vs. the dark nature of the flowers gossiping and judging Alice behind her back.
AV (to Kei, in particular): Your style is so delicate, nice and fine. How do you explain it interested Tim Burton, whose universe is much darker?

KA:
Oh I'm flexible! I can be dark when I need to be, haha. Sony and Disney brought both Bobby and I onto Alice at the same time. I think we're a good match together because we can offer that contrast of delicacy vs. dark irony. We were able to collaborate on some pieces that Tim wanted us to push so my work for the film wasn't entirely so delicate and fine. Also, there were definitely some characters such as the White Rabbit, the White Queen and her horse, etc. who had finer, more delicate design elements so I contributed to those as well.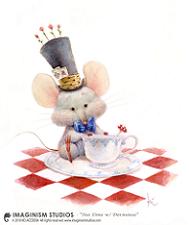 AV: Did your approach to the characters evolve along with the production?

KA:
I think every artist needs to be able to approach the project in a variety of ways; you can't really be a one-trick pony and maintain success. So yes, my approach definitely had to change as we went along. Some of the characters lent themselves well to being slightly cuter, such as Maly the dormouse, or the hedgehog croquet ball. Others, I just wanted to capture the design elements that I thought would work well and then Bobby or Michael Kutsche would add their own touches. Collaborating in this way was a lot of fun and a great way to learn about art through the eyes of other artists.
AV: Did Walt Disney's 1951 classic inspire you in any way?

KA:
Not directly. I watched the original animated film when I was young but for this film, because the look of Tim Burton's movies is very distinctive, we tried to keep outside influences to a minimum so we only focused on the script, the book, and Tim's style as inspiration for our characters.
AV: Kei, can you tell me more in detail about the conception (inspiration, process, evolution of the design, etc) of the characters you worked on?

KA:
The White Rabbit has a clear personality type. He is jittery, anxious, and nervous. My idea for bringing this out was by giving it wide, human-looking eyes.
The Cheshire Cat was my favorite character! Again, this was a design that had a clear focus for me, which were the eyes and the grin. I wanted to keep these two elements exaggerated but still believable. For the grin, I paid attention to the underlying anatomy of Cheshire's face, how its jaws would work when grinning like that. I tried to make the eyes haunting yet inviting. And of course, I kept Cheshire round and huggable!
I experimented a lot with the dormouse. I tried to cover a lot of ground with my initial sketches, adjusting her "mousiness" from very much like a mouse, to being almost being a "human mouse". The other thing I had to keep in mind was how to make it clear that she's a girl. For that, I put a little slant in the eyes, accentuated her curves, and gave her a softer jaw and a rounder face.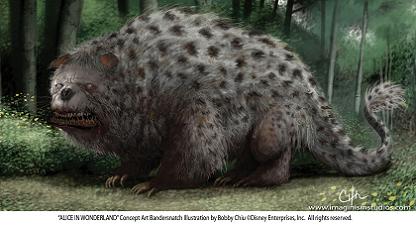 AV (to Bobby in particular): Can you tell me about your style in general? When you look at pieces like Beam Me Up or Bunny Eater, or Poison Heart Bear, etc, there seem to often be some kind of an irony. It's beautiful, but at the same time, there's a double meaning or something like that. Please, may you tell me about that aspect of your art?

BC:
I have always enjoyed things that appeal to the audience on multiple levels because to me, there is no better way to deliver a message. This is why I think most so-called young people's books, films, and TV shows have this duality. The message is the adult part, but the playful and innocent aspect is like the sugar that helps medicine go down. Consider things like
Harry Potter
or the movie,
Avatar
: behind the fantastical characters and colorful magic, there is a constant theme of good versus evil, acceptance, and standing up against oppression. I am always inspired by art with cross-audience appeal. I think these things demonstrate deep design sensibility, and that is the key to the longevity of art.
AV:
And what about the details in the conception and development of the characters you worked on?
BC:
The Bandersnatch was intended to be a bear-like creature with many teeth. In the beginning, it was supposed to have a neck that could stretch out and snap up its prey, but in the end, the studio chose to remove that element, which I think was a good move. The stretching neck seemed excessive to me; the finished Bandersnatch makes more sense and seems much more believable.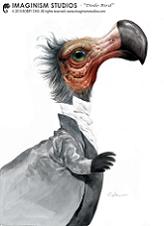 The Tweedles were more directly influenced by Tim Burton's vision than most of the other characters. My initial thought for them was that they would be fat, round twins with dark hair but no eyebrows. (The lack of eyebrows would give them that eerie, creepy quality that would make the viewer uneasy but they wouldn't immediately realize why.) Tim pushed it further himself; he sent us his interpretation of the initial idea: cartoony sketches of bald Tweedles with no necks, which I then painted in my own style to give them the semi-real look.
I initially created the Dodo as a gray bird character with a monocle and hat. Michael Kutsche added to my concept and dressed it up until it was the character that appears in the film. I really enjoyed working with Michael on a lot of the collaborative character designs that we did for this movie.
AV: Bobby, can you tell me about the importance of teaching for you (and digital painting on Schoolism)?

BC:
Teaching is extremely important to me. I have been very fortunate to have met amazing people in my life; I have learned so much from all the artists that I know, not just my teachers from school, but even more so from other artist friends when we get together and share ideas, thoughts, techniques, etc. I believe, if you are good at something, you have a duty to pass that knowledge on. This is how we progress as a community and as a species. We do not re-discover fire or put a man on the moon every generation; those experiences are passed on so that future generations can learn and build on it. Art is the same way, which is why I love to teach. I love the moment when a student "gets it", and I love to see my students improve and get better. When that happens, I'm so extremely proud and happy because I've made a mark on someone who might one day become great.
Disney: Alice In Wonderland – A Visual Companion
is available to order now from Amazon.com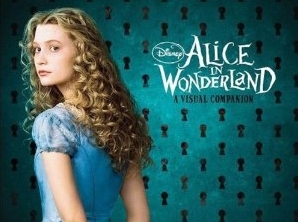 All Alice In Wonderland artwork by Kei Acedera and Bobby Chiu ©Walt Disney Pictures.
(Thanks
Animated Views
)
Chris Evans On Playing Captain America: 'I'm A Little Scared, To Be Honest'
Earlier this year,
Chris Evans won the title role
in
"The First Avenger: Captain America,"
after an extensive casting search.
And while some fans have complained about
his unfamiliarity with the character
, Evans seems to have a firm grasp on Captain America's place in the Marvel pantheon.
"It is a big responsibility,"
stated Evans during an interview with
Screen Star
.
"I'm a little scared, to be honest. I'd be lying if I said anything else, and I have no problem being honest about that. It's intimidating. It's a big responsibility and you want to do your best work.""It was a challenging process for me, trying to decide whether or not to do it,"
continued Evans.
"I came down on the side of going for it because I really think Marvel is doing some great things these days, the script is great and it's going to be a fun character to play. He's a wonderful character, just as a man, aside from the comic hero background. If it was just a story about the man, Steve Rogers, I'd be really interested. He's an incredibly noble, honest, selfless man, and those are qualities that I think people can aspire to and look up to.""It was tricky saying yes,"
added Evans.
"A couple of sleepless nights were involved. I'm going for it and I'm not looking back. I'm trying to just stay positive and focus on the fact that it could be a great thing. It really could be, it should be, and that's the way I'm looking at it."
Evans also revealed that
"Captain America"
and
"The Avengers"
will be filmed back-to-back.
"This is obviously going to be a very time-consuming ordeal, not just with 'Captain America,' but with 'The Avengers,'"
said Evans.
"They'll shoot back-to-back. The shoots are long. The press is very time-consuming. It's going to be very tricky. These are all the things I've had to try and weigh. But I said, "Well, if you do this, hopefully it will enable me to make whatever I'd like to make in the future." That's an opportunity you want. It's chess, really. Sometimes this one move isn't going to bring you everything you want, but five moves down the line it just may. So, again, it was pros and cons, and the pros won out."
'Iron Man 2' Screenwriter Avoided 'Demon In A Bottle' For Sequel
Bob Layton and David Michelinie's
"Demon in a Bottle"
is widely considered to be one of the definitive
"Iron Man"
stories. Originally published in 1979, it follows Tony Stark's struggle with alcoholism as his company and reputation fall to the machinations of Justin Hammer.
And while fans may have expected the sequel to be influenced by that storyline,
"Iron Man 2"
screenwriter Justin Theroux has revealed that the filmmakers deliberately stayed away from it.
"['Demon in the Bottle'] works really well in the comics,"
said Theroux during an interview with
UGO
.
"It's just a great, gritty storyline. It doesn't transfer to film. We didn't want to be the 'Leaving Las Vegas' version of 'Iron Man 2.' Even just a little bit of that can completely dominate the story.""We have [Tony Stark] drinking in the movie,"
continued Theroux.
"We have him out of control. We have the self-destructive ticking clock... That's how we landed on his illness, that it's the metaphor for a man who's running out of steam and needs his friends to step up. Whereas, if we ran right toward the 'Demon in the Bottle' story, nobody wants to see Tony like that.""We realized that in a comic book you can have one key-frame where it's a guy, drunk, but in a movie, that's gotta be a big scene and it's gotta be addressed,"
added Theroux.
"A thirteen year old kid does not want to see drunken Tony."
Back in January, Layton told MTV News that
"Demon In A Bottle" may be used as a basis for "Iron Man 3."
However, Theroux seemed to indicate that nothing is currently set in stone for the third
"Iron Man"
film.
EXCLUSIVE: Emily Blunt On Turning Down 'Captain America'
Marvel can't get enough of Emily Blunt. After a scheduling conflict kept the 27-year-old actress from trying on
Black Widow's skin-tight garb
in
"Iron Man 2,"
the Marvel folks
approached her again
with an offer to star as leading lady Peggy Carter in
"The First Avenger: Captain America."
Blunt
reportedly passed
on the chance to
star alongside
Chris Evans in that film, and now she exclusively tells MTV News why.
"I'm a big supporter of [director] Joe Johnston and I think that 'Captain America' is going to be really fun and I gather that the story is really interesting,"
she said.
"It just wasn't what I wanted to do next, to be honest."
She'd already worked with Johnston on
"The Wolfman"
and her fiancé, John Krasinski, was at one point said to be
the leading candidate
to play Captain American himself. But Blunt told us that, in addition to wanting to shoot a comedy as her next project, she was wary of what committing to the franchise would mean. Between the numerous potential installments of
"Captain America,"
there's also the distinct possibility that Carter would show up in the
"Avenger"
franchise as well.
For an actress who thrives on mixing indie flicks (
"Sunshine Cleaning"
) with studio pics (
"Gulliver's Travels"
), the Carter role simply had too many downsides for Blunt.
"There's definitely a high commitment level and I'm not someone who likes to plan too much ahead,"
she said.
"That would also be an issue for me as well."
While Blunt has previously told us she's
dying to make
a
"movie where I kick ass,"
the
"Captain America"
no-go now marks the second comic franchise she's passed up. Is a comic book movie just not in the cards for her?
"I don't know,"
Blunt said.
"Who's to say? I don't tend to be fatalistic about these things. I think for me the job always has to be the right thing at the right time. Neither of them happened to be that."
And while the actress admitted that she and Krasinski
"talk about every role that we're going up for,"
the pair didn't do any rehearsal around the house.
"We don't have Captain America suits lying around, if you can believe that,"
she laughed.
"We just don't. I know that's weird, but we don't."
Edgar Wright's 'Ant-Man' To Follow 'The Avengers,' Says Marvel Studios President
Edgar Wright's long-gestating adaptation of
"Ant-Man"
could finally begin production at the end of this year.
"Edgar was in L.A. last week,"
Marvel Studios President Kevin Feige told
Superhero Hype
.
"We sat down, and we started working on a calendar of when to get him back into it once he finishes promoting 'Scott Pilgrim,' so I think towards the end of this year, early next year we'd start looking at early prep for that, but certainly for a release date after
'The Avengers.'"
Wright was first attached to direct
"Ant-Man"
back in 2006. However, the film has since gone through a lengthy development process. Earlier this year, Wright revealed to MTV News that
Ant-Man's solo film was not contingent upon his appearance in "The Avengers."
"['Ant-Man'] isn't one of their biggest properties,"
related Wright.
"It's not like a tentpole deadline. It's more like me and Kevin [Feige] [saying], 'Let's make a really good script.' We've always agreed on that — 'Lets make a good script that works, that's all about a great genre film, and that isn't necessarily relying on anything else.'""It should be a great genre film,"
added Wright,
"So that's why I did a first draft."
Hank Pym (aka "Ant-Man") was created by Stan Lee, Larry Lieber and Jack Kirby in 1962, during an appearance in
"Tales To Astonish."
The character went on to become one of Marvel's first superheroes and a founding member of
"The Avengers."
Last February,
Lee revealed that he had recently spoken with Wright
about the
"Ant-Man"
movie.
'Ghost Rider' Sequel Moving Forward Without Nicolas Cage?
Nicolas Cage's days as the spirit of vengeance could well be at an end, as reports are circulating that the
"Ghost Rider"
sequel might move on without the actor's participation.
According to Vulture, Columbia Pictures is preparing to move forward with
"Ghost Rider: Spirit of Vengeance"
without Cage's involvement if he can't fit the movie into his schedule this year — because if the movie isn't in production by
November 14, 2010
, the franchise reverts back to Marvel Studios and Disney.
There are concerns over whether or not Cage will be able to reprise Johnny Blaze in time for the November deadline due to other obligations, including
"National Treasure 3,"
leading Columbia to consider pursuing the film without him.
This isn't the first time that Cage's involvement with the
"Ghost Rider"
sequel has come into question. When MTV News spoke with the actor in November, Cage said that he knew very little about the status of the film.
"I don't really know how to answer that,"
he said when asked if he was still attached to the project
.
"Because I don't have all the details."
"Ghost Rider: Spirit of Vengeance"
allegedly takes place eight years after the first movie. Screenwriter David Goyer previously told MTV that the movie isn't quite a reboot, but wouldn't require viewers to remember the initial film.
"It doesn't contradict anything that happened in the first film, but we're pretending that our audience hasn't seen the first film,"
he said
.
"It's as if you took that same character where things ended in the first film and then picked it up eight years later — he's just in a much darker, existential place."
Coming soon: The Avatar you didn't see
James Cameron at Fox studios on Earth Day
What's left to do with a film that makes $2.7 billion worldwide? Re-release it, of course. Plans to release an extended version of
Avatar
to theaters this summer are still underway, and producer Jon Landau detailed some of the additional footage you might see when he spoke to the press on Earth Day last week.
"We are certainly hoping to do that this summer,"
Landau said in a group interview in Los Angeles, where he was promoting the DVD and Blu-ray release of
Avatar
.
"We'd have some added scenes in that for people to get exposed to some more backstory we didn't put into this version."
The emphasis of the additional scenes would be to add more to the world of Pandora and the Na'vi that James Cameron created.
"I will tell you thematically what we'd like the [scenes] to touch on,"
Landau said.
"We'd like them to touch on some of the backstory that we did not have time to address. We'd like them to touch on exposing people to a little bit more slices of the world of Pandora that they might not have seen, and we'd like to have a little bit more action in there in a couple spots. It'll be a variety of things that deliver on the variety of things that people responded to in the film."
After an extended release, Cameron and Landau are planning a special-edition home video release. Bonus features on that edition would include more deleted scenes that Cameron prefers not to reinstate into the film.
"Look, we have the backstory about the schoolhouse and what went on with Sigourney there, some more of Jake training on the world of Pandora, some more stuff at night on the world of Pandora, some added beats in the battle sequence at the end,"
Landau listed.
This is starting to add up. Are we talking 30-40 more minutes of deleted scenes? An hour?
"I don't want to say how much, put a number on it, but I think we'll have scenes that can be available within the context of the movie and scenes that are outside that maybe aren't even finished,"
Landau said.
"People will just get a sense of being able to be exposed to some of the stuff that did not make it into the movie."
The current DVD and Blu-ray release of
Avatar
simply features the theatrical cut of the movie. It is the highest quality presentation of
Avatar
you can get at home, at least for now: The team continues to work on future editions.
"The exciting thing about this is this is just the movie, and it's the best quality of the movie we can possibly put on the disc,"
Landau said.
"No trailers, no commercials or anything like that. We're already working with Weta completing additional minutes that they didn't finish for the movie."
Avatar
is now available on DVD and Blu-ray.
Captain America Exclusive: Joe Johnston on Casting Red Skull
In an exclusive "one question, one answer," The First Avenger: Captain America director turns his attention to the casting of Hugo Weaving as the Red Skull.
EARTHS MIGHTIEST: As an actor, what do you think Hugo Weaving will bring to the character of the Red Skull?

JOE JOHNSTON:
Hugo Weaving was really the only choice for Red Skull. Hugo is a chameleon as an actor. He's played so many incredibly versatile roles, from the
LORD OF THE RINGS
films,
MATRIX, V FOR VENDETTA, PRISCILLA QUEEN OF THE DESERT
. He's never failed to create a multi-layered and complex character. In my own experience with him on
THE WOLFMAN
, he took a part that was much less significant and inspired us to develop the character into a pivotal role. I wanted Hugo to play Red Skull to SEE what he would bring to the character. He's one of those actors you don't want to look away from...add a red skull into that dynamic and it should be memorable.
(Thanks
Earth's Mightiest
)
Sneak Peek Trailer Preview For Jonah Hex
The big question on everyone's mind,
"Who will win American Idol?"
The question on the rest of the universe is,
"When will we ever get out of Iraq?"
The question 0.0001% of the rest of the population is asking is,
"When will we see footage from Jonah Hex?"
Looks like SyFy is going to be showing the official trailer or sneak peek preview or SyFy exclusive trailer or something, it makes no sense to me, of
Jonah Hex
. I guess the important thing is that we're finally seeing some footage from this film which now looks like a lost episode from
Brisco County Jr.
In the footage you see Jonah sneering, Megan Fox trying to not look stupid, a mounted machine gun turret on Jonah's horse and some other small clips. Looks awful just from these shots, but I thought the same thing about
G.I. Joe
before I watched it and thought it was a lot of fun. (I liked
G.I. Joe
. Get over it and move on with your life.)
Check out the sneak peek preview trailer SyFy whatever it is below.
(Thank
Latino Review
)