The 41st ASIFA-East Animation Festival
You are invited to…
The 41st ASIFA-East Animation Festival!
Sunday, May 09
.
6 PM
Tishman Auditorium
The New School
66 W.12th Street
Admission: FREE!
-party/reception to follow immediately
Postcard design by
Dan Meth
.
(Thanks
ASIFA East
)
What Does Marvin the Martian Think of Cartoon Brew Readers?
Eric Bauza
, the voice of Marvin the Martian in the new Looney Tunes Show, read your comments on yesterday's
Brew post
and he's got it all figured out. Apparently, the artwork is fine; the problem, he wrote on Facebook, lies with Cartoon Brew readers who are
"35-40 year olds that don't have girlfriends, jobs or lives."
Bauza then goes on to complain about how everybody is judging the show based on one frame. Generalizing is wrong, he believes, except of course when he's making generalizations about Cartoon Brew's readership.
Here's his entire comment:
(Thanks
Cartoon Brew
)
Muhammad References on South Park censored
Comedy Central censored its long-running series
South Park
, bleeping out every mention of the word Muhammad after a U.S.-based Muslim group made a statement that implied series creators Trey Parker and Matt Stone would be targeted for death.
The episode, titled 201, was the second half of a two-part episode in which all the celebrities that had been made fun of on the show teamed up to get their revenge. In the episode, the celebrities — led by Tom Cruise — sought to replicate Muslim prophet Muhammad's immunity from being made fun of.
Muhammad's immunity from satire is a comment on incidents from 2004 and 2005, when filmmaker Theo Van Gogh was threatened with death by Muslims for making a film critical of Islam. Van Gogh was murdered by a Muslim man in 2004. In 2005, several Dutch editorial cartoonists also sparked controversy for depicting Muhammad, which is forbidden in the Muslim faith, leading to further protests and threats of violence from Muslims. Though the incidents and the controversy were extensively covered by Western media, few showed the images amid extensive debate over whether it was proper or safe to do so.
South Park
previously depicted Muhammad in an episode that aired in July 2001, and the first half of the episode did not bleep out the word Muhammed.
After the first half aired, a web site called RevolutionMuslim.com criticized the episode for portraying Muhammad and wrote:
"We have to warn Matt and Trey that what they are doing is stupid and they will probably wind up like Theo Van Gogh for airing this show. This is not a threat, but a warning of the reality of what will likely happen to them."
The site has gone down since the statement was made.
The second part, episode 201, aired with all mentions of Muhammad bleeped out and all images of Muhammad covered up with a black bar that says "censored" or replaced. Several long stretches of dialog delivered at the end of the episode by main characters also were completely bleeped over.
The changes to episode 201 were not all done with the permission of Parker and Stone. On the
South Park
website, the episode is missing from the library of streaming shows and the following statement was posted:
"In the 14 years we've been doing South Park we have never done a show that we couldn't stand behind. We delivered our version of the show to Comedy Central and they made a determination to alter the episode. It wasn't some meta-joke on our part. Comedy Central added the bleeps. In fact, Kyle's customary final speech was about intimidation and fear. It didn't mention Muhammad at all but it got bleeped too. We'll be back next week with a whole new show about something completely different and we'll see what happens to it."
The New York Times reported that Comedy Central confirmed it added more bleeps to the episode and that it was not allowing the episode to stream on its website.
(Thanks
Animation Magazine
)
DC Comics' The Losers Hunts for Box Office Win
The Losers
is the most-recent comic book movie looking to win the weekend box office.
The Warner Bros. release, which stars Jeffrey Dean Morgan, Zoe Saldana and Chris Evans, is opening in just under 3,000 cinemas. The film is based on the DC/Vertigo comic book series about a group of renegade intelligence operatives.
The series, which ran from 2003 to 2006, is itself a re-imagining of a 1970s DC Comics war series. It features visual effects from Image Engine Design, Proof and Makeup Effects Laboratories.
The only other major releases of the week are the romantic comedy
The Back-up Plan
from CBS Films in about 3,200 theaters; and the documentary
Oceans
, from Disney, which opened Thursday in just over 1,200 cinemas.
The films enter a level competitive field. Last week's results saw another comic book adaptation,
Kick-Ass
, top the chart when the final numbers came in, reversing an apparent win for the DreamWorks Animation 3D feature
How to Train Your Dragon
.
Also still in the VFX mix mix are Disney's 3D re-imagining of
Alice in Wonderland,
directed by Tim Burton; and
Clash of the Titans
.
(Thanks
Animation Magazine
)
Archie Comics Adds Gay Character
Archie Comics will introduce the first openly gay character in its 71-year history.
The character, named Kevin Keller, will join the usual Riverdale crew of Archie, Betty, Veronica, Jughead and friends in the pages of Veronica #202, which will be released
Sept. 1
.
The story introduces the character as a new hunk in town who attracts the attention of Veronica. Hijinks ensue as Kevin struggles to get the message though and let Veronica down easily.
"The introduction of Kevin is just about keeping the world of Archie Comics current and inclusive. Archie's hometown of Riverdale has always been a safe world for everyone. It just makes sense to have an openly gay character in Archie comic books,"
said Archie Comics Co-CEO Jon Goldwater.
(Thanks
Animation Magazine
)
Toronto School Max the Mutt Hosts Industry Night May 19
Max the Mutt Animation School in Toronto is hosting a Spring Industry Night on May 19.
The event will showcase the school's animation and sequential arts programs, and will begin at 6 p.m. at 952 Queen St. West, Toronto. To RSVP, visit
http://clients.greatexposure.com/max/100420-industry-night/flash.html
Max the Mutt Animation School is devoted to the study of drawing, classical and computer animation, illustration for sequential arts and concept art for animation and video games.
For more information on the school, visit
www.maxthemutt.com
.
(Thanks
Animation Magazine
)
New Shrek Forever After clip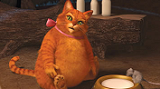 Yahoo!Movies
has made available a new clip from DreamWorks Animation's upcoming flick
Shrek Forever After
featuring Puss in Boots. Directed by Mike Mitchell, the final chapter in the Shrek series,
Shrek Forever After
hits theaters on
May 21, 2010
.
Comedy Central Orders More Ugly Americans
Comedy Central has ordered seven new episodes of its animated series
Ugly Americans
to air starting in October.
Ugly Americans
debuted on the network March 17 and has averaged 2 million total viewers over the course of its first season.
The network says it is the second most-watched show on TV on Wednesday nights among men 18-24, behind only its lead in of South Park.
"Once you add zombies, demons and werewolves into the New York City melting pot, you have something for everyone,"
said Kent Alterman, head of original programming and development for Comedy Central.
"Ugly Americans is the feel good show for our depraved audience."
(Thanks
Animation Magazine
)
Academy Announced Chuck Jones Exhibition
The classic cartoon creations of animator Chuck Jones are set to take over the Academy of Motion Picture Arts and Sciences in an summer exhibition opening
May 14
titled "Chuck Jones: An Animator's Life From A to Z-Z-Z-Z."
The exhibition will feature more than 150 drawings, storyboards, cels and dialog sheets from Jones' animated short films. Working primarily for Warner Bros. on the Looney Tunes characters, Jones brought to life many of the classic adventures of Bugs Bunny, Daffy Duck, Elmer Fudd, Pepe Le Pew, Wile E. Coyote and others.
The exhibition will be free to the public and located in the Academy's Grand Lobby Gallery at its Beverly Hills building, 8949 Wilshire Blvd.
The exhibition is presented in association with the Chuck Jones Center for Creativity, the nonprofit organization from which many items in the exhibition have been drawn, with additional items on loan from the Chuck Jones Collection at Warner Bros.

The show will be open Tuesdays through Fridays from 10 a.m. to 5 p.m. and weekends from noon to 6 p.m. The exhibit will be closed May 29 and 30 for Memorial Day and July 3 and 4 for Independence Day. It will lose on Aug. 22.
For more information call (310) 247-3600 or visit
www.oscars.org
.
(Thanks
Animation Magazine
)
New Technicolor Team Acquires Breathed's Pete & Pickles
Technicolor's new team for developing and producing animated content for broadcast has acquired rights to
Pete & Pickles
by award-winning cartoonist Berkeley Breathed.
Technicolor's team will be headed by animation industry veterans Jean MacCurdy and Fonda Snyder, who will work with VP of digital productions Steven Wendland.
"We are honored that Technicolor's initial entry into content development is Pete & Pickles, and we are thrilled and humbled by Berkeley Breathed's trust in partnering with Technicolor to produce a series that will be true to his creation,"
says Sarnoff.
Breathed is best known for his comic strip
Bloom County
, for which he won a Pulitzer Prize, and its follow-up,
Opus
.
"I told the folks at Technicolor that the only way I could get lured to the world of small screen pixels is if a company were to declare their intent to make the coolest, most unique animated show for children's television -- one that shakes up the art-form like my son shakes the grocery bag full of eggs just because it's fun,"
Breathed says.
MacCurdy was the former president of Warner Bros. Animation, and Snyder was the co-founder and former president of Storyopolis Productions and former VP of original movies with Disney Channel.
Wendland joined Technicolor in 2008 as the vice president of animation after working in animation at Mainframe Entertainment for 10 years.
(Thanks
Animation Magazine
)
Male (1962) by Osamu Tezuka
An odd rarity by
Astro Boy
creator Osamu Tezuka that probably works best in a dark theater. It's available with twelve of his other shorts on the dvd,
The Astonishing Works of Osamu Tezuka
.
(Thanks
Cartoon Brew
)
Russia's first animated feature: The Lost Letter (1945)
This is why the Internet was invented. Here's something I'd never seen or heard of before. "Niffiwan" in Toronto has post on
You Tube
a subtitled version of a formerly unknown (to me and all my reference books) 1945 Russian animated feature (43 minutes long). It could actually be considered the first
traditionally-animated
Russian feature, because there was actually
a feature made with stop-motion animation
in 1935. (The more well known, full-length,
Magic Pony (The Humpbacked Horse)
was released in 1947).
It's called
The Lost Letter
, and it's definitely worth watching. It was directed by the pioneering Brumberg Sisters (Valentina and Zinaida) with Lamis Bredis, and was based on a short story by Nikolai Gogol. Made during the darkest days of World War II, this film was practically unknown and unseen outside of the former USSR until now. Ben Ettinger from AniPages Daily
wrote a nice mini-review
of it back in 2005, though it was unsubtitled back then.
Below is part one (of four). Read more about the film, how it was subtitled and see the other three parts at
Niffiwan's Journal
.
(Thanks
Cartoon Brew
)
Imagi's Gatchaman trailer
Here's the very cool full length trailer for Imagi's CG
Gatchaman
(G-Force) feature - a film that, thanks to
Astro Boy
, will probably never be made.
(Thanks, Linz)
(Thanks
Cartoon Brew
)
Muslim Group Warns "South Park" Creators
The Hollywood Reporter
reports that a U.S. Muslim group issued death threats to
South Park
creators Trey Parker and Matt Stone over last week's 200th episode where the Prophet Mohammad was depicted in a bear outfit.
The threat was posted on the website RevolutionMuslim.com, which has been taken down after what site owners described as a traffic overload. The site had posted a link to a news article with details of a mansion in Colorado that the two men reportedly own, as well as the offices of Comedy Central and
South Park
's production office. The site also used a graphic photo of slain Dutch filmmaker Theo Van Gogh, warning Stone & Parker that
"they will probably wind up like Theo Van Gogh for airing this show."
Parker, Stone, and Comedy Central have not issued any comment.
"Batman: Under the Red Hood" Trailer Online
Superhero Hype reports that MSN debuted the trailer for the new DC Universe animated movie,
Batman: Under the Red Hood
. The film will feature the voices of Bruce Greenwood (Star Trek) as Batman, Neil Patrick Harris (
Doogie Howser M.D.
and
How I Met Your Mother
) as Nightwing, Jason Isaacs (
Harry Potter and the Deathly Hollows: Part I
) as Ra's al Ghul, John Di Maggio (Aquaman from
Batman: The Brave and the Bold
) as The Joker, and Jensen Ackles (
Supernatural
) as The Red Hood.
The new animated film features the Caped Crusader going after a mysterious criminal who seems to know all his secrets. The movie will be out on DVD & Blu-Ray on
July 27, 2010
.
The Big Broom Finishes Sweeping
Since the last Disney marketing team didn't seem to be too swift marketing Disney animated features, maybe
this
will be an improvement:
MT Carney has been formally named the new head of the Walt Disney Studios marketing team.

Disney Studios chairman Rich Ross announced her appointment to the post of president of marketing Wednesday. ...

With Carney's appointment, Ross will have completed an overhaul of the studio, having early on put Bob Chapek in charge of distribution and named Sean Bailey as head of production.
Some might argue that the newer animated features weren't mega-grossers because they weren't mega-dazzlers. But I'm sorry. Trailers were weak. Calendar dates were strategically awful. (When you release The White Doggy against
Twilight
to crappy results and then use the lame excuses,
"Who knew?"
and
"Nobody could have predicted ..."
, you need to have your Marketers' Membership Card permanently revoked. It's your freaking
job
to know.)
So maybe this new person, this Ms. Carney, will be an improvement. Certainly her last name is encouraging.
(Thanks
Animation Guild Blog
)
Interview with Shrek Forever After Director Mike Mitchell
In this interview below,
Shrek Forever After
director Mike Mitchell calls the original
Shrek
"one of the greatest told fairy tales of all time."
If you count box office dollars as votes, the audience agrees. The first 3
Shrek
films hold
3 of the top 6
all-time grossing animated movie slots, with
Shrek 2
in the top spot.
The animation community doesn't seem to respect this
DreamWorks Animation
series in quite the same way, and I'd say the visual appeal, which is mediocre, and the abundance of what you might call
"cheap"
pop-culture gags combine to create that dischord. Plus, the 3rd movie was pretty awful, tallying a 44% on RottenTomatoes.com, further irritating the animation community. With
Shrek Forever After
releasing on May 21st, do you think it will live up to Mitchell's lofty praise for the original, or will it fall into the sequel garbage heap?
Mike Mitchell
…and here's a clip featuring Puss 'n Boots and Shrek
Japanese Toy Story 3 Trailer Teases Plot Points
Much of this new Japanese
Toy Story 3
trailer will look familiar, if you're been following closely. But there's definitely some new material emerges, offering some new glimpses into the story structure. The film, which was directed by Lee Unkrich, arrives on
June 18th
.
Nico Marlet's Sketchbook
Ace character designer Nico Marlet (
Kung Fu Panda, How To Train Your Dragon
) has published a collection of his sketches. As of now, the only place I'm aware of that stocks the book is the
Gallery Nucleus website
. I got to meet Marlet briefly last month, but sadly, I was a couple days too early to get a finished copy of the book. He made up for it by allowing me to flip through some of his designs, which I have to say are something else entirely in their original unreproduced form. Unlike many artist sketchbooks, Marlet didn't curate a selection of his best work; rather, he took one of his sketchbooks and reprinted it whole from cover to cover. If the preview images on the Gallery Nucleus site don't make it evident, there's likely not a weak drawing in the entire book.
UPDATE:
The item appears to be back in stock on the Gallery Nucleus website.
(Thanks
Cartoon Brew
)
Ted Petok (1917-2010)
Cartoonist, illustrator and Oscar winning animator Ted Petok has passed away at age 93. His Oscar winning short was
The Crunch Bird
(1971), written and voiced by Len Maxwell. A native of Detroit, Petok's animation also appeared on
Sesame Street
and
The Electric Company
. A complete obitutary appears in today's
Detroit Free Press
. His Academy award winning film appears below:
(Thanks
Cartoon Brew
)
Avery in N.Y. / Sita in L.A.
Two plugs, two cities:
New York, N.Y. - TEX AVERY CARTOONS at MoMA.
I think this is in conjunction with the massive must-see Tim Burton exhibit, possibly selected by Burton himself! 35mm prints of
Swing Shift Cinderella
(1945),
Red Hot Riding Hood
(1943),
Little Rural Riding Hood
(1949),
The Cat That Hated People
(1948),
The Three Little Pups
(1952),
Field and Scream
(1953) - all good ones! Saturday, April 24, 2010, 4:00 p.m. in Theater 2 (The Roy and Niuta Titus Theater 2). For more information
click here
.
Los Angeles, CA - SITA SINGS THE BLUES at the Laemmle Music Hall
If you haven't seen it on the big screen - or even if you have -
Nina Paley's masterpiece
comes to LA for a 1-week theatrical engagement starting Friday 4/23. Do not miss it in 35mm, it's a much cooler experience. And sing along with the
Annette Hanshaw
soundtrack! The film is playing each day at 5:10pm, 7:20pm and 9:30pm at
The Laemmle Music Hall
3, 9036 Wilshire Blvd. in Beverly Hills, California.
(Thanks
Cartoon Brew
)
Scarlett Johansson 'Freaked Out' When She Saw 'Iron Man 2' Black Widow Costume
Last year, when word first broke that
Scarlett Johansson was up for the role of Black Widow
in
"Iron Man 2,"
one of the most anticipated questions among fans was how Johansson would look in the character's skin-tight outfit.
However, when Johannson saw the actual costume for the first time, the actress had a brief moment of trepidation.
"I knew it was going to be some kind of sexy unitard, because I had researched the character in the comics,"
revealed Johansson during an interview with
Sci-Fi Movie Page
.
"I've never worn anything like it before, so I had a freak-out moment that lasted about half a day, but then I said 'Okay, time to suck it up' and just went full force into getting in shape to wear the costume and perform the physical action so it looked just right."
Johansson has previously
spoken at length about her physical regime
to get into shape for her
"Iron Man 2"
role. She also expressed
her desire to keep her Black Widow costume a secret in order to surprise her husband
, Ryan Reynolds — a long-time comic book fan and the star of
"Green Lantern"
and the upcoming
"Deadpool"
movie.
In order to convincingly portray the Black Widow's deadly skills on screen, Johansson also spent numerous hours training in various martial arts disciplines,
"Black Widow is an expert in hand-to-hand combat,"
said Johansson.
"She's a mixed martial artist, has a dance and gymnastics background, so she combines all of these aspects into one kick-ass fighting machine so I dedicated myself to putting in the hours, repetitions, and training with the stunt team until I felt comfortable that I could sell each particular move.""I'm very sensitive about when you see an action sequence and the shot is on the back of somebody's head, and then all of the sudden it cuts and the actor gives that one dramatic pose at the end and it's obvious that it was not them in the shot before,"
added Johansson.
"It's the lamest thing, because you want to see the actor risking their own life, and that is part of what sells it to an audience. So that's why I worked for months to prepare and I really didn't want to be perceived as a little wuss who couldn't do it."
Johansson also described how she performed her first action sequence in the movie.
"When I first saw it completed and choreographed by the stunt team, I just thought to myself, 'Oh my god, I don't know how I'm going to do this,'"
exclaimed Johansson.
"But then I took a deep breath and, with all the training and repetitions we put in during rehearsals, it just started to flow and it became a reality as I was doing it.""It was a lot of fun for me to work with all the people [stunt supervisor] Tommy Harper assembled because they are some of the greatest stunt guys out there and were so incredibly supportive,"
continued Johansson.
"It was very frustrating at times, which I am sure you will see on the DVD, but I think we really nailed it and when Tommy Harper says you got it, then I know we got it and it will be great fun to watch."
"Iron Man 2"
infiltrates theaters on
May 07
.
Will Smith And Tommy Lee Jones Confirmed For 'Men In Black 3'... In 3-D?
Late last month, Will Smith was reportedly
deciding between returning for "Men In Black 3"
or starring in the original film,
"City That Sailed."
However, it now appears that Smith will be donning his familiar black suit and shades once again.
According to
Showbiz 411
, director Barry Sonnenfeld has confirmed that both Smith and Tommy Lee Jones are on board for
"Men In Black 3."
Sonnenfeld also revealed that the third
"Men In Black"
film will be in 3D. The report also speculates that the sequel may be in theaters as soon as May 2011.
Sonnenfeld has previously teamed with Smith and Jones on the first two
"Men In Black"
films, based on the comic book series of the same name that was created in 1990 by Lowell Cunningham and artist Sandy Carruthers. The series follows two Agents of the mysterious MIB organization, which is charged with safe-guarding Earth against all manor of alien threats.
Back in October, Columbia Pictures finally gave the greenlight for
"Men In Black 3"
with
"Tropic Thunder" screenwriter Etan Cohen attached to write the film.
Josh Brolin
,
Sacha Baron Cohen and Jemain Clement
are all reportedly up for roles in the upcoming sequel.
The story is rumored to involve Smith's Agent J going back in time and teaming up with a younger version of Jones' Agent K.
'The Losers' Clip: Clay And Aisha Get Physical In 'Frenemies'
Yesterday, we gave you a
new clip from "The Losers"
featuring the team in their early days — before the whole framed-and-left-for-dead deal.
Now we have a new scene from the film featuring team leader Clay (Jeffrey Dean Morgan) engaging in a very physical encounter with Aisha (Zoe Saldana), the mysterious, brutal mercenary who joins the team.
Trailer for Syfy's Phantom: The new Ghost Who Walks
RHI Entertainment has posted a trailer for Syfy's upcoming
The Phantom
, a four-hour miniseries that premieres
June 20
at 7 p.m. ET/PT, below.
Based on Lee Falk's classic comic strip,
The Phantom
stars Ryan Carnes as Kit Walker, the latest in a long line of heroes.
Paolo Barzman directed the miniseries, which was written by Daniel and Charles Knauf. Cameron Goodman, Isabella Rossellini and Sandrine Holt also star. Here's RHI's official description:
The legendary superhero returns in this modern-day and action packed miniseries event. When Kit Walker (Ryan Carnes) learns of his father's death, the adventurous young man inherits the mantle of his superhero father. As the new Phantom, the 21st in the Walker line, Kit vows to uphold and honor his ancestors' creed--to fight crime and injustice throughout the world.
Saturn Awards to honor Cameron, Kurtzman/Orci, Donner
The Academy of Science Fiction, Fantasy and Horror Films will present James Cameron with the Visionary Award at its 36th annual Saturn Awards on
June 24
at the Castaway in Burbank.
The evening's other honorees are producer Lauren Shuler-Donner and writer-producers Alex Kurtzman and Roberto Orci.
"James Cameron has always maintained a clear vision of his creations onscreen. With 'Avatar,' he has raised the bar by successfully creating a masterpiece beyond anything ever seen onscreen,"
Robert Holguin, the group's president, said.
Shuler-Donner, whose films include the
"X-Men"
movies, will receive the Producers Showcase Award.
Kurtzman and Orci, writer-producers of last year's
"Star Trek"
and the Fox series
"Fringe,"
will be honored with the George Pal Memorial Award.
(Thanks
Heat Vision
)
Marvel Studios Planning Power Pack, Dazzler, Ka-Zar Movies?
C.H.U.D have some exclusive info regarding projects from Marvel Studios featuring the much lesser known characters at much smaller budgets...
We already heard from various sources that we would most likely see teh likes of Dr Strange or Iron Fist make it to the movies at some stage, but now it seems that Marvel have started a whole new smaller movie initiative which could not only bring these guys to the screen much sooner than we thought, but even more obscure characters too.
This from C.H.U.D..
Marvel Studios is currently taking meetings with writers and directors to work on small scale movies based on some of their third tier characters. The movies would cost in the range of 20 to 40 million dollars (very small when we're talking studio films) and would allow them to take risks with less obvious characters and with interesting talent.

Filmmakers are being offered their pick of characters whose names are only familiar to comic fans. Properties like Dr. Strange, Ka-Zar, Luke Cage, Dazzler and Power Pack are among the many that are being tossed around right now. And the attitude seems to be that Marvel is open to bringing any of their characters to the screen at the right price point.
Ka-Zar?
Dazzler
? Why not! Clearly after the success of
Kick-Ass
, a very low budget film by Hollywood standards, Marvel have spotted a gold mine. I mean a
Power Pack
movie for example, costing over 100 million is a big risk, but costing 20 or so million, and with the seemingly ever increasing popularity of comic based properties has the potential to make big bucks. And smaller movies can tend to attract directors that know how to reign it in and focus more on the story and characters than the big effects sequences so we could be in for a treat. Of course, until any of these projects or indeed the initiative itself is confirmed we can only take C.H.U.D's word on the info, but this would seem like a very savvy studio move to me.
(Thanks
comic book movie
)
'Iron Man 2' will Feature DJ A.M. Cameo
Of all of the celebrity cameos in
"Iron Man 2,"
the appearance by Adam Goldstein (aka DJ. A.M.) has a particular resonance for director Jon Favreau, due to Goldstein's sudden demise last summer.
"I was just a fan of his, just an admirer of his work, and it was supposed to be a one-day bit,"
Favreau told
The Los Angeles Times
.
"But Robert [Downey Jr.] took a real shine to him, as we all did. His energy was amazing, he was such a inspiring guy and there was a lot of depth to him and this positive energy.

"He ended up staying on with us for about a week and it was just great,"
continued Favreau.
"We set up this turntable and between takes he would give me pointers."
Goldstein's cameo reportedly occurs in a scene in which Tony Stark is celebrating his birthday during a wild party while
"boozed-up"
and wearing his latest Iron Man armor. The scene also features Goldstein as a DJ one more time, for perhaps his biggest audience to date.
"We tried to make it respectful,"
said Favreau.
"And for people who know him, they'll get a kick out of it and for people who don't, it will sort of slide by without much notice."
Goldstein rose to prominence as one of the top DJs in the music industry and collaborated with several artists, including Will Smith, Jay-Z and Madonna. He also survived a harrowing plane crash in 2008 before succumbing to an accidental drug overdose last August.
According to Favreau, word of Goldstein's death deeply saddened the cast and crew of the film.
"When he passed, it was very difficult for a lot of us,"
related Favreau.
Goldstein's cameo will include music Queen, Rob Bass and Daft Punk mixed together in the style of DJ A.M. by Kevin Scott, one of Goldstein's closest friends. Favreau reportedly had difficulty securing the music rights for that scene, but indicated that it was well worth it to complete his tribute to Goldstein.
"Our heart goes out to his family and friends,"
related Favreau.
"And we hope what we've done is pleasing to them and to the many, many people who held Adam in high regard."
Favreau also revealed that the film is dedicated to Goldstein and that his distinctive lightning-bolt symbol will be displayed in the end credits.
Kristen Stewart Replacing Angelina Jolie In 'Wanted' Sequel?
While it certainly appears that Angelina Jolie's days as a
"Wanted"
woman are over, director Timur Bekmembatov is already eying a replacement killer in the form of
"Twilight"
leading lady Kristen Stewart.
According to
E! Online
, Stewart is Bekmambetov's top choice to replace Jolie in
"Wanted 2,"
pitting her against the returning James McAvoy as reluctant assassin Wesley Gibson. If hired, Stewart would play
"a young, ass-kicking assassin in the Fraternity."
Contacted for comment, Stewart's representatives did not respond by time of publication.
The report notes that Stewart's casting is not finalized as an official offer has not been given. In fact, the report indicates that Bekmambetov himself is currently looking at other projects for the fall, as the
"Wanted"
sequel has yet to fully materialize. Given these factors, it's entirely possible that Stewart won't end up in the sequel when all's said and done.
Whether Stewart accepts an offer to star in
"Wanted 2,"
comic book writer Mark Millar is certainly enthusiastic about the prospect of creating a brand new female lead to replace Jolie's deceased character.
"They killed off the most recognizable character, but I thought it was great to do that,"
Millar told MTV News last month.
"It was so ballsy to kill off the one person you didn't expect to die.

"What they're talking about is just moving on with the story and doing it properly,"
he added.
"Just bringing in another cool character as this world opens up with all the different fraternities out there all across the world. This could change at any moment, but the last I heard two weeks ago, was that was the plan moving forward."
Two New Iron Man 2 IMAX Posters
The latest theatrical posters for the highly anticipated superhero sequel have just debuted online. Follow the jump for a close up look at the two new versions of our hero and villain...
SuperHeroHype.com
has just released a new IMAX poster for Jon Favreau's
Iron Man 2
; which is scheduled for worldwide theatrical release over the next few weeks. The poster highlights Tony Stark's Mark V 'briefcase' armor, which was used during a racetrack battle scene between Iron Man and Whiplash:
Image courtesy of SuperHeroHype
Our second poster of the day comes from
Screenrant.com
and showcases the film's main baddie, Whiplash, in all his energy-wielding glory:
Image courtesy of Screenrant
Iron Man 2
stars Robert Downey Jr. as our armor-clad hero; and features a solid supporting cast consisting of Gwyneth Paltrow, Don Cheadle, Jon Favreau, Mickey Rourke, Sam Rockwell, Samuel L. Jackson, Scarlett Johansson, Garry Shandling, John Slattery, Kate Mara, Clark Gregg and Olivia Munn.
(Thanks
Comic Book Movie
)
Superman: Past and Present
Producer Ilya Salkind discusses making the first three Superman movies and his thoughts for the future.
Ilya Salkind was at Wizard World Anaheim Comic Con and had quite a bit to say about Superman. He, along with his father Alexander, produced the first three movies. The original
Superman
went so far over budget and over schedule that it missed its original summer 1978 release and was pushed back to Christmas. The movie managed to exceed everyone's imaginations and expectations and remains one of the most revered CBM's to date.
One of the initial difficulties was in casting the title role. The Salkinds wanted an unknown but the financial backers wanted a bankable star. One of those was Sylvester Stallone, who Salkind says was
"a little bit difficult to imagine"
in the role, as well as James Caan, Burt Reynolds and Robert Redford. Bruce Jenner also did a screen test.
"After meeting a lot of actors, such as Jon Voight, we even met Neil Diamond — don't ask me why — I knew in my heart of hearts it had to be an unknown,"
said Salkind. Still, Christopher Reeve almost did not get cast as Salkind says everyone simply thought him too skinny to play the Man of Steel.
After
Superman III
, the Salkinds leased the rights to the character to another company that made
Superman IV: The Quest for Peace
. They had attempted to make a fifth installment but relations with Warner Brothers had been strained according to Ilya:
"We came up with a script where we had Superman die, and of course the character would be reborn in the film too, so it was to be called 'Superman Lives'.""The politics between Warners and DC and the Salkinds were very difficult because it wasn't their idea and they were releasing the movie, so it was a very difficult situation. They were happy with the success, but after ' (Superman) IV,' they would I say made it harder and harder for us to come back and make '(Superman) V.'"
As for the new movie that is starting to get off the ground, Salkind said it would be important to set it in the current day and start over.
"They should literally start from scratch, forgetting the previous story."
Salkind sees a true passion in the project with Christopher Nolan:
"When you have producers, directors or actors who are not really excited about a project, it shows. Something is missing on the film."Many thanks to Newsarama for the information. For the full article, click
HERE
.
(Thanks
Comic Book Movie
)
Gwyneth Paltrow Talks All About Iron Man 2
Gwyneth Paltrow talks deeply about Iron Man 2. Check it out!
When Gwyneth Paltrow signed up for the first
Iron Man
film she placed her trust in the considerable talents of director Jon Favreau because, as she points out, while she was making it she really had no idea how it would turn out - just a hunch that the director was about to deliver something special.
The chance to work opposite Robert Downey Jr., who plays playboy billionaire Tony Stark/ Iron Man, was also a huge draw.
"Robert and I have a very good rhythm together,"
she notes. But it was, essentially, a leap of faith that paid off spectacularly.
"I committed to it without ever reading anything, there wasn't really a script at that point,"
she says.
"It was just Jon explaining the character to me, explaining how the relationships were going to be, and kind of asking for that trust, that leap of faith. "I was really happy and surprised when I saw the first film. Because I didn't even know the plot, even when we were doing it I couldn't really piece it together and I didn't understand the whole picture. "And so when I saw the finished film I was happily surprised with how it all turned out. The reason that I decided to do the first movie is because I always wanted to work with Robert and I love Jon, who I'd known for a long time. "And both Jon and Robert were really encouraging and they said it would be fun. And I'm so glad I did it because it was a great experience and a great movie."
Revealing Stark as Iron Man marked the movie out to be very different from others in the same comic book genre, says Paltrow.
"I do think it was a very fresh thing to do,"
she says.
"Revealing that Tony Stark is
Iron Man
at the end of the first film and not doing the whole
Batman
secret identity thing was a very fresh take and I think it allows for a whole world of possibilities that don't normally exist in this kind of movie. "Normally the hero's identity is hidden and now we can do a whole host of things that you normally don't get to see."
Indeed, Favreau's blend of wit and stunning action sequences, his crafting of the CGI with live action and most of all, his passion for developing strong characters, are all hallmarks of the first film that have been incorporated into – and improved on – in the second.
Take, for instance, Stark's relationship with his trusted aide, Pepper Potts. In the first film she was his assistant and the person who knew him best in the entire world. Behind that brash, arrogant exterior, Pepper knew that there was a man struggling to do the right thing, but rarely succeeding. She could see the good in Stark where others couldn't.
"I think part of the appeal of Tony Stark is that he is damaged and he is a complicated figure,"
says Paltrow.
"I think he represents the dark side in all of us and that hope that we all overcome our own demons – he's sort of the personification of that. And it's essential that we show that he has these demons and he is trying to overcome them."
Along with Tony and Pepper's professional relationship there's clearly a mutual attraction that plays out with some flirtatious banter and that's expanded on in the new movie.
"When we start Iron Man 2 Pepper and Tony are very much in the same vibe,"
she says.
"There's that banter and they've got and they have great chemistry. And then as the movie progresses, Pepper is given more responsibility and she's promoted and it's nice to see her sort of grow up in that way. I think it really suits her, the job fits her really well."
-Paltrow believes that one of the key factors in Iron Man's success is that even though the characters are drawn from the fantastic universe of Marvel Comics, they are, in fact, grounded in reality and, crucially, totally believable.
"Like Pepper, you know, she is the voice of reason. She's very grounded – a good girl, a very grounded person. I think the first movie really defined the whole world that these characters inhabit – it has its own pizzazz, it's own kind of humour. "But I don't think it would work as well if Tony was fighting supernatural villains. It is based in a kind of reality – the humour, the action – and I think that's right and it works."
Paltrow was delighted that writer Justin Theroux joined the closed knit creative team behind
Iron Man
but part of the fun of acting on the films is that Favreau allows, and indeed encourages, his cast to improvise if they feel the need, she says, which makes the process challenging and fun.
"Justin's a great writer and he did some great stuff. He's a really, really talented artist. But then, we still do our improve thing and we change it up just because that's how Robert and I like to work and that's how we like to keep things fresh and super naturalistic."
Iron Man
told the origin story and now
Iron Man 2
is building on that success, she says, and turning up on set felt like going home and she slipped back into the character easily.
"It was great,"
she says of the experience of working on the new film.
"Because we had the whole backbone of the first movie – we knew who we were already, there was less of a discovery process.

"When you turn up for the first day on a film it's usually like 'oh my gosh, what am I doing? How is this going to work out?' But this was like putting on a pair of old shoes. It was like 'I know how to do this girl…''"
The new acting talent joining the cast includes Scarlett Johansson as Natalie Rushman, a demure young woman who takes over Pepper's old job as Tony's assistant when she is promoted to CEO of Stark Industries. Later in the story, Natalie reveals herself to be The Black Widow.
"It was great with Scarlett there because it just adds a whole new layer especially in terms of Tony and Pepper,"
says Paltrow.
"There's always a reason why they never quite get together and then in walks this young, gorgeous bombshell and it really throws Pepper off her course.

"It's a really fun thing to play and it's been great having Scarlett there because she's a really great actress."
The other newcomers include Sam Rockwell who plays Justin Hammer, a business rival who is out to steal Tony Stark's crown, and Don Cheadle as Col. James 'Rhodey' Rhodes.
"The thing about Sam Rockwell is that he is a really, really good actor. He's in the same universe as Robert in terms of skill and talent. So to have somebody playing his foil in that way is perfect. He's funny, he's really good and he adds a whole new twist.

"And Don Cheadle is just heaven on earth. He's so brilliant and he's such a calm, grounding person to be around. He's so good, it's great that he's part of this."
Paltrow, just like the other key characters, was faced with the challenge of working with green screen for
Iron Man 2
. She likens it to working in the theatre where you just have to use the power of your imagination a little more.
"Jon is still into making everything as real as possible and using live action whenever possible but there are green screen moments because he is taking it to the next level,"
she says.
"It's kind of like when you're in that theatre space when you do green screen and conjure up the world for yourself a little bit."
It does mean, of course, that watching the finished
Iron Man 2
, with all the CGI shots in, will have an element of surprise for Paltrow – just like it was for the original film.
"Yes, once again there's so much that I won't know until I see it,"
she says.
"Because when we were on set it was changing shape all of the time. And there will be all of the effects so by the time I get to see it I'm sure I'll be completely blown away by what Jon and his team have put together."
(Thanks
Comic Book Movie
)