'Titans' battles to No. 1 spot with $61.4 million
The gods of Mount Olympus are the new rulers of the weekend box office.
The ancient Greek action remake
"Clash of the Titans"
debuted at No. 1 with $61.4 million, according to studio estimates Sunday. Adding Thursday night preview screenings, the movie totaled $64.1 million.
Released by Warner Bros.,
"Clash of the Titans"
features
"Avatar"
star Sam Worthington as demigod hero Perseus and Liam Neeson as his dad, Zeus, king of the Olympian deities.
Opening at No. 2 with $30.2 million was Lionsgate's sequel
"Tyler Perry's Why Did I Get Married Too?"
, reuniting filmmaker Perry with Janet Jackson and other co-stars for another comic drama about eight friends and their relationships.
The previous weekend's top movie, DreamWorks Animation's Viking adventure
"How to Train Your Dragon,"
ran a close third with $29.2 million, raising its 10-day total to $92.3 million.
"Clash of the Titans"
continued Hollywood's hit run of 3-D movies, which has included
"How to Train Your Dragon"
and the blockbusters
"Avatar"
and
"Alice in Wonderland."
With $8.3 million, Disney's
"Alice in Wonderland"
came in at No. 5 for the weekend, raising its domestic total to $309.8 million and its worldwide haul to $722 million.
"If three out of the top five films doesn't spell a mandate for 3-D, I don't know what does,"
said Paul Dergarabedian, box-office analyst for Hollywood.com.
Like
"Alice in Wonderland," "Clash of the Titans"
was shot in 2-D format and converted to 3-D afterward. Critics gripe that such conversions provide lower-quality 3-D images, but audiences do not seem to mind.
"You can't tell the difference. A super-technician, somebody who does this for a living, if they look carefully enough, they can find some differences,"
said Dan Fellman, head of distribution for Warner Bros.
"I have to tell you, from my own personal experiences, I can't tell."
"Clash of the Titans"
played on about 6,500 screens at 3,777 theaters, with 1,810 of those screens — or 28 percent — showing it in 3-D. Yet the movie did 52 percent of its business in 3-D format, with fans paying a few dollars more than 2-D tickets cost.
New Charles Schulz book collects prose writings
University Press Of Mississippi, known for its extensive line of comics-related books, has just announced a new book featuring the writings of Peanuts creator Charles M. Schulz, entitled
My Life With Charlie Brown
. The publishers feel that this book constitutes something akin to an autobiography, given how some of the pieces do trace Schulz's life and certainly share his thoughts on his beginnings as well as the genesis of his characters, plus other commentary on subjects ranging from comics to Christianity. Included are book introductions, newspaper articles, and more.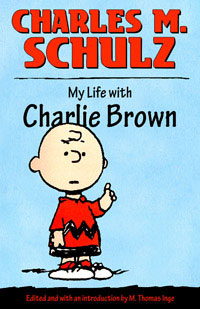 My Life With Charlie Brown
By Charles M. Schulz
Introduction by M. Thomas Inge
University Press of Mississippi
ISBN 978-1-60473-448-5, hardback, $25
Charles M. Schulz,
Peanut
s creator, was also a masterful essayist.
While best known as the creator of
Peanuts
, Charles M. Schulz (1922-2000) was also a thoughtful and precise prose writer who was able to explain his craft in clear and engaging ways. My Life With Charlie Brown (University Press Of Mississippi) brings together his major prose writings—many published here for the first time.
Schulz, one of the most widely known and beloved figures in comics history, authored autobiographical articles, book introductions, magazine pieces, lectures, and commentary throughout his career. These pieces shed new light on the themes of modern life, philosophy, and religion that are interwoven into his adored, groundbreaking comic strip.
Edited and with an introduction by comics scholar M. Thomas Inge, this volume will serve as the touchstone for Schulz's thoughts and convictions and as a wide-ranging, unique autobiography in the absence of a traditional, extended memoir.
With the official approval and cooperation of the Schulz family, Inge draws on the cartoonist's estate, archives, papers, and correspondence to collect the comprehensive nonfiction output of the cartoonist. The project includes newspaper articles about the creation of his characters, comics criticism, introductions to bound
Peanuts
volumes, essays about his philanthropy, his commentary on Christianity, and other pieces.
Taken together, with Inge's contextual annotations,
My Life With Charlie Brown
will reveal new dimensions of the legendary comics creator.
Charles M. Schulz created the popular comic strip
Peanuts
, which appeared in over 2,600 newspapers and in over seventy-five countries. M. Thomas Inge, Ashland, Virginia, is Robert Emory Blackwell Professor of the Humanities at Randolph-Macon College. He has edited or authored over sixty volumes, including books on Schulz, the comics, William Faulkner, and Oliver W. Harrington. Inge is the general editor of two UPM series, Conversations With Comics Artists and Great Comics Artists.
Read more about
My Life With Charlie Brown
at the
University Press Of Mississippi website
.
(Thanks
Animated Views
)
Most Unpaid Internships Are Illegal
A piece about internships in
yesterday's New York Times
has been making the rounds, and it's worth a peek for all animation students. It explains how most internships violate federal law and the government is beginning to crack down on employers who take advantage of free labor. Unpaid internships in New York's non-union animation scene are particularly notorious; most studios (big and small) have at least a couple interns and certain ones have been known to employ generous numbers of unpaid interns simultaneously. No wonder then that the Times article calls out a local animation studio:
At
Little Airplane
, a Manhattan children's film company, an N.Y.U. student who hoped to work in animation during her unpaid internship said she was instead assigned to the facilities department and ordered to wipe the door handles each day to minimize the spread of swine flu. Tone Thyne, a senior producer at Little Airplane, said its internships were usually highly educational and often led to good jobs.
From an economic viewpoint, unpaid interns make perfect sense for companies, but from an ethical viewpoint, it's questionable behavior (and from the government's point of view, it's illegal). When I was looking to hire a personal assistant, a number of friends and associates advised me to offer the position as an unpaid internship. Despite the appeal of such an idea (who doesn't like to save money?), I declined and opted to hire an assistant with an hourly wage. I've also been on the other side; when I was a kid, I found experience as an unpaid intern. Looking back on it, I regret my youthful naivete. Bottomline: if you're doing the work, you deserve to be compensated. People like to villainize Walt Disney for paying his employees meager wages in the 1930s, but what they forget is that he paid even the lowliest of the traffic boys, which is more than can be said for many stingy contemporary animation shops that ride on the backs of free labor.
If you've got stories, positive or negative, about your experiences with animation internships, please share them with the rest of us. A similar take on internships can be found on the blog of Richard O'Connor, who is a co-owner of Asterisk studio in New York. He writes that at Asterisk,
"We pay everybody (unless you're working for school credit). In part because that's the law, in part because we're profiting (in theory) from a worker's contributions."
(Thanks
cartoon brew
)
MSM Catches On To Freelancers
The L.A. Times gets around to looking at the
expansion of freelance work
:
Freelancing beats the alternative for many

Many formerly full-time workers must now move from contract job to contract job, without benefits. But at least it's a paycheck.


... In 2005, the federal government estimated there were more than 10 million independent contract workers, or 7.4% of the workforce. That number has almost certainly risen during the economic downturn, experts say, as companies shifted some work from employees to contractors to cut benefits costs and make it easier to jettison staff when business slowed.

... Labor advocates are concerned that the trend, if unchecked, will lead to a widespread retreat in the benefits American workers have come to expect, including paid vacations, employer-paid health insurance and money for retirement. ...
In Animationland, this trend has gone on for decades, starting in the late sixties and early seventies with outsourcing work to Korea, Japan, and other lower-cost parts of the globe.
In more recent times, the sub-contracting has happened on two fronts. There is still the overseas outsourcing, but added to the mix is sub-contracting work that occurs locally, and often
inside
the studio. (One favorite trick is to offer the
"sub-contractor"
the use of a company desk, a real
"win-win"
all the way around: the sub-contractor gets to use the company's equipment and pay all the Social Security and Medicare taxes, and the employer can look over sub's shoulder and give helpful instructions, just as though the sub was an actual employee! What could be finer?)
As the Times points out, the Feds are starting to come down on some of these practices, but companies like
MBO
have offered employers a way to side-step
employment requirements
. My take on the freelancer issue is, sub-contract work won't be going away. Conglomerates are keen on cutting costs in the lower ranks, and outsourcing to the lowest bidder is a fine way to do it. (Less cash for the work force means more for the Chairman of the Board and Chief Executive Officer, don't you know.)
There will be sub-contractors who do fine with this set-up, but many others who get shafted. Sadly, in the brave new world through which we now travel, the shaftings won't be ending anytime soon.
(Thanks
Animation Guild Blog
)
WonderCon goes crazy for new Toy Story 3 footage
Fans have been checking out recently released shots of the new characters from the upcoming Pixar film
Toy Story 3
. We've seen Trixie, the triceratops, Buttercup the unicorn, Lots-o'-Huggin' Bear (who smells like strawberries) and the fantastically named Mr. Pricklepants the hedgehog. Well, at the
Toy Story 3
panel at WonderCon in San Francisco on Saturday, we got a look at a few never-before-released scenes.
After a few brief statements from director Lee Unkrich, we were told that they were going to choose three people from the crowd to do voice-overs for the scene. The first man to the stage was an audience member, but the next two just happened to be Kristen Schaal, the voice of Trixie, and Jeff Garlin, who plays Buttercup.
After the two teased the chosen audience member about his British accent, we got to check out what they did with the scene. In it, Woody (Tom Hanks) finds himself in the room of a little girl having a tea party. When she runs out to powder her nose, Woody tries to get the attention of the other toys and find out where he is.
Mr. Pricklepants is trying to stay in character, being something of a thespian, but the other two introduce themselves and explain where they are in the soap opera they're performing. When the girl returns, she brings out what may be the most foul combination in history, a plastic hamburger topped with her "secret ingredient": jelly beans. We finally saw the scene fully scored with Timothy Dalton, the real voice of Mr. Pricklepants.
Next, we saw a scene where the toys arrive at a day care center after being donated. From inside the box, they see a room full of kids playing with toys. Everyone is excited except Woody, who misses the now college-aged Andy.
When they fall onto the floor, all the day-care toys come to welcome them, including Lots-o'-Huggin' Bear (Ned Beatty), who explains the situation. He tells them that, with a new group of kids always on the way in, they can never be hurt. They'll never feel abandoned or alone. Anyone else getting choked up?
We also see a Ken doll (Michael Keaton), dressed up in head-to-toe turquoise, encounter Barbie (Jodi Benson) for the first time. It's love at first sight. She tells him he has a nice ascot. If the roar of the crowd was to be believed, the sneak peek went over well.
Before the end of the panel, Kristen Schaal was told by Unkrich that she will be in every Pixar picture going forward. The crowd certainly loved her. And if we're going by their casting history, this woman will be employed for life.
Toy Story 3
will open in theaters on
June 18
.
A Goofy Movie remade in live action
Someone explain to us why there are a dozen
live action student films
recreating the opening sequence from Disney's
A Goofy Movie
(1995). This one is by far the best:
(Thanks, Clint Harrison)
(Thanks
cartoon brew
)
The Science of 3D Explained
The United Kingdom's leading film critic
Mark Kermode
explains the difference between 3D and 2D:
(Thanks, DeK)
(Thanks
cartoon brew
)
DWA CEO Katzenberg was compensated $23.9M in 2009
Though receiving an annual salary of only $1 last year, DreamWorks Animation chief executive officer Jeffrey Katzenberg received compensation worth $23.4 million in 2009, according to a regulatory filing Thursday.
Stock and option awards that he was given last spring accounted for the huge bonus.
Payments were given under an equity-based employment agreement that DWA and Katzenberg agreed to last year. It links his pay to the company's shareholder return on stocks.
In the two years leading up to 2009, he received virtually nothing in terms of compensation. He waived stock awards and chose not not to receive even a token salary.
"This overall compensation package is intended to result in Mr. Katzenberg's total compensation being at approximately the 50th percentile for comparable positions at other entertainment studios,''
the studio's filing said.
Last year, DWA earnings grew 10% per share last year while its stock price zoomed 58%. However, the tepid opening for its latest 3-D feature film,
How To Train Your Dragon
, led to its share price falling 12% this week. Katzenberg has long been a booster of 3-D technology.
John Forsythe, 92, was Charlie of Charlie's Angels
Stage, film and TV actor John Forsythe, the voice of Charlie in the 1970s series
Charlie's Angels
, died Thursday in Santa Ynez, California, near Santa Barbara and northwest of Los Angeles, his family said in a statement Friday.
"He was 92 years old and, thankfully, he died as he lived his life... with dignity and grace, after a year-long struggle with cancer,"
the statement said.
Forsythe suffered a bout of pneumonia shortly before he died.
Though never seen on screen in the show, Forsythe's role in
Charlie's Angels
was that of a mysterious millionaire who employed three beautiful women in his private investigation company. He also voiced Charlie in the feature films
Charlie's Angels
and
Charlie's Angels: Full Throttle
.
In cartoons, Forsythe voiced Daedelus in
Responsibility
, a 1996 episode of Porchlight Entertainment's
Adventures from the Book of Virtues
, which aired on PBS.
That year, he guested in
Ransom
, an episode of Disney's
Gargoyles: The Goliath Chronicles
. Forsythe portrayed unscrupulous mayoral candidate Pat Doyle, who accused the Gargoyles of kidnapping Xanatos' baby son Alex, and who attempted to galvanize public opinion against them for his own political gain.
He was also Mr. Ryan in the direct-to-video cartoon
We Wish You a Merry Christmas
(1999).
Born John Lincoln Freund in Penn's Grove, New Jersey on January 29, 1918, he moved to Los Angeles and started working in TV. His association with Hollywood producer Aaron Spelling led to him portraying Blake Carrington, the domineering patriarch of a wealthy oil family, in
Dynasty
, from 1981 to 1989. The role won him critical acclaim, as well as two Golden Globes for best actor and People's Choice Awards -- not to mention many Emmy nominations.
The son of a Wall Street businessman, Forsythe attended the University of North Carolina. During the Second World War, he served in the U.S. Army Air Corps.
Forsythe's acting career lasted for over five decades. He was an original member of New York's Actors Studio, which showcased what was then the new style of "Method" acting. He began work on Broadway in such plays as the Pulitzer Prize-winning
Teahouse of the August Moon
.
In 1945, he made his Hollywood debut with
Destination Tokyo
, starring Cary Grant. Appearing on such early live TV shows as Studio One, he graduated to such 1960s TV series as
The John Forsythe Show
and
To Rome with Love
.
He was married to Parker McCormick, which whom he had a child, from 1939 until their divorce in 1943. Also in 1943, he married Julie Warren, with whom he had two children; she died in 1994. In 2001, Forsythe married Nicole Carter, 22 years his junior.
John Forsythe is survived by wife Nicole, a son, two daughters, grandchildren and great-grandchildren.
Cast Details for New Scooby-Doo D2V and 'Mystery Inc.' Series
Voice Actors in the News
is confirming some of the supporting voice cast for a new direct-to-video animated feature
Scooby-Doo! Camp Scare
: Tara Strong, Phil LaMarr and Lauren Tom. Scott Menville is also mentioned, although it has not yet been confirmed whether he will be voicing Shaggy for this feature as he did for
Shaggy & Scooby-Doo: Get a Clue!
The DVD is scheduled for release in September 2010.
Additional Scooby coverage in the article confirms Matthew Lillard as the voice of Shaggy for the upcoming Cartoon Network series,
Scooby-Doo! Mystery Incorporated
. According to the
CartoonNetwork.com schedule
, there will be a full 30-minute preview of the new show on
Monday, April 5th
at 7:00 PM (EST). Some sources say the series may air summer 2010, possibly in July, although this has not yet been officially announced or confirmed by Cartoon Network.
Also included in the article are
cast/crew photos
from a
Mystery Inc.
recording session which include Frank Welker, Grey DeLisle, Cree Summer, Maurice LaMarche, David Kaye, series voice/casting director Collette Sunderman, and writer Mitch Watson.
Interview With "Justice League: Crisis On Two Earths" Composer James L. Venable
The World's Finest recently caught up with music composer James L. Venable to discuss his work on the recent direct-to-video animated feature hit
Justice League: Crisis on Two Earths
.
For those who may not know you, care to do a quick rundown on your background in the industry?
I started off composing music for anything that I could. This included student films to travel logs, industrials, anything. Anybody that wanted to me to write music I'd do it. My first paying jobs after doing those kinds of things was writing music for what would be considered kind of 'ghost writing.' I would go in and cover cues for these composers that were doing different animated shows. I would come in at night and work all night, and then they'd come in and critique my cues. I learned a lot that way.
After a couple years doing that I was fortunate enough to have a chance to be part of the audition process for
The Powerpuff Girls
, and that led ultimately to me getting that show. So I would say that was my sort-of break into the industry. And I was really lucky because Kevin Smith happened to watch
The Powerpuff Girls
. So when he went to do his cartoon
Clerks: The Cartoon
, he invited me to come in and do what I did for
The Powerpuff Girls
. That's basically what he asked me to do. He said "whatever you do for that show I want you to do it for my show." So that was really cool. And then I even got more lucky when Kevin went on to do
Jay & Silent Bob Strike Back
, he and Scott Mosier invited me to do the score for that, which was amazing as a first live-action film experience. I got to have an 80-piece orchestra, three days of recording at Paramount Studios, a choir, pretty much anything I needed for the score or I could have. It was amazing.
From there that led to a relationship with Harvey and Bob Weinstein, and I did a number of movies for Miramax, including
Scary Movie 3
and
Scary Movie 4
. I was fortunate enough to get invited back to do Kevin's films like
Jersey Girl
and
Zach and Miri Make a Porno
. I've done a decent amount, and I've actually got to do a horror movie called Venom which I really, really enjoyed. That was sort of a departure from a lot of the either comedic music I had been asked to write. It was interesting for
Scary Movie
, even though those were comedies the score was serious, so that was kind of a neat opportunity to write horror in a lot of different genres.
To date I've done a lot of comedies, although lots of music I've done for the comedies has been serious. My most recent feature film was
I Hope They Serve Beer In Hell
, which is available now on DVD, based on the book written by Tucker Max. And actually
Justice League: Crisis on Two Earths
was my most recent project.
How did you get attached to Justice League: Crisis on Two Earths? Was there a specific project that drew the creative team's attention to you?
Chris Drake introduced me to everyone. He had started the music for this movie, he wrote the main title which I think is amazing, and had started the first several cues in the movie. Due to personal reasons he had to step off the film and he referred the team to me. I'm really grateful to Chris Drake because I got an opportunity to write for all my favorite super-hero characters simply because he recommended me. That's how I got involved with
Justice League: Crisis on Two Earths
.
While comparable to your work on
Samurai Jack
, this is quite a shift from your recent projects, which include the likes of
Clerks 2
and
Zack and Miri Make a Porno
big-screen flicks. Is it a jump to go from a romantic comedy to a straight-up superhero slugfest? How do you adapt to drastically different projects?
Is it a jump to go from romantic comedy to super-hero slugfest? Well, yes it is because in general romantic comedies they don't have huge epic fight scenes and the music tends to be a little more along the lines of supporting either the emotions on the screen or the comedy on the screen. Those films were live-action, so that brings in another element of how I approach the music. With a movie like JL, it was really cool because there were some definite opportunities to write some epic fight music, which is great. There was actually plenty of opportunities for that. So much so it took a bit of doing to score the scenes without repeating myself. That I found to be a very cool challenge.
The projects I've done in the past, like
The Powerpuff Girls
and
Samurai Jack
, all had big fight scenes in them too, so that wasn't too much of a stretch. But another kind of a unique thing was scoring the dialogue and any kind of expositional type of thing happening, and finding ways to create the right tone and not getting in the way of what was being said or ways to support whatever was being conveyed to the audience. I found that to be a really cool challenge.
Really, as far as adapting to drastically different projects, I think every project- whether it is comedy or big action epic kind of film or whatever it is - there is sort of a tooling up of the machine, if you will. There's just that time when I have to sort of spend time deciding what sort of music is going to fit the film the best. This also involves discussion with the creative team, getting their ideas on what works and doesn't work. That helps. A lot of it is narrowing it down to the language musically we're going to use, and then sort of figuring out how I'm going to get that voice. Am I going to use samples, am I going to use synthesizers, am I going to use both? Is it going to be an orchestral score, or it is going to be a score where I do it all out of my studio and give it an orchestral sound? But is it going to be out of various samplers and that kind of thing or is it going to be recorded live, am I going to bring in live players or will I be the only live player? All of that stuff comes into play when adapting a project.
What type of influences did you bring to the board when working on your score for this project. Who did you look at, what did you watch, when coming up with the Crisis score?
Probably the biggest thing I watched, or I should say listened to, was the spotting sessions that Chris had done with the creative team to get their input. It's interesting that even though I had done a lot of comedies, a lot of the time the music is serious. I had scored a movie called
Superhero Movie
and that kind of brought a lot of the superhero vocabulary into my toolkit, if you will. So a lot of the devices and things that I had studied for that movie I brought to this movie because really - it's the Justice League and there's all these amazing superheroes all over the place.
So, as far as who did I watch and listen to, I didn't have a lot of time to research it ahead of time. I spent most of my time watching the movie itself and letting it inspire me and also listening to what Chris had done. I wanted my contribution to the score to match what he had done on the main title and the first few cues. Really I just kind of ran with that. My cues started with the first big fight. So, there was the thing of figuring out the language of these fights going to be. Is it going to be big orchestral a la John Williams or is it going to be more fun electronic stuff like a la
The Powerpuff Girls
, though it's never going to go quite to
The Powerpuff Girls
place.
So we sort of worked out my first cue and got feedback from Bruce Timm and we sort of landed where we ended up. We definitely wanted to pay homage to the large epic superhero music, but he definitely wanted it to be not too heavy and not too dark. So it was sort of like giving it more energy and less about weight.
Can we expect any prominent themes in the score? Will Superman get his grand heroic cues, for example? Did you leave your mark on some of the work Drake did for the score?
There are themes in the score. It's interesting with the Justice League there's so many superheroes and so many characters it almost undercut everything to score each superhero individually, but there were some stand outs. I guess the Owlman and Batman had their tone since they had their clash in this movie, and then the Justice League and the Crime Syndicate had their sort of themes. Chris had done a really good job of establishing those so I tried to incorporate those as much I could. And then I kind of went with more general action stuff, good guy/bad guy type stuff, and then there's also some thematic material that accompanies Owlman's point of view and his goals and agenda. So I tried to score that as well. In other words, I gave that a theme.
Were there any scenes in particular that you found hard to wrap your head around to score? On the opposite end of the spectrum, any moments that stick out as your favorite to put music to?
Really none of them were really hard to wrap my head around. There were some challenges in that some of the fights were really epic and really long. I don't mean long to watch, I think they fly by from a viewer's perspective, but as a composer, to keep energy going for many, many minutes in a row. If you can establish the energy and keep it going the same for too long then that energy sort of loses its effectiveness. To find ways to keep the dynamics going up and down and playing the arcs of the different fights and events that were going on and at the same time keeping the energy up without keeping to "samey" that was probably the biggest challenge of the movie.
The moments that stick out as my favorites were the Owlman battle with Batman and also the latter third of the movie, which really offered the most enjoyable scoring moments for me.
Are there any big super heroes you'd like to compose music for, or did you get your wish here with Crisis?
I'd love to score any music for any of those heroes, and I'd probably welcome the opportunity to score for them individually where I could really get into their character. So yes, I think
Justice League: Crisis on Two Earths
does offer a composer an amazing opportunity to score for these classic superheroes, the Justice League having all those heroes together. I would welcome the opportunity to score a movie with each of them individually, if that is what I would wish for. I think I did get to score for all of my favorite superheroes, I just wish I could get into them each individually. So I would welcome the opportunity to score each of their individual movies. And the villains. I actually really enjoy scoring the villains, too. I think that's where you get to go to all those meaty, dark places. Owlman was one of my favorite characters to score for.
To wrap things up for the time being, any final thoughts on your work on Justice League: Crisis on Two Earths? What else can we expect from you in the future?
Right now I am on hiatus from film composing and I'm using the time to work on my next record. It's been about six years since my last record, which was a CD called "Holding Space." My next big project is my next release and it's hard to call it a record. And it's not a CD either. It'll actually be a DVD - an experiential DVD home theatre immersive experience. That's my goal for this next project of mine, and I'm hoping to have that done as soon as possible. I've already written a lot of the music, but this project is sort of a multi-media project. It's definitely a challenge for me because it's involving music as well as visuals. I'm very excited about it, though. It's also involving getting into the whole 7.1 audio for the Blu-ray and I'll be composing the music in the 7.1 format. In other words, I'm thinking, as part of the composing project, in terms of the sevens speakers and one sub. So I'm very excited about it and I'm really kind of glad to have this time to put into that project because it is something I've been wanting to do for years.
Like an Article About Which Sky Contains the Best Clouds
Seattlepi.com takes the prize for
Stoopid Article
of the Day:
Pixar vs. DreamWorks: Who makes better movies?
The
real
answer? Two cartoon companies, both with roots over at Walt's place, make animated features of varying quality and commerciality. Some people like one studio's product; others prefer the competitor's. But there is no
"better,"
there is only the ones that writer Eric Snider likes more.
(Thanks
Animation Guild Blog
)
Bento Box Entertainment
BBE, formed in 2009 by former Film Roman execs, is producing Fox animated shows.
Neighbors From Hell
, created in conjunction with DreamWorks Animation, was the first.
Bob's Burgers
will be the second. The Animation Guild has signed a contract with them.
The agreement covers the second season of
Neighbors From Hell
and production work on other shows going forward. The company is headquartered in beautiful Burbank.
We thought you'd want to know.
(Thanks
Animation Guild Blog
)
At the Sonora
Over at Disney Television Animation at the Sonora building, crews are working on
Inspector Oso
(the second season), and
Jake and the Neverland Pirates
(first season).
Staff on Oso said they should be working on the series until December
"unless they pull the rug out from under us and decide to suddenly cancel it."
(Visions of the abrupt decapitation of
My Friends Tigger and Pooh
's third season obviously dance in their heads.)
And a
Neverland Pirates
artist remarked to me:
"We've got fifty-two shorts to do on
Pirates
[That's 26 half-hours.] It'll take us until October to finish, which will be almost a year's worth of work ..."
I took a look at some of the board work for the show. Nice stuff. The Captain and Mr. Smee are in the mix, but I noticed something about Hook I hadn't noticed before.
I mentioned earlier that the good Captain is simplified for the show, and isn't close to being a ringer for the Frank Thomas version at all . (A colorized screen grab can be seen above.)
But funny thing. Monday I was traipsing around the hat building, and came across old model sheets of Hook up on a wall, both the
1953
final and an earlier
1940
model sheet.
And it hit me. The 1940 version -- with big cartoony nose and more boneless, rubbery limbs -- is a close cousin to the
Neverland Pirates
Hook: a simpler creation than the version that appears in the
'53 film
.
(Thanks
Animation Guild Blog
)
Your April Statistic
A few days ago, one of our large signator studios asked for the following data:
2,952
members (active and applying)
2,449
male = 83%
503
female = 17%
We've rolled out similar statistics before. They haven't changed much in recent years.
When I joined this organization in 1977, there was a higher proportion of women in the ranks. Most worked in ink-and-paint and checking classifications.
Now, of course, there are almost no i & p slots in union studios, and few women work in other areas.
(Thanks
Animation Guild Blog
)
Imira Animation News: 'Escape Hockey'Imira Entertainment: Spring 2010 Animaion News
Imira Entertainment has published various spring season notes, offering a few updates on projects guided by the Spanish co-producer and distributor of children's animation. Imira continues to pursue international broadcast sales for its latest kid's adventure series
Sandra: The Fairytale Detective
in addition to moving forward on a few new co-productions, such as the cross-platform project
Escape Hockey
, detailed below. Meanwhile, Lola & Virginia has been sold to Canal 7 (Argentina) and
Corneil & Bernie
to T-VES (Argentina). Earlier this year, Imira Entertainment announced an agreement with Philippines-based animation outfit Top Draw Animation for production on the animated comedy
Lucky Fred
[recent A.I. news: "
Top Draw Draws 'Lucky Fred' Animation
" (02/2010)].
In recent Imira news, the company has signed on to co-produce an animated series based on the
Escape Hockey
property created by Enne Entertainment, an animation and videogame design studio based in Salamanca, Spain.
Escape Hockey
, one of assuredly several, rather violent sporting enterprises among the galaxies, is the profession of choice for this corner of the universe's worst criminals. Participants must literally escape the rink in order to survive.
Escape Hockey
, the series, as fortune would have it, sends a nerdy and unwitting kid to the prison planet of Plutonium by accident -- no doubt posing him the predicament of winning (and going home) or of losing (and dying on some obscure planet in the cosmos). The series is fashioned as an adventure-comedy, where one kid, his lazy dog, and a few unsuspecting friends are transported to a far away planet in order to fight for their life.
from Escape Hockey
Enne Entertainment
and
Imira Entertainment
have taken on a production model for Escape Hockey that will integrate the television program's storyline with the online gaming and video on-demand platforms available in local broadcasting territories. Specifically, the program will be produced in two versions, the first being a standard CG television animation (26x26) and the second being an interactive version benefiting from a "Watch & Play" format. The latter of these two will allow viewers to go online and play mini-games or chapters of the animated series themselves.
"This is an exciting project to be involved in. The "Watch & Play" format gives us many opportunities to extend the viewing experience for fans,"
Sergi Reitg, CEO, Imira Entertainment, stated.
"It will also be an attractive element for broadcasters as it will provide unique content that crosses the channel and online platforms. We will be showcasing this series at MIPTV and looking for broadcast partners."
The dual-production model offers viewers the chance to literally opt to either watch and/or play and experience events in the animated series.
Escape Hockey
is targeted toward Kids 6-12. Enne Entertainment Studios, founded in 2006, currently employs slightly less than 70 professionals between its Salamanca headquarters and it's Madrid, Spain, business office.
In other Imira Entertainment news, the company is also eagerly pushing the animated series Sandra: The Fairytale Detective into the realm of digital media. The series' website (
www.SandraDetective.com
) will allow kids to create a customizable fairytale book, to include all the heroes and heroines from their favorite stories. And not to be lost among the push for healthy eating among children, the site will also feature a section called "Fo's Kitchen Corner," where the elf character lends recipe advice promoting healthy-eating (in contrast to the character's on-air or in-series behavior).
On television, Sandra, who sojourns through The Land of Once Upon a Time in order to solve crime and mysteries fixed to characters of lore, has apparently done well for herself thus far. Sandra: The Fairytale Detective currently airs across Disney Channels (France, Germany, Italy, and Spain, among others), TF1 (France), Nickelodeon (Asia), and Noga (Israel). On TF1, the animated series reportedly,
"consistently"
earns a 24% share with the Kids 4-10 target audience since September 2009. TVE (Spain) reported the following: weekend airings earn an average audience share of 8.4, representing more than 300,000 kids.
Sandra: The Fairytale Detective
is also successful on the RTVE web site, with more than 390,000 episodes screened and more than 100,000 single users.
(Thanks
Animation Insider
)
Pirates of the Middle Kingdom
The issue that scares the excrement out of American entertainment conglomerates and American entertainment unions is the piracy thing. And just now it's driving the
Japanese animation industry bonkers
:
Japan's cartoons plundered by pirates


Japan's cartoon industry, a mainstay of the country's bid to revive the economy through "soft" exports, is losing $2.4 billion a year to Chinese piracy.

The number represents more than twice what the Japanese animation industry made from total global exports of cartoons and cartoon-related goods during its best year. ...

... Chinese cartoon addicts spend, on average, about $70 (£46) a year feeding their hunger for Japanese cartoons, with most of that sum spent on pirate DVDs. ...
As Japan goes, so (perhaps) goes the rest of the globe. And if there is one thing that unites SAG, WGA, DGA and IATSE with Fox, Disney, Time-Warner et al., it's this issue.
Everybody, and I mean everybody, is hard against the theft of intellectual property. For as revenue streams dry up, the whole intricate structure of the entertainment industry will come crashing down, at which point it will be rebuilt in ways that will probably damage the folks who create the work. (SAG, WGA, DGA, IATSE ... and their pension and health plans.)
We've had multiple meetings on this subject. What sends chills down everyone's spines is not pirated DVDs, although those are bad, but theft over broadband internet. And nobody seems to know what preventive measures will work to stop it from happening.
(Thanks
Animation Guild Blog
)
'Iron Man 2' Website Launches With Soundtrack Preview And New Images!
As if
Iron Man and War Machine hanging around outside Splash Page HQ
today wasn't enough, the new
"Iron Man 2"
movie website launched today, too — and you should
definitely
check it out.
While most websites launched to promote an upcoming movie don't offer much beyond a hub for all of the official imagery and promo material as its released, there's a lot to like about the new
"Iron Man 2"
site at
ironmanmovie.marvel.com
. Along with letting you listen to John Debney's score for the film, there are also a slew of downloads and even some brand new images.
The new images collected in the site's gallery cover a wide range of scenes and characters, but I've posted three of my favorites here. There's a shot of the Mark I-IV armors in Tony Stark's workshop, an interesting still of Justin Hammer (Sam Rockwell) and James Rhodes (Don Cheadle) conversing over an unidentified piece of armor, and (my favorite) a new shot of Black Widow (Scarlett Johansson).
New 'Iron Man 2' Images! (Yes, More Of Them!)
Yesterday's launch of the
new "Iron Man 2" website
offered up a bunch of new images from the film, but today we have even more shots from Jon Favreau's much-anticipated sequel to the 2008 blockbuster.
The trio of new images that debuted at
SuperHeroHype
offer three very different takes on Tony Stark, as well as his supporting cast of characters. First and foremost among the shots is a new image of Marvel's armored Avenger powering up his palm-mounted repulsor at the camera.
We also get a nice shot of Sam Jackson as S.H.I.E.L.D. head honcho Nick Fury, having a little conversation with a helmetless Stark. And finally, we get a shot of Stark and his assistant, Pepper Potts (played by Gwyneth Paltrow).
'Captain America' Won't Have Emily Blunt, Marvel Chief Praises Chris Evans
Chris Evans is officially Steve Rogers and Sebastian Stan is officially Bucky in
"The First Avenger: Captain America,"
but Emily Blunt will have no part in the film.
According to
The Los Angeles Times
, Marvel Studios offered Blunt the role of leading lady Peggy Carter, but the actress declined. Keira Knightley and Alice Eve are now considered the frontrunners for the role.
This is
the second miss
for Marvel and Blunt, as the actress was previously attached
to play Black Widow in "Iron Man 2"
before
the part went to Scarlett Johansson
. Had Blunt accepted the
"Captain America"
role, she would have reunited with
"The Wolfman"
director Joe Johnston and co-star Hugo Weaving, who is expected to play the Red Skull.
In further
"Captain America"
news, Marvel Comics editor-in-chief Joe Quesada has broken his silence about Chris Evans' casting as the star-spangled hero, describing it as
"a home run.""Here you have a guy who absolutely embodies every aspect of Cap, including the look and feel of the character,"
he told
Comic Book Resources
.
"Kevin Feige was absolutely beaming after meeting with Chris and seeing what he could do, and I've got to tell you, I think he's perfect as well. See, that to me is the beauty of the movies that we at Marvel produce. We know the characters better than anyone outside of our fans, and we know how important it is to cast just that right person. We aren't a bunch of Hollywood execs who don't understand the source material or it's history; it's Marvel guys and gals making Marvel movies, and that's a huge difference."
Quesada also praised
the casting of Sebastian Stan as Bucky
, saying that Cap's sidekick
"plays a pretty important part in our movie."
The new face of Freddy Krueger revealed at last
Is this the face of the new Freddy Krueger from the upcoming remake of
A Nightmare on Elm Street
?
That's the claim from a poster at
Superhero Hype!
, as reported by
Shock Till You Drop
.
Looks like a screengrab of Jackie Earle Haley's character and Photoshop job from the
recent trailer
.
So whaddaya think? Kinda meaty and gnarly, right?
The new
Nightmare
opens
April 30
.
See stuff you've never seen before on Lord of the Rings Blu-ray
When
The Lord of the Rings
debuts in the Blu-ray high-definition home video format, you'll finally be able to see some of the fine detail that got lost in the big-screen releases, Oscar-winning makeup effects artist and creature supervisor Richard Taylor said in an exclusive phone interview on Thursday.
"It's probably more in the close detail in terms of the filigree and the surface of ribbons and buttons and elf clasps and belt buckles,"
he said.
Fans know that Taylor and his Weta Workshop team gave every costume a distinct look instead of making armies of identical uniforms. Those subtle differences will finally be revealed.
"It was going with the philosophy that in the period of the medieval age, it could be just as easy to make something look totally different or make something look completely the same,"
Taylor said.
"There would not have been a huge amount of replicates of technology. Obviously, if you reproduce the same object, it might be easier at a mass-production level in the modern-day workshop, but we tried to give the feeling of a different quality to different elements. That's something that I look forward to seeing if it comes through."
The Blu-rays are not even out yet, but people are complimenting Taylor on new details they've seen in the films some nine years later.
"People have told me over the last couple of days that they have now seen the details that we had put in,"
Taylor said.
"We had thought we had just been a bit fanatical, because they weren't apparent to the viewer. Now they are. That's a fantastic thing, to hear that. A lot of that very fine detail is now popping out."
Blu-ray was not yet on the horizon when Taylor began creating the creatures, makeup and costumes of
The Lord of the Rings
, so it's fortunate that the work was of such a high quality that it holds up in the hi-def format.
"You try and aim to produce the best work you possibly can, obviously,"
Taylor said.
"I certainly didn't cast my mind forward going, 'Gosh, one day the world's audience will be watching these movies on cinema-screen-sized televisions in a level of clarity that we can only dream about today.' Thankfully, the work that was done back then was done with the greatest intent to make it as good as possible. So hopefully it holds up OK today. It's just exciting to think that the Blu-ray release offers an opportunity for the community of enthusiasts to enjoy them all afresh."
The Lord of the Rings
Blu-ray trilogy debuts
Tuesday, April 6
.
Chris Evans doesn't know jack about Captain America
You may have read something, somewhere about this little movie called
Captain America
and who might be playing the lead role: former
Fantastic Four
co-star Chris Evans. Did you know he's not even much of a fan?
"I'm not a big comic-book reader,"
Evans told a news conference at WonderCon in San Francisco on Saturday, where he was promoting the upcoming
The Losers
.
"You know what I mean? I don't really have a history and a love for comics. I didn't grow up reading them. But they're fantastic for films."
Evans beat out a host of young Hollywood actors for the coveted role, including
The Office
's John Krasinski.
"The beautiful thing about comic books, even movies based on novels, you have a blueprint,"
Evans added.
"You have a tangible thing to say, 'Listen, this is the story we're going to work.' Especially in comic books. You have a color palette. You have a visual home base to kind of root yourself in. So, as an actor, it's nice knowing the people behind the visual elements of the film have this kind of blueprint to work off of."
So why Captain America?
"I don't know,"
he stammered, as the gathering of reporters laughed.
"I don't know. It's just, ... it was, ... I don't know."
He chuckled.
"I think Marvel is doing a lot of good things right now," he said.
"And it's a fun character. Even if it wasn't a comic book. I think the story of Steve Rogers is great. He's a great guy. Even if it was just a script about anybody, I would probably want to do it. So it wasn't necessarily about the comic itself. It was about ..."
At this point, Evans'
Losers
co-star Zoe Saldana chimed in:
"It was about the tights."
Evans laughed.
"Anytime I can get in blue tights. ... He's a great character. He's a great character to play. He just happens to be a comic-book character."
Not sure how comic fans are going to feel about that. Especially after the casting drama. But it certainly doesn't hurt to have the lead character working on, well, the character and not the franchise.
The First Avenger: Captain America
will be released on
July 22, 2011
.
The Losers
opens
April 23
.
Losers director confirms he may do Robotech
French-American director Sylvain White—whose movie
The Losers
opens on
April 23
—confirmed that he's interested in doing a feature-film version of
Robotech
, the 1980s animated sci-fi TV series, but added that there's no deal in place.
Speaking to fans at San Francisco's WonderCon on Saturday, White said:
"Well, it's not a project that's greenlit, so you know, ... It's a great cult series. When it came out, I actually saw it in France, growing up. I saw it in French. It's a pretty amazing cartoon. And I'm hoping it's going to come to fruition. I read a draft that's really good. ... I'm interested in doing it, but the project is not fast tracked or anything like that, so there's no official thing. There's no deal. ... They sent me a draft. I liked it. It's a work in progress."
Tobey Maguire is producing the live-action
Robotech
movie. Various writers—including
Smallville
's Miles Millar and Alfred Gough, as well as
Raiders of the Lost Ark
's Lawrence Kasdan—have been attached to the script. We'll keep you up to date on any developments.
The Hobbit In Pre-Pre-ProductionThe Hobbit
Effects Supervisor Richard Taylor says everything is moving right along.
Larry Carroll from MTV talked with
The Hobbit'
s Effects Supervisor Richard Taylor over the phone recently. Taylor was fairly forthcoming with information on all things Hobbit.
Here is what he had to say to MTV.....
"The great thing now is that we have experience, which we didn't have last time. We were going into it so green. This time, at least, we have the knowledge of what we learned last time, and hopefully we're wise enough to learn from that."

"The lovely thing about 'The Hobbit' is that the race of the dwarves comes to the forefront in the story, and [we'll depict] the uniqueness of the collection of the dwarves. In the "Rings" trilogy, the only dwarf we really spend extensive time with is Gimli. In "The Hobbit," Bilbo makes his journey with a whole group of them."
"Gimli had an incredible presence, of course. But he was only one character. And it's fantastic to think that we're going to be able to develop the dwarves to such a higher degree... the richness of their culture. The fact that through so many different dwarfs, you'll get to appreciate their cultural differences, where they come from, them as a people." "We haven't actually started fully on pre-production yet — we're still in the design phase — but it's a wonderful opportunity to work with a unique director in [director] Guillermo [del Toro] and continue to work with Peter [Jackson] as the producer, who is so heavily involved."
On the subject of reported "production delays" Taylor seemed unconcerned.
"It's been an unrushed period of pre-pre-[production], and that's been a pleasure as everyone gets back into the right headspace,"
he said.
"As far as schedules go, you'd need to talk to someone else about that. But from our own perspective, we're enjoying this early phase as it's ticking along."
I believe this movie will be every bit as epic as
Lord Of The Rings
when it is finally made.
(Thanks
comic book movie
)