Titans Clash in 3-D, Kells Arrives in L.A.
Modern takes on a pair of ancient tales — one a mammoth, the other modest — will compete for moviegoers' attention at the box office the weekend.
Clash of the Titans
, director Louis Leterrier's remake of the 1981 classic, arrives in 2D and converted stereoscopic 3-D versions in more than 3,600 cinemas. The film will be fighting for 3-D screens with last weekend's DreamWorks Animation release,
How to Train Your Dragon
, as well as the still-strong
Alice in Wonderland
from Disney.
The film stars
Avatar
's Sam Worthington as Perseus, the demi-god son of Zeus who must slay the evil Medusa and defeat the Kraken to save his love, Andromeda.
The original 1981 film featured classic stop-motion creatures from all-time great Ray Harryhausen.
The Warner Bros. remake features VFX work from Cinesite, CEG Media, Flash Film Works, Framestore, Moving Picture Company, Nvizible and Prime Focus View-D.
The modest tale is the Oscar-nominated
The Secret of Kells
, which begins its Los Angeles run at the Landmark on the Westside and at the Laemmle Fallbrook 7 in West Hills.
Other new major releases this week include the comedy Tyler Perry's
Why Did I Get Married Too
and the Miley Cyrus vehicle
The Last Song
, which opened Wednesday.
(Thanks
Animation Magazine
)
Producers Sue Weinsteins Over Hoodwinked Sequel Release
Kanbar Entertainment, the producers of the animated feature
Hoodwinked
, have filed a petition with a judge in San Francisco County claiming that The Weinstein Co. breached their contract by postponing a planned release for a sequel.
According to a report in Variety, Kanbar is asking the court to force The Weinstein Co. into binding arbitration to resolve the dispute.
Kanbar also clamed that the studio stopped paying into production accounts in February 2009 and failed to discuss its release strategy for the film, the report states.
The original Hoodwinked was financed completely by Kanbar and released by The Weinstein Co. in 2005. A co-financing agreement for the sequel was reached at the insistence of the studio for the sequel slated for fall, which was originally set for a Jan. 15 release, the trade reports.
(Thanks
Animation Magazine
)
Stan Lee Media Lawsuit Dismissed
A U.S. District Court judge put an end to a long-running lawsuit filed by shareholders in the long-defunct Stan Lee Media Inc. over the company's breakup that included a claim to the characters Lee created for Marvel Comics.
The case, which alleged Lee improperly transferred his share in such characters as
Spider-Man, the X-Men, Fantastic Four
and
Thor
to Marvel, was dismissed on grounds the plaintiffs lacked standing to sue, expiration of statute of limitations and other causes.
Stan Lee Media was an internet-based entertainment company founded in 1998 after the end of Lee's long-time exclusive contract with Marvel. Despite a flashy launch, the company ran out of capital in the dot-com bust and entered bankruptcy protection in 2001.
A group of new investors brought the company out of bankruptcy in 2006 and filed several lawsuits against Lee, claiming his contract gave the company a 50 percent share in the characters Lee co-created for Marvel.
The judge ruled that several terms of the contract, such as lifetime term, were illegal; that the plaintiffs, who bought their shares in 1999, lacked standing; and that securities claims against Lee in the case had already been settled.
(Thanks
Animation Magazine
)
Adult Swim Grabs VIZ's Kekkaishi Anime
Adult Swim has picked up from VIZ Media the rights to air 52 episodes of the popular anime series
Kekkaishi
.
The series, which debuts on the network
May 29
, is based on the manga by Yellow Tanabe about a pair of young rival "kekkashi," who are charged with guarding and containing the mystical forces of Karasumori while dealing with their crazy, feuding families.
"Kekkaishi spotlights compelling cool characters, in an intense yet fun-filled supernatural action adventure saga,"
says William Germain, director of programming and music sales for VIZ.
"We are very excited to add Kekkaishi to the Adult Swim anime lineup for U.S. fans to enjoy."
(Thanks
Animation Magazine
)
CN Goes All in With Marathon's Spies and Spiez
Cartoon Network has acquired broadcast rights to three Marathon Media properties: the fifth season of
Totally Spies!, Totally Spies! The Movie
and a new series called
Amazing Spiez
.
The latter is a 52 x 26 min. boy-skewing spy comedy series produced by the France-based Marathon Media and distributed by Zodiak Entertainment.
Marathon says the sale makes it the only European production company to have sold each of its animated programs over the past five years to major U.S. channels or networks.
"There is no other non-American series as long-lived and successful as Totally Spies!,"
says Vincent Chalvon Demersay, CEO of Marathon Media.
"Some episodes have aired more than 70 times in the U.S. and 45 times in France, making it our most widely watched animation property to date."
(Thanks
Animation Magazine
)
Little Airplane's Hot Small Potatoes Scores Sales
Small Potatoes
, a new short-form animated series from Little Airplane Productions, has been pre-sold to broadcasters in Europe, Australia and Canada.
The series is set to air first in summer 2011 on the CBeebies outlet in the United Kingdom and also will air on NRK in Norway, SVT in Sweden, ABC in Australia and TVO and Knowledge in Canada.
The series' 26 three-minute episodes feature four musical potatoes, and each segment shows them playing in a different musical genre from rock to jazz, reggae, ska and hip-hop.
"The Small Potatoes are The Beatles of the fresh produce aisle,"
said Josh Selig, founder and president of Little Airplane Productions.
"Their music has universal appeal and can be enjoyed by parents and children alike. I have never loved one of our shows as much as I love this one."
Musical contributors to the series include Jerry Bock, who won a Tony Awards for bst musical and best composer and lyricist for the classic production
Fiddler on the Roof
.
(Thanks
Animation Magazine
)
Crunchyroll to Stream Stan Lee-created Anime Series
The internet will give fans in America their first look in April at
Heroman
, a new anime series co-created by Stan Lee's POW! Entertainment and Japanese studio Bones.
Asian culture and anime site Crunchyroll will make each episode of
Heroman
available to its premium subscribers in high definition one hour after it airs in Japan on TV Tokyo. A standard definition version will be made available for free on the site one week after the initial Japanese airing.
Heroman
is about an ordinary boy named Joey Jones who owns a toy robot that through an unusual accident becomes a giant robot. Together, they must fend a militant alien invasion.
"Heroman is exactly what the anime world needs right now. Though the visuals may drastically differ from what American comic book fans are accustomed to, the methods of storytelling and character development will have a classic Stan Lee flair,"
says Rob Pereyda, VP of licensing for Crunchyroll.
"At the same time, anime fans initially hooked by the high production quality of Bones will find Stan Lee's approach to these aspects a refreshing diversion from the business as usual world of shonen action anime."
(Thanks
Animation Magazine
)
Robinson to Head Up Sony Deal at Gotham Group
Eric Robinson, a former executive with The Weinstein Co., has joined The Gotham Group as executive VP of production and development.
Robinson's main duty at the management and production company will be to oversee its first-look deal with Sony Pictures Animation for both animated and hybrid animaton-live action films.
"Family entertainment is my passion,"
said Robinson.
"I'm delighted to be joining The Gotham Group's unsurpassed team at a time when the company is becoming a major force in the film production business. No other entity in Hollywood controls more content than The Gotham Group and I'm thrilled to help them convert their portfolio into successful film properties. And I'm tremendously excited about our dynamic collaboration with Hannah Minghella, Bob Osher and their brilliant teams at Sony."
At The Weinstein Co., Robinson headed up the family and animation division. He came to that job from Miramax, where he was director of development and production. Projects he worked on at the studios include
TMNT, Hoodwinked, Hoodwinked 2, Fraggle Rock, Escape from Planet Earth, Cricket in Times Square, The Silver Linings Playbook, Wolf Boy, Artemis, Inglorious Basterds
and
Knight Rider.
"We worked very closely with Eric while he was at TWC,"
says Gotham Group founder and CEO Ellen Goldsmith-Vein.
"He has a rare combination of business smarts and creative genius. Plus, he loves animation and family films. We're thrilled to have him on board."
(Thanks
Animation Magazine
)
24th Annual WonderCon Gets Animated
Fans flocking to San Francisco for this weekend's WonderCon will likely notice two things — one, it's nowhere near as jam-packed as its sister show Comic-Con International: San Diego, and two, it has some terrific animation programming.
The convention, which runs Friday through Sunday at the Moscone Center in downtown San Francisco, will feature plenty of how-to sessions for aspiring animators, as well as plenty of sneak peeks at upcoming cartoons for the big-screen and small.
Highlights of the animation panels include:
• The perennial topic of
"How to Successfully Pitch an Animated Cartoon"
with Mike Gray (Nicktoons' Thom Cat)
• A spotlight on the art of Disney's
The Princess and the Frog
, featuring directors Ron Clements and John Musker, art director Ian Gooding, supervising animator Eric Goldberg and head of effects Marlon West.
• A Nickelodeon Animation Studio Panel, featuring tons of showrunnres, all talking about the challenges in creating feature-quality CG animation for TV.
• A demonstration of hand-drawn animation from Eric Goldberg, who animated Louis the alligator from
The Princess and the Frog
.
• A discussion of what it takes to be a storyboard artist with Spyros Tsiounis (
Coraline, Madagascar, Shrek Forever After, Star Wars: The Clone Wars
) and Sergio Paez (
Clone Wars, Darkwatch, Three Wise Men
).
• Panels previewing Disney-Pixar's
Toy Story 3
, with director Lee Unkrich; and
Star Wars: The Clone Wars
, with supervising director Dave Filoni.
A list of all the animation-related programming, including dates, times and locations, can be found online at
http://comic-con.org/wc/wc_search_results.php?strShow=26&chkCat[]=208
.
Details on buying memberships either in advance or on site can be found online at
http://comic-con.org/wc/wc_reg.shtml
.
(Thanks
Animation Magazine
)
Disney Channel Renews Order for Jungle Junction
Disney Channel has ordered a second season of
Jungle Junction
, an animated series for preschoolers produced by Spider-Eye Animation in the United Kingdom.
The 26 new episodes that comprise the second season will begin airing as part of Disney Channel's Playhouse Disney blocs around the world starting in 2011.
"Jungle Junction has become a global success for Playhouse Disney, with preschoolers and their parents embracing its characters and unique jungle world,"
said Nancy Kanter, senior VP of Playhouse Disney Worldwide.
"We are eager to continue working with our U.K. production partners at Spider-Eye to bring more adventure-filled episodes to kids around the globe."
The series has aired in more 15 countries and in 12 languages, reaching more than 29 million unduplicated viewers.
(Thanks
Animation Magazine
)
Gregg to Oversee Original Content at Teletoon
Alan Gregg has joined Teletoon Canada as its director of original content, effective
April 19
.
Gregg will oversee development and production for Teletoons English and French networks as well as multiplatform outlets and the network's original production teams in Toronto and Montreal.
A 12-year veteran of the children's television industry, Gregg most recently was story editor on a preschool series at Guru Studio. HE also has worked for YTV, Brown Bag Films and was VP of production and distribution at Alliance Atlantis' children's TV division.
(Thanks
Animation Magazine
)
Monster Debuts Indian Fables at MIP
Indian Fables
, a new 3D CG animated series from Accel Animation Studios, will debut at MIP-TV courtesy of Monster Distributes.
The series, for children 3-8, is available in high-definition and was recently acquired by Disney Channel in India for an April 5 premiere.
The series is based on Thirukural, a famous collection of ancient couplets that has been translated into nearly every language on Earth. It also features a colorful cast of animal character who explore universal themes such as friendship, generosity and honesty.
The annual MIP-TV conference and market is set for
April 12-16
in Cannes, France. Visit
www.monsterdistributes.com
for more info.
(Thanks
Animation Magazine
)
Pegbar Sets Dublin Animation Event
Pegbar is hosting a special networking event for animators
April 9
at the Sugar Club in Dublin, Ireland.
The event will feature as guest speakers:
• Andrew Kavanagh, director at Kavaleer, to screen the studio's award-winning short film
Hasan Everywhere
.
• Peter McNally, technical artist at Havok, who discuss best ways for artists and animators to get jobs at games companies.
• Neil Kidney, director at Seed Animation, who will talk about setting up the company and the challenges of moving it to London.
The event concludes with a DJ set from Billy Shing.
The doors open at 7:30 p.m. and the cost of entry is 7 euros. For more information, visit the Pegbar blog at
www.pegbaraffair.blogspot.com
.
(Thanks
Animation Magazine
)
Marmaduke trailer
What is William H. Macy doing in
this
?
It struck me, watching this god-awful trailer, that this Marmaduke movie is a modern day equivalent to the old
Speaking of Animals
shorts (created by Tex Avery). Only those were much more entertaining. For comparison, here's the only clip I could find online:
(Thanks
cartoon brew
)
Universal and Illumination ready to Hop
With
Despicable Me
still to come, Universal has announced that they are ready to develop their next project with animation studio Illumination.
I Hop
will be an live-action/CG hybrid with James Marsden and
The Big Bang Theory
's Kaley Cuoco set to star opposite the animated son of the Easter Bunny. Russell Brand will voice the bunny;
Alvin
's Tim Hill will direct, and
The Hollywood Reporter
has more.
Henry Selick bringing stop-motion back to Disney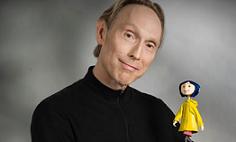 Henry Selick is returning back to Disney, reports
Variety
. The director of
Coraline
who began his animation career at Disney in the late '70s, has struck an exclusive long-term deal with Disney/Pixar to make stop-motion features for the studio. John Lasseter's decision to bring Selick back to the studio is seen as another boost for the painstaking hand-crafted technique. The reunion also is a personal one, putting Selick in business with long-time friends, including John Lasseter and Brad Bird. Selick made his directing debut at Disney back in 1993 with
The Nightmare Before Christmas
, followed up by the box office disappointment
James and the Giant Peach
.
Disney Co. considers setting up shop in Toronto
The Walt Disney Company has been speaking with the Canadian Broadcasting Corporation about leasing space at the network's Toronto headquarters.
"We're still in discussions, we don't have anything finalized,"
spokesman CBC Jeff Keay said Tuesday, adding that the government-funded broadcaster has long been looking for such deals to gain additional revenue. However, he could not confirm any financial details.
"For years we have been in discussion with potential tenants for the excess space that we have available in the Toronto broadcast center. We're always looking to make the best use of our available resources, and we have excess space in the building. Frankly, it's some of the prime space in the downtown core of the city."
A statement posted on a federal government Web site said that the federal cabinet has approved the network's proposal to lease part of its space to Walt Disney Co. (Canada).
Posted on the Canadian cabinet's official site, the March 25 statement said that the CBC may lease some of its property for 10 years with two options to renew for five years each
"for a total consideration in excess of four million dollars."
CBC president Hubert Lacroix has said that the broadcaster planned to make up some of its shortfall by leasing unused space, but that federal government approval would be required.
Added revenue would assist the cash-strapped network greatly, but Keay said that the CBC will not need the leasing deal to proceed in order for the broadcast to keep going:
"Our budgets have been approved, and we're not in a crisis situation."
SPA adapting "The Canterbury Tales" to big screen
In a bid to compete head-to-head with the Walt Disney Company for feature films based on public domain material, Sony Pictures Animation is proceeding with a big-screen adaptation of
The Canterbury Tales
by Geoffrey Chaucer, The Hollywood Reporter said Wednesday.
The trade paper cited
"a source close to the studio"
who spoke on condition of not being identified.
"Disney's gotten a great deal of mileage using classical tales such as Cinderella and Mulan,"
the industry source said.
"Now Sony has a chance to even up the score."
One factor working in SPA's favor, the trade paper observed, is that the studio need pay only the screenwriters making the adaptation, not the original author. Chaucer died in London in 1400, leaving four children. His descendants never claimed literary rights to his most famous work.
Nonetheless, various modern English translations -- notably British literary scholar Neville Coghill's version, which adheres to both the rhyme and meter of the original work -- have been copyrighted.
Christmas Films produced a successful (and Oscar-nominated) animated trilogy,
The Canterbury Tales
for British television in 1998, with both British and Russian participation.
There have been no talks with possible voice actors for the movie adaptation. The source suggested, though, that Elizabeth Taylor is being considered to come out of retirement to portray the much-married Wife of Bath, who had five husbands
"at church door,"
along with
"other company"
in her youth.
While
The Canterbury Tales
have long been a mainstay of high school and college English literature classes, one problem with a cartoon adaptation undoubtedly will be the inappropriateness of certain stories in Chaucer's timeless collection.
"The Prioress's Tale is rife with bigotry and, obviously, can't be included in this film,"
the source told The Hollywood Reporter.
"The Miller's Tale and The Reeve's Tale have long been enjoyed for their ribald humor, but they'll either have to be deleted or severely bowdlerized if SPA wants to avoid an 'R' rating."
As usual, Columbia Pictures is expected to be the domestic distributor for the animated adaptation. An April 2012 release date has been tentatively set.
Kurtz + Friends blog
Bob Kurtz began his career designing the original
Alvin and the Chipmunks
for Format Films, wrote
Pink Panther
cartoons for DePatie-Freleng and created
Cool Cat
for Warner Bros. Perhaps his greatest achievement at this time was his hilarious animation on the
Roger Ramjet
cartoons. Since the 70s, Kurtz has run his own studio producing award winning commercials, shorts and movie titles.
Bob has recently expanded
his website
to include a blog, and has added numerous videos of his recent animated works (pssst, check his George Carlin page, and his short,
It's No Bullshit
). Check it out and enjoy:
Kurtz+Friends blog
.
(Thanks
cartoon brew
)
The CGI Yogi
I wasn't going to post about this. I was sent these images of CGI Yogi and Boo Boo a few days ago and decided they were so horrible that they couldn't possibly be the finals. Now they seem to be all over the internet (you can see larger versions on
The Movie Insider.com
) and many readers have sent them in to me, wanting my opinion.
My opinion? As much as I hate the idea of this CGI Yogi Bear movie, I can't believe these are the actual images of the characters that will be animated in the film. These designs are simply awful. What about you? What do you think?
(Thanks
cartoon brew
)
(Editor's Note: The images have since been removed from The Movie Insider.com, by request of Warner Bros., as they were told they "were not final".)The Ship That Never Came In by Kim Deitch
I don't know how I missed this before, but I just found
this 2003 animation
(by John Kuromoto) of a Kim Deitch cartoon based on a Waldo strip Deitch originally wrote for a comic in 1992. It's also appropriately being used as a promo for Deitch's graphic novel
The Boulevard of Broken Dreams
. Click here to enjoy
The Ship That Never Came In
.
(Thanks, Mike Stanfill)
(Thanks
cartoon brew
)
Sonar by Renaud Hallée
An elegantly layered visual representation of sound by Montreal-based
Renaud Hallée
.
Sonar
was made in Flash with keyframe animation (no scripting was involved).
(Thanks, Gene Fowler)
(Thanks
cartoon brew
)
How to Win Over An Audience
This video of Orson Welles has absolutely nothing to do with animation, and it has absolutely everything to do with animation.
(Thanks, Ricky Garduno)
(Thanks
cartoon brew
)
The Panique au Village DVD Trailer
There's no official release date for the
Panique au Village
DVD in the US, but it hits stores
in France
tomorrow. Here's the trailer:
Hoegg Sets Up Camp Online For August
Last Fall
, we posted the teaser for
Matthias Hoegg's
short film August, which he crafted at the
Royal College of Art
. The film has since been accepted to a number of animation festivals, and now it's online. It's a mix of 2D animation with CG environments, and while the film is slow-paced and somewhat uneventful, it's beautifully crafted and worth a watch.
Dadomani Prescribes Stop Motion For Italian Ads
I can't take my eyes off these stop-motion puppets in these commercials below. The ads are for two Italian medicinal brands Rinazina and Bronchenolo, and the production company behind the effort was Milan-based
Dadomani Studio
.
Hungry For a Muppets Easter Short?
Following up on their amazing Bohemian Rhapsody cover (that won the
Lineboil Best Animated Music Video of 2009 award
), the
Muppets
take on the classic
Stand By Me
by Ben E. King. This one isn't award worthy, and kids might find it horrifying, but it's got a giant, angry bunny in and it's Easter weekend – so watch it!
Celebrate Sutherland's Latest – La Fe
te
Malcolm Sutherland's
(
The Astronomer's Dream
) latest animated short is like a slice of life. He interprets the crowd that formed for the yearly celebration of
La Fête nationale du Québec (The National Holiday of Quebec). La Fete
was produced with financial assistance from
The Conseil des arts et des lettres du Québec
.
JibJab Busts Out Easter Stop Motion Sendable
A new stop-motion short hatched this week at
JibJab
, thanks to
Devin Bell
. It's titled
Busting Bunny Moves
, and you can see the animatic over on the
JibJab blog
.
Is Joss Whedon Really An 'Avengers' Contender? Really?
April Fools' Day is a veritable minefield when it comes to trusting any news in both the comic book and film circles, so with that said, take the following rumor with an extreme pinch of salt — Joss Whedon is allegedly a frontrunner to direct
"The Avengers"
for Marvel Studios.
Describing the report as
"not an April Fools Day joke,"
IESB
states that Whedon is a leading contender on the alleged short list of filmmakers to direct
"The Avengers,"
the 2012 superhero movie starring Chris Evans as Captain America, Robert Downey Jr. as Iron Man and Chris Hemsworth as Thor. This is reportedly the
same short list
that
"The Incredible Hulk"
director Louis Leterrier referred to just last week.
Although IESB states that the news isn't a prank, Whedon's alleged involvement is more than a little bit suspect given the nature of today's joke-filled holiday. MTV News has reached out to Whedon's representatives for confirmation and will update this story as soon as possible.
To his credit, Whedon has plenty of credibility in the comic book community. He wrote a widely circulated screenplay for
"Wonder Woman"
that Warner Bros. ultimately decided not to produce. As a comic book writer, Whedon has worked on
"Runaways"
and
"Astonishing X-Men"
for Marvel and
"Buffy the Vampire Slayer: Season Eight"
for Dark Horse Comics.
Personally, I'm extremely skeptical when it comes to any news that's delivered on April Fools' Day, particularly something as potentially massive as this latest report. That said, I would be absolutely thrilled if Joss Whedon was selected as the director for
"The Avengers."
Among other key qualities, Whedon's ability to juggle an ensemble cast knows few equals — and that's an essential ability for whoever winds up in this particular director's chair.
But for now, file this one under rumor. A very cool rumor, but given its content and timing, a rumor nonetheless.
'Green Lantern' Character Designer Promises 'Lots Of Aliens' In Hal Jordan's Debut
Character designer Aaron Sims might not be a household name to comics fans, but with
"The Incredible Hulk"
and
"X-Men Origins: Wolverine"
already on his resume and
"Green Lantern"
on the way, there's a good chance you're already familiar with his work.
Sims also designed characters for
"Clash of the Titans,"
which hits theaters this week and afforded us the chance to catch up with him on the red carpet at last night's premiere. While he couldn't say much about Hal Jordan's big-screen debut, he did tell us about one element of the film he's especially excited about.
"The one thing I can say is that we designed a lot of aliens,"
Sims told MTV News.
Thus far we've received confirmation that
Sinestro, Abin Sur, Kilowog and Tomar-Re
will be in the film, and can expect to see some of the Guardians of the Universe due to
Oa playing a role in the movie
. So who else can we hope to see? (I'm keeping my fingers crossed for Ch'P or Mogo.)
Previously,
"Green Lantern" co-writer and producer Greg Berlanti
gushed about seeing the ring, but Sims told us he has yet to hold the all-powerful weapon that Ryan Reynolds will wield as the new cosmic protector of Sector 2814.
"I wished I touched the ring,"
laughed Sims.
Still, the designer had no shortage of praise for the film, which is set to debut in June 2011.
"I'm excited about the project,"
he said.
"The director is incredible. It's going to be a really fun project."
Kenneth Branagh & Anthony Hopkins Deny 'Thor' Troubles
Reports of conflict between certain key cast and crew members on the set of
"Thor"
are completely false, according to both Kenneth Branagh and Anthony Hopkins.
In an interview with
Hero Complex,
Branagh addressed the widely circulated rumors that Hopkins —
who plays Odin in the film
— has had trouble working with both the director and leading man Chris Hemsworth.
"It's going very, very well ... [Hopkins is] an extraordinary actor with his Celtic passion and incredible technique,"
said the director.
Hopkins himself responded to the rumors, saying that
"Thor"
has been one of the greatest film experiences of his career.
"I am having the time of my life making Thor with Ken and Chris,"
he said in a statement.
"They have made every day immensely fun and collaborative, and we're all puzzled that someone would fabricate a story suggesting otherwise. I'm proud to say that Thor has been one of the great experiences of my career."
Branagh added that not only is the cast getting along, but the production is moving along quite smoothly — in fact, filming is nearly finished.
"We're in New Mexico now where we have a contemporary Earth part of our story,"
he said.
"I guess we're two-thirds of the way through the story and at this stage of the game what's surprising and delighting me is the way the cast, the ensemble, has fused together. It's kind of an interesting combination of very young and very experienced people and the double-up of that, it seems to me, is there is a lot of fire in the movie. It doesn't take itself too seriously, it doesn't try to be too solemn."
Louis Leterrier Spoke To Marvel During 'Clash Of The Titans' Filming, Praises Chris Evans As Captain America
With
"Clash of the Titans"
opening this weekend, all eyes are on Louis Leterrier to prove he's got what it takes to get behind the camera for
"The Avengers."
One of the
contenders for Marvel's 2012 superhero team-up blockbuster
, Leterrier stopped to chat with MTV News on the red carpet during last night's
"Titans"
premiere. The
"Incredible Hulk"
director revealed that he's been in close contact with Marvel Studios from the start of the casting process for
"Thor"
and
"The First Avenger: Captain America,"
and offered some thoughts on Chris Evans landing the latter film's lead role.
"Well, I'm obviously very friendly with Marvel,"
Leterrier told MTV News.
"Contact has been made... Actually, the line has never been dropped.""While I was on 'Clash' we were talking about 'Thor,' we were talking about who would be cast in 'Captain America,' I was suggesting names,"
he said.
"That's the kind of stuff Marvel is good about. It's a very — like you say, geek-friendly — but also a very family-friendly operation."
As for whether he's any closer to knowing if he'll be behind the camera when Iron Man, Captain America, Thor and Hulk assemble, he simply said, "
We'll see. Time will tell."
On the subject of
Chris Evans becoming Captain America
, Leterrier lavished the actor with praise, but insisted that the first look at the new Steve Rogers in costume will matter more than anything else.
"[Evans] was great in 'Fantastic Four,' and amazing in 'Sunshine.' I hear great things about 'The Losers,'"
he said.
"I think he's a great choice.""But it's not so much him — it's what he will look like in the costume,"
he added.
Boring 1982 Tron trailer recut in stunning 2010 style
The original
Tron
movie was awesome. The original
Tron
trailer ... not so much. So DrewboiX decided to create a new trailer for the 1982 classic and upload it over at
YouTube
.
DrewboiX says he
"wanted to make a exciting trailer with a modern feel as oppose to its original marketing in the 80s. I hope people will give this movie a try before they see
Tron Legacy
. Sure its dated but there was practically nothing like it in the day, especially 1982."
Check it out below.
And just in case you need proof of exactly how much better this new cut is than the original, you can check out that trailer below, too.
(Thanks to
sfsignal
for the heads-up!)
Sebastian Stan Is Cap'n America Sidekick
Now that Marvel Studios and director Joe Johnston have set Chris Evans to play the title role in

The First Avenger: Captain America

, the other pieces have begun to fall into place. Sebastian Stan is about to be set in the role of Bucky, the sidekick who fights side by side with the shield-throwing superhero. Stan is best known for

Gossip Girl

and he just completed the Darren Aronofsky-directed

Black Swan

and the Todd Lincoln-directed

The Apparition

. He also was just seen playing the nemesis in

Hot Tub Time Machine

. Studio confirmed Stan will be in the film in a deal that has multiple options, but there is no confirmation on whether Bucky transforms into Winter Soldier, as is the case in the Marvel Comics version. Marvel is also close to setting the female lead role of Peggy, and recently tested Keira Knightley, Alice Eve and Emily Blunt for that role.

(Thanks

Deadline.com

)

Scarlett Johansson's Sexy 'Iron Man 2' Poster

New

'Iron Man 2'

posters are out, featuring a sexy Scarlett Johansson as the Black Widow poured into a (denim?) catsuit. Not pictured are costars Robert Downey Jr. (Tony Stark) or Gwyneth Paltrow (Pepper Potts), both back from the first

'Iron Man.'

Click on each to see them larger

.