Waking Sleeping Beauty trailer online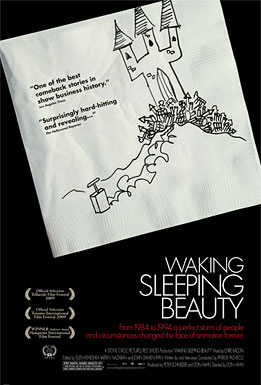 The trailer for
Waking Sleeping Beauty
is now online at
Apple
. The documentary, which is financed and distributed by Disney, looks at the company during the turbulent period from the 1980s to early 1990s. But according to filmmakers and critics the film is no white-washed version of events. Read on to see what director Don Hahn said about the film recently. And check out our
previous report
for more info.
Waking Sleeping Beauty
opens on
March 26th
in Los Angeles, New York, San Francisco, and Chicago.
Don Hahn:
"Peter Schneider came to me a couple of years ago wanting to tell the story of the animation renaissance of the '80s and '90s at Disney. So many books and articles had been written about this dynamic and challenging period in Disney history, but we felt the story hadn't been told with candor and in a way that captured the joy and struggle of the art form. We lived it, and we wanted to tell the story from our perspective — basically put the audience in the rooms and at the tables where we sat, in as realistic a way as possible. To accomplish this, the film is crafted with archival footage, home movies, and raw caricatures most of which have never been seen before. The end result captures the perfect storm of people and circumstances that led to what John Horn of the L.A. Times proclaimed to be 'the biggest comeback story in Hollywood history.'

For anyone that works in the animation industry, they will probably recognize a lot of faces in the film, and hopefully learn something new about this fascinating period of Disney history. For those who worked at Disney during that time, this is really their story and a celebration of their work."
Two new Dragon posters
Two new one-sheets for
How To Train Your Dragon
have popped up over at Internet Movie Poster Awards. The first, in English, can be seen
here
, while the other can be viewed
here
.
How To Train Your Dragon
hits both IMAX and regular theaters on
March 26th
.
New Toy Story 3 character revealed

Empire
has the latest character poster and turn-around for Pixar's
Toy Story 3
, which show-off a new plush-toy character, Buttercup. The site also sports a short synopsis for the Jeff Garlin-voiced character, which states
"Saddle up for fun and let Buttercup lead your child away on a magical adventure! This cuddly unicorn features velvety-soft, snow-colored fur with sparkly gold and pink accents. He sports a signature mythical golden horn and a fun-to-comb mane and tail. Buttercup's durable plastic eyes are both charming and scratch-resistant. Hypo-allergenic. Ages 3 and up."
Toy Story 3
hits theaters on
June 18th
.
What Ever Happened to Newt?
Disney/Pixar's
Newt
was scheduled for a 2012 release. Recently however, Disney veteran Floyd Norman commented that
"Newt is dead"
on
The Animation Guild Blog
. Pixar hasn't said anything about it, so it's still unconfirmed at this point.
'Justice League: Crisis On Two Earths' Screenwriter Hints At Future DC Animated Movies
The upcoming
"Justice League: Crisis on Two Earths"
animated film marks the return of Dwayne McDuffie to the characters he wrote in both the
"Justice League"
comic series and the
"Justice League Unlimited"
animated series.
"It was really fun to get back with the old characters again,"
McDuffie told MTV News during the Los Angeles premiere of
"Justice League: Crisis on Two Earths."
"To have a budget like this, to have talented directors, story board artist and musicians and the great actors we had who were able to take what was good about the old show to an entirely new level. You've never seen superhero action like this in any kind of animated film. It's just amazing."
McDuffie also revealed that he will be writing two additional DC animated movies, following the previously announced
"Batman: Under The Red Hood" by Judd Winick
.
"I've written two more [animated] movies,"
said McDuffie.
"I can't say what they are, although I'm dying to say what they are. They're really cool. [Warner Brothers Animation] kind of likes to announce just the next [animated film] to keep focused, but I think people are going to be pretty excited."
When asked about his current animation and comic projects, McDuffie replied
"We're moving towards our series finale of 'Ben 10: Alien Force', which will be followed by the series premiere of 'Ben 10: Ultimate Alien.' I [also] owe Marvel a pitch and I hope that offer is still open — because I'm so late. But we got a big, big order on 'Ben 10' and it pretty much killed my free time."
McDuffie also offered his opinion on yesterday's announcement regarding
the elevation of Geoff Johns and Jim Lee to chief creative officer and co-publisher
, respectively.
"They're both smart guys who love comics and love DC comics. I can't imagine DC in any better hands."
"Justice League: Crisis on Two Earths"
will be released on DVD and Blu-ray on
February 23
.
Actor, Water Babies director Lionel Jeffries dies
British actor Lionel Jeffries, director of the partly animated 1979 feature film
The Water Babies
, has died, his family announced. He was 83.
Easily recognizable in live-action films for his bald, mustached head, Jeffries was also a writer for
The Water Babies
, which was based on Charles Kingsley's novel.
He voiced the title canine (who never speaks -- just thinks out loud) in Bill Melendez Productions' 1976 TV series
Fred Basset
, an adaptation of Alex Graham's comic strip in The Daily Mail.
Jeffries provided the voice of Gower in
Abel's Island
, a 1989 half-hour cartoon from Michael Sporn Animation. Shown in the PBS anthology series
Long Ago & Far Away
, it was nominated for an Emmy for Outstanding Animated Program (for Programming Less than One Hour). And he was in the voice cast of
"The Journey Back,"
an episode of the 2000 series
The Canterbury Tales
.
He may be best-known to American filmgoers as Grandpa Potts in the musical comedy
Chitty Chitty Bang Bang
.
"Dick Van Dyke was older than me, and I was playing his dad,"
he later recalled. (Jeffries was younger than Van Dyke by six months.)
"Never work with dogs, babies and Lionel Jeffries,"
an old joke in the British acting profession went.
Jeffries directed and wrote the screenplay for the film version of E. Nesbit's
The Railway Children
. A huge success, the movie remains Christmas perennial.
But he was more often in films, appearing in over 100. As well, he was a stage and TV regular for more than 40 years, often depicting policemen and military types... or elderly relatives.
In the 1963 film
The Wrong Arm of the Law
-- meant to star bumbling crook Peter Sellers -- he stole the show as a police inspector who was just as incompetent.
He was born Lionel Charles Jeffries in London's Forest Hill neighborhood on June 10, 1926. His parents, members of the Salvation Army, worked with the poor people in London's East End.
His father owned a movie camera and projector. His early memories include editing home movies with his father on the kitchen table.
Jeffries served in the British Army in Burma and as a member of the West African Frontier Force during the Second World War II. The baritone-voice actor lost his hair then -- which he blamed on sweating in Burmese humidity.
Following demobilization, he began acting in repertory theatre, training at RADA before making his screen debut in 1950.
His first major role was alongside Sir John Mills and Eric Portman in
The Colditz Story
. Often, he played larger-than-life characters.
He appeared in such films like
Bhowani Junction, Doctor at Large
and
Blue Murder at St Trinian's
in the 1950s. In the 1960 drama
The Trials of Oscar Wilde
, he depicted the instantly dislikeable Marquis of Queensbury.
In recent years, Jeffies worked on such TV sitcoms as
Tom, Dick and Harriett
. He also had a cameo on the BBC medical drama
Holby City
.
Reverting to type, he played Grandad in the kids' series
Woof!
He directed the films The Amazing Mr. Blunden in 1972 and Wombling Free (a live-action film based on the stop-action series
The Wombles
) in 1977.
Jeffries was
"an extraordinary character"
and
"wonderfully funny,"
Jenny Agutter, star of
The Railway Children
, recalled.
"He was a total dear work with,"
she told the British Broadcasting Corporation.
"He very much created a family on set."
Lionel Jeffries married Eileen Mary Walsh in 1951. They had three children.
Pixar-Disney's "Up" nominated for 2 Saturn Awards
For his work on the score for Disney-Pixar's
"Up,"
composer Michael Giacchino has received one of the film's two nominations for the 36th Annual Saturn Awards.
He was nominated Thursday in the Best Music category by The Academy of Science Fiction, Fantasy & Horror Films, which hands out the Saturns.
Live-action composers running against him are Brian Eno (
The Lovely Bones
; Paramount), James Horner (
Avatar
; 20th Century Fox), Taro Iwashiro (
Red Cliff
; Magnolia), Christopher Young (
Drag Me To Hell
; Universal) and Hans Zimmer (
Sherlock Holmes
; Warner Bros.).
Up
was also nominated for Best Animated Film. The other nominees are
Disney's A Christmas Carol
(Walt Disney Studios),
Fantastic Mr. Fox
(20th Century Fox),
Ice Age: Dawn of the Dinosaurs
(20th Century Fox),
Monsters Vs. Aliens
(Paramount/DreamWorks) and
The Princess and the Frog
(Walt Disney Studios).
Disney's Blu-Ray edition of
Snow White and the Seven Dwarfs
is among the Saturn nominees for Best DVD Special Edition. The others are
Watchmen: The Ultimate Cut
(Warner),
300 Complete Experience
(Warner),
District 9 (Two-Disc Edition)
(Sony),
Terminator 2: Judgement Day: Skynet Edition
(Lionsgate) and
X-Men Origins: Wolverine (Two Disc Special Edition)
(Fox).
Not surprisingly,
Avatar
has the most nominations: 10 -- including bids for best fantasy picture, actor Sam Worthington, actress Zoe Saldana, supporting actor Stephen Lang and supporting actress Sigourney Weaver.
Members of the Academy of Science Fiction, Fantasy & Horror vote on both nominees and the winners, which will be named
June 24
.
Animation at the Brothers Warner
Today was WB Animation day at the ranch (formerly Columbia, currently Warner Bros.)
... WBA
continues with
its super hero direct-to-video features:
Bruce Timm:
[
Justice League: Crisis on Two Earths
] is a return to my favorite show
Justice League Unlimited
. The original script was intended to be the bridge story between
Justice League
and
Justice League Unlimited
to explain how we went from seven heroes to more than 50 super heroes. We loved the story and the script, and it floated around here for years while we tried to figure out what to do with it – it was considered for a comic, but fortunately that got shot down. Then we took a look at it and, with just a few slight tweaks, we jumped at the chance to make it a DC Universe movie ...
WB Animation is a beehive of activity, especially compared to how empty and downright sleepy the place was ten or fourteen months ago.
(Thanks
Animation Guild Blog
)
The Animateds' Current Box Office
Not the high-flying hybrid stuff that is sprinkled with live (ecch) action, but the 100% unadulterated animated features. There are two still two of those in general release ...
The Princess and the Frog
has earned $102.1 million in
domestic release
, and $109 million in overseas takings, for a grand total of $211.1 million in worldwide grosses.
Since
TP&tF
comes out on those little silver disks on
March 16th
, its domestic total is unlikely to climb a lot higher. (What the release pattern is in each foreign markets might be known to Diz Co., but certainly not to me.)
The other pure animated product out there is
The Fantastic Mr. Fox
, which despite critical hossanahs, isn't setting the record books on fire. As I write, the feature has made half
its money
inside the U.S., and half out, with a total accumulation of $40.6 million against a budget of $40 million.
(Thanks
Animation Guild Blog
)
The Cow Who Wanted to Be a Hamburger
Attention! If you are hungry for a new
Bill Plympton
cartoon - or some great barbeque steak - New York's
Hill Country Barbecue Market
will present the world premiere of Plympton's latest,
The Cow Who Wanted to Be a Hamburger
on
Tuesday March 2nd
. Plympton will be there to introduce his brand-new cartoon short, along with live performances by his musical collaborators Nicole Renaud and Maureen McElheron. Everyone who comes receives a free Bill Plympton cow drawing.
When:
Tuesday, March 2nd, 2010, 6-8pm
Location:
Hill Country Barbecue Market
is located at 30 West 26th St., NY.
(Thanks
cartoon brew
)
"Justice League: Crisis On Two Earths" Two-Disc Special Edition DVD Menu System
The
World's Finest
has a look at the menu system for the upcoming
Justice League: Crisis On Two Earths
Two-Disc Special Edition DVD release from Warner Home Video.
A selection of images from the upcoming
Justice League: Crisis On Two Earths
Two-Disc Special Edition DVD release are available below, exclusive to The World's Finest, including a look at the menu system for the title. The
Justice League: Crisis On Two Earth
s, the all new animated feature from the DC Universe Animated Original Movie line, hits Blu-ray and DVD on
February 23rd, 2010
. Click on the thumbnails for a closer look at the menu system from both discs included.
Continue to the
Justice League: Crisis on Two Earths
subsite
here at The World's Finest for further coverage and details on the upcoming
Justice League: Crisis on Two Earths
direct-to-video animated feature. Additionally, The World's Finest has published a review of the J
ustice League: Crisis on Two Earths
animated feature, available
here
to view. A review of the
Justice League: Crisis on Two Earths
Blu-ray release is also available
here
to view.
A co-production of Warner Premiere, DC Comics and Warner Bros. Animation, the direct-to-video
Justice League: Crisis on Two Earths
animated feature debuts
February 23rd, 2010
on DVD and Blu-ray disc from Warner Home Video.
Chipmunks coming home in March
20th Century Fox's
Alvin and the Chipmunks: The Squeakquel
will be coming to single disc DVD, 2-disc DVD and Blu-Ray on
March 30th
, according to
DVD Active
. The single disc DVD will include only two featurettes, but the 2-disc DVD and the Blu-Ray will include additional featurettes, music videos and more. Just like the 2007 original,
The Squeakquel
has been a huge hit in theaters, grossing $214 million to date.
Steven Spielberg talks Tintin
LATimes
has an exclusive interview with Steven Spielberg wherein the director talks about the making of
The Adventures of Tintin: The Secret of the Unicorn
and his love for the art of Hergé. Produced by Peter Jackson, with the animation done by Weta Workshop, the movie uses special performance-capture technology that James Cameron used on
Avatar
.
The Adventures of Tintin: The Secret of the Unicorn
is due in theaters in 2011.
"Wedding for Disaster" a winner at WGA Awards
"Wedding for Disaster,"
an episode of
"The Simpsons"
which aired last March 29, won Saturday in the Animation category at the Writers Guild of America Awards -- defeating four other episodes of the same series that were also nominated.
In
Wedding For Disaster
, written by Joel H. Cohen, Homer goes missing on his wedding day, and Sideshow Bob returns.
The others in the final five in the Animation category (any length, one airing time) were
"The Burns and the Bees,"
written by Stephanie Gillis;
"Eeny Teeny Maya, Moe,"
by John Frink;
"Gone Maggie Gone,"
by Billy Kimball and Ian Maxtone-Graham; and
"Take My Life, Please,"
by Don Payne.
For Television Graphic Animation, the winner by default (since it was the sole nominee) was
"Hudson Splashdown"
(CBS Evening News with Katie Couric), written by David M. Rosen and Shannon L. Toma.
Family Guy
director Seth MacFarlane emceed the awards show. He opened the program with a parody on
"Ya Got Trouble"
from Broadway's
The Music Man
, featuring such lines as
"without a script, this town would fall off the f---ing map."
The 2010 Writers Guild Awards were held simultaneously at the Hyatt Regency Century Plaza Hotel in Los Angeles and the Hudson Theatre at the Millennium Broadway Hotel in New York City.
Multi Animated Links
Linkage on a winter weekend, what could be finer?
The New York Times
details
the animated shorts vying for an Oscar:
... Few movies of any length combine such daring and craft with the dazzling wit of
"A Matter of Loaf and Death,"
Nick Park's half-hour tour de force. It marks the welcome return of Wallace and Gromit, the hand-molded English bloke and his skeptical dog who have brought glory to the Aardman animation studios. ...
How to Train Your Dragon
serves up a teaser trailer (which is probably already sprinkled far and wide across the intertubes, but we throw it up as a link anyway.)
Adult Swim
expands
....
The additional hour of prime time is in response to Adult Swim's high ratings that have dominated the 18- to 34-year-old male demographic consistently since 2007.
Quick. Dream up some crass and/or edgy and/or older demographic-type cartoons.
Dr. Catmull
to be honored
:
... The 8th Annual Video Effects Society (VES) Awards, which takes place on
Sunday, February 28
, will honor Walt Disney Animation Studios and Pixar President Dr. Ed Catmull with the Georges Méliès Award for Pioneering ...
The Los Angeles Times
looks at
a new direct-to-video hand-drawn feature:
'Dante's Inferno'
and the rings of pop culture


... The direct-to-home-video release ... is rooted in
"The Divine Comedy,"
the epic 14th century poem by Dante Alighieri that endures as one of the signature works in world literature. This
"Inferno,"
though, will be a bit jolting to anyone whose mental image was shaped by high school textbooks or the classic illustrations by Botticelli or William Blake's watercolor interpretations. This
"Inferno"
finds its hellish landscape in the game published this year by Electronic Arts and developed by Visceral Games ...
The WGA (east and west)
held its writing award ceremonies
today:
... The WGA's annual awards for film, TV, radio, news, promotional, video-game, animation and variety-show writing were presented ... in simultaneous ceremonies at the Hyatt Regency Century Plaza Hotel in Los Angeles and the Millennium Broadway Hotel's Hudson Theatre in New York City.
"Family Guy"
mastermind
Seth MacFarlane
hosted the West Coast show, while
"Curb Your Enthusiasm"
regular Susie Essman hosted back east ...
The Art Center College of Design is mounting an animation exhibit at its Williamson Gallery:
... A rare opportunity to see just what's involved in creating the blend of artistry and technology in animated film opens
March 5
with the
"DreamWorlds"
exhibit ...
"It's ...a chance to peek behind the veil and see what the environment of contemporary animation looks like,"
said Stephen Nowlin, the gallery's curator.
"You get to see the process, and people are still fascinated by that...but I think they'll still be able to suspend their disbelief" when they see the finished movie. ..."
And finally there is
Yogi Bear
Three Dee ...
now shooting
in New Zealand?!
... Welcome to another day at Jellystone Park. Or, as it's known to its usual native wild creatures, the mountain bikers of Auckland, Woodhill Forest.

It's roughly halfway through the New Zealand shoot for
Yogi Bear
, the mixed live action and computer-animated 3D version of the Hanna-Barbera cartoon which dates back to 1958.

The production has already spent time in Taupo, shooting whitewater scenes at the Aratiatia rapids, and in central city Auckland - (spoiler alert) at some point Ranger Smith is reassigned to the tiny "Evergreen Park" better known to us as Emily Place.

And they'll be here until mid-March, with more days at Woodhill and West Auckland's Studio West for scenes inside Yogi's cave.
It's always good that an American icon is being shot on the bottom side of the globe. Makes me tingle.
Have a refreshing sabbath.
(Thanks
Animation Guild Blog
)
Liked That Red Hulk Statue? Check Out Iron Man, Thor And Captain America From Kotobukiya!
During last weekend's
Toy Fair
, I posted an image on
Twitter
of Kotobukiya's
amazingly detailed Red Hulk
statue, and it prompted a lot of reader requests for information about the company's other superhero-inspired collectibles.
Well, I'm finally getting through the last few batches of photos from the event, and lo and behold, they feature some great images of Kotobukiya's Iron Man statues (Mark IV and Mark VI armor), as well as
"Avengers"
teammates Captain America and Thor, and even Dr. Doom (accurately depicted with both condescending gaze and seething hatred). There are also some pics of the concept sketches for upcoming Wolverine and Psylocke statues, as well as some shots of their Marvel Bishouju (they told me it means "sexy girl") line.
I'm pretty sure you'll be able to tell which pictures are of that last group.
You can see more of Kotobukiya's products and get information regarding release dates at their
official website
— including a great
Venom statue
that I highly recommend checking out.
Doc Brown's DeLorean, 14 other sci-fi toys made of awesome!
The coolest stuff at New York's annual American International Toy Fair always has something to do with sci-fi, and we've identified some of items we KNOW you'll have to get your hands on.
According to the Toy Industry Association (TIA), this year's trade show event featured more than 1,100 exhibitors and
"21,000 retailers, wholesalers, importers, buying groups and trade guests from nearly 100 countries."
Of the reported 100,000 products on display, we narrowed down 15 fantastic toys that we loved and think you'll want to have in your own collections by the end of 2010.
Which one is your must-have?
Arkham Asylum Batman
(DC Direct, September) Voted as game of the year by a zillion outlets last year,
Arkham Asylum
gets its own figures, starting with Bats himself in this gorgeous black-and-white statue featuring the character design from the game. It's almost good enough to tide us over till the sequel.
Beetlejuice Mezitz
(Mezco, July) Mezco is bringing
Beetlejuice
back via its urban vinyl Mez-itz. Two different designs will feature that pesky
"bio-exorcist"
from the 1988 Tim Burton movie, and the best part? They both have real green hair.
Back to the Future III rail-ready DeLorean
(DST, August) From the third installment in the beloved movie franchise comes Doc Brown's time machine, which has gotten all the collectible attention in years past. But DST is shaking things up this year by offering the retrofit rail-ready DeLorean that gets Marty McFly out of 1885 before meeting its demise in 1985.
Dexter Morgan
(Triad Toys, TBA) Newcomers Triad Toys have a freakishly gorgeous 12-inch figure of the title character from Showtime's
Dexter
in his stealthy Dark Passenger mode. Replete with leather gloves and murder weapon of choice, this doll's a dead ringer for Michael C. Hall.
Galactus
(Hasbro, spring) Marvel Universe fans can bring home a gigantic 19-inch Galactus with speakers that allow this cranky demigod to scream
"Witness the End!"
and other damning warnings.
Ghostbusters 6-inch figures
(Matty Collector, 2010) The fantastic official
Ghostbusters Movie Masters
action figures debuted last year and, judging from their success, will continue to roll out into 2010. Completists need to look out for slimed Peter Venkman, Lab Coat Ray Stanz and the human slimey Walter Peck, who comes with the
Ghostbusters
containment unit.
Ghostbusters fire station sign
(DST, TBA) When your love of all things
Ghostbusters
can't be quenched, then you get crazy with this iconic no-ghost symbol sign that lights up just like in the film. DST is creating two sizes: a smaller-scale sign that could go in your home theater or bar ($150), and the full-scale there's-nowhere-to-put-it-but-outside size ($400+), which is where you better get comfortable sleeping after your spouse sees it.
Bioshock 2 Little Sister Doll
(NECA, available now) Gamers are already knee-deep in their dive suits playing the newly released
BioShock 2
game, and NECA creates the official action figures reflecting the characters. There are also plush versions of the delightfully deformed dolls the Little Sisters carry around of their beloved Big Daddies.
Lost's Jacob and the Man in Black Megos
(Bif Bang Pow! TBA) As ABC's
Lost
finishes its run, Bif Bang Pow is celebrating some of the most enigmatic characters on the show with '70s-style cloth Mego figures, including Jacob and the Man in Black. Other characters include Crazy Mental Hospital Hurley, Beat-Up Ben Linus and Locke.
Terminator 2 Robert Patrick T-1000
(NECA, TBA) NECA continues its classic
Terminator
action figures with three versions of Robert Patrick's terrifying T2 machine, the T-1000. There's the cop version, the liquid metal version and the bullet-damaged version.
Classic Star Trek Megos
(DST, TBA) DST helped ignite the rebirth of the Mego movement with its redo of classic
Star Trek
characters in that style last year. They continue the line this year with a crazy good Captain Pike (pre-disfigurement), Salt Vamp, Vina the green gal and Nurse Chapel.
Star Wars lightsaber chopsticks
(Kotobukiya, available now) If you thought it was hard eating sushi before, now try it without zapping your face off! OK, not really, but these lightsaber chopsticks are the coolest way to eat your Asian-inspired meals now. You can buy them in Darth Maul and Darth Vader red, Luke Skywalker and Yoda green or Mace Windu purple. All sets are 9 inches long, except tiny Yoda's, which are 7 inches.
Iron Man 2 Mr. Potato Head
(Hasbro, spring) Continuing its long line of punny movie tie-in versions of the classic
Mr. Potato Head
, we get the gold and red armored version of ... wait for it ... Tony Starch.
True Blood Busts and Neon Signs
(DC Direct, TBA) Can't decide between vampire Bill and Eric on HBO's
True Blood
? Now you don't have to: DC Direct is releasing gorgeous bust sculpts of the hot vamps and the object of their desire, Sookie Stackhouse. Or you can go all-out with authentic neon signs for your own bar that feature either the Fangtasia logo or the
True Blood
drink logo.
The Venture Brothers Megos
(Bif Bang Pow! TBA) If you're a fan of Adult Swim's
The Venture Brothers
, you've been S.O.L. when it comes to merchandising for the show. Finally, the creators have allowed a set of Megos to be made featuring the core characters of the show, including the Monarch, Dean Venture, Henchmen 21 and 24, Doc Venture and Brock Samson.
Which of your favorite shows could live, which could die
V
With The CW officially renewing
Supernatural
and
The Vampire Diaries
for next season, it's time to take a look at some of the shows that haven't gotten as much love this early in the TV renewing game. Several of our beloved sci-fi/fantasy/supernatural shows are
"on the bubble"
—at risk of cancellation—and may not see another season.
Here's our list of already renewed shows and canceled shows and a report card on how your favorite shows are doing.
ALREADY RENEWED
The Big Bang Theory
The Big Bang Theory
(CBS) Renewed for a fourth season.
Drop Dead Diva
(Lifetime) Renewed for a second season to air in early summer.
Eureka
(Syfy) Renewed for a fourth season.
Sanctuary
(Syfy) Renewed for a third season.
Saving Grace
(TNT) Renewed for a fourth and final season premiering March 29.
Spartacus: Blood and Sand
(Starz) Renewed for a second season.
Stargate Universe
(Syfy) Renewed for a second season.
Supernatural
(The CW) Renewed for a sixth season.
True Blood
(HBO) Renewed for a third season premiering in June.
The Vampire Diaries
(The CW) Renewed for a second season.
Warehouse 13
(Syfy) Renewed for a second season.
CANCELED OR ENDING
DollhouseUpdated:: Past Life
(Fox) Canceled
Dollhouse
(Fox) Canceled
Eastwick
(ABC) Canceled
Lost
(ABC) Series finale airs May 23.
UP IN THE AIR24
(Fox) In its eighth season, this popular series could either see another day or end its run with the currrent one. One reason the series might not make the cut is that, by its very nature,
24
episodes must be made to follow the format. Also, it's got a huge cast and doesn't perform well in syndication. What we do know is that a
24
movie has been pitched; it would star Kiefer Sutherland and might be made in addition to or in place of a ninth day and season for hero Jack Bauer.
James Hibberd's Live Feed reported:
"24 is pricey to produce and has little syndication value. Producer Twentieth [Century Television] is exploring the option of spinning off 24 into a theatrical movie, signaling that this might be the Bauer's final, real-time day-long adventure. Another long-shot option would be shopping 24 to another network."
Latest ratings:
8.49 million viewers
Chances of renewal:
50-50
Better Off Ted
Better Off Ted
(ABC) It's so NOT looking good for our favorite sci-fi mad-scientist office comedy. ABC stuck
Better Off Ted
on Tuesdays and burned off episodes over the holidays. Why it never got a chance on Wednesdays with ABC's other well-performing comedies is a mystery. What we do know is that two episodes of this hysterical comedy have never

aired—and we may have to wait until the DVD comes out to see them.
Another sign of its impending doom: Stars Jay Harrington and Andrea Anders have already signed to appear in new comedy pilots, though they are committed to
Ted
first if it comes back.
Variety's Michael Schneider stated:
"Scrubs and Better Off Ted soon will likely learn that resurrections don't happen twice."
Latest ratings:
2.55 million viewers
Chances of renewal:
Less than 15 percent
Chuck
(NBC) For once,
Chuck
is in the Likely-to-Return category. The coolest superhero nerd show ever is actually the top-rated Monday night drama for NBC, and considering the shambles that NBC's schedule has become since
The Jay Leno Show
was removed, the network needs good reliable performers like
Chuck
.
Alan Sepinwall interviewed co-creator Josh Schwartz about his thoughts on coming back after being off several weeks for the Olympics:
"Every time you go off for a couple of weeks, you've gotta self-start again when you come back. We always knew coming back in January would be great for us, but it also meant other things would be premiering. NBC's been incredibly supportive of the show in getting us launched, but I would not expect to see a lot of promotion for us during the Olympics."
Latest ratings:
6.61 million viewers
Chances of renewal:
80 percent
FlashForward
FlashForward
(ABC) Remember all those ratings everyone was all worried about when the series begin last fall? Well, forget about them. They don't matter one bit considering the long, long break for new episodes to return. The good news is that the series has 13 episodes to prove itself. The bad news is that there's been some trouble behind the scenes with
rotating show runners
.
FlashForward
is starting from scratch in more ways than one.
TVbytheNumbers.com's Bill Gorman reported:
"If FlashForward keeps falling when it returns, it has no future. We'll now have to wait until mid-March to see its next ratings."
Latest ratings:
7.29 million viewers
Chances of renewal:
50-50
Fringe
(Fox) Despite low ratings,
Fringe
has managed more or less to hold its own in the most difficult timeslot on television, Thursdays at 9 p.m. ET/PT. This has been especially noticeable since
Past Life
has taken over the timeslot to the tune of 2 million fewer viewers while
Fringe
takes a break. All things considered—the rabid fan base, the terrible timeslot, the excellent showing in DVR ratings—and it adds up to a solid performance.
James Hibberd's Live Feed wrote:
"Boy, this show took a beating on Thursdays this fall, yet along with Bones has given Fox a foothold on TV's most competitive night and recently shown improvement."
Latest ratings:
7.76 million viewers
Chances of renewal:
70 percent
Ghost Whisperer
(CBS) Friday's top-rated show so far this season has taken a bit of a hit this year, along with all the Friday shows. But it's very unlikely CBS would be willing to cancel more than one of its Friday shows, and
NUMB3RS
looks likely to take that hit. It's likely Melinda Gordon will be able to continue her ghostly social work for another season.
CBS entertainment president Nina Tassler stated:
"It's clear we have two shows there with Ghost Whisperer and with Medium that have a good flow from one into the other, so we will continue to program there for Friday night. For us, we still see opportunities."
Latest ratings:
8.77 million viewers
Chances of renewal:
75 percent
Heroes
Heroes
(NBC) Believe it or not, despite terrible ratings,
Heroes
has a chance at fifth season. The ratings have stabilized, and the series gains another million-plus viewers when DVR ratings are counted in. NBC is trying to rebuild its schedule thanks to
The Jay Leno Show
debacle, and
Heroes
at least brings in a loyal audience, it does well overseas and it's a high-profile, original series. That said, a very strong case could be made for the show's cancellation as well.
James Hibberd's Live Feed commented:
"This season, Heroes continued its decline and is now at a level—around a 2.0 adults 18-49 rating—that would warrant cancellation under most circumstances. The deciding factor here is NBC's internal balance sheet for the production. Don't be surprised if NBC announces a 12-hour 'final chapter' for next fall."
Latest ratings:
4.41 million viewers
Chances of renewal:
40 percent
Human Target
(Fox) This new midseason replacement is finally leveling off to some decent ratings. While it's certainly getting a bump from
American Idol
, the last couple of episodes have been very entertaining, and the series seems to be finding its feet. And considering the series will most likely do well in reruns, given its episodic nature, we're liking its chances for a second season so far.
Media Week's Marc Berman said:
"On Fox was recently introduced drama Human Target at a distant second-place finish in both total viewers (7.14 million) and adults 18-49 (2.1/ 6) from 8-9 p.m. Considering Human Target faced The Winter Olympics, this is still a respectable showing."
Latest pre-Olympic ratings:
8.92 million viewers
Latest ratings opposite the Olympics:
7.14 million viewers
Chances of renewal:
45 percent
Medium
(CBS) This very compatible
Ghost Whisperer
companion show has done as well as could be expected on Fridays, capturing almost all of its lead-in audience and sometimes outperforming
Ghost Whisperer
by a smidge.
NUMB3RS
looks likely to be canceled at this point if anything goes on Fridays, and it's doubtful CBS will cancel more than one Friday show. But with new series
Miami Medical
taking over
NUMB3RS
' slot on April 2, there's the unlikely possibility that
Miami
could do well enough to make a case for
Medium
's exit. Still, at this point, we're guessing Allison DuBois will likely have a home for one more year.
Variety's Michael Schneider writes:
"With Numbers the most likely to exit—so much so that star David Krumholtz has already been cast in a new pilot—it's doubtful Eye would want to drop a second Friday night series, so Medium (which CBS swiped from NBC last year) is probably safe."
Latest ratings:
9.10 million viewers
Chances of renewal:
45 percent
Past Life
[
Updated
: Fox has pulled
Past Life
from the air after just three airings, effective immediately, replacing it with new episodes of
Kitchen Nightmares
until
March 18
, when
Fringe
repeats will take over until
Fringe
originals are back on April 1,
HitFix
reports]
Past Life
(Fox) It's looking like
Past Life
might have to reincarnate itself if it wants to survive. With only a handful of episodes left to make its case, it's not looking good for the drama. Before the series even started, it saw its episode order cut to seven, which is never a good sign. And even worse, the ratings have dropped since
Past Life
took over Fringe's timeslot.
The Los Angeles Times' Joe Flint remarked:
"Fox's Past Life made its time period premiere, but the numbers won't exactly boost confidence in the show. Though it probably didn't help that a rerun of Bones—which got 8 million viewers and a 2.3 rating in adults 18-49, was its lead-in—Past Life averaged just 5.3 million viewers and finished fourth in 18-49 with a 1.4 rating. Past Life will get a chance at attracting a bigger audience in two weeks when Fox adds a third night of American Idol to Thursday for elimination shows."
Latest ratings:
5.31 million viewers
Chances of renewal:
0 percent
Smallville (The CW) When The CW moved
Smallville
from Thursdays to Fridays, it looked like it could be the end of this reliable performer. Certainly
Smallville
didn't quite seem to fit with the younger-skewing shows the network was banking on, such as
The Vampire Diaries
. Then something strange and wonderful happened: Apparently the fans weren't ready to let
Smallville
die. The producers are still doing fine creative work, and the series has finally given The CW some ratings on Friday nights. While
Smallville
didn't get an early pickup like
Vampire Diaries
or
Supernatural
, it's looking very good for a 10th season, with Super Clark and his friends. And BTW, don't be surprised if it does get another season and we see one or two additional Smallville movies along the lines of
Absolute Justice
.
Media Week's Marc Berman comments:
"While Smallville, of course, is down year-to-year from its former Thursday performance, it is unlikely anything else would perform better for The CW on troubled Friday."
Latest ratings:
2.48 million viewers
Chances of renewal:
90 percent
V
(ABC) Those beautiful alien invaders are in the same boat as the FlashFowarders. The series returns on
March 30
, and it's airing after Lost in the 10 p.m. timeslot, which is a good thing. With
Lost
in its final season,
V
's likely to grab a few viewers, which should help its bottom line. But
V
is pretty much starting over, and it will only have eight episodes to get you caught up in the revolution.
TVbytheNumbers.com's Bill Gorman stated:
"V's future entirely rests on how its ratings do on its return in March. Its fall episode ratings are meaningless now. No guesses from me."
Latest ratings:
9.20 million viewers
Chances of renewal:
60 percent
New Flash Gordon movie: No Queen, no camp, but 3-D!
Director Breck Eisner promises that his upcoming new
Flash Gordon
movie won't be a remake of the campy 1980 version or even the Buster Crabbe serials from the 1930s—and he promises it will be in 3-D.
"It's a movie that is in no way a remake or a re-imagining or a reboot of the '80s version or the serial version,"
Eisner told SCI FI Wire.
"No Queen [music]. It is not camp in any way. We're going back to the original Alex Raymond [comic strip] scripts and imagining if he were living today, what would those strips be like?"
Eisner is moving forward on his new movie version of the classic sci-fi story.
"Flash Gordon is a movie I've been pursuing for years, and I finally was able to orchestrate it going to Sony from Hearst,"
Eisner said while promoting his new sci-fi horror movie,
The Crazies
.
Eisner added:
"We hired writers a year ago. I've been breaking story with them since I wrapped post on [The Crazies]. We've got an awesome, very long-form outline that they're now executing a script off of, which I should have in two months or so to the studio."
It's unclear as of yet whether
Flash Gordon
will be Eisner's next movie.
Eisner is a longtime
Flash Gordon
fan with a strong vision of how Gordon should be brought into modern times.
Gordon will also enter the third dimension this time out:
"It will definitely be in 3-D, unless they come out with 4-D before then,"
Eisner says with a laugh. The director adds that he is even testing a new binaural German 3-D sound system that could be employed for the film.
"It's supposed to push 3-D to the next level,"
he says.
Cost is the primary obstacle the space hero will have to overcome.
"It's a very expensive movie,"
admits Eisner.
"Do they have and do they want to spend the kind of money it's going to take to pull this thing off?"
For now, Eisner is simply intent on developing the best filmic version of
Flash Gordon
possible.
"It's one that I will be passionate enough about forever and will hope to be able to make,"
says Eisner.
"It's action, it's adventure, it's intense, it's dynamic. It's a strong central character who goes on a dynamic journey. It should be a really amazing movie if we can get it made."
Eisner decided to go to space instead of the murky lagoons: He had originally been attached to a remake of the 1950s monster movie
The Creature From the Black Lagoon
. Eisner's
The Crazies
hits screens on
Feb. 26
.