The Annie Winners: UP, Futurama, Penguins and Prep
The 37th Annual Annie Awards were given out Saturday night at Royce Hall on the UCLA Campus. The winners included:
Best Animated Feature
Up
— Pixar Animation Studios
Best Home Entertainment Production
Futurama: Into the Wild Green Yonder
— The Curiosity Company in association with 20th Century Fox Home Entertainment
Best Animated Short Subject
Robot Chicken: Star Wars 2.5
— ShadowMachine
Best Animated Television Commercial
Spanish Lottery
"Deportees"
— Acme Filmworks, Inc.
Best Animated Television Production
Prep and Landing
— ABC Family/Walt Disney Animation Studios
Best Animated Television Production for Children
The Penguins of Madagascar
— Nickelodeon and DreamWorks Animation
Animated Effects
James Mansfield
"The Princess and the Frog"
— Walt Disney Animation Studios
Character Animation in a Television Production
Phillip To
"Monsters vs. Aliens: Mutant Pumpkins from Outer Space"
— DreamWorks Animation
Character Animation in a Feature Production
Eric Goldberg
"The Princess and the Frog
" — Walt Disney Animation Studios
Character Design in a Television Production
Bill Schwab
"Prep and Landing"
— Walt Disney Animation Studios
Character Design in a Feature Production
Shane Prigmore
"Coraline"
— Laika
Directing in a Television Production
Bret Haaland
"The Penguins of Madagascar - Launchtime"
— Nickelodeon and DreamWorks Animation
Directing in a Feature Production
Pete Docter
"Up"
— Pixar Animation Studios
Music in a Television Production
Guy Moon
"The Fairly OddParents: "Wishology-The Big Beginning"
— Nickelodeon
Music in a Feature Production
Bruno Coulais
"Coraline"
— Laika
Production Design in a Television Production
Andy Harkness
"Prep and Landing"
— Walt Disney Animation Studios
Production Design in a Feature Production
Tadahiro Uesugi
"Coraline"
— Laika
Storyboarding in a Television Production
Robert Koo
"Merry Madagascar"
— DreamWorks Animation
Storyboarding in a Feature Production
Tom Owens
"Monsters vs. Aliens"
— DreamWorks Animation
Voice Acting in a Television Production
Tom Kenny - Voice of SpongeBob -
"SpongeBob SquarePants — Truth or Square"
— Nickelodeon
Voice Acting in a Feature Production
Jen Cody - Voice of Charlotte -
"The Princess and the Frog"
— Walt Disney Animation Studios
Writing in a Television Production
Daniel Chun -
"The Simpsons: Treehouse of Horror XX"
— Gracie Films
Writing in a Feature Production
Wes Anderson and Noah Baumbach -
"Fantastic Mr. Fox"
— 20th Century Fox
Congratulations to all!
(Thanks
cartoon brew
)
Avatar no longer tops at box office
James Cameron's
Avatar
, which has dominated the box office for the last seven weekends, finally slipped to second place the weekend of Feb. 5, but still took in a strong $23.6 million.
That raised the blockbuster's domestic total to $630.1 million, the Associated Press reported. (Number one was the romantic drama
Dear John
.)
Worldwide,
Avatar
has now grossed $2.2 billion.
Pivot
The push back against realism in computer animation continues with
Pivot
, a striking and confident CG short from The Netherlands. It's designed and animated by Kevin Megens, Floris Vos, Arno de Grijs, and André Bergs. The caricatured animation and design-oriented approach to filmmaking is packed with clever visual ideas, which helps one forgive the lack of originality in the story. Sound design by Alex Debicki also adds to the overall effect. Pre-production art and more information about the filmmakers at
PivotTheMovie.com
.
(Thanks, Charles H.)
(Thanks
cartoon brew
)
The Princess And The Frog's Supervising Animator Mark Henn – Part 5: Down In New Orleans
Jeremie Noyer concludes his five-part discussion with Mark Henn in celebration of the worldwide launch of The Princess And The Frog from the US release to its European debut, and evoking the chronology and different aspects of the veteran animator's career, from his studies and dreams of working for Disney, to his first assignments and serving as supervising animator on the Studio's current contemporary classic!
From
"Disney dreams"
of working at Disney Animation and landing his first assignments working on such classics as
The Fox And The Hound, Mickey's Christmas Carol, The Great Mouse Detective, The Lion King
and
Lilo And Stitch
to becoming the "go-to" guy for animating the Studio's long line of feisty females, including Ariel, Belle, Jasmine, Pocahontas and Mulan, and seeing the changing fortunes of his craft through involvement in
John Henry, Home On The Range
and
Meet The Robinsons
, Mark Henn as been one of those at the forefront of the resurgence in popularity of Disney's animated films.
So who better to be asked to animate the heroine of the Studio's return to traditionally animated storytelling than this legendary artist? In the climax of our five-part series of interviews, Mark talks about his latest creation, Tiana, for Disney's current theatrical release
The Princess And The Frog
, which begins its European roll-out this past weekend in the UK.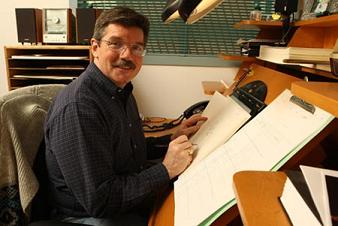 Animated Views: For Princess and the Frog, you animated three characters in one, as you animated adult Tiana, young Tiana and frog Tiana. Can you tell me about that challenge?

Mark Henn:
It certainly was a challenge. It's something very unique to Princess Tiana. So, we had to come up with three different designs which is a little extra work, but the other important thing was making sure that, when she's a frog, she is the same character. Even though she looks different, she's still Tiana, but she just looks like a frog, now. So, those were different challenges on the film.
AV: You animated Ariel, who is both a mermaid and a human, and Mulan, who is a girl, but at some point stands as a male soldier. In what way did that experience help you deal with the different aspects of one character on Tiana?

MH:
Certainly, having gone through those films and those characters, it helped me to think back to how I worked with those different solutions. But each of those are slightly different. It was just a matter of sitting down and trying to find a design. We started with the human Tiana – what would she look like as a little girl of about 5 to 7 years old? Then, of course, what she's gonna look like as a frog – and she had to be a very appealing frog. She could be a lovely frog, but she needed to be very attractive. So, it was just a matter of diving in and working hard to come up with designs that the directors like, then going ahead animating those things.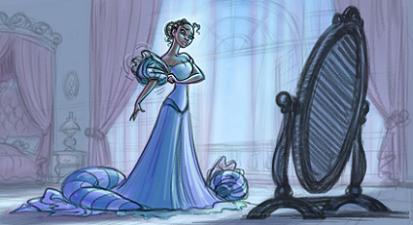 AV: Can you tell me about the "design" part of your work on Tiana?

MH:
One of the things that we did is that the whole group of the supervising animators and the directors and a couple of the visual development artists, we spent a weekend. We ran away for a weekend to a hotel resort. Our whole time was going over all of the characters of the movie and everybody got to pitch in and put forward their ideas. We spent maybe a morning working on Tiana, and then the afternoon working on Prince Naveen, and all the different characters. That was one of the real important steps. The rest of the time, we would just be taking the results of that week end, and for myself, just spending a lot of time making drawing and showing them to the directors and they would say they like this one or they didn't like that one, and drawing up the things they didn't like and build on the elements of the designs that they did like and then start animating some tests. We had Anika's voice early on in the production, so I was able then to take some tracks of hers and animate some test scenes to see if the design and the voice were matching up well for the character.
AV: You can't go wild with leading ladies like Tiana. Did her frog aspect allow you to have more fun with her animation?

MH:
Yes, it did. Certainly, that was one fun aspect in animating Tiana because, as a leading lady, as a human character, fairly naturalistically handled, you can't over-animate that type of a character. But with Tiana as a frog, you can be a lot broader and have a lot more fun with the animation in that sense. And even as a little girl. She could be a little broader because she was a child. And I thought that was an opportunity there to do something with it. But there were some ways to make sure that Tiana as a human character is very interesting and fun to animate as well.
AV: How did you work with Randy Haycock on the scenes involving both Tiana and Prince Naveen, who is a very different character?

MH:
It just depends on the scene. Usually, what happens is: one of the characters that's kind of the dominant character in the scene. So, one of us would usually animate our character first, and then we would hand it to the other animator, and then we would add our part in. So, it's just kind of a simple back-and-forth that way. I might start a scene, animate Tiana and kind of roughly indicate where I think Prince Naveen should be standing, and then Randy would come in and he would add Prince Naveen. Now, if he played the hand at a certain point, I could go back and make adjustments. So, we kind of just worked back-and-forth that way. Or vice-versa, he may be animating a scene with Prince Naveen first and then I would add Tiana in and again, we'd just work back-and-forth that way.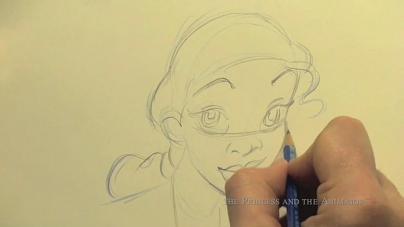 AV: Tiana in some way is kind of "practically perfect" whereas Prince Naveen obviously has some flaws. How did you and Randy Haycock find the right balance in both your ways of acting?

MH:
That's interesting that you put it that way with Tiana. She is perfect to a fault, let's put it that way. She is very disciplined, more so that Prince Naveen, but to the point where she is so focused on her dream and her goals that she kind of pushes the rest of her life aside. So, she doesn't enjoy life as much as Prince Naveen. And those are the kind of the elements that each of them bring to each other in their relationship. Prince Naveen probably needs a little more discipline in his like, and Tiana needs to learn from Prince Naveen how to enjoy life a little more. And through that process, of course, they both find love, which is very critical to the theme of the movie. That's the one thing that Tiana had forgotten, the thing that her dad had tried to tell her as a little girl never to forget. And that's the thing that she did forget and had to re-learn. She re-learns that through the journey with Naveen.
AV: Some artists who worked on Princess and the Frog went to Disney's Animation Research Library to research the look of classic Walt Disney films such as Lady and the Tramp. Did you do that same as the animator of Tiana?

MH:
Not real thorough. John Lasseter told us early in the production that his vision or his idea for the film was that it would be very much in the kind of the Golden Age, if you will, of the films from the 40s and 50s, the
Peter Pan
, the
Lady and the Tramp
, which was, in his mind, kind of the classic Disney look, with characters that were well designed, kind of nice, dimensionally drawn characters, fully animated. So, we did study
Lady and the Tramp
for various reasons. But from the animation point of view, it was the idea of looking at well designed, very dimensionally designed characters that were fully animated in the Disney style, which we've always wanted to do and have been doing since I started here. But that was kind of the mandate that we got from John Lasseter, kind of what he was thinking about how to approach this film.
AV: What do you mean by the "Disney style"?

MH:
The Disney style is what John had in his mind, that he saw with the film. That is fully animated – that's not a limited style of animation, everything that needs to move is moving. But there's also very complete personalities, very identifiable. The layout and background paintings are very rich. Balance between realistic and yet an artistic kind of impression of things. That's one of the reasons why we looked at
Lady and the Tramp
, because it has a lot of those elements. There's a simplicity to the film, and yet there's a great balance between that simplicity and detail in the background as well as the animated characters.
AV: What part of Tiana's personality do you feel the most connected to?

MH:
I think, with Tiana, one of the things that I really enjoyed with her was her sense of humor. I can certainly identify with her discipline, her goal-setting and having a dream, I can clearly identify with that. But I also really appreciated her sense of humor which rises more throughout the film, as she becomes a little more comfortable and, as they say it here, when she lets her hair down and relaxes a little bit, she becomes a pretty funny character.
AV: Music is very important in that movie. How did you approach the songs?

MH:
You approach a song sequence just like you would approach any other sequence in particular. I didn't work on the
Almost There
sequence which is kind of the fantasy sequence. Eric Goldberg took that over because he has a real taste for music and animating to music, but I did the lead up to the beginning of the song, and then I finished the song, as well as worked on the songs in the end and at the very beginning of the movie. But you really approach it not too differently from the rest of your animation. You wanna be aware of the timing and the beat, and you wanna make sure that the movements are hitting beats, rhythmically moving with music, as opposed to fighting against that.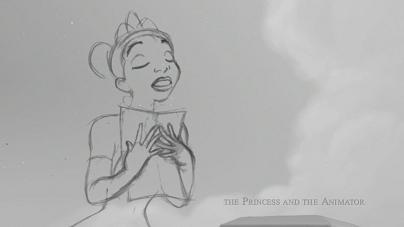 AV: As a designer and supervising animator, you brought a lot to Tiana. But what did you learn from her?

MH:
That's a good question. Well, I did learn to balance my life like she needed to balance hers. I had to make sure I was disciplined and had my goals in mind. But I also had to make sure I enjoyed my life once I got home, for the few hours that I had, particularly in the last six months when we were really working very hard to get the movie finished. That was that kind of balance learns herself. She was out of balance and had learn that, and I needed to make sure that I balanced between my work and enjoying my life home with my family.
AV: After having supervised Lewis in Meet the Robinsons, how was it to get back to hand-drawn, traditional animation?

MH:
Well, I have to be honest. I did not enjoy animating on the computer as much as I enjoy drawing. It's what I had done for over twenty years when I learned the computer. There's still that excitement of seeing your scene come to life as a computer animated film, but the process is not as interesting or satisfying to me as an artist. I really enjoy drawing. So, when they announced that we were going to go back and make 2D films again, I and most of the 2D animators around here were very, very happy, and happy to be drawing again. To me, it's like breathing. It's a very natural thing for me to do and much more personally satisfying than moving a mouse around on a computer.
AV: You met John Lasseter at Cal Arts. How was it to meet him again now at the command at Disney?

MH:
I knew John a little bit at Cal Arts and then our paths crossed. I recognized at that time – and this is the truth – as I got to know him, I could have probably told you back then that John Lasseter was destined for something very unique, and occupy a very unique place in our industry. What that was, I couldn't probably tell you but you recognized he was very gifted and had a particular gift for storytelling. I just knew that he was gonna have a very special career because of that.
AV: What did you enjoy the most in the production of Princess and the Frog?

MH:
Just the fact that we got to do it, the fact that after almost five years of having the Studio say
"we're not gonna make animated 2D, hand-drawn films anymore"
, the fact that we got to make a new hand-drawn movie, I think that's probably the biggest memory, and fun memory that we had that challenge, we had to kind of learn all over again what that process was from a studio's point of view. But for me as an artist, to be able to go back and flipping and drawing on paper and animating on paper was the greatest memory.
AV: What was the most rewarding scene you got to work on?

MH:
What come to mind first is the sequence when she's at the window as a little girl and she's wishing on the star for the first time. I think that little sequence was very nice. But I also like its adult equivalent when she's out on the balcony of the house and she's at rock bottom in her life and she finishes the song and wishes on a star again and of course then meets Prince Naveen as a frog, and then going into that little sequence where he's introducing himself as a prince and she hits him on the head with the book and all that. I also enjoy sequences of her as a frog when she and Naveen have their little verbal banters back and forth. Those were fun sequences to animate.
AV: You spoke about the joy of animating in 2D. Will you be part of the upcoming Winnie the Pooh feature?

MH:
Yes, I am. I'm gonna be the supervising animator for Winnie the Pooh!
(Thanks
Animated Views
)
2010 ASIFA-East Animation Festival
Now Accepting Films!
Deadline
March 1st
Download Entry Form
The festival is a unique showcase for the most groundbreaking independent and commercial animation being produced in the industry today. Enter your film today!!!
(Thanks
ASIFA-East
)
John Has Love
John Dilworth
tells us of this screening that includes is his new short
"Rinky Dink"
.
Films Announced for the 3rd Annual Love Actually: Short Films about Love, Sex & Romance
NEW YORK – SCENEPR has announced the films that will be screened at their third annual
Love Actually: Short Films about Love, Sex & Romance
, on Valentines Day from 7-10pm at the historic Millennium Film Workshop in New York City, NY.
Join us for this non-competitive film event featuring 11 short films from 12 brilliant independent filmmakers. The evening will begin with a pre-mixer with wine & cheese and end with a Q&A with some of the people involved in making the films being showcased, including former Oscar Nominee, Animator John Dilworth.
www.scenepr.com/short-films
for details.
(Thanks
ASIFA-East
)
Tomm Moore Interview
We were treated to a
Secret of Kells
screening a few weeks back.
The film, now nominated for best animated film of the year (which I think it deserves) was directed by Tomm Moore.
Friends of ASIFA-East,
Spoiler Alert Radio
, interviewed him recently and you can listen to it
here
.
(Thanks
ASIFA-East
)
France Televisions, WB Extend Toon Pact
France Televisions has renewed its exclusive agreement with Warner Bros. to broadcast the studio's animation catalog both over the air and online.
The company airs the Warner series in a block that includes such popular programs as
Secret Saturdays, Batman, Scooby Doo
and
Tom & Jerry
.
The company also has acquired several new series to air in LUDO Zouzous on France 5. Among them are
Word World
;
Dinosaur Train
from the Jim Henson Co.;
Tinga Tinga Tales
, from Classic Media;
Martha Speaks
, from Decode Media; and
Chloe's Closet
, from Moonscoop.
(Thanks
Animation Magazine
)
Brothers Get Animated as Wild Kratts
The Kratt Brothers and 9 Story Entertainment have announced the new animated series
Wild Kratts
, a 40 x 22 min. show for kids ages 6-9 that will air on PBS Kids Go!.
The series was jointly created by by 9 Story Entertainment CEO Vince Commisso and Chris Kratt of the Kratt Brothers, and features real life brothers and zoologists Chris and Martin Kratt as animated versions of themselves.
The series will debut in January 2011 on PBS Kids Go! in the United States, as well as in Canada on TVOntario, Knowledge Network and Tele-Quebec.
"Chris and Martin Kratt are brilliant entertainers who have parlayed their enthusiasm for animals and ever-growing popularity with family audiences into a renowned family entertainment brand,"
said Commisso.
"We are thrilled to be working with this incredible franchise and look forward to a long and successful partnership."
(Thanks
Animation Magazine
)
PorchLight Develops Agent A to Agent Z
Agent A to Agent Z
, a new animated series for kids 6-11 based on Andy Rash's children's book, is being developed at PorchLight Entertainment.
The series, created by Rash and Dan Yaccarino, has an initial production order of 52 11-minute episodes.
Agent A to Agent Z
follows a father-son spy duo whose work on top-secret missions more closely resembles Pink Panther than James Bond.
"Agent A to Agent Z is the kind of show I would've loved to have watched as a 12-year old,"
said Yaccarino, a renowned children's book author, illustrator and animation series creator whose work include creating such hits as
Oswald
and
Willa's Wild Life
, character design for
The Backyardigans
.
The
Agent A to Agent Z
book is published by Arthur A. Levine Books, an imprint of Scholastic Press.
(Thanks
Animation Magazine
)
Classic Media Distributes My Life Me
Classic Media has bought international distribution rights to 52 11-minute episodes of
My Life Me
, a new animated series for tweens co-produced by CarpeDiem Film & TV in Canada and ODM in France.
The deal includes licensing and merchandising for the series, which is set to launch this year on Teletoon Canada and France Televisions and Canal J in France.
My Life Me
is a fast-paced animated comedy aimed at kids 8-12 about four characters trying to make sense of tween life. The project was co-created by J.C. Little, Cindy Filipenko and rising manga star Svetlana Chmakova, who found success with the top selling Tokyopop graphic novel Dramacon.
The brand has a strong online component with a fully interactive website based on the themes from the show. Interactive elements allow aspiring viewers to create their own manga using either online tutorials or actual clips from the series which they can reinvent and share with friends. The site also offers games including an innovative interactive game based on social conflict resolution.
(Thanks
Animation Magazine
)
Courage the Cowardly Dog head writer Cohen honored
David Steven Cohen, head writer of Cartoon Network's cult classic
Courage the Cowardly Dog
, will receive the Writers Guild of America, East's Richard B. Jablow award for devoted service to the Guild.
The award is named for Richard B. Jablow, who helped found the WGAE, authored its constitution, and served as its first counsel.
A frequent contributor to the PBS series
Arthur
, Cohen co-wrote the 1995 animated feature film
Balto
, produced by Steven Spielberg.
Former WGAE president Chris Albers and WGAE Foundation president Tom Fontana, who received the award jointly last year, will present the award to Cohen at the 62nd annual Writers Guild Awards ceremony Saturday, February 20 at New York City's Hudson Theatre.
Cohen, an award-winning TV writer-producer and screenwriter, has been an active member of the WGAE for many years. He is serving his second term on the WGAE Council and is a member of the Animation Caucus.
A writer of the 1988 DiC Entertainment series ALF Tales, he has also written for episodes of the 4Kids Entertainment series
Viva Piñata
and Warner Bros. Television Animation's
Tiny Toon Adventures
. He was a writer and executive producer of 1993's
Cool Like That: The Christmas Special
.
Cohen has served on many Guild committees, including chairing the Awards Committee from 2004 through 2009, during which time he was also head writer and executive producer of the awards ceremony. His efforts reach current and future writers, having started an interview series with screenwriters as a joint venture of the WGAE and New York University, and teaching comedy writing in conjunction with the Guild and the Academy of Television Arts and Sciences. For the WGAE Foundation, Cohen is on the committee for the Michael Collyer Memorial Fellowship in Screenwriting, which he helped to create.
"It has been my privilege to know David Steven Cohen for more than a decade. His hard work and enthusiasm, patience and skill as both a member of the Guild East Council and past chairman of the awards committee are deeply appreciated and appropriately recognized and honored with this year's Jablow Award,"
said Writers Guild of America, East president Michael Winship.
In a career that spans live action to animation to opera, Cohen began writing with Steve Martin's 40 Share Productions, then worked on series including
Pee-wee's Playhouse, Parker Lewis Can't Lose, ALF
and
Living Single
. As executive producer of Nickelodeon's
The Wubbulous World of Dr. Seuss
, he won a Writers Guild Award and received two Emmy nominations, and recently earned a Writers Guild Award nomination for his work on the Disney Channel's
Phil of the Future
.
Also a composer and lyricist, Cohen wrote the libretto for the opera
Lilith
, which was performed by New York City Opera at Lincoln Center. He has contributed songs to many TV shows, films and recordings, and was a featured lyricist at the Lincoln Center American Songbook Series. Most recently, he co-wrote the title track for
Something Beautiful
, a collection of contemporary standards also featuring songs by Van Morrison, James Taylor and Paul McCartney.
Traditional Chinese animation artist Te Wei dies
Te Wei, the only artist in China to be given the Lifetime Achievement Award by the International Animated Film Association (ASIFA), died Thursday in Shanghai of respiratory failure. He was 94.
Famed for his traditional style of artwork, Te was best known for the 1956 short
The Conceited General
.
He directed 1988's
Shan shui qing (Feelings of Mountains and Waters)
, which won the Montréal Grand Prize (Short Films) at the 1990 Montréal World Film Festival.
Other well-known works included
Xiao ke dou zhao ma ma
(1960) -- also know as
Little Tadpoles Search for Mama, Tadpoles Searching for Mother, Where Is Mother
and
Where is Mama
-- and
The Cowboy's Flute
.
Te was one of the founders of the modern Chinese animation industry, and had been working in it for several decades.
Te Wei's former name was Sheng Song. He was born on August 22, 1915 in Shanghai.
The Conceited General (Part 1 of 3)
His 1963 mastepiece,
The Cowboy's Flute
, is one of the most beautiful films from China - or anywhere.
Virus Attack
Cartoon Network may be trying to attract teens through live-action, but never fear - they haven't left animation completely behind. Apparently in an effort to sponsor the worst animation in the world, they've greenlit a new sci-fi cartoon show being made by an Italian company called
Mondo TV
(the lovely people behind
Titanic: The Animated Movie
). It's called
Virus Attack
and it's about five teens who fight alien viruses who turn out to literally be aliens. It's coming to Italy in December 2010, just in time for the holidays, before coming to Cartoon Network USA sometime in 2011. Here's a
sneak peek
:
(Thanks
cartoon brew
)
Instinkt by Mustafa Kandaz
This animated short was made with post-it notes and markers for Dutch channel
RVU
. They asked several animators to illustrate and interpret the writings of philosopher Bas Haring.
Mustafa Kandaz
- we posted his film
protesting foie gras at Euro Disney
last April - created this one about
instinct
. It was made in 3 days: 1 for animation, 1 for editing and 1 for the sound.
(Thanks
cartoon brew
)
Sweetworld
London-based boutique animation studio
Sweetworld
was founded in 2006 by Yasmeen Ismail and Sandra Salter. The studio specializes in designing, directing and producing spot animation with an emphasis on traditional hand-drawn styles. Check out their
website
for complete examples of their work.
(Thanks
cartoon brew
)
Mobile Suit Gundam Franchise Streamed Online For Free
Sunrise Inc have begun to stream numerous series from the popular
Mobile Suit Gundam
online. The streams, provided for free in partnership with YouTube,
Crunchyroll
and
Anime News Network
, enable viewers in English speaking countries including America and England to watch a selection of complete series for a limited time, with either English dub or subtitles. The series currently announced to be streamed have already seen release in the US on DVD but Sunrise have implied plans to later provide series never before seen in addition to a wider choice of languages.
Currently, ANN is streaming the English subtitled
Zeta Gundam
whilst Crunchyroll is presenting the English dubbed original
Mobile Suit Gundam
. Both releases will be provided up to
April 22, 2010
. YouTube will join in initially by streaming the English dubs of both series from
February 20, 2010
. The overall intent of the streams is to build up a wider audience for the franchise and promote the forthcoming
Mobile Suit Gundam Unicorn
series.
Briefly: Simpsons/Futurama Deluxe Comic; Jerry Voted India Kids Fave; Nick in China
* Abrams ComicsArt imprint will be publishing
The Simpsons Futurama Crossover Crisis
, a deluxe slip-cased hardcover collecting two comic book mini-series originally published in 2002 and 2005 that mashed up Matt Groening's two TV series. [
Publishers Weekly
]
* Jerry the mouse (of the
Tom and Jerry
duo) was voted the favorite television character by children in India, according to the Small Wonders study by Ormax Media. [
IndianTelevision.com
]
* Nickelodeon has partnered with China's CCTV to launch nick.cctv.com, which will stream a range of Nickelodeon programming to Chinese audiences. The deal will make MTV Networks the first international broadcaster to provide officially sanctioned online video content in China. [
Asia Media Journal
]
Evangelion Movie Update
Anime News Network's ANNCast
featured a talk with producer Joseph Chou
(
Halo Legends, Appleseed: Ex Machina
), during which Chou stated that efforts to adapt
Neon Genesis Evangelion
into live action is still
"very active."
Chou is listed as a producer on the project. Chou mentioned that there is a lot of paperwork to clear, but
"once that's resolved, I think it would be on the fast track, so we're hoping that it'll start moving even next year."
Chou discussed the difficulties of selling the concept of the film to studios in Hollywood, due to the complexity of the story. However, Chou said that
"right now we're with a producer and a studio that really understands beyond the whole mecha impact."
Chou added,
"They're really looking beyond that, and really looking at drama, human elements, even to those elements that appeal to otaku."
Ghibli's Borrowers Dated
Nausicaa.net reports
that the upcoming Hiromasa Yonebayashi directed Ghibli film
Arrietty the Borrower
has been a release date of
July 17, 2010
. The anime adapts Mary Norton's novel, transposed to a subburb of Tokyo.
Sailor Moon Revival
Sailor Moon watchers had noted
that Toei appeared to putting the
Sailor Moon
franchise back on the market. ICV2 is
now reporting that the anime giant
hoping to revive the property on a global scale starting in Italy.
Toei is partnering with Backstage, which will handle the property's rights in publishing, TV, and merchandising. Mediaset has acquired the TV rights to the 200-episode anime series and plans to begin broadcasting it in Italy in the fall of 2010.

Toei Animation's Kanji Kazahaya told Global License:
"We are certain that strategically Italy is the ideal country to initiate a global re-launch of the classic Japanese animated series such as
Sailor Moon
. The Italian public has traditionally been passionate about anime."
The
Sailor Moon
anime and manga are currently out of print in North American.
Sailor Stars
, the fifth and final season of the anime, was never released.
Fullmetal Return Scheduled for Cartoon Network
Liz Ohanesia at LA Weekly was
the first to report
and FUNimation confirmed,
Fullmetal Alchemist: Brotherhood
, a fantasy action-adventure series, will debut on Cartoon Network's Adult Swim on
Saturday, February 13
. The series will air at 12:00 a.m. ET/PT each Saturday.
Brotherhood
is a second
Fullmetal Alchemist
anime that more closely adheres to the original Hiromu Arakawa than the first.
Set in a fictional world where alchemy – the transmutation of raw materials into objects – is science and the way of life, the series follows the Elric brothers, Edward and Alphonse, on their perilous journey in search of the legendary Philosopher's Stone. They set forth in the hope that the magical artifact can restore their bodies after a failed attempt to revive their dead mother cost Edward's left leg and right arm, as well as Alphonse's entire body, leaving his soul affixed to a suit of armor. In
"Brotherhood"
the brothers will risk what remains to restore what was lost.
Acquired from Japanese producer and distributor Aniplex, the English-dubbed series is produced by Mike McFarland and directed by McFarland and Caitlin Glass. McFarland also directed
"Fullmetal Alchemist."
Funimation Entertainment will release
"Fullmetal Alchemist: Brotherhood"
Part One on DVD and Blu-ray on
May 25
.
In January Cartoon Network's Adult Swim indicated that
"we've lost the rights to Death Note and Blood+. We're just clearing house for goodies from our last Tokyo visit. We can't tell you anything yet, but we think we bought three series [maybe]."
Nagano Directing Anime
Mamoru Nagano, known for the elegent mecha of
Five Star Stories
,
will be directing anime Hana no Utame Gothicmade
. A preview was posted
here
"Justice League: Crisis On Two Earths" Feature Nabs Big-Screen Bi-Coastal Premiere
Warner Home Video has released the following press release concerning the upcoming big-screen debut of the highly-anticipated
Justice League: Crisis on Two Earths
animated feature.
Warner Home Video has issued the following
Justice League: Crisis on Two Earths
press release:
Justice League: Crisis on Two Earths
Gets Big-Screen Premieres on Two Coasts
Paley Centers in New York & Beverly Hills to Host Premieres on Feb. 16 & 18; Limited Free Tickets Available to Fans
Warner Home Video, Newsarama.com and The Paley Center for Media proudly present the bi-coastal World Premieres of
Justice League: Crisis on Two Earths
, the highly anticipated next entry in the ongoing series of DC Universe animated original PG-13 movies, in New York on
February 16
and in Beverly Hills on
February 18
. Filmmakers and members of the voice cast are expected to attend both events.

On
February 16,
Justice League: Crisis on Two Earths
will screen at The Paley Center in New York City (25 West 52nd Street) with a media interviews starting at 5:30 p.m. and screening commencing at 6:30 p.m.. A panel discussion with filmmakers and voice cast will follow the screening.

On
February 18
,
Justice League: Crisis on Two Earths
will screen at The Paley Center in Beverly Hills (465 North Beverly Drive) with media interviews starting at 6:00 p.m. and screening commencing at 7:00 p.m.. A panel discussion with filmmakers and voice cast will follow the screening.

A limited number of free tickets are available for the general public. Fans in New York City wishing to receive free tickets to the NY event on Feb. 16 must RSVP via email to justiceleagueNY@newsarama.com. Fans in the Los Angeles area wishing to receive free tickets to the Beverly Hills event on Feb. 18 must RSVP via email to justiceleagueLA@newsarama.com. Tickets to both events will be distributed on a "first come, first served" basis.

In
Justice League: Crisis on Two Earths
, a "good" Lex Luthor arrives from an alternate universe to recruit the Justice League to help save his Earth from the Crime Syndicate, a gang of villainous characters with virtually identical super powers to the Justice League. What ensues is the ultimate battle of good versus evil in a war that threatens both planets and, through a diabolical plan launched by Owlman, puts the balance of all existence in peril.

A star-studded cast provides the voices behind the super heroes and villains, led by Mark Harmon (
NCIS
) as Superman, James Woods (
Mississippi Burning
) as Owlman, Chris Noth (
Law & Order, Sex and the City
) as Lex Luthor, William Baldwin (
Dirty Sexy Money
) as Batman, Gina Torres (
Firefly/Serenity
) as Superwoman and Bruce Davison (
X-Men
) as President Wilson. Other cast members include Josh Keaton (
The Spectacular Spider-Man
) as Flash, Vanessa Marshall (
Grim & Evil
) as Wonder Woman and Jonathan Adams (
Bones
) as Martian Manhunter.


Justice League: Crisis on Two Earths
is an original story from award-winning animation/comics writer Dwayne McDuffie (
Justice League
). Animation legend Bruce Timm (
Superman Doomsday
) is executive producer, and Lauren Montgomery (
Wonder Woman, Green Lantern: First Flight
) and Sam Liu (
Superman/Batman: Public Enemies
) are co-directors.

Warner Home Video will distribute the full-length animated
Justice League: Crisis on Two Earths
on
February 23
as a Special Edition 2-disc version on DVD and Blu-Ray Hi-Def, as well as single-disc DVD, and On Demand and Download.
A co-production of Warner Premiere, DC Comics and Warner Bros. Animation, the direct-to-video
Justice League: Crisis on Two Earths
animated feature debuts
February 23rd, 2010
on DVD and Blu-ray disc.
Stay tuned for further
Justice League: Crisis on Two Earths
updates, including exclusive content and more, here soon at The
World's Finest
.
And in other news...
La-La Land Records, the acclaimed record label responsible for releasing a wide array of music scores from film and television, has provided details for the upcoming
The Flash - Original Television Soundtrack
two-disc CD release, a new title collecting Shirley Walker's score from the fan-favorite 1990s live-action series.
The Flash - Original Television Soundtrack
compact disc will be available to own through the La-La Land Records website and other online supporting soundtrack specialty stores beginning
Tuesday, February 9th, 2010
at 12:00pm (PST). This is limited edition release of 3000 units. Official details are available below.
The Flash - Original Television Soundtrack

Limited Edition Two-Disc Set


Music by: Shirley Walker
Theme by: Danny Elfman

La-La Land Records is proud to present the world Premiere release of the score to the 1990/1991 Warner Bros./DC Comics television series
The Flash
, starring John Wesley Shipp and Amanda Pays. Building off of Danny Elfman's rousing theme, acclaimed composer Shirley Walker (
Batman: The Animated Series, Superman: The Animated Series, Willard, Turbulence, Final Destination
) composes and conducts an exhilarating orchestral super-hero score that chronicles the thrilling adventures of one of DC Comics' most beloved superheroes,
The Flash
. Produced by Ford A. Thaxton and mastered by James Nelson, this two-disc release features over two hours of astounding music and includes in-depth liner notes by Randall D. Larson. This is a limited edition of 3000 Units.
Specific track details will be available
Tuesday, February 9th, 2010
, upon the official release of this title.
Animation Jobs In The Northwest
Oregon Business
is hopeful
of a bigger, better animation industry in Portland.
Laika chairman Phil Knight and CEO Travis Knight ... took bold risks on
Coraline
, financially and artistically, and their risks are being rewarded. The film has already grossed more than $120 million (twice what it cost to make) ...

The company employs 200 people, about half of whom work on animated commercials for the likes of McDonald's, Tostitos salsa, M&Ms and Spam (that's right, the canned meat product). Knight says Laika will add
"hundreds"
of jobs once production begins on the next full-length feature. ...
I've talked to artists who pulled up stakes in Los Angeles and journeyed to Portland to develop animated features for the new studio in the northwest. Several told me it didn't work out well for them, since there was a lot of disorganization. (Or as Oregon Business writes: ...
" it's been a challenging run for Laika as a business, with several mass layoffs, the slow and painful death of Jack and Ben's Animated Adventure, and the abrupt departure of
Coraline
director Henry Selick last October."
)
Despite the exit of Mr. Selick and the other setbacks, my hope is that Laika finds its footing and makes more features as good or better than
Coraline
. Laika now has a new CFO from DreamWorks Animation, an Oscar nomination, and fresh projects backstopped with truckloads of Nike money. So Laika certainly has a shot at future success.
The
best
outcome for the animation industry is to have another strong player in the feature business, providing longer term employment for artists, writers and technicians, giving Pixar and DreamWorks and Blue Sky runs for their money. I've got my fingers crossed it all works out.
(Thanks
Animation Guild Blog
)
The Future Made Plain
Hollywood. com
lays out
which animated feature will soon win the "Best Animated Feature" statuette.
... [T]his year's unquestionably worthy tip-of-the-hat went to Pixar's
Up
by way of a nomination for Best Picture. And ... it's obviously deserving of the Best Animated Feature nomination as it was indeed one of the best animated features of 2009. But doesn't its contention for one award render the other a done deal?
Uh, yeah.
The web site goes on:
... [A] comparable clash happened in 2000 when
Crouching Tiger, Hidden Dragon
took home Best Foreign Language Film while losing the big crown to
Gladiator
. Considering the former is a far superior film than the latter, it stands to reason that voting Academy members knew it would win Foreign Language so they treated its other nomination as a mere formality. Sadly, it seems more than reasonable that the exact same thing is going to happen this year with
Up
.
Sounds right to me.
Up
has as much chance of winning
"Best Picture"
as the Florida Everglades does of getting buried in snow. But that pretty much doubles the odds Pixar's latest walks off with
"Best"
in the animated category.
I'm almost as sure of that as I am that Peter Docter won't be taking home the
"Best Screenplay"
Oscar. (But it was a nice gesture of the Academy to give Mr. Docter the
nomination
.)
(Thanks
Animation Guild Blog
)
Gizmo Assembles Imagination Spot for Honda Odyssey
We already knew our cars were assembled by tiny, round-faced creatures, but I had no idea jellyfish helped tint my windows. You learn something new every day here on the internet. This spot for the
Honda Odyssey
, titled
Imagination
, was directed by Damian Palleiro at
Gizmo
in Argentina.
Concept Cafe
oversaw the creative process.
Mekanism Bites Off Candy Spot For DKNY
Mekanism
, the creative shop with offices in SF and NYC, produced this new ad for
DKNY
.
Tony Benna
directed the stop-motion spot, which is titled
The Candy Shop
.
The Artists in Gallery 839
Herewith, more on the artists and sculptors now on display at The Animation Guild deep in the heart of Burbank:
Artist: Ruben Procopio. (click on the thumbnails for full-sized images.
Rubén
Procopio
is an American animation and comic book artist. Long affiliated with Walt Disney Feature Animation as an animator and sculptor, Rubén is known for his versatile sculpting and illustration style in both cartoony and realistic characters, with an emphasis on Disney characters, superheroes, and the masked heroes of yesteryear.
Artist: Vicki Banks.
Vicki Banks
, a long-time animation artist, has in recent years used her sharp artistic skills in other other areas.
After twenty years in the animation business, sculptor Vicki Banks really knows how to bring a character to life in subtle ways. She captures a fleeting moment in her subjects' lives, whether it is an introspective moment as a skater ties a bootlace or the private thoughts of a giraffe as it perambulates the savanna.
Artist: Annie Guenther.
Ann Guenther
has worked as a top-flight
background artist
in animation for decades. She brings the same keen eye and sense of color that has served her so well in animated features and shorts to the paintings she displays this month at Gallery 839.
Artist: George Scribner.
Artist
George Scribner
, born and raised in Panama, became an animator and then feature animation director at the Walt Disney Animation Studios during the 1980s. Today he works as the animation director for the Walt Disney Company's far-flung theme parks and paints extensively.
Artist: Bill Wray.
Bill
Wray
began working in the animation business as a teen-ager. Bill went on to work in writing and drawing comic books, animation and illustration. He is mostly known for his painting style on the
Ren and Stimpy Show
, his work in
Mad Magazine
and his collaborations with Mike Mignola on Hellboy Jr. Bill is currently concentrating on fine art oil painting..
(Thanks
Animation Guild Blog
)
Lifestyles of Animation Executives
I've often heard people complain that there's no money to be made in the animation business. That's not exactly true. It's just that the money usually doesn't filter down to the people who actually create the art. Case in point, the
NY Post reported
that the Manhattan apartment of criminal douchebag Bernie Madoff was recently purchased by Al Kahn of 4Kids Entertainment, which is the licensee of
Pokémon
and
Yu-Gi-Oh!
:
The millionaire "marketing genius" behind the
Pokemon
and the
Cabbage Patch Kids
toy crazes inked a deal to buy Ponzi King Bernie Madoff's posh penthouse apartment on the Upper East Side, sources said. Al Kahn, CEO of 4Kids Entertainment, signed a contract to buy the 4,000-square-foot home, which was put up for sale by the feds to help recoup cash for the victims of Madoff's $65 billion scam. The apartment, at Lexington Avenue and East 64th Street, was recently listed at $8.9 million, $1 million less than the original asking price. While the actual sale price is not known, sources said the pad — a three-bedroom, four-bath duplex with a wrap-around terrace — went for just under the asking price in the deal brokered by the Corcoran Group.
That's nothing though compared to DreamWorks' Jeffrey Katzenberg, a more admirably creative exec, who plunked down $35 mil for new digs according to
The Wall Street Journal
:
Media mogul Jeffrey Katzenberg has paid $35 million for a house in Beverly Hills, CA. . . The six-acre property, which was never on the market, sits just above the Greystone Mansion, a Beverly Hills landmark. A long private drive leads to a house on a promontory. Mr. Katzenberg had been shopping for a large property with a view for several years. The home belonged to aerospace pioneer Simon "Si" Ramo, who was instrumental in the development of the intercontinental ballistic missile and co-founded TRW, which was acquired by Northrop Grumman. Mr. Katzenberg, who bought the property under the name of a trust, declined to comment.
(Thanks
cartoon brew
)
Red Skull Confirmed as Captain America Villain
Joe Johnston, director of the forthcoming
The First Avenger: Captain America
, has been doing press all day out in Los Angeles for his new movie
The Wolfman
and
ShockTillYouDrop.com
Managing Editor Ryan Rotten had a chance to talk with Johnston about the movie and what to expect.
Johnston confirmed that the Red Skull will indeed be the villain of the first movie and told Ryan a bit more about why they decided to set the majority of the movie during WWII:
"Virtually the entire story except the bookends are in World War II because we all recognize we have one chance to tell the origin story of how he became Captain America, you can't tell a modern story and then go back and tell the origin story. If you're going to do it, let's do it. Let's do it first. Everyone wanted to tell an origin story. There was a version where it was a modern story and it didn't work."
Hopefully, we'll have more word on Johnston's plans for the movie and answers to some of the many questions that have been on your minds, including the all-important casting of Steve Rogers and what other characters may be appearing in the movie. Johnston did say that they definitely are going for an American actor, preferably an unknown, and they hope to have that person by the end of February.
The First Avenger: Captain America
is currently scheduled for release on
July 22, 2011
.
Johnston Talks Captain America Costume
On Saturday,
SuperHero Hype
got a chance to talk to
The First Avenger: Captain America
director Joe Johnston about the anticipated film (you can read that
here
) and the
Los Angeles Times
got some more costume, story and casting details from the helmer (
Spoilers ahead!
).
"The costume is a flag, but the way we're getting around that is we have Steve Rogers forced into the USO circuit,"
Johnston said.
"After he's made into this super-soldier, they decide they can't send him into combat and risk him getting killed. He's the only one and they can't make more. So they say, 'You're going to be in this USO show' and they give him a flag suit. He can't wait to get out of it."
He added that
"When he does go AWOL, he covers up the suit but then, after a few things happen, he realizes that this uniform allows him to lead. By then, he's become a star in the public mind and a symbol. The guys get behind him because he embodies something special."
Which leads to a new costume:
"In the first USO sequences, the frustrated patriot will be wearing a version that is closer to the classic Jack Kirby-designed costume, but then later as the super-soldier hits the war zone he will be wearing a sturdier, more muted version that he makes himself that is more like battle togs. The stripes across his mid-section, for instance, will be straps, not colored fabric."
You can read more of what he said about the costumes and how many actors they are looking at by going
here
.
Amazing Avatar in 4-D ups ante with REAL lasers and explosives
We wonder what James Cameron, seen above in China, would make of the South Korean Avatar?
Most of the world thought
Avatar
was pretty mind-blowing, but those Korean audiences? Turns out they wanted more.
They needed more than just the state-of-the-art, envelope-pushing 3-D technology James Cameron came up with to make
Avatar
the highest-grossing film of all time. They needed—4-D!
According to
Variety
, the
Avatar
as seen as in Korea has added 30 physical effects to the film's 162-minute run, including moving seats, the smell of explosives, sprinkling water, laser lights and wind.
This isn't the first time Korean audiences have experienced 4-D shows. The practice started last year with
Journey to the Center of the Earth
. And the firm behind the practice already has plans to give the upcoming film
Percy Jackson & the Olympians: The Lightning Thief
the same 4-D treatment.
I don't know about you, but I'm suddenly having flashbacks to all those midnight showings of
The Rocky Horror Picture Show
! Toast, anyone?
A new Daredevil film is coming whether we want one or not
Remember
Daredevil
, the 2003 film that put Ben Affleck in the scarlet suit in hopes of launching a franchise in the footsteps of the previous year's
Spider-Man
? That lackluster movie seemed to sink those hopes instead, but according to Nikki Finke over at
deadline.com
, Marvel's blind superhero will get a chance on the big screen again after all.
David Scarpa, who has already scripted one reboot—
The Day the Earth Stood Still
—will be writing the screenplay for the new
Daredevil
film, which will be released by New Regency and produced by former News Corp. president Peter Chernin.
Why is this all happening now? It all comes down to a case of—use it or lose it. Any Hollywood studios with Marvel superheroes need to keep bringing those characters to the screen or else the rights will revert back to Disney-based Marvel.
So what do you think? Are you up for another
Daredevil
flick?
He'll be back—Sony joins bidding for Terminator rights
James Cameron
might not think the world cares about another
Terminator
flick, but based on the battle over the rights to produce future films in the franchise, he may be alone in that opinion.
According to
Variety
, Sony has joined Lionsgate in bidding for the rights to the
Terminator
franchise.
Last month, Lionsgate was the first bidder, offering $15 million and a 5 percent cut of future gross receipts. Sony submitted its own bid for an undisclosed amount on Thursday, the final day for submitting offers.
The auction for the
Terminator
assets—which include the rights to future films, TV series, DVDs and merchandise—will be held Monday at the offices of FTI Consulting in Los Angeles, followed by a bankruptcy court hearing two days later.
So what do you think? After
Terminator: Salvation
, do you still care?
Taylor Lautner to Play Stretch Armstrong
Universal Pictures has announced that
"The Twilight Saga"
star Taylor Lautner will play the title character in
Stretch Armstrong
, to be released in 2012. The announcement was made today by Universal Pictures Chairman Adam Fogelson and Co-Chairman Donna Langley.
Stretch Armstrong
is moving to 2012 to allot time to shape the project into a 3-D superhero adventure and to accommodate Lautner's existing commitments.
"In the past two years, Taylor has emerged as a real star at the global box office. He brings the perfect balance of energy and athleticism to the role of an unlikely super hero with a fantastic super power,"
said Langley.
"We couldn't be more pleased that he has agreed to be our Stretch."
Stretch Armstrong
is based on the iconic action figure made popular around the world beginning in the 1970s and re-launched in the 1990s. Academy Award®-winning producer Brian Grazer (
A Beautiful Mind, 8 Mile, American Gangster
) will team with Hasbro to bring
Stretch Armstrong
to life. Steve Oedekerk (
Bruce Almighty
) has written the screenplay, and Hasbro's Goldner and Schneir also produce.
Director: Captain America will be an unknown U.S. actor
Good news for those worried that Scottish-born John Barrowman or Australian Sam Worthington might be the guy to put on Captain America's red-white-and-blue tights: Director Joe Johnston said categorically that he will cast an American in the title role of
The First Avenger: Captain America
.
"Casting an American? Absolutely,"
Johnston said in a news conference in Beverly Hills, Calif., on Saturday while promoting his next film,
The Wolfman
.
"Oh, yeah. I don't think we could make the film without an American playing the part. But we may not be casting in America, because we're going to London. I think we'll probably shoot in the U.K. for most of it, because it takes place in Europe. But, yeah, we'll definitely be casting [an American]."
Johnston also revealed other details about his upcoming film:
♦Expect a casting announcement no later than March 1. And expect an unknown.
"I hope it'll be somebody that we discover and who's never been in ... —he's probably been in something, but you won't know who he is. You won't recognize him, and we'll surround him with more prominent names. That's who we're looking for. Will we find him? I don't know. It's tough."
♦It won't be shot in 3-D, but it will be shot on high-definition video that could be converted to 3-D later.
"We're not going to be shooting it specifically in 3-D, but this is the first film I will have shot in hi-def."
♦It won't look like other superhero movies.
"We're definitely going to shoot it in a different way than any of the other Marvel pictures have been shot. What I'm trying to do is look at the comics, mostly the new ones, mostly the [Ed] Brubaker series [from 2004] and to interpret that sort of visual style into a film in a way that I think has been tried before, but it always looks like it's a little too on the nose. It looks like, oh, they're shooting a comic-book movie. I want to try something a little bit different."
♦Johnston promises big action set pieces.
"Right now we have to sort of pick our battles, because it's a little more than we can afford right now, but there are some great action sequences, stuff we haven't seen before."
The First Avenger: Captain America
is due in theaters on
July 22, 2011
.