Oscar Nominations: UP nominated for BEST PICTURE
The
Oscar nominations
were announced this morning. Nominated for
BEST ANIMATED FEATURE were:Coraline
- Henry Selick
The Fantastic Mr. Fox
- Wes Anderson
The Princess And The Frog
- John Musker, Ron Clements
The Secret of Kells
- Tomm Moore
UP
- Pete Docter
Also: UP was nominated for 5 Academy Awards. In addition to BEST ANIMATED FEATURE, the Pixar film was also nominated for BEST PICTURE (!), SOUND EDITING (Michael Silvers and Tom Myers), ORIGINAL SCORE (Michael Giacchino) and ORIGINAL SCREENPLAY (Screenplay by Bob Peterson, Pete Docter, Story by Pete Docter, Bob Peterson, Tom McCarthy).
"Almost There"
and
"Down in New Orleans"
from
The Princess and the Frog
were nominated for BEST SONG (Music and Lyric by Randy Newman).
AVATAR
was nominated for nine Academy Awards, including BEST PICTURE.
Nominated for BEST ANIMATED SHORT are:French Roast
- Fabrice O. Joubert, director (Pumpkin Factory/Bibo Films).
Granny O'Grimm's Sleeping Beauty
- Nicky Phelan, director, and Darragh O'Connell, producer (Brown Bag Films)
The Lady and the Reaper (La Dama y la Muerte)
- Javier Recio Gracia, director (Kandor Graphics and Green Moon).
Logorama
- Nicolas Schmerkin, producer (Autour de Minuit).
A Matter of Loaf and Death
- Nick Park, director (Aardman Animations Ltd.)
The directors nominated for Best Animated Feature will appear in person for Q&A with Tom Sito on at Academy of Motion Picture Arts and Sciences, Samuel Goldwyn Theatre, on Thursday March 4th at 7:30pm – For more information check the Academy's
Animated Feature Symposium
website.
The filmmakers nominated for Best Animated Short will appear in person for Q&A at Academy of Motion Picture Arts and Sciences, Samuel Goldwyn Theatre, on
Tuesday March 2nd
at 7:30pm – For more information check the Academy's
Oscar Event website
. The Academy Awards will be presented on
Sunday March 7th
at the Kodak Theatre in Hollywood.
(Thanks
cartoon brew
)
Planet Hulk Arrives in Video Orbit
The Hulk smashes his way back into original animation this week with the release of the original DVD feature
Planet Hulk
(Lionsgate, $19.98 DVD, $24.98 two-disc special edition DVD, $29.99 special edition Blu-ray). Based on the comic book storyline of the same name,
Planet Hulk
sees the green goliath exiled into space where he becomes a gladiator and eventual freedom fighter on a distant alien planet.
Both the DVD and Blu-ray special editions of the movie are packed with bonus features, including multiple commentaries, behind the scenes featurettes, music videos and episodes of motion comics. It also features a sneak peek at the opening sequence to Marvel's next direct to DVD feature,
Thor: Tales of Asgard
.
Here's the trailer to
Planet Hulk
:
As if that weren't enough superhero content, this week also sees the release of
Wolverine & the X-Men: Fate of the Future
(Lionsgate, $14.98), the fourth release in the current Nicktoons series. Also out is
Batman: The Brave & The Bold, Vol. 3
(Warner Bros., $14.97), collecting more episodes from Cartoon Network's lighter, team-up take on the Dark Knight.
This week also sees the first Blu-ray release of
Hellboy: Sword of Storms/Blood & Iron
(Anchor Bay, $17.98).
Also arriving in the animation aisle of the video store this week is
Tom & Jerry's Greatest Chases: Vol. 4
(Warner Bros., $14.97),
Yo Gabba Gabba: Birthday Boogie!
(Paramount, $16.99),
Dora the Explorer: Let's Explore! Dora's Greatest
(Paramount, $16.99),
Super Mario World: Koopa's Stone Age Quests
(Ncircle Entertainment, $6.99),
G.I. Joe, A Real American Hero: Season 1.3
(Vivendi, $29.93) and
Nana Box Set 3
(VIZ, $59.90)
(Thanks
Animation Magazine
)
Nintendo Plans
Pokemon
Reboot
For fourteen years,
Pokemon
has been one of the most reliable brands in the world, succeeding in video games, card games, anime TV and feature films, print and merchandising.
But in the modern entertainment world, everything eventually gets the re-boot — and
Pokemon
is no exception.
According to a report on the official
Pokemon
website, franchise owners Nintendo are planning a completely new
Pokemon
series is in development that will feature new monsters, new game play functions and other new features.
The new
Pokemon
is being prepared for release later this year in Japan as a video game on the Nintendo DS platform.
Should the revamp catch on, expect the changes to make their way both across the Pacific and into other media.
(Thanks
Animation Magazine
)
Disney Starts on Jake and the Never Land Pirates
Disney Television Animation is going back to Never Land, beginning production on the animated series
Jake and the Never Land Pirates
.
The series will feature classic Peter Pan characters Captain Hook and Smee, as well as a new crew of kid pirates lead by the fearless Jake. Designed as an interactive 2D and CG-animated series for preschoolers, the series will emphasize teamwork.
"Jake and the Never Land Pirates will introduce preschoolers to the excitement of Never Land, an imaginative, engaging pirate world for kids and a wonderfully memorable one for their parents,"
says Nancy Kanter, senior VP Playhouse Disney Worldwide.
"Comedic foils Captain Hook and his well-meaning sidekick, Smee, will continue to amuse young kids, as the enthusiastic Jake leads his team of kid pirates on adventures that model teamwork for our young viewers."
The voice cast includes Colin Ford as Jake, Disney Channel star Madison Pettis as Izzy and Jonathan Morgan Heit as Cubby. The series will feature original pirate jigs and rock chanteys, as well as music underscore by Loren Hoskins and Kevin Hendrickson of the Portland, Oregon-based pirate rock band, Captain Bogg & Salty. Rob LaDuca is executive producer and Howy Parkins is director.
The series will be broadcast on Playhouse Disney outlets around the world. A premiere date was not given.
(Thanks
Animation Magazine
)
Conchords' Bobin to Direct Muppets Movie
James Bobin has signed on to direct a new Muppets movie for Disney from a script co-written by
How I Met Your Mother
star Jason Segel, according to The Hollywood Reporter.
Bobin is co-creator of the cult HBO comedy series
Flight of the Conchords
, and previously worked on Sascha Baron Cohen's
Da Ali G Show
. He landed the gig after the
Cloudy With a Chance of Meatballs
duo of Phil Lord and Chris Miller opted to do a film version of
21 Jump Street
as their next film.
Reviving the Muppets has become a top priority for Disney, which bought the characters from Jim Henson Co. in 2004.
The script by Segel and Nicholas Stoller is being kept under wraps, though Segel is a reported huge fan of the Muppets.
(Thanks
Animation Magazine
)
Previs Society Opens Web Portal, Application Process
The Previsualization Society has officially opened its doors, unveiling a new online portal and formally accepting membership applications.
The nonprofit group has been formed to advance previs in movies, games, commercials and architecture, and create a community and awareness of the previs process.
The society already includes 300 charter members and has opened up for applications memberships at the following levels: Previs Professional (full memberships for credentialed previs artists and supervisors); Associate (full memberships for industry professionals working in conjunction with previs); Educator (full memberships for accredited teachers and instructors); Student (full memberships for currently enrolled students); General (limited memberships for those interested in previs but outside of the previs industry).
Memberships provide tiered privileges and access to society documents, materials, information, forums and events. Company memberships and sponsorships are also offered. Visit the Membership Section of the Previsualization Society website for full membership requirements, benefits details and to immediately apply.
The web portal, located at
www.previssociety.com
, is a hub of previs content and topics and will include news, contributions from members, historical timelines, technical documents and galleries. While many items on the site are free, some require a login available only to paid members.
(Thanks
Animation Magazine
)
The Princess And The Frog's Supervising Animator Mark Henn – Part 4: Americana
Jeremie Noyer continues his multi-part discussion with Mark Henn, presenting a new chapter each fortnight in celebration of the worldwide launch of The Princess And The Frog from the US release to its European debut, and evoking the chronology and different aspects of the veteran animator's career, from his studies and dreams of working for Disney, to his first assignments and serving as supervising animator on the Studio's current contemporary classic!
Mark Henn is not only one of the finest Disney animators ever. He's also a specialist of American history and a sculptor of great figures, both well-known and unknown. So, no doubt this influenced his decision to be involved in Disney's projects related to that topic, such as the
John Henry
short or the animated feature
Home on the Range
.
Here are his memories of that time when artists were wondering if the Sun would Ever Shine Again on Disney animation…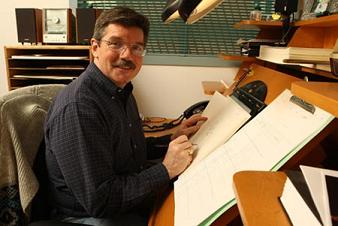 Animated Views: You're well-known for your passion for American history.

Mark Henn:
It kind of goes back to my childhood. I grew up in the Midwest of this country which is close to a lot of American history. I've just always had a strong interest in American history and the people and the events that helped shape the country – good things and bad things. One element that's particular to American history is the fact that, unlike a lot of places in the world, we're very close to our history in a time line. I mean, the United States as a formal nation is just a little over 230 years old. That's, I know, compared to Europe, and other places in the world, just a drop in the bucket! You have the idea that a person here can just look back a few generations in your family line, and you're back maybe in the Civil War, and just a few more and maybe you're back to the American revolution, depending on when your ancestors made the move over to this country. I just think that's very fascinating.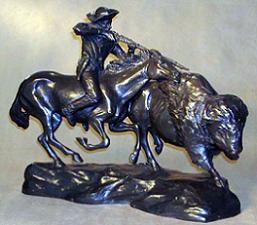 AV: Is it because of this interest that you wanted to direct the animated short John Henry?

MH:
That's partly true. John Henry as a story was just always one of my favorites as a child both because of its historical nature but I also love the message, the story behind it: man and machine playing out against each other. That's something that I have always had in the back of my mind, something that I always would like to have done. I had that opportunity right after
Mulan
so we produced and made that in Florida before I moved back to California.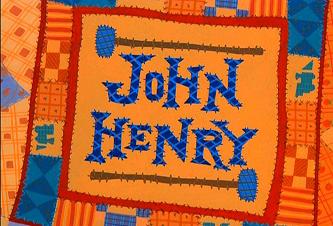 AV: Was a deliberate choice to become a director?

MH:
For that project, yes, it was. I thoroughly enjoyed putting a team together and working with them. One thing that we have always had around here at the studio is just an amazing talent pool. And to work with people that, in a lot of areas, know their job a lot better than you do, is just a real treat. That's one of the joys I find in directing. I would very much like to have that opportunity again.
AV: Before its closure in 2002, the Florida studio had begun working on My Peoples, another American subject. Were you involved in any way in that?

MH:
No, I wasn't. I had already moved back to California. That was in 1999. I finished up John Henry and came back to California.
AV: The design of John Henry is very interesting and very unusual. Can you tell me about it?

MH:
Even though it's a short, we took our time to do some extensive research. We kind of took our inspiration from two sources, both African-American. We looked at "quilting", the idea of what was known as "story quilt" which was very prevalent during the Civil War and 19th century America. Then we also looked at a lot of African-American artists of that period that were known to be called part of the Harlem Renaissance movement which was a very amazing time-frame in the early 20th century of African-American artists in the Harlem area in New York. There was just kind of an explosion of artists and we looked at a lot of artists of that time frame, that was also very inspirational.
I guess the third element was the scratchboard technique that we kind of re-discovered. It's one of those things you learn in colleges and it had a dynamic that we liked. We had a children illustrator by name of Pinkney whose illustrations were done in that technique and he came in and helped work with our background painters to help them understand it and what you could do with that, all done by hand. We wanted to make something different, something we don't normally get to do on a feature, but the short allows a little more flexibility in that sense.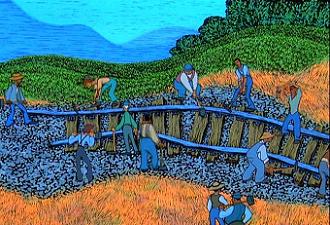 AV: You were pretty involved in Home on the Range since you animated several characters.

MH:
Yes, I did quite a few!
AV: At the time, it was said to be the last Disney 2D animated feature. So, what is your position regarding the debate opposing 2D and 3D animation?

MH:
I think there's room for both. They each offer unique abilities. I mean, there's things that you can do in 3D that you can't do in 2D and vice versa. 2D can accomplish certain looks that you can't get in 3D. But they're really two different things; they're apples and oranges, the way I look at it. I think that what has been done by Pixar and other studios proves it's an art form, a style of filmmaking or at least a style of animating that's going to stick around. There's certainly room to include 2D films in the future. Both of them hinge on common elements and that's good story and compelling characters.
I think that the fans of 3D are wearing off a little bit and people have kind of got over that. Now, they want what they have always wanted: a good story with compelling characters, whether that's done in 2D or in 3D. The people I've talked to don't seem to really have a preference. They tell me they miss 2D animation, they would like to see it. So, I think that how you execute it is really secondary to the story you're choosing to tell. Audiences just want believable characters to get involved with. And that's kind of where I come down on it at this point.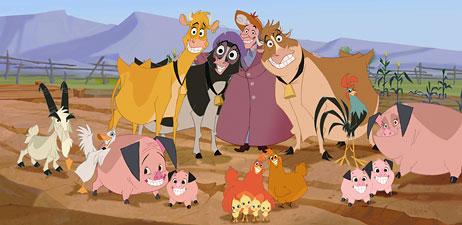 AV: So, how do you explain the mixed success of Home on the Range? Because 2D wasn't "fashionable" at that time or because of story problems?

MH:
It's hard to say. I think there's a little of all those things that you mentioned. Maybe the story was not as strong as it could have been. There were story problems throughout this production. I don't know if people didn't go to see it just because it was 2D. The movie business is very complicated. You put your heart and soul into a project, you believe you did the very best you can, you put it in the market and hope that more people than that will also agree with you. That one just did not do as well as we thought, I don't honestly know why. At that time, people on the street were more interested in 3D.
AV: What elements guide you in your choice before deciding to supervise a character?

MH:
That's a good question. I look at the challenges in terms of the role. I basically approach it like an actor would approach a big offer for a particular role in a film –is this role interesting? If it's a small role, but an interesting role, that would be worth doing it. So I basically look at the role, imagine myself in that role, what I can bring to it, to the character.
AV: Many Disney 2D animators have now been trained in 3D.

MH:
I worked on
Meet the Robinsons
as an animator on Lewis a little bit, and then I worked on some of the family members.
AV: Do you see any differences between the ways Disney and Pixar approach animation?

MH:
Actually, there are very little differences since John Lasseter and a lot of the core group of people at Pixar used to work here at Disney and particularly John. So, he grew up knowing and understanding. So, essentially, their approach to filmmaking, characters and animating is very similar to the Disney approach. Technically, there are some differences, since we have a little different system here, but it's just mechanical. Emotionally and performance-wise, they want to achieve the same things that we want to achieve in our films.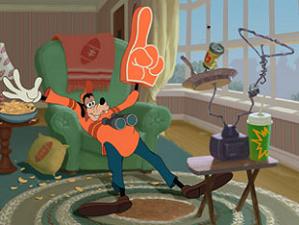 AV: You participated in the Goofy short How to Hook Up your Home Theater and then in the animated part of Enchanted.

MH:
Yes, I actually got to work on the
Enchanted
project with James Baxter. The studio loaned myself and Andreas and a couple of other animators out to James' studio to work on that for about two or three months. I did Gisele… another girl! It was a lot of fun.
AV: What are your best memories in your career at Disney?

MH:
Boy! I suppose, just on the top of my head, aside from the productions and the fun and crazy things that happened during production, I thing some of the fun memories that I have looking back over my career has been a lot of the different people that I had the chance to meet. I've met former presidents of the United States, I got to meet Princess Diana when she visited Florida with her boys, celebrities, very interesting and very nice people I had the opportunity to meet. If I wasn't a Disney animator, I probably wouldn't have had that opportunity. That's been very fun!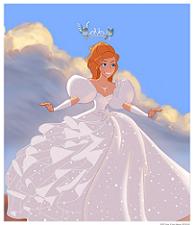 AV: How do you feel now at this point of your career?

MH:
I have a lot to look back and I have fond memories of the different productions but I guess, for me right now, it's still the idea of looking ahead and getting better as an animator. As we talked before, I certainly would like the opportunity to direct again in the future, but in the meantime, as an animator, we can always do a better job and become a better Disney animator.
• In Part 5, we'll talk about Mark Henn's animation of Tiana in The Princess and the Frog
.
(Thanks
Animated Views
)
Oscar-Nominated Shorts Get Feb. 19 Release
This year's Oscar-nominated animated and live-action short films will once again get a theatrical run from Shorts International and Magnolia Pictures starting Feb. 19.
This is the fifth year the companies have released the short film program to theaters. The release will expand in the weeks leading up to the March 7 Academy Awards presentation to reach 100 cities in the United States, Canada and the United Kingdom.
The nominees will be announced by the Academy on Feb.2, followed by the posting Feb. 4 of a full list of the participating theaters.
The series has charted a 289% increase in attendance at the domestic box office since its inception in 2005, breaking the record last year for the highest gross ever on a single screen at New York's IFC Center.
"These short films prove the continued relevance of the short film category with
a formidable line-up of varied productions from around the world,"
said Carter Pilcher, chief executive of Shorts International.
"These filmmakers represent filmmaking talent of the future and we are thrilled to be introducing them to the marketplace.
"
"It's the only program of its kind, making Oscar-nominated short films available to the public before the awards,"
said Tom Quinn, SVP of Magnolia Pictures.
"If audiences are interested in improving their handicap come Oscar night, this is the best way to get a head start."
(Thanks
American Magazine
)
Pearlie Scores Major Market Sales
Animated series
Pearlie
is coming to several of the world's major TV markets, including New Zealand and the United Kingdom under several new deals struck by Mango Distribution and Nelvana Enterprises with local broadcasters.
The sales are to Nickelodeon New Zealand, Viasat in Bulgaria, SRC in French Canada, Chello Media in Hungary, RTI in Italy, Viasat in Lithuania, M-Net in South Africa and Pop Girl in the United Kingdom.
Previous
Pearlie
sales include Nickelodeon Australia, qubo in the United States, Ki.Ka in Germany, TVB in Hong Kong and YTV for English Canada.
Pearlie is produced by Australia's Sticky Pictures (
Dennis & Gnasher, Monster Auditions
) in collaboration with Canadian animation powerhouse Nelvana Studio (
The Fairly OddParents, Franklin, Jane and the Dragon
), and was commissioned by Australia's Network Ten and YTV in Canada.
A $9 million project,
Pearlie
was two years in production and five years in development.
Pearlie
is based on the best-selling books written by Australian comedienne, radio personality and author Wendy Harmer. More than 600,000 copies have been sold globally and are available in eight languages.
Pearlie
follows the life of a fashionable young urban fairy in charge of Jubilee Park, a magical oasis in the centre of a bustling big city.
(Thanks
American Magazine
)
Metropia lead animator honored at Swedish awards
Isak Gjertsen, lead animator of last fall's
"Metropia,"
was honored Monday night at Sweden's national film awards for his contributions to the country's film industry.
A science-fiction film directed by Tarik Saleh,
Metropia
is a futuristic look at a terrifying Europe where the world is running out of oil. The film used a technique in which actual photographs were altered and heavily stylized in a computer program, and then animated.
Metropia
won the award for Best Music at the Stockholm Film Festival and the Future Film Festival Digital Award at the Venice Film Festival. It had been nominated for Best Film at the Sitges - Catalonian International Film Festival.
Also given career tributes at last week's Guldbagge (Golden Beetle) awards were casting director Maggie Widstrand was honored for her contribution to children's film. Line producer Malte Forssell and editor-composer Johan Soderberg were also recognized.
The Girl with the Dragon Tattoo (Män som hatar kvinnor)
, based on the first book of Stieg Larsson's best-selling
Millennium
trilogy, won three awards, including best picture and best actress (Noomi Rapace). It was the first time that one film received the Golden Beetle for both Best Picture and the Audience Award.
Moonshine: Brewed on the Dark Side of the DreamWorks Moon
A few years ago, a group of DreamWorks artists banded together to create
Scrambled Ink
, an indie comic anthology that was eventually published by Dark Horse Comics. This summer, DreamWorks is releasing
Moonshine: Brewed on the Dark Side of the DreamWorks Moon
, which marks the first time that an animation studio has officially sanctioned an 'art of' book featuring the personal work of its artists. From the book description:
From forty-five talented and prolific DreamWorks Studio art directors, character designers, production designers and visual development artists . . . Moonshine features artwork that is made during the precious little time of day when the contributors are not working on stunning upcoming movies such as
Puss in Boots, Shrek Forever After, The Croods, Kung Fu Panda 2, Oobermind, Guardians, Scared Shrekless
and
Kung Fu Panda Holiday
.
The trend of studio artists self-publishing comic anthologies is nothing new. During the past few years, we've seen a couple volumes of
Out of Picture
from Blue Sky folks,
What is Torch Tiger?
and
Who is Rocket Johnson?
from Disney artists, and
The Ancient Book of Sex and Science
and
The Ancient Book of Myth and War
out of Pixar. But those were all published by the artists themselves, and didn't have funding from their studios like Moonshine. Gotta hand it to Jeffrey Katzenberg on this one. It's a savvy move on his part to encourage the personal creativity of his staffers beyond the creative confines of film production, and to bring their independent works under the umbrella of his studio. (It should be noted that Katzenberg provided a blurb for the back cover of the earlier book
Scrambled Ink
). I would be very curious, however, to find out what the terms of the deal are for the artists participating in the book: does the artwork in the book become studio property or do the artists retain copyright over their personal ideas as they do in all of these other indie book projects?
(Thanks
cartoon brew
)
FRIDAY in LA: Yuri Norstein at USC
Heads up, Angelenos. The
USC School of Cinematic Arts
invites you (or anyone who can get to USC this Friday) to participate in a retrospective evening and conversation with legendary Russian animator
Yuri Norstein
. The admission is free. The event begins at 7:00pm on
Friday, February 5th, 2010
in the Norris Cinema Theatre/Frank Sinatra Hall. The conversation with Norstein will be led by Ukranian animator
Igor Kovalyov
(
Milch, The Rugrats Movie, Hen His Wife
, etc.). Norstein will also present a preview of his feature-length film adaptation of Nikolai Gogol's Overcoat. The evening will conclude with a dessert reception in front of the theater.
To RSVP and for more information check the
USC Cinematic Arts website
. Below is one of Norstein's classic films,
Hedgehog In the Fog
(1976):
He'll be making appearances in other cities besides LA too. Let us know if you know of any other dates besides the ones below:
SAN FRANCISCO
Sunday, February 7:
Balboa Theater (3630 Balboa Street, San Francisco, CA). Tickets are $25. The event will be a fundraiser to support Yuri Norstein's animation studio in Moscow. If you can't afford the screening, there is an artist reception beforehand that only costs $7. Ticket purchases can be made at the
Porto Franco Art Parlor website
.
OLYMPIA, WASHINGTON
Wednesday, February 10:
The Evergreen State College, Communications Building, Recital Hall in Olympia Washington. Ticket prices are $10 regular admission, $8 seniors, $5 students. More information at the
Evergreen State College website
.
NEW YORK
Monday, February 15:
School of Visual Arts Theater (333 W. 23rd Street, between 8th/9th Ave.) This event is billed only as a Q&A so be aware that there may not be a screening. No price is indicated so I'm also assuming it's free. More info at the
ASIFA-East website
.
(Thanks
cartoon brew
)
Not Exactly
The L.A. Times
reports
director Wes Anderson as saying:
"Usually, directors are either in animation or live action,"
Anderson conceded to Gold Derby, citing Tim Burton as one of the rare exceptions.
This is a tad wrong ...
Off the top of my head, some animation directors (and/or board artists and animators) who have worked as live-action directors:
Kevin Lima
Rob Minkoff
Andrew Stanton
Frank Tashlin
Jerry Rees
Simon Wells
And so on and so forth.
Then of course there are the live-action directors now moving into animation. Although Mr. Anderson is one of the purer specimens, if
Avatar
isn't halfway to three-quarters animation, I will eat my computer.
(Thanks
Animation Guild Blog
)
Short A and O from Rauch T and M
In the last year many of us have produced spots for The Electric Company.
Here's one from the Rauch Brothers.
Let me know if you find anymore online.
(Thanks
ASIFA-East
)
Hard Times For Mr. Burns in Coca-Cola's Super Bowl Spot
Mr. Burns, the sinister CEO on
The Simpsons
, has been hired on by Coca-Cola for an upcoming animated Super Bowl spot. The :60 second ad, titled Hard Times, features Burns at the nadir of his economic collapse. The piece was brought to life by
Film Roman
and
Gracie Films
.
Over on
Coca-Cola's Facebook page
, you can see a brief preview of the spot if you send a virtual gift to a friend. Subsequently, Coke will donate $1 to the
Boys & Girls Clubs
for each gift sent.
New "Planet Hulk," "Wolverine And The X-Men: Fate Of The Future" Images Released
Marvel Animation Age
has your first look of images from the upcoming
Planet Hulk
and
Wolverine and The X-Men: Fate of the Future
home video releases, including exclusive images.
Marvel Animation has released production artwork for the upcoming direct-to-video animated feature
Planet Hulk
. The production artwork focuses on the wide assortment of characters appearing in the
Planet Hulk
animated feature, arriving on Blu-ray and DVD
Tuesday, February 2nd, 2010
from Lionsgate Home Entertainment and Marvel Animation. To view the artwork, please click on the thumbnails below for a closer look.
v
In continuing
Planet Hulk
coverage, Marvel Animation Age has your exclusive first look at the package artwork for the Blu-ray release of the highly-anticipated animated feature. Click on the thumbnails below to view the back cover art and disc art to the upcoming release.
Planet Hulk
is scheduled to arrive on Blu-ray and DVD on
Tuesday, February 2nd, 2010
from Marvel Animation and Lionsgate Home Entertainment. A review of the
Planet Hulk
Blu-ray release is available at The
WF DVDReport
. Earlier Marvel Animation Age
Planet Hulk
coverage is available to view
here
.
In further home video coverage, Marvel Animation Age has a look at the package and menu system for the upcoming
Wolverine and the X-Men: Beginning of the End
DVD release from Lionsgate Home Entertainment and Marvel Animation. To view package and disc art for the title, on sale
February 2nd, 2010
, click on the thumbnails below.
The
Wolverine And The X-Men: Fate of the Future
DVD release from Lionsgate Home Entertainment is scheduled to hit shelves on
February 2nd, 2010
.
Click here
for further details on this release, including episode and bonus content information. A fifth
Wolverine and The X-Men
volume release from Lionsgate Home Entertainment is planned for May 2010.
You won't see THIS Captain America in the new movie
Director Joe Johnston is revealing a bit more about the preproduction on his upcoming Marvel Comics superhero movie
The First Avenger: Captain America
, including which versions of Cap will figure in the movie adaptation.
Speaking with
Film Journal
, Johnston (
The Wolfman
) said the film will start in World War II but avoid the version of the hero from more recent times:
The film, he says at this early stage, will begin "in 1942, 1943" during World War II. "The stuff in the '60s and '70s [comic books] we're sort of avoiding. We're going back to the '40s, and then forward to what they're doing with Captain America now."
As for what Cap will look like?
"We're in prep," Johnston says. "Rick Heinrichs is production-designing and we're set up down in Manhattan Beach [California]. It's the part of the process that I love the most," he enthuses. "We have eight or ten really talented artists, and we all just sit around all day and draw pictures and say, 'Hey, wouldn't it be cool if we could do this?' It's that phase of the production where money doesn't matter: 'Let's put all the greatest stuff up on the wall and [then later] see what we can afford.'"
(Thanks to
Dark Horizons
for the heads-up.)
Robert Downey Jr. On 'Avengers' Quality Vs. Scheduling And Tony Stark's 'Iron Man 2' Mindset
The hotly anticipated
"Iron Man 2"
may only be three months away from theaters, but Robert Downey Jr. is already looking ahead to
"The Avengers"
as a culmination of the first four years of movies from Marvel Studios.
"It's the pinnacle, but only if it's done in the smartest and best and most creatively sound way possible,"
Downey told
SFX Magazine
, (via
ComicBookMovie.com
).
"And I'm not saying we can't get there. I'm just saying it would be better to get there and not stay on schedule than to get everyone what they were hoping for in terms of a release date but not do it correctly. And by correctly, I mean my way,"
laughed Downey.
Downey also spoke at length about Tony Stark's mindset during the events of
"Iron Man 2."
"In 'Iron Man 2,' Tony's psyche undergoes quite a rupture because he no longer has that kind of was trade to tweak on,"
Downey elaborated.
"What's a fella to do? He's thinking more about his legacy and about sustaining his own corporeal being, which has always been a problem, and now obviously comes much more to the fore because he essentially has a nuclear reactor as part of his anatomy!""There's a dark side to Tony Stark because of his impending death. But there are also all the people and characters around him who bring him to life,"
continued Downey.
"There's this huge world that's so much fun, and it's great to go back there, erase the chalkboard with Jon [Favreau] and say, 'Okay. This thing came out, people really liked it and it did great business, but what are we going to do now?'"
SFX Magazine
also spoke with three classic Marvel creators about their impressions of the upcoming
"Thor"
and
"Captain America"
movies as well as
"The Avengers."Roy Thomas:
"Even though I wrote far more stories than Stan Lee did, I'd actually like to see something that had the spirit of those early issues of 'The Avengers,' when they were first getting together to fight somebody. They didn't know each other, and one of them is the Hulk, who doesn't know or like anybody. I think it'll be good to see the Hulk, Captain America, Thor and Iron Man all coming together. I wish they could find a way to adapt aspects of the fourth issue, so they'd deal with unfreezing Captain America from World War 2."
Gene Colan:
"I think Captain America should be portrayed much like in the book. They'll probably enhance it and go a step further with some things. They tried it before, many years ago, but it wasn't successful and didn't go anywhere. Maybe this time they'll cast a good player in that role."
Walt Simonson:
"What I'd really like from 'Thor' - whether it has elements of the comic that I did or Stan and Jack or Gerry Conway or Len Wein or anybody else - I'd like to see them put into a coherent two-hour-and-ten-minute movie. What I'd like is a cracking good story, because it seems to me that so often in films, the story itself doesn't really seem to have been thought out fully. I'm assuming the direction will be fine and that the whole thing will look nifty. I just want it to be a kick-ass movie!"
Last week, Marvel Studios President Kevin Feige
also spoke with SFX Magazine about potential "Ant Man", "Doctor Strange" and "Iron Fist" movies.