The Ricky Gervais Show debuts this week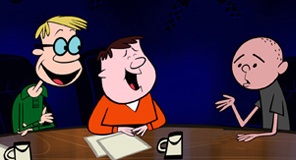 HBO
will debut a new animated series starting
February 19th
based on the popular podcast
The Ricky Gervais Show
. Those unfamiliar with the podcast can get a more in-depth primer on it and the animated series from the
Toronto Star
, but the gist is three funny guys sit in a studio and riff about what ever strikes their fancy. Though, more often than not it is Gervais and co-host Stephen Merchant jibing producer Karl Pilkington's unique take on things. But what works in audio form may not be suited for TV.
The Hollywood Reporter
review says the show
"could have worked as a series of five-minute YouTube segments"
. But with fans who put their show into the Guinness World Records for world's most downloaded podcast, Gervais and his crew are hoping for something more.
What it takes to make an Oscar nominated short
After watching the ten nominees in the Best Live-action Short and Best Animated Short Oscar categories,
The Faster Times
has a five-point hypothesis on what it takes to make an Oscar nominated short film. The tongue-in-cheek but funny-becasue-it's-true
"recommendations"
range from
"going with what works"
as in
A Matter of Loaf and Death
, to
"flattering the Academy"
as in
Granny O'Grimm's Sleeping Beauty
and
The Lady and the Reaper
, to just
"seeming foreign"
as all ten nominees do, including
French Roast
and
Logorama
.
Sesame Street contest looking for animators
Aniboom and
Sesame Street
are sponsoring a
contest
to find talented animators who might get a chance to have their work air on the iconic children's program. Entrants need to create a short preschool-aimed animation. Winners in five categories will get $5,000 and a grand prize winner will receive an additional $5,000. All winning animators will be eligible for development deals valued at $20,000.
Seth MacFarlane on boundaries and beginningsFamily Guy
creator Seth MacFarlane talks candidly about his three shows now airing on FOX, why there are no boundaries he won't cross, and even gets into his personal life and how he got into animation in a long piece over at the
Scottish Daily Record
.
New Secret of Kells poster

A new poster for
The Secret of Kells
can now be found online, thanks to the
Internet Movie Poster Awards
. A surprise nomination for Best Animated Feature at the Oscars this year,
Kells
is set to get a limited release in theaters this spring.
Halo Legends Storms Into Anime Anthology
Games and animation collide in a major event for fans of both, as Warner Bros. releases this week the original anime anthology
Halo Legends
.
The Warner Bros. release ($19.98 DVD, $29.98 special edition DVD, $34.99 Blu-ray) includes eight anime shorts created by many of the top directors and studios in the business. Among them are studios Production I.G., Bones, Toei, Studio 4°C and Casio Entertainment, and directors Shinji Aramaki (
Appleseed
), Hideki Futamura (
The Animatrix
), Daisuke Nishio (
Dragonball Z
), Hiroshi Yamazaki (
Karas
), Toshiyuki Kanno (
Black Lagoon
), Koichi Mashimo (
Blade of the Immortal
) and Koji Sawai (
Patlabor
); directors/action designers Tomoki Kyoda (
Eureka Seven, Evangelion 1.0
) and Yasushi Muraki (
Macross Plus, Vampire Hunter D
); and writer Dai Sato (
Cowboy Bebop
).
Here's a couple of new clips from the release, the first from the episode
"Prototype,"
from co-directors Tomoki Kyoda and Yasushi Muraki, and Studio Bones.
And here's a clip from
"The Babysitter,"
from director Toshiuki Kanno and Studio 4°C.
(For more clips, check out our Animag TV video player at
www.animationmagazine.net/tv
.)
Also out this week is the Canadian comedy series
Bob and Margaret: The Complete First Season
(Phase 4 Films, $19.99),
Scooby-Doo: Abracadabra-Doo
(Warner Bros., $19.98),
The Spectacular Spider-Man: Vol. 6 and Vol. 7
(Sony, $19.94 each) and
Zorro & Scarlet Whip Revealed
(Image, $14.98)
For pint-size viewers, this week features the Olympics-themed
Wow Wow Wubbzy: Go for Gold!
(Anchor Bay, $14.98),
Shaun the Sheep: A Woolly Good Time
(HIT Entertainment, $14.98) and
Sid the Science Kid: Ruler of Thumb
(NCircle Entertainment, $12.99).
And for anime fans, there's
Bleach Box Set 4, Part 2
(VIZ, $49.95),
Naruto Uncut: Season 2, Vol. 1
(VIZ, $39.97),
Case Closed Movie 6: Phantom of Baker Street
(FUNimation, $19.98) and
Dragon Ball Z: Dragon Box Two
(FUNimation, $59.98).
(Thanks
Animation Magazine
)
Up, Avatar Chalk Up Editing, Art Direction Wins
Up
and
Avatar
continue to expand their collection of honors and awards trophies as Hollywood rolls on toward next month's Academy Awards.
This weekend saw
Up
take the American Cinema Editors' Eddie awards for best animated feature film, beating out
Coraline
and
Fantastic Mr. Fox
for the honor in a ceremony held Sunday at the Beverly Hilton Hotel. While it was up for best editing in a dramatic film,
Avatar
lost out to
The Hurt Locker
.
Avatar
did much better with the Art Director's Guild the night before in the same hotel, taking the award for best art direction in a fantasy film. It beat out
District 9, Harry Potter and the Half-Blood Prince, Star Trek
and
Where the Wild Things Are
for the honor.
(Thanks
Animation Magazine
)
Nick Taps Kevin James as Kids' Choice Host
Actor Kevin James will be the host of Nickelodeon's 23rd annual Kids' Choice Awards, set for
March 27
.
Best known for his starring turn on the TV comedy series
The King of Queens
and the hit movie
Paul Blart: Mall Cop
, James also has provided voices for the animated projects
Monster House
and
Barnyard
.
Animated fare is featured in a number of categories, including favorite animated movie, favorite cartoon show, and favorite voice from an animated movie.
The slime-filled event will be broadcast live from the Pauley Pavilion at UCLA, from 8-9:30 p.m. ET/PT.
The full list of nominees follows.
Favorite Movie
· Alvin and The Chipmunks: The Squeakquel
· Transformers: Revenge of the Fallen
· The Twilight Saga: New Moon
· X-Men Origins: Wolverine
Favorite Animated Movie
· A Christmas Carol
· Ice Age: Dawn of the Dinosaurs
· Monsters vs. Aliens
· Up
Favorite Voice from an Animated Movie
· Jim Carrey (
A Christmas Carol
)
· Seth Rogen (
Monsters vs. Aliens
)
· Ray Romano
(Ice Age: Dawn of the Dinosaurs
)
· Reese Witherspoon (
Monsters vs. Aliens
)
Favorite Movie Actor
· Zac Efron (
17 Again
)
· Taylor Lautner (
The Twilight Saga: New Moon
)
· Shia LeBeouf (
Transformers: Revenge of the Fallen
)
· Tyler Perry (
Madea Goes to Jail
)
Favorite Movie Actress
· Sandra Bullock (
The Proposal, The Blind Side
)
· Miley Cyrus (
Hanna Montana: The Movie
)
· Megan Fox (
Transformers: Revenge of the Fallen)
· Zoe Saldana (
Avatar
)
Favorite Song
·
I Gotta Feeling
(Black Eyed Peas)
· Paparazzi
(Lady Gaga)
·
Party in the USA
(Miley Cyrus)
·
You Belong With Me
(Taylor Swift)
Favorite Music Group
· Black Eyed Peas
· Coldplay
· Jonas Brothers
· Linkin Park
Favorite Male Singer
· Jay-Z
· Sean Kingston
· Mario
· Ne-Yo
Favorite Female Singer
· Beyonce
· Miley Cyrus
· Lady Gaga
· Taylor Swift
Favorite TV Show
· iCarly
· Sonny With A Chance
· The Suite Life on Deck
· Wizards of Waverly Place
Favorite Television Actress
· Miranda Cosgrove
· Miley Cyrus
· Selena Gomez
· Keke Palmer
Favorite Cartoon
· The Penguins of Madagascar
· Phineas & Ferb
· The Simpsons
· SpongeBob SquarePants
Favorite Reality Show
· American Idol
· Are You Smarter Than a 5th Grader?
· So You Think You Can Dance?
· Wipeout
Favorite Television Actor
· Joe Jonas
· Nick Jonas
· Cole Sprouse
· Dylan Sprouse
Favorite Male Athlet
e
· Kobe Bryant
· LeBron James
· Ryan Sheckler
· Shaun White
Favorite Female Athlete
· Danica Patrick
· Misty May Treanor
· Serena Williams
· Venus Williams
Favorite Video Game
·
The Legend of Zelda: Spirit Tracks
· Mario Kart
· Wii Fit
· Wii Sports Resort
Favorite Book
·
Diary of a Wimpy Kid
series
·
Twilight
series
·
Vampire Diaries
series
·
Where the Sidewalk Ends
Cutest Couple
· Edward & Bella (Robert Pattinson & Kristen Stewart),
The Twilight Saga: New Moon
· Jacob & Bella (Taylor Lautner & Kristen Stewart),
The Twilight Saga: New Moon
· Neytiri & Jake (Zoe Saldana & Sam Worthington),
Avatar
· President Barack Obama & First Lady Michelle Obama
(Thanks
Animation Magazine
)
Higglety Pigglety Pop!
Chris Lavis and Maciek Szczerbowski, the filmmakers of
Madame Tutli-Putli
have finished a new 23-1/2 minute short based on the Maurice Sendak book
Higglety Pigglety Pop! or There Must Be More to Life
. The adaptation, which combines live-action actors and puppets with animation and digital manipulation, will be included on the
Where the Wild Things Are
Blu-ray release next month. It's world premiere will take place on
February 28
at the Montreal Children's International Film Festival. Spike Jonze was among the producers on this National Film Board of Canada production; Meryl Streep and Forest Whitaker provide voices in the film. The
stills on the NFB website
look intriguing, and I'm definitely looking forward to it based on the strength of Lavis and Szczerbowski's last effort.
(Thanks
cartoon brew
)
Nadder, Zippleback and Gronckle Lessons From How to Train Your Dragon
A new video for
DreamWorks Animation
's upcoming CG feature
How to Train Your Dragon
has arrived. In the 4th lesson, you can hear the vocal styling of Kristen Wiig (
SNL
) and T.J. Miller as Ruffnut and Tuffnut Thorston, the blonde brother/sister duo who appear to be pretty competitive with eachother. We actually saw a hint of this at
the October Intel Developer Forum
. It's a six-part instructional featurette on the topic of Dragon Training:
Lesson 1: Deadly Nadder
Lesson 2: Gronckle
Lesson 3: Monstrous Nightmare
Lesson 4: Hideous Zippleback
Lesson 5: Night Fury
Lesson 6: Terrible Terror
Pivot is a Riveting Animated Short
Pivot
is a high-octane, CG film that emerged in 2009 from the Netherlands. The cubist, angular production design mixed with excellent character animation make for a truly engaging film that delivers a very satisfying ending. It's the creation of
Kevin Megens
,
Floris Vos
,
Arno de GrijsArno de Grijs
and
André Bergs
, and it produced by
il Luster Productions
. Here's the film in it's entirety.
A Visual Effects Digital Artists Guild?
Actually, that's kind of what TAG has become. We've moved from carbon on paper to pixels inside computers. Eighty percent of our membership now works on computers.
But a visual effects artist, inspired by the
"Open Letter to James Cameron"
on the Huffington Post, writes this:
I've started a blog to discuss these issues and welcome your thoughts ...
My thinking on the subject is, visual effects work is way past the point where it needs overtime protection, pension benefits, and a portable health plan.
When we began representing the craft a decade and a half ago, it was a qualified digital artists paradise because there were a bunch of high-salaried jobs chasing relatively few experienced digital artists.
One example: On Disney's pioneer CG animated feature
Dinosaurs
, it took the studio
a year and a half
to find personnel to do all the jobs. (They were looking for employees with lots of production experience, and back in the mid-nineties, there weren't enough.)
But supply has now caught up with demand, and while there are a lot of CG jobs, so are there many CG animators, modelers, riggers and technical directors. Abuses abound, gight schedules pound many into quivering heaps of protoplasm, and if ever there was a need for a more level playing field, the time is
now
.
I know from experience that it's easier to organize work from an existing labor platform than starting a new organization from scratch, but if people want to invent a new entity, by all means they should go for it. For our part, we will keep pushing to organize digital artists under the TAG 839 banner. We've been doing that since the early nineties, so we ain't going to stop now.
(Thanks
Animation Guild Blog
)
Cy Grant, 90, was Lt. Green in "Captain Scarlet"
Actor, calypso singer and writer Cy Grant, the first black person to be seen regularly on British TV, died Saturday in London, his daughter Diana said. He was 90.
Grant voiced Lieutenant Green in Gerry Anderson Productions' 1967-68 puppet-animated series
Captain Scarlet and the Mysterons
, which ran for 32 episodes on Britain's ATV.
"The Lieutenant Green character was based on Cy Grant, and the idea that Green has a love of calypso music is obviously derived from the fact that Cy Grant was a real calypso singer himself in the BBC TV series Tonight,"
according to Spectrum Headquarters, an unofficial Web site devoted to the TV show.
Born in British Guiana (now Guyana) on November 8, 1919, Grant -- who was also a guitarist -- lived an extraordinarily varied life.
He served as a flight lieutenant in the Royal Air Force during the Second World War, was shot down by the Germans, and spent two years as a prisoner of war. After the war, he qualified as a barrister at law, but went on to be an actor on stage and in film, as well as a singer in concert and cabaret.
He became best known for singing the news on television on BBC's
Tonight
, a daily topical program. Although it made him a household name, he left after two and a half years to avoid being typecast.
Grant had his own series on radio and TV. He went on to star in the award-winning TV drama
Home of the Brave
in 1957 and starred in the BBC drama The Encyclopaedist in 1961.
In 1965, he played the lead in Shakespeare's
Othello
at the Phoenix Theatre in Leicester at a time when white actors were usually hired to play the role in blackface.
Grant resumed his legal career briefly in 1972, but left after six months.
His acting career is on record in Blackgrounds, an oral history project housed at the Theatre Museum. In 1974, he became the 1970s, he was the chairman and co-founder of London's Drum Arts Center, which was considered of enormous importance in the development of black theater. During the 1980s, he was the director of Concord Multicultural Festivals, which he set up across England.
Grant recorded the
Calypso Chronicles
for BBC Radio Two in 1994.
He appeared in such films as
Shaft in Africa, At the Earth's Core
and
Sea Wife
).
He was an Honorary Fellow of the University of Surrey, Roehampton, and a member of the Scientific and Medical Network.
Grant performed Caribbean folk songs and calypso across the world, and recorded five albums. Two of his best-known singles are
"King Cricket"
and
"The Constantine Calypso,"
celebrating two of the West Indies' most famous cricket players, Garfield Sobers and Learie Constantine.
He recorded many shows for radio and wrote several books. including a collection of poems. He wrote Blackness & the Dreaming Soul and a book of war memoirs, A Member of the RAF of Indeterminate Race.
Cy Grant is survived by his wife Dorith and four children.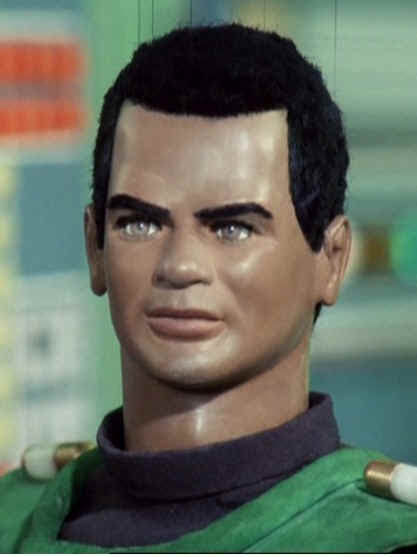 Cy Grant as himself... and his image as Lieutenant Green in Captain Scarlet and the Mysterons.
Quantum Quest - the next Delgo?
Here's a heads up on
Quantum Quest - the Movie
, a 50 minute 3-D Large Format film with an amazing ensemble cast of recognizable voice actors, a lame story and cliche characters & dialogue. It has
Delgo
written all over it. It opens in museums and Imax Theatres starting this month.
(Thanks, Al Young)
(Thanks
cartoon brew
)
Taylor Lautner Nabbed 'Stretch Armstrong' Superhero Role With 'SNL' & MMA Experience, Says Hasbro CEO
FROM MTV MOVIES
: Taylor Lautner's werewolf performance in
"New Moon"
netted him his own line of shirtless
"Twilight" toys from NECA
and legions of female fans. But his flips and mixed martial arts skills during his opening monologue on
"Saturday Night Live"
last year brought one of Hasbro's most famous toy lines, Stretch Armstrong, to him when Universal offered up the title role in the movie adaptation.
"He is a real actor,"
Hasbro CEO and
"Stretch Armstrong"
producer Brian Goldner told MTV News.
"And it was so clear to us as we saw him in 'Twilight.' And we look for insights from every audience about where we should go with our brands, so when I saw my daughter and all of her friends go crazy for him, and then I saw the background that he was also this mixed martial arts expert in that 'Saturday Night Live' piece ... that was the real deal."
Continue reading
Taylor Lautner's 'SNL' Appearance Clinched 'Stretch Armstrong' Role
at Movies.MTV.com.
Scientists say warp speed would have killed Kirk and Spock
So you remember how Zefram Cochrane became the first human to travel at warp speed after transforming a Titan missile into Earth's first warp-capable ship in 2063, attracting the attention of the Vulcans and ushering in a new era of peace and harmony that led to the development of the United Federation of Planets and humanity's trek through the stars?
Well, the reality is that he would have fried instantly, and any other Starfleet travelers such as Captain James T. Kirk and the crew of the Enterprise would have perished had they really attempted to travel at faster-than-light speeds.
That's the conclusion of a new research reported in
New Scientist
:
Kirk, Spock and the rest of the crew would die within a second of the USS Enterprise approaching the speed of light.

The problem lies with Einstein's special theory of relativity. It transforms the thin wisp of hydrogen gas that permeates interstellar space into an intense radiation beam that would kill humans within seconds and destroy the spacecraft's electronic instruments.
Frak me! But there's more:
According to William Edelstein of the Johns Hopkins University School of Medicine in Baltimore, Maryland, that sparse interstellar gas should worry the crew of a spaceship travelling close to the speed of light even more than the Borg decloaking off the starboard bow.

Special relativity describes how space and time are distorted for observers travelling at different speeds. For the crew of a spacecraft ramping up to light speed, interstellar space would appear highly compressed, thereby increasing the number of hydrogen atoms hitting the craft.
At faster-than-light speed, the effect would be like standing directly in the beam of the Large Hadron Collider. The fatal dose of radiation for a human is 6 sieverts, but Edelstein's calculations show that the crew would receive a radiation dose of more than 10,000 sieverts within a second.
Edelstein presented his results on Saturday at the American Physical Society meeting in Washington, D.C.
Our guess is he traveled there at less than warp one.
Superfans: Joss Whedon wants YOU!
If you have a
Stargate
costume in your closet, know who
Lorne
is and why he's green or are
one of these people
, then
Buffy the Vampire Slayer
creator Joss Whedon is looking for you.
The writer/producer is reportedly teaming up with
Super Size Me
director Morgan Spurlock to shoot a documentary about superfans at Comic-Con International, according to
E! Online
:
Joss Whedon
I just got word that the
Buffy the Vampire Slayer
creator is developing a documentary feature about Comic-Con that will be centered on a still-to-be-cast group of convention-going superfans.

Whedon is teaming up with award-winning
Super Size Me
director Morgan Spurlock, according to a source.


"They want to follow people for about three months leading up to this year's Comic-Con,"
the source said.
"And then they want to film them there. They're looking at all types of people."
Don't call us, call Joss! And, no, we don't have his number.