Princess breaks 100 mil
After a little over two months in release, Disney's
The Princess and the Frog
has finally broken the 100 million dollar mark in domestic box office. The film opened on November 25th, 2009 in limited release and then expanded into more theaters on December 11th. So far, according to
boxofficemojo.com
, the film has grossed 13 million dollar overseas bringing its total tally up to 113 mil. This latter figure is somewhat surprising in that the film opened in several countries around the same time as it did in the U.S. Still, most of the bigger countries in Europe haven't gotten a chance to see the movie yet, so perhaps the film's fortunes will improve.
Disney has to be disappointed with these numbers overall.
The Princess and the Frog
is by no means a flop (it will recoup its production budget and some profit), but its box office take could have been better considering the film is the first traditionally animated Disney picture in five years.
Giacchino wins two Grammys for "Up" compositions
The soundtrack album from Pixar-Disney's
"Up"
won a pair of Grammy Awards during a pre-telecast ceremony Sunday afternoon at the Los Angeles Convention Center.
Composed by Michael Giacchino,
Up
(Walt Disney Records) won for Best Score Soundtrack Album For Motion Picture, Television Or Other Visual Media at the 52nd annual Grammys.
It was victorious over soundtrack albums for four live-action movies, including one by Giacchino as well:
The Curious Case Of Benjamin Button
(Disc 1) (Alexandre Desplat, Concord Records),
Harry Potter And The Half-Blood Prince
(Nicholas Hooper, New Line Records),
Milk
(Danny Elfman, Decca) and
Star Trek
(Giacchino, Varèse Sarabande).
One track from the
Up
soundtrack, Giacchino's
"Married Life,"
won a Grammy for Best Instrumental Composition. It defeated
"Borat In Syracuse"
(composed by Paquito D'Rivera and performed by the Paquito D'Rivera Quintet),
"Counting To Infinity"
(Tim Davies, Tim Davies Big Band),
"Fluffy"
(Bob Florence, Bob Florence Limited Edition) and
"Ice-Nine"
(Steve Wiest, University Of North Texas One O'Clock Lab Band).
However,
"Up With End Credits,"
also from the Disney soundtrack, failed to win Giacchino an award for Best Instrumental Arrangement, which is given to the arranger. Instead, Bill Cunliffe won for his arrangement of the Resonance Big Band's performance of
"West Side Story Medley,"
a track from
Resonance Big Band Plays Tribute To Oscar Peterson
(Resonance Records).
Meanwhile,
Shrek The Musica
l
(Decca Broadway) didn't win in the category of Best Musical Show Album. It was made by producers Peter Hylenski and Jeanine Tesori, composer Jeanine Tesori and lyricist David Lindsay-Abaire. The album features the original Broadway cast with Brian d'Arcy James, Sutton Foster and others.
The adaptation of
Shrek
lost to
West Side Story
(Masterworks Broadway), produced by David Caddick and David Lai with composer Leonard Bernstein and lyricist.
West Side Story
stars a new Broadway cast with Matt Cavenaugh, Josefina Scaglione and others.
"Batman: The Brave And The Bold - Volume Three" DVD Release Menu System, Artwork
The
World's Finest
has a look at the package art and menu system for the upcoming
Batman: The Brave and The Bold - Volume Three
DVD release from Warner Home Video.
A selection of images from the upcoming
Batman: The Brave and The Bold - Volume Three
DVD release are available below, exclusive to The World's Finest, including a look at the menu system and package art for the title. The
Batman: The Brave and The Bold - Volume Three
DVD release, featuring five episodes from the popular
Batman: The Brave and The Bold
animated series airing on Cartoon Network, hits shelves on
February 2nd, 2010
. Click on the thumbnails for a closer look.
Warner Home Video will release
Batman: The Brave and The Bold - Volume Three
to DVD on
February 2nd, 2010
. Official press details for this release are available
here
. A fourth DVD volume release for
Batman: The Brave and The Bold
is scheduled for release later this year.
Avatar tops box office for 7th straight weekend
James Cameron may not have won a Director's Guild Award Saturday (he lost to ex-wife Kathryn Bigelow for
Hurt Locker
), but his Avatar conquered the box office for the seventh weekend in a row.
The Hollywood Reporter
says:
According to studio estimates Sunday, James Cameron's 3D epic added $30 million to bring its total to $594.5 million. It has already set a worldwide boxoffice record, and it is on track to soon overtake the domestic record set by Cameron's Titanic.
The fantasy-tinged romantic comedy
When in Rome
, meanwhile, opened in third place, with about $12.1 million.
ASIFA-East Launches the aNYmator Online February 1st!!

WE HAVE A HUGE ANNOUNCEMENT!!!
ASIFA-East is very excited to announce the upcoming debut of the
aNYmator
online! Moving from print to online, the
aNYmator
will feature a full team of bloggers reporting on the animation industry. Come February 1st, we are expanding to cover much more than the usual events reportage seen on the
Exposure Sheet
–– everything from film reviews, to feature articles, to member's animation. Richard Gorey will be our new Features Blogger, covering all feature articles and stories, including posting articles from our membership. Elliot Cowan will be our Community Blogger, posting links to members' news and animation. Dayna Gonzalez will continue in her role as Blog Manager and Events Blogger, handling all reporting on local animation industry events. The Exposure Sheet will be hosted on our website at
www.asifaeast.com
. Along with the
Exposure Sheet
, the
aNYmator
will include Animondays from ASIFA-East President David B. Levy, The International Update from our International Representative, Ray Kosarin, the Events Calendar, and archived original aNYmator print publications.
We hope you are as excited as we are about our upcoming launch, and look forward to your participation in the aNYmator online!
(Thanks
ASIFA-East
)
1978 Rings deluxe cover art
Timed to the release of Peter Jackson's
The Lord Of The Rings
trilogy coming to Blu-ray on
April 6
, Warner Bros. is also upgrading director Ralph Bakshi's 1978 animated feature edition of the first half of the story as a BD/DVD combo pack for $29.99. Newly released cover art for the set, which will include new interviews with Bakshi, can be seen here along with a press release from the Studio:
Ralph Bakshi's Animated Classic The Lord of the Rings Returns in a Newly Remastered Deluxe Edition on April 6Warner Home Video Distributes Heralded Animated Film as Blu-Ray, DVD and Bonus Digital Copy Combo Pack with All-New Extra Content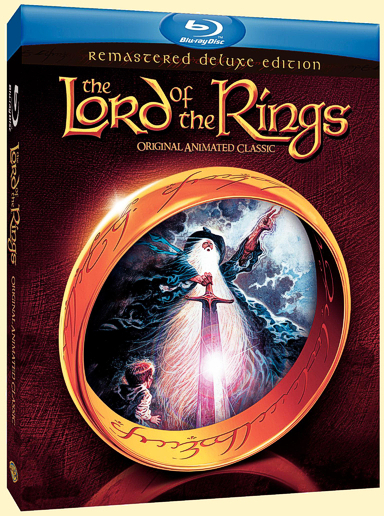 Journey back into the world of Hobbits, Humans, Elves and Dwarves in the all-new
The Lord of the Rings
Remastered Deluxe Edition coming
April 6, 2010
from Warner Home Video. This original animated classic from acclaimed director Ralph Bakshi and Academy Award Winning producer, Saul Zaentz, has been remastered with pristine New Dolby 5.1 audio and picture quality and will be distributed as a single disc DVD and Blu-ray combo which features a Blu-ray, DVD and bonus digital copy. The film will also be available for Digital Download. This film is rated PG.
One of the great visionary animation directors of the modern era, Bakshi went to artistic extremes to meticulously bring the legendary world of J.R.R. Tolkien to animated life – adding yet another stunning title to the director's canon of ground-breaking films. Bakshi's animation accomplishments include
Fritz the Cat, Heavy Traffic, American Pop, Wizards
and
Cool World
.
All the magical adventure of the fantasy classic comes to life in Bakshi's brilliantly animated tale of the enchanted land of Middle-earth – and the brave band of Hobbits, heroes and Wizards who set out to protect it. When a dangerous and powerful gold ring falls into his hands, a courageous Hobbit named Frodo embarks on an epic adventure. Along with the mighty Wizard Gandalf and some daring Elves, he defends his homeland from the Dark Power who would destroy it. Set in a mystical age of magic, monsters and unlikely heroes on incredible journeys, The Lord of the Rings will cast its spell over the entire family!
The deluxe edition also features a never-before-seen, 30-minute in-depth interview with legendary director Ralph Bakshi entitled
Forging Through The Darkness: The Ralph Bakshi Vision for The Lord Of The Rings
. This special feature explores his concept for creating an illustrated film, his pioneering rotoscoping process, and inspirations for his visual storytelling.
"The Lord of the Rings is a timeless classic that continues to be a favorite for generation after generation,"
said Amit Desai, WHV Vice President of Family, Animation & Partner Brands Marketing.
"The theatrical release in 1978 had a domestic total gross of nearly $90 million at the box office and shipped 1.1 million net videos. We are looking forward to offering this remastered deluxe edition to the fans for their library collections and providing endless enjoyment for years to come."
With operations in 90 international territories Warner Home Video, a Warner Bros. Entertainment Company, commands the largest distribution infrastructure in the global video marketplace. Warner Home Video's film library is the largest of any studio, offering top quality new and vintage titles from the repertoires of Warner Bros. Pictures, Turner Entertainment, Castle Rock Entertainment, HBO Home Video and New Line Home Entertainment.
War Of The Animated Worlds
The Asia-Pacific edition of Animation Express reports on the release of
War Of The Worlds: Goliath
, a new 2D/3D animated feature set for DVD and limited theatrical engagements. Produced in the
"steampunk"
style that meshes Japanese anime with a Western visual approach, the film has been executive produced by
Heavy Metal
magazine publisher Kevin Eastman and is set in 1914, after the very real events of HG Wells' original novel. The new invasion begins in mid-2010.
Disney Offers TV Sneak Peek of Alice
Disney is giving viewers of its TV networks a first look at its new 3D Tim Burton's
Alice in Wonderland
movie via a series of one-minute first looks at the film.
Three clips, which will feature never-before-seen footage, will air on ABC, ESPN and ABC Family between
Jan. 31
and
Feb. 6
and be customized for each outlet's audience.
The clips will air on ABC during the
Jan. 31
episode of
Desperate Housewives
and on the Feb. 1 installment of
The Bachelor
.
ESPN will air its clip during the 2010 NFL Pro Bowl on
Jan. 31
and during the NBA game between the Denver Nuggets and the L.A. Lakers on
Feb. 5
.
The ABC Family clips will air on the
Feb. 1
episode of Greek and the Feb. 6 airing of
The Parent Trap
.
A fourth clip will air as a Super Bowl spot on
Feb. 7
.
The 3D film stars Johnny Depp and Mia Wasikowska and is set to be released
March 5
.
(Thanks
Animation Magazine
)
Bugs Bunny at the Symphony Debuts in Mid-2010
That wascally wabbit is orchestrating a new live act.
Warner Bros. animation icon Bugs Bunny will be featured in a new concert event titled
Bugs Bunny at the Symphony
. The mix of animated film footage and live music will debut in mid-2010 and will be a sequel to and celebration of the 20th anniversary of
Bugs Bunny on Broadway
.
Returning to create, conduct and produce the sequel is George Daugherty, who is working with David Ka Lik Wong from IFX Productions.
Bugs Bunny at the Symphony will spotlight some of the original cartoon treasures of Bugs Bunny on Broadway, while adding an enlarged cast of Warner Bros.' animated characters and cartoons.
The project will debut with several high-profile dates, beginning with the premier at the Sydney Opera House on
May 7 and 8
and then go on a national tour of Australia.
The show will come to the Hollywood Bowl on
July 16 and 17
, and feature a fireworks display choreographed to the classic
"What's Opera, Doc?"
episode of Looney Toons. Additional dates include Washington DC at the Wolf Trap Filene Center on
Aug. 6 and 7
, with more cities to be announced.
According to Daugherty, Bugs Bunny at the Symphony will feature a number of Bugs Bunny on Broadway's most show-stopping cartoons, including Chuck Jones' brilliant
"What's Opera, Doc?"
and
"The Rabbit of Seville."
In addition to these, a number of new, beloved characters will be featured including Tweety, Sylvester, Pepe Le Pew, as well as Tom & Jerry, The Flintstones, The Jetsons, Scooby-Doo and other stars from the world of Hanna-Barbera.
(Thanks
Animation Magazine
)
Up Big At Richard Attenborough Awards
The film of the year at the 4th Richard Attenborough Awards, as voted on by the UK's regional media, is Pixar's
Up
.
James Cameron was voted filmmaker of the year for
Avatar
whilst BAFTA favourite Carey Mulligan picked up two awards - the performance of the year by an actress and rising star award - for
An Education
.
The performance of the year by an actor award went to Sam Rockwell for
Moon
, whilst Jason Reitman and Sheldon Turner were named screenwriters of the year for
Up in The Air
.
A further 9 categories were voted for by the UK's cinema going public, with
Harry Potter And The Half Blood Prince
winning three awards– best British film, best film music and best use of UK locations in a film. The publically voted best new director award went to Duncan Jones for
Moon
.
The Awards were hosted by Radio DJ Simon Bates, and film & entertainment journalist Jan Gilbert at London's Sanctum Soho Hotel.
Lord Attenborough CBE, who won the all time legend award said:
'The last year has shown the cinema to be resilient and innovative, with audiences eager to share and enjoy the uniquely immersive theatrical experience. It has also brought a marvellous array of films with compelling performances from experienced and emerging talents who can accept their accolades safe in the knowledge that their work has left its mark on millions of cinema-goers.'
"Seed" wins Best Animated Short award at Slamdance "Seed,"
a Czech-American film about an egg and an apple building competing broadcast towers that vie for the attention of a transistor radio, has won the Grand Jury Sparky Award for Best Animated Short at the Slamdance Festival.
Awards were announced Thursday night at the fest in Park City, Utah.
With its complex characterization and narrative of animal evolution, competition and reproduction, the 11-minute
Seed
is a beautiful and sinister stop-motion story about the struggle to survive.
Directors Ben Richardson and Daniel Bird are British filmmakers who met in London, and who subsequently relocated to Prague to collaborate on
Seed
. Richardson currently lives and works in New York, while Bird splits his time between Prague and Amsterdam.
The winners also receive a Sony software package.
The 2010 Slamdance Film Festival Street, received a record number of over 5,000 submissions from every continent and programmed 91 films this year. This year marked the 16th anniversary of the Slamdance Film Festival, one of the few remaining film festivals whose sole mission is to support truly independent works from first-time filmmakers staying true to its mission of
"by filmmakers, for filmmakers."
Aussie pleads guilty to possessing Simpsons porn
Kurt James Milner, 28... a fan of
"Simpsons Gone Wild."
A 28-year-old Australian man is now a registered sex offender and must report to police after admitting he downloaded pornographic images of characters from
The Simpsons, The Powerpuff Girls
and
The Incredibles
.
Former security guard Kurt James Milner, of Leichhardt in the state of Queensland, pleaded guilty to charges of possessing child exploitation material and using a carriage service to access child exploitation material. The images showed the cartoon characters in sexually explicit positions.
Milner told police that he downloaded the images to show them to his friend
"because he believed they were funny,"
the Queensland Times reported Tuesday.
He was sentenced in Ipswich District Court to 12 months jail. However, the sentence was entirely suspended for five years. He was given a $1,000 good behavior bond for five years as well, and a conviction was recorded.
Police went to his home on January 24, 2008 after getting an anonymous tip about the offensive material. Milner told him that he would cooperate, but that he didn't want to give them his computer.
He called police an hour and a half later and said that they could have it. But officers found that the computer would no longer turn on.
A year later, police forensic experts recovered 64 exploitative cartoon images in the computer's recycle bin.
The offenses were especially serious, since Milner had been involved in the same crime before, Judge Deborah Richards said.
And government prosecutor Suzanne Cantatore said that the sentence needed to be harsh because it was his second conviction for possessing child exploitation material:
"Although these offences involve cartoon characters, it is nonetheless serious, especially since he has a prior conviction for child exploitation material."
In 2003, Milner was convicted after 59 sexual images of actual children were found on his computer. Although no conviction was recorded on the books, he received two years probation.
Defense lawyer Matthew Fairclough argued that his client did not get sexual gratification from the cartoon images.
"It was more about amusement,"
he said.
Fairclough added that his client was never offered any counseling, even though he complied with his previous probation order.
Kanizsa Hill by Evelyn Lee
A man is shot and can only survive as a head and a body who exist independently from one another. The forgetful body desperately collects souvenirs, while the head is lost in a series of illusions.
Evelyn Lee made
Kanizsa Hill
as her graduate thesis film for the Experimental Animation Program at CalArts. It has screened at various festivals including Slamdance, AFI Los Angeles, Comic Con International and the Seattle International Film Festival. It won Best Animated Short at San Fransico International Film Festival and Most Promising Filmmaker at Ann Arbor Film Festival. And now this delightfully surreal short is online:
(Thanks
cartoon brew
)
Whatever happened to Hoodwinked Too?
And most of you are asking
"Who cares?"
The original
Hoodwinked
had art direction and character design that were - let's face it - piss poor, but I enjoyed the film nonetheless. It had a funny, clever script with good performances — and took me (and a whole lot of other people) by surprise, grossing $51 million in January 2006.
The Weinstein Company has pulled the sequel,
Hoodwinked Too: Hood vs. Evil
, off its release schedule for the time being. It was first set for January 15th 2010, then pushed back to February 12th, and now…
who knows?
According to
his blog
, Hoodwinked's creator himself, Cory Edwards, has no idea when the film will be released. But that hasn't stopped Weinstein's pre-existing deal with Burger King to offer toys from the sequel in its
Kids Meals this month
. Better scoop them up now, they may become quite a collectible.
(Thanks
cartoon brew
)
Six Points Fellowship
Six Points Fellowship
is looking for applicants for its 2010 cycle. The fellowship is designed for emerging artists in the New York area (ages 22–38) who are creating projects that engage with Jewish ideas, and is open to all artists (not only Jewish) working in the city. It will be awarded to nine artists who will each receive up to $40,000 over two years. Each fellow will be provided with:
* Stipend ($20k over 2 years)
* Project Grant (up to $20k over 2 years)
* Monthly Salons
* Retreats
* Coaching/Mentorship
It sounds to me like a generously designed fellowship that offers both financial and professional support. Take note any NYers who might be developing a Jewish-themed animation project. To learn more, visit
SixPointsFellowship.org
. They are holding application workshops on
February 7 and 17th
.
(Thanks
cartoon brew
)
The State of the Linkage
My fellow bloggers and bloggees, I stand before you today to tell you the state of our links is strong, flourishing and starting with
Up
bagging
another award:
Pixar's
Up
has been named film of the year at the Richard Attenborough Film Awards, presented annually by regional film critics across the UK ... James Cameron has won the filmmaker of the year prize for
Avatar
Two animated films copping top awards isn't bad, I don't think ...
George Lucas
is working
on a new theatrical CGI feature, this one not tied to
Star Wars
:
The untitled computer-animated film is in preproduction at Lucas' Skywalker Ranch production facility in Marin County, north of San Francisco. Plot details are locked tighter than the plans for the Death Star, but one element known is that the script features fairies.

The project marks a rare foray outside the
"Star Wars"
universe for Lucas ... Kevin Munroe is directing the musical, which is expected to feature songs from a variety of sources. Munroe hails from the animated world and made his directorial debut in 2007 with the fourth
Teenage Mutant Ninja Turtles
movie,
"TMNT."
...
Express Night Out
examines
the Commie cartoons of the workers paradise of East Germany (an image of which is seen above.)
First Run Features is releasing several DEFA titles on DVD, a worthwhile series that includes the new
"Red Cartoons,"
an odd collection of 16 short animated films spanning 1974 through 1990.

That's only a fraction of DEFA's output, which exceeded 800 cartoons. But this selection represents the impressive range of techniques and styles, and showcases the animators' sophisticated drawings. Because socialist art demands realism, these works are strictly — albeit often fleetingly — narrative, but they are rarely experimental and never pursue the form for its own ends.
Oh my. Brad Bird
appears to be having trouble
with
1906
, if various websites are to be believed.
Brad Bird's plan to make his live-action debut is crumbling. The Oscar winning animation director responsible for films like
The Incredibles
and
Ratatouille
, planned to bring James Dalessandro's book about the infamous 1906 San Francisco earthquake to life. Sadly, Warner Bros. isn't convinced
1906
will be groundbreaking enough to justify its massive budget.
(Various spies and stoolies had told me there was trouble; of course I refused to believe it.)
ASIFA Archives
has put up
one of UPA's showier early efforts:
UPA's groundbreaking
Man On The Land
... includes animation by Pat Matthews, Grim Natwick and Art Babbitt, but animation isn't the primary attraction here. It's the drop dead brilliant layouts by Director Bill Hurtz, Associate Director Art Heinemann and background artists Bob Dranko, Boris Gorelick and Paul Julian (among others). Just about every setup in this film is strong enough to be an illustration in a book. Check out the depth and lighting in these backgrounds ...
(So click through and
look
, already.)
The Hollywood Reporter
explains
why
Avatar
isn't quite the big deal many people think it is.
With everybody reporting how
"Avatar"
is The Biggest Movie of All Time based on grosses ($1.859 billion and counting), it's important to remember how rising ticket prices skew the returns.

Here's the Top 20 movies of all time ... by number of tickets sold:

1
"Gone With the Wind"
(1939) 202,044,600
2
"Star Wars"
(1977) 178,119,600
3
"The Sound of Music"
(1965) 142,415,400
4
"E.T.: The Extra-Terrestrial"
(1982) 141,854,300
5
"The Ten Commandments"
(1956) 131,000,000
6
"Titanic"
(1997) 128,345,900 ...
(
Snow White
is just now at #10 ... in case you're wondering.)
(Thanks
Animation Guild Blog
)
Gallery 839 opening show: Friday, February 5
Gallery 839, the Animation Guild's art gallery in our new office headquarters building, will have its official opening a week from today,
Friday, February 5
, with a show entitled
CANVAS, BRONZE AND POLYRESIN
.
The show will featuring the paintings of
GEORGE SCRIBNER
,
WILLIAM WRAY
and
ANNIE GUENTHER
(above left), and the sculpture art of
VICKI BANKS
and
RUBEN PROCOPIO
, all respected veterans of the animation business. The exhibit focuses on the work these fine artists do apart from their day-to-day jobs in animation.
A reception will be held from 6 to 9 pm, and the show will run until
March 3
. Last fall the Gallery
"soft-opened"
with an exhibit of Christmas card designs by the late
RALPH HULETT
, noted artist and Disney background painter, which will close on February 1 in preparation for this show.
We're thrilled to announce the first of what we're dubbing First Friday Shows at Gallery 839. These will be monthly shows of members' personal art, with a gala opening reception the first Friday of each month.

We have two main goals for these shows. First, they'll give members a venue to show their personal artistry, and make some money selling their work. We know the talent of our membership runs deep and wide, and we want that to be shared with both the membership and the rest of the community. Second, these shows will give us a good reason to regularly get together, to network and hang out. It will be a chance to celebrate ourselves, and gather as animators and artists, separate and apart from our workplace tribalism.

The March show is already being arranged, so it's up to members to apply to put up future shows. Members in good standing are eligible (this includes members on honorable withdrawal). Individual shows are fine, but we encourage group shows.

The artists showing will be responsible for almost everything (we're not adding additional staff, and our staff is pretty busy as is!). So, in addition to creating the artwork, artists are in charge of matting/framing, advertising (aside from the
Peg-Board
and the TAG Blog), setting up the show, hosting the reception, and tearing the show down. It also includes buying any refreshments/snacks for the reception, and arranging to have someone responsible for watching the artwork whenever the artists want the gallery open (otherwise the gallery will be locked to prevent theft). The Guild will charge rent of 10% of any sales from the show (compare that to the 50% most galleries take). If you don't sell anything, it's free of charge.

We're looking to host a variety of personal artwork: painting, drawing, prints, photography, sculpture, ceramics, CG installations … it's all good. We may also put on some themed shows as the spirit moves us. This will be an evolving, dynamic program, and it'll be as cool as the membership wants it to be.

If you're interested in having a show, contact
Jeff Massie
for more information
.

-- Kevin Koch

Gallery 839 and the TAG headquarters are located at
1105 N. Hollywood Way, between Magnolia and Chandler, in Burbank
.
(Thanks
Animation Guild Blog
)
Samberg and T-Pain Team Up For An Animated FreaknikFreaknik: The Musical
has endured a long, strange journey en route to its Adult Swim premiere on March 7th. This 60-minute special about the famed and now defunct music party in Atlanta, is the spawn of
That Crook'd 'Sipp
, a series that had, at one point, a 6-episode order. The special was then announced for last Fall, and subsequently delayed until March. The Williams Street production stars T-Pain, Rick Ross, Lil' Wayne and Andy Samberg, and it was animated at
Titmouse
in Hollywood:
… and a clip from
That Crook'd 'Sipp
Phillip, the Safety Egg
Mike Owens
made this at
Puny
in Minneapolis.
"It's our first in house short developed from a character that has lived in my subconscious for many years,"
says Owens on
his blog
. Good stuff, says I.
Phillip, the Safety Egg
Creator & Director - Mike Owens
Developed by - Shad Petosky & Will Shepard
Written by & Voices - Eric Knobel, Hannah Kuhlmann & Michael Ritchie
Design - Mitch Loidolt and Mike Owens
Background & Audio Design - Curtis Square-Briggs
Animation - Eyo Peters, Nick Bachman & Mike Owens
Animation, Compositing & FX - Victor Courtright
(Thanks
cartoon brew
)
Modern Mickey by Paul Rudnick
This humor piece by Paul Rudnick appears in the latest issue of
The New Yorker
(February 1, 2010):
"Now, however, concerned that Mickey has become more of a corporate symbol than a beloved character for recent generations of young people, Disney is taking the risky step of re-imagining him for the future. The first glimpse of this will be the introduction next year of a new video game, Epic Mickey, in which the formerly squeaky-clean character can be cantankerous and cunning, as well as heroic, as he traverses a forbidding wasteland." —The Times.
MEMO:
To all Epic Mickey personnel
FROM:
Disney Board of Directors
SUBJECT:
New Mickey
Guys—we love the rethink, but we just have a few tweaks:
—When Mickey leers at Minnie in the waterfront bar, let's have him squeak,
"You know what they say, baby. Big ears . . ."
—In the "Brokeback Mickey" flashback, when Mickey makes tender love to Donald Duck, let's have Mickey murmur,
"Leave the little sailor hat on."
—When Mickey is shown starving to death after the nuclear disaster, and he eats Porky Pig, we feel that Porky should still be alive when his feet are removed.
—When Mickey faces off with Bambi, let's have him remark,
"Only you can prevent forest fires. But I guess it's a little late for that."
—It's fine to show Mickey getting hammered and then trying to drive the little train through the Magic Kingdom, but what if he plows right into a tiny clown car that gets stuck on the tracks? We hear the clowns screaming, confetti shoots into the night sky, and then we cut to a horrified paramedic, asking, "Good Lord, how many of them were in there?"
—Once Mickey is in the maximum-security prison, how about if he gets a crude tattoo of Jesus wearing the white gloves?
—In the scene where Mickey tries therapy, we love it when Mickey tells his rhino shrink,
"I grew up behind the walls of a one-room hellhole in the ghetto. It was infested with filth and vermin, including my cousins."
But we question the moment when Mickey breaks down sobbing and howls,
"It's true! They used my mother to test hair coloring!"
—We love the bit when Mickey and Minnie take their seventy-eight children on a family outing, swarming over the subway tracks. But let's have the kids crack up laughing as they watch their drunken dad try to proposition an empty wallet.
—We like seeing Mickey teaching the snootier characters some gritty life lessons. What if he drags Jiminy Cricket into an alley and pees on him?
—Let's have Minnie appear on
"The Real Housewives of Disney,"
along with Cinderella, Snow White, and the Little Mermaid. Then Minnie could sneer, "Do any of you bitches not have a gay husband?"
—When Mickey finally hits rock bottom and runs into the church, seeking redemption, let's have all the female parishioners instantly jump up onto the pews, pointing and shrieking,
"Kill it! Kill it!"
(Thanks
cartoon brew
)
Cartoon Dance
Leave it to the
New York Times
to
point out
non-dancing dancing in animation.
... Dance ... permeates early Disney. Mickey and Minnie Mouse are gyrating from
"Steamboat Willie"
on. In
"Three Little Pigs"
(1933, a phenomenal box-office hit), the two sillier pigs keep prancing musically on their pointlike hind trotters, and they're at it again in
"The Big Bad Wolf"
(1934) and
"Three Little Wolves"
(1936). Even the owl judge in
"Who Killed Cock Robin?"
(1935) does a little dance ...

But what's dancing? Disney makes you ask the question because he gives such dance vitality and musical brio to movements that involve no actual dance steps. In
"The Birthday Party"
(1931), Mickey's way of climbing the stairs to Minnie's front door has the clickety-click of tap dancing. When the newborn title character of
"The Ugly Duckling"
(1931) sheds two tears, they fall, ping! ping!, like notes in music made visible. ...

The ultimate Disney dance film is
"Fantasia."
Everyone loves Hyacinth Hippo and Ali Gator, rightly so: few scenes in any film are more exhilaratingly funny. Yet Disney, unnervingly, comes yet closer to the feeling of pure dance in his "Nutcracker Suite" scenes, even though here the movement is performed by mushrooms, fish, blossoms, leaves, snowflakes. The score is just about the most famous ballet music ever written,
but most of the dances here (apart from the high-kicking thistles in the Russian Dance) have no footwork and no steps.
...
Woodland Cafe
, cited in the
Times'
article, was one of Wilfred Jackson's stronger shorts. There, the bugs actually boogie.
(Thanks
Animation Guild Blog
)
Gnomeo and Juliet still happening?
Despite the news this week that Disney
is shutting down Miramax Films
, the studio's animated
Gnomeo & Juliet
is apparently still in the works. With reported production problems surrounding it for years, the film is supposed to be a comic take on William Shakesphere's
Romeo and Juliet
, but with talking garden gnomes instead of human beings. It is said to star the voice talents of James McAvoy (
Wanted
) and Emily Blunt (
The Young Victoria
), and is also reported to feature music by Elton John.
ComingSoon.net
is saying that the movie has an official release date now, aiming to hit theaters on
February 11, 2011
.
J.D. Salinger And Captain America: Where 'Catcher In The Rye' Meets Comics
Many are still mourning the
loss of "Catcher in the Rye" author J.D. Salinger
, who passed away Wednesday at the age of 91. Even though the enigmatic writer was beloved by filmmakers and the entertainment industry in general, none of his works were ever officially sanctioned for adaption into film (and the ones that did were not well received).
However, in addition to Holden Caulfield, Mr. Salinger also had a hand in creating
another
prolific American character... so to speak. His son, Matt Salinger, portrayed Steve Rogers in the forgotten 1990 adaptation of
"Captain America."
While there's a lot of buzz about the forthcoming
"The First Avenger: Captain America"
movie, this '90s tale of the Nazi-bashing Avenger reminds us of an era when — save for Tim Burton — Hollywood wasn't quite sure how to pull off the comic book adaptation. And lucky for us, the full movie is available on
Hulu.com
— and now, right here in this post, too.
Armed with feathered blonde hair, a latex jumpsuit, and of course, his trusty shield, Matt Salinger suits up in this Captain America origin story. And though the script leaves something to be desired, you can definitely see why Salinger — who fits Steve Rogers' physical description perfectly — was cast in the role.
Sure, this film is clearly flawed (Red Skull not only has a full head of hair, but he looks rather, uh, orange), it's worth viewing for the cheese-factor alone.
Full 'The Losers' Trailer Arrives Online!
The full version of
"The Losers"
trailer is online now in all of its explosive, clever and comics-inspired glory. Check it out:
Based on the celebrated comic book series by Andy Diggle and Jock,
"The Losers"
is directed by Sylvan White and hits theaters
April 9, 2010
. You can watch a high-definition version at
MSN
.
Joe Johnston Gives Captain America Update
Film Journal
got an update from director Joe Johnston about his next project,
Marvel Studios' The First Avenger: Captain America
:
"We're in prep," Johnston says. "Rick Heinrichs is production-designing and we're set up down in Manhattan Beach [California]. It's the part of the process that I love the most," he enthuses. "We have eight or ten really talented artists, and we all just sit around all day and draw pictures and say, 'Hey, wouldn't it be cool if we could do this?' It's that phase of the production where money doesn't matter: 'Let's put all the greatest stuff up on the wall and [then later] see what we can afford.'" The film, he says at this early stage, will begin "in 1942, 1943" during World War II. "The stuff in the '60s and '70s [comic books] we're sort of avoiding. We're going back to the '40s, and then forward to what they're doing with Captain America now."
The First Avenger: Captain America
has set a
July 22, 2011
release date for the film.
James Cameron to H.R. Giger: I'm sorry
James Cameron with Aliens co-producer Gale Ann Hurd
We thought being King of the World meant never having to say you were sorry, but guess what? Even James Cameron had to say it at least once. Who knew? But back in his pre-
Avatar
, pre-
Titanic
, pre-
Terminator 2
days, the director wrote H. R. Giger a letter "by way of an apology."
Giger, the Academy Award-winning artist responsible for making the 1979 film
Alien
so ... well ...
alien
, expressed
"disappointment"
at not being called in to work on the sequel, and so Cameron replied in a 1987 letter dug up and posted today at
Letters of Note
. We thought you'd get a kick out of it.
The main reason, other than Giger's scheduling, that Cameron claimed for not inviting the artist along? He feared that his own vision would be
"overwhelmed."
As Cameron wrote:
I found that creating a sequel can be an uneasy exercise in balancing creative impulses, the desire to create a whole new canvas, with the need to pay proper hommage to the original. Mr. Giger's visual stamp was so powerful and pervasive in
"ALIEN"
(a major contributor to its success, I believe) that I felt the risk of being overwhelmed by him and his world, if we had brought him into a production where in a sense, he had more reason to be there than I did.
For more fun letters, visit
Letters of Note
.
The most influential sci-fi movie scores. Or are they?
Turner Classic Movies this week listed what it calls the 15 most influential film soundtracks, and we're pleased to see that sci-fi/fantasy scores are well represented, starting with Max Steiner's score for the original
King Kong
and culminating in John Williams' famous score for the first
Star Wars
.
In chronological order, here's TCM's listing of the sci-fi/fantasy soundtracks (we include the James Bond movie because of its fantastical laser weapons and other sci-fi trappings):
♦
King Kong
(1933) - Composer: Max Steiner
♦
The Day the Earth Stood Still
(1951) - Composer: Bernard Herrmann
♦
Goldfinger
(1964) - Composer: John Barry
♦
2001: A Space Odyssey
(1968) - Musical Consultant: Patrick Moore; Music Editor: Frank J. Urioste
♦
Star Wars
(1977) - Composer: John Williams
Of course, we can argue endlessly about the omissions, such as Howard Shore's lush
Lord of the Rings
soundtrack or Vangelis'
Blade Runner
or Michael Giacchino's
The Incredibles
or
The Matrix
or even Clint Mansell's minimalist score for
The Fountain
. I guess you can say those aren't as influential. Or can you?
What do you think? Which of your favorites was left off this list?
Below is the full official announcement.
ATLANTA, Jan. 27 /PRNewswire/ -- To celebrate the Jan. 31 Grammy Awards®, Turner Classic Movies (TCM) today unveiled the network's list of 15 Most Influential Film Soundtracks. TCM's list includes examples of orchestral scores, jazz, rock compilations and even disco, with music from such films as
King Kong
(1933),
The Man with the Golden Arm
(1955),
The Graduate
(1967),
Saturday Night Fever
(1977) and
Star Wars
(1977).
"It is nearly impossible to think of certain films without remembering their music scores. Casablanca, Laura, An Affair to Remember, The Magnificent Seven - the list is endless,"
said TCM host and film historian Robert Osborne.
"Our list celebrates the most memorable and groundbreaking soundtracks, the ones which took the art of film music to new levels and made the most lasting impact on the world of movies."
Musical artists from a variety of genres chimed in on TCM's 15 Most Influential Movie Soundtracks. Rap artist and actor Chris "Ludacris" Bridges, who worked with Isaac Hayes on the film
Hustle & Flow
, said Hayes' Oscar®-winning work on the movie Shaft continues to be influential.
"The soundtrack to Shaft was more than music being laid onto a film,"
Ludacris said.
"It was the actual credible atmosphere of the film. Isaac Hayes made you feel the relevance of black music culture within the film with his choice of sounds, instrumentals and words."
Ludacris praised Hayes' impact on other artists.
"When I make songs specifically for films, I want them to have the kind of impact the music did for Shaft,"
Ludacris said.
"It defined the film and the times. It was a black film, black music and black culture in perfect balance."
Country music star Dierks Bentley said a specific score resonates with him.
"The music in The Good, the Bad and the Ugly, to me, was just as big a part of the movie as the story itself,"
he said.
"The main theme, with that shimmering electric guitar and vocal grunts, kills me even now when I hear it. It's perfectly suited for the movie."
Chart-topping rock artist Rob Thomas said music contributes to film by developing a scene.
"There is a certain beauty in laying a musical bed and how it builds itself into the scene, creating a lasting moment,"
Thomas said. He also film music has had an influence on the concert hall.
"Classical presentations that people listen to will always include Bach, Beethoven and Brahms. But as generations grow older, there will also be John Williams and Danny Elfman."
Music has played a vital role in film since the earliest days of silent movies, when live accompaniment ranged from a single pianist to a music-hall ensemble. By the latter half of the 1920s, it was possible to include recorded music on film, starting with the first synced sound score, which was used for
Don Juan
in 1926. Later, Max Steiner's groundbreaking work on 1933's
King Kong
featured the first fully original score composed for a feature film.
Throughout the 1930s and 1940s, film music was dominated by a combination of songs from musicals and lush orchestral scores for dramas and comedies, often in a classic, romantic style. As rock and roll arrived in the 1950s, movies started featuring new songs, notably with the 1955 drama
Blackboard Jungle
. The use of pop-music compilations grew over the decades, with such movies as
The Graduate
(1967),
Saturday Night Fever
(1977) and
The Big Chill
(1983) proving to be groundbreaking. Throughout all eras, full orchestra scores remained popular. In the 1970s, such scores actually enjoyed a resurgence, thanks in part to the popularity of composer John Williams (
Jaws, Star Wars
).
In selecting the 15 Most Influential Film Soundtracks, several aspects were considered, including the impact they have had on how music is used onscreen to tell a story and on the methodology of song selection. Their influence is also defined by their impact on pop culture.
Here are the films from TCM's list of 15 Most Influential Movie Soundtracks, listed in chronological order. Complete descriptions are available online at the following link:
http://news.turner.com/article_display.cfm?article_id=4940
King Kong
(1933) - Composer: Max Steiner
Alexander Nevsky
(1938) - Composer: Sergei Prokofiev
The Day the Earth Stood Still
(1951) - Composer: Bernard Herrmann
Blackboard Jungle
(1955) - Music Adaptor: Charles Wolcott
The Man with the Golden Arm
(1955) - Composer: Elmer Bernstein
Psycho
(1960) - Composer: Bernard Herrmann
A Hard Day's Night
(1964) - Musical Director: George Martin; Songs: John Lennon, Paul McCartney
Goldfinger
(1964) - Composer: John Barry
The Good, the Bad and the Ugly
(1966) - Composer: Ennio Morricone
The Graduate
(1967) - Composer: Dave Grusin; Songs: Paul Simon
2001: A Space Odyssey
(1968) - Musical Consultant: Patrick Moore; Music Editor: Frank J. Urioste
Shaft
(1971) - Composers: Isaac Hayes and J.J. Johnson
American Graffiti
(1973) - Music Coordinator: Karin Green
Saturday Night Fever
(1977) - Composers: Barry, Maurice & Robin Gibb and David Shire
Star Wars
(1977) - Composer: John Williams
Turner Classic Movies is a Peabody Award-winning network that presents great films, uncut and commercial-free, from the largest film libraries in the world. Currently seen in more than 80 million homes, TCM features the insights of veteran primetime host Robert Osborne and weekend daytime host Ben Mankiewicz, plus interviews with a wide range of special guests. As the foremost authority in classic films, TCM offers critically acclaimed original documentaries and specials, along with regular programming events that include
The Essentials, 31 Days of Oscar
and
Summer Under the Stars
. TCM also stages special events and screenings, such as the upcoming TCM Classic Film Festival in Hollywood; produces a wide range of media about classic film, including books and DVDs; and hosts a wealth of materials at its Web site, www.tcm.com. TCM is part of Turner Broadcasting System, Inc., a Time Warner company.
Turner Broadcasting System, Inc., a Time Warner company, creates and programs branded news, entertainment, animation and young adult media environments on television and other platforms for consumers around the world.
Eerie cool main title of Caprica gives us a Cylon rush
We've got something special for you: A first look at the new main title sequence of Syfy's
Caprica
, with the new theme music.
The new sequence features all of the main characters and ends with a very cool sound effect.