Paris, Dear John Join Box Office Battle with Avatar
Can
Avatar
, now the official all-time domestic and worldwide box office record holder, hold on to the crown for its eighth straight weekend?
Not if John Travolta has anything to say about it. The actor returns to the action genre in
From Paris With Love
. The Lionsgate film is opening in an estimated 2,722 theaters this weekend.
Also new this weekend is the Sony/Screen Gems romantic movie
Dear John
. Starring Amanda Seyfried, Channing Tatum and Richard Jenkins, it will show in an estimated 2,900 cinemas.
A pair of Oscar nominees —
An Education
and
Crazy Heart
— are expanding this week.
But
Avatar
, which was nominated Tuesday for nine Academy Awards, has been hanging on to its audience quite well, with last weekend's $31 million take having dropped only 10.5 percent from the previous week.
Next weekend brings some more direct competition for
Avatar
in the form of
Percy Jackson and the Olympians: The Lightning Thief
and
The Wolfman
.
(Thanks
Animation Magazine
)
Granny O'Grimm Reacts To Oscar Nomination
With an Oscar nomination in hand, the team behind
Granny O'Grimm's Sleeping Beauty
dusted off ol' Granny for a little gloating. Big congrats to the whole team at
Brown Bag Films
.
PantoGraph Assembles Animation Loop
The crafty stop-motion animators at Japan's
PantoGraph
has stitched together one of their robot cycles for your viewing enjoyment.
Trailer and poster for The Secret of Kells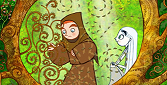 Collider
shares the promotional trailer and the first poster for
The Secret of Kells
. Nominated for best animated film Oscar,
The Secret of Kells
opens in theatres this spring.
Pretty as a picture: Chuck Jones retrospective
The Chuck Jones Center for Creativity has announced that
Chuck Amuck: A Legacy Of Laughter
, a retrospective exhibition of art and artifacts, will open with a free-to-the-public opening night reception on
Friday, February 26, 2010
at Tempe Center for the Arts in Arizona, and remain on display
through June 18th
. Full details follow:
Chuck Amuck: A Legacy Of Laughter
A Retrospective Exhibition of Art and Artifacts from the Chuck Jones Center for Creativity
Opens February 26, 2010 at Tempe Center for the Arts
A free-to-the-public opening night reception will be held from 7pm to 9:30pm in the TCA Gallery, 700 W. Rio Salado Parkway, Tempe, Arizona, to inaugurate the exhibition which will be on display through June 18th.
"The city of Tempe and the Tempe Center for the Arts are thrilled to play host to this marvelous exhibition. Children and adults of all ages will enjoy and learn about Jones, whose work and legacy continues to fill us with laughter and inspiration,"
enthused Michelle Nichols Dock, Gallery Coordinator for TCA.
This exhibition of original sketches, paintings and animation production art highlights the life and art of legendary artist, animator and director Chuck Jones who not only helped bring to life famous cartoon characters such as Bugs Bunny and Daffy Duck, but also created the iconic Wile E. Coyote and Road Runner, along with many more. This exhibit will be the largest and most comprehensive exhibit of art by Jones since his retrospective held at the Capitol Children's Museum, Washington, D.C. in 1988.
The opening night festivities will also include a Chuck Jones Cartoons and Short Films Screening beginning at 7:30pm in the theater of TCA. The film festival, hosted by Jones' grandson Craig Kausen, will be free – tickets are required and will be available at the door that evening, but note that seating is limited.
"It has been wonderful working with everyone at TCA on this exhibition and all of us at Chuck Jones Center for Creativity are looking forward to sharing the creative genius of Chuck Jones with the citizens of Tempe and environs. As Chuck Jones famously said, 'any project is 99% hard work and 1% love and only the love should show.' We know that, with the help of TCA, CJCC and its volunteers, only the love will show when this exhibit opens on the 26th,"
said Craig Kausen, Chairman of the Board of Trustees for Chuck Jones Center for Creativity.
A free-to-the-public Family Creativity Festival will be hosted Saturday, February 27th from 10am to 2pm. Chuck Jones Center for Creativity, the Gallery at TCA and the theater troupe, Childsplay will host three free hands-on art booths that day. There will be TCA volunteer-led tours of the Chuck Jones exhibit as well. Childsplay, the local children's theater troupe will also present a performance of
Peter and the Wolf
.
About Chuck Jones:
In a career that spanned almost seventy years, Jones made over 250 films, won four Academy Awards, and was nominated for six others. Jones' razor-sharp eye for character movement, his legendary sense of timing, and his beguilingly irreverent wit have combined to create some of the classic cartoons of all time, including these classic films released by Warner Bros:
Bully for Bugs, Duck Dodgers in the 24 1/2 Century, Duck Amuck, Rabbit Seasoning, The Scarlet Pumpernickel, Robin Hood Daffy, A Scent of the Matterhorn
, and
Feed The Kitty
.
Jones also created and directed some of the most popular and critically-acclaimed animated television specials in the history of the medium, including
Dr. Seuss' How The Grinch Stole Christmas, Horton Hears A Who, Rikki-Tikki-Tavi, Mowgli's Brothers
, and
The White Seal
.
On March 25, 1996, Jones' work was celebrated with a special Lifetime Achievement Oscar, presented to him at the Academy Awards by Robin Williams. In addition, Chuck Jones has been honored with three other Oscars, nine Academy Award nominations, a Museum of Modern Art retrospective, two honorary degrees and countless honors including France's greatest creative honor—Chevalier de l'Ordre des Arts et des Lettres.
Chuck Jones died at the age of 89 in February 2002, but he leaves a legacy of brilliance, comedy, joy, color, and laughter that will live on forever.
About TCA:
Tempe Center for the Arts stages innovative programming that enriches, enlightens, inspires and expands the artistic horizons of the Tempe community. The TCA is a unique visual and performing arts experience built by the community for the community. The Center offers a unique blending of arts and culture at a distinctive destination designed by Tempe-based Architekton and award-winning Barton Myers Associates of Los Angeles and houses a state-of-the-art, 600-seat proscenium theater, a 200-seat studio theater and a 3,500 square-foot gallery.
About CJCC:
The Chuck Jones Center for Creativity is dedicated to fostering and encouraging creativity, especially in young people, using the drawings, films, and writings of legendary animation director, Chuck Jones, as inspiration. It encourages the expression of artistic creativity and promotes an environment where that spirit can flourish. Jones' art and ideas continue to influence contemporary artists, filmmakers, and writers through the vast resource of his work accessible through the Center for Creativity's online archive.
Avatar Sails Past Titanic Amid Talk of Sequel, Acting Snubs
As
Avatar
officially claims the domestic box office crown from
Titanic
, Fox is in talks with director James Cameron on a sequel.
The 3D sci-fi fantasy movie finally sailed past Cameron's previous fiction feature on Wednesday, bringing its total to an estimated $601.1 million. That edges
Avatar
past
Titanic
's $600.8 million, with plenty of life still in its theatrical run.
The sequel talks are in very preliminary stages, according to The Hollywood Reporter, with Rupert Murdoch, head of Fox parent company News Corp., telling investors in a conference call that both sides want a sequel but nobody knows yet how quickly the project might come together.
Murdoch also said the film will be out on a 2D DVD or Blu-ray before June 30, with a 3D release possible down the road once the picture for home 3D technology has clarified.
In other
Avatar
news, producer Jon Landau and Cameron both expressed to
The Reporter
their disappointment that none of the film's actors were nominated for an Oscar.
"People confuse what we have done with animation,"
Cameron told the trade publication at the recent PGA Awards.
"It's nothing like animation. The creator here is the actor, not the unseen hand of an animator.""I blame ourselves for not educating people in the right way,"
said Landau, who suggested describing the motion capture process as more like
"emotion capture."
(Thanks
Animation Magazine
)
Animax, Fresh, Cookie Jar Win Pixies
Animax Entertainment, Fresh TV and Cookie Jar Entertainment have been honored by the Pixie Awards, which recognizes outstanding creativity in motion graphics, effects and animation.
Animax won Platinum Pixie Awards for its animated series
Popzilla
and
Bob & Doug
, while Fresh TV won for its tween series Stoked and Cookie Jar won for Johnny Test. Animax also won a Gold Pixie Award for
Joints Don't Jump
.
The Pixies, which are presented in Platinum and Gold levels, are presented by the American Pixel Academy, which formed in 2008. Winners are judged by industry professionals.
The full list of winners follows:
Platinum Pixie Winners
• Animax Entertainment, Van Nuys, CA: MTV – Popzilla, Global TV - Bob & Doug
• Atomic Cartoons, Vancouver: Mythunderstood
• Cinema Concepts, Atlanta: Rave Trailer
• Cookie Jar Entertainment, Toronto: Johnny Test – Johnny Lock Down
• Creative Artistry & FX, Fairfax, VA: CBN-TV - The Jewish Jesus
• David Cherry, Virginia Beach: The Nanny Job Kasey's Room
• Dream Balloon Animation Studios, Orlando: Snowyville Snowyville Once Upon a Christmas Village Head Chefs
• Fifteen Pound Pink Productions, Calgary: Intergalactic Who's Who
• Fresh TV, Toronto: Stoked
• Frame30 Productions, Edmonton: The Greatest Auto Race on Earth The Greatest Auto Race on Earth
• Happy Trails Animation, Portland, OR: Gideon the Great: The Flying Ace
• Hatchling, Portsmouth, NH: MEA Digital Agency Reel
• HAZED, Toronto: Matt Hammill – Hazed
• Inertia Films, Atlanta: ING - Run for Something Better ING – Miami Marathon Course Video
• Insight Creative Group, Oklahoma City: Lucky Star Casino – The Luv Bug
• Lockheed Martin Space Systems, Denver: Operational Excellence Orion Space Station
• Lyons Entertainment Celebration, FL: Creepers
• MEA Digital, San Diego: MEA Digital Agency Reel
• Powderhouse Productions, Boston: Mega Engineering Build it Bigger Superfetch
• Razorwire Pictures/Polyphony Pictures, Sherman Oaks, CA Sushi 2
• Scorched Earth Productions, Denver: Scorched Earth - Mugs
• Sujit Agrawal, New York City: Michael Jackson – Rising Star
• Texas Tech University Health Sciences Center, El Paso: The Children who Called Themselves Dirty Hands"
• The Ungar Group, Chicago: "Relax" – Home Productions Intl. "Relax" – Home Productions Intl.
• Trace Pictures, Toronto: Nick BGH Gillette
• XXL Media, New York City: Citation Air
Gold Pixie Winners
• Animax Entertainment, Van Nuys, CA: AAOS – Joints Don't Jump
• Ann Robinson-Berger, Arnold MD: Starry Starry Night
• Cinema Concepts, Atlanta: Unconscious Therapy Showcase Cinemas Signature Trailer 09 ShowEast Trailer
• City of Las Cruces, Las Cruces, NM: Know Your City Opening Title CLCT.com Promo City Beat Opening Title Know Your City Opening Title Neon Logo Plug
• Know Your City Opening Title
• Circle of Seven Productions, Mt. Sterling, KY: Pocket Books – Deep Kiss of Winter Simon & Schuster – Hush, Hush
• Creative Resources Group Plymouth, MA: Expressway Toyota
• Edelman, Chicago: American Heart Association
• Ernie Berger, Arnold MD: The Amazing Mr. Unicycle
• Elfenworks, Burlingame, CA: The Elfenworks Foundation
• Harold Buchholz, Virginia Beach: Kid Comedians: Amazing Animals
• Hawaii Pacific University, Honolulu: Pacific Aviation Museum
• Hawthorne Direct, Fairfield, IA: Simplexity
• Insight Creative Group, Oklahoma City: Lucky Star Casino- Season of Winning
• Main Line Interactive, Wayne, PA: Barry Dunlop - Signature Video
• MDS Advertising, Austin: Helmets to Hardhats Landing Page
• Nature Productions, Benton, ME: North American Safari
• MillerWhite, Terre Haute, IN: Terre Haute Chamber of Commerce
• Mindlever Media, San Diego: Patrick Roberts Law Clip
• MMG Corporate Communication, Loveland, OH: Ethicon Endo-Surgery, Inc. MMG Corporate Communication
• Omni Media Productions Ltd., St. Catharines, Ontario: City of St. Catharines Humber College – More For You
• PACO Communications, Chicago: Tampico International
• Powderhouse Productions, Boston: Dogs 101
• Razorwire Pictures/Polyphony Pictures, Sherman Oaks, CA: Polyphony
• Science North, Sudbury, Ontario: Philadelphia Zoo Philadelphia Zoo
• SolidLine Media, Chicago: Press-A-Print
• Sujit Agrawal, New York City: Mixtape – Nicki Minaj 2009 VMA Nominations
• Trace Pictures, Toronto: Sprout Sprout
• Vital Film Works, Columbus, OH: Garbonzo Grill
• Wyoming Dept. of Transportation Cheyenne, WY: Wyoming People
(Thanks
Animation Magazine
)
3D Opener, New Chomet Images Set for Cartoon Movie
The next Cartoon Movie will feature new work from such animators as
Triplets of Belleville
director Sylvain Chomet and
Waltz with Bashir
's Ari Folman.
The festival, set for
March 3-5
in Lyon, France, will kick off with the stereoscopic 3D film
Around the World in 50 Years
, directed by Ben Stassen. Produced by Belgian company nWave Pictures,
Around the World in 50 Years
tells the story of a sea turtle born in 1960 and follows its epic journey to maturity in 2010. The film will be distributed worldwide by StudioCanal, except in North America where Universal Music Group has picked up the film.
The industry-focused event draws hundreds of animation industry professionals from around the world. Eleven stereoscopic 3D films in addition to
Around the World in 50 Years
will be shown at the festival.
Also highly anticipated are the first images from
The Illusionist
, the upcoming film from Chomet based on a screenplay by French comedian Jacques Tati.
Cartoon Movie 2010 is organized with the support of the MEDIA Program of the European Union, CNC (Centre national du cinéma et de l'image animée), the Rhône-Alpes Region, Greater Lyon and in collaboration with the Cluster Imaginove (Lyon). Since 1999, more than 140 projects with a total budget of 1 billion euros have obtained full financing thanks to this annual forum aimed at strengthening the production and distribution of animated feature films in Europe.
(Thanks
Animation Magazine
)
Henson Taps O'Brien for Children's Entertainment Post
Lisa O'Brien will oversee the development, production and promotion of projects in all media as the new executive director of children's entertainment at the Jim Henson Co.
In addition to taking on established properties like
Sid the Science Kid
and
Dinosaur Town
, O'Brien will focus on new properties like the short form and interstitial series
Wilson & Ditch: Digging America
and
The Possibility Shop
.
O'Brien will report to Halle Stanford, the company's executive VP of children's entertainment.
"Lisa O'Brien has proven herself able to lead and produce creative projects from idea through realization and she has a deep understanding of the needs of the audience and the marketplace,"
said Stanford.
"Lisa will be an integral part of our company's continuing efforts to explore new ways to inspire our audience with exciting characters and compelling, forward-thinking, content."
O'Brien previously worked for PBS KIDS Sprout, where she collaborated with The Jim Henson Co. on its short-form productions of The Pajanimals and Musical Mornings with Coo. She also co-created and wrote
The Good Night Show
and oversaw the writing and producing of channel's branding elements, interstitials and promotional campaigns.
She also has worked as a creative director for Disney Channel's on air short form programming, and specialized in short form programming as an independent writer, producer and director for clients at Paramount Pictures, Fox Family Entertainment, Universal Studios and others.
(Thanks
Animation Magazine
)
"The Flintstones" writer Barry Blitzer dead at 80
Emmy-winning comedy writer Barry Blitzer, who penned episodes of such Hanna-Barbera series as
The Flintstones, The Jetsons
and
Top Cat
, died January 27 at St. John's Health Center in Santa Monica, California from complications after abdominal surgery, the Writers Guild of America announced. He was 80.
A resident of nearby Pacific Palisades, he was the last living member of the group of writers who shared a Best Comedy Writing Emmy in 1956 for
The Phil Silvers Show
. They won the award for the episode
"You'll Never Get Rich."
Often credited as Barry E. Blitzer, he wrote the
Flintstones
episodes
The Flintstone Canaries, Kleptomaniac Pebbles
and
Peek-A-Boo Camera
(1963);
Reel Trouble, Son Of Rockzilla, Monster Fred
and
Adobe Dick
(1964);
Deep In The Heart Of Texarock
and
Shinrock-A-Go-Go
(1965); and
Fred Goes Ape, Dripper
and
Fred's Island
(1966).
For
The Jetsons
, he wrote the episodes
The Space Car, Las Venus
and
Uniblab
(1962);
G.I. Jetson, Elroy's Mob, Private Property
and
Miss Solar System
(1963);
Fugitive Fleas
(1984); and
S.M.A.S.H., Sno Relative
and
The Wrong Stuf
f (1985).
He wrote the 1962
Top Cat
episodes
Dibble's Double, Dibble Sings Again, The Case Of The Absent Anteater
and
Choo Choo Goes Ga-Ga
. A quarter of a century later, he wrote
Top Cat And The Beverly Hills Cats
, a 92-minute 1987 special that was part of the
"Hanna-Barbera Superstars 10"
syndication package. The film's plot was an extended remake of the original series' 1961 episode
The Missing Heir
.
Blitzer was the story editor for several 1981 episodes of
The Fonz and the Happy Days Gang: "The French Correction," "Kelp!", "Time Schlep," "It's All Downhill from Here," "Double Jeopardy," "Fjords and Sorcery," "There's No Place Like Rome," "Perilous Pauline," "Around the World in 80 Ways," "All This and Timbuktu"
and
"Give Me a Hand: Something's Afoot."
In addition, he was the story editor of
Invasion Of The Booby Hatchers
, an episode of 1981's
Laverne and Shirley in the Army
.
He was a writer for the Hanna-Barbera series
The Roman Holidays
(1972),
Goober and the Ghost Chasers
(1973),
Partridge Family: 2200 A.D.
(1974),
Jokebook
(1982),
The Flintstone Kids
(1986),
The New Yogi Bear Show
(1988) and
Tom & Jerry Kids Show
(1990). In addition, he wrote the story for the 1987
Foofur
episode
Puppy Love
.
With Len Janson, he wrote the 1975 Filmation Associates series
Wacky & Packy
, which aired as part of both
The Groovie Goolies and Friends
and
Uncle Croc's Block
.
In 1968, Blitzer shared a Writers Guild nomination for
Get Smart
with co-writer Raymond Brenner, a frequent collaborator.
He wrote for such other live-action comedy shows as
Gomer Pyle, U.S.M.C., The Love Boat, Too Close for Comfort, McHale's Navy
and
Good Times
.
In addition, Blitzer wrote for such live-action kids' shows as
Land of the Lost
.
Born on April 29, 1929, he attended the University of Georgia. He served in the United States Army during the Korean War.
A Writers Guild of America, West member since 1961, he took part in many WGA events. He was also active in campaigning for equal rights for animation writers.
He was also a guest lecturer at the University of Texas in Austin. For a long time, he wrote a humor column in his home town paper, the Palisadean Post.
Barry Blitzer is survived by his wife Elsie, a daughter and a sister. Donations may be made to the Writers Guild Foundation.
Bill Plympton and Pat Smith Argue About Pink Elephants
Scribble Junkies
, the new commentary blog by animators Bill Plympton and Pat Smith, is heating up. Yesterday, Bill posted about why he thinks the
"Pink Elephants on Parade"
sequence in
Dumbo
is
the
"weakest point"
of the film
. Today, Pat followed up with an entry about why that sequence is
"the single most influential piece of animation"
that he's seen. It's fun seeing two solid animators duke it out over a classic piece of animation that we normally take for granted.
(Thanks
cartoon brew
)
Trunk Train
Zé Brandão
, who runs
Copa Studio
in Rio de Janeiro, sent me this cute TV series pilot he made as a co-production with two Brazilian public broadcasters (TV Brasil and TV Cultura). It's impressive to see the rising quality of children's animation being produced in all corners of the globe. Countries with developing animation scenes, like Brazil and India, are proving that they can produce shows that are virtually indistinguishable in quality from the work coming out of more experienced animation-producing countries. As they increase their production capacities, more TV animation production will shift to affordable countries like Brazil which barely had an animation industry a decade ago. Which begs the question, if decent animation can be produced anywhere in the world at low cost, will this force animation producers in the US and Europe to raise the bar on their work or will they simply throw in the towel? It'll be interesting to see what happens.
(Thanks
cartoon brew
)
Graeme Hawkins
One of the most fulfilling aspects of blogging on Cartoon Brew is every so often discovering the young filmmaker who loves to experiment with the medium and isn't bound by conventional notions of animation filmmaking. I'd venture to say that Dundee, Scotland-based Graeme Hawkins is one of these chaps. Witness the breadth of his approach to the art form by visiting
Retchy.com
, which is filled with all kinds of fun animated experiments including 3D zoetropes, projection mapping and VJing, along with generous descriptions of his processes and techniques. He also worked as a digital artist on Sylvain Chomet's new film
The Illusionist
.
Below is his thesis film,
5
, which is
"an exploration of childhood memories, combining scientific theory, the wandering mind of a child, and largely abstract sound design to hopefully evoke feelings of nostalgia, familiarity and comfort."
I was impressed by the blend of sophisticated visuals, surprising transitions, and sharp sound design, but if you want to read into it further, Graeme explains on
his website
that the film has something to do with Richard Feynman and Richard Dawkins.
Here's another quickie film of his I enjoyed—
McDonalds on the Brain
:
(Thanks
cartoon brew
)
"Planet Hulk" Feature Supervising Director Frank Paur Talks To Marvel Animation Age
Marvel Animation Age
caught up with
Planet Hulk
Supervising Director Frank Paur to discuss his work on the direct-to-video animated feature, now available to own on Blu-ray and DVD.
A familiar name to the Marvel Animated Features line from Marvel Animation and Lionsgate Home Entertainment,
Planet Hulk
Supervising Director Frank Paur has contributed to countless animated projects in recent years, his latest being animated adaptation of the acclaimed
"Planet Hulk"
Marvel Comics storyline. Paur recently participated in this new Marvel Animation Age Q & A to discuss Planet Hulk and the many different facets of working in animation. Please click on the thumbnails included in this article for a closer look at each image.
Marvel Animation Age: What makes Planet Hulk the perfect story to be animated?

Frank Paur:
Well… it's the Hulk, it's on an alien world, it has all sorts of critters, monsters, evil tyrants, and hot alien encounters of the third kind. What's not to love about animating that sort of thing?
Oh, and it's a great arch-type for storytelling, the hero's quest, the struggles for acceptance, and the character evolution from monster to man. Greg Pak had so many solid elements in his story, the difficult part was deciding what not to animate.
MAA: What is the role of supervising director?

FP:
Think of this analogy; master painters never do the entire job themselves; they have assistants that carry out the bulk of the work. The painter will set a direction that he will have others follow. During the process he will periodically review their work, and if needed, make corrections to push the direction in the path that he wants. And after the bulk of the work is finished, he will then go in and refine the work, tighten the art, and correct the errors until the work is complete.
A supervising director is in charge of bringing the entire project to creative completion. He gives focus to the production. That's pretty much what I do, I assemble an incredible cast of artists around me, and then I sell them the vision of where I want the story to go. I then stay as much out of their way as possible, only stepping in as needed to insure that everything goes in the direction needed.
You have to have a good knowledge of just about every aspect of animation to pull it off, because you will wind up doing copious amounts of storyboarding, timing, editing, designing and most importantly; people skills, If you can pull it off, it's pretty rewarding.
MAA: Were you worried about adapting a 12-issue story in a regular 70-minute animated feature? How did that influence the choices you made as a supervising director?

FP:
It's always worrisome when you are called in to adapt a long form project into something considerably shorter. I've seen the results of other attempts to do this, and most of them are spectacularly underwhelming, not because the talent isn't there, but the time isn't.
As a fan of these types of stories, I understand all too well how disappointing it is not to have all of your favorite moments on film. So what you do is prioritize those elements of the story that are essential to the story. The Hulk is essential. So anything that does not contribute to his story is out, everything is contained around him; by using that tunnel-vision focus, we were able to push away most of the temptations that would have taken us down a difficult path.
MAA: You've worked on both top-tier DC and Marvel animated series, and more than a few great "third party" series. Is there a different approach you take with the DC animated titles as you do with the Marvel works?

FP:
First, it is important to point out that that I haven't worked with the DC titles since
Batman: The Animated Series
, which for me was "Once upon a time." Second, I worked there as a director with some extraordinarily talented people. At the time I remember we were conscious about having the show focus more on character than had ever been done before. Which to me meant more of a Marvel approach to the show.
I've always felt that the difference between Marvel and DC, to me as a child reading comics, is that Marvel always made you feel empathy for its characters, heroes and villains alike. As an adult, it now effects how I tell a story. To me the story dictates the approach that you take, be it Marvel, DC, Disney or anything in between. Action is great and helps to push the story forward, but it is always the emotion of the characters that I always remember.
MAA: How do you approach an animated movie when directing? What type of process do you go through?

FP:
I take everything based on the story being told. Where does the story take us? How does it affect the characters in it? What is the journey our protagonist goes through?
When all this comes into focus, I then decide how best to tell that story. Animation gives us a wide choice artistically to do this. I try to give every movie I make a different look. With a different look comes a different feel. On
Hulk Vs, Wolverine
required a darker tone. Its story was horrific and it needed a harder edge to draw the viewers into it. At the same time Thor was a much grander story. Its designs needed to feel more epic, so everything was pushed to a hyper reality, which I found to be a perfect opposite for the Wolverine designs and they complimented each other perfectly.
On
Planet Hulk
the greatest challenge was inventing the world of "Sakaar." On these Marvel titles, we look at the backgrounds as a character in the film; these designs are not meant to just fill up space for the character to play on. They contribute to the overall feel and emotion of the scene. Sakaar has to feel like an alien planet. The audience has to believe that they are not earthbound. The designers did a great deal of experimentation to create the set pieces that you see, from the shape of the cities, the desert, the sky, color, everything.
When the designs are in motion, I'll then go over the story in detail with my director, and discuss the character actions, motivations, and the level of action. We spend a great deal of time with the personalities and how they all react with each other. The director will pass on all that information to his storyboard artists so they then can use it in their work. That process is repeated down the line, character designs, color, editing, and music etc.
MAA: You have also directed and contributed to a considerable amount of animated shows, what type of constraints so you feel directing an episode as opposed to a movie, and vice-versa. Do you find there's more difficulty with one than the other?

FP:
Time. Time is a huge constraint, for the time it takes to plan and execute a movie you can pop out 26 episodes of a television series. Of course, your crews are bigger, or should be, so you're constantly juggling multiple shows at a time. Currently I'm doing post on season one of one series and at the same time ramping up production of season 2. On the plus side you are able to really get into the soap mode and really tell some great stories over extended lengths of time. So there is always a trade off.
MAA: Storyboard artists tend to "graduate" to directors (one example being James Tucker, who started out as a storyboard artist but eventually found himself directing episodes of
Legion of Super-Heroes
, and other series). You've done both storyboard work and direction, among other works, why do you think that is? What types of skills translate from one area to the other?

FP:
Storyboard is the best stepping stone there is for directing. It encompasses composition skills, acting and design, all of which are necessary for direction.
However, if you think that's all there is to it, you would be wrong. Timing, animation, writing, film editing, music and a good knowledge of film are essential to directing. A good director will draw from everything he knows; I studied fine art in college and I'm always using those skills to assist me in the work that I do. And I'm always studying up to try and keep ahead of the curve. If you want to stand out, you better know your stuff.
MAA: So back onto Planet Hulk, have you seen the final product? And, if so, can you provide any thoughts on how you think it turned out?

FP:
Literally, about a thousand times, and it turned out great. I would say it's the best of the Marvel DVD titles. At least until
Thor: Tales of Asgard
comes out. And you know something? As often as I've seen it, I can always find something I want to do to make it better. That's something else a director goes through, we're never satisfied, and we always run out of time.
MAA: As we slowly move toward the end of the Q & A, can you tease any surprises or drop any teases as to what fans can expect from Planet Hulk, now available to own on Blu-ray and DVD? What about Planet Hulk will blow fans away?

FP:
I've said it before; this is a Hulk nobody has ever seen before in film. For the Hulk purists it has action on a grand scale, the pacing never slows, and it is one of the most beautiful films that you'll ever see in an animated super-hero movie. It really is a roller-coaster ride of emotions that should leave the fans on the edge of their seats.
MAA: So, to wrap this up, where will we be seeing you next? Any details on what animated features you'll be working on in the near future?

FP:
Maybe sometime this fall. I've been assisting on a project these past few months for Marvel, and it's looking pretty good. As for the features, my lips are sealed.
Marvel Animation Age would like to thank Frank Paur for his participation.
The all-new direct-to-video
Planet Hulk
animated feature from Marvel Animation and Lionsgate Home Entertainment is now available to own Blu-ray, Two-Disc Special Edition DVD, and Single-Disc DVD.
Early February Links
The links of February serve up a new batch of news stories. For instance, MTV.com
gets excited
about a new super hero program.
Could a
"Young Justice League"
animated series be on the horizon? A report that hit the 'Net and was removed a short time later seems to indicate that's the case.


"I am beyond thrilled to announce that I was recently cast in the new animated series,
'Young Justice League'
, based on the famous (and awesome!?) DC Comics,"
wrote actress Stephanie Lemelin in a statement on her website that was snagged by Mania.com
before being removed
...
The L.A. Times
relates
Oscar minutia regarding animation:
... Batting 1.000: Animated short nominee Nick Park (
"Wallace & Gromit in A Matter of Loaf and Death"
) has won all four of his previous Oscar races -- animated short (1990, 1993, 1996) and animated feature (2005). In 1990 he was a double nominee, winning for
"Creature Comforts"
over
"A Grand Day Out with Wallace & Gromit."
In 1993 he won for
"Wallace & Gromit in the Wrong Trousers,"
in 1996 for
"Wallace & Gromit in A Close Shave"
and in 2005 for
"Wallace & Gromit in the Curse of the Were-Rabbit."


Animated Features:
"Up"
is the second animated feature after
"Beauty and the Beast"
to contend for best picture. While
"Beauty"
had five other nominations in 1991, including three song bids, score and sound,
"Up"
is contending in four other categories -- screenplay, score, sound editing and animated feature. That last category wasn't created till 2001, and this is only the second year -- after 2002, when
"Spirited Away"
won -- that there have been five rather than three nominees.
The new Disney Studio Chairman
continues
to make big changes at the House of Mouse:
For the last 2 1/2 months, one of Hollywood's most powerful marketing machines -- Walt Disney Studios -- has been operating without a marketing chief. That could soon change.

Studio Chairman Rich Ross has met with his executives and told them that he plans to hire someone outside of Hollywood's usual movie circles to replace former marketing President Jim Gallagher, ousted in the fall. He has narrowed the list of candidates and is meeting with a small number of finalists ...

Ross has scoured some big ad agencies ... seeking candidates who have overseen innovative campaigns for major brands. He's also weighed bringing in someone from the video game or tech industries -- or the very least, someone savvy about harnessing social networking and emerging technologies to sell movies, according to several people knowledgeable about the search.
Slate
asks
the semi-obvious question.
How Is
Avatar
Not an Animated Film?


...
Up
is only the second animated film to receive a best picture nomination ... Unless you count
Avatar
.
Comic Book Resources profiles the story development of the DVD animated feature
Planet Hulk
:
"Planet Hulk"
allowed ... the Marvel Animation team to come full circle with their DVD projects, which started in 2006 with another adaptation of a major comics story line. Though this time, the writer said that viewers can expect fewer changes to the core of this story than in the version of Mark Millar and Bryan Hitch's
"Ultimates"
that hit a few years back.


"The mandate when this started when they chose to do
'Ultimates'
– a lot of that decision involved 'Let's get all our best players on the screen at once.' It was an exciting story, and the process was a little different than
'Planet Hulk'
because the books had a little bit more of an edge to them. ..."
(Labor side note: TAG won a union election vote at Marvel sometime back, but the company ultimately refused to agree to a contract.)
We end with a small, golden
nugget
of hope:
Time Warner Chief Executive Jeff Bewkes said Wednesday that advertising revenue at the Turner entertainment cable networks, including ... Cartoon Network, will grow in 2010.
Have a fine, end-of-week experience. The weekend is within sight.
(Thanks
Animation Guild Blog
)
Disney To Make Enchanted Sequel
Walt Disney has given the go ahead to the developement of a sequel to 2007's animated/live-action feature
Enchanted
. The original film was a breakout hit for Disney earned more than 300 million worldwide, and was the film that really launched Amy Adams' career. The same production team is expected to return for
Enchanted II
, but Kevin Lima will be replaced with Anne Fletcher as director. The sequel will be written by Jessie Nelson.
Enchanted
was a whimsical musical comedy that half parodied and half pade homage to Disney animated films of old. Giselle, an archetypal Disney Princess, who is forced from her traditional animated world of Andalasia into the live-action world of New York City.
Pneumonia, drugs cited in Brittany Murphy's death
Brittany Murphy, the voice of Luanne Platter on over 200 episodes of Film Roman's FOX series
King of the Hill
, died from pneumonia, but anemia and prescription drugs were factors as well, coroner's officials said Thursday.
The primary cause of death was community-acquired pneumonia, while iron deficiency anemia and
"multiple drug intoxication"
were contributing factors, according to the Los Angeles County coroner's office. Her death was ruled accidental.
Murphy began voicing the character of Luanne, as well as the younger version of Joseph Gribble, on
King of the Hill
in 1997. For her role in the
KOTH
episode
"Girl, You'll Be A Giant Soon,"
she won an Annie for Voice Acting in an Animated Television Production in 2005.
Her work as the voice of Luanne earned her Annie nominations in 2000, for her role in the episode
"Movin on Up,"
and in 1997. She also provided the voices of many miscellaneous characters in individual
KOTH
episodes.
The 32-year-old actress died December 20 after collapsing at her Hollywood Hills home. Her mother and husband have said that Murphy didn't abuse prescription medications or have an eating disorder.
Murphy voiced Tank in Disney's
Pepper Ann
series. She voiced Gloria in the Warner Bros. animated feature film
Happy Feet
(2006). As well, she was Colleen O'Hallahan in the direct-to-DVD
Futurama: The Beast With A Billion Backs
(2008).
Coroner's spokesman Craig Harvey would not specify what types of drugs were involved, but he said that they were all prescription medications. Details about the drugs she had in her system will be released in several weeks after a complete report is done.
Attempts to reach Murphy's husband, Simon Monjack, and mother, Sharon Murphy, for further comment were not immediately successful Thursday. They had told investigators that she had been experiencing flu-like symptoms in the days before she died.
Last month, Monjack told Associated Press his wife took several prescriptions -- including an anti-seizure drug -- but did not abuse the medications. She had been taking over-the-counter Robitussin for her recent sickness, she said.
A memorial for a foundation in Brittany Murphy's name that had been scheduled Thursday was suddenly canceled without explanation.
The coroner's determination indicated that drugs probably played a major role in Murphy's death, said Dr. Michael Baden, the former chief medical examiner in New York City:
"If she died of pneumonia, that cause of death is a natural cause."
Using some prescription medications can lead to pneumonia, and the coroner's office may have stated that as the main cause to lessen the blow to Murphy's family, he said.
"It sounds more like it's a drug-related than a natural pulmonary pneumonia,"
he added.
Although Baden did not work on the Murphy case, he has served as an expert witness in several high-profile deaths.
Baden downplayed the role that anemia might have played in Murphy's death.
Knowing the quantities and types of drugs that Murphy was taking, as well as how recently she saw a doctor, is important to understanding how she died, said Baden.
"One doesn't die of pneumonia, usually, that quickly,"
he observed.
Four animations in finals at Australia's Tropfest
Four animated films are among the 16 finalists chosen by the world's largest short film festival, Movie Extra Tropfest, to headline the annual event, to be held
Sunday, February 21
.
The festival will offer audiences across Australia an eclectic lineup of films from homegrown talent.
Tropfest will be held at The Domain in Sydney. It will be aired live to satellite venues in Melbourne, Adelaide, Hobart, Canberra, Brisbane and Perth, as well as on Movie Extra.
Among the selections is Gareth Davies and Damon Gameau's
One....
, a stop-motion animation that marks Gameau's directorial debut. It's about a die that wanders through a busy city park on a melancholic stroll.
Going behind the camera was rewarding, Gameau told Australian Associated Press.
"It's probably more rewarding than nearly anything I've done, because you have complete control of the story you want to tell... and that is an incredibly beautiful feeling,"
he said.
This isn't Gameau's Tropfest debut. Last year, he acted in the entrant
Being Carl Williams
, which won director Abe Forsythe the award for best comedy.
According to Gameau, putting
One....
in Tropfest is a much scarier experience than releasing a movie like
Balibo
.
"It was nerve-wracking, because normally, you're watching a film in a room of maybe 500 people at most, but (with Tropfest, it's) 30,000 to 40,000 people and there's nowhere to hide,"
he said.
Other animated films to be seen a Tropfest:
Awakening
(directed and produced by Liam Newton; composed by Ben Schroeter): With little else left in his world, one lonely robot does what he can to restore his only companion before time runs out.
My Neighbourhood Has Been Overrun By Baboons
(directed and produced by Cameron Edser and Michael Richards): What if you woke up one morning and your neighbourhood had been overrun by baboons? What if there was nothing you could do and nowhere you could hide?
Testicle
(directed and produced by Sheldon Lieberman and Igor Coric): Spike is only a few months old... and missing a testicle.
"Watching the entries each year is one of the best parts of my job. But choosing the 16 finalists is one of the toughest!"
, said Movie Extra Tropfest founder and director John Polson.
"This year's lineup encompasses an incredible, entertaining and thought-provoking mix of comedy, drama, animation, documentary and even mockumentary! There are some familiar faces amongst the 16 finalists, including some past Tropfest finalists, but it's also great to be able to showcase some of Australia's best, new filmmaking talent."
One....
, by Gareth Davies and first-time director Damon Gameau: Is life something that happens to everyone else?
Brits confuse Peter Griffin with far-right leader
Peter Griffin, Nick Griffin... what's the difference?
Evidently there isn't any for a third of Britons, who matched a picture of Nick Griffin, the leader of the far-right British National Party, with the name of Peter Griffin, the protagonist of cartoon sitcom
Family Guy
.
Conducted by the money-saving Web site MyVoucherCodes, the survey of 1,498 people asked respondents were asked to match names with photos of well-known public figures.
Nick Griffin, a Member of the European Parliament for North West England, is a former candidate for the neo-Nazi National Front. In 1998, he received a suspended prison sentence after being convicted of distributing material likely to incite racial hatred.
Last year, readers of Cambridge University's student newspaper, The Tab, voted Griffin -- Nick, that is -- "the worst person ever to attend the university" with 44% of the vote.
"The fact that Katia Ivanova, who is famous for having slept with a Rolling Stone (Ronnie Wood), is better known that (Secretary of State for Justice) Jack Straw and (British Home Secretary) Alan Johnson put together is indicative of the fact that the public are heavily influenced by the media,"
said Mark Pearson, managing director of MyVoucherCodes.
"It isn't for us to judge whether or not this is right or wrong, but put forward the facts: one of which being that a third of people think that Peter Griffin is the leader of the BNP."
Separated at birth?: Extreme-right British politician Nick Griffin and
Family Guy
dad Peter Griffin.
M. Night Shyamalan's 'The Last Airbender' Superbowl Trailer Arrives Online
The Superbowl is just a few days away, but the first of the big movie trailers set to premiere during the game has already arrived online.
Over at
UGO
, they've posted the trailer for M. Night Shyamalan's
"The Last Airbender,"
based on the wildly popular Nickelodeon anime/manga series,
"Avatar: the Last Airbender"
, which will make its television debut during the Superbowl.
After the debut of
two new posters from "The Last Airbender"
last week, it looks like the marketing campaign for this film is just getting started, and there's a lot left to see before the film's July premiere.
'Iron Man 2' Occurs Before 'Incredible Hulk' In Marvel Movie Timeline, Says Jon Favreau
The two-hour season premiere of
"Lost"
got everyone's timeline senses tingling, but it only took
"Iron Man 2"
director Jon Favreau one word to clarify fans' understanding of Marvel movie continuity.
When asked via
Twitter
where (or rather, when)
"Iron Man 2"
falls in relation to 2008's
"Incredible Hulk,"
Favreau said the upcoming sequel actually falls
"before"
Edward Norton's adventure as the green goliath.
Of course, this seems to make perfect sense, given what we know of
"Iron Man 2"
and the final scene of
"Incredible Hulk,"
in which Tony Stark approaches General Ross in a bar to talk with him about his
"unusual problem."
In the final
"Hulk"
scene, Stark asks Ross,
"What if I told you we were putting a team together?"
— inferring that he's not only aware of Nick Fury's
"Avengers"
team, but is also a member. This would seem to indicate that the armored superhero's status as a solo act in
"Iron Man 2"
plays nice with Favreau's timeline for the Marvel movie universe, despite the order in which the films were released.
However, that doesn't mean the brief comment hasn't spawned some questions, too. With Stark appearing to become a member of the Avengers in the time between the finale of
"Iron Man 2"
and
"Incredible Hulk,"
one has to wonder which of the other Marvel films might fill in the gap in the overall continuity.
Additionally, if
"The Avengers"
shows us the team's origin, it stands to reason that the 2012 superhero team-up film could actually fall before
"Incredible Hulk,"
too (or possibly run parallel to the
"Hulk"
timeline).
Got all that? Yeah, me neither... but I think we can all agree that
May 7
can't come soon enough.
'Percy Jackson' Star In Talks To Play Spider-Man
Logan Lerman, the star of
"Percy Jackson & the Olympians: The Lightning Thief,"
says he's in talks to play Peter Parker in the
upcoming
"Spider-Man"
movie
that will
reboot the blockbuster superhero franchise
.
"There have been a few discussions, it's definitely something I'm looking into,"
Logan told
Access Hollywood
.
At 18 years old, Lerman would seem a good fit for the role of a teenage webslinger in director Marc Webb's film, though nothing is official at this point regarding his attachment. However, Lerman said he was a big fan of the famous Marvel hero.
"It's one of my favorite characters ever and I'm a huge fan of the series,"
he said.
"I'd love to have more conversations about it. I'm definitely very interested in it.""It's just, you know, conversations are starting,"
he added.
"It's a long process with the studio and the producers and everything. But it's definitely a project that I'm really interested in, of course. I'd love to focus on the human element a little bit more. It'd be such a fun experience."
"Percy Jackson & the Olympians: The Lightning Thief"
hits theaters
February 12
.
If you're still hoping for that Watchmen sequel, you can stop
Want to know what happens after Rorschach's journal lands in the offices of the New Frontiersman in the final scene of
Watchmen
? Dan DiDio, the executive editor over at DC Comics, may be planning for prequels and spinoffs in comic-book form, but as for another movie—forget about it.
Over at
deadline.com
, Nikki FInke reports that a
"well-placed insider"
at the studio told her there's no chance of the Alan Moore/Dave Gibbons graphic novel ever making another appearance on the big screen, even though the contract apparently allows for one.
"There is no truth to anything related to a movie sequel,"
Finke was told.
"Not a chance by a long shot. With regards to the comics, well, I guess anything is possible. I'll keep my opinion to myself as to whether it's a smart idea to do so."
What do you think? Even if new movie were ever made, would you bother showing up to watch another
Watchmen
?
'Thor' Star Chris Hemsworth Is Becoming 'A Beast' For Marvel Movie Role
Since we have yet to see the first image of
"Thor"
star Chris Hemsworth in costume, any bit of information we can get about how the
"Star Trek"
actor is approaching the look and feel of Marvel's god of thunder is worth a mention these days.
That's why we had to slip in a few questions about Hemsworth when we spoke to his
"Red Dawn"
cast mate Josh Hutcherson during the Sundance Film Festival.
"The entire time, he was constantly bulking up and just getting bigger and bigger throughout the entire thing,"
said Hutcherson of Hemsowrth's preparation for the role during the filming of
"Red Dawn"
last year.
"The dude's a beast now. ... I think he's going to really tear it up."
'District 9' Slips Into Expanded Oscar Best Picture Race
Movie may have last year's Oscar snub of 'The Dark Knight' to thank for its nomination.
"District 9"
director Neill Blomkamp might want to call up
"The Dark Knight"
helmer Christopher Nolan and say,
"Thanks, bro!"
That's because Blomkamp's film might never have nabbed a 2010 Best Picture Oscar nomination had it not been for Nolan's best pic snub last year.
While
"Dark Knight"
was by far the highest-grossing film of 2008, it failed to garner a Best Picture nod, leading some to speculate that the Academy of Motion Picture Arts and Sciences voters were hopelessly out of touch with the tastes of the American public. Enough with the art-house flicks no one watches, some complained, it's time to honor the films we actually like. In other words, be more like the Golden Globes, which nominates 10 best picture films over two categories.
Cut to last June, when the Academy announced the
Best Picture category would expand to 10 films
, rather than the normal five, for the first time since 1943. In the months following the change, speculation centered on a number of blockbusters that traditionally wouldn't be selected in the Best Picture category — from
"Star Trek"
to
"The Hangover"
to
"The Blind Side"
— to see if any widely popular movie, rather than the usual art-house fare, would benefit from the expanded field.
On Tuesday morning (February 2), not only did Sandra Bullock's
"Blind Side"
get a Best Picture nod, so did
"District 9."
Shot on a relatively tight budget of $30 million, Blomkamp's sci-fi film about a race of aliens held captive in a South African slum received near-universal critical acclaim (90 percent freshness at the
Rotten Tomatoes
review aggregator) and reeled in over $115 million at the box office.
The Best Picture nod was one of four
"District 9"
received on Tuesday. The movie also secured noms for writing (adapted screenplay), film editing and visual effects.
(Thanks
MTV
)
What were Snoop Dogg and Darth Vader doing in Times Square?
New York's got a rep as a tough town, but who knew stars needed stormtroopers to walk through Times Square?
Well, whether Snoop Dogg needed them or not, they were by his side when he hit the Times Square Foot Locker to help promote the new
Star Wars
line of sneakers from Adidas.
Techland
was there when the stormtroopers marched north from 34th Street along with Lord Vader himself, and managed to capture the scene in the video below.
We wish we could have been there!
Documentary asks, did George Lucas $%@! your childhood?
Do you think George Lucas is
"the Antichrist"
and
"a little devil disguised as a false prophet"
? Or do you believe he's
"unlocked a generation's imagination"
? Either way, the new documentary
The People vs. George Lucas
, which debuts at next month's South By Southwest (SXSW) Film Festival in Austin, is going to be a must-see.
We haven't gotten a chance to watch the complete movie yet, but according to
Nikki Finke
, the long list of talking heads includes producer Gary Kurtz, Sandy Lieberson (former head of production at 20th Century Fox) and David Prowse (aka Darth Vader).
Here are two trailers for film, the first slicker and more recent, the second twice as long and with more of the interesting, controversial quotes. Whether you think the director of
Star Wars
has fulfilled his destiny or destroyed his legacy, check them out and let us know what you think!
Lost creators promise they will "deliver an ending"
If you're worried that come
Sunday, May 23
, when the sixth and final season of ABC's
Lost
comes to an end, you'll won't be satisfied, Damon Lindelof and Carlton Cuse have a promise for you.
The series creators spoke to
MTV News
and insisted that once the finale airs, there'll be no more unanswered questions.
"It's not like we're leaving anything that we were going to resolve left unresolved so that people can go see it in a movie theater,"
said Lindelof.
"We worked so hard to basically do something that we didn't feel had ever been done before, which is taking a heavily mythologized show and arguing for an end date three years out. So we feel like it's kind of a slap in the face to all of the fans ... [for us] to not deliver an ending."
Still, the team is aware of the rumblings about what else can be done by others with the
Lost
franchise post-finale.
"There obviously have been a lot of conversations with ABC and Disney about the Lost brand, and I think it would be naïve to assume that they will not want to do something downstream with [it],"
Cuse said.
What do you think? Will Cuse and Lindelof be able to pull it off?