Fullmetal Alchemist: Brotherhood Arrives on DVD, Blu-ray
It's a quiet week on the animation front in the home video aisles, with a trio of anime titles leading the way.
Up first is
Fullmetal Alchemist: Brotherhood, Part 1
(FUNimation, $49.98 DVD, $54.98 Blu-ray), continuing the story of the Elric brothers. This second anime series in the franchise follows closely the story of the original manga by Hiromu Arakawa.
Also out this week are
Bleach, Vol. 28
(VIZ Media, $24.92) and
Kenichi: Season One
(FUNimation, $59.98).
For the preschool crowd, there's
Thomas & Friends: On The Go
(HIT Entertainment, $19.98) and
Barney: On The Go
(HIT Entertainment, $19.98).
And it's not animation, but plenty of folks will be taking a peek at HBO's pulpy, erotic vampire drama in
True Blood: The Complete Second Season
(HBO, $59.99 DVD, $79.98 Blu-ray).
(Thanks
Animation Magazine
)
Pixar Exec Morris to Deliver SIGGRAPH Keynote
Jim Morris, the general manager and executive VP of production at Pixar Animation Studios, will deliver a keynote address at this year's SIGGRAPH conference.
Morris' credits as a production executive at Pixar include
Ratatouille, Up
and
Toy Story 3
. He produced
WALL-E
, which won the Best Animated Feature Oscar. His current project is producing Disney's
John Carter of Mars
, due out in 2012.
Prior to Pixar, Morris worked for Lucasfilm, where for 11 years he was president of Lucas Digital Ltd. and oversaw Industrial Light & Magic, Lucasfilm Animation, and Skywalker Sound. He joined ILM in 1987 as a visual-effects producer.
"As an industry leader and visionary, Jim's keynote will be one of many 'can't miss' moments of SIGGRAPH 2010,"
said Terrence Masson, SIGGRAPH 2010 conference chairman from Northeastern University.
"His contributions over the years have moved the industry forward in ways we never imagined. His impact will be felt for decades to come. With his breadth and depth of experiences, he truly is the epitome of this year's underlying focus of the People Behind the Pixels."
(Thanks
Animation Magazine
)
Oldman, Yeoh joining "Kung Fu Panda" sequel cast
Gary Oldman, Michelle Yeoh, Jean Claude Van Damme and Victor Garber will join Jack Black, Angelina Jolie, Dustin Hoffman, Jackie Chan, Seth Rogen, Lucy Liu, David Cross and James Hong in the voice cast of DreamWorks Animation SKG, Inc.'s upcoming film
Kung Fu Panda: The Kaboom Of Doom
.
In making the announcement Tuesday, DWA said that the sequel to 2008's
Kung Fu Panda
is now scheduled to be released on
May 27, 2011
(Memorial Day weekend). The previously announced release date was June 3, 2011.
Oldman voices the character of Lord Shen (a peacock), the film's formidable new villain, while Yeoh brings to life the mystical character of The Soothsayer (a goat). Van Damme and Garber round out the cast as Master Croc and Master Thundering Rhino, respectively.
"In the sequel, Po goes on an amazing personal journey, and we are thrilled to have assembled such a talented and well-respected group of actors to bring to life our new characters, who -- alongside our returning cast -- play such a critical role in Po's quest and his ultimate triumph over the forces of evil,"
said Melissa Cobb, producer of both
Kung Fu Panda
and its sequel.
During its theatrical run,
Kung Fu Panda
-- DreamWorks Animation's most successful original film ever -- reached over $631 million in worldwide box office. The sequel will follow Po, the world's biggest kung fu fan, as he continues his journey as the chosen one who fulfills an ancient prophecy while mastering the art of kung fu.
Kung Fu Panda: The Kaboom of Doom
is directed by Jennifer Yuh Nelson. Jonathan Aibel and Glenn Berger, who wrote and co-produced the original film, also return.
When I Am King by Sverre Fredriksen
This is a new stop motion video that uses an old wood burning technique called pyrography. It was directed by
Sverre Fredriksen
, a young animator from Norway who has settled in Amsterdam, who soldered ten tons (or thereabouts) of timber to create the images – averaging five hours of work per second shown. Everything was done analog, nothing digital. You can watch a
making-of video here
. It was produced by Yellow Submarine, a sister company of
SubmarineChannel
. The song is by Dutch singer songwriter
Tim Knol
from his first album.
(Thanks, Remco Vlaanderen)
(Thanks
Cartoon Brew
)
NY Animation Events CalendarJune 15th, Tuesday 7pm
ASIFA-East and Women In Animation presents –
The Films of Frank and Caroline Mouris
More details to come!
From the Animationisti:
From our Blog:
David Levy, ASIFA East President discusses our recent festival:
http://asifaeast.com/ExposureSheet/2010/05/11/the-asifa-east-41st-animation-festival/
Caresse Singh discusses our recent festival:
http://asifaeast.com/ExposureSheet/2010/05/11/member-perspective-asifa-east-animation-festival-2010/
Heidi Marie Campbell also discusses our recent festival:
http://asifaeast.com/ExposureSheet/2010/05/12/member-perspective-2-asifa-east-animation-festival-2010/
Linda Beck reminds us that we can enter the The Beverly Hills Film, Television & New Media Festival
http://www.bhfilmtvnewmedia.com/
Our special friend Dean K. Lennart, director of the upcoming
"Dear Anna Olson"
asks us to vote for his project so he can win some grant money:
http://www.refresheverything.com/dearannaolson
Our pals at Rooftop Films are offering readers of this newsletter a discount to the following screenings:
May 28 Dark Toon
s
-
http://rooftopfilms.com/2010/schedule/7-dark-toons
June 26 Gravity Was Everywhere Back Then
-
http://rooftopfilms.com/2010/schedule/20-gravity-was-everywhere-back-then
July 29 Capucine and Other Filmmaking Renegades
-
http://rooftopfilms.com/2010/schedule/31-capucine-filmmaking-monkeys-and-other-renegades
Use the discount code "ASIFA" and tickets are only $6.
Eric Dyer sends us this snippet: A new journal is being published--
AP3: Animation Practice, Production, and Process
. It's edited by Paul Wells in the UK. They're sending out a call for papers:
http://www.intellectbooks.co.uk/journals/view-Journal,id=199/view,page=2/
Animation Therapy
Are you working on a film project and feel like you need to share your progress on a regular basis with others to keep focused and motivated? This group might be just for you! Simple premise: Show what you are working on. Talk about what you will do next week. Get and give feedback on what you see. Every Fridays at 8PM. If interested, contact Tarik Cherkaoui: chertar@gmail.com
As always, full events listing & details can be found on the Events Calendar at
www.asifaeast.com
Other Animationy Stuff
May 29th, Saturday
Brooklyn Academy of Music presents –
Azur and Asmar

June 10th, Thursday 9:30pm
Brooklyn Academy of Music presents –
Mars

June 15th, Tuesday 7pm
ASIFA-East and Women In Animation presents –
The Films of Frank and Caroline Mouris
June 17th, Thursday
Jacob Burns Film Center presents –
Oscar-Nominated Animated Shorts 2010June 18th, Friday 8pm
92Y Tribeca presents –
The Twisted Animation of Patrick Smith
(Thanks
ASIFA East
)
Disney animation fans rejoice, now that there's more Moore on the market
Jim Hill talks about Disney Legend Freddy Moore. Who Electric Tiki Design is about to honor with the release of a limited edition statue that then recreates one of his more iconic "Girls"
He's the
Disney Legend
who's credited with changing the look of Mickey Mouse. The self-taught artist who took that rubber armed, pie-eyed rodent from the late 1920s / early 1930s and then turned him into the corporate symbol that we know & love today.
He's the man gave
the Seven Dwarfs
their appeal, Lampwick from
"Pinocchio"
his swagger, Timothy Mouse from
"Dumbo"
his Brooklyn verve, and the Centaurettes from
"Fantasia"
their innocent-yet-obvious sex appeal.
Copyright Disney Enterprises, Inc. All Rights Reserved
Who am I talking about?
Freddy Moore
. Who – at the tender age of 19 – walked in the door at Walt Disney Studios and pretty much changed the face of animation forever. "How'd he do that?," you ask. Through a drawing style that somehow seemed to instantly create these characters that had immense charm and appeal.
No matter which Studio he worked for (Freddy stepped away from Disney Studios for a few years after World War II. He worked for
Walter Lantz
on shorts like
"Pixie Picnic"
…
Image courtesy of S/R Laboratories. All Right Reserved
… before Moore then returned to the Mouse Factory in 1948. Where he then worked happily for Disney 'til November of 1952. When Freddy died suddenly due to injuries he suffered while riding in the passenger seat during a head-on auto collision), there were always a few fledgling animators & artists hanging around. Trying to learn Moore's secret for designing instantly appealing characters like
The Three Little Pigs
.
Mind you, there was another reason that animators used to hang around Freddy Moore's desk. And that's because they hoped – if they asked nice – these artists might then persuade this talented designer to draw them one of his famous Freddy Moore girls.
Copyright Disney Enterprises, Inc. All Rights Reserved
Given that we now live in an age where we're repeatedly warned that a website and/or particular image is NSFW, it's kind of hard to think back to a time when this sort of mild cheesecake might have been considered racy. But that being said, these drawings were in extremely high demand around Walt Disney Studios.
And – over the years, during his infamous weekend walk-thrus of the Studio – Walt himself must have seen more than his share of Freddy Moore Girls and then approved of their design. Otherwise how do you explain the rather distinctive look of the Centaurettes in
"Fantasia,
" the bobbysoxers in the
"All the Cats Join In"
sequence from
"Make Mine Music"
and/or the mermaids in
"Peter Pan."
Copyright Disney Enterprises, Inc. All Rights Reserved
But as for those really-for-real Freddy Moore Girls drawings … They're ridiculously highly prized by animation historians & artists these days. And when these drawings do come on the market, they tend to be snapped up immediately and for top dollar too.
But fear not, animation fans. If you've dreamed of someday owing your very own Freddy Moore Girl drawing, have I got good news for you. For the talented folks over at
Electric Tiki Design
have taken one of Moore's more beloved drawings …
Copyright Disney Enterprises, Inc. All Rights Reserved
… and then translated that image into
three dimensions
.
Copyright Electric Tiki Design. All Rights Reserved
Kent Melton
(who's best known to animation professionals for all the great reference maquettes that he's sculpted for the Studios over the years. Whereas members of the Disney collector community probably know Ken best for the beautiful pieces that he's created for the
Walt Disney Classics Collection
over the 18 years) did the honors this time around. Doing an amazing job of capturing all of the innocent sex appeal found in Moore's original drawing.
And then when you see the final paint job …
Copyright Electric Tiki Design. All Rights Reserved
… it's like Freddy's drawing has literally popped off of the page.
Know this, though. Electric Tiki Design's
Freddy Moore Girl statue
(when it's finally officially ready to order) is expected to go fast. And while this 10" piece will reportedly have a suggested retail price of $124.99, you can anticipate that this limited edition reproduction will then sell for a significantly higher price once it hits the secondary market. So if you're a Freddy Moore fan, you might to make a point of dropping
Electric Tiki
on a regular basis. Just in case you then need to move quickly in order to snap up a copy of this piece.
And speaking of moving quickly … Today is the last day of the Spring 2010 S/R Laboratories animation art auction. And if you'd like to get your hands on something like that terrific "Pixie Picnic" piece that was used to help illustrate today's Freddy Moore article, then you'd best head over to the
official S/R Laboratories website
ASAP.
'Batman: Under The Red Hood' Joker Influenced By Cesar Romero, Says John DiMaggio
Last December, it was revealed that
"Batman: Under The Red Hood"
will be
the next DC animated film released
on DVD. Adapted by Judd Winick from a story he wrote in the
"Batman"
comic,
"Under the Red Hood"
deals with the return of Jason Todd, the second Robin who was brutally beaten to death by the Joker.
Although the latest voice of the Joker, John DiMaggio — best known for his comedic turn as Bender on
"Futurama"
— has cited Cesar Romero's Joker (from the Adam West era
"Batm
an"
TV series) as his primary inspiration, the actor has promised that his take on the Joker will still be dark.
"I actually would've loved to see Cesar Romero take the role to its darkness,"
said DiMaggio.
"There was a bit of Cesar Romero in what I did, but it's Cesar Romero if he was in 'A Clockwork Orange.'""I guess my naiveté in my approach kind of kept it clean,"
continued DiMaggio.
"I wasn't trying to do a Jack (Nicholson) or a Heath (Ledger). I respect all the folks that have come before me, and their take on the character. Mark Hamill is awesome, Heath Ledger was unbelievable, and Jack Nicholson — what can you say? But I wanted to do my own thing.""I just wanted to honor the real true lunacy of the character,"
added DiMaggio.
"I didn't want to make him campy, but I wanted to pay a little bit of tribute to the past Jokers – and yet keep it original at the same time. That's walking a fine line, if there ever was one."
DiMaggio also offered his insight into the Joker's mindset.
"I think the Joker thinks of himself, quite literally, as a necessary evil,"
related DiMaggio.
"And when I say that, I mean he really feels there is a place for him, and that he somehow balances the chaos with the non-chaos. It's a yin and yang thing. And it's really not personal, it's business. Although he can get personal and he enjoys it. That makes it that much more twisted."
"Batman: Under The Red Hood"
will also star Bruce Greenwood ("Star Trek") as Batman, Jensen Ackles (
"Supernatural"
) as the Red Hood, Neil Patrick Harris (
"How I Met Your Mother"
) as Nightwing and Jason Isaacs as Ra's Al Ghul.
The film will be released on DVD on
July 27, 2010
.
Austrian Students Put Minds Towards Theatrical Spot
Students at the
Upper Austria University of Applied Sciences
in Hagenberg produced this theatrical ad during their studies this year. It's already playing in cinemas in Austria.
Blue Sky Prepares Rio for 2011 Flight
Blue Sky Studios
, the team behind the
Ice Age Trilogy
, is prepping a new CG feature for an April 2011 release.
Rio
is being directed by Carlos Saldanha (
Ice Age: The Meltdown
), and the story focuses on "a nerdy macaw who leaves the comforts of his cage in small town Minnesota and heads to Rio de Janeiro. He embarks on the adventure of a lifetime, learning to open himself up to all that life has to offer along the way." Here's a sequence from the film:
Oggy and the Cockroaches Invade Annecy Teaser
Xilam Animation
's Olivier Jean Marie directed this new teaser for the upcoming
Annecy International Animated Film Festival
, which starts on
June 7th
. It features characters from
Oggy and the Cockroaches
, the popular French animated series created by Jean-Yves Raimbaud.
The Horse Race Abroad
It's
still
Robin Hood
riding through foreign glens, but not by much:
... Dropping 60% from its opening launch,
"Robin Hood"
fought its way to $30 million in its second round on the foreign circuit, playing 7,157 sites in 58 markets. So far, director Ridley Scott's re-imagining of the Crusades-era outlaw costarring Russell Crowe and Cate Blanchett has grossed a total of $125 million overseas. ...
Meantime, the ogre rolled out in selected markets:
... Paramount premiered DreamWorks Animation's
"Shrek Forever After"
in 3D in just nine overseas territories, collecting $26 million from 1,236 venues and finishing No. 2 on the weekend.

The fourth and presumably final installment of the
"Shrek"
franchise -- which has grossed $1.166 billion overseas to date -- opened massively in Russia where the weekend provided a whopping $20 million from 700 locations. Paramount says that is t
he biggest opening gross ever for any film playing the market
. Strong weekends were also recorded in the Ukraine, the Philippines and Singapore.
And the dragon hasn't finished yet:
... A solid first place finish in Korea ($7 million from 553 locations) propelled DreamWorks Animation's
"How to Train Your Dragon"
to a $10.5 million weekend at 4,766 situations in 62 territories. Cume for the 3D animation handled overseas by Paramount is $235 million. It ranks No. 5 on the weekend ...
Lastly, Mr. Burton's
Alice
continues to move at an energetiv trot:
... [T]he Lewis Carroll classic drew $7.9 million over its 12th weekend overseas from 3,071 screens in 32 markets. It remains No. 1 in Japan in its sixth round there with a $3.7 million tally from 858 sites and a huge market cume of $107.9 million.
(Thanks
Animation Guild Blog
)
VFX Soldiers
In the past couple of weeks, an animator and tech director from two different studios came into the office to complain.
The animator, despite stellar work reviews, had been offered a rollback in wages for the privilege of continuing at the studio that told him at the same time his animation was topflight. He wasn't pleased.
The tech director? After a decade busting his hump at another big studio, he'd been told that his work was suddenly sub-par. And he found himself brusquely dismissed.
"They said things weren't working out and they wanted to move in a different direction, so goodbye. I was so angry I couldn't see straight. I told them they were making a big mistake and walked out."
We live in an era of fragility and fear, friends and neighbors. Every big conglomerate I know about has grabbed the current recession and used it like a Louisville Slugger to beat employees over the head.
"Don't you know we're in tough times?!"
goes the refrain.
"Everybody is taking pay cuts!"

Everybody, that is, except the wonderful folks who have the initials C,E, and O after their names in those glossy annual reports.
So today I get an e-mail from a visual effects artist who, in a fit of despair or perhaps insanity, has started a blog. It goes
like this
:
... I have worked in the Hollywood Visual Effects industry creating imagery and animation for a good number of blockbuster films. While the journey here was tough, it was driven by a simple idea portrayed by a quote in an old film
The Flamingo Kid
:


There are only two important things in living . . .

Finding out what you do well, and finding out what makes you happy.

And if God is smiling on you, they're both the same thing ...


... Isn't it ironic that the visual effects industry is one of the worst businesses to be in? Each facility operates on a flawed business model by losing or making no money at all on the blockbuster films they conduct work on. On a good year they will make a profit margin as small as 3-5%. How can this be possible? The reason why is Hollywood studio conglomerates effectively leverage their position by pitting vfx facilities so strongly against each other that eventually one company ends up taking the project for a loss. In fact, one producer was so bold as to state in an article that:


If I don't put a visual effects shop out of business (on my movie), I'm not doing my job.
The reality of visual effects shops operating on paper-thin profit margins is not new. In 1997, in the hallway of Disney's Feature Animation Northside (anybody remember the Northside facility? I thought not.) a c.g. supervisor and I mused how visual effects houses made no money, even as experienced c.g. tech directors and animators did. There was at the time, lots of work but relatively few people with a lot of production experience. Hence, high salaries.
Thirteen years later, visual effects studios still make minimal money. But visual effects artists, now that the supply of talent has caught up with demand, are also eating it.
And so here we are, in a time of arrogant management that knows it can easily replace you if you look at a production manager funny, and lower salaries and independent contractors paying their own payroll taxes. And outsourcing that gets shipped to Timbucktoo. No wonder James Cameron
says
:
"Fundamentally, visual effects is a crappy business ..."
But just because it's crappy now, doesn't mean it has to be crappy forever. Go read the Soldier's blog and help him (and maybe us) make it better.
(Thanks
Animation Guild Blog
)
New Concept Art For Riddick And A New Movie Title
Two headed bum aliens and a furious title are revealed after the jump
A video presentation that was leaked onto the beloved internet and quickly pulled down shortly after, was in fact a presentation of the new Riddick film that was being shown to potential buyers of the rights to the new film. And along with some cool new concept art – a new title for the movie was also revealed.
"The Furian….Left for Dead."
Here's shot of our anti-hero, Riddick. He looks about the same except more spikey than usual.
Here's a shot of a jet cycle – probably one of the ones mentioned from an earlier synopsis leak – in which bounty hunters ride these suckers to hunt down Riddick on this new foreign planet. This is the planet by the way that the necromonger army ditched him on and….LEFT HIM FOR DEAD…There's your new title tie-in. It works despite my sarcasm.
And here's the big deal – the new alien. It appears to have two heads and one of them is coming out of IT'S BUM! Gross. We don't know if this new creature will replace the prior concept art that was leaked via Diesel over Facebook last month or just another addition to the cast – but it's interesting nonetheless.
Here's that older concept art that Diesel released on Facebook. If you want to check out more tidbits check the link
HERE
and get more of a look.
(Thanks
Comic Book Movie
)
Here's your juicy Hobbit rumor of the day
Buried in a recent report at Deadline about Peter Jackson's involvement with the relaunched
King Kong
attraction on the Universal Studios tour was a little nugget of info stating that
The Hobbit
was scheduled to finally begin shooting this November in New Zealand. We've heard so many reports about potential start and release dates for this project that, frankly, we're wondering whether the two-part adaptation of J.R.R. Tolkien's prequel to
The Lord of the Rings
will EVER get made.
Well, all right, we know it will get made eventually. But there've been so many false starts to the project—mainly thanks to the continuing financial problems of the studio behind the production, MGM—that every time we hear a new date on which director Guillermo del Toro will allegedly begin filming the thing, we end up feeling a little less confident.
After all, it was
here
that Ian McKellen, who is pretty much a lock to reprise the role of Gandalf, said that filming was going to start this July, after first posting that cameras would roll in June. That info disappeared from McKellen's website, however, after news of MGM's money woes became public (the studio is partnered with Warner Brothers on the Hobbit films, but is still looking for a buyer).
Now
Deadline
says that both
Hobbit
scripts are in, and following a big production meeting next month in New Zealand, casting will begin in earnest.
Another big question is whether the movies will be shot in 3-D. Del Toro hinted on the message boards at TheOneRing.net in March that he had gotten nibbles from the studio heads about going 3-D on the project, although he didn't sound too enthused himself. But visions of $20 tickets dancing in the minds of cash-hungry execs may turn that around.
So as of right now,
The Hobbit
starts filming in November, with a Christmas 2011 release date for part one, and a Christmas 2012 arrival for part two.
Check back next week to see if that's changed again.
'Prince Of Persia' & 'Airbender' Attacked For Perceived Whitewashing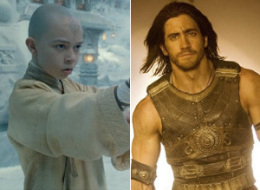 Noah Ringer (l) as Aang in 'Airbender' and Jake Gyllenhaal in 'Prince of Persia.'
(BELOW THE AP ARTICLE ARE TRAILERS FOR EACH FILM. SCROLL TO WATCH)
NEW YORK -- The hopes of many are resting on the shoulders of 12-year-old Aang.
Ever since he first came out of a block of ice in the Nickelodeon cartoon series
"Avatar: The Last Airbender,"
the other tribes in his fictional, Asian-inspired world saw Aang and his power over the elements as their last chance for peace after a century of conflict.
Now Paramount Pictures and director M. Night Shyamalan also have high hopes for Aang: that he will attract audiences to see their big-screen - and big budget - version of
"The Last Airbender,"
opening
July 2
.
Yet fans of the original TV series say whatever hopes they had for the live-action movie have been dashed by what is known as
"whitewashing"
- the selection of white actors to fill the main hero roles instead of the people of color they say the source material requires.
"To take this incredibly loved children's series, and really distort not only the ethnicity of the individual characters but the message of acceptance and cultural diversity that the original series advocated, is a huge blow,"
said Michael Le of Racebending.com, a fan site calling for a boycott of the martial-arts fantasy.
Paramount defends the film's casting, noting more than half of the credited speaking roles were filled by people of color.
Story continues below
"Night's vision of 'The Last Airbender' includes a large and ethnically diverse cast that represents cultures from around the world,"
Paramount said in a statement.
That doesn't impress the movie's critics, who claim most of that diversity is found among secondary characters and background extras.
They say
"Airbender"
casting is just the latest example of a long history in Hollywood of demeaning people of color - from having white actors in makeup portray minorities to sidelining them in second-tier roles to replacing them entirely, as they say is the case with
"Airbender."
They point to examples like the 2008 film
"21,"
which was based on a book inspired by the true-life story of a mostly Asian American group of card players, yet was cast with mostly white actors in the main roles.
They also note this weekend's release of
"Prince of Persia: The Sands of Time,"
a live-action adaptation of a video game that stars white actor Jake Gyllenhaal in the title role instead of an actor with a Middle Eastern background.
"This part really needed to go to someone who's Persian,"
said Jehanzeb Dar, a blogger and independent filmmaker who is a fan of the video game but has no intention of supporting the movie.
"It's not only insulting to Persians, it's also insulting to white people. It's saying white people can't enjoy movies unless the protagonist is white,"
he said.
Disney did not return an e-mail asking for comment on the casting.
"It becomes very clear that it's part of the historical pattern of Hollywood and it's not an isolated incident and it's not because they happen to be fictional characters,"
Le said.
"It's because this is the standard procedure for Hollywood films, and it really shouldn't be. It's 2010."
But 2010 is also a time of huge stakes in the movie business - when only a small fraction of the films that are released make the vast majority of the industry's profits, said economics professor Arthur De Vany, author or
"Hollywood Economics: How Extreme Uncertainty Shapes the Film Industry."
Because of the financial risk, studios try to control anything that goes into a movie before its release in an effort to maximize box office receipts - from the storyline to the cast to the marketing, De Vany explained.
"They're trying to control the initial conditions of a chaotic process,"
he said.
"There's only so much room at the top."
During the era of segregation in this country, Hollywood routinely considered race when making and releasing a film. For example, actress Lena Horne, who died May 9 at 92, saw her parts in movies cut out when those films were shown in the South.
Over time,
"it's what has become habitual practice,"
said Chon Noriega, professor of cinema and media studies at UCLA.
"I think it's the default setting and it takes a conscious choice to change,"
he said.
"Airbender's"
creators, Bryan Konietzko and Michael Dante DiMartino, have said they purposely chose to base their cartoon in an Asian-inspired setting as opposed to a European one, incorporating different kinds of martial arts, as well as other cultural elements like Chinese calligraphy. At least some of the main characters were drawn as people of color.
Yet when it came time to cast the movie, unknown Noah Ringer was picked to play Aang. Nicola Peltz was chosen to play Katara, the girl who finds Aang in the ice, and
"Twilight"
actor Jackson Rathbone was named for the role of Sokka, Katara's brother. Jesse McCartney was originally slated to play the anti-hero Zuko, but dropped out due to scheduling reasons and was replaced by Dev Patel of
"Slumdog Millionaire."
That the initial casting had four white actors in the main roles, and that the three heroes are still all played by whites, is an outrage, said Guy Aoki of the Media Action Network for Asian Americans.
"It speaks volumes when the initial casting decision was to cast four white leads,"
he said.
"For them to be comfortable with that ... it's embarrassing, it says a lot about their attitudes."
Le said Racebending.com has organized a letter-writing campaign to Paramount, but has received no response. Aoki said his organization had sent a letter asking for a meeting, but was ignored until filming had already started. The group met later with Paramount president Adam Goodman, who offered a prescreening.
But that hasn't happened yet, Aoki said, even though Paramount has expressed confidence that people will embrace the film once they see it.
"The filmmaker's interpretation reflects the myriad qualities that have made this series a global phenomenon,"
Paramount said in its statement.
"We believe fans of the original and new audiences alike will respond positively once they see it."
Yet Harvard journalism instructor Martha Nichols said that while there are times when the case can be made for a movie to change something from the source material, this isn't one of them. She's the mother of an adopted 8-year-old Asian boy who is a big fan of the cartoon series, in part because of its homage to Asian cultures and characters.
The moviemakers
"seem to have no clue that there's this huge fan base of young Asian-Americans who were delighted to see themselves" on screen,"
said Nichols, who blogs at Athena's Head.
She said her son would have loved to see a hero on screen who looked like him.
"It could have really been groundbreaking. That's what is so sad about this."
WATCH 'THE LAST AIRBENDER' TRAILER:WATCH THE 'PRINCE OF PERSIA' TRAILER:
(Thanks
Huffington Post
)