'Shrek' sequel underperforms at box office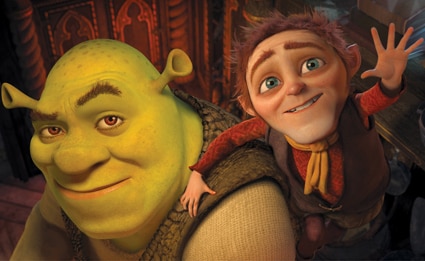 Shrek is not as green as he used to be.
"Shrek Forever After,"
the fourth movie in DreamWorks Animation SKG Inc's (DWA.O) lucrative series about a jolly green giant, took the top spot at the weekend box office in North America, but it fell short of expectations, according to studio estimates issued on Sunday.
The film earned $71.3 million during its first three days of release, far short of industry predictions that it could surpass $100 million.
Of the previous
"Shrek"
films,
"Shrek the Third"
opened to $121.6 million in 2007,
"Shrek 2"
earned $108 million during its first weekend in 2004, and "Shrek" kicked off the franchise with $42 million in 2001.
The new film opened
"on the low end"
of forecasts, said Anne Globe, the company's head of worldwide marketing and consumer products, but she noted that it still ranks as the fourth-biggest opening of all time among animated films, behind the previous two Shreks and
"The Simpsons"
($74 million).
Moreover, it broke new territory for both the company and for animation in general by being the fourth film in a franchise, Globe said. The studio has promised this will be the final film in the series.
Sales from 3D theaters accounted for 61 percent of the total. Such locations charge a premium, and reports surfaced last week that the AMC theater chain had broken the $20 per ticket barrier for the first time. By Saturday, the closely held firm said that was a mistake, and prices for 3D screenings range ranged between $17 and $19.
Globe expected the movie to hold up well over the next few weeks, because the next big family offering, rival animation powerhouse Walt Disney Co's (DIS.N)
"Toy Story 3,"
does not open until
June 18
.
DreamWorks Animation's previous release,
"How To Train Your Dragon,"
was considered a disappointment after it earned a relatively modest $44 million during its first weekend in March, and the studio's share price fell 8 percent the following Monday.
But the movie has displayed strong staying power, with sales to date of $211 million. Still, the stock price closed at $34.87 on Friday, down 18.5 percent since
"Dragon"
opened. The Nasdaq -- and Disney -- are each off 7 percent in the same period.
"Shrek Forever After,"
with the voice cast including Michael Myers, Antonio Banderas, Eddie Murphy, Cameron Diaz, cost about $135 million to make. Worldwide marketing costs will be about $165 million, Globe said.
The film also earned about $26 million after opening in seven countries. Russia accounted for $20 million -- narrowly beating
"Avatar"
to claim the country's all-time record. The bulk of the other openings were in Asian markets, such as the Philippines, Malaysia and Thailand.
"IRON MAN 2" BREAKS $500 MILLION WORLDWIDE
After leading the North American box office for the previous two weekends,
"Iron Man 2"
slipped to No. 2 with $26.6 million. The superhero sequel has earned $251.3 million to date, and an additional $268 million internationally. The film was produced by Disney's Marvel Studios. Its 2008 predecessor ended its worldwide run with $585 million.
WB Returns to Basics for The Looney Tunes Show
Looking to re-introduce such classic animated characters as Bugs Bunny, Daffy Duck and Wile E. Coyote to a new generation, Warner Bros. has announced a new 26-episode series called
The Looney Tunes Show
and new theatrical shorts, reports The New York Times.
The half-hour 2D series will debuting in the fall on Cartoon Network and will feature the classic characters living as neighbors and roommates on a modern cul-de-sac. The characters Yosemite Sam, Tweety and Sylvester, Marvin the Martian and Porky Pig will be featured in the series.
The theatrical shorts will feature the return of the Wile E. Coyote and Road Runner matchup and will be made with 3D CGI animation. The first of three approved shorts will be attached in front of the July 30 release
Cats & Dogs: The Revenge of Kitty Galore
.
Other plans the Times reported for reviving the characters include a video game featuring the Tasmanian Devil, new DVD compilations and an expansion of the website
LooneyTunes.com
.
The revival effort comes as awareness of the characters among younger audiences and sales of Looney Tunes merchandise have diminished, the Times reports.
Other recent attempts to revive interest in the characters have struggled, with the series
Baby Looney Tunes, Looney Tunes: Back in Action
and
Loonatics Unleashed
all failing to generate much interest.
The studio is expecting to announce a premiere date for the new series shortly.
(Thanks
Animation Magazine
)
Crash! Bang! Wallow? Wins NFB Cannes Contest
The animated short film
Crash! Bang! Wallow?
has won the National Film Board of Canada's sixth annual Cannes short film contest.
Directed by Jon Dunleavy and Keith Wilson-Singer of the United Kingdom, the film is about a former movie stuntman who fights to find a place in the modern world. The winning directors will receive a digital camera/HD video camera and a laptop computer from the NFB.
The second-place film in the contest, which drew more than 2 million views for the 10 finalist films in 14 days, is
Love and Theftm
by Andreas Hykade of Germany. Third place went to
The Technician
, by Simon-Olivier Fecteau of Canada, and fourth place went to
The Story of My Life
, by Pierre Ferriere of France.
The contest was organized by the NFB and the Short Film Corner in association with YouTube.
The winning film can be viewed until June 20 online at
NFB.ca/cannes
or
youtube.com/NFB
.
(Thanks
Animation Magazine
)
SIGGRAPH Presents 22 Emerging Technologies
SIGGRAPH will showcase 22 emerging technologies ranging from robotics, input interfaces and interactive techniques at its 2010 conference.
The selections were picked by a jury of experts and SIGGRAPH organizers from more than 107 submissions from around the world. All the selected technologies will be on display for interaction with attendees at the show, which will be held
July 25-29
at the Los Angeles Convention Center.
Highlights of the emerging technologies are:
• Acroban the Humanoid:
Acroban is the first humanoid robot able to demonstrate playful, compliant, and intuitive physical interaction with children while moving and walking dynamically. Also, it is able to keep its equilibrium when moving even if unpredicted physical interactions are initiated by humans.
• Gesture World Technology:
This technology allows people to control devices such as computers, household appliances, and robots by means of everyday gestures without using sensors or controllers, which employs the high-speed and high-accuracy computer vision technology capable of estimating the hand and arm poses captured by a compact high-speed camera.
• 360-degree Autostereoscopic Display:
A compact, cylindrical display, which can show full color, high quality, volumetric, 3D images, videos, and interactive animation viewable without glasses from any angle (360 degrees).
A complete listing of all the Emerging Technologies presented this year's program is available in:
http://www.siggraph.org/s2010/for_attendees/emerging_technologies
.
(Thanks
Animation Magazine
)
Tokyopop, Odin's Eye Team on Dreaming Movie
Los Angeles-based manga publisher Tokyopop has agreed with Sydney-based production company Odin's Eye to produce a film based on
The Dreaming
graphic novel series.
The live-action 3D production will be produced in Australia and based on the thriller story created by Sydney native Queenie Chan.
Shayne Armstrong and Shane Krause are writing the adaptation. Tokyopop founder Stu Levy and Michael Favelle will produce and Kate Woods is directing.
Emphasis will be placed on the stylization and production design of the stereoscopic 3D cinematography while keeping focus on the characters.
Screen New South Wales is providing the first phase of development finance, and production funding will come from a mix of Australia's producer's offset, private equity, and pre-sales. Production is planned for 2011, working toward a late 2012 release.
(Thanks
Animation Magazine
)
Hulk Hogan sues Cocoa Pebbles
It's Hulk Hogan vs. The Flintstones -
for real
.
The "Hulkster" is suing Post Cereals, maker of
Cocoa Pebbles
, accusing the company of appropriating his image in an animated commercial for the cereal. According to
Tampa Bay Online
:
In the
"Cocoa Smashdown"
commercial, a character goes by the name
"Hulk Boulder,"
which Hogan's lawsuit says is a name he used early in his career until wrestling promoter Vince McMahon decided he should have an Irish name. The wrestler also contends he has been harmed by, among other things,
"the unauthorized and degrading depictions in the Cocoa Smashdown advertisements."
Perhaps Hogan was offended by the shot where the character seemingly pulls a bowl of
Cocoa Pebbles
out of his trunks? You be the judge:
(Thanks
Cartoon Brew
)
First look at Blue Sky's Rio

Moviefone
now has a first teaser trailer for Blue Sky Animation's upcoming comedy
Rio
. The movie is about a rare bird who believes that he's the last of his kind. When he discovers that there's another of his kind in the world who's a female, he leaves the cage that was once his home to go out and look for her. Starring the voices of Neil Patrick Harris and Anne Hathaway,
Rio
is set to fly into theaters next spring.
Gary Oldman joins the voice cast of Kung Fu Panda sequel
Heat Vision
reports that Gary Oldman has joined the voice cast for
Kung Fu Panda: The Kaboom of Doom
, sequel to DreamWorks Animation's 2008 hit Kung Fu Panda. Oldman will voice a character named Peacock in the film.
Kaboom of Doom
is slated to hit theaters on June 3, 2011.
Mary and Max DVD and Blu-ray in June

DVD Active
reports that MPI Home Video and IFC Films have announced the release of award winning animated film
Mary and Max
on DVD and Blu-ray on
15th June
. Extras on the disc will include a behind-the-scenes featurette, a making-of featurette, alternate scenes, a commentary by director Adam Elliot, and more. Spanning 20 years and 2 continents,
Mary and Max
follows a pen-pal relationship between two very different people: Mary Dinkle (Toni Collette), a chubby, lonely 8-year-old living in the suburbs of Melbourne, Australia; and Max Horovitz (Philip Seymour Hoffman), a severely obese, 44-year-old Jewish man with Asperger's Syndrome living in the chaos of New York City.
Nicktoons announces second season of Iron Man: Armored Adventures

Nicktoons has announced a second season of the network's hit series
Iron Man: Armored Adventures
, reports
Variety
. The second season of 26 episodes following main character Tony Stark as a teenager will premiere in 2011. The animated series which bowed in April 2009 helped Nicktoons reach its highest-rated and most-watched year in history with boys 6-11, kids 6-11 and total viewers in 2009.
New Megamind poster strikes the internet

A
first teaser poster
for DreamWorks Animation's upcoming
Megamind
has just been revealed at the Internet Movie Poster Awards. The animated superhero comedy starring Will Ferrell hits theaters this November.
Fourteen named winners of Student Academy Awards
Thirteen students from 10 United States colleges and universities have been named winners in the Academy of Motion Picture Arts and Sciences' 37th Annual Student Academy Awards competition.
One student filmmaker from the United Kingdom also has been selected to receive this year's Honorary Foreign Film award, making 14 winners in total.
The student filmmakers will be brought to Los Angeles for a week of industry-related activities and social events that will culminate in the awards ceremony
Saturday, June 12
at the Academy's Samuel Goldwyn Theater.
The 37th Annual Student Academy Awards ceremony on June 12 is free and open to the public, but advance tickets are required. Tickets may be obtained online at
www.oscars.org
, in person at the Academy box office, or by mail. The Samuel Goldwyn Theater is located at 8949 Wilshire Boulevard in Beverly Hills. For more information, call (310) 247-3600.
The winners are (listed alphabetically by film title within category):
Alternative
Multiply
, Emily Henricks, University of Southern California
Surface: Film from Below
, Varathit Uthaisri, Parsons The New School for Design, New York
Animation
Departure of Love
, Jennifer Bors, Ringling College of Art and Design, Florida
Dried Up
, Isaiah Powers and Jeremy Casper, Kansas City Art Institute, Missouri
Lifeline
, Andres Salaff, California Institute of the Arts
Documentary
Dreams Awake
(Sueña Despierto), Kevin Gordon and Rebekah Meredith, Stanford University, California
Rediscovering Pape
, Maria Royo, City College of New York
Yizkor (Remembrance)
, Ruth Fertig, University of Texas at Austin
Narrative
Down in Number 5
, Kim Spurlock, New York University
God of Love
, Luke Matheny, New York University
The Lunch Box
, Lubomir Kocka, Savannah College of Art and Design, Georgia
Honorary Foreign Film
The Confession
, Tanel Toom, The National Film and Television School, Beaconsfield, United Kingdom
The $20 Movie Ticket Has Arrived
The
Wall Street Journal reports
that this weekend, for the first time ever, a movie theater will charge $20 for a regular admission adult movie ticket. The theater: AMC in Manhattans's Kips Bay neighborhood. The film they're charging you twenty dollars to see:
Shrek Forever After
.
UPDATE:
The
New York Times has a follow-up story
that says theaters have backtracked on the $20 ticket and reduced prices. They claim the prices listed were a mistake. The same Kips Bay AMC charged $19.50 per ticket for IMAX showings of DreamWorks' previous film
How to Train Your Dragon
.
(Thanks
Cartoon Brew
)
Silent animation in Red Dead Redemption
In the recently released PlayStation 3 / Xbox 360 video game
Red Dead Redemption
there appears this "silent movie"
The Dangers of Doctors and Patent Medicines
. In the game, it is seen
projected on the wall of an old west theatre
. Of course this kind of animation would not have existed until the 1910s - I'm not sure what time frame this western game takes place in, nor do we know who animated this fun little piece at Rockstar San Diego, but perhaps the animators will identify themselves in our comments section below.
(Thanks, John Karel)
(Thanks
Cartoon Brew
)
Shrek Exposed
Shrek Exposed
is a new blog that reveals all of the character's dirty secrets. It's run by a group of concerned American citizens who are in NO WAY affiliated with the
MacGruber
movie which comes out the same weekend as Shrek.
(Thanks
Cartoon Brew
)
Azureus Rising
Test clip for a feature film by
Dave Weinstein
.
(Thanks
Cartoon Brew
)
Trailer for Fantasy Animated short SINTEL
The animation team behind the amazing animated shorts
Elephants Dream
and
Big Buck Bunny
are at it again. Blender Foundation has recently unveiled a trailer to its third open film
Sintel
(codenamed Durian), a fantasy action epic that is expected to run at five-eight minutes in length. There is still two months left before the production is completed.
You'll find the trailer embedded below
(Thanks
Twitch
)
THE PRODIGIES Teaser Poster is In Your Face
Not much to say really except Antoine Charreyron's
The Prodigies
(french title: La Nuit des enfants rois) has a release date and a teaser poster. It seems the four-eyed fella has a chip on his shoulder.
NYC, Central Park, 2010. Five young teenagers are violently assaulted. But they're not your average teenagers... they're prodigies. The trauma of the assault incites them to lash out against the world in a cold and calculating way. The five chillingly brilliant minds come together to concoct a perfect revenge. The only person aware of the pending doom is Jimbo Farrar, a sixth prodigy, who has gathered them. As long as he fights against his five counterparts with all his might, there's hope for the world. But should he turn over to their side, it's only a matter of time before a disaster of apocalyptic proportions ensues...
Warner Bros France plans to release the sci-fi animated film on March 9th, 2011. You'll find a large version of the teaser poster in our gallery below.
(Thanks
Twitch
)
EVANGELION 2.22: YOU CAN (NOT) ADVANCE Hits Subtitled BluRay In June.
Fans of iconic anime series
Neon Genesis Evangelion
, rejoice!
Evangelion 2.22: You Can (Not) Advance
- the second in the ongoing series of revival films - hits English subtitled DVD and BluRay in Hong Kong
June 25th
. The DVD is a Region 3 release but the Blu comes in Region A, which makes it playable on standard North American gear. So, if you're a fan of the impatient variety ...
Now bring on part three, already.
Order The standard edition DVD
Order the special edition DVD
Order the standard edition BluRay
Order the special edition BluRay
(Thanks
Twitch
)
Rodriguez To Remake FIRE & ICE As A Live-Action Film...
Color me very intrigued indeed: Robert Rodriguez has just secured the rights to remake Ralph Bakshi's 1983 animation film
"Fire & Ice"
and (according to an interview he gave AICN) he plans to do exactly that. In live-action, no less.
So we can look forward to seeing Troublemaker Studios start producing this film, expanding on the original design sketches by Frank Frazetta and using new available techniques to create the world seen in the animated movie. Which, granted, could use some embellishing as the original's budget did not nearly match the ambitions Bakshi and Frazetta had with this title.
Now we can always ask ourselves if a remake is strictly speaking necessary (or even wanted). But in this case the original film is a very guilty pleasure from my childhood days. And I agree with
"Let the Right One In"
director Tomas Alfredson that if you DO choose a film to remake, why not take one that (even its creators agree upon) was imperfect?
So... how to feel about a
"Fire & Ice"
remake? Hot or cold?
(Thanks
Twitch
)
Go Behind the Scenes of Toy Story 3
Here's a 3-minute behind-the-scenes featurette that opens up the plot of
Toy Story 3
just a little more. The focus is also on Michael Keaton, who voices Ken, Barbie's "accessory." The film is in theaters on
June 18th
.
Howard – Julia Pott's Gorgeous Student ShortHoward
,
Julia Pott
's student short from the Royal College of Art takes us on an emotional ride through love's fickle twists and turns. Each still is a gorgeous illustration unto itself.
Davies Beautiful
Blind Date
Blind Date
is
Nigel Davies
' latest short film for
Aardman Animations
, where he's rep'd as a commercial director.
Fly by Alan Short
Fly versus couch potato. This cute little short was funded by Aardman Animation, part of a series to showcase it's stable of directors.
(Thanks, Al Young)
(Thanks
Cartoon Brew
)
The Departing Reptile ...
As B.O. Mojo
relates
:
... With close to $209 million through its eighth week,
Dragon
has grossed nearly five times what it did on its opening weekend, which is the biggest multiplier of any 2010 nationwide release thus far and, among major animated releases, the biggest multiplier since Finding Nemo. Its average weekend drop-off rate has been a slim 26 percent. ...

Dragon is on pace to replace
Kung Fu Panda
as DreamWorks Animation's highest-grossing non-Shrek release.
Panda
generated $215.4 million, though
Dragon
's unlikely to top Panda's attendance due to its inflated 3D prices. Overall, 3D has accounted for 67 percent of
Dragon
's total gross. Sift the 3D ticket price premium out and
Dragon
's $209 million would adjust to the equivalent of less than $170 million.
Word of mouth kept
Dragon
soaring, but the ad campaign launching the feature didn't quite do the job during its first weekend. I donno, maybe it was the Vikings that were a hard sell. It's been a long time since burly men in spiked helmets
commanded big bucks
at the box office.
(Thanks
Animation Guild Blog
)
10 Disney Characters Who Stirred Up Controversy
Media juggernaut Disney always seems to dredge up a wake of controversy whenever it releases one of their world-renowned animated films. Few will slam their merit from an
artistic perspective
, but for many people their characterization and storytelling leave plenty to be desired. Blinded by the lens of nostalgia, scads of fans fail to realize that many beloved Disney movies actually entail some pretty blatant racist and sexist overtones. Such lazy adherence to stereotypes, however, does not go entirely unnoticed by the communities they insult. As a result, waves of criticism roll up with the introduction of any new animated film – almost always backed by reasonable evidence, too. Sometimes Disney and media experts counter with interesting perspectives of their own, sometimes not. Far more than 10 examples of controversial characters and characterization devices have cropped up since the studio's creation in 1939, but the following provides a summary of a few of their more visible offenses.
1. Sunflower from Fantasia (1940)
In a move that would make even Al Jolson blush, Disney's 1940 animated ode to Beethoven's
"Symphony No. 6"
– titled
The Pastoral Symphony
– originally included a horrifyingly offensive African-American
"pickaninny"
caricature by the name of Sunflower. Subsequent releases rightfully edited out the big-lipped, half-donkey centaur handmaid capitulating to the aesthetic whims of her hedonistic Caucasoid brethren, but Disney faces quite a bit of criticism for the decision. Many find Sunflower's later exclusions from the film offensive for a number of different reasons, chief among them the fact that for years the studio
refused to acknowledge that the character ever even traipsed across the big screen in the first place
. Such a denial reeks of an inability to admit mistakes and make earnest efforts to move forward when it comes to racial sensitivity in the media. Others believe that Disney should include Sunflower in any future theatrical or home releases of
Fantasia
as a means of illustrating the bleak history of racism. After all, if people do not learn from the problematic perspectives of the past, they face the risk of repeating them in the future. Just about the only thing most people can agree upon when it comes to the little centaur is that her depiction stands as a deplorably reductionist portrayal of African-American culture and behavior – unfortunately, one that also reflected common attitudes of the time period. Whether or not she should continue to exist only in the hidden corners of Disney history remains an extremely controversial debate that raises a number of interesting philosophical and ethical questions with solutions in varying shades of grey.
2. The Crows from Dumbo (1941)
One of Disney's most beloved films,
Dumbo
's cast sports
a murder of crows mostly voiced by African-American actors
– and their leader (the only one voiced by a white man) is saddled with the extremely unfortunate moniker of "Jim."
Reactions to the birds come extremely mixed
. On one hand, they are lazy, poor, uneducated, cigar-chomping, jive-talkers with a love of jazz music. The crows voiced by African-American actors submit to the leadership of Jim, whose words and singing come courtesy of the only Caucasian in the bunch. On the other, however, they are also some of the only characters in the entire movie to ever offer the eponymous elephant any ounce of compassion or understanding. They accept him for him and ask for no compromises. In spite of their hierarchy, they never once capitulate towards the will of anyone else – they collectively sport much freer spirits than the subservient Sunflower. In reality, the crows' actions support both positive and negative interpretations, and scans all over the internet reveal that writers of all races are equally capable of taking both stances. However, the film's
"Song of the Roustabouts"
leaves far, far less room for open debate than the behavior of the crows. Sung by literally faceless African-American laborers, the lyrics praise the virtues of painstaking work with little to no reward. It doesn't take a sociologist to figure out the extremely unfortunate overarching message.
3. Uncle Remus from Song of the South (1946)
Like Sunflower, the portrayal of African-American literary figure Uncle Remus in Disney's hybrid of live action and animation,
Song of the South
, offers up plenty of fodder for debate over censorship and stereotypes.
James Baskett
(the first live actor ever hired by Disney) played the controversial role in 1946, and even at the time the studio wrung its hands over any potential offenses. Fearing further accusations of racial insensitivity, they have yet to release it for home viewing even to this day. But unlike Sunflower, the ire directed at the movie had less to do about Uncle Remus himself – the hero of the story – and more with his surrounding situation.
The NAACP
actually recognized the artistry of the film while simultaneously finding its sanitization, perhaps glorification, of slave life on a plantation abhorrent. Though Uncle Remus stands as a thoroughly pleasant and moral man devoid of the physically degrading traits present in the animated Sunflower, he and the other African-American character Toby still happily submit to the will of whites. People of all racial backgrounds remain divided over whether or not Disney should leave
Song of the South
in its vaults forever or finally release it for home viewing. As with the
Fantasia
example above, no one definitive solution emerges – the issue swirls with so many different and equally weighted arguments that none of them stand out as the absolute right thing to do.
4. The Native Americans from Peter Pan (1953)
Absolutely no alternate, potentially viable interpretations for the appalling depiction of Native Americans in
Peter Pan
exists to explain or otherwise temper the blatant racism. Lifting the portrayal almost directly from J.M. Barrie's children's books, almost any stereotype of the cultures (save for alcoholism and gambling) imaginable pops up in the movie. The sequence for the song
"What Makes the Red Man Red?"
alone involves a peace pipe, use of the words "paleface," "Injun," "squaw," and "how," stereotypic accents, clapping of hands to mouths, the reduction of a female value to appearances and servitude, glorification of an underage Native American woman as sexy and exotic, and what sounds like almost an apology for having nonwhite skin. Their characterization pulls entirely from popular perspectives with
the reality of the cultures wholly sacrificed in favor of a reductionist song-and-dance of primitivism that perpetuates misconception
. Both Native American and white men objectify Princess Tigerlily, who decides to put on a little show of her own in order to arouse her masculine audience – adding an extra, extremely uncomfortable dimension of misogyny into the mix. Note that the older, "ugly," or white females never partake of the festivities, implying that only a young, conventionally attractive ethnic woman can satiate man's lust.
5. Si and Am from Lady and the Tramp (1955)
Two of
Lady and the Tramp
's most destructive villains,
the twin Siamese cats oh-so-cleverly dubbed "Si" and "Am,"
never prompted Disney to exercise any level of censorship; their embarrassing throwback to the racist concept of "yellow peril" can still be visually ingested by kids even today. Introduced in a sequence where the pair gleefully inflicts grievous property damage, they slink about the house with exaggerated, slanted eyes, gnarly buck teeth, and sporting a ghastly shade of pale.
Si and Am's very first song
only solidifies their status as highly offensive Asian caricatures as they spit and slur through poor grammar and frequent switching of the "R" and "L" sounds. At no point does the film imbue them with any sort of redeeming qualities – until the end, the felines remain entirely remorseless, depraved, and manipulative. Most disconcertingly, Disney actually markets products featuring their likenesses, never making any sort of effort to downplay the obviously racist overtones. Young audiences unfamiliar with American history's attitude towards Asians may perceive Si and Aim's domestic terrorism and exaggerated physical attributes as simply the popular perception of cats as decidedly odd and cheeky. But older crowds with even a passing knowledge of World War II propaganda will squirm upon viewing the obvious implications.
6. The Apes from The Jungle Book (1967)
Though he was no stranger to racial insensitivity and cultural relativism himself, Rudyard Kipling's original novel
The Jungle Book
made no explicit parallels between African-Americans and apes; the character of King Louie didn't even exist in print, instead tossed into the movie as a purely Disney creation. He scats and talks jive with a rather obvious cadence, singing about he wants to
be more like the human (and generically American-accented in spite of his Indian heritage) Mowgli
. On the surface, this characterization certainly carries the racist overtones of the era that the studio often reflected with insensitivity. Beneath that, however, their intentions for what social beliefs the movie did and did not intend to draw from occupy begin to occupy
rather nebulous territory
. Many assume that King Louie's mannerisms drew their inspiration from Louis Armstrong, but the animators actually took cues from the man who lent his speaking and singing voice to the chubby orangutan – Louis Prima, a very white jazz musician and band leader from New Orleans. He did not record his lines or songs mimicking African-American speech patterns of the time; the voice used was actually how the man spoke. As with the crows from
Dumbo
, compelling evidence both for and against the apes' intended status as negative African-American caricatures exists.
"A little from column A, a little from column B"
situation seems to be the most likely case, as the juxtaposition of jazz music and singularly simian behavior during the last heated years of the Civil Rights Movement strikes an exceedingly discordant note that seriously could not have gone unnoticed.
7. The Minister from The Little Mermaid (1989)
Jokes about the unnamed minister from
The Little Mermaid
abound, with many people believing he sports a rather generous erection during the wedding scene between Prince Eric and the enchanted, disguised antagonist Ursula. Unlike the accusations of racism and misogyny backed by extremely reasonable and well-founded evidence, the diminutive officiate who
stirred so much controversy that a lawsuit actually cropped up
honestly didn't enjoy the proceedings as much as people believe. In this case, a design flaw is the real culprit. Drawn with skinny, knobby knees that stick out, the little man's robes bob up and down with his natural movements and blow about in the wind. Occasionally, his clothing obscures his bare legs and certainly gives the appearance of an erection. Whether or not this visual trick exists as an intentional bit of visual trickery on the part of the animators remains completely up for debate, of course, but no solid evidence exists either way. It is hard to believe that the famously thorough Disney animators would completely miss such a glaringly obvious visual, though. At least this incident does no damage to perceptions of race and gender, though, and the possibility elicits far more laughs than rages. Some Christian groups lashed out, but no religious officials appear to have taken any outspoken offense to the situation.
Oh, and that lawsuit? Eventually dropped.
8. The Merchant from Aladdin (1992)
There is obviously something wrong when portrayal by Robin Williams is actually the least offensive aspect of a character. Disney
angered Arab-American groups
when his introductory song to Aladdin spouted off the lyrics,
"Where they cut off your ear if they don't like your face./It's barbaric, but hey./It's home."
in reference to Middle Eastern culture. People of all political affiliations know that human rights atrocities occur in that corner of the globe – as they do EVERYWHERE. But to include them in a song as one of the defining characteristics of the cultures in the region understandably provokes ire, especially when one considers the history-altering contributions that Arabs have made to mathematics and surgical procedures in the past! Home video releases wisely replaced the offending lyrics with
a benign discussion of geography and lamentation of the heat
instead. Even beyond the merchant who sets up the story, Aladdin's cast garners a hefty amount of controversy for portraying the features and accents of the protagonists as heavily Americanized, leaving the villains to lean more on exaggerated racial characteristics and Arab accents. Regardless of the one little change Disney made to the original film, it still continues to sport some extremely disconcerting depictions of race and gender that even the infamously politically correct 1990s could not squelch.
9. Pocahontas from Pocahontas (1995)
More than 40 years after chipping away at Native American cultural identity with the cringe-worthy scenes from
Peter Pan
, Disney caused more than a little outrage by taking considerable liberties with the
true story of an adolescent – if not preadolescent – Powhatan girl by the name of Matoaka
(Pocahontas was actually her nickname).
"Considerable,"
of course, meaning that almost no bit of historical veracity remained, save for names and locations. Though touted as a princess, Matoaka's status as the daughter of a chief did not equate to such a title, nor did it mean she earned any sort of favoritism. However, increasing her age from 10-13 from the historical tale to around 18 and romantically pairing her off with John Smith when no such relationship actually occurred provoked the most controversy. Once again, Disney ignored the cultural reality in favor of lazily falling back on racial stereotypes and female exploitation to tell a story. Although they thankfully dismissed the earlier images of red-faced
"savages,"
the comparatively more contemporary
stereotype of the Magical Native American communing intimately with nature flooded
the film. The titular character may have palled around with animals in the same manner of other Disney princesses, but unlike her Caucasian counterparts she also talked and
sang to the trees, rocks, and wind
. Many take this depiction of Native Americans as more positive and acceptable. While a step in the right direction, adhering to such stereotypes still stands as reductionist and displays an unwillingness to actually put forth any research to whip up an accurate portrayal of the societies represented.
But this story unsurprisingly has 2 sides, and Native American political leader Russell Means – who actually lent his voice to Chief Powhatan – praised the film for its positive spin on the cultural heritage. He supported Disney's decision to show how Europeans wrongly accused the tribe of savagery, glad to see that some veracity in the attitudes of the time did not receive the expected glossing over. Shockingly enough, a couple of white Americans actually got offended for reasons other than the questionable portrayal of Native Americans. Rather,
they considered the studio a bit TOO sensitive
and felt that it should have been more negative!
10. All the Disney Princesses
Because the tales of the various (and very, very lucrative) Disney Princesses drew their inspiration from (in the loosest sense of the phrase) various ancient folk stories from a broad variety of cultures, it probably comes as little surprise that the underlying misogynistic elements remained intact. Ardent feminists from every decade and every medium have relentlessly lambasted the studio for their insulting portrayal of women, whose characters almost always seem more defined by how they relate to the masculine heroes of the story rather than their own inherent virtues and vices. Even so-called
"action girls"
such as Princess Jasmine, in the end, find themselves judged more on their level of attractiveness and must be rescued by their respective princes in some fashion or another. As the infographic accurately outlines, satisfying singlehood is never an option for any lead female in a Disney movie – she always has to rely on her beauty to snag her man. Particularly egregious examples from the past 2½ decades (eras ostensibly more
"progressive"
and
"enlightened"
when it comes to woman's role in society) include Belle's submission to an abusive relationship with the Beast in
Beauty and the Beast
and the fact that her pretty face and undying love saved the day far more than her brains ever could.
The Little Mermaid
's Ariel completely alters her appearance and gives up her voice, family, friends, and home for the sake of a man she loves only because of his looks – and he has to fall in "love" with her for no reason other than what he sees. To add insult to injury, the story PRAISES their submission and acquiescence to the concept of women as decorations. Never does the possibility of equality in a relationship crop up as a possibility. All of their respective romances default to the dominant male/submissive female dynamic, sadly influencing their target audience of young women to accept that as normal and idyllic.
Even when accusations of racism and sexism become clouded by the inclusion of more positive character traits, it is hard to deny that to some extent Disney relies quite heavily on ethnic and sexual stereotypes to tell a story rather than putting forth the effort to create depth and dimension. Some parents and teachers may want to use these offensive, controversial decisions as valuable educational tools to teach children about respecting other cultures and genders.
(Thanks
Graphic Design Degrees
)
Rooftop Films
The 2010 Summer Series of
Rooftop Films
has begun, and to promote this exciting run, Program Director Dan Nuxoll has generously offered ASIFA members a discount on tickets for the following shows. Look for this code in our next email newsletter blast!
______________
From Dan:
Next Friday, May 28
, we have a show called Dark Toons with some really great animation from the dark side:
http://rooftopfilms.com/2010/schedule/7-dark-toons
Then on June 26 we have a screening of Brent Green's
Gravity Was Everywhere Back Then
, with a live score performed by musicians, including members of Fugazi:
http://rooftopfilms.com/2010/schedule/20-gravity-was-everywhere-back-then
Then on Thursday, July 29, we have a program called
Capucine and Other Filmmaking Renegades
which includes a film by animation renegade Nieto:
http://rooftopfilms.com/2010/schedule/31-capucine-filmmaking-monkeys-and-other-renegades
______________
These are not the only shows featuring animation so I suggest you check out the site to see the entire festival schedule!
Rooftop Films is a New York based non-profit whose mission is to engage diverse communities by showing independent movies in outdoor locations, producing new films, coordinating youth media education, and renting equipment at low cost to artists.
The Rooftop Films 2010 Summer Series, our 14th year of
"Underground Movies Outdoors,"
will run every weekend from
May 14-August 15
.
Programming for the 2010 Summer Series includes feature-length films and programs of shorts, all new, all independent. Most of the feature films are either New York, US or World Premieres. Most screenings will include a filmmaker Q & A. Films represent a diverse range of documentaries, fiction, drama, comedy animation and more.
(Thanks
ASIFA East
)
Tom Welling Wants Lex Luthor To Return To 'Smallville' For The Tenth And Final Season
Earlier this week, the CW network announced that the upcoming tenth season of
"Smallville"
will
also be its last
.
And while there have been hints that the tenth season may focus on Darkseid as the main villain,
"Smallville"
star Tom Welling told MTV News which character he would like to see Clark Kent take on in the final season.
"I want to see Lex [Luthor]," said Welling.
"I want to see him come back. In the show, he's still alive. He's just not around. But I want to see Michael [Rosenbaum] and I want to see Lex Luthor. I want to know how that relationship really turns out. Because that's the big relationship that I believe propelled Clark to become Superman."
The first hints of Lex Luthor's survival appeared in the
"Justice Society"
episode by comic scribe Geoff Johns — in addition to further hints in last week's season finale. However, Michael Rosenbaum has
already publicly stated that he will not return
to
"Smallville"
to reprise his role.
Welling also addressed Superman's iconic costume and whether he might finally wear it now that the series is in its home stretch.
"We've seen glimpses of it with the cape and Martha [Kent] presenting it to Clark and saying 'this was in the ship when you got here,"
related Welling.
"I'm sure we're going to see it, I just don't know in what capacity.""I don't know if you're going to see me in tights, if that's what you're asking,"
joked Welling.
Joss Whedon, Morgan Spurlock And Stan Lee Team Up For 'Comic-Con' Documentary
Back in February, word began to spread that
"Buffy The Vampire Slayer"
creator
Joss Whedon and Morgan Spurlock were joining forces
to create a documentary about the San Diego Comic-Con International. And apparently, they won't be alone.
According to
The Hollywood Reporter
, Whedon and Spurlock will produce
"Comic-Con Episode Four: A Fan's Hope"
along with legendary comic book creator Stan Lee and
Ain't it Cool News
founder Harry Knowles. Thomas Tull and Jeremy Chilnick are also on board as producers.
The film reportedly follows seven fans from around the world as they prepare to attend this year's Comic-Con. It is currently scheduled to begin shooting in June and will also be filmed in San Diego during the annual fest.
Spurlock is best known for his documentary
"Super-Size Me"
and has previously filmed a portion of
"The Simpsons 20th Anniversary Special"
at last year's show. According to Spurlock, his experiences at the convention helped lead to this current project.
"It was such an overwhelming experience for me, and I soon found out that I was not alone,"
Spurlock told the trade.
"So for me to get to share the experience of Comic-Con with fans all over the world will be an incredible opportunity.""We look forward to capturing the spirit, energy and people that Comic-Con has infused into legions of fans, bringing these audiences and projects out of the Halls and onto a world stage,"
added Tull.
San Diego Comic-Con International is one of the largest conventions of its kind in the world and in the past few years has become a massive staging ground for the larger world of pop culture, films, TV and video games.
Harrison Ford FINALLY speaks out about Star Wars
Think about it—except for maybe a DVD bonus feature, when have you ever heard Harrison Ford publicly speak about
Star Wars
? It took 30-some years, but the right cause finally came along to break Ford's silence.
For the 30th anniversary of
The Empire Strikes Back
, Ford participated in a charity event for St. Jude Children's Research Hospital. As part of George Lucas's
"The Empire Gives Back"
initiative, Ford attended a Hollywood screening of Empire and spoke about the franchise for 30 minutes following the screening.
Here are 10 juicy tidbits Ford revealed for donors who paid $100-$175 for tickets to the special screening. The night raised $40,000 for St. Jude's, and the hospital even introduced an 11-year-old guest whose life was saved by such donations. If you'd like to donate to St. Jude's, visit
www.stjude.org
.
The cast stayed in the best hotels this side of Hoth
Scenes on the ice planet Hoth were filmed in Norway during blizzard conditions. Sorry to ruin the illusion, but they actually weren't even that far from civilization.
"The conditions were so severe that they put the camera in the back door of the hotel we were staying at and shot out the door,"
Ford said.
"So we were 12 feet from the hotel, out in the blizzard."
Still, Ford almost froze to death
Even 12 feet from a cushy hotel, Ford nearly froze because Han Solo's Hoth costume was not designed for real outdoor weather.
"The one part I remember that was a little uncomfortable was Norway where we shot the snow scenes. I hadn't been expected to work there, so the costume that I had was built for the stage. At the last minute they decided that weather conditions were such that the schedule had to be changed, and they decided to shoot my scenes not on the stage but in Norway. So I was rushed up there, and the only way to get to the set in the midst of a blizzard was on a snowplow train, which had a giant auger on the front of it and pushed through the snow and delivered me to the set. We immediately went to work."
Nothing worked on the Millennium Falcon
Remember when they couldn't get the hyperdrive to work to jump to light speed? That was the least of the
Millennium Falcon
's problems. "The thing I remember is they purchased all of these toggle switches. Because we made the film on a budget, they hadn't bought the ones with springs. So if in a scene you would flip up some switches, if you didn't get out of the frame quickly enough they would go back down, because there were no springs. I think they solved that by the second film."
Chewbacca never actually sat in the cockpit
By the time they built the
Millennium Falcon
cockpit, they realized they hadn't accounted for Peter Mayhew's size, let alone his cumbersome Wookiee costume. Any shot in which you see Chewie sitting down was accomplished through the magic of editing.
"When they were building the cockpit of the Millennium Falcon, I was anxious to get inside into it and see what my office looked like. They kept saying no, that it wasn't finished and they'd let us in as soon as we could. Well, we didn't get in until the morning that we shot. Of course it was impossible for Peter, built of the scale that he is, to get in the seat. So every time you see Peter in the seat, he's been edited into it."
He doesn't think he had the best lines
Really, Han Solo? You don't see it?
"Sorry about the mess." "It made the Kessel run in less than 12 parsecs."
Ford says,
"I never thought I had the best lines. I was very happy to be involved. I was pleased to be a part of an ensemble. My character had a role en suite with the rest of the characters. I had a part to play that had kind of a keystone effect amongst the callow youth and the wise old warrior and the princess. There was this character that I thought the luck of the character was that he probably represented close to the audience's sensibility, because of his distance from the mythology, because of his resistance to the mythology. That was the luck of the part for me."
He was responsible for "I love you" ... "I know."
At least Ford acknowledges that this was a great line. He and director Irvin Kershner fought Lucas for it.
"Film is a collaborative process. I'm happy that I was able to make a small contribution. It didn't go down so well with George at the time. He would have been a lot happier with the scripted line, which is 'I love you, too,' but I felt, and Kersh agreed, that there was the opportunity for a more character 'smelling' moment. So we shot that among other versions. We did shoot 'I love you, too,' but when Kersh presented his cut, he used the line 'I know.' George said, 'That's gonna get a laugh. That's not good.' Kersh and I both said, 'It could be a good laugh at that moment.'"I remember being at the test screening in San Francisco sitting next to George, Kershner on the other side, and he went into the screening predicting that this is going to be a bad laugh, but I think the audience convinced him it was not so bad. I take no ownership. If Kersh hadn't thought that it was a good idea, we wouldn't have shot it. It is a collaborative process, and I think what it speaks to more than anything else is that when you have the opportunity to make something and you care about what it is you're making, you try and you try and you try. You just don't settle. You try because you care about the product, and a little thing like that you end up investing in because you think it might make it better."
Star Wars saved Ford from hard labor
You may know this already, but Ford had already given up acting after
American Graffiti
. He kept in touch with George Lucas and Francis Ford Coppola as a carpenter. He was working on a portico for Coppola's office when Lucas was casting
Star Wars
.
"I worked at night because I didn't want a lot of people around while I was trying to do this work. I was working alone, and George came in with Richard Dreyfus for the first of the interviews for Star Wars. We said hello, chatted briefly, and then Fred Roos, who is George's casting director, asked me if I would do them the favor of reading with the prospective actors that they were testing for the part, with no real expectation that I might be involved. After I read with probably 300 actors, they asked me if I would want to play the part, and I said sure."
Why Harrison Ford wanted to kill Han Solo
You definitely know this already. Harrison Ford wanted Han Solo to die in
Return of the Jedi
. Here's how he puts it now.
"I just thought that it would supply some emotional bottom, a grounding. George didn't agree, and so that did not happen."
Han Solo has finally outgrown Obi Wan Kenobi
This'll teach you young punks to disrespect your elders. It's been 33 years since Ford looked up at Sir Alec Guinness. Now the late Sir Alec doesn't seem so old.
"I looked at Alec Guinness, who, at the time, I knew he was a wonderful actor but I thought he was an old man, an old wonderful actor. When I sat there [recently] and I was looking at him, I did the math. I figured out how old he was in Star Wars, and he was about six years younger than I am now. It gave me pause."
30 years and he still doesn't get it
Ford was happy to donate his time to raise money for St. Jude's. However, the phenomenon of
Star Wars
that would lead people to pay hundreds of dollars to hear him speak, that's still a mystery to him.
"I don't know that I understood it very well. I'm not sure I understand it yet, but I think the invention of it is obvious. Albeit 30 years old, the originality of it was very striking for the time. I think the mythology of it is what makes it work as much as anything else, and I think George tapped into some psychic vein which made the whole thing work. That plus John Williams' incredible music, it's the glue of the piece, I think. What I noticed tonight as much as anything else is the contribution that sound made. The THX system that George innovated was remarkable at that time and really went a long way to creating that kind of energy that the film has."
Peter Jackson: new Kong ride will rock your world
Peter Jackson, who directed the 2005 remake of
King Kong
, says the new immersive 3-D Kong-themed attraction at Universal Studios Hollywood will immerse visitors in the world of Skull Island; check out the video above.
In particular, visitors sitting on those trademark studio trams will find themselves caught in the middle of a fight among Kong and a bunch of ravening dinosaurs.
"You're going to feel these huge creatures bumping and the tram shuddering, all in synchronization with what's happening on the screen,"
Jackson said.
Jackson consulted with the theme park on the new ride that replaces
one destroyed in a devastating fire in 2008
.
Below is the official announcement of the ride. It opens July 4!
"King Kong 360 3-D" Created by Peter Jackson
The World's Largest Most Intense 3-D Experience Emerges as a Next-Generation Theme Park Experience At Universal Studios Hollywood, The Entertainment Capital of L.A.
Universal City, California—King Kong, among the screen's most powerful and enduring icons, will re-emerge in Summer 2010 as a new signature attraction created under the direction of Peter Jackson on the famed Universal Studios Hollywood Studio Tour.
"King Kong 360 3-D"
Created by Peter Jackson will be the world's largest most intense 3D experience on the planet, combining thrilling visceral effects to create a next-generation theme park experience.
Peter Jackson, director of the Oscar-winning 2005 Universal Pictures film upon which the attraction is based, said:
"The new King Kong at Universal Studios Hollywood will be an incredible amount of fun and a chance to really push film and theme park technology. Aboard the Universal tram, you'll get a wrap-around view of the action through a process involving eight 3-D images shot and projected at 60 frames per second. The film and tram will be tied into a motion simulator that will allow you to physically experience this pulse-pounding spectacle, which includes a fight between Kong and a group of V-Rex, the larger cousins of the T-Rex. You'll find yourself right in the middle of the action."
"King Kong 360 3-D"
Created by Peter Jackson will be the first theme park attraction to be directed by the Oscar-winning filmmaker.
Larry Kurzweil, President and Chief Operating Officer, Universal Studios Hollywood, said:
"King Kong has been an integral part of Universal Studios Hollywood for decades and, after the 2008 fire, we knew he had to be reintroduced as a new, groundbreaking, thoroughly over-the-top experience that will thrill new generations of Studio Tour guests. King Kong 360 will be the most exhilarating feature of our world-famous Studio Tour, setting the bar at a new level for immersive theme park experiences."
In the new attraction, guests will be given special 3-D glasses as they enter a darkened soundstage aboard the Studio Tour trams and will be transported—via the magic of Surround Digital 3D projection—deep into a tangled jungle location. They'll survive a close encounter with a swarm of hungry raptors, only to be confronted by the terrifying presence of 35' tall dinosaur behemoths, intent on attacking the tram and Studio Tour guests.
Suddenly, a 25' tall gorilla appears—Kong himself! The trams jolt and shudder as the guests find themselves caught in the middle of a titanic struggle between these colossal prehistoric foes—the great ape and carnivorous reptiles—action which sends the packed trams sliding ever closer to the edge of a bottomless chasm.
King Kong, known as
"the eighth wonder of the world,"
has been called
"the experience for which movies were invented."
Since first appearing on the screen in the 1933 original classic,
"King Kong"
has been re-made twice, each time on a tremendous scale, earning a total of seven Oscar and three Golden Globe nominations. Most recently, Peter Jackson's 2005 version took classic elements of the original
"King Kong"
story and adrenalized them with up-to-the-minute effects magic and the alchemic talents of a superlative group of filmmakers, cast and crew. Released to critical acclaim in late 2005,
"King Kong"
was a worldwide hit.
The arrival of the new
"King Kong 360 3-D"
Created by Peter Jackson experience coincides with major enhancements to the iconic Studio Tour. The most extensive backlot construction ever in the history of Universal Studios, which includes re-creations of legendary Hollywood sets and the introduction of brand-new shooting locations, will make the renowned Studio buzz with star-studded film and television production as never before. Studio trams were recently equipped as
"mobile movie theaters"
with state-of-the-art flat-screen high-definition monitors and digital playback systems. The new high-definition monitors feature commentary from filmmakers, actors and personalities. Clips from numerous movie and television productions, corresponding to sites visited along the Tour route, add a new dimension to the tour of backlot attractions, sets and facades.
Universal Studios Hollywood is a unit of Universal Parks & Resorts, a division of NBC Universal, one of the world's leading media and entertainment companies in the development, production, and marketing of entertainment, news, and information to a global audience.
Second Predators Trailer
A new trailer for the upcoming movie has been released.
The second trailer has been released. It's very similar to the first one, but does offer some new footage. This does not come with the voice over from Laurence Fishburne and helps to show the tone of the movie. It doesn't get different until about 30 seconds in (right after the Yakuza shows off his sword).
Here it is.
The film comes out
July 9th
. Starring Danny Trejo, Laurence Fishburne, Adrian Brody, and Topher Grace.
(Thanks
Comic Book Movie
)
Design secrets of Iron Man 2: Suitcase armor, Whiplash and crazy improv!
Iron Man 2
is a design marvel, from the realization of Tony Stark's suitcase armor to the high-powered, heavy-metal set pieces. We talked to production designer J. Michael Riva and conceptual illustrators Ryan Meinerding and Daren Dochterman about this film.
Oh, and if you still haven't seen
Iron Man 2
, then
there are spoilers in this article
.
How did you approach the second Iron Man film differently than the first one? Was there more creative freedom this time around, because the first movie had already done such a great job of translating the visuals of the comics into the big screen?

J. Michael Riva:
Well, the answer to that one is simple - there can only be tangible creative freedom when there is an established storyline early on. We all came into
Iron Man 2
without one. The entire picture was about catching up to the story which never quite got the attention it deserved. Having said that, the director's challenge was to try and surpass the fun of the first one, which I think he did. Having set the bar of the moral engine of Tony's character so high in the first installment, everyone felt they had earned the freedom to let Tony have some fun this time. He gets to party, get drunk and wreck his house, race dangerously in Monaco, fight his best friend and alienate his 'girl Friday' and generally act like an asshole throughout - and he justifies all this bad behavior with a storyline detail that his RT is failing. With all the confidence that the show would be a slam dunk successful sequel, there was substantially more freedom to explore the Iron Man world on this 2nd one while they all figured out the story.
How did you go about making the new Mark VI suit an improvement on the previous suit designs, including the Mark III from the first film?

Meinerding:
The Mark VI design is meant to be a bit sleeker than the Mark III. What Adi Granov and Phil Saunders did with the Mark III is so successful and was received so well, though, it became a struggle with how far to deviate from it. It was decided early on that we wouldn't change the helmet and just try and find a way to make the rest of the suit feel a little bit more advanced. There was talk changing the RT to a triangle shape for the final suit design, and so I was trying to come up with a design that could work with both a triangle and a circle.
In the end, the major changes are in the shoulders and legs. The Mark III legs are very strong but also very linear... they do a great job making Iron Man look like he's built for flying. In
Iron Man 2
, though, there was going to be a lot more fist fighting on the ground, and it felt like trying to get a bit more human gesture in the front view of the legs would help with posing. The aim for the shoulders was to reduce the bulk from the Mark III, but through the variations and revisions for the practical vs. digital suits, I don't think they got a whole lot slimmer. The slightly hunched posture that is iconic to the Mark III is something we definitely didn't want to lose, and so we ended up taking the shoulders back to that in the end.
There are a lot of homages to the comics in this new movie, including the color scheme of the suitcase armor which is right out of Bob Layton's art. Did you spend a lot of time looking at the older comics for some visual references?

Meinerding:
Usually the suits we do are inspired by one suit design or another. Marvel does a really good job of giving us a lot of reference, and Jon [Favreau] also is heavily involved with giving comic reference as a starting point. With the suitcase suit, we definitely were looking at some of the classic designs because of how close to the body that armor was supposed to be. Since a lot of the classic designs are really variations on muscle suits, we definitely looked to be inspired there. The difficulty is that if we start with one of the classic silhouettes, we still have to fill it in with tech that feels like it could exist in the real world... and those changes sometimes take it to completely different places. The one specific thing we did take from an earlier design was the color scheme from the Silver Centurion armor. At first we were really concerned with deviating from the red and gold, but in the end that helmet design is so strong that it reads as Iron Man no matter what the colors are.
The biggest departure, from a design standpoint, is the look of Whiplash, who doesn't look that much like either Whiplash or Crimson Dynamo in the comics. How did you come up with that cool cybernetic harness, with the whips coming off the arms? Were there any real-life inspirations behind that look? What were the functional considerations behind doing it that way instead of going with something more like a suit of armor?

Riva:
The story drove this design more than anything else. The whole point of Whiplash in the movie was to prove that someone out there could develop the power source which only Tony thinks he owns. The RT tech is discovered by Whiplash - that's the important part - not the suit as in the comics. The potential for any armor or any weapon is suddenly out of control and in the hands of Whiplash - an allegorical reference to the present-day proliferation of nuclear weapons. The idea of whips is obvious, and early on Jon Favreau referred all of us to a few guys on the internet who were great with whips. The character is poor and lives in an impoverished apartment room somewhere in Russia - his only resource is his brilliant mind - so he has to make this tech come to life with available stuff, much like Tony did in that Afghan cave. This is why he is so dangerous. He is Tony. So given these parameters, Ryan came up, once again with a terrific design for the whips. Early on we talked about 'electric plasma' whips powered by the RT on his chest, and Ryan took all this and ran with it. What you see is what Ryan designed late at night and all those weekends, and ILM made it all come to life, along with a terrific performance by Mickey Rourke who embraced the powers of the suit/design with great enthusiasm.
Meinerding:
Early on in pre-production, I was given a list of possible bad guys and reference for their designs. At the time, these were supposed to be criminals that were being experimented on with RT tech, so the first designs I did hinted at some of the whip technology being medically implanted into the character. Jon and Marvel seemed to like how this could mirror what happened to Tony in the first film, but thought it could be a little gruesome. But once that connection with Tony's origin was created, we basically just looked to take themes from the Mark I to develop the Whiplash rig. A lot of that original design was inspired by a telemetry suit we had gotten from Stan Winston Studios (now Legacy Effects) back on
Iron Man
, and so the Whiplash design is actually derived along those lines.
The functional considerations are really all about movement... and Shane Mahan and the guys at Legacy Effects really figured the specifics of that stuff out. I had incorporated their telemetry suit in the design, and hopefully hinted at an aesthetic that took it into Ivan's world, and they really figured out how to make all the necessary action work and nailed down the nuts and bolts of the character.
The drones that Justin Hammer and Ivan Vanko build are clearly built on similar technology as Tony Stark's suits of armor, but they feel somewhat different — maybe a bit cruder. How did you go about designing them to make them seem like they come from the same design universe, but with a different set of creators?Riva:
Justin Hammer, as played by the cool Sam Rockwell, is a crude guy afterall. The suits are thrown together for war- thus the bulkiness. Of course they look like they are from Tony's world because everyone lusts after Tony's design, naturally.
Meinerding:
When you follow the threads of authorship that are supposed to be in the story, the design fingerprints come from a few different sources. The Hammer drones are meant to be knock offs of Iron Man, and then Ivan takes them and puts his own spin on them. So they should represent Tony in spirit, look less successful than Iron Man, and in the end look like they've been reversed engineered by Ivan to be militarized. We tried to make a few of the forms less streamlined than any of Tony's suits, as well as exposing a bit of the mechanics. In some ways we tried to include obviously bulky forms that really almost feel like they don't fit, and square off many of the forms. The easiest way for us to make it feel like a copy of Iron Man is to have the light in the center of the chest. The main thing that Ivan is meant to add is the head, and Jon really liked an impersonal, small robot head that makes it clear that there isn't a human head inside. So with the final product, hopefully, the first read is that they look like rougher Iron Man suits distinctly designed for their branch of the military. Then if you look a bit closer, you could see that the head design feels a bit distinctly different from the rest of the suit... implying the changes that Ivan brought about.
War Machine is such a cool design in the comics, and the movie did a great job of bringing that across. Given that War Machine starts out as a Mark II Iron Man armor and then gets "pimped out," how much freedom did you have to reimagine his look to make him look different from Iron Man?

Meinerding:
The War Machine design process is an interesting one. Phil Saunders had done a version of War Machine during our design phase on
Iron Man 1
, and when we started on
#2
, we had that as a great jumping off point. Adi Granov was also developing a different look for the character in some of his comics work, so we really did have a wealth of design to choose from. Adi did some really great work on the character for the movie as well, and in the end we ended up combining a bit from all the different versions. ILM then tricked it out with the really clever mechanical designs for the Gatling gun mechanism and that really finished off the look.
In terms of how much freedom we had, the mandate that it was based on the the Mark II platform kind of came about as we were doing different versions of the suit, and it really just made a lot of sense. So a lot of the design process from there on out was seeing how much of the Mark II we wanted to see, and how much War Machine should feel distinctly different. Any time he ended up feeling like a completely different character, especially with the helmet, we were reined back in a bit by Jon and Marvel. I think they really did want to keep the Iron Man aesthetic pretty tight and not deviate from it too much. In the end, I think the the biggest difference design-wise, besides the color, is bulkiness he has. (Well that, and the huge gun on his shoulder!) It really helps distinguish him a bit from the sleeker Mark VI design. I think if there was too much of the Mark II showing it might be harder to tell the difference between the silhouette of Iron Man and War Machine in those really frenetic fight scenes.
Tony Stark's house is redesigned extensively for the new movie. How much of that had to do with the requirement of Tony and Rhodey being able to have a knock-down, drag-out fight there?

Daren Dochterman:
It was a little give and take both ways, actually... with the new sets being built for the various new scenes in the film dictating where the fight beats were to take place... and the elements of the new sets being tailored to be as interesting as possible for two guys in power suits to bash each other in... A lot of the interior of the house wasn't really laid out in the first movie, save for the living room, bedroom, and lab... so there was more expansion of ideas here, as to where the gym would go and how the kitchen would connect with the already established spaces. At one point, a lot of the party scene was supposed to occur outside at Tony's pool, so Mike Riva wanted to revisit that, and I came up with some ideas for it, including one I really liked which was a kind of section of an oval, very much like the Jarvis control... but as a large, "invisible edge" pool... that was the last version I did of it. But as the party scenes evolved, it became more sensible to have them take place inside the house, using the sets that were going to be built... so that's how that evolved. The pool area remains unchanged from the first film.
How do you feel the design process is different for superhero films versus straightforward action movies? Obviously, you have the comics as a reference point, but are there other things that are different? Like the way you think about action sequences, or the way you build the design language of the movie? Or the settings?

Riva:
Let me say that the comics have very little to do with my designs. I think I have referred to them maybe once or twice during all these superhero movies. Literally.
Yes, there is some great art work out there, but when it comes to design, again the story is what drives what I do - always. Obviously, you are working in a more make-believe world, and especially the Stark universe is all about insane amounts of money and power and gadgets-so you have the freedom to do a lot of dreaming and explore many 'what if's.' The possibilities are endless. But all things must be based in some sort of reality. Dick Donner, one of my all time directors I have worked for many times, calls this 'verisimilitude.' This is what you want. An unbelievable believability. A world that you live in and accept for that two hours in the dark - you never question it, no matter how fanciful it appears. This state is what all filmmakers strive to achieve and which is the most elusive. It comes from a deep understanding of the importance of that very precise balance between story and the visual narrative- and it's achievable only when you understand and are humbled by how far you can stretch reality. Sometimes it works and sometimes it doesn't. But when it does...
How would you compare designing the world of Tony Stark with that of Buckaroo Banzai?

Riva: Buckaroo Banzai
was a study in sheer enthusiasm, and devotion with little or no money! The limitations forced us to do things that ultimately helped us design the film. Thank God I had a great and encouraging director, cast and crew! We were all in it together - a real family of wigged-out professionals. I didn't have the luxury of a built in audience like the fans of
Iron Man
, nor the money. We were a small film, with a half-hearted commitment ($) from Fox. Long hours and weekends trying to get a look with few resources. Many times I was foaming spaceships with two-part foam guns, making up shit as I went along. When our hero alien and Buckaroo climb into the small escape pod near the end of the film, the alien says " It's an escape pod... but it's a very bad design!" He wasn't kidding!
Iron Man
came with its own challenges, of course. But we had the money to address them - the only impeding us was ever-changing script revisions...
Buckaroo Banzai
had no such luxury. When we were faced with limitations, we just did our best. Ironically it worked for the aliens who were not supposed to be the most intelligent creatures in the universe. It became a choice, necessitated by time and money and it just so happened to fit with the story line. Things like this happen sometimes. It's a great business that way. It's why I love what I do.
Iron Man 2 concept art courtesy of Ryan Meinerding. War Machine concept art from Iron Man, by Phil Saunders. All images copyright Marvel Studios.
(Thanks
io9
)