Freddy lives: New Nightmare is No. 1
The remake of
A Nightmare on Elm Street
came in first place at the April 30 weekend box office, with an estimated $32.2 million domestically.
Considering that the movie cost only about $30 million to make, it's on its way to profitability, according to The Hollywood Reporter.
Iron Man 2
doesn't open in North America until next Friday, but overseas it took in a whopping $100.2 million in 53 foreign markets, the Associated Press reported.
Iron Man 2
brought in $12.2 million in Great Britain, $10.8 million in South Korea, $8.8 million in Australia and $8.2 million in France.
The family comedy film
Furry Vengeance
, meanwhile, bombed with just $6.5 million.
The previous weekend's top movie,
How to Train Your Dragon
, slipped to second place with $10.8 million, raising its total domestically to $192.4 million.
New international Toy Story and Shrek posters
The Internet Movie Poster Awards has recently posted new international posters for two upcoming animated movies. First, a new poster for Disney/Pixar's
Toy Story 3
from Australia has been revealed, with the ad focusing on the 3-D aspect of the film. Meanwhile, a UK poster for the fourth
Shrek
film has also been revealed, referring to the movie as
Shrek: The Final Chapter
.
Hamas downplans dispute about prisoner Web cartoon
Posted on the Qassam Brigade Web site, a computer-animated cartoon shows Noam Shalit sitting beside a picture of his son Gilad.
Hamas attempted Tuesday to minimize a public dispute -- rare for the violent movement -- between a senior leader and its armed wing about a Web cartoon warning Israel of the possible death of captive soldier Gilad Shalit.
Because the cartoon suggested that Shalit might be returned to his family in a coffin one day, top leader Mahmud al-Zahar said, the cartoon diden't express the
"official position"
of Hamas.
However, Hamas declared that there was no
"contradiction"
between Zahar's remarks and the grim three-minute cartoon, which blamed Shalit's possible death on Israel delaying a prisoner swap.
"We reject the Zionist interpretation that spins the meaning of the Qassam cartoon,"
senior Hamas leader Salah al-Bardawil said in a statement. He was referring to the group's armed wing, the Ezzedine al-Qassam Brigades.
"It was clear that the tape blamed the Zionist enemy for the results of the negligence, time wasting, procrastination and deception practised by successive (Israeli) governments.

"There is no contradiction between this understanding advanced by the Qassam tape and the statements of Doctor Mahmud al-Zahar about the ethics of the Hamas movement in dealing with prisoners."
The computer-animated video was posted online Sunday. It depicted Shalit's father Noam becoming an old man while carrying a picture of Gilad through empty streets past billboards of current and former Israeli leaders -- including Ehud Olmert and current prime minister Binyamin Netanyahu -- promising to free his son.
Finally, wearing a beard and leaning on a cane, Noam Shalit waits at the Gaza border, only to be greeted by a vehicle bearing a coffin covered in an Israeli flag. In the cartoon, he then wakes up and realizes that it was just a nightmare. A caption reads,
"There is still hope."
Because the video suggested that Shalit's captors might kill him, Zahar said that it
"does not express the official position of the Hamas movement."

"We have not and will not kill captive Israeli soldiers "Our morals and our religion prevent us from doing that,"
he told reporters during a meeting with a South African parliamentary delegation on Monday.
In 2006, Hamas and two smaller militant groups captured Shalit, a corporal who is now 23, in a cross-border raid that killed other Israeli soldiers. They are believed to be holding him in a secret location in the Gaza Strip, ruled by Hamas since June 2007.
The Shalit family harshly criticized the cartoon video, stating in official response that
"Hamas would do better to concern itself with the true interests of the Palestinian prisoners and the citizens of Gaza, who have become hostages of their leaders, instead of putting on films and displays."
Noam Shalit told reporters that it was
"regrettable that the leaders of Hamas time and time against choose to employ psychological warfare -- for the umpteenth time -- against the Shalit family and the State of Israel."
In a statement at the beginning of Sunday's weekly Israeli cabinet meeting, Netanyahu declared that
"the Hamas leadership's use of the Shalit family's sensitivities two days after Israel allowed a little girl to be flown for life-saving surgery outside the Gaza Strip attests, more than anything, to the character"
of Hamas.
NYC mayor denies South Park-Times Square bomb link
New York's mayor denied early Sunday any possibility of a connection between a bomb found in a sport utility vehicle parked in Times Square and last week's
South Park
episode portraying the Muslim Prophet Muhammad.
"There's no evidence it was tied to... Viacom or anything else,"
Michael Bloomberg told reporters at a news conference one block from the corner of 45th Street and Broadway where the car was found Saturday.
The Viacom mention was a reference to rumors that the studio may have been targeted because of threats over the cartoon. The car was parked just outside the Times Square headquarters of Viacom -- owner of Comedy Central, the network which airs the politically incorrect show.
Some users of social networking site Twitter had suggested the incident could be linked to recent threats made to
SP
creators Trey Parker and Matt Stone. Last week's episode depicted Muhammad in a bear suit.
The Nissan Pathfinder where the bomb was found was parked near the Minskoff Theater, the venue of
The Lion King
-- a musical based on the animated Disney feature. The bomb failed to detonate and was disarmed by New York police.
Seven major shows went dark Saturday due to the threat, including
The Lion King
, located directly behind the site of the attempted car-bombing.
History Gets Written By the Winners (and Sometimes Others)
Nicole LaPorte, once of Daily Variety and now of Daily Beast,
dishes behind-the-scenes tidbits
about DreamWorks and its founders:
... Then came
Shrek
, a fractious production that ran through multiple writers and directors until first-time Kiwi director Andrew Adamson, a PDI special-effects director, finally took over.

From the start, Adamson refused to be intimidated by Katzenberg, and battled with him over such outrageous ideas as sexual jokes and adding Guns 'n Roses to the soundtrack. Adamson was able to persuade Katzenberg to move in a more irreverent direction.

It also helped that the movie was in production in the Bay Area, at PDI. Katzenberg supervised, but was not all over the animators 24/7. Shrek finally grossed $484-million worldwide and launched a series of hugely lucrative sequels, enabling DreamWorks Animation to eventually go public. ...
This makes a delicious story, and fragments of it may even be true.
But the problems I have ... at least with the paragraph above ... is that
1) Adamson's co-director
Vicky Jenson
is left out of the equation (along with the directors that came before both of them)
2) Staffers told me at the time that
"Jeffrey was putting jokes in and pulling jokes out, right up to release ..."
and
3) How do you explain all those hit movies that came after
Shrek
, lots of them without Adamson's participation, but certainly with Jeffrey K. involved in the process up to his elbows?
And of course there were all those Disney cartoon hits that came before, small features like
The Little Mermaid, Beauty and the Beast, Aladdin
, and
Lion King
. Andy wasn't on the premises for any of those, as far as I can remember.
I happened to have lunch last week with a story artist who's worked with Katzenberg off and on for decades. He said:
"Jeffrey always gives good notes.
Lion King
was a mess for a long time when it was in production. I've always thought that Jeffrey was the one most responsible for pulling it together ..."
I don't have any particular inclination to be Katzenberg's apologist. But I do have a strong impulse to get a more complete story out there. I've observed J.K. in action for a loong time, and there are too many people I respect who think he has real creative chops for me to believe that the success of DreamWorks, or Disney Animation before it, was a lucky fluke.
It's nice to have the ball bounce the right way, but for long-term success, you also have to know how to dribble.
(Thanks
Animation Guild Blog
)
Toy Story 3 finished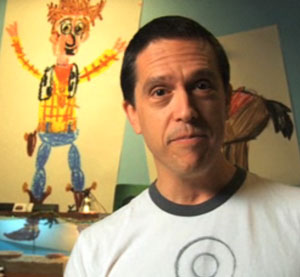 Social media has taken over the internet in the past year or two, and one of the cool things about it is movie-makers being able to connect directly to fans during the movie making process.
Toy Story 3
director Lee Unkrich has been keeping fans up to date on the progress of the film through
Twitter
for months with messages, photos, and videos. Yesterday he tweeted that
"tomorrow afternoon, after over four years of work, I will make my final creative decision on Toy Story 3"
followed with
"I expect to feel both monumentally relieved and somewhat sad."
Today he made it official:
"Toy Story 3 is finished. Pixar's 11th feature film is in the can."
America's "Up" wins at Chinese animation awards
Computer-animated American import
"Up"
was named best foreign feature Thursday at China's third Monkey King Awards.
The Pixar-Disney film vanquished Madagascar: Escape to Africa and movies from nine other countries to win the award at China's biggest animation award event.
The Magic Tulip
, produced by Shanghai Animation Film Studio, won the award for best Chinese animation feature.
Named after a beloved Chinese folktale, the Monkey King Awards, have been held in Hangzhou City, capital of east China's Zhejiang Province, biennially since 2006. They're co-sponsored by the State Administration of Radio Film and Television, the Hangzhou municipal government and the China Animation Association.
The awards seek to recognize industry talent, as well as spur innovation and exchange in animation.
Tuesday screening: Toons In Drag
For my
Cinefamily animation screening
this month we're examining the cartoons (and especially Bugs Bunny) where male characters dress up as females.
Why?
Because they did it and it's funny. From the days of Shakespeare through to the days of vaudeville, silent movies and beyond, cross-dressing has passed into the mainstream as a safe, well-worn comedy staple; think Milton Berle, Flip Wilson, the Kids In The Hall or Eddie Izzard. Whenever our beloved cartoon characters get into the act, however, it all starts to get a little nuttier, and dare we say — hotter? Come for clips of your favorite cartoon stars cavorting as members of the opposite sex, alongside complete short subjects on 35mm and 16mm (including several in Technicolor), all featuring classic moments of animated role reversal.
Join us
Tuesday night (5/4)
at 8pm, in Hollywood, at the
CineFamily/Silent Movie Theatre
.
(Thanks
Cartoon Brew
)
Pres Romanillos and the Pres-Aid Charity Art Auction
Fellow animator and former TAG executive board member
Pres Romanillos
needs our help. A few years ago, while producing and directing his own film in Spain, Pres was diagnosed with leukemia. He returned to the US and underwent chemotherapy and a successful bone marrow transplant. He had less-than-optimal medical insurance at the time, and so his treatment (which is very expensive), and his long recovery during which he was unable to work, wiped out most of he and his wife Jeannine's savings. Eventually Pres returned to work, and animated on
The Princess and the Frog
at Disney and then on
Shrek 4
at DreamWorks.
Unfortunately, Pres relapsed in March. He's back at City of Hope, getting chemotherapy and gearing up for another bone marrow transplant. At this point, the burden of medical copayments and the associated costs of his illness have Pres and Jeannine at a financial tipping point. Pres and his wife Jeannine, along with their brood of dogs and cats, are in a difficult spot, and they need our help.
We've planned a
charity art auction
in June to benefit Pres. On the evening of
June 4
, the monthly
'First Friday' event at Gallery 839
(and in the upstairs meeting space) will feature the artwork we've collected for the auction. At that reception, we'll have a
silent auction
for some selected pieces, and we'll have information on how to
become a bone marrow donor
.
Then on
Sunday, June 13
, we'll conduct a
live auction
at the TAG building in Burbank.
Howard Lowery
has volunteered to help run this auction, and as most of you know, Howard is the expert in these kinds of things. Also, during the first couple of weeks in June, we're planning to have selected pieces sold on eBay. Our goal is to collect about 100 pieces of art for the auction, and we're about half way there now.
I've created a website for the event (
Pres-Aid.com
) as well as a
Facebook group
, where you can get more information. I'm regularly posting artwork to the website that will be sold in the auction, and both those sites have additional information about Pres, his illness, and the auction.
We've contacted many friends and coworkers of Pres's to donate artwork, but we haven't been able to reach everyone we'd like to. If you're interested in helping, contact me at kevinwkoch(a)gmail.com.
(Thanks
Animation Guild Blog
)
New Cartoon Creators
Another visual effects house
goes into
the animated feature biz:
Vancouver-based vfx and animation studio Rainmaker has unveiled its first-ever slate of original animated feature projects and is pitching them to distributors. ...
... Rainmaker hopes to get its first feature out in two to three years and release a feature every 12 to 18 months. ...
Good luck with that.
As we've mentioned here maybe sixteen times, there is little money in doing visual effects for live-action feature films. The job shops in Los Angeles, San Francisco, the Pacific Northwest and other points of the globe slice each others' throats by low-ball bidding work, to the point where profit margins are next to
nada
.
The solution? Start making animated cartooons! Start
owning
content! Become the next Pixar!
Which of course sounds enticing, but is often difficult to do. (Just ask Sony Imageworks.) It is not enough to have an experienced production crew in place, it is also necessary to have a story team that knows how to maximize entertainment value with whatever property that's being done.
It's also useful to
choose
the right property in the first place.
All this sounds simple, straightforward and easy, but so many production houses have loused the process up over the years, that it's reasonably clear to the reasonably intelligent that, based on history, maybe it's not.
But good luck to Rainmaker anyway. The more successful animation projects that are out there, the more artists there are gaining production experience. And that's a good thing for the long-term health of animation.
The link above will take you to Variety's subscription wall, just so you know.
(Thanks
Animation Guild Blog
)
Family Guy Producer Talks
Forbes rolls out a
lengthy Q & A
with Kara Vallow, the topkick at Fox Animation, the studio housing the McFarlane franchises. Some of the takeaways:
[
Family Guy
] is different than the other shows of its ilk because it is so much a product of one man's vision and voice. Seth [MacFarlane] created the show and he voices it and he's involved in every little part of it. He's constantly pushing himself and the show to not be stale. He's always focused on it being bigger and better and better-looking.
This coming season the episodes are going to be way more expansive and more complicated than they have been in the past.
...
[
FG
] ... costs an incredible amount of money and it takes over a year to churn out an episode, so it's a big leap of faith for these studios on a medium they don't historically understand. But ... if it works, animation is more profitable than any other kind of show. People don't buy
Two and a Half Men
T-shirts and bobble heads the way they buy things for our shows. With our weird little adult animation niche, the sky is the limit with tchotchkes and action figures and ringtones. ...
Which is one of the reasons -- of several -- that studios make animation. (There's also things like shelf-life, saleability overseas, DVD profitability, etc.)
But animated shows aren't always expensive. Fox prime-time animated half-hours have different production costs than, say, lower rent cartoons shown at all hours of the night or day on basic cable.
Simpsons
episodes run in the millions, with high writing and voice-talent costs.
Willy the Wacky Wombat
, pre-produced by a small, non-union Valley studio, animated in Shanghai and shown on basic cable (if it's shown at all), comes in at a few hundred thousand bucks.
(Interesting wrinkle: The salary of the individual artist working on Willy, and the artist drawing Bart? Not that hugely different.)
However, the big reason animation keeps being made is it provides long-term cash flows for your friendly, neighborhood conglomerates. There are hundreds of live-action television shows that were produced in the fifties and sixties; today those shows might earn a trickle of license fees on TV Land. Beyond that they are, as the Germans say,
kaput
. But t.v. cartoons? Like the
Flintstones
? Like
Yogi Bear
? Like
Scooby Doo
? Those fifty-year-old limited animation epics trigger the sale of rubber toys, and games, and t-shirts. They sell lots of little silver disks. They beget sequels and spin-offs.
In short, Fred and Wilma go on forever.
And that's why, friends and neighbors, there are so many cartoons produced, even to this very day.
(Thanks
Animation Guild Blog
)
VIDEO: Behind The Scenes Look at the Animated TV Show AVATAR: The Last Airbender
With M. Night Shyamalan's air bending opus about to unleash into Theaters, I thought it would be appropriate to take a behind the scenes look at the cartoon that caught the minds of millions,
Avatar: The Last Airbender
.
It's nice to put a face with a voice and the below video does just that.
Avatar: The Last Airbender
bends its way into Theaters
July 1, 2010
.
(Thanks
Comic Book Movie
)
End-of-Week Linkorium
Dreamworks story top-kick Walt Dohrn explains his voice characterization of
Shrek
villain Rumplestiltskin:
... [H]is vocal inspirations was the child murderess in the 1956 film
"The Bad Seed"
because
"there was this fake innocence about her but any minute she could turn. We also liked Bette Davis in 'What Ever Happened to Baby Jane' ..."
Actor Russell Crowe
opines
on screen Robin Hoods that predate his new effort:
. Of Errol Flynn, Crowe joked,
"The practicality of going through an English forest, with all its coarse bushes and bramble and all that, in green tights? Not very practical now, is it?"
...
When the interviewer showed Crowe scenes from Disney's 1973 animated film, the A-list actor dubbed it,
"The best Robin Hood so far."
...
Not my favorite version of the Sherwood bandit, but who am I to argue with an Academy Award winner?
The L.A. Times
questions whether
DreamWorks Animation producing a
Dragon
sequel is a smart move:
... There's a reason the last eight Oscar winners for best animated film have been stand-alone movies, and there's a reason Pixar is so selective about what it keeps going and what it lays to rest.
Yes, it keeps playing with a broader, merchandisey property such as
"Toy Story,"
but wisely stays away from over-milking its elegant character films such as
"Wall-E," "Ratatouille"
and
"Up."
A lesser company would make a sequel out of the latter, call it "Down" and have the two main characters explore the ocean floor in a submarine. Pixar, to its great credit, does not.
I'm not as sure of Pixar's motivations as Steven Zeitchik seems to be, but it's good to know there are good pictures to sequelize and bad pictures to sequelize. Makes me tingle.
While we're on the subject of Emeryville,
here's
USA Today's favorite Pixar shorts:
Pixar is well known for their features (of which
The Incredibles
is my personal favorite), but their work in shorts can be just as entertaining. These are some of my favorites of the latter group ...
Story artist Ed Gombert
puts up
some fine Vance Gerry story sketches for a never-produced Disney animated feature. (Anybody guess what the title of the project was?)
Anyone who worked at Disney Feature Animation over the past forty years knew who Vance Gerry was. Very few actually got to see his work before it was shipped off to the archives. ...
The Middle Kingdom
knows
award-calibre animation:
... Pixar's computer-animated film
"Up"
bagged another honor Thursday, picking up the best foreign feature category at the Monkey King Awards, China's top animation award event.
"Up"
defeated
"Madagascar: Escape to Africa"
and productions from nine other countries to earn the award at the event in Hangzhou City, capital of east China's Zhejiang Province ....
(Thanks
Animation Guild Blog
)
Parents beware! Takashi Miike is after your kids!
For some, Takashi Miike is kind of becoming like your favorite local indie band. They had a fresh sound. You saw them play for the first time in an elementary school gym with shitty acoustics and bathroom urinals that only came up to you knees. You would drive for hours to see them play in small town curling rinks. You followed them as they started to get into shows and clubs. Then other people started to take notice and the crowds got bigger, the venues larger and guys with lanyards and VIP passes were ushering them into the dark corners of the clubs and you no longer heard their songs on AM but FM radio. Bastards! They've sold out! They've gone mainstream! They're no longer that little indie band but are now talking to boys wearing makeup on MuchMusic.
Dicks!
The more Takashi Miike enters into mainstream film the more that the fans old lament the old days of Miike, that maverick director who churned out a film every two months, films that pushed the limits like
Audition, Ichi the Killer
and
Gozu
. Once the grand master of V Cinema Miike has been dabbling in the mainstream now with films like
Yatterman
and that doesn't seem to bode well with some longtime Miike fans. Well, get out your sackcloths, rub your hair with ashes and gnash your teeth cause he's doing it again.
This time around Miike with be adapting the anime-from-manga
Nintama Rantaro
...
The anime is based on Soubee Amako's Rakudai Ninja Rantarō ninja gag manga (Asahi Comics) about the adventures of Rantarō and other ninja apprentices at an elite ninjutsu academy. The story is set in Japan during the tumultuous Sengoku Jidai (Era of the Warring States). As first-graders, Rantarō and his ninja-in-training friends are called "Nintama" -- a contraction of the words "ninja" and "tamago" ("egg").
Eight year-old actor
Seishirō Katō
has landed the lead. The little booger has pretty much been acting since leaving his mother's womb.
So yeah. Miike's doing another anime adaption and it would seem he's aiming for an even younger crowd this time. Maybe we should start calling him Ojīchan Miike [Grandpa Miike... I think]? Or, perhaps, he's realized that this current crowd of Miike devotees cannot be corrupted any further and he's going back to nurture a new fan base. Get 'em while they're young. And when they're at their most impressionable stage when life sucks, school sucks, parents suck, job sucks, girlfriend/boyfriend sucks [or doesn't?] then Miike comes in with the southpaw and he goes back to his maverick ways and film titles will once again emerge out of bodily fluids.
All we need is a little patience.
(Thanks
Twitch
)
Teaser and trailer for Czech kids film 'Kuky Returns' blows our minds!
[Updated with a new trailer because more Kuky equals more awesome.]
Wow, oh wow, oh wow, oh wow. I really mean it. Wow! Once and a while you get something in your inbox that once you watch it you are filled with sheer delight and wonder you realize that your inner child is doing cartwheels in your soul! Please, just watch the clips after the break and I hope you share the same enthusiasm we do when we watch them.
Kuky Returns is the story of a boy six Ondra, who suffers from asthma, and so on "health reasons" must be off his favorite toy - a pink bear kuky. When mom Kukyho throw in the trash, it will work Ondrová fantasy in which experienced Kukyho adventure in an unknown natural world. It's really just a dream a little boy or kuky actually went to the biggest adventure of his plush life

Kuky Returns is an adventure and poetic, a family story in which the main role, however, take the heroes of children's fantasy world. "I've wanted to make a film in which I could give small details - insect light in leaves, feathers flying, and even I wonder what is happening on the scene when the actors leave. Variously we smuggled into their films, but it's hard. "Says director Jan Sverak impulses to the recording film, whose main, but not the only heroes are the puppets. "I thought then change the scale and place the story directly into the microcosm, his protagonists make small enough that the roots of the tree decorations, light in the atmosphere made raspberry leaves, fuzz was all the props and extras natural insects," says Jan Sverak, who is also the author scenarios and as with most of his recent films also the producer.
Thanks Mandlebrot
Trailer TwoTeaserTrailer
(Thanks
Twitch
)
Victorian Gov't Promotes 'Homework'
Check out the slick animation, and simple, but sweet design, in this TV and online spot entitled
'Homework,'
directed by Derek Picken via
XYZ Studios
, Melbourne and
againstallodds
, Stolkholm, promoting
Consumer Affairs
advice on building and renovating homes in Australia. The spot was developed at
Grey Melbourne
, who, by the way, have a neat little bit of animation on their websites intro.
If Crocs Really Did This…
…I might actually consider getting a pair. But I just can't seem to believe they wouldn't cause my feet to sweat so badly that I would slip right out of them. Cute spot though, and the Crocs wearing Crocs was a nice touch. Spot was directed by
Rory Kelleher
at
Believe Media
, and produced for
Cramer-Krassel
.
Why For did Disney wind up giving Maleficent the bird
Jim Hill answers even more of your Disney-related questions. This time around, he uses artwork from the Spring 2010 S/R Laboratories catalog to illuminate some of the more interesting aspects of "Sleeping Beauty" 's production history
Trina P. wrote in to say:
Thanks for sharing those pictures from the Tim Burton exhibition at the MoMA. I'm a huge Burton fan and had wanted to get down to NYC while that exhibit was there, but never found the time.

I noticed that you had a lot of pictures from Tim Burton movies that never got made. But what I was wondering is if you had any concept paintings or drawings from movies that Burton hasn't yet made that you could share. I'd especially like to see some images from that "Maleficent" movie he's working on.
Dear Trina,
Sorry. But there were no pre-production images from
"Maleficent"
to be found among the 770+ objects that were on display at NYC's Museum of Modern Art.
Image courtesy of S/R Laboratories. All Rights Reserved
Given that this MoMA exhibit opened back on November 22, 2009 (more than four months before
"Alice in Wonderland"
opened in theaters), the closest that Nancy and I came to being able to peer into Tim Burton's future were those two small drawings of the Mad Hatter and the Red Queen that were on display here. Beyond that … bupkis.
But that said, having just seen some of the hundreds of pre-production sketches that Burton did for
"Batman,"
"Mars Attacks!,"
"Corpse Bride"
and
"Sleepy Hollow,"
I'd have to assume that – if Tim is serious about directing Disney's answer to
"Wicked"
– that he's already doodling away, trying to get a handle on what a live action version of
Maleficent
might look like.
And if that's really the case … I do hope that Burton makes a trip to
Disney's Animation Research Library
and then has them pull some of the paintings & drawings that were done while
"Sleeping Beauty"
was still in development.
Image courtesy of S/R Laboratories. All Rights Reserved
Because – as you tell by the above drawing of the Three Good Fairies (Which was kindly provided by
Ron Stark
of
S/R Laboratories
) – it took the artists who were working on this decade-in-the-making animated feature quite a while to get a handle on what
"Sleeping Beauty"
's characters should actually look like.
And being that this was the first Disney animated feature to be produced in the
Super Technirama 70mm format
… Well, that meant that this fairy tale was being told on a far bigger screen than usual. Which was why Walt agreed to a far-more-elaborate-than-usual approach to
"Sleeping Beauty"
's production design.
Which is where
Eyvind Earle
comes in. This Disney artist was given enormous latitude by Walt himself when it came to designing the high detailed settings for this film as well as the distinctive look of its characters. He even helped choose
"Sleeping Beauty"
's color palette.
Image courtesy of S/R Laboratories. All Rights Reserved
Mind you, Eyvind earned this privilege. Since he first arrived at Disney back in 1951, Earle had done some spectacular work for the Studio. Churning out beautiful & distinctive backgrounds for animated features like
"Peter Pan"
and
"Lady and the Tramp"
…
Image courtesy of S/R Laboratories. All Rights Reserved
… Not to mention the spectacular concept work that Eyvind did for Disney shorts like
"Toot, Whistle, Plunk and Boom"
and
"Grand Canyonscope."
Image courtesy of S/R Laboratories. All Rights Reserved
So while Earle was struggling to find just the right balance when it came to
"Sleeping Beauty"
's story & design needs (i.e. making sure that the film's overly ornate backgrounds didn't distract from and / or swallow up the characters who were supposed to be performing in front of them), he created this series of itty-bitty concept paintings.
Image courtesy of S/R Laboratories. All Rights Reserved
Only 2 ½ by 2 ", these miniature paintings were used to establish the overall look & composition for dozens of scenes in
"Sleeping Beauty."
And when you look at the amount of detail that Eyvind was able to cram into each of these images, they are really models of precision and economy.
Image courtesy of S/R Laboratories. All Rights Reserved
I included this final concept painting by Evyind Earle (which shows Maleficent's pet raven, Diablo, arriving at Briar Rose's cottage) because it reminds me of a great little story associated with this film.
Image courtesy of S/R Laboratories. All Rights Reserved
Marc Davis
(i.e. the
Disney Legend
who'd been assigned to animate
"Sleeping Beauty"
's villain) initially had a really hard time with this character. You see, Maleficent had numerous moments in this film where she would just stand there, talking. Threatening King Stefan, interrogating her goons, taunting Prince Phillip. Animating a sequence like that – where it's only dialogue and very little movement – is not only difficult to do, it also gets really boring after a while.
Image courtesy of S/R Laboratories. All Rights Reserved
So Davis thought -- if Maleficent had a minion, someone that she could talk to, interact with … Well, that might make her scenes in
"Sleeping Beauty"
less of a snooze to watch. More importantly, make them a lot more fun to animate.
So Marc made his pitch to Walt. And Disney agreed that a villain with a sidekick would be a lot more interesting / entertaining to watch. Which is why Disney eventually agreed to give Maleficent the bird.
Image courtesy of S/R Laboratories. All Rights Reserved
FYI: All of the artwork used in today's article came from the Spring 2010 catalog for S/R Laboratories. Which will be holding its biannual animation art auction
May 24 – 25
. For further information on what other pieces will be coming up for bid this time around, please
click on this link
.
And remember, folks – if you'd like me to answer your Disney-related questions in a future "Why For" column – please send them along to whyfor@jimhillmedia.com.
First 'Thor' Picture Debuts! Chris Hemsworth In Costume!
By Odin's bushy beard, this news is so big, it deserves two exclamation points in the headline!!!
Yahoo Movies
has the first image of Chris Hemsworth as Thor from the upcoming live-action movie directed by Kenneth Branagh. While the image is cropped in a unique way, it still gives us a great idea of how Hemsworth will look as Marvel's god of thunder.
There's a larger version of the image over at Yahoo, but what does the image tell us about the character's much-anticipated big-screen debut?
Well, for one, it looks like the costume Thor will be using in the film is based more upon Marvel's mainstream
"Thor"
series rather than the
"Ultimate"
version of Thor. This is especially interesting, given that many of the other Marvel movie characters have used the publisher's
"Ultimate"
universe as source material.
While we don't get to see Thor's magical hammer, Mjolnir, anyone following
recent events in the Marvel movie universe
might have already got a good look at the iconic weapon in one form or another. Combine the two, and it looks like Marvel has tapped a very interesting source for Thor's visual design.
'Batman 3' Gets A 2012 Release Date
Batman fans can start marking their calendars for a return trip to Gotham City, as Warner Bros. will release
"Batman 3"
into theaters on
July 20, 2012
.
Production Weekly
reports on the release date announcement, settling
"Batman 3"
into the same weekend frame that its predecessor inhabited back in 2008. The film will hit theaters two and a half months after Marvel Studios'
"The Avengers"
debuts in May and roughly two weeks after Sony's
"Spider-Man"
reboot launches in early July.
A few months ago, a report emerged suggesting that
David Goyer and Jonah Nolan were in the midst of writing the screenplay for
"Batman 3."
"The Dark Knight"
director Christopher Nolan confirmed the news in an interview suggesting that
his third trip to Gotham City would be his last
.
"I'm very excited about the end of the film, the conclusion, and what we've done with the characters,"
said Nolan.
"My brother has come up with some pretty exciting stuff. Unlike the comics, these things don't go on forever in film and viewing it as a story with an end is useful. Viewing it as an ending, that sets you very much on the right track about the appropriate conclusion and the essence of what tale we're telling."
While there are no current casting and crew announcements on
"Batman 3,"
leading man Christian Bale previously stated that
he's signed on for a third outing
. A rumor emerged earlier this month that
Emily Blunt is interested in playing Catwoman
, though there has been no confirmation of the report thus far.
Scarlett Johansson Says Goodbye To Her 'Iron Man 2' Costume, 'Hopefully See You In 16 Months!'
In order to play Russian superspy Black Widow in
"Iron Man 2,"
actress Scarlett Johansson had to not only get in touch with her character's long history and intimidating set of fighting skills, she also had to, well... get into her
skin-tight costume
.
When MTV News caught up with Johansson during the
"Iron Man 2"
press junket, the actress offered up some choice comments about the process of getting into character — psychologically, physically and visually.
"The last time I had to wear it, I was like, "Good-bye unitard, I will hopefully see you in 16 months,"
she said of her parting words to the Black Widow costume, and her hopes that she'll
suit up again for "The Avengers."
"Yeah, I was happy to not have to put it on again,"
she said.
"It was actually much more comfortable than it looks, and it functioned very well, but who wants to wear the same thing every day?"
As for the stunt choreography required to make her character one of the most formidable new additions to the
"Iron Man"
movie universe, Johansson said it was important to her to be the face of Black Widow in action and at rest.
"I was really looking forward to it, because it was something I had never done before,"
she said of the training.
"It was a bit daunting at first. ... It just seemed like it would be really painful, and it was, but it all paid off in the end."
"Iron Man 2"
hits theaters
May 7
.
New Pics Surface Of Hank Azaria As Gargamel
While my head is still trying to figure out why in the world we need a
Smurfs
movie, Hank Azaria has said,
"The hell with it."
and has dived right into his role as the Smurf hating Gargamel.
"The Smurfs"
were created in 1958 by Belgian cartoonist Pierre Culliford, known throughout the world as Peyo.
"The Smurfs,"
originally called
"Les Schtroumpfs"
in French, were created for a Belgian series of comic books, first as minor characters. The villagers, known for their blue skin and small statures, spawned a line of statuettes, games, toys, theme parks and a hit TV series, which ran as part of NBC's Saturday-morning lineup from 1981-90.
Jonathan Winters, who voiced multiple characters on the long-running Hanna-Barbera cartoon version of
"Smurfs,"
will play Papa Smurf. Katy Perry is in talks to portray Smurfette, Alan Cumming is taking on Gutsy Smurf and George Lopez is onboard as Grouchy Smurf, Hank Azaria is Gargamel.
Neil Patrick Harris will play the lead live-action character.
ComingSoon has three pics of Hank as Gargamel. Click
HERE
to see the other two.
(Thanks
Latino Review
)
Forget Lightcycles, Check Out This Lightcar From Tron: Legacy
Yahoo got their hands on this sweet new image from
Tron: Legacy
showing a Lightcycle going up against a Lightcar.
I have no idea if they're called Lightcars or Lightbuggies or whatever. All I know is this still makes me wish December would get here sooner rather than later.
TRON
is a 3D high-tech adventure set in a digital world that's unlike anything ever captured on the big screen. Sam Flynn (GARRETT HEDLUND), the tech-savvy 27-year-old son of Kevin Flynn (JEFF BRIDGES), looks into his father's disappearance and finds himself pulled into the same world of fierce programs and gladiatorial games where his father has been living for 25 years. Along with Kevin's loyal confidant (OLIVIA WILDE), father and son embark on a life-and-death journey across a visually-stunning cyber universe that has become far more advanced and exceedingly dangerous.
Check out the image below.
(Thanks
Latino Review
)
YouTube turns 5: See 10 of the most-watched sci-fi clips EVER
Do you remember the elephants? If you don't, then you weren't there that day five years ago last week, when Yakov Lapitsky uploaded
the first clip
to a video-sharing website—19 seconds of the elephant cage at the San Diego Zoo—and YouTube was born.
It wasn't the most thrilling clip in the world. But luckily, YouTube has gotten a lot more exciting since then.
It's also gotten a lot more sci-fi.
Here's a sampling of the most watched and most memorable sci-fi and fantasy clips. (The
Harry Potter
puppet show below got nearly 80 million views alone.)
Note that we've deliberately left out the highly watched Hollywood movie trailers, which to our minds would go against the spirit of the list. And since we don't have the several centuries it would take to watch every YouTube video, we're sure we've overlooked many more that are worth remembering. But that doesn't make these 10 any less awesome.
Potter Puppet Pals: 79,622,121 views
Who knew that so many of you would want to find out the reason for the mysterious ticking noise?
Lego Star Wars: 19,126,955 views
Maybe the cutest—and most musical—use of Darth Vader's lightsaber ever.
Star Wars Kid: 16,525,355 views
A high-school kid becomes one of the first viral Internet memes.
Star Wars according to a 3-year-old: 14,630,496 views
"Don't talk back to Darth Vader, he'll get ya!" Thanks for the warning, kid!
'Star Wars (John Williams Is The Man)' medley: 8,604,984 views
An a cappella musical tribute to an Oscar-winning composer.
Ataque de Pánico! (Panic Attack!): 5,846,794 views
The $300 YouTube video that resulted in a $30 million contract to make a Hollywood film.
Star Trek vs. Star Wars: 4,964,084 views
What would happen if the Enterprise encountered the Death Star? Nearly 5 million of you just had to know.
Tokyo Dance Trooper in Shibuya: 3,158,735 views
Danny Choo, in full stormtrooper garb, shows off his moves as he spreads the Star Wars love in Japan.
Fan-Made Green Lantern Trailer: 2,231,924 views
Nathan Fillion didn't get cast as Green Lantern the way the makers of this video hoped ... but we can still dream, can't we?
William Shatner sings "Rocket Man": 1,688,699 views
As performed by Shatner, the Elton John song became an often-spoofed, but never equaled, camp classic.