Iron Man 2 Primed for Huge Bow
It's a good weekend to be Tony Stark.
Marvel Studio's sequel
Iron Man 2
enters the weekend with a number of already-impressive numbers on its tally: Not only is it the widest opening movie ever in terms of number of theaters, it's also already tallied $121 million in a week of playing in overseas markets.
Box office watchers are taking bets on whether the film will top the record weekend domestic opening of
The Dark Knight
, which in 2008 took in $158 million its first three days of release.
Iron Man 2
, which opens in an estimated 4,380 theaters, faces as its sole significant new competition this week the documentary Babies, opening at 534 theaters.
Iron Man 2
is directed by Jon Favreau and stars Robert Downey Jr. as Tony Stark, Mickey Rourke as Whiplash, Don Cheadle as Rhodey, Scarlett Johansson as the Black Widow and Gwyneth Paltrow as Pepper Potts.
Adapted from the Marvel Comics character created in 1963 by Stan Lee, Jack Kirby, Don Heck and Larry Lieber, the sequel has drawn mixed reviews from critics. Ain't It Cool News' head geek Harry Knowles hailed the film as
"comic movie crack,"
while Kenneth Turan of the Los Angeles Times writes that
"as sequels go, this one is acceptable, nothing more, nothing less."
(Thanks
Animation Magazine
)
Comedy Central Sets Futurama Date, Development Slate
An animated version of Jesus, spoofs on superheroes and prison life, and the return of old favorite Futurama are part of Comedy Central's just announced development slate.
Announced by Kent Alterman, the network's head of original programming and production, new episodes of
Futurama
are set to begin airing on June 24. Created by Matt Groening and David X. Cohen, the former Fox series gets a new lease on life with 12 new episodes featuring the original voice cast and animation from Rough Draft Studios.
The network also announced several other animated series in the script/paper development stage. The network described in a release those series as follows:
• JC:
A half-hour animated show about JC (Jesus Christ) wanting to escape his father's enormous shadow and live life in NYC as a regular guy. A lot has changed in 2000 years and he is the ultimate fish out of water. Meanwhile his all-powerful yet apathetic father would rather be playing video games than listening to JC recount his life in the city.
JC
is a playful take on religion and society with a sprinkle of dumb. Executive produced by Reveille (The Office), Henrik Basin, Brian Boyle (
American Dad
), Jonathan Sjoberg and Andreas Ohman.
• Joe Squad:
In the vein of classic Saturday morning superhero cartoons like
G.I. Joe
and
Jonny Quest
, the Joe Squad is the most elite fighting squad hell-bent on saving the world. Led by sex-obsessed Captain Falcon, the team consists of Auburn, the stunning, red-headed sexy-librarian-type; Berserker, the heavyset mustached goof; Big Jersey, the chiseled overly-tanned douchebag; Butchley, the freakishly Schwarzeneggerian female; Brick House, the insanely jacked African-American Muslim; Dutch, the clean-cut All-American good guy; and Lone Wolf, the masked and mysterious mute ninja. When these guys are not trying to save the world, they're getting in each other's way and on each other's nerves. Fortunately for Joe Squad, their nemesis Master Snake and his team of Rattlers are just as inept. This animated action-comedy comes from writer Blake McCormick (
King of the Hill
) and executive producer Marty Adelstein (
Made of Honor
).
• Supermax
:
Supermax
is an animated series where the well-known inmates (Robert Hanssen, Sammy "The Bull" Gravano, Ted Kaczinski, Omar Abdel-Rahman, Richard Reid, John Walker-Lindh) of a real super maximum security prison in Colorado learn to live and love. From Emmy Award-winning comedy writer Lew Morton (
Undeclared, Newsradio, Futurama
), comedy gets a life sentence in this "arresting" show, where the only crime is not to laugh.
• The Fuzz
: A police procedural cop series set in a corrupt city where humans and puppets co-exist. Viewers follow Herbie, the police force's first puppet detective, valiantly trying to improve his detective skills without becoming disillusioned and hardened, and his human man-child partner Sanchez as they unravel high-profile cases that touch upon such hot-button issues as jellybean smuggling, the anti-human movement, and puppet sex-crimes. Dead bodies, compromised forensics and shoot-outs are par for the course in the visually exciting, seam-splittingly hilarious and gritty puppet world of
The Fuzz
. Created and written by Waverly Films (Chris Ford, Duncan Skiles and Jon Watts) and executive produced by Dave Becky, Tom Lassally, Greg Walter and 3Arts Entertainment, the series has also been greenlit for five Webisodes to air on Comedy Central's sister network, Atom.com, later this year.
(Thanks
Animation Magazine
)
New Ice Age, X-Men, Twilight Pics Get Relea
se Dates
The critters of
Ice Age
are coming back for a fourth big-screen outing.
20th Century Fox has announced it will release
Ice Age: Continental Drift
in theaters on July 13, 2012. The film will be released in stereoscopic 3-D, making it the second film in the series after
Ice Age: Dawn of the Dinosaurs
to be released in that format.
Ice Age: Dawn of the Dinosaurs
was a huge hit last year for the studio, grossing $884 million worldwide.
And that's not the only film that got a release date.
Fox also set a release date of June 3, 2011 for
X-Men: First Class
, which will now be directed by
Kick-Ass
helmer Matthew Vaughn. The film will go back to the early days of the X-Men and focus on younger versions of such characters as Cyclops, Jean Grey and Beast. Vaughn previously was set to direct
X-Men: The Last Stand
before scheduling issues prompted him to pull out of the project.
Also, Paramount set the release date for
Mission: Impossible IV
, starring Tom Cruise, as
Dec. 16, 2011
.
And
The Twilight Saga: Breaking Dawn
will debut on
Nov. 18, 2011
. It's not yet clear if the adaptation of the final book in the series will consist of one film or two.
(Thanks
Animation Magazine
)
Eight Animated Films Vie for Student Academy Awards
Eight animated films are among the 31 finalists for the 2010 Student Academy Awards.
The winners will be determined by a vote of Academy members who view the films at special screenings. Gold, silver and bronze level awards will be presented in each of four categories, with winners receiving cash prizes of $5,000, $3,000 and $2,000 respectively.
Winners also will be brought to Los Angeles for a week of industry-related events that will culminate in an awards ceremony set for June 12 at the Academy's Samuel Goldwyn Theater in Beverly Hills.
The finalists are:
Animation
•
Deadline
, Bang Lao Yir, Savannah College of Art and Design, Georgia
•
Departure of Love
, Jennifer Bors, Ringling College of Art and Design, Florida
•
Down to the Bone
, Peter Ahern, Pratt Institute, New York
•
Dried Up
, Isaiah Powers and Jeremy Casper, Kansas City Art Institute, Missouri
•
Lifeline
, Andres Salaff, California Institute of the Arts
•
Mashed
, Adam Fisher, Rochester Institute of Technology, New York
•
Piece of Cake
, Eliza Ivanova, California Institute of the Arts
•
The Wonder Hospita
l, Beomsik Shimbe Shim, California Institute of the Arts
Alternative
•
Balance
, Debra Sea, University of North Carolina-Greensboro
•
Multiply
, Emily Henricks, University of Southern California
•
My Mother's Prelude
, Imran Shafi, University of Southern California
•
Surface: Film from Below
, Varathit Uthaisri, Parsons The New School for Design, New York
•
Water, Moon, Mirror, Flower
, Tianran Duan, University of Southern California
Documentary
•
A'Plas
, Diego Colombi, Savannah College of Art and Design
•
Arresting Ana
, Lucie Schwartz, University of California, Berkeley
•
Dreams Awake
(Suea Despierto), Kevin Gordon and Rebekah Meredith, Stanford University, California
•
Ecoviews: Three Stories from Chesapeake Bay
, Ted Roach and J.P. Eason, American University, Washington, D.C.
•
My Name is Sydney
, Melanie Vi Levy, Stanford University
•
Prayers for Peace
, Dustin Grella, School of Visual Arts, New York
•
Rediscovering Pape
, Maria Royo, City College of New York
•
When I'm 64,
Caitlin Brown, New York University
• '
Yizkor' Remembrance
, Ruth Fertig, University of Texas at Austin
Narrative
•
The Cemetery Club
, Yitz Brilliant and Geoffrey Booth, Columbia University, New York
•
Day Labor
, Lowell Frank, San Diego State University, California
•
Down in Number 5
, Kim Spurlock, New York University
•
Equestrian Sexual Response
, Zeke Hawkins, American Film Institute, California
• God of Love, Luke Matheny, New York University
•
Inspector 42
, Nathan Lee and Lyvia Martinez, Brigham Young University
•
The Last Bogatyr
, Sarah R. Lotfi and Kevin Beechwood, University of Colorado at Colorado Springs
•
The Lunch Box
, Lubomir Kocka, Savannah College of Art and Design
•
Patrol
, John Ford, American Film Institute
The Academy established the Student Academy Awards in 1972 to support and encourage excellence in filmmaking at the collegiate level.
The 37th Annual Student Academy Awards ceremony on June 12 is free and open to the public, but advance tickets are required. Tickets may be obtained online at
www.oscars.org
, in person at the academy box office or by mail. For more information, call (310) 247-3600.
(Thanks
Animation Magazine
)
4Kids Latches on to BRB's Suckers Series
4Kids Entertainment is the new licensing agent in North America, the United Kingdom and Ireland for
Suckers
, a new animated series from BRB Internacional.
The series consists of 104 two-minute episodes depicting the world as seen by toys attached to the rear windows of cars by suction cups. The comedy series, which is aimed at children ages 6-12 and has no dialoge, won the Kids Jury Award at MIP Junior in 2009.
Suckers
has been airing on Disney XD in the United States since last February and in Spain starting in April, with the rest of the EMEA region to follow.
"The show is very unusual, great fun and presents a significant opportunity in licensing terms,"
said Sandra Vauthier-Cellier, managing director of 4Kids Entertainment International.
4Kids Entertainment will be showing
Suckers
in booth 5649 at the Licensing International Expo, set for
June 8-10
in Las Vegas.
(Thanks
Animation Magazine
)
Flickerlab Animates on the Back of 3000 Napkins
Napkin scribbles are typically considered a hasty effort, but in
Flickerlab's
new spot for BNY Mellon, you can see real artistic craftsmanship. The spot, titled
Innovation Driven
, was Co-Directed by Harold Moss and Lineboil contributor Dan Forgione, and it was produced traditionally using actual napkins – 3000 of them. More details over on
Forgione's blog
.
Israel's 4000 Year History Animated in 4 Minutes
I'm not a big fan of religions, but this short below caught my attention. The Tel Aviv-based company
Keta Keta
produced this short, titled
Israel's History
– 4000 years in 4 minutes, which does what it says. Of course, all history is open to interpretation, but this did help me sort out how this big mideast mess got started.
May Studio Rounds
Recently, I've gotten inquiries along the lines of "Hey, Why don't you give us more
studio
reports? What's happened to
those
?"
Good question.
And here's the answer. There's not much that goes on that's very different from week to week. (I can't really keep typing: "Went through Disney/DreamWorks/Warner Bros. Animation today. Again. Lots of people in cubicles and offices, working at desks." That would get kind of boring, yes?)
So let me be semi-boring ...
Tuesday I was at the Walt Disney Animation Studio, and the two productions going full bore (
Tangled, Winnie the Pooh
) are still going along. (You're shocked, I know, but they do have release dates to meet.) As to future projects, one of the animators said:
"Ron and John have pitched John Lasseter one feature idea, and they've got another pitch coming up. I don't know if it's a completely different idea or the first idea with changes. There's some overtime going on with
Tangled
, but I don't think there's tons of people working Saturdays and Sundays yet ..."
Today at Starz Media, a lot of
Simpsons
cubicles and offices were empty due to the hiatuses (hiati?) of a lot of timers, designers and layout artists. One designer still there informed me,
"I was off for three weeks, but a lot of other artists have four, five and eight weeks off."
I can't remember seeing so many Yellow Family work spaces so empty, but other parts of the studio are filling up, with the
Marvel/Disney
animated shows humming, a new show on the second floor ramping up and a couple of new productions soon to come onto the third floor.
Meanwhile, remodeling of the Hasbro part of the building goes on. How close are they to finishing? I've no idea. Some smart monkey said to me a couple months ago that the company was moving personnel in at the start of April, and we know how that worked out. Here we are in May already, and not a soul in sight.
When it finally happens, I'll let you know. (Like I said, a semi-boring report. What you going to do?)
(Thanks
Animation Guild Blog
)
RumpelDeals revealed, Pied Piper posted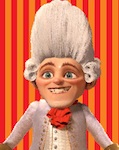 DreamWorks has two new videos and a website out to promote the upcoming
Shrek Forever After
. First up is an viral-type infomercial posted at
Trailer Addicts
starring Rumpelstiltskin. In it the dwarf hawks his new website,
RumpelDeals.com
. Next up,
ComingSoon.net
has a video that introduces us to the Pied Piper who, in the
Shrek
world, turns out to be a bounty hunter.
Ice Age 4 coming in 2012
Variety
, in a laconic story, reports that
Ice Age 4
is in the works at Fox. Tentatively titled
Ice Age: Continental Drift
, it is scheduled for
July 13, 2012
.
Pop by Bernard Derriman
A short celebrating 50 years of the
Annecy International Animated Film Festival
, directed and animated by
Bernard Derriman
.
(Thanks, Steve Plunkett)
(Thanks
Cartoon Brew
)
Love & Theft by Andreas Hykade
It's fun to see a talented filmmaker like
Andreas Hykade
(
Ring of Fire, Runt
) explore a different direction in his work. The cleverness of Love & Theft's morphing animation loops grasped my attention, and as a bonus, the psychedelic imagery is filled with animation references, not only to cartoon characters but also to filmmakers (see if you can identify Bill Plympton and Ryan Larkin).
(Thanks, Charlie)
(Thanks
Cartoon Brew
)
Urban Stencil
ADA SPORT (ADA standing for
Animation Dance Association
) is a web competition where animation teams create quick short films which compete against each other for an ADA "Championship Title". Here's one of the better entries, a nice bit of guerilla filmmaking by
Christi Bertelsen
.
(Thanks
Cartoon Brew
)
Despicable Me to Close Los Angeles Film Festival
The Los Angeles Film Festival, which this year is moving to the downtown region, will go out on an animated note.
The festival has announced the Universal animated film
Despicable Me
will be the closing night film of the festival on
June 27
.
That will be the world premiere for the stereoscopic 3-D film, which is directed by Chris Renaud and Pierre Coffin and features the voices of Steve Carell, Jason Segel, Russel Brand, Kristen Wiig, Will Arnett and Julie Andrews. The film is slated to open nationwide on
July 9
.
The fest also will host the world premiere of
The Twilight Saga: Eclipse
on
June 24
. The festival opens June 17 with a screening of
The Kids Are Alright
.
The festival is making the move downtown to make its base at the new Regal 14 Showcase Cinemas at the L.A. Live district. Films also will be screened at the Downtown Independent theater, the CalArts/REDCAT theater and the historic Orpheum Theater on Broadway.
(Thanks
Animation Magazine
)
Metropia, Mr. Fox and One Piece to Screen at Annecy
The event organizers of the Annecy International Festival of Animation have unveiled the feature film line-up for this year's 50th Anniversary edition (
June 7-12
).
The six animated movies slated to screen at the French fest are Wes Anderson's
Fantastic Mr. Fox
, Jean-Christophe Roger's
Allez Raconte!
Dominique Monfery's
Eleanor's Secret (Kerity, la maison des contes)
, Tarik Saleh's Metropia, Munehisa Sakai's
One Piece Film: Strong World
, Liu Jian's
Piercing 1
and Mamoru Hosada's
Summer Wars
.
To learn more about the star-studded 50th anniversary lineup, visit
www.annecy.org
(Thanks
Animation Magazine
)
Deal Propels Dark Crystal Sequel Forward
The 1982 classic Jim Henson film
The Dark Crystal
is getting a sequel.
The film,
Power of the Dark Crystal
, will be a stereoscopic 3-D film made by Australia-based Omnilab Media in partnership with The Jim Henson Co.
Brothers Peter and Michael Spierig will direct the sequel. Craig Pearce wrote the screenplay, based on a script by Annette Duffy and David Odell.
Henson Co's Brian Henson, Lisa Henson and Jason Lust; Omnilab Media's Christopher Mapp, Matthew Street and David Whealy; and CineMarket Film's Peter D. Graves are signed on as executive producers.
Brian Froud, who worked on the original film, will reprise his role as conceptual designer for the movie, which will mix live-action footage with puppetry and visual effects.
Set centuries after the first movie, the sequel follows a girl made of fire who teams up with a Gelfling to steal a sliver of the crystal to save the planet.
Jim Henson wrote the story for and co-directed the original film with frequent Muppets collaborator Frank Oz.
(Thanks
Animation Magazine
)
13th Season Release Restores Simpsons' Natural Order
Fox has announced it's getting its release schedule for
The Simpsons
on DVD and Blu-ray back in order.
The studio has announced that
The Simpsons: The 13th Season
will be released in both formats on
Aug. 24
.
The first 12 seasons of the iconic series were released in order on DVD, until earlier this year when they skipped ahead to a DVD and Blu-ray release of the 20th season.
The 13th season set will include 22 episodes, all with commentary tracks, on four DVDs for $49.98 or on three Blu-ray discs for $59.99.
Season 13 aired in 2001-2002 and includes guest voices from the likes of R.E.M., Julia Louis-Dreyfus, Stan Lee, George Takei, Richard Gere, Paul Newman and Reese Witherspoon.
(Thanks
Animation Magazine
)
4Kids Signs U.K., Spain Deals for Dinosaur King
4Kids Entertainment has completed broadcast deals in the United Kingdom and Spain for its animated series
Dinosaur King
.
The deals see GMTV in the United Kingdom add the second season of the show to its current slate, while Turner in Spain has signed on for seasons one and two.
The addition of Spain completes the list of major European free and pay TV networks now airing
Dinosaur King
and brings the total number of markets licensed to over 90 countries.
Dinosaur King
airs in the United States on The CW4Kids block, and also airs in France, Australia, Brazil, Canada, Ireland, Lithuania, Italy, Germany, Mexico, Finland, and other nations.
(Thanks
Animation Magazine
)
Chicago's Lift Motion Merges with Vitamin
Chicago animation and motion graphics producer Lift Motion has merged with the digital production studio Vitamin.
The combined company will operate under the Vitamin name and will be headed up by Vitamin creative director Danny DelPurgatorio. The company will offer concept-through-delivery services for commercials, broadcast promos and graphics, online content and music videos.
Both companies are affiliates of the post production company Filmworkers.
According to DelPurgatorio, synergies between the two companies' talent and resources made a compelling case for a merger.
"It gives us a tighter structure and a more streamlined workflow, and allows clients to get everything they need in one place. But we're still the same company; our aesthetic hasn't changed,"
he says. "This just opens the doors to bigger and better things."
As part of the merger, Filmworkers producer Larissa Shames has joined Vitamin. The company also has added Ilene Silberman as its East Coast representation.
Vitamin has recently worked on commercials for Jeep, McDonald's, Steelcase and Budweiser, as well as music videos for Alex Metric and Maroon 5. Lift's recent credits include work for ABC, CBS, FOX, SPEED, Leo Burnett, DDB and Energy BBDO.
(Thanks
Animation Magazine
)
'Iron Man 2' Breaks 'The Dark Knight' Record
FROM MTV MOVIES:
Say what you will about his dubious personal ethics and his abundant supply of arrogance, but it's impossible to deny that Tony Stark knows how to attract an audience — just check his international records for proof.
Now, as
"Iron Man 2"
prepares to fly into theaters all across the United States this weekend, the superhero is poised to draw a crowd the likes of which Hollywood has never seen before.
With a few short hours to go before its U.S. release, the Marvel Studios superhero sequel is already carving out a spot in the domestic box office's history books — according to Deadline Hollywood,
"Iron Man 2"
will have the widest initial release in Hollywood history, with a walloping 4,380 venues to its name, courtesy of distributor Paramount Pictures. The previous record holder was Warner Bros.'
"The Dark Knight,"
which boasted 4,366 locations in 2008.
Continue reading 'Iron Man 2' Gets Widest Release In Hollywood History at Movies.MTV.com.'The Last Airbender' Gets More Images, New Website

With M. Night Shyamalan's
"The Last Airbender"
hitting theaters in July, the studio has released three new images from the live-action adaptation of the hit animated series, as well as a brand new website.
The trio of images includes two new posters featuring Aang (Noah Ringer) and Prince Zuko (Dev Patel), as well as a standalone image from the film featuring a beat-up Zuko squaring off against an unknown foe. The studio also unveiled a fresh new
website
for
"The Last Airbender"
that contains all sorts of fun stuff for fans.
Along with the expected array of images, desktop and Twitter themes, and various other social media swag, the website also features a
"Discover Your Element"
feature that assigns you one of the four elements manipulated in the film: fire, air, earth and water. (In case you're wondering, I'm part of the Fire Nation.) Read more...
Check out the images below:
Jon Favreau Explains Why 'Iron Man 2' Is Better Than 'Iron Man'
With the release of
"Iron Man 2"
only days away, early reviews of the film have already started to hit the 'Net.
However,
"Iron Man 2"
director Jon Favreau is not only confident that fans will respond positively to the sequel — early box office projections have it within range of breaking the opening weekend record held by "The Dark Knight" — he also believes that his latest
"Iron Man"
film is even better than the original.
"I do prefer this one to the first 'Iron Man,'"
Favreau revealed to MTV News.
"But I think it's because I just worked on this one. That's the nature of being a filmmaker. They're each your baby.""I feel very proud of what we were able to do,"
he continued.
"I like how we addressed the challenge of a successful first film. I like the way we added new characters and cast members. And I like the way that even though we have a lot of new characters, the storylines slowly weave into each other. By the end of the film, you have two storylines and then you have one big storyline. So it all ends that way."
Favreau also expressed his approval about the way that
"Iron Man 2"
sets the table for the next few movies from Marvel Studios.
"I like the way ['Iron Man 2'] sets up what could happen later with 'The Avengers' and 'Thor' and all of that stuff,"
said Favreau.
"I think it balanced out all of what needed to happen and there's a sense of fun. It's exciting [and] much more ambitious as far as the action and the visual effects.""I have to say, I'm very happy it's done,"
added Favreau.
"I want to leave it alone and I think it's the best version of the film that we could have had."
Which Parts Of Mickey Rourke's 'Iron Man 2' Character Did He Add? (Hint: More Than Just The Bird!)
So at this point in the
"Iron Man 2"
promotional push, we've seen
Iron Man's new armor
,
Black Widow's catsuit
, and
War Machine's guns
. We've also seen
Whiplash's whips, workshop and pet bird
, and...
Wait, hold on...
His pet bird
?
With the
bird seen in several "Iron Man 2" images
alongside Mickey Rourke's villainous character has become somewhat of a conversation topic among fans, MTV News made sure to ask the actor about it during the recent
"Iron Man 2"
press junket. According to the actor, the bird wasn't the only aspect of his character he came up with and pushed for in the film.
"I bounced these ideas off [Jon] Favreau. He had to fight for me to be okay with the teeth and tattoos and the bird,"
said Rourke.
"Everything was a little bit of a fight, but once I justified it, Favreau had to go to the powers that be."
Fortunately, Rourke said he found much support for his character tweaks among the film's creative team.
"The Marvel people, who could have easily said no, they said yes — because they trusted Jon, and Jon trusted me,"
he said.
"Robert [Downey Jr.] was very supportive with the choices I made, because he didn't want me to f--- up his movie,"
he added.
And it was this willingness to let him make the character his own that encouraged him to give the project his all and make Whiplash a memorable character.
"Because they were so positive and brave in letting me make the choices, I felt a due diligence to break my ass and work as hard as I could,"
he said.
Michel Gondry Explains 'Kato-Vision' In 'Green Hornet'
Last month, word broke that director Michel Gondry's adaptation of
"The Green Hornet"
— starring Seth Rogen in the title role and and Jay Chou as Kato —
was being pushed back to January
in order for the film to be converted into 3-D.
Prior to that,
"Green Hornet"
producer Neal Moritz endorsed the idea of making the 3-D conversion for this film,
in part for something he described as "Kato-Vision,"
which he described as "amazing."
During an interview with
Collider
, Gondry defined
"Kato-Vision" as "How [Kato] envisions the fight before he does it.""Usually he spots out elements or details that he's going to use to his advantage,"
explained Gondry.
"So, it's like a video game, but you go inside his eye. And especially with 3-D, it's going to be very effective because you're going to see all of the layers of the eye.""[Kato] knows he's going to grab a guy by his hair and this guy by the neck [or] he's going to [take] this bottle and smash it on this guy,"
he continued.
"So, that's what he does and then he executes his plan."
Gondry also elaborated on the film's conversion to 3-D and reiterated that it was under consideration well before the final decision was made.
"We always wanted to do ['The Green Hornet'] in 3-D,"
said Gondry.
"In the early '70s, my grandfather was the President of the Stereo Club and so I grew up with 3-D, with Viewmaster and maybe five techniques to do 3-D with only one camera. There's tons of ways to do it, [but] there is some limitation. The way it was shot, we use lots of different [visual] fields. This is a way to shoot movies that transfers well into 3-D.""I'm not relying too heavily on the editing,"
added Gondry.
"We're doing the [3-D] tests now. I've seen different movies where the 3-D was more or less successful and I think we have a good team. It's going to be good."
"The Green Hornet"
will leap into theaters on
January 14, 2011
.
Why Predators is the sequel we've been dying for
Deep in the jungles of Austin, Texas, the Predators are readying for the hunt. Yes, I said Texas. When

Predators

hits screens this summer, few audience members will ever guess that the bulk of the film was shot in Texas, and during winter to boot.

If producer Robert Rodriguez and company have done their job properly, the prequel film—shot just outside Austin at Troublemaker Studios—will feature a homegrown jungle largely indistinguishable from the locales of the original classic 1987 Arnold Schwarzenegger movie

Predator

, which shot in Puerto Vallarta, Mexico.

Predators picks up where the original movie left off, as if Predators 2 and the Alien vs. Predator films never happened. Although the project is very close to Rodriguez's heart, he is serving in more of an overseer role as producer. He hands off the directorial reins to Nimrod Antal, a strong vote of confidence for the young director, especially considering the scope of

Predators

, the largest undertaking yet for Troublemaker.

(

Spoilers ahead!

Click on the thumbnail images for larger versions.)

The setting is a game-hunting planet where Predators sharpen their skills as the top of the galaxy's food chain. Eight of the best human killers have been gathered for the hunt and set loose in a low-odds game of survival.

Trailer

Leading the pack is Adrien Brody as a mercenary named Royce. Topher Grace joins as Edwin, a disgraced physician with a secret; Walton Goggins is Stands, a serial killer on death row; Danny Trejo is Cuchillo, a Mexican drug cartel enforcer; Oleg Taktarov is Nikolai, a former Russian commando; Mahershalalhashbaz Ali is Mombasa, a death-squad officer from Sierra Leone; Louis Ozawa Changchien is Hanzo, a Yakuza hit man; and Alice Braga is Isabelle, a black-ops sniper. Laurence Fishburne plays the mysterious Noland, a Yoda-like a soothsayer who has managed to stay alive on the hunting planet for years.

SCI FI Wire was invited to tour the production in late December 2009. When we arrive, we are led into the makeshift jungle that will see the bulk of the film's carnage. Skulls have been piled in pyramid formations, and human skin is stretched across trees like laundry. A Predator skull sits atop a large metal barred cage. Splattered blood and discarded body parts complete the decor.

The project is a longtime dream come true for Rodriguez, who first wrote a draft of the project 15 years ago.

"I wanted it to kind of emulate the first movie and go back to a jungle setting, so I put it on a different planet,"

Rodriguez tells a group of reporters.

"The title Predators is supposed to have a double meaning. Are they the predators, or are the creatures the predators?"
The producer admits he kind of burned himself by setting the bar so high on his original script.
"I was hired only as a writer back then,"
Rodriguez said with a laugh.
"It had [Schwarzenegger's character] Dutch still in it. Knowing I wouldn't have to direct it, I wrote all kinds of stuff in there that was impossible to do. It was 1994. It was like, 'Hey, good luck figuring this out.' Late last year, Fox came back and said, 'We wanted to reboot the franchise, and we looked up your old script and we thought, 'This is great.' So suddenly that became my problem."
Though scheduling conflicts ultimately forced Rodriguez to hand off the directorial duties, he found a kindred spirit in Antal, a fellow Predator fanatic.
"We just met him, and he's a great guy and you could feel that he could be really great with cast and crew,"
says Rodriguez.
Greg Nicotero stops by with suit actor Kerry Jones, who joins us in full costume. Even on the set, there's something more than a little unsettling about standing in front of a giant Predator armed with only a digital recorder. Jones is one of the Super Predators, part of the elite best-of-the-best hunting group.
The sleek, quick and intimidating Black Predator is the leader of the Super Predators, also known as "Bezerkers" on set. There's also the Falconer, who can launch a Falcon from his helmet to hunt from the sky. Finally, we have the Dog Handler, who tracks with the help of a doglike creature (imagine a Rottweiler on steroids). The classic Predator will also appear in the film with a few subtle modifications. Fans should be relieved to learn that the bulk of the Predator appearances will be actors in suits rather than CGI.
Beyond the big effects and elaborate sets, Antal has the added challenge of balancing a large ensemble cast that even boasts an Academy Award winner,
The Pianist
's Brody.
"We tried to go against the grain,"
Antal says.
"We are not trying to remake or copy the original film. We are trying to further that world. I told everybody early on that I can make anybody look tough. What I can't do is teach them how to act."
Though few would dispute the acting chops of Brody and Grace, they bear little resemblance to the WWE-like ensemble of the original.
"If you open up the newspaper and you see any of the myriad images of G.I.s today, they're more my build than anything,"
says Brody with a smile, convincing in his dirt-covered military apparel.
"The important thing for me is to put on a little size and to feel strong enough to handle myself.""I've been singing this song from Schoolhouse Rock, 'One of these things is not like the other,'"
says a playful Topher Grace.
"Edwin is very different than everyone else in it. You're supposed to wonder why he was chosen when all these other similar types were selected. My character operates on a number of different levels."
When asked about Brody's characteristic thin build, Antal chuckles and cocks an eyebrow.
"Ask him to take his shirt off. He'll blow you guys away!"
While he didn't exactly disrobe, Brody does say with a laugh that he's got
"At least a six-pack. Hey, if I can't come with that physicality [I wouldn't be doing my job]. I have a bit of a responsibility to do that."
Goggins, who plays a convicted serial killer, says the casting of Brody as a badass is perfect for today's audience.
"I think that where we've come as a culture, we want to see ourselves reflected in our heroes. Unfortunately, most of us don't look like Arnold Schwarzenegger. We look somewhere between Adrien Brody and John Goodman, you know?"
Trejo adds,
"I know Arnold was great with his muscles, but Adrien just blows him out of the water with his mind. I watched him act, and just even when he's acting you can almost hear his brain, just doing what he's supposed to be doing. He's a fabulous actor."
It's a nice change of pace for Brody, from playing the piano in
The Pianist
to going head-to-head with hulking stuntmen in full Predator regalia.
"It's very exciting,"
he says.
"I mean, it's pretty bitchin'. I was sitting with this Predator on a totem pole, and we're in this kind of horrific environment, the camp that we're shooting in. Once it's done up and things are burning and carcasses are hanging, it is hell. It is hell. I looked around, and I was like, 'Wow, this is hell. This is what hell would look like.' And I'm interacting with the Predator. It was a dreamlike moment, because it was so surreal that I was in this situation with something that I grew up with [in the movies], you know? It had such a significance."
So what's the difference between a Super Predator and the classic Predator? Nicotero can answer that:
"There is a different design for the face and the bodies with the classic Predator. The armor is blocky, and we matched a lot of stuff. The actor who is playing that is Derek Mears [Jason Voorhees in last year's Friday the 13th]. He is about 6 foot 3, he has done a lot of super work, and we have worked with him quite a bit. With the Super Predators, we are using actors that are 6 foot 8. They are a lot taller and a lot leaner. Nimrod, when we first started the project, used a really great analogy: He said the classic Predator is a cassette tape and the new Predators are the iPod version. So that triggered a lot of visual things in my head, in terms of making them taller, making them sleek and keeping the armor really close to the body. So that they are not bulky, because we wanted to get the idea that they are fast, and that they're elegant and that they are efficient."
Nicotero added:
"Even in terms of stuff like the dreadlocks, the classic Predator [has] that kind of Rasta look, but we swept all the dreadlocks back. We made the face a lot longer. We just wanted everything about him to look more elegant, like a black widow. We wanted it to be deadly-looking."
When
Predators
hits screens this July, Rodriguez and Antal hope to recapture the fun and intense action of the original while washing away the bad taste left by the arguably subpar sequels and spinoffs that have come since. This is
Predators
by fans, for fans.
"Everybody knows what this movie should be,"
Rodriguez tells press.
"It should top all those other ones that we had before it and feel fresh, feel new for a new generation, because the character is totally classic. It's really coming out terrific."
Predators
opens in theaters nationwide on
July 9
.
(Staci Layne Wilson contributed to this report.)
(Thanks
SciFi Wire
)