Napoleon Dynamite cartoon series in development
Fox is currently working on developing an animated TV series based on the movie
Napoleon Dynamite
,
ComingSoon.net
is reporting. The 2004 cult favorite was a moderate box office hit, grossing $44 million against a production budget of only $400,000. Jon Heder is expected to return to voice the title character, and other members of the cast are in talks to reprise their roles as well.
20,000 Leagues to surface…twice?
The ongoing drama behind Disney's remake of its landmark 1954 feature
20,000 Leagues Under The Sea
has taken another turn towards surfacing on screen after all. The project recently took a dive when incoming Disney Studio chief Richard Ross torpedoed Dick Cook's proposal for a McG-directed blockbuster, but now it is reported that
David Fincher
has come aboard to steer a new version. And no sooner had that been announced than 20th Century Fox stated it was developing
its own take
on the public-domain Jules Verne novel with the Scott Brothers, Tony and Ridley, producing and Timur Bekmambetov rumored to be eying the director's chair. Further to those reports,
THR has more
on each studio's status on their respective
Leagues
projects.
Shrek Forever After clips and featurettes

Collider
shares four movie clips and two featurettes from DreamWorks Animation's upcoming film
Shrek Forever After
. Directed by Mike Mitchell, the final chapter in
Shrek
franchise opens on
May 21
.
Michael Rianda Finishes 3rd Year Work at CalArtsWork
,
Michael Rianda's
simply-titled 3rd year film from the CalArts Character Animation program stole the show. His comedic-timing, strong sense of voice direction (and/or casting), and overall funny writing combined to make the stand-out short from 2010. Along with Eric Anderson, Rianda shared the Walter and Gracie Lantz Animation Prize for Best in Show, and it was soon clear why – he had the whole crowd laughing, from his acceptance speech about his Dad's uncomprimising will to build an outdoor bathtub to the final sequences of his short. However, Rianda's drawings, while charming, are kinda wonky, his animation isn't very animated and his lip sync is unsync'd, but you forget all of this as soon as we see those Moon Shoes. Comedy wins out in the end.
One quick rant – I can't believe the CalArts faculty lets their students use unlicensed music in their shorts. It seems so negligent. I don't know what the ownership situation is like for CalArts films, as I know some universities claim partial copyrights for their student's work, but in the end, neither of them fully own the film if the music is borrowed in this manner. I don't just say this because the students miss a chance to sell or license their film, it's just sloppy. Create an original work, from tip to tail, and you'll understand the process far better. Sure, as your career moves forward, you may have the chance to license popular songs, but why hamstring yourself with this issue now, when you could partner with a musician and create something unique and your own?
Ronnie James Dio was heavy metal's little giant
Ronnie James Dio, a towering figure in heavy metal despite his 5'4" frame, died at 7:45 a.m. Sunday, a statement from his wife and manager Wendy said. He was 67.
Dio died in Los Angeles, publicist Maureen O'Connor said. The singer had been treated at a Houston hospital, according to his Web site.
"Today my heart is broken,"
Wendy Dio wrote on the site.
"Many, many friends and family were able to say their private goodbyes before he peacefully passed away."Ronnie knew how much he was loved by all. We so appreciate the love and support that you have all given us.... Please know he loved you all and his music will live on forever."
He was a vocalist in Black Sabbath from 1980 to 1982 and from 1992 to 1993. Black Sabbath's performance of
"The Mob Rules,"
which Dio wrote with Geezer Butler and Tony Iommi, was in the soundtrack of Ivan Reitman Productions' 1981 animated feature film
Heavy Metal
.
Dio provided original music for the 1976 live-action movie
The Butterfly Ball
, which had an animated sequence by Halas and Batchelor Cartoon Films directed by Lee Mishkin.
In the 1999
South Park
episode
Hooked On Monkey Phonics
, Dio's band -- simply called Dio -- performed
"Holy Diver"
at an elementary school dance. Dio himself was shown in caricature.
Dio announced last summer that he was suffering from stomach cancer shortly after finishing a tour in Atlantic City, New Jersey with Heaven And Hell, the latest version of Black Sabbath.
He had hoped to perform again, even though he had recently gone through his seventh round of chemotherapy. Earlier this month, Heaven And Hell canceled its summer tour.
At the time, Dio thought he wouldn't be out of the scene forver.
"Wendy, my doctors and I have worked so hard to make it happen for all of you, the ones we care so much about, that this setback could be devastating, but we will not let it be,"
he said in a statement.
"With your continued love and support, we... will carry on and thrive. There will be other tours, more music, more life and much more magic."
He was born Ronald James Padovana on July 10, 1942. Some sources say that he was a native of Cortland, near Syracuse, New York, but others indicate that he was raised in Cortland and born in Portsmouth, New Hampshire. He began his recording career in 1958.
In 1975, he gained fame as the first lead singer of heavy metal band Rainbow, assembled by former Deep Purple guitarist Ritchie Blackmore.
Five years later, he replaced the one and only Ozzy Osbourne as Black Sabbath's vocalist in 1980 Heaven And Hell, seen by many critics to be one of the greatest metal albums ever.
He was a successful soloist with Dio, his eponymous band. From 2007 to 2009, he was with Black Sabbath when it toured as Heaven And Hell (to distinguish it from Sabbaths led by Osbourne).
Besides his signature tune
"Heaven And Hell,"
Dio was well-known for
"Neon Knights," "Killing The Dragon"
and
"Stargazer."
Among his solo hits were
"Rainbow In The Dark," "The Last In Line"
and
"Holy Diver."
"He possessed one of the greatest voices in all of heavy metal, and had a heart to match it. He was the nicest, classiest person you would ever want to meet,"
said Twisted Sister guitarist Jay Jay French.
In 1986, Dio organized
"Hear N' Aid,"
an all-star charity drive, to raise money for famine relief in Africa. It was modeled on the earlier
"We Are The World"
campaign.
Besides his wife, Ronnie James Dio is survived by son Daniel, grandchildren Julie and Joey, and father Pat.
Invader Zim on dvd
This is an unabashed plug for one of my all-time favorite TV shows. Nickelodeon just released the complete
Invader Zim
on DVD
in two volumes and they were kind enough to send me Season One to review.
I always thought highly of this series, but watching it again this weekend reminded how good it truly was. And in light of the last ten years of subsequent shows on Nick, Disney Channel and Cartoon Network, it now plays like a TV animation masterpiece. I laugh long and hard at incidents, situations and visuals on this show, and if there is any justice it should be ranked alongside the likes of
South Park
and
The Simpsons
. I mean it.
Invader Zim
barely lasted two seasons and has been relegated to cult status among animation buffs and devotees of Jhonen Vazquez's comic book work. The show was too dark and subversive for Nick's core demographic — and much of the humor flew past the heads of their younger viewers — but in retrospect Vazquez and his director Steve Ressel did everything right. The episodes never play it safe, nor are predictable. It marches to its own drummer - and that's as it should be. And I can't let this review end without mentioning the contributions of two personal friends: Richard Horvitz, who is perfectly cast as the manic voice of Zim; and my
Cartoon Dump
partner, Frank Conniff, who served as Story Editor.
Invader Zim
was one of the last of the era of truly creator driven series, deserves to sit beside
The Ren & Stimpy Show
and
Spongebob Squarepants
as one of Nickelodeon's best. These new DVDs sets are presented raw - no frills, no bonus materials - but deserve a place on your DVD shelf. I highly recommend it. Amazon link:
click here
.
(Thanks
Cartoon Brew
)
"What's Opera, Doc?" celebrates the marriage of animation and classical music
Jim Hill discusses how Michael Giacchino, Pete Docter and Bruce Broughton came together this past Friday Night in Beverly Hills as part of the A.M.P.A.S.'s annual Marc Davis Celebration of Animation
As the lights went down in the Samuel Goldwyn Theater this past Friday night, the curtain rose to reveal
Leopold Stokowski
taking the conductor's stand in
Fantasia
. But the first notes of the evening were not from that 1940 classic feature. But – rather -- from the tinny, half-destroyed instruments that Goofy and the gang played in that Mickey Mouse favorite,
"The Symphony Hour."
Copyright Disney Enterprises, Inc. All Rights Reserved
This was then followed by a rapid-fire musical montage (which had been lovingly stitched together by
Alexander Rannie
and
Les Perkins
) which deftly wove together clips from 28 different cartoons. Among them
Popeye
's
The Spinach Orchestra
,
Andy Panda
's
The Bandmaster
,
Tom and Jerry
's
The Cat Concerto
,
Clara Cluck
in
Orphan's Benefit, Peter and the Wolf, Rhapsody in Blue
and
Who Framed Roger Rabbit
's
dueling piano scene
.
This reel played as if it were one massive cartoon symphony.And even though most of these clips are well over half a century old, they still received huge laughs and recognition applause the instant they appeared on screen.
As this clip reel wrapped, it received a huge round of applause from the capacity crowd. And – with that – the Marc Davis Celebration of Animation officially got underway -- exploring this year's theme:
"What's Opera, Doc? Animation and Classical Music."
(L to R) Oscar-nominated composer Bruce Broughton; Alice Davis, widow of Marc Davis; and Oscar-winning composer Michael Giacchino at the reception preceding Friday night's "What's Opera Doc?" presentation. Photo by Ivan Vejar. Copyright 2010 A.M.P.A.S.
Before the guest speakers took to the stage, this A.M.P.A.S. event's producer, Randy Haberkamp, acknowledged some of the special guests in the audience. Among them the daughter & great granddaughter of Chuck Jones, as well as the official hostess of the evening, animation and Imagineering legend Alice Davis.
Randy also noted that
"What's Opera, Doc?"
was being held in conjunction with the Los Angeles Ring Festival 2010. During which the LA Opera will present its production of Wagner's The Ring of Nibelung. Haberkamp noted that this production of the Ring cycle would take four nights to see in its entirety. Mind you, Chuck Jones' version of Wagner's epic(which would close Friday evening's programming), would take just four minutes to see in its entirety. Shakespeare once said
"brevity is the soul of wit."
Perhaps Wagner didn't know how many laughs he was missing out on.
Haberkamp then brought out tonight's host, the Oscar©-winning composer of
Up, Ratatouille, The Incredibles
and
Star Trek
, Michael Giacchnio. Michael is fresh from finishing 88 minutes of original music for the
Lost
series finale just one week ago and a
Lost
concert at Royce Hallo just 24 hours before tonight's event.
"If Michael isn't the busiest man in show business,"
said Haberkamp,
"I pity the person who is."
As Giacchino took the stage, he added
"I thought this was going to be a discussion of possible endings to Lost..."
Michael Giacchino during Friday night's "What's Opera Doc"? program. Which was presented as part of the Academy of Motion Picture Arts and Sciences' Marc Davis Celebration of Animation. Photo by Ivan Vejar. Copyright 2010 A.M.P.A.S.
Giacchino started by screening the 1935 Silly Symphony Music Land, and the Mickey classic
The Band Concert
, to boisterous laughter and applause. Giacchino then threw the discussion to panelist Bruce Broughton – legendary composer of films such as
Silverado, The Boy Who Could Fly, Homeward Bound: The Incredible Journey, Young Sherlock Holmes, Rescuers Down Under, Tombstone
, and television's
Tiny Toon Adventures
. Broughton should be familiar to Disney park fans, as the composer of the soaring scores to Timekeeper, Ellen's Energy Adventure and the playful music to
Honey, I Shrunk the Audience
. Broughton was especially taken with the wit of Music Land's score, which not only had to precisely punctuate the action and emotions, it also had to provide the characters' voices.
"The young prince of Jazz Land was voiced by a saxophone, while the old king was voiced by a baritone sax. The minister spoke through the sawing of a bass. It's very cleverly worked out."
Broughton observed that the extraordinary thing about these cartoons is that they
"pre-suppose that people knew what this music was. This was a time when people went to concerts, and knew the classics."
Giacchino talked about Music Land in particular as evidence of a time when the old guard of music was giving way to the new guard. Giacchino, whose boyish enthusiasm for these films and their scores positively beamed, added that he first became aware of these classical music pieces through the cartoons.
Pete Docter. Photo by Todd Wawrychuk. Copyright 2010 A.M.P.A.S.
It was at this point that they were joined by Oscar-winning director of
Monsters Inc.
and
Up,
Pete Docter – who valiantly fought his way through air travel and LA traffic to be here tonight. Docter asked the audience
"How many of us learned classical music from these cartoons and the Muppet Show?"
The audience responded strongly. Docter's insight is especially unique, since he hails from a family of accomplished musicians, and himself plays the violin. Pete talked about his music background playing into his animation, working out the rhythms temporally in his mind as if to music.
Docter, Giacchino and Broughton analyzed cue sheets from the era, and the ways the composers would annotate the notes with specific beats tied to on-screen action. They noted that in the old days, the cartoon's director, the composer and the layout artist would sit in a room together to work out the timing, the story and composition. As Broughton noted,
"these composers had to know the timing of the action and gags just as well as the story men did."
Pete remembered a story about the director of Music Land utilizing a metronome to illustrate to Walt how the tempo would change throughout the cartoon.
(L to R) Michael Giacchino, Pete Docter and Bruce Broughton. Photo by Todd Wawrychuk. Copyright 2010 A.M.P.A.S.
Giacchino screened the comical ballet
"The Dance of Hours"
from
Fantasia
. The panel shared anecdotes they had heard about the limitations of sound technology at the time these classics were made. Michael Giacchino related a story he had heard, during the production of
Fantasia
, Walt referred to the single-channel audio of the day as "tinny" and in need of something to recreate the rich sound of being at the symphony live. This led to the development of the first multi-channeled audio for what would be known as "Fantasound." It would take theaters decades to catch up with the idea of stereophonic sound. Docter shared an anecdote from PIXAR / Lucas Film sound designer Gary Rydstrom. There were so many tracks, that the tape hissing was audible. So they recorded everything loud, then played it back to re-record the audio, keying the volume up and down live to suit the volume required. As Bruce Broughton added, Walt once said of
Fantasia
,
"Gee, this'll make Beethoven."
One of the highlights of the evening was the screening of three separate cartoons, each utilizing the venerable
"Hungarian Rhapsody"
– Rhapsody in Rivets, The Cat Concerto and The Backyard Op-Roar. The panel observed the differences in the orchestrations and the ways they interacted with the on-screen action. Broughton rhapsodized on the quality of the musical performances themselves, a product of the age in which studios had staff orchestras. These gifted musicians would spend the day recording with Max Steiner for a major live action score, then Carl Stalling would jump in at the end of the day and get them to record one of the cartoons.
Bruce Broughton. Photo by Ivan Vejar. Copyright 2010 A.M.P.A.S.
Docter made perhaps the most profound observation of the evening, noting that classical music in cartoons functions much like Margaret Dumont in the Marx Brothers films.
"The classical music was there for the cartoon to make fun of."
Giacchino treated the audience to a rarity from the production of
Up
– the scene following
"Married Life,"
in which Carl gets up in the morning and we see the routine of his life after losing Ellie. He screened the scene twice. The first time the scene was played, we saw the action as seen in the released film, but accompanied by an original piece of music by Michael Giacchino. It starts small, almost clockwork-sounding, and adds instruments as the scene progresses. The final jaunty assemblage of instruments contrasts the stark banality of Carl's actions, almost going out of its way to punctuate the comedy. It fits beautifully with the rest of the Oscar-winning score, and definitely foreshadows some of the instrumentation in the later Paradise Falls scenes.
Copyright 2009 Disney / Pixar. All Rights Reserved
But as wonderful as Giacchino's music was for that scene, the filmmakers decided that it just didn't play as the moment needed. They then screened the finished scene from the film, with the selection from Bizet's opera Carmen in lieu of the original composition. Docter noted following the heavy
"Married Life"
sequence, you needed something to give you permission to laugh. Giacchino said that familiarity of the classical music put you at ease.
The night closed with a screening of
What's Opera, Doc?
In this legendary Chuck Jones short, Bugs Bunny and Elmer Fudd gad about an Agnes de Mille dream ballet landscape, playing a Wagner-type opera fairly straight. It is rendered absurd by the intensity with which Bugs and Elmer carry out the melodrama. The only wink to the camera is the final shot of the film, when Elmer carries Bugs' lifeless body into Valhalla's rays of sunlight. Bugs turns to the audience and states
"What did you expect from an opera, a happy ending?"
As Broughton stated earlier in the evening,
"comedy is serious business."
(L to R) Pete Docter, Michael Giacchino and Bruce Broughton. Photo by Todd Wawrychuk. Copyright 2010 A.M.P.A.S.
After Friday night's presentation, the audience streamed back into the lobby. Not only to ooh & aah at all the original Chuck Jones arts that adorned the wall. But also to scope out the one-night-only display that had been set up at the Samuel Goldwyn Theater in conjunction with this year's Marc Davis Celebration of Animation event. Which featured some incredibly rare animation artifacts. Among them a studio memo from Walt Disney to composer George Bruns about his adaptation of Tchaikovsky's music for
Sleeping Beauty
.
It's displays like this – not to mention events like
"What's Opera, Doc? Animation and Classical Music"
– which is why film fans should make a point of regularly dropping by the Academy of Motion Picture Arts and Sciences website to see what else they've got in the works. For this particular Marc Davis Celebration of Animation was truly a one-night-only, must-see event.
Animals Sing Against Adultery
If you had a crazy weekend, these singing cartoon animals will set you straight.
The studio that created
this vintage curio
is Rick Reinert Productions. Reiner got his start
animating at MGM
where the cartoons were considerably less Commandment-oriented.
(Thanks, Celia Bullwinkel)
(Thanks
Cartoon Brew
)
Machinarium Trailer
Gorgeous trailer for the computer game
Machinarium
. I love how it feels like you're playing in the world of an indie animated short and not a videogame. It's made by the Czech game studio
Amanita Design
, and it should come as no surprise that the people who made it also make films.
(Thanks, Anders Beer)
(Thanks
Cartoon Brew
)
Up Butt Coconut
Animation by NightShadow02 (
Benjamin Tay
) for an
Albino Blacksheep
contest. Music by Parry Gripp.
(Thanks
Cartoon Brew
)
Animal Mechanicals Coming to The Hub
The Hub has added the hit animated preschool series
Animal Mechanicals
to its slate.
The network, a new joint venture between toymaker Hasbro and Discovery Communications, picked up the rights to the 55 x 11 min. series from Decode Enterprises.
Animal Mechanicals
is produced by Halifax Films in Canada under commission from the CBC. The Hub is set to launch on
Oct. 10
.
Josh Scherba, SVP Distribution of DECODE Enterprises said:
"Animal Mechanicals has received a fantastic response from kids all over the globe, and we're sure it will prove no exception on The Hub,"
says Josh Scherba, senior VP of distribution for Decode.
"We're very pleased to sign a deal which will see Animal Mechanicals launch as part of this brand new, much anticipated channel."
(Thanks
Animation Magazine
)
Paprikaas Rebrands as Technicolor India
Indian animation studio Paprikaas has been renamed and rebranded as Technicolor India by its corporate owners.
The studio, based in Bangalore, was fully acquired by Technicolor earlier this year. Technicolor has been using the studio to build on its relationships with clients such as DreamWorks Animation, Electronic Arts and Nickelodeon. The studio, founded in 2001, also has added visual effects, compression and authoring services to its menu.
Nickelodeon's new
Kung Fu Panda
TV series, produced for the worldwide broadcast market, and initially comprising 26 episodes, is currently being animated at Technicolor India. Nickelodeon and Technicolor have developed a strong production relationship based on the studio's CGI work on
Penguins of Madagascar
.
"India has emerged as the Asian destination of choice for animation. This enhances our India investments in Paprikaas over the past few years. We have aggregated and developed the best and the finest skill sets in the industry blending international and local artists,"
said Frederic Rose, CEO, Technicolor.
"Consolidating further within Technicolor gives us greater scope and opportunity, while providing our artists from all over the country the opportunity to work on great projects with A-list clientele,"
says Biren Ghose, the studio's general manager.
(Thanks
Animation Magazine
)
Brett Ratner Talks 'X-Men: First Class' And Its New Director, Matthew Vaughn
Let's just say that
"X-Men: The Last Stand"
director Brett Ratner has a complicated relationship with the comic book community. Though his entry in the mutant series remains the highest grossing film of the franchise ($459 million in worldwide box office sales), you only have to visit the
comment section
of any story on the director to get a sense of the vitriol often directed his way.
Yes, Ratner may not be universally adored, but he's come out with a full-throated endorsement of the newest director in the
"X-Men"
community: Matthew Vaughn, who officially
signed on to direct "X-Men: First Class"
earlier this month.
"I think he's brilliant,"
Ratner said of the
"Kick-Ass"
director.
"I thought his last movie was fantastic. I'm a fan."
Such a fan, it seems, that Ratner would've been keen to see Vaughn hop into the director's chair to helm his own 2006
"X-Men"
flick.
"I would have loved to see 'The Last Stand' directed by him,"
Ratner said.
We're not exactly sure what to make of that statement, other than to count it as evidence that Ratner holds Vaughn in high esteem. But looking to the future, Ratner sees
"First Class"
as the truly perfect
"X-Men"
project for Vaughn.
"I think this one is probably even more right for him because it's the younger X-Men, the beginning, and he's great, obviously, with kids,"
Ratner said.
"He has an incredible visual style and he's a great filmmaker. I think every 'X-Men' should be directed by a different director, just like 'Alien.' Why does it have to be one filmmaker?
That being said, Ratner has ruled out ever returning to the franchise.
"When I say I'm not going to do another 'X-Men,' it's because they're doing all these spin-offs,"
he explained.
"It doesn't make sense for me to do 'Wolverine' if I did 'X-Men.' It's just a different scope. For me, it would just be going backwards."
'Splice' Director Adds 'Alpha Flight' To List Of Superhero Movies He's Dying To Make
While it looks like
"Splice"
(and
"Cube"
) director Vincenzo Natali might have a little while to wait before he can make a
movie about Alan Moore's "Swamp Thing" comics
, DC's earthy hero isn't the only comic book property the filmmaker has his eye on.
When MTV News asked Natali if there were any other characters he'd love to bring to the big screen, he was quick to suggest a movie based on Canadian super-team Alpha Flight as the perfect way to put a new spin on the current superhero movie trend.
"I have thought about that a little bit,"
said Natali when asked about the possibility of making a lower-budget movie about lesser-known comic characters.
"I'll put this out there: maybe Alpha Flight.""For those who don't know, Alpha Flight is a Canadian superhero group and it was drawn by one of my favorite Marvel artists, John Byrne,"
he added.
"He's a genius."
Natali stressed that he's neither approached Marvel about such a film nor been approached, but the idea of a superhero group with ties to a country outside the U.S. appeals immensely to him.
"I thought that would be interesting, to give a little Canadian angle on the superhero mythology,"
he explained.
"It's an interesting group and it had a lot of different members, so you can take it in a number of different directions. I think it would be cool."
Still, he's not sure this is the right time to try his hand at superhero movies, given the current flood of comic properties making the jump to the big screen.
"To be perfectly honest, I'm a little intimidated right now,"
said Natali.
"I feel like the world is slightly overcrowded with superheroes, and maybe I'd like to wait a little while before putting my toe into those waters."
Behold!! The TALES OF AN ANCIENT EMPIRE Red Band Trailer!! It's SWORD & THE SORCERERiffic!!
A Red Band trailer for
TALES OF AN ANCIENT EMPIRE
(director Albert Pyun's pseudo-sequel to 1982's
THE SWORD AND THE SORCERER
) is now online, featuring vampires, titties, a touch of dismemberment, and some cool John Carpenter-esque music from Tony Riparetti (that's actually from the film).
Note that a few shots are still being tweaked, so some of the stuff you see below may look a touch different in
TALES'
final product.
Still no sign of the "three bladed sword" that was so badass in the first movie, although I'm told it does make an appearance in this picture - along with Lee Horsely, who can be glimpsed in the material above (2 minutes, 1 second in).
(Thanks
AICN
)
In case you've forgotten, here's the trailer for 1982's
THE SWORD AND THE SORCERER
:
Update: Mark Hamill Directing The Black Pearl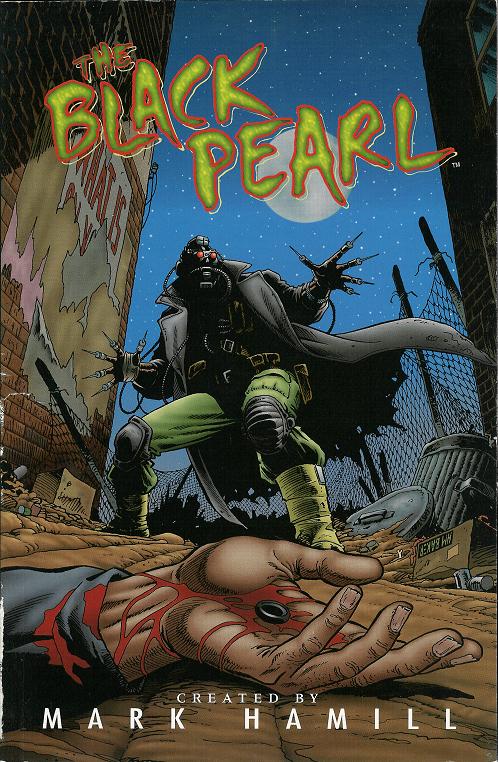 UPDATE:
Variety
has confirmed that Hamill is indeed directing the adaptation from a script by Paul Tamasy and Eric Johnson. He says the project is a
"dark, edgy thriller"
that they hope will receive an R rating.
The Wrap
reports that Mark Hamill may be directing a feature version of his comic
"The Black Pearl."
Participating in the Los Angeles Comedy Shorts Festival in Los Angeles on Saturday, Hamill hinted at the project:
Then Hamill dropped numerous hints about the film: it's based on a comic book that Hamill wrote, it's set in the real world, and
"at first glance it's a drama, but it has dark humor."
"My two co-writers wrote a David O. Russell film for Paramount,"
he said,
"and now they've very hot. So now there are people who are willing to give us $30 million to make the movie. But if we took that deal, I wouldn't get to direct.
"If you go over about $8 million, you have to start getting foreign sales before you start shooting. But if you stay in the $5-to-$7 million range, you don't have to do presales and you can maintain much more creative control."
Published by Dark Horse Comics in 1996, the five-part comic was co-written by Hamill and Eric Johnson, illustrated by H. M. Baker, and inked by Bruce Patterson and Dan Schaeffer. The story focuses on Luther Drake, a troubled man who becomes a costumed vigilante "hero" by accident and media pressure.
An official announcement is expected at the Cannes Film Festival.