Disney production chief Oren Aviv forced to quit
Oren Aviv resigned Tuesday as president of Walt Disney Studios Motion Picture Production -- at the insistence of Mouse House chairman Rich Ross, according to two people close to the executive.
Aviv was president of marketing from 2000 to 2006 before taking on the production position. He had been at the studio for 18 years.
"I have loved every day that I have been at the studio and feel incredibly privileged to have been part of a team that enriched my life for 20 years,"
Aviv said in a statement.
"I'm proud of the hundreds of movies I've helped to make and market, especially the studio's upcoming films, from
Alice in Wonderland
and
Prince of Persia
to
The Sorcerer's Apprentice
and
Tron
. All have been extremely rewarding creative and personal endeavors for me, and have allowed me to work with the best group of executives and staff in the business."
Ross said in a statement:
"Oren's significant contributions to The Walt Disney Studios are well-documented, and countless moviegoers have been entertained by his diverse portfolio of films. We appreciate his work and wish him all the best in his future endeavors."
Aviv was a close ally of former studio head Dick Cook, who was forced out last year. In November, Ross gave Aviv additional duties overseeing physical production. At the same time, he promoted Bob Chapek to president of distribution and named Alan Bergman to oversee film franchises and post-production.
Ross is expected to name a new production head and marketing chief shortly.
Except for Chuck Viane, who continues to supervise theatrical distribution, Aviv was the only other top Disney executive to keep his post after Ross succeeded as studio chairman last October.
Under Aviv's tenure, Disney released Jerry Bruckheimer Films' partly animated
G-Force
last July. Like several other recent Disney feature films, it was a box office disappointment.
Ross is reshaping the division around Disney, Pixar and Marvel movies, said David Bank, an analyst with RBC Capital Markets in New York. Bank said he anticipates more changes as Ross tries to increase profit, cut costs, and link films with the Disney's resort, consumer product and TV divisions, as he did when he headed the Disney Channel.
"They are looking at the way they do business and are looking at the teams,"
Bank said.
"What he was so good at was maximizing the value of content to the Disney platform,"
Bank said.
"You're going to see the movie division kind of shape to that mission."
Bank cited November's
The Princess And The Frog
as an example of a disappointment from the studio's movie division. It was made by Disney's animation department, which has been eclipsed by Pixar.
"I would expect to see continued changes,"
he said.
"Some of them are driven by creative failures, and some of them are driven by financial pressures. This is a mix of all those things."
Disney shares fell 58 cents (1.85%) Tuesday to $30.78 a share in New York Stock Exchange composite training. The shares gained 42 percent last year.
Three animated films nominated for Eddie Awards

"Coraline," "Fantastic Mr. Fox"
and
"Up"
have been nominated by the America Cinema Editors for the Eddie Award for Best Edited Animated Feature Film.
The Eddie Awards will be handed out on Valentine's Day at the Beverly Hilton.
Singled out for their work on Coraline were Christopher Murrie and Ronald Sanders. Andrew Weisblum was given the nod for
Fantastic Mr. Fox
, while Kevin Nolting was singled out for
Up
.
Contending for Best Edited Feature Film (Dramatic) are
Avatar, District 9, The Hurt Locker, Star Trek
and
Up in the Air. 500 Days of Summer, The Hangover, Julie & Julia, A Serious Man
and
It's Complicated
have been nominated for Best Edited Feature Film (Comedy or Musical).
At the 60th annual Eddies, Rob Reiner will be honored with the Golden Eddie Award. Paul LaMastra, A.C.E. and Neil Travis, A.C.E. will be presented with Career Achievement Awards.
BBC Knowledge "Eat Up Brain" by Sean Pecknold
Sean Pecknold (aka
Grandchildren
) crafted this stylish and funny stop-mo spot for BBC Knowledge.
Credits
Narrator: Richard E. Grant
Producer: Aaron Ball
Production Company:
Grandchildren
Animators: Britta Johnson, Sean Pecknold
Sets and Creatures: Matt Lifson, Britta Johnson, Sean Pecknold
Rotoscoping: Stefan Moore
Painter: Matt Lifson
Effects DP: Michael Ragen
Editorial and Compositing: Grandchildren
Colorist: Sam Atkinson, Lightpress
Sound Design and Mix: Justin Braegelmann
Agency: Three Drunk Monkeys
Executive Creative Director: Justin Drape, Scott Nowell
Creative Director: Noah Regan
Copywriter: Damian Fitzgerald
Art Director: Matt Heck
Agency Producers: John Ruggiero/ Thea Carone
Content Director: Dan Beaumont
Content Manager: Brad Firth
(Thanks
cartoon brew
)
Cartoons on Hulu
Hulu's
library of animated TV shows, shorts and features
is growing more impressive by the week. Hulu's content includes current series (
The Simpsons, Family Guy
), anime (
One Piece, Inuyasha
), animated shorts (the Koji Yamamura library,
Pink Panther, Ant and the Aardvark, Tijuana Toads
), features (
American Pop, The Secret of NIMH
), and old TV series (
Stressed Eric, Rocky and Bullwinkle, Fat Albert, Drawn Together, He-Man
). Hulu isn't perfect—most of their content is geo-targeted for specific territories, some of the animation is only available for limited periods of time, and the videos have embedded advertising (though the percentage of ads relative to content isn't unbearable). But even with these issues, it's a small price to pay for the opportunity to program your personal 'cartoon network.' Here's to hoping that Hulu continues to emphasize animation amongst their other offerings.
Here's an example of what can be found on Hulu—Koji Yamamura's
Kid's Castle
:
(Thanks, Max Porter)
(Thanks
cartoon brew
)
The Princess And The Frog's Supervising Animator Mark Henn – Part 2: The "Disney Decade"
Jeremie Noyer continues his multi-part discussion with Mark Henn, presenting a new chapter each fortnight in celebration of the worldwide launch of The Princess And The Frog from the US release to its European debut, and evoking the chronology and different aspects of the veteran animator's career, from his studies and dreams of working for Disney, to his first assignments and serving as supervising animator on the Studio's current contemporary classic!
During the early part of the 1990s, Michael Eisner and his partners set out to plan
"The Disney Decade"
, which was to feature new parks around the world, existing park expansions, new films, and new media investments.
That plan led to the production of some of the most acclaimed Disney animated films of the end of the century, most of which benefited from Mark Henn's expertise, be it in animating Belle, Jasmine, Young Simba or Pocahontas.
In this second part of our discussion with Mark, he shares his memories of this new golden age of animation, the Disney renaissance.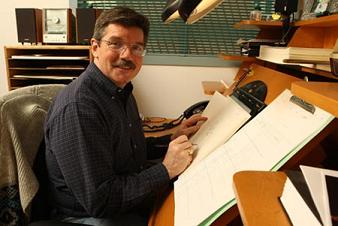 Animated Views: At the beginning of the Florida studio's launch, the main activity was contributing scenes to the predominantly California-made feature films such as Beauty and the Beast.

Mark Henn:
Actually, we started that back on
Rescuers Down Under
. The studio started giving us particular sequences to animate to help contribute to the film. So, we carried that over with Beauty and the Beast. For that, I was animating sequences with Belle that the directors in California wanted me to do. I did the sequence where she sneaks into the West wing. I also did a sequence with Aaron Blaise, who was animating Beast, after she's attacked by the wolves and he rescues her and there is this sequence where she's bandaging up his arm. We also did the winter sequence where there is the
Something There
song. That was actually added right toward the end of the movie. That was a last minute song because the film needed one more song. We did that and I did Belle all over the place wherever the directors needed me to do her.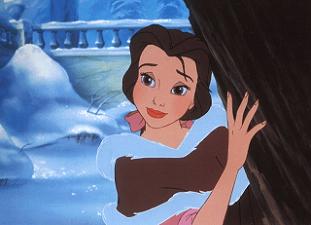 AV: How did your work on the song go?

MH:
When they decided to do the song, Don Hahn and the directors told us that were going to give us that sequence. It's a great sequence. I loved doing that. I love to animate songs. You know, it's not too different from the regular acting sequences. But I love musical theater; I have my entire life. To be able not to only act but now kind of sing (as an animator!) is for me a lot of fun. It's something that brings rhythm to the animation, maybe a little dance, depending on what's going on. Song sequences are a lot of fun.
AV:Back at that time in California, animators encountered difficulties being forced to work in Glendale and not in the historical Burbank studios. What are your memories of this period and how did you feel, just after that, working in that new environment in Orlando?

MH:
When I started at the studio, I spent five years in the animation building on the lot. I was with the department when they told us they were going to move everybody over to Glendale. We hadn't very much choice, you know. That's what the company decided to do and I suppose in a lot of ways most of us felt we were sad to see animation leave the main lot. We thought that that was some of the magic that was leaving. But on the other hand, we felt emboldened, if you will, to kind of roll our sleeves up and just to prove that it didn't really matter if we weren't in a nice studio environment as we had on the lot but in generic warehouse buildings in Glendale.
The building doesn't make Disney animation, it was the artists and the people involved. So we said "ok, we'll still make great movies but we'll be in a warehouse to do it." The studio, then, in Florida, was very nice although it had one unique aspect to it that no other studio had in that it was opened to the public. The entire studio was behind glass. We called it the
"fish bowl"
because the guests that came to the park could actually walk through, they followed a little tour with a guide who kind of explained the process. They went through and watched us work.
AV:What was your involvement in the Beauty and the Beast extended version released in 2002 on DVD?

MH:
I got to do a couple of scenes. Primarily, the other characters sing that they can't wait to be human. There were just a couple of shots with Belle and Beast where she's reading to him a book. I animated Belle and Aaron Blaise animated Beast. So, we worked together again on those scenes for the extended version.
AV:How was it to go back to this beautiful film ten years later?

MH:
I thought it was fun. It was a unique situation and I enjoyed that very much.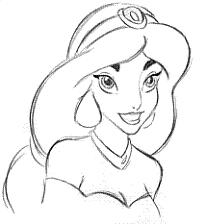 AV:Your next character was Jasmine for Aladdin. Can you tell me about this very special assignment that is creating a Disney Princess?

MH:
Well, it was a little challenging at that point because I had done several Disney princesses in a row, so I really wanted to try to do something different.
AV:All the more since she's not European…

MH:
Exactly. Which helps. For the inspiration, I ended up not having to go any further than my wallet where I had a picture of my sister. And I used her photograph to kind of be the basis for developing the design for Jasmine. That seemed to worked out pretty well.
AV:It reminds me that for the design of Ariel, Glen Keane took his own wife for his inspiration…

MH:
That's not unusual for animators to do that. Eric Larson had used a nephew that he had for the inspiration for Figaro the cat in
Pinocchio
. That was certainly not unprecedented for me to look at my sister and have her as the basis for Jasmine.
AV:Does the appealing to family references make the emotional connection with the character easier ?

MH:
I think it wasn't so much the emotional connection as it was just the physical design. Emotionally, Jasmine grew out of the story made by the story artists and the directors. But I needed something fresh to help with the physical look of her. That's where my sister's photograph became invaluable. But I had also Linda Larkin who was the voice of Jasmine to get my inspiration. I had a dinner with her once in Florida. We talked and she was also very inspirational in terms of finding Jasmine's emotional side.
AV:Was it easy to animate a love story where Glen Keane, the animator of Aladdin, was in California and you were in Florida?

MH:
Not really. Scenes were going back and forth to the studios or put into mail, shipped over night. So, a lot of it was just a matter of communicating and deciding which one of us would animate first on the scene. If he went first, he would send scenes to me and if I went first, then I would send my scene to California and he would animated from that. In some cases, he would do both characters and in some cases I would do both characters in some scenes. It just all depended. It just worked out fine and you wouldn't know that we were 2000 miles apart animating these characters. It all has to do with communication.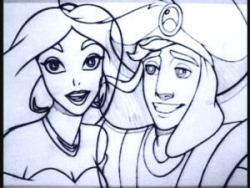 AV:Did Glen and you become friends after this experience or were you friends before ?

MH:
Glen and I were friends since I started. I've known him for almost ten years at that point. So we were good friends already. It was just more about talking about the scenes, going over different ideas…the usual kind of things that we would have done if we were just down the hall from each other. This time, we just talked over the phone or have satellite conference call, so that wasn't that difficult.
AV:Can you tell me about your experience on The Lion King, for which you animated Young Simba?

MH: Lion King
was a great opportunity because I got to do something other than a girl, which was nice for a change. Initially, I campaigned hard and asked several times to possibly do Scar, to do the villain because I really wanted to do something different. But Don Hahn came to me and said
"I know you're interested in doing Scar but the whole picture really kind of hinges on Simba."
So, they felt, as the producer and the directors, that if Simba didn't play well, then the movie wouldn't work and that that was played right into my strengths. So, I'm still disappointed I didn't get to do the villain but knowing that they needed me to work on Simba like that, that was a challenge I happily took up.
AV:What was your approach to Simba?

MH:
Storywise, I knew what was coming. We all knew what the story was and what Simba was going to go through. But ultimately, I just wanted to make him – as I strive on all the characters that I animate – believable as this young, maybe a little cocky, confident character at the beginning. Remember the
I Just Can't Wait To Be King
song? He didn't understand. He hadn't maturity; he had to grow up. Which is what the film is about. It's about him growing up and learning responsibility. That's why I just wanted to make him believable so that people can identify either with maybe themselves or their own children, to see that they remember maybe being that way when they were younger or they see that in their kids. I wanted to make him believable so that you understood how he felt, the mistakes that he did, how bad he felt and then how he grew, how he eventually matured and became the king, the leader that his father was trying to teach him to be. But it just took a few hard lessons for him to learn all of that.
AV:How did you assure the transition from cub to adult Simba?

MH:
Well, I actually animated the first adult scene of Simba, from the beginning up through the end of
Hakuna Matata
where you see the time change and Simba adult for the first time. I think, as a young cub, he was a little looser. In his animation, he was maybe a little more not assured of himself physically, he could be a little more awkward, his feet were a little bigger, they could be a little floppier than when he's an adult. He was a little more uncontrolled with his movements. But even though at the end of
Hakuna Matata
he's caught up in the fun of the song that he's singing with Pumbaa and Timon. He's still a little bit of a young cub but physically now he's a mature lion. He's different.
AV:Did you talk about that transition with Ruben Aquino, the supervisor of Adult Simba?

MH:
I've known Ruben since back when he came at the studio around
The Black Cauldron
, so he and I have known each others for several years. But I can't say we spent a lot of time discussing how he was going to animate Simba. He was in California at the time and I was in Florida. But, in both locations, we got the same input from the research that we were doing. We both had the opportunity to sketch and draw from live lions, we both had the animal experts coming in and giving lectures and talked about lions. So, our research was identical in terms of what he was hearing and I was hearing. So I think we were both getting the same information about how lions move, how they look, what they do and how they act.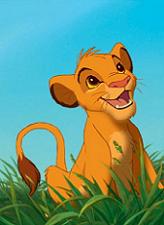 AV:You collaborated again with Glen Keane on Pocahontas. How did you blend your own styles into one character?

MH:
Well, in this particular case, I had started working on
Mulan
and the story wasn't quite ready yet so they decided that they needed extra help on
Pocahontas
. So, I came on to help out with Glen's unit. My goal was the same as it is for all my characters: to make them believable, whatever their situation and their acting and all that. But the design was set, so my role was primarily to come alongside and get part of Glen's unit to help get the picture done and make sure that Pocahontas as a character was believable and correct and everything. I was pretty much taking my orders from Glen on that particular production. I enjoyed working on Pocahontas; she was a lot of fun to do. She was very difficult to draw. Glen has very specific ways and things about the way he wanted her drawn, so that took a lot of extra effort. And the directors also were very particular on how she looked. So, that was always a struggle to make sure that the drawings and everything were what Glen and the directors wanted to see. Nonetheless, it was a lot of fun. I enjoyed the working on this character.
AV:What was so specific on Pocahontas?

MH:
Her design was difficult. And Glen was the expert in terms of how she was drawn and designed. We were using live action reference again and they were just very particular about trying to pick up a lot of the subtle facial expressions and things that we saw on the live action. They wanted to see that in our animation. That just required a careful balance, knowing how to make a very appealing drawing without it becoming grotesque (which sometimes happens when you try to draw something that's too real). In live action, it's fine, but in animation, as a drawing, it doesn't work as well. To draw the exact expression of a live reference in a drawing can be very ugly in that sense. So, it was just difficult to understand how she's drawn and how the visual cues, her design can help create the expression Glen and the directors wanted to see.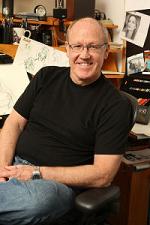 AV:You animated so many different and strong characters within a short period of time, each one with great sincerity. Was it easy to go from one leading character to the other so quickly, considering the amount of involvement and the connection you may have had with each of them?

MH:
It depends. It's usually not too difficult. Once you understand and start the process of asking yourself questions about the character, I think there's always something that makes you very excited about each project and each character. You try to set some goals as what you hope, you'd like to be able to accomplish. For example, when I was doing Jasmine, it took a little extra time to understand her and to find the design. Sometimes it comes very quickly and other times you have a little harder on it.
AV:Each character you animate becomes your companion for a certain amount of time. Is it difficult to leave him or her to concentrate on another one?

MH:
It's always a little sad when the picture's over because, you're absolutely right, you spent literally years of your life, every day with the character. And it's actually a little sad when your last scene is over. But on the other side, it's important to get the characters out in the public. It's kind of like sending your children off to school. That's what you want to raise them to do: you want to raise them so that they can go out in the world. And our characters are the same way. It's always a little sad when you have to say goodbye, but on the other hand you're very excited to actually get them out into the world so that the rest of the world can enjoy spending the hour or so with them in the movie theater.
AV:From Ariel to Mulan, you animated every Disney princess of the 90s. How do you feel about that?

MH:
I consider myself very fortunate, very blessed to have that opportunity. It just happened that way. If you look at all the characters I have done throughout my career, the one thing that they have in common is the fact that they were all leading characters. Predominantly, they were the leading character or one of the leading characters of the movie. The second element is that along all the movies we did, the stories that we chose to tell involved a leading lady, a heroine that was at the center of the story. So, I became the "girl guy" – sometimes it's a kind of a label you have – but to me, it just turned out that most of the stories that we ended up telling involved leading ladies. I happened, I guess, to do it well enough so that the directors of all these different movies wanted to ask me to bring those characters to life. So, I'm very thankful for those opportunities. Now that I look back, it's nice to be included in the legacy of Disney leading ladies that goes all the way back to Snow White. To be included in that group of animators and artists who brought these characters to life, I think, is a special honor for me and I'm very pleased to be considered in that group.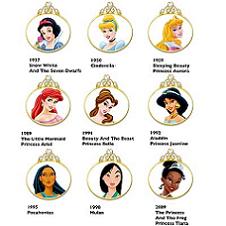 AV:How do you see the evolution of the personalities of the Disney princesses through that period?

MH:
I think, what happened, one of the big differences is the fact that most of these girls in our films were much more aggressive. It seems like they have a much more active part and I think a lot of the early Disney heroines were a little more passive. Things happened to them, more so whereas a lot of our stories tended to get a little more complicated plotwise. As for the role the girls took, there was a much more involved process. They make things happen, they make decisions. So, they kind of drove the story as opposed to just having things happening to them all the time and they were just kind of reacting. Our leading ladies made decisions and propelled the story forward based on the decisions that they made, rightly or wrongly, and that's what I think in my mind is one of the things that really sets a lot of the girls we have done apart from some of the girls of the past.
AV:Present-day princesses are different from the classic ones, but, as an animator, don't you keep things from the past to make them true Disney princesses?

MH:
A little bit. That was kind of a standard that has been set and I suppose that in our era, our generation, we wanted to surpass that level. That's a pretty high bar that had been set with the past Disney heroines. It's always a challenge and an inspiration to try to meet that level and to surpass it. On the same token, you take inspiration from the past but you have to look ahead then and be yourself, expressing yourself as an animator. That's something that Eric also talked about, from his generation to my generation: to learn from the past but not copy it; learn from it and hopefully take it to a new level.
• In Part 3, we'll look closer at the two feature films produced in Florida that Mark Henn was involved in: Mulan and Lilo & Stitch.
(Thanks
Animated Views
)
Course Change for Spidey
This
is saddening:
... [Sony] on Monday said it was sending the entire franchise in for a major overhaul [of
Spider-Man
] without star Tobey Maguire or director Sam Raimi involved.
Why should TAG be concerned about what happens with a live-action director on a live-action flick?
Because from the get-go, Mr. Raimi was pushing to use 839 board artists, and because
Spider-Man
contained lots of animation, we ultimately shared staffing with the Illustrators Union, Local 790 (which has a hiring roster) in the development of the super-hero franchise.
So I for one am not happy that Raimi has been tossed overboard, regardless of the fact that Sony mucky-mucks are pleased with the turn of events.
"We're very excited about the creative possibilities that come from returning to Peter's roots."
(I've yet to see a corporate press release where the execs aren't
"excited"
or
"thrilled"
with the latest developments. You would think they'd find themselves some new words, but they never do. They cling to cliches like they're life preservers.)
So now, as the L.A. Times
relates
, Sony has only one event picture for summer 2011. Thank God it's Three Dee Smurfs.
(Thanks
Animation Guild Blog
)
The DreamWorks and the Dragon
Part of yesterday afternoon was spent at DreamWorks Animation, and I have very little to report except what a veteran story artist told me without prompting.
"I went to a screening of
How to Train Your Dragon
. The studio sent out an e-mail about it, and I was sort of back and forth about going, wasn't really that interested.

"But I finally went. And I'll tell you, it's the best film this place has ever made, hands down. The version I saw wasn't completed, it still had a bunch of things that needed more work, but the picture sustained. It takes you up to a high level and keeps you there. It's really involving."
I asked him if he thought
Dragon
was better than
Panda
. He said yeah. (I suppose you'll have to go watch it for yourself in March, and decide for yourself. The artist also said the Three Dee was first-rate as well.)
(Thanks
Animation Guild Blog
)
Fox challenging Up?
Is
Fantastic Mr. Fox
the frontrunner for the Oscar? The
New York TImes
makes the case — in their usual in-depth fashion.
Awards Daily
, however, much more tersely replies
"but critics don't vote on the Oscars"
.
"Up" wins Golden Tomato Award for positive reviews
Pixar's
"Up"
took home the Golden Tomato Award for Best Reviewed Wide Release Film of the Year, Rotten Tomatoes (www.rottentomatoes.com), the leading online aggregator of film reviews, announced Tuesday.
This marks the studio's sixth win in the Wide Release category.
Up
received a 98% Tomatometer score for positive reviews.
The film also received a Golden Tomato Award in the Animation category.
This year marks the 11th annual Golden Tomato Awards, which pay tribute to the best and worst reviewed films of the past year. Films are ranked according to their "Tomatometer" scores, which are based on the published opinions of more than 200 top film critics as aggregated by Rotten Tomatoes.
"On behalf of the entire Pixar creative team, I wanted to thank both the fans and the critics community for honoring
Up
with such an unprecedented honor,"
said Pete Docter, the director of
Up
.
Pixar continues to dominate as the most-honored studio. It's won Wide Release Film of the Year more times than any other studio. As well, Pixar has earned the most Golden Tomato Awards (16 total).
"Every year since we started doing this award, if they've got a movie, they win,"
said Rotten Tomatoes editor-in-chief Matt Atchity.
"They just consistently turn out really good quality movies."
Up
marks the eighth time that an animated movie has won Best Wide Release. The other winning films were
Wall-E
(2008),
Ratatouille
(2007),
Wallace & Gromit: the Curse of the Were Rabbit, The Incredibles, Finding Nemo, Chicken Run
and
Toy Story 2
.
Since 2001, the Golden Tomato Award winner of the Animated Category has won the Academy Award for Best Animated Feature six times.
With a 97% Tomatometer score, the action-packed war epic
The Hurt Locker
won this year's Rotten Tomato Award for Best Reviewed Limited Release Film of the Year.
The worst-reviewed film of 2009 and recipient of the Moldy Tomato Award is video game-adaptation
Street Fighter: The Legend of Chun-Li
(4% Tomatometer score).
Vancouver animator, 39, dies after police shooting
Vancouver animation artist Matthew John Wilcox, 39, died in hospital Sunday night after being shot in a confrontation with the RCMP.
A resident of suburban North Vancouver, British Columbia, Wilcox was shot at about 2:30 p.m. Saturday on Dollarton Highway in the neighborhood of Deep Cove after allegedly striking several parked vehicles in a police car chase. He died at about 8 p.m. Sunday following surgery treating a gunshot wound to the torso, said Constable Lindsey Houghton, a spokesman for the Vancouver Police Department.
Wilcox was a modeler for the 2003 incarnation of
Spider-Man
, produced by Sony Pictures Television.
Credited as Mathew Wilcox, he was a computer animator for the 1996 Mainframe Entertainment series
Beast Wars: Transformers
.
Wilcox worked on many well-known animation productions, friend David Phillips noted:
"If many people remember the cartoons
ReBoot
and
Spider-Man
-- well, Matt was the animator. He did a lot of the animation on those."
According to Phillips, Wilcox had been diagnosed with bipolar disorder 18 months ago, with accompanying mood swings ranging from euphoria to depression.
"He experienced both ends of life -- the great challenges and lows. And he managed as best as he could with the lows,"
Phillips told CBC News.
Witnesses said that Wilcox refused to follow police instructions after colliding with an RCMP cruiser, and that he dared police to shoot him.
"The guy… was saying, 'Why don't you kill me? Just kill me now. Why don't you kill me?'"
witness Claire McGivern said.
Ultimately,
"the officer made a decision to fire his service weapon. The man was shot in the torso area and was taken into custody,"
police said in a written statement.
Although his injuries from the shooting were called non-life-threatening and he was expected to make a full recovery, he died after an apparent heart attack.
At the request of the RCMP, an investigation into the role of North Vancouver RCMP in the chase and later shooting is being conducted by the Vancouver Police Department.
"Our detectives will certainly have to put together all the facts or details and see if that meets the justification of use of force,"
Houghton said.
The British Columbia Coroners Service will conduct an autopsy to determine "the exact cause of death," Houghton added.
Vancouver police are revealing few details about Saturday's confrontation. They say, however, that an RCMP officer answered a 911 call on Mount Seymour Parkway describing a vehicle being driven erratically and followed a vehicle. The officer is a four-year member of the North Vancouver detachment.
Police say that the officer pulled Wilcox over at the intersection of Deep Cove Drive and Strathcona Road, shooting him after he refused to comply with the officer's commands. Neither the Vancouver Police Department nor North Vancouver RCMP would say whether the officer is still working.
Police also would not say whether Wilcox was armed, whether he advanced on the officer, or what kind of threat he constituted to warrant the use of force.
Some witnesses claim that Wilcox drove his car erratically through Deep Cove, rushing the officer later.
"We're investigating the shooting portion only,"
Houghton said of Saturday's incident.
Four hours before his death, police issued Wilcox an undertaking to appear in court for criminal offenses that they allege he committed before the shooting.
Court Services online indicates that Wilcox was also slated to appear January 21 in North Vancouver provincial court for charges of impaired driving and resisting a police officer after an offense that took place in the suburb last October 22.
The Vancouver Police Department could spend up to two weeks interviewing witnesses before providing a public statement, Houghton said. He added that anyone present at the scene of the shooting who has not talked to police yet should call investigators at (604) 717-2500.
The B.C. Coroners Service was unable to comment.
North Vancouver, British Columbia RCMP surround the scene of Saturday's shooting. (CTV)
Tintin Fans Attacked By Tintin Lawyer
Nick Rodwell, the British lawyer who married the widow of
Tintin
creator Hergé and now controls the
Tintin
estate, has embarked on a malicious crusade to sue people who use the character—even historians of the comic whose use of the character would qualify under
"fair use"
doctrines in the United States.
Rodwell's latest target is Bob Garcia,
"a detective novelist, jazz musician and Tintin aficionado,"
who has been ordered by British courts to hand over £35,000 or face the possibility of having his house and belongings seized. His crime: writing five essays about the character. According to the UK's
Telegraph paper
,
"One pamphlet drew links between his twin passions – Tintin and Sherlock Holmes. Another looked at the cinematographic references in Hergé's works. Two of the five, printed on average 500 times, used 'graphical citations' of Tintin drawings."
More details from the
Telegraph
:
Hundreds of
Tintin
fans have already backed Mr Garcia, who on Thursday called for a boycott of the film and claimed that many supporters were heeding his demand. More than 500 people have joined his page on the Facebook website which expresses
"anger and disgust"
over the issue. More supporters have also backed his cause on other websites.
Tintin
is one of the most successful comics of the 20th century, selling over 250 million copies and translated into 50 languages. Mr Rodwell's company, Moulinsart, stands to take a huge cut from spin-offs after Steven Spielberg's film,
The Adventures of Tintin: The Secret of the Unicorn
, is released in 2011.
"Mr Rodwell is trying to clear the decks ahead of the film on anything or anyone who speaks about Tintin to have the absolute monopoly on the brand. For him, my studies are just spin-offs of that brand,"
said Mr Garcia.
A sidenote about the lawyer Rodwell that might shed some light on his personal character. His official blog was
shut down by Tintin.com
last year after he started making personal attacks on journalists. One bizarre claim he made was that certain journalists disliked him because the children of those critics had autism and couldn't appreciate Tintin. This is a link to a
translation of Rodwell's writings
.
Here is
the link to the Facebook page
for those who wish to support Garcia (I've joined it myself). Below is a video of Garcia talking about one of his books on a TV show. The scholarly nature of his Tintin studies is clearly evident in the visual samples shown onscreen.
(via Boing Boing)
(Thanks
cartoon brew
)
Happy Fair Use Day!
Following the disheartening Tintin story posted above, it seems appropriate to note that today,
January 12
, marks the first ever
World's Fair Use Day
. The event is taking place in Washington, DC, and they're showing live webcasts of all the panels. The event is organized by the DC non-profit Public Knowledge whose mission statement is "to ensure that communications and intellectual property policies encourage creativity, further free expression and discourse and provide universal access to knowledge." Speakers at the event include a number of animators and cartoonists like Nina Paley of
Sita Sings the Blues
fame, Dan Walsh (
Garfield Minus Garfield
) and
Machinima
artist Chris Burke. The event's keynote will be delivered by Pennsylvania congressman Mike Doyle, who will discuss the important of fair use in the digital age. The webcast starts in a few minutes so head on over to
WorldsFairUseDay.org
.
(Thanks
cartoon brew
)
Who Animated Fantastic Mr. Fox?
To produce Wes Anderson's stop-motion feature
Fantastic Mr. Fox
, a total of 29 film units were going at once at
3 Mills Studio
in London. They used
Stage C
, where much of Tim Burton's
Corpse Bride
was filmed. Animators on the film brought with them years of experience on other stop-motion features. Daniel Alderson worked on
$9.99
, Andy Biddle animated on Wallace & Gromit in
The Curse of the Were-Rabbit
and artists Brian Leif Hansen, Malcolm Lamont, Jens Jonathan Gulliksen, Anthony Farquhar-Smith and Peter Dodd (amongst others) all animated on
Corpse Bride
. Lastly, animation supervisor Mark Waring worked on
Corpse Bride
, so the easy answer to
"Who Animated Fantastic Mr. Fox?"
is – much of the crew from
Corpse Bride
.
Here's some behind-the-scenes clips to give you an idea of how it's pulled together:
a52 Helps Snap Together CL!CK Film for Lego
Santa Monica-based VFX studio
a52
added the crisp-looking animation to this short film for Lego. It's titled CL!CK, and it hypes Lego's new
legoclick.com
site. The agency leading the effort was
Pereira & O'Dell
and production was headed-up by director Blue Source for
MJZ
.
Marak Wraps Animated SuperBattle
Ethan Marak
is ready to reveal his latest personal project.
SuperBattle
started humbly, many years ago, as an action sequence for his reel. It evolved, as many creative projects do, and he has finally polished if off. He's also seen the film gain acceptance into a number of festivals already. Congrats, Ethan!
Olly Reid Offers a Glimpse of Deus
Olly Reid
, a Bristol-based animation director, runs
Hot Head Films
along with Jacky Priddle. Prior to that, he was directing ads for Aardman Animations, amongst others. His latest creation is a short film titled
Deus
, and Reid bills it as
"an unusual look at creativity."
Not sure what's happening in this clip, but I think I love it. Here's a teaser trailer:
Five Things We'll Miss About Sam Raimi & Tobey Maguire's 'Spider-Man' Franchise
"Spider-Man 4"
is no longer. The franchise that was defined by star Tobey Maguire and director Sam Raimi is in for a dramatic overhaul now that
the two creative forces are no longer involved in the Marvel Comics property
.
Some fans might point towards continuity deviations, an overabundance of villains and excessive dance sequences as reasons to look forward to the new direction of
"Spider-Man."
But if we're being honest with each other —
was it really all bad?
I have a lot of fondness for the original
"Spider-Man"
trilogy, and I doubt that I'm alone. While I'm certainly curious about the franchise's future, I can't help feeling some nostalgia for the old movies as they're on their way out. Here are a few of the things that I'll miss the most.
1. Peter Parker & His World of Characters:
I'm sure that the new
"Spider-Man"
films are going to draw heavily upon the many characters from Spidey's comic book appearances, but I'll miss the ones already established in Raimi's universe, like Betty Brant, Robbie Robertson, Curt Connors and more. Forget getting used to a new actor in Peter Parker's shoes, we're going to have to get to know an entirely new cast of characters. That's a bit daunting, to say the least.
2. Norman Osborn's Post-Mortem Appearances:
Although his character died in the first film, Willem Dafoe continued his performance as the Green Goblin through a series of hilariously epic mirror-bound cameos. While Dafoe's future participation was admittedly shaky after the death of Harry Osborn in the third film, the transition towards a rebooted series definitively precludes further appearances from the much loved actor.
3. J.K. Simmons as J. Jonah Jameson:
The Daily Bugle chief is undoubtedly Spider-Man's greatest nemesis that doesn't wear an awkward costume and speak in monologue — okay, maybe he monologues a little. The character is likely to resurface in the next
"Spider-Man"
film, but I doubt we'll see J.K. Simmons in the role if it's out-with-the-old. Simmons was easily my favorite actor in the mix, so I'll be sad to see him go.
4. Sam Raimi's Signature Style:
Say what you will about the dance numbers, but the
"Spider-Man"
films were filled with plenty of the often bizarre camera angles and gratuitously repetitive shots that Raimi's fans have come to love him for. Whoever the next director is, he or she could never replicate the famous tentacle-cam in
"Spider-Man 2."
Whether that's a good thing or not is entirely up to your personal taste.
5. Bruce Campbell's Many Cameos:
More so than any other actor, Bruce Campbell was in on the
"Spider-Man"
franchise thanks to his longstanding friendship and creative collaboration with Raimi. Now that Raimi's era is over, so to is Campbell's, I'd assume. It's a shame, especially considering that his next appearance was hyped to be a meatier cameo than usual. I'm sure there are plenty of places to enjoy The Chinned One's work in the future — it just probably won't be in the new
"Spider-Man"
films.
'Thor' Roundup: New Casting, Screenwriter Discusses 'Adjustments' To Comic History
With principle photography on director Kenneth Branagh's much anticipated
"Thor"
adaptation finally starting this week, Ashley Miller — one of the screenwriters attached to the project — has stated that the movie version of
"Thor"
will remain recognizable to comic book fans.
"It's about as close as you can reasonably expect it to be [to the comic book],"
Miller said during a recent appearance on
Alpha Waves Radio
.
"Obviously, you have to make some adjustments, and you have to compress some things simply for the sake of being able to get a lot of information out and being able to create a believable fantasy world that intersects with ours.""Look at 'Batman Begins' for example,"
continued Miller.
"It does actually play fast and loose with the history of the character, but at the same time, it brings in real cool elements from different interpretations of the character and puts them all together in cool ways.""I want people who love the character as much as I do to love this character in this movie,"
added Miller.
"And I want people who have never been exposed to this character to love him, too, and understand why I love him. And that's all that matters."
In other
"Thor"
related news, actor and stuntman David Mattey released a statement on his website
indicating that he has joined the cast
.
"Been super busy lately with rehearsals for Marvel Studios' upcoming Thor movie,"
wrote Mattey.
"I'm not at liberty to say what I'm doing on it (it's all classified), but we've been rehearsing since mid-October so far."
The release date for
"Thor"
was recently pushed up to May 6, 2011
in light of the unexpected delay and
later cancellation of "Spider-Man 4
."
Who Should Direct The New 'Spider-Man' Movie?
Now that
Sam Raimi and Tobey Maguire have officially departed the "Spider-Man" franchise
, it's well worth pondering who the next director and lead actor to join the property are going to be.
While
"Spider-Man 3"
certainly suffered its fair share of criticism, the combination of Raimi and Maguire won over the majority of fans in the initial two installments. Finding adequate replacements isn't good enough — Sony needs to find the best of the best.
For now, let's focus on the director's chair. Raimi's shoes are big ones to fill — he brought the indie sensibilities of his
"Evil Dead"
days to
"Spider-Man,"
offering a unique take on the character and his world that no other director could replicate. Given that, a drastically different approach is a must, but not one lacking in the same kind of quality. These five directors could go a long way towards taking the
"Spider-Man"
franchise in a bold new direction.
JAMES CAMERON
The
"Avatar"
filmmaker has already expressed interested in
helming the "Spider-Man" movies
in the past. While his busy docket currently includes sequels to
"Avatar," "Battle Angel Alita"
and a proposed retelling of the bombing of Hiroshima, perhaps James Cameron still has enough passion for Spidey to make room in his hectic film slate.
J.J. ABRAMS
After the good will he's helped restore in the fledgling
"Star Trek"
franchise, there's no question that J.J. Abrams knows how to steer a ship. He's an excellent character builder and knows his way around epic action sequences, both of which are essential ingredients in a successful
"Spider-Man"
film. Plus, he has an excellent knack for casting fresh talent, which could work towards bringing fans an awesome new Peter Parker.
JON FAVREAU
Sure, Jon Favreau already has one superhero franchise to his name with
"Iron Man,"
and he's likely to have more comic book credibility with
"Cowboys & Aliens."
Still, the filmmaker's eye for action and natural comedy — not to mention the blockbusters on his resume — would be a terrific contribution towards this new stage in the film life of Marvel's most prominent icon.
MARC WEBB
The director of
"(500) Days of Summer"
isn't exactly the first choice one might think of when contemplating the
"Spider-Man"
movies, but his sense for eye-popping visuals and drawing believably intimate relationships from his actors are sharp tools that could help put the superhero franchise back on its feet. Plus, he's already pals with Joseph Gordon-Levitt, a fan-favorite pick to take over the role of Peter Parker. Could be a winning recipe.
WES ANDERSON
With a career stretching from
"Bottle Rocket"
to
"The Fantastic Mr. Fox,"
there isn't much that Wes Anderson can't do. While hopping into an action-heavy franchise might not sound like a natural progression for the filmmaker, I think his character-first approach would benefit the
"Spider-Man"
franchise tremendously. Plus, his movies are always hilarious, but not because they overextend themselves reaching for a joke — the humor is inherent, and that's something that I think is essential to the next
"Spider-Man"
movies.
Dwayne 'The Rock' Johnson On 'Shazam!' Status And Black Adam
Remember the good old days, when some kid name Dwayne
"The Rock"
Johnson was an up-and-coming talent, and his looks and physique made him
the perfect fit
to play
"Shazam!"
borderline-baddie Black Adam?
It's been nearly three years now since The Rock
solicited the opinion
of MTV Movies Blog visitors and
agreed with them
that he was a perfect fit to play the muscular, morally-conflicted protector of Earth. Well, I interviewed the star on Friday and lemme tell you — the dude is bigger than he ever has been before, and he certainly looks the part of a superheroic character.
Unfortunately, the
"Shazam!" film has anguished in development hell
while The Rock has gone from one project to the next. So, I had to ask the former WWE superstar: If he were a betting man, would he still place money on the fact that he'll someday play Black Adam?
"I don't know,"
sighed the star, something of a Hollywood rarity in that he always shoots straight with the fans.
"I can never say that with truth. The truth that I can tell you is that I would love to play Black Adam."
Not too long ago, screenwriter John August said
"Shazam"
seemed to be D.O.A
. But the man sometimes known as Dwayne Johnson revealed to us that his
"Get Smart"
filmmaker and friend still seems determined to get the movie made.
"There's a lot of [factors in play],"
explained the star.
"The studio will have to decide on that, whoever the director is – hopefully, it will be Pete Segal – who is still very passionate about the project. Both of us are, by the way. I'm not too sure where it's at right now, but I would love to [do it]."
For those of you who can't wait to see The Rock doing something heroic, he will be flying through the air in tights in
"Tooth Fairy,"
which hits theaters
January 22nd
. In the meantime, he told us that just because he looks like Black Adam doesn't mean it's inevitable - but if we're all patient a little bit longer, the slow simmer might eventually yield a pleasant whiff of what The Rock is cooking.
"What I've found is [playing superheroes] is a lot more specific than [looks],"
he explained, saying the
"Shazam"
character would be a rare mix of looks and backstory being perfectly suited for a star. "
That's why Black Adam resonated with me, especially once I started to understand the story of Black Adam and how he related within his story."
Alleged 'Wolverine' Movie Leaker Profiled: 'I'm Gonna Get Crucified'
With all of the chaos surrounding
"Spider-Man"
right now, it's easy to forget one of the more prominent fiascoes of last year's comic book movie scene: the leak of an
unfinished print of "X-Men Origins: Wolverine."
After an
arrest was made in the investigation
last month, the man accused of putting the illegal copy of
"Wolverine"
online revealed the course of events that brought F.B.I. agents to his door a month ago.
Gilberto Sanchez told the
New York Times
that he bought the bootleg copy of
"Wolverine"
from a street peddler and uploaded it to a file-sharing site. The film was widely circulated online, and everyone from Fox execs to Hugh Jackman himself expressed varying levels of shock, disappointment and condemnation, with
Jackman saying he was "heartbroken"
about the whole situation. Sanchez said he doesn't intend on fighting the charges against him.
He also doesn't intend to have a face-to-face with the
"Wolverine"
star any time soon, despite an invitation from CBS to appear with Jackman on
"The Late Show With David Letterman."
"No, thanks. I'm not going to sit next to Wolverine,"
he said.
"That's a setup."
The profile of Sanchez is certainly worth a read for anyone even mildly interested in the series of events up to and following the
"Wolverine"
movie leak, as penalties for similar crimes have covered a wide range — everything from simple fines to several months in prison. In Sanchez' case, any outcome that includes prison time could require relocation to California, the source of the indictment.
"I'm a scapegoat for this,"
said Sanchez during the interview.
"I'm gonna get crucified."
Peter Sarsgaard In Talks To Play 'Green Lantern' Villain
Green Lantern found his leading lady last week in
"Gossip Girl" Blake Lively
, and now it looks like he's found his foe, too.
Peter Sarsgaard (
"Boys Don't Cry"
) is in talks to play Dr. Hector Hammond in
""Green Lantern,"
according to
The Hollywood Reporter
. The report describes the character as
"the pathologist son of a senator who is seen as a disappointment in his father's eyes. He becomes infused with psychic powers when he discovers a meteor."
First appearing in a 1961 issue of
"Green Lantern,"
Hammond seems to be headed for a similar origin on the big screen as he did in the comics — but how faithful the film will be to the character's evolution, however, is the real question.
In the DC Universe, Hammond's exposure to the meteor eventually mutates his brain to an abnormally large size, giving him psychic powers, telepathy and various other abilities, but rendering him unable to move or speak (outside of telepathic communication).
It seems unlikely that a character with Sarsgaard's pedigree would follow through on the character's history that far, but heck, it wouldn't be the first unexpected casting in the comic book movie world. (Kelsey Grammer did suit up in face paint and blue fur for
"X-Men 3,"
after all.)
Sarsgaard most recently starred in
"An Education,"
and is currently shooting
"The Ledge"
with Terrence Howard and Evan Rachel Wood.
Of course, with casting for Hector Hammond underway, all that's left to cast seems to be Sinestro.
"Green Lantern"
is expected to
begin filming in March
.