Roy's Memorial
There was a sizable
memorial
for Roy Disney today at the El Capitan theater in Hollywood. Animators, producers, Robert Iger, one of Roy's sons and Roy's sailing crews came onstage and spun stories about Roy at the studio, Roy as a nature cinematographer, and Roy on the bounding Main.
Sunday's memorial was anything but a sad occasion. There were live performances and clips from some of his award-winning movies. Everyone was asked not to wear black, but bright colors or Hawaiian shirts. It was a true celebration for the man who was behind some of the most successful Disney movies to date.

About 1,000 people turned out for the memorial ...
One of the tales that resonated was a story about Mr Disney racing his boat through the Caribbean in a high-stakes yacht race, fishing as he went. As one of Roy's crew members reflected:
"I was crewing a different boat then, not Roy's. We were focused and serious because we knew we were racing a world-class craft, and we wanted to win. And here comes Roy at the helm of his boat, in shorts. And he gives a wave as he passes us.
"And there's a fishing line trailing off his starboard side. Fishing line. Nobody fishes during a high pressure race on the high seas. You're trying to make your boat go as fast as possible, with as little drag as possible. But Roy was
fishing
. And he came in first."
There were a lot of other reminiscences, but that one struck me as quintessential: Unassuming Roy. Unconventional Roy. And Roy, despite the idiosyncrasies (or maybe because of them), ending up in first place.
There are worse ways to live life.
(I will shortly put up a few pictures of the day ...)
Add On:
As I commented down below, Robert Iger, who had some graceful things to say about Mr. Disney, announced that henceforth the Disney
"Animation Building"
would be known as
"The Roy E. Disney Animation Building."
John Lasseter also had some nice remembrances about Roy, pointing out that Pixar started working on Disney Feature's CAPS system (digital ink and paint) at Roy's behest, a month after Pixar became its own company. He stated:
"If not for Roy, neither Disney Feature Animation or Pixar would probably be here today."
Add On Too
: The L.A. Times
ran an article
today about the documentary in which Roy participated shortly before his death:
...
"Waking Sleeping Beauty"
doesn't paint over the conflicts that not only were inevitable in Disney's resurgence but also were an outcome of the turnaround itself, as the studio's most senior executives (Jeffrey Katzenberg, Michael Eisner, Roy E. Disney) squabbled over who deserved credit for the renaissance.


"We were hyper aware of not making a puff piece,"
Hahn said in an interview.


"Waking Sleeping Beauty"
tracks two parallel plots. The first and most central to the documentary is how low Disney's animation division had fallen in the years leading to the 1980s --
"given up for dead,"
the movie states -- and what it took to restore the division to its former brilliance. The second story line follows the studio managers determined to bring the unit back and how their infighting ultimately split Disney apart. ...
(Thanks
Animation Guild Blog
)
Job Offer of the Week
Another
classic job offer
, this time from iFreelance.com. A Nigerian musician, Cruci Derek, is looking for somebody to make him a
"high-quality"
CG music video with an
"Avatar standard"
. The budget is $250. They'll pay you through Western Union, but be forewarned,
"Deposit upon proven competence of undertaking this job."
To be fair, the guy's music isn't awful:
(Thanks,
Frank Panucci
)
(Thanks
cartoon brew
)
Avatar, The Animated Film That Wasn't
I was thinking today, If
Alvin and the Chipmunks: The Squeakquel
has enough animation in it to be eligible for Best Animated Oscar, and
A Christmas Carol
is considered animation, then
Avatar
most definitely qualifies as an animated film too. The only reason
Avatar
isn't on the list of animation Oscar contenders is because the studio didn't want it to languish in the
"animation ghetto."
That doesn't change the fact, however, that it's an animated film and should be acknowledged as such.
This spurred me to do some research on the subject, and I discovered I'm not the only one who's been thinking about this. Brad Brevet did an
excellent in-depth report on the subject at Rope of Silicon
where he discusses the blurry line between visual effects and animation and how it leads to a double standard at awards time:
[I]t has pretty much been agreed upon around the Internet Avatar will be taking home the Oscar for Best Visual Effects, which creates an interesting conundrum. Why is the CG in
Avatar
considered visual effects while the CG employed for a Pixar or DreamWorks film simply considered animation? If
Avatar
is up for Oscar's Best Visual Effects award shouldn't
Up
and
Monsters vs. Aliens
be as well? The fact they aren't, but
A Christmas Carol
is, interests me. Perhaps the real question is
When is CGI no longer considered visual effects and when is it considered animation?
There are serious problems at the Academy if they consider
A Christmas Carol
to be both animation and vfx,
Avatar
only vfx, and
Up
only animation. As animation matures and evolves as an art form, it is vital for those of us within the industry to recognize it in all its many forms, and not allow organizations like the Academy to make arbitrary value judgments about different forms of animation.
(Thanks
cartoon brew
)
Animag Event Offers Career Tips in the Multi-platform Arena
JibJab Entertainment co-founder and president Even Spiridellis will deliver the keynote speech at this month's Animag Event,
"Creating Animation for the Multiplatform Era."
Scheduled for Tuesday, January 26, this morning breakfast, panel and mixer will also feature industry heavyweights Michael Bellavia (President of Animax Entertainment), Brendan Burch (Partner & President of Six Point Harness Studio), Lauren Lloyd, JibJab Entertainment's Director of Production) and Marge Dean (General Manager, Wildbrain Animation Studios).
Following the panel, Amy Winfrey, creator of the acclaimed animated web series and Nickelodeon's Making Fiends, will also make a special presentation.
This unique Animag event will allow participants to get a clear understanding of what it takes to make it in the new competitive world of animation. Among the topics addressed by the panelists are how to present your animated projects to the execs and decision-makers in the business, which applications and technologies are more effective in 2010, what are some of the major animation studios in town looking for, how can you stay competitive in the business, what are some of the biggest successful examples in the new toon world and what were their recipes for success?
In addition to meeting some of the major key animation players in town face to face, event panelists will take home lots of practical knowledge (as well as special Animag giveaways and prizes) to help with their career.
"ToonTown 2.0: Creating Animation for the Multi-Platform Era"
will take place
Thursday, January 26
the Beverly Garland Hotel in North Hollywood, CA. Early bird discounts are available, so book soon! For more information and to reserve a space, visit
www.animagevents.com
(Thanks
Animation Magazine
)
Academy Presents 15 Sci-Tech Awards
The Academy of Motion Picture Arts and Sciences is recognizing developments in 3D, motion capture and ambient occlusion rendering in announcing the awarding of 15 scientific and technical achievements.
The 46 individuals the awards recognize will be honored at the academy's annual Scientific and Technical Awards Presentation, which will be held at the Beverly Wilshire Hotel on
Feb. 20
.
The winners of the academy's Technical Achievement Award, for which they will receive an Academy Certificate, are:
• Mark Wolforth and Tony Sedivy for their contributions to the development of the Truelight real-time 3D look-up table hardware system. Through the use of color management software and hardware, this complete system enables accurate color presentation in the digital intermediate preview process.
• Klaus Anderle, Christian Baeker and Frank Billasch for their contributions to the LUTher 3D look-up table hardware device and color management software. The LUTher hardware was the first color look-up table processor to be widely adopted by the pioneering digital intermediate facilities in the industry.
• Steve Sullivan, Kevin Wooley, Brett Allen and Colin Davidson for the development of the Imocap on-set performance capture system. Developed at Industrial Light & Magic and consisting of custom hardware and software, Imocap is an innovative system that successfully addresses the need for on-set, low-impact performance capture.
• Hayden Landis, Ken McGaugh and Hilmar Koch for advancing the technique of ambient occlusion rendering. Ambient occlusion has enabled a new level of realism in synthesized imagery and has become a standard tool for computer graphics lighting in motion pictures.
• Bjorn Heden for the design and mechanical engineering of the silent, two-stage planetary friction drive Heden Lens Motors. Solving a series of problems with one integrated mechanism, this device had an immediate and significant impact on the motion picture industry.
The winners of the academy's Scientific and Engineering Awards, for which they will receive an Academy Plaque, are:
• Per Christensen and Michael Bunnell for the development of point-based rendering for indirect illumination and ambient occlusion.
• Richard Kirk for the overall design and development of the Truelight real-time 3D look-up table hardware device and color management software.
• Volker Massmann, Markus Hasenzahl, Klaus Anderle and Andreas Loew for the development of the Spirit 4K/2K film scanning system as used in the digital intermediate process for motion pictures. The Spirit 4K/2K has distinguished itself by incorporating a continuous-motion transport mechanism enabling full-range, high-resolution scanning at much higher frame rates than non-continuous transport scanners.
• Michael Cieslinski, Reimar Lenz and Bernd Brauner for the development of the ARRISCAN film scanner, enabling high-resolution, high-dynamic range, pin-registered film scanning for use in the digital intermediate process.
• Wolfgang Lempp, Theo Brown, Tony Sedivy and John Quartel for the development of the Northlight film scanner, which enables high-resolution, pin-registered scanning in the motion picture digital intermediate process.
• Steve Chapman, Martin Tlaskal, Darrin Smart and James Logie for their contributions to the development of the Baselight color correction system, which enables real-time digital manipulation of motion picture imagery during the digital intermediate process.
• Mark Jaszberenyi, Gyula Priskin and Tamas Perlaki for their contributions to the development of the Lustre color correction system, which enables real-time digital manipulation of motion picture imagery during the digital intermediate process.
• Brad Walker, D. Scott Dewald, Bill Werner and Greg Pettitt for their contributions furthering the design and refinement of the Texas Instruments DLP Projector, achieving a level of performance that enabled color-accurate digital intermediate previews of motion pictures.
• FUJIFILM Corporation, Ryoji Nishimura, Masaaki Miki and Youichi Hosoya for the design and development of Fujicolor ETERNA-RDI digital intermediate film, which was designed exclusively to reproduce motion picture digital masters.
• Paul Debevec, Tim Hawkins, John Monos and Mark Sagar for the design and engineering of the Light Stage capture devices and the image-based facial rendering system developed for character relighting in motion pictures.
(Thanks
Animation Magazine
)
DreamWorks Does Up
Over the last month, DreamWorks Animation has done nothing but go Up.... at least in the stock market. In the last 30 days, their stock has returned 10.9%, and is now prced at about $40.73. DreamWorks Animation is currently above its 50-day moving average of $36.24 and above its 200-day moving average of $30.37. Look for these moving averages to climb to confirm the company's upward momentum.
Animator and director John H. Freeman dead at 93
Sequence director John H. Freeman, a character animator on the 1955 Disney feature film
Lady And The Tramp
, died January 1 in Burbank, California. He was 93.
During his 16 years at Disney, he animated (
almost always without credit
) on such features as 1953's
Peter Pan
, as well as several shorts.
A writer as well, Freeman began his animation career at Walt Disney Productions when he was 22. He had been honing his skills as a cartoonist. In preparation for his interview at the studio, he made his own
"reel,"
a demonstration of his artistic ability. He was hired within 20 minutes.
After a brief stint in the army (he was drafted), he returned to work at the Disney studio, where he began as an inbetweener on
Fantasia
(1940).
Sometimes known as John Patrick Freeman, he was a
"story man"
and often was the point or front person for promoting various Disney projects. For example, some of his drawings and other artwork for
Lady and the Tramp
were published in Chevrolet's house magazine, Friends, in 1955.
Freeman also innovated the amphitheater-style of seating while teaching life drawing at Disney. This made is possible for artists to view and sketch the model from various vantage points.
He went on to work at TV Spots in San Francisco in 1956. There, he immediately went to work laying out, animating and completing camera-ready finished drawings for four one-minute spots within one week on six hours sleep and met the deadline for all four agencies.
"Everybody was happy as hell. Those people up there thought I was Paul Bunyan or something,"
he recalled.
Freeman directed several TV cartoon series, including Pantomime Pictures'
Hot Wheels
(1969). He won an award from CBS for his direction of the series for Best Saturday Morning Animation show.
While at Disney, he worked with Bing Crosby and Orson Welles on production at Marvel Studios. He also directed
Inhumanoids, My Little Pony 'n Friends, The Glo Friends, Moondreamers
and
Potato Head Kids
for Marvel Productions, Ltd. in 1986.
Freeman was a sequence director for Marvel's
G.I. Joe, Transformers
and
Jem
in 1986-87.
He was an animation director for episodes of
Linus The Lionhearted
(1964), as well as for
Transformers: The Movie
(1986) and the direct-to-video
G.I. Joe: The Movie
(1987).
In addition, he was a story director for episodes of Hanna-Barbera's
The Huckleberry Hound Show
(1961-62),
The Yogi Bear Show
(1961),
Quick Draw McGraw
(1961) and
The Flintstone Comedy Show
(1980).
As an animator, he worked on the DePatie-Freleng Enterprises series
Super President
(1967),
Bailey's Comets
(1973) and
The Oddball Couple
(1975), Hanna-Barbera's
The Kwicky Koala Show, Trollkins
and
Smurfs
(all 1981), as well as episodes of Ruby-Spears'
Fang Face
(1978).
In 1981, Freeman was asked to travel to Madrid to animate Katy at the Moro Creativos Asociados Studio. Also known as
Katy the Caterpillar
, the feature film was released in 1984.
Other work as an animator for DFE included the 1973-74
Hoot Kloot
cartoons
Kloot's Kounty, Ten Miles To The Gallop, Gold Struck and Mesa Trouble
, the 1972 special
Clerow Wilson And The Miracle Of P.S. 14
, the 1973 ABC Afterschool Special
The Incredible, Indelible, Magical, Physical Mystery Trip
, the 1973
Blue Racer
cartoon
Fowl Play, Dr. Seuss On The Loose
and
The Bear Who Slept Through Christmas
(both 1973), the 1974
Pink Panther
cartoon
Pink Aye
and
The Hoober-Bloob Highway
(1975).
He animated the 1982 H-B special
Christmas Comes To PacLand
, along with the 1984 Film Roman special
Garfield In The Rough
.
Freeman was an animator and layout artist for several ABC Weekend Specials:
The Puppy's Great Adventure
and
The Incredible Detectives
(both 1979),
The Puppy's Amazing Rescue
(1980),
The Trouble With Miss Switch
(1980),
The Puppy Saves The Circus
(1981) and
P.J. Funnybunny
(1989).
He provided what was described as
"graphic blandishment"
for the 1966 Halloween special
It's The Great Pumpkin, Charlie Brown
. In movies, he was an animator for
The Nine Lives Of Fritz The Cat
(1974) and a character animator for
Heidi's Song
(1982).
A layout artist for Ruby-Spears'
The Plastic Man Comedy-Adventure Show
(1979), he provided titles for the 1984 series
Bibifoc
(aka
Seabert
) and wrote for DFE's
The Super 6
(1966). He was an animation timer for episodes of DiC's 1988 incarnation of
Beany and Cecil
, and was a layout artist for the 1968 Warner Bros. short
Norman Normal
.
Born in Spokane, Washington on December 14, 1916, Freeman received a Golden Award from the Motion Picture Screen Cartoonists Animation Guild in 1992.
John H. Freeman is survived by his wife, the former Lois Cameron, as well as daughters Catherine, Melissa and Marci, and grandsons Jason and Casey.
Die Konferenz der Tiere
The trailer for an upcoming German CG feature,
Die Konferenz der Tiere
, co-directed by Reinhard Klooss and Holger Tappe at
Constantin Film
:
It's based on a 1949 children's book by Erich Kästner that took an
Animal Farm
-esque approach to Germany's East-West conflict. The book was previously adapted into an animated feature in 1969. A clip from that earlier film can be
viewed on YouTube
. Which version would you rather watch?
(Thanks,
Stefan Klauss
)
(Thanks
cartoon brew
)
Youth In Revolt animation
The Weinstein Company's new film,
Youth In Revolt
, opened in ninth place at the box office this weekend. I haven't seen it myself, but have recieved reports that the film uses quite a bit of animation — from stop-motion opening credits, to pixilation and pornographic hand drawn animation in the middle of the film, and traditional 2D animation during the end credits.
Peter Sluszka of New York-based
Hornet Inc
created the animation, shot both in New York at Hornet's Brooklyn stage and on location in Michigan (for the pixilation sequence). Here's a link to the
stop-mo opening credits.
(Thanks, Ryan McCulloch)
(Thanks
cartoon brew
)
Tim Minchin's Storm directed by DC Turner
I got a kick out of this trailer for
Storm
, a nine-minute animated short based on a
'beat poem'
by Australian comedian and writer Tim Minchin. The film is directed by DC Turner, and animated by Turner and Fraser Davidson. The filmmakers have a blog where they're sharing
artwork from the short
while Minchin's original poem
can be heard here
.
(Thanks, Dan Pinto)
(Thanks
cartoon brew
)
Blue Sky in the spotlight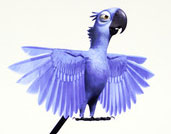 The
New York Times
has a nice piece about Blue Sky Studios, their history, how they upset the major players in 2009, and their future. They note that
Ice Age 3
was the
#1 animated film of 2009
at the global box office, easily besting Pixar's
Up
and DreamWorks'
Monsters vs. Aliens
-- and they did it with half the budget of those films.
"In fact, adjusted for inflation, Ice Age: Dawn of the Dinosaurs ranks as the third biggest computer-animated movie of all time"
. The studio's upcoming projects include:
Rio
(directed by
Ice Age 3
's Carlos Saldanha and set for an
April 2011
release) about
"a rare macaw who thinks he is the last of his kind"
;
The Leaf Men
(directed by Blue Sky co-founder and Oscar winner Chris Wedge) is based on the William Joyce book; and
Ice Age 4
.
Will Avatar sink Titanic?

With the movie ruling the weekend for the fourth week in a row, many are starting to wonder if
Avatar
will have the strength to be able to overcome
Titanic
's box office record and become the highest grossing movie of all time.
Newsweek
looks at the many things that have been working in the film's favor, including the strong word of mouth and buzz about potential Oscar nominations. Currently standing at $430 million,
Avatar
would have to make about $170 million more in order to best
Titanic
's $600 million gross. Meanwhile, fans of the movie can now enjoy reading
the complete script for the film
, which Fox recently posted online.
Ice Age threequel topped French box office in '09
France's favorite American movies no longer star Jerry Lewis.
Instead, the country's box office champion in 2009 was
Ice Age: Dawn Of The Dinosaurs
, distributed by Fox. It made the equivalent of $66.8 million in France.
That helped the country break its all-time box office record last year, collecting 1.2 billion Euros ($1.8 billion) through 200.85 million admissions.
"This year, the box office was much more homogenous than last year. We had four films that sold more than five million admissions,"
said Olivier Lebraud, head of marketing and promotion at movie distributor SND.
"It was boosted by big 3D titles like Avatar and Ice Age."
The market share for American films reached 47.6% through November, up from 43.8% in 2008. The share for French films dropped to 36.8% from 45.9% for 2008.
Luc Besson's animated feature
Arthur Et La Vengeance de Maltazard
, distributed by EuropaCorp, brought in $29.3 million as of December 29. It's the sequel to 2006's
Arthur Et Les Minimoys (Arthur and the Invisibles)
, which performed poorly at the North American box office.
Animated Short Nominees From 2010 Goya Awards
The Goya Awards
are like the Oscars of Spain, and they've recently announced the nominees for the 2010 event.
Margarita
, which was directed by Alex Cervantes, was nominated in the Best Animated Short Film category. The 2D film is based on a poem by Ruben Dario, and it was produced by
Hampa Animation Studio
, which is located in Valencia, Spain. Here's the film in its entirety.
Also nominated were
La Dama y La Muerte (Lady and the Reaper)
, which was directed by Javier Recio Garcia,
Alma (Soul)
by Rodrigo Blaas and
Tachaaan!
by Carlos del Olmo, Miguel Ángel Bellot and
Rafael Cano
. Here's a clip from
Tachaaan!Soundtrack Release For "Wonder Woman" Animated Feature Slated To Arrive Early 2010
A representative for La-La Land Records has confirmed the soundtrack for the recent
Wonder Woman
direct-to-video animated film is forthcoming.
While an official announcement is still forthcoming, a representative for La-La Land Records has confirmed the CD soundtrack release for the acclaimed
Wonder Woman
direct-to-video animated feature is slated to arrive in the coming months. The soundtrack is expected to be made available for purchase through the official La-La Land Records website and online soundtrack specialty sites. The soundtrack, originally due for release in February 2010, will now see release during either March or April 2010. No reasons were cited for the delays, but the representative assures the
Wonder Woman
soundtrack CD release will be available soon. A downloadable version of the soundtrack, released by New Line Records to iTunes, will be made available around the same time as the
Limited Edition Wonder Woman
soundtrack CD release.
La-La Land Records recently released the score to the 2009 direct-to-video DC Universe Animated Original Movie title
Green Lantern: First Flight
as a Limited Edition CD release. With New Line Records, a division of Time Warner, now releasing both compact disc and legal downloads of music scores from selected Warner Bros. Animation projects, representatives for La-La Land Records cannot currently confirm if the label will be releasing more CD titles for the studio.
La-La Land Records recently issued CD soundtrack releases for
Batman: The Animated Series, Batman: Mask of the Phantasm
, the aforementioned
Green Lantern: First Flight
, among many other titles. The World's Finest originally broke the news on the forthcoming
Wonder Woman
soundtrack release last year.
More details on the
Limited Edition Wonder Woman
soundtrack CD release from La-La Land Records, including cover art and track listing information, will be unveiled over the coming weeks. Details on the iTunes downloadable version are also expected. Stay tuned for further updates.
Remembering Roy (the pictures)
As Steve posted earlier
, a memorial was held for the late
Roy E. Disney
at the El Capitan Theater in Hollywood.
Among those who reminisced about their professional and personal relationship with Roy were (from left to right) John Musker, Ron Clements, George Scribner, Dave Bossert, Glen Keane, Mike Gabriel, Andy Deja, Eric Goldberg and emcee Don Hahn.
Beforehand, a brunch was held across the street at the Wolfgang Puck dining room at the Hollywood Highland Center.
Animator Larry White, art director and producer Ed Ghertner and
Simpsons
director Mark Kirkland.
Steve Hulett with
Lion King
art director Andy Gaskill.
(Everybody was wearing Hawaiian shirts in honor of Roy -- who wouldn't have wanted it any other way. -- SH)
(Thanks
Animation Guild Blog
)
Simpsons Jump to Season 20 for Blu-ray Set
The Simpsons
does a little time traveling as Fox's first family of animation skips ahead and looks back with the release of
The Simpsons: The Complete Twentieth Season
(Fox, $49.98 DVD, $59.99 Blu-ray).
The release of the HD-ready 20th season skips ahead from the last
Simpsons
box set, which collected season 12 and came out in summer 2009. The set includes 21 episodes of the show, plus the bonus featurette The 20th Anniversary Special Sneak Peek by Morgan Spurlock.
Here's a sneak peek at the set:
Anime fans have a trio of releases vying for their attention, with the release of
Ghost In The Shell 2.0
(Anchor Bay Entertainment, $24.97 DVD, $29.97 Blu-ray),
Huntik: Trust & The Traitor, Vol. 3
(Media Blasters, $24.99) and
Naruto Shippuden, Vol. 5
(VIZ, $24.92).
Dominating animated releases for children is
Jay Jay The Jet Plane
, who has six new DVDs out today:
Jay Jay & The Magic Books, Fantastic Faith, God's Awesome Creation, God's Promise, Jay Jay Earns His Wings
and
Jay Jay The Jet Plane: Super Loop De Loop
(E1 Entertainment, $12.98 each).
Also out today for kids are
Bob the Builder: Best of Bob the Builder
(HIT, $14.98) and
Care Bears: Helping Hearts
(Lionsgate, $14.98).
(Thanks
Animation Magazine
)
Confirmed: Spidey 4 dead, Raimi and Maguire out and Studio going reboot route.
Quint here again. The studio has put out a press release. Finke and Fleming were on target, it seems. Here's the release:
Culver City, CA (January 11, 2010) -- Peter Parker is going back to high school when the next Spider-Man hits theaters in the summer of 2012.

Columbia Pictures and Marvel Studios announced today they are moving forward with a film based on a script by James Vanderbilt that focuses on a teenager grappling with both contemporary human problems and amazing super-human crises.

The new chapter in the
Spider-Man
franchise produced by Columbia, Marvel Studios and Avi Arad and Laura Ziskin, will have a new cast and filmmaking team.
Spider-Man 4
was to have been released in 2011, but had not yet gone into production.


"A decade ago we set out on this journey with Sam Raimi and Tobey Maguire and together we made three
Spider-Man
films that set a new bar for the genre. When we began, no one ever imagined that we would make history at the box-office and now we have a rare opportunity to make history once again with this franchise. Peter Parker as an ordinary young adult grappling with extraordinary powers has always been the foundation that has made this character so timeless and compelling for generations of fans. We're very excited about the creative possibilities that come from returning to Peter's roots and we look forward to working once again with Marvel Studios, Avi Arad and Laura Ziskin on this new beginning,"
said Amy Pascal, co-chairman of Sony Pictures Entertainment.


"Working on the
Spider-Man
movies was the experience of a lifetime for me. While we were looking forward to doing a fourth one together, the studio and Marvel have a unique opportunity to take the franchise in a new direction, and I know they will do a terrific job,"
said Sam Raimi.


"We have had a once-in-a-lifetime collaboration and friendship with Sam and Tobey and they have given us their best for the better part of the last decade. This is a bittersweet moment for us because while it is hard to imagine Spider-Man in anyone else's hands, I know that this was a day that was inevitable,"
said Matt Tolmach, president of Columbia Pictures, who has served as the studio's chief production executive since the beginning of the franchise.
"Now everything begins anew, and that's got us all tremendously excited about what comes next. Under the continuing supervision of Avi and Laura, we have a clear vision for the future of Spider-Man and can't wait to share this exciting new direction with audiences in 2012."
"Spider-Man will always be an important franchise for Sony Pictures and a fresh start like this is a responsibility that we all take very seriously,"
said Michael Lynton, Chairman and CEO of Sony Pictures.
"We have always believed that story comes first and story guides the direction of these films and as we move onto the next chapter, we will stay true to that principle and will do so with the highest respect for the source material and the fans and moviegoers who deserve nothing but the best when it comes to bringing these stories and characters to life on the big screen."
Yeah, it's all very political. Peter's a high-schooler again? That might not be a bad thing... I just swear to God I'm going to scream if we have another hour of origin story to sit through.
Ahoy, squirts! Quint here. Nikke Finke's a hard one to pin down. With the hiring of Variety's chief scoop-hunter Mike Fleming it'd be hard to argue that duo is anything but a juggernaut of Hollywood insider information. They've been wrong before... Finke recently made a mistake in a recent scoop about a film called
NORTHERN LIGHTS
where she said Tom Cruise was to play Taylor Lautner's father... Cruise is not involved and she promptly (and without mention) removed the Tom Cruise part of it.
But everybody makes mistakes and sometimes things that look like mistakes are really not mistakes, just changes in direction or misinformation (a lot of times intentional). It happens.
Finke and Fleming's first big scoop together is a doozy. They're claiming there was a big meeting at Sony today where it was decided to halt
Spider-Man 4
after Sam Raimi told them he can't make the release date and make the movie he wants to. Sony decided to reboot the series instead of wait, it seems.
What it sounds like to us here at AICN is that Raimi learned a big lesson with the reaction to
Spider-Man 3
and he wasn't going to be forced into doing a sequel that wasn't ready and his cast stood behind him. And now it appears Sony thinks the brand is more valuable than Raimi and Tobey Maguire.
Yeah, it kind of sucks and I hope that a
"reboot"
doesn't mean we have to get yet another origin story told, but honestly... if the studio was forcing Raimi in unreasonable ways I'd rather see him and Maguire leave the series than do another
Spider-Man 3
.
Finke and Fleming says James Vanderbilt (
Zodiac
) will script the reboot. Vanderbilt also did a pass on an earlier draft of
Spidey 4
and is attached for further sequels.
So, what does this mean? If the studio is smart they'll go after someone like Neill Blomkamp and do for
Spider-Man
what Warner Bros did for
Batman
. Blomkamp in particular has proven he can balance visual effects, drama and comedy, which is kind of the perfect match for Spider-Man's adventures. However if Raimi left over creative differences and his inability to compromise with the suits I can't imagine they'd be willing to give an up and comer the freedom he'd need to make a real honest to God awesome Spider-Man movie.
Also... please, just continue the series. Don't give us a new Green Goblin/origin retelling.
The Incredible Hulk
had the right idea, I think. The character is iconic, we just want a good movie. Kraven's Last Hunt, perhaps? Or something totally new... Just no retreads.
So, what do you folks think about this development? It might be the best thing for the series or when it goes past the point of no return for the franchise. If they hire a working director that'll just pump out a product (an
X3
or
Wolverine: Origins
comes to mind) it could be a disaster, but if this reboot opens the door for a visionary to reinvent this series then it could be just the shot in the arm these movies need.
And I don't know about you, but I'd much rather see Sam Raimi making movies he's passionate about, where he has a level of creative freedom he's comfortable with.
We'll keep an ear to the ground on this one and let you know what develops over the next weeks.
-Quint
(Thanks
AICN
)
Some see racist theme in alien adventure 'Avatar'
In this file film publicity image released by 20th Century Fox, the character Neytiri, voiced by Zoe Saldana, right, and the character Jake, voiced by Sam Worthington are shown in a scene from, 'Avatar.'
Near the end of the hit film
"Avatar,"
the villain snarls at the hero,
"How does it feel to betray your own race?"
Both men are white — although the hero is inhabiting a blue-skinned, 9-foot-tall, long-tailed alien.
Strange as it may seem for a film that pits greedy, immoral humans against noble denizens of a faraway moon,
"Avatar"
is being criticized by a small but vocal group of people who allege it contains racist themes — the white hero once again saving the primitive natives.
Since the film opened to widespread critical acclaim three weeks ago, hundreds of blog posts, newspaper articles, tweets and YouTube videos have made claims such as that the film is
"a fantasy about race told from the point of view of white people" and reinforces "the white Messiah fable."
The film's writer and director, James Cameron, says the real theme is about respecting others' differences.
In the film
(read no further if you don't want to spoil the plot)
a white, paralyzed Marine, Jake Sully, is mentally linked to an alien's body and set loose on the planet Pandora. His mission: persuade the mystic, nature-loving Na'vi to make way for humans to mine their land for unobtanium, worth $20 million per kilo back home.
Like Kevin Costner in
"Dances with Wolves"
and Tom Cruise in
"The Last Samurai"
or as far back as Jimmy Stewart in the 1950 Western
"Broken Arrow,
" Sully finds his allegiances soon change. He falls in love with the Na'vi princess and leads the bird-riding, bow-and-arrow-shooting aliens to victory over the white men's spaceships and mega-robots.
Adding to the racial dynamic is that the main Na'vi characters are played by actors of color, led by a Dominican, Zoe Saldana, as the princess. The film also is an obvious metaphor for how European settlers in America wiped out the Indians.
Robinne Lee, an actress in such recent films as
"Seven Pounds"
and
"Hotel for Dogs,"
said that
"Avatar"
was
"beautiful"
and that she understood the economic logic of casting a white lead if most of the audience is white.
But she said the film, which remained No. 1 at the box office domestically for the fourth straight weekend with $48.5 million and is second among all-time top-grossing films worldwide, still reminded her of Hollywood's
"Pocahontas"
story —
"the Indian woman leads the white man into the wilderness, and he learns the way of the people and becomes the savior."
"It's really upsetting in many ways," said Lee, who is black with Jamaican and Chinese ancestry. "It would be nice if we could save ourselves."
Annalee Newitz, editor-in-chief of the sci-fi Web site io9.com, likened "Avatar" to the recent film "District 9," in which a white man accidentally becomes an alien and then helps save the aliens, and 1984's "Dune," in which a white man becomes an alien Messiah.
"Main white characters realize that they are complicit in a system which is destroying aliens, AKA people of color ... (then) go beyond assimilation and become leaders of the people they once oppressed,"
wrote Newitz, who is white.
"When will whites stop making these movies and start thinking about race in a new way?"
Black film professor and author Donald Bogle said he can understand why people would be troubled by
"Avatar,"
although he praised it as a
"stunning"
work.
"A segment of the audience is carrying in the back of its head some sense of movie history,"
said Bogle, author of
"Toms, Coons, Mulattoes, Mammies & Bucks: An Interpretive History of Blacks in American Films."
Bogle stopped short, however, of calling the movie racist.
"It's a film with still a certain kind of distortion,"
he said.
"It's a movie that hasn't yet freed itself of old Hollywood traditions, old formulas."
Writer/director Cameron, who is white, said in an e-mail to The Associated Press that his film
"asks us to open our eyes and truly see others, respecting them even though they are different, in the hope that we may find a way to prevent conflict and live more harmoniously on this world. I hardly think that is a racist message."
There are many ways to interpret the art that is
"Avatar."
What does it mean that in the final, sequel-begging scene, Sully abandons his human body and transforms into one of the Na'vi? Is Saldana's Na'vi character the real heroine because she, not Sully, kills the arch-villain? Does it matter that many conservatives are riled by what they call liberal environmental and antimilitary messages?
Is Cameron actually exposing the historical evils of white colonizers? Does the existence of an alien species expose the reality that all humans are actually one race?
Although the
"Avatar"
debate springs from Hollywood's historical difficulties with race, Will Smith recently saved the planet in
"I Am Legend,"
and Denzel Washington appears ready to do the same in the forthcoming
"Book of Eli."
Bogle, the film historian, said that he was glad Cameron made the film and that it made people think about race.
"Maybe there is something he does want to say and put across"
about race, Bogle said.
"Maybe if he had a black hero in there, that point would have been even stronger."
'Wolverine' Sequel To Shoot In 2011?
According to Hugh Jackman, the sequel to
"X-Men Origins: Wolverine"
may begin shooting in 2011.
"Wolverine's going to be back,"
said Jackman during a backstage interview at the
People's Choice Awards
.
"He's going to Japan. We shoot that probably in a year, year-and-a-half, something like that."
As Jackman has
previously indicated
,
the "Wolverine" sequel
will be based upon the classic Chris Claremont and Frank Miller
"Wolverine"
story that finds Logan facing off against a Japanese crime lord and falling for his daughter, Mariko.
Last summer,
screenwriter Christopher McQuarrie signed on to pen the
"Wolverine"
sequel
. While a director has yet to be named, Gavin Hood — the director of the first
"Wolverine"
film —
has expressed his interest in returning for the sequel
.
Back in October,
"Wolverine
" producer Lauren Shuler Donner
hinted that the sequel may be filmed in Japan
to capture a sense of authenticity. She also stated that the film would showcase several new fighting styles for Wolverine.
"Wolverine will be fighting in a different style to what we've seen before,"
said Donner.
"Mariko's father has this stick-like weapon, so Wolverine will have to fight against that. There'll be samurai, ninja, katana blades, different forms of martial arts — mano-a-mano, extreme fighting."
In addition to the
"Wolverine"
sequel, Bryan Singer's
"X-Men: First Class"
adaptation and Ryan Reynolds'
"Deadpool"
spinoff are also in active production.
John Malkovich Confirms Vulture Role In 'Spider-Man 4'?
What started out as a bizarre casting rumor might actually turn out to hold some weight, as
"Jonah Hex"
actor John Malkovich has apparently confessed to his pending casting as The Vulture in
"Spider-Man 4."
Malkovich apparently owned up to his involvement in the fourth
"Spider-Man"
film during an appearance on Italian sports show
"Quelli Che il Calcio,"
which was witnessed by a reader at
Bad Taste
.
According to
an English translation of the report
, Malkovich not only didn't deny his involvement when directly asked about
"Spider-Man 4,"
he even said that he's currently awaiting a final script and hopes to begin shooting soon.
Back in December, a widely circulated rumor on
Movieline
suggested that Malkovich would join the cast of "Spider-Man 4" as the Vulture. The oft-rumored
Anne Hathaway
was allegedly the top pick for Felicia Hardy, but rather than turning into the Black Cat, she'd evolve into a new character called The Vulturess.
Tobey Maguire pleaded the fifth
when we asked him about the report, but if Malkovich's latest comments are to be believed, it's sounds likely that the Oscar-nominated actor will go wing-to-web against Peter Parker in the developing sequel — assuming, of course,
the film's alleged script issues
can be resolved.
Until official word is given, it's best to take the Malkovich news with a grain of salt. Even if the casting pans out, we can only hope that the bit about The Vulturess is a joke, as it's likely the only plot development that could make
"Spider-Man"
fans long for the days of gratuitous dance sequences.
The Hobbit may be delayed again?
Doug Jones (left) with Guillermo del Toro
Will Peter Jackson/Guillermo del Toro's
The Hobbit
start in June, as
reported a week ago
?
Doug Jones—who played the title character in del Toro's
Pan's Labyrinth
and played Abe Sapien in the director's
Hellboy
movies—told us that
The Hobbit
will be delayed a short while and will not begin until later this summer.
"It's going to be delayed for two months,"
Jones said in an interview Sunday at the Los Angeles Comic Book and Science Fiction Convention.
But Jones, who specializes in creature acting, did confirm that he'll be in
The Hobbit
in some form or other.
"I'm a monster of some sort,"
he said.
The first installment of
The Hobbit
is scheduled for release around Christmas 2011, with the second part coming out a year later.
Jones will next be seen in a small role in the upcoming apocalyptic action movie
Legion
. He plays an enigmatic character called the Ice Cream Man.
"I was convinced to do this small part in Legion because I was told that I could show my real face,"
Jones said on a panel with other actors and director/co-writer Scott Stewart at the convention.
"Doug Jones is fantastic. He has such an expressive, elastic face, he's like the Cirque du Soleil of actors,"
Stewart said.
"It was nice to give him a special small role that he could play with his face like this.""Yeah, that's what convinced me, when Scott said, 'You get to look like yourself' when I come out as the Ice Cream Man,"
Jones added.
"It's not a big role. I come out in the third act as a harbinger of doom. I describe him like the first raindrops in Noah's flood, and I'm one of the raindrops."
Legion
opens
Jan. 22
.
Avatar, Star Trek nominated for best ... writing!
Here's something different: Two sci-fi blockbusters are nominated for coveted writing awards, not visual effects. Who saw that coming?
James Cameron's sci-fi hit
Avatar
is among the nominees for the Writers Guild of America's best original screenplay, the union announced Monday.
Star Trek
, meanwhile, scored a nomination for best adapted screenplay.
Following is the official announcement. Anyone care to make a wager on whether they'll actually win on
Feb. 20
? The winners tend to be harbingers of the best screenplay Oscar, FWIW.
2010 Writers Guild Awards Screen Nominees Announced
LOS ANGELES, NEW YORK -- The Writers Guild of America, West (WGAW) and the Writers Guild of America, East (WGAE) have announced nominations for outstanding achievement in writing for the screen during the past year. Winners will be honored at the 2010 Writers Guild Awards held on Saturday, February 20, 2010, at simultaneous ceremonies in Los Angeles and New York.
ORIGINAL SCREENPLAY(500) Days of Summer
, Written by Scott Neustadter & Michael H. Weber; Fox Searchlight
Avatar,
Written by James Cameron; 20th Century Fox
The Hangover
, Written by Jon Lucas & Scott Moore; Warner Bros.
The Hurt Locker
, Written by Mark Boal; Summit Entertainment
A Serious Man
, Written by Joel Coen & Ethan Coen; Focus Features
ADAPTED SCREENPLAYCrazy Heart
, Screenplay by Scott Cooper; Based on the novel by Thomas Cobb; Fox Searchlight
Julie & Julia
, Screenplay by Nora Ephron; Based on the books Julie & Julia by Julie Powell and My Life in France by Julia Child with Alex Prud'homme; Sony Pictures
Precious: Based on the novel Push by Sapphire
, Screenplay by Geoffrey Fletcher; Based on the novel Push by Sapphire; Lionsgate
Star Trek
, Written by Roberto Orci & Alex Kurtzman; Based upon Star Trek, Created by Gene Roddenberry; Paramount Pictures
Up in the Air
, Screenplay by Jason Reitman and Sheldon Turner; Based upon the novel by Walter Kirn; Paramount Pictures
DOCUMENTARY SCREENPLAYAgainst the Tide
, Screenplay by Richard Trank; Moriah Films
Capitalism: A Love Story
, Written by Michael Moore; Overture Films
The Cove
, Written by Mark Monroe; Lionsgate and Roadside Attractions
Earth Days
, Written by Robert Stone; Zeitgeist Films
Good Hair
, Written by Chris Rock & Jeff Stilson and Lance Crouther and Chuck Sklar; Roadside Attractions
Soundtrack for a Revolution
, Written by Bill Guttentag & Dan Sturman; Freedom Song Productions and Louverture Films
Feature films eligible for a Writers Guild Award were exhibited theatrically for at least one week in Los Angeles in 2009 and were written under the WGA's Minimum Basic Agreement (MBA) or under a bona fide collective bargaining agreement of the Australian Writers Guild, Writers Guild of Canada, Writers Guild of Great Britain, Irish Playwrights & Screenwriters Guild or the New Zealand Writers Guild.
Documentaries eligible for a Writers Guild Award featured an on-screen writing credit and were exhibited theatrically in Los Angeles or New York for one week in 2009. While credited documentary writers were required to join the WGAW's Nonfiction Writers Caucus or WGAE Nonfiction Writers Caucus to be considered, scripts need not have been written under WGA jurisdiction to be considered.
The 2010 Writers Guild Awards will be held on
Saturday, February 20, 2010
, simultaneously at the Hyatt Regency Century Plaza Hotel in Los Angeles and the Hudson Theatre at the Millennium Broadway Hotel in New York City.
Firefly to live on in new book of short stories
Joss Whedon's beloved
Firefly/Serenity
is long gone, but you can't stop the signal: Fans can look for more adventures of Capt. Mal Reynolds and the crew of the doughty ship in a series of short stories coming soon from Titan Books.
Writer/producer Jane Espenson—who wrote one episode of the Fox sci-fi series but is a longtime friend and colleague of Whedon's going back to her days on
Buffy the Vampire Slayer
—told us that she will be writing one of the stories, centering on the characters of Kaylee and Wash (obviously set in a time period before the events of the movie
Serenity
).
"I'm writing a short story set in the Firefly universe that someone's putting together,"
Espenson said in an interview on Sunday in Pasadena, Calif., where she was promoting her upcoming Syfy series
Caprica
.
"Titan Books is putting together a collection written by various of the Firefly writers. But [it's a] very short story, ... 2,000 words."
She added:
"Oh, I just came up with a very clever little short story that involves Kaylee and Wash, two characters that we haven't seen together that much."
Jane Espenson
Espenson's
Firefly
episode was
"Shindig,"
the fourth episode in the series, which deals with a society dance and a duel. It's best loved by fans for Kaylee's appearance in an over-the-top flouncy ruffled dress.
Espenson is an executive producer of
Caprica
, the
Battlestar Galactica
prequel series, which debuts on Syfy at 9 p.m. ET/PT on
Jan. 22
.
We'll try to get more information about the book and when it might be coming out soon, so check back!
Where Avatar's $1.3 billion REALLY comes from
We're not in Kansas anymore. We're on Pandora, ladies and gentlemen! If you don't believe us, believe the numbers. As we told you
earlier today,
Avatar
has taken in about $1.34 billion worldwide, second only to James Cameron's previous blockbuster,
Titanic
($1.8 billion).
We know where some of that money came from—us. (Yes, it's true. Not everyone at
SCI FI Wire
gets into those swanky Hollywood advance screenings.) But where'd the rest of that money come from?
Here, as best as we can determine according to the most recent info assembled by Variety, The Hollywood Reporter and other entertainment news organizations, is the country-by-country breakdown of ticket sales.
Argentina $1,355,873
Australia $49,284,892
Austria $6,390,284
Brazil $20,677,696
Bulgaria $1,750,831
Chile $4,129,164
France $69,084,433
Germany $54,057,488
Hong Kong $11,131,296
Japan $35,050,720
Mexico $23,376,392
New Zealand $4,487,227
Russia $41,599,901
Portugal $4,383,348
South Korea $48,571,075
Spain $46,154,230
Switzerland $7,480,763
Turkey 8,969,218
United States $430,846,514
United Kingdom $53,315,370
Other Foreign Sales 410,849,799
(Note: That final line item represents total foreign ticket sales minus countries we could specifically account for.)
So—how many more weeks do you think it'll be before Cameron inevitably breaks his own record?