Sleeping Beauty nods off back to the vault
In addition to the previously announced Disney titles retiring from their current DVD pressings, the Studio has added
The Jungle Book
(DVD) and
Sleeping Beauty
(DVD and Blu-ray) Platinum Editions to the list of films that will be discontinued from this
January 30
. The titles will remain on shelves until stock runs out.
The Simpsons to air 450th episode on Sunday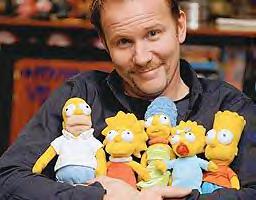 On its way to yet another milestone,
The Simpsons
will air its
450th episode
on Sunday night at 8pm EST. The episode, entitled
Once Upon a Time in Springfield
, will be followed by a new hourlong special celebrating the show's history. The documentary, from
Super Size Me
's Morgan Spurlock, goes by the humorous title of
The Simpsons 20th Anniversary Special in 3D on Ice
.
Secret of Kells, Summer Wars to Screen at N.Y. Children's Fest
Tomm Moore's Annie-nominated
The Secret of Kells
, Czech stop-motion master Jiri Barta's
In the Attic
and Shintuke Sato's latest feature
Oblivion Island
are some of the top animated movies unspooling at this year's top-notch New York International Children's film Festival (
Feb. 26-March 21
).
This year's distinguished jury includes acclaimed French animation director Michel Ocelot, Frances McDormand, Uma Thurman, Adam Gopnick, Lynne McVeigh, Matthew Modine, Dana Points, Susan Sarandon, James Schamus, Evan Shapiro, John Turturro, Gus Van Sant and Christine Vachon.
Summer Wars
In addition to the forementioned titles, the festival will include screening of Nick Stringer's
Turtle: An Incredible Journey
and Mamoru Hosada's
Summer Wars
. Special opening and closing galas, filmmaker Q&As, workshops, panels, and a 50-year French animation retrospective are also planned for this impressive edition of the event.
The features will screen at New York City's Director's Guild Theater. Programs are organized by age group, with screenings available for all ages.. And for those who can't make it to New York City, NYICFF also distributes a "Best of NYICFF" tour throughout the year.
Turtle: An Incredible Journey
Tickets to all the NYICFF events will be available on
Feb. 1
at
www.gkids.com
or by calling 212-349-0330.
(Thanks
Animation Magazine
)
ESPN, Discovery Plan 3D TV Nets
By now audiences are used to donning the glasses for 3-D animated features at the movies — an experience Discovery and ESPN are going to try bringing into the home.
The two cable giants announced Tuesday that they will each launch 3-D networks in the coming year. ESPN plans to introduce 3-D this summer, while Discovery is teaming up with Sony and IMAX to launch in 2011, according to The Hollywood Reporter.
ESPN says it will kick off ESPN 3D with the South Africa vs. Mexico match in the 2010 FIFA World Cup, and will broadcast at least 85 live sporting events in 3D in its first year. The channel will be dark when not broadcasting events.
Discovery's network, which does not officially have a name but could be called simply 3-D TV according to a logo created by the network, will air 3-D material 24/7 when it launches.
Both channels will require special equipment such as a 3-D ready TV or a set top box, as well as 3-D glasses.
With Disney owning ESPN, the reception of its 3D venture could have an impact on how soon viewers may be able to watch at home 3D versions of Disney animated features and new animated 3D content.
(Thanks
Animation Magazine
)
Revamped Disney Store Coming to Times Square
Disney is bringing a small piece of its theme park magic to New York's famous Times Square.
The company is currently transforming retail space in Times Square into what will be an interactive store set to open in the autumn with theme park-style attractions and exhibits for children.
According to a report at CNET, the new Disney store will include an interactive princess castle and a children's theater for screening animation and holding storytelling events for children.
The new take on a Disney retail outlet reportedly began with Apple CEO Steve Jobs, who is a member of the Disney board and spearheaded an effort to remake the company's stores on a grand scale. Some of the strategies were borrowed from Apple's own line of successful retail stores.
The revamped approach will be rolled out to the rest of Disney's stores in the United States and Europe over the next five years.
(Thanks
Animation Magazine
)
Appliya, FUNimation Bring Anime Apps to iPhone
Japanese iPhone app maker Appliya has struck a deal with American anime importer FUNimation to create iPhone and iPod Touch anime apps for fans in North America.
The first release under the deal is
Fullmetal Alchemist: State Alchemy Exam
, available now exclusively at the iTunes App Store for $1.99.
The app includes 130 questions about physics, chemistry and the original
Fullmetal Alchemist
TV series.
Upcoming releases include a
Fullmetal Alchemist
action game, and apps based on comedy anime
Shin chan
and the action series
Afro Samurai
.
(Thanks
Animation Magazine
)
"Planet Hulk" DVD/Blu-ray Technical Specs & Special Features Announced
Marvel and Lionsgate Entertainment have released full technical specifications and special features for the
Planet Hulk
direct-to-video animated movie, which will be released on
February 2, 2010
. The movie is based on the graphic novel written by Greg Pak with art by Carlo Pagulayan, Aaron Lopresti, Juan Santacruz, Gary Frank, and Takeshi Miyazawa. The movie will be released with a single-disc DVD edition, a two-disc DVD deluxe edition, and a two-disc Blu-ray.
For more information about the release,
watch the trailer at the Marvel Animation Age
or check out earlier coverage and stills in conjunction with
a sneak preview on January 14, 2010, in New York City and Los Angeles
.
Full details on the releases follow:
(click on either image to enlarge)
SYNOPSIS
A WHOLE NEW WORLD OF HURT!
He was a monster, impossible to control, too dangerous to ignore. So Earth's mightiest heroes exiled him into outer space. But now the Incredible Hulk crash lands on the distant planet Sakaar, ruled by the tyrannical Red King. Sold into slavery, Hulk becomes the planet's mightiest gladiator—but his new masters get more than they bargained for when he forges a bond of brotherhood with his fellow fighters: crafty insectoid Miek, ruthless rock-man Korg, ex-shadow priest Hiroim, and the noble-born rebel Elloe. Unlike Earth, the desperate people of Sakaar believe a monster is just what they need. But will the Hulk be the one to save their world… or destroy it?
SPECIAL EDITION DVD AND BLU-RAY BONUS FEATURES:*

DISC ONE: Opening Sequence: Thor: Tales of Asgard
Audio commentary by Supervising Producer Joshua Fine and Screenwriter Writer Greg Johnson
Audio commentary by Director Sam Liu, Character Designer Philip Bourassa and Key Background Painter Steve Nicodemus
"A Whole World of Hurt: The Making of Planet Hulk"
featurette
"Let the Smashing Commence!: The Saga of Planet Hulk"
featurette
"Rise Up"
Astonishing X-Men music video
"Watch Your Step"
Spider-Woman music video
Wolverine and the X-Men: "Wolverine vs. Hulk"
episode
Spider-Woman: Agent of S.W.O.R.D
motion comic
Astonishing X-Men: Gifted
motion comic
DISC TWO:
Standard Definition Digital Copy of the feature film
*Special features may not all be in hi-def.
PROGRAM INFORMATION
Year of Production: 2009
Title Copyright: Marvel, The Incredible Hulk, all related trademarks, service marks, character names and the distinctive likenesses thereof are proprietary to Marvel Entertainment, Inc. and its subsidiaries and its subsidiaries and are used with permission. © 2010 Marvel Entertainment, Inc. and its subsidiaries.
www.marvel.com
. All rights reserved.
Type
: Home Entertainment DVD/Blu-Ray Premiere
Rating
: Not Rated
Genre
: Action, Adventure, Animation
Closed Captioned
: DVD-English Closed Captioned
Blu-ray
– English SDH
Subtitles
: English
DVD Format
: Widescreen
Blu-ray Format
: 1080P High Definition Widescreen (1.78:1)
Feature Run Time
: 81 Minutes
DVD Audio Status
: English and Spanish 5.1 Dolby Digital
Blu-Ray Audio Status
: 7.1 DTS HD Master Audio and Spanish 5.1 Dolby Digital
Website
:
www.planethulkdvd.com
Lil Wayne to Voice Jesus Christ on Adult Swim's "Freaknik"
HipHopWired is reporting that rapper
Lil Wayne is will voice Jesus Christ in Adult Swim's new cartoon Freaknik
, as part of
"the animated music video for the program 'Ghetto Commandments'"
.
Freaknik
is set to debut on Adult Swim on
March 1, 2010
.
Manga Entertainment to Release "Summer Wars" in UK in Sept 2010
Anime News Network is reporting that
Manga Entertainment will release Summer Wars in September 2010 in the United Kingdom
. The movie is the latest film from Mamoru Hosoda (
The Girl Who Leapt Through Time
), and centers on
"a modern-day family on a midsummer adventure."
A DVD and Blu-ray release are planned. There is no word on a U.S. release for the film.
Pharrell Williams to Work on "Despicable Me" Score
It has been announced that the Grammy award-winning singer, songwriter, producer and designer Pharrell Williams will write original music for
Despicable Me
, the upcoming animated feature from Univeral Pictures and Illumination entertainment.
"I love cartoons and animation, and I've never seen such incredible 3-D CGI. To score Despicable Me along with Hans and Heitor and write original songs for the film is a dream come true"
, said Williams.
"Bob and Margaret" Season 1 Coming to DVD
The Canadian animated comedy series
Bob and Margaret
, about a childless married couple (one's a dentist, the other's a podiatrist) living in the U.K., comes to DVD in North America in a complete first season set, courtesy of Phase 4 Films. It is scheduled for
2/16/10
, is priced at
$19.99
, and is two discs.
The episodes included should be:
* A Tale of Two Dentists
* Blood, Sweat and Tears
* A Night In
* The Burglary
* Shopping
* Love's Labors Lost
* The Holiday
* For Pete's Sake
* The Discomfort of Strangers
* Friends For Dinner
* The Dental Convention
* Trick or Treat
* Neighbors
FUNimation Rescues "FLCL"
Today, FUNimation announced they have rescued the 6-episode OAV
FLCL
, which was previously licensed by Synch-Point. FUNi plans to bring the series to DVD and Blu-ray in late 2010.
Buck Creates Animated Chapters For Chegg
Buck
is behind the new 2D spots for online textbook rental shop
Chegg
. Here's two of the 4 – starting with
Buttload
:
Arm Parkour Animation By Singapore Student Serene Teh
Serene Teh, a student in Singapore, is a half-year away from graduation, but her career is getting a head start. This video below, featuring her stop-motion "parkour" animation, is rapidly circulating around the internet. I have a strong feeling you're going to see Serene's style aped in at least one upcoming ad campaign. Blasted copy-cats!
Disney Editions' "Animation" showcases the power of the pencil
Jim Hill reviews the second volume of Walt Disney Animation Studios' Archive series. Which features drawings that date all the way back to the Oswald the Lucky Rabbit days
What has 242 pages, not a whole lot of words, but speaks volumes about the hundreds of talented artists & animators who've worked at the Mouse Factory over the past 80 years? The second volume in Walt Disney Animation Studios: The Archive series,
"Animation"
(Disney Editions, December 2009).
Copyright 2009 Disney Enterprises, Inc. All Rights Reserved
This is one hefty hardcover. Weighing in at 5 pounds,
"Animation"
is 11 inches tall, 13 inches long and an inch thick. So you're clearly going to have t

o clear some shelf space if you intend on adding the latest installment of
"The Archives Series"
to your Disneyana book collection.
Copyright 2009 Disney Enterprises, Inc. All Rights Reserved
But once you start paging through
"Animation"
– especially if you're an animator, an animation student, and/or just someone who loves animation – there's no way that you're not going to buy this new Disney Editions book. The artwork that's assembled here really is that spectacular.
I mean, "Animation" takes you all the way back to Disney's
Oswald the Lucky Rabbit
days. So that you can see
Ub Iwerks
' strong draftsmanship predated
"Steamboat Willie."
Copyright 2009 Disney Enterprises, Inc. All Rights Reserved
What's really amazing about this book is that – as you move through the decades depicted here – you get to watch the artists that Walt had on staff rise to the challenges that the Ol' Mousetro put before them. Be it a believable human figure (which – as you'll see in the
Ham Luske
drawing below – was first attempted for the Studios' 1934
Silly Symphony
,
"The Goddess of Spring"
) …
Copyright 2009 Disney Enterprises, Inc. All Rights Reserved
… Which – of course – was a vital stepping stone to an animated character that an audience could identify with, root for in 1937's
"Snow White and the Seven Dwarfs."
Copyright 2009 Disney Enterprises, Inc. All Rights Reserved
Looking at all of these drawings without color or paint, as just rough individual pieces of animation, you then begin to get a real understanding of how powerful, how truly magical this medium is.
Copyright 2009 Disney Enterprises, Inc. All Rights Reserved
How a few quick lines with a pencil can reveal what a character is thinking or feeling.
Copyright 2009 Disney Enterprises, Inc. All Rights Reserved
The artwork that's been assembled for
"Animation"
runs the gamut from exaggerated-for-comic-effect …
Copyright 2009 Disney Enterprises, Inc. All Rights Reserved
… to sweet and sincere. The sort of stuff that just touches your heart.
Copyright 2009 Disney Enterprises, Inc. All Rights Reserved
I know that today's review of
"Animation,"
the second volume in the Walt Disney Animation Studios: The Archive series isn't exactly long on text. But neither is this 242 page hardcover. Which I've found myself paging through repeatedly over the past few weeks, just marveling at all of these great rough drawings of so many of my favorite Disney characters.
Mind you, if you'd to read a more text-heavy article here on JHM, come back tomorrow. When I'll be posting a profile of
Bruce Smith
, the super-talented animator behind this fellow …
Copyright 2009 Disney Enterprises, Inc. All Rights Reserved
… the sleek, sinister & stylish Dr. Facilier from Disney's much heralded return to hand-drawn animation,
"The Princess and the Frog."
Cartoon Network Slated To Air "Green Lantern: First Flight" Animated Feature This Month
Cartoon Network has scheduled the 2009 DC Universe Animated Original Movie title release
Green Lantern: First Flight
to air later this month.
The 2009 direct-to-video
Green Lantern: First Flight
animated feature will make its cable network debut on
Saturday, January 16th, 2010
at 8:00pm (ET) as part of the special weekend programming on Cartoon Network. Please note schedule details are subject to change by Cartoon Network without notice. Official details on the
Green Lantern: First Flight
animated feature are available below.
Green Lantern: First Flight

Cartoon Network, Saturday, January 16th, 2010 at 8:00pm (ET)

When pilot Hal Jordan accepts a mysterious, powerful ring from a dying alien creature, it transforms him into a Green Lantern, one of an elite force of heroes who patrol the universe to ensure peace and justice under the leadership of the Guanrdians of the Universe. Unsure of their newest recruit, the Guardians assign Hal to their most-honored Green Lantern Sinestro for training., unaware that Sinestro wants to overthrow the Guardians and create a new order he'll control. It's a battle of might and willpower as Hal must prove his worth by defeating Sinestro and saving the Green Lantern Corp.
Further details on the direct-to-video
Green Lantern: First Flight
animated feature can be found at the
Green Lantern: First Flight subsite
here at The World's Finest. The direct-to-video animated featured
Green Lantern: First Flight
premiered on DVD and Blu-ray in July 2009, and has sold nearly 300,000 DVD copies since its release.
Disney's Hat
Today was my Diz Co. Tuesday, where the folks on the first floor are bracing for a heavy
Rapunzel
schedule.
"We haven't started overtime yet, but from the production flow so far I think the wave hits in May. I'm expecting it. I'm not looking forward to it."
I told him to get plenty of sleep, because he might not be getting very much later ...
Elsewhere in the studio, a rumor is floating around that Mr. Catmull and Mr. Lasseter could be making a big announcement about the Walt Disney Animation Studio in the next week or three, but nobody's sure what it is. Maybe that the animation division is moving to a building in Glendale. Maybe that there's some new feature project. (Who the heck knows?)
But something's up; I know this because an important Disney exec has made a
momentous move
:
Walt Disney Co. Chief Executive Officer Robert Iger sold 800,000 shares after exercising options, netting about $8.98 million before expenses.

Iger paid $21.05 a share and sold them for an average price of $32.27, according to a regulatory filing today. The transactions represent the first options exercised by Iger since fiscal 2006 ...
I ask you: would Mr. Iger be selling that big a clump of Mouse stock if some major deal wasn't cooking? (I suppose it's possible he just wants extra walking-around money, but really. What are the odds of that?)
(Thanks
Animation Guild Blog
)
Hobbit to start shooting this summer
Looks like Guillermo del Toro's
Hobbit
movies are moving ahead as planned: Production Weekly now reports that they will begin a 14-month production schedule in June.
The publication's Twitter feed @prodweek also posted that the films will shoot as expected in New Zealand.
The news comes after word that
casting had begun
in earnest.
Last month, producer Peter Jackson
told us exclusively
that he and his co-writers were working on scripts for two
Hobbit
films, based on the book by J.R.R. Tolkien.
"We're still working on the script, and of course it's going to be directed by Guillermo [del Toro],"
Jackson said.
"That's going really well, and in fact we've already delivered the first script to the studio, and they really liked it, so now we're working hard on the second script, and that's going to keep us pretty busy until the end of this year [2009]."
The first film is slated to come out sometime in 2011 if all things stay on schedule, so yay!
George Lucas on Daily Show tells critics: 'Whatever' (video)
There was that famous sketch on
Saturday Night Live
in which William Shatner told Trek fans to get a life; this is not that, but it's sort of close: George Lucas dismissing y'all who hate his movies, in the video below.
Appearing on Jon Stewart's
The Daily Show
yesterday on Comedy Central, Lucas shrugged when asked how he deals with the constant bombardment of criticism.
"Life is duality,"
he said with Yoda-like equanimity.
"It's a work of fiction. It's a metaphor. It's not real. And therefore, you can either like it or not like it. Whatever."
Ouch.
Lucas was on
The Daily Show
to promote his new book,
Blockbusting
, which examines the movie industry through its most timeless films.
For his part, Stewart said his son's favorite movie is
Star Wars: Episode I—The Phantom Menace
, and Stewart said he's explained to his son,
"No, it's not."
So ... what do you think of him now?
Blame James Cameron for stopping RoboCop remake
James Cameron may have succeeded in doing something the nefarious OCP couldn't: stop
Robo

Cop
.
That is, Darren Aronofsky's proposed remake of the classic sci-fi movie
RoboCop
is on hold now, partly because Mary Parent, chairperson of MGM, wants to make it in 3-D, a la
Avatar
, and director Aronofsky (
Requiem for a Dream, The Fountain
) isn't so hot on the idea.
Here's how our buddies at
Moviehole
reported it:
'Nash' from the OCP-lovin' RoboCop Archive dropped me a line earlier today, stating that
"I've spoken with Phoenix Pictures [and] asked them about the status of
ROBOCOP
... they told me that the project is on hold. The problem is that Mary Parent, Chairperson of MGM, wants a 3D movie for the new
ROBOCOP
. But, as you know, Darren Aronofsky is a real artist and he's not interested in Gimmicks like,3D,CGI, filming digital, he wants to do everything as real (organic) as possible just like
The Fountain
.
"
Another possible complication is the fact that MGM is in dire financial straits and may not be in a position to green-light the movie, even if they do come to some kind of agreement with Aronofsky over a creative direction.
MGM, meanwhile, is eyeing a June start for the 23rd James Bond movie, with Sam Mendes (
Away We
Go) in talks to direct for a 2011 release. Given that he's married to Kate Winslet, does that mean we can expect her to be a Bond girl?
Avatar sets opening record in China
James Cameron talks about Avatar in Beijing. [CFP]
James Cameron's
Avatar
is already
one of the top-grossing movies of all time
, and it just now opened in the world's most populous country—China—where it set a record as most successful opening in the country's history.
In its opening day Monday in China, the 3-D sci-fi epic took in 33.03 million yuan (about $4.8 million).
Here's the news as it appeared on the official xinhuanet.com news Web site:
BEIJING, Jan. 5 -- The highly anticipated 3D film
Avatar
opened Monday at midnight to some of the worst weather conditions to hit Beijing in half a century, but this did not appear to deter moviegoers. ...
Cameron attended a promotional event for the film in Beijing on Dec 23 that catered specifically to the Chinese press. Heavy promotion across the country for
Avatar
, which included websites, magazines and television, seems to have had the desired effect.
FWIW, there are about 1.3 billion residents of China, and we're wagering a good number of them will buy a ticket.
War Machine Creator Describes His 'Iron Man 2' Set Visit And The Dispute He Settled While He Was There!
EDITOR'S NOTE: With
"Iron Man 2"
just a few months away from hitting theaters, MTV News contacted War Machine co-creator Bob Layton to discuss the character's upcoming debut on the big screen. The conversation covered a wide range of subjects that we're rolling out this week in a four-part series — continuing with today's tale of his
"Iron Man 2"
set visit and the disagreement he moderated while he was there.
Longtime
"Iron Man"
writer and artist Bob Layton is recognized as one of the most significant creators to chronicle Tony Stark's adventures, so it's probably no surprise that he was called upon to help settle a creative disagreement between
director Jon Favreau and star Robert Downey Jr.
during his visit to the
"Iron Man 2"
set last summer.
"When I first got on the set, there was a dispute going on between Jon Favreau and Robert Downey Jr. about [Jim Rhodes'] character,"
Layton explained to MTV News.
"That's how I was introduced to them. It was like, 'here's the guy who helped created the character, why don't we ask him?'""We got into this lively discussion in terms of how Jim Rhodes would react to a certain situation and we all came to some sort of agreement on that,"
he explained.
"I basically acted as an arbitrator.""I can't really tell you anything particular about the story,"
continued Layton.
"But there's a point where Tony and Jim are in disagreement on something pretty major. They were trying to understand what Jim's motivation would be in that situation. I was flattered that they asked me my opinion on it."
Layton also revealed that he was present for the filming of Whiplash's confrontation with Tony Stark on the Monte Carlo racetrack.
"At the time I was there, they were shooting the Monte Carlo scene where Mikey Rourke as Whiplash comes out on to the track and starts tearing up cars and basically Tony's car gets destroyed,"
said Layton.
"It was pretty action-packed.""We got to blow up some stuff that day and that was pretty fun, too,
" he added.
"I got to go behind the scenes and meet the stunt people and they made me an honorary stunt man. Unfortunately, I didn't get to do anything."
Layton also received an exclusive look at some of the finished special effect shots for the forthcoming film.
"The guys from the special effects unit took me to their trailer and showed me some of the stuff that they were working on which just blew me away,"
he said.
"I had lunch with the cast and crew and just had a really great time there.""Here's the thing that really impressed me,"
he added.
"I went there kind of slack-jawed and in awe of meeting Robert Downey Jr., Jon Favreau and Mickey Rourke. [But] Jon and Robert and the entire cast and crew seemed to be more fans of me than me of them.""They were so incredibly respectful and they had read all the comics and knew the stuff backwards and forwards. I was blown away by it,"
he laughed.
"They treated me like I was visiting royalty. I had an absolutely tremendous time. They've been incredibly respectful and terrific as far as me and my contributions to the history of the character."
Everything you need to know about Lost's final season
Annoyed because ABC hasn't released one new moment from
Lost'
s upcoming sixth and final season? Dying for some spoilers to jazz you up for the final episodes involving all things Jack and Locke and Kate and Sawyer and that mysterious TARDIS of an island?
Well,
Lost
executive producers Carlton Cuse and Damon Lindelof are finally talking, at least to
The Hollywood Reporter
, and while they are being cagey when it comes to spoilers, they are giving us enough to make us wish
Lost
were starting tonight.
Cuse and Lindelof say that the sixth season will focus on the battle between Jack (Matthew Fox) and Locke (Terry O'Quinn). (Isn't he dead?)
"Jack and Locke have always been at the center of the show, that dilemma of faith vs. reason, and the conflict between those two characters has been there since the beginning,"
Cuse said.
"It's very exciting to bring that relationship to its conclusion, and we can't really be any less vague about that."
The sixth season, they say, will be similar in tone to season one.
"We're employing a different narrative device, which we feel is creating some emotional and heartfelt stories, and we want the audience to have a chance in the final season to remember the entire history of the show,"
Cuse said.
"So we have actors coming back like, Dominic [Monaghan] and Ian [Somerhalder]. We're hoping to achieve a circularity of the entire journey so the ending is reminiscent of the beginning."
As far as what the
"narrative device"
is that doesn't involve flashbacks or flash-forwards, they're not saying.
"Musical numbers. If you love Bollywood movies, you will love this season,"
joked Cuse.
Lost
has never rested on its laurels, said Lindelof.
"Not because we're trying to be artsy, but the show demands constant shifts to best tell the story. We've known what we were going to do for a couple years now, and there's been a tremendous amount of work setting up the premise so it would work. But we're still wondering, 'Will it work? Will the audience understand? What's the reaction going to be like?'"
The final episode will be written by Lindelof and Cuse, with Jack Bender directing. But before we get there, we have to start at the beginning of the season. ABC's special all-night
Lost
event premieres on
Feb. 2
with a recap episode at 8 p.m. ET/PT and then is followed by the two-hour premiere at 9 p.m. (At least unless President Obama holds his State of the Union address on that date; then all bets are off.)
Just to get you started, above is a quickie recap that ABC released this week, called
LOST in 8:15!
, a sassy video originally created to recap the first three seasons in 8 minutes and 15 seconds. They updated it to get you ready, recapping all five seasons, and it's actually 8 minutes and 40 seconds long now.
Will you tune in on Feb. 2?