`Avatar' blasts off with $232.2 million worldwide
James Cameron launched his science-fiction epic
"Avatar"
into a safe orbit as the costly film soared to No. 1 with $73 million domestically and $159.2 million overseas, for a $232.2 million worldwide total.
With that big a start, distributor 20th Century Fox was quick to proclaim it made a good investment with the estimated $400 million spent to make and market the film, which is Cameron's first narrative feature since 1997's
"Titanic,"
the king of modern blockbusters.
"Absolutely. No question,"
said Chris Aronson, head of distribution for the studio, which reported stellar reaction in exit polls from audiences after seeing
"Avatar."
"The word of mouth is something that I don't know I've ever seen in this business before."
"Avatar"
was a test case for the future of digital 3-D projection, which until now has been a hit with audiences mainly on animated family films.
It's a strong start for a film opening in December, though it fell short of the $77.2 million record debut for the month set two years ago by Will Smith's
"I Am Legend"
.
"Avatar"
stars Sam Worthington and Zoe Saldana in a love story amid human-alien conflict on a distant moon in the 22nd century.
The previous weekend's No. 1 movie, the animated musical
"The Princess and the Frog,"
slipped to second place with $12.2 million, raising its total to $44.8 million.
Brittany Murphy dies at 32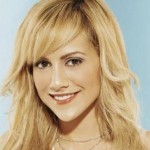 Annie Award winning actress Brittany Murphy has died of an apparent heart attack at age 32, several sources (such as the
New York Post
) are reporting. Murphy is best known to animation fans as the voice of Luanne Platter on the long running series
King of the Hill
. She also had roles in the TV shows
Futurama
and
Pepper Ann
, and the Oscar winning film
Happy Feet
. Live-action fans are familiar with her work in films such as
Just Married, Clueless, Girl, Interrupted, 8 Mile, Sin City, The Dead Girl, Uptown Girls, Riding in Cars with Boys
and
Spun.International character posters for Alvin sequel now online

Six new international posters for
Alvin and the Chipmunks: The Squeakuel
are now online at the
IMP Awards.
The ads feature close-ups of the chipmunks Alvin, Simon and Theodore, as well as the Chippettes, Britney, Eleonor and Jeanette.
The Squeakuel
opens in the US on Wednesday.
Toy Story 3 clip now online
The extended clip of
Toy Story 3
, set to air along with
The Incredibles
on ABC Family tonight, has
appeared online
and can be viewed on ComingSoon. The final addition to the
Toy Story
film series hits theaters on
June 18th, 2010
.
The Princess And The Frog's Supervising Animator Mark Henn – Part 1: It All Started With A…Mermaid!
Jeremie Noyer begins his multi-part discussion with Mark Henn, presenting a new chapter each fortnight in celebration of the worldwide launch of The Princess And The Frog from the US release to its European debut, and evoking the chronology and different aspects of the veteran animator's career, from his studies and dreams of working for Disney, to his first assignments and serving as supervising animator on the Studio's current contemporary classic!
Back during Walt's time, it was Marc Davis' specialty. Among the Nine Old Men, he was the one that was regularly chosen to animate Disney's "leading ladies" such as Cinderella, Alice, Tinker Bell or else Briar Rose/Princess Aurora.
Today, it is Mark Henn's. As the tremendously talented Disney veteran admits it himself, he carries
"a soft spot for princesses in (his) heart"
. He certainly does, as he supervised all of the leading ladies from the second golden age of Disney animation up to today. Ariel, Belle, Jasmine, Pocahontas, Mulan, and more recently Gisele and Tiana: he gave all of them that extra something that makes them so special in our hearts, that makes them authentic Disney Princesses.
With
The Princess and the Frog
heading toward becoming a new classic, we were privileged to talk with Mark for an extensive portrait of the multifaceted artist, from his debuts on
The Fox and the Hound
to his supervising his first princess and his moving to the Floridian division of Walt Disney Feature Animation.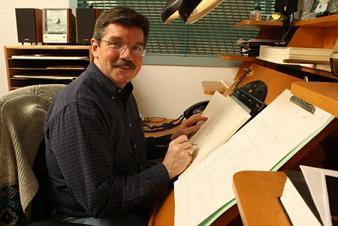 Animated Views: How did you decide to become an animator ?

Mark Henn:
It was pretty much a boyhood dream for me. I grew up in the Midwest, in Ohio and I've always been fascinated by Disney animation since I was a small boy. So, it was really a childhood dream of mine to become a Disney animator.
AV: Do you think of a Disney film in particular?

MH:
Two, particularly. I remember
Cinderella
that was very influential as a young boy and
The Reluctant Dragon
which showed the animators and went behind the scenes. I remember Ward Kimball drawing a scene of Goofy. He picked up all that paper, started flipping and everything kind of came to life. From then on, the animation bug beats hard for me. That was the beginning of the end, I suppose!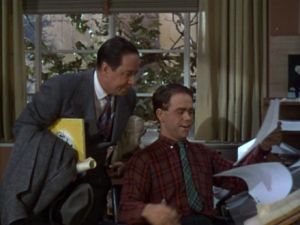 AV: Then, you began your training in animation. Can you tell me about it?

MH:
Well, I finally ended at Cal Arts, the California Institute of the Arts, and I was enrolled in the Disney Character Animation Program over there. When I started, the program was only four years old so I was in its fourth year. The idea was to train up hopefully a new generation of Disney artists and animators. That was in 1978.
AV: Who were your teachers?

MH:
All my teachers were former Disney artists, people like Jack Hannah, director of Donald Duck shorts ; in charge of the program, we had Kenneth Connor, who was a top layout artist here at the studio; we had T. Hee, a visual development character designer, Elmer Plumber, who was also a designer, visual development artist, Bob McRay, who was an animator here at the studio. Our design teacher was the only non-Disney artist. His name was Bill Moore but he came from the old Chouinard School. He used to teach a lot of Disney artists in design classes and things like that through his career. So, he was brought in to help develop the Disney program at Cal Arts.
AV: Who were your fellow students?

MH:
In my particular class, we had people such as Mark Dindal, Joe Ranft, Tony DeRosa (one of his biggest roles was to do adult Nala in
Lion King
). Some of the students of the upper class included John Lasseter, who was in fourth year when I started my first year there. So, I knew John at school for a year. Tim Burton was also at school for one year before he was picked up by the Studio. People like that. Quite a few well-known names today!
AV: To you, what is the art of animation exactly about?

MH:
That's a good question. I would say in general it's a lot of different disciplines coming together obviously to create a film, a motion picture. But as far the actually art of animation specifically goes, I would categorize it as a hybrid of the art of drawing and the art of acting, performing. It's the art of bringing inanimate, non-existing characters or objects to life through the ability, the skills of the draftsmanship as well as the sensibility toward acting and performing.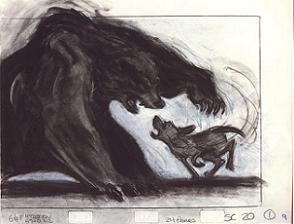 AV: What was your first assignment after your studies?

MH:
I started working on
The Fox and the Hound
as an inbetweener. I was in Glen Keane's unit right at the very end of the production. At that time he was finishing up working on the Bear Fight sequence and we worked together on that. Toward the end of the production, everybody was kind of pitching in to help out finishing up whatever work was needed to be done to get the movie finished so once animation was fairly finished I actually helped out doing some inbetweening and things for the effects department. Character animation had finished and the effect department was following up. My first animation assignment at the Walt Disney Studios however though, ironically, was Mickey on
Mickey's Christmas Carol
. I fell that as a wonderful opportunity and a unique chance to kind of cut my teeth on one of the standards if not the most important character the studio had created.
AV: What was animating Mickey Mouse like?

MH:
It was very natural for me. I can't say that it was very intimidating. I actually felt very comfortable stepping in the Mickey shoes and the
Christmas Carol
project was so very exciting. For me, being my first big assignment, it was chance to shine so I was very eager to do the very best I could. I did everything that I could on that film so I worked not only on Mickey but I did Goofy, some Jiminy Cricket and a lot of different characters. It was a very enjoyable project so it was very nice to start my career with that character.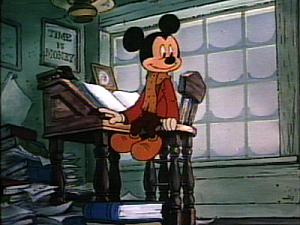 AV: Did you make some research on the way former Mickey animators worked on him in the past?

MH:
Yes, I did some. You know, Mickey had changed over the years in design. We looked at a lot of different types of Mickeys and tried to decide which Mickey we thought would be the style we'd like. I finally looked at some of the animation that I though was the strongest on Mickey which would be animators such as Freddy Moore, Ollie Johnston and Frank Thomas particularly who were, I think, some of the best Mickey animators at the studio. So I looked at a lot of their work. But I also kind of felt very comfortable stepping in the Mickey. He was an easy character to get, for me at least. Putting him in the role of Bob Cratchit was a perfect match as far as casting goes.
AV: When you think of some of the best Mickey animation, do you think about cartoons like The Brave Little Tailor?

MH:
Yes, in which Frank, Freddy Moore and Ollie, all three of them, worked on Mickey. It's a great short!
AV: Then, you came on The Black Cauldron.

MH:
Yes.
Black Cauldron
was my first feature animation. That was exciting. It was a new challenge. But in the end, it was a little bit of a rough production for me. I didn't end up working on it too long, certainly not contributing a lot to it. I think I only animated a couple hundred feet. It was of a good news/bad news production for me.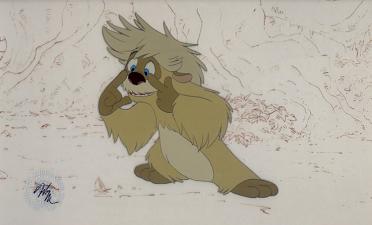 AV: On what characters did you work for that film?

MH:
I worked on Fflewddur, the minstrel, as well as some Gurgi. But I initially started with Creeper, the henchman to the Horned King.
AV: Then, you came to The Great Mouse Detective.

MH:
Well, we did a little of everything on this film but I was primarily on Basil, Dawson and Olivia. I also got several good sequences with Ratigan, when he and Basil are confronting each other and that was a lot of fun.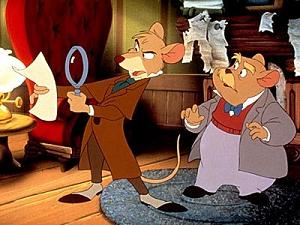 AV: At that time, you became supervising animator. What did that mean?

MH:
At that point, that didn't mean I had a specific unit. Things weren't divided up by character units as we eventually got to be on later films. But other animators that had battle scenes or Olivia scenes were told to come to see as they needed somebody to go over their drawings or things of that nature. So I worked with other animators but we didn't have specific character units at that time. Our work as a supervising animator was kind of set the lead and the pattern for all the other animators working on the film to have a guideline of how these characters moved and acted and things.
AV: Your next film was Oliver & Company.

MH:
On this film, I balanced around from primarily Oliver the Cat to the little girl, Jenny, predominantly. I did a few Fagans and Dodgers.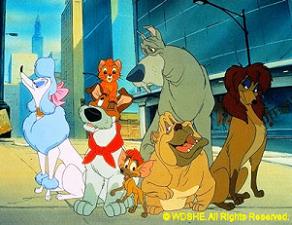 AV: Did the differences between visual styles from Black Cauldron to Oliver affect your way of animating?

MH:
It really didn't change that much. The differences primarily apply to the backgrounds and how the environment looked. But the characters themselves weren't really approached too differently from what we did with
Great Mouse Detective
in terms of the type of line that we did. Obviously, the designs changed but mostly, the artistic look that was so noticeable was primarily in the backgrounds and the layouts. So, I don't remember that we approached the animation any differently. We were just trying to come up with a very appropriate design that fit to the environment but it was pretty much what we were used to, what we all thought was the Disney approach to the character design at that point. For me, it was all about creating new characters and their performances. That was the most important to me.
AV: Just after Oliver & Company began the new golden age of the Disney studios with The Little Mermaid.

MH:
Yes. I was co-supervisor of Ariel. I was one of the earlier animators brought on the picture. They had already had some artists that were playing with some designs so I started playing with them. And when Glen came on, he helped pull all the designs together and come up with the final design.
AV: One of the characteristics of Ariel is her big hair. Was it difficult to animate?

MH:
No, it was not too difficult. We just tried to keep it in large, simple shapes and it didn't get too complicated.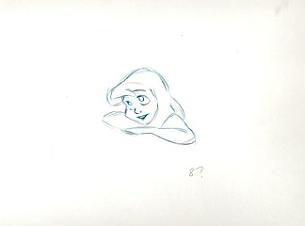 AV: What did you draw your inspiration from for Ariel?

MH:
Just in terms of looking at the fact that I was dealing with a mermaid, I tended to look at a lot of footage of how seals swim around and that. Facewise, I just tried to find something that was very appealing and the directors told us what they liked and what they didn't like. I don't recall for me that I had a specific model in mind. We wanted to do something different. We didn't want to draw a Daryl Hannah who had just finished doing
Splash
for the studio, a year or so ahead. That was a concern. She worked fine for
Splash
and all that but we had to make our mermaid a little different. She was a little younger. Jodi Benson, I'm sure, with Glen, played her part in the design a little bit. I think we just worked until we'd fell we had a face, a design we all felt was appealing and was easy for everybody to animate.
AV: From Bambi on, Disney is well-know for their using of live references. Didn't you find any mermaids?

MH:
(laughing) Well, we didn't find any mermaids. But we did have a girl by the name of
Sherri Stoner
, who was our live actress who we had come in and act out a lot of the scenes with Ariel. She was very good. That was the first time I had really worked with live action but that worked out very well. So, she would come in and we would shoot the scene on videotape. She would act it out using very minimal sets. We talked with her about different ideas that she acted out. So, we had this video reference to use as we started developing our animation for a scene.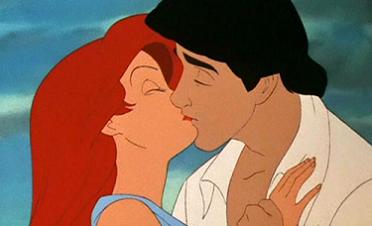 AV: How was the work divided?

MH:
Well, at that time, animation was divided up by sequences. So, the directors listened to what was interesting to us. I know Glen was very interested in doing the song that Ariel sings,
Part of Your World
, so he kind of took that whole sequence. I pretty much let the directors decide where they wanted me to go. So, I was all over the movie from the beginning to the end. I was very interested in the parts when she was on land and didn't have a voice. I always thought that was a unique challenge. Apart from that, the directors pretty much decided where they wanted Glen and me, what sequences they wanted us to focus on. So, I introduced Ariel in the movie and did Ariel's last kiss with the Prince at the end. I was kind spread out from beginning to end on the movie!
AV: The Rescuers Down Under marked a big change in your career.

MH:
Yes. At that point, I decided to take a move to Florida with the Florida studio, but I was definitely interested in the
Rescuers
projects. They were among my favorite characters and it was just a great opportunity to work with them. So, I worked on that film when I was at the Florida studio, down there.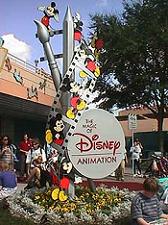 AV: Can you tell me about the creation of the Floridian division of Disney Feature Animation?

MH:
When the company decided to build this movie-based theme park down there, somewhere along the line it was decided that you couldn't open a Disney movie-themed park and not have animation as part of the park at some level. So, when it was first announced that they were going to open a small animation studio down there, I actually wasn't crazy about the idea. I thought it was not a good idea, that it would water down or dilute the specialness of the Disney studios here in Burbank. So I wasn't very excited about it first. But I spent a lot of time thinking about it, I prayed about it until I got the thinking: if they feel that they need to have an animation studio in this park in Florida, then it needs to be of the same quality and have the same ideals than the studio here in Burbank.
I spent about a year, really, wrestling with whether or not I should go, because at the time they were basically asking for volunteers, people interested in relocating and moving down there to help staff and be kind of a nucleus of artists that could staff this animation studio with. I spent over a year agonizing, thinking, praying about my decision before I finally realized that maybe, instead of complaining about it, I should do something about it. So I decided that I'd like to go down and make sure that that studio that had the Disney name on it is a Disney quality studio. So, I went down.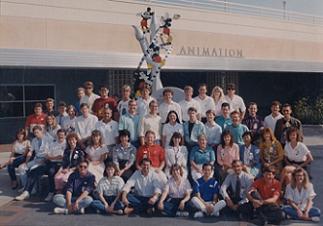 AV: What was your role down there?

MH:
I was primarily there as an animator, as a supervising animation, as kind of a mentor, as somebody there to hopefully help, like I said, kind of be part of a nucleus of experienced Disney artists that the new people that came in, that we taught them the Disney way of doing things and they understood the traditions and all that kind of stuff.
AV: How did you teach the newcomers?

MH:
We did classes, we had intern programs, Disney artists, animators would be assigned, trainees would be assigned to us, so I worked with a lot of young animators coming in. That was primarily what I did, outside of doing my own work. I was fortunate to be trained and mentored by Eric Larson who was one of the Nine Old Men as well as over the years, I've got to know Frank and Ollie and most of the Nine Old Men. So, it was part of our responsibility to teach, to hopefully pass along from them to myself and to new people coming into the animation business.
AV: Speaking of Eric Larson. What are your memories of this great artist? What is the most important thing he taught you?

MH:
I think the most important thing he taught me was sincerity and how that applies to not only just animation but in all aspect of what Disney did. So, sincerity was critical in his mind, and everybody that I know that did work with Eric would agree with that, that sincerity would have been their word.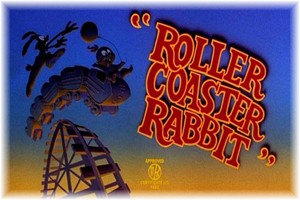 AV: It is within that frame that you participated in different short subjects such as Roller Coaster Rabbit and The Prince and the Pauper.

MH:
Yes. Initially, the studio in Florida was supposed to do shorts and things. We started with two
Roger Rabbit
shorts,
Roller Coaster
was the first one and we ended up doing
Trail Mix-Up
which was the last one. We also helped work on the
Prince and the Pauper
project that they did. That was the idea primarily for the Florida studio. But we saw that it was becoming very successful and it was very long after we opened it that we felt that everybody wanted to see the studio grow to where we could do a feature film. And we eventually did on
Mulan
, our first feature entirely created in Florida.
• In Part 2, we'll evoke the so-called Disney Decade, from Belle to Pocahontas.
(Thanks
Animated Views
)
Alphanim's Kerity Gets French Theatrical Release
The French animation production and distribution company Alphanim has issued its second theatrical relase in France with the release of
Kerity, la maison des contes
(
Eleanor's Secret
).
The film tells the story of Nathanial, a young boy who discovers and eventually enters the world of the books left to him by his eccentric aunt.
Dominique Monfery directed the film, which was written by Anik Leray and Alexandre Reverend.
No word yet on a United States release, but here's a quick look at the film.
(Thanks
Animation Magazine
)
10th
One Piece
Theatrical Opens Big in Japan
The 10th
One Piece
animated movie,
One Piece Film Strong World
, which opened on Dec. 12th in Japan has been doing great at the box office, scoring a 1.03 billion yen (approximately $11.7 million) during its opening weekend.
The 10th films in the long-running anime hit series opened on 199 screens and set a domestic per-screen average record of 5.52 million yet (approximately $62,000).
The
One Piece
manga was first introduced in
Weekly Shonen Jump
in August of 1997. It centers on the adventures of Monkey D. Luffy, young boy who develops supernatural abilities by eating a magical fruit, and his ragtag crew of heroic pirates, who set out to uncover a fantastic treasure.
A factor contributing to the robust opening was the special edition
OnePiece Volume 0
manga handed out exclusively to those in attendance. Toei Animation printed an additional 1 million copies to keep up with fan demands.
Another big reason for the movie's success was the fact that the show's original creator Eiichrio Oda wrote the script and was supervising the production of the film. The movie was directed by Munehisa Sakai.
(Thanks
Animation Magazine
)
Toon Boom Program Supports Pilot Production
Software maker Toon Boom Animation has announced a new service called the Pilot Production Program that provides professional animators looking to create pilots with access to the company's software and technical support.
The program gives professional animators free access to Toon Boom Storyboard Pro and Harmony stand-alone software licenses for up to three months and access to an in-house expert dedicated to their animation project.
The program is designed to help animators produce the most professional looking web, TV or film pilot to pitch to investors, partners and broadcasters.
"We are honored to support the creation of pilots for TV, film or the web that will become excellent programming for the small and big screens,"
says Joan Vogelesang, president and CEO of Toon Boom.
Detailed information about the Toon Boom Pilot Production Program can be found online at
toonboom.com/pilot-production-program
(Thanks
Animation Magazine
)
"Heavy Metal" screenwriter Dan O'Bannon dead at 63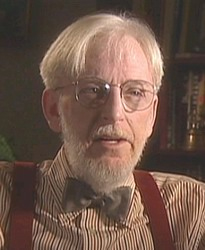 Science fiction and horror movie screenwriter Dan O'Bannon, the author of the
"Soft Landing"
and
"B-17"
segments of the 1981 animated movie anthology
Heavy Metal
, died Thursday at St. John's Hospital in Santa Monica, California. He was 63.
Best known for writing the script of the 1979 megahit
Alien
, O'Bannon lost a 30-year battle with Crohn's disease, his wife Diane said.
Soft Landing
was also released separately in 1981 by Britain's TV Cartoons studio as a sequence directed by Jimmy Murakami.
In addition, O'Bannon did computer animation and graphic display work on
Star War
s.
Drector Ridley Scott's
Alien
, about a spaceship beset by a repulsive alien being, was based on O'Bannon and Ronald Shusett's story. In a 2004 interview, he said that he based the alien's behavior after the life of parasitic microorganisms.
"One thing I realized hadn't been exploited in science fiction movies were the physical aspects,"
he told the Newark Star-Ledger.
"The real world offered many examples which were extremely loathsome and I thought, if it's good enough for Mother Nature, maybe it will work on an audience.

"One review said that watching this movie was like turning over a rock and finding something disgusting. That was a pretty good description of what I was going after."
He was born Daniel Thomas O'Bannon in St. Louis, Missouri on September 30, 1946. Studying fine art at Washington University in St. Louis, he attended MacMurray College in Jacksonville, Illinois. In 1970, he received a bachelor's degree in film from USC.
The low-budget 1974 science-fiction film
Dark Star
, directed by John Carpenter, marked his career debut. The dark comedy, written by O'Bannon and Carpenter from their original story, began as a USC student project. O'Bannon played an astronaut in the movie.
The Return of the Living Dead
, a 1985 genre parody, was O'Bannon's directorial debut. O'Bannon described it as being
"to horror movies what Airplane! was to disaster films." "You've got to ask yourself -- If you're gonna make a movie about corpses coming back, what is there left to do? What possible approach can you take that hasn't been done a million times with Friday the 13th and Halloween?
he said in a 1985 Los Angeles Times interview.
"The first thing I thought was, well, doggone it, there hasn't been a rock 'n' roll zombie movie."
He was a co-writer of
Blue Thunder
and
Total Recall
. His other writing and co-writing credits include
Lifeforce, Invaders from Mars, Screamers
and
Bleeders
. He directed the 1992 horror film
The Resurrected
.
Dan O'Bannon married Diane Louise Lindley in 1986. Besides his wife, he is survived by their son Adam.
A memorial service is pending.
Anime Upcoming in North America
DVD Times reports the US DVD and Blu-ray Disc release of
Ponyo
on will be released on
March 2nd 2010
.
Priced at $39.99 SRP on Blu-ray Disc and $29.99 SRP on 2-Disc DVD, extras include:
The World of Ghibli
- Allows fans to immerse themselves in the amazing worlds from each film created by legendary filmmaker, Hayao Miyazaki in this multi-layered interactive experience. Lands to explore include:
Ponyo's Land
Kiki's Land
Castle's Land
Totoro's Land
Behind the Studi
o- Unprecedented access to all the background, inspiration and process behind the making of
Ponyo
and the inner workings of Studio Ghibli through a series of documentaries. They include all new interviews with Hayao Miyazaki, and composer Joe Hisaishi. Also included in this feature are:
Creating Ponyo
Ponyo & Fujimoto
The Nursery
Behind the Microphone: The Voice of Ponyo
Producers Perspective: Telling the Story
Scoring Miyazaki
The Scenery in Ghibli
Original Japanese Trailer
Nausicaa.net notes new DVD editions of
Castle in the Sky, Kiki's Delivery Service
, and
My Neighbor Totoro
will also be released on
March 2
.
rumor has it that
Blu-rays of those movies are a year away.
Moonbase2
and MTV Movie Blog
is suggesting that a new G.I Joe anime is in the works.
In fact, the idea of a sequel to
"Resolute"
is probably more exciting to a lot of fans than a sequel to
"Rise of Cobra."
While details are still unclear regarding further installments of both projects, it appears that some sort of new animated adventure is in the works for the
"G.I. Joe
" series.
Anchor Bay Entertainment
The
Dante's Inferno
animated anthology tie-in to the upcoming EA game will be released on DVD and Blu-ray on
February 9th
. Animators include Production IG (
Kill Bill
animated sequence), Dongwoo (
Batman: Gotham Knight
), Manglobe (
Ergo Proxy, Samurai Champloo
), JM Animation (
"Avatar: The Last Airbender"
) and more.
DANTE'S INFERNO
(DVD)
Street Date:
February 9, 2010
Genre: Horror
Format: 1.78 Anamorphic Widescreen
Audio: Dolby Digital 5.1
Rating: Not Rated
Run Time: 88 minutes
Retail Price: $26.97
Bonus Features: EA Game Trailer, Animatics from the film
DANTE'S INFERNO
(BLU-RAY™)
Street Date:
February 9, 2010
Format: 1.78 Anamorphic Widescreen
Audio: Dolby Digital 5.1
Rating: Not Rated
Run Time: 88 minutes
Retail Price: $34.98
Bonus Features: EA Game Trailer, Animatics from the film
Bandai Entertainment
March releases include
03-02-2010
Code Geass: Lelouch of the Rebellion R2 Part 4
(also w/LE)
Mobile Suit Gundam 00 Season 2 Part 1
(also w/Special Edition)
Upcoming in Japan

Promos
The trailer for indi animator Jun Awazu's (
Negadon: Monster from Mars
) new genre work
Planzet
The Disappearance of Haruhi Suzumiya
hou Gekijouban Keroro Gunso Tanjo! Kyukyoku Keroro Kiseki no Jikujima de Arimasu! (Super Movie Keroro Gunso Birth! It's the Ultimate Keroro Miraculous Space-Time Island!!
) - to be screened with
Cho Denei-ban SD Gundam Sangokuden Brave Battle Warriors
Fate/stay night Unlimited Blade Works
Durarara!!
Uchuu Show
Doraemon: Nobita's Great Merman Sea Battle
Crayon Shin-chan: Super Dimension! The Storm Called My Bride
Gintama: Benizakura Arc — A New Retelling
e Precure All Stars DX 2
Space Adventure Cobra
Gundam Unicorn
Magical Girl Lyrical Nanoha The MOVIE 1st
Arakawa Under the Bridge
Pokemon's 13th movie
Doraemon: Nobita no Ningyo Daikaisen (Doraemon: Nobita's Great Merman Sea Battle)
Detective Conan: The Lost Ship in the Sky (Meitantei Conan: Tenku no Lost Ship)
- the 14th movie
Anime
The fourth
Bleach
movie
is planned for winter 2010
. It's tag line is "Ichigo has reached the perfect hollowfication?! "
*
Katsuhiro Otomo (
Akira
creator) and Shinji Kimura's (veteran anime background artist,
Genius Pary: Deathic 5
) picture book
Hipira: The Little Vampire (Hipira-kun)
will be adapted into a televised anime miniseries
. The anime will run for five consecutive days within the BS Fuyu Yasumi Anime Tokusen program on the NHK BS2 satellite/cable channel.
Worth Checking Out...

Media
I regard
Fist of the North Star
parodies as lazy, but still,
I chuckled at this
Gainax's Lagann-hen key-animation feature, part 5 and 6
Great Gurren Brigade
prepares by
Akira Amemiya
fake moon transforms into Cathedral Lazengann
by Yoh Yoshinari
Space Coyote's Sniper Wolf fanart
illustration from Otomo's
Roujin-Z
Tekken 6: King of Iron Fists, Online Manga, and Paper Stories
Jog offers an
incredible fight scene from recent Blade of the Immortal
Liz Ohanesian's
Top Ten Anime Themes of the Decade
Control Gigantor With Your Netbook
Those Crazy Caltech Animators
While killing time at the airport magazine stand, I found this oblivious error in an article about
The Simpsons
vs. Disney:
Cluelessness courtesy of the (ironically titled) British magazine
Intelligent Life
and writer Bee Wilson.
(Thanks
cartoon brew
)
Up meets Gran Torino
USC film student
Daniel Johnson
noticed a few similarities between Pixar's
Up
and Clint Eastwood's
Gran Torino
. So he recut
Up
's trailer and combined it with
Gran Torino
's soundtrack to prove his point:
(Thanks
cartoon brew
)
Toshiyuki Kanno on Directing "The Babysitter" for "Halo Legends"
Warner Home Video has released another press release interview in conjunction with the upcoming
Halo Legends
direct-to-video anthology movie. The latest subject is anime director Toshiyuki Kanno, who discusses his inspirations for his segment
"The Babysitter,"
the changes he made to the original story, the contributions of many of his team members, and more.
Halo Legends
will be released on DVD and Blu-ray disc on
February 16, 2010
. For more details, check out our earlier coverage:
"Halo Legends" Anthology DTV Coming February 16, 2010
Frank O'Connor Talks "Halo Legends" Direct-to-Video Anime
Hiroshi Yamazaki on "The Duel" for "Halo Legends" DTV
The full press release interview follows. Click any image to enlarge.
Rising Anime Star Toshiyuki Kanno Discusses Direction of "The Babysitter" Episode within Halo LegendsWarner Home Video to Distribute Compilation DVD on Feb. 16, 2010
Toshiyuki Kanno, one of the rising stars in anime, brings his distinct action style to the world of Halo with an innovative, yet uniquely familiar approach to the episodic film "The Babysitter," one of the seven stories within the upcoming Halo Legends.

Warner Home Video will distribute Halo Legends on February 16, 2010 as a Special Edition 2-disc version on DVD and Blu-Ray™, as well as single disc DVD and available On Demand and Digital Download. The DVD anthology of episodic films based within the mythology of the popular game Halo is produced by 343 Industries, a unit within Microsoft Game Studios.

Kanno worked with Studio 4oC (and producer Eiko Tanaka) to create the Halo Legends episode, "The Babysitter," which focuses on the intense rivalry between the ODST (Orbital Drop Shock Troopers) and the Spartans. When given an assignment to assassinate a high-ranking Covenant Prophet, a four-man team of ODSTs must accept a Spartan Sniper to their strike force. Each discipline learns something important about the other as the mission progresses into hostile territory - and old rivalries must be reexamined if the mission is to succeed.

The episode emphasizes the differences in ability and style between the two soldier types, and features a few familiar faces – Dutch from Halo 3: ODST and his teammates Private O'Brien, Master Sergeant Cortez and Corporal Checkman. "The Babysitter" was first previewed for Xbox Live subscribers on November 7, 2009.

Kanno has rapidly established himself as a force within the anime industry, building a reputation for directing stylish action anime in such productions as Black Lagoon, Fighting Spirit, Aquarian Age and Zone of the Enders. He also worked on special effects for Digimon: The Movie.

Kanno provided some further insight into the production of "The Babysitter" via the following Q&A. Read on …
Question: How does Halo lend itself to anime/animation?

Kanno: Halo
is a property filled with so many exciting characters and detailed story settings with a very vast/huge background, and I believe that the property has a lot of room to create episodes. Thus, I think that various ways in anime development can suit the property in whatever style the creators employ.
Question: What was the inspiration for your artistic vision in your episode of Halo Legends?

Kanno:
What inspired me the most are the
"ruins of an unconfirmed space alien."
Of course, we had a premise that the ruins are Forerunners, and Microsoft/343 Industries provided us with a good deal of leeway to create new elements. We have tried to incorporate a Japanese taste as much as possible to the buildings, costumes, and other visual things to try to add greater depth and expand the
Halo
realm.
Question: Were there any particular images within the Halo realm that helped shape or drive your creative vision?

Kanno:
We found inspiration in all of the art books provided by Microsoft, especially the beauty of the nature shown in the image boards as well as in the game itself. I tried to incorporate a similar beauty in my episode. In addition, the costume and the weapons of various characters such as the Brutes, Elites and Prophet provided me with inspirations in creating the characteristics of this episode.
Question: Why were you the right person to direct/design/write this episode?

Kanno:
The original script describing a story about the relationship between Spartans and ODST was provided by Mr. Frank O'Connor. I discussed with Ms. Tanaka, the producer of the episode, that we needed to brush up the story to make it more understandable and impressive, and proposed the new script to Microsoft. I believe that the script has become better suited to animation.
We had a very strong design and animation team. I was in charge of character designs and focused on creating designs to easily express emotions of each of them. I employed Mr. Hayashi and Mr. Suzuki to design mechas, such as those involving the Spartan, ODSTs and Covenant. They have been very good in creating mechas that are simple but very cool designs.
Mr. Sasaki was in charge of background designs, and his ideas helped realize a very distinguished world of "The Babysitter" – giving our anime sensibility, but retaining the
Halo
taste. He has created an original UNSC spaceship and the design seemed to please the Microsoft staff.
Both Ms. Miyuki, who was in charge of coloring, and Mr. Watanabe, who headed the CGI as well as the screen plan, focused on keeping a balance throughout the entire episode. I believe that they contributed a lot in accomplishing a profound screen play.
Question: What did you set out to accomplish in this episode, and why do you think you achieved or exceeded your goals?

Kanno:
The most distinguished characteristic of this episode is that this is the only episode in
Halo Legends
where ODST characters appear. During the production of this episode, a new Halo game
Halo 3: ODST
, featuring ODST characters, was released – and our episode has some common characters with the game. Thus, we felt an intense pressure to make the episode very enjoyable to the newcomers to the Halo world and, more over, to ensure that the episode would not betray the trust of the game fans.
I, myself, was a quite a newcomer to Halo at the beginning of this project, and it was a very hard process to understand the vast realm of
Halo
and to create new things out of it. Consequently, I have found out that the episode has become very exciting and much better than I had originally expected. I believe that this result comes from the efforts of each and every member of our production staffs. This was a very collaborative effort.
Question: How important was having Halo gaming experience to bringing the world to life in anime?

Kanno:
I am not at all good at playing video games, and I have not played that much. But my staff played a great deal, and both myself and my staff spent a lot of time viewing the long-playing movie many times to ensure we understood the
Halo
realm as well as the details of its settings.
Question: Are there any hidden images or behind-the-scenes "Easter eggs" – special little things you included for the devout Halo fans – that appear within your episode?

Kanno:
It was simply tough enough for me to understand the
Halo
universe during such a short period of time, so I did not have time or room to create such "hidden images" etc. However, I strongly believe that every viewer will feel the enthusiasm of all of our creative staffs in the episode.
For more information please go to WWW.HALOLEGENDS.COM
"Planet Hulk" Preview Screening in NY and LA on January 14, 2010
Marvel Entertainment, Newsarama, and New York Comic Con will be hosting a special bi-coastal preview screening for the direct-to-video movie
Planet Hulk
on
January 14, 2010
. The screenings will be held at the New York and Los Angeles branches of the Paley Center for Media at 6:30 (local time at both locations) with signings with
Planet Hulk
talent occurring after the screenings. The screenings are free, and tickets will be available starting
December 23, 2009
, via
Newsarama.com
,
NewYorkComicCon.com
, and select comic book retailers.
The full press release follows. Click on any image to enlarge.
NEWSARAMA & NEW YORK COMIC CON SPONSOR PLANET HULK EVENT FEATURING AN EXCLUSIVE PREVIEW SCREENING OF THE UPCOMING ANIMATED FEATURE
In Association with Marvel Animation and Lionsgate Home Entertainment, The Paley Center for Media Will Host Top Film and Publishing Talent In Bicoastal Event in NYC and LA On
January 14th, 2010Norwalk, CT, December 17, 2009
-- New York Comic Con (NYCC) and Newsarama.com have today announced a bicoastal event to take place on
January 14th, 2010
at the Paley Center for Media's NY and LA branches centered around Marvel Animation's critically lauded and top-selling
Planet Hulk
saga that originally debuted to comic book fans in 2006. The event will feature an exclusive first screening of the upcoming animated film of the same name from Lionsgate Home Entertainment and Marvel Animated Features as well as an opportunity to meet the talent behind both the popular comic book and the animated film during an evening that will also include limited-edition giveaways and creator signings.
Two of the architects behind the red-hot
Fall of The Hulks
Marvel Comics event, Jeph Loeb and Greg Pak, will attend the screenings to interact with fans and talk about major upcoming changes to the Hulk Family! For fans in LA, meet the Eisner-winning, Emmy-nominated Jeph Loeb as he reveals what's in plan for the popular Red Hulk and talks about the shocking twists ahead for Hulk. Meanwhile, in NYC, you can meet author Greg Pak, whose acclaimed work on the
Planet Hulk
comics inspired the animated feature! And just what's next for Hulk's son Skaar? Greg has the answers!
Planet Hulk
is the highly anticipated animated feature scheduled for DVD and Blu-Ray Disc release on
February 2, 2010
that follows the Incredible Hulk as he'ssent into exile on a strange alien world after being banished from Earth. But will he be the champion of this new planet .. or the destroyer of it?
Taking place at the prestigious Paley Center for Media in both New York and Los Angeles, Newsarama and New York Comic Con will present
Planet Hulk
in its entirety at 6:30 PM local time, followed by panel discussions and signings with special guests at 8:30. The NYC premiere will focus on the talent and creative process that first brought the
Planet Hulk
story to life in comics, while the LA event will showcase the cast and crew of the new
Planet Hulk
Animated Feature.
There are a limited number of tickets available to both the New York and Los Angeles Planet Hulk events. Tickets are free and will be distributed via
Newsarama.com
,
NewYorkComicCon.com
, and select comic book retailers beginning on
December 23rd
, timed to the comic book release of
Fall of the Hulks: Gamma
, the next legendary chapter for Marvel's
Incredible Hulk
. Details about online and in-store ticket distribution will appear shortly on
Newsarama.com
and
NewYorkComicCon.com
.
Fans should also keep their eyes on Newsarama.com and NewYorkComicCon.com for announcements including guest moderators, exclusive clips from the upcoming film, inside interviews with the panelists and more.
For more information about the upcoming animated film, please go to
http://www.planethulkdvd.com
World's Finest Interviews James Tucker on "Batman: The Brave and the Bold"
The World's Finest Online has
posted an interview with producer James Tucker to look back at the first year of Batman: The Brave and the Bold
. Among other topics, Tucker discusses how true the show has stayed to how he envisioned it, personal highlights of the first season, and some minor hints about what to look forward to in the upcoming season.
Single-Sentence Films
Lit mag
Electric Literature
has been commissioning indie animators to create short animated pieces based on single sentences from short stories published in their magazine. The pieces, like the one below created by Jonathan Ashley, can be seen on the
Electric Literature website
.
(Thanks, Donna K.)
(Thanks
cartoon brew
)
Vergani's Final Film Floats to the Surface
Pedro Vergani
's final project for his studies at
FAAP
in Brazil is somewhat light on animation, but the production design is excellent. The film is titled
Shellfish
.
A Town Called Panic Opens in NYC
The year of the animated feature just keeps kicking ass. With 20 films competing for the animated Oscar prize, it bodes well for the future of the medium. And as the year comes to a close, yet another animated feature bows on the big screen.
Panique Au Village
(A Town Called Panic)
, which was an official selection at the Cannes Film Festival, opened in NYC on Wednesday, and if the
82% rating
at RottenTomatoes.com is any indication, it will perform quite well in a wider release. The stop-motion Belgian film was the creation of Stéphane Aubier and Vincent Patar.
Alma by Rodrigo Blaas
For a limited time during the holidays, Rodrigo Blaas has made his spooky CG short
Alma
available for viewing online. Blaas is an animator at Pixar who took time off from the studio and returned to his native Spain to make this independent film. His brother, Alfonso Blaas, served as the film's art director. The film's official website is
AlmaShortFilm.com
.
(Thanks
cartoon brew
)
Mighty Mouse dvd update
I just got an advance copy of the Ralph Bakshi
Mighty Mouse The New Adventures
complete series DVD — and it turned out a lot better than I could have hoped. Most of us have been clinging to bootleg videos or our own deteriorating taped-off-the-air VHS copies for 20 years; now we have gorgeous restorations to enjoy for all time. Rewatching these has been an incredible pleasure; they hold up quite well. Sure, the animation is a little funky compared the shows that have come after, but this series has earned its place as an
"industry game-changer"
.
I was proud to act as a consultant on this DVD project from its inception. The only credit I receive here is as "Animation Consultant" in tiny letters in the credit roll on the bonus documentary (which is better than my non-credit on the two Woody Woodpecker DVD volumes from Universal). I might as well point out a 21 year old in-joke - note the headline on the newspaper (above left - click thumbnails above to enlarge) from the second season cartoon,
Still Oily After All These Years
: "Beck-Bakshi Detente!"
.
Below are a few menus and the back cover. The DVD goes on sale
January 5th, 2010
. Good sales could lead to the restoration and release of more classic cartoons from the Viacom vaults (the vintage Terrytoons of Mighty Mouse, Heckle and Jeckle, the Fleischer Betty Boops, Famous Little Lulu's and George Pal Puppetoons). I can't promise anything, but every purchase helps the cause. I'd appreciate it if you'd spread the word.
(Thanks
cartoon brew
)
Electropolis
Electropolis
is
"the product of roughly 7 months of work from 13 students in the 3rd year of the BAA Animation program at Sheridan College."
It's interesting to note the rise of student films made in groups at North American animation schools. No doubt the success of group student films from French animation schools like Gobelins and Supinfocom have played a role in encouraging this trend.
(Thanks
cartoon brew
)
The Sunday Funnies (12/20/09)
Our weekly survey of recent comic strips and editorial cartoons that reference animation characters.
Mike Peters in the Dayton Daily News.
Rob Rogers from the Pittsburgh Post Gazette.
Off the Mark
by Mark Parisi (12/13/09)
Rhymes with Orange
by Hilary Price (12/11/09)
Janis & Arlo
by Jimmy Johnson (12/12/09)
(Thanks, Jim Lahue, Billie Towzer and Uncle Wayne)
(Thanks
cartoon brew
)
Toons of the 2000s: Top 25 Animated Television Series Countdown #25-21
The past decade has offered plenty of animation for the fans to rejoice in. In fact, it's rather difficult to look through the 00s and pick just 25 shows that stood above the rest. Did the show have a somewhat original concept? Did it have characters that drove and added to the story? Better yet, did the show actually have a decent story? And let's not overlook the artwork. For a series to make it into our Top 25, all of these questions had to be met with a 'yes.'
Not all of the shows mentioned in this list were created in the 2000s. What has been taken into account is whether or not the show hit its stride during the past decade. Do know, however, that all of the shows on this list are here because they met certain criteria that put them above the rest. Without further ado, here are toonzone's Top 25 Animated Series:
25. KING OF THE HILL
Dates: 1997-2009
FOX
255 episodes
Created by Mike Judge & Greg Daniels
Starring: Mike Judge, Kathy Najimy, Pamela Segall Adlon, Brittany Murphy, Johnny Hardwick, Stephen Root
SYNOPSIS
A sitcom about a family man (Hank Hill, voiced by co-creator Mike Judge) and the going-ons with his friends and family.
WHY IT MADE THE LISTKing of the Hill
is a show about real life. Even if you've never been to Texas, you've probably met your share of folk who remind you of Hank and Peggy Hill, or of their friends and family. It is this commitment to reality that sharply distinguishes Mike Judge's show from other animated sitcoms and earns it a place on this list.
The series is also notable for staying true to itself across its twelve-year run, even as it killed off major characters and led others through life-changing events. Such consistency in the face of change is another rarity, not just in animation but in television itself.
24. EL TIGRE: THE ADVENTURES OF MANNY RIVERA
Dates: 2007-2008
Nickelodeon
26 episodes
Created by R. Gutierrez & Sandra Equihua
Starring: Alanna Ubach, Carlos Alazraqui, Eric Bauza, Grey DeLisle.
SYNOPSIS
A boy with a belt that grants him superpowers must decide between being a hero or a villain.
WHY IT MADE THE LIST
Most cartoons focus on the heroes. But what about the villains? And must good inevitably triumph over evil?
El Tigre
challenged long-standing presuppositions such as these. It placed its title character in a family full of heroes and villains and forced him to choose between good and evil. This distinguished it from numerous other shows about superpowered characters.
But concept isn't everything, and the series also boasted likable characters, a strong sense of humor, and solid animation. Unfortunately, it was canceled after only one season, but it shone brightly during its brief existence.
23. HOME MOVIES
Dates: 1999 and 2001-2004
UPN (1999), Adult Swim [Cartoon Network] (2001–2004)
52 episodes
Created by Loren Bouchard & Brendon Small
Starring: Brendon Small, Jon Benjamin, Melissa Bardin Galsky, Janine Ditullio, Ron Lynch
SYNOPSIS
Pint-sized cineaste Brendon Small makes movies with his friends Melissa and Jason.
WHY IT MADE THE LIST
This series about a precocious Steven Spielberg-wannabe originally ran on the now-defunct UPN, but its main claim to fame is as the first show to air on Cartoon Network's Adult Swim. Its combination of clever scripting (mostly improvised by its actors) and very limited animation gave it an air of eccentric, avant-garde maturity that perfectly encapsulated what Adult Swim strove to be. Other signature shows took the network to new heights, but
Home Movies
deserves high honor as one of the first and sustaining series of that very successful programming block.
22. CHOWDER
Dates: 2007-2010
Cartoon Network
49 episodes
Created by C.H. Greenblatt
Starring: Nicky Jones, Dwight Schultz, Tara Strong, John DiMaggio, Dana Snyder, Liliana Mumy
SYNOPSIS
The wacky misadventures of a small boy apprenticed to a caterer.
WHY IT MADE THE LIST
Bright, cheerful, and genuinely funny,
Chowder
nourishes not only as one of Cartoon Network's best recent productions but as an often beautiful work of art in its own right. The show mixes traditional hand-drawn animation with stop-motion and puppetry to clever effect, and its use of static patterns and textures to color clothing (and in some cases skin), while not a novelty, gives it a look that lifts it above many of its contemporaries.
Smart and good-looking - what other reasons does one need to gratefully devour Chowder?
21. TEEN TITANS
Dates: 2003-2006
Cartoon Network
65 episodes
Created by Glen Murakami
Starring: Scott Menville, Tara Strong, Hynden Walch, Greg Cipes, Khary Payton
SYNOPSIS
Five teenage superheros fight crimes while they struggle with their powers.
WHY IT MADE THE LIST
Teen Titans
caught most people by surprise. This eccentric adaptation of a mainstream comic book title used trippy visuals to convey stories that were occasionally comic, usually dramatic, and sometimes even tragic. The tension between its flexible, cartoony designs (influenced by anime and Japanese pop) and its grounded heroes and villains could have been destabilizing; instead, it added further layers of invention and entertainment to the show.
The series was also deft at offering standalone tales alongside the season-spanning arcs which developed each of its heroes. The Teen Titans never lost their sense of fun, but they came to have a gratifying depth. It is hard to mix comedy and drama; harder to mix slapstick and drama; harder still to mix them while using a sometimes zany visual style.
Teen Titans
balanced such opposites with a gymnast's skill and a circus performer's love of spectacle.
Be here tomorrow for #20-16 of the Top 25 Animated Television Series Countdown.
(Thanks
Toon Zone
)
Matthew Gratzner discusses the new 'UFO' movie trilogy @ Forbidden Planet
It's ten years from now. Hidden from the headlines, hidden from the world, a secret global military alliance struggles in obscurity to save us from a stealthy invasion. The truth, too terrible for us to know, is that we are being harvested by a mysterious and dying alien race for our organs. From a base deep beneath a London film studio, the American commander in charge of the secret army marshals worldwide forces against the invaders: Skydiver, a submarine that can spit a jet fighter out of any ocean to combat the aliens in our skies; Moonbase, a lunar outpost where a fleet of interceptors struggle to prevent the alien craft ever reaching Earth; terrestrial forces, ordinance and troops that can be marshalled at a moment's notice. Heading these resources, Commander Straker is uncompromising, a lone figure with a thankless task and a dark and unhappy past. But he's the right man for the job – these aliens are not cute, and those that fight them are not the Men In Black. This is serious. This is SHADO…
"What I want to do with UFO is what Christopher Nolan did with the Batman franchise, or Martin Campbell did with Casino Royale."
says veteran Hollywood visual effects wizard Matthew Gratzner, now the director/co-producer of a $130 million Hollywood adaptation of Gerry Anderson's cult 1970 UK TV show.
"UFO is not a spoof, or a parody or a kids' movie. It's a pretty dark story, actually…it is not a show for young children."
It never was. Anderson's first foray into live-action sci-fi - after a decade of handling genuinely wooden actors in the likes of
Thunderbirds, Joe 90
and
Captain Scarlet
– mixed its customary share of spiffy vehicles with the grittiness, darkness and bleak endings that were to hallmark the 1970s. Featuring divorce, drug-use, endless conflict, tragic happenstance and loads of death (even of cute children),
UFO
was a far cry from the optimism of
Star Trek
.
Read the rest HERE...
Medusa, Kraken revealed in new Clash of the Titans trailer
The second, fuller trailer for Louis Leterrier's upcoming kick-ass reboot of
Clash of the Titans
has finally been officially released, and you can now watch it here. And check out the new poster, featuring Perseus (Sam Worthington) with Medusa's head!
The new trailer reveals Liam Neeson's Zeus, a glimpse at the new Medusa, giant scorpions, eyeless Stygian witches, a black Pegasus, more giant scorpions, Worthington's badass Perseus and a full look at the new Kraken, which sure has a lot of teeth.
The new movie, starring
Avatar
's Worthington, is chock-full of monsters, mythical creatures, dizzying sword fights and snake-headed Gorgons, brought to you by director Leterrier (
The Incredible Hulk
).
Clash of the Titans
opens
March 26, 2010
.
Go behind the scenes of the new Prince of Persia!
The new behind-the-scenes video has gone live for Disney's upcoming
Prince of Persia: The Sands of Time
, revealing the movie's story and the backstory of Jake Gyllenhaal's Prince Dastan.
Prince of Persia: The Sands of Time
, based on the video game, opens in spring 2010.
James Cameron: Terminator has run its course
Remember when
Terminator Salvation
director McG was
seeking James Cameron's blessing
for his sequel film?
I don't think he ever got it, and Cameron is now saying he thinks the whole franchise is played out, though he is gracious in offering backhanded praise for McG's disappointing movie.
Here's what
Avatar
director Cameron told the
Toronto Sun
:
"I've moved on creatively from The Terminator, so I'm not really interested in that imagery and even those ideas anymore—and I'm not sure the world is that interested either. It's run its course, I feel."
As evidence of this, he points to this summer's disappointing
Terminator Salvation
, which attempted to continue the series without Arnold Schwarzenegger.
"His persona was part of The Terminator, and when you uncouple those, you get Terminator Salvation, which is actually a fine film from a pure filmmaking standpoint—it just doesn't gel up into anything mind-blowing."
Ouch!
Read the rest of Cameron's comments—including his regrets about selling off the
Terminator
rights for only $1!—
here
.
In case you've been living under a rock, Cameron's
Avatar
opened Friday.
George Lucas' and Michael Jackson's weird sci-fi movie lives again
Fans of a certain age may recall that George Lucas, Francis Ford Coppola, Michael Jackson,
Avatar
composer James Horner and Disney once collaborated on one of the weirdest 3-D sci-fi movies of all time:
Captain EO
, which was perhaps the first hybrid of film and in-theater effects in a theme park attraction (it played in Disneyland).
Well, it's back, now that Jackson's reputation has been resurrected in the wake of his untimely death, the official
Disney Parks
Web site reports:
Twenty-three years ago, at the height of his phenomenal entertainment career, Michael Jackson joined forces with Disney to create
"Captain EO,"
a groundbreaking 17-minute 3D film experience.

We are excited to confirm that the classic musical spectacular that thrilled Disneyland park guests from 1986 - 1997, will return for an exclusive, limited engagement at Disneyland park beginning in February 2010!
The film, which will screen in the Tomorrowland theater currently occupied by the aging
Honey I Shrunk the Audience
movie, is notable for featuring Anjelica Huston as a heavily made-up space witch. Lucas executive-produced and Coppola directed; Horner wrote some of the music; and the film features two original Jackson songs.
The return of
Captain EO
is apparently the result of a fan campaign after Jackson's death. Not clear whether the film will be restored or enhanced or if it will appear in other Disney theme parks subsequently, but stay tuned. (You can get a grainy YouTube taste of it below.)
Make it Sir: Star Trek's Patrick Stewart to be knighted
Patrick Stewart—
Star Trek
's Capt. Jean Luc Picard and
X-Men
's Charles Xavier—will be knighted by Queen Elizabeth II, according to a report in the British Mirror newspaper.
In addition to appearing in films, Stewart has been spending much of the last decade performing on the British stage. He is to be knighted by the Queen on this years New Year's Honours list. (The news isn't official yet; the newspaper bases its report on anonymous sources.)
Palace sources said the Queen is a huge fan of the 69-year-old, who played Captain Jean-Luc Picard in
Star Trek: The Next Generation
.
If he is knighted, Stewart will join fellow
X-Men
star Ian McKellen.
(Thanks to
TrekMovie
for the heads up and for letting us steal their headline.)
James Cameron on why Avatar changes everything
In this exclusive video feature, we go behind the scenes of James Cameron's
Avatar
, and the director explains to us why it took so long to bring his sci-fi vision to life, but why it will change how we see movies.
Though he conceived of the film in 1995, it wasn't until 10 years later that Cameron believed cinematic technology had evolved enough to make it possible to create the movie.
That's when he said,
"Now I'm going to do this ridiculously difficult movie with all these cg characters and now we're going to do it in 3-D. That ought to keep us busy for a while."
The cast, including Sigourney Weaver and Stephen Lang, take you behind the scenes of the epic sci-fi adventure, which is now in theaters.
Mythbusters takes on Star Trek Gorn cannon (video)
The Mythbusters guys will take up the question: Can you really build a cannon out of bamboo, sulfur, charcoal and diamonds if you need to blast a Gorn like Captain Kirk on
Star Trek
?
Check out the hilarious preview below. The episode, which takes a scientific look at the original
Star Trek
episode
"Arena,"
airs
Monday, Dec. 28
, at 9 p.m. on the Discovery Channel.
New Hit-Girl 'Kick-Ass' Poster Arrives Online
The latest
"Kick-Ass"
character poster has hit the 'Net, and after being treated to images of
The Red Mist
,
Big Daddy
and
Kick-Ass
himself, we finally get a look at the other half of the brutal, father-daughter vigilante team, Hit-Girl.
Similar to the posters before it, this one sports the tagline
"I Can't See Through Walls. But I Can Kick Your Ass."
It debuted on
IGN
, where they've made an extra-large version of it available.
Played by Chloe Moretz, Hit-Girl is the violence-prone assassin whose father (played by Nicolas Cage) has trained her to be a pint-size killing machine. Many are pointing to Moretz as being the
breakout star of Matthew Vaughn's adaptation
of the Mark Millar and John Romita Jr. comic book series.