Princess And The Frog soundtrack streamed
If you can't get to
The Princess And The Frog
right away and are itching to discover Randy Newman's songs and score for the movie, the entire soundtrack is available to listen to as a
stream from Walt Disney Records
in WMA format. The Studio has also announced details on the promotion for the film's soundtrack, which can be read here:
Everyone has been bumping Walt Disney Pictures' highly anticipated animated masterpiece
The Princess and the Frog
's soundtrack, which includes a lively collection of original songs and an orchestral score by Randy Newman, and Ne-Yo's romantic pop ballad,
Never Knew I Needed.
Elton John, the man behind the award-winning soundtrack for
The Lion King
has nothing but praise for Disney's decision to bring Newman on board for the film's music:
"Randy Newman is, for me, an American treasure… One of my favorite writers of all time, before he started writing for God knows how many animation movies with Pixar and Disney. This could be one of the best Disney scores ever, because I think he's fantastic"
.
Chief Creative Officer for Pixar/Walt Disney Animation Studios, John Lasseter, also weighed about the significance of this particular soundtrack:
"The songs in The Princess and the Frog are so key to advancing the story, and also to really introducing the characters and learning about the characters; what they're about, what they want, what's inside them."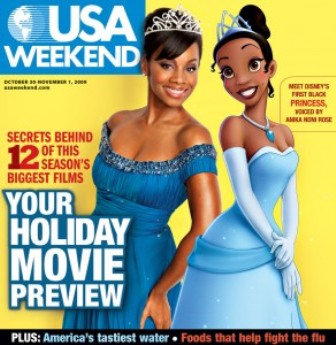 (Image Courtesy of USA Weekend Magazine)
The lady who lends her voice to the leading heroine, Anika Noni Rose, has been going everywhere to support the film's wide release. Check out her recent
performance on Good Morning America
of
Almost There
, Princess Tiana's theme song!
Walt Disney Pictures' highly anticipated
The Princess and the Frog
, is now open theaters across the United States.
Imagi Animation Studios Lays Off 100 Employees
The Oriental Daily News reports that
Imagi Animation Studios has laid off 100 of its 400 employees, most of whom were animators
. The layoffs come in the wake of the
Astro Boy
CGI movie, which reportedly cost $60M to make but pulled in only $19.07 million in the United States so far and comparably disappointing box office numbers internationally.
(via
Anime News Network
)
The Art of Princess and the Frog: Down in New Orleans with author Jeff Kurtti
Whether you're a Disney oriented book reader or a DVD/Blu-ray buff, you can't have missed Jeff Kurtti. A renowned Disney historian, he's the author of more than 20 books, notably on Disney Animation and Imagineering, that have become references. He's also a director/producer of some of the best supplements you can see as bonus features on Disney DVDs.
Now, he's the author of the most anticipated
Art of Princess and the Frog
book, featuring the lush concept art and illustration that inspired the film's animators, through character design, storyboards, full-color pastels and intricate scene sketches, along with behind-the-scenes stories and insights from the film's creative team.
It's been our pleasure to have Jeff Kurtti answer our questions in an interview that we imagined just like the bonus features of the book…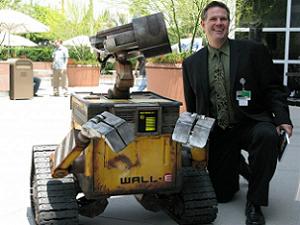 Backstage Disney: The Making Of
The Art Of Princess And The Frog
Animated Views: What interested you in writing The Art of Princess and the Frog?

Jeff Kurtti:
I have been a fan of Disney Animation since childhood, and have written several animation-related books in the past, so when I was asked to write
The Art of The Princess and the Frog
, I was naturally both flattered and excited.
AV: You started working in the field of Imagineering and Disney parks. What led you to animation (through documentaries and books)?

JK:
I started working for Disney in those fields, but my interest in Disney has always been culturally much more broad. As a child, film and animation were actually much more accessible to me and much easier to research, so my earliest Disney studies were Walt and Studio biographical, and animation-based. It was only later that I began to expand into true study of Disneyland, then Walt Disney World much later.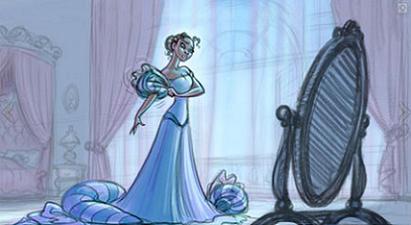 AV: When did you start becoming aware and interested in the Princess and the Frog movie from a personal point of view?

JK:
I think like most fans of Disney animation, my interest began when I heard that Ron and John had been brought back to Walt Disney Animation Studios after being let go for a period of time. I knew that such a move was not without intent to use their talents, and those talents being what they are that they would emerge with an interesting new project.
AV: At what stage of the making of the movie did you start working on the book?

JK:
I began in the fall of 2008, a little more than a year before release.
AV: How long did you work on it?

JK:
My friend Richard Sherman has a response to a similar question when people ask how long it takes to write a song:
"Your whole life, plus the time it took to write it down."
Having studies animation for decades, and written books and produced documentary material on scores of titles, there was a lot of preparation that had nothing to do with actually writing the book.
I spent a few weeks interviewing more than thirty of the production team members, and then several more weeks crafting a manuscript. Then there was a lengthy editorial process as the manuscript was revised and crafted to address the needs of the book overall.

AV: How did the interviews go with all the Disney artists?

JK:
In many cases, it was a really happy reunion with people I have met, worked with, or known before. The atmosphere was welcoming and convivial, and everyone was genuinely enthusiastic and optimistic about being back making a hand-drawn feature at Disney.
AV: Did you have carte blanche to choose whoever you wanted to talk to?

JK:
The producer and directors chose the key members of the team for my interviews, their guidance and viewpoint was essential, otherwise I would be flying blind, and working a lot harder, to suss out who the right voices and perspective for the right production areas.
AV: Can you tell me more particularly about your meetings with the creators of the movie?

JK:
I have worked with most of these artists on previous projects, and it is always fascinating to sit and talk with them. Watching the team dynamic between Ron and John is interesting, their way of sharing a conversation gives a good insight into how they work as a team, how their minds work together, and where they overlap and diverge to create the successful duo they have become over many years and many projects.
I noted that the majority of the people I spoke with, in addition to their talent as artists, spend a lot of time in study and thought about what they do, how they do it, what it means. Not just pushing out production footage, but really getting inside the process, technique, cultural values, and historic importance of what they do.
It makes it a pleasure to interview them, and the depth of dialog and insight we can share, and pass on to the reader, has more to do with their encompassing perspective and perception about their craft than a simple Q&A interview.

AV: What kind of ambiance did you feel when you met the artists? Did you feel some special excitement about the film?

JK:
There was a genuine sense of excitement and optimism, and also gratitude. Not only for being able to again work on a Disney hand-drawn feature, but also to be working with an all-star lineup of talent in that craft.
AV: What kind of material did you have access to?

JK:
Pretty much everything generated for the film. In most cases, I left the decisions about art to the filmmakers and the book designer, as their input was equivalent to mine in terms of the final product. In the case of an Art Of… book, in fact, it is more important than the text, the text should be in place to serve the art and create context for the reader.
The book designer, Glen Nakasako of Smog Design, Inc., did a really remarkable job, both in terms of organizing art and creating his own harmonious internal design for the book itself.
AV: At some point in the book, Don Hall says that the beat board didn't have any text because the story was primarily to be told visually. Can you tell me about the visual strength of the movie?

JK:
Typically animation is a visual medium, the basic story beats work out in advance of or simultaneously with the script or dialogue. It's one of the reasons animation is such an international art form. Ideas are communicated through shape, staging, color, and light.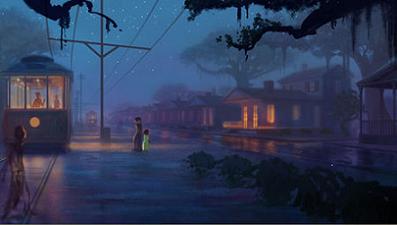 AV: There are many ways to approach the making-of and the art-of a movie. You chose to organize our voyage geographically, from New Orleans to the Garden District, to the Bayou. How did you come to that (brilliant) idea? Can you explain why and tell me more about it?

JK:
The idea actually came from the initial book editor Sarah Malarkey, and it made sense as an organizing principle since the settings are so fundamental in supporting the story and characters. Each setting also provided a natural way to organize both the roll-out of the characters ad the film's art processes, too.

AV: It is much said that Princess and the Frog goes back to the great Disney classics. But I prefer the way Ian Gooding puts it at the end of the book, saying that they were "trying to reinvent everything." It's not just about rediscovering the tradition, it's really about reinventing it. From what you perceived during the making of the book, from your meetings with the artists, please, would explain that statement?

JK:
Since hand-drawn animation as a process had evolved, in its most recent incarnation, from the mid-1980s, there was a certain level of production process that had been locked into place. When Disney shut down hand-drawn, everything involved in that process was dismantled, up to and including animator's desks and animation paper.
So, in addition to rediscovering the tradition, the filmmakers had both the responsibility to re-establish the overall production procedure and the luxury of conforming what had, to many people, become a cumbersome process less able to accommodate quick changes and thinking on one's feet.
AV: The artists who worked on
The Princess and the Frog
drew some of their inspiration from
Lady and the Tramp
, the last Walt Disney animated film that was intended to be realistic, before the more "stylized"
Sleeping Beauty
and
Dalmatians
. So, the end of an era (
Lady and the Tramp
) helped to the emerging of a new one (hopefully, a new golden age of hand drawn animation). Funny, isn't it?
The greatest advantages that Disney has in the field of animation are the institutional commitment to the medium and the ability to draw on nearly a century of work in that medium for methodology, technique, and inspiration. Each new project to one degree or another draws on some previous work, whether it is a direct examination of technique, or the cultural memory of an artist who saw a Disney film as a child.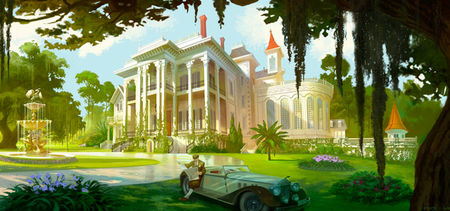 Music And More
AV: Each chapter of your book is introduced by lyrics taken from Randy Newman's songs. In the same vein, the last chapter of your book is called "Coda", which is a musical term, too. Can you tell me about the idea of having such a coda, which is relatively unusual regarding the set up of the other Art Of… books published by Chronicle?

JK:
It seemed that there was a need to go beyond the "art" structure and address the culture of the production, given that this film marks a resurrection of sorts, a place for the filmmakers to express what they do with art in a prose medium, and to articulate some of the emotional and legacy issues that almost everyone mentioned or discussed.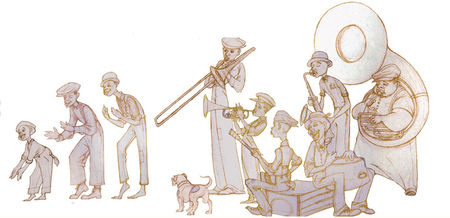 Bloopers
AV: What was the best or funniest moment in the creation of the book?

JK:
For me personally, the best possible moment or moments was the idea of being back at Disney Animation, and being there to talk with Ron and John, Eric Goldberg, Mike Surrey, Mark Henn, Andreas Deja — people I thought a few years ago might never do this kind of thing again.
AV: What were the best moments of the interviews you did?

JK:
In many cases, the people I interviewed are so intellectually attuned to their entire art form and its history that we wandered FAR off the path of the production at hand, discussing films and artists decades old, or our previous works together on productions past.

Sneak Peek
AV: Can you tell me about your upcoming projects, both on video and in the book medium?

JK:
I just completed a great work, perhaps my magnum opus, I was the initial Creative Director, then Content Consultant and Media Producer for the cornerstone exhibit at The Walt Disney Family Museum in San Francisco. To be asked on to such a project by Walt Disney's daughter and grandson, and devote five years to telling the story of Walt Disney in a way that will speak to generations was simply thrilling.
I am now working on some big projects for my friends at Disney Cruise Line and their spectacular new liner, Disney Dream, which launches in January of 2011, and I am doing a book on the ship for Disney Editions as well.
Finally, right now I am working on
The Art of Rapunzel
for Chronicle Books for release concurrent with the all-new animated feature next December.
The Art of Princess and the Frog
is available to
order now from Amazon.com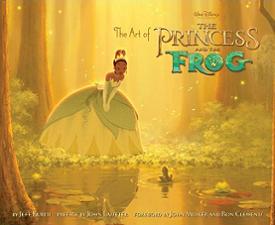 With all our thanks to Jeff Kurtti and April Whitney at Chronicle Books. All artwork ©Disney Enterprises, Inc.
Photo of the author courtesy of Jeff Kurtti. All rights reserved
(Thanks
Animated Views
)
My Dog Tulip gets a U.S. distributor
As previously noted here, good U.S. distribution for an independent animated feature is very tricky thing to acquire. Nina Paley went the self-distribution route with her film
Nina Sings The Blues
, while smaller companies like Regent ($9.99), IFC (
Mary & Max
), Zeitgeist Films (
A Town Called Panic
), and Gkids (
The Secret of Kells
) try their best to introduce animated films into the competitive marketplace.
That said, I can report some good news for Paul Fierlinger's
My Dog Tulip
. The film has been picked up by Apparition, a fairly new theatrical distributor out of NYC specializing in independent films for the U.S. market. They take on only about 7 films a year and, based on some of their live action acquistions (Terrence Malick's
The Tree of Hope
and Jane Campion's
Bright Star
), have gained a solid reputation.
Christopher Plummer and Isabella Rossellini voice Fierlinger's animated tale of friendship between an elderly bachelor and his German Shepherd. The film was awarded Honorable Mention for Best Animated Film at the 2009 Ottawa International Animation Festival. Appriation will release
Tulip
in September 2010.
(Thanks
cartoon brew
)
Disney in-jokes add to the fun of "The Princess & The Frog"
Jim Hill reports in on how well this new hand-drawn animation feature did over its opening weekend. He also shares some of the hidden Disney references that pop up in this picture
If you feel a slight breeze coming from the West Coast today, that's that huge sigh of relief coming from all of the artists & animators who worked on
"The Princess & the Frog."
Given the
estimated $25 million
that this new John Musker & Ron Clements movie pulled in over its first weekend in wide release (Not to mention the
83% freshness
rating that this new
Walt Disney Pictures
release got over at
RottenTomatoes
), it would appear that
Walt Disney Animation Studios
is back in the hand-drawn animation business to stay.
Oh, sure. There are those within the entertainment industry who will grouse about
"Princess & the Frog"
grosses. Who will say that $25 million in ticket sales for Disney's first new hand-drawn animated feature in over five years – while solid – ain't exactly stellar. Know this, though:
"PATF"
had the highest opening weekend gross ever for an animated feature that was released during the month of December. Which bodes well for where this film will be sitting, box-office-wise, as 2009 gives way to 2010.
Of course, in order for
"Princess"
to really go over the top here, Walt Disney Animation Studios would like to encourage folks to go back and see
"The Princess & the Frog."
Which is why someone who worked on this film just sent me an e-mail which reads:
Copyright Disney Enterprises, Inc. All Rights Reserved
Did you know …
* - That – as the film's title sequence is getting underway while Dr. John is singing "Down in New Orleans" – you can clearly see the carpet from "Aladdin" being shaken out by someone who's standing on a wrought-iron balcony.
* - That – as Mama Odie is quickly digging through a pile of magical objects during "Dig a Little Deeper" – the lamp from "Aladdin" gets tossed to one side.
* - That – during this movie's Mardi Gras sequence – one of the floats in that parade features a figurehead that is clearly modeled after King Triton from "The Little Mermaid."
* - What's more, riding on that King Triton parade float are caricatured versions of John Musker & Ron Clements, the directors of "Aladdin," "The Little Mermaid" and "The Princess and the Frog."
Copyright Disney Enterprises, Inc. All Rights Reserved
* - In the film's finale, Louis can be seen playing with a jazz band at Tiana's restaurant. The lettering on the bass drum says that this band is called "The Firefly Five Plus Lou." Which is obviously an affectionate tip of the hat to the Firehouse Five Plus Two, that ragtime band from the 1940s & 1950s which was made up of Disney Animation employees.

* - What's more, the piano player in the "Firefly Five Plus Lou" is a caricature of Disney Legend Frank Thomas. Who was the piano player for the Firehouse Five Plus Two.
Outside of this e-mail, I've also heard that – among the toys that are scattered around the floor in young Charlotte's bedroom during
"The Princess & the Frog"
's prologue – is the pumpkin coach from
"Cinderella."
Can anyone confirm this last item? Or – for that matter – report in on any other inside jokes / hidden Disney references that you may have spied while watching this holiday release.
The World Cartoon Explosion
A well-known entertainment trade paper
surveys
the new global animated paradigm.
This year alone, toon fans helped five pics earn more than $100 million in the U.S., with Disney's
"Up"
floating close to the $300 million mark and DreamWorks Animation's
"Monsters vs. Aliens"
and Fox's
"Ice Age: Dawn of the Dinosaurs"
scaring up nearly $200 million each.

That kind of coin has encouraged producers to as many animated projects as they can afford into production. Many of those films aren't being made in the U.S., but overseas, in territories where much of the physical work on Hollywood's animated films already takes place.

A toon boom is underway in Europe and Asia, with studios there ponying up big bucks to produce animated family fare that's carefully crafted for American audiences -- boasting appealing characters, high-end computer-generated visuals and packed with pop culture references.
But "carefully crafted" or not, to date most animated features created on foreign shores haven't set American turnstiles ablaze.
After earning $108 million worldwide ...
"Arthur and the Invisibles"
[made] just $15 million in the U.S. ... Despite their big budgets,
"Planet 51,"
has earned $30 million since Nov. 20, while
"Astro Boy"
has earned just $19 million domestically since its release Oct. 23 ...

... Previous films like
"Valiant"
or
"Igor"
didn't attract audiences because they were considered too "European" or
"fell short in production values,"
says
"Planet 51"
producer Perez Dolset. Others attribute their disappointing performances to the size of their marketing efforts in the U.S. ...
Frankly, I couldn't tell you with precision why the majority of overseas animated features go bust in the U.S. of A. Some are clearly clunky, or have under-powered story and character development, or simply don't gel with American tastes.
But others? I remember seeing trailers for
Happy Feet
years ago and thinking,
"Jeeze, another penguin movie?! How well can that do?"
yet the epic took off.
This past weekend I saw the second trailer for
Despicable Me
and laughed out loud. It doesn't look like most American animated features, not even close, but they seem to be larding it up with a lot of Warners-style gags, so who knows? It could be a hit for Universal and cement Chris Meledandri's reputation as Master of the Feature cartoon in the same way that Jeffrey Katzenberg is a master. (
DM
, if you don't know, was produced in France.)
Foreign animation flaming out in the American market isn't a new phenomenon. It's been happening since
Once Upon a Forest
in 1990, and further back than that if you consider the Soviet-produced
Snow Princess
going nowhere in the States back in 1960.
It must be maddening for overseas cartoon studios to see American animation sail to the top of their own box office charts, while their efforts seldom break through stateside. Also crappy and "unfair," but the way -- by and large -- it seems to be.
(Thanks
Animation Guild Blog
)
The Derby Beyond the Seas
Toonage in foreign lands appears to be
going great guns
.
"Christmas Carol"
grossed $18.3 million from 5,459 playdates in 48 territories for a foreign cume of $128.6 million and worldwide total of $243.8 million. ...
Which is, in fact, $15+ million low after factoring in the current weekend's take ...
Coming in No. 5 at the international B.O. was Luc Besson's French toon
"Arthur and the Revenge of Maltazard."
Film is a sequel to
"Arthur and the Invisibles." "Maltazard"
grossed a boffo $14.1 million in its debut in 15 territories, led by $11.3 million at the French box office, where it is being distribbed by Europa. ...


"Planet 51,"
placed No. 7 overall for the sesh at the international B.O., grossing $8.1 million from 20 territories.

In Japan,
"Up"
scored the second-best opening for a Disney/Pixar toon after
"Finding Nemo,"
which finished with $124 million in 2003 ...
The first
Arthur
, if you're keeping score, was a huge winner in Europe and a monumntal bust for the Weinstein Co. here in the U.S.
The Weinstein brothers just can't seem to catch a break. Like other indies, the company appears to be in trouble financially.
Arthur Uno
did nothing for them in the U.S., and what's going to happen to their
Hoodwinked
sequel? Will they get around to releasing it, or do they even have the money to do that? (We hear the feature is completed, and has tested well.)
But outside of the unfortunate Weinstein Co., the animated feature business is hopping and bopping worldwide.
(Thanks
Animation Guild Blog
)
Kre8tif! Confab Attracts Digiterati to Kuala Lumpur
The inaugural edition of MSC Malaysia's Kre8tif! Digital Content Conference held last week in Kuala Lumpur (Dec. 7-9) attracted over 600 attendees and top animation and vfx heavyweights such as Marvel Animation president Eric Rollman and
Kung Fu Panda
director John Stevenson. Sponsored by the country's Multimedia Development Corporation (MDeC), the event featured various panels about the state of the industry as well as more technical master classes and case studies involving Maya, Mental Ray and NVIDIA.
Program highlights included a keynote by Dr. Naif Muttawa who discussed the challenges and rewards of creating
The 99
, his comic-book property and soon-to-be-released animated series (produced by Endemol) which centers on a group of superheroes inspired by Islamic archetypes. Execs from some of the region's top animation studios — Vaibhov Kumaresh, founder of Vaibhov Studio (India); Tony Sealy of Intense Animation Studio (Singapore), John C. Wong of Dream Tube Entertainment (China), and C.J. See of Inspidea (Malaysia) discussed the ins and outs of growing a studio from the ground up in an informative panel moderated by Animation Xpress editor Anand Gurnani.
David Abramowitz, creator of the Highlander TV series and the upcoming animated feature
War of the Worlds
: Goliath shared his thoughts on the essentials of storytelling for TV shows and movies. Isaac Kerlow, author of the popular book,
The Art of 3D Computer Animation Effects
and fest director of the 2010 SIGGRAPH Computer Animation Festival, was also on hand to talk about the state of CG animation and vfx.
Malaysian studio Les' Copaque managing director Hj Burhanuddin Md Radzi discussed the making of his studio's blockbuster animated feature Geng: Pengembaraan Bermula, which has become the country's second highest-grossing movie of all time and spawned a sequel and a popular TV series
Upin and Ipin
. Animation Magazine also presented the attendees with a look ahead at some of the highlights of the coming year in films, TV and online animation. For more info about this event, visit
www.facebook.com/kre8tif
.
Photo: MDeC CEO Datuk Badlisham Ghazali at the MSC Malaysia Kre8tif!
(Thanks
Animation Magazine
)
Nominations for the Critics Choice Awards announced

The Broadcast Film Critics Association has announced their full list of nominations for the 2010 Critics Choice Awards, with
Avatar
and
Up
both getting nods in the Best Picture category.
Up
was also included in the five nominations for Best Animated Feature, and will be going against
Cloudy with a Chance of Meatballs, Coraline, Fantastic Mr. Fox
and
The Princess and the Frog
for that prize. Princess was also nominated in the Best Original Song and Best Score categories.
Up
was included in the Best Score category as well, and was also nomianted for Best Original Screenplay. The Critics Choice Awards will be broadcast
Friday, January 15th
on VH1.
Toy Story movies coming to Blu-Ray
Perhaps the most beloved of Pixar's films, the first two
Toy Story
movies are finally set to get the Blu-Ray treatment next spring. Both releases will feature
brand new bonus features
, including
Buzz Lightyear Mission Logs, Studio Stories, Paths to Pixar
and a tribute to deceased Pixar veteran Joe Ranft. Special sneak peeks at
Toy Story 3
will also be included.
Toy Story
and
Toy Story 2
will be released on
March 23rd, 2010
.
Dr. House Visits Family Guy Christmas Episode
The last new
Family Guy
episode of 2009 is, not surprisingly, somewhat of a holiday episode. But it mainly centers on Peter's assention to the CEO position at his father-in-law's company, Pewterschmidt Industries. The episode, which features a guest spot by Dr. House himself, is titled
Business Guy
. It aired Sunday night at 9/8c, on FOX.
FX and Mat Cook Up Turknstein For Sapient
Sapient
recently commissioned irecting duo
FX and Mat
to create a 1-minute, CG holiday short. Together, they're helping bring attention to the
Crisis charity
. The pair pulled it off in 3 weeks, giving life to Turknstein.
The Name of the next DCU Animated Movie is...'Batman: Under the Red Hood'
looks to be the title of the next DC Universe animated feature film, following February's
'Justice League: Crisis on Two Earths'.
A feature at
Blu-Ray.com
unveiling the contents of the
'Crisis'
Blu-Ray release, lists of preview of the next DCU release and thereby drops the name of the film. Interestingly, press materials on the Warner Home Video site keep the name under wraps listing only a
"A First Look at next DC Universe Movie"
.
There's no info about the plot of the movie. Fans know well that the villain who becomes the Joker, first enjoyed a life of crime as The Red Hood. The identity has been revived several times over the years and is currently appearing in Grant Morrison's
'Batman and Robin'
comics.
SPECTRE Animated Short Coming
The
'Justice League: Crisis on Two Earths'
DVD and Blu-Ray release will also feature a short film focusing on DC's long-running spirit of vengeance
'The Spectre'
.
An Afternoon at DreamWorks
After lunch I traipsed around the sun-drenched Glendale campus, where animators in the Lakeside building griped about prescription drug coverage (I straightened out some misunderstandings, but yeah, prescription drugs cost more than they used to) and got updated on DWA's next two movies ...
"The last bits of
How To Train Your Dragon
's animation will be done in early January. But that's from the stragglers. Almost all of
Shrek IV
's animation will be done by the end of January. These two pictures were sort of hop-scotching and racing each other the last year, but their animation is close to being done at almost the same time.
Dragon
comes out first, in March, so it's gotta be finished."
And I talked to different folks who've worked for both DreamWorks Animation and Disney Features (aka "Walt Disney Animation Studio") over the last few years, and the consensus is in: Morale is higher at DWA than the House of Mouse.
(Thanks
Animation Guild Blog
)
James Cameron, Animation Director
Move over Brad Bird, give way Ron Clements and Johns Musker. J. Cameron
has come
to Toon town.
"When completed, Cameron expects
Avatar
to be about 60% CG animation, based on characters created using a newly developed performance capture-based process, and 40% live action, with a lot of VFX in the imagery."
...

Taking this into account, ... [here's] the Academy's rules for what is and what isn't an animated film, at least in Oscar's eyes:

... An animated feature film is defined as a motion picture with a running time of at least 70 minutes, in which movement and characters' performances are created using a frame-by-frame technique. In addition, a significant number of the major characters must be animated, and animation must figure in no less than 75 percent of the picture's running time ...

... All the creatures in
Avatar
are animated as are the lead characters with the most screen time. The environment is nearly 100% animated and instead of make-up effects they make use of CG animated costumes. You'd be hard-pressed to convince me
Avatar
is absolutely not an animated film ...
Let's stipulate that much of the above is semi-silly. The fact is, any blockbuster of the last several years has generous dollops of animation embedded in it. Stunt work, crowds of extras, all the effects and whole environments are animated. Secondary characters are animated.
But it's more radical than that. Go to your standard-issue live-action programmer and hang around for the ten minutes of back-end credits. You'll see two or three effects studios listed, with squads of animators and digital matte artists and effects specialists. And half the time you sit there and think:
"What? Did I miss something? Why are they using all those effects people? What did they do, exactly?"
The cold reality today is that almost every big picture has animation in it, more often than not lots of animation. If they were making
Wizard of Oz
in 2009 the feature would be overflowing with animated work (
"Flying monkeys? We can give you thousands!"
) If
Gone With the Wind
was on somebody's production slate they would be dialing ILM to animate the burning of Atlanta.
So yeah. James Cameron is an animation director. Isn't everybody?
(Thanks
Animation Guild Blog
)
'Avatar' Director Offers Update On 'Battle Angel Alita' Adaptation
MTV's next
"Behind The Screen"
special airs this week (Wednesday, 4 PM EST) with bunches of new footage and interviews from some of the hottest upcoming films, including James Cameron's blockbuster 3-D adventure
"Avatar."
When we sat down with Cameron recently to discuss his plans for
"Avatar,"
we also had to ask about another project that's been on his radar: an adaptation of Yukito Kishiro's popular manga,
"Battle Angel Alita."
Following the adventures of a robotic warrior rescued from the scrapheap by a scientist, it stands to reason that Cameron's groundbreaking
"Avatar"
filmmaking tech could be
put to good use on "Alita."
"The mixture of live-action and CG is a little trickier in 3-D than it is 2-D,"
Cameron told MTV News.
"Now we see it's good to have done 'Avatar' first before 'Battle Angel,' because the tricky scenes are where you're blending live-action photography, stereoscopic photography and CG.""Shooting live stuff in 3-D and then adding CG characters and landscapes beyond that, that's a little tricky,"
he explained.
As for where the film stands, Cameron seemed to indicate that
"Alita"
is still on his radar — though he hasn't progressed to the point of casting the film thus far.
"We're not that far down the line,"
he said.
"We have a very good script and we've done a lot of production design. We've done about a year of production design and we've put together an art reel that shows the arc of the film.""It's pretty much just add water and we're ready to go,"
he laughed.
Olivia Munn Talks 'Iron Man 2' Improv
Earlier this year, it was announced that
"Attack of the Show"
hostess
Olivia Munn had joined the cast of
"Iron Man 2."
And while the details of her role are still tightly guarded, Munn has revealed that her improv experience is what led director Jon Favreau to cast her.
"Jon Favreau was familiar with a lot of my work that I had done [and] the skits that I've put out,"
Munn said during an appearance on
Last Call With Carson Daly
.
"And [he] just thought that I can keep up with improv and [he] literally offered me the role."
When asked about the amount of improv she needed to perform during the filiming of
"Iron Man 2"
set, Munn replied
"Well, if you've got Robert Downey Jr. it's going to be a lot. There's a bunch of improv, over and over. It's one of those things where you're on set and you want other people to laugh and the crew to laugh. You get the extras and the contractors who've been there all day. If they're laughing that's a good feeling."
Munn also shared an anecdote about shooting one of her scenes with Downey.
"One day I was doing a lot [of improvising] and [I kept] coming up with other stuff and at one point Robert just goes 'Can we just stop for a second? Can we give Olivia a round of applause? Because she is rocking it right now.' That's beyond my dream ever and everyone just [clapped]. Afterwards, people were up coming up [and saying] 'that was really great!' I was so happy."
Last month,
Sam Rockwell also mentioned that there was a lot of improvisation
during his time on the
"Iron Man 2"
set and more recently
Jeff Bridges said the first
"Iron Man"
movie was almost entirely improvised
.
'Batman: Arkham Asylum 2' Teaser Trailer Hits The 'Ne
t
"Batman: Arkham Asylum"
made a compelling case for itself as one of this year's best overall games, and during this weekend's
Spike TV Video Game Awards
we received the first peek at the planned sequel.
While the new
"Arkham Asylum 2"
teaser doesn't offer much information as far as plot points, it does feature The Joker and Harley Quinn outside the confines of Arkham, as well as what looks to be a riot scene in Gotham City. The trailer also points fans to the website
ArkhamHasMoved.com
for updates on the project.
"Getting the opportunity to create 'Batman: Arkham Asylum' and seeing its success has been a dream come true for the team,"
said Sefton Hill, Game Director, Rocksteady Studios.
"We are honored to create the next chapter in this compelling story and promise to deliver another game worthy of the Dark Knight."
Warner Bros. Interactive Entertainment will publish the
"Batman: Arkham Asylum"
sequel.
Former
'Akira'
Screenwriter Reveals Details Of Live-Action Script
"Iron Man"
screenwriters
Mark Fergus and Hawk Ostby
inherited the live-action
"Akira"
film at
Leonardo DiCaprio's production company
that
might or might not feature Joseph Gordon-Levitt
this year, but the previous writer on the project, Gary Whitta, worked on a preliminary script and the amount of story he tackled may surprise a few anime fans. He not only stretched his script beyond the scope of the previous animated
"Akira"
move — he pulled from the entire six-volume manga series.
"The version I worked on was about going back to the source and doing the manga version,"
said Whitta at a press event (via
SuperHeroHype
).
"We were going to adapt the whole six-episode graphic novel."
Though he hasn't worked on
"Akira"
for
"about a year,"
he did explain where the script was has when he made his exit.
"We got notes from [Otomo] and we kept in touch, but we never had a formal meeting or anything,"
he explained.
"The script I worked on was very, very preliminary. We did a couple of drafts of the script but, when I was there at least, it never got wrapped up to the point where I think he would get really hands on."
Whitta isn't privy to whether Fergus and Ostby are retooling his work or starting over completely, but what he did accomplish sounds ambitious for one feature-length film.
Casting for The Hobbit begins!
OK, all you New Zealand hopefuls ... start slathering Rogaine on your feet. Casting for the first part of director Guillermo del Toro's two-part version of
The Hobbit
(for the present simply called
The Hobbit, Part 1
) has officially begun today.
TheOneRing.Net
reports that the address for the casting of principals through Liz Mullane Casting will be announced later, and that the casting of extras will be handled by Miranda Rivers in Wellington, New Zealand. Mulane has worked with
Hobbit
producer Peter Jackson going all the way back to his
Heavenly Creatures
and
The Frighteners
days. Rivers has previously handled casting for the earlier
Lord of the Rings
movies, as well as Jackson's
King Kong
.
Now, one thing you really have to hand to Jackson-produced movies is that the casting is usually pretty awesome. Remember that almost no one had heard of Kate Winslet before Jackson and company got hold of her, and think of all the people who became big stars after appearing in Jackson's vision of Middle-earth.
Who do you think has been Jackson's best discovery? Orlando Bloom? Winslet? Dominic Monaghan? The Sumatran Rat-Monkey from
Braindead
, aka
Dead Alive
?
Guillermo del Toro wants Serkis' Gollum for Hobbit
Serkis's Gollum in Return of the King
In a message posted over at
TheOneRing.Net
, the director of the upcoming two-film adaptation of Tolkien's
The Hobbit
, Guillermo del Toro, says that he
"cannot imagine Gollum being played by anyone but Andy [Serkis],"
the actor who portrayed the slimy, fish-chomping character in Peter Jackson's earlier
Lord of the Rings
trilogy.
The director hints that two other actors from the
Rings
trilogy are likely to return, but he's also careful to point out that situations this early in preproduction are very fluid. Animation tests for Smaug, the dragon antagonist of
The Hobbit
, are underway, as are tests of makeup designs and props.
Serkis, who astounded moviegoers the world over with his digitally mapped performance as Gollum, used similar technology when he played the title role in Peter Jackson's recent
King Kong
remake. Never one to pass on difficult or eclectic roles, the 45-year-old Serkis will soon portray iconic punk rock pioneer Ian Dury in the upcoming film
Sex & Drugs & Rock & Roll
, directed by
The Road to Guantanamo
co-helmer Mat Whitecross. As Drury sort of seemed like a cross between Kong and Gollum when he performed, this makes a lot of sense.
So, which actors from Jackson's trilogy would you like to see return for
The Hobbit
?
Woman has epic crying fit over Return of the Jedi
While many of us were not really happy when George Lucas cut out the ghostly, redeemed and older Anakin Skywalker played by Sebastian Shaw at the end of
Return of the Jedi
and replaced him with that pretty boy Hayden Christensen, this woman's reaction seems a bit ... intense.
Who knew a movie with Ewoks in it could be so devastating?
We strongly urge this person to stay far, far away from
E.T.: The Extra-Terrestrial
.
In Hawaii, Avatar's environmental disaster was real
James Cameron's sci-fi epic
Avatar
in part has an environmental theme that was underscored during the movie's production, when cast and crew visited the rain forests of Hawaii to rehearse and shoot reference footage for visual effects: They witnessed the real-life clear-cutting of trees that echoed a key scene in the movie.
(Mild spoilers ahead!)
"When we went to Hawaii to rehearse with the cast, we actually saw clear-cutting, and it stopped us and sort of, I think, had a profound effect on everybody, just watching the clear-cutting going on,"
producer Jon Landau told reporters on Friday in London.
The scene echoed one in the movie on the alien planet of Pandora during which humans from Earth use giant industrial machines to cut down a sacred glade of glowing willow-like trees while Jake Sully (Sam Worthington)—in the form of a blue Na'vi "avatar"—and his Na'vi companion, Neytiri (Zoe Saldana), watch in horror. The scene brings home the movie's environmental message in an emotional, not intellectual, way, director Cameron said in a news conference.
"I think when the willow glade is destroyed after you've just seen what it means to Neytiri and to her people and the way that she explains it so reverently to Jake, and you've already just gone through this kind of experience of this beautiful, kind of magical place, and then when the bulldozers start to knock the trees down, I think that's an emotional response,"
Cameron said about the scene.
"It's not an intellectual response, it's an emotional response. That's what I wanted. I wanted people to feel the environmental message, not think about it. Not sort of have it droning on as information. I mean, it's kind of the exact opposite of An Inconvenient Truth, with the bar graphs and all that, which is all, it's important information to have. We get that information from other sources. In something that's an adventure film, that's an action film, ... I think it's more important to get these concepts viscerally."
In having
Avatar
deal with serious themes, Cameron said he was trying to get back to science fiction's roots.
"Science fiction can operate on many different levels. It can operate as a cinema just purely of the visual, as cinema of imagination,"
Cameron said.
"But, historically, the kind of science fiction I grew up on had a message. Usually it was a dystopian message; usually it was in the form of some kind of warning. And I think that as much as I loved Star Wars and I've loved all the films that came after that celebrated action and imagery, it was a kind of, it was a moment in history when science fiction became more escapist fantasy and less a warning and less a kind of intellectual medium. I think that Avatar was an attempt to merge it back, merge science fiction back to its roots of having a warning."
James Cameron
Star Sam Worthington said that the Hawaii experience also provided a light moment.
"We went to Hawaii, obviously, to look at reference and stuff,"
he said.
"But I remember, we had to wear tails and ears and a flimsy G-string and run around basically half-naked, pretending to be our characters,"
he added.
"Which was all well and good, except when some guy came up to me and said, 'What are you doing here in Hawaii?' And I said, 'Well, we're filming a movie, obviously.' And he looked over, and there's Jim Cameron with a rudimentary Handicam taking some reference [footage for visual effects], and he said, 'He's the director?' And I said, 'He's James Cameron.' And he said, 'F--k, he's gone a long way down since Titanic, right?'"
Avatar
opens Friday.