A historic 'Princess' rules the Weekend Final Five at the box office
All hail Princess Tiana:
"The Princess and the Frog"
is the nation's top film this weekend.
A new generation of princesses went to the cinemas this weekend to see more than just a Disney experience. For many young girls, they were seeing themselves for the first time ever in a grand, animated musical to rival
"The Little Mermaid"
and
"Beauty and the Beast."
The cultural significance of
"The Princess and the Frog"
has been and will continue to be discussed for weeks to come. Audiences propelled this first Disney-styled African-American princess to the best December opening ever for an animated film. Estimates have the acclaimed film earning an enchanting $25 million from 3,434 sites, bringing its overall total to $27.8 million in its nationwide expansion.
Rounding out the rest of the Weekend Final Five,
"The Blind Side"
is showing few signs of slowing down. The hit biopic starring Sandra Bullock took second place with $15.5 million to raise its total to $150.2 million in its fourth weekend. Rival
"Invictus"
debuted in third place with $9.1 from 3,388 locations, in keeping with director Clint Eastwood's history of modest bows. However, don't count the Oscar-winning legend out just yet. as positive word of mouth may propel the film for a long run.
Dropping to fourth place was
"The Twilight Saga: New Moon"
with $8 million for a massive haul of $267.3 million to date. And, keeping the Holiday spirit alive was
"A Christmas Carol"
earning $6.8 million for an overall gross of $124.4 to date.
The Art of and Release of The Princess and the Frog
We've uploaded what seems like a few dozen clips and behind-the-scenes videos promoting
The Princess and the Frog
, the traditionally-animated feature from
Walt Disney Animation Studios
. So. as the film opened wide across the US on Friday, how about a look at the making-of book? Here's a video assembled by the gang at the
Character Design Blog
, detailing the highlights of
The Art of The Princess and the Frog
, which is available next Wednesday.
Respect?
Daily Variety is
running a series
on Animation as part of its
"Eye On The Oscars,"
just as if it were, you know, a real part of the movie biz:
...
"Character design isn't just about shape and proportions but also about the expressions that capture attitude,"
Selick adds.


"The Princess and the Frog,"
Disney's first 2D film in years, also had dual-personality issues to solve. Lead character Tiana had to change from a human to a frog. Disney animator Mark Henn says,
"I don't think I've had to do anything to that extent before."


Henn's challenge was to convey a consistent personality for Tiana whether she was human or amphibian.
"We had to find a physical language for her mannerisms that would translate onto a frog,"
he says.
"Her eyes were key to that. We wanted them to be recognizable even when she's a frog."
...
Progress, no?
Someday animation will be considered an actual mainstream form of movie entertainment, worthy of mainstream Oscars like Best Picture.
But when that day happens, I'll have been dead a couple of thousand years, and the sun will be near its red star phase.
(Thanks
Animation Guild Blog
)
Santa Stars in Grickle Christmas AnimationGrickle
creator
Graham Annable
has delivered his Christmas short that'll whip your spirit into shape. It's simply-titled
Santa's
.
Animation Compositing Example From Hookup Animation
Argentinian studio
Hookup Animation
produced this little behind-the-scenes video illustrating their compositing process. They insert a giant robot into some-live action footage. A complicated process, and the end result really delivers.
Australian Student Short – Greedy BoyGreedy Boy
is a new, 4-minute, student short from
Kim Young Ha
, a student at
RMIT University
in Melbourne. The title sorta sums it up, and while the animation and design aren't world-class, it's rather inspired and full of energy, cool camera angles and nice pacing.
"The Princess and the Frog" News Story Round-Up
Several news stories about Disney's
The Princess and the Frog
are being published in time for the movie's nationwide release:
* - The
Star-Telegram discusses how John Lasseter began re-hiring many animators
laid off when Disney shuttered its hand-drawn animation division, and also looks at the research for the character design.
* - The
Wall Street Journal
talks with directors Ron Clements and John Musker
about their path from laid-off to re-hired, as well as some of the changes that were made to the movie in production.
* - The
San Francisco Chronicle
talks with the movie's star Anika Noni Rose
, following her career and her feelings on being Disney's first black princess.
* - An AP report from ABC News
chats with Jenifer Lewis about her role as the benign voodoo queen Mama Odie
.
* - Neil Gabler, author of
Walt Disney: Triumph of the American Imagination
,
writes about Walt Disney's history with racial issues for the Chicago Tribune
, taking note of his personal character and the reaction to
Song of the South
.
* - The
Salt Lake Tribune also briefly looks at the racial issues surrounding the movie
, as well as some of the fears and concerns the animators had in returning to hand-drawn feature films.
* - The
San Francisco Chronicle
also
speaks with Mark Henn and Michael Surrey
, who were the supervising animators for Tiana and Ray the firefly, respectively, about their experiences through the tough times for hand-drawn animation at the start of the decade and its seeming revival with the release of the movie.
* - Utah's KSL 5 TV
speaks with Randy Haycock
, supervising animator for the movie's Prince Naveen as a frog, about his career arc at Disney from
Aladdin
and
The Lion King
to the present day.
* - The Omaha World-Herald talks with Omaha native
Jeff Draheim on being the film editor for The Princess and the Frog
.
DQ Entertainment opens The Jungle Book
As announced by Animation Express, the Irish animation company DQ Entertainment has
entered into a deal
with Australian Broadcasting Corporation for the broadcasting of 52 episodes of its CGI animated series
The Jungle Book
and one 60 minute made for television movie. More can be seen at
DQE's website
.
Disney "classics" back to the vault
Not Earth-shattering headline news, but Disney Home Video has announced their live-action
101 and 102 Dalmatians
, plus Special Editions for the animated
101 Dalmatians II: Patch's London Adventure
and
Jungle Book 2
will end their current print runs on
January 30, 2010
.
Madagascar Penguins land own DVD feature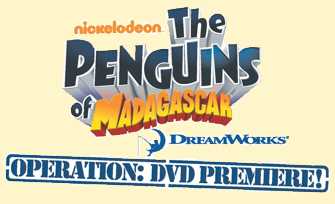 Paramount Home Entertainment has announced

The Penguins Of Madagascar - Operation: DVD Premiere!

will arrive on a fully-featured DVD from DreamWorks Animation on

February 9th, 2010

. Promising

"brand new missions and more of the uproarious Madagascar story"

, the press release for the

Penguins

' first movie-length premiere can be read here:

BUCKLE UP FOR MORE OF THE WILDLY POPULAR MADAGASCAR ADVENTURES WITH THE WORLD PREMIERE OF THE PENGUINS' FIRST FEATURE-LENGTH DVD

The perennially popular Penguins are back with the world debut of their very first feature-length DVD,

The Penguins Of Madagascar – Operation: DVD Premiere!

, taking flight

February 9, 2010

. Starring the madcap pack of

Penguins

from DreamWorks Animation's phenomenally successful Madagascar franchise, Operation: DVD Premiere! features never-before-seen missions that continue the Mad-tastic adventure, plus favorite escapades from the highly-rated Nickelodeon series

The Penguins Of Madagascar.

The Penguins Of Madagascar – Operation: DVD Premiere!

is presented in widescreen with Dolby Digital English 5.1 Surround, English 2.0 Surround, French 5.1 Surround and Spanish 2.0 Surround and English, French and Spanish subtitles. Running 120 minutes, the DVD features all-new, never-before-seen missions as well as several favorite penguin adventures.

Additional features include exclusive access to Nick.com's brand-new

The Penguins Of Madagascar: The Devious Dr. Blowhole

game, as well as special sneak peeks at upcoming DreamWorks Animation and Nickelodeon releases including

How To Train Your Dragon, Shrek Forever After, Po's Kung Fu Panda Virtual World, The Madagascar Story So Far, More of The Penguins of Madagascar

and

Fan Boy Chum Chum

, plus the

DreamWorks Animation Video Jukebox

.

The DVD arrives just in time for Valentine's gift giving with a sweet anticipated retail price under $16. Additionally, licensed merchandise based on the

Penguins

franchise will begin arriving on shelves in January.

Avatar toys now featured in McDonald's Happy Meals

It may seem like a surprise to some, given the movie's PG-13 rating, but McDonald's is now selling 6 toys based off of Avatar in their Happy Meals. It's the first time the resturaunt chain has had a Happy Meal promotion for a movie with that rating since 1992's

Batman Returns

. Meanwhile, there will be

Avatar

goodies for big kids who visit McDonald's, too,

including a special website

that lets users explore the world of the planet Pandora. It launches on

December 18th

, the same day that the movie comes out.

Toons of the 2000s: Top 5 Most Influential People in Animation

Animation is an art form. It taps into parts of the imagination you might not have thought possible. It effectively creates the illusion of life, and when done properly it is capable of evoking a vast array of emotions. While animation is still largely considered fodder for children, this decade has seen noticeable progress towards securing its place in our society as a valid storytelling medium for all ages.

Today we celebrate those who pushed the animation medium ever closer to mainstream acceptance, helped to preserve and make others aware of animation history, and were at the forefront of change with the discovery and exploitation of new distribution channels.

But before we hit the Top 5, let's touch on some of those heavily involved in the industry this decade who warrant an honorable mention:

* - Trey Parker and Matt Stone:

They're the brains behind one of the most successful prime time animated series to be created for adults. Trey and Matt are no holds barred, equal-opportunity offenders. Though

South Park

premiered last decade, the show still managed to provide biting societal commentary throughout this one. As a secondary accomplishment, they have continuously topped themselves in presenting show content sure to make their audience squirm uncomfortably in their seats. The show has received multiple Emmys, a Peabody Award, our love, and our disgust.

* - Brad Bird:

Engagement. Morale. Believing the impossible can be done. Brad Bird is known for his hands-on approach in fostering creativity amongst his animation teams. The results of this common sense modus operandi may be seen in fine films such as

The Incredibles

and

Ratatouille

.

* - Bob Iger:

The current CEO of The Walt Disney Company had his work cut out for him right from the start. He replaced a volatile predecessor who had become a public relations nightmare and alienated those he did business with both within and outside the company. Iger spearheaded change with the repair of the company's relationship with Roy Disney, brokering the purchase of the critically and financially successful Pixar, naming John Lasseter and Ed Catmull as the heads of the Walt Disney Animation Studios, and most recently, the acquisition of Marvel.

* - Seth MacFarlane:

With three shows -

Family Guy, American Dad

, and

The Cleveland Show

- to his name, it's safe to say that MacFarlane has been quite prolific in the area of prime time animation.

* - Gen Fukunaga:

President & CEO of FUNimation and one of the most powerful people in the North American anime industry, he built his colossal distribution company from a single license and then maintained the company's place of prominence while many of his competitors folded.

* - Hayao Miyazaki:

His star has been rising for 25 years, but it's only in the last 10 that Miyazaki broke into the American mainstream. To many, his most memorable accomplishment is

Spirited Away

, the story of a girl forced to grow up when she finds herself lost in a dream world. Released in 2002 in the United States, the film won anime's first (and so far only) Academy Award, finally breaking the decade-old American stereotype of Japanese cartoons as violent, pornographic affairs for sweaty man-children.

Without further ado, we present toonzone's Top 5 Most Influential People in Animation:

5. Masao Maruyama


Chief Creative Officer, Studio Madhouse
Why He's Here:

If Studio Ghibli is home to the reigning monarch of Japanese anime, then Madhouse represents the generation ready to inherit the throne - and Masao Maruyama is the kingmaker. Nearly every Madhouse project of the last 10 years - whether a mass-market hit like

The Girl Who Leapt Through Time

or a niche series like Kaiba - bears his fingerprints. Maruyama has a proven eye for talent, keeping the cash flowing and assigning work to some of Japan's most exciting up-and-coming directors, including Satoshi Kon, Mamoru Hosoda, and Masaaki Yuasa. In an industry now too often characterized by formulaic otaku pandering, Maruyama is rewarding artists for taking risks. Of course, that those risks have sometimes reaped huge commercial rewards is an added bonus.

In the United States, Maruyama has been a major supporter of the Otakon anime convention. He's famed for his affable personality, eagerly chatting with fans and taking young animators under his wing. Maruyama got his own start as an animator at Mushi Production in 1965, before leaving in 1972 to help found Madhouse with Osamu Dezaki, Yoshiaki Kawajiri, and Rintaro.

Other films and series of the last decade on which Maruyama has been credited, as producer or for "planning", include:

BECK, Black Lagoon, Chobits, Death Note, Gunslinger Girl, Millennium Actress, NANA, Paprika, Paranoia Agent

, and

Tokyo Godfathers

. Without Maruyama, a few of these projects might still have reached us, but we're certainly glad he was there, if only to make sure they did.

4. Bruce Timm


Executive Producer
Why He's Here:

If Bruce Timm's only contribution to this decade was redefining the superhero genre in animation through

Justice League

and

Justice League Unlimited

that would still be significant. Instead, his impact increased exponentially as he became the face of Warner Bros. Animation's DTV efforts and mentored emerging talent within the company. He had a hand in the growing success stories of Glen Murakami and James Tucker, pulled Dwayne McDuffie from comics into regular animation writing, and seems to be grooming people like Lauren Montgomery, Joaquim Dos Santos, and Sam Liu to go far in the business. He's become the decade's animated equivalent of Miles Davis or Muddy Waters: a talented artist in his own right, who also helped to launch careers of numerous others in the field. Like Ralph Bakshi and John Kricfalusi before him, Timm seems to be training the future.

3. Jerry Beck


Animation Historian and Preservationist
Why He's Here:

While developing, producing, and distributing new animation is important to fostering interest in the art form, it is equally vital that we preserve and bring awareness to the medium and its history. Jerry Beck has, by far, been the most significant contributor in that regard. Beck has been the driving force behind the restored, remastered, and uncut releases of classic animation on DVD through the

Popeye the Sailor

,

Looney Tunes Golden

, and

Woody Woodpecker and Friends Classic Cartoon

collections. As if those were not significant enough a contribution, he has been prolific in the print medium, authoring the

Tom and Jerry Mini-Classics book

,

The Flintstones Mini-Classics book

,

The Animated Movie Guide

,

Pink Panther: The Ultimate Guide to the Coolest Cat in Town!

,

The Hanna-Barbera Treasury

,

The Art of Madagascar: Escape 2 Africa

,

Not Just Cartoons: Nicktoons!

,

Animation Art: From Pencil to Pixel, the World of Cartoon, Anime, and CGI, Ultimate Looney Tunes

,

Outlaw Animation: Cutting-Edge Cartoons from the Spike and Mike Festivals

, and

The 100 Greatest Looney Tunes Cartoons

.

2. Fred Seibert


President, Executive Producer Frederator Studios
Why He's Here:
Seibert has been a major player in both traditional media outlets through Frederator Studios and the internet via Channel Frederator. Even if you're not familiar with his name, there's a good chance you've seen a show he's played a role in developing:
Dexter's Laboratory, The Powerpuff Girls
, and
Courage the Cowardly Dog
. Current decade output from Frederator Studios includes
The Fairly OddParents, My Life As A Teenage Robot, ChalkZone
, and
Fanboy and Chum-Chum
. Look for the debut of
Adventure Time with Jake and Finn
on Cartoon Network in 2010.
Other credits to his name include the creation of the Nicktoons Film Festival (2004), an annual event celebrating and showcasing original animated shorts from all over the world, and the founding of Frederator Films (2007), a production company focused on making animated theatrical pictures for older audiences. Not only has he had a hand in developing numerous hit series and bringing awareness to the art form, he's also helped to establish the Internet as the next frontier of animated cartoons through Channel Frederator. He's one of the pioneers of capitalizing on the Internet as distribution channel. While there have been some minor controversies surrounding this venture with regards to payment for films shown, the impact cannot be understated.
1. John Lasseter and Ed Catmull
Chief Creative Officer and President of Walt Disney Animation Studios and Pixar Animation Studios
Why They're Here:
Through Pixar, Lasseter and Catmull changed the landscape of feature animation. They created critically acclaimed and financially successful 3D CG films, and they unintentionally played a role in 2D's fall from grace with an industry-wide misinterpretation of the medium as the reason behind their success. After an uninterrupted string of hits, they even supplanted Disney as the dominant studio. Lasseter also acted as the liaison between famed Japanese animation director, Hayao Miyazaki and Disney; his efforts brought us
Spirited Away
and earned Miyazaki an Academy Award.
Prior to the studio's acquisition by Disney, Lasseter and Catmull were already players of great significance in the animation industry. With this latest step in their careers as the Chief Creative Officer and President of Walt Disney Animation Studios and Pixar Animation Studios, it becomes very difficult to argue that they warrant anything other than the top spot on this list. There are no two people more powerful or influential in the animation industry.
LA Times Chats with Best Animated Film Contenders
The Los Angeles Times has
spoken with several directors, producers, and other crew members of the contenders for this year's Best Animated Feature Film award
: Laika's
Coraline
, Disney's
The Princess and the Frog
, Fox's
Fantastic Mr. Fox
, Disney/Pixar's
Up
, Focus Features'
9
, and Disney's
A Christmas Carol
.

Hamptons.com on "Frosty the Snowman" Animator Don Duga
The
Hamptons.com website has profiled animator Don Duga
in advance of his appearance on
Saturday, December 12, 2009
, at the East End Arts Council (EEAC) gallery. Duga's career ranged from working at the UPA studio on
Mr. Magoo
shorts, but his best-known work today was with Rankin/Bass, where he was a storyboard artist and animator for
Frosty the Snowman, Rudolph the Red-Nosed Reindeer, The Year Without a Santa Claus
, and
The Last Unicorn
.
Directors Liu And Montgomery On "Justice League: Crisis on Two Earths" Animated Feature
Warner Home Video has released a new studio-conducted interview with Sam Liu and Lauren Montgomery, the directors behind the upcoming direct-to-video
Justice League: Crisis on Two Earths
animated feature.
The
World's Finest
presents the latest studio-conducted interview, provided by Warner Home Video, for the upcoming
Justice League: Crisis on Two Earths
direct-to-video animated feature. Continue reading below for the latest installment featuring directors Sam Liu and Lauren Montgomery.
DIRECTORS LAUREN MONTGOMERY & SAM LIU DISCUSS JOYS & CHALLENGES OF JUSTICE LEAGUE: CRISIS ON TWO EARTHS
Lauren Montgomery is co-director of Justice League: Crisis on Two Earths, the next DC Universe animated original movie. The film will be distributed February 23, 2010 by Warner Home Video. (Photo courtesy of Gary Miereanu)
When you're dealing with a story so huge that it spans multiple Earths, it's sometimes a good idea to arm yourself with multiple directors, as did the production team behind Justice League: Crisis on Two Earths, an all-new DC Universe Animated Original PG-13 Movie from Warner Premiere, DC Comics and Warner Bros. Animation.

Lauren Montgomery and Sam Liu, the animation directors of the past three DC Universe films, have combined their talents to bring Justice League: Crisis on Two Earths to the screen as a blockbuster tale of super heroes and super villains engaged in the ultimate battle of parallel worlds and, through a diabolical plan launched by Owlman, puts the balance of all existence in peril.

Montgomery has been an active member of the directing team behind several of the DCU films, initially guiding the middle section of Superman Doomsday before accepting the sole directorial role for both Wonder Woman and Green Lantern: First Flight. After directing several ventures, including Hulk Versus Thor for rival Marvel, Liu made his long-form directorial debut for the DCU series on Superman/Batman: Public Enemies.

As the film's lead characters are armed with similar talents while coming from distinctly different perspectives, the same can be said of the two directors of Justice League: Crisis on Two Earths. Both Montgomery and Liu are relatively soft-spoken individuals, yet both are opinionated in their approach to animation, diligent in their work ethic, and dedicated to achieving the best possible outcome. Over the course of making the film, they came to learn a great deal about the other's vision, and the result is even greater than the sum of their talents.

Justice League: Crisis on Two Earths is an original story from award-winning animation/comics writer Dwayne McDuffie (Justice League). Bruce Timm (Superman Doomsday) is executive producer, and Lauren Montgomery (Wonder Woman, Green Lantern: First Flight) and Sam Liu (Superman/Batman: Public Enemies) are co-directors. The full-length animated film will be distributed by Warner Home Video as a Special Edition 2-disc version on DVD and Blu-Ray™ Hi-Def, as well as single disc DVD, and On Demand and Download.

Montgomery and Liu paused from their current DCU projects (shhh … it's a secret) to discuss their thoughts on the creation of Justice League: Crisis on Two Earths. FYI: The interviews were conducted separately. Montgomery's answers are listed first because, well, decorum dictates that ladies go first …
QUESTION:
How did you two go about co-directing Justice League: Crisis on Two Earths?


LAUREN MONTGOMERY:

We kind of just went over the whole film together and it was really good to get two different points of view as a check and balance for each other. If we disagreed, we found compromises that would work. If one of us felt strongly about something, we just traded off – Sam would take a sequence he felt strongly about, then I'd take one I wanted. But for the most part, we agreed. We both work in such different ways, it was interesting to see how someone else works and learn from it.
SAM LIU:

We went through the film front to back, and if we ran into a problem or an area where either of us had an issue, usually where we thought it could be stronger or could be playing better, we usually solved it right on the spot. If we got to a section that was requiring a lot more revisions, one of us would jump on it and the other would move the rest of the film forward until we hit another rough spot. So that was our process.
QUESTION:
What have you learned from each other?


LAUREN MONTGOMERY:

Sam breaks things down a lot, he's very analytical. I tend not to. He spends a lot of time thinking about the story and getting into all the nooks and crannies of it, and I like to work with the general story. He'll read the whole book, I'll read the back of the book. I try to get the emotional points down so people can understand them, but Sam will go even deeper to use shots and set-ups to drive the point home, sometimes metaphorically. He thinks harder than I do.
Sam Liu is co-director of Justice League: Crisis on Two Earths, the next DC Universe animated original movie. The film will be distributed February 23, 2010 by Warner Home Video. (Photo courtesy of Gary Miereanu)
SAM LIU:

Our processes are very different. I like getting into a script and breaking things down. Maybe I don't have the best ideas, but I'm pretty good at recognizing where things are needed. I really liked the back and forth process (with Lauren), talking about ideas and batting it back and forth to find a good solution. Lauren is more instinctual, she works more from the gut. And I think she works off reaction rather than an intellectual breakdown. I'm the other way by process. But I do feel like sometimes I over-analyze things, when sometimes it's almost like the emotional flow of the movie is good enough. Lauren gets that. Sometimes logic can be bypassed if the scene is engaging enough, or interesting enough. It'll bridge gaps and you don't need to analytically fix all those gaps.
QUESTION:
What do you think you might have taught each other?


LAUREN MONTGOMERY:

I think Sam stresses out slightly less when I'm around. He stresses and I don't. I think I calm him down a little bit. But when he's alone, he stresses out just as much. Hopefully I helped with that.
SAM LIU:

I don't think I taught her anything (he laughs). She's a free-flowing, shoot-from-the-hip kind of person, and I'm kind of an angster – I nitpick things. I like getting into the story, and from there some things do need working out – things related to the emotional journey of a character that need to be highlighted or punctuated to set something up for later. I'm a stickler for things like that. And I think she saw those things.

I do stress, though – and there are times when I'm freaking out about something and she puts me at total ease. And then there's times when I'm freaking out and she's fighting me on it, and it makes it worse. I think we're both control freaks in our own way, it's just a difference in approach. I fixate on a lot of things, and she thinks things are just good enough, so let's move on. We have an innate concept about the overall picture, but she focuses more on the acting and poses and timing and movement, and I think more on structure. I guess there's a good balance.
QUESTION:
Do you have a favorite scene in Justice League: Crisis on Two Earths?


LAUREN MONTGOMERY:

There's a fight between Wonder Woman and Olympia that I thought was really beautifully animated. That's always fun to watch. It was boarded well, but the overseas animators took the drawings from the boards and really plussed it out. I think they just enjoy animating girl fights overseas because those scenes always come back looking good.
SAM LIU:

More than one scene, I like the overall relatability of the Justice League characters. There was great character interaction. When I watch movies, I like something that has an emotional connection, and this film definitely does.









Batman prepares to beam Flash (on screen) aboard Watchtower in

Justice League: Crisis on Two Earths

, the next DC Universe animated original movie. The film will be distributed February 23, 2010 by Warner Home Video.



Specifically, I think the spectacle of these evenly matched supers fighting was really cool. Superman versus Ultraman. Flash fighting someone equally as fast. Strengths against strengths. Jay Oliva boarded the last fight sequence and the Superwoman-Wonder Woman fight is great. They're both strong, super powerful women and I think it was brutal enough as is, but the way Jay made Wonder Woman use the lasso to slam Superwoman to the ground is pretty amazing.

The battle between Owlman and Batman is awesome, too, because it's sort of this weird intellectual standoff. Owlman is so far into his psychosis as to how the universe operates, it's very existential. His concept is crazy, but the way he reasons out the technology of how things work and the way he thinks, it gave us great room to improvise Batman's reaction. And then when they actually fight, it's brutal. They do these gadget fights, sort of a modern ninja battle. The sound effects on the planet, the colors, the way it's animated, it all works really well. And James Woods' voice is perfect – most of the Crime Syndicate is very thuggish, they're all about stealing money. But Owlman has created the ultimate plan to annihilate everybody, and James Woods does this great build-up. It's great acting. He plays Owlman as a little bit off and kind of creepy, but not sinister creepy. His cadence is great, and his voice is almost charming in a way. It was a good mix of all the things I thought we'd have a problem with if we went too far one way or the other. It's a great, tight sequence and I'm very happy the way it all came together.
QUESTION:
What were the challenges of directing this film?

LAUREN MONTGOMERY:

It was a challenge because we had a really large cast of characters – lots of main characters – and they all needed a decent amount of screen time. Both the good guys and the bad. We had to make sure the audience got to know each of those characters and make sure they had a presence in the film that was important, and that was a challenge.
SAM LIU:

Definitely the size of the cast and how to give enough screen time to everyone. At one point, Green Lantern was a little light on having enough important things to do. We needed to add a bit for Lex Luthor, too, and I still don't think we did enough. We added a fight to show that Lex can fight, too, and tried to beef him up a bit. But there just wasn't enough screen time to accommodate everyone.
QUESTION:
Do you have a favorite character?

LAUREN MONTGOMERY:

Superwoman … just because she's so wrong. She's a bully, but she's got the muscle to back it up. She's everything you shouldn't be, but is fun to work with.
QUESTION:
What skills you learned or developed on past projects were you able to apply to this film?


LAUREN MONTGOMERY:

We had the same animation studio that did Wonder Woman, so we were able to draw from the work done on Wonder Woman and improve on that. Overall, the animation was good in Wonder Woman, but there was some poor stuff, too. I think they really improved – they saw what we responded to in Wonder Woman and they tried to do what they knew we liked, and it was good.
Wonder Woman engages in a battle with her evil counterpart Olympia in Justice League: Crisis on Two Earths, the next DC Universe animated original movie. The film will be distributed February 23, 2010 by Warner Home Video.DC SUPER HEROES and all related characters and elements are trademarks of and © DC Comics.
SAM LIU:

I think, this whole process was better for me this time, especially working with Bruce (Timm) and Lauren. I was able to let go a little bit and not have to over-think things, and still know that things would work out. I generally stress over everything until the very last minute. With Lauren, I sort of learned that you can say "that's enough" and move on to the next thing. I appreciate Lauren and her patience, and that we're still friends. In the end, you take care of the important things and everything will work out.
QUESTION:
So, are you happy being an animation director?


LAUREN MONTGOMERY:

It's never been an easy job. It can be draining. But it's still a really fun job. I mean, we get to work on great stories with iconic characters. I know people who would kill to work on Batman and Superman. When you think of it that way – well, if I weren't working in this job, I'd definitely want to. A little bit of the excitement is taken off because I've done it so many times, but it's still a really cool thing to do.
SAM LIU:

I love doing long-form animation. I've been offered to go back to TV series, but I like this better. Direct-to-videos are hard – you have a short amount of time to create a world from the ground up every time and, once it's done, it goes on the shelf and you move on – but I'm so glad I don't have to deal with BSP (Broadcast, Standards & Practices – the network's content watchdogs). What I love most is that you get to tell stories people can love, you can have emotional pain and great action, and you get to work with things that are too adult for children's broadcasting. That's the stuff that I like – telling full stories. So I'm very happy.
QUESTION:
What's your favorite part of the job?


LAUREN MONTGOMERY:

The best part is when you see the film start to come back (from overseas animation studios) and it's looking good. That's a really nice part. When you see it coming together to be something good, that's very satisfying. You know all your hard work has paid off.
SAM LIU:

I think it has to be working with the story and the characters. I love the development of the characters and how they fit into the story, helping their growth, even if it's subtle or small. I like finding the core of what our story is about and trying to push that story. I think most of the time it's about the characters and their conflicts in the beginning, and how they resolve those conflicts. On this film, we were able to do that a lot even after production had been underway – particularly with Batman's motivation, and showing why it was important for him to stay behind and get Watchtower online. Superman believes one thing; Batman has a different opinion. It's a conflict, and it pays off later.
QUESTION:
You've been living with this film for well over a year. Can you still watch and enjoy it?


LAUREN MONTGOMERY:

I enjoy it most with a new audience. You get to see their reactions, and it makes me look at it in a new light. I enjoy watching all of our movies, which is a good thing – it's nice to be able to watch what you've done and feel good about it.
SAM LIU:

It's hard sometimes, because when you're making a movie, there's so many things you want and wish for, and you still tend to see the things that are missing. In this case, I'm comfortable watching because there are so many things that were done right. I'm not comfortable watching some of my older stuff. But this is one of the best movies I've ever worked on, and it's very satisfying. I think there's the right amount of action, good conflict, good closure, and intelligent characters. They're not just one-dimensional characters. So it's satisfying to watch.
QUESTION:
What's the DC Universe film you hope to direct some day?


LAUREN MONTGOMERY:

I want that Aquaman project, but I doubt we'll ever make it.
SAM LIU:

I'd love to do Sandman from the Vertigo line. I don't know what kind of story that would be, but I'd love to work with Neil Gaiman because I really loved those comics.
QUESTION:
Now that you can see the final product, how do the voices match their animated characters?


LAUREN MONTGOMERY:
Gina Torres and James Woods are probably my favorites. Everybody loves Owlman. He's such a unique character. Gina is really good as Superwoman – she has this strong, seductive, confident voice, and it makes you fear and respect her. Mark Harmon is really good as Superman. At first I was worried because I thought his age might come through, but his voice really works well. It's funny because when we started watching the voice with the animation, it struck us how you could hear little tones of George Newbern and Tim Daly – two of our regular Supermans – in his voice, which is pretty cool.
SAM LIU:
I really liked Mark Harmon – he's got a gentle streak and it goes really well with the strength of his voice. When he was in the recording booth, I thought he might be too gentle, but it works even in the scenes where he has to be more assertive or powerful. I think it works really well because it never crosses that line of him being mean or not genuine or sneaky. It's very pure, just as Superman should be.

I also thought Josh Keaton did a great job as Flash. He's hilarious. So much of these movies are based on the acting, and Josh really sold it. The chemistry between characters was good, too. James Woods and Gina Torres have this strange relationship, and their acting makes them real characters. They really engaged their personalities. That's what good actors do. The voices in this cast really flesh out the characters and give them texture.
Owlman and Superwoman, as voiced by James Woods and Gina Torres, respectively, have become shining examples of the perfect match between animated character and actor/voice, according to Justice League: Crisis on Two Earths co-directors Lauren Montgomery and Sam Liu. Justice League: Crisis on Two Earths, the next DC Universe animated original movie, will be distributed February 23, 2010 by Warner Home Video.
For more information, images and updates, please visit the film's official website at
www.JUSTICELEAGUECRISIS.com
.
A co-production of Warner Premiere, DC Comics and Warner Bros. Animation, the direct-to-video
Justice League: Crisis on Two Earths
animated feature debuts
February 23rd, 2010
on DVD and Blu-ray disc.
Roger Rabbit crew photos on Facebook
This is animator
Peter Western
's desk during the production of
Who Framed Roger Rabbit
at Richard Williams studio in London. Note the model sheets of Donald, Goofy, Road Runner, Coyote and Woody Woodpecker.
This is one of 82 personal photos Western has
posted on Facebook
. They contain everyone who worked in or came through the studio, including Richard Williams, Nik Ranieri, Andreas Deja, Tom Sito, David Bowers, Raul Garcia, Don Hahn, Steven Spielberg, Bob Hoskins, Christopher Lloyd, and Robert Zemeckis - among many others. There are also a few memos and unused models. It's fun to browse, even if you didn't work there.
Here's the link
.
(Thanks
cartoon brew
)
Charity Auction
We usually don't plug this sort of thing, but the array of talent assembled here is worthy of note. Thomas Brillante (The Art Institute of California) is organizing a charity art auction for the Loma Linda Children's Hospital, pulling in contributions from many artists in the animation and film industry. Artists like Lorelay Bove, Lou Romano, Bill Perkins, Iain McCaig, Peter De Seve, Shuan Tan, Dean Yeagle, Bruce Smith, Floyd Norman, Glen Keane, Frank Kusuma (above), Glen Vilppu, Grace Lee, Pascal Campion, Stephen Silver and several others have donated either originals or prints. 100 percent of the proceeds go to the hospital — and any pieces that don't sell will be gifted to hospital. The auction will be held next
Saturday December 19th
, 5pm to 10pm. For more information, updates and to view some of the art, visit the
Gifted Artist Charity Art Auction website
.
(Thanks
cartoon brew
)
NY Times Talks to James Cameron on "Avatar"
The
New York Times
has
profiled James Cameron and his ambitious new movie Avatar
, which combines live-action actors, CGI performance-capture animation, and 3-D technology to tell a sprawling tale of a Marine called upon to go to a far-away world in the form of an alien avatar. The article examines some of the technology behind the movie, Cameron's belief that the technology is only
"nibbling around the outside edge of the cookie,"
and more.
James Cameron confirms Fantastic Voyage, Battle Angel
James Cameron directing AvatarAvatar
, James Cameron's 3-D sci-fi epic, is envisioned as the start of a franchise, and Cameron confirmed Friday that he has
"mapped out"
sequels for the movie, which is one of the film's he'd direct next—that, or his long-envisioned film version of the anime
Battle Angel Alita
. Cameron, meanwhile, confirmed that he is producing and developing a script for—but will not direct—a new version of the classic sci-fi movie
Fantastic Voyage
, which he promised will be
"very different."
Fantastic Voyage
With regard to sequels to
Avatar
, which opens on
Dec. 18
, Cameron said,
"We joked about this all the time. We cut to 10 years later, Jake's [Sam Worthington] kind of fat and sitting in Home Tree and says, 'Honey get me a beer,' and Neytiri's [Zoe Saldana] like, 'Get your own beer.' You know, that's kind of the reality of a love story 10 years later [laughs]."
Seriously, though, Cameron said in a press conference in London:
"Actually, you know, when I pitched this to 20th Century Fox four and a half years ago, I said, 'You know, we're going to spend a lot of money and time and energy creating not only a process but the assets, the CG assets, we call them: all the models of every rock and tree and plant and creature and the muscle rigs for all the creatures and the facial rigging for the main characters and all that,' and [that's] huge, millions and millions of dollars. So it really makes sense to think of it as the potential start of a franchise, if you will, or a saga that plays out over several acts, each movie being an act of that saga. And I have it mapped out, but I haven't written the scripts yet. And it all depends on whether we do well with the first film. But that was certainly the intention from the beginning: to create a foundation for a persistent world."
Cameron confirmed to SCI FI Wire after the press conference that he will produce the new
Fantastic Voyage
, based on the 1966 sci-fi movie that starred Raquel Welch, about a team of scientists in a miniaturized submarine who navigate a human body to zap an inoperable tumor.
"Well, we've been working on a script for Fantastic Voyage, but that's not for me to direct,"
Cameron said.
"That's just a produced project, yeah. It's quite different. But it's got enough of the original story that you'll still recognize it."
Cameron also confirmed that he's still considering directing
Battle Angel Alita
, based on a manga series that is also the basis of a popular anime series, about an amnesiac female cyborg who is discovered in a futuristic dystopian world.
"Battle Angel is one of the films I'll be considering when I decide what to do next"
, Cameron added.
Does that mean he'd do any
Avatar
sequel afterwards?
"Not necessarily,"
he said.
"That's part of the decision-making process."
50 movies ... 3 1/2 minutes ... one awesome trailer!
Buckle in. Strap on your crash helmet. Have the fire extinguisher handy. You're about to see 50 movie trailers in 3 1/2 minutes, all mashed up into one ubertrailer. It's the action movie you'll never see, but that's OK: You wouldn't survive watching it anyway. The adrenaline rush would kill you.
Thanks to
Collider
(via
The High Definite
) for pointing this one out to us.
YouTube user
vadoskincheg
, who created the video, included title cards in the first few seconds to let us know what we're seeing.
Included in the video are:
Underworld: Rise of the Lycans, The Lightning Thief, Babylon A.D., Knowing, Sherlock Holmes, Death Race, The Uninvited, Max Payne, The Fast and the Furious, G.I. Joe: The Rise of Cobra, Midnight Meat Train, Quarantine, 2012, Ninja Assasin, New Moon, Whiteout, Final Destination, Daybreakers, Race to Witch Mountain, Moon, Inglourious Basterds, The Box, Obsessed, Friday the 13th, Star Trek, Terminator Salvation, Transformers: Revenge of the Fallen, Harry Potter and the Half-Blood Prince, Watchmen, Dragonball, The Spirit, Carriers, Bangkok Dangerous, District 9, Surrogate, The Book of Eli, Mirrors, The Happening, Fighting, The Road, Angels & Demons, Jennifer's Body, The Day the Earth Stood Still, Pineapple Express, The Last House on the Left, The Haunting in Connecticut, Shutter Island, Sorority Row
and two (we think) Russian films we couldn't identify.
Enjoy.
'Thor' Actor Ray Stevenson Will Wear A Fat Suit To Play Volstagg
Ray Stevenson is packing on the pounds for the boisterous Asgardian warrior Volstagg, the actor's upcoming role in director Kenneth Branagh's
"Thor"
for Marvel Studios.
While the
"Punisher: War Zone"
star isn't readying himself for a fat-filled diet to play the rotund Volstagg, Stevenson did reveal that he'll nonetheless have plenty of gut to show off in
"Thor"
thanks to the aid of a bodysuit.
"It's fantastic,"
Stevenson told
Empire Online
of the suit.
"I've tried the suit on, and what they've done is kind of sex him up: he's sort of slimmer but rounder."
It's hard to imagine the physically fit Stevenson as the flabby Volstagg, but at least it sounds like he'll be a closer match to the Asgardian's weight class thanks to the film's costume department. But even more important than Stevenson's physical likeness, it's essential that he understands the character. Luckily, it sounds like Stevenson has that covered, too.
"He's got every bit of that Falstaffian verve and vigour, and a bit of a beergut to suggest that enormous appetite, but he's not the sort of Weeble-shaped figure he is in the comics,"
described the actor.
"He's Falstaff with muscles. I've got this amazing foam-injected undersuit that flexes with me. I can't wait!"
When Stevenson dons that foam-injected fat suit, he'll appear alongside Stuart Townsend and Tadanobu Asano, the
other two members of the Warriors Three
. The trio joins actors
Chris Hemsworth
,
Tom Hiddleston
,
Anthony Hopkins
,
Natalie Portman
and more in
"Thor."Robert Downey Jr. On Keeping 'Iron Man 2' Grounded: 'It Would Be So Easy To Go So Far Out'
With excitement for
"Iron Man 2"
building towards a fever pitch — thanks to the recent reveals of War Machine and Whiplash — Robert Downey Jr. has offered some insight into the story of the next "Iron Man" installment while promoting his upcoming film,
"Sherlock Holmes."
"My take — Jon [Favreau] was in agreement, and Marvel supported us — was that once you tell an [origin] story pretty well, that's usually where things start to get dull, and one or two or three things start to happen over and over again,"
Downey explained during an interview with
Rotten Tomatoes
.
"So, we made Tony Stark's challenges very much outside the usual realm of activity. As much as anything else, it's much more of a side job for him the second time around. And the great thing, too, is that the Marvel universe is wild; it's so far out.""That's the big balance to strike,"
continued Downey.
"It would be so easy to go so far out it would be intergalactic and nothing would be grounded in reality any more."
Downey also revealed his theory as to why the first
"Iron Man"
film struck a chord with moviegoers.
"I think what worked for 'Iron Man' is that it almost seemed like something from the cover of 'Popular Mechanics,'"
said Downey.
"These kinds of suits were starting to be made in the States and Japan, so people were responding to 'Iron Man' almost as though it was a more of a high-tech 'James Bond.' So how could we start to introduce elements of the storylines in the comics without becoming too outlandish, where it wasn't rooted in some kind of reality? That's my big thing, and the only thing that's really been of been of any benefit with my - quote, unquote - successes recently, is that they have allowed people to trust my instincts more comfortably, and to give me a little more creative leverage. And that's all that matters, because all the other stuff comes and goes.""I'm really, really, really hell-bent on protecting what's beautiful about my relationship with Marvel and my relationship with Jon Favreau first and foremost, then, secondarily, 'Iron Man' at large,"
added Downey.
"And the tertiary element is always the audience: what would I pay to see if these schmucks had me roped in to come see the movie again? Because I kinda know I'm going to go anyway, and I hope that I'm not sorry I went."
Three CLASH OF THE TITANS Posters!!!
Here's a look at three posters from
CLASH OF THE TITANS
.
These are, essentially, three of the same posters that were leaked a month or two ago - but officialer. I guess they didn't want to show us Liam on the posters yet - or the huge f***ing Kraken we saw on the leaked designs. Still, what we see below is pretty nice...
These come from Yahoo Movies (
HERE
).
I have a suspicion that this one may sneak up on us. What I've heard thus far suggests a film way cooler than many of us are expecting. We'll see...