Princess and the Frog Opens Nationwide
Having completed its limited, debutante run, Disney's long-awaited return to 2D animation,
The Princess and the Frog
, is about to run wide.
The studio's return to its fairy-tales and princesses roots opens in more than 3,400 theaters this weekend amid solid reviews and high box office expectations.
The film has earned a 78 percent positive rating on RottenTomatoes.com and a score of 69 on Metacritic.
Directed by John Musker and Ron Clements,
The Princess and the Frog
stars Anika Noni Rose as Tiana, with Bruno Campos as Prince Naveen and Keith David as Dr. Facilier. Also providing voices are Oprah Winfrey, Terrence Howard and John Goodman.
The only other major release of the week is Clint Eastwood's
Invictus
, a drama starring Matt Damon and Morgan Freeman that opens in more than 2,100 cinemas.
A limited opening on three screens is set for Peter Jackson's latest film,
The Lovely Bones
, which goes wide on Christmas Day. Also opening in limited runs are
Rocket Singh — Salesman of the Year, A Single Man
and
The Slammin' Salmon
.
Also expanding its release this week is Jason Reitman's
Up in the Air
and
Me and Orson Welles
.
(Thanks
Animation Magazine
)
UPDATE: Mayor Accuses Obama of Blocking Charlie Brown X-Mas Cartoon
Russell Wiseman
, the mayor of Arlington, Tennessee, is fuming because he believes that Obama deliberately timed his speech about the war in Afghanistan to interfere with the airing of
A Charlie Brown Christmas
. According to
Time magazine
, this is what Wiseman posted on his Facebook page:
Ok, so, this is total crap, we sit the kids down to watch 'The Charlie Brown Christmas Special' and our muslim president is there, what a load…..try to convince me that wasn't done on purpose. Ask the man if he believes that Jesus Christ is the Son of God and he will give you a 10 minute disertation (sic) about it….w…hen the answer should simply be 'yes'….you obama people need to move to a muslim country…oh wait, that's America….pitiful.
Sounds like Wiseman holds two positions in Arlington: mayor and village idiot.
(Thanks
cartoon brew
)
UPDATE :
TN town disavows claim Obama blocked "Peanuts"
A Tennessee town is keeping its distance from Facebook comments by its mayor claiming that "Muslim" President Barack Obama deliberately blocked the screening of
A Charlie Brown Christmas
.
The Town of Arlington, a Memphis suburb, issued a statement Monday on its Web site saying that Mayor Russell Wiseman's views do not reflect the town's official views.
"Regarding all of the reports about my recent Facebook remarks, I want to take this opportunity to say how much I regret that I offended anyone with my poor attempt at tongue-in-cheek humor amongst friends,"
Wiseman wrote in an e-mail he sent Monday afternoon to the news media.
"While my comments were certainly blown way out of proportion, I do recognize that I allowed things to go too far."
Last week, Wiseman claimed on his Facebook page that the president's Tuesday primetime speech about the United States military's strategy in Afghanistan was deliberately scheduled to block the airing of the Peanuts TV Christmas special. He also asserted that Obama is a Muslim.
"The views of Russell Wiseman, Mayor of the Town of Arlington, expressed on his Facebook account do not reflect an official position of the Town of Arlington,"
the town's updated Web site now states:
"His comments were not made on a Town computer, or using Town computer services. The Town recognizes Barack Obama as the President of the United States, and in accordance with the Constitution, recognizes both the freedom of religion and the freedom of speech. We welcome all law abiding people to our town.

"We do not discriminate and we provide essential services to all Town of Arlington people without regard to their religion, race, color, age, gender, sex or national origin."
According to the Memphis Commercial Appeal, the mayor's first posting read,
"Ok, so, this is total crap, we sit the kids down to watch 'The Charlie Brown Christmas Special' and our muslim president is there, what a load.....try to convince me that wasn't done on purpose. Ask the man if he believes that Jesus Christ is the Son of God and he will give you a 10 minute disertation (sic) about it....w...hen the answer should simply be 'yes'...."
Wiseman deleted his own Facebook account last Friday, although a cached version of Wiseman's page still could be found by searching Google. However, two new pages have surfaced since then:
"Support Russell Wiseman"
and
"Tell Russell Wiseman To Respect Charlie Brown And Our President."
On the page
"Tell Russell Wiseman To Respect Charlie Brown And Our President,"
a retired Army major and Afghan veteran wrote:
"I am astonished that an elected municipal leader would be so ill-informed as to not know that the president was scheduled to deliver a major policy speech on our efforts in Afghanistan. Second, I find the Mayor's allegations about the president's religious views repugnant."
Jeff Shackelford, an area voter, told Memphis CBS affiliate WREG-TV that the American president had
"more important things to be thinking about instead of trying to block Charlie Brown on TV."
Wiseman's profile on the official Web site of Arlington -- population 9,700 and growing -- states that he has been mayor of the town since 2003, and that he was re-elected in 2007. It adds that he and his family are active members of Sycamore View Church of Christ in Memphis.
Arlington superintendent Ed Haley said the town's updated official post was meant to assure people that the town doesn't discriminate.
"Unfortunately, I don't think (his posts) were meant to hurt anybody, but it didn't come out that way,"
Haley said.
Wiseman admitted in his note to media Monday that he doesn't like Obama:
"I'm afraid I let my frustrations and my sarcastic and joking nature get the best of me and so I egged and goaded them (Obama supporters) on within the confines of what I considered at the time to be a semi-private conversation among friends."
Town employees are not allowed to visit social networking sites during work hours, although there is no policy banning elected officials from joining them, Haley said. Wiseman's comments were posted from his home after work.
The Web site
sarahpalinrussellwiseman2012.com
had been created to support the mayor.
"I trust that we have probably all experienced things getting out of hand from time to time, and I do regret it,"
Wiseman said.
"I also take some measure of comfort in knowing that the people who know me best... understand that I am a progressive and tolerant person who believes wholeheartedly in the rights and equality of all people."
Mayor Russell Wiseman:
"I am a progressive and tolerant person."
(Alan Spearman/Memphis Commercial Appeal)
Researcher rails against Thomas the Tank Engine
Thomas the Tank Engine'
s TV show displays conservatism while underrepresenting women, a steamed Canadian researcher charges.
After analyzing 23 episodes of British series
Thomas the Tank Engine & Friends,
University of Alberta political scientist Shauna Wilton was able to identify themes which, she said, didn't seem constructive for youngsters.
"While the show conveys a number of positive political values such as tolerance, listening, communicating with others and contributing to the community, it also represents a conservative political ideology that punishes individual initiative, opposes critique and change, and relegates females to supportive roles,"
said Wilton, an assistant professor in the Department of Social Sciences at Augustana Campus.
"The female characters weren't necessarily portrayed any more negatively than the male characters or the male trains, but they did tend to play more secondary roles, and they're often portrayed as being bossy or know-it-alls."
The
Thomas and Friends
series is shown in 130 countries around the world. Wilton observed storylines in several episodes that divided the characters into different social classes and punished those who tried to gain individual power.
"Any change is seen as disrupting the natural order of things,"
she said.
While Thomas and his fellow engine friends, including Percy and James, are at the bottom of the social hierarchy, the Fat Controller, Sir Topham Hatt, is at the top of the heap.
She felt
"uncomfortable"
by how the steam engines are punished if they show initiative or try to change their rank or role. In one episode, after Thomas whistles impatiently at a police officer, he is punished by being replaced with a different engine.
As well, of 49 main characters listed in the show, only eight were female, reflecting a general trend among children's programming, Wilton said.
Parents, teachers and other experts such as political scientists would be wise to give children's shows a closer look, she added.
"We tend to think of children's TV shows as neutral and safe, but they still carry messages. Eventually these children will attain full political citizenship, and the opinions and world outlook they develop now, partially influenced by shows like Thomas and Friends, are part of that process."
Wilton presented her research findings earlier this year at a conference of the Canadian Political Science Association. She was inspired to conduct the study after being concerned by what she saw when she viewed
Thomas
videos with her three-year-old daughter.
She did observe that the show portrays some positive values, such as tolerance of others, good communication and contributing to the community. And, she confessed, her daughter loves the show and its trains.
Laura Midgley, co-founder of Britain's Campaign Against Political Correctness, called the research
"unbelievable nonsense.""I cannot believe anyone has the time and energy to do such a study,
" she said.
"I'm surprised she hasn't singled out the Fat Controller as an example of fattism, too. "Children should just be left to enjoy the innocent fun of Thomas without the politically correct brigade stoking the fires and ruining their enjoyment."
Walt Disney Slept Here - and it's For Sale!
Talk about your "D-23″ - here's the
real
thing! The house Walt Disney lived in when he first arrived in LA is
up for sale
. It's Uncle Robert's place on Kingswell, two blocks from the building off Vermont where he made the early Alice Comedies. They are asking $769,000 -
here's the listing
. However, the fabled garage that Walt and Roy worked in, once located on this property, has been relocated to Garden Grove. Here's
a recent photo of it
.
For more information on Disney's early L.A. studios and homes,
click here
.
(Thanks, George Maestri)
(Thanks
cartoon brew
)
Toons of the 2000s: Top 5 Cartoon Network Originals
During its 17 years, Cartoon Network has done a great deal of good for animation. The network's development of original programming changed the landscape of televised animation. Many of their shows became classics amongst animation enthusiasts and a multitude of talented individuals broke into the business through their system. Unfortunately, their success didn't quite carry over to this decade. While Cartoon Network still developed some great shows, a stretch of mediocre offerings and heavy flirtation with live-action tarnished their previously stellar record. Despite the slight downturn, we salute the network's accomplishments by presenting you with the five best Cartoon Network originals of this decade.
5. The Secret Saturdays
Created by Jay Stephens
Plot:
A family of cryptozoologists deal with strange creatures while saving the world.
Why It's Here:
While it has only been on television for little over a year now,
The Secret Saturdays
has already earned its place on this list. The series is unlike any other cartoon currently on air and harks back to the days of
Jonny Quest
, giving the series a fantastic retro vibe while simultaneously moving the genre forward.
One of the things that stands out about the series is the attention it pays to characterization of its protagonists, with Doc and Drew Saturday being particularly well-crafted. It is truly refreshing to see parents who aren't mired in the same tired clichés found in children's animation. When combined with all of the other characters who have intricate personalities, it makes for a wonderful series.
Unfortunately, the villains have not had the same attention paid to them as their motives are left at ambition or greed, but some are still excellent in their own right. Antagonist V. V. Argost's delightfully dark demeanor brings a level of creepiness to the series that makes the Saturdays' plight all the more interesting and the Vincent Price inspired voice work by Corey Burton is simply stellar.
The series' subject matter of cryptozoology is one that isn't explored often in animation. Consequently, this provides the show a wider variety of paths to explore in their well-written stories. All in all,
The Secret Saturdays
has earned the #5 spot on our list and we sincerely hope the network orders more episodes.
4. Megas XLR
Created by George Krstic and Jody Schaeffer
Plot:
An overweight oaf tricks out a busted robot and uses it to save the world.
Why It's Here:
One of the coolest animated programs to have ever been conceived,
Megas XLR
proved that giant robots are, in fact, awesome. The series took the best elements from a wide array of action cartoons and pulled them together to form the perfect comedic action-adventure series.
Megas XLR
explored what people would really do if they had a giant robot at their disposal; it's a good thing to save the world, but if you don't have fun and wreck half of the city in the process, then you're doing something wrong. Coop, the accidental pilot of Megas, is a contemporary everyman who many people growing up in the late 80s and 90s would be able to relate to. He is often more concerned about eating, watching his favorite television shows and playing video games than training to defeat the alien race known as the Glorft. As such, he is a character easy to relate to and through whom we might live vicariously. Who wouldn't want to be like Coop? He does whatever he feels like and still manages to kick butt with his giant freaking robot. Sadly, the series was cancelled long before it should have been, but we feel that
Megas XLR
is certainly one of Cartoon Network's best original programs this decade. We truly did dig giant robots.
3. Ed, Edd n Eddy
Created by Danny Antonucci
Plot:
A trio of misfits spend their days devising money making schemes.
Why It's Here:
While it actually premiered in 1999, it would be impossible to tell the story of Cartoon Network this decade without it.
Ed, Edd n Eddy
became a fixture throughout the 00s with its finale airing just a few short weeks ago. Even after ten years, the series is just as charming as ever. Perhaps it matured alongside us; the first few seasons were fun to watch, but like a child learning to ride a bike, there were a few falls and things didn't always end up as they should have. But as one season led into the next, the series hit its stride. We got to know the kids of Peach Creek, not only as characters but as friends. We saw them live their lives as we watched each episode. We experienced both their failures and their triumphs. We laughed at them and alongside them.
Ed, Edd n Eddy
was the last of the Cartoon Cartoons standing, and an era ends with the show's closure. We sincerely believe that this series was one of Cartoon Network's best animated programs this decade, and even though fierce competition prevented it from being any higher on our list, make no mistake: this was the type of series that comes along very rarely and we should cherish our memories.
2. Samurai Jack
Created by Genndy Tartakovsky
Plot:
A samurai must find his way back to the past in order to defeat an evil being.
Why It's Here:
Could an animated program ever be appreciated as a work of art? While cinematic productions have been hailed as artistic masterpieces due to their stunning and immersive visuals and engaging stories, televised cartoons still carry a stigma and such praise is seldom lavished upon them. If there were one animated program that could truly be considered the visual pinnacle of the art form, it would be
Samurai Jack
. This story about a lone samurai who is cast into the future and then tries to find his way home, set a standard for action animation that has yet to be matched in the West. The series was beautiful; its backgrounds were awe-inspiring and its animation allowed the characters to move through their world with grace. The plots were also written well, with a wide variety of stories being told, each with their own blend of action, comedy and drama. But if the series is so wonderful, why is it only #2 on our list? It was a difficult decision, but despite all of the things that the series got right, it's hard to deny that it did have some pacing issues and there were a bit too many episodes in which Jack found a way home only to pass up his chance in order to do the noble thing. The reason such was done is understandable, but to tease the viewers so often only to have closure ripped away leaves a bitter taste in one's mouth. Fortunately, the tale may finally be told when the movie, now being co-produced by J. J. Abrams, is completed.
1. Foster's Home For Imaginary Friends
Created by Craig McCracken
Plot:
A boy pays regular visits a bizarre foster home for imaginary friends.
Why It's Here:
Perhaps it is only fitting for an animated program about imaginary friends to be one of the most imaginative animated programs of all time. Craig McCracken earned his stripes with
The Powerpuff Girls
, but with this series, he truly thought outside of the box and created a colorful world filled with bizarre characters of fantastic design. While the overall premise of the series was fairly simple, it was written with finesse and many of its plots were delightfully outlandish. The series also stood out due to its proficient use of flash animation; few animated programs have managed to use flash as well as
Foster's Home For Imaginary Friends
and even critics of flash animation would be hard pressed to find many faults with the way that it looked. While there were a few bad episodes along the way, the level of quality that this series had was largely consistent. The best episodes were the specials, and the one that specifically comes to mind is the Emmy award winning
Destination: Imagination
, which could very well be the crew's magnum opus if and when they choose to end their careers. We feel that this series has earned the top spot on our list and we're grateful that we had the opportunity to enjoy it.
(Thanks
Toon Zone
)
Via Aint It Cool News...Capone puts on his best Cajun accent to talk to THE PRINCESS AND THE FROG directors John Musker and Ron Clements!!!
Hey everyone. Capone in Chicago here.

It has been 20 years since directors John Musker and Ron Clements (whose first film together was 1986's THE GREAT MOUSE DETECTIVE) ushered in the last revival of quality animation with Disney's THE LITTLE MERMAID, not only a visually stunning work but a solid musical. Of course, at the time, hand-drawn animation was the only game in town. The first completely computer-animated movie, TOY STORY, was still six years away and between 1989 and 1995, Disney ruled the animation world with such works as BEAUTY AND THE BEAST, THE LION KING, POCAHONTAS, and the visually groundbreaking ALADDIN, also co-directed by Musker and Clements. Even after TOY STORY changed the playing field of animation, Disney produced beautifully rendered works such as TARZAN, MULAN, and the Musker and Clements works HERCULES and TREASURE PLANET, but it was clear that the kids and their elders were lining up for the new world that Pixar ushered in.

So sitting down recently to watch Musker and Clements not only return to the world of hand-drawn animated musicals with beyond-glorious THE PRINCESS AND THE FROG trigger an emotional reaction in me that I simply wasn't anticipating. Not only does the work make you afraid to even blink for fear of missing any of its luscious movement and colors, but there's an attention to detail, especially in the backgrounds, that reminds me not of THE LITTLE MERMAID, but of Disney films from 40 or 50 years ago. Combine these images with Randy Newman's impossibly catchy New Orleans-tinged tunes, and you have a film that deserves to be recognized as one of the studio's finest efforts on par with LADY AND THE TRAMP, JUNGLE BOOK, PETER PAN, and even CINDERELLA. It truly is something to behold.

For reasons I can't quite explain, one of my favorite parts of this job is speaking with directors of animation. They just always seem to have the best stories. I've been fortunate to have interviewed a few of the Pixar directors and even Hayao Miyazaki earlier this year, as well as a handful of other directors of mostly computer-animated works, but talking to Musker and Clements about THE PRINCESS AND THE FROG was a real treat. They are back exactly where they belong, and they are willing to share the credit for such an unbelievable achievement with those who deserve it, beginning with Disney/Pixar's Chief Creative Officer John Lasseter. Enjoy this conversation and please check at the movie as it expands nationwide this weekend.
Capone: Gentlemen, how are you?


John Musker:
Good morning. We're doing good.
Capone: This will be an interesting exercise in transcribing since I can't see who is talking, but okay we are going to make the best of it.


Ron Clements:
[laughs] Our voices aren't totally different, but hopefully you can tell the difference, but this is Ron Clements at the moment.
JM:
And this is John Musker, slightly more nasal, slightly more Chicago.
Capone: I was about to say I know one of you is from Chicago, somebody mentioned that to me. Speaking of which, I heard at some phase in the development of this film that it was going to be set in Chicago. Is that true?


JM:
Actually the early Pixar version, Ralph Eggleston, the art director there pitched a version of
"The Frog Prince"
set in gangland Chicago in the 1930s, but then it went to John Lasseter, and ironically Ralph is from New Orleans and he's the one who introduced John Lasseter to New Orleans. John was like
"No, I think the story would just be more fun in New Orleans."
He loved New Orleans and I think he thought the bayou and frogs fit together and all of that, so it moved from Chicago downriver to New Orleans.
Capone: I may never forgive you for making that move, but I still love the movie.
[Everyone Laughs]
Capone: If someone had told me after I had seen THE PRINCESS AND THE FROG that it was made 50 years ago, that you had found this in a vault and restored it, I wouldn't have thought twice about it. It really has a feel of classic-looking Disney animation.


RC:
Yeah, we were really trying to go back to that and really celebrate the richness of the classical Disney animation, which is something we realized the youngest kids have never seen anything like that on a big screen. They have seen those things on DVDs, but this could be the first theatrical experience for a lot of kids of seeing this caliber of animation.
JM:
We really wanted to embrace the Disney aspect of it, which isn't true of some of the more recent movies, but we wanted to bring that back. We started as Disney fans before we even worked at the studio and we both have been there more than 30 years now, and John Lasseter was a huge Disney fan and worked as an animator at Disney as well. So it felt like the right time to try to recapture those feelings that we had when we saw Disney animation for the first time, but we wanted to bring something new to it
.
RC:
I think that John felt that there were more stylized graphic animations that people might see on TV, but he felt that really getting into a dimensionally drawn atmospheric film that had all of the great backgrounds that you associate with classic films like
BAMBI
and
LADY AND THE TRAMP
and
PINNOCHIO
and that sort of thing, really getting the richness of that world. It's an imaginary world that is re-imagined, but it seems almost real and palpable and yet exploits the fact that it's drawn. It isn't the real world. It is a drawn world that seems real somehow, so it's an elaborate beautiful magic trick that Walt Disney pulled, and we were trying to go along those same lines.
Capone: You mentioned the backgrounds--you really have two primary ones which are the city of New Orleans and the bayou. The city backgrounds in particular are stunning, but New Orleans is a bit of a cheat only because the architecture hasn't changed very much in so many years [Everybody laughs], but still they look so beautiful and I think the next time I see it, I'm just going to ignore the characters and just look at the backgrounds. [Laugh]
RC:
Ian Gooding, our art director, had to find a way to get all of that wrought iron and all of that complexity, yet enough to make it not too complicated and yet make it as rich as the city feels when you are there.
JM:
The two touchstones in turns of Disney were
LADY IN THE TRAMP
for the city and
BAMBI
for the bayou, and they fused both of those city together to some degree. But the backgrounds themselves, you could just put those backgrounds up in a museum and look at them for a long time.
RC:
Our art director is a fabulous painter himself. He was a background painter, and I think he had a feel for that, so he really watched carefully over all of those backgrounds and really tried to get all of the richness he could into those things and was a perfectionist about it, so that helped step up the game with the painters I think to really…
JM:
And our layout supervisor, Rasoul Azadani, those are the black- and-white drawings that generate those backgrounds. We did research trips down to New Orleans where we literally took thousands of pictures and we visited the bayou, and they really studied how that stuff fit together and then distilled it and made it iconic. It was fun and to base a movie on a real place like this, we haven't really done that too much. Most of our films have been imaginary universes, but to have something that was there that you could actually look at and like you said with a place that has had some of the same architecture for so many years, that helped.
Capone: Is that what you call it, "research trips" to New Orleans?"
[Everyone Laughs]
JM:
Yeah, I know. Boondoggle, research trips, it's one of those and I'm not sure, but yeah we somehow talked them into a few trips. In fact, we even rode a float in Mardi Gras. That was wild. We were there throwing the beads and seen it all from the inside out, so that was great. We visited with a voodoo priestess and we went to the graveyards here and out to the bayou with Reggie our Cajun tour guide, who showed us how he fed alligators, so it was a lot of fun.
Capone: I'm actually surprised that New Orleans hasn't been used in an animated work to this degree before. It seems almost tailor made.
RC:
I think it has been used in some films to some degree, but yeah with this film it certainly was a major character in the movie just as much as the other characters.
JM:
In
THE RESCUERS
, that was sort of set in a bayou setting, not specifically New Orleans, but it really didn't seem like it took advantage of it.
Capone: I was there at Comic Con to see the premiere of footage from this movie. It's one thing to just premiere footage for the first time in front of people who will eventually become a paying audience, but then to have that lovely bonus pressure of having Miyazaki up onstage with you…
[Everyone Laughs]
JM:
Oh, I know!
RC:
It was fun being there with Miyazaki though, because we are big fans of Miyazaki.
Capone: Sure.
RC:
Both Johns had met him before, but I had not met him, but yeah that was…
JM:
Certainly, we felt like the audience of Comic Con, they are animation enthusiasts and certainly Miyazaki is a wonderful story teller. So it was intimidating, but we lucked into having the opportunity to share the sneak peak with that group, because we consider ourselves among that group. We have been to Comic Con before…
RC:
Yeah, we had been to Comic Con many, many times standing in those long lines to get in.
Capone: Let's talk a little bit about some of the characters. I love that with Tiana that you both sort of reject and embrace the classic Disney princess characteristics, because she is very career focused and she's not impressed with men with money or looks or charm, but at the same time eventually she gets there.


JM:
It's a little bit of a spin on the whole Disney philosophy. I think certainly Tiana would be someone, even as a little girl, she would not be rushing to Disney stores to buy a lot of merchandise. It's kind of just this rejection, in an admirable way, on the focus on romance, and yet I think and hopefully in a sincere way that she comes to realize the importance of that side of her. We had always thought of Tiana as someone maybe who grew up a little too fast, and that there's something about the magic, not just in terms of romance, but in terms of a whole kind of philosophy about life that she does kind of come to embrace.
RC:
It was fun to be able to counter point her with the Charlotte character, who is sort of the type that would watch
"The Bachelor"
and be addicted to that and be maybe the downside of Disney princesses or the over emphasis on that. So to be able to play Tiana off of that to be able to comment on that was fun to write.
Capone: Charlotte is definitely more of the classic mold. Of course she is ridiculous….


JM:
We had fun sort of pushing her over the top, so yeah.
RC:
Charlotte, there's something very likable and endearing about Charlotte more so than we first intended, to be frank. I think we always thought of her as being funny and wanted her to be a funny counterpoint to Tiana, but we find people really like Charlotte, and there's something just endearing about her and her sort of focus on that.
JM:
But Tiana was great and having Anika Noni Rose do the voice and Mark Henn do the animation, I think they really made her very specific and likable. It was a tough part, because it is someone who is so focused that you still want to get people behind her and get them to route for her, and I think that's what both Mark and Anika brought to it.
Capone: Did you make a conscious decision not to top load your cast with these big names? There are certainly big names in some of the smaller roles, but that seems to be a very Disney/Pixar way of doing things.


RC:
It is.
Capone: It seems to make sense and yet almost nobody else does it that way. They are all looking for big names.


JM:
They sense a marquee value in the promotion of the movie, I think, but we felt like it helps identify with the characters if you don't necessarily immediately get a mental picture. Today Jiminy Cricket seems so real to me, but I don't know if I could pick out Cliff Edward's picture in a book of Hollywood stars.
RC:
It's not so much even conscious that we are not going to use that, it's just that with animation voices, it's very tough to find just the right voice for a character, and I think the Pixar philosophy and the Disney philosophy as well is just find the best voice wherever it comes from.
JM:
Ironically with Anika, she has been such a great spokesperson for the movie and she is beautiful and she can sing onstage and all of those things, but those weren't our primary things while casting. She came in and read for the part. We loved the way her voice sounded. We put some pictures to her voice and felt that that fit.
RC:
We auditioned many other actresses, and there were many actresses of varying degrees of celebrity who were interested in the role and we met with many. Anika was actually the second one who auditioned, and we kind of thought, "This is going to be very tough for anyone to beat" and it was. It just felt like she was right for Tiana. There is certainly a lot of Tiana in Anika. That's not always true in certain cases, but Anika is just a very strong woman as far as an actress, and she has certainly played parts that are not so much like her, but this part I think there's a lot of Anika in Tiana.
Capone: I'm trying to explain to people who she is, because they assume it's somebody famous, and I'm like "No, it's the one from DREAMGIRLS that isn't the Oscar winner and isn't Beyonce."
[Everyone Laughs]
RC:
I know, right. "The one with Eddie Murphy."
JM:
She was great in
DREAMGIRLS
and was a little over shadowed.
RC:
More recently she did
"The No. 1 Ladies' Detective Agency."
Capone: I loved her i

n that!
RC:
She's great in that, very funny part that she played.
Capone: I've noticed in the last year or so that stop-motion animation has made a big comeback as well, and I'm wondering if you think the pendulum is swinging back in the other direction in terms of animation in favor of the more hands-on, organic forms of creation. Have you noticed that?


JM:
I have noticed that with the stop motion. I am amazed that there's such quality stop-motion films in one calendar year.
RC:
I don't know if it's going to happen again, but this year in particular is a really great year for animation, and everybody involved with animation feels that way and everything is well represented. You have got fantastic digital animation with
UP
and
CLOUDY WITH A CHANCE OF MEATBALLS
and puppet animation with
CORALINE
and
FANTASTIC MR. FOX
and hand-drawn animation…
JM:
It would be great if all of them could continue to thrive. I don't think any of them are meant to displace one or the other, but if they could all coexist, that would be great.
RC:
That's part of the theme of our movie, it's about the value of diversity, and diversity in animation is a good thing.
JM:
I think there are different tools for the artists to use, just like there's sculpture and there's painting and there's photography, and so I think it would be great to have different forms of expression available for the artist. Even now with John Lasseter on all of these movies that the various directors pitch to him, I think they pitch movies to him and they suggest to him "I would like to do this hand drawn." "I would like to do this computer animated." He's open to hearing pitches either way, and I think that's great that there's that openness to try that.
Capone: Is the plan to do more hand-drawn projects?


JM:
That was always the plan I think even with John Lasseter brought it back, and they weren't saying "Let's bring it back as an experiment and see what happens." Certainly the stakes are kind of high with this movie, and we certainly hope it does well, but the plan was to bring it back and to keep doing it.
RC:
The plan isn't to do like one a year, like it was being done for a while, but to do one every couple of years, and I think that seems like a good way to go just in terms of the manageability and it keeps it special. There's a little more novelty to it. Even right now In a year that had so many other types of animation, I like this being a hand drawn and a novelty certainly with all of the computer films that have come out this year that we are kind of a new act in town; I like being in that spot.
JM:
Digital or even hand drawn, these things take three to four years to do, so any way to do them coming out sooner than that is to have overlapping productions which spreads the talent thin and also can kind of kill people over time, so that seems good like there will be a new hand-drawn film every two or three years. That seems about right.
Capone: I'm in favor of that. With all of the pressures of bringing this art form back and getting it right this time out, one might think the result would be something a little uninspired and safe, yet this is maybe one of the weirdest and darkest things that Disney has ever put out. There's absolutely nothing safe about it. How did you manage to get away with that?


JM:
Well John Lasseter is one of the big reasons. He's a fearless guy, and we just went for what we thought was right for the story, and John certainly never asked us to pull our punches on anything and he was very supportive of us. He's one of the best executive producers you could ask for, because he's a filmmaker and he's a story teller and he produces where quality counts.
RC:
He says to aim high and he trusts his own instincts and isn't afraid. I think he feels and I think it's true that John is fairly in sync with audiences, and he's a great audience for us when we present him stuff. Certainly John in intuitive and when you show him something that he really likes, he gets very, very excited and that revs everybody up. I think he does represent the audience in general, and his instincts are pretty good. With the Pixar films, there's certainly nothing safe about any of the Pixar films.
JM:
Like with
UP
to have your good old 78-year-old protagonist, [laughs] but John is certainly willing to walk the rarely walked line if he thinks the story is compelling like with
WALL-E
, "Okay, here's a movie with practically zero dialogue in the first half" and
RATATOUILLE
with the rat. I think he understands, and we would agree, it's sort of more than those things in terms of what makes a movie.
RC: I think that John goes on his instincts and that's part of his strength. That's what we did to when we were trying to tell the story, as much as we solicited opinions internally. Even during the internal screenings, while we were making it, we'd get notes, but so much of it does come down to what in your gut do you feel like is the right way to do this, and you find out and the end of the line whether or not you guessed right on all of these things in terms of just communicating to an audience. They are not meant to just be artistic things that are seen by 10 people at midnight; we do want people of all ages enjoy these films and it's rewarding when that happens.
Capone: I did want to ask about Randy Newman. Obviously he is a proven talent when it comes to making music for animated films. And one of the songs, the "Friends on the Other Side" song, that deep-voiced male choir that voice the voodoo masks sounds so perfectly dated.


RC:
That was Randy's idea to get that choir.
Capone: That just reminds me of some older Disney cartoon.


RC:
It was really a throwback to a '20s and '30s style almost. We had the idea that he would have a song there ,and the villain would have a song that would be kind of Cab Calloway-esque, maybe where he would turn the prince into a frog basically in a magical ceremony. We wrote a scene that way, but Randy came up with the whole song and the whole call-and-response idea of having this chorus of voices and that throwback style in terms of the vocal arrangements. He really had an affinity for that and even when he mocked that demo up, it was funny, because he would sing his part and the deep voice part, but he'd say [Deep Cajun accent] "Now the low voices…" He would talk through a demo in a very primitive crude way that he recorded on, like a little cassette recorder for us, but we could kind of picture what he had in mind and it was really a lot of fun to see it realized with all of the voices and all of that.
Capone: I'm a firm believer that an animated Disney film is only as good as its villain, and you have a fantastic villain both in terms of just concept and looks. Can you talk about what went into creating Dr. Facilier?


JM:
There are these versions of these guys that sort of exist in New Orleans, these fortunetellers who we're told, have made a pact with the voodoo spirits and now they sell magic to people for money. We thought of Keith David right away for that character, because he's got this great voice, and we didn't know if he could sing or not. That was our big question, because we had actually never heard him sing. It turns out he sings beautifully, so that nailed that and then Bruce Smith who did the animation really went to town. It was kind of a tour de force.
RC:
We actually hired a choreographer, and when we did that musical number, we actually shot choreography of a dancer. Betsy Batos was our choreographer and she was a student of 20s and 30s dance, and we had some great dancers in who did this thing called Snake Hips dancing, so we had this flanked dance that this wonderful dancer Dominique Kelly did as reference for Bruce. When we were writing the character we were even influenced a little bit by Ray Bradbury's
SOMETHING WICKED THIS WAY COMES
, where you have a dark character, this kind of theatrical showman, but connected to this sort of sinister side that puts a smile on his face, but he's got this deeper agenda.
JM:
And a little Bob Fosse thrown in.
RC:
Then Bruce did such a great job, and just the combination with all of them sort of came together in the final result.
Capone: Ron and John, thank you so much. I really did love the movie and can't wait to see it again.


RC:
Okay, thanks a lot.
JM:
Bye.
Daly Rounds Out Yogi Bear Cast
Andy Daly will play Mayor Brown in Warner Bros.' new movie version of
Yogi Bear
.
The addition of Daly completes the cast for the film, which has begun shooting in New Zealand, Variety reports.
The film, a mix of CG animation and live-action footage, stars Anna Faris as a documentary filmmaker, Tom Cavanagh as Ranger Smith, Dan Aykroyd as the voice of Yogi Bear and Justin Timberlake as the voice of Boo Boo.
The film is being directed by Eric Brevig, who also directed
Journey to the Center of the Earth
. The script is by Brad Copeland and based on an earlier original screenplay by Joshua Sternin and Jeffrey Ventimilia.
(Thanks
Animation Magazine
)
Court Takes Over Struggling TV-Loonland
Unable to pay its debts, an insolvency court in Munich, Germany, has placed children's entertainment company TV-Loonland AG in preliminary administration.
The move comes after shareholders twice refused to approve share consolidation plans that would have raised the cash necessary for the company's debt payments.
Under the ruling, an attorney at law has been appointed as preliminary administrator of the company and Michael Briem leaves the company's advisory board to become CEO.
In a statement from the company, which produces such animated series as
The Little Princess
, Briem is said to believe that its assets are more valuable than its debt and will work with the preliminary administrator to maximize their value.
According to Variety, the company has been trying for the past year to restructure its operations and deal with litigation from former CEO Selma Kaeppel, who was convicted of fraud
(Thanks
Animation Magazine
)
Emergent Adds Evolver to Gamebryo Lightspeed
Emergent Game Technologies has added support for Evolver's web-based 3D character and modeling technology to its Gambryo Lightspeed video game development system.
Evolver's web-based application offers professionals and consumers an intuitive tool to design and customize unique 3D models in a matter of minutes. Drawing from an expansive collection of facial and body characteristics available on the Evolver website, or a photograph, users can create an avatar that is animation ready and fully exportable.
Developed by Emergent, LightSpeed is a multiplatform game engine with an extensive set of features including rapid prototyping, rapid iteration and real-time updates.
"Our partnership with Emergent provides LightSpeed developers with an easy way to integrate custom 3D characters into their latest projects at a fraction of the production time, effort and costs of traditional modeling and rigging methods,"
said Evolver CEO, Brian Nilles.
"The integration of Evolver models into the Gamebryo LightSpeed platform will allow developers to produce visually stunning results more quickly, easily and cost effectively,"
said Katie Morgan, Vice President of Sales & Marketing, Emergent Game Technologies.
More information on the companies can be found online at
www.emergent.net
and
www.evolver.com
.
(Thanks
Animation Magazine
)
MachStudio Sped Production of Playmobil Feature
Animation studio Extra Large Technology used StudioGPU's MachStudio Pro to streamline production on the original DVD feature
Playmobil: The Secret of Pirate Island
.
The 90-minute feature, based on the popular playsets, was delivered to Sony Pictures Home Entertainment in 18 months, in large part because of MachStudio Pro's nonlinear approach to 3D workflow.
"The real-time performance of MachStudio Pro allowed us to have greater flexibility and control over the lighting and rendering,"
says Charles Cohen, founder and CEO of XLT.
"The ability to make changes quickly and easily in film quality on the desktop with MachStudio Pro was critical in delivering the project on time and on budget."
For more information about these companies, please visit
www.extralargetech.com

and
www.studiogpu.com
.
(Thanks
Animation Magazine
)
TurboSquid Offers Mixamo-Certified Motions
Online 3D marketplace TurboSquid is offering 3D models designed to work with the entire collection of motions from Mixamo as part of a new alliance between the two companies.
TurboSquid users can how easily apply high-quality Mixamo motions to a growing list of TurboSquid character models. The motions can be viewed directly within the Mixamo interface without uploading.
"The combination of high-quality, certified TurboSquid models and Mixamo animations provides users with a powerful and easy way to develop first-rate characters in motion," says Stefano Corazza, co-founder and CTO of Mixamo.
"As the largest worldwide provider of 3D content across several industries including video games, design and architecture, and virtual worlds, TurboSquid aligns perfectly with Mixamo's ongoing strategy to provide 3D professionals with the next evolution in character creation technologies.""The Mixamo team's expertise in character animation provides our clients with a turnkey solution to quickly generate customizable motion for our vendors' superior models,"
says Beau Perschall, VP of business development for TurboSquid.
The collection of "Mixamo-certified" TurboSquid models currently contains 10 3ds Max Biped System characters that are available for purchase via www.turbosquid.com. Additional certified models will be added regularly.
Additional information, tutorials and pricing information are available online at
www.mixamo.com
.
(Thanks
Animation Magazine
)
Cluster Controls Destiny For Sabritas Foundation
This multi-chapter campaign for the Sabritas Foundation was produced at
Cluster Studio
in Mexico. Sabritas is a non-profit that supports children by building and repairing schools and assisting them in getting to class.
BBDO Mexico
initiated the project. Here is chapter 1 of
Destiny Is Not Written:Cubitt Cleans Up on Philips Spot
I won't tell you what product this is for, or it will spoil the gag. The company is
Philips
, the Agency is
DDB London
and the spot, titled Squeaky Clean, was directed by Orlando Cubitt from
Flynn Productions
.
Bailee Serves Up First Round of Cartoon Hangover
Bailee Desrocher is hosting a new
Channel Frederator
show called
Cartoon Hangover
and below you can view the first episode. This week she highlights
Ben Ross
' film
Slutbag Stationary
.
Logorama – Drowning in Branded Entertainment
Logorama
is one of the more clever animated shorts I've seen in some time. Perhaps it's overly clever. At 16-minutes, we see nearly every major corporate mark offered up as an ironic sight gag, and I found myself a bit saturated with the cuteness of it all. Maybe that's the point. The entire film, which was shortlisted for an Oscar this year, isn't available online yet, but a clip can be seen below. It was produced by
H5
, a French collective heaed by François Alaux, Hervé de Crécy and Ludovic Houplain.
Order ASIFA-East's First 12 Month Calendar of NYC Animation Legends!
ORDER YOUR VERY OWN ASIFA-EAST (full color) 12 MONTH WALL CALENDAR NOW!
With original artwork by a who's-who of NYC animation legends, this calender will delight and inspire you to have a very animated 2010! Featuring artwork from: Bill Plympton, John Dilworth, Michael Sporn, Mo Willems, Kristy Caracas, Candy Kugel, George Griffin, Emily Hubley, Debra Solomon, Signe Baumane, Jennifer Oxley, and Xeth Feinberg.
Your order counts as a charitable donation on your taxes and all proceeds go to ASIFA-East.
PS- Makes a great holiday gift! Hint! Hint!
Make checks payable to:
ASIFA-East
Amount of:
$13.00
Send checks to:
ASIFA-East c/o
David Levy
135 Ashland Place, Apt.7C
Brooklyn, NY 11201
Be sure to include a return address for us to mail the calendar to.
(Thanks
asifa east
)
Links of Mid-Week
Forget
Up
. Ignore
The Princess and the Frog
. This past week I've been glued to my set, watching the great new
animated series
about a golfing God.
Chinese animation that looks straight out of
Sims 2
reenacting the entire Tiger Woods affair.

Subtly called,
Tiger Woods: 8 Girlfriends
, we get to see what it would be like if Tiger Woods spanked a porn star. (If real life were like a video game–all in Chinese!)
Truly, this is what animation was made for, bringing the stories we want to
know
to radiant, full-bodied life ...
But this Tiger Woods brouhaha has been a godsend for some on-line animation studios ... and the L.A. Times takes us
behind the scenes
of one of the creators of speedy animation:
... [T]here have been few events that really drive home the point of just how fast technology and its users are. The Tiger Woods affair was a hole-in-one for the Internet's quick turnaround time.

A good example of that is Break Media's
Tiger Hunting
online game. The fairly simple distraction has players guide a cartoon Tiger Woods in his Escalade, with a supposed mistress seated beside him, down a street. Meanwhile, a character portraying his crazed wife chases them on foot, golf club in hand. Players must swerve to avoid various obstacles, including trees, trophies and babies.

Concept art and planning were drawn up over the Weekend of Tiger (Nov. 27- 29) as news media buzzed and shot at every angle, be it police statements or gossip.

On Monday, Nov. 30, Break's director of games Chris Pasley began programming the game in Flash. By Tuesday night,
Tiger Hunting
was online and being promoted on Holy Taco, a Break-owned men's humor blog.
Irish animators have
climbed the wall
surrounding Robert Redford's little film party.
This week saw the selection of two Irish animation short films,
'Old Fangs'
- directed by Adrien Merigeau and
'Please Say Something'
- directed by David O'Reilly, to screen at the 2010 Sundance Film Festival.

Selection for the Sundance Festival is considered a major coup for emerging filmmakers given its reputation for showcasing the work of leading and rising independents ...
We pause now to
celebrate
Popeye's father.
Today is the birthday of Popeye creator E.C. Segar, born 115 years ago.

Segar was a newspaper cartoonist, and Popeye was first seen in Segar's comic strip
"Thimble Theater,"
starring the sailor, his rail-thin girlfriend Olive Oyl, her brother Castor Oyl, and, eventually, their hamburger-munching pal Wimpy, and Popeye's rival for Olive, the hulking Bluto.
It's good to remember that the Fleischer version of Popeye made the sailor-man the most popular cartoon character in America during the 1930s. The Mouse named Mickey was #2.
Ron Clements and John Musker
are interviewed
about their new movie by the Wall Street Journal:
A couple years ago, hand-drawn animation was out of favor and you two got laid off from Disney.

Musker:
We did, yeah.


Walk me through your feelings when that happened, what you felt about the art form and your future.

Clements:
Certainly for us it was kind of a little disapointing to see what was happening. Not just for us personally, because we do love the medium. As a director there are other opportunities—directing a digital film is not that different than directing a hand-drawn film. But for the art form itself it was really sad, to see it go for so many peole. The skills involved [in hand-drawn animation] take a long time to learn—they are skills that could be lost. Certainly the way that Disney does animated films is very unique, and there's a sort of a mentor-student relationship, everyone learns from the veterans. We learned what we know from the Nine Old Men who worked with Walt Disney. It just felt short-sighted for the studio to just kind of abandon it…it was too valuable a thing to let it go that quickly ...
To end, we have the Times of Los Angeles
talking to
the film-makers of five animated films:
... [F]or Shane Acker to expand his award-winning short
"9"
into a feature-length film, he had no problem inventing a rich back story for the characters who inhabit his darkly imagined post-apocalyptic landscape.


"I just vomited all these ideas out,"
Acker said of his first meeting with screenwriter Pamela Pettler, whose credits include the animated outings
"Corpse Bride"
and
"Monster House."
"I'd never done long form before, I didn't really know narrative structure. She was great at figuring out how we could start to put these different narrative threads through the whole."
...
You've gotten past hump day, it's all an easy coast downslope from here.
(Thanks
Animation Guild Blog
)
Murphy Locks Up Role of Rapunzel's Jailer
Actress Donna Murphy has signed to provide the voice to Mother Gothel, who imprisons the title character in Disney's upcoming animated version of
Rapunzel
.
Murphy joins a cast that includes Mandy Moore as Rapunzel and Zachary Levi as the bandit who helps the long-haired princess escape, according to The Hollywood Reporter.
Byron Howard and Nathan Greno of
Bolt
fame are directing the film.
Murphy has won Tony Awards for her roles in
Passion
and
The King and I
. She also has appeared in
Spider-Man 2, Star Trek: Insurrection, The Nanny Diarie
s and the TV series
Trust Me
.
(Thanks
Animation Magazine
)
Nick Names Three to Diverse Writers Fellowship
Three writers will join Nickelodeon's
Fellowship for Diverse Writers
, a program that offers hands-on experience in writing both animated and live-action TV series.
The three additions are Jonathan Butler, a published poet and songwriter, Stacie Craig, a former public school teacher, and Gabriel Garza, a film school graduate from Chapman University.
The program is now in its 10th year and is designed to attract, develop and staff new and experienced, culturally and ethnically diverse writing talent on Nickelodeon network productions.
"Jonathan, Stacie and Gabriel are all incredibly talented writers and we're thrilled to have them in the fellowship,"
said Karen Kirkland, executive director of the program.
"The program gives us an opportunity to nurture those in our industry whose cultural experiences have traditionally remained underrepresented in television and film. We're excited that their voices and perspectives will be included in Nickelodeon programming and the world of family entertainment."
Operating in a three-phased structure, the fellowship provides a salaried position for one year, and offers first-hand experience writing spec scripts, pitching story ideas in both live-action and animation television. Fellows have the opportunity to nurture relationships with creators, network executives, line producers, head writers, show runners and story editors.
(Thanks
Animation Magazine
)
Bustanoby Heads New Mastersfx Digital Division
MastersFX has named Andre Bustanoby the visual effects supervisor of its new digital division.
Known as a creator of practical character effects, creatures and monster effects, MastersFX plans to use the digital division to integrate character effects with digital effects.
Bustanoby is a former effects artist with 19 years experience at such facilities as Stan Winston Studio and Digital Domain. His credits include
MastersFX is contributing effects to a number of high profile television and feature film projects, including:
The Twilight Saga: New Moon, True Blood, The Vampire Diaries, Fringe, Flash Forward, Eureka, Sanctuary, Big Love, Private Practice
and
Grey's Anatomy
.
(Thanks
Animation Magazine
)
Italia 1 Picks Up Toot & Puddle Rights
Mediaset's Italia 1 has bought the broadcast TV rights to the animated preschool series
Toot & Puddle
.
Produced by Canada's Mercury Filmworks in association with National Geographic Kids Entertainment, the Spanish brand management company Elastic Rights handles all broadcasting, home video, licensing and merchandise rights in Spain and Italy. It additionally handles the property, including pay-TV rights, in Portugal, Greece and Turkey.
Based on the books by Holly Hobbie,
Toot & Puddle
follows the adventures a pair of pig pals as they visit interesting places and cultures around the world.
This series, which has already been sold to more than 60 countries around the world, is currently broadcast on Boomerang in Italy and Spain. In Portugal the series has recently been sold to RTP and Elastic Rights is in conversations to close a Free TV deal is Spain as well as broadcasting deals in Greece and Turkey.
In the United States,
Toot & Puddle
books, DVDs and plush toys are already on the market and apparel, further home video and other categories are being pursued for launch in 2010 and beyond.
(Thanks
Animation Magazine
)
The Multi-Plane Show exhibits unique art
The Corey Helford Gallery in Culver City, California, will exhibit an unparalleled line-up of artists for their unique presentation of
The Multi-Plane Show
, from this
Saturday, December 12, 2009
. Full viewing details and more can be read here:
Corey Helford Gallery Presents
THE MULTI-PLANE SHOW
A Unique Art Exhibition Featuring An Unparalleled Line-Up of Artists
Opening Reception Saturday, December 12, 2009 from 7‑10pm
On View December 12 – December 17, 2009
Corey Helford Gallery is proud to present
The Multi-Plane Show
. The gallery's largest group show of 2009 brings together its favorite artists from the new contemporary fine art movement to pay tribute to the early days of animation. For this unique exhibition, each artist created an original painting using the multi-plane, which was made famous by pioneer animators Ub Iwerks, Max Fleischer, Bill Garrity, and Walt Disney. Consisting of three individual surfaces housed in a custom-made frame, the multi-plane creates depth and a three-dimensional effect through two glass foreground layers and a background wood panel.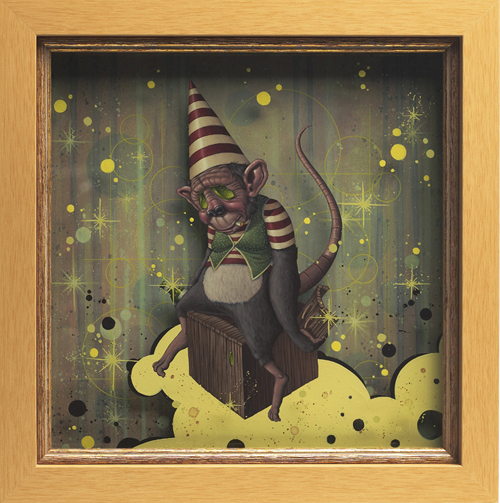 Artist: Nathan Ota
Los Angeles artist Natalia Fabia, known for her paintings of sultry and seductive women, notes,
"I was excited to translate my traditional form of painting into a 3D format as well as challenged by this new way of executing my work."
Artist and animator Carlos Ramos (Creator of
The X's
and Annie Award winner for
Chalkzone
) adds
"working on my multi-plane piece was an engaging way to revisit animation's beginnings and experiment with this cool, old-school medium."
The show features an unparalleled lineup of artists, including Todd Schorr, Gary Baseman, COOP, Tim Biskup, Sylvia Ji, Ron English and Tokidoki. And for this landmark exhibition, Corey Helford Gallery partnered with London's StolenSpace Gallery to feature works by some of England's sought-after contemporary artists D*Face, and Chloe Early. Open to the public, the reception for
The Multi-Plane Show
takes place on
Saturday, December 12
, and the show will be on view until
December 17, 2009
, with works by:
Jason Shawn Alexander
Van Arno
Ana Bagayan
Glenn Barr
Gary Baseman
Jeffrey Beauchamp
Tim Biskup
Buff Monster
Luke Chueh
COOP
D*Face*
Chloe Early*
Ron English
Natalia Fabia
Korin Faught
Sarah Folkman
Stella Im Hultberg
Krista Huot
Sylvia Ji
Eric Joyner
Dave Kinsey
KMNDZ
Joe Ledbetter
Henry Lewis
Tiffany Liu
Lola
Travis Louie
Michael Mararian
Dan May
Brandi Milne
Nouar
Nathan Ota
Joshua Petker
Anthony Pontius
Carlos Ramos
Joey Remmers
Todd Schorr
Kathy Staico Schorr
Greg Simkins
Amy Sol
Jeff Soto
Nathan Spoor
David Stoupakis
Tin
Tokidoki
Sage Vaughn
Kent Williams
Chet Zar
*Courtesy of StolenSpace Gallery
Located in the Culver City Art District, Corey Helford Gallery was established in April 2006 by Jan Corey Helford and her husband, television producer and creator, Bruce Helford (
The Drew Carey Show, George Lopez, The Oblongs
). Passionate art collectors, the Helfords are producers on the art documentary
The Treasures of Long Gone John
and have partnered to open their first gallery. Corey Helford Gallery presents a wide range of artists, from members of the new fine art movement, such as Gary Baseman, Andrew Brandou, Coop, Natalia Fabia, Korin Faught, Sylvia Ji, Eric Joyner, and award-winning photographer Chris Anthony, to early Modernist William S. Schwartz. Notable shows include Charity By Numbers, which was co-curated by Gary Baseman and featured an unprecedented lineup of artists including Mark Ryden, Marion Peck, Shepard Fairey, Todd and Kathy Schorr, Camille Rose Garcia, and Michael Hussar. Corey Helford Gallery presents new exhibitions approximately every four weeks. For more information and an upcoming exhibition schedule, please visit
coreyhelfordgallery.com
.
Corey Helford Gallery
8522 Washington Boulevard
Culver City, CA 90232
T: 310-287-2340
Open Tuesday – Saturday, Noon to 6:00pm
Stop-motion features at the Oscars
The Hollywood Reporter takes an interesting look at the differences between
stop-motion features and CGI
, comparing
Coraline, Mary And Max
and
Fantastic Mr Fox
to the likes of
Up, Cloudy With A Chance Of Meatballs
and
9
in this year's Academy Awards race. THR also looks at all 20 animated features
up for consideration
this awards season, listing frontrunners, contenders and long-shots.
Ponyo set for DVD and Blu-ray
Walt Disney Studios Home Entertainment has confirmed that Hayao Miyazaki's 2009 release
Ponyo
, an adaptation of
The Little Mermaid
, will debut on DVD and Blu-ray Disc on
March 2, 2010
, making the film the first of the Japanese Studio Ghibli titles to debut in hi-def in the US. The DVD ($29.99) and BD ($39.99) will include featurettes on the making of the film among its supplemental material.
Avatar is "jaw dropping"
"James Cameron brings science-fiction movies into the 21st century with the jaw-dropping wonder that is Avatar"
, so says
The Hollywood Reporter
in their
full review
of the upcoming blockbuster.
Avatar as you've never seen it before—with puppets!
James Cameron's epic
Avatar
is flooding the Web. People love it. People hate it. And some people couldn't care less. Whatever your stance, you'll enjoy this mashup trailer of
Avatar
getting the
Team America
treatment. (Or should that be the other way around?)
The gang over at
College Humor
smurched the
Avatar
trailer audio and laid it over
Team America
video for a syncing that's shockingly spot-on. Check it out for yourself below.
"Matt Damon!"
Avatar
opens
Dec. 18
.
New 'Iron Man 2' Poster Featuring Mickey Rourke As Whiplash!
War Machine has been the focus of
much
"Iron Man 2"
discussion
lately, but today's release of a new poster from the much-anticipated 2010 blockbuster serves as a reminder that ol' James "Rhodey" Rhodes isn't the only one getting his armor on next year.
The new
"Iron Man 2"
one-sheet poster, which debuted on
Apple.com
, features Mickey Rourke as the tendril-wielding Whiplash, a Russian criminal named Ivan Vanko with a vendetta against Tony Stark.
The image certainly offers up the darkest look yet at Rourke's character, and we not only get a good look at his lethal whips and harness, but he's also presented against a background of newspaper clippings featuring Iron Man and his alter ego (as played by Robert Downey Jr.).
Previously, we received a new peek at Rourke's character hard at work on his armor and whips in a batch of
new
"Iron Man 2"
photos
released last week. Whiplash also featured prominently in a series of
"Iron Man 2"
set videos
that popped up online in September.
The latest image could clear up earlier speculation about whether the harness-and-whips version of Whiplash is the extent of the character's costume, too. Back in August, an
"Iron Man vs. Whiplash"
comic book
featured a new look for the villain, leading many to wonder whether that could be an advanced version of the Whiplash armor appearing in the film.
Subsequent images of a
Whiplash toy in the
"Iron Man 2"
line
seemed to infer that the
original shot of Rourke in costume
was indeed the one and only Whiplash we'll see in
"Iron Man 2."
How will Batman return? The guy who "killed" him explains
Superman? Killed, but brought back. Captain America? Killed, but brought back. Batman? Not really killed, but thought to have been killed in the series
Final Crisis
last year, written by comic-book icon Grant Morrison. But, yeah ... about to be brought back.
Morrison recently told
USA Today
about his plans to bring back the
original
Batman, as Bruce Wayne got a big dose of time displacement courtesy of supervillian Darkseid's infamous Omega Beams at the end of
Final Crisis
and the original Robin, Dick Grayson, has been filling in as Batman since. Wayne also had his memory wiped, so getting him back from the depths of time is going to be tricky.
The centuries-spanning story will begin in 2010 in a six-issue series titled
Batman: The Return of Bruce Wayne
. According to Morrison,
"It's Bruce Wayne's ultimate challenge—Batman vs. history itself!"
Batman will be making stops through time in the Late Paleolithic as a caveman, a witch hunter, a pirate, a cowboy and others.
Remember the
Simpsons
episode in which Milhouse says of comic-book hero Radioactive Man that he and Bart
"both have a special limited-edition issue where he and Fallout Boy get killed on every page!"
What other superheroes could stand to be axed, and how should they be brought back?
Frazetta's son steals $20 mil of his dad's artwork with a backhoe
Alfonso Frank Frazetta, son of the renowned fantasy artist Frank Frazetta, was arrested in eastern Pennsylvania yesterday after having reportedly stolen 90 items valued at approximately $20 million from a museum dedicated to his father's work. The younger Frazetta, aged 52, had an accomplice with a backhoe who helped him pull the door off of the museum. Frazetta was arrested after loading the works into a trailer and vehicle and was apprehended before he could drive off and flee the scene, according to
The Pocono Record
.
Frazetta is being held on $500,000 bail. Charges are pending for the backhoe operator.
Frank Frazetta, 81, is one of the most revered fantasy artists of the past century, and his vision has helped solidify the iconography of the sword-and-sorcery subgenre. He has done classic covers for a number of paperback editions of Robert E. Howard's
Conan the Barbarian
series and Edgar Rice Burroughs'
Tarzan
and
Barsoom
(aka
"John Carter of Mars"
) books, as well as album covers for bands such as Molly Hatchet and Nazareth.