Littleloud Delivers

Watchmen

Flash Game
Littleloud Studios has delivered a classic-style web-based Flash game based on the upcoming movie
Watchmen
.
The studio built the game from scratch in six weeks, and it is made to resemble the side-scrolling arcade games of the 1980s. Titled
Minutemen
, the game appears in the corner of the Gunga Diner, a distinctive element from the graphic novel the movie is based upon.
The game can be played at
www.minutemenarcade.com
.
Dora

to Grow Up, Get a Makeover
Mattel and Nick announced a new brand called
Dora's Explorer Girls
that mixes
Dora the Explorer's nose for adventure with the fashion doll play and online interaction.

The premise has Dora living in the big city, attending middle school and getting into fashion while solving mysteries with her friends.

The line will be introduced with a line of fashion dolls that connect with the child's computer and enable interactive play in an online world. The new look for Dora is being kept under wraps until the fall season, when the look of the doll will be unveiled.

Dora the Explorer
was created by Chris Gifford, Valerie Walsh, Eric Weiner and Rick Velleu and has been a huge ratings winner for Nickelodeon and Noggin since it debuted in August of 2000. The series' spin-off
Go, Diego Go!
has also developed a huge following since it was introduced in 2005. Both
Dora
and
Diego
also perform extremely well in the toys and licensing arena.
February has been a big month for the popular animated character as Dora won the Most Popular Property of the Year Award at the International Toy Fair and took home a prestigious NAACP Image award last week.
Nintendo DSi Coming to U.S. April 5
Nintendo will release the newest version of its popular DS portable gaming system, the Nintendo DSi, in the United States on
April 5
.
The device, released in Japan in December, features a bigger screen, a built in camera, and comes in black and blue.
The device will sell for
$169.99
.
Academic Program Brings Craft to USC
Sweden-based Craft Animations AB has established an Academic Partner Program and announced USC's School of Cinematic Arts as its most recent partnership.
The program subsidizes the cost of the company's Craft Director's Tools package to qualifying schools and universities. It offers free licenses to aid with relevant coursework, early access to and input into Craft's upcoming 3-D technologies, and technical and supervisory support for some projects.
Craft Director's Tools is a package that streamlines traditional animation processes using high-end artificial intelligence and autonomous control systems.
You Heart

WALL•E!
Animation Magazine
asked you, their brilliant media-savvy readers, to pick your favorites for this year's much-discussed Academy Awards, and it looks like most of their readers want Disney/Pixar's
WALL•E
to win the Oscar for Best Animated Feature. In the Animated Short catgory, the dynamic Gobelins student project
Oktapodi
received the highest number of votes, while
Iron Man
was the clear frontrunner in the Best Visual Effects category. Thanks to all of the 1879 voters who cared enough to vote in their annual poll!
We'll all find out which titles take home the golden statuette this Sunday (
February 22
). Hosted by Hugh Jackman a.k.a.
Wolverine
, the Oscar telecast begins at 5 p.m. (P.T.), 8 p.m. (E.T.), on ABC. We'll also learn who will be performing the Best Song medley, now that Peter Gabriel has nixed a live performance of the
WALL•E.

tune and

Slumdog Millionaire
singer M.I.A. just had her baby this week! Well, there's always Miley Cyrus!
Battle for Terra

trailer online
Movie-List
has made available the trailer for Lionsgate's upcoming animated flick
Battle for Terra
. Directed by Aristomenis Tsirbas, the animated adventure features the voices of Evan Rachel Wood, Luke Wilson, Justin Long, Amanda Peet, Chris Evans and Dennis Quaid.
Battle for Terra
tells the story from the perspective of the aliens whose peaceful planet is invaded by humans fleeing a dying Earth.
Lionsgate LGF and Roadside Attractions will open,

Battle for Terra
in wide release, in both 3D and 2D formats, on
May 1, 2009
.
"Sound Effects in Animation"

Seminar
A special presentation on
"Sound Effects in Animation"
will be presented on
Saturday, February 21, 2009
, at the Arts Exchange in White Plains, NY, as part of the "It All Started Here" exhibition chronicling the area's involvement in the growth and development of the animation industry. [
Westchester.com
]
'Totoro's Home'

Destroyed by Suspected Arson Fire
Director Hayao Miyazaki introduced house in book as where Totoro would live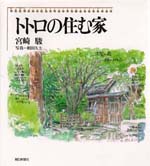 A fire broke out at around 2:20 a.m. on Saturday and destroyed the vacant Tokyo house that is best known by its nickname,
"Totoro's Home."
There were no injuries. The burglary sensors that the local Suginami government had installed in the house were activated just after 2:00 a.m., even though the house was locked. The Suginami police suspect that someone may have broken into the house, and therefore they are investigating the cause of the fire as possible arson. According to the local government, the 70-square-meter (about 84-square-yard) Western-style wooden house was built in 1929.
Studio Ghibli co-founder and
My Neighbor Totoro
director Hayao Miyazaki described the house in the book
Totoro no Sumu Ie (The Homes that Totoro Lives in)
. Miyazaki called the house a
"home that Totoro would have enjoyed living in dearly."
Through the efforts of local residents, the Suginami government had purchased the land surrounding the home after the last owner had moved out. The government had been sprucing up the house and its surroundings into a public park, which would have opened in 2010.
Happily N'Ever After 2

DVD in March
DVDActive
reports that Lionsgate Home Entertainment has announced the release of
Happily N'Ever After 2
for the
24th March
. The only extra material on the disc will be 3 interactive games,
"Red Riding Hood Challenge", "Bo Peep and the Sheep"
and
"Snow White and the Great Hall."
Ponyo

Wins Tokyo Anime Fair's Animation of the Year
Macross Frontier, Geass R2, Detroit Metal City
, Miyazaki, Kanno also win
The Tokyo International Anime Fair has announced the winners of the 8th annual Tokyo Anime Awards.
Hayao Miyazaki and Studio Ghibli's
Ponyo on the Cliff by the Sea

film was named the Animation of the Year for 2008. Under the rules of the award, the winning work must be one that

"made the greatest contribution to the world of anime"
during the year of its release. The anime also won the Domestic Feature Film category, while Miyazaki won honors as the director and story creator.
Macross Frontier
, Shoji Kawamori and Satelight's project to mark the 25th anniversary of
Macross
, and Goro Taniguchi and Sunrise's
Code Geass: Lelouch of the Rebellion R2
sequel took the honors in the Television Category. The
Detroit Metal City
video anime was recognized in the Original Video Category, and
Kung Fu Panda won in the International Feature Film Category.

Evangelion: 1.0 You Are [Not] Alone, Dennō Coil, Tengen Toppa Gurren Lagann, Nasu: A Migratory Bird with Suitcase, Summer Days with Coo
, Hideaki Anno
(Evangelion: 1.0)
, and Taiyo Matsumoto
(Tekkonkinkreet)
were among last year's winners. Yoko Kanno wins the Best Music category for the second year in a row.
The winners of this year's awards for individual achievement were:
Best Director
Hayao Miyazaki
Ponyo on the Cliff by the Sea
Best Original Story
Hayao Miyazaki
Ponyo on the Cliff by the Sea
Best Screenplay
Ichiro Okouchi
Code Geass: Lelouch of the Rebellion R2
Best Art Direction
Noboru Yoshida
Ponyo on the Cliff by the Sea
Best Character Design
Tetsuya Nishio
The Sky Crawlers
Best Voice Actor
Jun Fukuyama
Code Geass: Lelouch of the Rebellion R2
Best Music
Yoko Kanno
Macross Frontier
The award ceremony itself will be held on
March 20
, during the course of this year's TAF at the Tokyo Big Sight convention center's Reception Hall.
"Besame Mucho"

lyricist Sunny Skylar dies, 95
Songwriter Sunny Skylar, who supplied the English lyrics for such classic pop tunes as Consuelito Velasquez's
"Besame Mucho,"
died February 2. A Las Vegas resident for the last 30 years, he was 95.
Desccribed by family members as
"the last of the great Tin Pan Alley authors,"
he had over 300 songs to his credit, often providing music as well as lyrics. Several were used repeatedly in Merrie Melodies and Looney Tunes during the late 1940s and early 1950s.
His
"All The Time"

was heard in

Hollywood Canine Canteen

and

Acrobatty Bunny

(both 1946),

Slick Hare

(1947),

Bone Sweet Bone

(1948),

Holiday For Drumsticks

(1949),

Terrier-Stricken

(1952) and

Dr. Jerkyl's Hide

(1954).

"Gotta Be This or That"

was on the soundtrack of

Hare Remover

and

Walky Talky Hawky

(both 1946), as well as

My Bunny Lies Over The Sea
(1948). And
"I'd Be Lost Without You"
was heard in 1948's
You Were Never Duckier
.
According to comedian and instrumentalist Jim Coston,
"Besame Mucho"
paid for Skylar's first house and put his children through college. Years later, he received substantial royalties for the use of the song in the 1988 movie Moon over Parador, co-starring Richard Dryfuss and Raul Julia. Then a Vegas resident, he decided to take his wife on a Southeast Asian cruise due to the sudden cash windfall that resulted.
The son of Russian immigrants, Skylar was born Selig Shaftel in Brooklyn, New York on October 13, 1913.
His
"Don't Wait Too Long"
was recorded by Frank Sinatra for his milestone
September of My Years
album, while
"Gotta Be This or That"
was waxed by Ella Fitzgerald for her Ella Swings Lightly album.
He also provided English lyrics for Gabriel Ruiz's
"Amor Amor Amor."
That and
"Besame Mucho"
were giant 1940s hits, recorded by Jimmy Dorsey and covered since then by hundreds of vocalists ever since.
Brothers Carlos and Mario Rigual's
"Cuando Calienta el Sol,"
a 1961 hit record in Mexico, was translated by Skylar and became
"Love Me With All Your Heart,"
one of the biggest-selling records for the Ray Charles Singers.
Skylar's even addied English lyrics to classical compositions.
"You're Breaking My Heart,"
based on Italian opera composer Ruggero Leoncavallo's
"Mattinata,"
was a 1949 hit for Vic Damone.
Other famous songs that he wrote or co-wrote included
"Amor Amor," "Hair of Gold, Eyes of Blue," "And So To Sleep"
(a Patti Page hit) and
"Carnaval In Costa Rica."
Another big hit was
"Be Mine Tonight,"
for which Skylar gave English lyrics to Agustin Lara's
"Noche de Ronde."
An ASCAP member since 1942, Skylar was a singer with such bands as Ben Bernie, Paul Whiteman, Abe Lyman and Vincent Lopez. He performed at such well-known clubs as The Latin Quarter. After moving to Las Vegas, he sang his own classic tunes at the Flamingo and El Rancho Hotels, as well as worldwide.
Sunny Skylar was predeceased by his wife Jackie. He is survived by sister Jeanne Pollack of Hollywood, Florida; brother Arthur Shaftel of Maryland; children Michael, Paul and Mark Skylar, all of California, and Sara L. Collison and Andrew Skylar, both of Nevada; ten grandchildren; and one great-grandchild. His brother Arthur was a musician and bandleader.
A memorial service was held February 7 at Davis Funeral Home in Las Vegas. Donations can be made to Safe Nest.
Metropia

Teaser
For something as different as humanly possible we head now to Sweden and
Metropia
, an English language animated feature with the voices of Juliette Lewis and Vincent Gallo that plays out like equal parts Philip K Dick and Franz Kafka. Mind control, massive underground tunnel networks, media manipulation ... it's a great big stew of urban neurosis, all of it rendered with an animation technique developed specifically for this film that gives teh characters a creepily realistic effect. This is one of the big ones to watch for in 2009.
Find the first

METROPIA

teaser here
Who will collect Heath Ledger's Oscar if the Joker wins on Sunday?
Matilda Ledger, the 3-year-old daughter of late Australian actor Heath Ledger, will be the eventual owner of an Oscar if he wins a statuette Sunday for his role as the Joker in
The Dark Knight
, but his family will accept the award in Hollywood on his behalf, the Reuters news service reported.
The Academy of Motion Picture Arts and Sciences said on Wednesday it has decided that if Ledger wins a rare posthumous Oscar for his performance, Matilda will receive the Oscar after she turns 18.
Ledger, 28, died last year of a prescription drug overdose. He is widely expected to win the best-supporting-actor Oscar at the
Feb. 22
Academy Awards in Hollywood after picking up virtually every other award in that category this season.
He would be only the second actor to receive an Oscar after death, following Peter Finch, who won in 1976 for
Network
, and his family will be on hand if he does win, traveling from the actor's hometown of Perth in Western Australia for the ceremony.
Watchmen

will come in long, extra-long and really extra long
When
Watchmen
hits theaters on
March 6
, it will run about 2 hours and 37 minutes. But that will be only the first of several versions of the movie, which is envisioned for eventual home-video release on DVD and Blu-ray disc, director Zack Snyder and his wife/producer, Deborah Snyder, told reporters on Wednesday in Beverly Hills, Calif.
After the theatrical and IMAX release of the movie will come a
"director's cut"
home-video release, which
restores scenes
cut from the theatrical release and will run about 3 hours and 10 minutes, Zack Snyder said in a group interview.
"There's a lot more like just connective tissue,"
he said.
"The 3-hour director's-cut version ... will be released actually as the first release of the DVD, probably around Comic-Con of this year [in July],"
Deborah Snyder added.
Next will come a Blu-ray release that will have a special feature in which Zack Snyder pops up in video boxes on demand during a scene to illustrate the behind-the-scenes process of making the shot.
"It's like a director's commentary, but it's actually him, and there's all these, like, boxes, right?"
Deborah Snyder said.
"They'll play the movie, and he'll point to a scene, and then they'll deconstruct the scene on all these monitors behind him ... where you can see, you know, the green-screen version of it, or, ... if it's Dr. Manhattan, you can see some great effects."
Accompanying the March theatrical release is the DVD release of the companion animated movie
Tales of the Black Freighter
, an adaptation of
Watchmen
's comic-within-a-comic.
Finally, in the fall will come the
"ultimate

Watchmen

cut,"
which will interpolate the Black Freighter into the movie, much as the graphic novel incorporates it into the book's narrative, including special scenes shot to take viewers into the animation and out of it again. That version could run as long as 3 hours and 25 minutes, Zack Snyder said.
"It's pretty ginormous,"
he added.
"[For] that version of the movie, ... when we were up there [in Vancouver], we physically shot the ins and outs scenes at the newsstand that go into the movie,"
Zack Snyder said.
"There's ... scenes where our characters pass the newsstand, and then we pick up action at the newsstand that gets us into ... The Black Freighter. And then ... shots where you, like, go into it, and then it comes to life, and you start following the Black Freighter story. And then come back into the movie."
And after that? Special commemorative packaging? Discs packaged with the graphic novel?
"I know that they're planning a lot of things,"
Deborah Snyder said.
"And I did see—I'll share it—I did see these, like, crazy Rorschach cases and Owl Ship cases that may come. I mean, it's kind of insane, some of the things. ... There's also some other material. There's a really great documentary that we've been working on ... that talks about vigilantism, and it talks about [real] people, ... like, it talks about Bernhard Goetz, and it talks about the Guardian Angels, and it talks about also some people that are dressing up and going out and fighting crime, like in the country, like, that's what they do. Like, one's a bounty hunter. It's pretty interesting. So there are some fun things."
Does

Star Trek

need more rock 'n' roll? The writers thought so
Roberto Orci and Alex Kurtzman, co-writers of J.J. Abrams' upcoming
Star Trek
reboot movie, told SciFiNow Magazine that they felt the need to inject a little
"rock and roll"
to energize the beloved franchise, according to a report on
TrekMovie.com
.
"We figured the missing ingredient for this one was it needed a little rock and roll,"
Kurtzman told the magazine.
"And if we succeeded in doing that, I think it will meet the summer expectations.

Star Trek

was essentially a submarine naval battle, except in space.

Star Wars

was flying down the trench of the Death Star at the speed of mach 70,000 to shoot a little bullet into a [hole]. The experience as a viewer you have is different: There's a speed I think associated with that experience. To my mind, there was no reason they had to be mutually exclusive. Obviously you have to be very true to spirit of what
Star Trek
is and you cannot violate canon, but that doesn't mean you can't have some of that as well."
This seems to confirm SCI FI Wire's impression of
early

Star Trek

footage
, which screened for select press in November and which felt as much like
Star Wars
as old-school Trek.
Kurtzman also talked about how the new story was structured in such a way as to allow Leonard Nimoy to appear as Spock in something more than a cameo performance.
"He is also there because he wants to be there, and that actually was the highest compliment for all of us and in many ways was our compass,"
Kurtzman said.
"Because he had said he absolutely would not do it again, and it's not like he needed the money. If he's going to do it, it's because he genuinely believes in it and actually feels that it is going in the right direction. For us that was the barometer."
The full interview can be seen in SciFiNow issue 22, available as a backorder at
Imagineshop.co.uk
.
Star Trek
opens
May 8
.
Vanishing

"Hill"
I spent a part of the day wandering among the empty cubicles at the
King of the Hill
sector of Film Roman, snuggled up against the Bob Hope Airport.
The are a few artists left, a couple of timers and animation checkers, but the office space is quiet.
"I'm gone Friday, everybody else is out in a couple of weeks" ... "All we know is the show hasn't been officially cancelled. But it hasn't been picked up for more episodes either." ... "People hope that if a show on Fox falls out,
King of the Hill
will come back. Again." ...
And so it goes.
Goode Family
, the
KOTH
spin off, doesn't roll out on ABC until Spring, and its first crop of episodes is done, the crew dispersed. As a director told me as he packed up his personal knick-knacks:
"
Goode
may or may not have more half-hours done later. But it's going to be a while before any renewal happens, and I need a job now."
Up on
The Simpsons
, artists and directors are still working away on the twentieth season; most of them seemed to have heard about Harry Shearer saying on MSNBC the twenty-first had been picked up. But one cycnic related:
"Fine of Shearer to say that, but we haven't heard anything official. Producers say its looks good for another season, but an actor saying so doesn't make it for sure. Not as far as we're concerned."
I find this dour outlook sad. If you can't trust Harry Shearer, who can you trust?
(Thanks
Animation Guild Blog
)
'Thor'

Casting Notice: Marvel Puts The Call Out For Thunder God In His Twenties
A casting notice has popped up on the Internet for the lead role in Kenneth Branagh's live-action
"Thor"
movie, and it appears the producers are going young with the Marvel hero.
Over at
Corona Coming Attractions
they've posted the following call for a
"Thor"
lead:
"Male MUST BE MID-LATE 20′S and SIX FEET OR TALLER. LEAD.
Physically powerful, very handsome, occasionally egotistical, petulant, and wild. A natural warrior with a quick charming wit who must be genuinely and sever[e]ly humbled before becoming the compassionate, mature her of our film."
So, what does this mean for Marvel's Norse hero?
While many sites are speculating that this means
Kevin McKidd is out as the potential Thor
, we're not going to quite that far yet. One thing is certain, however: we don't have our Thunder God yet.
Late last year, Branagh told MTV that any
"Thor"
casting talk is premature, but Marvel Editor-in-Chief Joe Quesada gave the
"Thor"
director a vote of support recently after a much-publicized meeting.
No

'Superman'

Movie Reboot For Wachowskis?
About a week ago, message boards across the 'Net blew up over a rumor that those love-'em-or-hate-'em
Wachowski Brothers were in talks to helm a three-part

"Superman"

revamp
in addition to a long-rumored
"Plastic Man"
live-action flick.
Well, it looks like we've got some good news or bad news for you (depending on your personal thoughts on Los Bros. Wachowski). In a post over at
SlashFilm.com
today,
"two independent sources"
claim that Larry and Andy Wachowski were never offered a shot at a revamp of
"Superman,"
adding,
"the Wachowski Brothers have definitely never had any talks with DC or Warner Bros to helm a

'Superman'

film. This is confirmed."
While no official word from Warner Bros. or DC has been released either way regarding this rumor, the Wachowskis — no strangers to the world of comic book movies after a screenwriting turn on 2006's
"V for Vendetta"
— are some of the first legitimate Hollywood names to be bandied about in regards to a much-needed revamp of the
"Superman"
franchise.
MTV recently spoke with
"Superman Returns"
director Bryan Singer who kept his lips sealed when asked point-blank if he'd return to the
"Superman"
franchise, and meanwhile, Richard Donner — director of the first two Christopher Reeve
"Superman"
films (well, the
"first and a half"
if you wanna spit hairs) — threw his weight behind acclaimed comic book writer
Geoff Johns as a potential "Superman" franchise filmmaker
.
Dragonball

Sequel Already Written. More Balls To The Face Expected.
According to Goku himself, Justin Chatwin, a
Dragonball
sequel is already written:
Dragonball: Evolution, the first live-action adaptation of the popular manga, hasn't even hit our screens yet, but the script for a proposed sequel has already been written, according to Justin Chatwin, who plays Goku in the upcoming film.

"If there were to be a sequel I think it… well, I know that it would go to a really interesting place, because they already have the second script written."
And the key word there is IF. I think
Dragonball
might actually do pretty well at the box office if kids enjoy it and word of mouth gets out that it's halfway decent. I know I'm kind of curious to see it.
Click
HERE
to read the rest of the article.
Tron 2

Vehicles Look Like They'll Be In Good Hands.
With
Tron 2
being one of the biggest sequels dorks like me are salivating over, one of the big questions is, how will the vehicles look in this newly re imagined and technologically updated virtual world?
Artist Daniel Simon has been in the futuristic game for quite a while, with his book
Cosmic Motors
, a collection of some of his space, car and pilot drawings.
His
official website
has even more cool stuff to look at and it looks like the
Tron
sequel will be in pretty good hands.
Take a look at his concept art below, including a bike that looks awfully similar to the
Tron
lightcycle we saw in that teaser trailer last year at Comic-Con.