Sweet

Coraline

... So Into You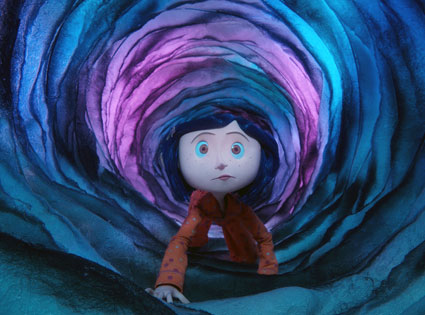 The debut of rom-com
He's Just Not That Into You

led the frame with an estimated $27.9 million. Three other films bowed this weekend to varying results including a sturdy start for the 3-D animated

Coraline

of

$16.3 million

that ranked third overall. There was OK response of $9.9 million for the thriller

Push

but in light of cost and awareness,

The Pink Panther 2 gross of $11.8 was viewed as disappointing.

Coraline opened at No. 3, but to its proud parents at Focus Features, it'll always be the top-debuting, wide-release, stop-motion film in movie history.

Among regional and niche newcomers the Quebec political thriller Polytechnique

got off to a fast start with a $400,000 box office from 42 venues while the geek comedy

Fanboys had just fair response of $173,000 in 44 engagements. The Oscar nominated shorts package generated $112,000 in 22 exposures.

Overall business saw significant expansion; recording a record gross for the weekend between the Super Bowl and the upcoming President's Day holiday session.

The star-studded He's Just Not That Into You

was tracking considerably ahead of the pack going into its Friday launch. Exit polls indicated a stronger than usual 80% female audience and in light of such recent distaff tilting fare as

Sex and the City

and

Mamma Mia!, the prospects for commercial legs are excellent.

The rather unsettling Coraline tapped into a considerably broader audience than the typical animated film. It also buttressed the commercial magnetism of the revived 3D effect with 44% of its playdates in that format generating more than 70% of its opening box office.

The sci-fi tinged thriller Push

provided something for the young male audience while

The Pink Panther 2 split its audience 55%-45% in favor of women. The second Steve Martin Panther had an opening salvo that was 40% lower than the 2006 installment and that's likely to put the future of the franchise under the bean counter's microscope.

Weekend revenues approached $155 million for a 21% boost from last weekend's Super Bowl weekend. It was also up a sizeable 41% from 2008 when openings of Fool's Gold

and

Welcome Home Roscoe Carmichael
topped the chart with respective grosses of $21.6 million and $16.2 million.
Holdovers were also unusually resilient with last weekend's chart topper
Taken
just 18% diminished,
Gran Torino
down 13% and
Paul Blart: Mall Cop
a mere 20% off its game. Blart could cross the $100 million threshold as early as Friday.
With Oscar two weeks in the offing, only
Slumdog Millionaire
is drawing in audiences among contenders in wide release. Its status as the
"picture to beat"
has propelled it along to what will be a domestic box office of more than $100 million. Niche beneficiaries of award largesse include
The Class
and
Waltz with Bashir
-- both competing in the foreign-language category.
Brad Bird Talks To Latinoreview About

1906, Toy Story 3, Iron Giant

Re-Release And More.
Brad Bird talks to

LatinoReview

about his upcoming live-action feature

1906

,

Toy Story 3

, chances of

Iron Giant

seeing a theatrical re-release, and more.
At Friday night's premiere of
Coraline
, one of the celebrities on the red carpet was Brad Bird, director of my favorite movie of 2007,
Ratatouille
and the also excellent
Iron Giant
. Brad's next project isn't an animated feature but a live action one called
1906
, about the enormous earthquake that hit the city of San Fran on April 18th, 1906.

Myself, my buddy Silas and the guy whose name I can't remember because I've had waaay too many glasses of wine tonight had a chance to talk to Brad about
1906, Toy Story 3
and other projects. I tried to really probe him about
Toy Story 3
but he was starting to get ushered away by publicists at that point.
So what's going on with

1906

?

Bird:
We're looking at places to shoot it. The script I'm still working. it's a really hard script to write. And mostly because there are so many interesting things going on in that place and that particular period of time that anytime you're going towards something, you're going away from 5 other cool things. So it's been really hard for me to write. but I think it's going to great. and we'll see IF they have the courage to make.
What is the story about?

Bird:
The simple way to sum it up would be to say it's a romantic, epic mystery with lots of action in it, based around events leading up to and through the earthquake of San Francisco of
1906
.
Do you have casting in mind?

Bird:
I do, but I can't say because it'll jinx it. There are some wonderful people who are interested and I hope they're still interested when I finish the script.
It's all going to be live action?

Bird:
It's live action. But obviously San Francisco doesn't exist anymore the way that it was so that would all be special effects, much like New York was special effects in
Kong
.
Are you anxious about going from animation to live action?

Bird:
I've been wanting to do it a long time. When I was in development hell, which was a really long period of time, half the projects I had in development were live action and half were animated, and animation they gave me an opportunity and once I had that opportunity, I got more opportunities so I'm taking advantage of the chance to do live action, but I'm interested in both. To me it's all film making.
Are you involved at all or do you talk to Andrew about

John Carter of Mars

?

Bird:
Well, I haven't talked with him about
John Carter
yet. I had some questions about
1906
and he and John Lasseter gave me some feedback on that. These films are Pixar adjacent, I mean, we're still at Pixar while we're working on them, but they're done in a slightly different way.
John Carter
is with Disney proper, it is not a Pixar film. And
1906
is with Warner Brothers and Disney has some involvement with it. So we're both still engaged heavily with Pixar but we're also some things that are not quite what Pixar does. So I don't think either of us have lost any interest in Pixar, it's just that Pixar does certain kinds of films and we have other films that we'd like to make that are Pixar films and some that aren't.
So do you see a lot of the other stuff that Pixar is working on, like

Toy Story 3

?

Bird:
Oh, absolutely. Michael Arndt, who wrote
Little Miss Sunshine
, wrote the script to it, so it's going to be really great.
How far along is it?

Bird:
It's about ready to go into production. They're just about They're just about finished with Up, and the animators will regain their sense for a few weeks...
You don't want it to be like

Toy Story 2

where it was a nightmare for these guys...

Bird:
Well, they've learned how to pace themselves, people actually got injured on
Toy Story 2
, with RSI, Repetitive Stress Injuries, and they've learned a lot about how to keep people in the game and they realize that if they burn people out there's no more movies, so people get a little time off then they'll plunge into
Toy Story 3
and i think it's gonna be great.
That's going to be in 3-D, correct?

Bird:
That is. And so is
Up
.
Are there any new toys in

Toy Story 3

?

Bird:
Uh...ah, ya....
I know Ken is in it...

Bird:
Ya, you're trying to trick me! There are some new characters, and it will be funny.
Did you say there was an outside chance of an

Iron Giant

theatrical re-release?

Bird:
An outside chance, yes. This year will mark its tenth anniversary, so there might be a small release.
1985 Version of

"The Jetsons"

Coming to DVD
Tvshowsondvd.com
reports that Warner Brothers is releasing
The Jetsons: Season 2 - Volume 1
.
The 3 disc set will contains 21 episodes that originally aired in syndication back in 1985. And it will also include a featurette.
The box set will hit stores on
June 2nd, 2009
.
The Orphanage Closes Its Doors
San Francisco-based vfx house The Orphanage announced it is suspending operations indefinitely after 10 years in business.
The news broke on the blog of co-founder Stu Maschwitz, who issued a blanket recommendation to the industry for the company's former employees.
The Orphanage most recently worked on such films as
The Spirit, You Don't Mess with the Zohan
and
Iron Man
.
Downey, Stiller, Fey Eye

Master Mind
Actors Robert Downey Jr., Ben Stiller and Tina Fey are in discussions for voice parts in DreamWorks Animation's feature
Master Mind
.
According to
The Hollywood Reporter
, Stiller would also produce the film about a supervillain who loses his purpose in life after accidentally killing his hero nemesis.
Film is set for release on
Nov. 5, 2010
.
Aardman Animates Healthy Message for U.K.
A U.K. public-service campaign promoting healthy diets and exercise has released a new animated announcement created by Aardman Animations.
The spot is directed by Aardman's Steve Harding Hill and features simple plasticine figures to explain how modern life can be unhealthy if adults and children don't learn to eat right and get exercise.
The 90-second spot was created for the U.K. National Health Service.
Playtime in a Parallel World
Papaya Studio's Jonathan Han discusses developing a spooky little game based on LAIKA's 3-D stop-motion fantasy.
Those who want to relive and expand their enjoyment of Henry Selick's
Coraline
movie will be able to do so thanks to a new game published by D3Publisher

(Flushed Away, Ben 10: Protector of Earth)

available this month for Wii, Nintendo DS and PlayStation 2. We had a chance to chat with Jonathan Han, the game's producer at Papaya Studio in Irvine, Calif.

(LOTR: The Battle for Middle-Earth II, George of the Jungle)

.
Animag: How familiar were you with the works of author Neil Gaiman and director Henry Selick before taking on the assignment?

Jonathan Han:
I've been a huge fan of Neil Gaiman's work for years, especially the
Sandman
series, and have read
Stardust, Mirrormask, The Graveyard Book, Coraline
and many others. As for Henry Selick, I love
The Nightmare Before Christmas
and the visionary direction he took for that movie. After seeing Coraline brought to life in stop-motion, I've become an even bigger fan of their works.
How closely did you work with the team at LAIKA and the animation directors?

Han:
Everyone at LAIKA Studio has been extremely helpful in allowing us access to all their materials from the movie to develop the
Coraline
game. From the very start of production, we were granted access to their style guides, sketches, character models and even the actual movie sets. We even got to watch the crew record some of the scenes for the movie. They were always available when we had any questions or needed directions. It was because of their tremendous help and access to the movie assets that we were able to capture the look and feel of the movie in our game.
Does the game incorporate parts of the story that weren't used in the movie?

Han:
The movie incorporated the majority, if not all, of elements from the original story by Neil Gaiman. We were able to take much of the storyline from the movie for the game and build on it for added depth to the world for the player to explore and experience.
What makes the game different from other similar titles on the market and who is its target audience?

Han:
There are a lot of great games on the market, but what really separates
Coraline
from the other games is its spookiness, which is indicative of the beautifully created movie. When players pick up the controllers for the first time, they will be immediately immersed into this unique world that isn't like anything else they've seen before. Overall, the game is designed to appeal to players of all ages, especially fans of
Coraline
who want to be able to further explore the world.
Please tell us more about the animation process involved.

Han:
With detailed references provided by LAIKA, our team of artists was able to create very detailed character models. Once the models were completed, they were then passed to our experienced animators. Using 3ds Max, our core team of four animators would create both in-game and various cut-scene animations. Overall, our animation team spent about five months animating each move and the rest of the time polishing the animations to make sure we capture the whimsical look and feel of the movie.
What is your favorite part of the game?

Han:
My favorite part of the game is the exploration aspect of it. When I first saw the unique locations from the movie, I couldn't wait for our teams to start creating the world of Coraline and bringing them to life so that we could wander around, meeting the various tenants of the Pink Palace.
Is the look of the game radically different before and after Coraline enters the alternate world?

Han:
Each world is very different from one another. The regular world that Coraline lives in is really normal, especially for the heroine who is an adventurer at heart. Her parents work constantly and she doesn't have a lot to do. When Coraline discovers the passageway to the Other World, she is treated to a fantastic and whimsical translation of her normal world. The world comes alive in vibrant colors and is full of activities. Yet, the Other World itself hides a dark secret that only the Other Mother knows.
What are some of your own personal favorite games of all time?

Han:
There are so many wonderful games out there and it is very difficult to decide. If I had to narrow it down to my top three, it would be
Chrono Trigger
for the SNES,
Super Puzzle Fighter II
and
Ace Combat 6
.
Who are your animation role models/idols?

Han:
It would have to be the team at LAIKA Studio. After watching them film each frame and the amount of work that goes into it, I was very inspired by their patience and extreme attention to detail. It is that kind of dedication that I would like to strive for in all aspects of what I do.
To find out more about Papaya Studio, visit
www.papayastudio.com
. You can also check out the new D3P titles at
www.d3publisher.us
.
4 animated films nominated for Kids' Choice Awards
"Bolt," "Kung Fu Panda," "Madagascar: Escape 2 Africa"
and
"Wall-E"
are the nominees in the Favorite Animated Movie category for this year's Kids' Choice Awards.
For her role as Penny in Disney's canine adventure Bolt, 16-year-old Miley Cyrus was nominated for Favorite Voice From an Animated Movie. The
Hannah Montana
star was also nominated in the Favorite TV Actress and Favorite Female Singer categories, while her Disney channel series received a Favorite TV Show nomination.
Vying with Cyrus in the voice category are Jack Black (Po in
Kung Fu Panda
), Jim Carrey (Horton in
Dr. Seuss' Horton Hears a Who!
) and Ben Stiller (Alex in
Madagascar: Escape 2 Africa
).
The nominees for Favorite Cartoon are
Fairly OddParents, Phineas and Ferb, The Simpsons
and
SpongeBob SquarePants
.
Nickelodeon's 22nd Annual Kids' Choice Awards will be aired live on the cable network
March 28
from the Pauley Pavilion at the University of California, Los Angeles.
Green on

Green

action
IGN
has a Q & A with screenwriter Michael Green, one third of the scripting team for the
'Green Lantern'
movie.
Green gave them a peek at what fans can expect from the buzz-worthy film.
"It's Hal Jordan,"
he confirms.
"I can't give too many spoilers, but the idea is to introduce a new character to an audience that is probably not familiar with him. So we start at the beginning with Hal Jordan."


When asked if the story line is heavy sci-fi or down to earth Green said,
"We are steeped in the mythology enough that extrapolations both forward and backward in time are available. He's the Green Lantern."
Other Green Lanterns from the DC Comics may or may not appear in the movie.
Anime Hollywood Adaptations
IESB
has learned that Charles Roven (producer on
Batman Begins, Afro Samurai
) is no longer working on the feature film adaptation of
Robotech
.
IESB: What's the current progress on the
Robotech
script and where is that project at right now?

Chuck Roven:
You know, that's not really a project that I'm involved with any more, so you need to talk to Akiva Goldsmith or Tobey Maguire about that project.
Robotech
is currently set up of over at Warner Bros. with Alfred Gough, Miles Millar and Lawrence Kasdan attached to write.
On a related note,
Macross 090222 t-shirts
*
Talking to MTV David Carradine
confirmed that
Quentin Tarantino anime prequels and sequels to
Kill Bill
, planned, but that they aren't a priority.
From the MTV Splash Page piece
"He planned an anime version of the life of Bill before the movie — which would have to be anime because I'm not getting any younger,"
Carradine said recently in an interview with MTV News.
"He's also talking about two sequels to it."


Carradine revisisted Austin, Texas, the city where he first met Tarantino, to film last year's comedy
"Homo Erectus."
The city is also the site of the semi-annual Quentin Tarantino Film Festival. Asked if he would still be up for voicing Bill in an anime prequel, Carradine nodded.


"If he ever gets around to it, but he's a will-o'-wisp,"
the former
'Kung Fu'
star said.
"If he does that, great!"
As Carradine pointed, out, though, no one is holding their breath for the prequel to happen soon.


"He's a little busy,"
the actor added. Tarantino's latest movie, the amply vowel-endowed war flick
"Inglorious Bastards"
starring Brad Pitt, is slated for release later this year.


"Just doing the first [
'Kill Bill'
] took ten years,"
Carradine joked,
"so who knows when he'll get around to doing the anime?"
*
ScreeningRoom has their
15 movies for geeks in 2009
including
Blood: The Last Vampire
(ahead of
Watchmen
),
Dragonball Evolution, Astro Boy and Streetfighter: The Legend of Chun-Li
Upcoming in Japan
Previews
Final Fantasy VII: Advent Children
Complete
flash trailer
Yurumates

OVA
Anime
A chart to the anime airing on
Japanese TV this spring
The new
Space Adventure Cobra
in April debut April
As a reaction to declining ratings, the Japanese broadcast of
Detective Conan
and
Yatterman
will be replaced by new programming in their 7:00pm Saturday time slot and move d to Sunday mornings at 7:00 AM starting
April 5th
.
Via
Anime News Network
a TV commercial showcasing a tentative cover for the March issue of Newtype lead many to believe the season of
Melancholy of Suzumiya Haruhi
will premiere on Japanese TV in April, three years after the debut of the hit about a boy who falls for a girl who only expresses interest in meeting
"aliens, time travelers and ESPers"
. Kadokawa Shoten Animation Group then jumped in to cleaify that the April broadcast will actually be a regional re-broadcast of the 2006 television series. Reportedly there are no plans for any public announcements about the status of the second
Suzumiya Haruh
i television series planned for the immediate future.
A staff for the renewed Haruhi can be seen
here
New and Upcoming North American Releases
Warner Home Video
Watchmen - Tales on the Black Freighter
will be released on Blu-ray and DVD on
March 24th
.
Tales on the Black Freighter
is an animated adaptation of the pirate comic within a comic from the Watchmen, voiced by Gerard Butler. The movie will be packaged with a live action adaptation of the Under the Hood back-story.
Digital Distribution
Neb's Blog notes that following the cessation of the Toonami programming block in September 2008, Cartoon Network has shuttered their Toonami Jetstream streaming content site.
A message on the Jetstream site relates
We greatly appreciate all the fan support for Toonami Jetstream over the past years. Starting January 30,
Naruto
will make its new home on CN Video at
CartoonNetwork.com
. Fans of
MAR, Blue Dragon
, and other popular VIZ Media series previously featured on Jetstream should check
www.viz.com
for future updates.
*
Flash animators Dream Link Entertainment have launched a
YouTube Channel
Worth Checking Out...


Insight

Episode 85 of the
Anime Today
Podcast features Bandai Entertainment Marketing Director Robert Napton and
SWORD OF THE STRANGER
Producer Taku Otsuka to episode 85
In this new interview, Napton and Otsuka preview Bandai Entertainment's theatrical release of the anime film
Sword of the Stranger
, another creation from BONES
(Cowboy Bebop)
, and share details about the behind-the-scenes featurette that will be shown exclusively during the screenings.
Sword of the Stranger
will be in movie theaters across the United States for one night only on Thursday,
February 5, 2009
.
Erica Friedman on
Greatest Lesbian Comic You'll Never See
As I say repeatedly to anyone who will listen to me,
Gunjou
is a brutal story. the two women - who are never named - commit acts of physical and emotional violence on each other and on other people. Their relationship is entirely dysfunctional, except for small moments of such magnificent tenderness and beauty that it robs one's breath. Beyond it all, they love one another.
on her blog, she presents Eric P on
Steel Angel Kurumi Anime Season 1 and 2

(English)
, what's offputting about
Alice on Deadlines
, and the end of
Gunsmith Cats

(Burst)
An Animerica (Viz's anime periodical) Osamu Dezaki
interview
Yoshinori Natsume talks
Batman: Death Mask
RZA on
Afro Samurai
Production I.G talks to
composer
Kenji Kawai
director
Kazuto Nakazawa
Media
A Yoshitoshi ABe (Serial Experiments Lain) approach to the
subject of moe
Via
Ghibli World
, Ghibli has launched a
Words Without Borders presents
Black Jack 4

preview
Yoshihiro Tatsumi meets Osamu Tezuka
A look at the
Akira

Blu-ray
Dragonball

's Toriyama Sketches Ayumi Hamasaki as Goku
An awesomely campy, well casted
Red Alert 3: Uprising

trailer
A fan made
Gundam Unicorn
opening (based on a serialized novel)
Disney, DreamWorks distribution deal developing?
Several media outlets are reporting that DreamWorks may have to make a deal with Disney to secure some much needed quick cash along with distribution of their films. The
L.A. Times
reports that Universal today has dropped out of an already announced multi-year distribution deal with DreamWorks, a deal which was born after the DreamWorks/Paramount split.
Nikki Finke's Deadline Hollywood
says that after Universal refused to change their deal with DreamWorks to include some cash (needed to save a deal DreamWorks has with another group), DreamWorks secretly went to Disney for help. After Universal got wind of this they opted out of the entire partnership leaving DreamWorks in need of a new distribution partner. Note that this may not include DreamWorks Animation which is technically separate from DreamWorks. It's all a bit convoluted so be sure to check out the links for the details.
UPDATE:
The N.Y. Times
reports that the official word from Universal is:
"Universal Pictures has ended discussions with DreamWorks for a distribution agreement,"
it said.
"Over the past several weeks, DreamWorks has demanded material changes to previously agreed upon terms. It is clear that DreamWorks' needs and Universal's business interests are no longer in alignment. We wish them luck in their pursuit of funding and distribution of their future endeavors."
How Pixar Hires
Randy Nelson, head of the in-house Pixar University, gives a
10-minute talk
that offers insight into character traits the studio looks for when it hires employees. One of the primary factors is to hire people who are interested rather than interesting. Also, collaboration does not simply mean cooperation, but it means amplification—people who bring separate depth to the problem and bring breadth that gives them interest in the entire solution.
(Thanks
cartoonbrew
)
Layoffs ... Micro and Macro
While theatrical animation still employs many and the work situation hasn't declined precipitously (unlike other segment of the U.S. of A.), television staffing at many local studios remains spotty. Nick has a goodly number of projects, but other studios? Not so much.
TAG records show that 2,506 people are employed by contract studios, but of course those stats wouldn't reflect the 150 employees of Imagi who are recently unemployed.
Imagi's staff is still on layoff, the company still floundering. Word reaches us that some employees have been asked to come into work on Monday and will be paid, but misinformation is rampant. Some employees wonder if the studio will reopen.
Meanwhile, unemployment nationwide is grim and getting grimmer ...
• Total job losses since the recession started in December 2007: 3.6 million;

• Over the past 12 months, the number of unemployed persons has increased by 4.1 million;

• Losses over the last three months: 1.8 million (Jan = 598, Dec = 577k, Nov = 597k);

• Unemployment rate for full-time workers spiked to
8%
;

• For the first time since records began in
1939
, there were three consecutive months of 500k + job losses;

• Job losses were broad based, with the diffusion index down to an all-time low of 25.3%;

• Household survey showed a record 1.24 million job plunge (Since data began in 1950)

• The calendar year 2008 saw
3 Million Job Losses
;

• The employment-population ratio fell to 60.5%, down from 62.7% at the beginning of the recession, — the lowest rate since
1986.

• Unemployment rate: 16-year high (1992);

• January's payroll drop of 598,000: most since December 1974;

• Payroll Revisions for 2008 were 400,000 more than initially announced;

• The 3.5 million job loss since January 2008 is the largest 12-month decline since the government started compiling those figures in 1939;

• U-6 Marginally attached and involuntary part-time workers:
13.9%
last month — up almost five percent;

• The employment-to-population ratio was the lowest since 1986.
Happily, it looks like a stimulus bill is near at hand. Unhappily, it will probably need to be larger than it is.
(Thanks
Animation Guild Blog
)
Hi-Res Images Of Upcoming "Wonder Woman" Best Buy-Exclusive Package And Figurine
The
World's Finest
has a hi-res peek at the
Wonder Woman
box art and exclusive figurine available exclusively from Best Buy.
Warner Home Video has provided the following hi-res images of the upcoming Best Buy-exclusive package and figurine available with the Blu-ray release of
Wonder Woman
.
Check out the
Wonder Woman subsite
here at The World's Finest for further coverage and information on the upcoming
Wonder Woman
direct-to-video animated feature. The direct-to-video
Wonder Woman
animated feature hits DVD, Blu-ray, and OnDemand on
March 3rd, 2009
.
Tony-winning actor James Whitmore dead at 87
Longtime character actor James Whitmore, widely popular for his one-man theater shows depicting Harry Truman, Will Rogers and Theodore Roosevelt, died Friday afternoon of lung cancer. He was 87.
Whitmore died in his Malibu, California home, said son Steve, adding that his father was diagnosed with cancer a week before Thanksgiving.
The Tony- and Emmy-winning actor voiced the title role in Will Vinton's
The Adventures Of Mark Twain
(1986), the first clay-animated feature film. He also had a voice role in Moses, a 1993 installment in Hanna-Barbera's direct-to-video series
The Greatest Adventure: Stories from the Bible
.
"My father believed that family came before everything, that work was just a vehicle in which to provide for your family,"
said Steve Whitmore, who's a spokesman for the Los Angeles County Sheriff's Department.
"At the end, and in the last two and a half months of his life, he was surrounded by his family."

Born in White Plains, New York on October 1, 1921, he was educated at Choate School in Wallingford, Connecticut. In 1944, he received his Bachelor of Arts degree from Yale University. At times, he bore a striking resemblance to fellow actor Spencer Tracy.

Serving with the Marines later during the Second World War, he prepared for the stage after his discharge under the G.I. bill at the American Theatre Wing. There, he met his first wife, Nancy Mygatt. They had three children together, including actor James Whitmore Jr.

In 1948, he won a Tony Award (for Outstanding Performance by a Newcomer) and a Theatre World Award for his performance as Harold Evans in the stage production of Command Decision
.
He received an Emmy in 2000 for Outstanding Guest Actor in a Drama Series for playing Raymond Oz in
The Practice
. In 2001, he was nominated in the same category for his role as Bill Sterling Sr. in
Mister Sterling
.
Whitmore was nominated twice for an Oscar: in 1950, for Best Actor in a Supporting Role as Kinnie in
Battleground
, and in 1976 for Best Actor in a Leading Role as the president in
Give 'em Hell, Harry!
He won a Golden Globe for his Battleground role and was nominated for another for his appearance in
Give 'em Hell, Harry!
In later years, Whitmore was known as the long-time commercial spokesman for Miracle-Gro plant food.
Divorced from Mygatt (whom he married in 1947), he remarried her in 1979, but divorced her again. From 1972 until their 1979 divorce, he was married to actress Audra Lindley.
Besides Steve Whitmore, James Whitmore is survived by his third wife, the former Noreen Nash, whom he married in 2001; sons James Jr. and Dan; and eight grandchildren.
James Whitmore as himself... and as the President of the Assembly in Planet of the Apes (1968).
Rorschach's Mask Production Diary!
Empire
has debuted the 11th behind-the-scenes video for Zack Snyder's upcoming
Watchmen
movie. The new video, which you can watch below, focuses on the character of Rorschach, as played by Jackie Earle Haley, and how Snyder and his team created his distinctive face..
Terminator

's Christian Bale apologizes:

'I acted like a punk.'
Christian Bale—who was caught on audio
ranting at a crew member
during the filming of
Terminator Salvation
—apologized today in a surprise interview on
Los Angeles radio station KROQ
's Kevin and Bean morning show. (You can find the complete audio at the link above.)
Bale was very contrite in his statements.
"It's been a miserable week for me,"
Bale told hosts Kevin Ryder and Gene "Bean" Baxter. He added:
"Listen, I know I have a potty mouth; everybody knows that now. ... The thing that I really want to stress is I have no confusion whatsoever. I was out of order beyond belief. I was way out of order. I acted like a punk. I regret that. There is nobody that has heard that tape that is hit harder by it than me. I make no excuses for it. It is inexcusable. I hope that that is absolutely clear."
Bale also said the rant came during a time he was trying to channel Sarah Connor's inner nutball, as her son, John, and that he mixed up his character and real life. Bale also tried to stress that he doesn't feel like he's better than other people.
The apology, which came as a surprise on the morning radio show, comes amid widespread news reports about the on-set meltdown and speculation that it could harm Bale's popularity, the prospects for the movie and possible award nominations.
Terminator Salvation
opens
May 22
.
The Fallen Toy From

Transformers

!
TF08.net
has posted what looks to be a first look at The Fallen toy for
Transformers: Revenge of the Fallen
. The head on the toy matches the
poster
that was released last month. You can find more more photos for the action figure
here
.
Lefty Illustrates Why Prop 8 Ain't Right
As we await the
March 5th
California Supreme Court
hearing
on the ridiculous and surprisingly polarizing Prop 8 (ban on same-sex marriage in California), enjoy this Flash-animated short by
Matt Whitlock
, who utilizes a humorous analogy to illustrate his stance. Titled
Lefty Licenses
, its the first episode in Whitlock's new series
The Saturday Evening Post-Apocalypse
. Whitlock, a former Disney feature artist, is currently at Nickelodeon on
The Fairly OddParents
.
Enraged? Help out - go to
JoinTheImpact.com
.