Cold Hearted Flash For Valentines
So, you've got a little less than 2 weeks to sort out your Valentine's Day plans, but before you start, take a minute and watch this
Happy Tree Friends
short, titled Cold Hearted. It's romantic, in a bloody, dismembered cadaver sorta way.
Newteevee.com
recently voted
YouTube's HD service to be the best, so go to the site and watch this same HTF episode in glorious high definition.
Olson Lucks Into Terrorist Spoof
Steven K.L. Olson
, a producer and the lead animator on
SuperNews
(which will reveal half-hour episodes next month), recently worked on an animated short for the political satire site
23/6
. The short, titled
Just Be Lucky
, was written and directed by A.D. Miles, who you may know from
Reno 911
or
Tim and Eric Awesome Show
. Miles is spoofing the 1951 civil defense film
Duck and Cover
, by teaching us new lessons like "Hate + Fertilizer = Bomb."
Harness and Hanson Rock Ghost Town
LA-based band
Shiny Toy Guns
have paired up with internationally-acclaimed artist
Glen Hanson
and Hollywood studio
Six Point Harness
to create their latest music video.
Ghost Town
is off the band's sophomore album
Season of Poison
, and the Flash-animated video was designed and directed by Hanson, who has experience on TV series like
Beetlejuice
and
Spy Groove
. After the video, go read an interview with Hanson over at
animationmagazine.com
.
A Five Second Day at Titmouse
Some of you may recall last year's post from Cold Hard Flash about
Titmouse
's day where the animators could
create whatever they wanted
. This year Titmouse set the day aside again, calling it
5 Second Animation Day
. Not everyone used Flash, but it seems most did. Here's some of their favorites:
A-Trak Recess
by
Jeremy Polgar
.
CrapHat
by
Parker Simmons
Steamed Pseudo Pods
by
Edward Artinian
The Eternal Sadness
by
Allison Craig
The Final Struggle
by
Xiongliang
A Love Story
by
Megan Nicole
A few others:
Memories With Baby (babyfight)
by
Paul Harmon
4 Seconds 'Til Death
by Mike McGraw
The Package
The Tramp
One Fanboy Down…
Israeli Team Fights The Battery Menace
Oren Mashkovski
and Mysh recently collaborated on this Flash-animated short, titled
The Battery Menace
, that encourages us to recycle our batteries. It was commissioned by
Monkey Business
, an industrial design company based in Israel.
A

Coraline

Linkorama
The newest animated feature in town rolls out Friday, so why not tiptoe through a few articles of lasting interest?
Henry
speaks again
, this time in a more interesting interview than TAG blog unspooled down below ...
Henry Selick:
You know, I love stop-motion. I've done almost all the styles of animation: I was a 2D animator. I've done cutout animation. I did a CG short a few years ago,
"Moongirl,"
for young kids. Stop-motion is what I keep coming back to, because it has a primal nature. It can never be perfect. There's always something like—
[Points to the Coraline puppet on the table.]

Coraline's sweater, you can notice here that it's sort of boiling. And that's because people are touching it and moving it for every frame. There's an undeniable reality that I don't think any of the other mediums give you. You know these things are real even if you don't know exactly how they move, how big they are
.
Mr. Selick gives a second interview
here
about
Coraline
's early development:
... Initially I was actually following the book too closely. The screenplay wasn't working; it didn't feel like a movie. Neil [Gaiman] encouraged me to go off--to not show him everything and just do what I needed to do. That's when I set it in the U.S., because I was more comfortable writing American English than British English. I introduced this other character, Wybie, to give Coraline someone to go up against in the real world. I made lots and lots of other adjustments, and he responded so well that that just sort of encouraged further explorations. So I learned with Neil that it was better to go off and do a lot of work, and then check in with him from time to time ...
Teri Hatcher
is pleased
that her first animation voice-work was for a trippy stop-motion 'toon.
"I've always wanted to be in an animated movie, but I never dreamed that I would be in this level of artistry,"

Hatcher says ...

"Henry had such a beautiful, imaginative, visual thing happening in his mind, as to how the look of the film was going to be, that he really wanted the voices to behind it to be seamlessly real.

"So it ended up in a way being similar to what you would do with any acting job — that you would try to find the sort of motivations, needs, desires, the situations of who these three people were, and what they wanted and what they needed."
Rotten Tomatoes
catalogues
the
cascade
of
reviews
for
Coraline
, and they are not half bad:
... [T]his is a marvelous family story, tapping into all sorts of childhood dreams and nightmares involving Mommy, monsters and heroic youngsters. Selick's imaginative sets and puppets are in perfect pitch with Gaiman's fantasy. The 3-D effects aren't overdone but are used intelligently to make this world come brilliantly to life. --
The Hollywood Reporter
Ain't It Cool News
points out
that the 3-D version of
Coraline
wasn't shot with a 3-D camera (which Selick also mentions in a linked interview up above):
... Henry mentioned at the Q&A an even more amazing aspect of the film. A single camera lens shot the film in 3D. For every frame of the film, two separate photos were taken, then interlaced later for the 3D. This way they could approximate our visual depth perception on a miniature scale, which no camera exists to do. So essentially, they shot the movie twice and there was no miraculous new 3D technology, they did it mathmatically and with precision of human effort. Pretty amazing if you ask me ...
.
The Boston Herald
interviews
Coraline author Neil Gaiman:
Gaiman says his stories follow G.K. Chesterton's theory of fairy tales.


"They're important not because they're telling children about dragons, monsters and boogeymen,"
he said.
"The important thing is they tell children that dragons, monsters and the boogeymen can be defeated.

"

'Coraline'

is for brave little girls of all ages,
" Gaiman said.
"It doesn't say bravery means not being scared either. There are not a lot of films with brave little girls. This is a film to take your daughter to, and that's one of the things I'm most proud of with 'Coraline.' "
So the publicity mill is grinding ... and we're doing our part. (For no particular reason, since we have no affiliation with the project. But hey. We are all part of the animation community, are we not?)
(Thanks
Animation Guild Blog
)
A Look Behind the Curtain at the Annie Awards
ASIFA-Hollywood has released an article by Danny Young and Michael Woodside that goes behind the curtain at the 36th Annual Annie Awards. The article covers the history of the Annie Awards straight from June Foray, who organized the first Annie Awards in 1972, and gets up close and personal with many of the presenters and winners of the evening. Several photos from the evening were also provided with the article.
Click here to read the full article
.
New

Monsters Vs Aliens

poster
A new one-sheet for the upcoming Dreamwork's comedy
Monsters Vs Aliens
can be viewed on
Yahoo! Movies
.
Monsters Vs Aliens
is set to hit traditional and 3-D compatible theaters on
March 27
.
New Images And Video Clips From Upcoming

"Batman: The Brave And The Bold"

Episode
The World's Finest
has new clips and images from the upcoming
Batman: The Brave and The Bold
episode
"The Eyes of Despero!"
Cartoon Network has passed along the episode synopsis, video clips, and over a dozen new images for the upcoming
Batman: The Brave and The Bold
episode
"The Eyes of Despero!."
To get a closer look at the images, click on the thumbnails below.
For More Images & Details Click Here
Cartoon Network has also provided three clips from the episode, which are available to view
here
at their
Batman: The Brave and The Bold

subsite
. The all-new
Batman: The Brave and The Bold
episode
"The Eyes of Despero!"
, scheduled to air at 8pm (ET) this
Friday, February 6th, 2009
, is described as follows.
In the middle of thwarting a robbery by the Cavalier, Batman is whisked away into outer space. When he arrives on their home world, he discovers The Green Lantern Corps is MIA after a battle with Despero - leaving the entire universe defenseless! To save us all, Batman joins the surviving Green Lanterns, G'Nort, Guy Gardner and Sinestro, to defeat the rampaging tyrant Despero before he turns OA, the living Green Lantern planet into his personal weapon of mass destruction!
Further information on the episode, including a detailed cast list, is available at their
Batman: The Brave and The Bold
subsite
. Stay tuned for further episode details and exclusive content.
AICN EXCLUSIVE: Images From

ASTRO BOY

!!
Harry Knowles from
Aint It Cool News
, presents new images from Imagi's upcoming
Astro Boy
movie -
Hey folks, Harry here...
ASTRO BOY
is about as cool an anime as they get. I've known of him pretty much my entire life, due to my father's undying love of all things robotic, and an evil teenage boarder that lived at my house as a boy, that loved ASTRO and then ripped us off for a fortune in collectibles. But his evil did not ebb our love for this robotic
PINOCCHIO
that could do a whole lot more than sing about a lack of strings.
This weekend, specificially on Saturday at 4pm, at the New York Comic Con... which curiously is in New York, Summit Entertainment, them blokes that made that fabulous vampire film about fabulous vampires, are having a big presentation where they're going to be dishing on their latest films. Stuff like Alex Proyas'
KNOWING
, Kathryn Bigelow's
THE HURT LOCKER
and lastly - and for me, the most exciting... They'll be debuting the following two images and an entire sequence from the film. (ENVY!) I'm hoping by posting these images early, that some of you - that will be there... will give us the low down on what they show! Cuz curious minds like mine, gotsta know.
The first image is of Astro Boy soaring through the gargantuan METRO CITY. This is a publicity shot, taken from the actual film - you'll never see Astro this clearly in the final film as he is hauling ass to go do something here. I saw a pre-release image of the one below, which had him in all his motion blur blurriness and it looks like he's moving out there. Yet doesn't have him as clearly pretty as you see now! [Click to make bigger]
The second image is of Astro Boy's nemesis,
PEACEKEEPER
. If you're not familiar with
ASTRO BOY
, this means nothing to you. However, if you are an astromaniac, you know that Peacekeeper is a baddie that absorbs other machines and turns their energy and powers against our little metal laddie. [Click to make bigger also]
Now you folks seeing this footage, don't forget to write in. I look forward to it!!!
EXCLUSIVE: Robert Downey Jr. Says Mickey Rourke Not Playing Crimson Dynamo In

'Iron Man 2'
Of all the recent casting rumors surrounding
"Iron Man 2,"
it's clear that the one story that has fanboys praying to the Marvel Gods to come true has to be the addition of Oscar-nominee Mickey Rourke to the already powerhouse cast,
possibly playing the Soviet-era villain

The Crimson Dynamo
.
However, according to a recent exclusive sit-down with
"Iron Man"
star Robert Downey Jr. on the set of his upcoming film
"Sherlock Holmes,"
that casting speculation may have been a bit premature.
"That's actually incorrect,"
Downey told MTV News when asked if Rourke was being considered for the aforementioned Iron Man rogue. When pressed if, instead of Crimson Dynamo,
Rourke was up for the role of

Whiplash
, another potential role bandied about on blogs these days, Downey had a more cryptic response.
"I can neither confirm nor deny that,"
said Downey.
"Or maybe it's some semblance of both. Here, I can tell you everything about the story except I won't give away the ending. The nerd stuff is top-drawer security."
News of Rourke's possible involvement with the follow-up to last summer's mega-blockbuster has been one of the biggest stories to hit the 'Tubes lately. After reports broke that the actor, who is currently going through a career renaissance of sorts, was being considered for
"Iron Man 2″
(but has not officially signed on to the project as of yet), he went as far as saying that he'd bring
"everything I can bring"
to
"Iron Man 2″
in a brief chat with MTV News.
Rourke's comment was a high note for many
"Iron Man"
fans, given some of the recent reports of
Samuel L. Jackson threatening to abandon his Nick Fury role
, or previously announced
Black Widow

, Emily Blunt, possibly dropping out due to scheduling conflicts
.
Ackerman sci-fi, horror collection up for sale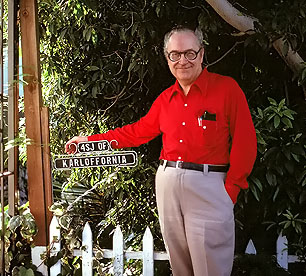 He always vowed that he wouldn't die unless he could take it with him.
But now that Forrest J Ackerman really is gone, the grand old man of science fiction's memorabilia collection is on the auction block.
Thousands of items, including the Count Dracula ring worn by Bela Lugosi in the 1931 horror classic
"Dracula,"
the vampire cape Lugosi wore for decades — even the actor's outfit from the
"worst film ever made,"
Ed Wood's cheesy
"Plan 9 From Outer Space"
— are going up for bid.
So are such notable pieces as a signed, first-edition copy of Mary Shelley's novel
"Frankenstein"
and a first-edition copy of Bram Stoker's
"Dracula"
that was signed not only by Stoker but also Lugosi, Boris Karloff and numerous other horror film notables.
The auction, tentatively scheduled for the last week of April, is expected to raise $500,000, said Joe Maddalena, president of Profiles in History, which is handling the sale.
Ackerman, the science-fiction writer, editor and literary agent widely credited with coining the term sci-fi, spent a lifetime collecting tens of thousands of pieces, ranging from the junky to the very rare. He died last December at age 92.
"I'm holding that stuff in my hand and I'm just like, 'Wow, these are his most iconic treasurers,'"
Maddalena said when he was invited by Ackerman's estate to auction the collection. He said Ackerman's will stipulates that his estate's share of the profits be divided among his friends.
At one time Ackerman had a collection of 300,000 pieces of science-fiction film memorabilia, 50,000 books and the complete sets of 200 science-fiction magazines. During his final years he contributed many pieces to museums and sold some others, but held on to thousands more.
SPA, Platinum Studios to develop animated feature
Sony Pictures Animation has set a deal with Platinum Studios, Inc., an entertainment company that controls an international library of comic book characters which it adapts, produces and licenses for all forms of media, to develop an animated feature, Sony Pictures Digital Productions president Bob Osher and Hannah Minghella, president of production for SPA, announced Wednesday.
Platinum Studios, which controls an international library of comics and graphic novel content with over 5,600 characters, brings comic book projects to feature film and TV. This marks another collaboration between Sony and Platinum Studios CEO Scott Mitchell Rosenberg following the billion-dollar franchise
Men In Black
, one of the most successful comic book-to-film adaptations of all time.
"I have known and respected Scott Rosenberg for many years as a great resource of characters, stories and ideas,"
said Osher.
"We're looking forward to working with him and Platinum Studios to develop a feature from their library of stories and characters."
"It is great to be working with Bob and Sony again,"
said Rosenberg.
"And Hannah has the perfect energy and creative tenacity to drive us into a fantastic feature world."
Platinum Studios' film and TV division has various other properties in development at major film studios, including
Atlantis Rising
at DreamWorks, with Kurtzman/Orci
(Transformers)
set to produce;
Cowboys and Aliens
, also at Dreamworks, with Kurtzman/Orci partnering with Universal Pictures and Imagine Entertainment; and Unique at Walt Disney Pictures and
Dead of Night
with Hyde Park Entertainment, with Brandon Routh
(Superman Returns)
starring and Kevin Munroe (2007's
TMNT
) directing.

Gale Anne Hurd's Valhalla Motion Pictures and Platinum Studios are currently co-developing feature films based on the soon-to-be-published action thriller graphic novel
Final Orbit
and Top Cow's
Magdalena
.



Sony Pictures Animation most recently produced
Open Season, Surf's Up
and
Open Season 2.
Upcoming projects include
Cloudy With a Chance of Meatballs, Hotel Transylvania
and
The Smurfs
. The company recently announced a first-look deal with The Gotham Group as SPA continues to build its slate of upcoming productions.
Tikki Tikki Tembo

illustrator Blair Lent dies, 79
Award-winning children's book illustrator Blair Lent, whose works included
Tikki Tikki Tembo, The Funny Little Woman

and

Why the Sun and the Moon Live in the Sky, died January 27 in Medford, Massachusetts. The Cambridge resident was 79.

Lent died from pneumonia, said James S. Bolan, his lawyer.



Though he sometimes wrote children's books as well, Lent was best known for illustrating international folk tales retold by other authors. The Nigerian legend

Why the Sun and the Moon Live in the Sky (1968), retold by Elphinstone Dayrell, was made into a 1981 animated short directed by the Oscar-nominated Susanne Bauman and released by ACI Films Inc.

Lent used such varied techniques as ink and wash, acrylic painting, colored pencil and cardboard cutouts to illustrate stories from Japan, Russia, India and Africa. His illustrations for the Japanese folk tale The Funny Little Woman, retold by Arlene Mosel, won the Caldecott Medal in 1973.

Other books for which he provided images included The Wave

(1964), a Lafcadio Hearn story adapted by Margaret Hodges;

Tikki Tikki Tembo

(1968), a Chinese folk tale retold by Mosel;

Hans Christian Andersen's Little Match Girl

(1968); and

The Beastly Feast (1998), by Bruce Goldstone.

Born in Boston on January 20, 1930, Lent graduated from the Boston Museum School with an art degree in 1953. He traveled in Switzerland and Italy on a study grant, then designed tin-can labels for the Container Corporation of America and bank-loan ads for the Bresnick Advertising Company.

A juvenile-books editor at Atlantic Monthly Press encouraged him to write and illustrate

Pistachio

, a 1964 book about a green cow and a circus.

Using the pen name Ernest Small, he wrote

Baba Yaga

(1966), based on a witch from Russian folklore.

John Tabor's Ride

(1966) told of a New England sailor who hitches rides on a whale's back across the oceans and up the Mississippi River.

In later years, Lent wrote and illustrated

Bayberry Bluff

(1987),

Molasses Flood

(1992) and

Ruby and Fred

(2000).

Most of Blair Lent's artwork was donated to the Mazza Museum at the University of Findlay, in Findlay, Ohio, and to the University of Minnesota's Kerlan Collection.