And we're back....
Will Disney Animation's latest

"Rapunzel"

rescue attempt have a negative impact on

"Bolt"

's debut ?
Jim Hill wonders if Glen Keane's exit will result in more reporters asking about why Chris Sanders was taken off of
"American Dog"
By now, I'm sure that you're heard that Glen Keane is no longer the co-director of
"Rapunzel."
That he and Dean Wellins will be turning the reins over to Byron Howard & Nathan Greno, who were the co-director and head of story on
"Bolt"
respectively.
To be honest, this change couldn't have come at a worse time for Walt Disney Animation Studios. At least from a PR point-of-view.
Why For? Well, for months now, Mickey's marketing staff has been gearing up for
"Bolt"
's wide release on November 21st. Trying to get some positive buzz going about this new animated feature. Which -- given that this project started out under a different name (
"American Dog"
) and with a different director (Chris Sanders) ... It's always been something of a challenge to keep reporters, webmasters and entertainment writers from asking difficult questions like:
Copyright 2002 Disney. All Rights Reserved
"Why did you guys remove Sanders from this movie? Wasn't he the guy who came up with one of Disney's only hits over the past 10 years,

'Lilo & Stitch'

?"
So to have Disney's best-known animator suddenly taken off of the picture that he's personally been developing for over six years now ... Well, that makes it fair game for the press to ask about why Chris Sanders was taken off
"American Dog."
Especially in terms of discussing the very hands-on approach John Lasseter & Ed Catmull have taken to running WDAS.
But you know what? While it's fun to gossip about all this behind-the-scenes stuff at Walt Disney Animation Studios ... At the end of the day what really matters most here is the quality of the finished film. Is it actually entertaining to movie goers?
Copyright 1941 Paramount Pictures. All Rights Reserved
And when it comes to Chris Sanders' original take on
"American Dog"
... What he seems to have been going for was an animated version of Preston Sturges'
"Sullivan's Travels."
Where this jaded Hollywood hound suddenly finds himself two thousand miles from home. And in order to get back to Tinsel Town, he's forced to interact with all of these colorful yokels. Who then teach this self-important celebrity a little something about humility, what's really important in life.
Which -- I know -- sounds an awful lot like the storyline for
"Cars."

But the key difference between that Pixar production and the movie that Chris Sanders was trying to make is that -- at the end of the day --

"Cars"

had a storyline that actually worked. Over the course of that 116 minute-long animated feature, you genuinely came to care about Lightning McQueen and his predicament. Whereas Henry (i.e. the title character for

"American Dog") reportedly left test audiences cold. While they allegedly found individual sequences & characters from this work-in-progress amusing, they never really came to care for this American Dog.

As to why Chris came up short, story-wise, this time around ... A number of Disney insiders have pointed to the fact that Sanders actually had a co-director on "Lilo & Stitch"

: The very talented Dean DeBlois. A fact that has not gone unnoticed by the folks at DreamWorks Animation. Who currently have Sanders under contract to direct

"Crood Awakenings,"

and then plan to reteam Chris & Dean on that studio's March 2010 release,

"How to Train Your Dragon."
Copyright 2008 Disney. All Rights Reserved
Speaking of co-directors ... Back in April in 2007 when Dean Wellins was brought on board
"Rapunzel," it was hoped that this veteran animator & story artist would then be able to help Glen Keane get a handle on that production. In particular untangle that movie's myriad of plot problems.

And while "Rapunzel"
's story reels have gotten noticably stronger over the past 18 months ... In the end, Glen & Dean were never able to solve this project's main story problem. Which is that -- once Rapunzel gets trapped in her tower -- this fairy tale goes stale.
This is why John Lasseter & Ed Catmull were forced to do what they did on both
"American Dog"

and

"Rapunzel."

As the new heads of WDAS, they have a responsibility to deliver commercially viable animated features that will then go to entertain a mass audience. As for

"American Dog,"

the word in-house was that this Chris Sanders film was

"Meet the Robinsons"
revisited. Meaning that this aborted project was loaded with great design & quirky characters but was woefully short on heart and genuine entertainment.
Copyright 2007 Disney. All Rights Reserved
As for
"Rapunzel"

... For five years now, the word of this Glen Keane production has always been that it had the potential to be the most beautiful picture that WDAS would ever produced but that this film's storyline was a snooze. Which is why -- in the end, even though Lasseter has been Keane's friend for over 20 years now -- for the good of that project, John had to pull Glen & Dean off of

"Rapunzel" and then send a new team in. With the hope that Byron & Nathan would be able to wade through the past six years of development and then find some sort of workable storyline for Disney's holiday 2010 release.

So you see -- in spite of what you may have been reading elsewhere -- this wasn't some sort of blatant power grab by Catmull & Lasseter. This isn't a case of Ed & John's egos being out of control. But -- rather -- these two putting the needs of the Walt Disney Company & its shareholders ahead of any personal relationships that they may have with individual filmmakers.

And as for a director being removed from a Disney animated feature ... This isn't exactly new news, folks. This sort of thing has been going on for at least 50 years now. And if you don't believe me, pick up a copy of the new "Sleeping Beauty"
DVD and watch the Special Features. Especially the one that deals with Walt Disney removing Eric Larsen as a director on that production because he was spending far too much time & money on one particular sequence for that picture.
Copyright Disney. All Rights Reserved
This is the challenge that WDAS's PR department will be facing in the coming weeks. As they try persuade reporters, entertainment writers & webmasters that what may look like a juicy story actually isn't. That taking Keane & Sanders off of
"Rapunzel"

and

"American Dog"

isn't any different than when Woolie Reitherman got pulled off of

"The Fox and the Hound."

And when Roger Allers was taken off of

"Kingdom of the Sun"

AKA

"The Emperor's New Groove."

And when Jan Pinkava was removed as the director of

"Ratatouille."

At the end of the day, what really matters is the quality of the finished film. And based on what I've heard about "Bolt,"

Byron & Nathan delivered in spades on that particular picture. Which is why John & Ed selected these two to run a rescue mission on

"Rapunzel."
As to whether Howard & Greno will succeed where Keane & Wellins failed ... Well, I guess we'll have to wait 'til Thanksgiving of 2010 in order to find out.
The Elephant in the Room -- Part 2
Disney Legend Floyd Norman concludes his look at

"Wild Life,"

the CG project that Walt Disney Animation Studios developed but ultimately abandoned in late 2000
Picking up where we left off ...
"Wild Life"
had been in development for nearly two years, and now it was finally moving toward production. The crew was delighted when word got out that two sequences had been given the green light for production.
In spite of the obvious story and theme issues, our production team was totally energized and blazed ahead with full artistic intensity. Even our large story room was filled with the booming sounds of Techno Rock as the artists continued to crank out reams of storyboards. Like it or not, no one could escape this driving heartbeat, and it provided a special energy that seemed to push us all forward.
As I mentioned earlier, this production was not short on talent. In fact, this was one of the few animated movies that included a costume designer. Visually, the motion picture would have been stunning. On board were designers such as H.B. (Buck) Lewis and Craig Kellman. Premiere production designer Hans Bacher had recently joined the team, and I still remember the worried look on his face when he stopped me in the hallway.
"The movie is in serious trouble,"
said Bacher.
"We've got to do something about the story."
I fully understood what troubled the designer, but I also knew there was little I could do about it. Disney story artists had long since been marginalized by Hollywood screenwriters, and things were not about to change anytime soon.
Story sketch showing a humiliated Magda as she introduces her latest pop star
Professional voice actors began to replace the movies' scratch track, and our film could now boast of big name talent. Noted character actor Alan Cumming had been pegged for the voice of Red Pittstain, and Academy Award winner Kathy Bates would create the voice of media maven Magda. Finally, television star Debra Messing was being considered for the voice of pop diva Kitty Glitter.
In spite of the movies' story issues, I continued to have fun on the project. Our directors requested I create color storyboards for the screening. I was able to add glitz and polish to the usually simple storyboards using computer applications Adobe PhotoShop and Illustrator. I couldn't help but be amused by the fact that I was doing all this on my Apple laptop while being surrounded by millions of dollars worth of high-end workstations.
Suddenly, the day of the screening was upon us. I wasn't invited to the Roy Disney screening in the Northside facility, but there was really no need. I already knew the verdict before the first act was over.
"We can't release this movie,"
said the disgusted vice chairman as he stormed out of the building.
We had high-end work stations worth millions. I did all my digital enhancement on an Apple laptop
If you've been in the business as long as I have, you already know what happens next. Executives scramble to cover their butts and everybody blames everybody else. Hey, what would you expect? This is Hollywood.
Finally, there are the inevitable questions. How did this happen, and who was to blame? Why were certain decisions made, and who made them? Everybody, it seems wants the
"inside scoop."
Sorry, boys and girls, you'll not find them here. Besides, grunts working in the trenches are not privy to top executive decisions. However, you can bet there is plenty we'll never know.
"Wild Life"
was hardly a
"stealth"
project, and studio managers would do well not to paraphrase Louie in
"Casablanca."
"I'm shocked -- shocked ! -- to learn such a movie was being produced here at Disney!"
Ella the Elephant by "Wild Life" co-director Howard Baker
"Wild Life"
was not necessarily a bad idea. A mix of Studio 54 and
"Pygmalion,"

it was hip, cool, and edgy. Maybe even a little ahead of its time. After all, the Mouse is currently cashing in on projects like

"Hannah Montana"

and

"High School Musical." In many ways this innovative film could have been an incredible blockbuster attracting the growing teen markets the company so eagerly courts.

With its sophisticated themes and provocative story line it was clear to all who had a brain that "Wild Life"

was hardly a Disney movie. One could only imagine the howls and shriek
s that would have come from conventional Middle America once little Jenny and Jeff got introduced to the
"club scene." It was, as one story artist put it, "Too hip for the room."
Ella the Elephant was a fascinating character and the central focus of
"Wild Life."
She could sing, dance and captivate an audience. She was an incredible wonder - - but she was still a huge, lumbering elephant. An elephant in the room that -- strangely enough -- nobody ever saw.
I digitally enhanced a story sketch by "Wild Life" head of story Darryl Kidder
And while you're at it, don't forget to check out
Mr. Fun's Blog
. Which is where Mr. Norman postings his musings when he's not writing for
JHM
.
Funny Face, Huntik

Win MIPCOM Licensing Challenge
The 5th Annual MIPCOM Junior Licensing Challenge was won by Funny Face, a new animated children's series from Glendale, Calif.-based Renegade Animation, and Huntik: Secrets & Seekers, a show produced by Rainbow S.p.A. in Loreto, Italy. The international competition for new TV properties received entries from Italy, France, South Korea, Spain and other countries around the world. Both
Huntik
and
Funny Face
were singled out for having the best licensing potential by a panel of judges that included representatives of Simon & Schuster, Entertainment Rights Plc, WNET and Marathon Animation.
Six finalists were presented in live pitches in a session held at the Carlton Hotel in Cannes and hosted by License! Global magazine. The judges also considered the properties' originality, visual and story elements, and distribution and broadcast plans.
Aimed at tweens and teens,
Funny Face
is based on the wise-cracking fruit characters first introduced by Pillsbury on drink mix packets in the 1960s. The series combines slapstick action, comic dialogue and animation that aims to capture some of the magic of the classic theatrical cartoons such as
Tom & Jerry
and the Looney Tunes favorites. Renegade Animation's credits include the hit shows
Hi Hi Puffy AmiYumi
and
The Mr. Men Show
. Children's entertainment development company Fitzroy Media is handling international sales and licensing initiatives for Funny Face.
Targeting boys 6-12,
Huntik
is an action-adventure comedy about a group of seekers traveling around the globe in search of an ancient amulet that can invoke different types of monsters.
Rainbow is in production on 26 half-hour episodes for broadcast in the first quarter of 2009. 

Huntik
has already been sold to more than 30 countries. Broadcast partners include Rai, RTL II, Jetix and 4Kids on The CW Network. Major licensees include Playmates (Master Toy), Upperdeck (trading cards) and Panini (sticker albums).
Bunnies

Get Sawed
The Bunnies are back with new 30-second animated remakes of popular movies. The Minisode Network this week launched a new installment of the Webby Award-winning series that spoofs the popular horror flick
Saw.
Actors Danny Glover and Cary Elwes have been replaced by cute, cartoon rabbits caught in the web of a sadistic serial killer. Watch it below.

Created by Angry Alien Prods. founder Jennifer Shiman, the Flash-animated bunny shorts have previously boiled down such iconic films as Jaws, Pulp Fiction, The Shining, The Texas Chainsaw Massacre

and

Superman

, retelling their stories as bite-sized comedies. The parody of a certain James Cameron disaster flick has even been included as an Easter egg on Fox's

Titanic
special edition DVD.
Sony Pictures Television's The Minisode Network is a multi-platform network featuring episodes of favorite television series condensed to five-minute stories. Web surfers can find the offerings on Sony Pictures' Crackle.com, as well as YouTube, MySpace, Hulu, AOL and TidalTV. Mobile users can watch the minisodes on Verizon Wireless' V Cast Video and SprintTV, while the Bravia Internet Video Link brings them directly to Sony Bravia TVs.
Animators Among Happiest Workers in America?
AnimationMentor.com, an online character animation school created by animators for animators, today pointed out key findings from an animation industry survey that suggests a healthy animation workforce with a bright future. The school says it commissioned independent research firm Knowledge Wave Int'l to conduct the survey in order to get an insider's view on industry trends, job titles, job satisfaction and salaries.
"Behind the Characters: Professional Animator Job Satisfaction, Career Outlook and Salary Survey Report"
is based on the responses of more than 1,200 professional animators from more than a dozen countries who participated in the August 2008 survey. The complete report is available at
www.animationmentor.com/report
.
Of those surveyed, 59% of professional animators indicated that they enjoyed their work and are proud of the work they do. More than 80% reportedly plan to continue working in the field, and more than half would recommend a career in animation to friends and family. When it comes to money, animators are apparently also satisfied and optimistic. In 2007, more than half of the animators surveyed made $40,000 or less, and 35% percent earned between $40,000 and $80,000 annually. In 2008, the outlook brightened in terms of total earnings with less than 30% earning less than $40,000, and 51% of respondents earning between $40,000 and $80,000. The survey results also show a growth in the upper earnings ranges with 4% expecting to earn more than they did in 2007, and 9% expecting to earn more than $100,000.
"Most animators are following their passion in life, so it's not a big surprise that it's one of the occupations where people are the happiest,"
says Bobby Beck, CEO and co-founder of Animation Mentor.
"Mentors and a strong community are the foundation of our animation school. The survey affirms the importance of this."
The survey also looked at the top trends professional animators are seeing, and which have the potential to change the face of the job landscape. The top-three trends include the rise of motion-capture, outsourcing and cost-cutting, and unbelievably fast advances in technology impacting the way animation is created.
Animation Mentor exclusively teaches character animation in an online environment where students learn directly from professional animators from top studios including Disney Animation Studios, DreamWorks, Industrial Light & Magic, Pixar Animation Studios and Sony Pictures Imageworks. Classes maintain a mentor-to-student ratio of no more than 1-to-15 as students learn the art of animation within an interactive online classroom and under the close direction of mentors. Learn more at
www.animationmentor.com
.
Sito interviews Goldberg
Master animator Eric Goldberg has spoken with Animated News and Views on a number of occasions but he has more tales to tell.
Animation World Magazine
has posted an interview with Goldberg conducted by Eric's longtime friend Tom Sito. The interview fills in gaps hitherto unmentioned in Goldberg's storied career. touching on work for Disney's, Warner's, Richard Williams and more, as well as his recent book
Character Animation Crash Course!
.
Oscar-winner Richard Williams coming to Portland
Renowned author, animation director and three-time Academy Award-winner Richard Williams will present his series of instructional DVD master classes based on his best-selling book
The Animator's Survival Kit
at 6 p.m.
Thursday, October 30
at the Portland Community College Cascade Campus.
The announcement was made Tuesday by Cascade ACM SIGGRAPH, Oregon and Southwest Washington's local ACM SIGGRAPH chapter, along with the Association International du Film d'Animation - Portland (ASIFA).
Williams' presentation will introduce his DVD series and detail how he achieves the illusion of life in animation.
Known as one of the finest animation filmmakers and mentors of the late 20th century, Williams began his animation career at United Productions of America in the 1940s, where he apprenticed under such notable artists as Chuck Jones and Ken Harris.
After moving abroad, Williams produced the work that boosted his career, the renowned British Academy of Film and Television Arts-nominated
The Little Island
, in 1958. Following his noted work in the mid-1960s, Williams went on to direct the Oscar-winning
A Christmas Carol
(1971).
During the 1970s, his London-based studio created scores of stunningly crafted, award-winning commercials, titles, short films and television specials boasting the work of veteran animators from the Disney studio's "Golden Age" and Warner Bros. cartoons, including Grim Natwick (
Snow White
), Art Babbitt (
Fantasia
) and Harris (Bugs Bunny).
A distillation of his acquired knowledge went into his animation direction for
Who Framed Roger Rabbit
(1988) -- for which he received the Oscar for Special Achievement and Visual Effects -- and, more recently, into his series of instructional DVD master classes based on The Animator's Survival Kit.
Published in 2000 by Farber & Farber, the book includes over 350 specially animated examples intercut with his four-day Master Class filmed at Blue Sky Studios in New York.
The evening will begin with a networking and social hour beginning at 6 p.m. in the lobby of the PCC Cascade Moriarty Arts Building. Light refreshments will be served. Williams' presentation will begin promptly at 6:30 p.m.
Admission is free for Cascade ACM SIGGRAPH and ASIFA members and $5 for non-members, payable at the door. For planning purposes, attendees are asked to reply to cascadesiggraph-gmail.com.
The PCC Cascade Campus is located at 705 North Killingsworth Street in Portland. Use of public transportation or carpool is encouraged due to limited street parking.
For more information regarding this event, Cascade SIGGRAPH, ASIFA and membership registration, visit the Cascade SIGGRAPH Web site at
www.cascadesiggraph.org
or the ASIFA Web site at
www.asifaportland.org
.
BYU animation program piques Pixar's curiosity
The
BYU Magazine online
has a piece about the school's animation program and the interest Pixar personnel have taken in it.
"Over the years, Pixar has worked with a lot of universities around the country,"
says Pixar and Walt Disney Animation Studios president Ed Catmull.
"One of the interesting things is that, all of a sudden in the last few years, we've found that BYU has risen to the top. BYU has an extraordinary program here. . . . It's the perception, not just of Pixar but also of the other studios too, that something pretty remarkable is happening at BYU."
A preview of a recently completed BYU animation project,
The Turtle and the Shark
, can be seen
here
.
Call for Papers for '09 Society of Animation Studies

"The Persistence of Animation"
The Society for Animation Studies has announced a call for papers for their 21st Annual Conference, to be held at the Atlanta campus of the Savannah College of Art and Design on
July 10-12, 2009
. The theme of the conference will be
"The Persistence of Animation,"
and will focus on
"the ways animation permeates our film and television culture, as well as society as a whole."
Proposals may be submitted until February 6, 2009, and full submission guidelines are available
at the conference weblog
.
ASIFA-Hollywood Hosts

"Alchemy of Animation"

Panel with Don Hahn on Oct 20, 2008
ASIFA-Hollywood will be hosting a special panel discussion with Disney's Don Hahn about his new book
The Alchemy of Animation
on
Monday, October 20, 2008
, at 7:00 PM at the Fletcher Jones Foundation Auditorium at Woodbury University in Burbank, CA. Hahn will be joined by animators James Baxter (
Beauty and the Beast, Shrek 2, Enchanted
), Mike Belzer (
Nightmare Before Christmas, James and the Giant Peach, Bolt

), and Nik Ranieri (

Beauty and the Beast, Meet the Robinsons, The Princess and the Frog
), who will discuss their insights into making animation in the modern era. A book signing will follow.
British poll names

"Bambi"

the best tear-jerker
Although it's 66 years old, Walt Disney's animated classic
"Bambi"
has been voted the best tear-jerker of all time in a British online poll of over 3,000 people.
Conducted on behalf of movie advertising company Pearl and Dean, the survey gave 18% of the vote to Felix Salten's story of love, life and loss as it follows the tale of a young deer.
Although her death is never shown, the saddest moment of Disney's 1942 adaptation of
Bambi
comes when hunters shoot Bambi's mother. As the fawn and his father walk off into the snow together, the father tells him quietly:
"Your mother can't be with you any more."
Former Beatle Sir Paul McCartney has credited
Bambi
with helping make him a vegetarian.
"I think that made me grow up thinking hunting isn't cool,"
he said in an interview three years ago.
Another animated Disney film, 1994's
The Lion King
, came third with 14%, tied with Steven Spielberg's live-action
ET: the Extra-Terrestrial
.
British animated feature film
Watership Down
(1978), with 5%, was tied for seventh with
Philadelphia
, starring Tom Hanks as a gay lawyer with AIDS.
Ghost
, starring Patrick Swayze and Demi Moore, came second in the poll with 16%.
Titanic
, starring Leonardo DiCaprio and Kate Winslet, came fifth with 11%, while
Beaches
, starring Bette Midler, was in sixth place with 10%.
Ninth and tenth places went to
Boys Don't Cry
and
Steel Magnolias
, with 4% and 2%, respectively.
Four Tops lead singer Levi Stubbs, Jr. dies at 72
Levi Stubbs, Jr., the strong lead singer of Motown's Four Tops and a voice actor in DiC animated series, died Friday at 72.
He died in his sleep at the Detroit house that he shared with his wife, said Dana Meah, the wife of a grandson.
Stubbs had an easily recognizable baritone voice. He portrayed
Mother Brain
in the cartoon shows
Captain N & the Adventures of Super Mario Bros. 3, Captain N: The Game Master
and
Captain N and the New Super Mario World
. He was also the voice of man-eating plant

Audrey II

in the 1986 movie version of the musical
Little Shop of Horrors
.
He had suffered from a long series of illnesses, including cancer and a stroke, that forced him to stop singing in 2000.
"He had one of the most prolific and identifiably voices in American history,"
Billy J. Wilson of the Motown Alumni Association told Billboard.com.
"It's a deep loss, to the entire Motown family and to the world."
Born Levi Stubbles in Detroit on June 6, 1936, he led the Four Tops in such perennial hits as
"Baby I Need Your Loving," "I Can't Help Myself (Sugar Pie, Honey Bunch)," "Reach Out I'll Be There"
and
"Brenadette"
and others. Selling over 50 million records, the Tops provided the Motown, ABC Dunhill, Arista and Casablanca labels with 45 chart hits.
The group was formed as the Four Aims in 1954; nine years later, it signed with Motown. In 1990, the Four Tops were inducted into the Rock and Roll Hall of Fame.
Laurence Payton died in 1997, Renaldo "Obie" Benson in 2005. Abdul "Duke" Fakir is now the only living member from the original Four Tops quartet.
Stubbs last appeared publicly with the group at its 50th Anniversary Concert on July 28, 2004 at Detroit's Music Hall Center.
Fakir leads a version of the Tops that includes Payton's son Roquel, former Temptations member Theo Peoples and longtime Motown singer Ronnie McNeir.
Levi Stubbs, Jr. is survived by Clineice, his wife of 48 years, five children and 11 grandchildren. Funeral arrangements are pending.
He-Man

Loses the Power of Grayskull
Latino Review
reports that
He-Man and the Masters of the Universe
, which has a script by Justin Marks, is dead at Warner Bros. Pictures in its current state. We quote:
The studio gave the execs at Silver Pictures a very small list of A-director names they would consider making the film with, amongst them Doug Liman and Bryan Singer, who both passed.
There were some up and coming directors that were gung ho on the script, but the studio wasn't feeling them.

Another reason and perhaps the biggest was that Navid McIIhargey, the exec who brought in He-Man to Silver Pictures, left the company last month to become a Senior VP at New Regency as reported last month in both trades.

Sources tell me Navid and another exec (who also left Silver) – guys in their thirties who grew up on the property - were the unsung heroes of He-Man and are no longer there doing the day to day to get He-Man over the mountain and get the movie made.
For more on this, click
here
!
Upcoming in Japan
Ghost in the Shell
director Mamoru Oshii will be collaborating with
Production I.G.
on an anime film based on the life of
"sword saint"
duelist/Book of Five Rings author Miyamoto Musashi
This new full-length feature film entitled,
Musashi: The Dream of the Last Samurai
(Japanese title:
Miyamoto Musashi - Soken ni Haseru Yume
) is slated in Japanese theaters for summer 2009.
SYNOPSIS Miyamoto Musashi (1584-1645) was an unrivalled swordsman in the days when internal wars in Japan had virtually ended. Nevertheless, he wrote a master treatise on military strategy, "The Book of Five Rings" and sought "the way" to enlighten his spirit and cultivate his mind. But could this image have been manufactured by the generations that followedÖ?

Mamoru Oshii will take on an unusual portrayal of this legendary and aloof warrior, between spectacular duels and a tragic life in pursuit of greatness. With "The Book of Five Rings" as his guide, Oshii will unsheathe the true vision of the greatest swordsman in Japanese history! Medieval chivalry, horsemanship, swordsmanship and the essence of "The Book of Five Rings" will be pure entertainment!

The impressive production staff includes director Mizuho Nishikubo (also known by his alias Toshihiko Nishikubo) who has worked on numerous Oshii films including

Ghost in the Shell

(1995),

Innocence

(2004) and The Sky Crawlers

(2008), as well as directed the epic series

Legend of Heavenly Sphere Shurato. Kazuto Nakazawa, director of the mind-blowing animation segment in Quentin Tarantino's

Kill Bill Vol. 1

(2003) and creator of innovative characters as seen in

Samurai Champloo

(2004), will design the characters for Musashi.
MAIN STAFF
Original Concept / Screenplay: Mamoru Oshii
(Ghost in the Shell, The Sky Crawlers)


Director: Mizuho Nishikubo

(Innocence, The Sky Crawlers, Legend of Heavenly Sphere Shurato, Otogi Zoshi )


Character Design: Kazuto Nakazawa

(Kill Bill: Vol. 1, Samurai Champloo, Asience: Hairy Tale)


Animation Director: Kazuchika Kise

(Ghost in the Shell, Blood: The Last Vampire)


Art Director: Shuichi Hirata

(Innocence, xxxHOLiC - A Midsummer Nightís Dream, Asience: Hairy Tale)


CG Animation: Makoto Endo

(Ghost in the Shell: Stand Alone Complex, Le Chevalier DíEon)


Animation Studio: Production I.G

(Ghost in the Shell, Kill Bill: Vol. 1, The Sky Crawlers)
© 2009 Musashi Film Partners
Japanator
and
Tokyograph
recently reports that Mamoru Oshii
(Ghost in the Shell)
, Kenta Fukasaku
(Battle Royale)
and two other directors are prepare a live action project called
"Kiru ~ KILL."
The omnibus will be composed of sword fight climaxes cropped from the framework of larger dramas.
Oshii's segment, called
"ASSAULT GIRL2,"
stars Rinko Kikuchi and Yoko Fujita as two women, dressed oppositely in black and white, silently battling on an open field.
The film is scheduled to open in Japan on
December 6th
. A trailer can be seen
here.
Worth Checking Out...
Insight
The "Father of Manga" (or, as I like to think of him, the dirty uncle) Go Nagai
interviewed
Ninja Consultants present the
Guin Saga Roundtable
New York Anime Festival's
Lance Fensterman interviewed
Colony Drop looks to explain
City Hunter
On the non-anime front, Kaiju Shakedown features an
excellent wuxia essay
Subatomic Brainfreeze digs into the fate of the
"Phantom Blood"
the theatrical anime adaptation of the first part of martial arts versus vampire, multi-generation epic
Jojo's Bizarre Adventure
.
Production I.G has posted a Q and A with
Tokyo Marble Chocolate
's
Naoyoshi Shiotani
The Animanachronism looks at pre-
VOTOM
S
Ryosuke Takahashi mecha anime
Star and Stripes comments on how
Blood+
reflects concerns about the US military's Okinawa presence. Daily Yomiuri on a
simular topic
Animax's top 100
mecha
The
Eva Monkey
site is updating with
Evangelion
insight again.
Anime World Order provokes an
informed discussion
on Cartoon Network's shuttering of Toonami.
Media
FUNimation has expanded their
online, preview
offering with episodes of
Ouran High School Host
and
School Rumble: 2nd Semester. Episodes of Black Blood Brothers, Gunslinger Girl
, and
Guyver
will be added in future weeks.
FUNimation announced that the first episode of the
Witchblade
anime
will be offered free on iTunes until October 26th.
FUNimation's
YouTube Channel
will be carrying Gainax's new
Shikabane Hime (Corpse Princess)
Toonami Jetstream
is carrying
Naruto the Movie: Legend of the Stone of Gele
l until November 10.
Trailers
X'amd: Lost Memories
The next
Pokemon: Diamond and Pearl
Switch
Otaku Dating on MTV
Of Manga and '80s music videos
Star Wars
meets
Domo-kun
Obama vs McCain expressed in
4chan memes
. McCain as a Dreamcast? Wasn't that system beloved? Maybe it's a reference to the Seaman on McCain.
You know what they say
... (Sorry for going there)
Same Hat! Same Hat! presents part six of Shintaro Kago's satire
Dance! Kremlin Palace!
And, the latest from
For Tax Reasons
Star Trek news via Aint It Cool News...
Even More

STAR TREK

Movie Images Show Up Online, Along With A Sizable Hunk O' Details!!
Merrick here...
Earlier this week we got our first good look at J.J. Abrams'
STAR TREK
movie via images that were to accompany a cover article in Entertainment Weekly.
That article, by Jeff Jensen, is now online, including a few images we haven't seen yet.
HERE
is a nice shot of Karl Urbones,
HERE
is a hero shot of PineKirk, and a different angle of Harold Sulu is
HERE
.
The article also reveals many details of the film's storyline and production, a few of which are shared below.
SPOILER DETAILS AHOY!!!



** No longer are their signature Trek weapons boxy plastic toys, but sleek silver gizmos with spring-triggered barrels that revolve and glow in the transition from ''stun'' to ''kill.''


** ''In a world where a movie as incredibly produced as The Dark Knight is raking in gazillions of dollars, Star Trek stands in stark contrast,'' Abrams says. ''It was important to me that optimism be cool again.''

** Star Trek's time-travel plot is set in motion when a Federation starship, the USS Kelvin, is attacked by a vicious Romulan (Eric Bana) desperately seeking one of the film's heroes. From there, the film then brings Kirk and Spock center stage and tracks the origins of their friendship and how they became officers aboard the Enterprise.

** The storytelling is newbie-friendly, but it slyly assimilates a wide range of Trek arcana, from doomed Captain Pike (Bruce Greenwood) to Sulu's swordsmanship to classic lines like, ''I have been, and always shall be, your friend.''

** The opening sequence, for example, is an emotionally wrenching passage that culminates with a mythic climax sure to leave zealots howling ''Heresy!'' But revisionism anxiety is the point. ''The movie,'' Lindelof says, ''is about the act of changing what you know.''

** ...One other essential element in Team Abrams' conception of the new Trek: getting the old Spock. Abrams felt Nimoy's Obi-Wan-ish presence was so crucial, he told the studio he wouldn't move forward without him.

** Kirk spends much of Star Trek dressed in respectable black — space-cadet colors in Abrams' Trekverse

** Moviegoers will get a sneak peek when the first full trailer is released with the new James Bond flick on Nov. 14
There's much more to be gleaned from the article, and you can find it all...
HERE!!!
Sam Raimi Talks

'Spider-Man'

Sequel Double-Shoot, Futures of Kirsten Dunst & The Lizard
Although things weren't looking too good for awhile,
"Spider-Man"
has overcome adversities tougher than a Green Goblin-Doc Ock team-up, and now once again has Tobey Maguire and Sam Raimi in his corner. But what about Kirsten Dunst?
"Kirsten, I'd love to work with her again,"
Raimi explained to us this week, making it sound as if current plans to include Dunst for
"Spider-Man 4"
and
"Spider-Man 5"
are still up in the air, despite recent statements that she wants to remain with the franchise.
"I hope she'll be written into it. I couldn't imagine making one without her, and I think she's an important part of the movies."
Nevertheless, Raimi admitted that the very nature of an episodic series requires that characters come and go.
"I wish I could work with James Franco again,"
said the man who directed the first three hit movies.
"But his character died in the last one; same with Uncle Ben. Fortunately, we've been able to bring back all the dead characters
[like Willem Dafoe as Norman Osborn or Cliff Robertson as Ben Parker]
. I can't let them go, in each and every picture; but it gets harder and harder."
Now things are about to get hard yet again for Raimi, as he's making plans to continue the cinematic tale of Peter Parker.
"I'm really excited about Spider-Man, and I'm hoping to direct it,"
he cautioned.
"I don't have a script yet, but production would start probably by March of 2010, I'm guessing. It sounds like a long time away, but we need a script first, and a lot of pre-production has to take place."
The filmmaking legend also revealed to us that there is a lot of truth behind rumors that he might shoot the next two
"Spider-Man"
films at the same time.
"That had been talked about,"
he said, deferring to the head of his studio.
"It's Amy Pascal's decision. I don't think it has been decided yet, and she's the one that's really going to make that decision; I'm really curious myself."
By his own admission,
"Spider-Man 3"
was an exhaustive film to shoot, but Raimi is confident he can handle the double duty.
"It would be a real endurance test, probably only Peter Jackson knows how hard something like that would be,"
he marveled, hinting that
"4"
and
"5"
would be very closely linked in storyline.
"If Tobey and me, and all the producers, like the story for two pictures and Amy wanted to do it, then we would do it. It just hasn't been written yet."
Finally, Raimi offered comment on the wishes of fans (and yours truly) to finally let Dylan Baker's storyline come to fruition.
"He's a great actor, and I think one day The Lizard's story will be told,"
he teased, referring to Baker's Curt Connors character.
"I don't know if it will be this one or not. I just don't know. I'm definitely hoping to work with Dylan in the picture. I just don't know who the villain is yet."
TV's

'Batman'

Theme Song Composer Neal Hefti, R.I.P
.
Sad news out of Hollywood, as acclaimed composer, arranger and jazz trumpeter, Neal Hefti, passed away last Saturday from
"undetermined causes."
He was 85-years-old.
While Hefti's work could be heard on such classic television shows as
"The Odd Couple"
and films including
"Barefoot in the Park,"
comic fans know him best as the composer behind the iconic theme to the '60s
"Batman"
TV series, for which he won a Grammy Award.
The New York Times has an extensive story up, chronicling Hefti's career, which notes that, in addition to his film and television work, Hefti also worked with such notable talent as Frank Sinatra, Doris Day, Mel Tormé and Tony Bennett.
In a telephone interview with his son, Paul, he recalls the evolution of the classic theme song to
"Batman."



"He told me he tore up more paper on 'Batman' than on any other work he ever did,"
Paul Hefti said in the Times piece.
"He had to find something that worked with the lowest common denominator, so it would appeal to kids, yet wouldn't sound stupid. What he came up with was a 12-bar blues with a guitar hook and one word."
Richard Donner Wants Geoff Johns On Next

'Superman'

Film
To so many comic fans, Richard Donner's
"Superman"
has been the standard by which all other comic book films are judged. Yet despite the fact that Donner has no intentions of returning to the franchise, he does have someone in mind who he feels could revitalize the hero for today's audience — acclaimed comic book writer Geoff Johns.
In an interview with the
L.A. Times' Hero Complex
, Donner — without hesitation — pegged Johns as the perfect candidate for Warner Bros.'s proposed revamp of
"Superman,"
and is quoted in the piece as saying,
"I think [Johns] would be startling. Did you read his comics? There it is. It's there on paper."
Johns is widely known in comics as being DC Comics' go-to guy for fresh takes on established characters — from the Flash to the JSA to even Hawkman — and judging by fan reaction to his current run on DC's "Action Comics," it's clear that he knows what he's doing with Big Blue. Yet despite his resume and Donner's vote of confidence, the director feels it's still just wishful thinking to assume Johns may be given a shot at the franchise.
"The studio hasn't gone to him and said, 'Give us a screenplay.' That would be the smart thing to do, but that's show biz. Right? Show biz, that's our life,"
said Donner.
New "Hot Wheels" Show to Premiere on Cartoon Network & TELETOON in 2009
Variety is reporting that
Hot Wheels: Battle Force 5
will premiere on Cartoon Network on Saturday mornings starting next year
, as well as Canada's TELETOON network. The series will be based on the famous Mattel toy car line, and will be produced by Nelvana and Vancouver's Nerd Corp Entertainment.
Animation Collective Signs Deal with CANAL+ for

"Three Delivery,"

Three Other Series
The Animation Collective and CANAL+ have announced a broadcast partnership for four animated series:
Three Delivery, Ellen's Acres, Jolly Rabbit
, and
HTDT
. The shows will air in France on the CANAL+ Family Channel or CANAL+ TéléTOON, with Ellen's Acres also airing on CBBC in the UK and ABC in Australia.
Battlestar

Returns Jan. 16
Battlestar Galactica
returns at 10 p.m. ET/PT on
Jan. 16, 2009
, with the remaining episodes of its fourth and final season, SCI FI Channel announced.
The 10-week run will culminate with the series finale on March 20.
(Spoilers ahead!)
The new episodes pick up from last June's cliffhanger, in which the Colonial fleet, led by Adm. Adama (Edward James Olmos) and the Galactica crew, and their new Cylon allies arrive on Earth only to find it a barren nuclear wasteland.
Corny Cole loses home in California wild fires
Legendary animator and CalArts faculty Corny Cole has lost his home and everything in it during the recent fires in Southern California. Corny evacuated before the fire hit and is unharmed, but his home, pets, and all of his artwork, save for what he has in his office at CalArts, are gone. LA's KTTV has posted a story about him
on their website
.
Update #1:
Cal Arts and The Creative Talent Network are holding an online fundraiser. Donations can be sent to
this Paypal account
.
Update #2:
Jeff Pidgeon has informed us that if you don't like sending money over the internet, you can make a check payable to Cornelius Cole and mail it to:
California Institute of the Arts
ATT: Trish Patryla, Office of the Provost
24700 McBean Parkway
Valencia, CA 91355
(Thanks
cartoonbrew
)
Family Guy

Art Show Opens in L.A.
Twentieth Century Fox Licensing and Merchandising is opening a second exhibit featuring art inspired by the hit FOX animated series
Family Guy
.
"Family Guy C.R.A.P. (A Collection of Rare Art Pieces): Another Collection of Interpretive Work Inspired by Family Guy,"
opens at La Luz de Jesus Gallery in Los Angeles on
Oct. 18
. Featuring new pieces from more than 20 emerging artists, as well as production animation art, the exhibit will run through Oct 28.
Fox says it commissioned this series of original art as a celebration of the passion of
Family Guy
fans and the creative spirit embodied in the show. The artists, mostly involved in the lowbrow pop movement or pop surrealist movement popular in the alternative gallery scene of Southern California, were challenged to take the show's characters, design and sensibility as a starting point and let their imaginations run wild. The various artistic mediums represented include oil, acrylics and collage.
"If you're a fan of pop art or if you're a fan of

Family Guy

, this exhibit is sure to impress,"
says Dan Shapiro, exec director of Fox Licensing.
"It was such a success the first time we launched it and the demand was so high that we had to bring it back with all-new works from new artists."
The series' second installment features art from current
Family Guy
artists including Bao Nguyen, Deborah Cone and Pete Michels, as well as emerging artists Anjel Shehigian, Karen Perotta and Dominic Polcino. All of the work showcased in the exhibit promises to deliver the same sly, subversive humor and celebration/skewering of pop culture that dominates the lowbrow art movement and the
Family Guy
series itself.
Warner Bros. Embarks on

Space Odyssey
Happy Feet
director George Miller has reportedly been approached by Warner Bros. to direct an outer-space version of Homer's epic poem
The Odyssey
. According to Daily Variety, the studio has offered the starring role to Brad Pitt, who turned in a scene-stealing performance as Achilles in the 2004 Warner Bros. epic
Troy
, an adaptation of Homer's
The Iliad
.
A sequel of sorts to
The Iliad
,
The Odyssey
chronicles Odysseus' struggle to return home from the Trojan War. In his perilous travels, he encounters treacherous seductresses and various mythical creatures such as the Cyclops. Troy was a worldwide box-office hit, but many criticized it for omitting the element of divine intervention, which factors heavily into both stories. We'll have to wait and see if Pitt will be fighting CG-animated space aliens standing in for the titans of Greek myth.
If Pitt agrees to take on the role of Odysseus, he is likely to also produce through his Plan B shingle. The actor next appears under heavy effects makeup for much of director David Fincher's
The Curious Case of Benjamin Button
, and will also be seen in Terrence Malick's
Tree of Life
. He's currently at work on Quentin Tarantino's remake of the Italian WWII actioner
Inglorious Bastards
.
Miller, who also made the
Mad Max
films, is still trying to get a
Justice League
movie off the ground at Warner Bros. Bringing together such iconic DC Comics superheroes as
Batman, Superman, Wonder Woman
and
The Flash
, the pic was being fast-tracked before the writers' strike, but was placed on the back burner due to script and casting issues.
Briefly: Argentina's 2nd Annual Animation Fest; Don't Try This at Home, Kids
* Argentina will hold its second annual animation festival from
October 27-28, 2008
, in an effort to drum up business and funding for co-productions and increased domestic output. [
Variety
]
* Three teenagers were pulled from the sewers of Queens, NY, after getting lost while playing
Teenage Mutant Ninja Turtles
. [
Daily News
, via
The Beat
]
"Tinker Bell"

to Premiere on November 30, 2008 on Disney Channel
Disney has announced that the
direct-to-video movie

Tinker Bell

will debut on the Disney Channel on
November 30, 2008
, at 8:00 PM (Eastern/Pacific). The movie focuses on Tinker Bell's early life in Pixie Hollow as she learns to appreciate her special role as a fairy. The movie will be released on DVD and Blu-ray disc on
October 28, 2008
.
"Pinocchio"

Platinum Edition/Blu-ray Gets March 10, 2009 Street Date
Walt Disney Studios Home Entertainment has announced that
Pinocchio
will be released on a 2-disc Platinum Edition DVD and Blu-ray disc in time for the 70th anniversary of its release. The movie will be restored and enhanced for its newest release, and will come with a full complement of special features, including several
"making of"
documentaries, alternate and deleted scenes, and a feature-length commentary with Leonard Maltin, Eric Goldberg, and J.B. Kaufman. The Blu-ray release will also come with a bonus standard definition copy of the movie. Suggested retail pricing is $29.99 for the Platinum Edition DVD and $35.99 for the Blu-ray disc.
The Chestnut Tree

gets internet debut
Now showing in the
YouTube Screening Room
is Hyun-Min Lee's Annie-nominated short,
The Chestnut Tree
. This small, personal project has been worked on by some big names in the animation world, including Jennifer and Bert Klein, Eric and Susan Goldberg, and Don Hahn (remember
his panel is tonight
).
Click here
to read our Animated Views interview with the creators of
The Chestnut Tree
.
The Dark Knight

Dominates the Scream Awards
Spike TV's third annual "SCREAM" awards, honoring the best in fantasy, sci-fi, comics and horror, were presented Saturday night at the Greek Theatre in Los Angeles. The show featured appearances by the industry's biggest stars including Kate Beckinsale, Kristen Bell, Rosario Dawson, the cast of
"Dexter,"
Jon Favreau, the cast of
Hellboy II: The Golden Army
, Samuel L. Jackson, Milla Jovovich, Stan Lee, Gary Oldman, the Osbournes, Seth Rogen, Winona Ryder, Kevin Smith and Liv Tyler, among many others. The two-hour extravaganza also included musical performances by Grammy Award-winning band Smashing Pumpkins and up-and-coming pop sensation Kerli. "SCREAM 2008" will premiere on Spike TV on
Tuesday, October 21
(9:00 - 11:00 PM, ET/PT).
George Lucas shocked and thrilled the audience when he walked out on stage flanked by Stormtroopers to accept the Comic-Con Icon Award at SCREAM 2008. This rare appearance by one of the most iconic and influential filmmakers of all time brought the stunned crowd to its feet.
Additional honors for excellence were bestowed upon actor Sir Anthony Hopkins and filmmakers Tim Burton and Wes Craven. Sir Anthony Hopkins received the Legend Award for his tremendous contributions to films in the SCREAM genres while Wes Craven collected the SCREAM Mastermind Award for his terrifying and iconic work in the world of horror. Tim Burton received the SCREAM IMMORTAL Award for his remarkably unique interpretation of horror and fantasy.
Box office hit and critically acclaimed film,
The Dark Knight
dominated the competition collecting twelve awards including the nights' most prestigious award, The Ultimate Scream, accepted by the films' producers, Charles Roven, Emma Thomas and Christopher Nolan.
The Dark Knight
co-stars Christian Bale, Heath Ledger and Gary Oldman each scored awards, as Bale took home Best Superhero and Oldman Best Supporting Actor, while Ledger was named both Best Fantasy Actor and Best Villain for his portrayal of the Joker. Director Christopher Nolan scored the Best Director trophy and the Best Screamplay, along with Jonathon Nolan and David S. Goyer.
Iron Man
and
Sweeney Todd: The Demon Barber of Fleet Street
each took home two awards.
Iron Man
star Robert Downey, Jr. accepted the Best Actor in a Science Fiction Movie or TV Show award from the set of his new film
Sherlock Holmes
in London with director Guy Ritchie making a surprise cameo appearance.

Spike TV also debuted world premiere and exclusive never-before-seen footage from several highly anticipated theatrical releases including
Watchmen, Friday The 13th
(

read footage description

) and Twilight. ShockTillYouDrop.com talked to
Friday The 13th
star Jared Padalecki
("Supernatural") at the awards, an interview which you can read

here

. The site also caught up with Jaime King, who

talked about

the upcoming My Bloody Valentine 3-D
.
A full list of winners is included below:
THE ULTIMATE SCREAM


The Dark Knight
BEST FANTASY MOVIE


Hellboy II: The Golden Army
BEST HORROR MOVIE


Sweeney Todd: The Demon Barber of Fleet Street
BEST SCIENCE FICTION MOVIE


Iron Man
BEST TV SHOW


"Dexter"
BEST SUPERHERO
Christian Bale as Batman;
The Dark Knight
BEST ACTOR IN A FANTASY MOVIE OR TV SHOW
Heath Ledger;
The Dark Knight
BEST ACTRESS IN A FANTASY MOVIE OR TV SHOW
Angelina Jolie;
Wanted
BEST ACTOR IN A HORROR MOVIE OR TV SHOW
Johnny Depp;
Sweeney Todd: The Demon Barber of Fleet Street
BEST ACTRESS IN A HORROR MOVIE OR TV SHOW
Liv Tyler;
The Strangers
BEST ACTOR IN A SCIENCE FICTION MOVIE OR TV SHOW
Robert Downey Jr.;
Iron Man
BEST ACTRESS IN A SCIENCE FICTION MOVIE OR TV SHOW
Milla Jovovich;
Resident Evil: Extinction
BEST VILLAIN
Heath Ledger as The Joker;
The Dark Knight
BREAKOUT PERFORMANCE
WALL•E;
WALL•E
BEST SUPPORTING PERFORMANCE
Gary Oldman;
The Dark Knight
THE HOLY S***! SCENE OF THE YEAR
The Big Rig Flips Over;
The Dark Knight
MOST MEMORABLE MUTILATION
Bitten By Vagina With Teeth;
Teeth
BEST SCREAMPLAY


The Dark Knight
; Christopher Nolan, Jonathan Nolan & David S. Goyer
BEST SCREAM TO COMIC ADAPTATION


"Buffy the Vampire Slayer, Season Eight"
BEST SEQUEL


The Dark Knight
BEST DIRECTOR
Christopher Nolan;
The Dark Knight
BEST REMAKE


Halloween
BEST F/X
The Dark Knight
BEST LINE
"I believe whatever doesn't kill you makes you stranger"
(The Joker);
The Dark Knight
BEST COMIC BOOK MOVIE
The Dark Knight
BEST COMIC BOOK
"Y: The Last Man"
BEST COMIC BOOK ARTIST
Gabriel Ba;
"The Umbrella Academy: Apocalypse Suite"
BEST COMIC BOOK WRITER
Grant Morrison;
"Batman," "Final Crisis"
MOST SHOCKING COMIC BOOK PLOT TWIST
The X-Men Disband After Professor X Is Shot In The Head By Bishop;
"X-Men"
Jewel-encrusted

Tweety

Bling
I saw this advertised in a Sunday newspaper magazine supplement last week. My nomination for Worst Commercial Tweety Bird Product -
Ever!
From
The Danbury Mint
.
(thanks
cartoonbrew
)
Superhero Fashion Emergency
Outfits to wear with your Tweety bling…
(Thanks, Alex Rannie)
(Thanks
cartoonbrew
)
Terrence Howard Speaks Out on Rhodey Recast
Actor Terrence Howard appeared in the NPR studio to talk about his debut album
"Shine Through It"
with Scott Simon for the Weekend Edition. Of course, Simon had to ask him about the
recent news
that Don Cheadle would be replacing him as James
"Rhodey"
Rhodes in the upcoming Marvel Studios sequel
Iron Man 2
.
That news (which has yet to be confirmed by Marvel Studios, who remains as mum as usual) took many fans of the summer's blockbuster hit by surprise since Howard played a large role in many fans' love for the movie, and just as many were excited to see Howard step into the iron suit of War Machine. After the announcement a few days ago, speculation ran rampant about why Howard wouldn't return, but on Simon's radio show, Howard said that he found out about the news the same way the rest of us did.
"It was the surprise of a lifetime,"
he said.
"There was no explanation. [The contract] just...up and vanished. I read something in the trades implicating that it was about money or something, but apparently the contracts that we write and sign aren't worth the paper that they're printed on, sometimes. Promises aren't kept, and good faith negotiations aren't always held up."
You can hear the entire interview on
NPR.org
with the comments about Iron Man 2 starting at roughly 4 and a half minutes in.
(Thanks to Russ at CHUD for bringing this to our attention.)
Sam Jackson. Is He In

Iron Man 2

?
At today's press junket for
Soul Men,
Sam was asked if he would be in
Iron Man 2
. He said he spoke with Favreau last night and was told he is in the sequel. What his role is, or how big it would be, he didn't expand upon. But he did joke about making sure to sign a contract after what happened with Terrence Howard.
So good news for Sam and Nick Fury fans that these characters and the story arc is staying consistent and is continuing.
The Flash

Not Gaining Momentum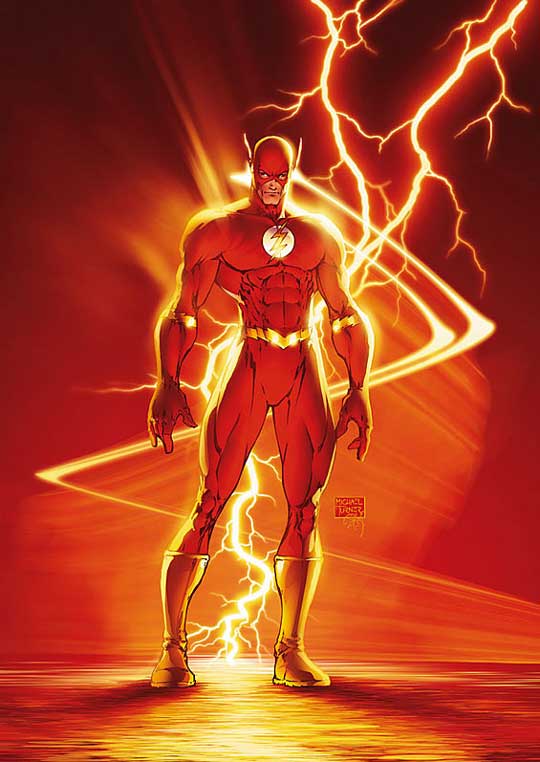 ShockTillYouDrop.com
caught up with
The Dark Knight
producer Charles Roven at the 2008 Scream Awards and asked him if
The Flash
was moving forward at Warner Bros., but it doesn't look like anything is happening:
Roven also told us that there is
"no momentum"
on comic book adaptation
The Flash
at Warner Bros. Pictures.
It was almost exactly a year ago that David Dobkin (
Fred Claus
) was
announced
as the director. At that time, Dobkin said his film would come after George Miller's
"Justice League"
movie and that it would be set in the same universe.
Created by writer Gardner Fox and artist Harry Lampert,
The Flash
has the ability to run and move extremely fast, use superhuman reflexes and violate certain laws of physics, like time travel.
SAG board will ask for strike authorization
Nikki Finke at
Deadline Hollywood Daily
reports that the Screen Actors Guild national board of directors has passed the following resolution by a 96% majority:
In hopes of moving the Theatrical and TV negotiations forward, the national board hereby takes the following actions:

SAG will formally request a federal mediator be brought into the negotiations.

The Board adds four new members to the National Negotiating Committee, two from the Hollywood Division, one from the New York Division and one from the Regional Branch Division.

The Board authorizes a referendum and accompanying educational information be sent to the members requesting their authorization for the National Board to call a strike in the Theatrical and TV Contract, at such time as the Negotiating Committee determines in its sole discretion that the mediation process has failed.
A few observations:
A call for strike authorization is not the same as saying that a strike will happen.
However, it ain't good news for avoiding one.
Strike authorization requires a 75% vote of the SAG membership.
I find it interesting that the resolution calls on a vote to authorize SAG's national board to call a strike -- not the Negotiating Committee (which in my experience is how it's usually done).
SAG recently had an election
which tipped the balance of SAG officers slightly towards the Unite For Strength slate (less militant) and away from the Membership First slate (more militant, including SAG president Alan Rosenberg). I don't yet know which slate is represented in the new Negotiating Committee members.
(Thanks
Animation Guild Blog
)
Director Malcolm Lee On Iron Fist And Power Man
Still at the junket for
Soul Men
during the roundtable questioning, Malcolm Lee mentioned comic book movies. So I asked him what he would be interested in doing when he said
Iron Fist and Power Man
.
Lee:
You got a white karate dude and a big blaxplotation dude. I want it to be an action-comedy.
Any idea on who you'd like to see play the roles?

Lee:
I don't know.
What about Michael Jai White? He'd be good. He works out at my gym, he'd be a good Cage.
[Yeah, yeah, yeah. I know I'm always on Michael Jai White's d***, but I think he'd be a good fit.]
Lee:
I don't know. You gotta have somebody's who's funny.
I'm gonna tell him you said he wasn't funny.

Lee:
(laughs) I didn't say he wasn't funny! I didn't say that!
I also asked him if it was his intention to make it a comedy movie and he said he wanted it to be in the vein of
Bad Boys
. Not
Bad Boys II
, but
Bad Boys
as far as the comedy dynamic between the two.
I like Malcolm Lee, so hopefully he can get this project off the ground!
(Thanks
Latino Review
)
Oliver & Company

special edition DVD in February
Walt Disney Home Entertainment
has announced a special edition dvd release of
Oliver & Company
for
February 3, 2009
. Extras on this release will include
"Never-Before-Released Material On DVD: The Making of

Oliver & Company

", "Return Of A Classic"
, Academy Award winning animated short
"Lend A Paw"
, and more.
New

Bolt

clip
Apple
has made available an exclusive clip from Disney's upcoming animated feature
Bolt
. Directed by Chris Williams, Bolt opens in theatres on
November 21, 2008
.
Madagascar: Escape 2 Africa

stills
Following are five new images from DreamWorks Animation's
Madagascar: Escape 2 Africa
, which is due out on
November 7
.