Chihuahua

is Top Dog at Box Office
Some crafty CG work by Tippett Studio allows dogs to talk in Disney's
Beverly Hills Chihuahua
, which took in roughly $29 million domestically over the weekend to easily claim the top spot at the box office. Fellow Opener
Nick and Norah's Infinite Playlist
earned an estimated $12 million to debut in third place behind second-week holdover
Eagle Eye
from DreamWorks and Paramount.

Drew Barrymore provides the voice of Chloe, a pampered Beverly Hills Chihuahua who finds herself separated from her owner during a vacation in Mexico and has to rely on some local animals in order to get back home. The supporting cast includes George Lopez, Andy Garcia, Cheech Marin, Paul Rodriguez, Edward James Olmos, Piper Perabo and Jamie Lee Curtis. Contributing to the visual effects are Cinesite, Svengali VFX, CIS Hollywood and CIS London.

The Warner Bros. romance
Nights in Rodanthe
dropped two notches to No. 4 in its second week, taking in another $7 million for a two-week total of approximately $25 million. Meanwhile, the Warner Bros/New Line western
Appaloosa
opened wider to the tune of $5 milion (est.), rounding out the top five.
The MGM/Weinstein Co. release of the Exodus animated comedy
Igor
is taking a steep tumble down the charts. In its third week, the mad-scientist spoof slipped from No. 6 to No. 14 on the charts with roughly $1.7 million. Since opening, the $30 million toon has pulled in roughly $17 million domestically and has yet to begin its run overseas.
TV Asahi Acquires Shin-ei Animation
Japanese Television Network TV Asahi has acquired a majority stake on animation studio Shin-ei Animation, according to Daily Variety. The purchase of $28.5 million in additional shares gives the broadcast outlet a 90% stake in the toon shop behind the popular anime series
Doraemon, Crayon Shin-chan
and
Atashinchi
, which all air on TV Asahi. Distributed by FUNimation, the adult-oriented
Crayon Shin-chan
airs as
Shin Chan
in the U.S. on Adult Swim.
Headquartered in Tokyo, TV Asahi Corp. also owns All-Nippon News Network. Established as a for-profit educational television channel, TV Asahi is required to devote at least 50% of its airtime to educational programming, and at least 30% to children's educational programming. The network already had a 10% stake in Shin-ei from a 2003 deal.
Shin-ei was founded in the late '70s by influential animator Daikichiro Kusube, who passed away in 2005. The toon shop reported sales of $37 million last year.
Toons Breakthrough at MIPCOM
Breakthrough Ent. will premiere two new animated series at MIPCOM in Cannes next week. International buyers will have the opportunity to check out the adult-oriented comedy
Producing Parker
, as well as the children's show
Fishtronaut
. Located at booth # 00.01, the company will also debut the live-action kids' show
Think Big
, which focuses on young inventors.
Producing Parker
(13x30) is described as an edgy send-up of daytime talk shows. Kim Cattrall (
Sex and the City
) provides the voice of Dee, the title character's self-absorbed, high-maintenance boss and host of The Dee Show, a talk show that sells viewers the myth of having it all. In each episode, Parker has to manage her boss's delicate ego with the daily behind-the-scenes antics of live TV. The show is co-produced by Breakthrough Animation and Philippine Animation Studio, in association with Canwest Media.
Fishtronaut
(52x11 or 26x30) is an animated, adventure series revolving around Fishtronaut, a secret agent fish as he goes on slimy, furry and gooey adventures with his gal pal, Marina, and Zeek, a tween-age monkey. Kids will be encouraged to engage interactively by tapping and clapping along with the colorful characters. Aimed at kids 4-7, the series explores the world's many mysteries above and below the water. It's produced by the creative team at Brazil's TV PinGuim in association with Discovery Kids, and is available in HD.
3DX Opens with a

Bolt
Two days before it opens in the U.S. Disney's
Bolt
will premiere at the inaugural 3DX: 3D Film & Entertainment Technology Festival in Singapore. According to The Hollywood Reporter, the animated family flick will be honored as the opening movie, kicking off the fest on
Nov. 19
. The screening will be preceded by a rundown of Disney's hefty slate of upcoming 3-D pics, which includes the Pixar adventure
Up
, the live-action/CG hybrid G-Force and the mo-cap pic Disney's
A Christmas Carol
.
3DX is a five-day event being produced by Jim Chabin Partners of Los Angeles and the Media Development Authority of Singapore. The keynote address will be delivered by DreamWorks Animation CEO Jeffrey Katzenberg, filmmaker James Cameron and Twentieth Century Fox Filmed entertainment chair Jim Gianopulos. All three have vested interests in 3-D entertainment. DreamWorks Animation has committed to designing all of its animated features for stereoscopic exhibition starting with next year's
Monsters Vs. Aliens
, and Cameron is working on the highly anticipated, CG-laden sci-fi adventure
Avatar
, which will be distributed by Fox in 2010. Fox also has the animated sequel
Ice Age 3: Dawn of the Dinosaurs
set for release in July of 2009, and is preparing to re-release George Lucas'
Star Wars
films in 3-D.
Directed by Chris Williams and Byron Howard,
Bolt
tells the story of a canine TV star (voiced by John Travolta) that is inadvertently shipped from Hollywood to New York City. During his cross-country journey home to his owner, Penny (Miley Cyrus), he makes the surprising discovery that his TV super powers don't work in the real world. He his joined in his adventure by a jaded, abandoned housecat named Mittens (Susie Essman) and a TV-obsessed hamster in a plastic ball named Rhino. The film will open in North America on
Nov. 21
.
Other stereoscopic pics to be screened at 3DX include New Line Cinema's CG-laden Jules Verne adaptation,
Journey to the Center of the Earth
, which opened in theaters over the summer, and nWave Pictures and Illuminata Pictures' animated family adventure-comedy,
Fly Me to the Moon.
Spielberg Quits DreamWorks
Paramount Pictures and DreamWorks have officially ended their distribution relationship, and Steven Spielberg is leaving to form a new motion picture company in partnership with Reliance BIG Ent. He will be joined in the venture by Stacey Snider, who hooked up with DreamWorks in 2006 as co-chairman and CEO. DreamWorks principal David Geffen, will not be joining the new company, which is expected to absorb a majority of the DreamWorks staff.
Under the separation agreement, Spielberg's new company will take the lead on a number of development projects, which Paramount will have the option to co-finance and co-distribute. All other projects currently in development will remain at Paramount, and the Reliance-backed venture will have the opportunity to co-finance several projects that have Spielberg attached. In addition, Spielberg will continue to produce the
Transformers
franchise for Paramount, and will also collaborate on three other Paramount films including a remake of the sci-fi classic
When Worlds Collide
.
"Brad is a friend and I am pleased to be able to continue to work with him and his team with whom we have shared many successes,"
comments Spielberg.
"We have enjoyed a productive creative and business collaboration with Brad, Paramount and Viacom over the past few years and are enthusiastic about extending the relationship for many years to come. And I have a very special thanks to David Geffen for his far-reaching vision that has made it possible for me to steer this new course. His advice and wisdom have always been right on the money. He is a friend for life."
DreamWorks Animation, which became a separate entity when it went public in October of 2004, will apparently continue to have its films distributed by Paramount. The next is the sequel
Madagascar: Escape to Africa
, which hits theaters on
Nov. 7
. The toon shop will make its 3-D debut with the
March 27, 2009
opening of
Monsters Vs. Aliens
.
Clone Wars

Most Watched Series In Cartoon Network History
The new Lucasfilm Animation series
Star Wars: The Clone Wars
on Cartoon Network scored as the most-watched series premiere in network history on Friday.
The one-hour new series premiere was the #1 program from 9-10 p.m. among all major kids networks in kids 6-11, kids 2-11, tweens 9-14, teens 12-7 and persons 2+, earning triple-digit increases compared to the same time period last year.
The weekly, CG-animated series also attracted the largest tweens 9-14 audience for any premiere telecast of an original series in Cartoon Network's 16-year history.
Additionally that night, Cartoon Network premiered another original animated series to serve as its lead-in for the all-new Friday night fantasy-action-adventure line-up,
The Secret Saturdays
(8-9 p.m.), which earned 35% more kids 6-11 and 86% more boys 6-11 than programming that appeared in the same time period in 2007. Similarly,
The Secret Saturdays
also increased kids 2-11 delivery by 47%, boys 2-11 delivery by 67%, tweens 9-14 delivery by 23% and boys 9-14 delivery by 60%.
The Elephant in the Room -- Part I
Disney Legend Floyd Norman returns to JimHillMedia with a detailed look at
"Wild Life,"
an innovative animated feature that WDAS developed as a follow-up project for
"Dinosaur"
but ultimately abandoned in late 2000
Because of a quirky accident, an elephant from a local zoo is transformed into a singing, dancing diva. The appearance of this pop icon kicks off an incredible story of love, revenge and intrigue. Better yet, it's a new animated, digital motion picture from
Walt Disney Feature Animation
.
Wait a minute! Did you say Disney?
About a year ago, I was surprised and delighted when I heard that Disney had decided to give the okay to an
exciting new book
that would examine the animated movies the company never made. The projects that, for one reason or another, ended up on the Disney shelf.
Animation historian Charles Solomon's latest. A worthy addition to your Disney bookshelf
Noted animation historian Charles Solomon would author this new tome providing images and insight into a number of Disney projects that never made their way to the silver screen. Or that were radically revised along the way.
My involvement with one of these projects began on my return from Pixar Animation Studios where I had worked on,
"Monsters, Inc.
" Early in the year 2000, I was requested to join the story team of a film then in development entitled
"Wild Life."
The assignment to storyboard a song sequence would only require my services for a few weeks.
I was well aware of the
"Wild Life"
project, having seen it move into development at Disney Studios before I had left in the late nineties. The original idea seemed pretty cool since the film had a narrative that appeared to be a send up of American pop culture. I recalled the characters being wacky representations of pop heroes
Andy Warhol
and fashion mavens
Anna Wintour
&
Diana Vreeland
. The pop magazine, "Magazizzi" represented the many glitzy and glamorous publications one continually saw on the local newsstands. Think
"The Devil Wears Prada"
on steroids.
A story sketch by "Wild Life" co-director,
Howard Baker
Innovative and groundbreaking,
"Wild Life"
was the animated digital motion picture that, in the words of Disney's own executives,
"was going to knock the socks off the competition."
Wild Life
would be the last thing they ever expected to come from Disney Studios.
You've got to admit that on the surface this seemed like a good idea. After all, what could be funnier than a satirical motion picture that poked fun at the shallow, superficial conventions of popular culture? To laugh at the current contrived trends involving music, fashion and style. However, the filmmakers made one very deadly mistake.
They took it all seriously.
Kitty Glitter and Ella the Elephant. Sketch by this production's Head of Story Darryl Kidder
Don't get me wrong. The filmmakers were well intended, and the movie could certainly boast some of the finest art direction & production design to ever come out of the Walt Disney Studio. The talent was top tier, and Disney spared no expense in bringing this very unique motion picture to the big screen.
My one month on the project had become two, and I continued to create the storyboard assignments sent my way. Having completed the song sequence, I would continue on the show until its eventual shutdown.
By the summer of 2000, the motion picture,
"Wild Life"
had two sequences green-lit for production. I confess I enjoyed seeing the digital characters come to life on the computer screens, and we were all dazzled by a fully rendered scene showing the color imagery in all its digital glory. Wow! The effect was jaw dropping. Maybe Disney had something here after all.
Disney's top production designers came up with some bold, innovative ideas for "Wild Life" 's art direction
Or did they?
By late summer, my directors had me tweaking certain scenes as the crew prepared for an upcoming screening of the new motion picture. The entire film would be
"up on reels."
That means all three acts in storyboard form could be viewed in their entirety. Eventually, word got around that we were going to have an important visitor take a look at our film. The very same gentleman who only a few years earlier saved Feature Animation from an untimely death.
Roy Disney
would be viewing
"Wild Life."
And you probably already know what happens next.
Next time, you'll learn the fate of this particular animated movie and the wacky events that followed Roy Disney's verdict.
Iron Man

Becomes Best Selling Blu-Ray Of All Time In Just 48 Hours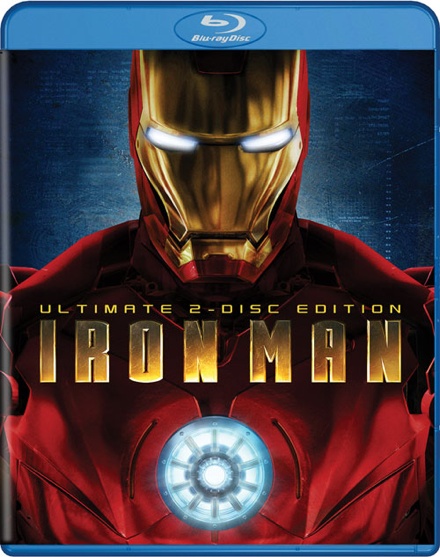 Iron Man
director Jon Favreau announced on Thursday's Howard Stern Show that the Blu-ray edition of
Iron Man
has already outsold every other blu-ray disc release to date. That's a pretty impressive accomplishment for only two days on store shelves. Of course, no official numbers have been released to back up Favreau's claim, but we'll trust his word for now… It's believable, and besides, when has he let us down in the past? Favs a good guy. Which is why I'm sad to say that
Iron Man
's new record will likely be short lived, as
The Dark Knight
hits store shelves on
December 9th
.
Season Five Episodes Of

"The Batman"

Scheduled For Teletoon This Month
Teletoon has scheduled episodes from the fifth and final season of
The Batman
for this month, October 2008.
Teletoon has provided
The World's Finest
with the airing schedule for
The Batman
for the remainder of the month.
The Canadian network is scheduled to air the episode "The Joker Express" on
Sunday, October 12th, 2008
, at 10am (ET), followed by another Joker-centric episode "The Metal Face of Comedy" the following
Sunday, October 19th, 2008
at 10am (ET). Teletoon has also confirmed that
The Batman
will be pre-empted the weekend of October 26th due to Halloween programming, but will return November 2nd, 2008.
"SpongeBob SquarePants"

Spongicus Special Coming to DVD
From
TVShowsonDVD.com
comes news that a new 90-minute
SpongeBob SquarePants
episode, titled "Spongicus" (a parody of "Sparticus") is coming to DVD on
1/27/09
. No price or special material has yet been announced.
"Chowder"

Gets Nine More Episodes
Chowder
creator C.H. Greenblatt reports on his weblog that
Cartoon Network has ordered nine more episodes of the show
. New episodes will resume in November, starting with the election-themed
"Panini for President."
Has Christopher Nolan Signed On To

'The Dark Knight'

Sequel?
Since the film's debut, fans of the summer's box office champ,
"The Dark Knight,"
have been waiting for two big announcements — one, which villain (or villains) the Caped Crusader will be facing off against in the next go-round, and two, if Christopher Nolan
will be coming back on board as writer and director
.
According to a post on
Slashfilm.com
yesterday, the wait for an answer to one of those questions might finally be over. In a story that started floating around the internet this weekend — originating in a recent issue of "Production Weekly" — Christopher Nolan is listed as the director of the next installment of the
"Batman"
franchise, and
as previously reported
, the rumored pre-production date of February 2009 is also noted.
It is worth noting that "Production Weekly" is an industry publication, and as Slashfilm.com points out, they usually get their information straight from studio sources. Yet on the other hand, it's also very highly unlikely that the magazine would scoop Warner Bros., who will most likely make the announcement via super-hyped press release.
In any event, the internet continues to wait with baited breath for the pending news…
'Captain America'

Plot Synopsis Posted, WWII Period Piece Confirmed
The plot synopsis for Marvel Studios'
"The First Avenger: Captain America"
has been posted in entertainment industry newsletter Production Weekly, and it looks like the film will indeed be set in World War II, as had been rumored for quite some time now.
FilmSchoolRejects
has posted the text of the synopsis, which involves a Depression Era boy named Steve Rogers enlisting in the Army, only to discover that his physical ailments make him ineligible to battle the Nazis. An officer gives Rogers the opportunity to participate in
"Operation: Rebirth,"
which involves doses of the
"Super-Soldier Serum"
and
"Vita-Rays."
Rogers emerges from the program with
"a body as perfect as a body can be and still be human."
"Armed with his indestructible shield and and battle savvy, Captain America has continued his war against evil both as a sentinel of liberty and leader of the Avengers,"
according to the posted synopsis.
While this appears to confirm the time period for the story, there's also that pesky matter of finding a director for the project — currently scheduled for a
May 6, 2011
, release — and someone who can play the lead role. Whoever ends up donning the ol' red, white and blue uniform will probably need to commit to at least two films in short order, though, as the title of the film seems to indicate that Captain America will have a prominent role in
"The Avengers,"
the Marvel superteam film scheduled for release in
July 2011
.
New

'Watchmen'

Video Journal Features New Footage & Making Of Dr. Manhattan
There's a lot to like about the latest
"Watchmen"
video journal to appear on the 'Net, including some great new footage that not only features a 40-foot, glowing Dr. Manhattan working in his laboratory, but also a quick peek at everyone's favorite right-wing vigilante, Rorschach, marveling at the aforementioned naked, blue-skinned giant.
The video, which you can watch over on
SciFi.com
, also provides a visual companion to
MTV's SplashPage's
earlier post about
bringing Dr. Manhattan to life on the screen
, including a look at the impressive (dare we say,
"Tron"
-like) motion-capture suit actor Billy Crudup used to play the atom-manipulating Manhattan. Among the many glowing, signal-sending apparatuses strapped to the mo-cap suit were even a pair of glowing lights strapped to the sole of Crudup's boots — used to simulate the glow on the floor when Dr. Manhattan takes a step.
Now that is the sort of attention to detail we like to see, folks.
Wolverine And The X-Men

episode guide
Marvel Animation Age
has the complete episode title list for
'Wolverine And The X-Men'
in this exclusive.
The correct episode titles for
Wolverine And The X-Men
are listed below in proper order. The episode list covers the current 26 episodes being produced for the upcoming animated series.
001 "Hindsight – Part 1"
002 "Hindsight – Part 2"
003 "Hindsight – Part 3"
004 "Overflow"
005 "Thieves Gambit"
006 "X-Calibre"
007 "Wolverine Vs Hulk"
008 "Time Bomb"
009 "Future X"
010 "Greetings From Genosha"
011 "Past Discretions"
012 "eXcessive Force"
013 " Battle Lines"
014 "Stolen Lives"
015 "Hunting Grounds"
016 " Badlands "
017 "Code of Conduct"
018 "Backlash"
019 "Guardian Angel"
020 "Breakdown"
021 "Rover"
022 "Aces & Eights"
023 "Shades of Grey"
024 "Foresight – Part 1"
025 "Foresight – Part 2"
026 "Foresight – Part 3"
Wolverine And The X-Men
is slated to premiere
January 2009
on the Nicktoons Network. Stay tuned for further updates.
Marvel to film next four in California
As Marvel Studios, a subsidiary of Marvel Entertainment, Inc., powers up to begin production on its next highly anticipated slate of films, the studio has made an agreement with Raleigh Studios to film each of Marvel's next four films at Raleigh's facility in Manhattan Beach, CA. The four projects to be produced at the studio facility over the next three years include
'Iron Man 2', 'Thor', 'The First Avenger: Captain America'

and

'The Avengers'. Keeping these four major tent pole film productions in Southern California allows the studio access to outstanding crews and resources and makes Marvel the largest tenant on the Raleigh lot. Additionally, Marvel Studios will move its Beverly Hills-based executive and production offices to Raleigh's facility in Manhattan Beach.



"In making this deal with Raleigh to produce our upcoming films at the Manhattan Beach Studios, we are most excited about keeping our film production here in California and taking advantage of the best crews in the Los Angeles area,"

stated Louis D'Esposito, Marvel's President of Physical Production.

"All of our production partners on these upcoming films have been incredibly accommodating in terms of their creativity and financial structures, allowing us to remain in California. Raleigh Studios has long been known for the superior quality of its film production facilities and we know that Manhattan Beach will be the ideal location to produce our movies to the highest standards that our fans expect."

"We are thrilled that we were able to find a way to make this deal work for Marvel,"

said Michael Moore, Raleigh Studios President.

"We could not have asked for a greater compliment than having a quality company like Marvel put their faith in us to provide a home for its film productions."

The Marvel live action releases to be filmed at Raleigh Manhattan Beach Studios are scheduled to arrive in theaters beginning in 2010 and going through 2011. Specifically the release dates are IRON MAN 2

on

May 7, 2010

;

THOR

on

July 16, 2010

;

THE FIRST AVENGER: CAPTAIN AMERICA

on

May 6, 2011

; and

THE AVENGERS
on
July 15, 2011
.
Raleigh Manhattan Beach Studios first opened for operations during 1998. This studio consists of 14 sound stages on 22 acres with an additional 300,000 square feet of office and support space. As a result of this venture, Raleigh Studios along with its sister company Hollywood Rentals, are now the largest operator of independent film studio facilities and production services in North America.
Sleeping Beauty

, Harryhausen Pix on Blu-Ray
Several classic films have been polished up for re-release on home video Tuesday. The Disney favorite
Sleeping Beauty
is the first Mouse House animated classic to be released on Blu-ray Disc, and four fantasy faves featuring stop-motion animation by vfx legend Ray Harryhausen make their Blu-ray debut as well. The four-disc collectible gift set offers
20 Million Miles to Earth, The 7th Voyage of Sinbad, It Came From Beneath the Sea
and
Earth Vs. the Flying Saucers
in high-definition for the first time.
Available on both Blu-ray and standard-definition DVD, the 1959 fairytale
Sleeping Beauty
has once again been digitally re-mastered for superior picture and sound quality in time for its 50th anniversary. Last reissued in 2003, the enduring tale of a doomed princess and her brave knight now comes with a never-before-seen alternate opening and a new documentary titled
Picture Perfect: The Making of Sleeping Beauty
. Other bonus materials include deleted songs, interactive games and a new
"Once Upon a Dream"
music video performed by
Hannah Montana
's Emily Osment. The Blu-ray edition also includes a behind-the-scenes tour with picture-in-picture commentary by Pixar's John Lasseter, Disney animator Andreas Deja and film critic and historian Leonard Maltin. In addition, Walt Disney Imagineering's Sleeping Beauty Castle Walk-through attraction, which has been closed for 30 years, has been digitally recreated in 3D. The two-Disc DVD set lists for $19.99, and the Blu-ray edition can be has for $34.99 or less.
The Ray Harryhausen Collection
on Blu-ray from Sony Pictures Home Entertainment provides 578 minutes of good, old-fashioned sci-fi and fantasy matinee fun crawling with stop-motion monsters, mythical creatures and alien invaders. The set carries a suggested retail price of $107.95. Also debuting Tuesday is a stand-alone, 50th anniversary edition of
The 7th Voyage of Sinbad
. Listing at $28.95 on Blu-ray and $19.95 on DVD, the disc features commentary by Ray Harryhausen, visual effects experts Phil Tippett and Randall William Cook, author Steven Smith and producer Arnold Kunert. Also included are a documentary and six featurettes.
Stop-motion fans can also pick up the
Jack Frost Deluxe Edition
on DVD. The 1979 Rankin & Bass holiday special features the voices of Buddy Hackett, Robert Morse and Larry Storch, as well as songs by Mel Torme, Al Jolson and others as it tells the tale of how brave winter elf Jack Frost became human. Extras include
"Totally Cool Crafty Creations,"
a feature that teaches kids how to make their own holiday crafts, and
"Snip's Snowy Sing-a-long."
The Warner Home Video release carries a suggested retail price of $19.98.
Cartman Faces

"China Problem"

in New South Park
Cartman and Butters set out to thwart an invasion by China in an all-new episode of
South Park
, premiering
Wednesday, Oct. 8
at 10 p.m.
"The China Problem"
kicks off a slate of seven new installments of Comedy Cental's long-running animated comedy, which enters its 12th season fresh off its Emmy win for the three-part
"Imaginationland"
saga.
After watching the intimidating opening ceremonies of the recent Olympic Games, Cartman understands that the Chinese are only just days away from invading the United States. While the rest of the American people are haunted by the memory of a recent tragic event, only Butters will stand with Cartman as he confronts the Chinese.
Launched in 1997,
South Park
remains the highest-rated series on Comedy Central. The show's official website,
www.southparkstudios.com
, is hosting
"Six Days to South Park,"
a behind-the-scenes mini-doc depicting how the series' topical episodes are made from start to finish in under a week.
El Mariachi

Plays for Cake, Studio Moshi
Cake Ent. and Melbourne, Australia-based Studio Moshi have partnered to co-produce
El Mariachi
, a 2D animated comedy-action series for kids 6-11. Created by Studio Moshi, the show is being a series of 52 11-minute adventures and wil be introduced to international buyers at next week's MIPCOM market in Cannes.
"What we instantly liked about El Mariachi is it's classic cartoon appeal and the obvious talent behind the show,"
says Cake creative director Tom van Waveren.
"Michael Amos and Andrew Davies at Studio Moshi bring a refreshing mix of enthusiasm, passion and experience to the table, which is apparent in every panel of the show."
Based in London, Cake Distribution (
www.cakeentertainment.com
) is a boutique distributor of animation and family entertainment properties. The company handles worldwide distribution rights for Cartoon Saloon's
Skunk Fu!
and Fresh TV's
Total Drama Island
. Other properties in the Cake catalog include
Eliot Kid, Aesop's Theater, King Artur's Disasters, Edgar & Ellen, Loopdidoo
and
Tiny Planets
, as well as the Scholastic catalog for Europe only.
Studio Moshi creates original entertainment for TV and other entertainment platforms, including video games, the web and mobile. The company specializes in both original IP creation/development and full-service traditional and Flash animation for international co-productions. For more information, see
www.studiomoshi.com
.
Alvin

Leaves the

Chipmunks
After 50 years of entertaining children with their high-pitched tunes, the animated musical group
Alvin and the Chipmunks
has lost its front man. Of course, it's only a publicity stunt aimed at getting kids to visit
www.chipmunkaudition.com
and try out to become the group's new lead vocalist. The promotion also supports the
Nov. 4
release of the new Chipmunks album,
Undeniable
.
Visitors to
www.chipmunkaudition.com
will be able to upload their own audition videos to the Chipmunks' YouTube channel. Any song will be accepted and costumes, props and other creative ideas are encouraged.
More than 40 albums have been released under the Chipmunks franchise. Undeniable features a remix of
"We're The Chipmunks,"
the theme song from the popular cartoon series, as well as a version of Bob Marley's
"Three Little Birds."
There's also a new holiday tune titled
"Ho Ho Ho,"
a spoof of Bon Jovi's
"Livin' On a Prayer"
and a 'munked version of Led Zeppelin's
"Rock and Roll."
Rising pop star Drew Seeley, who contributed to the
High School Musical
soundtracks, is also featured on a duet of the classic disco hit
"Shake Your Groove Thing."
Watership Down, Charlie Brown

, TV Faves on Disc
Warner Home Video celebrates the 30th anniversary of the classic animated fantasy film
Watership Down
and
Charlie Brown
tries to get elected in this week's batch of home video releases. Also hitting disc are episodes of the hit animated primetime series
The Simpsons, South Park and Robot Chicken
.

Based on British author Richard Adam's bestselling novel of the same name,
Watership Down
revolves around a community of rabbits nestled among the rolling hills and peaceful meadows of England. When their warren is threatened, a small group of brave bunnies illegally escapes into the unknown countryside in search of a safer home. Led by the visionary Fiver, the courageous Bigwig, the clever Blackberry and the honorable Hazel, they embark on a dangerous journey that will require all of their strength and cunning. The voice cast includes such celebrated British actors as John Hurt, Richard Briers, Harry Andrews, Simon Cadell, Nigel Hawthorne and Roy Kinnear.

Listing at $19.97, the deluxe edition film is accompanied by all-new extra features including
Watership Down: A Conversation with the Filmmakers
, a conversation with producer/director Martin Rosen and editor Terry Rawlings. There's also a featurette titled Defining a Style, as well as a storyboard-to-animation comparison.

The animated television special
You're Not Elected, Charlie Brown
comes to DVD with a re-mastered, deluxe edition from Warner Home Video. In this enduring tale, Charlie wants to be student body president, but polling information gathered by Lucy doesn't look good for his chances. He decides instead to back Linus, who runs on a pro-recess, anti-homework platform. He's looking like a shoo-in, until he starts talking about the Great Pumpkin.

Included on the disc is a behind-the-scenes featurette titled
The Polls Don't Lie: The Making of You're Not Elected, Charlie Brown. The feature offers viewers an in-depth look at the eighth Peanuts television special, and explores the political leanings (or lack thereof) of its producers as they set out to create a politically-themed piece within the realm of Peanuts. The DVD carries a suggested retail price of $19.98.

The Simpsons: The Complete Eleventh Season arrives as a four-disc set with 22 episodes of the long-running FOX series. Retailing for $49.98, the set features episode commentary, an introduction by series creator Matt Groening, an animation showcase, deleted scenes, The Many Faces of Krusty featurette, original sketches and A Star on Hollywood Boulevard featurette.

South Park: The Cult of Cartman
is a two-disc set with 12 episodes featuring Cartman at his very worst. The Warner Home Video release lists for $26.99. There's more irreverent, adult-oriented animated comedy to be found in Warner's release of
Robot Chicken: Season 3
, a double-discer packed with 20 episodes of the Adult Swim series for $29.98.