Fans unite in auction to save Superman's house
Superman's home planet Krypton was destroyed, but his house on Earth will live on thanks to loyal fans and an online auction that raised $100,000 to restore the rotting home where the Man of Steel was created.
Everything from original artwork to a role on the hit television show
"Heroes"
was sold in the month-long auction, which ended on Tuesday, to save the dilapidated Cleveland, Ohio, house where Superman was dreamed up by writer Jerry Siegel and artist Joe Shuster more than 70 years ago.
"This was easily the most humbling spectacular project I've ever been part of, and showed just how much people care about this character and why today Superman still matters,"
said novelist Brad Meltzer, who organized the auction.
Meltzer said $101,744 was raised in the month-long sale of art, memorabilia and other donated goods, more than double the $50,000 goal. The extra money will allow organizers to fix up not just the outside but also the inside of the Cleveland house where an elderly couple now live.
Meltzer, who discovered the deteriorating house while researching a novel, said at first he wasn't sure people would care about restoring the red-and-blue house where the superhero who wears the red-and-blue suit was dreamed up in 1932.
But the response has been overwhelming.
"The house where Google was created is saved. The farm where Hewlett-Packard was founded is preserved. We protected the house where Dr. Seuss lived, where Elvis lived,"
noted Meltzer.
"So the idea that Superman's house was just rotting away struck everyone as inherently wrong."
Meltzer, who offered the naming rights to a character in his next novel as part of the auction, takes no credit for saving the home, saying loyal fans of the comic book hero came to Superman's rescue.
"We're all Clark Kent. We all know what it is like to be boring and ordinary and we all want to be able to rip open our shirt and do something beyond ourselves. That's what happened here. Ordinary people made a difference."
No Oscar Run for

Coraline

in '08
When the Academy releases its short list of animated features that qualify for Oscar consideration, LAIKA's stop-motion, 3-D fantasy pic,
Coraline
, will not be among them. Based on a popular novel by Neil Gaiman
(Stardust, MirrorMask)
, the movie is slated for wide release on
Feb. 6, 2009
, but was expected to get a limited, early run in order to qualify for the upcoming Academy Awards. Now we're told the film won't be eligible for another year. Focus Features has worldwide distribution rights.
Directed by Henry Selick
(The Nightmare Before Christmas, James and the Giant Peach, Monkeybone)
Coraline
centers on a young girl who moves with her parents into a new home and discovers a portal to a parallel reality. The voice cast includes Dakota Fanning, Teri Hatcher, Keith David and the famed British comedy duo of Dawn French and Jennifer Saunders, better known as French & Saunders.
LAIKA is producing the film in association with Pandemonium Films. Pandemonium president/CEO Bill Mechanic and LAIKA's Mary Sandell are handling producing duties for the feature, which is being animated at LAIKA's Portland animation studio. Ten minutes of the pic were previewed at various film festivals earlier this year, and Gaiman says it was well received by audiences.
Jacobson Named Exec Producer at CafeFX
Visual effects shop CafeFX has appointed industry veteran Joni Jacobson exec producer and head of business development. Jacobson will oversee the company's Los Angeles production operation at the facility it shares with sister company, commercial and design studio The Syndicate.
Jacobson will work with CafeFX CEO and executive producer Jeff Barnes and CafeFX's longtime senior producer, Vicki Weimer, both of whom will continue to provide oversight of the company's visual effects and animation projects at its facility in Santa Maria. Additionally, Barnes and Jacobson will spearhead new business development and cultivate working relationships with studio executives, visual effects supervisors and post-production supervisors.
Jacobson began her career in visual effects as a graphic designer and creative director before becoming a visual effects and compositing supervisor for feature films. She is also an accomplished compositing artist for film and television projects. Over the past two decades she has worked for such noted facilities as Digital Domain, CIS Hollywood, Sony Pictures Imageworks, Rhythm & Hues, ILM, Entity FX, Asylum and Dream Quest Images. In 2002, Jacobson opened her own boutique studio, Mar Vista Ventures, to produce high-quality, low-maintenance compositing with a small team of experienced digital artists.
Among her credits as a visual effects producer and compositing artist are
The X Files: I Want To Believe, Get Smart, Rush Hour 3, Pirates Of The Caribbean: At World's End, Zodiac, Ghost Rider, The Chronicles of Narnia: The Lion, the Witch and the Wardrobe, Mr. & Mrs. Smith, The Aviator, Armageddon, Titanic

and the television mini-series

Angels In America.

CafeFX is currently in production on visual effects for Martin Scorsese's Shutter Island

, and recently completed work for Rob Bowman's

The Mummy: Tomb Of The Dragon Emperor

, John Woo's

Red Cliff

, Jon Favreau's

Iron Man

, The Wachowski Bros.'

Speed Racer

, Marc Forster's

The Kite Runner

and Sam Raimi's

Spider-Man 3
, among others. The studio's team of artists recently won an Emmy Award for their visual effects for the HBO miniseries John Adams.
Cookie Jar Debuts

Metajets, Noonbory, Santa

at MIPCOM
Cookie Jar Ent. is headed to MIPCOM 2008 with three new toon projects to be screened for global broadcasters. In addition to such established favorites from the newly acquired DIC library (
Horseland, Sushi Pack, Dino Squad, Strawberry Shortcake
), the company will offer the original animated adventure series
Metajets

and

Noonbory & the Super 7
, and a holiday special titled
Gotta Catch Santa Claus, which features William Shatner as the voice of Santa.

Metajets is a series for boys that takes place in a world where aviation is paramount, and young flying aces compete on the Aeronautical Racing Circuit while secretly waging a high stakes battles for air supremacy. Featuring a mix of 2D and CG animation, the series of 40 half-hour episodes is co-produced by Cookie Jar and Sunwoo. The show is scheduled to begin airing on Canada's TELETOON in 2009.

Noonbory & the Super 7 is co-produced by Cookie Jar and Daewon Media. The series is set in the enchanting, Technicolor world of Toobalooba, where a group of small, energetic creatures called Borys use their heightened senses, imagination and teamwork to solve everyday problems. Led by Noonbory, the Borys each possesses a very important and sensational skill that allows them to save the day when trouble comes to Toobalooba. BBC Kids, Knowledge, Access Television and SCN in Canada are on board to broadcast 26 half-hour episodes.

Gotta Catch Santa Claus
is the story of 12-year-old Trevor, who believes in his heart of hearts that Santa Claus exists and wants to prove it to his friends and the media by actually capturing the jolly gift-giver. Unfortunately, he isn't the only one out to catch Santa. A cold-hearted, dim-witted ice monster aims to get off his icy comet orbiting Earth and exact revenge on his bearded nemesis from the North Pole. The CG-animated special co-produced by Cookie Jar and Enemes will air on TELETOON in Canada this winter.

Cookie Jar will also offer international buyers new episodes of
Horseland
(13X30),
Sushi Pack
(13X30),
Dino Squad
(26X30) and the Richard Scarry-inspired
Hurray For Huckle!
(26X30). Preschool favorite
Strawberry Shortcake
will also be featured at the company's booth.
lynda.com Offers Adobe CS4 Training
Software training video supplier lynda.com is celebrating the largest launch in its history in conunction with the recent release of the Adobe Creative Suite 4 (CS4) product family. Boasting more than 100 hours of instructional videos on Creative Suite 4 training, the collection is being called "CS4 University" and can be accessed at www.lynda.com/CS4U. Subscribers will have access to 34 different product training tutorials, with dozens of additional courses planned for the coming months. As the exclusive in-the-box video training provider for Adobe Creative Suite 4, lynda.com has also produced training videos that are bundled with the software.
"We are passionately dedicated to providing the best possible training, knowledge and inspiration to our subscribers," comments Lynda Weinman, co-founder of lynda.com. "
As digital tools like Adobe Creative Suite 4 become ever more powerful, we realize that our mission is more important than ever."
CS4U is organized into three series, and is designed to help lynda.com's Online Training Library subscribers get the most out of the new software suite from Adobe. The "New Features" series focuses on what has changed since Creative Suite 3 was released, while the "Getting Started" series gets Creative Suite 4 users up and running quickly. Finally, the "Essential Training" series supplies the ground-up fundamentals needed to master each application in CS4.
These new courses join more than 700 hours of Adobe training materials already available at lynda.com. The site's subscription-based training library also provides on-demand videos for Photoshop, Illustrator, Dreamweaver, Flash and other applications associated with digital photography, web design and development, digital video and 3D animation.
Adobe Creative Suite 4 and its associated point products are shipping this month and are available through Adobe-authorized resellers and the Adobe Store at
www.adobe.com/go/gn_store
.
Fans Given Opportunity To Help On Upcoming

"The Zeta Project"

DVD
Retrofit Films has recently come in contact with The World's Finest to ask fans for help on the upcoming
The Zeta Project
DVD release.
The World's Finest was recently contacted by Amy Silliman of Retrofit Films, who will be working on the bonus features for the upcoming
The Zeta Project
DVD release. Silliman is reaching out to fans to make sure the bonus features are top quality and does the series justice. Silliman sent the following to
The World's Finest
, as seen below.
Hello everyone!

My name is Amy and I am a producer working on something very special for

"The Zeta Project."

I can't say too much because of particular confidentiality agreements, but I thought by going to the Toon Zone forum I would get the best response. I will be having a round table discussion with some of the key creative heads who worked on

"The Zeta Project."

The goal of this discussion is to talk more in-depth about the characters and their stories and to answer any questions that fans of

"The Zeta Project"

would have. I can not release the names of these artists, but I would like to hear anything at all you would like to ask them. Now this will be for a private interview I will be having with them later this month (it has yet to be decided when this interview will be released) – I can't say much more, other than I would love to have some feedback from the fans themselves on what they would ask if they had the chance. Let me know what you are curious about! Anything at all! Please send all your questions to

Amy@retrofitfilms.com

.

Thank you!
The
World's Finest
will keep you completely updated an any further news regarding the upcoming
The Zeta Project
DVD release. Stay tuned for further updates.
Peter Laird Talks About The Past, Present & Future Of

TMNT
ENI chatted
with
Teenage Mutant Ninja Turtle
sensei Peter Laird about all things shell-tastic. He gave them some new insights about the next
'Ninja Turtle'
movie. Here's an excerpt:
Peter Laird:
Since the 2007
'TMNT'
movie, we have been talking about doing a fifth film. We are currently VERY close to signing a deal to do a new film, and if it happens, the current thinking is to have it be a live action/CGI
"hybrid"
, which is to say that the Turtles and Splinter (and possibly some other characters which we've yet to introduce) would be rendered very realistically in CGI, while everything else would be filmed in live action.
ENI: Do you have anyone in mind to direct?

Peter Laird:
Not really. Steve Barron's name has come up in our early discussions, and I would be happy to see him do it, but as far as I know, right now no one has been picked.
ENI: Would this be a total re-boot or pick up from either the movies in the 90's or the more recent CGI film?

Peter:
We still haven't decided on which way to go. There are pluses and minuses to each approach. Really, we are at the very beginning of talking about the story.
ENI: Is there anyone in particular you are looking at you would like to star in the movie?

Peter:
I have said that I think it would be cool to try to get Sarah Michelle Gellar and Chris Evans, who very ably voiced April and Casey, respectively, in the
"TMNT"
CGI movie, to reprise those roles -- but this time in live action. I think it could be the first time something like that has been done. However, I have no idea if either of them would be interested in doing it, and there are also probably a lot of other actors who could do those parts well. Again, it's very early in the process, and I don't think anyone has been formally approached.
For a LOT more from the mouth of Peter Laird, click the link above for the complete interview...
Dude, you're getting an

'Iron Man'
Dell and Paramount have unveiled plans to use
'Iron Man'
as a launch point for a new media download service to rival iTunes.
Yesterday's
Hollywood Reporter
states that the PC manufacturer and movie studio will be offering new Dell customers the chance to order
'Iron Man'
preloaded into newly purchased computers.
Although the Marvel movie is the only film Dell has on tap, the computer maker is positioning it as the first step towards setting up service that would compete directly with Apple's iTunes.
Cameron Denies

Terminator

Blessing
Contrary to statements by
Terminator Salvation
director McG that he had original
Terminator
creator James Cameron's blessing, Cameron himself told the Canadian National Post that he never signed off on the film.
"It could be a big steaming pile, or it could be brilliant,"
Cameron said Sept. 6 at a ceremony in Toronto for Canada's Walk of Fame.
"Sam Worthington is in ...

Avatar

and the new Terminator, and he likes the script, but I never saw it. There was no blessing involved."
In a production blog posting in May, McG wrote,
"I've spent time with James Cameron, spoken to Arnold Schwarzenegger, gone over the story with Jonah Nolan, and enlisted Stan Winston."
Terminator Salvation
, the fourth film in the SF franchise, stars Christian Bale and Worthington in a story that takes place after Judgment Day. It is slated to open
May 22, 2009
.
News Shorts: October 1st 2008
- A
first look
at actor Derek Mears as Jason Voorhees unmasked in Platinum Dunes' 2009 remake of
"Friday the 13th"
.
- Warner Bros. has finally released hi-res publicity photos of the Two-Face character from July's
"The Dark Knight"
. Most interesting is
this shot
revealing Eckhart's look on-set and the final image on-screen for comparison - looks like there was some make-up after all. The four other photos can be
found here
at the bottom of the page.
"Armie Hammer, the 6'5 young actor set to play Batman in the still uncertain
"Justice League"
movie, talks about the months of preparation he went under for the role in Australia before the shoot got canned..." (
full details
)
"Peter Cullen confirms that he's only voiced the opening narration of the
'Transformers'
sequel so far, his main work as Optimus Prime will be recorded sometime in November..." (
full details
)
Buddhist Monkey Fired Up in KA-POW!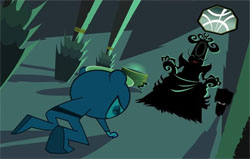 Three Courses of Death
, the second episode of the
Happy Tree Friends
spin-off series KA-POW! has been released. It features the Buddhist Monkey is his third starring role; his previous appearances were in
Enter the Garden
and
Books of Fury
. In this episodes, which is by far the most action-packed, we learn the back-story on how the Buddhist Monkey lost his hair. The 3-minute shorts was directed by Alan Lau who oversaw animation at
Ghostbot
, while animation was handled by Roque Ballesteros,
Tony Cliff
, Amanda Lattrell, Alan Lau, Brad Rau,
Kris Toscanini
and
Lyla Warren
. If you paid attention to the end credits, you'll see that effects animation was handled by none other than Adam Phillips, the Flash-animation wizard behind
Brackenwood
.
BATMAN 3

Coming Soon?
After the critical and box office success of this Summer's
THE DARK KNIGHT
, another Bat-Film is pretty much a no-brainer. Warner Bros. has said publicly that a third one is on their radar and an offer has been extended to director Chris Nolan and the team behind
BATMAN BEGINS
and
TDK
. What we don't know is whether or not Nolan will return for a third film as the director has been silent for the last two months since he stopped doing press for TDK. However…


Could a Nolan-helmed
BATMAN 3
be further along than we know? Possibly.

Over the last several weeks, I've been hearing that very early pre-production on what will ultimately be the third Nolan
BATMAN
is about to begin. What's interesting is that info seems to be originating from folks who worked on TDK behind the scenes -- set builders, stuntmen, film crew, etc. -- in Chicago. I have no proof to offer at this time other than first and secondhand accounts from various individuals who are part of that aforementioned group.

So how far along is the next Bat-Flick? My guess is not very far at all. I believe that writers David Goyer and Jonah Nolan both have an idea of what they'd like to do, but there certainly isn't a screenplay yet. Goyer himself said (at the TDK press junket in June '08) that Chris Nolan didn't contact him about doing another one until three months after
BATMAN BEGINS
. Going by that timeline, perhaps "Team Nolan" will start discussing a sequel this October. And remember, we didn't get the official word on
THE DARK KNIGHT
until July of 2006 -- a full year after
BATMAN BEGINS'
run in theaters.
As far as this buzz coming from former TDK crew members, there's probably something to this as you can't hire these guys at the very last minute. If sets need to be built and other miscellaneous pre-preproduction projects need to get done, I suspect that readying these things a year and a half/two years in advance is NOT out of the question.
For an update on this story,
CLICK HERE
.
Collider Goes to Stan Winston Studios! Video Proof Here!
A few weeks ago, Collider was one of the lucky few that got an invite to Stan Winston Studios. The reason they were invited – along with ten or so other journalists – was to take a tour of the studios and also interview Chris Swift about his work on
"Iron Man."
As most of you know, Stan Winston Studios was the company that made the armor in
"Iron Man,"
and with the home video release happening tomorrow, Paramount rolled out the red carpet for a number of us in the online world, as they got to talk with not only Chris, but also Jon Favreau and Stan Lee earlier in the day.
See the video proof, the rest of the article and tour of Stan Winston Studios
HERE
!
Exclusive interview with

Watchmen

Special Effects Man Alan McFarland
We're all writhing in anticipation for the upcoming graphic-novel-turned-film,
Watchmen

. Can't get enough pics, posters just leave me wanting more...well,
Alan McFarland
, the man who did the special lighting effects on Dr. Manhattan's character, has been kind enough to give
UGO
an interview. The man has worked on an incredible list of films. He did special effects electronics on

Iron Man

and

Spider-Man

, animatronic lighting effects on

Spider-Man 2

... he even did Fembot electronics on

Austin Powers: The Spy Who Shagged Me!

He's also doing special effects electronics on the upcoming

Race to Witch Mountain

and

Land of the Lost
. He gives us some great info about the process, Billy Crudup's performance and whether or not blue commando is the new fashion for 2009.
Read on for our exclusive interview:
UGO: Will you give us a hardcore lesson in motion-capture? How does it actually work? I've read that Billy Crudup was rigged with blue LED lights so the other actors would have a glow cast on them. Was the motion capture done while filming scenes or at a different time, and were Billy's movements used as a guide?

Alan McFarland:
Billy wore a white spandex suit built by Chris Gilman's team at Global Effects in North Hollywood; it was covered with blue LEDs and tracking markers that would be used in post production to reconstruct his performance in the computer; there were also markers on his shoes and gloves, and he wore a cap with markers as well. These markers were specially encoded to be readable by the computer directly, so that the computer could tell Billy's left elbow from his right knee. Billy also had a number of carefully calibrated dots on his face to assist in capturing his expressions and dialog. The markers were placed and maintained by Imageworks staffer Josh Ochoa, who did a similar job with tracking on Sony's
Beowulf
. On the set every time Dr. .Manhattan appears, there were three cameras capturing his performance, the main camera shooting film, and two high-def
"witness"
cameras recording the performance from two other angles. These cameras were set and aligned by Imageworks' Pete Travers and Eric Scott, under the direction of VFX supervisor John Desjardin. Between the three cameras, proprietary software developed by the guys back at Sony Pictures Imageworks in Culver City could triangulate the that data and reconstruct every nuance of Billy's performance to drive the CG Dr. Manhattan. The purpose of the blue LEDs actually had nothing to do with capturing Billy's performance-- they were there to supply the blue glow on Dr. Manhattan's surroundings; that creates a much better look for Dr. Manhattan's blue halo that had it been done entirely in post with CG. Under software control, the brightness of the LEDs could be set to DP Larry Fong's exact specifications and it would self-monitor to maintain those levels. I designed the LED power system and control electronics, and I did the engineering and maintenance of the suit on the set in Vancouver.
UGO: How long was Billy in the motion capture suit? How many takes on average? Was he given much direction or was he allowed to discover for himself how Dr. Manhattan expressed himself?

AM:
Billy was in the motion capture suit every time you see Dr. Manhattan, with the exception of when he is wearing regular clothes, exactly as is was in the graphic novel. Billy explored Dr. Manhattan's psyche quite a bit and really got into the role. Billy saw Jon Osterman as a very tragic character, and portrayed him as such. I was reminded of a passage from the bible:
"What shall it profit a man to gain the whole world, yet lose his own soul?"
That sums up Dr. Manhattan for me. Billy is an incredibly talented actor, and he nailed the Dr. Manhattan pathos very quickly; rarely did anything go past a few takes. The energy will be very apparent in the finished film. I've been working in film more than 25 years, and I have never had a more synergistic and enjoyable experience than
Watchmen
was, and you're going to see that energy between Zach, (Syner) Billy, all the other actors and everyone involved in the production up on the screen come March.
UGO: How familiar were you with the graphic novel before beginning work on the role?

AM:
I read the graphic novel when it came out, back when I was in the cinematography program at The American Film Institute. One of the directing students there gave me a copy of one of the comics and told me I had to read it. The scene that I recall from my first introduction to
Watchmen
was when Rorschach handcuffs the child murderer inside the warehouse and sets the warehouse on fire. He then tosses the killer a hacksaw and says he won't have time to cut through the steel. That blew my mind and I was hooked.
UGO: Did you see anything on the set, props or artwork that will blow the minds of hardcore fans?

AM:
Absolutely, all the above. I will say one thing: Owl Ship. Not saying any more till the film comes out.
UGO: What were some of the standout moments you saw performed? Was there a specific moment for Dr. Manhattan that you're most proud of?

AM:
Personally, I loved the scene where Dr. Manhattan is at the television station. Fans of the graphic novel will know what I'm talking about. From the standpoint of the most technically difficult scene to pull of with Dr. M, I recall it being in his laboratory when you see four of him. You see a glimpse of that in the trailer. We had to have Billy plus three other body doubles in identical mo-cap suits to pull that off, and it was very early in shooting Dr. Manhattan, so we were new to the process. It was a real trial-by-fire on that day.
UGO: How does Jackie Earle Haley pronounce "Hrmmm"?

AM:
Jackie's amazing, and he's such a polite and friendly guy. You'd never imagine such a scary voice could come out of him as when he was in character as Rorschach.
UGO: Do you think the all blue commando look is the new fashion hotness for next year?

AM:
You betcha-- that blue halo's gonna be the new black.
From

Iron Man

to

Cowboys and Aliens
MTV Splash Page
chats with
'Iron Man'
screenwriters Mark Fergus and Hawk Ostby, who hae turned their pens to the forever-gestating Platinum Studios movie
'Cowboys and Aliens'
, which is also set to star Robert Downey Jr.
"As far as we know, it's all a go,"
Ostby told MTV.
"We're just hoping it does because it felt like the right time for this kind of film and I just want to see how we'll pull off all the cool stuff in it. It's ridiculous. It's one of those movies that every idea that you can come up with is actually something you can pull off these days. There's no reason to edit yourself."
As far as Downey goes, it's unclear when he'll fit the movie into his busy dance card:
"We finished our draft and it all seems to be a go in terms of casting,"
added Ostby.
"I think Robert's doing

'Sherlock'

and

'Iron Man 2'

next year, so that's thankfully someone else's problem to figure out how to make all that work, but the script is done…"
Iron Man DVD Retail Exclusives
Paramount Home Entertainment has released
Iron Man
on DVD and Blu-ray Disc yesterday. With the release comes eight retail exclusives, which are detailed and pictured below!
Circuit City - Access to exclusive Marvel Digital Comics featuring the artwork of Adi Granov.
Best Buy - Custom Lithograph created by Marvel artist Gerald Parel. (We have no description of the bust pictured.)
Target - Deluxe Edition includes exclusive Mark III mask packaging. Available on both the Ultimate 2-Disc Edition and 2-Disc Blu-ray.
Costco - Giftset includes the Ultimate 2-Disc Edition DVD and 3

Iron Man

Bobbleheads, with all 3

Iron Man

suits from the film. Giftset includes the

"Battle Damaged Mark II."
Walmart - Two exclusive SKUs. Ultimate 2-Disc Edition packed with an exclusive comic book chronicling the Nick Fury story. The single disc giftset is packed with the 1st episode of the new

Iron Man

animated series.
Kmart & Sears - Save $5 on the Ultimate 2-Disc edition with any $25 Craftsman purchase.
Trans World - FYE and Suncoast Exclusive Steelbook Package available on the Ultimate 2-Disc Edition
.
Borders - On pack collectible book featuring original sketches by Bob Layton and the top 24 comic covers of

Iron Man

.