Fan Hogs
Here's an animated pitch to
SNY
(Sports New York, the home of the NY Mets) called
Fan Hogs,
written and animated by my friend Thomas Bone'. Nice work Thomas!
Resident Evil
Toon to be Unleashed
The latest installment in the hit
Resident Evil
film franchise is animated, and it's ready to unleash toon zombies on unwitting moviegoers. Based on the long-running CAPCOM video game series,
Resident Evil: Degeneration
will be released wide in Japan on
Oct 18
, and will make its U.S. debut on
Nov. 13
at the New York City Horror Film Festival. Fangoria magazine will also host a Los Angeles premiere on
Nov. 18
. A North American DVD, Blu-ray and PSP release will happen later this year.
Resident Evil: Degeneration
takes place seven years after the government destroyed Raccoon City in an attempt to wipe out the deadly zombie virus. The horror begins again when a zombie is unleashed in a U.S. airport that soon becomes filled with the undead and trapped survivors struggling to live through the nightmare. The film is a co-production of CAPCOM Co. Ltd. and Sony Pictures Entertainment Japan Co. Ltd. (SPEJ).
This first animated
Resident Evil
production is produced by renown video-game producer Hiroyuki Kobayashi (associate producer of
Resident Evil: Apocalypse
and producer of
Resident Evil 4
and
Devil May Cry 4
), and directed by Makoto Kamiya (special effects director of
L: Change The World, Godzilla, Mothra and King Ghidorah: Giant Monsters All Out Attack
). The duo joined CAPCOM in hosting a sneak preview of the movie during a panel and press conference at the San Diego Comic-Con in July. More information on the film can be found at
www.sonypictures.com/homevideo/residentevildegeneration/
.
Foothill Heads to MIPCOM with

Momtourage
Santa Barbara, Calif.-based Foothill Ent. is making the MIPCOM scene with a new animated series titled
My Momtourage & Me
(26x25). The show is created by acclaimed Australian illustrator/writer Kyla May, a global design powerhouse with TV and licensing properties such as
Kyla May Miss.Behaves, Smirk, Flea-Bag & Friends
and
G2G: Got to Go
. The half -hour animated series
G2G: Got to Go
is in its first season on Channel Nine in Australia and has a live-action telepic in the works.
Momtourage
marks May's first foray into the North American market.
My Momtourage & Me
chronicles the life of 'tween girl Harper as she copes with the crazy lifestyle of her very successful pop star mom while being brought up by several members of her mother's entourage. Though the jet-setting, glamorous life may look fabulous from the outside looking in, All Harper wants is a normal life and, most importantly, a normal mom. "
"This stylish and funny series offers a great new perspective on the so-called celebrity lifestyle and how ordinary kids cope with having a not-so-ordinary parent,"
says Jo Kavanagh-Payne, president of Foothill.
"Being a celebrity kid isn't all it's cracked up to be because growing up still has its challenges, no matter who you are!"
"I am really excited to be working with Jo and Greg [Kavanagh-Payne] at Foothill,"
adds May.
"Since

My Momtourage & Me

kind of mirrors the Hollywood lifestyle, teaming with a California-based company is a perfect fit."
Kyla May Pty Ltd. and Foothill will be at the 2008 MIPCOM market later this month seeking pre-sales and co-production partners for the series.
Hoffman Voices Icon's

Max
Philip Seymour Hoffman is the latest Hollywood player to get involved in the world of independent animation. Daily Variety reports that the actor has agreed to voice the male lead in the Australian stopmotion feature
Mary and Max
from Icon Ent. Those expecting the typical animal odd-couple pairing are in for something entirely different from this feature debut from Oscar-winning animator/director Adam Elliot (Harvie Krumpet).
Produced by Melanie Coombs,
Mary and Max
revolves around a pen-pal friendship between a chubby and lonely eight-year-old girl in Melbourne, Australia, and an obese, 44-year-old Jewish man living with Asperger's Syndrome in New York. Spanning 20 years and two continents, the unlikely friendship survives much more than the average diet of life's ups and downs. Hoffman joins a voice cast that includes Toni Collette (as Mary) and Eric Bana. Barry Humphries (Dame Edna) will provide narration.
Financed by Screen Australia, Adirondack Pictures and Film Victoria,
Mary and Max
is currently in post-production. Icon Entertainment Int'l will handle international sales efforts. You can check out the project's website at
www.maryandmax.com
.
EA Readies

Dead Space

Game, Toon
Electronic Arts announced today that its highly anticipated new survival horror game
Dead Space
has gone gold and will ship in North America on
Oct. 14
for Xbox 360 and PlayStation 3. A PC version will ship on
Oct. 20
. For Xbox 360 owners in North America, the EA Store is offering a very limited run of 1000 copies of the
Dead Space Ultra Limited Edition
. This package contains a copy of the game, the
Dead Space: Downfall
animated Movie on DVD, a bonus content DVD, a 97-page art book, the 160-page graphic novel (which combines all six issues of the
Dead Space
comics), an exclusive lithograph illustrated and individually signed by Ben Templesmith, and an Ishimura crew patch. The
Dead Space Ultra Limited Edition
can be ordered through the EA Store and will ship on
October 14
.
Dead Space
is set 500 years in the future. Humanity has exhausted much of the Earth's natural resources, and competition for survival is tight. In response, Earth's mega-corporations send immense mining ships called "Planetcrackers" into deep space to rip planets apart, smelt them down and then bring all the material back to Earth. When all contact is lost with the most famous Planetcracker, Isaac Clarke and a small repair team are dispatched to restore communications. They find the ship nearly powerless and the crew horribly slaughtered and transformed into terrifying abominations. Cut off and trapped, Clarke and his team are overwhelmed in a desperate fight to survive.
The animated pic
Dead Space: Downfall
was previewed at Comic-Con over the summer, offering attendees as sampling of the creepy and gory goodness to come. Directed by Chuck Patton and produced by Film Roman, the film will be released on DVD by Anchor Bay. Watch the trailer at
http://www.imdb.com/video/screenplay/vi3713532185
.
Bob The Builder

10th anniversary
Information regarding the tenth anniversary of the hugely successful children's franchise
Bob The Builder
can be found at
Animation World Network's website
. In celebration of the occasion, a direct to DVD film is being released, titled
Bob The Builder - Race To The Finish
, along with a new music album, various special events, and more. A new CGI show is also planned, which will premier on CBeebies and Nick Jr in 2009.
Bob The Builder
first aired in 1999 in Britain, and now can be viewed in over 250 territories worldwide. To visit the newly updated official website for the show, click
here
.
Dragonball

Trailer Now Online
Some guy with a camera grabbed the
Dragonball
trailer from the Brand Licensing Europe Expo. There's no audio but you'll get a feel for how this movie will look. There's jumping and spinning and explosions and all kinds of stupid
Dragonball
s*** going on.
I wish they'd just release an official trailer already so we can see how this is going to turn out. I don't think the trailer looks that bad but I'm a total idiot when it comes to all things
Dragonball
so I don't even know how close they came to the the cartoon series.
Check out the video below.
Walt Disney Studios Showcase Event Report
Over at
o-meon
Chuck Oberleitner gives an in-depth report of the recent Walt Disney Studios Showcase Event with information on
Bolt, Car Toons, Pirates of the Caribbean 4, A Christmas Carol, Toy Story 3
, a new
Alice in Wonderland
and more.
Shrek The Musical

song preview
With previews beginning
November 8,
Shrek The Musical
's
official website
is up and running with lots of information on this new production. A new song written especially for the play, "I Know It's Today," can be previewed
here
.
The General Membership Meeting
Most of tonight's membership meeting was pretty humdrum. I rattled off my biz rep's report (
"There's more work on the theatrical side of the business than the television side"
...
"We've signed a contract with Eisner's company" ... "There's been a lot of anxiety about the performance of the 401(k) Plan"
...). Members voted approval on the budget for the annual TAG Christmas Party.
But then the anger started.
"Some studios require you to sign over rights to original work when you submit your portfolio!"

"Studios have no right to require long tests without any pay!"

"Studios keep requiring tests of job applicants, even when they don't plan to hire anybody."
President Koch and I said that
1) If a company is forcing artists to assign their work to the company when artists submit a portfolio to get a job, we need the specifics so we can challenge the practice.
2) We've been making issues of long tests for years. (No problem with shorter tests to show a portfolio sample is the work of the artist. But the week-long monsters? Way off the charts.) And we'll be making an issue of long tests at our next contract adjustment meeting.
3) We've fought the practice of blanket tests. If there are tests given for jobs that have already been offered to a staffer, why bother? It just ticks off applicants when they find out the test they worked hard on was close to pointless from the get-go, since one of the in-house artists had the inside track all along. (Tests too often become a crutch, rather than a tool.)
That was part of the evening. The rest of it was a panel on
"The Internet for Animators."
(Thanks
Animation Guild Blog
)
"Justice League: The New Frontier"

Airing In October 2008 On Cartoon Network
Cartoon Network is scheduled to air the acclaimed direct-to-video
Justice League: The New Frontier
animated feature later this month.
The animated feature is scheduled to air
October 18th, 2008
at 9pm (ET) on Cartoon Network. Below is the official synopsis for the feature.
Justice League: The New Frontier
Cartoon Network,

Saturday, October 18th, 2008

, at 9pm (ET)
Inspired by the best-selling graphic novel by Darwyn Cooke and produced by the multiple Emmy® award winning animation legend, Bruce Timm,
Justice League: The New Frontier
is the epic tale of the founding of the Justice League. Superman, Batman and Wonder Woman are all here of course, and so are Green Lantern, Martian Manhunter and Flash - whose incredible origins will be told for the very first time. Strangers at first, these very different heroes must overcome fear and suspicion to forge an alliance against a monster so formidable, even the mighty Superman can not stop it. If they fail, our entire planet will be "cleansed" of humanity.
Collideascope End Credits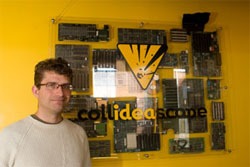 Michael-Andreas Kuttner
Back in August, the Halifax-based animation studio
Collideascope
closed its doors. The studio, which began in 1995, was one of the first in the world to use Flash for broadcast TV, pioneering on the series
Olliver's Adventures
. The
shop will close
at the end of this month, and co-founder Michael-Andreas Kuttner pointed us to a recent article that serves as
"a eulogy."
The Halifax newspaper The Coast featured a story title
Empty Frames
last week, which identifies Collideascope as producing nine shows, 90 hours of cartoons and employing around 400 animators from all over Canada. According to
Kuttner's blog
, they had 120 full-time employees at their peak last year. It appears that timing was the culprit, as Kuttner points out. They were scheduled to start a new project this Fall but a delay pushed it off, plus the Canadian studios have seen a great deal of service work head to Asia in recent months. Regardless, the legacy they leave behind will live on in the projects they produced and the artists careers that were founded and nurtured at the Collideascope. Us animators can also enjoy the many
wonderful animation tutorials
archived on their blog. Congrats on a great run, guys, and a very graceful exit.
The Graysons

are Coming to The CW
The CW is developing a series based on Batman sidekick Robin's pre-Caped Crusader days, reports
Variety
.
"Smallville"

executive producers Kelly Souders and Brian Peterson, as well as

"Supernatural"

executive producer McG, are behind

"The Graysons," which has landed a put pilot commitment at the network.

Just as "Smallville"

focuses on Clark Kent in the years before he became Superman,

"The Graysons"
will follow the world of Dick "DJ" Grayson before he takes on the iconic Robin identity and aligns himself with Batman.
"The Graysons"
is seen as a potential replacement for
"Smallville"
should that show end its run this season, which has been speculated. Should
"Smallville"
return next year,
"The Graysons"
might also make a strong companion piece.
In the one-hour
"Graysons,"
which will be set in modern times, young DJ will face challenges involving first loves, young rivals and his family as he grows up. Souders and Peterson have come up with an original take on the character.
Look, sounds interesting-enough, but haven't we been here before? And more to the point, hasn't there already been enough potentially promising
"Smallville"
replacement shows given the thumbs down? ("Aquaman" and "Supergirl" to name but two).
In addition, and rather ironically, a few years back the network was pitched a series centering on a pre-Batman Bruce Wayne (you can read a review of the pilot script at
KryptonSite
). One would've assumed
that'd
be a little more interesting than a Dick Grayson series, right?
I assume the only reason the network may be going with a Grayson series is because Warner Bros have no plans to use the 'Robin' character in the current
"Batman"
film series, so pretty much have free reign to do whatever they want with the character - as opposed to say Batman, where they'd be running into all sorts of obstacles and demands on behalf of those worried it may butt heads with Chris Nolan's film series. Still, why Grayson - - why not a
"Green Arrow"
or
"Supergirl"
series? But let's not get ahead of ourselves, this one hasn't been picked up yet either - at this stage, it's only a pilot.
Special Effects Superman: The Art and Effects of Derek Meddings
For those of you who love old-school special effects like I do, this may be the book for you.
Superman: The Movie & Superman II - Goldeneye - Batman
Supergirl - Santa Claus: The Movie - Live and Let Die - The Neverending Story - Moonraker - The Spy Who Loved Me
After his career in the film industry took flight with Gerry Anderson in 1957, Derek Meddings proceeded to head the effects team and design every major vehicle for the hit British television series,
Thunderbirds, Captain Scarlet and UFO
. When the Anderson studio closed in 1970, Derek moved into movies and headed the effects on over 20 motion pictures.

His effects accolades include; six James Bond films from Roger Moore's
Live and Let Die
to Pierce Brosnan's
Goldeneye, Batman, Supergirl, Santa Claus: The Movie
and
The Neverending Story
. Derek Meddings also headed the miniature effects on the first two
Superman
films and won an Oscar for his achievements on
Superman: The Movie
.
'Special Effects Superman'
is a tribute to Derek Meddings and his amazing career. The book will include over 400 'on set' photographs from the Meddings family collection and contributions from those who worked with Derek throughout his career, including a foreword by Sir Roger Moore.
To order your copy now, visit:
www.meddingsbook.com
Cats & Dogs

Stars Set
Chris O'Donnell and Jack McBrayer are the live-action stars of Warner Brothers and Village Roadshow's
Cats & Dogs: The Revenge of Kitty Galore
, which is being directed by Brad Peyton, according to The Hollywood Reporter.
Andrew Lazar is producing the movie, which will blend computer animation and live action.
The movie continues the story of the battle between cats and dogs for control of Earth. Ron Friedman and Steve Bencich (
Open Season
) wrote the script.
The movie marks the feature debut of Peyton, who made waves at the 2002 Toronto International Film Festival with his acclaimed short,
Evelyn: The Cutest Dead Girl
.
"Force Unleashed"

On Big Screen?
The modestly received video game
"Star Wars: The Force Unleashed"
might one day get the big screen treatment reports
The Los Angeles Times
.
The game's project leader Haden Blackman says
"It's not impossible. Never say never. George [Lucas] has looked to tell new

'Star Wars'

stories through the games and with the entire

Star Wars

Expanded Universe, and then he has also shown a willingness to let the characters come into the films. Look at Aayla Secura, a creation in the [Dark Horse] comic books who became part of the theatrical films."
Utilizing a story that's admittedly more interesting than the prequels or recent highly-panned
"Clone Wars" pilot episode movie, the game has you playing Darth Vader's secret apprentice Starkiller, a young man whom Vader rescued years beforehand. Highlights include visits to familiar SW planets, an under construction Death Star, using your powers to bring down a Star Destroyer, and duels against both The Emperor and Vader.

Dark Horse has also released a graphic novel version of the game which goes into much more detail and would likely serve as the basis for any script. Hunky and brooding "Battlestar Galactica"

and

"Smallville"
actor Sam Witwer played the role in the game - would he come back for a film?
"Aria the Animation"

Website Opens
Right Stuf's Nozomi Entertainment has officially
launched the website for
Aria the Animation
at aria.rightstuf.com
. The first season boxed set was released
Tuesday
,
September 30, 2008
. The site contains detailed character profiles, the first season trailer, wallpapers and other downloadable content, and the latest news and information about the DVD set. The series focuses on Akari Mizunashi and her quest to become an
"undine,"
or a female gondolier in canals of the city of Neo-Venezia.
The Real Life and Times of the Man Who Isn't Tim
Tim, center, the hapless hero of
"The Life & Times of Tim."
When fans and advocates of Steve Dildarian speak admiringly of his distinctive voice, they are usually referring to the wry, resigned writing style that helped him get his new HBO animated series,
"The Life & Times of Tim."
But his speaking voice probably helped too.
Jason Merritt/HBO
Mr. Dildarian, a former advertising copywriter, parlayed an animated short film he created into a comedy series, now on HBO.
Tim, left, and a pal in Steve Dildarian's
"Life & Times of Tim,"
about an unflappable character prone to horrible indignities.
In person, it's hard not to imagine Mr. Dildarian, 38, a former advertising copywriter who is the creator, writer and off-camera star of
"Tim,"
as the subject of a cartoon. He has the mildly disheveled look of a
"Peanuts"
character and wide, anime eyes, and when he speaks, in an adenoidal tone that evokes a blend of Ray Romano and Jim Henson, he often sounds as if he were stalling for time, even when he knows what he's going to say.
Here, for example, is how he described in a recent interview the terrible day he spent working as a telemarketer, not long after graduating from college:
"I was selling, ahhh, meat — frozen meat that people would put in their basement freezer. If people do that, I guess they do. Ahhh. Calling and saying: 'Hey, I'm Steve from Country Fresh Farm. Ahhh. You want to buy some frozen meat?' "
Now that he is well beyond such dead-end jobs, he has channeled that same halting delivery and
"why me?"
attitude into
"Tim,"
which had its premiere on Sunday. He provides the voice of the luckless but unflappable title character and subjects him to far greater indignities. When Tim attends a wedding, he somehow ends up lewdly groping the octogenarian grandmother of the bride. And when Tim's girlfriend takes her parents home to meet him, they find him on the couch with an irate prostitute.
"I'm always looking to write something that just has so much conflict, it's unbearable,"
Mr. Dildarian explained.
Unlike his cartoon alter ego, Mr. Dildarian has enjoyed a life and a career relatively free of torment. His advertising portfolio includes many television commercials, like a back-to-school spot for Staples called
"The Most Wonderful Time of the Year,"
in which a father joyously tosses school supplies in a shopping cart as his dour-faced children look on.
He has also helped create several Super Bowl ad campaigns, including a Budweiser spot about a donkey who dreams of joining the Anheuser-Busch team of Clydesdales (for which Mr. Dildarian provided the voice of the donkey), and one with the Budweiser lizards scheming to get rid of the ubiquitous Budweiser frogs. The lizards
"hated them so much, kind of like we did as writers,"
Mr. Dildarian said.
On the side, Mr. Dildarian wrote a few conventional sitcom pilots, which were purchased by television networks but never produced. And he wrote a short script, called
"Angry Unpaid Hooker,"
about a boyfriend, a girlfriend and the title character, who won't leave their apartment until she is compensated for her services.
Mr. Dildarian originally conceived of
"Angry Unpaid Hooker"
as a short film he would direct. But in 2005 he and a couple of friends recorded the dialogue after hours in a studio at Mr. Dildarian's ad agency; Mr. Dildarian sketched a few crude doodles to accompany the audio, and his girlfriend, Leynete Cariapa, showed him how to animate the drawings using computer programs like QuickTime and iMovie. (Ms. Cariapa is now the co-executive producer and art director on
"Tim."
)
In 2006 Mr. Dildarian entered the cartoon in the US Comedy Arts Festival in Aspen, Colo., at which it won the award for best animated short. The short quickly attracted interest from a formidable group of industry veterans, including the producer Jimmy Miller, who also manages Judd Apatow and Will Ferrell; and Tom Werner, who was an executive producer of
"The Cosby Show"
and
"Roseanne."
"The clarity of his voice stood out,"
Mr. Werner said in a telephone interview.
"You look at a show as well written as '

The Office,'

but you get a sense that it's written by a gang of people. This was the work of one person, and it was clear and clean and unique."
Mr. Werner said he could see the cartoon being turned into
"an R-rated '

Seinfeld

.' "
With the help of his new admirers, Mr. Dildarian sold a pilot based on his short cartoon to Fox, but the network passed on the show for its 2007-8 season. Comedy Central offered to make a six-episode series, but Mr. Dildarian's advisers and agents instead matched him with Media Rights Capital, a fledgling studio founded by Mordecai Wiczyk and Asif Satchu.
"We had a lot of confidence that there would be networks that wanted it,"
said Mr. Wiczyk, whose studio is also producing new animation projects from Seth MacFarlane (
"Family Guy"
) and Mike Judge (
"King of the Hill"
).
"We weren't certain whether they would permit Steve's untrammeled voice to reach the audience."
Mr. Dildarian was apprehensive about producing his series without a television channel to show it.
"Believe me,"
he said,
"it's not easy to hire people and say, 'Oh, we're making a show.' 'Oh, for who?' 'Nobody, we're just making it ourselves. Trust me, someone's going to want this.' "
But before he finished production on
"Tim,"
the show was picked up by HBO, which saw the cartoon as a descendant of uncomfortable, cover-your-eyes comedies like
"Curb Your Enthusiasm."
"Tim is a very well-intentioned guy who gets himself in awkward, terrible situations,"
said Sue Naegle, the recently appointed president of HBO's entertainment division, who inherited the show from her predecessor, Carolyn Strauss, and HBO's former chairman, Chris Albrecht.
"There's something about it that I think is very endearing, and we explore a lot of territory that's similar to that."
So far, several critics haven't agreed: reviewing
"Tim"
in The Los Angeles Times, Robert Lloyd wrote,
"I didn't find much of it funny, but on a kind of purely analytical level I can see how the jokes are supposed to work."
And on Slate, Troy Patterson said
"Tim"
was not so much animated as
"complacently sketched in a stab at slacker minimalism."
As he completes work on the first season, Mr. Dildarian, who splits his time between Los Angeles and San Francisco, hasn't changed his process much since the
"Angry Unpaid Hooker"
short. Each episode is minimally animated from his original designs (though he now has a team of artists and animators to do it for him), and he allows his voice actors to riff freely from his scripts (though he prefers to call this technique
"extreme paraphrasing"
rather than improvisation).
For all the abuse and embarrassment that he heaps on his two-dimensional surrogate, Mr. Dildarian sympathizes with Tim.
"Sometimes it just seems like everyone in the world is crazy except you," he said. "How can no one see the logic that I'm seeing?"
But mostly, Mr. Dildarian said, he enjoys putting Tim in impossible, unsolvable situations because he finds such scenes so easy to write.
"It's partly because I'm lazy, and partly because the work comes out better," he said. "If anything's hard to write, I don't write it."
New

Bolt

poster
A new
Bolt
poster featuring the three lead characters from the film can now be viewed on
Internet Movie Poster Awards
.
Bolt
, which opens in theaters on
November 21st
, tells the tale of a lost Hollywood dog convinced he has superpowers.
Pineapple

Director Has

Vibes

for FOX
After helming the very dark dramas
Undertow
(2004) and
Snow Angels
(2007), filmmaker David Gordon Green lightened up with the recently released Seth Rogan/James Franco stoner comedy
Pineapple Express
, and has now set his sights on animation. According to Daily Variety the FOX network has ordered a pilot episode of
Good Vibes
, a half-hour comedy Green is writing and will exec produce with Good Humor TV's Tom Werner and Mike Clements, and
Simpsons animator Brad Ableson.

Good Vibes
originated at Good Humor TV parent company Warner Bros. The pilot is being produced by 20th Century Fox Television and will reportedly revolve around two California high school students who spend their time surfing.

FOX is aggressively seeking to beef up its slate of primetime animated shows, which do very well in the ratings on Sunday nights. The network recently gave the green light to an untitled toon pilot from comedian Jeff Foxworthy and
10 Items or Less
exec producers Nancy Hower and John Lehr, which will revolve around a disfunctional NASCAR family. The latest animated prospect to go to series is
The Cleveland Show
, a spin-off of Seth MacFarlane's
Family Guy
. The show is being shopped at this month's MIPCOM television market in Cannes, and is slated to hit the air next year. Other toon series in development include an animated version of FOX's short-lived, live-action sitcom
The Pitts
from
Simpsons
producer Mike Scully;
Relative Insanity
from actor Jack Black; and
Mothballs
from
Drawn Together
creators Matt Silverstein and Dave Jeser.
The Orphan Works Bill
If you are a visual artist or a friend of a visual artist, don't forget to write to your state representative about the Orphan Works Bill, which is being reviewed by Congress now. It could change the copyright laws of the country in such a way as to remove the need for permission from artists to use their work commercially, which of course is a big deal to anyone who creates art and for anyone who makes a living off of it. So please don't let this go without a fight!
Here is a link where you can read the bill:
http://www.govtrack.us/congress/bill.xpd?bill=h110-5889
And here are links where you can find your representative's email addresses so you can write to him or her:
House:
http://www.house.gov/house/MemberWWW_by_State.shtml
Senate:
http://www.senate.gov/general/contact_information/senators_cfm.cfm?OrderBy=state&Sort=ASC
(Thanks
DarcyV
)