Planet Hulk...Ka-BooM!
Have you been wondering where that animated
'Planet Hulk'
movie is? It's coming out next February. Here's the first trailer...
DreamWorks' Numbers Slips 7% in 2Q Report
DreamWorks Animation beat analysts' expectations with a 7% drop in revenues and profits for the second quarter.
Those results — revenues of $132 million and a profit of $27.5 million — do not reflect the box office success of the 3-D film
Monsters vs. Aliens
, which was released in late March. The film still generated about $10 million in revenue on a video game deal with Activision.
"Our solid second quarter results were driven primarily by the continued performance of our 2008 films, Kung Fu Panda and Madagascar: Escape 2 Africa,"
said Jeffrey Katzenberg, CEO of the company, in a statement.
Monsters vs. Aliens
has grossed just under $200 million at the domestic box office and more than $377 million worldwide. Katzenberg is expected to address what is seen as its underperformance internationally during a conference call next week.
(Thanks
Animation Magazine
)
Academy Remembers Animator Beckett
The Academy of Motion Picture Arts and Sciences will honor animator and visual effects artist Adam Beckett at a special program
Aug. 17
.
The program, titled
Infinite Animation: The Work of Adam Beckett
, will be presented at the Lindwood Dunn Theater in Hollywood and includes a screening of Life in the Atom, a film Beckett was working on at the time of his death at age 29.
Visual effects artist Richard Winn Taylor and Pamela Turner, Beckett's biographer, will host the event. The program will include screenings of several of Beckett's films and include a panel discussion with his friends and colleagues, including David Berry, Richard Edlund, Chris Cassady, Beth Block, Roberta Friedman and Pat O'Neill.
Beckett worked on both experimental art films, as well as commercial movies such as
Star Wars
, on which he was the head of the rotoscope and animation departments. He died in a fire in 1979.
Tickets cost $5 for the general public and $3 for Academy members or students with a valid ID. Tickets are available for purchase by mail, at the Academy box office, or online at
www.oscars.org
. All seating is unreserved.
(Thanks
Animation Magazine
)
Henson Gets Emmy Engineering Honor
The Jim Henson Co. will be honored at the Primetime Emmy Engineering Awards, the Academy of Television Arts and Sciences announced.
The honor is in recognition of the Henson Digital Puppetry Studio animation system. The company will be receiving one of four engineering Emmys given out this year at a special ceremony on
Aug. 22
at the Renaissance Hotel.
The academy also will bestow at the ceremony its Philo T. Farnsworth Award to NASA, in honor of the 40th anniversary of the first manned moon landing.
The other engineering Emmys are being given to the Fujinon Precision Focus Assist system, Litepanels LED lighting products and the Dolby DP600 Program Optimizer.
Receiving and engineering plaque is Grip Trix Electric Motorized Camera Dolly.
(Thanks
Animation Magazine
)
Pioneers ask SIGGRAPH Attendees to Make It Right
With SIGGRAPH set for next week in New Orleans, a group of computer graphics professionals is asking members of the creative community to donate to the
Make It Right Foundation
, which benefits survivors of Hurricane Katrina.
The SIGGRAPH Pioneers Group, which includes scientists, engineers, artists and industry professionals active in computer graphics, has adopted a house being built by the foundation and is seeking monetary donations of any amount to help out.
"We have had wonderful experiences in New Orleans for the SIGGRAPH conference,"
said Kathleen Maher, VP, Jon Peddie Research and a member of the SIGGRAPH Graphics Pioneers.
"However, the devastation Katrina left in its wake is unfathomable, and unless you've seen it firsthand, it's really hard to imagine. The SIGGRAPH Pioneers encourage the graphics community to band together and help support the victims of Hurricane Katrina by helping New Orleans return to its former glory."
Make It Right
is a collaboration between actor Brad Pitt, Graft Architects, Cherokee Gives Back and William McDonough + Partners to build 150 energy efficient and storm resistant homes in the lower ninth ward of New Orleans.
Progress on the group's adopted house — which can be seen at
www.makeitrightnola.org/mir_SUB.php?section=donate&page=main&team_name=The+House+that+Siggraph+Pioneers+Built
— will be announced at the show.
(Thanks
Animation Magazine
)
Hayao Miyazaki/John Lasseter Press Conference
I had an opportunity to join selected journalists at a Hayao Miyazaki-John Lasseter press conference held yesterday (7/28) before their appearence at the Academy of Motion Picture Arts and Sciences last night. I also shot some video (sorry for the shakey hand held camera work, and the low audio) and thought it was worth sharing with our readers. In this first part below Miyazaki talks about using (or not using) CG and his chances of making a film in 3-D. Lasseter discusses the process of dubbing a Miyazaki's films. Interesting to note they've already dubbed
Tales From Earthsea
.
In the second part, Lasseter discusses 3-D animated films; Miyazaki talks about what's happening with his son:
In the third part, John Lasseter discusses his admiration of Miyazaki's films, his reaction to the first one he saw,
Castle of Cagliostro
, Miyazaki's influence in Pixar films, and why he wants to bring Miyazaki's films to the US:
(Thanks
cartoon brew
)
Vance Gerry Tribute Blog
Story artist Ed Gombert has started a blog dedicated to the work of
Disney storyman Vance Gerry
, who passed away in 2005. Gombert writes on the blog,
"Fortunately, the geek in me started making copies of his work and instead of sitting in a folder in my personal archive I want to share these drawings with as many people as possible. If you look long enough at these drawings and paintings you will be able to see the kind, funny, humble and generous man that was Vance Gerry."
The Gerry blog joins a growing number of blogs, sites and Facebook pages dedicated to individual artists from animation's Golden Age, including:
Abe Levitow
Homer Jonas
Chuck Jones
Irv Spector
Ward Kimball
Claude Coats
Jack Bradbury
(Thanks, Mark Kennedy)
(Thanks
cartoon brew
)
Happy Birthday, Bud Luckey!
As a change of pace, here's some happy news about a veteran animation artist: today is
Bud Luckey
's 75th birthday. Luckey's career stretches from Quartet and Format Films in the 1950s to design and story work on most of the Pixar features and the short
Boundin'
, which he directed. And, of course, he will always be fondly remembered for the many catchy
Sesame Street
segments he wrote, performed and animated, like
"The Ladybugs' Picnic," "The Alligator King," "The Old Woman Who Lived in a Nine,"
and this one:
UPDATE:
Animation artist Phil Rynda wrote a
post about Bud Luckey's influence on him
and drew this birthday tribute with Luckey's character, Donny Budd. Awesome!
(Thanks
cartoon brew
)
Spang Ho!
Welcome to Cartoon Brew - where rejected pilots from Cartoon Network come to play. Here's another one:
Here is what the creator, Lincoln Peirce, had to say about it:
"Spang Ho is the latest of several pilots of mine Cartoon Network has rejected over the years. No, it wasn't for Cartoonstitute; that program hadn't officially been launched when CN bought Spang Ho. Frankly, I'm not sure exactly why they bought it, since nobody there seemed too sanguine about its prospects as a CN series. There was a lot of turmoil ghttp://www.blogger.com/img/blank.gifoing on in the CN programming and development depts at the time (as there continues to be), and CN actually fired Spang Ho's in-house producer when we were about halfway done without telling us. (When I say "us" I'm referring to myself, my director Rich Ferguson-Hull, and the crew of Global Mechanic, the house that did the animation.) But they allowed us to finish it, and then they focus-grouped it. The kids were only luke-warm about it, and that was the end of that. It was likely my last TV writing stint for awhile, since I'm working on some kids books for Harper Collins right now featuring my comic strip character, Big Nate."
(Thanks, Joshua Bailey)
(Thanks
cartoon brew
)
Mary Blair Exhibit at Tokyo's Museum of Contemporary Art
"The Colors of Mary Blair"
is a major new exhibit of Mary Blair's artwork that has opened at the Museum of Contemporary Art in Tokyo, Japan. Over five hundred pieces of original artwork are on display, including her animation work, book illustrations, package designs, watercolors, and personal artwork. The
show's website
is in Japanese, but there is an English section with basic address and admission details. These photos on Flickr (
HERE
and
HERE
) give a sense of the exhibit's scale, and
this image
shows that the exhibition is accompanied by merchandise and a catalog. The show runs through
October 4
.
(via Disney History)
(Thanks
cartoon brew
)
Born Under Fire, Documentary about War in Colombia
Powerful trailer for
Born Under Fire
, a documentary about the on-going war conflict in Colombia that uses voices from children who have witnessed the events and incorporates their drawings into the film. It is directed by Jairo Eduardo Carrillo with animation produced by Oscar Andrade at his studio
Jaguar Digital
. It was originally a short, Pequeñas Voces, that has been reworked into a full-length film. Visit the website
HERE
.
(Thanks, Carlo Guillot)
(Thanks
cartoon brew
)
San Diego Comic-Con 2009:"Green Lantern: First Flight" Roundtable Interviews
Following the sneak preview of
Green Lantern: First Flight
on Thursday at Comic-Con, the following day, members of the press were given access to select members of the cast and crew in attendance at the convention including the movie's director
Lauren Montgomery
, voice over director
Andrea Romano
, voice actress , and producer
Bruce Timm
. Please note that not all the questions asked on these sessions are ours. The Toon Zone questions will be marked by TOON ZONE or TZ. Also be forewarned, that some of the questions in these questions go at length into discussion on events that occur in the animated movie, so please note the spoiler warning.
Click on any image to enlarge.
Lauren Montgomery (Director)
Director Lauren Montgomery previously directed episodes of the TV series,
Legion of Super Heroes
, after starting as a storyboard artist for such shows as
Justice League
and
Ben 10
. Lauren then went on to direct the animated features
Superman/Doomsday
and
Wonder Woman
before
Green Lantern: First Flight
.
Toon Zone: So how did you get the job?

Lauren Montgomery
: I just finished
Wonder Woman
and Green Lantern was coming up and I was there. It was pretty much the rule. "You want Green Lantern?" And I said OK. And that was pretty much how it happened. Nothing fancy.
TZ: Were you a fan of Green Lantern before the movie or was it more daunting to take this project on?

LM:
I do a fair amount because I worked on
Justice League
. I was more familiar with the John Stewart Green Lantern, so I had to get a little bit familiar with the Hal Jordan version but I knew the general what makes Green Lantern, Green Lantern. So it wasn't a complete "Oh my God, what does this hero do?" I was familiar.
TZ: The Green Lantern comic is better than ever. Why do you think this character is pretty much everywhere?

LM:
I don't know why but I think it's about time because I definitely see his appeal to people, just because he is an every man but he gains these powers and he's in space. There's not a whole lot of super heroes out in space, policing space. And there's a lot of different territories you can explore with him. He goes to all these different planets. So I'm so glad he's just finally getting his time in the spotlight because I guess he's never really been as popular as Superman and Batman who already are everywhere. I'm hoping he gets there because he's a really fun character and there's so much you can do with it.
What inspired you about Green Lantern?

LM:
Just the variety of what you can do with him and all the planets and the aliens and the vastness of the universe you can explore with him. That's what excites me. You can have a completely different adventure with him every time.
What were the things you took away from Wonder Woman that helped Green Lantern work?

LM:
Well, definitely one of the biggest differences is that they are so different as far as the movies themselves, like the settings and what they do. Wonder Woman was much more grounded in our movie. It all took place on Earth and had historic tools and all the things you've seen before aside from the Invisible Jet. But with Green Lantern we had to come up a completely new universe. Completely new alien characters, completely new alien environments. We couldn't draw anything from an existing reference. The biggest similarity is the humanity of the characters. It's another story, you have to treat it the same way you treat every story and just approach it. But they are definitely two completely different stories.
TZ: I liked seeing new characters like Arisia who we hadn't seen animated before. Arisia herself is a character in the comics that is hot for Hal. Was there anything more you wanted to do with Arisia in the story you didn't get around to?

LM:
I have no idea. I know that in the script she was always a second-tier character and I think they even kind of boosted her role a little bit just because they needed to bring some extra characters for the purpose of Hal's character development. But, honestly after doing this experience I think she animated the best and so she's my favorite from all the characters. She just looked great through the whole movie. So I'm now a big fan of Arisia. And Ch'p too. Ch'p actually had his own action beat against the Yellow Lantern in the original storyboard, but he ended up getting taken out by the Yellow Lantern in a way that would've actually killed him. So we kind of had to for continuity take it out, so I was kind of sad to see him not get his action bit after all.
TZ: I would've been OK with seeing Ch'p get killed.

LM:
Awww. I thought he was cute.
TZ: You can bring in G'Nort instead. So for the DC animated movie model, is the door open to make sequels to some of these stories, or will they stay sort of self-contained stories for now?

LM:
You know, I think there is opportunity for them to continue. We have not yet seen a direct sequel to any of these, but I don't think anyone is going to completely throw that out the door. I'm certain that they will make more Green Lantern films. I guess by direct sequel I mean will they be using the same characters, same style, and I think there's opportunity for that. But I also think there's opportunity to make a
Green Lantern
film in a different style. So it can go both ways. I think there's opportunity for both. New takes on Green Lantern, and continuations on existing takes.
Who is your favorite character in this movie?

LM:
Just visually, Arisia, because she was cute. Substance wise? I just really like Sinestro. I think he was an awesome villain. He was a layered villain. You kind of saw that he thought he was being right. He actually thought he was doing right things, and that's what draws him to me even moreso than Ares, the villain in Wonder Woman. He's cool, but his controlling motivation is "I'm the God of War. I have to be." Sinestro, he had motivation, and that makes him a deeper character for me.
TZ: Victor Garber played him with such delicious calculated intent.

LM:
Yeah and he also made him sophisticated in a way. He wasn't just some little guy. He was intelligent and educated. And that makes him more dangerous to me.
How do you approach the alien characters since there were so little human characters in the movie?

LM:
The vast majority of it was all done by an artist named Jose Lopez. And he just has a crazy imagination. And a lot of those, he looked at the Green Lantern reference and tried to interpret as many Green Lanterns as he could, but anything else he just pulled it out of his head. Because God knows I wouldn't be able to design that many crazy aliens. I just don't have that imagination. But he does, and that's why its really good to have an artist like that working for you and making your universe so vast and different and give it another level of believability project.
TZ: Where was the main portion of the animation done for the movie?

LM:
It was done in Japan by TMS, who did the
Batman Beyond: Return of The Joker
movie. I think that was the last time Warner Bros. worked with them, so it had been like a big gap of working with Japan, and we decided to re-open the door with them and work with TMS again.
TZ: What is your next animated project?

LM:
I don't think we are allowed to say. I know that next is
Public Enemies
, but beyond that we aren't really allowed to talk about it.
Was there any good surprises with the actors where they brought something unexpected to the roles?

LM:
Well, the actors are always bring surprises because there are so many of them whether I am familiar with their work or not, I will go in expecting a regular line read, but they'll always give it something more and they'll always make the characters so much more impressive and so much deeper than I ever expect because I'm not an actor.
TZ: So from a lady's perspective, Hal Jordan: charming ladies man or chauvinist misogynist?

LM:
A little bit of both I guess. There's charm in his humor, but when the humor goes a little too far you just want to slap him.
Lauren Montgomery hopes to work on an animated Aquaman feature at some point.
Juliet Landau (Voice Actor - Labella)
You might previously remember Ms. Landau as Drusilla from
Buffy: The Vampire Slayer
and
Angel
. As a voice over actor, Landau has also put time in as Helen on
Ben 10: Alien Force
and Tala in
Justice League
. In
Green Lantern: First Flight
, Landau portrayed the sultry alien informant, Labella. Labella has only one sequence in the movie, but it's definitely one of the most tense and memorable ones in the flick for sure.
Toon Zone: How did you get your role in the movie?

Juliet Landau:
Basically I worked with Bruce Timm and Andrea Romano a lot. I worked with them both on
Justice League Unlimited
and with Andrea on
Ben 10: Alien Force
, so they sent me the script and I loved the character immediately so I said, yeah I'm in . The script is written very beautifully, and the character is very colorful. Immediately, between the text and the drawing they sent, this voice sort of came to me and I said that's how she has to sound. And usually if I come up with a voice that's sort of bold and I have to come up with something that's not necessarily on the page, I come up with a back-up in case I go into session and they are like, "We don't want that." But I could not think of a second [voice], I was just like this is how she has to sound. So I went and figured if they didn't like it, I'll play in the moment and come up with something else, but they really liked it.
TZ: Is that orb like having too much of a good thing?

JL:
Yeah, exactly.
TZ: That was disturbing. It freaked me out.

JL:
It is. It's disturbing, right? It's dark. It's got an edge to it, which I thought was interesting.
When you are doing a scene like that, there's a lot of energy and the other actors are not recording anywhere near, right?

JL:
No, we did actually, but in this only some of the actors. We didn't have all of the actors, but some of the actors we were working with directly because it makes it so much easier because you are directly playing off of another actor. It depends. Also on Ben 10, we do do that, and it's so fun because you basically sit in a semi-circle with actors and you play and bounce off each other, and its completely a sort of fluid, creative experience. But often you are in a booth by yourself and doing that as well.
What do you think when you finally sat down and watched this movie?

JL:
Its so fun to actually see the end product because you are in the process and you have a sort of vision of what you think its going to be and then you see your work and it coming together and being married. It's actually a really fun thing to see in a really full blown way that you didn't anticipate.
TZ: Do you go to conventions or Comic Con a lot?

JL:
I've never been to Comic Con before. This is my first experience here. I'm loving it. I'm actually having a really good time, but its a little bit daunting in terms of the size. I mean its just so incredibly massive.
Were you into co

mics and super heroes before you started doing this work?

JL:
Not so much comics, which is weird because I just wrote two issues of the
Angel
comic book which continued the
Angel
and
Buffy
series in comic book form after they left the air. Basically they approached me, "Will you co-write two issues about your character?" And it's been really fun and creative. And so when they asked me to do that, I had read all the
Angel
and
Buffy
comic books but I hadn't read that many other comic books prior. But I really got peaked by writing this. So now I'm interested in this whole thing.
TZ: Even though Labella was an alien, I dunno, I thought she had something going on. What did you think of Labella's look?

JL:
She had something . . . I thought it was great. It was funny because at the same time I was doing Ben 10, it's a character that's actually an alien, lizard sort of looking character too. It was the same week I was recording that, and then I got this and I was like, what am I, getting typecast? And it didn't sound at all alike, but when you look at the drawings, I was like I'm Lizard Alien Woman. It was really funny. All I'm getting offered is lizard aliens. But they were really both incredible parts. I thought the look was great. It almost has an alien version, light Amy Winehouse kind of feel. It was really cool.
TZ: I thought Labella was hot.

JL:
Yeah, she's got a little seductiveness going on.
What do you think of the talk of Buffy becoming a movie again without Joss Whedon?

JL:
Its strange because
Buffy
is Joss in terms of, basically he did the whole series because he did the film and wasn't so happy with that and said I want to do with it what I really saw with my vision and his stamp is so completely him its hard to imagine it without him.
Bruce Timm (Producer)
Bruce Timm is a man that needs no introduction. After having wrapped the
Justice League
series, Timm moved onto spearheading the DC Animated direct to DVD productions and has had a hand in all of them thus far.
Toon Zone: I was asking Lauren Montgomery earlier, but I also wanted to ask you. Do you see this model of the DC animated movies having sequels or will they stay as one-off movies for now?

Bruce Timm:
Eventually. In fact, one of the scripts that we're working on right now is actually a sequel to one of our prior projects which I can't talk about.
Did the film live up to everything you wanted it to be?

BT:
They always fall a little bit short in my eyes. Like you never get exactly what you want because there's not enough time -- literally not enough time. If we had enough time we could make everything just right, but you know, so I mean yeah there's all minor stuff. But its all 90% there but I wanted it to be.
TZ: When did you decide you wanted everyone in the room to do the Green Lantern Oath at the sneak preview?

BT:
A couple days ago. We had four thousand people reciting the Green Lantern Oath last night, it was awesome.
Would you prefer to be doing these movies or a linear television series?

BT:
Its apples and oranges. When doing a TV series, you have a chance to kind of get better at the show as it moves along. With the characters you have more time to develop the relationships and what not and you can get into a groove where it gets comfortable and you get excited about taking the storyline some place else whereas these are all very compact, one story, you're done, move on to something else. Also each one of these has a unique look to it. So it's not like you can re-use standing sets or characters. Its literally like every time you have to draw everything over from scratch. That's fun, but there's also sometimes not enough time to do that properly. So its apples and oranges. I enjoy doing both.
TZ: One of the subtle things I really liked about the character designs in the movie. I really liked the costumes; they looked more like armor than the typical spandex costumes. Was that an intentional art decision?

BT:
Right. That was definitely a deliberate decision. What we really wanted to do was embrace the sci-fi of it all. So starting with the Green Lanterns, we really wanted to make their uniforms look less like spandex and more like futuristic body armor -- and still skin tight, but we wanted to segment it a little bit to give it a little bit more pizzazz so it wasn't just tights because why would intergalactic space cops be wearing tights? And we did that all across the board. In the comics, the Guardians are basically short, little blue guys. And even Abin Sur is just a pink human with pointy ears. So we wanted to make sure all the aliens looked genuinely alien, and we wanted to embrace the whole science fiction aspect of it.
TZ: With Warner Bros. developing a live action feature for the movie, was there any internal pressure to hold back on this one?

BT:
No. We started this one probably a year and a half ago before the live action one. We knew the live action movie was in development but nowhere near being green lit yet. Of course we had to clear it with the feature people, is it cool just to go ahead and do this, not going to be stepping on your toes? They said no, it's fine, we're not going to be doing it for a while. So its not a problem.
I just have one quick silly fanboy, obsessive question.

BT:
Maybe. You can ask it. I may not answer it.
Is the red warp that the Green Lanterns go through in the movie meant to be The Bleed?

BT:
Oh, no. I haven't thought of that because when we do a movie like this, literally we're trying to figure out the color designs; it can't be green because the Green Lanterns are green. It can't be yellow because we have the Yellow Element in it. So it leaves you with blue and red and purple. And you're like which one is going to look best? Red. That's all it was. But that's a pretty good question.
TZ: Would Hell have to freeze over before we see a Justice League vs. Avengers animated movie?

BT:
Probably. Probably.
And now that you've given Hal his moment, do you really now owe it to Guy Gardner too?

BT:
I don't owe Guy Gardner ****.
TZ: What about G'Nort?

BT:
I dunno. Maybe someday.
TZ: Is there any movement on the Teen Titans project right now?

BT:
No, not at the moment, but we hope someday.
Green Lantern: First Flight
is now out on DVD and Blu-ray.
(Thanks
Toon Zone
)
What will Cars 2 do now that Paul Newman is gone?
Paul Newman voiced the wise old Doc Hudson
Cars
was a modest hit by Pixar standards, topping out around $200 million instead of the more typical $300 million-plus, and critics and fans were lukewarm about it, but it was John Lasseter's baby, so he's doing another one. But with the recent passing of Paul Newman, the proposed
Cars 2
faces a tough choice.
Newman provided the voice of Doc Hudson, the patriarch of all the cars in Radiator Springs. Lasseter is faced with the dilemma of repurposing earlier recordings of Newman to keep him in the sequel or just letting him go out of respect.
"We haven't really [addressed it yet],"
Lasseter said in a group interview today in Beverly Hills, Calif., after a press conference for the upcoming animated release
Ponyo
.
"We're still working on that."
Cars
centers on hotshot racer Lightning McQueen (voiced by Owen Wilson), who has detoured to the small town of Radiator Springs. He learns to take his time instead of racing to the finish line. For
Cars 2
, the whole Radiator Springs gang will hit the open road.
"It's Radiator Springs, and then the characters go to other places as well,"
Lasseter said.
Pixar rocked Comic-Con last weekend with the announcement that famous male doll Ken would join the cast of
Toy Story 3
. Lasseter, who directed the first two installments, sung Ken's praises.
"He makes it,"
Lasseter said.
"He's fantastic, and Michael Keaton's doing the voice for him."
By part three of the successful family franchise, one would expect toy manufacturers would be lining up to license their characters for
Toy Story
adventures. With the promise of many more new characters to be announced, Lassster kept the focus on Ken for now.
"With Ken, we're really excited about that one,"
he said.
Toy Story 3
opens
June 18, 2010
.
Cars 2
is scheduled for 2011.
Universal adapting The Lorax as a 3-D CG toon
Universal Pictures and Illumination Entertainment are joining forces to turn the Dr. Seuss book
The Lorax
into a 3-D CG-animated movie, Variety reported.
Here's the trade paper's report:
Dr. Seuss' The Lorax will be co-directed by Chris Renaud and Cinco Paul & Ken Daurio, with Paul & Daurio writing the script.

Though published in 1971, The Lorax has a timely "green" theme. It is narrated by a greedy entrepreneur who, despite warnings from the tree-loving Lorax, strips a forest of its stock of Truffula trees to manufacture clothing.

The results are catastrophic as all the animals leave and nothing's left.
The picture is targeted for a
March 2, 2012
, release, which falls on the birthday of Theodore Geisel, who died in 1991.
New Dr. Tran Episode - Fruit Hat
At
Spike and Mike's
2009 Comic-Con screening, the latest
Dr. Tran
episode premiered.
Fruit Hat
is a twisted, gum-filled installment that's been in the works for nearly 2 years, and it now awaits your eye lookings.
Dr. Tran
is the creation of
Breehn Burns and Jason Johnson
, and along with a whole slew of other animators,
Mark Salisbury
helped bring this one home in time for the big San Diego premiere. Me and my pal John Evershed at
Mondo Media
also helped with this one. Want some backstory on the chicken and his gum fetish? Watch more Dr. Tran
here
, and then
go buy stuff
.
Hughes' Backwards Love Story
Aaron Hughes, an adjunct professor at New York University and Pratt Institute, is going about his career all backwards. Well, at least for this film.
Backwards
is a new animated short produced by Lisa LaBracio and directed by Hughes that looks at a love story in reverse. And yes, there is a reveal at the very end, so watch it all the way through.
Charlotte From Princess and the Frog
A new clip from Walt Disney Animation Studios' upcoming 2D feature
The Princess and the Frog
has emerged. This low-resolution, :40 second vignette gives us our first extended look at Charlotte, Tiana's best friend (and eventual rival), who grows up to be a spoiled, southern debutante.
Princess and the Frog
will be in theaters
December 11th
.
World Leaders Snack on Cranberry Raisinets
To promote their new
Cranberry Raisinets
product, Nestlé teamed up with
World Leaders Entertainment
on a series of Flash-animated webisodes about this antioxidant-rich snack. The first episode, titled
Talking 'Bout Cranberry
, sees the Original Raisinets questioning whether or not the Cranberry Raisnet really exists (hint: she does).
"Cloudy With A Chance of Meatballs" in IMAX 3D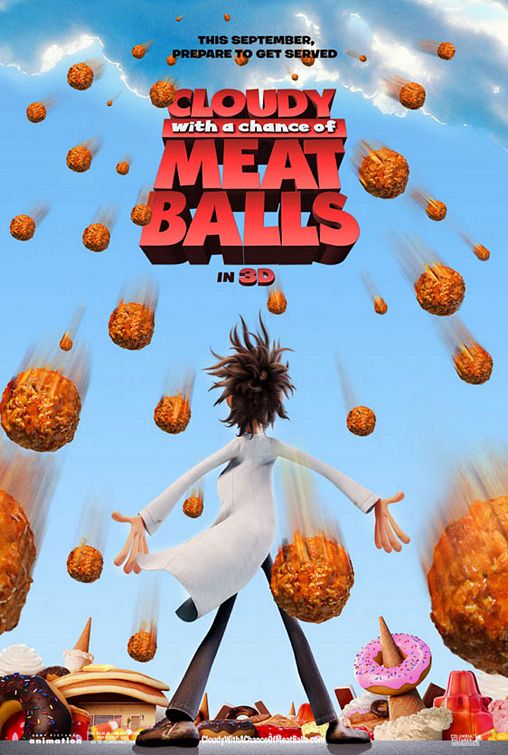 "Cloudy With A Chance of Meatballs,"
an adaptation of the best-selling children's book written by Judi Barrett and illustrated by Ron Barrett, written for the screen and directed by Christopher Miller and Phil Lord, will be released to IMAX theatres simultaneously with the film's wide release
September 18
, Sony Pictures Animation and IMAX Corporation announced Wednesday.
The special IMAX 3D release will be digitally remastered from Sony Pictures Animation's Stereoscopic 3-D master into the state-of-the-art image and sound quality of The IMAX Experience with IMAX DMR (Digital Re-Mastering) technology. The film is produced by Pam Marsden.
"Cloudy with A Chance Of Meatballs is a fantastic animated motion picture that will play extraordinarily well in 2-D, but in IMAX 3D, audiences will practically be able to feel the food landing in their laps,"
said Rory Bruer, president of worldwide theatrical distribution for Sony Pictures Entertainment.
"Sony's new title is a great family story, and we believe the 3D storytelling will resonate with IMAX audiences worldwide,"
said IMAX CEO Richard L. Gelfond.
"Our growing commercial theatre network will enable us to share this special title with more audiences worldwide, and we're pleased to partner with Sony to deliver a brilliant film in IMAX 3D.""Cloudy With A Chance of Meatballs is a great addition to our fall 2009 film slate,"
added Greg Foster, chairman and president of IMAX Filmed Entertainment.
"This all-star cast of talent and animation artists combined with a wonderful story will transport moviegoers from their seats right into the fantasy world that is Swallow Falls."
Inspired by the beloved children's book, the film focuses on a town where food falls from the sky like rain.
Bill Hader, star of
Saturday Night Live
and
Night at the Museum: Battle of the Smithsonian
, will voice Flint Lockwood, a young inventor who dreams of creating something that will improve everyone's life. Anna Faris, who recently turned heads as the star of the comedy hit
The House Bunny
, takes on the role of Sam Sparks, a weathergirl covering the phenomenon who hides her intelligence behind a perky exterior. James Caan plays Tim Lockwood, Flint's technophobic father.
Andy Samberg plays Brent, the town bully who has plagued Flint since childhood. Bruce Campbell plays Mayor Shelbourne, who figures out that Flint's invention can put the town, and more importantly himself, on the map and Mr. T plays by-the-rules town cop Earl Devereaux. The film also features the vocal talent of Neil Patrick Harris.
'Torchwood' Star John Barrowman Wants 'Captain America' Role
The leader of television's
"Torchwood"
team appears to have his eye on leading an entirely different set of heroic operatives: The Avengers.
At last weekend's Comic-Con International,
"Torchwood"
star John Barrowman attended a special panel for
"Torchwood: Children of Earth,"
the recent third miniseries in the BBC franchise. Comics Alliance reports that during a Q&A with the audience, the onscreen Captain Jack told the audience that he'd like to play another popular Captain -- namely, Steve Rogers.
"You know what I want to play? Captain America,"
Barrowman proclaimed to the wildly receptive crowd, before adding that it
"so won't happen."
Still, Barrowman's appeal has at least one supporter. An audience member later went to the microphone to tell the actor,
"I think you're the only one who could play Captain America."
Comics Alliance notes that Barrowman's chances for the role of Rogers in
"The First Avenger: Captain America"
aren't terribly high, but I'm not as convinced. Sure, his odds are as good as anybody's right now, but the idea that a famous actor needs to fill these iconic roles -- Robert Downey Jr. as Iron Man or Scarlett Johansson as Black Widow, for instance -- has been effectively shot down with the casting of relative unknown Chris Hemsworth as Thor.
Barrowman certainly has the build, charisma and acting chops to play Captain America, and he's also got enough geek credibility to his name with starring roles on both
"Torchwood"
and
"Doctor Who."
It seems to me that Barrowman's appeal for Rogers isn't unlike the petitions for Nathan Fillion as Green Lantern. Even though that fan-favorite casting didn't work out, there is
convincing video evidence
that Fillion would've nailed the role.
Megan Fox Says 'Fathom' Script Drafted, Still Not A Fan Of Wonder Woman
During a recent press event for her upcoming horror film
"Jennifer's Body,"
Megan Fox offered an update on the other comic book movie the
"Transformers: Revenge of the Fallen"
and
"Jonah Hex"
actress is attached to star in: an adaptation of Michael Turner's
"Fathom"
series.
"They just wrote the first draft of the script, and everybody's really happy with it,"
Fox told MTV News.
"I haven't read it yet, but the studio's really happy with it and there's growing excitement around the project."
While Fox already
made a case for her geek cred
during Comic-Con, she admitted that there isn't any other comic book roles she's really looking to take on right now -- and that includes Wonder Woman, a character she
famously shot down
a while back.
"I feel like that's a hard adaptation to make into a live-action film,"
said Fox.
"She flies around in an invisible jet and she has a lasso of truth... It's going to be a hard movie to make live action."
Wolfman delayed again; Universal announces dates
Universal Pictures announced it was pushing back
The Wolfman
again, to
Feb. 12, 2010
, part of several release dates announced on Tuesday.
The movie, a remake of the classic horror tale, has been pushed three times before, with Nov. 6 its most recent date.
Meanwhile, Universal announced an Oct. 23 release date for
The Vampire's Assistant
(previously called
Cirque du Freak
), a
Nov. 6
release for the Milla Jovovich thriller
The Fourth Kind
and an
April 16, 2010
, date for
MacGruber
, based on the
Saturday Night Live
sketch.