EXCLUSIVE PREVIEW: What is Torch Tiger?
Following on the heels of last year's successful graphic novel anthology
Who is Rocket Johnson?
, Disney story artists and directors have teamed up once again to self-publish
What is Torch Tiger?
The new book will debut later this month at Comic-Con (booth #2302) and is limited to 1,300 copies. The line-up of artists is impressive to say the least, with a cover painted by Paul Felix and contributions from the following:
Steve Anderson
Aaron Blaise
Paul Briggs
Kevin Deters
Rob Edwards
Mike Gabriel
Nathan Greno
Don Hall
Byron Howard
Trevor Jimenez
Mark Kennedy
Joe Mateo
Nicole Mitchell
John Musker
Jeff Ranjo
Aurian Redson
Jeremy Spears
Lissa Treiman
Josie Trinidad
Chris Ure
Mark Walton
Dean Wellins
Stevie Wermers
Chris Williams
Pin-ups by:
Andreas Deja
Andy Harkness
Jeff Turley
Jin Kim
Shiyoon Kim
More details are available at
TorchTiger.blogspot.com
. Below are some exclusive preview pages provided to us by the Torch Tiger team. Click on any of the images for a closer view.
(Thanks
cartoon brew
)
Bruno
Chills Out
Ice Age
Bruno
cracked
Ice Age: Dawn of the Dinosaurs
to top this weekend's box office.
The Universal Studios comedy, in which Sasha Baron Cohen reprises the role of the gay Austrian fashion journalist from
Da Ali G Show
, took in $30 million in its first three days of release.
Ice Age
, the third film in the series and the first to be released in 3-D, came in second place with $28.5 million, lifting its domestic total past $120 million. Variety reports that the film has been especially strong overseas, grossing more than $190 million through last Wednesday in 101 territories. The film's success made 20th Century Fox the first studio to gross more than $1 billion in overseas markets this year.
Transformers: Revenge of the Fallen
, the Michael Bay-directed sequel, pulled in$24.2 million this weekend and remains the year's biggest film with a domestic gross of more than $339 million.
Public Enemies
took fourth place with $14 million this weekend, followed by the comedy
The Proposal
with $10.5 million,
The Hangover
at $9.9 million, newcomer
I Love You, Beth Cooper
at $5 million.
Pixar-Disney's animated feature
Up
came in eighth-place this weekend, grossing $4.6 million. It's domestic gross of more than $273 million is second this year only to
Transformers
and ahead of
Star Trek
's $251 million and
The Hangover
's $222 million.
The box office gets another big release this week, with the opening Wednesday of
Harry Potter and the Half-Blood Prince
, the sixth and penultimate film in the smash-hit franchise.
(Thanks
Animation Magazine
)
Andy Runton's 'Owly' Gets Animated At San Diego Comic-Con
Generally speaking, silent films went out with the "talkie," but one friendly owl is proving that what's old can always be new again. Top Shelf Productions and Sprite Animation Studios are bringing Andy Runton's silent comic star
"Owly"
to life later this month with the debut of a new animated short at the San Diego Comic-Con.
Based on art and storyboards by Runton, Sprite's 3-D short follows
"Owly's"
titular hero and his insect companion Wormy through the adventure of an average day in the woods.
"I'm absolutely overjoyed to be working with the entire Sprite team. Over the past months, we've worked very closely to make sure 'Owly' was faithfully translated to 3-D. Every little detail was important to them, and the end result blows me away!"
Runton said in a press release.
As a silent comic book,
"Owly"
relies on non-verbal storytelling, using gestures and what Runton refers to as
"pictogram"
word balloons to communicate emotion and internal feelings without the use of words. This means Owly gets up to a whole lot less hooting and pellet regurgitating than most of his feathered brethren.
Screenshots from the short
reveal a kind of stop motion-meets-CGI aesthetic, with the texture of claymation and the fluidity of 3-D forms. Think Neil Gaiman's
"Coraline,"
with more smiling animals. Also, even though most
"Owly"
adventures are printed in black and white, the short gives a full-color representation of the
"Owly"
experience with a palette derived from the series' painted covers.
The short will be playing at the Top Shelf booth during the convention from
July 23-26
.
More News About the Network Formerly Known as Cartoon
Thurop Van Orman, the creator of
The Marvelous Misadventures of Flapjack
, posted an entry earlier this week on
his deviantART page
, in which he wrote the following:
NO, CARTOON NETWORK isn't changing its name. Not anytime soon anyways… they were gonna… But I think their reality show idea didn't go as well as they had hoped, so… they're kinda backing out of that idea. Yay for cartoons!
His perspective on what is happening at Cartoon Network is wildly different than that of
Chowder creator C.H. Greenblatt
. Care to make a guess which one of them still has a show at the network and which one of them has had their show cancelled?
Granted, it's true that Cartoon Network has removed their Andrew W.K. video from YouTube (600 negative comments will do that), but I wouldn't read too much into that token gesture. From where I'm standing, it appears to be little more than a carefully calculated effort to quell their viewership's outrage and not representative of a meaningful shift in direction. If any doubt remains about the network's true intentions, look no further than this recent
Broadcasting & Cable article
in which the architects of the live-action strategy speak about their goals. The piece details at length why they're switching to live-action, and describes the network's
"360 degree"
marketing campaign to usher in live-action, including the distribution of 8 million copies of a free CN Real magazine at theme parks and movie theaters.
One of the figureheads in their brand-wrecking transition is Stuart Snyder, executive VP and COO of Turner animation, young adults and kids media. The article states that Snyder made switching to live-action a priority when he came on board in 2007.
"I think these new shows, whether reality or live scripted, really open up and broaden the audience, so you can be thinking about new advertising categories,"
Snyder said.
"It opens up more categories for us than just being in shows specifically [targeting] 6- to 11-year-olds."
Cartoon Network's Chief Content Officer Rob Sorcher acknowledged in the same article that inserting live-action into a brand called Cartoon Network will take time for audiences to accept:
"Anytime you do something new at a network, particularly at one with a very specific niche, there will be a reaction. People will say, is this appropriate? We are doing something that is very different than anything in the nearly 20 years of history of the channel. It is possible that this is going to take a while."
Animation fans meanwhile continue to mobilize. Over 2,500 people have now joined the
Boycott Cartoon Network's CN Real Block on Facebook
. A new website has launched called
"Stop the Madness"
that encourages people to take specific actions to protest the network. A quick search for
"Cartoon Network" on Twitter
also reveals a steady stream of complaints. (Cartoon Brew suggests using the hashtag #CartoonNetworkFail to organize all the complaints on Twitter.) Finally, if you'd like to register your complaints directly with Stuart Snyder, try
sending him a friend request on Facebook
. I'm sure he'd love to hear from a few fans of the channel.
More to come…
(Thanks
cartoon brew
)
Wall Street Analyst: "Dead Wrong" About "Up"; Still Rates Disney "Sell"
The
New York Times
reports that one of the Wall Street
analysts expressing doubt about the earning power of Disney/Pixar's Up has admitted he was "dead wrong"
in the face of the movie's cumulative domestic box office haul of
$268 million
thus far. Earlier this year in April, Richard Greenfield of Pali Research stated,
"We doubt younger boys will be that excited by the main character,"
but has since backtracked in a follow-up, stating,
"The recent success of Pixar's
'Up'
(well ahead of our forecasts) has renewed investor confidence in Disney's creative capabilities."
Nevertheless, Greenfield maintained his
"sell"
recommendation for Disney stock because he believes the next 12-18 months will be "substantially more difficult for Disney than investors are currently anticipating" due to difficulties in the broadcast television sector and an inability to cut costs in the theme park sector in the future.
In a related story,
Up producer Jonas Rivera has told Conexión of his pride and elation
in the good critical and audience reception for the movie, while shrugging off any suggestions of Academy Award nominations at this time.
Gundam Goes Green for Anniversary and to Raise Funds for Environment
The Japan Times reports on
the addition of an 18-meter high replica of a Gundam to the Tokyo skyline
to celebrate the 30th anniversary of the
Mobile Suit Gundam
TV series and, as the centerpiece of the
"Green Tokyo Gundam Project,"
to raise funds and awareness of the Tokyo Metropolitan Government's plans to expand the city's green areas. The 35-ton replica stands near the Rainbow Bridge on the manmade peninsula of Odaiba.
Van Citters' Magoo's Christmas Carol Book
Wow!
If you want something done right, you gotta do it yourself. Animation director Darrell Van Citters (Renegade Animation) has written and self published one of the best animation books of the year. Scratch that… one of the best animation books ever! Van Citters has documented the creation and production of the classic UPA TV special
Mr. Magoo's Christmas Carol
with thorough details (wonderfully written I might add) and lavishly illustrated with rare production art (the book layout is superb). This is a must-have for anyone interested in animation history - and specifically, if you have any interest in UPA, animator/director Abe Levitow, songwriters Jules Styne and Bob Merrill, artists like Corny Cole, Gerard Baldwin, Bob Singer and others, not to mention actors Jim Backus, Morey Amsterdam, Jack Cassidy, Paul Frees… you will want this. Van Citters dug up rare behind the scenes photos, cels, storyboards, backgrounds, pencil sketches… a treasure trove of art material that alone justifies the purchase. It gets my highest recommendation.
If you want to see pages from the book, check out Darrell's
Magoo's Christmas Carol webpage
, where he is taking advance orders for a special edition of the book signed by the surviving cast and crew.
The book will go on sale
July 23rd
at the San Diego Comic Con. You can find it exclusively at the Van Eaton Galleries booth and Darrell will sign copies on Friday and Saturday at 11am and 3pm each day (animator Bob Singer will join Van Citters to sign on Saturday). You can
pre-order autographed copies here
. Buy this book. Order it now!
(Thanks
cartoon brew
)
Cloudy With a Chance of Meatballs trailer now online
Movie-List
shares various links to the new trailer for Columbia Pictures and Sony Animation's upcoming animated film
Cloudy With a Chance of Meatballs
. Written and directed by Chris Miller and Phil Lord, the movie features voices of Bill Hader, Anna Faris, James Caan, Bruce Campbell, Andy Samberg, Mr. T and Tracy Morgan. Cloudy With a Chance of Meatballs hits theatres on
September 18, 2009
.
First look at The fantastic Mr. Fox
JoBlo
shares an exclusive first image from Wes Anderson's upcoming stop-motion film
The fantastic Mr. Fox
. Based on the story by Roald Dahl and featuring the voices of George Clooney, Jason Schwartzman, Meryl Streep and Bill Murray,
The Fantastic Mr. Fox
hits theatres on
November 13
.
I Want a Dog for Christmas, Charlie Brown deluxe edition DVD in October
DVDActive
reports that Warner Home Video has announced a deluxe edition of
I Want a Dog for Christmas, Charlie Brown
for the
6th of October
. Extras on the disc will include the DVD debut of the bonus special
Happy New Year, Charlie Brown
, and a new featurette about how Charles Schulz came to create Rerun Van Pelt, Lucy and Linus' younger brother.
Hulu, iTunes Add Anime Titles
More anime is coming to fans via the internet, as Hulu expands its offerings with the additions of
Robotech: The Shadow Chronicles
and
Kite: Liberator
, while VIZ Media brings
Honey and Clover
to iTunes.
Both of the Hulu offerings are feature films.
Robotech: The Shadow Chronicles
is based on the popular 1980s series.
Kite: Liberator
is director Yasuomi Umetsu's sequel to his 1998 film
Kite
.
Hulu has seen anime become one of the more popular offerings on the site, with
Naruto Shippuden
ranked as the 15th most popular series in its library.
Over on iTunes, fans can download for free until
Aug. 31
the first episode of the shoujo series
Honey and Clover
. Also, people who buy the complete first season of the show will receive bonus downloads.
Based on the popular manga series creatd by Chica Umino,
Honey and Clover
also was adapted into a live-action movie.
(Thanks
Animation Magazine
)
Putin put out of
"South Park"
broadcast in Russia
A Russian adult cartoon channel deleted a sequence depicting Prime Minister Vladimir Putin from its broadcast of a
"South Park"
episode, Russian news agency Novy Region said Thursday.
Tuesday's broadcast on the 2X2 channel omitted an 80-second scene from the 2005 episode, which first aired during the show's ninth season.
The character Kyle phones Putin -- then Russia's president -- asking for assistance to send a dying whale to the moon. Figuring that the call is a joke by United States president George W. Bush, Putin curses him before slamming the phone down.
Prof Media, the corporate owner of 2X2, did not provide a reason for deleting the segment.
Yevgeny Strelchik, a spokesman for Russian broadcast regulator Rosskomnadzor, told the Associated Press that he knew nothing about the incident. The channel made an internal decision to cut the scene, he said.
Bloggers on Russian Internet sites wondered if the self-censorship was done to ensure the renewal of the channel's broadcasting license.
In 2008. the 2x2 channel was charged twice in connection with its broadcasts, receiving warnings in both cases. In March that year, it was accused of
"promoting immorality and violence,"
and in September, it was alleged to have aired
"overt propaganda of homosexuality and pedophilia."
Russian Christian and Muslim groups have accused the channel of
"extremist propaganda"
and promoting immorality for broadcasting
"South Park"
and
"Family Guy,"
and have called for the channel to be shut down.
A week after being warned about
"extremist"
material, 2X2 temporarily stopped airing 12 cartoons, including
"South Park"
and
"The Simpsons."
Hundreds of cartoon fans rallied last year in Moscow and St. Petersburg to show their support for the channel.
Last October, the channel's license was renewed for five years despite fears that it would go off the air completely.
Deleting the
"South Park"
scene will only draw more attention to 2X2, Oleg Kuvaev, creator of the popular Russian cartoon
"Masyanya,"
wrote on his Web site.
"It's stupid to cut things this way, because the result is reverse -- a mediocre scene attracts more interest."
In the Halls of Mouse
In between packing files, papers and office knick-knacks into cardboard boxes, a fellow IATSE rep and I spent a piece of the morning talking to employees about the oncoming negotiations for an updated Disney-IA Collective Bargaining Agreement. (The pact is up the end of October, so the IA and TAG are now laying groundwork for Fall negotiations.) ....
During our studio ramble, we ran into Glen Keane, who related that he was supervising animation with the
Rapunzel
animation crew (He's also executive producing on the picture.). Glen told us traditional animators are teaming with c.g. animators to bring a more
"hand-drawn"
sensibility to the c.g. characters in
Rapunzel
, with more stylization and counter-weight in the animation, melding computer graphics with the rhythms and tempo of traditional Disney animated features. He related how the characters' skin will have a softer look. (There is also the animation dynamics of Rapunzel's seventy feet of hair. Animating that will be fun.)
The way Glen described the process, it's going to make
Rapunzel
a c.g. feature to put on your
"to see"
list. The film is now going into serious production, so we'll be able to watch the results of the artists' and technicians' labors in (relatively) short order.
(Thanks
Animation Guild Blog
)
The $100 Million ClubIce Age 3
stomped over
the
century marker on Friday
:
... [T]he third
Ice Age
movie ... consumed $8.7 million on Friday while evolving past the $100 million mark ...
As of Friday, IA3 has a worldwide gross of $252.4 million, 60% of the take coming from foreign venues. The producers claim a $90 million budget for the feature; if true, the third incarnation of the Adventures of the Wool-covered Elephants should be moving into the black right about now ...
Elsewhere on the domestic box office front, the phony Austrian
Bruno
collected $14.2 million to come in at #1, the animated epic
Transformers
dropped 58% but already has $322.6 million in its steel gunny sack, and fourth place
Public Enemies
owns a total of $56.8 million.
Finally,
The Proposal
(#5 with a bullet) has also joined the $100 million club, having amassed $106.7 million to date.
(Thanks
Animation Guild Blog
)
Gossip Guys
What with cleaning out my office and preparing for the next round of TAG contract negotiations, I didn't get out to as many studios as usual over the past week. However, I motor to a couple of larger cartoon facilities, and fell into conversation with animation artists and a director who were interested in sharing scuttlebutt, which they proceeded to do (And let's list this under
scuttlebutt
, not
gospel truth
. Some of it is circulating on the intertubes already):
* Upper management at Cartoon Network is coming to the realization that -- gawrsh -- animation is more cost-effective and generates more profits over time than much of CN's live-action efforts. (This flies in the face of some published rumors -- see link below -- that Cartoon Network is going for more reality, sports and live action in the hear future. But how many reality shows are the small-fry supposed to gobble up, after all?)

* CN's
Chowder
is finished, and so probably is
Flapjack
. And not all of CN's management is crazy about their new, glass-walled digs in the skyscraper next to the older, CN studio in Burbank Village.

* John Lasseter wants to do more classical fairy tales with songs, of the type Walt used to do.

* The plan of Disney Animation Studio management is to have all of the hand-drawn crew from
Princess and the Frog
return for the
Winnie the Pooh
feature in several months. (And some will be retained at the end of
P and F
to work on a hand-drawn short or two ...)

* Fox/Gracie isn't going to be thrilled with all the new cost-cutting measures on
The Simpsons
because ... the show doesn't look as good as it did before the cost-cutting measures. But Richard Reynis got a raise anyway.
Like I say, some of the above is scurrilous rumor, but it's what's going around at different studios.
(Thanks
Animation Guild Blog
)
The Folly of Conventional Wisdom
The one thing you can count in the entertainment biz is for movie execs to Play It Safe. Doing things outside the box is great as a concept, but actually implementing that strategy can get you fired. Following Conventional Wisdom might be boring, but it's a less risky road to take if you don't want to start collecting unemployment checks.
So it's always gratifying when the keepers of Conventional Wisdom
admit they were in error
:
Pali Research media analyst Richard Greenfield has admitted that he was
"dead wrong"
in his assessment of Disney/Pixar's
Up
, which he predicted would fail to become a big hit for the studio. In particular Greenfield had claimed that the film's hero, a cranky 78-year-old voiced by Ed Asner, was not the sort of character that would attract Disney's core audience ...
See, the big trouble with Conventional Wisdom is it always looks backward:
1937 -- "Nobody will sit still for a ninety minute cartoon! Only short ones work! Everybody's eyes will get tired!" ...

1939: -- "Civil War pictures don't make a dime!" ...

1997 -- "$200 million dollars to make a movie about an ocean liner sinking?! Everybody already knows how it turns out! We're going to lose our ass!" ...
Etcetera, Excederin.
The point is, the movie business is like William Goldman says it is:
"Nobody knows anything."
In particular, nobody knows what will ultimately
work
(i.e. make money), therefore it's useful to opt for quality (i.e. good story telling) rather than the obvious but often wrong Conventional Wisdom.
(Thanks
Animation Guild Blog
)
SDCC '09: The Animation Panels (Thursday, Friday and Saturday)
Here is the first of Cartoon Brew's guides to the

2009 San Diego Comic Con

. These are only my recommended animation panels for

Thursday July 23rd

,

Friday July 24th

and

Saturday July 25th

. This listing does not include all the animation panels, nor any comic book and movie panels, nor most of Mark Evanier's panels (which I highly recommend), nor events in the dealers room (which I will post later), or any of the parties.

I'll be back with the animation events scheduled for Sunday later this week. Click these links for a complete line up of Comic Con events:

All Thursday panels

•

All Friday panels

•

All Saturday panels

•

Just Animation PanelsTHURSDAY

10:15-11:15

Astro Boy

The all-new CG-animated feature film based on the classic manga with director David Bowers, producer Maryanne Grager, and stars Freddie Highmore (Astro Boy) and Kristen Bell (Cora) and exclusive footage.

Room 6BCF

11:00-12:30

Disney: 3D Panel

Key filmmakers, select cast members and previously unseen footage from its upcoming slate, including Disney's

A Christmas Carol, Alice In Wonderland

and

Tron

. Special guests include Robert Zemeckis, Tim Burton, Sean Bailey, Steve Lisberger, and moderator Patton Oswalt.

Hall H

12:00-1:00

Drawn to Life: 20 Golden Years of Disney Master Classes

Disney Animation producer Don Hahn, famed Disney animator Glen Keane, creator of

Aladdin

's Genie Eric Goldberg, director/teacher/animator Tom Sito, and sculptor Ruben Procopio for a discussion of the life and influence of Disney mentor, trainer, and artist Walt Stanchfield.

Room 32AB

2:00-3:00

Sony Pictures Animation: Cloudy with a Chance of Meatballs

Appearing in person: Anna Faris, Bill Hader, Andy Samberg, Bobb'e J. Thompson, and directors Chris Miller and Phil Lord.

Room 6BCF

3:00-4:00

Bill Plympton: King of Indie Animation

Plympton presents

Horn Dog

, the fourth smash installment in his famed, Oscar-nominated

"Dog"

series. Bill will screen some of his new animated shorts, including

Mexican Standoff

and

Santa: The Fascist Years

and present some early scenes from his work-in-progress feature film

Hanky Panky

. Bill will also be available for Q&A after the screening, and all attendees will get a free Bill Plympton drawing.

Room 5AB

4:15-5:15

Cartoon Network: Chowder! Flapjack! Adventure Time!

— This panel celebrates three best things about Cartoon Network. Panelists include C. H. Greenblatt (

Chowder

creator), Tara Strong (voice of Truffles), Thurop Van Orman (creator/voice of

Flapjack)

, Steve Little (writer, voice of fan favorite Dr. Barber) and Adventure Time creator Pendelton Ward. "Algebraic!"

Room 6A

5:45-6:45

John Kricfalusi

Comic-Con special guest John K. will talk about his career in animation and what's coming next.

Room 6BCF

8:00-9:30

Green Lantern: First Flight

World Premiere. Screening. Produced by Bruce Timm, directed by Lauren Montgomery and scripted by Alan Burnett.

Ballroom 20FRIDAY

10:00-11:00

Batman: The Brave and the Bold

Screening and Q&A with Diedrich Bader (voice of Batman), John DiMaggio (Aquaman), and executive producer Sam Register, producer James Tucker, producer and story editor Michael Jelenic and voice director Andrea Romano

Room 6DE

10:30-11:30

Coraline panel

Henry Selick and Neil Gaiman discuss the making of the animated film. They will be joined by lead animator and LAIKA CEO/president Travis Knight, producer Bill Mechanic, character fabrication supervisor Georgina Hayns and voice actor Keith David.

Room 6A

12:45-2:15

The Disney Animation Panel

This is the BIG one… Previously unseen footage from its upcoming animated slate, including the

Toy Story

&

Toy Story 2

Double Feature,

Beauty And The Beast, Toy Story 3, Prep & Landing, The Princess and the Frog

and

Ponyo

with Lee Unkrich, Kirk Wise, Ron Clements, John Musker and… Hayao Miyazaki. John Lasseter hosts the panel, with Patton Oswalt moderating.

Hall H

2:30-3:30

State of the Animation Industry

ASIFA-Hollywood's annual overview of trends in the animation industry. Moderated by Tom Sito. Panelists include Raul Garcia (

The Missing Lynx

), Frank Gladestone (producer, Starz Media, Dreamworks), Jun Falkenstein (

The Tigger Movie, Mulan II

), Kevin Koch (

Battle for Terra, Madgascar

), and Danny Young (

Land of the Lost

).

Room 10

2:30-3:30

9

- Focus Features presents an exclusive look inside director Shane Acker's animated fantasy epic

"9″

with Shane Acker, Tim Burton, Timur Bekmambetov, and actors Elijah Wood and Jennifer Connelly LIVE for this panel presentation in

Hall H

3:30-4:30

Stan Freberg

and his lovely wife, Hunter… introduced by Mark Evanier.

Room 6A

5:45-7:15

DC Universe Animated panel

with Bruce Timm, Andrea Romano, Lauren Montgomery, Alan Burnett, Christopher Meloni, Juliet Landau, Michael Goguen, Sam Liu, Stan Berkowitz and Kevin Conroy (voice of Batman).

Room 6BCF

9:00-10:00

Worst Cartoons Ever!

Yours truly, Jerry Beck (Cartoon Brew), returns with an all new program of some of the worst cartoons ever made.

Room 6BCF SATURDAY

10:00-11:00

Writers' Guild Panel: PG-13 Animation

Alan Burnett (

Green Lantern: First Flight

), Matt Wayne (

Hellboy Animated: Sword of Storms

), Michael Jelenic (

Wonder Woman

), Charles Horn (

Robot Chicken

), Paul Dini (

Return of the Joker

), Greg Johnson (

The Ultimate Avengers, The Invincible Iron Man

,

Doctor Strange

), and Stan Berkowitz (

Justice League

) will discuss writing for animation.

Room 3

10:30-11:30

Spongebob SquarePants 10th Anniversary

Paul Tibbitt, Vincent Waller and Steven Banks. The cast, including Tom Kenny, will perform a live table read of a classic fan-favorite from Season 1. Q&A with the cast and crew follows, and sneak peek of a yet-to-air episode, Greasy Buffoons.

Room 6DE

12:30-2:00

Cartoon Voices I

The annual gathering of the cream of the voice acting business. Co-hosts Mark Evanier and Earl Kress bring you the vocal stylings of Laraine Newman (

As Told by Ginger

), Bill Farmer (Goofy), James Arnold Taylor (Johnny Test), TV legend Chuck McCann, and others.

Room 6BCF

1:00-1:45

Futurama

with Matt Groening, David X. Cohen, and stars Billy West, Katey Sagal, John DiMaggio, and Maurice LaMarche and a top-ranking FOX executive announce details of the return of this fan favorite.

Ballroom 20

1:30-2:30

Extract

- Mike Judge is back with his latest live action film. Judge will discuss the film with his cast, Jason Bateman, Mila Kunis, and Kristen Wiig.

Hall H

1:45-2:30

The Simpsons Panel

with Matt Groening, showrunner Al Jean, executive producer Matt Selman, and supervising director Mike Anderson.

Ballroom 20

2:30-3:30

Spotlight on June Foray

The first lady of cartoon voices! Mark Evanier and Earl Kress interview June about her career as a voice actress, author, and Hollywood legend.

Room 5AB

5:00-6:00

What Is an Animated Film?

In this screening and talk, Stephen Worth, director of the ASIFA-Hollywood Animation Archive, presents examples of animated films that don't follow the established formulas; films that experiment with technique and storytelling to push the envelope of the definition of animation.

Room 3

To be continued…

(Thanks

cartoon brew

)

Go east: writer hired for "Hong Kong Phooey" movie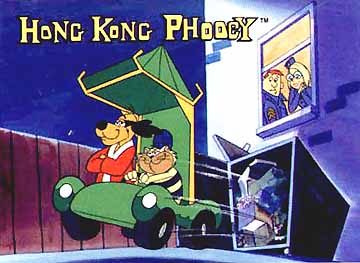 David A. Goodman, an executive producer and writer on cartoon sitcom
Family Guy
, has been hired to write
Hong Kong Phooey
, the movie adaptation of the 1974 Hanna-Barbera series of the same name.
Andrew Kosove and Andrew Johnson of Alcon are producing the film, a planned live-action/CGI hybrid set for release in 2010, the Hollywood Reporter said Sunday. Rat Entertainment is another production company involved.
In the original
Hong Kong Phooey
, police station janitor Penrod Pooch (voiced by Scatman Crothers) became Hong Kong Phooey by zipping through a filing cabinet. He would fight crime with his sidekick cat Spot (voiced by Don Messick).
Goodman has been a co-executive producer and writer for
Futurama
. He worked on
Who is Killing the Great Chefs?
(a remake of the 1978 film
Who Is Killing the Great Chefs of Europe?
), which is under production at Warner Bros. He is also adapting the Web comic
Last Blood
.
Why U.S. Created Animation Won't Be Leaving Anytime Soon
Variety
spells it out
:
Last week, 20th Century Fox became the first studio to cross the $1 billion mark in foreign box office revenues this year,
thanks to the larger-than-life opening of 3-D toon
"Ice Age: Dawn of the Dinosaurs."
...
The thing of it is, all these domestically-produced animated features (
Up, Bolt, MvA, Shrek, Madagascar
...) keep pulling in sizable dollars around the globe, which, like it or not, reinforces the corporate strategy of
"doing high-end animation in the States"
as the Conventional Wisdom of Hollywood. (Actually, this has been CW for a while now.)
Until a number of foreign-produced animated features do equivalent world-wide business, I don't see production switching to Mumbai or Shanghai. It makes minimal business sense to pivot away from the pools of talent that continually deliver ...
(Thanks
Animation Guild Blog
)
Green Lantern down to Cooper, Reynolds, Timberlake?
Rumors have been appearing on the Web for months about who will put on the ring in the title role of
Green Lantern
—Chris Pine? Anton Yelchin?—and just as quickly they've been shot down.
Now Variety jumps in belatedly with speculation about whom director Martin Campbell and producers Donald De Line and Greg Berlanti have spent the past five months searching for.
The actor would play Hal Jordan, the Air Force pilot who is chosen by a dying alien to be his successor in an intergalactic police force known as the Green Lanterns. Here's how
Variety
reports it:
This week, the race narrowed to Bradley Cooper, Ryan Reynolds and Justin Timberlake. The clock is ticking on the decision as the holding deal the studio had on the actors expired Monday, meaning the three are now free to accept other offers.

The studio ordered up two rounds of screen tests with Cooper, Reynolds and Timberlake. Other actors in the early mix included Michael Fassbender, Henry Cavill and Jared Leto.

Apparently, De Line, Campbell and the studio each had a different favorite among the three finalists, making it difficult to come to a consensus.
The trade paper goes on to report that the budget is quickly escalating, to between $150 million to $200 million or more.
The movie is eyeing a
December 2010
release.
Ryan Reynolds is GREEN LANTERN
It's official!
After months of speculation fans now know who will play
'Green Lantern'
on the big screen. Ryan Reynolds has willed himself the lead role in Warner Bros. adaptation of the DC Comics title according to a breaking story on
Variety
.
The news caps a big summer for the comedic actor, who was the most buzz-about player in the
'X-Men Origins: Wolverine'
movie, which lead to him claiming his own spin-off as
'Deadpool'
. He also topped the box office in the summer romcom
'The Proposal'
.
Variety reports that the studio is still working on the budget for the move. As reported earlier today the current estimated budget is over $150 million for the super hero space opera.
Reportedly Reynolds was the choice for Warner Bros and director Martin Campbell.
Production is expected to begin in January.
News briefs: Trick at Comic-Con; Remo lives?
Trick 'r Treat
The
official Comic-Con schedule
is now live and will be updated in the next few days; meanwhile, the long delayed Halloween-themed film
Trick 'r Treat
will screen with cast and crew in attendance on
Thursday, July 23
, in Ballroom 20.
...
The Dark Knight
producer Charles Roven and
Transporter
producer Steve Chasman are teaming up to produce
The Destroyer
, a franchise vehicle that brings back '80s action hero
Remo Williams
, The
Hollywood Reporter
's
Risky Biz
blog reported; Charley and Vlas Parlapanides (
War of Gods
) will write the screenplay.
...
A
trailer
has gone live for
Level 26
, the interactive Web-based component of the upcoming crime novel from
CSI
franchise creator Anthony E. Zuiker; the first-of-its-kind
"digi-novel"
will give readers the opportunity to access
exclusive content
by entering codes from the book, unlocking video cyber bridges as well as audio and photos.
...
Warner Brothers Digital Distribution announced the availability of exclusive
Harry Potter
content on the
iTunes Store
;
Harry Potter
fans can download never-before-seen footage from
Harry Potter and the Half-Blood Prince
, as well as a
Half-Blood Prince
app.
...
Production Weekly tweeted that Jonathan Liebesman's sci-fi action movie
Battle: Los Angeles
has opened up production offices in Baton Rouge, La., for a September shoot.
Harry Potter cast lifts veil on final films
Rupert Grint (from left) as Ron Weasley, Daniel Radcliffe as Harry Potter and Emma Watson as Hermione Granger
Harry Potter and the Half-Blood Prince
—the sixth film based on J.K Rowling's beloved books—finally makes its worldwide debut on
July 15
, but there's no rest for the weary back in England, where the epic, two-part conclusion,
Harry Potter and the Deathly Hallows
, is in its fifth month of production.
Armed with their fresh-from-the-set stories and behind-the-scenes teases, the
Potter
cast and creative team (including stars Daniel Radcliffe, Emma Watson and Rupert Grint; director David Yates; and producer David Heyman) took a short break from filming to promote the latest installment in New York City on Thursday.
The next movies will split Rowling's seventh and final book,
Harry Potter and the Deathly Hallows
, with part one debuting on
Nov. 19, 2010
, and part two bowing
July 15, 2011
.
Heyman said in the press conference that the two films will be very different, although they are two halves of a whole story. Part one is essentially an edgy, verite
"road movie"
that's a strong departure from the more comedic
Half-Blood Prince
, he said.
"We are really enjoying it, actually," he said. "It's quite intense and very raw. We are way away from Hogwarts. It's a bit like three refugees being pursued across the landscape by these terrible Death Eaters. It feels very different. Actually, it's very hard coming back to [talk about] Half-Blood Prince, as we finished it a year ago."
Watson, who plays Hermione Granger, agreed with Heyman, adding that she's amazed at how different an experience shooting the Deathly Hallows installments has been.
"It feels totally different,"
Watson said in a separate cast press conference.
"I feel like I am on a different film. The other films had a structure where it's like we come into the Great Hall, and then it's the opening talk, and ... that is just gone. It's not very often in the middle of filming you stop yourself and go, 'This is going to be awesome.' And I've done that on a number of occasions. We just [shot] this amazing scene in the forest, where we are being chased by the Snatchers. I've never done anything like it; nothing even close. I have never done any serious stunts or real action, and this is so exciting and dynamic. And all of us are now done with school, so we are totally focused on this finale at Hogwarts. I hope it's going to be brilliant."
As for part two, Yates said it's basically a
"big opera." "It's a great big epic with huge battles,"
he said.
"And it's oddly moving, because it concludes the whole saga."
Of course, the team wasn't spilling everything about the films, especially when asked where screenwriter Steve Kloves has split the book: where part one ends and part two begins. Producer Heyman suddenly got very tight-lipped and refused to divulge the specifics.

"I could [tell you], but I'm not going to,"

he said.

"It's been an interesting process, because when we began all of us didn't want to make two films,"

Heyman added.

"Why do it now? And it wasn't told to us that we had to do it; rather, it was an organic process of working on it and Steve working on it. The films took a fundamental turn when Steve, working with Alfonso Cuarón [director of Harry Potter and the Prisoner of Azkaba

n

] made the decision to tell the story from Harry Potter's point of view, as opposed to translating the books to film. From that point, there were necessary omissions along the way. Something that we love—like SPEW [Society for the Promotion of Elfish Welfare], which is Hermione's interest in the house elves—we loved that, but it is omitted because it wasn't part of Harry's story. It allowed us to create a cinematic structure for the films rather than literally translating the books."

Heyman continued:

"The seventh book is a long book, but it is a book in which there is almost nothing that isn't related to Harry and almost nothing that you can cut out. So Steve was working away in the vacuum of his house, struggling, in some ways, to figure out what to cut. Together, all of us made the decision ... to make two films. There is so much material in the seventh book, so making two films was the very best thing we could have done for the book to adapt it in the right way."
Heyman said they have their break point worked out, but it could change in the edit.
"Because we are shooting both films as one, shooting them together, we'll see what happens ultimately,"
he said.
"It's written in a very specific way, and that, I'm sure, is where we'll end up, but I don't want to say now and then all of a sudden we go, 'Hmmm?'"
The filmmakers also declined to discuss how the final film will depict the epilogue to Deathly Hallows—
spoilers ahead if you haven't read the book!
—which shows Harry and his friends 19 years in the future, as they send off their children to Hogwarts.
"It's an absolutely beautiful part of the book,"
Yates said passionately.
"One of the most unique things of this franchise is the fact that we've grown up with these characters. I think it's what makes it special for the audience. So we will be delivering that at the end of part two, but we are looking at various options of how we do it. We still haven't quite figured it out yet."
Asked if the Academy Award-winning technology used for
The Curious Case of Benjamin Button
might be utilized in some way, Heyman said it was possible but unlikely at this juncture.
"Benjamin Button was making him look younger, and we are taking people who are 20 years old and making them look like they are in their late 30s. We may use some of the techniques of Button, but we are still in an exploratory stage. We will do everything we can, but it will be Dan, Rupert and Emma in those parts, not some other actors."
Holy Wheeled Wonders, Batman! 1960s Batcycle Sold On eBay
As Jack Nicholson famously pointed out in 1989's
"Batman,"
DC's Dark Knight has collected some wonderful toys over the years. However, long before Michael Keaton's Batman debuted his arsenal of gadgets against Nicholson's Joker, Adam West protected Gotham using everything from a "Bat-Copter" to "Shark Repellent Bat-Spray." And last month, a lucky fan became the owner of one of the more popular items from that campy era of Batman's past: The Batcycle.
In an
eBay auction
that ended June 11, a Bat-bidder (sorry, I can't help it) plunked down $29,500 for the custom motorcycle and sidecar that first appeared in the 1966
"Batman"
movie and was later used throughout the run of the television series. A working vehicle based on the 250cc Yamaha Catalina, the motorcycle wasn't likely to break any land-speed records, but it did sport some Bat-tastic special features.
Along with a "Bat-Scanner" and "Batter Ram" on its dashboard, this particular Batcycle is reported to be the only model of the three created for the series that also featured a detachable, motorized sidecar for Robin.
"The 'Batcycle' was a resounding and immediate success although its stunt drivers found the detaching 'go-kart' quite difficult to maneuver,"
stated the seller.
Oh, and in case you were wondering, Batman only put 8,500 miles on the Batcycle before it was retired to the Bat-Cave (Bat-Garage?) in 1968.